The Finalmouse Air58 is a great mouse, its a pure performance mouse with no bells or RGB whistles.
The combination of a great large/medium shape, great buttons, the best cable out of the box and the 58 gram weight makes this mouse a dream to use.
Availability and pricing is its only downside, this is an expensive mouse to get due to its limited availability. If you can find it for a reasonable price I would recommend picking it up. If you cant find it, I'd recommend taking a look at the Logitech G Pro Wireless (read review) at 80 grams or wait for the Odin or you can drill holes into your current mouse (not actually recommended).
Pros
It's a feather weight, 58 grams!
Best in class super soft and light cable
Great shape
Solid construction
Good buttons
Flawless PMW 3360 sensor
Generous 3 year warranty
Cons
Hard to find and expensive on secondary market, take a look at our alternatives
QC issues on previous Finalmouse products
Branded design and superfluous Japanese influences
You give Ninja satisfaction if you buy it
Build & Shape
Let's get the most obvious thing out of the way first, this mouse is ridiculously light at 58 grams.
Are there diminishing returns at this light weight?
After a few dozen hours of playing Overwatch with the Air58, I can say that the light weight is noticeable and in my opinion, I played better with the Air58.
Initially, the light weight combined with the slick feet actually threw me off and I was overshooting my targets on flicks coming from the Logitech G Pro Wireless, but after acclimatizing I felt my aim was better with the Air58.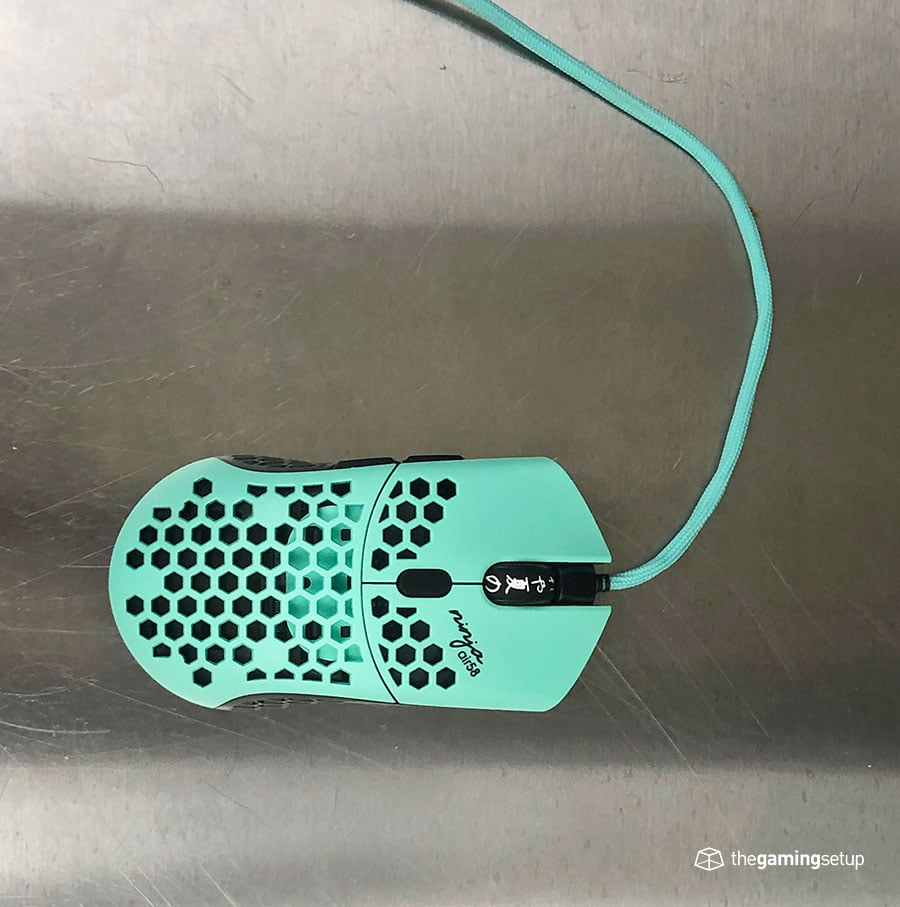 There aren't official dimensions released for some reason, so I've done my own measurements.
Finalmouse Air58 dimensions and measurements:
Length: 128mm
Width: 60mm
Height: 40mm
This is a medium to large mouse, it's shorter than the Logitech G703 but a little longer. It's roughly the same length as the Steelseries Rival 600 while slightly shorter than the 600.
If you find the G Pro Wireless slightly too small or the G703/Rival 600 a little too big, then this is going to be in your sweet spot size wise.
The shape is a safe ambidextrous shape, with side buttons for right handers only. The shape is good for all grips and particularly excels at palm because of its shape and fingertip because of its super light weight.
The holes are obviously its signature that enable the Air58 to be as light as it is, a side benefit of the holes is that my hands didn't sweat one bit in high intensity gameplay.
Despite having all the holes, the structure of the mouse is solid, no flex when squeezed and no rattles when shaken. I did have a little creak on the left side of the mouse when first using,  but it seems to have settled in and I can't reproduce the creak.
The holes were a little uncomfortable at the start on my ring finger as I was used to using the mouse with a tight grip. I was quickly able to adjust and now hold the mouse very comfortable with very little fatigue over long gaming sessions.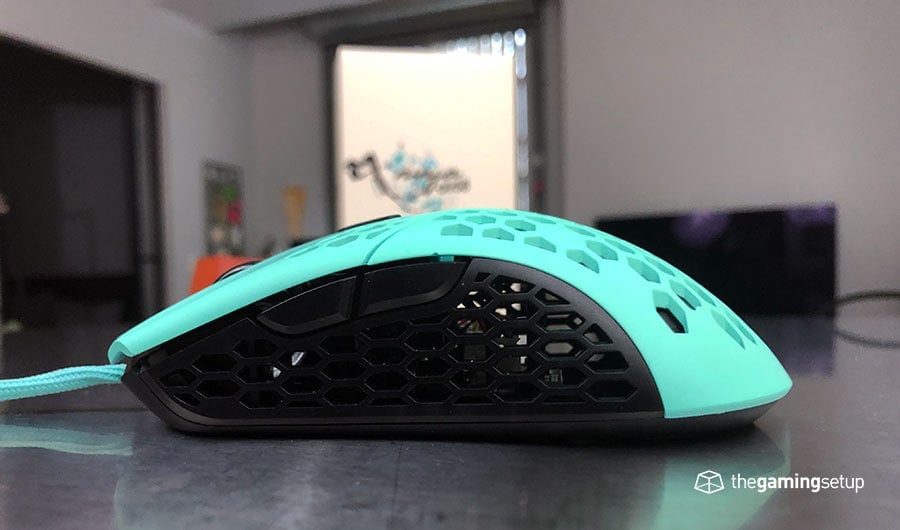 The top coloured (comes in Cherry Blossom Red and Blue) surface of the mouse is made of a plastic that has a hint of soft touch. The grips on the sides are made of a more traditional hard black plastic, I didn't find any issue with gripping and picking up the mouse since the mouse was so light.
The cord of this mouse is by far the best out of box cord found on any mouse.  It's ridiculously flexible and made out of a light braid, this mouse does not need a bungee of any  sort, the cable is a little fluffy so it might not fit into a bungee even if you wanted it to. The combination of the amazing cord and the super light weight did make this mouse kind of feel wireless.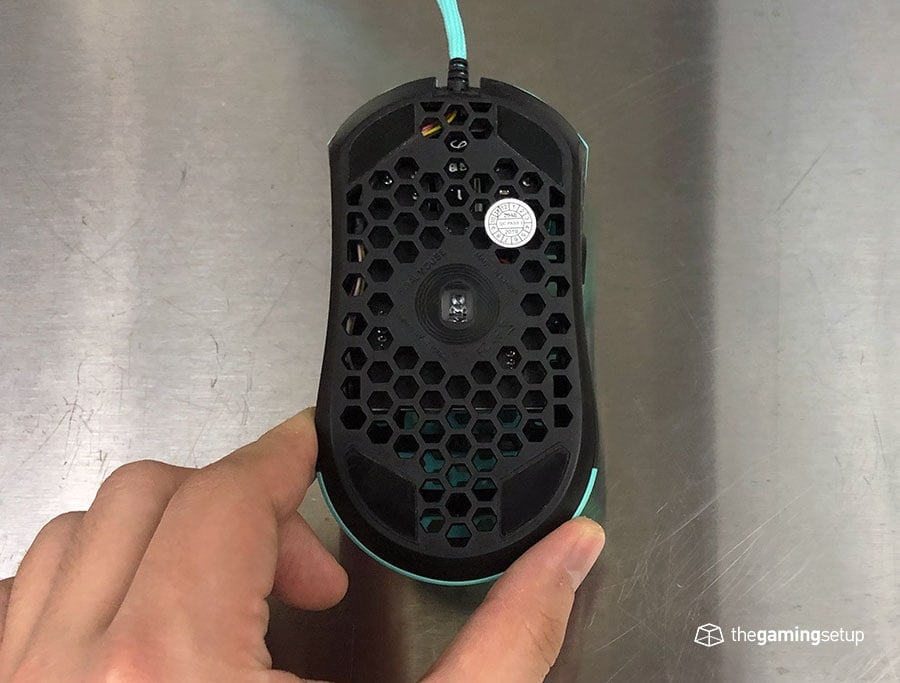 On the underside you'll find more speed holes and 4 slick feet, the feet are great and provide a really good glide, this mouse flies if you want it to.
Aesthetic wise, I'm not a fan of the branding on the mouse and don't really care about the kanji on the scroll wheel, but I'll take the design considering its performance.
Buttons & Scroll Wheel
The primary and side buttons are very good, tactile, responsive and well placed. They're not as good as the god-tier G305 buttons but very very good as good as the Rival 600 or G703s.
The Air58 is pretty barebones:
2 primary clicks: left and right
2 side buttons
Scroll middle click
DPI switcher below scroll wheel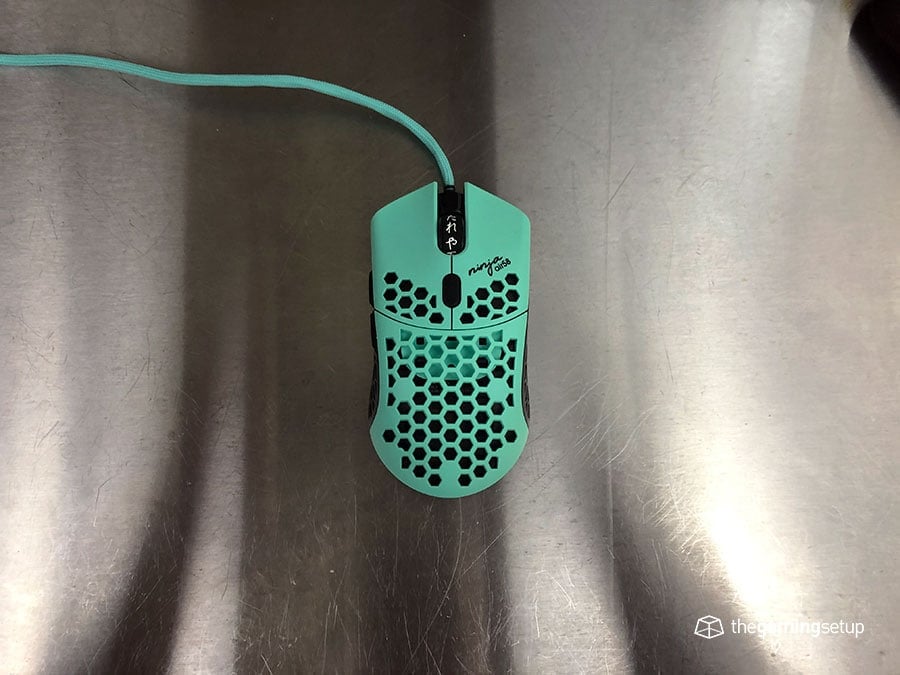 Finalmouse uses Omron switches for their buttons, and they feel great, they're likely going to be reliable and performant for 20-50m clicks at least. The primary clicks have a strong comfort groove reminiscent of the Razer DeathAdder and the effect is great, super comfortable for palm grips.
The side buttons are nice and blocky, it's very easy to feel which button you're pressing and the response is very good.
The scroll wheel is okay, it's not particularly grippy or tactile so it's not the best scroll wheel I've seen on a gaming mouse. The middle click similarly, is ok, a little squishy and has a higher weight than I'd prefer but not a huge deal.
Sensor & Performance
The Finalmouse Air58 comes packed in with the ever common Pixart PMW3360, of course this means the mouse is free from acceleration and it won't spin out. Lift off distance is low with no available adjustments.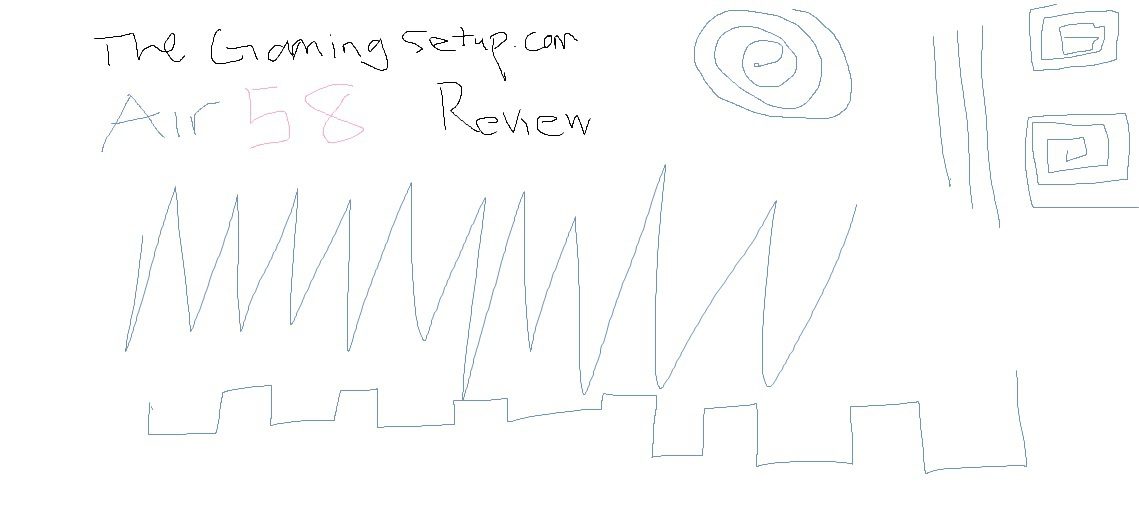 It looks like the Finalmouse implementation of the sensor is set to 500Hz. This might be a cause for concern to some gamers wanting 1000Hz but I didn't really notice any difference in response and in real world scenarios that difference would theoretically would be a 1ms in reaction time.
DPI settings are preprogrammed on the Air58:
Step 1: 400 DPI
Step 2:  800 DPI
Step 3:  1600 DPI
Step 4: 3200 DPI
Not much else to say about the sensor and performance, its a top-tier sensor combined with a great cable and a super light mouse. The Air58 is an absolute top-tier performer.
Features & Software
This section will be short, the Finalmouse Air58 does not have much in the way of features; no wireless, no RGB, no weights (obviously) and no software.
This mouse is a minimal pure gaming mouse, plug and play.
Warranty & Reliability
@CSGOJacko You have a 3 year warranty to keep you covered, so send an e-mail to support@finalmouse.com

— Finalmouse (@finalmouse) January 13, 2016
The previous generations of Finalmice (can I do that?) have had issues with scroll wheels breaking, but redditors have been able to get them replaced via customer service. The Air58 looks to have the same scroll wheel as the the Ultralight series.  Here's a video of a Ultralight Phantom broken scroll wheel.
Final Words
This is a top tier mouse, it's a high performer with a great shape and obviously a super light weight. The buttons feel great, the mouse feels great to use for long periods of time, there's very little to fault the product itself outside of maybe the scroll wheel and reliability issues.
The huge caveat for this mouse is the availability and pricing, Finalmouse make very limited runs for their mice and as a result, the Air58 has a very gigantic aftermarket price. If you can find it via retail, I'd definitely recommend trying it out and getting it if you like medium/large mice.
If you can't find the Finalmouse Air58, I'd recommend these mice as alternatives:
Logitech G Pro Wireless
A wireless mouse that's also pretty darn light coming in at around 80 grams, this mouse will likely feel the closest to the Air58 in terms of lightness because of the wireless and weight combination. It's also a pretty decent ambidextrous shape with a similar size, slightly larger in the hand due to a higher hump. Check price on Amazon
Zowie ZA13
Another wired ambidextrous mouse that is similar in size to the Air58, this mouse also weighs in at 80 grams so obviously not as light feeling as the Air58 but still a good light weight for its size. Check price on Amazon