I'm a clammier gamer, I prefer matte mice over glossy to control my sweat levels, so I never really felt that I was in need for more grip. However, some mice that I've tested are smoother and slipperier than average, and in those cases, I've been converted to using grip tapes. For gamers with dryer hands, you already know you want more grip.
Hotline Games Grip Tapes offer a really good out of the box solution with great pre-cut fits, no residue stick with grips that aren't too grippy.
Specs & Compatibility
Hotline Games grip tape are made of a rubber polymer with a 3M sticky back. The tapes come in one cross-hatch pattern and in black only.
You can see a list of support mice here.
Unboxing & Packaging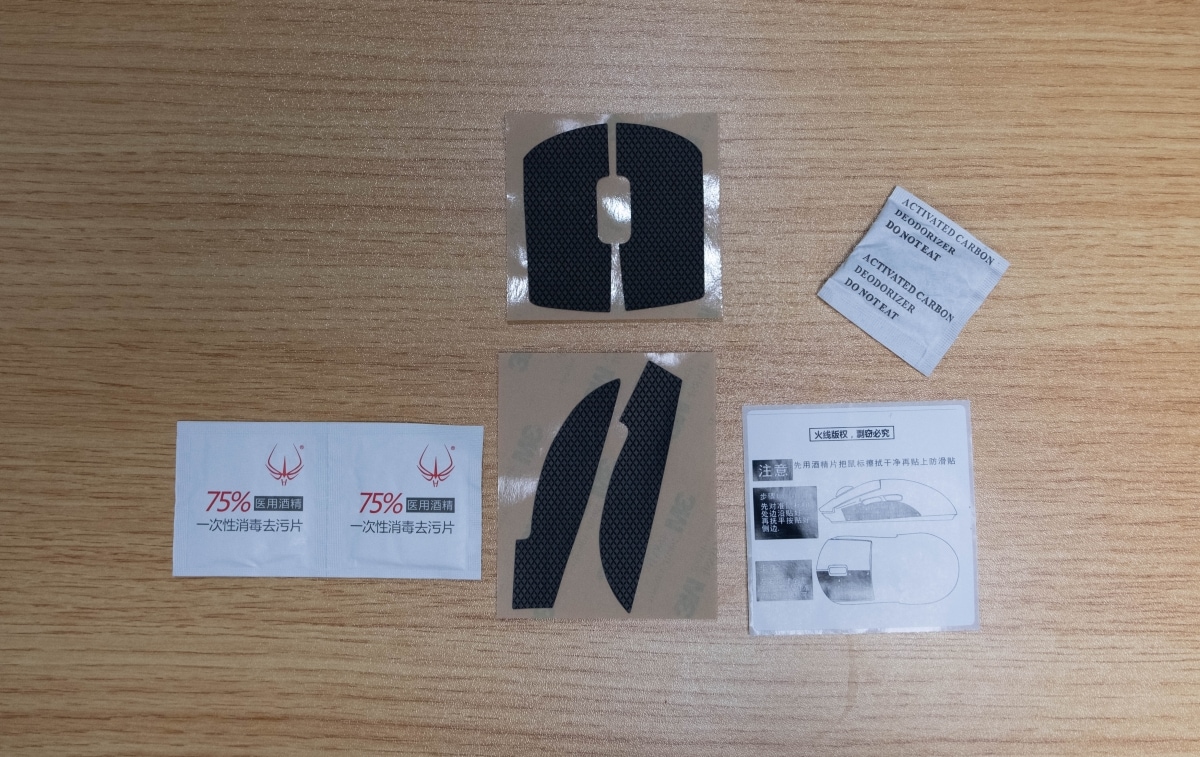 Hotline games neatly stuffs their envelopes with individually wrapped packets, in the package you get:
1 set of tape
Alcohol wipes
Chinese instructions
The product arrived with no damage or creases.
Installation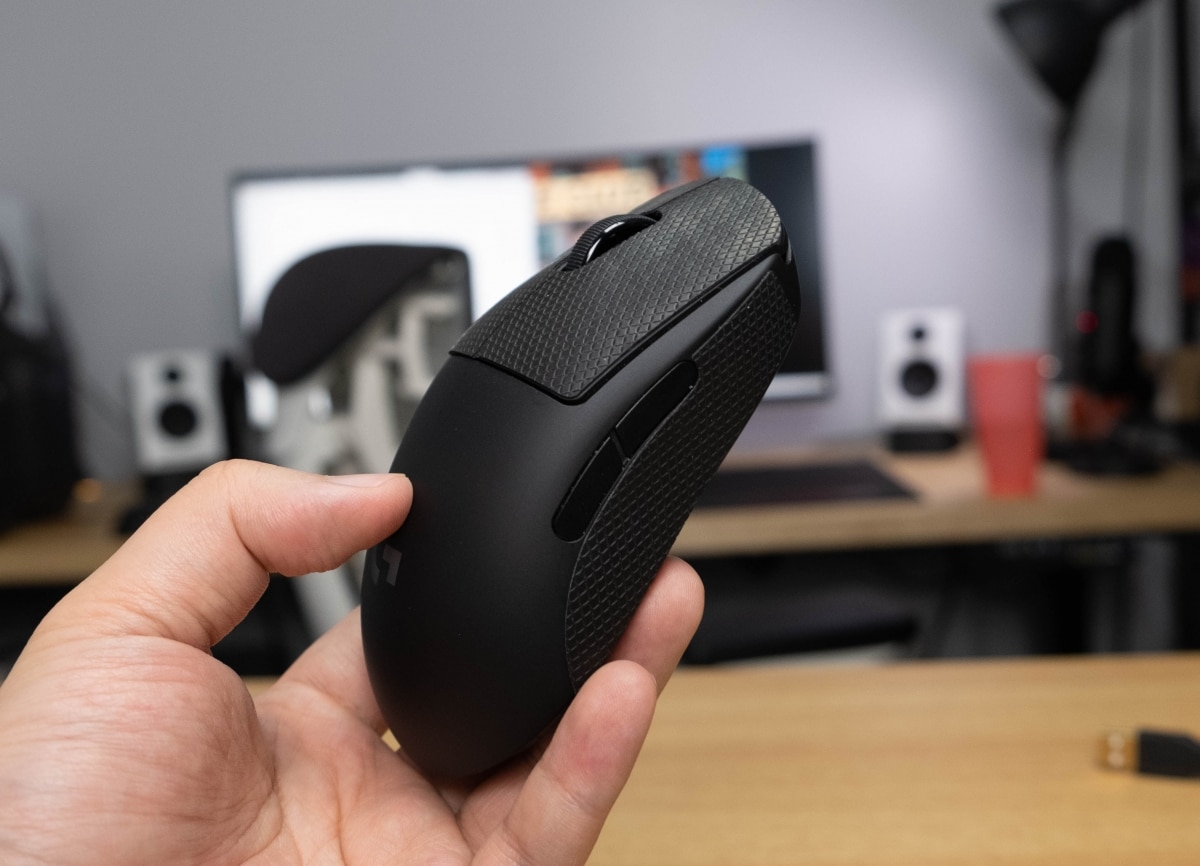 Installation is simple, clean the surface of your mouse with the included alcohol wipe, peel the backing off of the grip tape, line it up and stick, hold for 30 seconds.
Uninstallation
Uninstalling is easy as well, just find a corner and peel off. I had the tape on for 2 weeks and it came off without leaving any residue. Just be careful about peeling too hard and lifting the buttons too much.
Fit and Feel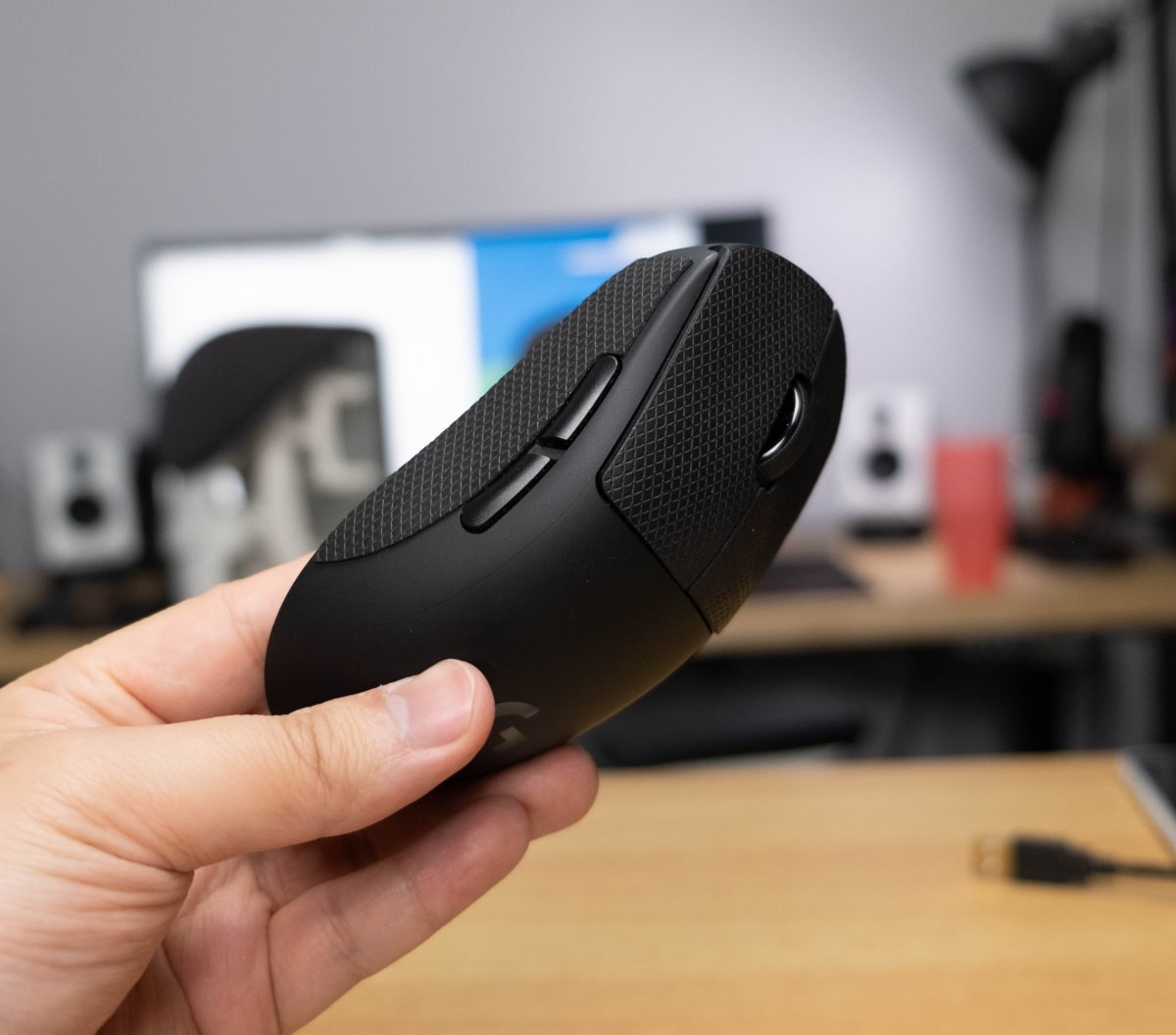 The fit on the G Pro Wireless version of the Hotline Games tape is pretty much perfect, the cut outs fit flush with the lines of the mouse with no issues of overlap or overhang.
The Hotline Games tape feels really good, it adds a moderate amount of grip that is really appreciated on a sometimes slippery mouse like the G Pro Wireless. It's not overly thick to significantly change the shape and feel of the mouse, nor is it affecting the tactility of the mouse button.
The tape isn't paper thin however, it does add a bit of extra height to the buttons, there was a bit of an adjustment in not accidentally right clicking when resting my fingers, but I don't think it's a significant factor.
If the extra button height bothers you, I would recommend only using the side tapes, as the button tape is less important.
The tape isn't as thin as something as lizard skins but not nearly as thick as the foam stick-ons of the Ultralight 2.
The texture is a subtle cross hatch that feels pleasant to the touch, not distracting at all. The rubber has a slight grip to it, for someone with warmer hands, the tape is not causing me to sweat on the mouse any more than I normally would. The rubber is a harder rubber, similar to the side grips seen on the Viper Ultimate, the grips are waterproof, so if you are a sweater, the grips will become a little bit slippery.
So far, after 2 weeks of constant use I have not seen any indications of wear.
Conclusion & Recommendations
Some grip tape can make a huge difference for slippery mice or for dry hands. For mice like the G Pro Wireless, the effect is especially pronounced given its smooth, matte surface. Hotline Games grip tapes are a very good solution, offering create cut outs and easy installation. For the price, they're definitely a consideration for any gamer looking to add some extra grip to their mice.
Compatibility list
Hotline Games Grip Tapes are available for the following models:
DIY cut your own
Logitech G402
RAzer DeathAdder
Zowie EC-1/2 A EC-1/2 B
Steelseries Kinzu / Kana
Steelseries Rival 310
Roccat Kone Pure
Logitech G900 / G903
Glorious Model O
Logitech G Pro Wireless
Razer Viper / Viper Ultimate
Logitech G403 / G603 / G703
Logitech G502
Razer Basilisk Hyperspeed / Ultimate
Finalmouse Ultralight 2 Cape Town
Microsoft Intellimouse Pro / Classic / IE 3
Logitech G Pro G102 / G203 / G304 / G305
Steelseries Dream Machines / Xai / Sensei Ten / DM1 / FPS / Pro
Review products provided by iTakTech