The Magicforce 68 is the best cheap gaming keyboard on the market right now. Its unique design and its plethora of switch options makes it standout amongst any keyboard let alone budget keyboards.
The layout of the Magicforce creates a bunch of a desk space by keeping its layout super compact but keeps super important keys like the arrow cluster. It's a hybrid of a 60% compact keyboard like the Ducky One 2 Mini and a TKL keyboard like the Logitech G Pro Keyboard.
Something has to give at this price point, the Magicforce has cheap ABS key caps, the stabilizers aren't great, keys wobble and rattle, but this isn't that surprising given the price point.
If you're looking for a budget compact keyboard, this is a top consider.
Pros
Great compact 68 key design
Multiple switch options
White backlighting
Rubberized feet
Attractive floating key design
Detachable mini-USB
Standard bottom row
Good build quality considering price
Cons
Cheap and thin ABS keycaps
Ugly keycap font
No customization software
Key rattle and wobble
Great layout

Tech Specs
Qisan Magicforce 68 dimensions
Length: 33.5 cm
Width: 10.3 cm
Height: 3.98 cm
Case color: White plastic, top metal plate
Weight: 539 grams
Keys: 68
Cable Length: 1.6m, rubber, detachable
Keys & switches
Switch options: Gateron, Cherry or Oetemu options
Polling rate: 20, 40, or 60 C/S
Keycap material: ABS
Keycap legends: Pad printed
Keycap profile: OEM
Media keys: via fn layer
Backlight: none
Software: none
Connection: USB-mini
Size & Design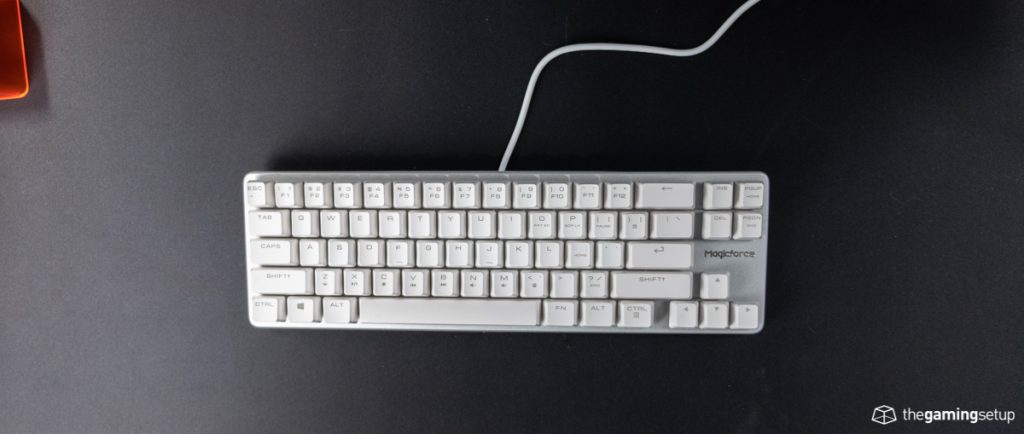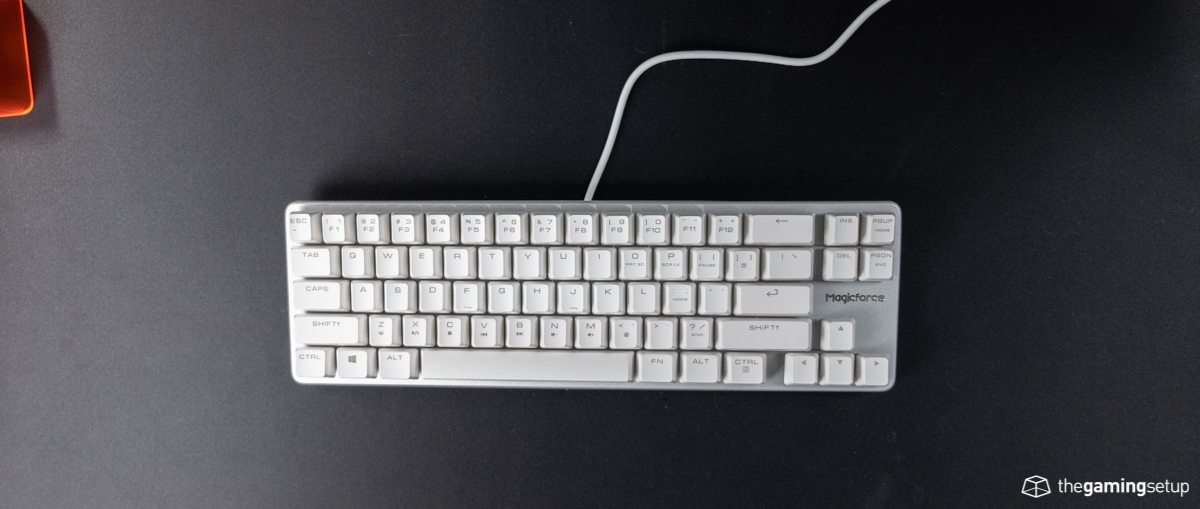 The Magicforce 68 has a standout size and layout, the keyboard combines the compactness of a 60% with some of the most useful keys found on a TKL, the width of this keyboard is 1 key unit shorter than a standard TKL.
The 65% layout works really well, you lose a dedicated home and end key and sacrifice little else in a TKL format, the arrow cluster takes up a space where the right CTRL would normally be, which I don't think many users will miss.
The Magicforce keeps it even leaner by also removing the F keys, these are all available via the Fn layer as well. Media controls can also be found via the Fn layer, for gaming you won't miss any of these keys, but even for productivity I don't find that I'm missing any of the dedicated keys and really enjoy the extra space that the Magicforce affords.
Aesthetically, the Magicforce sports a white and silver design with a overall subtle look and foot print, the keyboard would easily fit in any office environment.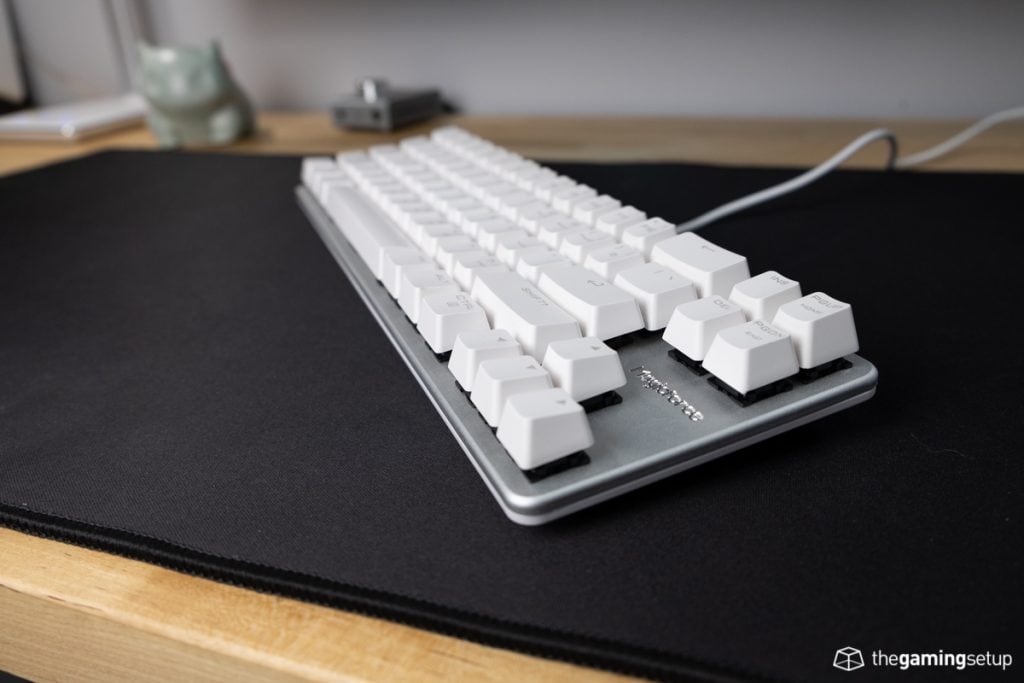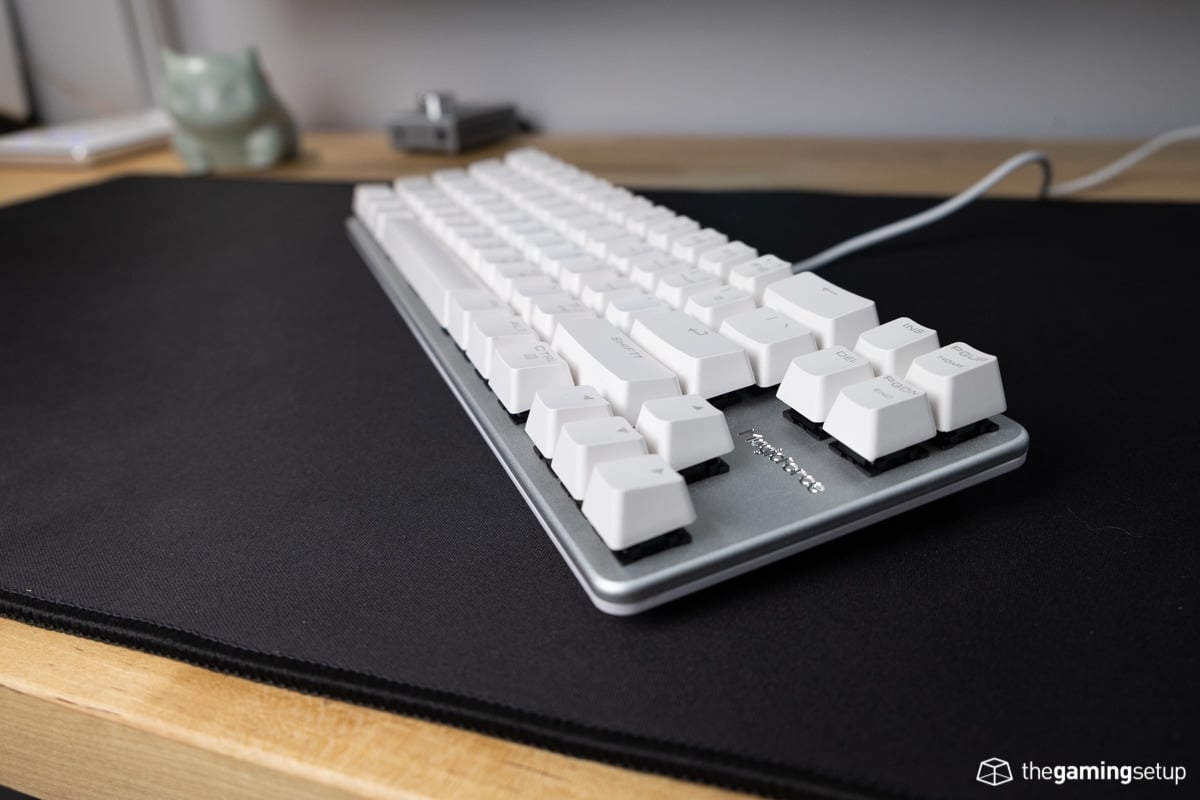 The metal top plate is silver with an anodized coat, the surface itself does well in preventing smudging and fingerprints. There is a shiny inset Magicforce logo above the arrow cluster, but other than that, no status LEDs, or unnecessary design elements, I'm quite a fan of this streamlined design. The design lends itself very well with customization, the keyboard is a bit of a blank canvas for custom keyboards, check out how other people have customized the Magicforce on google images.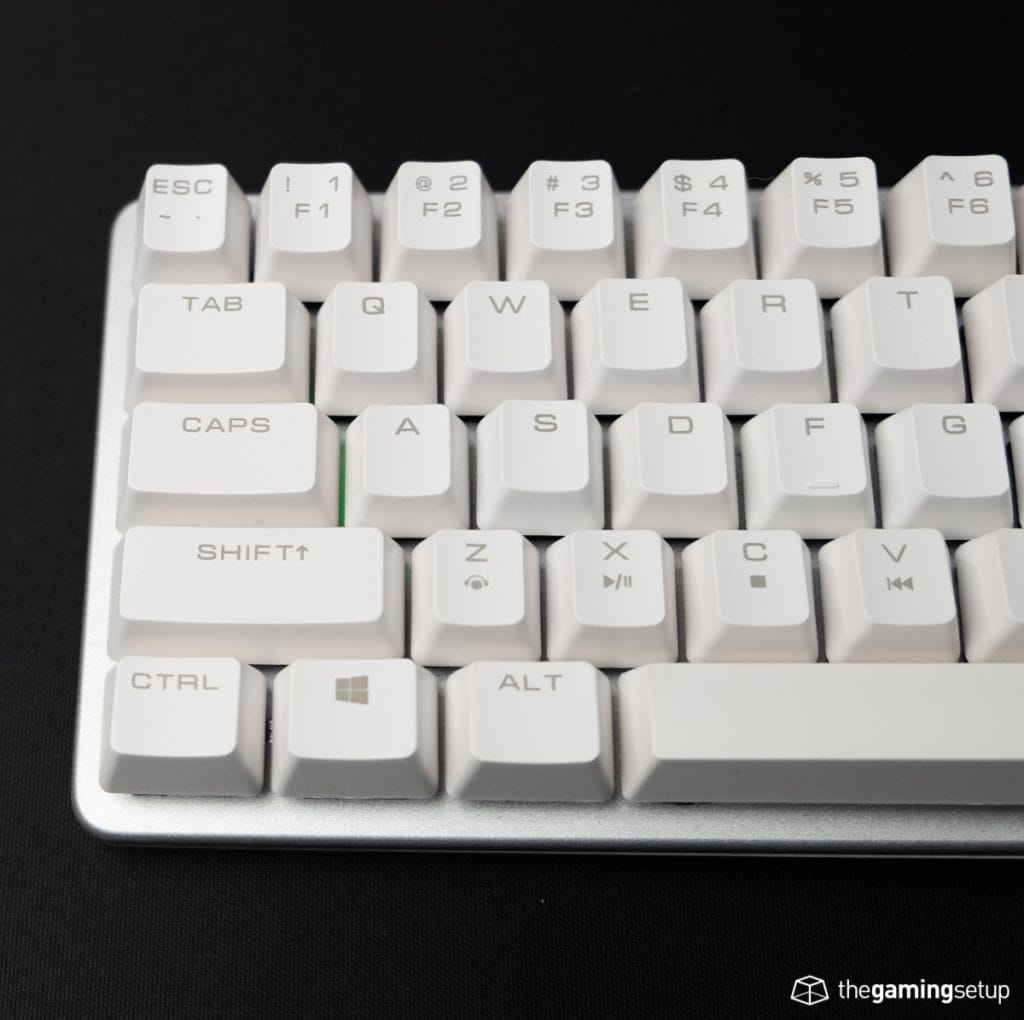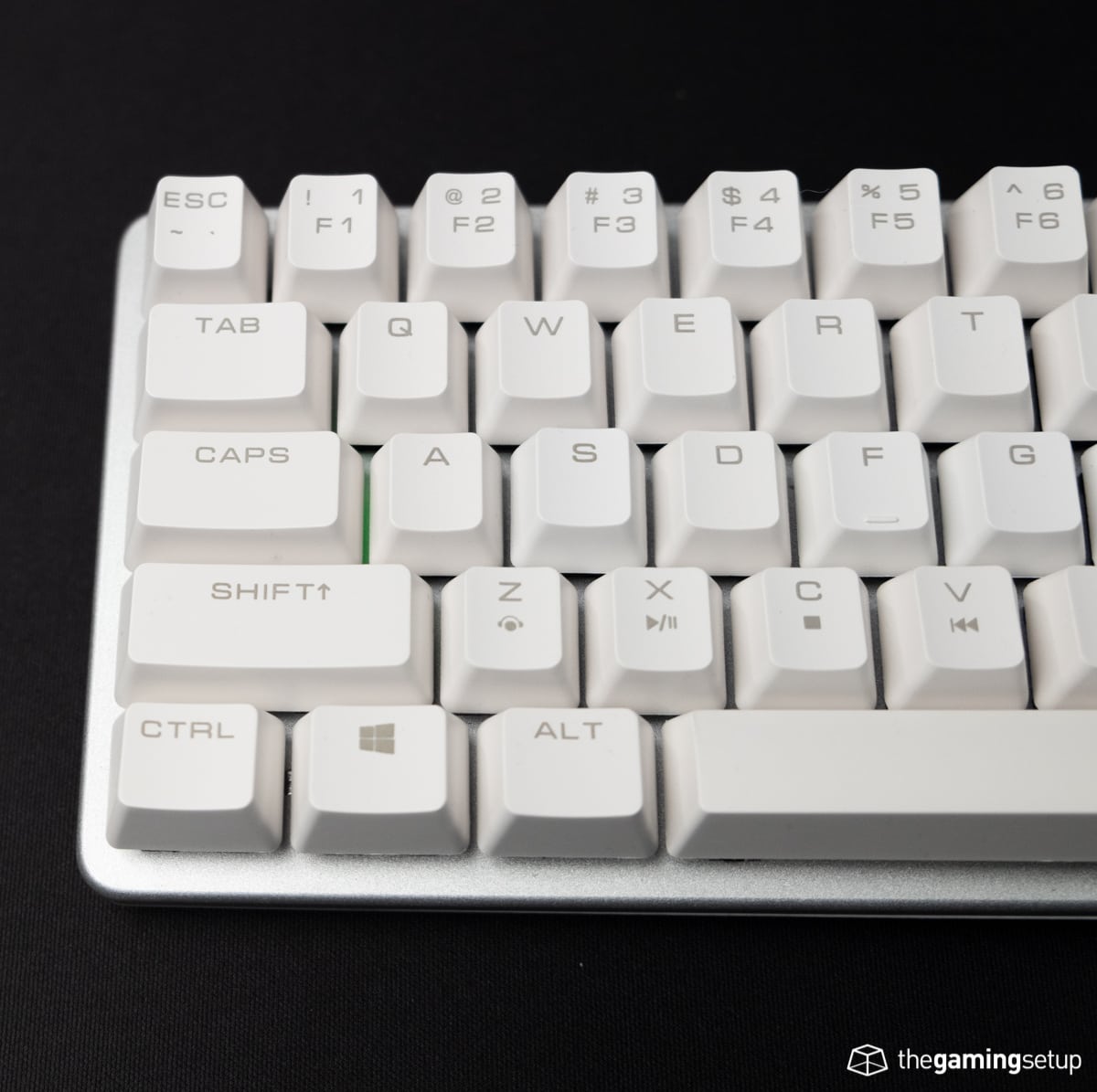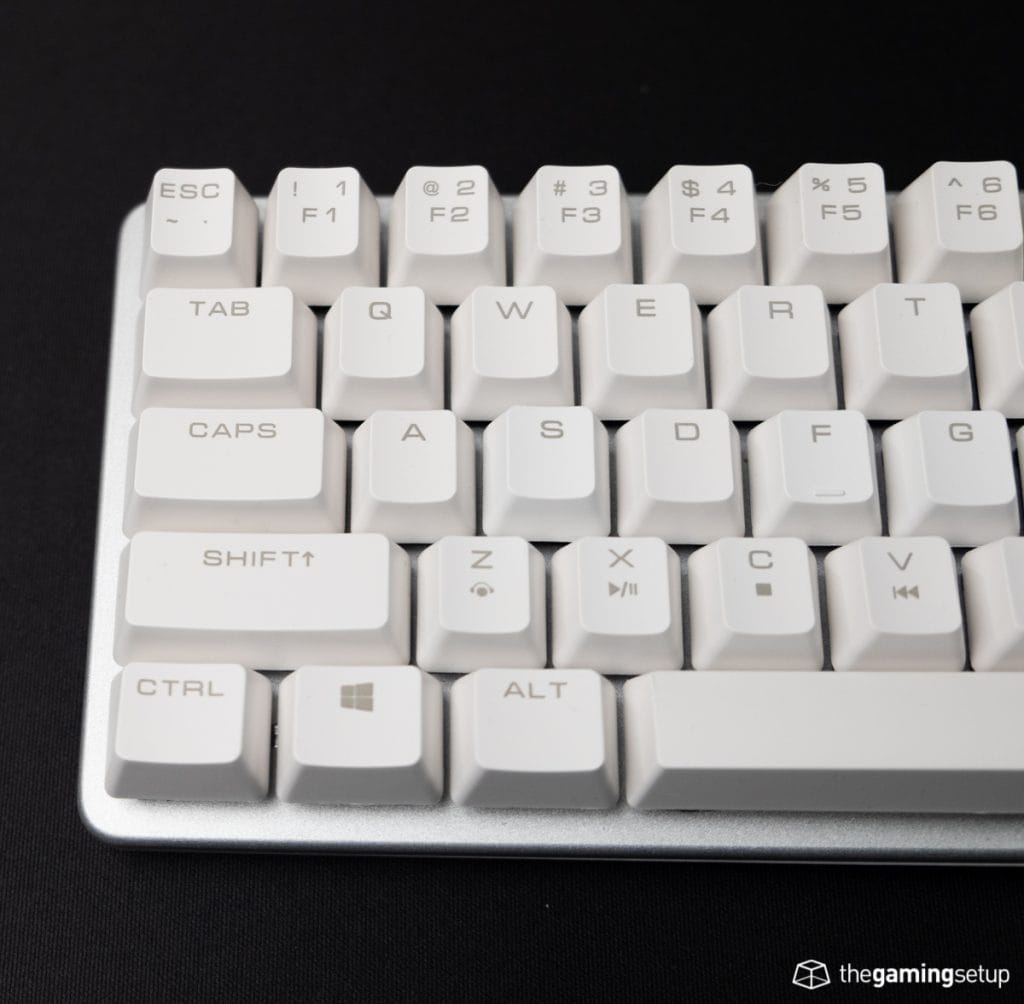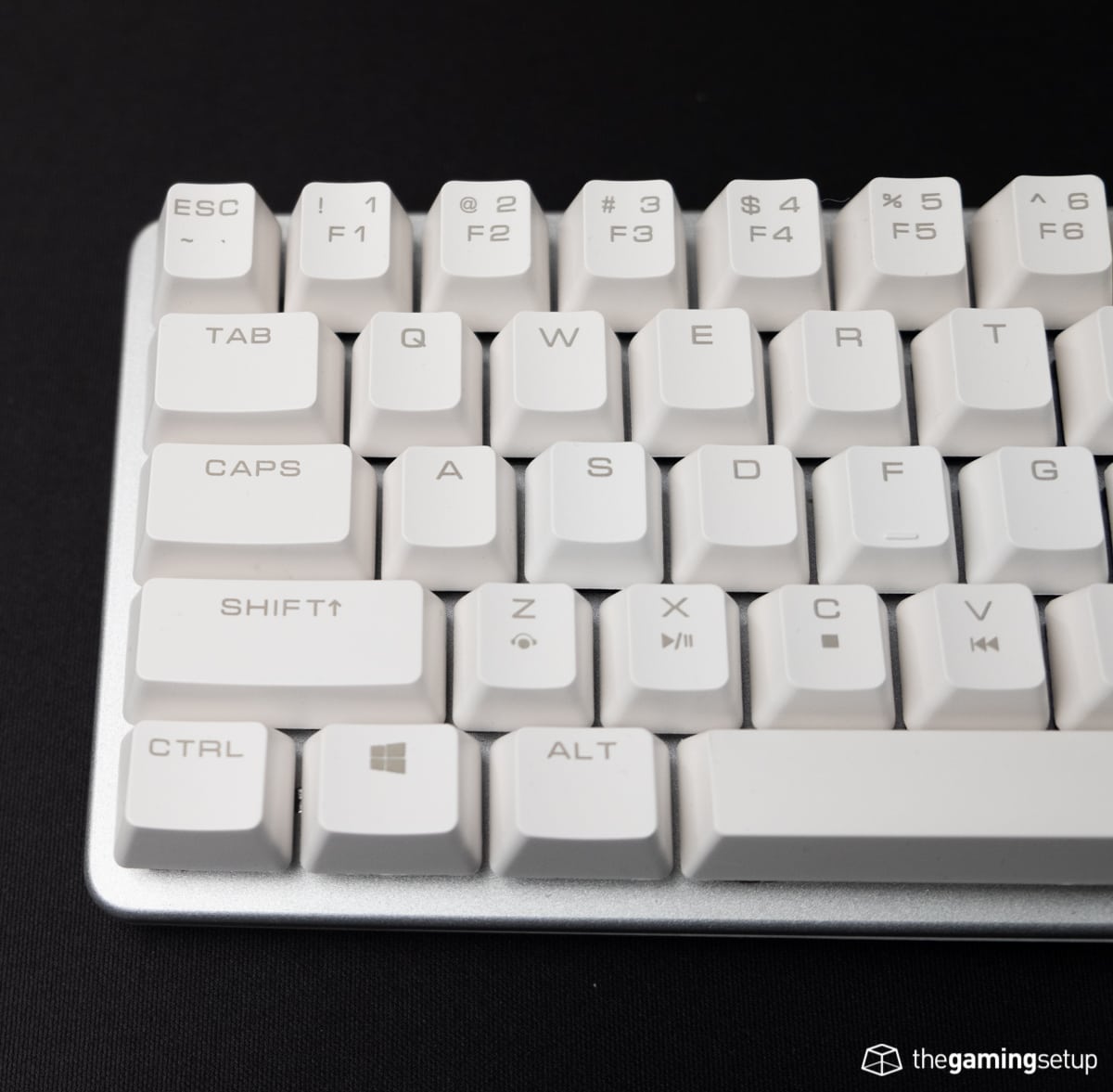 The Gateron and Cherry versions of these keyboards have a white backlight LED, while the Outemu verison does not come with LEDs with the exception of the caps lock key acting as a status light.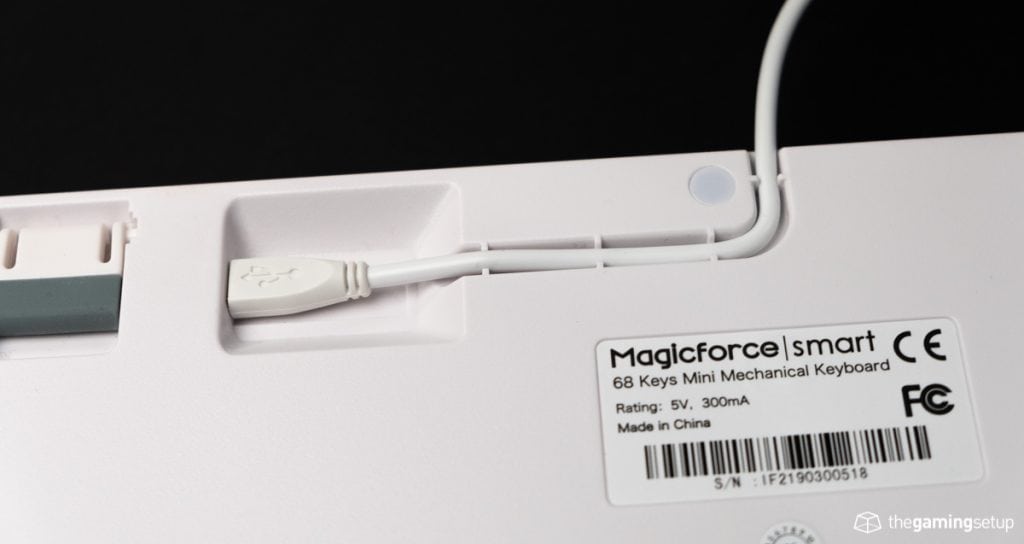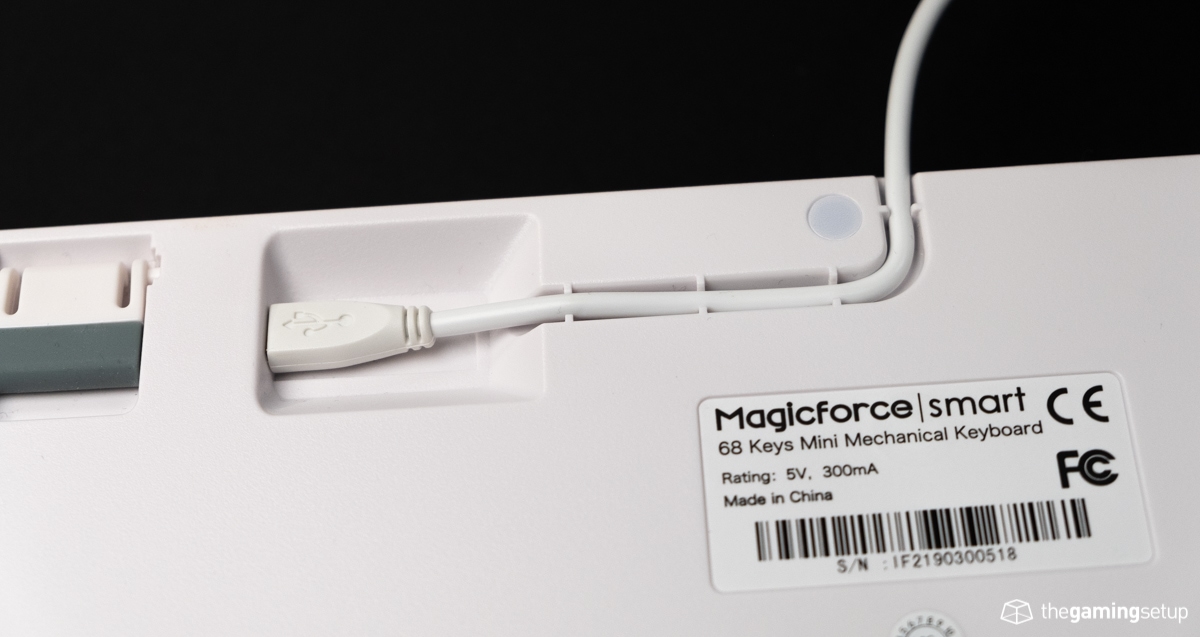 The Magicforce 68 uses a standard mini-USB connection, the cable is removable which is always a nice touch on a cheaper keyboard, the the underside of the keyboard features a cable routing channel for the aforementioned USB cable as well as 4 standard rubber feet and 2 adjustable feet.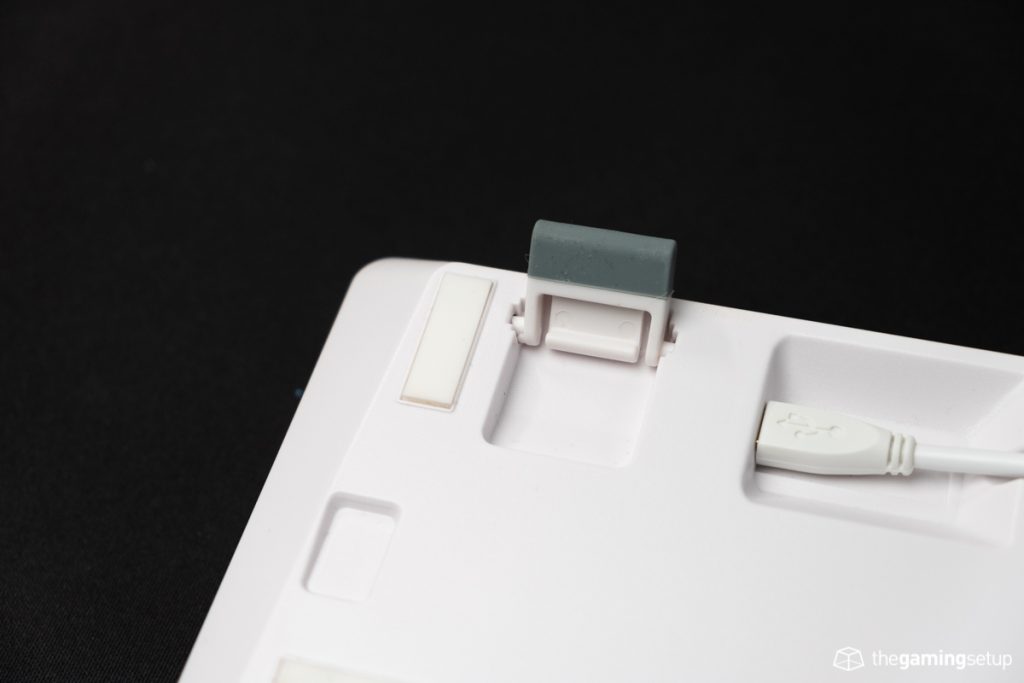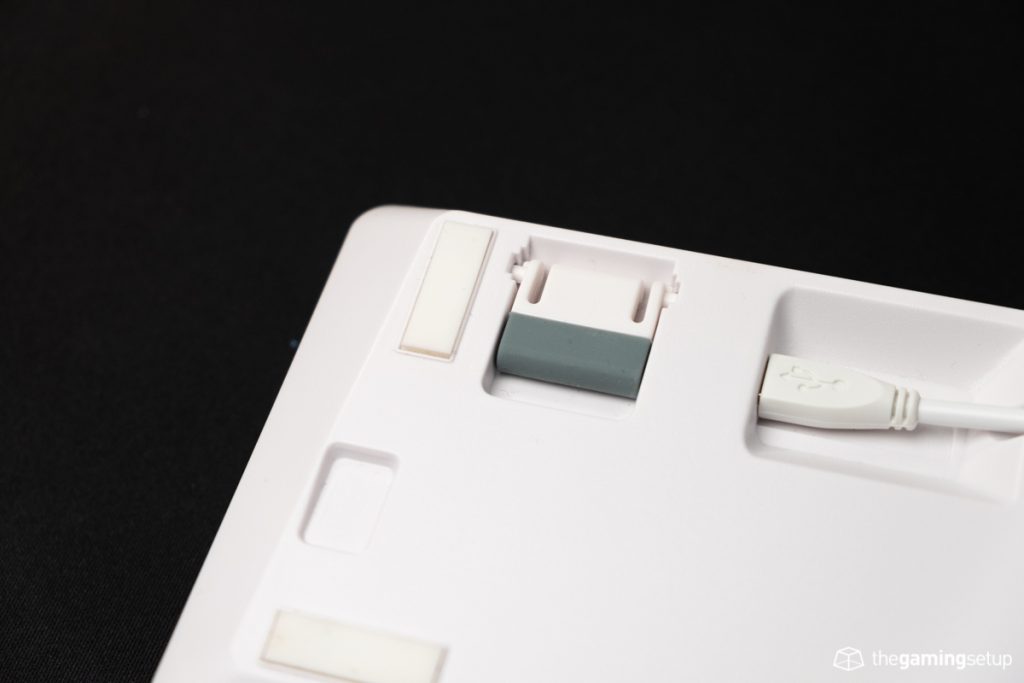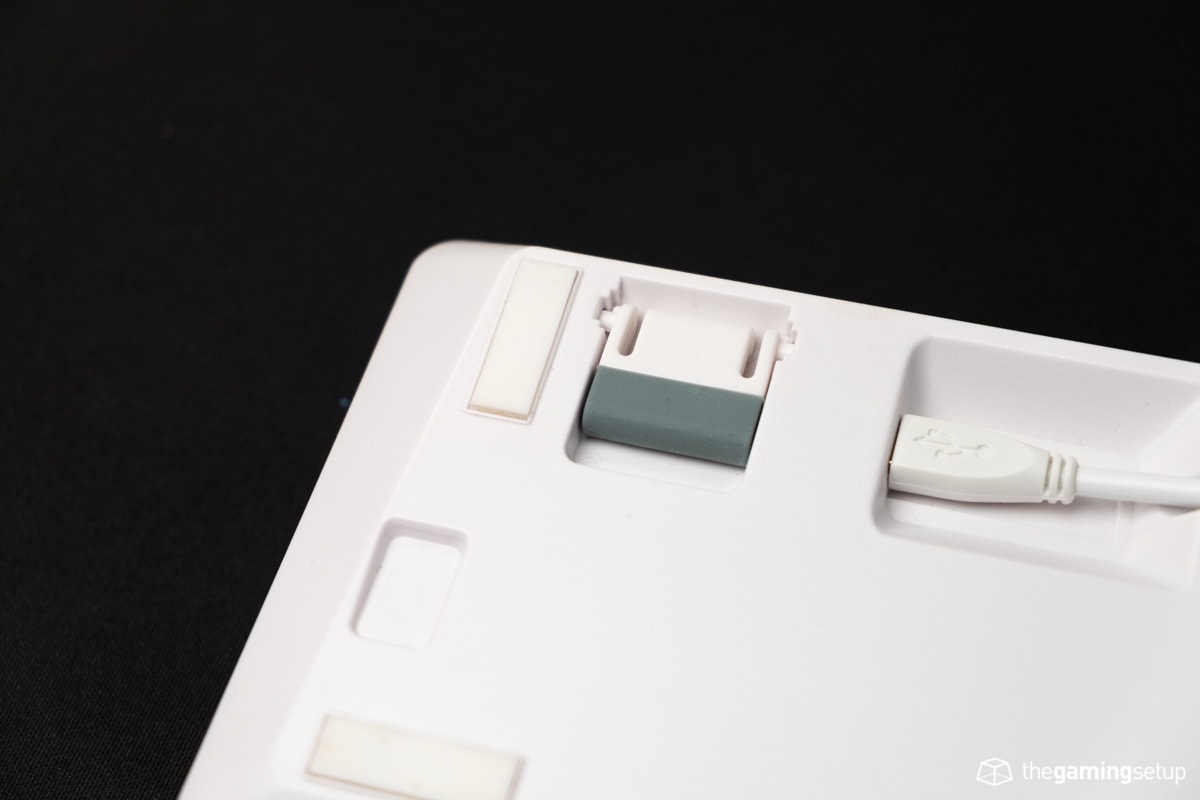 The adjustable feet have 1 stage, the feet themselves are rubber tipped which is a nice touch that even the most expensive keyboards can miss.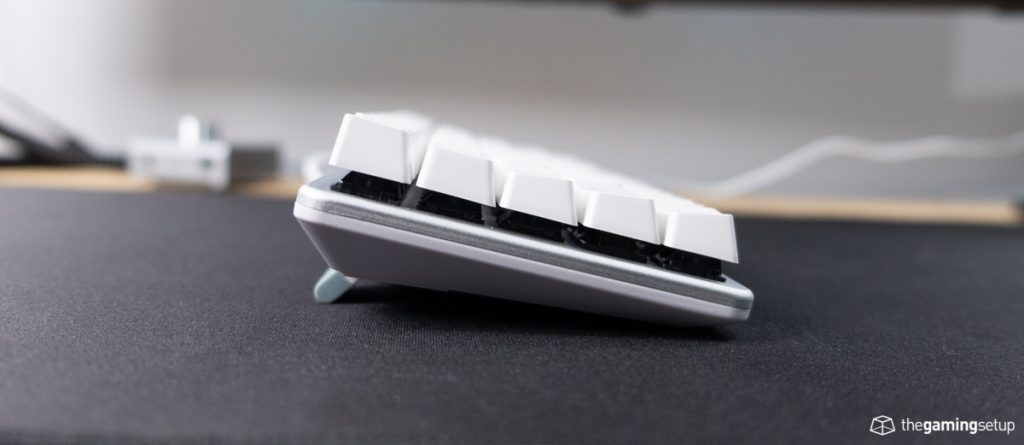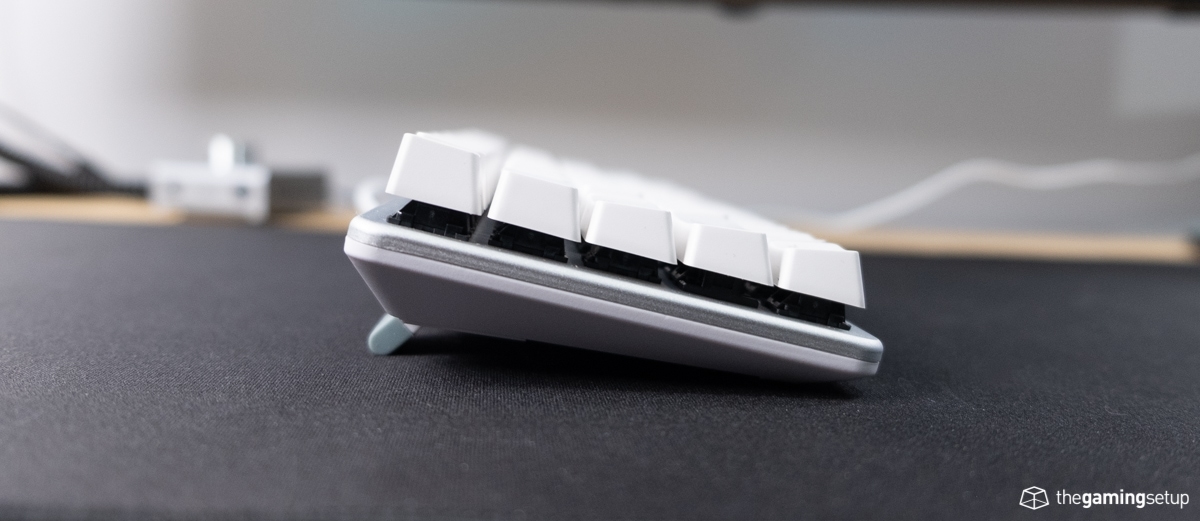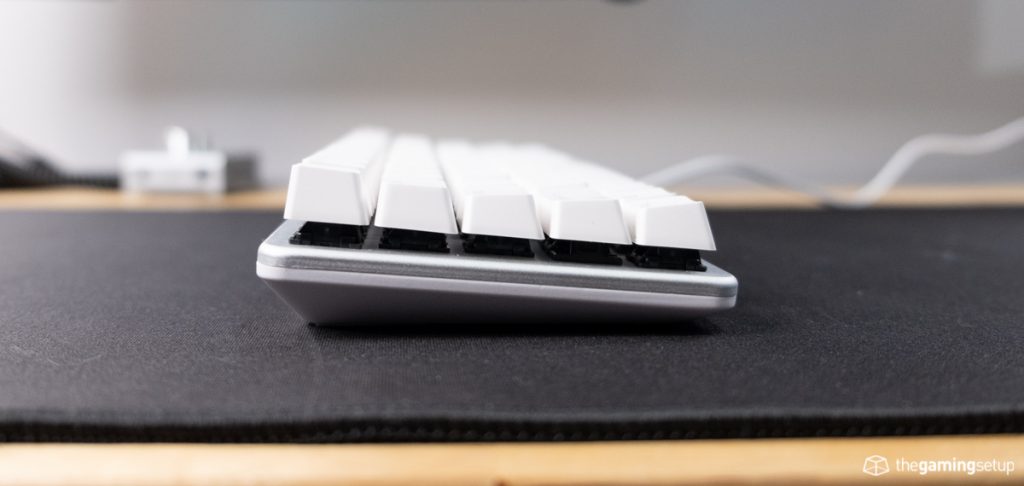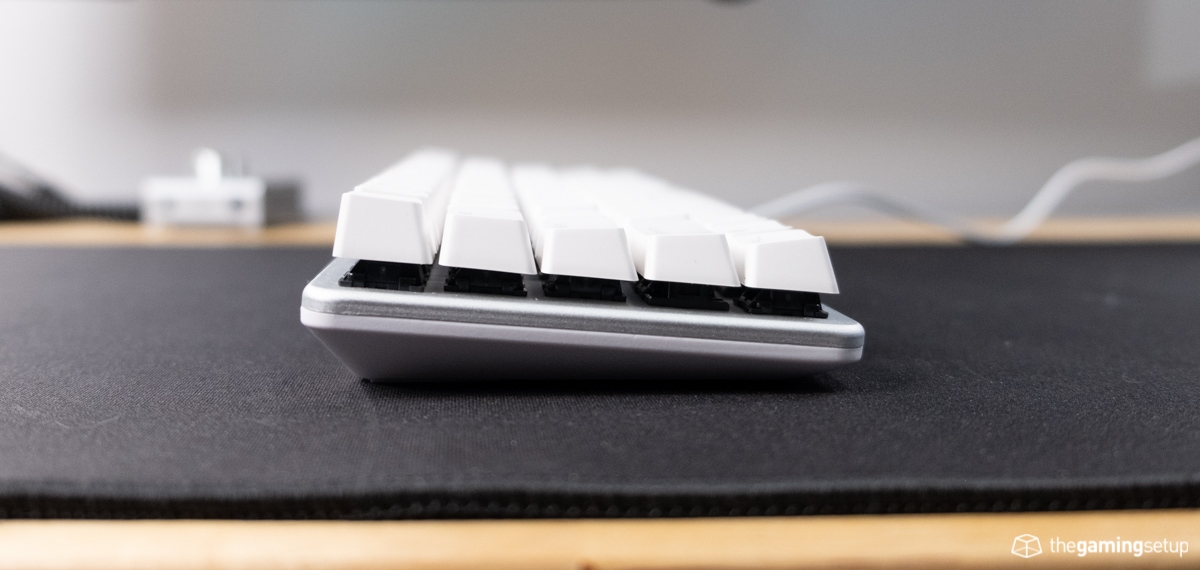 Switches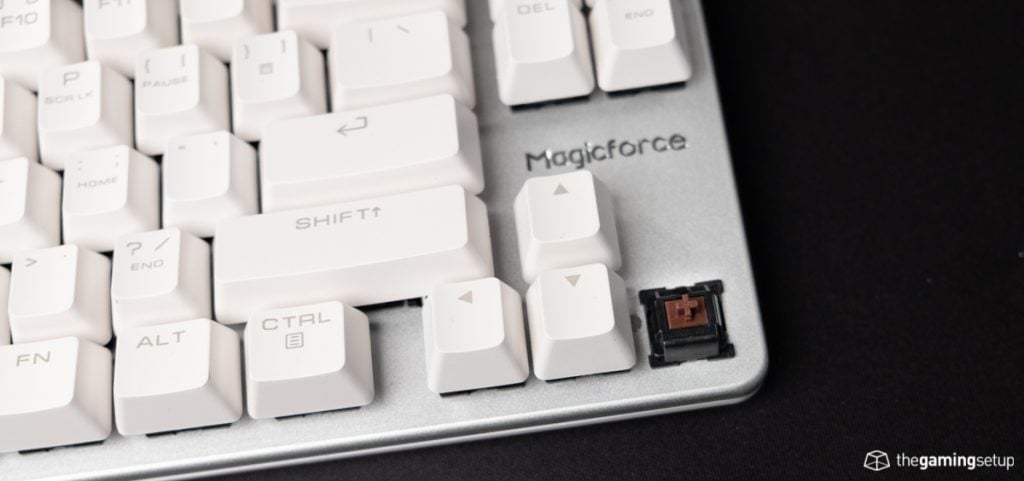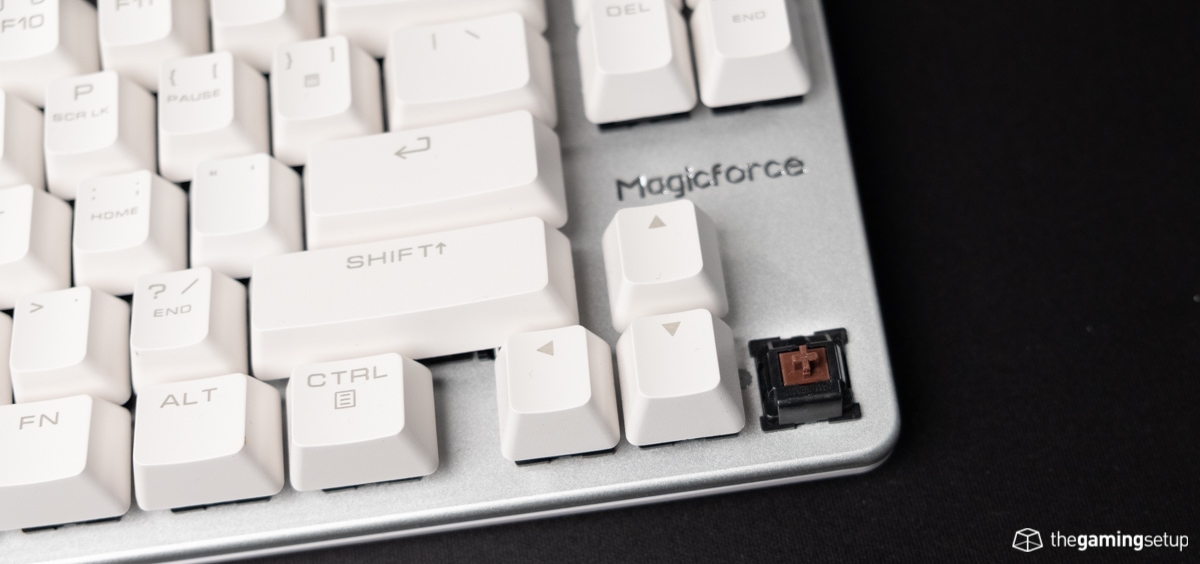 The amount of switch options found in the Magicforce 68 is really rare for budget keyboards. With this keyboard, you get a choice between Cherry, Gateron and Outemu switches in several colours.
Here are the switch options from least expensive to most:
Outemu Blue
Outemu Brown
Outemu Red
Gateron Blue
Gateron Brown
Gateron Red
Cherry MX Blue
Cherry MX Brown
Cherry MX Red
The Gateron and Outemu options are just clones of the original Cherry versions, all the switches have a 4mm bottom out travel and a 2mm actuation point. If you have any questions about switch types refer to our switch chart and table for more info.
The Magicforce I reviewed came with Outemu browns, which are the absolute cheapest version, coming in at under $40. The Outemu's are serviceable but they're definitely less smooth than the more expensive Cherry Brown versions, a little chalky. For $40 dollars the Outemu switches are quite the steal, especially considering you actually have options with the MagicForce.
The large keys are stabilized with Cherry-style stabs, they don't do a particularly good job of keeping the large keys stable, there's a good amount of wobble and rattle on the shift, space and enter keys. The 1U keys also show a similar amount of wobble, obviously this isn't ideal but I can't complain much for the price point, it's still a very usable keyboard.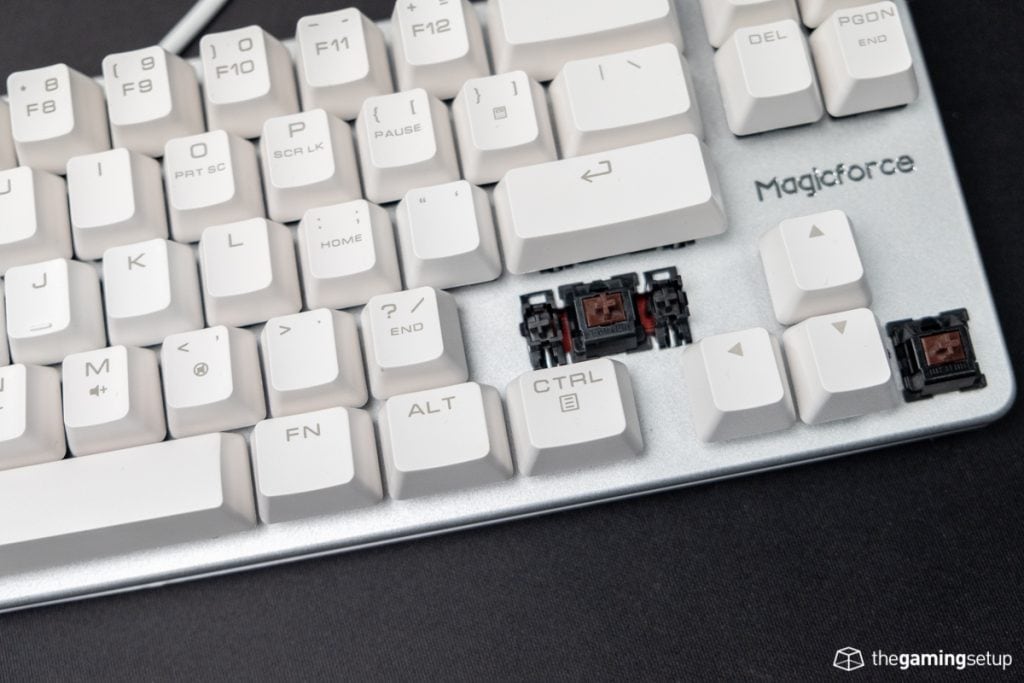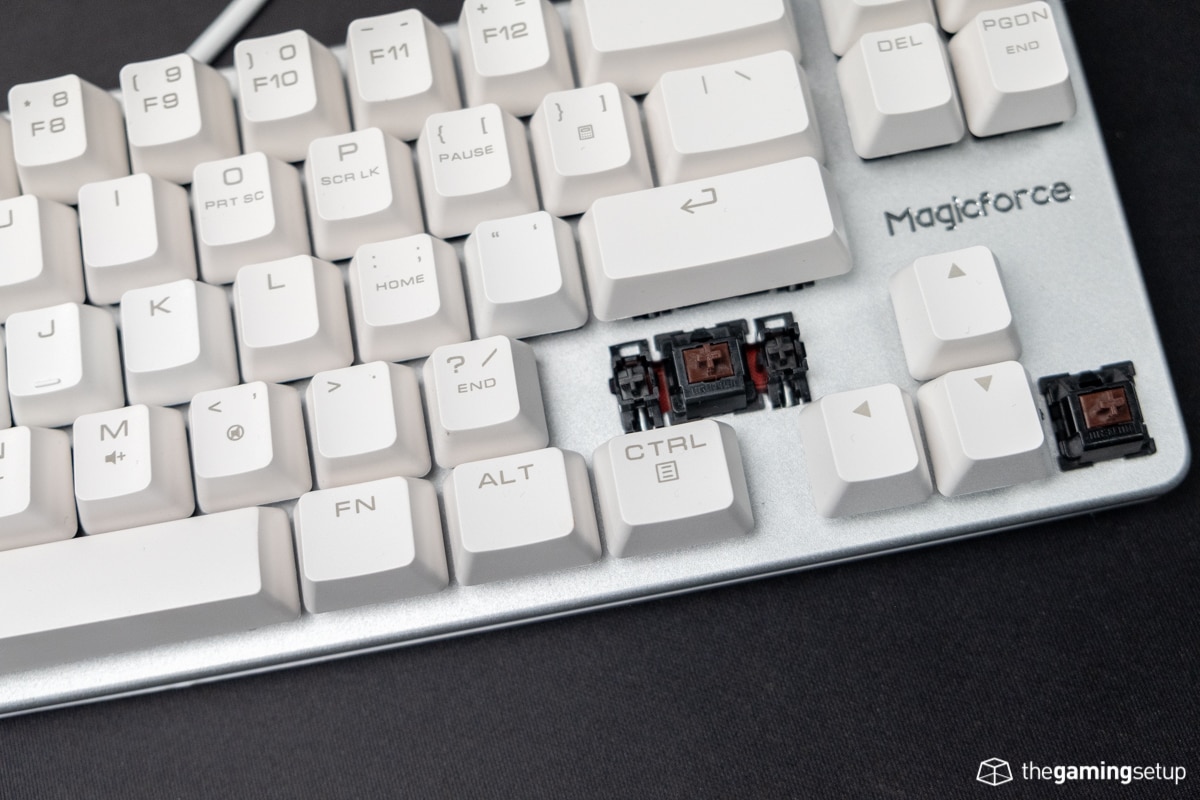 Build Quality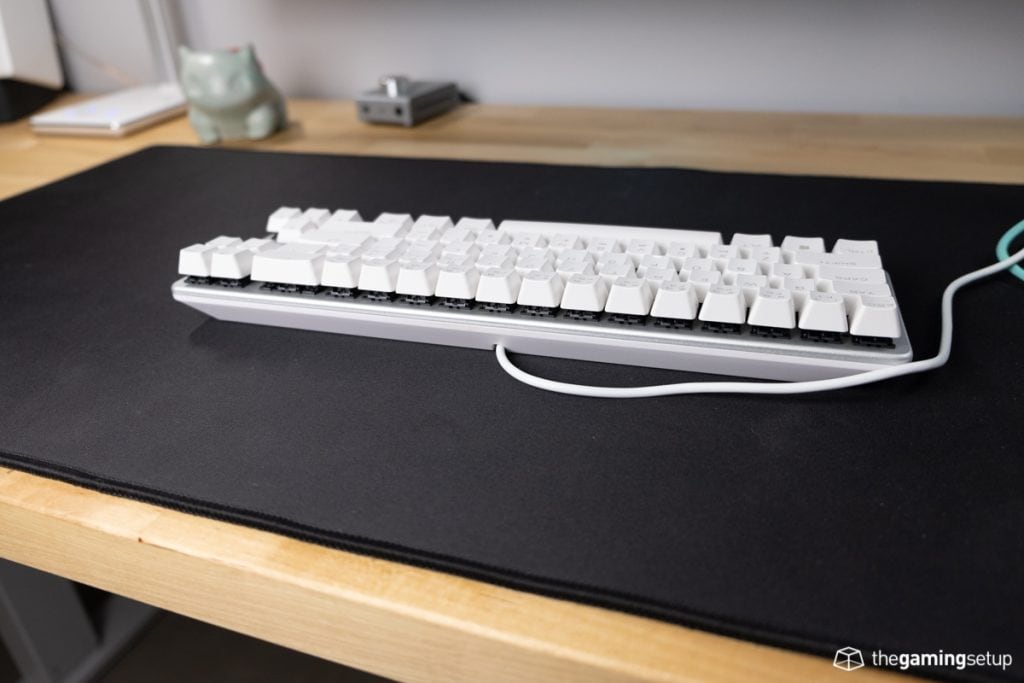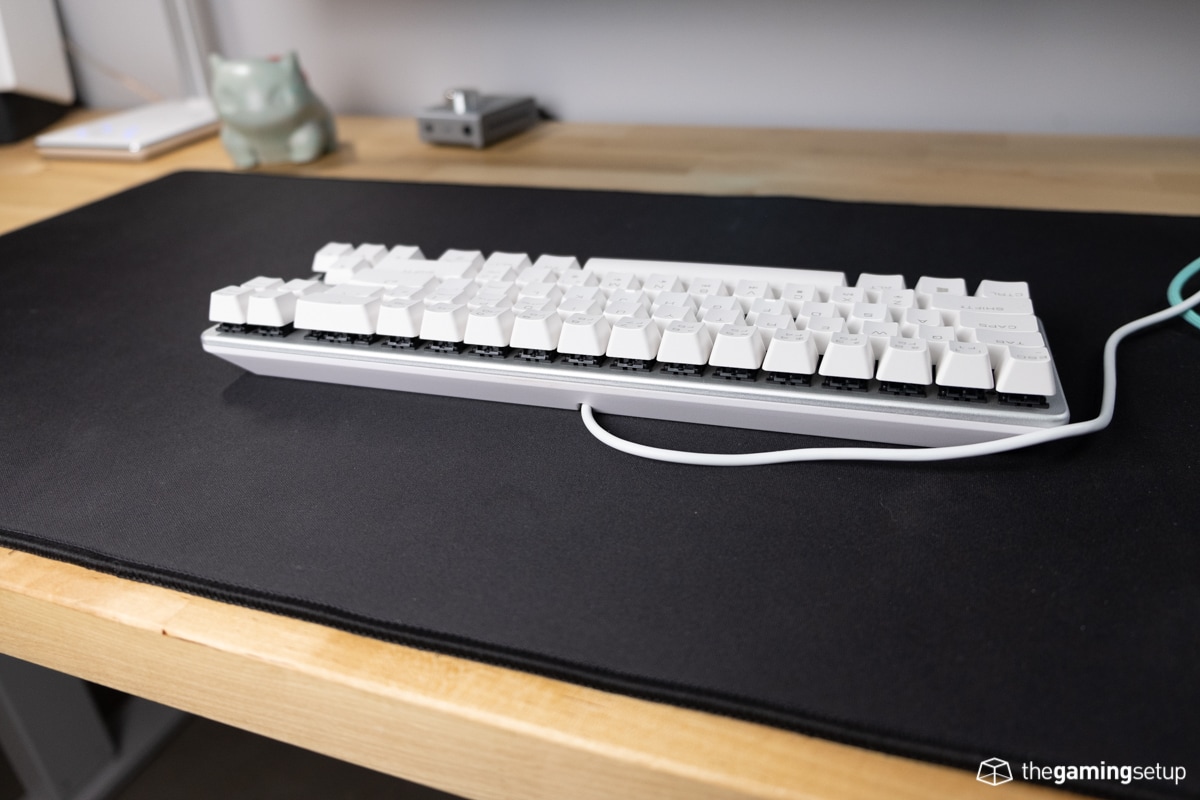 The Magicforce 68 has a decent build quality, its a little light but the case with the metal top shows minimal flex and zero creak.
In terms of overall build quality, the Magicforce 68 isn't as tank like as the Redragon Kumara, but I don't have any concerns of the Magicforce not being able to withstand a heavy handed gamer.
Keycaps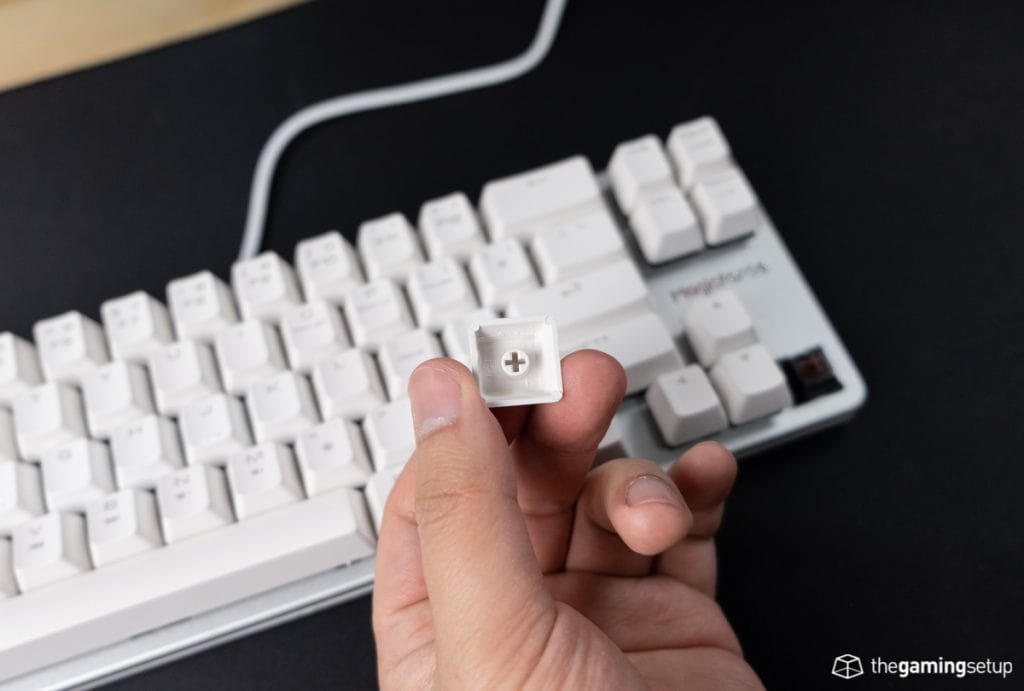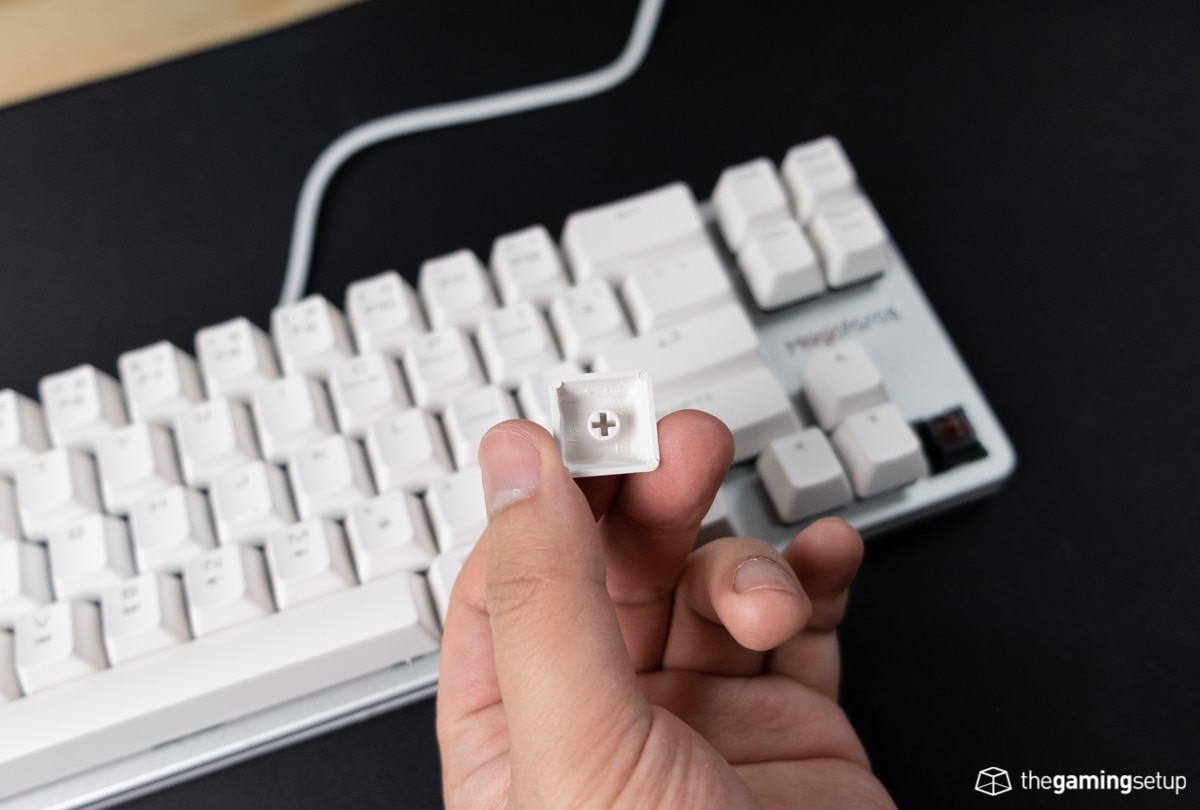 The keycaps are low quality, they're thin and made of white ABS plastic and the legends are pad printed. These keycaps are going to get shiny and the legends will wear away with heavy use.
Luckily, all the keycaps are a standard size, so replacement of the keycaps are easy, the Magicforce will work with any aftermarket set.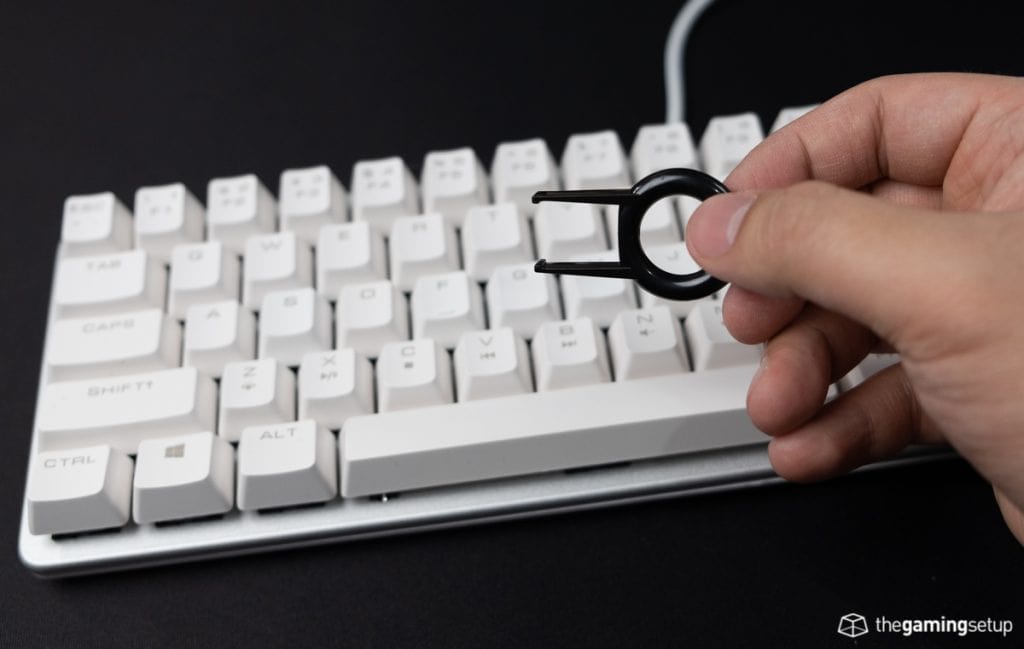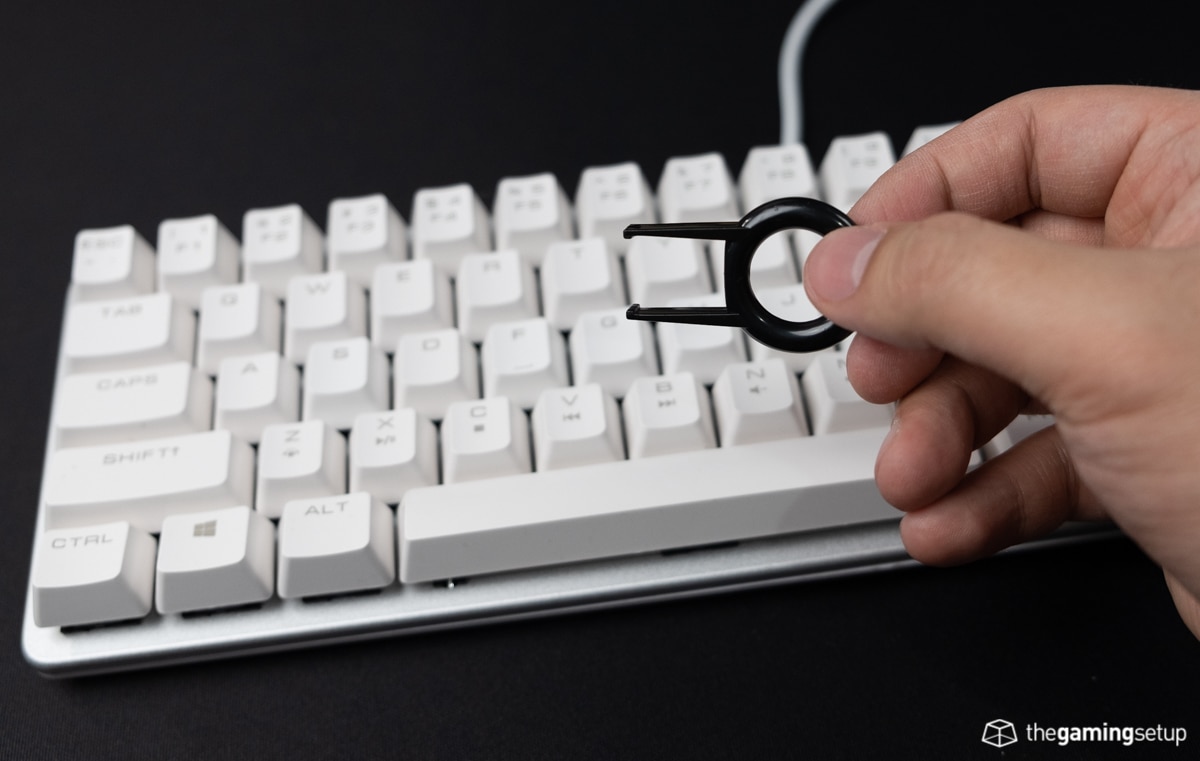 The Magicforce also comes with an included keycap puller, it's the cheaper plastic kind that I don't recommend you use as it can scratch keycaps.
Features & Software
The Magicforce doesn't have any software or any onboard way to customize or remap your keyboard. The Gateron version of the keyboards have some dip switch options:
Switch 1: Switch Caps Lock and Left Control
Switch 2: Swap win key and Fn key
Switch 3: Lock the Win key
Here are the default fn layer keys:
Fn + W: Set Polling rate to 20C/S
Fn + E: Set Polling rate to 40C/S
Fn + R: Set Polling rate to 60C/S
Fn + 1-12: F1-F12
Fn + Z: Launch default media player
Fn + X: Play/pause
Fn + C: Stop
Fn + V: Previous Song
Fn + B: Next Song
Fn + N: Volume Down
Fn + M: Volume Up
Fn + <: Mute
Fn + /: End
Fn + ;: Home
Fn+ Page up: Home
Fn + Page down: End
Fn + O: Print screeen
Fn + P: Scroll lock
Fn + [: Pause
Fn + ]: Launch calculator
Fn + up arrow: Increase LED brightness
Fn + down arrow: Decrease LED brightness
Fn + left arrow: Turn on/off LED breathing mode
Fn + right arrow: LED speed
Warranty and Reliability
I haven't been able to find any official information about the Qisan Magicforce 68 warranty, will update if something comes up!
Value & Conclusion
The Magicforce 68 is a steal, at $40 for an Outemu version, the Magicforce offers a unique layout and some features that keyboards that cost 4x as much don't have. This budget keyboard gives you the option to go with several switch options, a huge plus.
The design of the Magicforce is really great, it allows for a lot of customization and creativity, while the default look is pretty decent.
Build quality is passable, there are some wobble and rattling concerns with the Magicforce but for this price it's to be expected.
Great layout