Gaming mice just keep getting better and better, so it's no surprise that the best pc gaming mouse keeps changing.
While the technology, features and materials change, the fundamentals of a mouse never do, the best gaming mice are going to feel the easiest to use for the most people, it must provide the best performance in terms of responsiveness and agility and it must be reliable.
As a general disclaimer, no one mouse is good for everyone, mouse preference is a personal thing and everyone has different needs. But, if you're starting from zero preference, what's the best gaming mouse? The Logitech G Pro X Wireless Superlight. It's safe shape, perfect wireless and incredible lightweight make it a complete package for a lot of gamers.
---
1. Logitech G Pro X Superlight Wireless
The best overall mouse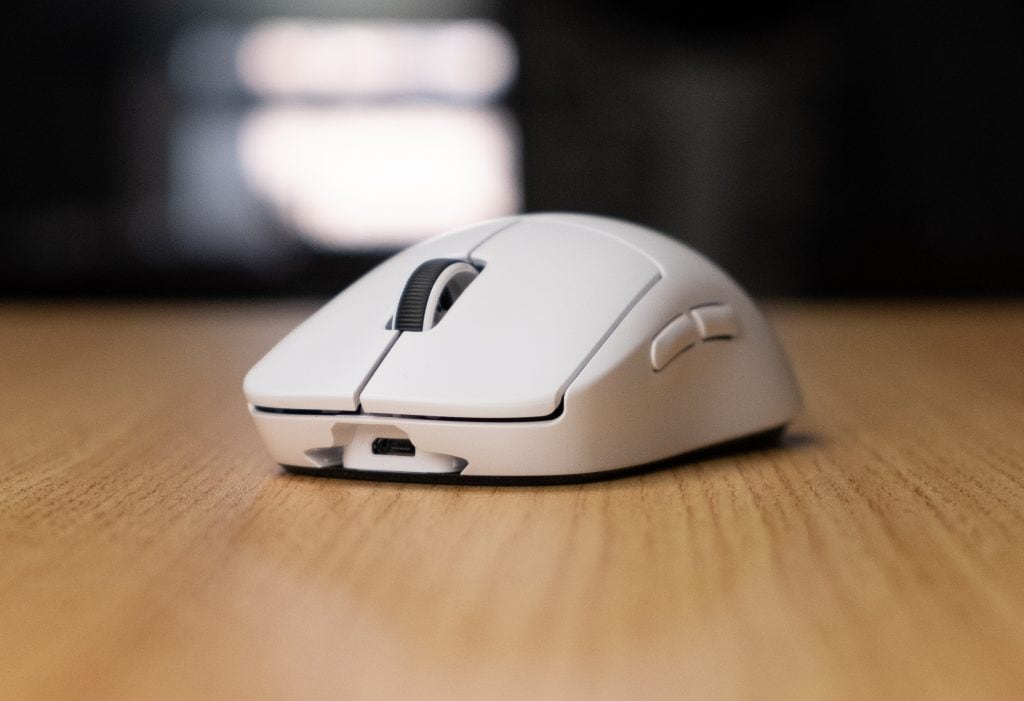 The Logitech G Pro X Superlight Wireless has the best specs and one of the safest shapes that can accommodate most people, it is the safest recommendation to any gamer who doesn't know what they like yet or don't have a strong grip preference.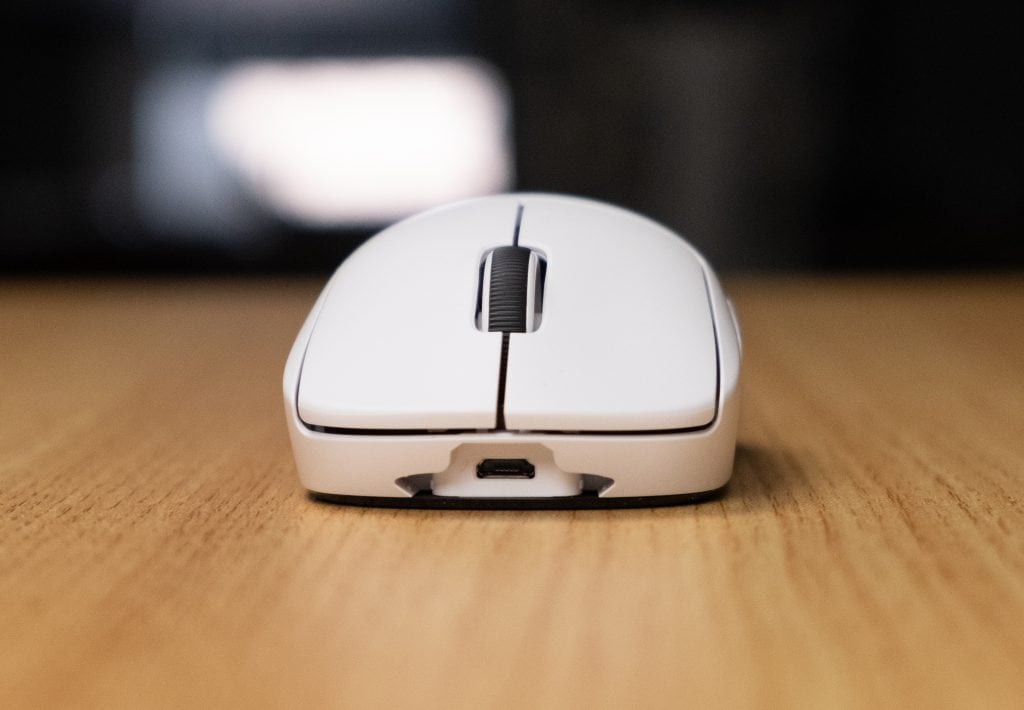 The Superlight has shored up some of the weaknesses from the G Pro Wireless, the double clicking concerns while making the mouse even lighter, with even better battery life.
It still has that darn micro-USB charging cable though.
Read our full Logitech G Pro X Superlight review
2. Razer Viper V2 Pro
A very close second, more like 1B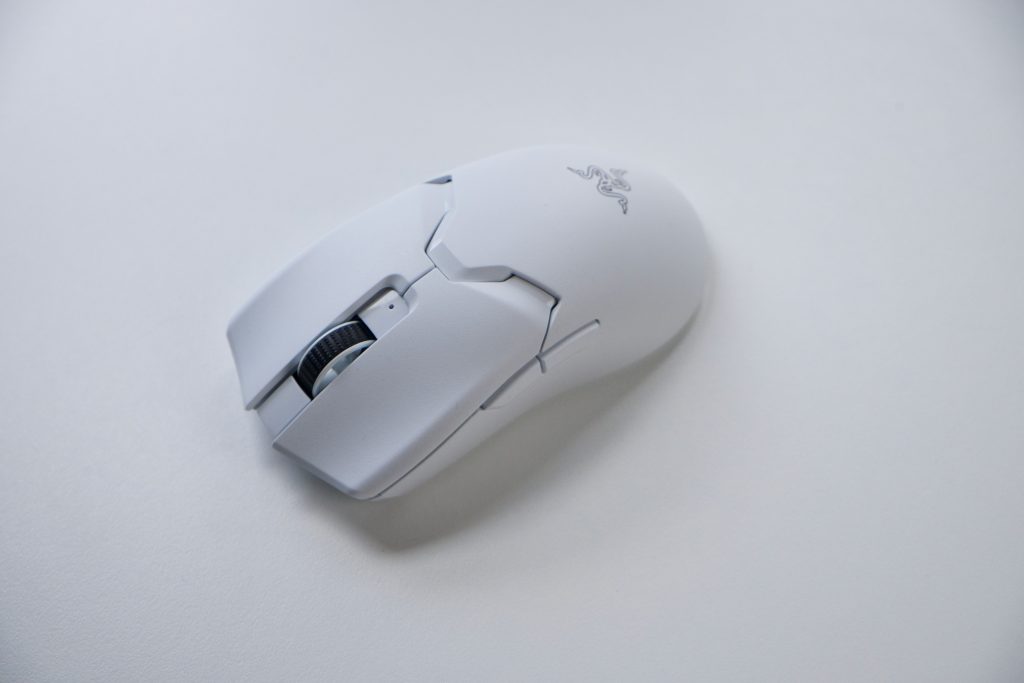 The Viper V2 Pro shaves some weight, side buttons, and improves button quality drastically on the Razer Viper Ultimate.
The net result is a mouse that has fewer extras and niceties like the dock, but the core mouse experience is simply better.
The decision between the Viper V2 Pro the Logitech G Pro X Superlight is one of shape. The Viper is a flatter mouse and excels more with claw grip, the Superlight is going to be better for any palm action. Either way, it's close to a dead heat, you should try both before you make a call.
Read our full Razer Viper V2 review
3. Razer DeathAdder V3 Pro
The best ergo gaming mouse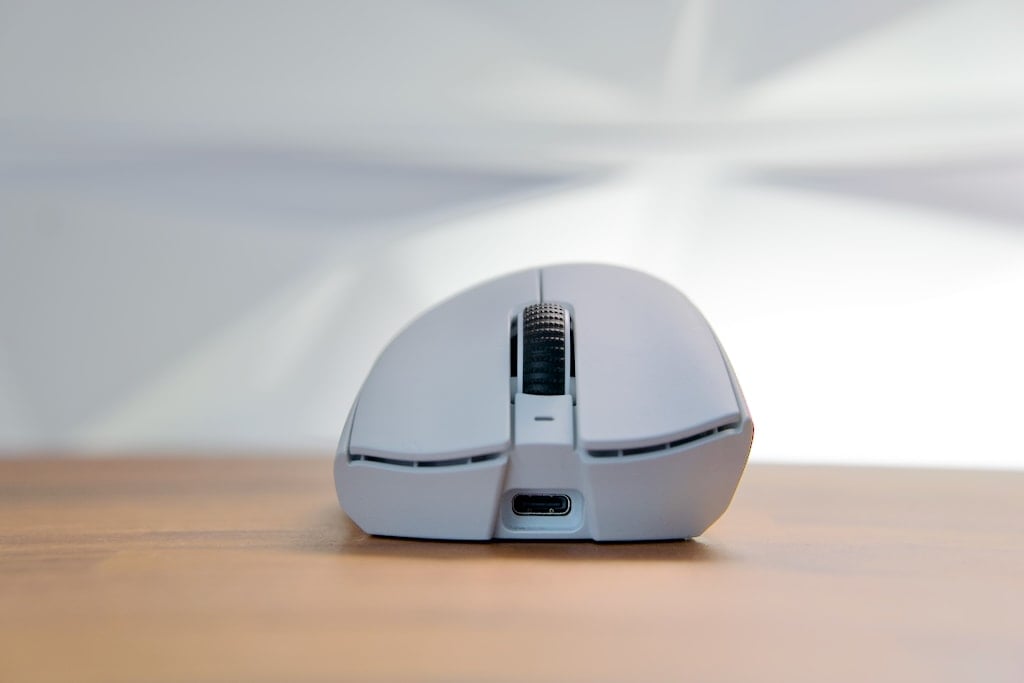 RIP to the front flares on the DeathAdder, Razer has brought its classic gaming mouse to 2022, and boy does it have a ton of fans.
DeathAdder fans will be ecstatic to see that the shape is familiar and comfortable, while every other aspect of the mouse has been improved drastically.
Battery life is great, build quality is solid and super light for its size, and the buttons are tactile and crispy.
Razer firmly has the best ergo shaped mouse in the market right now.
Read our review of the Razer DeathAdder V3 Pro
4. Razer Viper Ultimate
It's got a dock!
The Razer Viper Ultimate just does everything well.
The mouse justifies its high price point by having a very complete gaming mouse package that only the G Pro Wireless and Superlight has a hope of competing against.
If you're a medium sized claw gripper looking for a wireless mouse I doubt you'll find a better offering than the Viper Ultimate. Its buttons are a little looser than the new Superlight, but it very much holds up in pretty much all aspects.
Compared to the V2, you'll save a couple of bucks, gain a dock, add some grams and the buttons are definitely not as good, your call to make if the price difference is worth upgrading to the V2.
5. Logitech G Pro Wireless
Logitech's old flagship is still a top mouse
It's a wireless mouse that weighs 80 grams and lasts for 60 hours on a single charge, and it still has a great shape, good buttons, solid build quality and a top sensor.
While it is no longer a technical marvel that's completely unrivalled, the arrival of Superlight bumps the G Pro Wireless into a price category that makes it quite a good mouse for its price.
Everything I said about the Superlight's shape applies to the GPW, it's just a little heavier, with less battery life and less tactile buttons.
6. Xtrfy M42 Wireless
Great shape(s)
This is a great mid-range priced mouse. If the Viper V2 and RVU are too expensive, the M42 gets you almost all the way there at for less money, as long as you don't mind the holes.
The M42 Wireless features a swappable shell to suit both claw and palm grip. It's shape is easily recommendable to most gamers.
The M42 isn't in the top tier for specs, the mouse is a little heavier even with holes, the buttons have a little more latency, and the battery doesn't last as long, but it's a great mouse, especially at its price point.
7. Glorious Model O/O- Wireless
Insanely good value
While my top two picks are ultra premium, throw all the tech and pay the cost type mice, Glorious has managed to include most of what make the Superlight and Viper Ultimate special but do it at a fraction of the cost.
The Model O Wireless has a great shape, especially for claw grippers, has good wireless battery life and responsiveness, with a USB-C charging option and they're asking for almost half of what Logitech and Razer ask for their flagship mice.
The buttons are solid, the build quality is great, it just depends if you're willing to spend a good chunk of money to get that last 10% of performance from the top picks or not.
8. Fnatic Bolt
Fnatic's best mouse
Another mouse in that just below premium category. The Fnatic Bolt resembles a well received Zowie S2 shape. It sits just below the M42 Wireless because of I believe the M42 is more universally compatible due to its shell swapping.
If you are a fan of the S2 curvy ambi shape, then the Bolt has great build quality, good buttons and good battery life. The software is really bad but you don't have to use it to get the most out of the mouse.
9. Glorious Model D Wireless
Our top ergonomic pick
Glorious' formula of releasing a solid mouse and then making it wireless has not gone stale. The Model D Wireless is everything you'd expect from Glorious, a solid shape, lightweight mouse with a good sensor and good battery life. This mouse is the undisputed best ergo wireless mouse, a great value.
10. Pulsar X2 and X2 Mini
Budget G Pro
Fans of the G Pro Wireless and Superlight have a great budget mouse alternative in the Pulsar X2 and X2 Mini. In fact, the X2 might outperform the Superlight in several categories, it's lighter, has as good or better shape, and the mouse feet are excellent.
Where it falls short, the buttons are slightly better on the Superlight.
The software on the X2 is buggy at best and the battery life and quality control is out of control. There have been several reports of weird battery life issues with this mouse, hopefully this gets resolved. At the price point of $100 compared to the Superlight, you're paying the Logitech premium for reliability.
11. Glorious Model O/O-
An incredible package for an almost budget price
An amazing price for a super light mouse
Glorious' debut mouse makes it to #3 on our best gaming mouse list, it combines a lot of facets we like in other mice and puts them into one affordable package.
The Model O is a larger mouse with a shape that largely resembles the FK1, its a narrow mouse with a low height that feels really good in a claw or finger tip grip while being so-so for palm grips. The shape has been proven by the FK1 to be a top performer.
The cable is the best stock cable on the market, combined with the light weight and good mouse skates, the Model O flies.
Buttons are good, they're not the best in the market, a little stiffer than Logitech buttons but not as stiff as the main Zowie mice, the scroll wheel might just be the best scroll wheel on the market in terms of feel.
For its price this is definitely the best gaming mouse out right now, if budget is not a concern, the G Pro Wireless is still our top mouse, wireless is still better than wired no matter how good the Model O cable is. The build quality on the GPW is higher, more solid while only being 13 grams heavier. In my opinion, the G Pro Wireless has a more universally compatible shape that can suit more grips and hand sizes than the Model O.
12. Glorious Model D
A great light ergonomic option
The Model D is the best ultralight ergonomic mouse on the market. Glorious have managed to create a great original-ish shape, with a more solid cable, great buttons and coating options for an affordable price.
If you're looking for an ergonomic mouse, the Model D is definitely something you should consider, it's one of the cheapest and lightest ergonomic mice available.
13. Xtrfy M42
A fantastic transforming wired mouse
Xtrfy have created something really special, the M42 is a rock solid ultralight mouse with some of the best buttons, top tier sensor and really nice colour options. The thing that puts M42 in a special place is the ability to swap out the top shell for a rounder or more flat shape. The M42 is a small mouse that will be well suited for finger tip and claw grip with some smaller hands for palm grip.
14. Razer Viper Mini
A baby viper that's super affordable
The Viper Mini is a continuation of Razer showing their dedication to listening to customers. The Viper and Viper Ultimate are by no means a small mouse, so anyone who's looking for a smaller mouse didn't really have a Razer option to go to, no longer.
The Viper Mini doesn't really have any missteps, it takes the already proven formula of the Viper and Viper Ultimate is shrinks it down into a smaller package.
15. Razer Orochi V2
A fantastically versatile small mouse
The Orochi V2 is Razer's answer to the G305 and G Pro X Superlight's dominance of the egg shaped mouse. The Orochi V2 is a great mouse with BlueTooth (not good for gaming) and 2.4 GhZ (great for gaming) wireless connectivity.
It helps that this mouse has great buttons, a long battery life on a single battery, as well as a great shape for a fraction of the Superlight's price.
16. Zowie S1 & S2
The most comfortable ambidextrous shape
The Zowie S series has the most comfortable ambidextrous shape on the market, it keeps all the things that make the FK shape great, while making it a little shorter for balance and a better grip experience overall.
If you're looking for a super comfy ambidextrous shape, this is it.
The S series has also improved on the famous Zowie clicks by making them a little lighter and less fatiguing to use overall, which means this is the first Zowie mice that's totally fine for spam clicky games like DOTA or Starcraft.
The cable is made of a pretty standard rubber, but the way they implemented the angle coming out of the S series mouse makes the drag from the cable much lighter. The cable in combination with its mid 80 gram weight makes it a really nice mouse to move around. Its got a flawless sensor to back up the movement, no acceleration or spinning out here.
There are a few things that could potentially hold this mouse back from being your choice. The scroll wheel on the S series is still pretty atrocious as it is on all Zowie mice, super loud and cranky. The coating on the S series mice only come in glossy, if you have clammier hands as I do you'll have to deal with a bit of dirt and oil build up, the upside of the gloss coating is a much better gripping experience.
17. Cooler Master MM710/MM711
A great ultralight for palm grippers
The best ultralight for palm grips
The Cooler Master MM710 is a great affordable ultralight mouse that works really well for palm grip gamers. All the other ultralight mice seem to be focused on claw and finger tip grips, so I'm really happy to see Cooler Master having a really solid option here.
The high back hump isn't going to be for everyone, and the MM710 seems to be a have a button wobble issue so it's not the absolute best mouse out there, but we couldn't keep it off our top mice list with the value it brings.
18. Logitech G703
A solid ergo from Logitech
The best large mouse
The Logitech G703 (or G403) is where you should start when looking for large gaming mice. This mouse is #3 because it essentially has zero major flaws, it comes down to some shape preferences to determine whether or not you would be happy with this mouse.
The G703's ergonomic shape is made for larger hands that tend to palm grip, it has a high hump at the back of the mouse that really fills the palm of your hand. With a medium/largish hand I find it very comfortable to use in palm grip and still reasonable to use in claw grip.
If you can get down with the shape then the G703 really shines. The G703 has great buttons, a great scroll wheel and good side buttons.
The wireless is lagless, the G703 has a, now average, battery life of 30 hours run time, which is plenty reasonable, I don't find needing to recharge more than every 2 or 3 days. The G703 has the option to be charged wirelessly via the Powerplay charge mat. You can also get the Logitech G603 which is pretty much the same in shape but a little heavier, that runs on AA batteries with 500 hours of battery life.
The wireless in combination with its reasonable weight makes the G703 probably the nimblest large mouse available on the market today. The side grips are coated in rubber while the top is a matte plastic, no gripping or lifting issues at all.
19. Logitech G305
A great small mouse option
Mega value
The G305 just brings so much to the table for its price.
This mouse definitely has the best clicks of all the mice I've tested, super snappy, responsive with great feel. The side buttons are pretty thin which must be a design decision due to the mouses' low height to leave room for the thumb grip. The scroll wheel is also pretty tactile with a light middle click button.
The G305 is a wireless mouse that uses a AA battery, it has a 250 hour battery life and is still a reasonable weight. The mouse is a top performer with a flawless sensor.
The shape is good, it's a safe ambidextrous shape but it's definitely not as comfortable as the Zowie S2 due to the way the G305's sides are kind of curve out. The G305 shape is amazing for claw grip gamers though.
The only other downside the G305 is that it has a slight creak when pressed on its sides, but a small worry given the low price you're paying for this mouse.
How we tested and picked
These recommendations have been built by playing and reviewing a ton of mice over the back half of 2018, I've been playing mainly Apex Legends, DOTA 2, Overwatch and Black Ops 4 to come up with these recommendations and to ensure that I don't have any performance blind spots when it comes to gaming. MOBAs require a bit more emphasis on clicks, while twitch shooters like Overwatch require more speed.
On top of play testing, we do a couple of more scientific tests. We test for acceleration on the sensor, jitter at high DPI and spinning out on the sensor. We also test for input lag and do a shake and rattle test to shake out any obvious build quality flaws.
When playing we kept several aspects of the mouse in mind and took notes, our criteria for evaluating mice can be found on our what to look for in a gaming mouse post:
Based on those criteria (for more explanation on mouse tech see this amazing post), considering price, and after playing with all the mice we have, we picked the top 5 mice above for our Spring 2020 update.
One of the things we're looking out for when picking top gaming mice is universality, the mouse has to be able to suit a large majority of gamers, the Zowie S2 for example is absolutely great, but it loses a couple of points for its glossy coating that might make it worse to use for clammier gamers, the G703 is a mouse that's going to be too large for smaller hands, but its going to suit large handed gamers pretty perfectly in all ways.
We've picked from mice that are widely available, it doesn't help anybody if we pick a mouse that no one can get. As new mice come out we'll review them and consider them against our top ranking mice.
What to look for in a gaming mouse
If you're not sure about which mouse to get and want to make sure you don't miss anything when you look for a new mouse then you're in the right place.
By the end of the this post you'll able to properly evaluate gaming mice that fit best for the shape of your hand and the types of games you like.
If you have a specific mouse in mind or just want a pick, then take a look at our gaming mice category page where we list best picks and individual reviews.
Shape
A good mouse shape good is subjective, everyone has different sized hands and hold their mice different ways.
A good gaming mouse makes sure that their shape suits a wide range of sizes and grips for gaming.
To find some mice shapes that you might like, you need to identify a couple of things about the way you game:
Mouse Grip
The three most common mouse grip types are palm, claw and fingertip, figure out which type you prefer and go from there.
Second, make sure the size of your mouse fits your hand size, you want to be able to pick and move maneuver easily without straining your fingers is most ideal. In our reviews we categorize mouse for small, medium and large hands.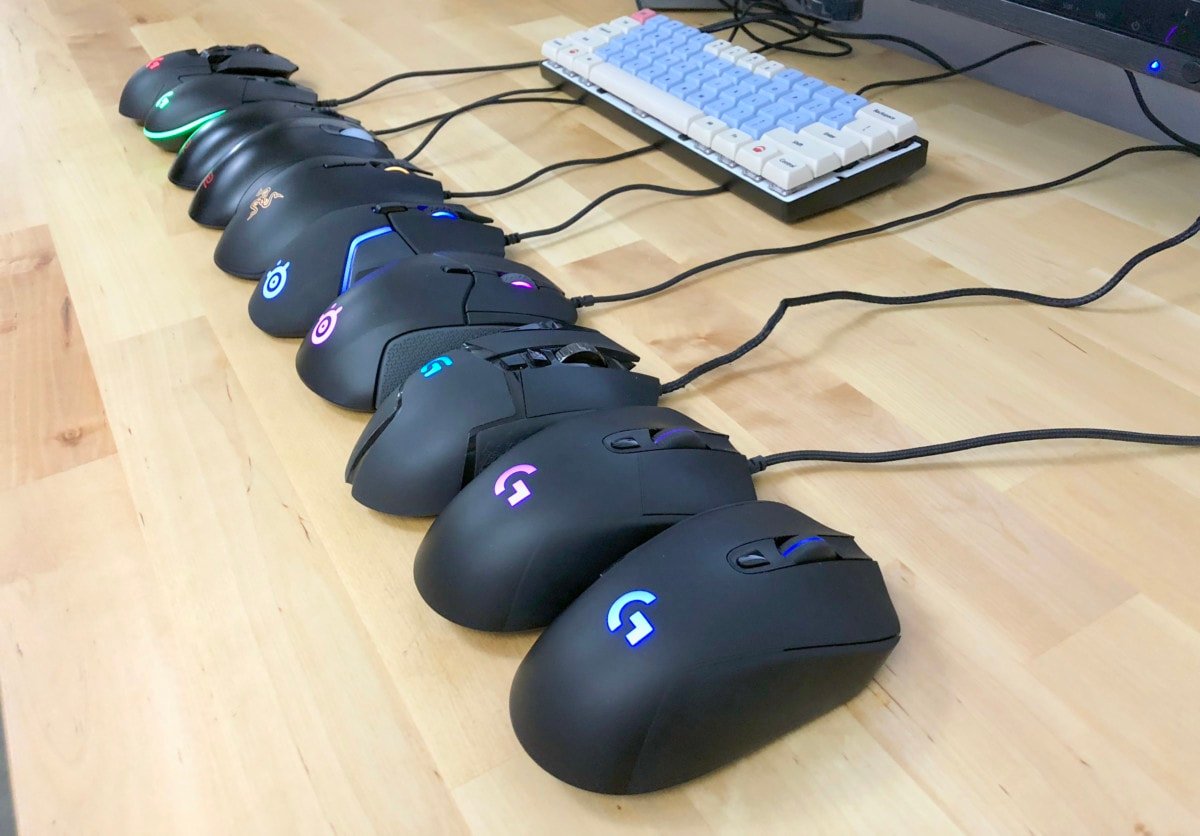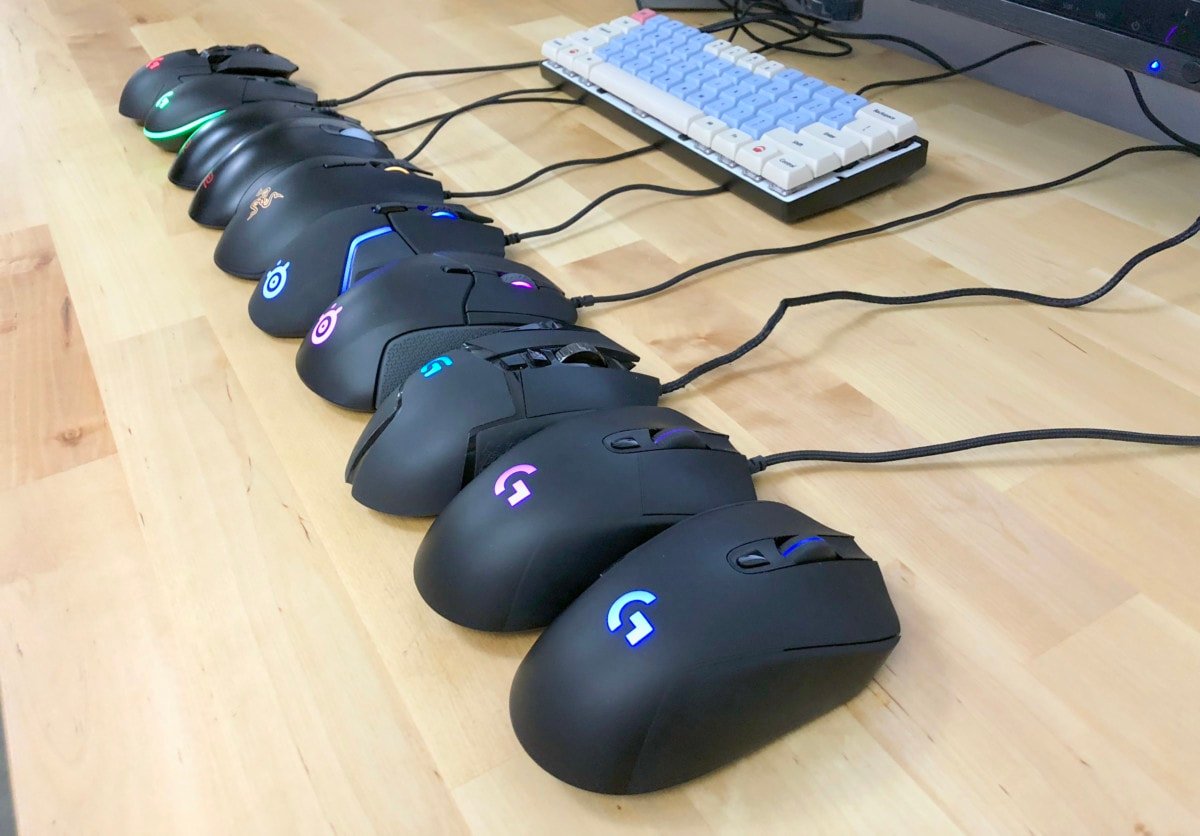 As a rough guide, you want the size of your mouse to be between 60-70% of the length and width of your hand. So measure your hand from the base to the tip of your middle finger and across with fingers tight together.
My hands measure 18cm length and 9.5cm width, which places me in the medium to large range for mice.
Generally, width is more important than length… 😉 So pay closer attention to the width fitting your hand size than how long the mouse is.
Palm grips will require a more specific fit length wise.
Fingertip and claw grips have a larger range of fit.
Using measurements and reading reviews will get you a fairly good fit, but nothing replaces getting your hands on a mouse and playtesting. Take a look at our comprehensive gaming mouse size chart and table.
Mice come in two large categories, ergonomic and ambidextrous shapes.
Ergonomic shapes try to fit the right hand and have thumb grooves to help pick ups, while ambidextrous mice are symmetrical and balanced and can suit either hand. Neither is superior, both are good at gaming, some prefer the comfort of ergo mice and some prefer the balance an ambidextrous mouse provides.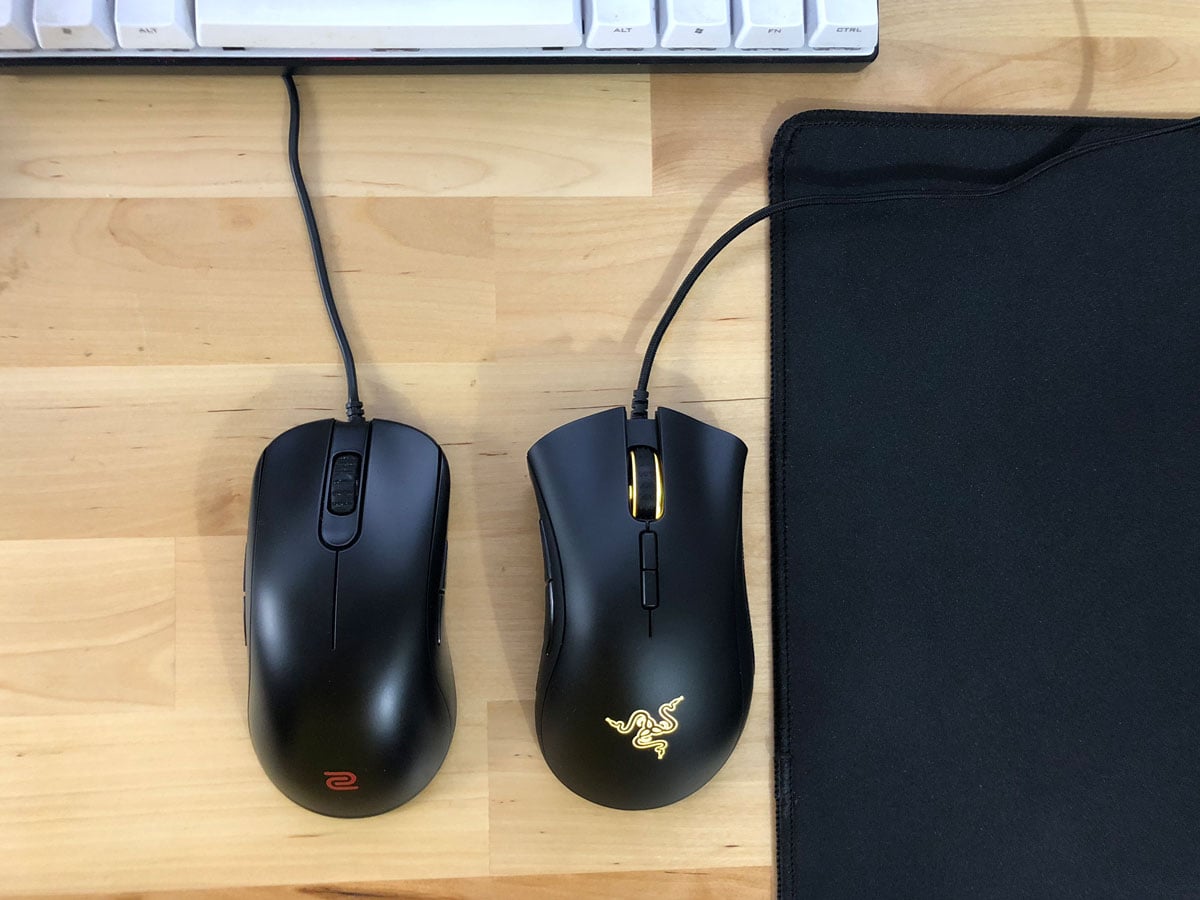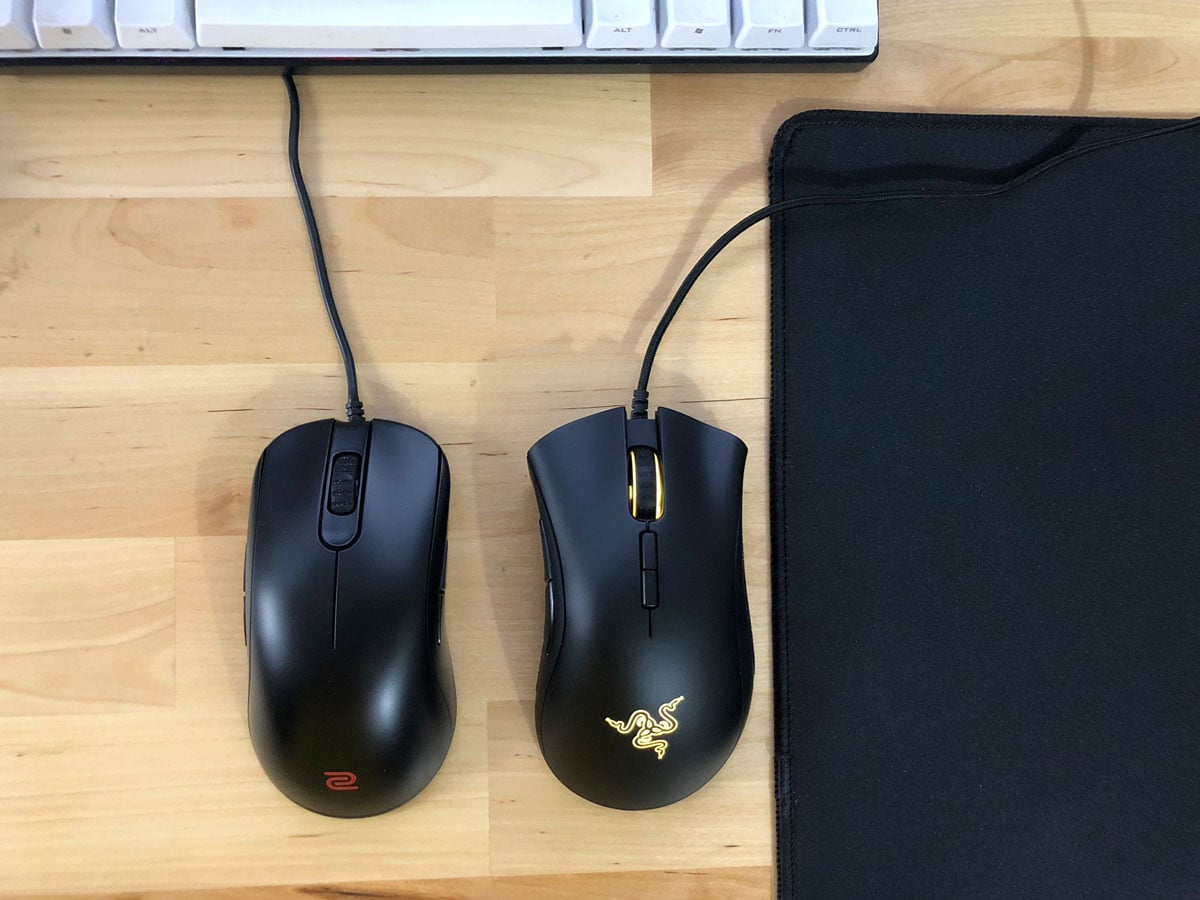 You should look for a mouse with a safe shape, with subtle curves for comfort. Not overly grooved so that the mouse forces you to hold it in a certain way for you to comfortably use it.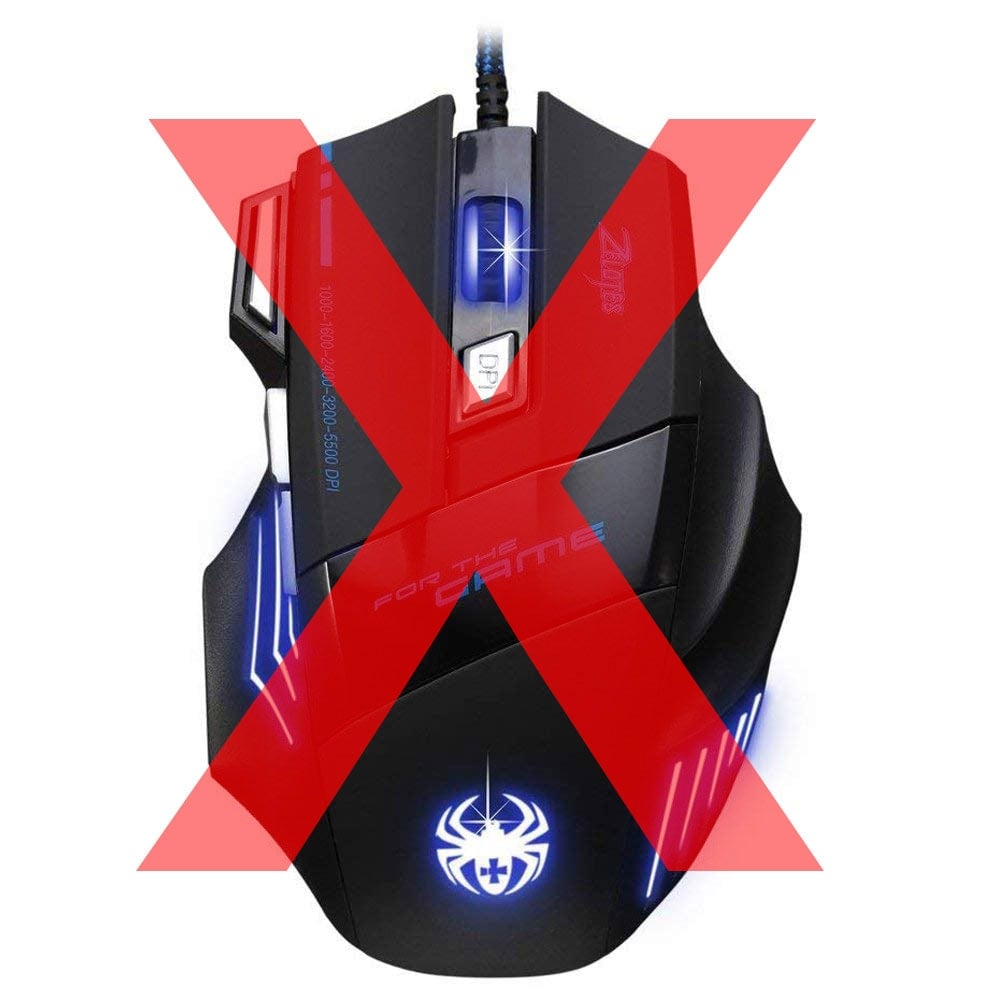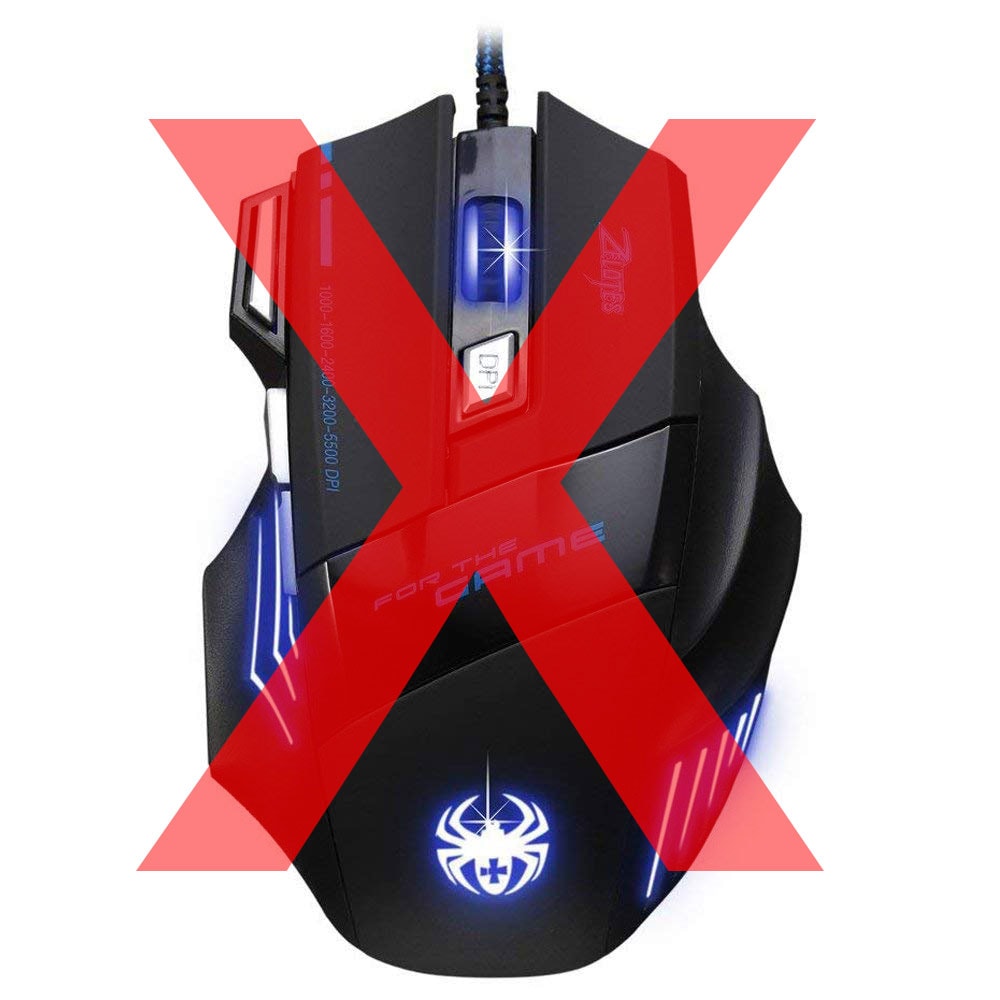 If you need to start somewhere, I'd recommend getting some universally loved shapes and going from there, the Logitech G703, Razer DeathAdder for ergonomic shapes and the Logitech G Pro and Zowie FK1/2 for ambidextrous shapes.
Build
The materials used for the mouse have an underrated role in the feel of the mouse, plastic is plastic right? No!
Most mice are made with ABS plastic, but the density and finish on the plastic makes a huge difference. You want to look for a mouse with plastic that isn't too slick and one that can hold up to sweaty, greasy nerd palms.
If the mouse has grips they're usually made from silicon or rubber. In grip you want it to be grippy enough so that you can easily pick up and move the mouse, but not too grippy where it sticks to dust or makes your thumb too uncomfortable.
Internally, the mouse should be solidly constructed, no creaks when you twist the mouse and no soft plastic spots. When you shake the mouse there shouldn't be any rattling of the internals.
A mouse needs to achieve a strong build quality, while keeping weight low, most gamers tend to play better with lower weight, under 100 grams ideally.
Unlike shape you can read reviews online to determine whether the build quality of the mouse is to your liking and whether the mouse has held up over use.
Sensor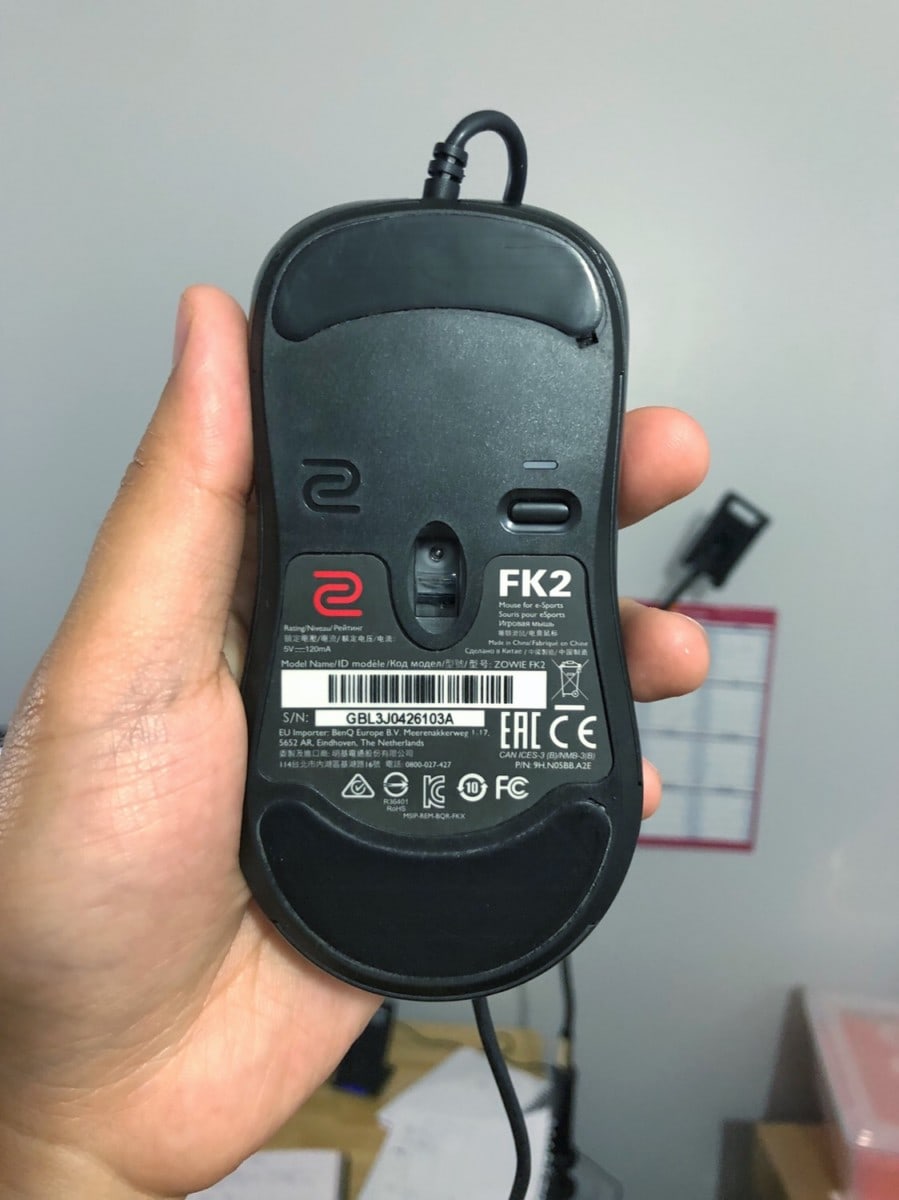 How do mouse sensors work?
A modern optical sensor works by shining a bright light, either red LED or infrared, down onto a surface coming out of the bottom of the mouse. The light bounces back into a complementary metal-oxide semconductor sensor. When you move your mouse the light that bounces back changes in angle, this is what the digital signal processor analyzes to determine how the mouse cursor should move on your screen.
What makes a flawless sensor?
Most gaming mice coming out today have great sensors, if you go get a reputable mouse, you're likely getting a flawless sensor, the best sensors excel at these key things.
A good sensor will have the following:
Accurate tracking across a large DPI range
No jitter
No acceleration
No prediction and angle snapping
No axis asymettry
A fast poll rate
Low lift off distance
There are a handful of sensors that have all the above and can be essentially called perfect sensors.
Here's what all those mouse sensor terms mean.
Dots per inch (DPI)/Counts per inch (CPI)
DPI is a measure of how sensitive a mouse is to movement. The higher the DPI the more your cursor will move per inch you move the mouse.
While the level of ideal DPI for performance comes down to personal preference, most pros favour a low DPI to be able to micro adjust aim without having to move the mouse a few millimetres.
Most modern mice are able to track accurately at low DPI, but the issue with some mice at high DPI is that the sensor is no longer tracking one to one to physical movement and uses software to increase sensitivity, this can cause inaccuracies.
Jitter
A smooth line movement on the mouse pad should result in a smooth line on the screen. Jitter happens when the sensor isn't able to track in certain environments, for example some sensors interpolate (they fake it) higher sensitivities instead of actually tracking the dots per inch, what usually results is a jumpy mouse cursor.
If you're playing on a non-standard surface like glass, a sensor can have trouble tracking movement which will also result in jitter, or if a speck of dust gets on the sensor's lense. Easy fixes for both of these problems would be to use a mouse pad and to clean the sensor with a puff of air.
Acceleration
The distance your mouse travels should always map directly to the distance the cursor moves, this lets you build up muscle memory for consistency.
Acceleration is another way software tries to help, acceleration moves the cursor at an increasing rate when you move the mouse faster. If you move your mouse 20 cm across the mouse pad slowly, with acceleration, the cursor would be in a different spot if you had moved your mouse quickly 20 cm.
It's assuming you want to get across the screen so helps you move it there faster with less effort.
Prediction and Angle Snapping
Prediction is when the mouses software (or Windows software) tries to predict where you're trying to go with the mouse and straightens out your line.
What is angle snapping?
Angle snapping happens when a mouse tries to predict your movements, it artificially tries to make your mouse move in a straight line, this prediction will greatly affect the accuracy and fluidity of your aim.
The most common place affliction of prediction is in your windows mouse settings with a tickbox called "Enhance pointer precision", it's the exact opposite of how it sounds, turn it off.
What does Enhance pointer precision do?
According to howtogeek, enhance pointer precision is a form of acceleration, with this setting on, Windows keeps track of how fast you move your mouse and will adjust your mouse sensitivity on the fly. You should turn off this setting in Windows, it's turned on by default to accommodate for super old low DPI mice as an accessibility feature.
For gaming Enhance pointer precision is always bad, you want your mouse to consistently behave so you can build muscle memory for mouse flicks and tracking, enhance gets in the way of this.
Axis Asymmetry
Some flawed sensor can track movement differently along the x-axis and the y-axis meaning a movement left to right for 1 inch might be different in cursor difference from a movement up to down 1 inch. You obviously want consistency in tracking distances no matter how you move your mouse.
Polling Rate
The poll rate of a mouse shows how often a mouse reports back to the computer, measured in Hz. The higher the poll rate, the more times your mouse is speaking to the computer to report on location and tracking. You want a mouse with a high poll rate, and most modern sensors have a good poll rate.
The only downside to a high poll rate is CPU usage as your computer now has to talk to your mouse more frequently, anything above 500 Hz is pretty indistinguishable and most modern mice allow you to choose your poll rate.
Lift off distance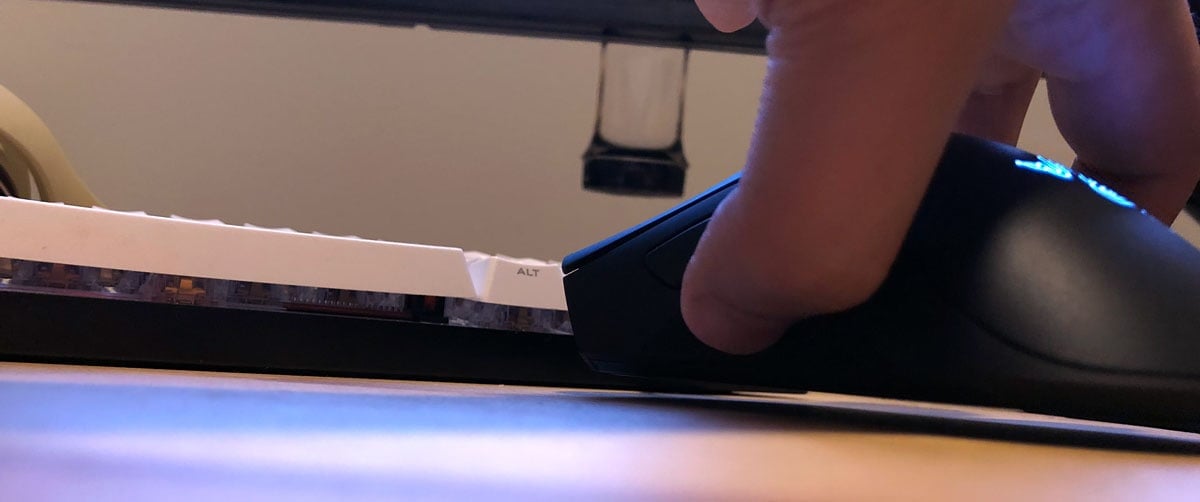 Every sensor has a minimum functioning lift off distance for the sensor to work.
A mouse with a low lift off distance will stop tracking pretty much immediately after you pick it up off the surface. A mouse with higher lift off distance will still move the mouse cursor a few millimetres off the surface so you can continue moving while picking up the mouse.
Low lift off distance is especially important to gamers that play with a low DPI/sensitivity, they may have to pick up the mouse several times to turn a full 180 degrees and you don't want the sensor to track while the mouse is picked up throwing off where you're looking at or aiming.
Laser vs Optical
All modern gaming mice use optical sensors over laser sensors, with good reason.
While laser can work on surfaces like glass because of it's deeper sensing technology, that deeper sensor resolution leads to laser sensors tracking even the fibres of the mouse pad, this causes mouse jitter and inaccuracies when all you want is to move the cursor from point A to point B.
Laser mice also have lower malfunction speeds, meaning they get more inaccurate sooner as DPI increases.
List of good sensors
If the mouse you're looking as any of these sensors, you can be rest assured it'll track very well. Keep in mind all sensors have an effective range of DPI before jitter, but these sensors basically track perfectly from 100 DPI up to 1800.
Top Tier
Pixart PMW3366
Pixart PMW3360
Pixart PMW3361
HERO Sensor
Mercury Sensor
TrueMove 3 (custom 3360)
Pixart PMW3389
Owl Eye (custom 3360)
Good Tier
Pixart PMW3310
TrueMove 1
Cord/Cable

The only requirements of the cord of the mouse:
Keep a reliable connection
Be flexible and don't impede mouse movement
No fraying or weak connections
Watch out for mice have thicker cables, it may prove to be more durable but could impede mouse movement.
Feet
The mouse feet are responsible for ensuring you have a consistent glide across different types of surfaces, hard or soft.
Mouse feet are pretty different on every gaming mouse, ranging from two strips to 4 little feet, regardless, the arrangement and material of the feet should ensure solid contact for the mouse to the surface to enable good tracking on the sensor.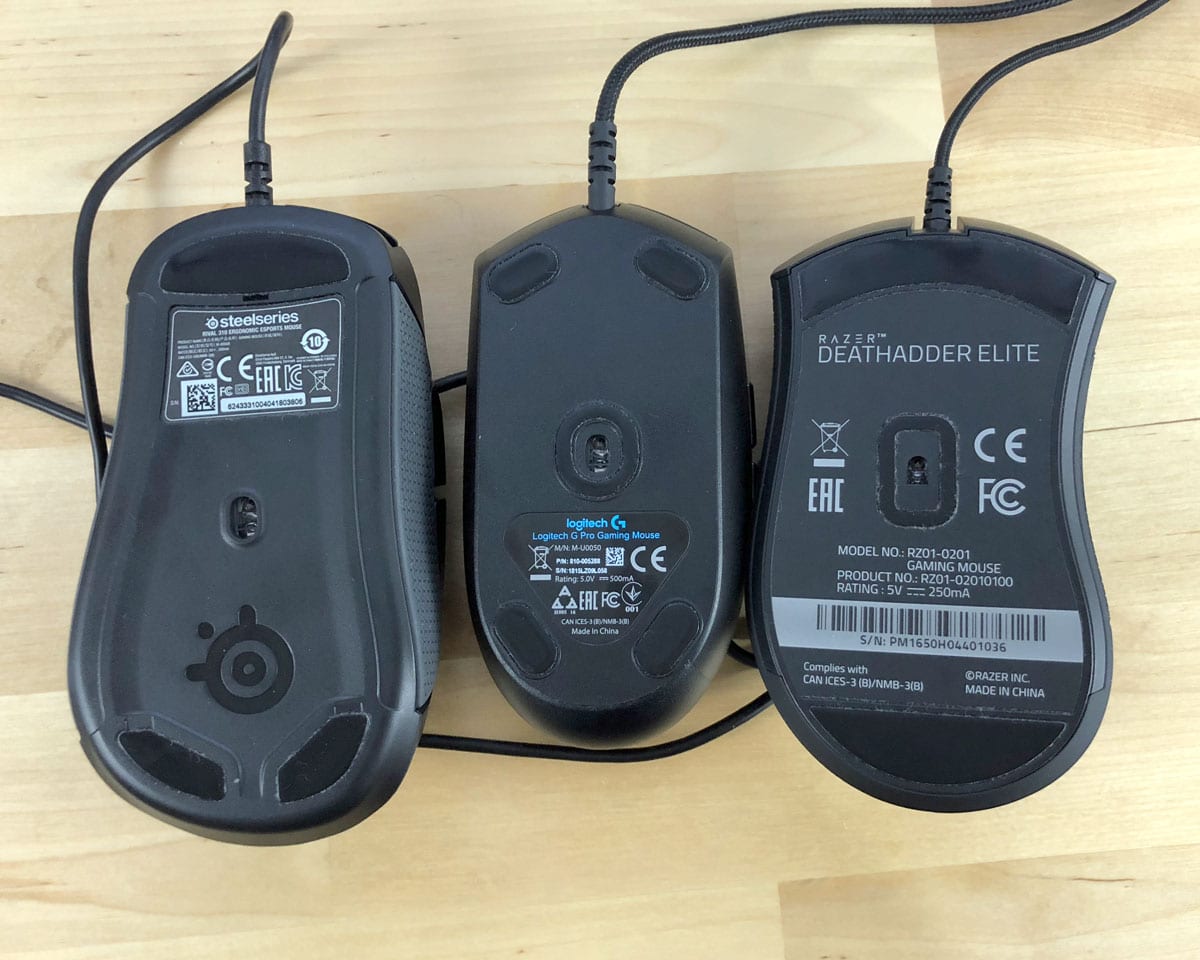 Mouse feet eventually to get worn away from friction, most stock mouse feet are pretty good, but if you're looking to replace or upgrade existing feet, Hyperglide is a company that makes great mouse feet for a variety of gaming mice models.
Replacing mouse feet is easy, what you usually need to do is apply some heat to the feet with a blow dryer to loosen the glue and peel off the old feet. Then replace with t
he new feet which should already have a sticker on it. Of course, you should read individual mouse instructions for replacing feet as it could be different.
Buttons
There are two major button manufacturers, Omron and Huano, you'll find Omron switches is most mice and they do a good job.
Huano switches are a little stiffer and they've had some QA issues in the past, they're better suited for FPS games. If you forced me to pick, I'd go for a mouse with Omron switches to be safe.
All the gaming mice companies tension their buttons a little differently, so cheap an eye out for what kind of button press you prefer and what kind of button press suits the type of games you like playing.
For RTS and MOBAs you likely want a softer click with a distinct click and low travel, you need to be able to spam click commands at will without it being fatiguing.
For shooters (FPS and Third Person), getting a mouse with heavier buttons makes sure you don't have any accidental shots or skills firing giving away position, of course this depends on how heavy your hand naturally rests on the mouse. With shooters fatigue shouldn't be as much as an issue since you're not constantly clicking.
A common issue with buttons that you should be on the look out for are double clicking issues, all mice have them at varying rates.
The number of buttons is up to your preference, I've found that unless you're playing an MMO, the standard set of 5 buttons, left, right, 2 sides and a scroll click are more than enough for most games.
Scroll Wheel
A good scroll wheel should have distinct steps so you as a gamer can determine when you've made an input into the mouse, this is key for games that require you to cycle between skills and weapons using the scroll wheel, or crouch spamming or bunny hopping in certain games.
The trade-off with distinct stepping is noise, the more distinct the mouse wheel the louder it can be to wheel through.
Some scroll wheels come with textures to give you a better grip on the wheel, we like this feature as it allows you to really feel the wheel moving in your finger, though it isn't that crucial and most gaming mice have a good wheel.
The scroll button itself should be solid, no wobbling to the right or left (unless it has those clicks), with a responsive click when you've made an input on the middle click.
Features & Software
RGB Lighting
RGB is the major feature that all mice have now (minus Zowie), there's not much real guidance for RGB here, it should have all the common settings; colour cycling, breathing, level of brightness, colour change rate and the ability to change each section individually.
Bonus features for RGB include the ability to sync multiple devices to all share the same colour profile or the ability to sync RGB with in-game actions.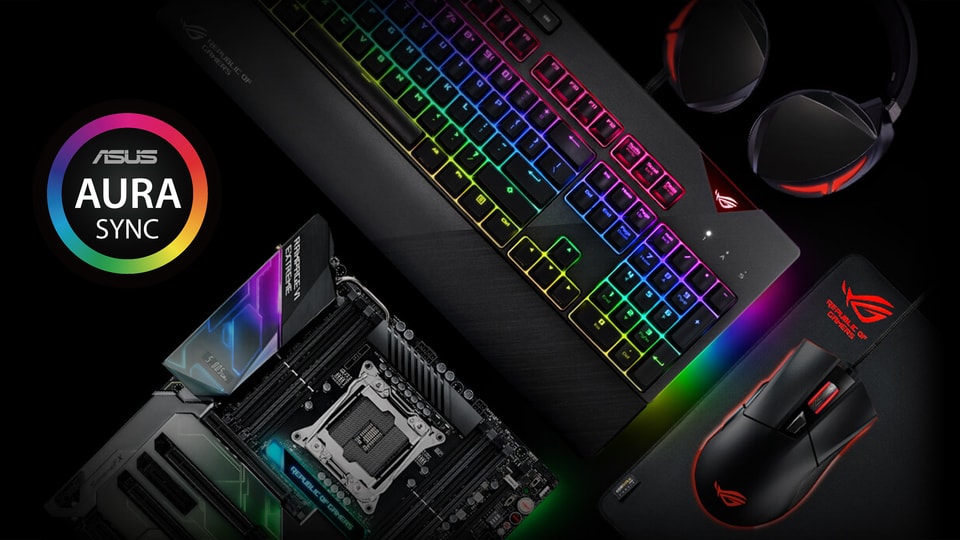 Logitech, Gigabyte Asus and Razer lead the way with RGB sync options, so if keeping your colours in sync are important to you then look to them for peripherals.
Wireless
Wireless mice allow for a lot cleaner of a desk while keeping cords from affecting your aim and movement.
Modern mice, specifically Logitech mice have greatly reduced the input lag you would normally see if wireless mice. Wireless Logitech mice, specifically the G704/G403, G900, G305 are great for gaming.
With wireless you must also consider the battery life, and again, most modern wireless gaming mice have the battery life to withstand a full days worth of gaming with the ability to go to corded mode when needed.
Some gaming mice like the Corsair MM1000 have Qi wireless charging, and other mice have adopted charging mousepads, which allows the mouse to constantly be charged on the mouse pad.
Weighting System
If you like your mouse with a bit of weight then make sure the mouse you get has a weight system that still keeps the balance of the mouse neutral.
Reliability & Warranty
Gaming mice have a lot of moving parts with a lot of wear and tear, so naturally gaming mice do malfunction, but they should last a good couple of years before they show issues.
When looking at a mouse, be sure to search for "[model] problems" and see what kind of issues other users are having. Remember that only people will complain about something broken, while the larger number of users that have no issues stay silent.
Warranties vary by manufacturer, here's what I could find about warranties for major manufacturers of gaming mice in the US:
Logitech: 2-3 years
Razer: 2 years
Steelseries: 1 year
BenQ Zowie: Nothing public, case by case basis?
Asus: 1 year
Corsair: 2 years
Coolermaster: 2 years
Nixeus: 3 years
Finalmouse: 3 years
HyperX: 2 years
Roccat: 2 years
Mouse setting tips
There are a couple of settings in Windows that you need to make sure are out of the way to optimize your gaming experience.
Turn off mouse acceleration in Windows 10
Windows has the option to enable mouse acceleration via software, you want this off to have a consistent experience to build up your muscle memory.
Open your Control Panel, select Mouse
On the popup Mouse Properties, click on the tab Pointer Options
Uncheck Enhance pointer precision
Set mouse pointer speed in the middle
Any other setting in windows except the middle one throws away data, or creates coordinate data that doesn't actually exist, it's upscaling or downscaling your movement.
You're best adjusting your mouse speed settings by adjusting your mouse DPI and in-game sensitivity.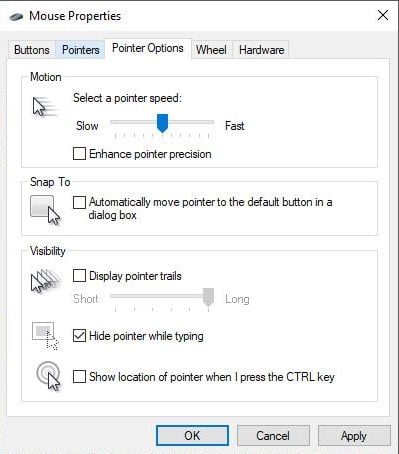 DPI and sensitivity settings
Most people aim better once they get used to a lower sensitivity setting.
Your sensitivity is a combination of two settings: DPI and sensitivity.
You want your mouse to sit in the 400 to 1800 DPI range in setting, most gaming mice operate best without any prediction or software compensation in this range despite marketing saying mice can go to 6000+ DPIs.
Sensitivity ranges depend on the game so tweak that accordingly. Different types of games require different sensitivities, games with small hitboxes and more long range fighting like PUBG, you might want a lower sensitivity.
Compared to a game like Fortnite with more rapid movement, you might opt for a higher sensitivity.
To find your sensitivity sweet spot I'd recommend picking a starting point and try gaming for a period of time at that setting. After getting used to it, drop your DPI setting by 50 or 100 points and try that for a period and see if your aim improves.
A good starting point might be 800 DPI and 5 sensitivity in Overwatch and 0.05 sensitivity in Fortnite. Start there, see how it feels and adjust up and down to lock in something that feels right for you.
Honourable mentions
Some of these mice were under heavy consideration for a top spot but just fell short compared to what we ended up picking.
This is a top mouse if it were widely available. If you can find one for a reasonable price, I would recommend this mouse, it would be near the top 4-5 for sure.
The Zowie EC has the best ergonomic shape that's compatible with the most hand sizes and grip preferences.
The Finalmouse would probably be in the top if this were widely available, there's no point in us recommending a mouse that no one can get. The Air58 Ninja also seems to not have fixed the scroll wheel issue that plagues the other Finalmice.
Previously on our top 5 list, the Rival 600 has been plagued by the side grip rubber coming off due to some bad glue, our copy of the Rival 600 had this issue and made our hands sticky during gameplay.
One of our favourite shapes, good buttons, outdated internals, we can feel a little difference using this mouse, if this mouse got updated with a flawless sensor it could very well unseat one the top 5.
A great mouse, the shape is a little particular so I don't think its fitting to be in an overall recommendation spot. read review
Great shape, good wireless battery life, it just falls short of beating out the G703 due to../reviews/razer-mamba-wireless some really mushy and light clicks.
A classic mouse with a ton of great features, it has a great sensor, a lot of people love the shape, but it's really heavy and has a thick cord which hold it back from being a top tier mouse for us.
If you're looking for an MMO mouse we'd recommend the Hex, but it's too niche for us to recommend overall usage. Stay tuned for more genre specific reviews.
Previously on our top 5, it has a ton of features, this mouse has been replaced by the G Pro Wireless for wireless and ambidextrous shape, the G903 is very pricey and the shape is kind of awkward for a lot of gamers, great for a multipurpose mouse though!