Tenkeyless keyboards are absolutely fantastic for saving space on your desk if have no need for the numpad. A lot of people also prefer the more symmetrical look. A lot TKL of keyboards are made for gaming, to leave horizontal space for your gaming mouse to roam freely. Tenkeyless are not as compact as 60% keyboards, and they don't have keys as readily available as a full size, but they're just right for a lot of peoples needs.
I've reviewed a lot of keyboards, and below are my recommendations are for what I think are the best tenkeyless keyboards on the market today, for gaming in particular but I do cover some general use cases as well. I'm looking for low latency, good durability, it has to be ergonomic to use and has good of a typing feel. Did I miss any keyboards? Let me know in the comments!
Best Overall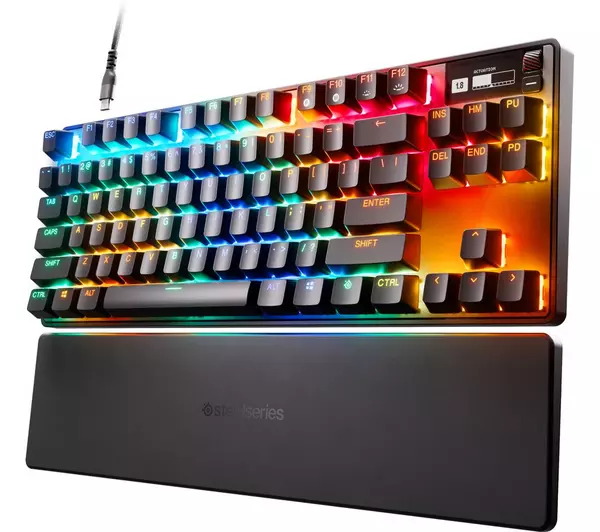 Steelseries Apex Pro TKL (2023)
Actuation Speed: Very Fast
Typing Experience: Average
Connectivity: Wired or Wireless (+$)
Switches: OmniPoint 2.0
Keycaps: PBT
Wrist Rest: Yes
The Apex Pro TKL Wireless (2023) is my best TKL pick because of its insanely useful adjustable actuation and rapid trigger features. The Apex Pro TKL can be as fast or as intentional as you want it. Popularized by the Wooting 60HE, rapid trigger is looking like a must have feature going forward, and the Apex Pro's implementation of it is the best out of all the big main brands. It's the fastest TKL board out right now.
The Apex Pro TKL rounds out its performance with an OLED screen, PBT keycaps and an option for a wireless model. The included wrist rest helps with ergonomic quite a bit. This is the keyboard to get if you're looking to get competitive for sure.
Best Performance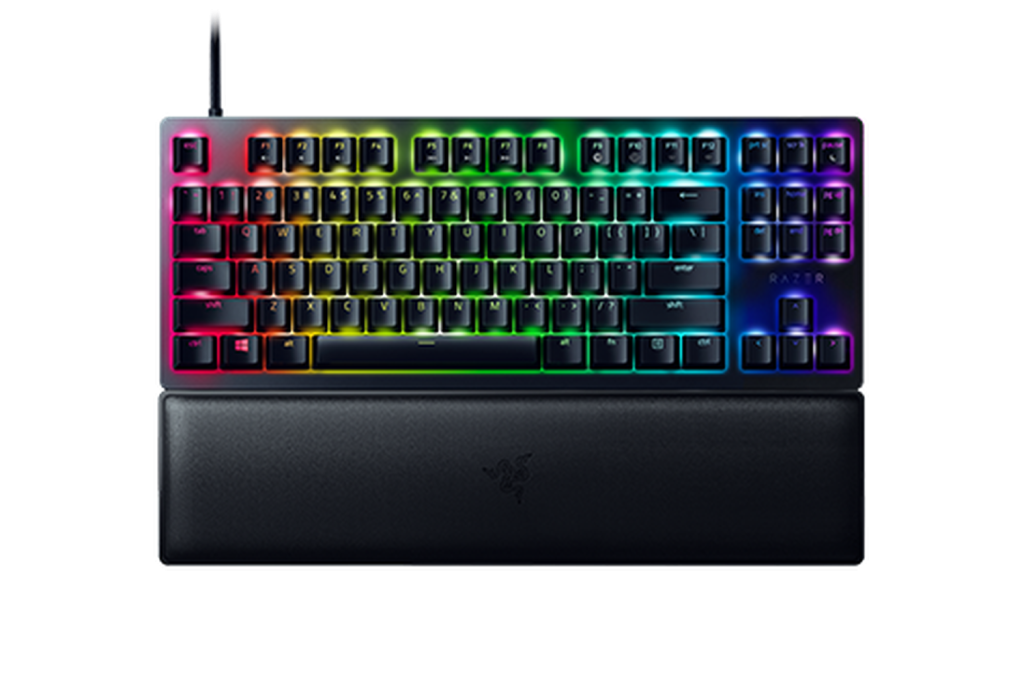 Razer Huntsman V2 TKL
Actuation Speed: Fast
Typing Experience: Good
Connectivity: Wired
Switches: Razer Linear Optical Switch
Keycaps: Doubleshot PBT
Wrist Rest: Yes
The Huntsman V2 TKL is missing our top picks' actuation and rapid trigger capabilities, it has everything else going for it. This is Razer's 8000 Hz keyboard that only comes in a wired variant. So while it doesn't have the absolute lowest actuation points, this keyboard is still a speed demon.
The Huntsman V2 TKL also features some nicely lubed stabilizers and some foam to improve the acoustics of the keyboard. The Huntsman V2 TKL is a bit better than the Apex Pro for general productivity, while
Best Budget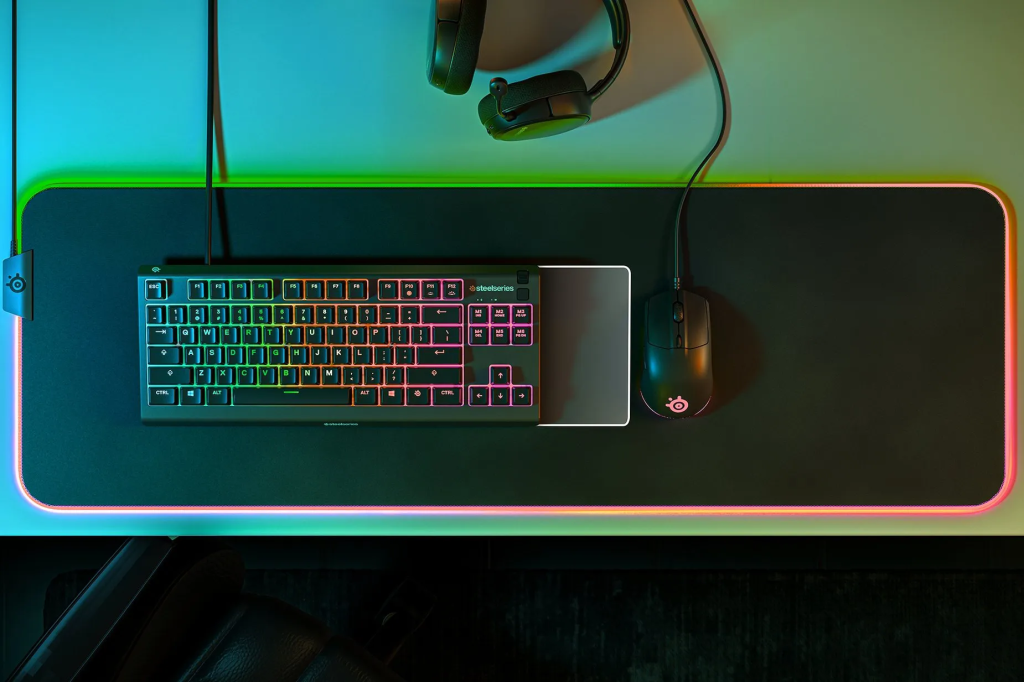 Steelseries Apex 3
Actuation Speed: Average
Typing Experience: Squishy but quiet
Connectivity: Wired
Switches: Whisper-Quiet Switches
Keycaps: ABS
Wrist Rest: Yes
The Steelseries Apex 3 isn't a mechanical keyboard, but it's a great membrane keyboard that has all the features you'd want from a modern gaming keyboard with good Steelseries software. While this isn't the fastest or the most durable keyboard, I guarantee you'll still be able to compete while saving a good amount of cash. It's got a media wheel, RGB and customizable macros.
The biggest downsides I found were the membrane obviously just doesn't feel as good as mechanical, but it still works and the ABS keycaps will eventually shine.
Best Wireless & Best Low Profile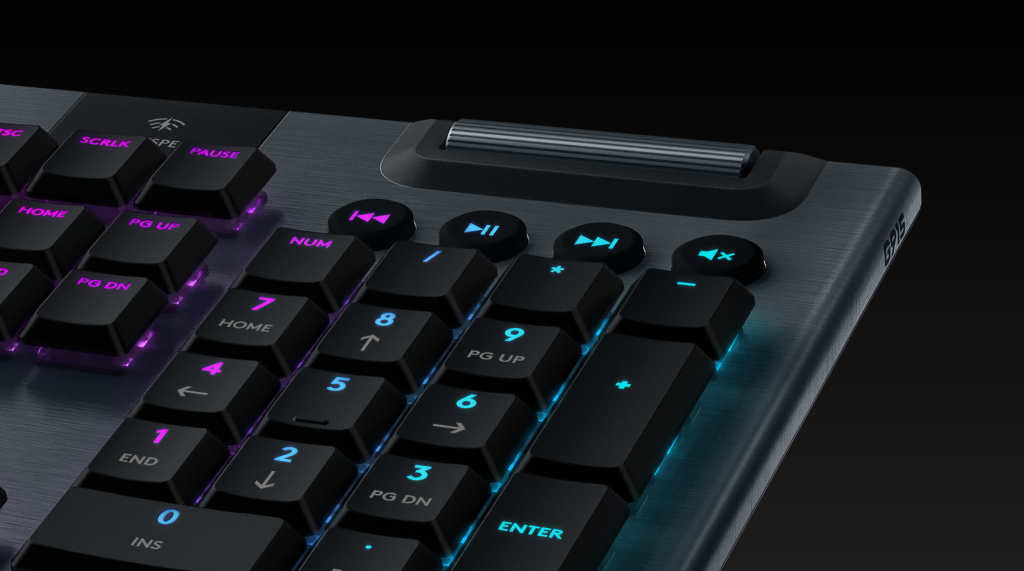 Logitech G915 Lightspeed
Actuation Speed: Fast
Typing Experience: Average
Connectivity: Wired and Wireless
Switches: GL Switches
Keycaps: ABS
Wrist Rest: No
The Logitech G915 Lightspeed has low latency wireless and good battery life even with RGB on. There are other good wireless gaming keyboards but they either cost a lot more, or they don't last as long with RGB on, or they have higher latency.
It's my best pick for best wireless keyboard it's just solid and it can be had on sale quite often now. I also like Logitech's general approach to the keyboard, the fit and finish is nice and the low profile feel helps with gaming speed. If you're looking for a full height keyboard, I'd recommend the Apex Pro TKL Wireless (2023), but be warned, it's expensive.
Best for Typing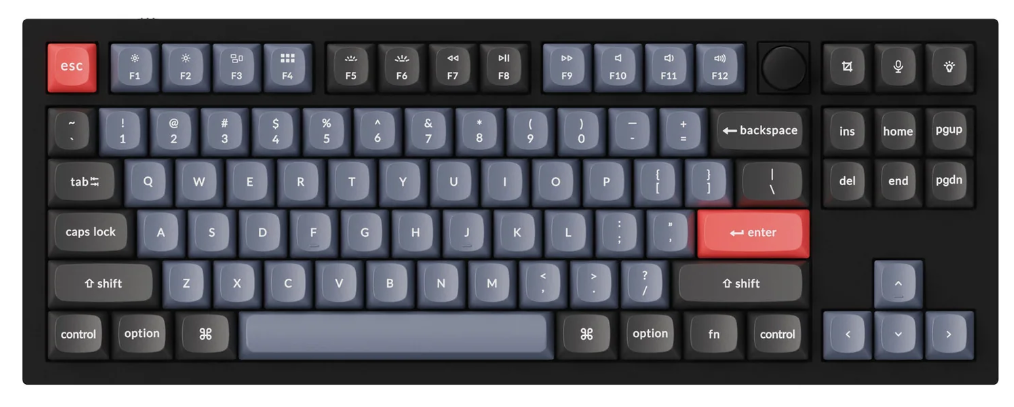 Keychron Q3
Actuation Speed: Normal
Typing Experience: Excellent
Connectivity: Wired
Switches: Gateron G Pro (Blue, Brown or Red)
Keycaps: PBT
Wrist Rest: No
The Keychron Q3 is a readily available high-end keyboard that gets you pretty close to the vaunted custom keyboard level of quality. It's a tanky tenkeyless with a solid metal frame, gasket mounting, and hotswappable switch sockets. It also helps that the Q3 can be customized with QMK, making it very versatile and great for programming. It's not going to be the fastest keyboard around but since it is wired, I don't think you'll find this keyboard to slow to game.
When someone asks me if a custom is worth it, I make them take a look at the Q line first and ask them if paying double this is worth it to them.
Are TenKeyless keyboards better?
They're better for gaming than full size keyboards because they take up less space on your desk. This leaves more aiming and movement room for your mouse. That's the main reason why I like TKL keyboards.
What is an 80% keyboard?
An 80% keyboard is just another name for the Tenkeyless size. It cuts off the numpad to make the keyboard smaller horizontally. This is not to be confused with the 75% keyboard which is similar, but more compact with one less column. Take a look at our keyboard size guide for more comparisons.