The tenkeyless design is absolutely amazing for gaming, doing away with the numpad give your mouse a lot more room to maneuver and you get little use out of numpad in most gaming situations.
This best list will look very similar to our best overall keyboard list as many of those keyboards have a TKL size.
The best TKL gaming keyboard is also our best overall gaming keyboard and our best 60% keyboard.  The Ducky One 2 TKL just provides one of the most rock-solid typing and gaming experiences you can get out of the box for a reasonable price.
The Ducky One 2 TKL continues the Ducky traditional of well-built, smooth as hell keyboards. The combination of smooth stabs, good weight and sturdy case make for a great gaming experience.
Really good value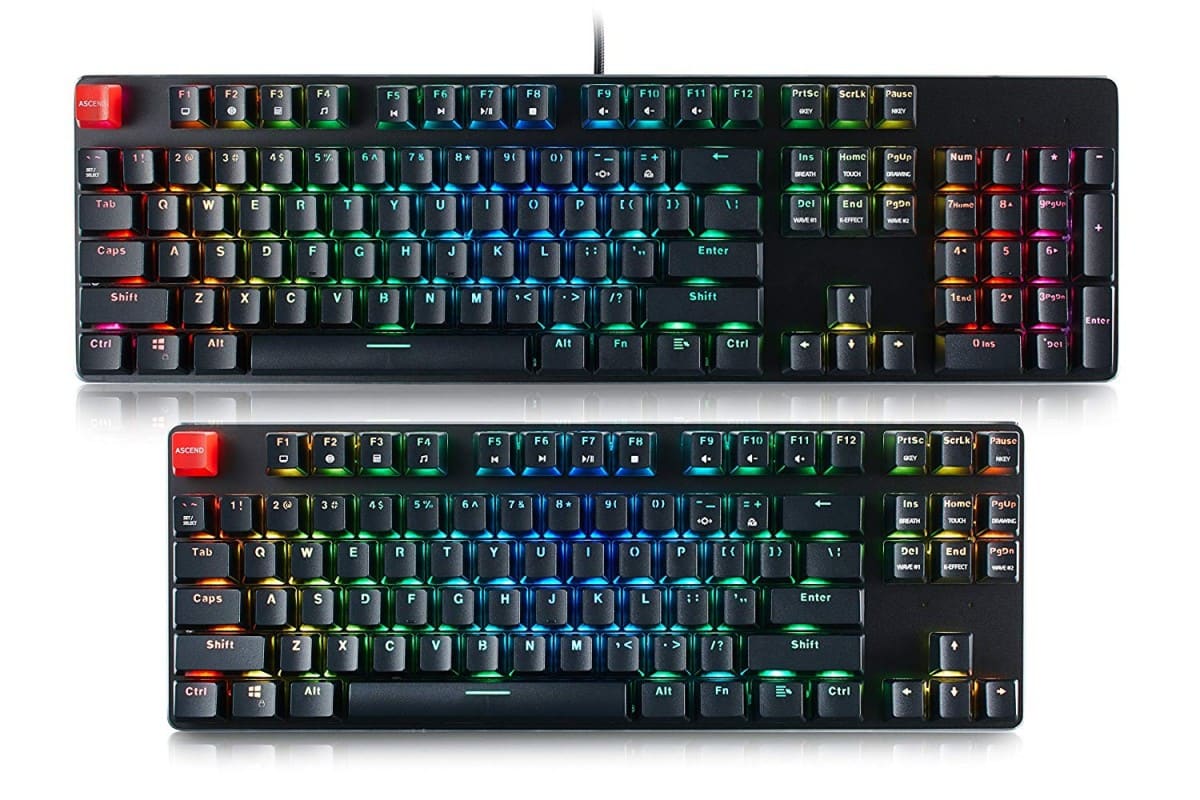 The GMMK is here solely on its value as a readily available hot-swap keyboard. It also does a serviceable job as a gaming keyboard with excellent switch options and solid build quality, it's not near the class of typing of experience that a Ducky would offer at similar prices.
Razer's TKL is solidly built, with solid optical switches and PBT keycaps out of the box. For a more premium price the Huntsman TE offers a great gaming experience with high-end finishes.
How we tested
Simply put, we just played a bunch of games. Tenkeyless keyboards are a good middle-ground keyboard for all game types, we played a mix of games, Dota 2 for the MOBA/RTS crowd and primarily Modern Warfare for FPS.
On top of performance we're looking for ergonomics while playing, key feel and durability if we happened to hammer on the keys a little more than usual. I want to see if keycaps get shiny  or slippery quickly around the WASD area.
Besides play testing, we looked at reddit and gaming forums to see if there are any overwhelming complaints with any of the keyboards.
What we're looking for
We look for the same things we look for in any good keyboard:
Based on the above factors, price and availability, we made our recommendations based on what we think most gamers are going to appreciate.
We've picked keyboards that are widely available, limited run keyboards might be nice but it doesn't help if we recommend unavailable keyboards.
As new TKL keyboards come out, we'll give them the good ol' review and consider them for the best list.
1. Ducky One 2 TKL
Pros
Smooth stabilizers out of the box
Great build quality
Quality doubleshot PBT keycaps
Removable USB type-C cable
White plate, really nice RGB
Cons
Lack of customization
On board programming is a little limited
Why we like the Ducky One 2 TKL
Surprise! It's Ducky again, the TKL version carries the same qualities of the Ducky One 2 Mecha and Mini, a great typing and gaming experience above all else.
As with all of their keyboards, the TKL version of the One 2 series, the stabs are the best out of the box, it comes with PBT doubleshot keycaps and a standard bottom row. If you're familiar with Ducky quality, then you'll see that their TKL keyboard is a no-brainer consideration.
You might want to look at other options if you're looking for something highly customizable, the Ducky does have onboard key programming, but nothing as robust as the software options as some of the other keyboards.
The Ducky One 3 SF is a great 65% version as well.
2. Glorious GMMK Tenkeyless
The Hotswap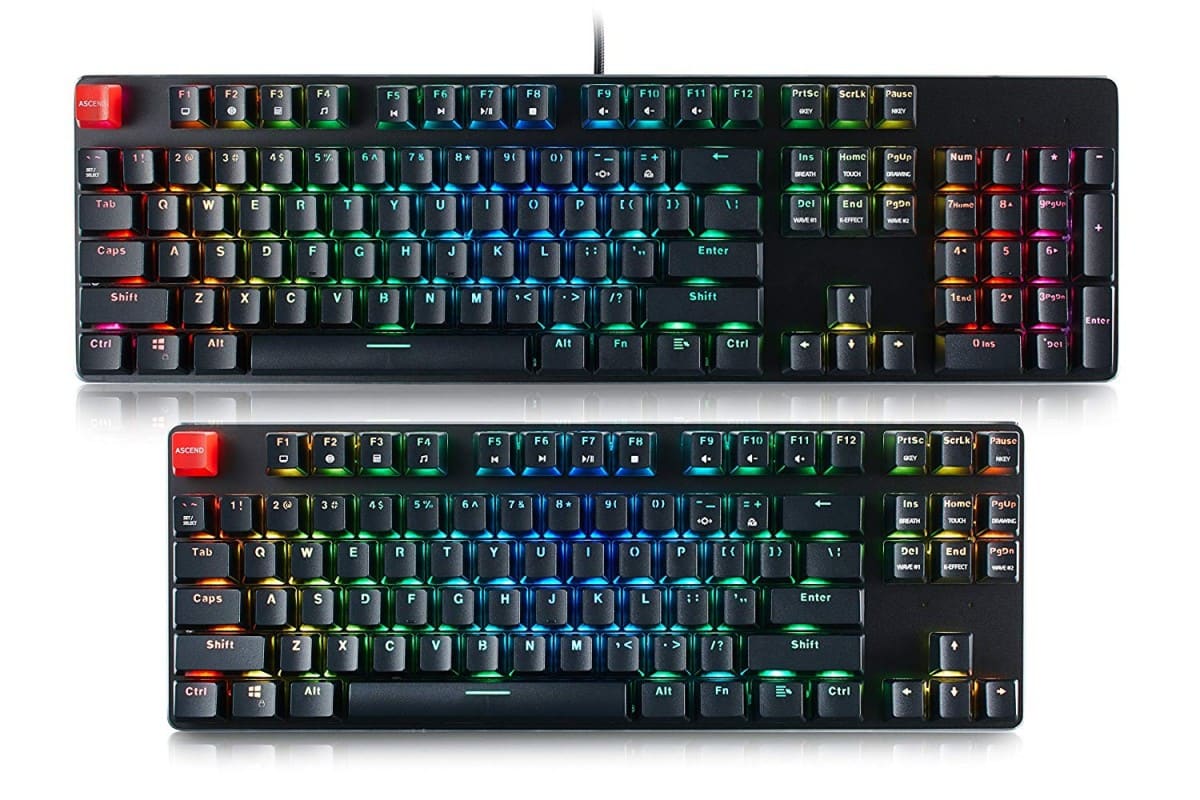 Pros
Hot swap switches
Standard bottom row
Good quality keycap options
Cons
Rattly stabilizers and loud echoey case
Function keys cannot be remapped
Why we like the Glorious GMMK TKL
The GMMK is a bit of the opposite of the Ducky, it excels at customization, the GMMK allows you to use any 5-pin switch with the keyboard. You can pick from hundreds of switch types to deck out your keyboard.
Hotswap aside, the keyboard is a bit run of the mill, the build quality is good not great, it's a rather light keyboard, the stabilizers are rattley and the case is quite loud.
3. Durgod Taurus K320 TKL
Great value wireless
Razer's TKL is solidly built, with solid optical switches and PBT keycaps out of the box.
See Price
Pros
Excellent choice of Cherry MX switches
Doubleshot PBT Cherry profile keycaps
Great build quality
Smooth, solid stabs
Durgod's high quality and switch choice lands it #3 on our TKL list. If you're looking for more switch options, and are willing to give up the RGB on the Ducky, consider the Taurus.
4. Razer Huntsman Tournament Edition
Pros
PBT keycaps
Smooth optical switches
Detachable USB Type-C
Solid stabilizers
Clean design
Cons
A bit pricey
Keyboard is on the loud side
The Huntsman TE is Razer's best keyboard, it has a very solid build quality and typing experience for a slightly premium price. Razer has stepped up by including some pretty solid stabilizers, PBT keycaps and detachable USB cable.
Synapse software allows for a good amount of customization on the Huntsman Mini, allowing you to assign multiple Hypershift buttons to access the second layer of function keys, something that I think would be a huge benefit on Ducky and GMMK.
You can remap a large chunk of secondary layer keys to add good customization, as well as remapping any primary layer keys with macros or other keys.
Not everything is perfect, the Hunstman trends a little more expensive than average, and the keyboard is rather loud.
4. SteelSeries Apex Pro TKL
Pros
Lots of extra features
Smooth linear switches
Good software for customization
Dedicated volume wheel
Cons
Very expensive
OLED screen has limited uses
Average build quality
Cheap ABS caps
Thick attached cable
Wobby feet
This is the kitchen sink of keyboards, it has a ton of cool features that aren't available on most other keyboards.
The Apex Pro TKL has two standout features, the OLED screen and adjustable actuation points for their switches. The OLED is used as a status indicator or gif display machine. The adjustable actuation allows you to set different per-key activation points for each switch, for example, you can set your WASD in-game to be more sensitive so you don't have the press as deep to get an input.
The optical switches themselves are very smooth, making for a great gaming experience all around.
A lot of the cost of this keyboard must've gone into the OLED and actuation points because the keyboard lacks in a few fundamentals that does negatively affect the gaming experience. The Apex Pro still features ABS keycaps, though that can be remedied with a  replacement set. The feet on the Apex Pro are also a little wobbly, those who put a lot of pressure on a heightened keyboard might have some trouble with them foldling back in.
5. Logitech G Pro X Keyboard
Pros
Hot swappable
Good out of the box switch options
Strong build quality
Attractive design
Cons
Non-standard bottom row
ABS keycaps
Semi-proprietary winged micro usb connector
The Logitech G Pro X does away with the much maligned Romer-G switches in favour for a hot-swappable design that features more traditional cherry style switches, and the result is a pretty damn good TKL keyboard.
The G Pro X keyboard has quite a sturdy design, the keyboard feels solid and hefty with smooth stabilizers that minimize rattle. The software works well and allows you to re-map all keys and set up lighting zones per your preference.
At this price point, it's a bit shocking to see the G Pro X Keyboard coming with ABS keycaps on top of having a non-standard keyboard. Still, it's a premium keyboard, and it feels premium.