The Wooting 60HE is a unique keyboard that's proven to be a trendsetter. The keyboard is analog with magnetic hall-effect switches that let you set the height of your actuation amongst other really innovative features.
Coming in at a base price of $175 USD it's definitely not a cheap keyboard. Is it worth the premium to give you that edge?
Verdict
The tech does make a difference in gaming. The Wooting 60HE comes in at a higher end price, but it's still within range of all the other top tier gaming keyboards out there like the Razer Huntsman, Ducky One 2 series, and Steelseries Apex Pro. Gamers who want that edge, the price difference is probably worth it.
Rapid trigger is seriously game changing and you have to feel it to really believe it. It really sets the 60HE apart from the crowd. The Advanced Keys are also very handy for those that like the extra customization to their buttons and can be used to fill out the missing keys from a fully-sized keyboard.
Will this keyboard automatically make you go pro? Definitely not. But can it create less errors in your inputs, yes.
Aside from the tech, having the ability to swap the PCB into 3rd party cases meshes both the gaming and custom keyboard sides together to make a unique Wooting 60HE.
There are a couple of things that would be nice to see Wooting address, namely the slight ping, lack of adjustable feet. It would also be nice to see Wooting fill in the lineup with a TKL or 65% board, please?
Pros
Individual key actuation point setting
Rapid trigger is great
Small form factor for FPS
Transferable PCB to third party keyboard cases
Customizable through Wooting's website (no download required)
Cons
Feels pretty light, can slip when gaming
No height/angle adjustability
Sound Test
The Wooting sounds great stock. It's honestly one of the best sounding gaming keyboards I've ever heard. Having pre-lubed stabs, sound dampening foam, and smooth Lekker switches, its a well thought out formula for a good sounding keyboard.
Here's a sound test of the Wooting stock.
Switches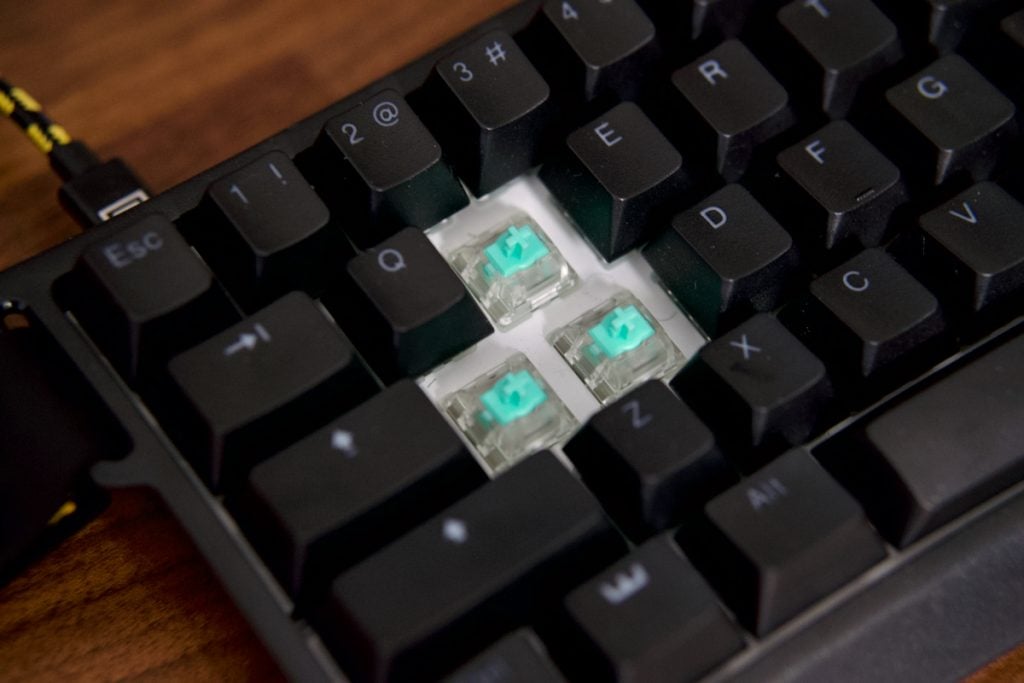 This is where the magic happens. Wooting uses their full range analog input Lekker switches. It's a Hall Effect switch which uses magnets to detect how far a switch is pressed or depressed.
The Lekker switch feels smooth all the way through out, the pre-lube job out of the factory is done well. Even without the hall effect tech, the linear feel of these switches competes. I'd imagine having no physical contact point helps with the overall smoothness as well.
The switch has 60g of bottom out force. There's no actual actuation point due to the tech in this switch.
Let's talk about some of the features these switches enable on the Wooting.
1. Set Actuation Points
Through the Wootility software, you are able to set the actuation points of every single key. For each switch, the actuation point can be adjusted from a range of 0.1mm – 4.0mm.
This can be very beneficial in games where you need quicker inputs and you would shorten the actuation points of those keys.
If you had any issues accidently fat fingering keys, you can increase the actuation point to make it so every keypress for that key is actually intentional.
2. Rapid Trigger
Rapid trigger lets you dynamically actuate and reset your keypress. How this works is that there is no actuation or reset point in the switch. Right when your finger presses down, the switch will actuate and when you release your finger, the input will stop immediately.
This function makes it so your inputs are responding to your hand movements in real time. Although the difference can be milliseconds, it truly makes a difference in game. Let's give an example.
Valorant and CS:GO have aim mechanics where you must be standing still to have an accurate shot (to some extent). With rapid trigger, your movement inputs will start and stop as soon as you press or release the switch which is huge for these types of games.
3. Dynamic Keystroke, Mod Tap, Toggle Key
Another interesting feature the Wooting has is its multiple function keypress based on how you press a switch. Sounds confusing, but it can be pretty useful.
First, Dynamic Keystroke (DKS) lets you assign 4 different actions on one key based on how far you press and depress your switch. From personal experience, its pretty hard to get the exact heights down when actually pressing so it just felt weird.
Mod Tap on the other hand is great. You're allowed to assign 2 different actions onto the key where the first action is triggered from a "tap" and second action occurs with a hold. Since the Wooting lacks arrow keys, I assigned the Mod Tap features to the 4 bottom right keys where I can just tap to trigger the arrows.
Toggle Key allows you to have your selected key continuously activated when tapped. You can toggle off the key by tapping again and holding the keypress will trigger the key once. An example people can use this is games where you crouch a lot. Tapping your crouch key keeps you in that position until you tap it again to untoggle.
Stabilizers
With no modifications done to the board, the Wooting actually sounds really good stock. Although there's slight ping and rattle leftover, for a gaming keyboard it's definitely one of the best ones we've heard.
The stabilized keys do wobble ever so slightly on my copy, but nothing that I've noticed gaming or typing.
Due to the design on the keyboard, Wooting has opted for plate mounted stabs that closely resemble a Cherry-style stab. They come factory lubed and Wooting did a great job of not overlubing the stabs where they feel mushy or slow.
Keycaps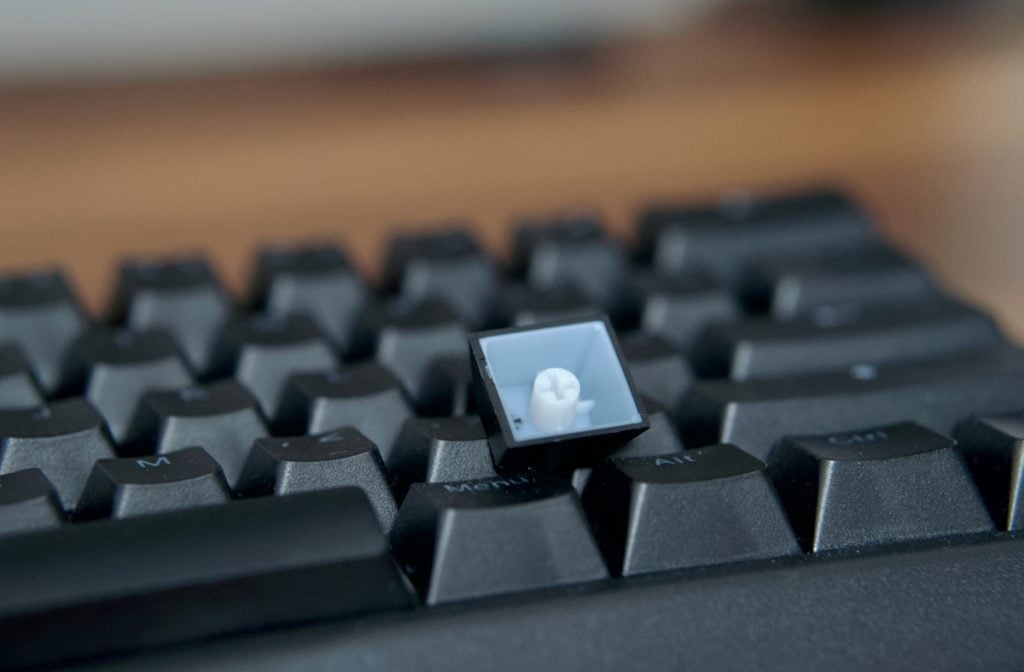 The Wooting uses thick double-shot PBT keycaps that take on an OEM profile. This means these are a sculpted set (different angled rows) and are at a medium height.
These keycaps are shine-through to put that gamer RGB on display and have nicely rounded edges for a comfortable typing experience.
The tops of the keycaps have a more textured, sandy feeling and are very resistant to things like sweat or grease.
Design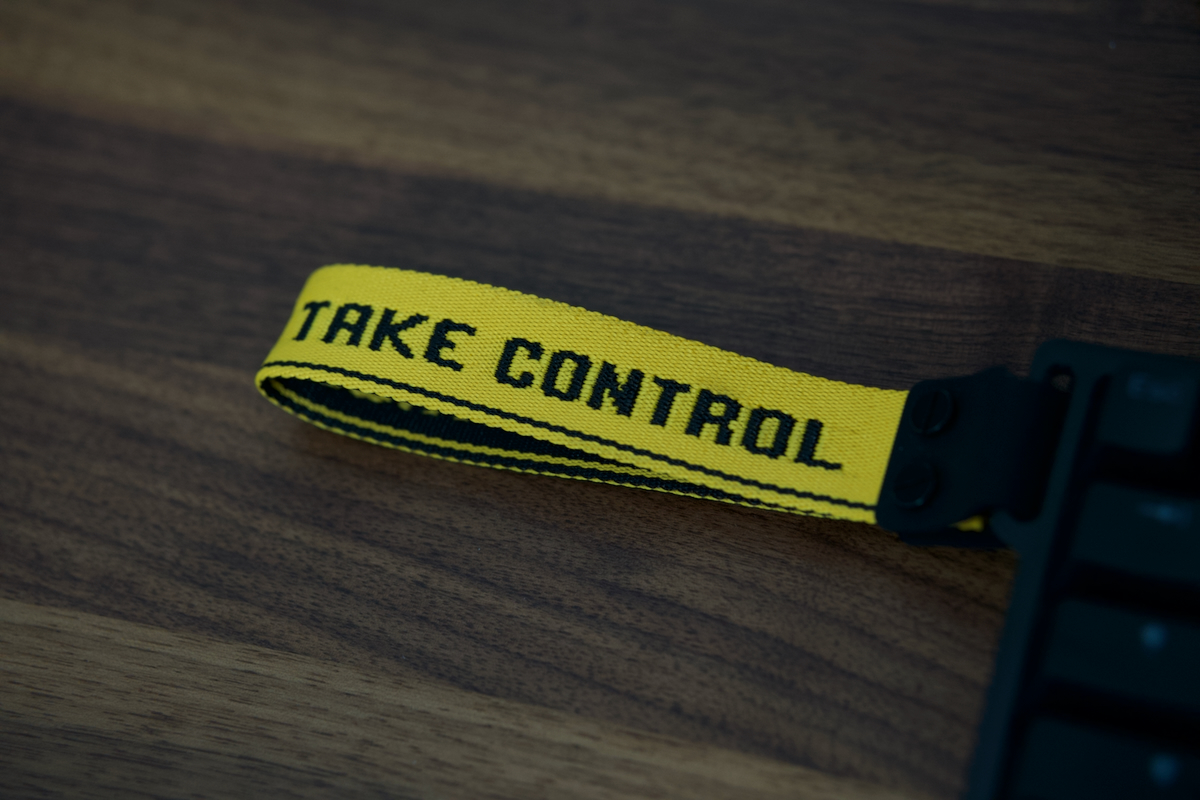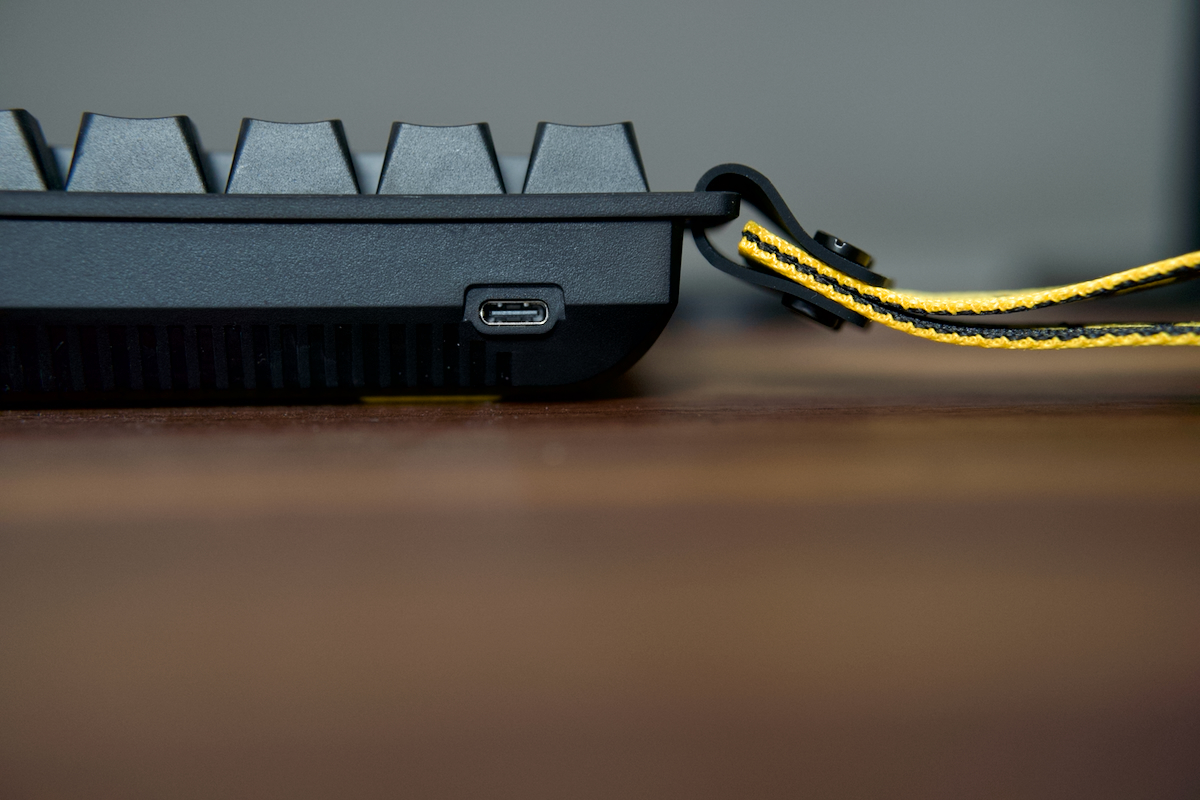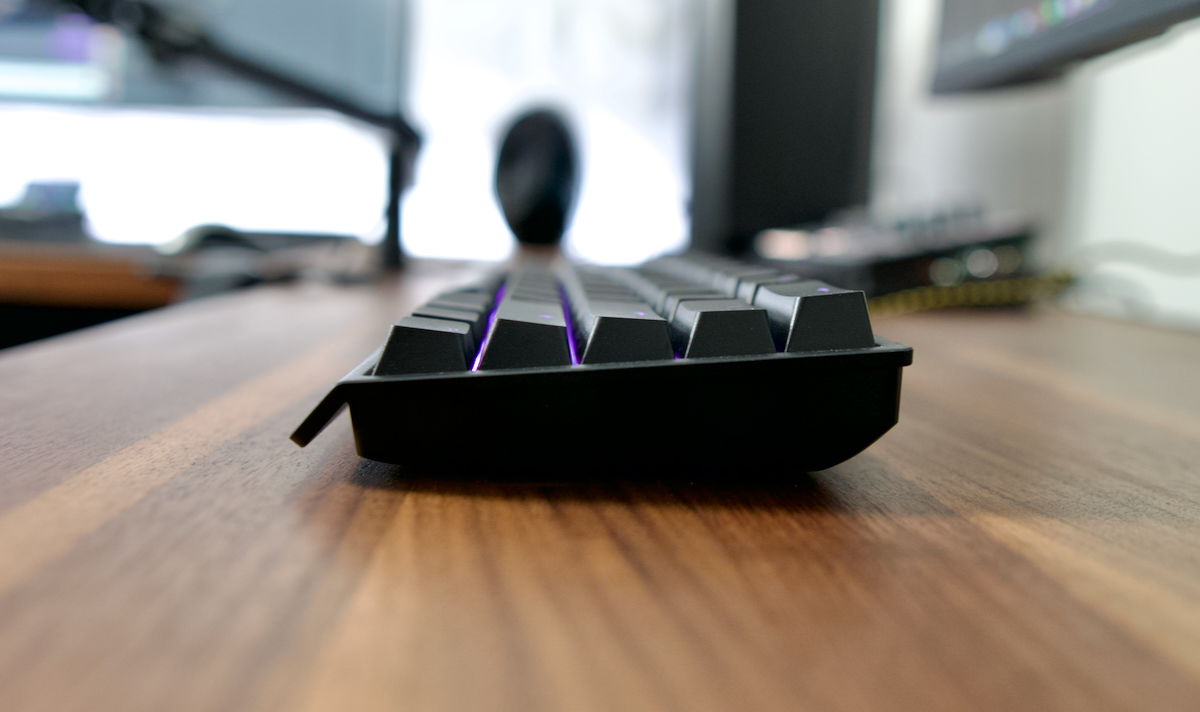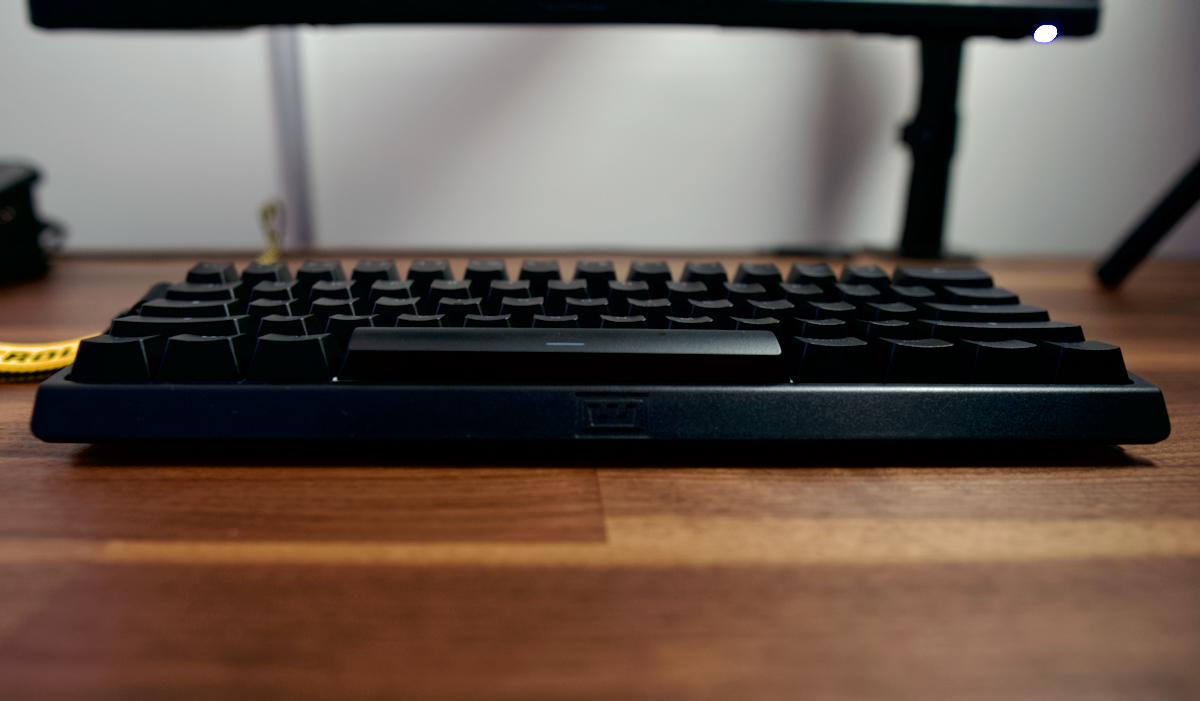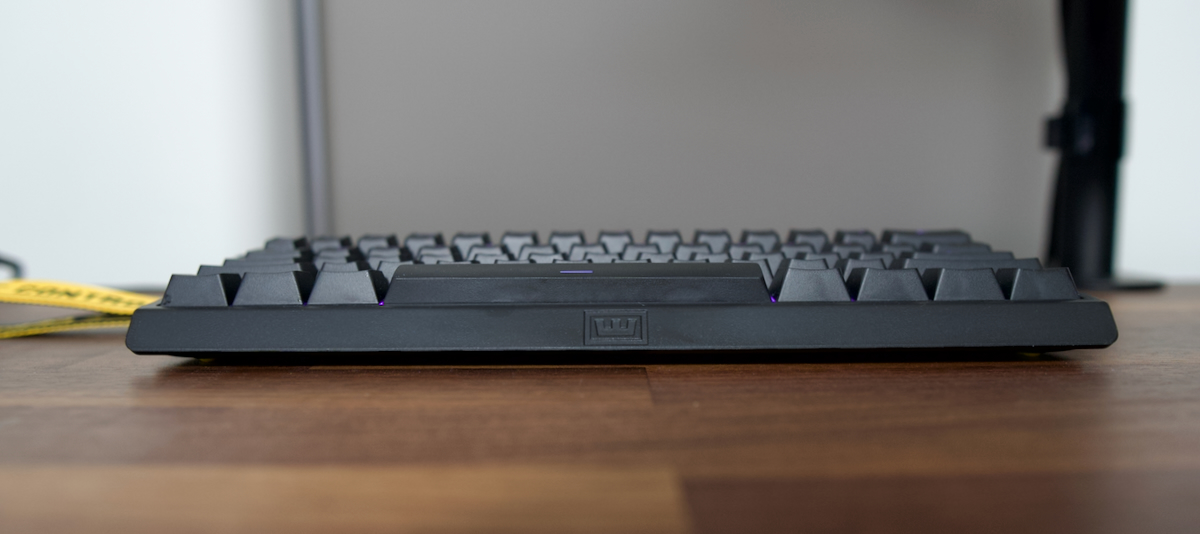 The Wooting 60HE is a wired 60% compact keyboard. It's a great keyboard to use if you're looking for some extra mouse space due to its small form factor.
Since it is 60%,this keyboard is missing function, arrow, and number pad keys. It definitely won't be the best for productivity needs but one of the best sizes for gaming.
The Wooting connects via USB-C which comes in an alternating black and yellow colourway. On the side, you will find an accessory strap that can be attached to the side of the keyboard which keeps the same colour scheme as the cable.
On the exterior, the Wooting is housed by a plastic case. There are four rubberized feet on the bottom to keep the keyboard from slipping around while gaming and they do a pretty good job of this. One downside is that there is no height/angle adjustability so you're stuck with whatever angle it's at.
The whole PCB of the Wooting is transferable and can fit other third party cases if you dislike the construction of the plastic one. Wooting is trying to give us the best of both worlds by creating a gaming keyboard that also has the customizability of a custom one.
The 60HE features some sound dampening foam between the case and PCB to make it sound less hollow. I tested the Wooting without the foam and you can tell that it really does help reduce the vibrations and rattling noises from the typing.
Build Quality
All the materials used to construct the Wooting feels durable and well put together. The hard plastic shell has no flex or bend when pressing downwards on the keyboard and the Lekker switches feel very responsive and smooth.
The stock keycaps used are double-shot PBT and after prolonged use of the Wooting there are no signs of the tops smoothing or grinding off. These keycaps will definitely pass the test of time even for the biggest rager gamers.
The braided cable that comes with the keyboard seems durable too. There's no fraying of the fabric even why I try to mess around with it and it has good flexibility.
One complaint is that the keyboard feels light. The plastic shell isn't enough to weigh down the Wooting and sometimes slips around my table. But, it's a good thing that you can use 3rd party cases to give some heft and customizability to the keyboard.
Software
Wooting's software called Wootility can be accessed online through your browser.
No need for any downloads, you just open up the link, make the adjustments you want and save it to your keyboard.
I'm a huge fan of this since it feels more convenient to access and I don't have to run random updates every week if it was a download. If you prefer installed software, Wooting provides an option for that as well, but recommends using Wooting Web.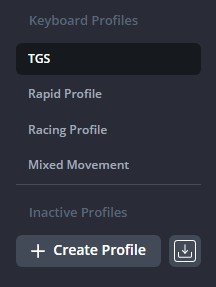 The whole web app is very easy to use. On the left you'll find all the profiles you currently have made and just under that you can create new profiles. All profiles are stored onboard the keyboard.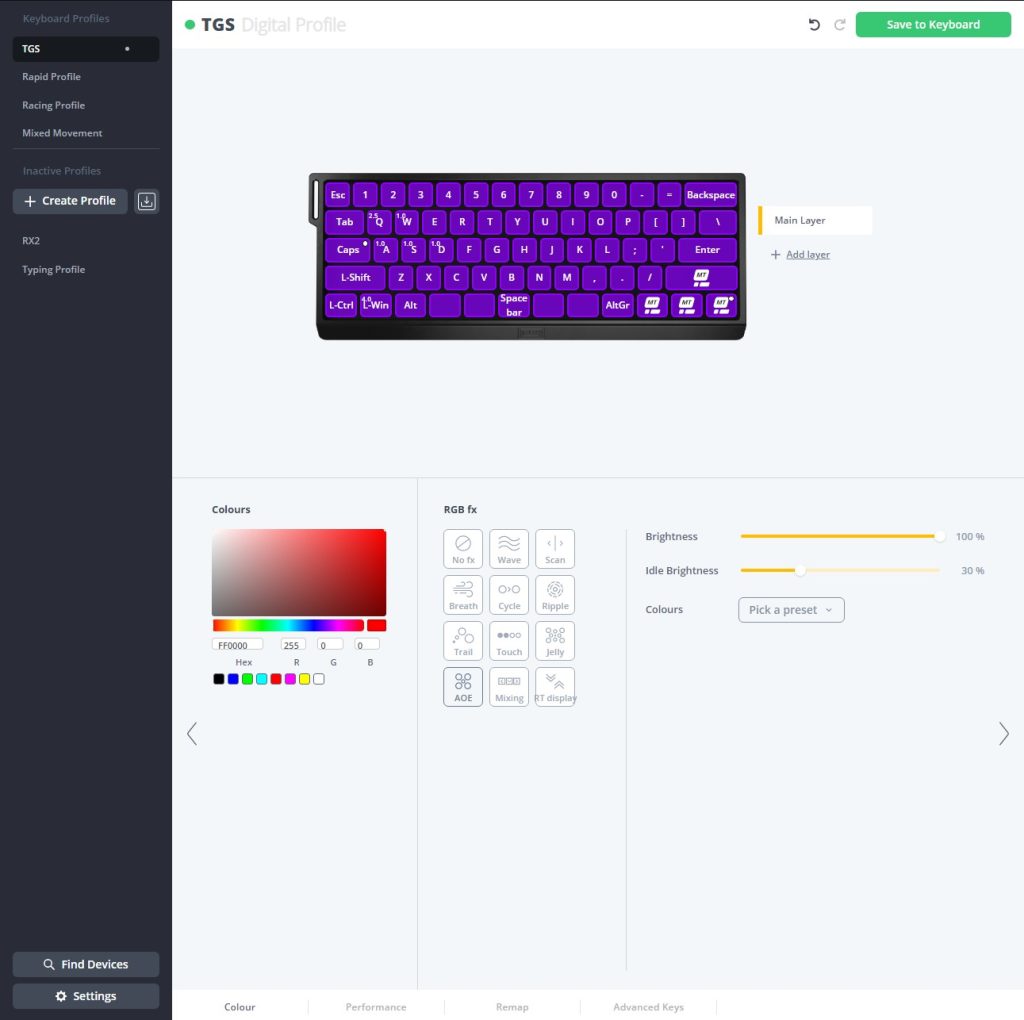 The first tab is all about that juicy RGB goodness. Here you can adjust the colours you want and set up to 12 different RGB effects that the Wooting offers. On the very right, you can adjust the brightness and choose from a variety of colour presets.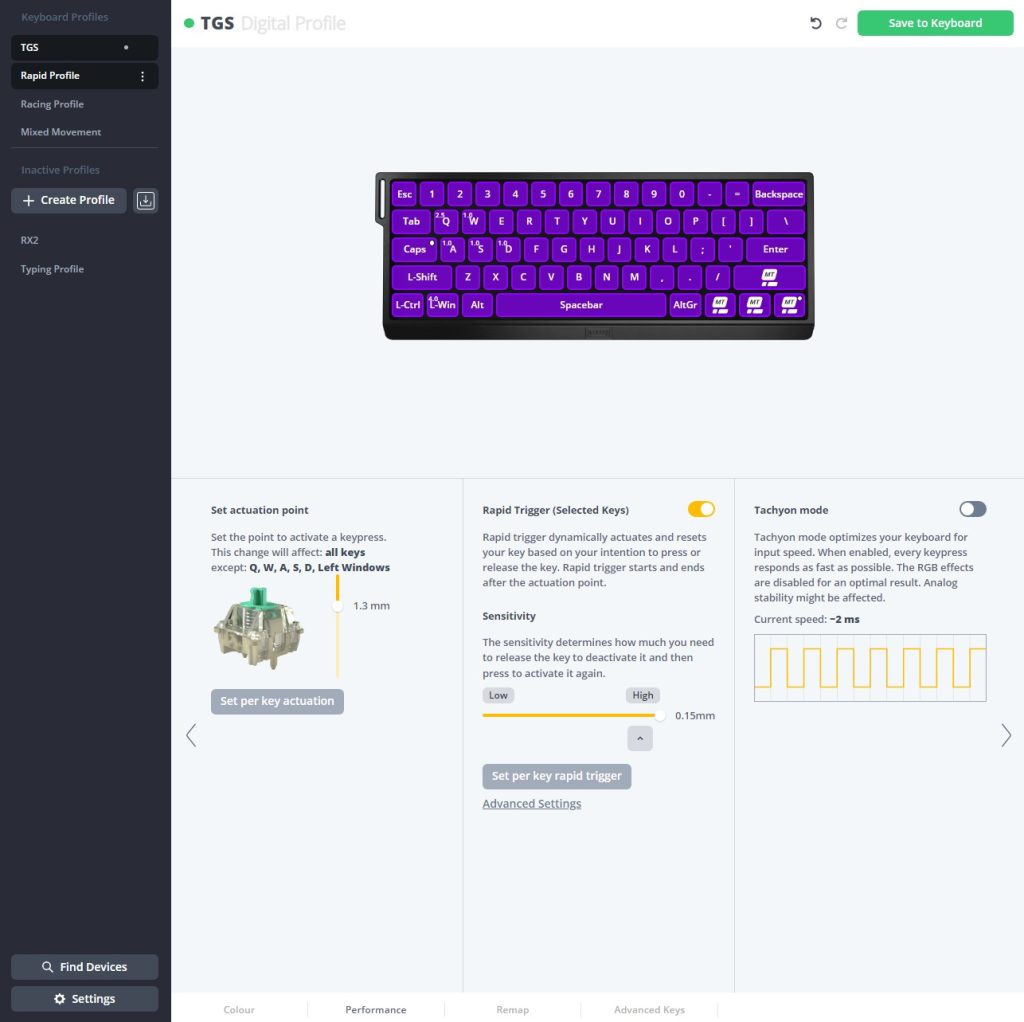 The Performance tab is all about the features of the Lekker switches. You can set the actuation points of each switch, enable rapid trigger, and turn on Tachyon mode. In case you forgot what all these did, Wooting puts detailed descriptions under all their features.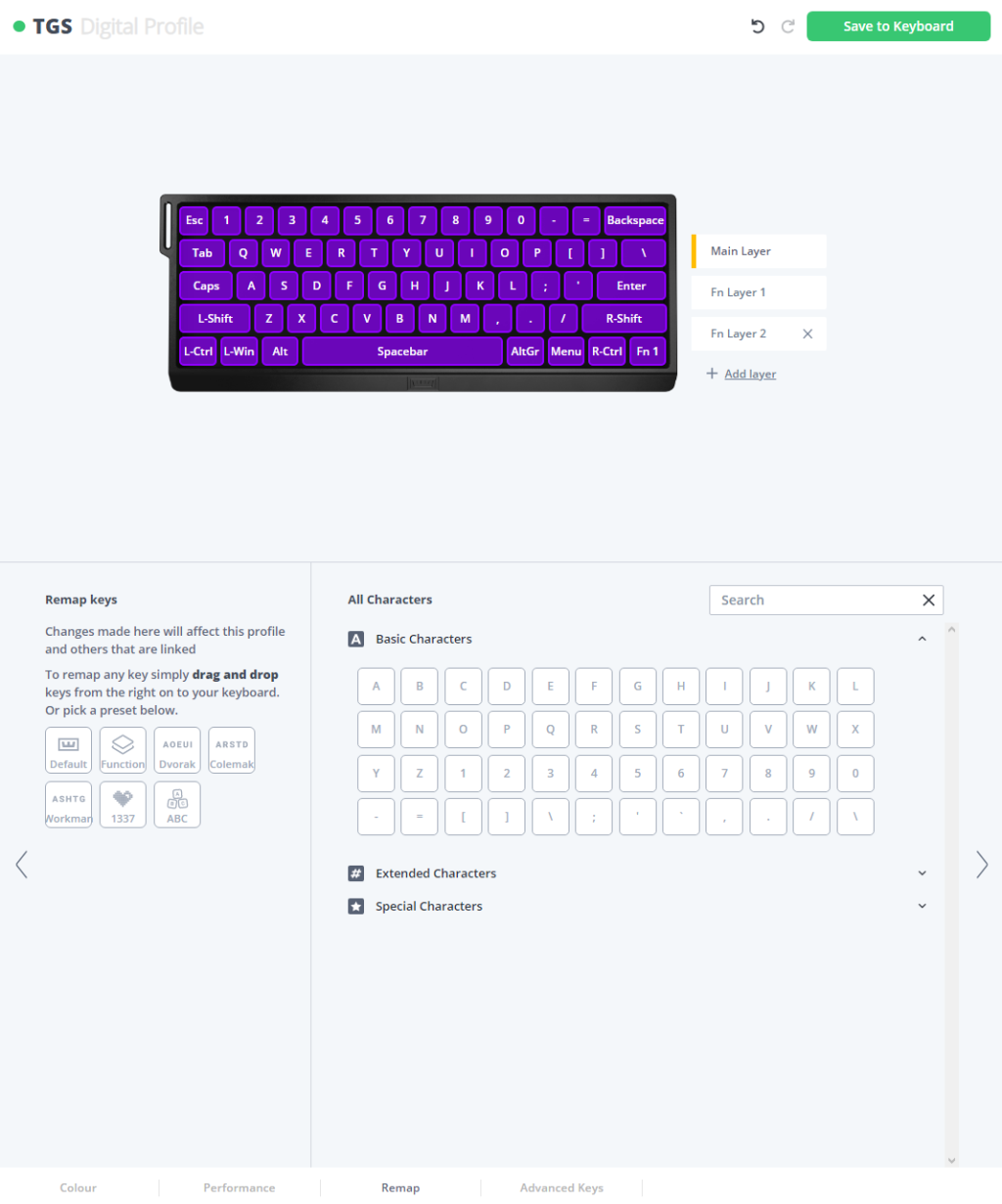 The Remap tab is exactly what it sounds like. You can map different keys on different layers of the keyboard. This can be useful since you can access all your media keys and arrow keys through this section but also place them anywhere you want.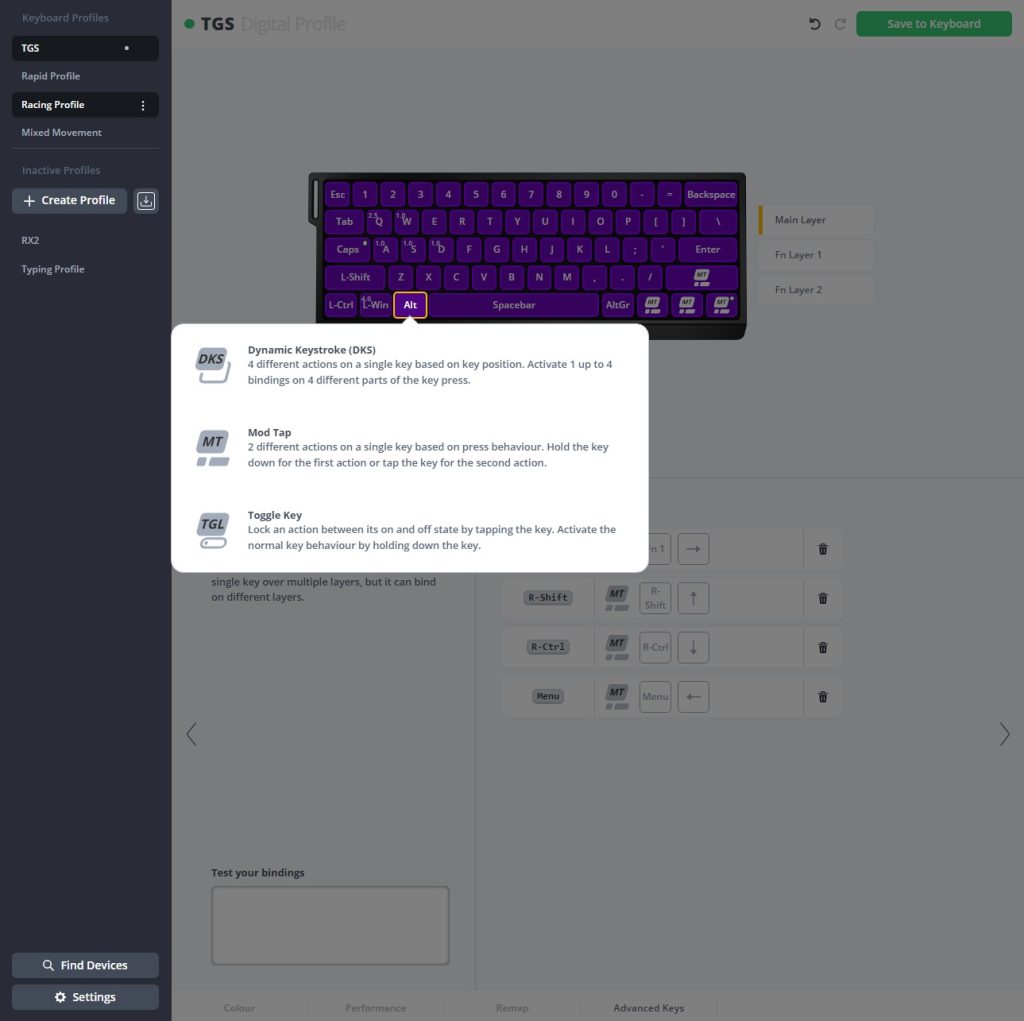 Finally, we have the Advanced Keys section. The Advanced Keys include the dynamic keystroke, mod tap, and toggle key. This was all explained under Switches Section 3 so you can revisit that if you forgot what all these did.
Tapping any key on the Wooting diagram above will pop up the 3 advanced key options. Putting in your desired key is easy, just click and drag into the white boxes.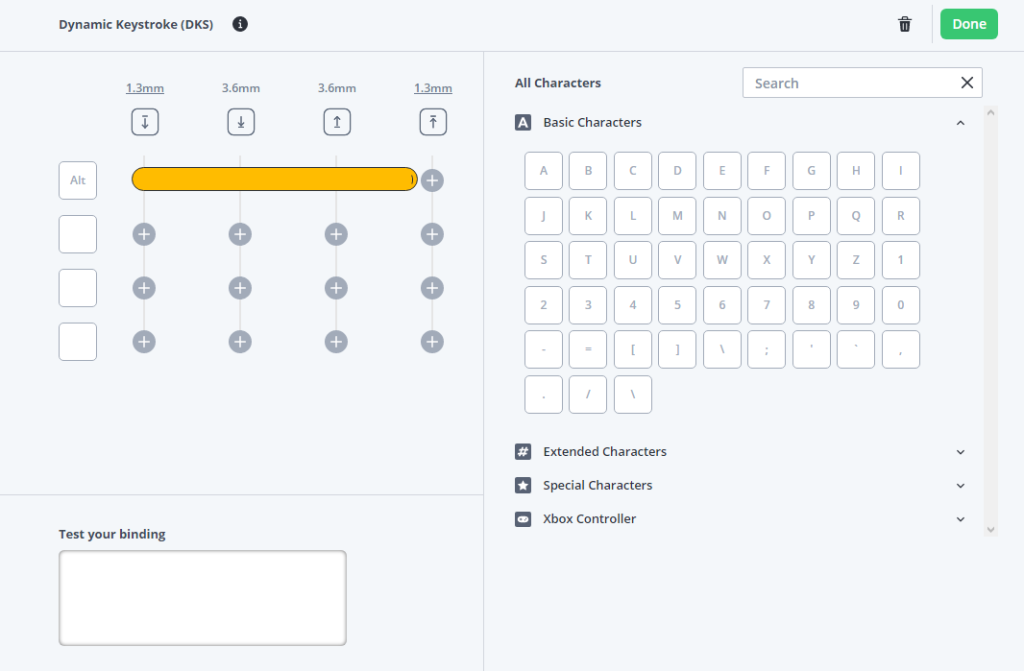 DKS brings up this screen where you can add up to 4 actions at whichever point you want.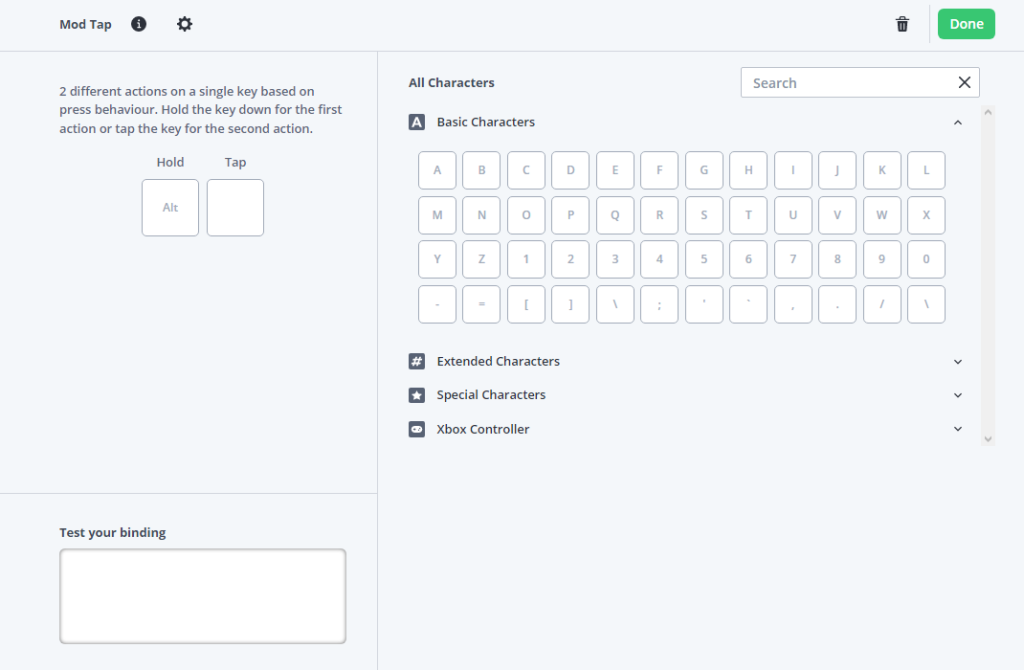 Mod Tap will show this where you can customize what action happens with a hold and a tap of the key. Again, just drag the desired action over to the boxes.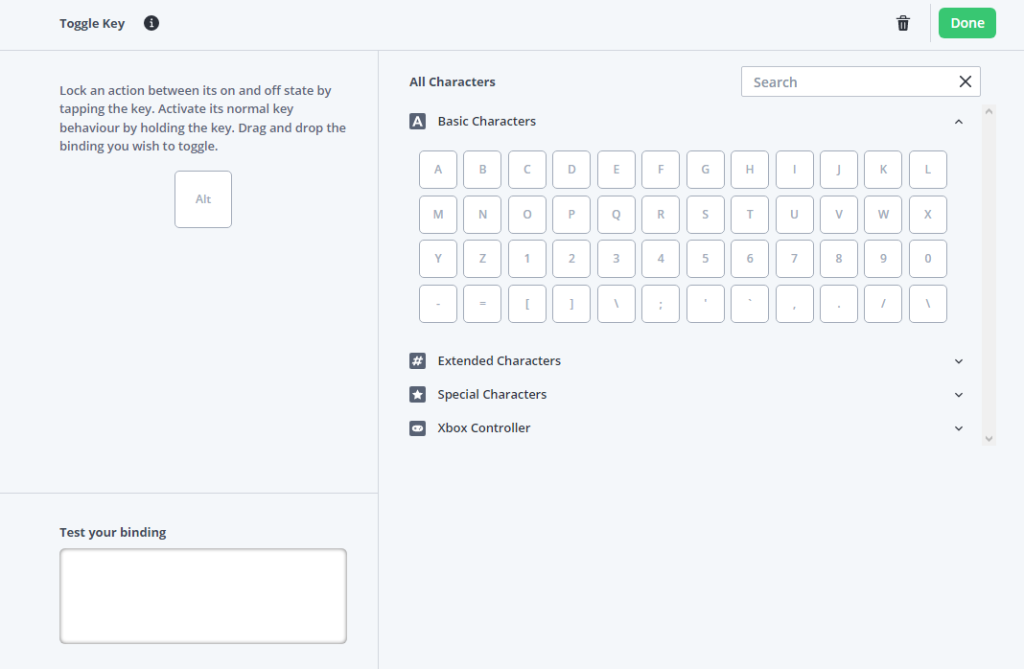 Lastly, Toggle Key will show this menu.
On the Advanced Keys section, I only use the Mod Tap to substitute in the missing arrow keys.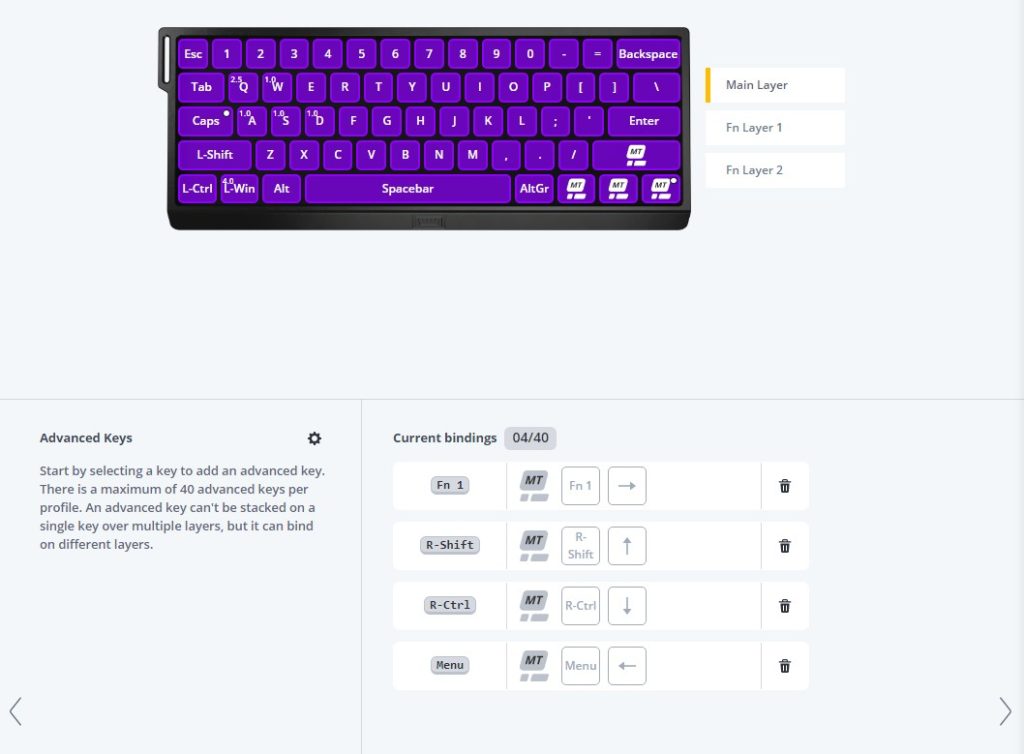 The 4 keys on the bottom right are treated as the arrow keys since they take a similar form already. Very useful for media consumption and just general usage. It's almost like the arrows keys never went away in the first place.
What's in the Box?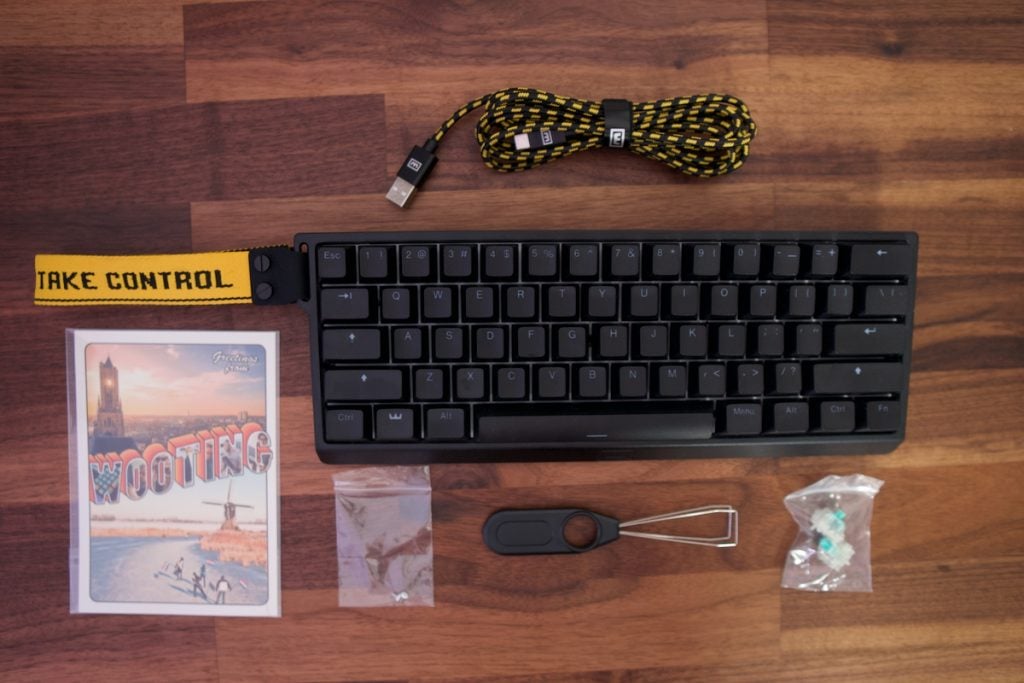 The Wooting 60HE comes with the following:
1x Wooting 60HE keyboard
1x USB-C cable
1x Keycap puller
1x strap
2x spare Lekker switches
2x spare screws
1x postcard
Warranty
Wooting gives the 60HE a 4 year warranty which covers any damage or defects from regular use.
Tech Specs
Wooting 60HE
Length: 30.2 cm / 11.89 inches
Width: 11.6 cm / 4.53 inches
Height: 3.8 cm / 1.5 inches
Case: Plastic
Weight:605 grams
Keys: 60 keysl
Connectivity: USB-C braided cable included
Keys & switches
Switch options: Gateron Lekker
Keycap material: PBT
Keycap legends: Double shot
Keycap profile: OEM
Media keys: Through function layer
Backlight: Full RGB (North facing)
Software: Wootility