When SteelSeries turned quite a few heads when they launched their Apex Pro line of keyboards which first featured analog key switches. It was the first time a keyboard had a customizable type feel. Having pressure-sensitive keys on a keyboard was a big deal.
Now, it seems like Razer is done sitting on the sidelines and wants a piece of the spotlight. They've officially jumped on the analog bandwagon with the Huntsman Mini's analog variant.
There's nothing different about this Razer keyboard compared to the original Huntsman Mini other than the switches. But the addition of pressure-sensitive key switches serves a segment of their customer base looking for more fine tune control of gaming PC gaming experience.
At $149, just a $30 premium over the vanilla Huntsman Mini, it might be worth the cost to get analog goodness, if you feel like you'll find a use for it.
Razer's pressure sensitive keyboard
Pros
Good PBT keycaps
Analog switch tuning works really well
Great RGB
Cons
Stabilizers are still quite noisy
What's in the box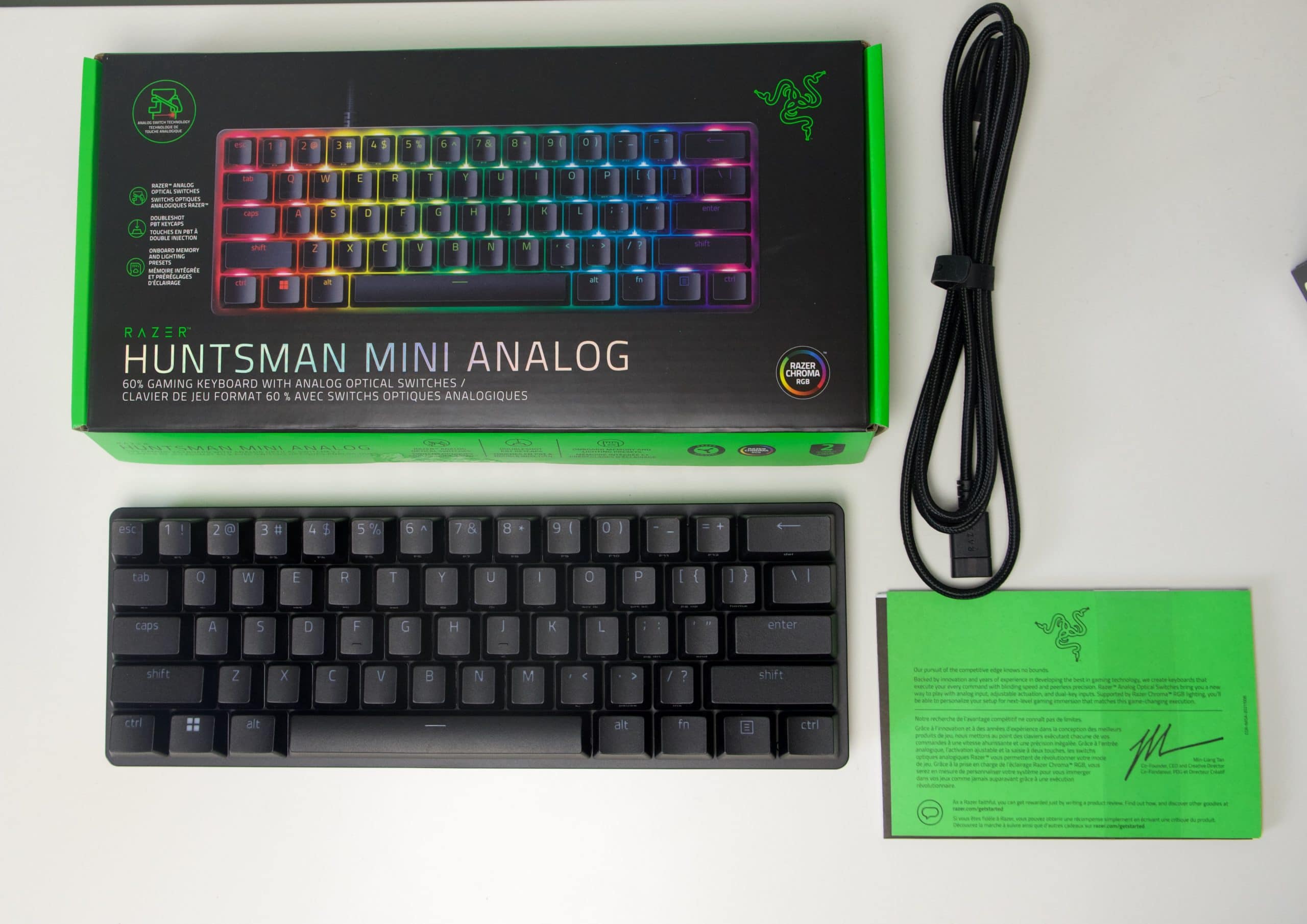 The unboxing experience is pretty straightforward, although Razer could have done a better job with what's included in the box.
Inside the box, you get:
A USB-A to USB-C cable

Stickers

Manuals and other paperwork
Razer switches go analog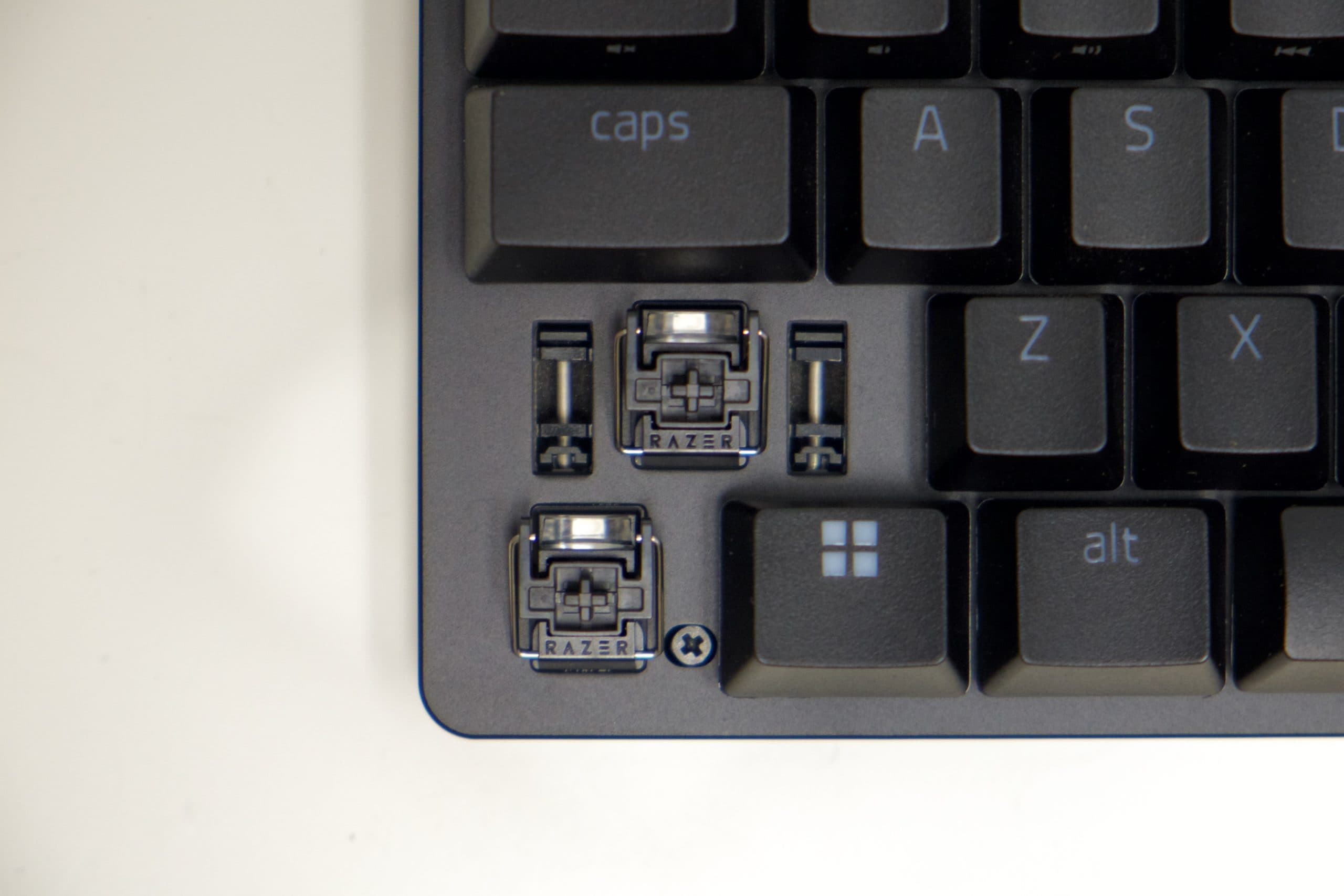 This is Razer's first foray into analog switches and are linear optical switches. They have a smooth and balanced travel right until it bottoms out.
Making these optical switches analog allows you to raise or lower the actuation point of each switch.
The switches in the Huntsman Mini actuate at 1.5mm by default. This allows for a fast response time, making it great for gaming. It's also the shallowest actuation point available on these switches. Conversely, the deepest you can set the actuation point to is 3.6mm; which can be done via Razer Synapse.
Dual-step actuation lets you map two key functions to two different actuation points in a single keypress.
Stabilizers are still a little rattly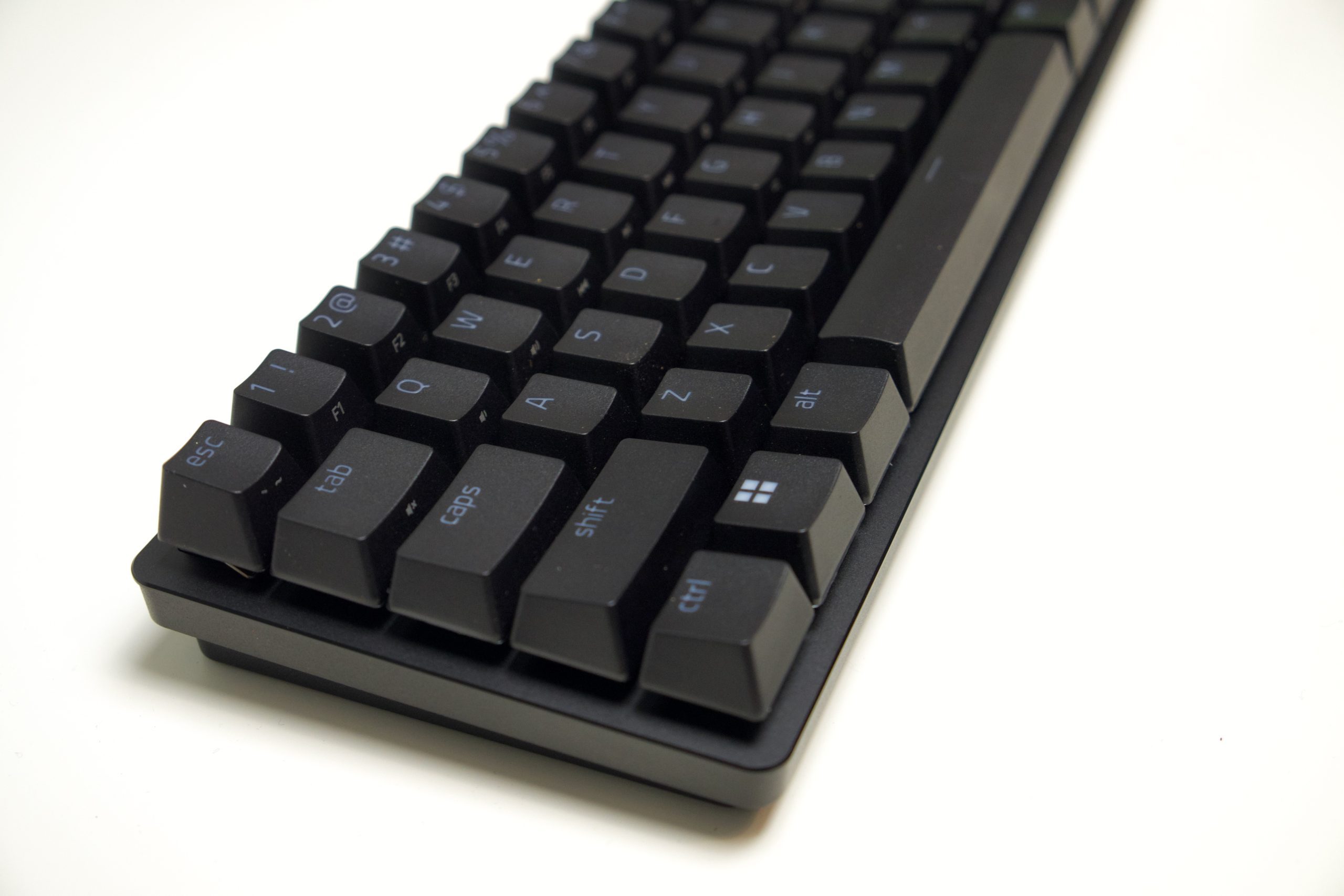 Razer's a big brand, they make thousands of keyboards each year. So, it's no surprise that you'd find some imperfections in their construction.
The stabilizers on the Razer Huntsman Mini Analog feel quite hollow and chattery. This is even more noticeable when you compare them to the stabilizers on the Ducky One 3 Mini, which Is arguably the gold standard for keyboard stabilizers.
This is pretty much a given, very few brands can match the quality of stabilizers offered by Ducky, let alone a huge one like Razer, with the sheer volume of products they move each year.
Solid PBT keycaps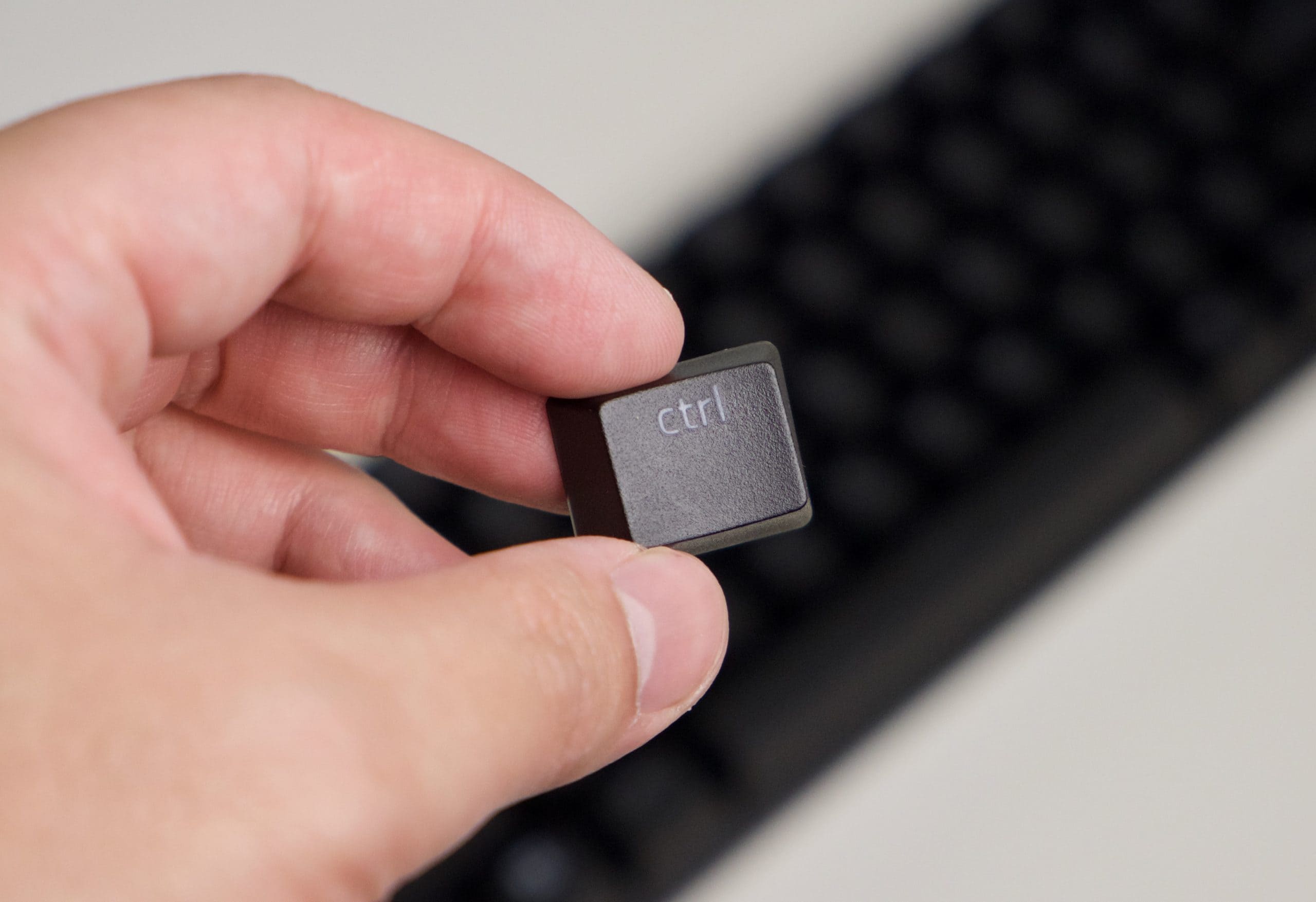 Razer has had a good track record when it comes to their keycaps. Not much has changed here.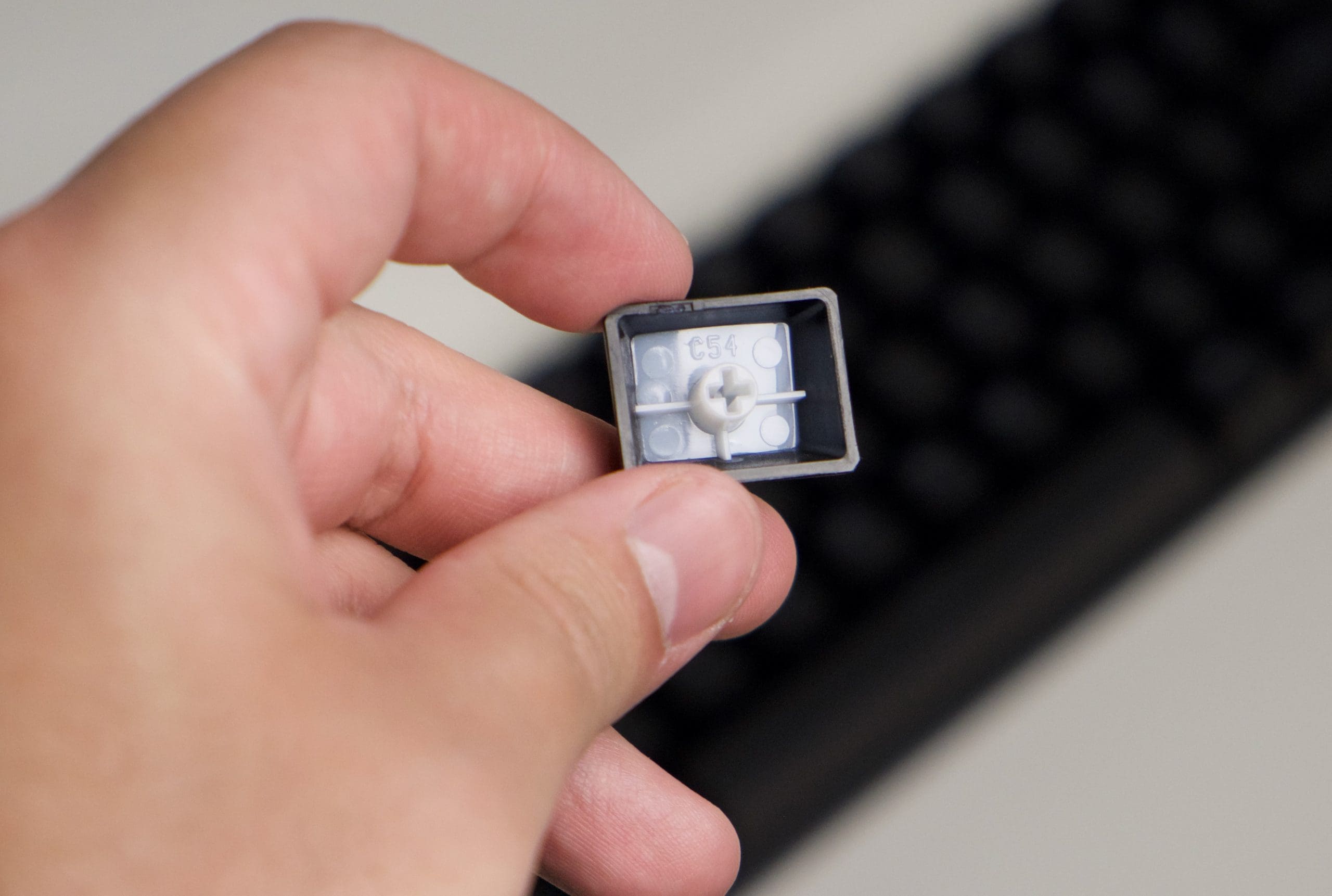 The Huntsman Mini features some decent double-shot PBT keycaps that go with its analog switches. There's also a side printed legend that features all the secondary functions available, which is nice to see.
Good typing feel, okay acoustics
The analog optical switches on the Razer Huntsman Mini feel solid. The typing experience is quite pleasant and it feels nice to game on.
Razer switches have always been known for their slight wobble when seated in the chassis, and the story's no different here. But it's nothing too major so you wouldn't notice it in day-to-day use.
The switches bottom out with a force of 50 grams, which is quite middle of the road—especially for linears. But do note that these optical switches feel much lighter than Cherry MX Reds.
But that's about where the positives end. The keyboard overall sounds a bit hollow, which is surprising since the entire build seems super solid. The Huntsman Mini could do well with some foam padding inside to make acoustics sound fuller.
While the linear optical switches feel nice to type on, they can get pretty loud when bottoming out, which might be problematic especially if you were looking for a quieter keeb.
The worst offenders, however, are still the stabilizers. This amount of rattle and clackety-ness is unacceptable for a keyboard at this price point. Razer seriously needs to put more effort into improving the quality of their stabs for the next version of the Huntsman Mini.
Build Quality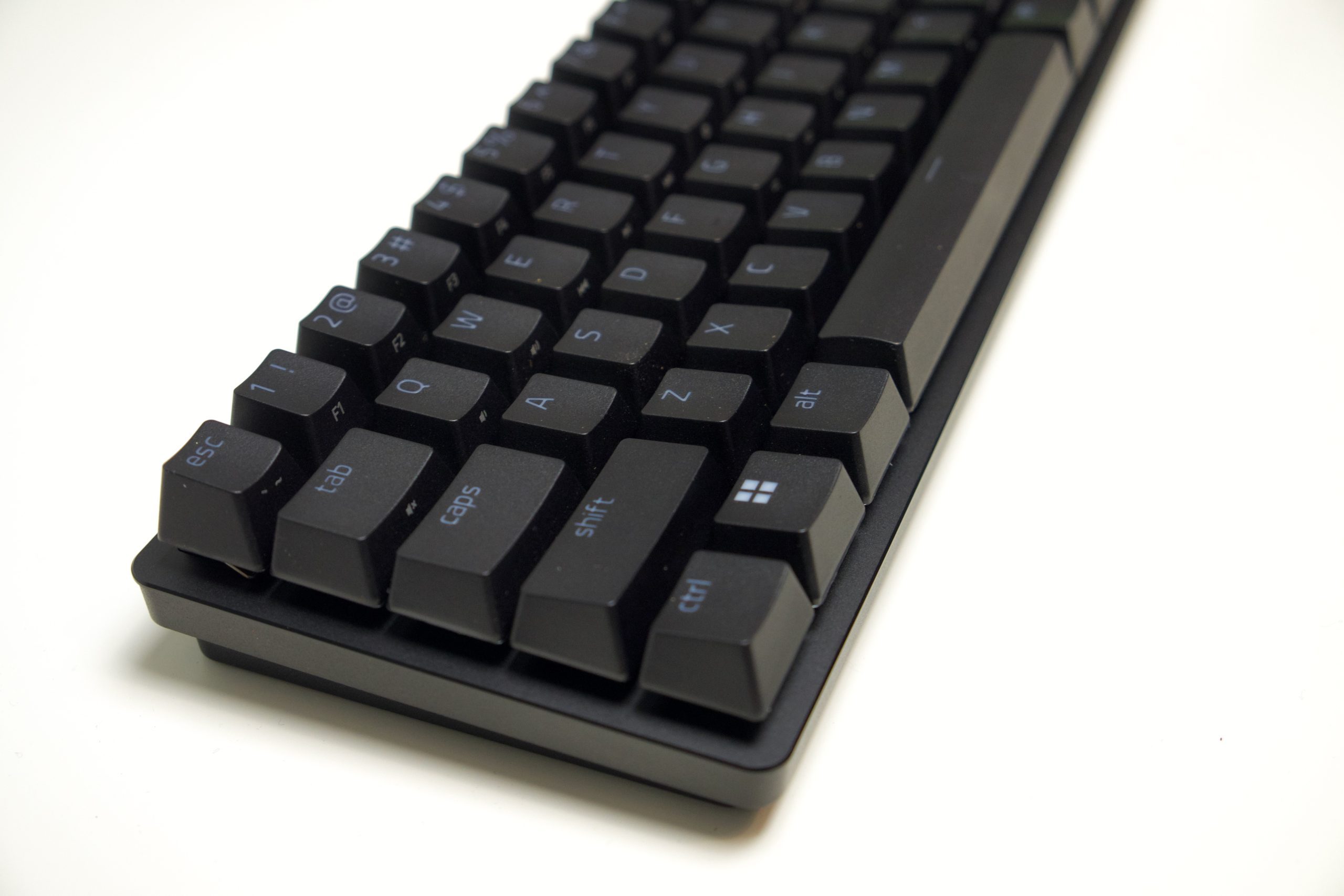 As I mentioned earlier, the Razer Huntsman Mini Analog is built like a tank. No complaints here. The aluminum top plate adds a ton of rigidity to the entire keyboard, and I could not make this thing flex or creak—even a little!
Deck flex is also minimal, and it takes a lot of downward force to even see it. I have no worries about the durability of this keyboard, so props to Razer on this one.
Design
Case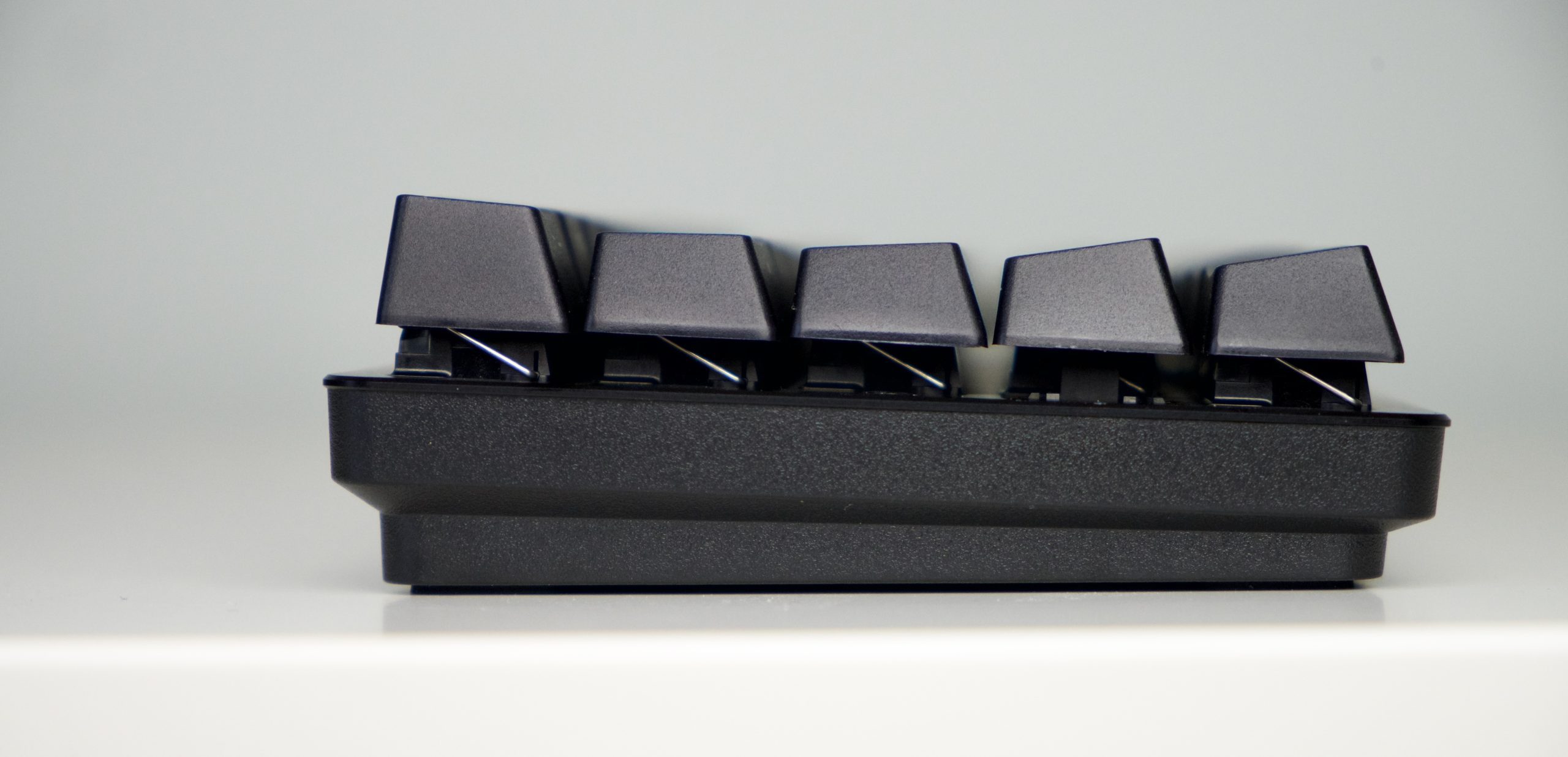 The Razer Huntsman Mini Analog is pretty much the same as that main Huntsman Mini line.
The case is low profile with plastic construction and a metal top plate. This combination makes the entire build of the keyboard feel rigid, even with the plastic. The only branding on the entire keyboard is found on the underside, with the Razer logo etched on the backplate.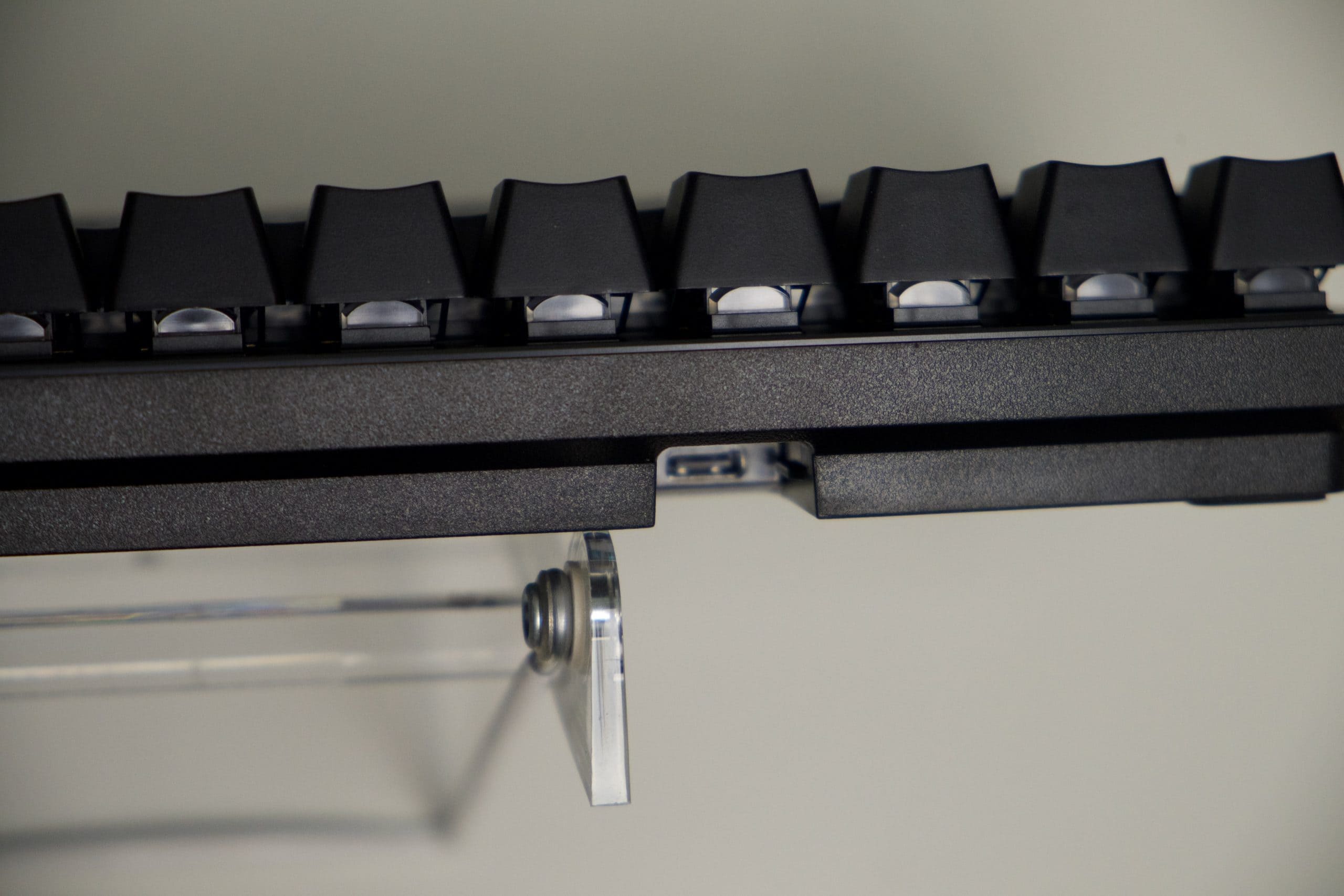 Razer has opted to have the USB-C port offset to the left of the Huntsman Mini, there's nothing inherently wrong with this, but I would have preferred to see it in the middle.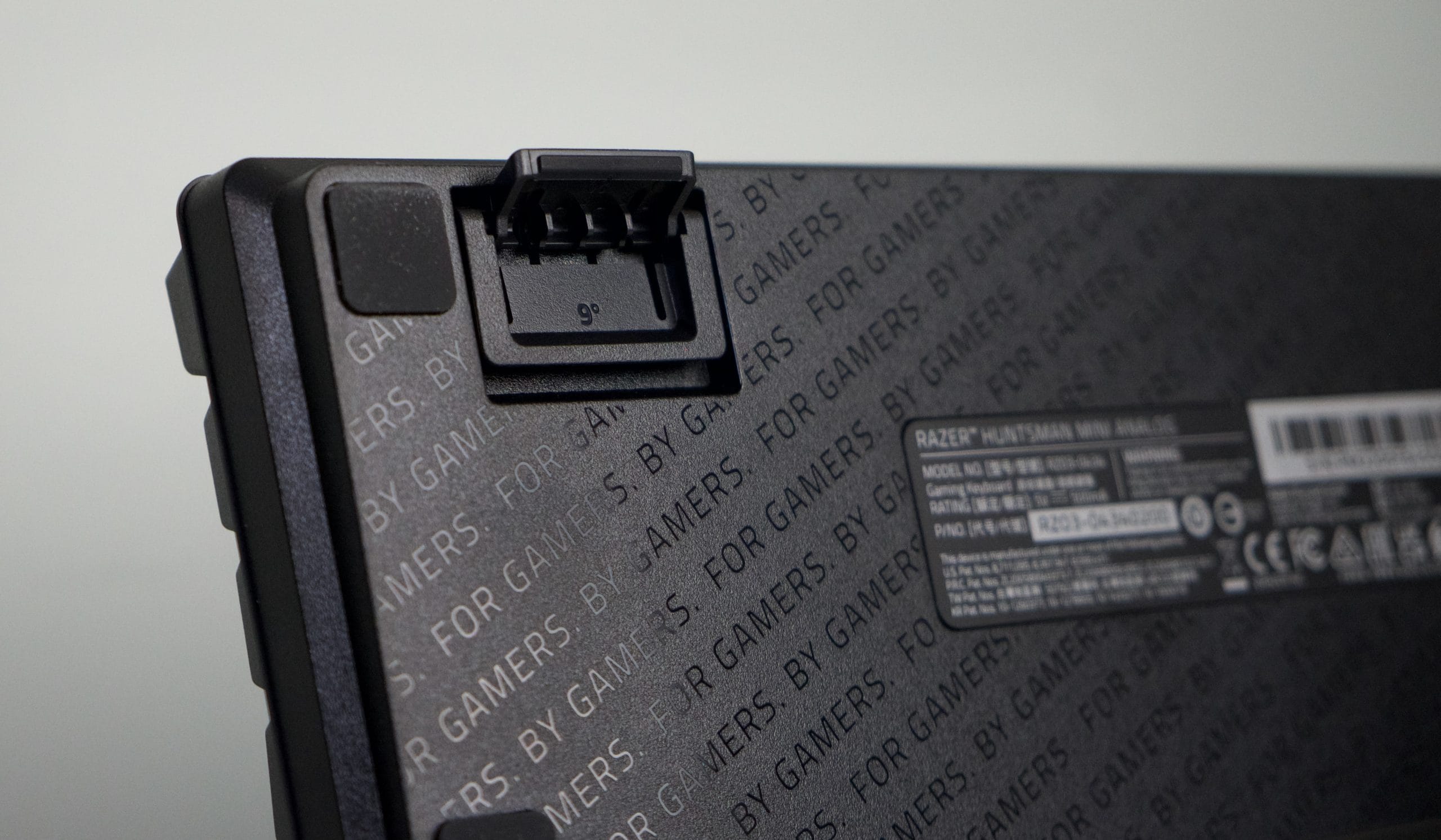 Underneath, there's a pair of feet with 3 total adjustable height settings.
One thing you do have to keep in mind is that the analog version of the Huntsman Mini only comes in black. So, if you were hoping to snag one in a different color, you're out of luck.
RGB
Razer always kills it when it comes to RGB, and the Huntsman Mini is no different. Each key is individually lit, with a bunch of customization modes available.
The Available RGB modes are:
        Ambient Awareness
        Audio Meter
        Breathing
        Fire
        Reactive
        Ripple
        Spectrum Cycling
        Starlight
        Static
        Wave
        Wheel
Software Options
The Razer Huntsman Mini Analog is fully compatible with Razer's Synapse 3 software. It opens up multiple customization options for the keyboard that allows you to:
       

Set actuation point of analog switches

       

Customize RGB

       

Record macros

       

Remap Keys on the first layer to any key
The real game-changer with the Huntsman Mini Analog and Synapse is that you can now set the key presses to mimic pressure sensitivity like what's found on traditional analog triggers on controllers.
The keyboard also has inbuilt support for up to 4 different profiles. So, you can quickly switch between different presets depending on the type of game you're currently playing. 
Warranty and Reliability
The Huntsman Mini Analog comes with Razer's standard 2-year warranty for their keyboards.
You can find more information on their warranty policy here: https://www.razer.com/warranty
Tech Specs
Razer Huntsman Mini Analog
Length: 29.21 cm / 11.5 inches
Width: 10.23 cm / 4.028 inches
Height: 3.68 cm / 1.449 inches
Case: ABS Plastic with aluminum top plate
Weight:  523.3 grams
Keys: 61 keys
Connectivity: USB-C 2.0 cable, 6ft, detachable
Keys & switches
Switch options: Razer Analog Optical Switch
Keycap material: PBT
Keycap legends: Double-shot printing, with side printed labels
Keycap profile: OEM
Media keys: Through Fn keys
Backlight: Full RGB
Software: Razer Synapse 3
Conclusion
It's nice to see more and more brands capitalizing on the analog keyboard market. Especially since the SteelSeries Apex Pro line-up is quite a bit more expensive than the Huntsman Mini.
The Razer Huntsman Mini is a solid keyboard, with a solid build and feel. If you're hell-bent on going for an analog keyboard, this might be perfect for you. If not, you're better off with something like the Ducky One 3 Mini with better typing experience for less money.