Cooler Master has great products in the MK and CK series, and I had high hopes that the SK630 and the SK series would prove to revolutionize the mechanical keyboard with a great low profile experience.
In reality, the SK630 does deliver on a viable low profile mechanical keyboard, but the typing experience pales in comparison to a full profile keyboard. Interestingly, I found acclimating to this low profile keyboard even harder than a lower profile MacBook keyboard.
The SK series is well designed, with great aesthetics and RGB, if you're looking for a clean and minimal board that has the durability of a mechanical keyboard this might be for you.
If you're okay with high profile switches keep moving, the low profile is only slightly lower, the switch is a bit mushy and chalky and the key caps are the standard thin ABS, you can do better for your money.
Pros
Gorgeous design
Great RGB
Detachable USB Type-C connection
Decent build quality despite lightness
Good travel keyboard with light weight and carrying pouch
Plenty of size options
Two colour options for key caps
Cons
Mediocre switch feel
Bad stabilizers
Thin painted ABS caps
Limited key mapping capabilities
No adjustable feet
Tech Specs
Cooler Master SK630
Width: 35.35 cm
Length: 12.55 cm
Height: 2.98 cm
Case color: Brushed aluminum top, plastic black bottom
Weight: 552 grams
Keys: 87 TKL size
Cable Length: 1.8m, braided, detachable
Keys & switches
Switch options: Cherry MX Red Low Profile
Keycap material: ABS
Keycap legends: Painted & Laser Etched
Keycap profile:Flat Chiclet
Media keys: Through fn layer
Backlight: Full RGB
Software: Coolermaster Portal
Polling rate: 1000 hz
Connectivity: USB type-c device, USB-A to host, no pass through
Switches
The switches are the most intriguing thing about this keyboard and deserves to be talked about first. The SK series (SK621, SK630 and SK650) all feature the new low profile Cherry MX Red switch, these switches drop the actuation point of the switch down to 1.2 mm from the standard 2 mm of regular MX switch and the total travel down to 3.2 mm from a standard 4 mm.They do the job of making a lower-profile mechanical keyboard, but do they feel good?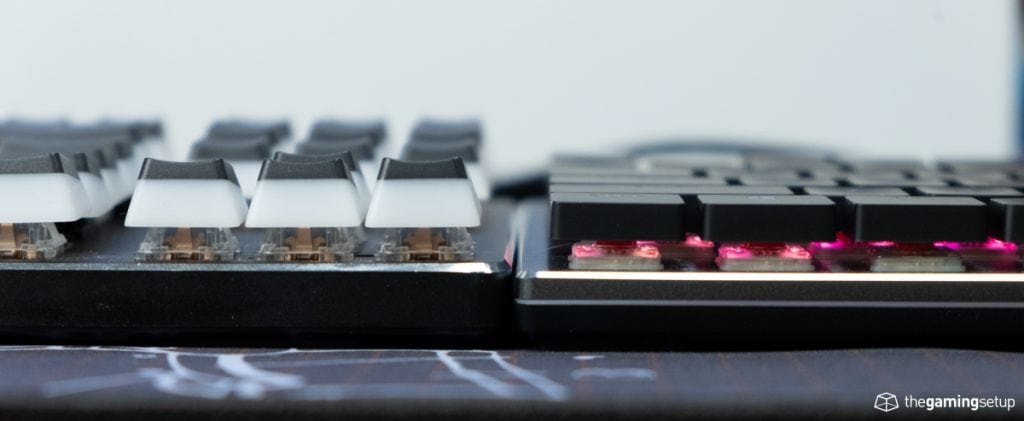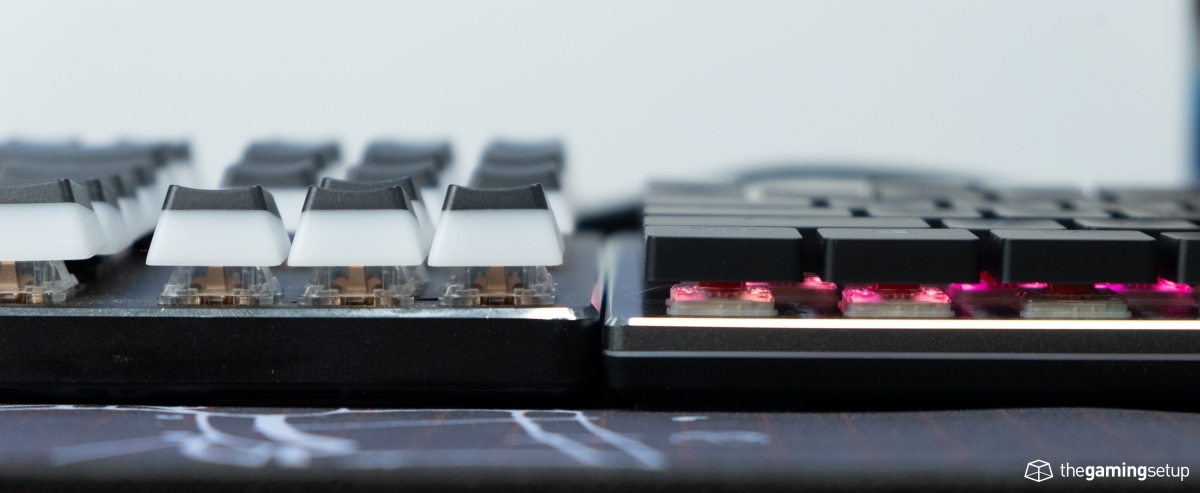 The low profile MX reds aren't as good as its regular profile variant, the low profile MX reds are rated at 45 grams of operating force, I find that the actuation action a little scratchy and mushy. That friction make the low profile MX reds feel a little more taxing to use than the regular profile MX Reds. Perhaps its the same amount of force required in a smaller actuation and travel window that make these feel a lot stiffer than the pull profile variant.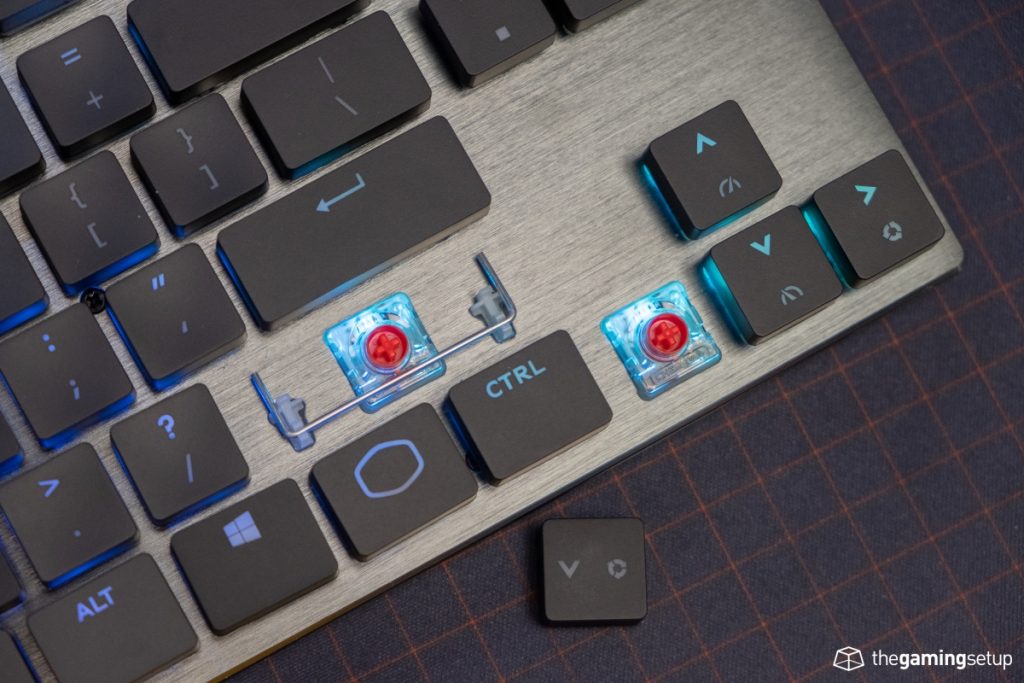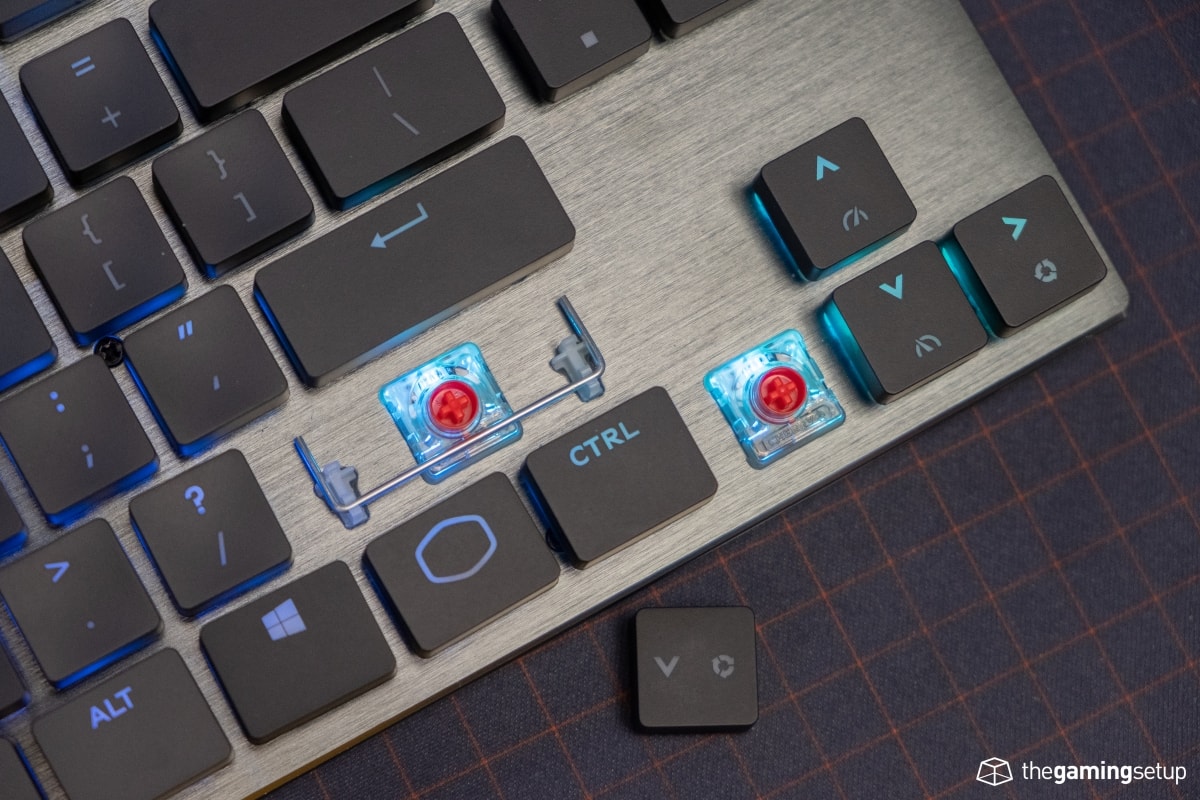 The stabilizers in this keyboard are sub-par with the space bar and shift keys rattling quite a lot under normal use. The wire stabilizers are a pain in the butt to attach to the low profile key caps and don't do much in the way of reducing chatter.
The keyboard PCB has a 1000 Hz polling rate with N-key rollover, so no input performance concerns with the SK630.
Keycaps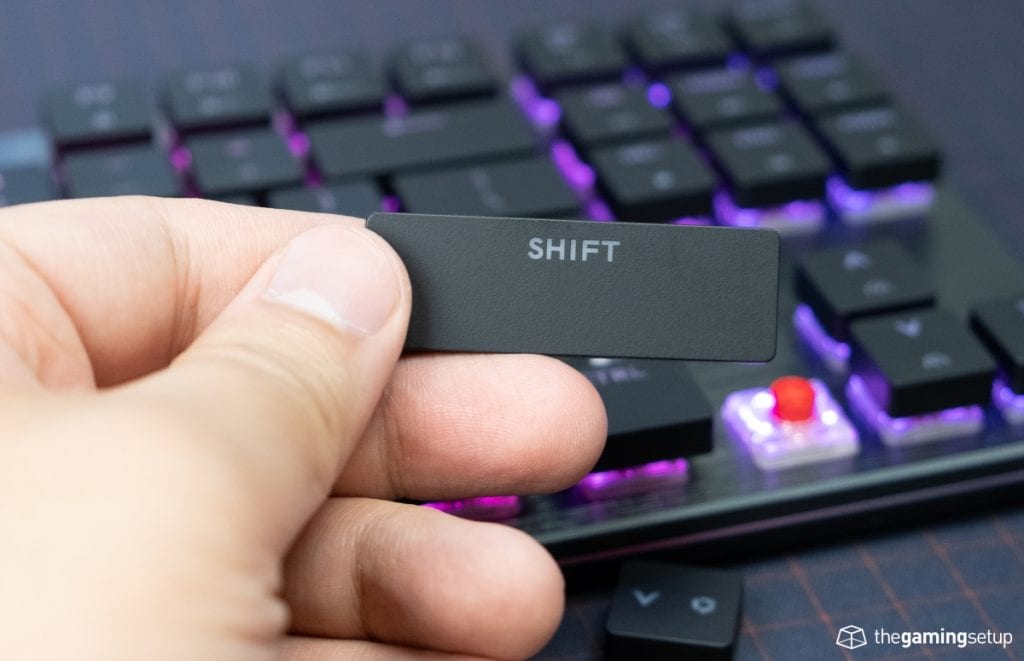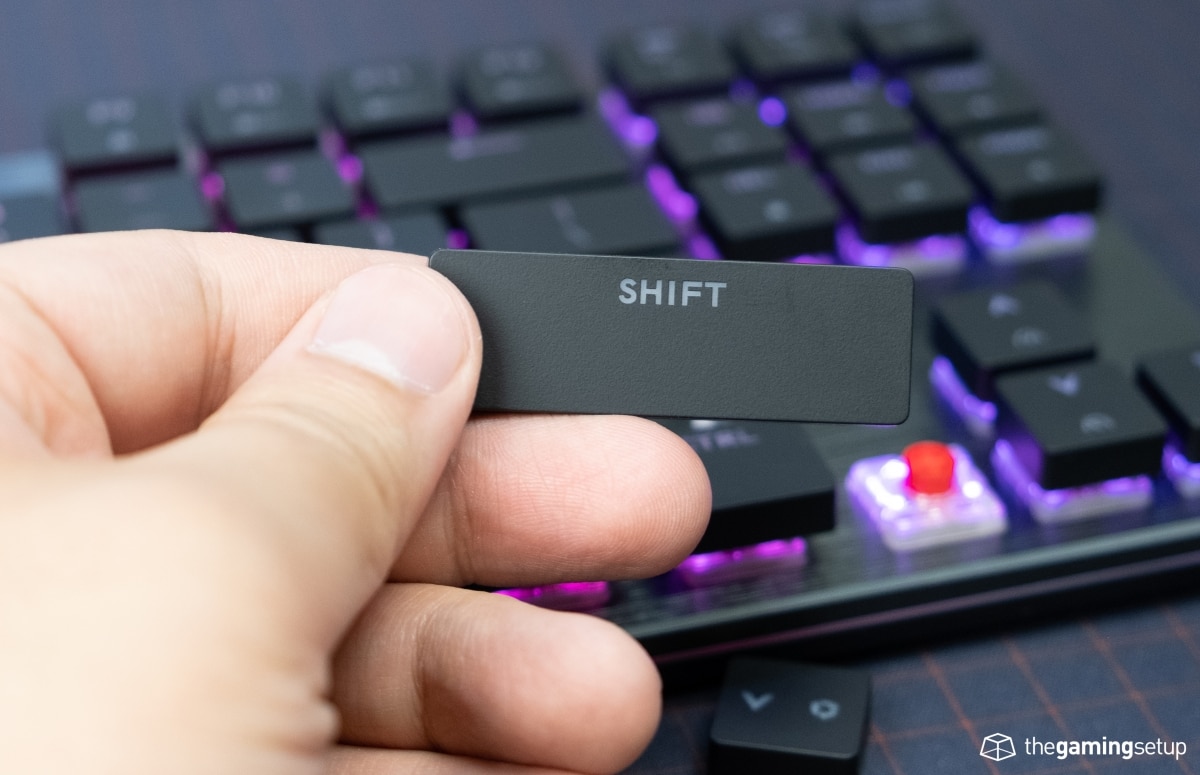 These keycaps are sure to be divisive, let's get the obvious stuff out of the way first, the quality of these caps are abysmal, thin painted ABS keycaps with a laser etched legend is still all too common on these keyboards.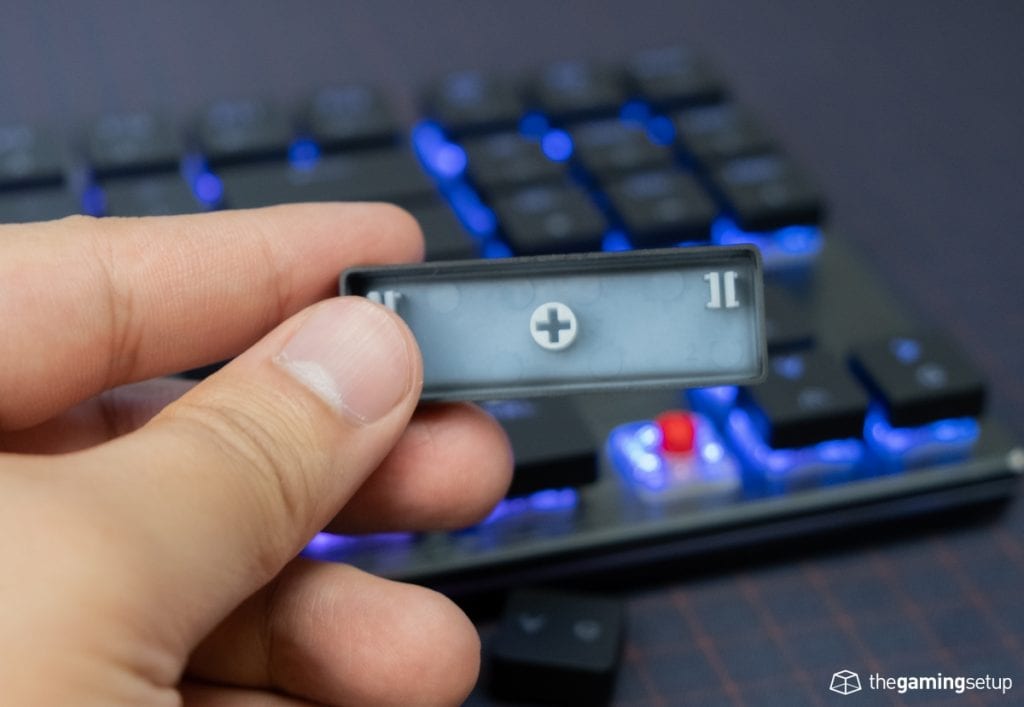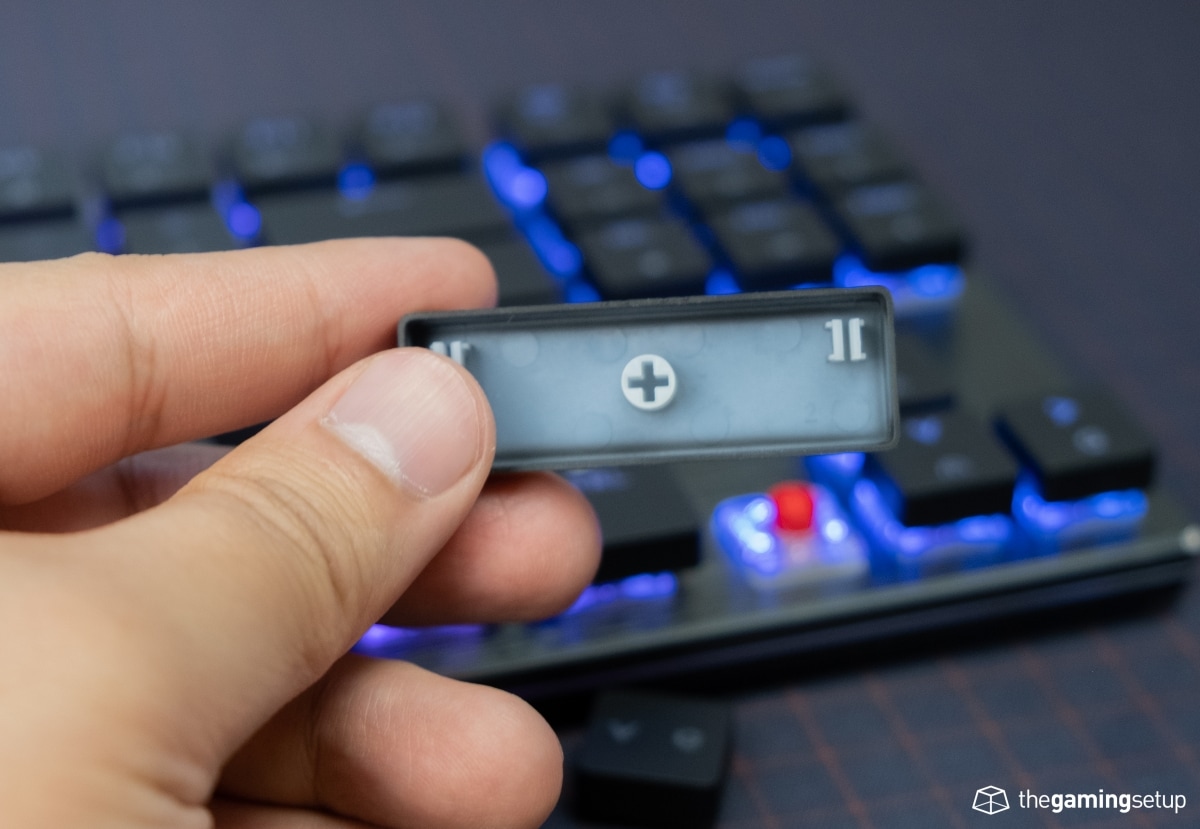 The key caps themselves are completely flat with no difference in feeling from the top row to the bottom, I'm personally finding it difficult locating a key by feel and end up mistyping or misinputing in games often and that feeling didn't really subside over time. Initially, I didn't think this would be a huge problem, I type on Macbook keyboards all the time without issue, the keycap surface area is smaller than the latest MacBook scissor switches.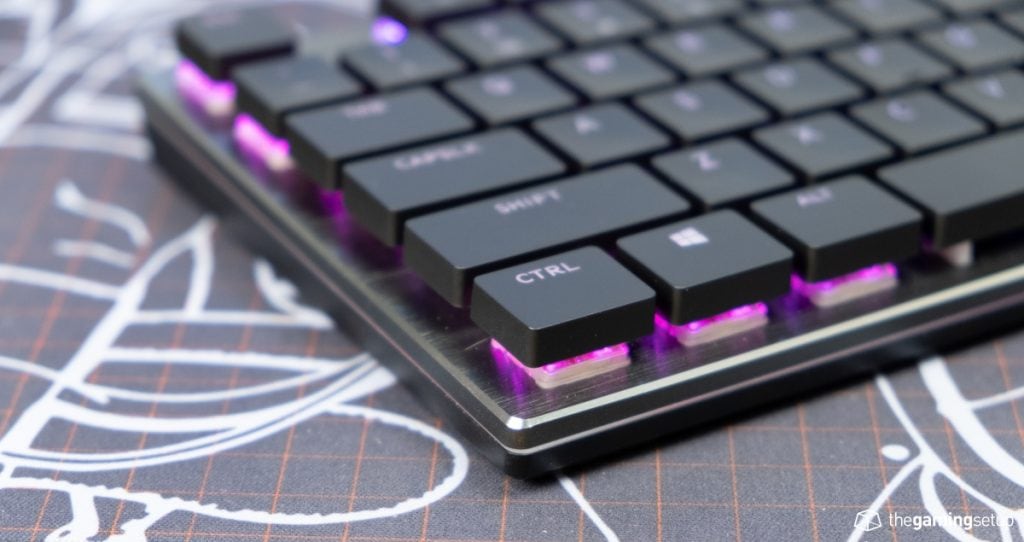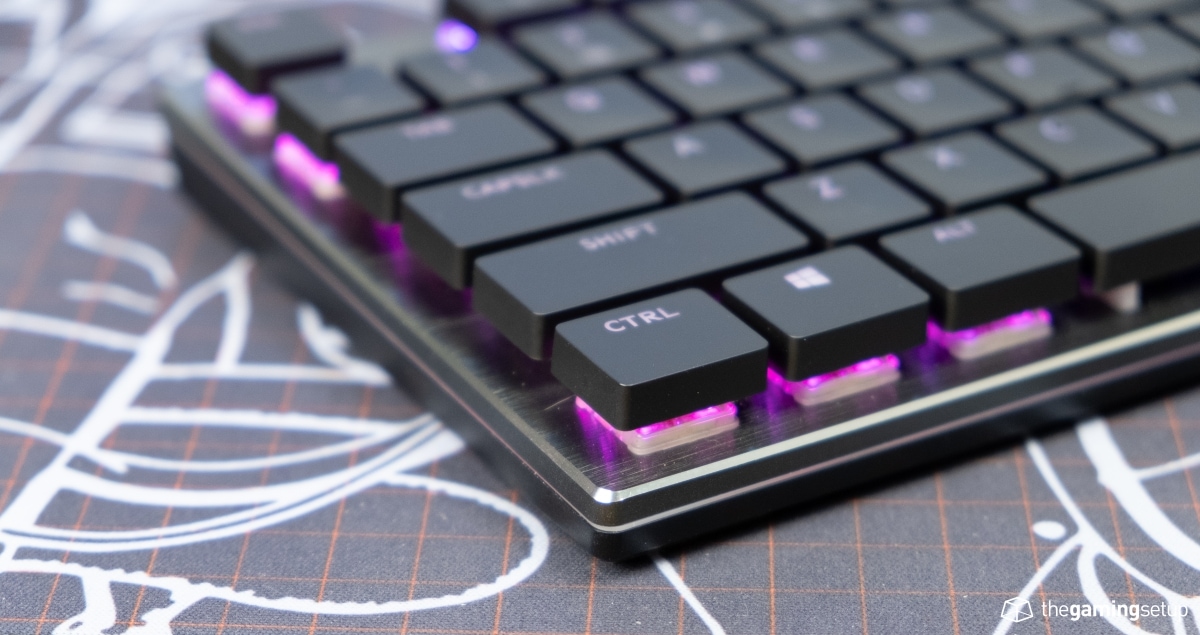 The font on the keyboard is good, Cooler Master has done a good job with the legends with a nice standard looking font that allows for good shine through and legibility on the cap.
The SK630 comes with a wire key cap puller to help with removing the key caps, but there aren't a ton of low profile after market cap options so I'm not sure how handy a puller is in this scenario just yet.
Build Quality & Design
Cooler Master is coming with a plethora of options for its low profile SK series, you can get this keyboard in 3 sizes:
SK650 – Full size
SK630 – TKL
SK621 – 60% with bottom right arrow cluster and 1U right shift
On top of the size options, you can also opt to choose the white key cap version of any of the SK series boards. Notably, the SK621 has bluetooth capability, further improving the SK series portability as a travel keyboard.
We're reviewing the SK630, but all of our comments apply to the other sizes.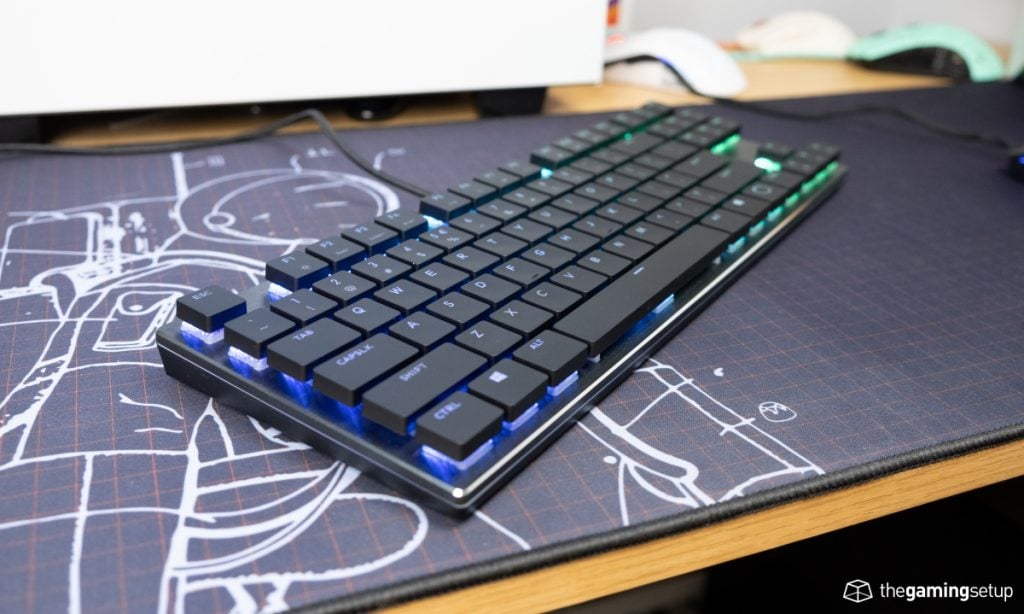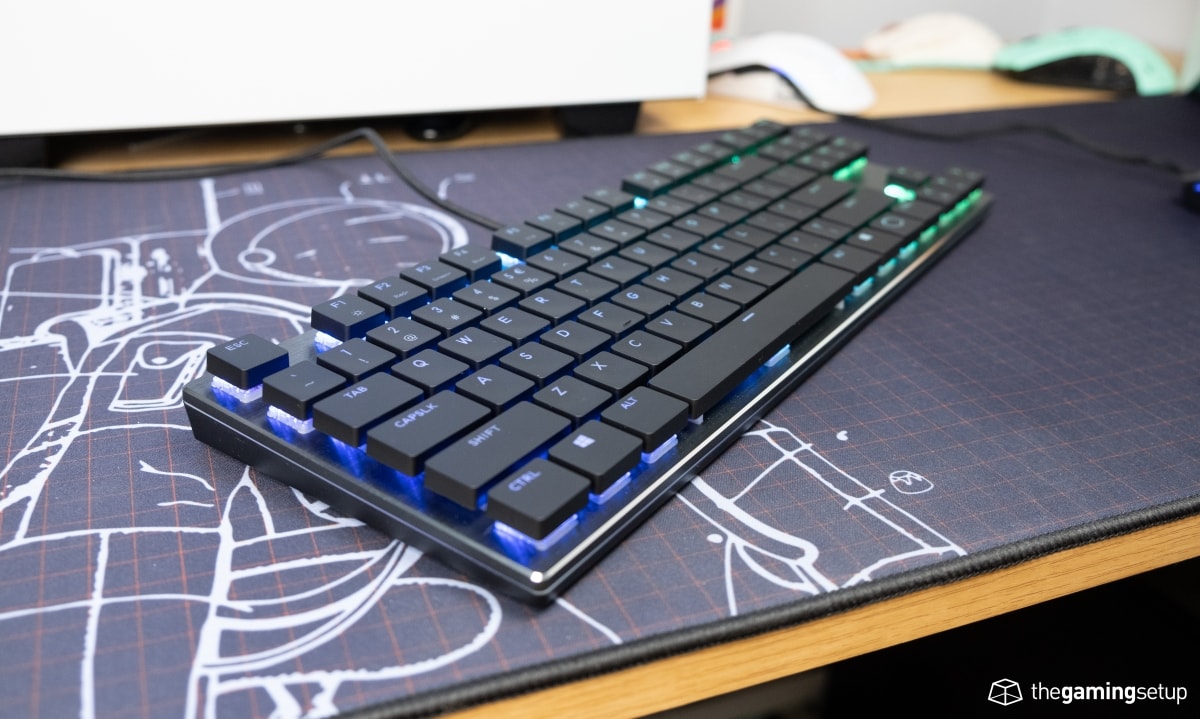 The Cooler Master SK630 is an attractive keyboard, it's minimal, clean and angular. The font is attractive, the RGB looks great and the branding is very minimal with the function keycap featuring a restrained Cooler Master brand mark.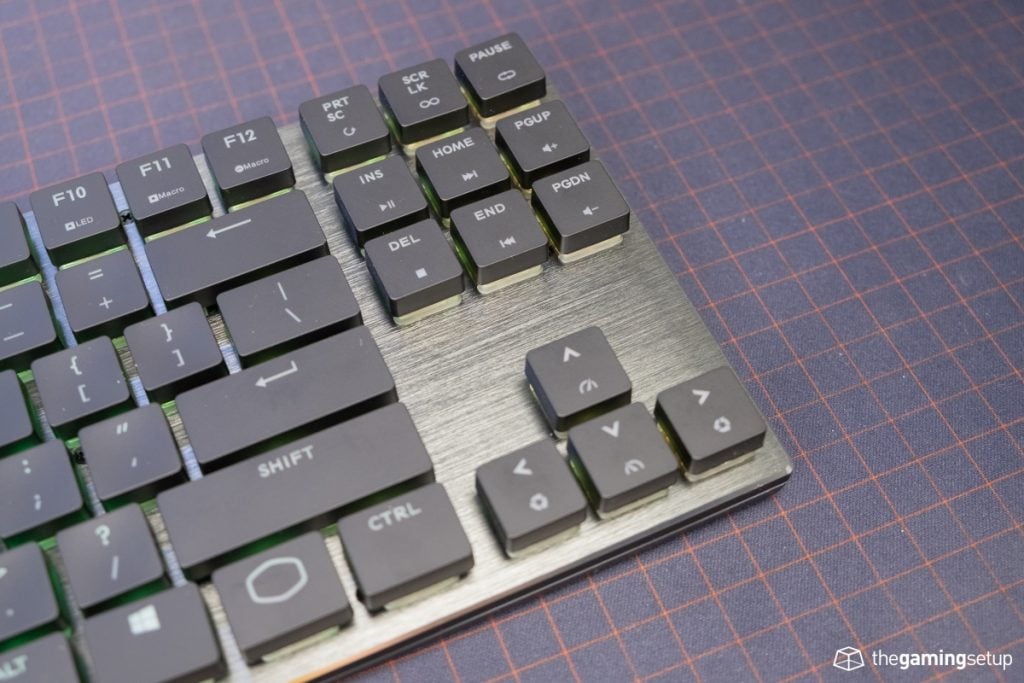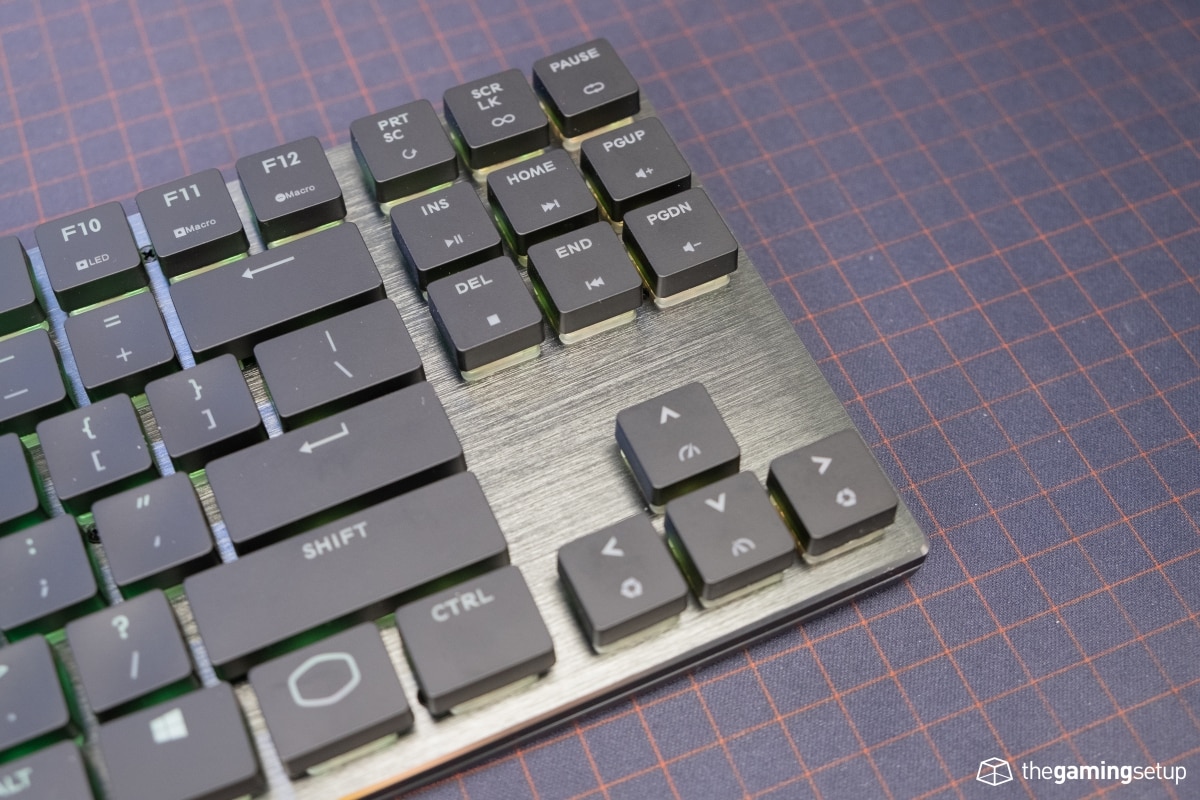 The top of the keyboard is comprised of a brushed aluminum top, with a chamfered edged all the way around, the bottom half of the keyboard is a standard ABS plastic case with a singular Cooler Master logo in the middle.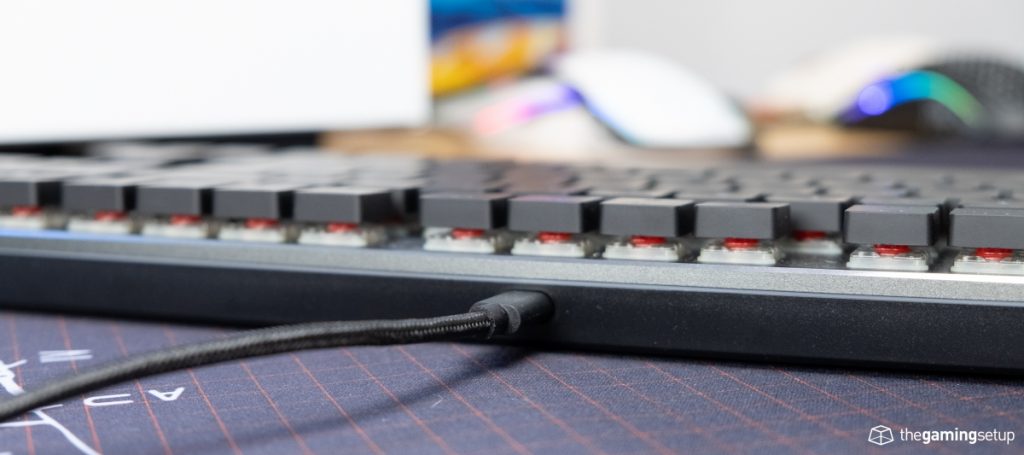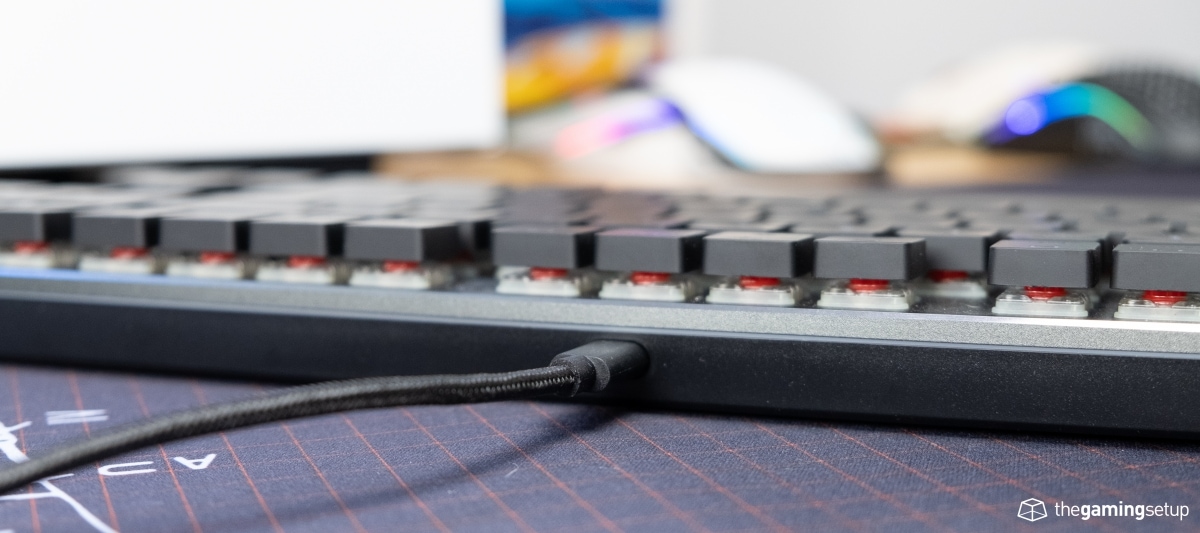 I'm glad to see USB -type C connectivity on the keyboard, the cable itself is a standard braided USB cable, nothing remarkable here.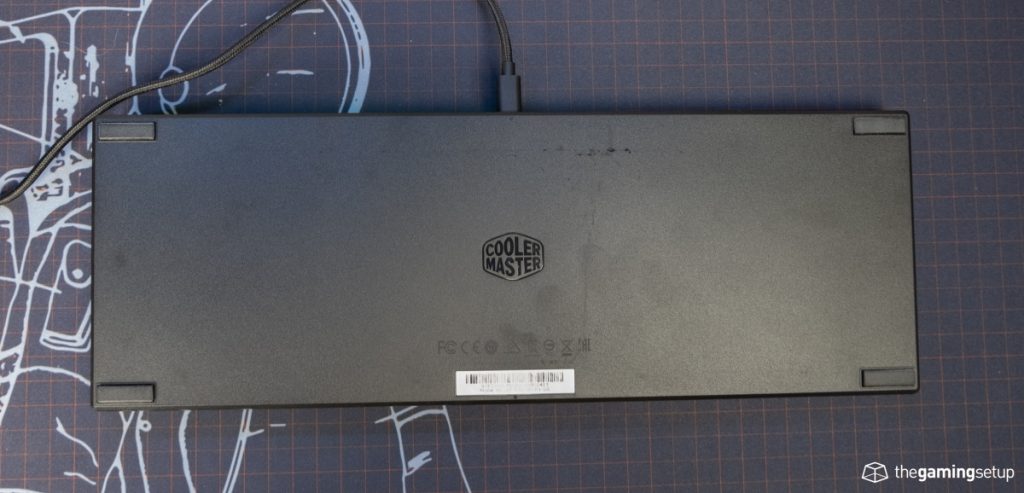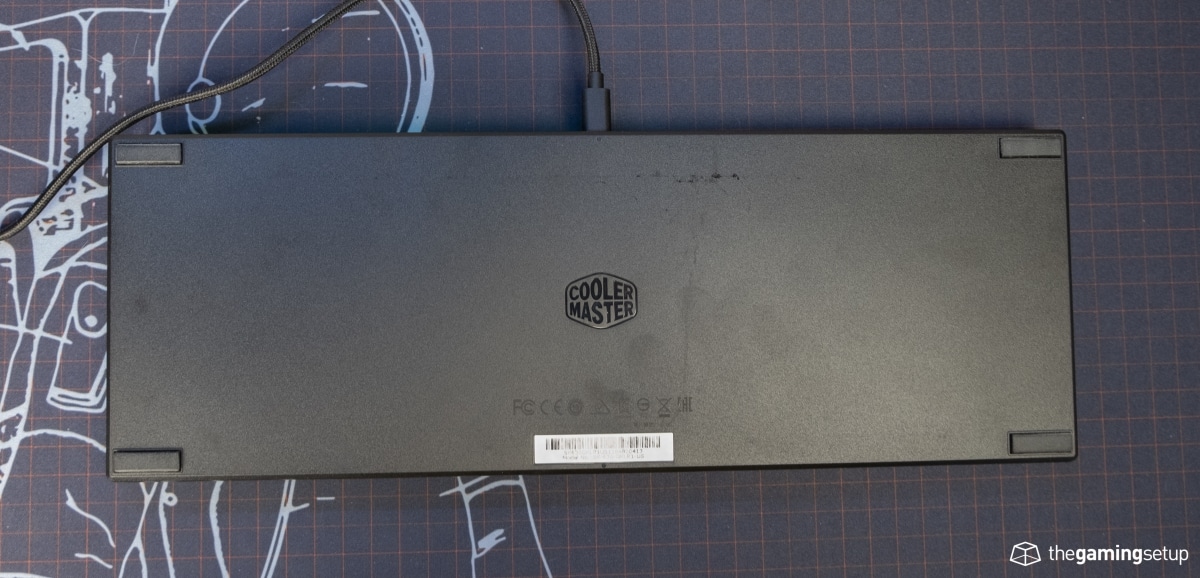 On the bottom of the case, there are only 4 rubber pads, no feet to change the angle of the keyboard.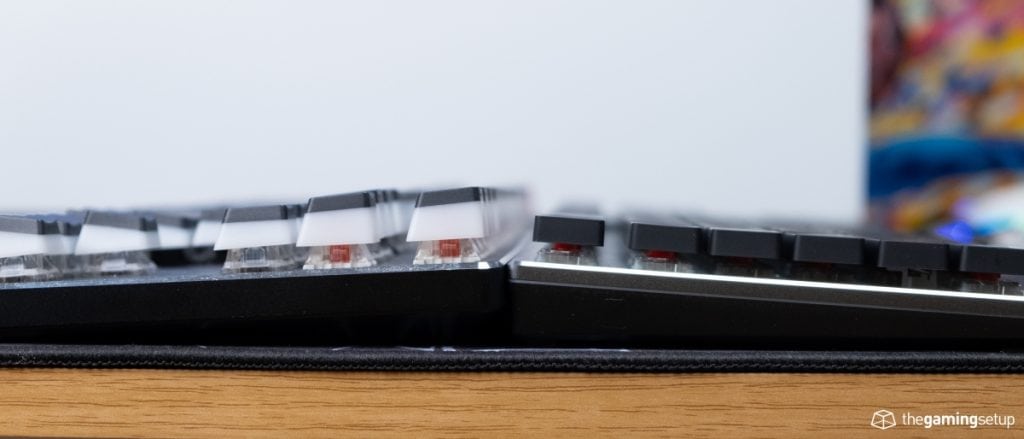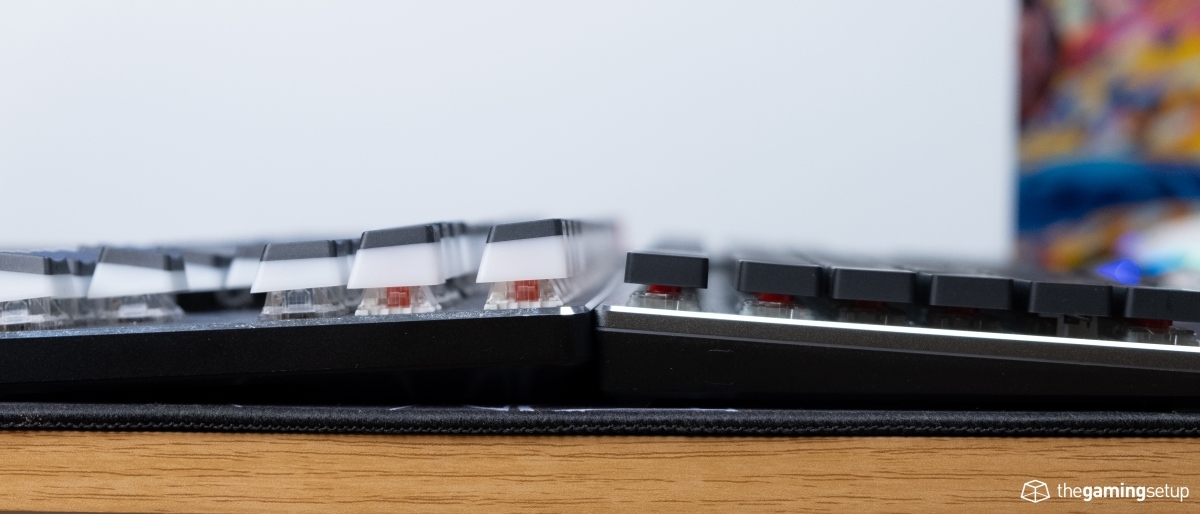 The default angle of the keyboard is quite low, so if you do end up getting this keyboard, be sure that you prefer a low angle and low profile typing experience, for me, this wasn't it.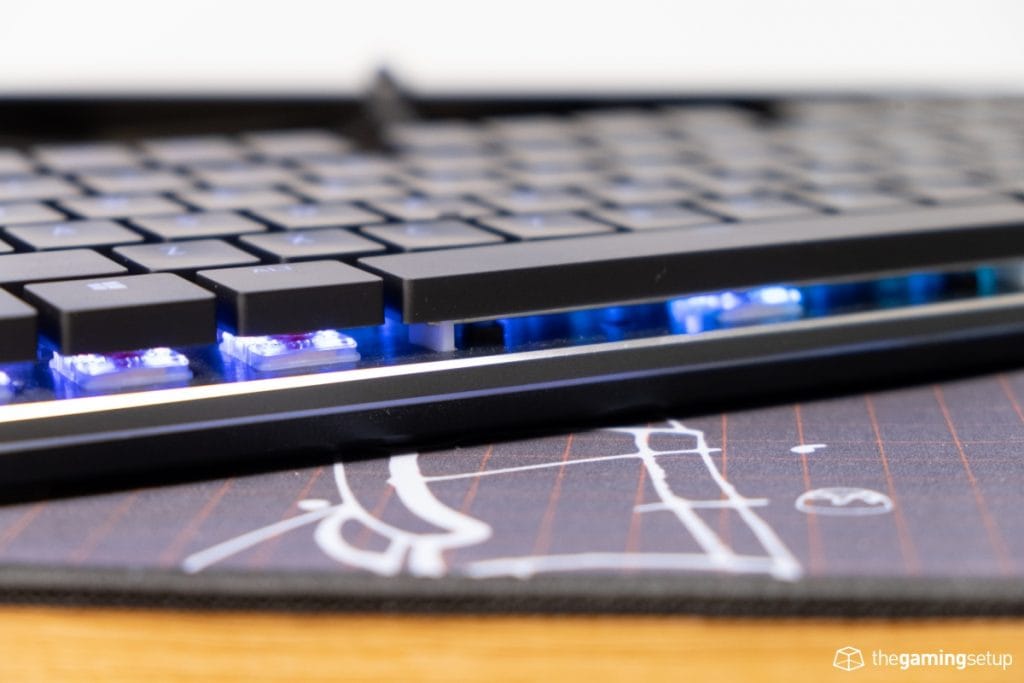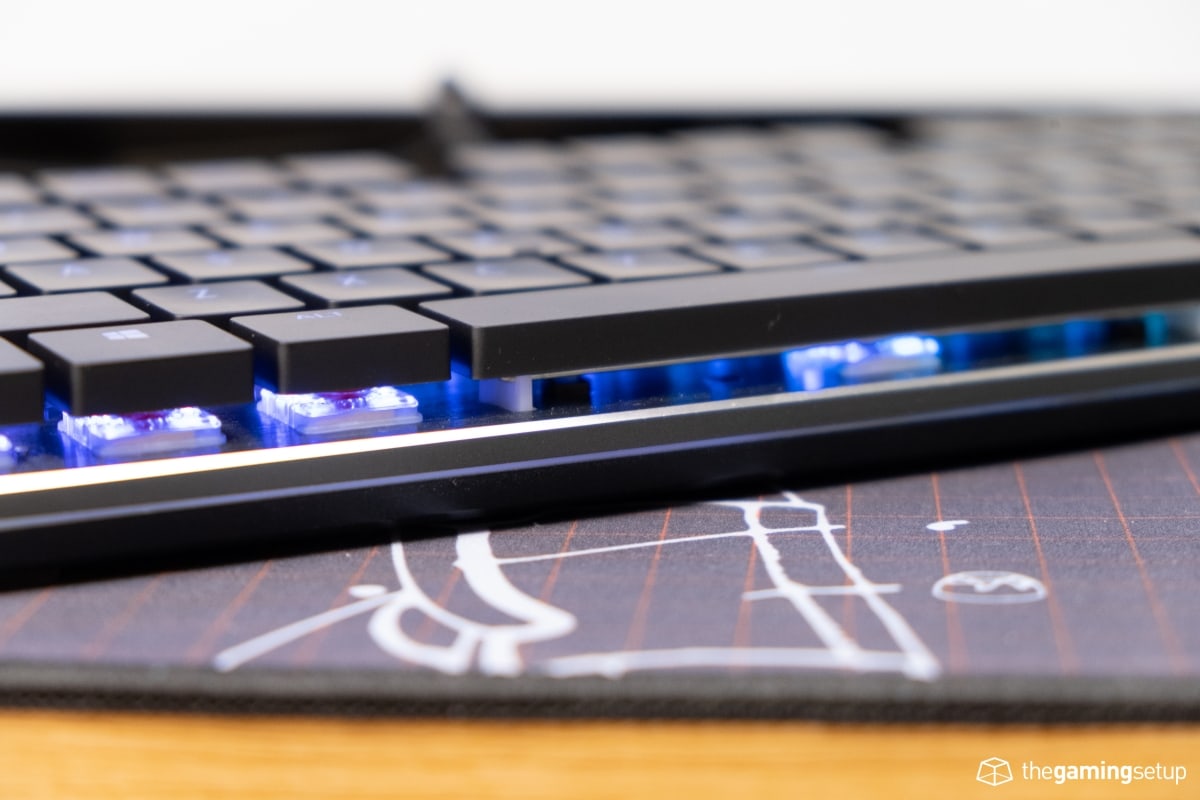 The keyboard is light, it's an easy travel keyboard to carry around due to its slimmer profile and lighter weight, the carrying pouch that Cooler Master can only mean that they intended for this keyboard to be a travel board.
The flex and creaking on the SK630 is still pretty minimal, it's a solidly made keyboard which is no surprise coming from Cooler Master.
Features & Software
The Cooler Master SK630 is fully customizable with Cooler Master Portal, download the latest version here: https://www.coolermaster.com/downloads/
LED

The Portal software is pretty run of the mill, the first screen is the LED/RGB screen where you can set the RGB mode of the SK630. Available RGB modes:
Static
Rainbow Wave
Crosshair
Reactive Fade
Custom
Stars
Rain
Color Cycle
Breathing
Ripple
Multi-Layer
Multi-Zone
System Status
Snowing
Reactive Punch
Heartbeat
Fireball
Circle Spectrum
Reactive Tornado
Water Ripple
Snake
Each of these modes allow you to choose direction of the effect and the colour.
Macro

Pretty standard, here you can create macros, record your combination of key presses, with appropriate delays and assign to a key. You can choose to have the macro run once, hold to run or toggle on and off to run.
Key map

Portal is below average here, the key mapper only allows you to map to another key press, so no system level functions here like opening software. The SK630 only has 1 layer of keys to work with, you're pretty limited as to what you can customize on this keyboard.
Profiles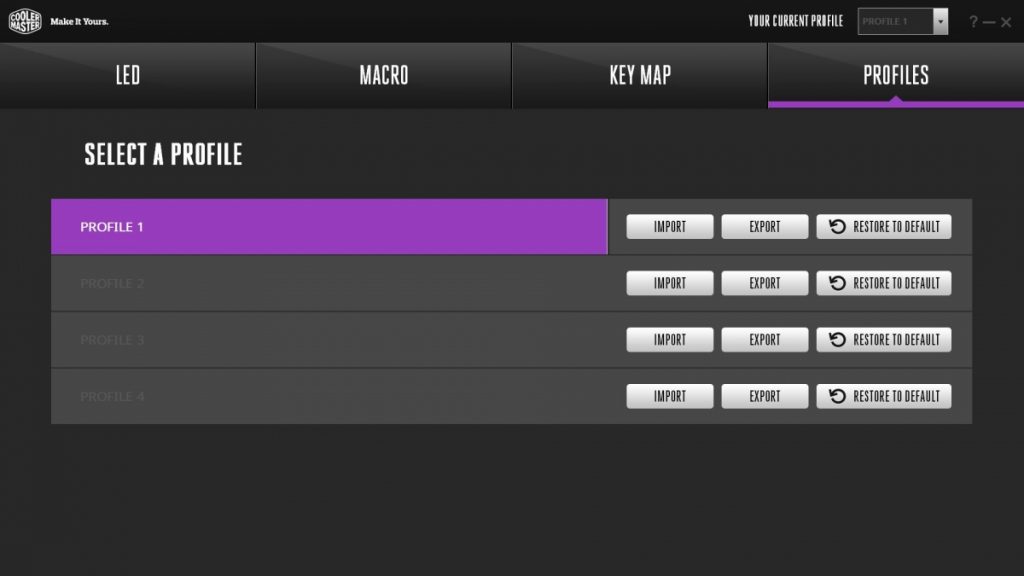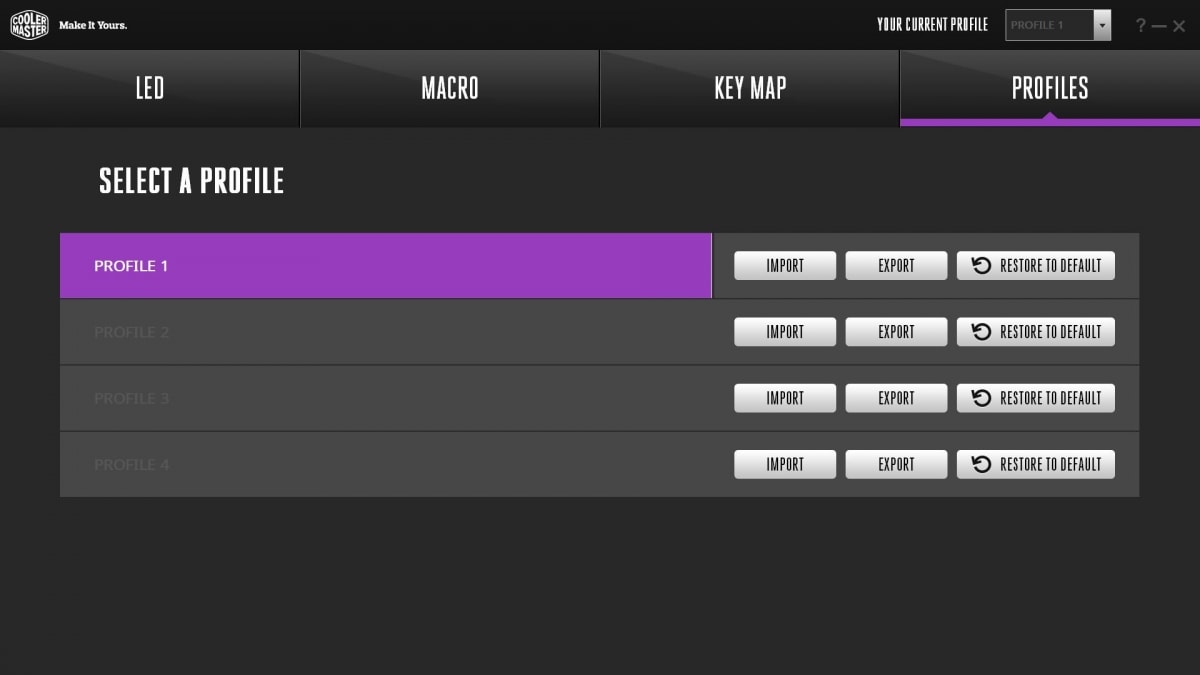 The SK630 allows for up to 4 on board profiles.
The SK630 is able to access most of these settings without software, you can record macros, change profiles and adjust RGB settings on the keyboard itself, check out the manual here: http://us.coolermaster.com/xresserver01-DLFILE-en1901100001e0d6-F19050300013e34.html
Warranty and Reliability
Cooler Master has a 2 year warranty on the SK630 according to their product page.
Value & Conclusion
The Sk630 delivers what it promises, a low profile mechanical keyboard experience, so if that's what you're looking for a prioritize that over key feel I'd get the SK630, it's the best low profile keyboard on the market.
For every one else, I don't think venturing into a low profile world is worth it, you give up too much tactility and typing experience for it. This is a downgrade for switch smoothness and feel, and if you're not absolutely looking for it, you can find much better keyboards for less money than the SK series.