The gaming mouse rightfully gets a lot of attention for gaming performance but literally the other half of your inputs come from your keyboard. You need to make sure your inputs for FPS movement is crisp, you don't accidentally put your ultimate on cooldown, and your macros are easy accessible when you need them.
A great gaming keyboard will help you optimize all of that, while also feeling and looking great. The best keyboards have durable and responsive switches that feel great to use. The inputs need to show up on screen fast with low latency. They have to be durable over a lot of keypresses and ergonomic to use. Of course, it also has to look good, nice RGB is appreciated.
I've reviewed and tested a lot of keyboards, here are my recommendations for best gaming keyboard for a bunch of different use cases.
Best overall gaming keyboard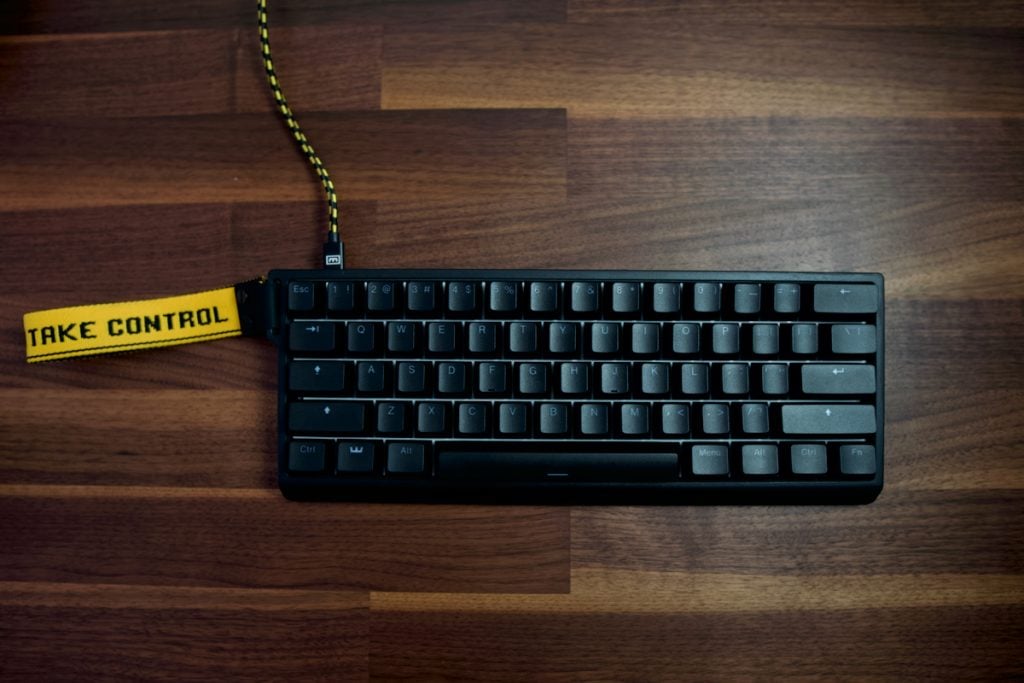 Wooting 60HE
Size: 60% | Connectivity: Wired | Switches: Gateron Lekker | Keycaps: PBT | Wrist Rest: No
The Wooting 60HE is the gaming keyboard darling. It has some truly unique features that haven't been replicated by other major brands that make it stand out from the competition.
If you're looking for the response edge, the Wooting 60HE is what you're looking for, with adjustable actuation and good latency, the Woothing 60HE is just flat out faster. You can change your WASD keys to just 0.1mm actuation point so it responds quicker to your movement commands for example.
Rapid trigger removes the need for your keys to go all the way up before you can make another input, allowing for even more responsive inputs.
There are a bunch of other nice features like no installation software config, swappable shells and a great 60% form factor. For those that want arrow keys and a numpad, the 2HE offers all the same things in a full size form factor.
Read our full Wooting 60HE review.
See our fastest keyboard picks.
Runner up gaming keyboard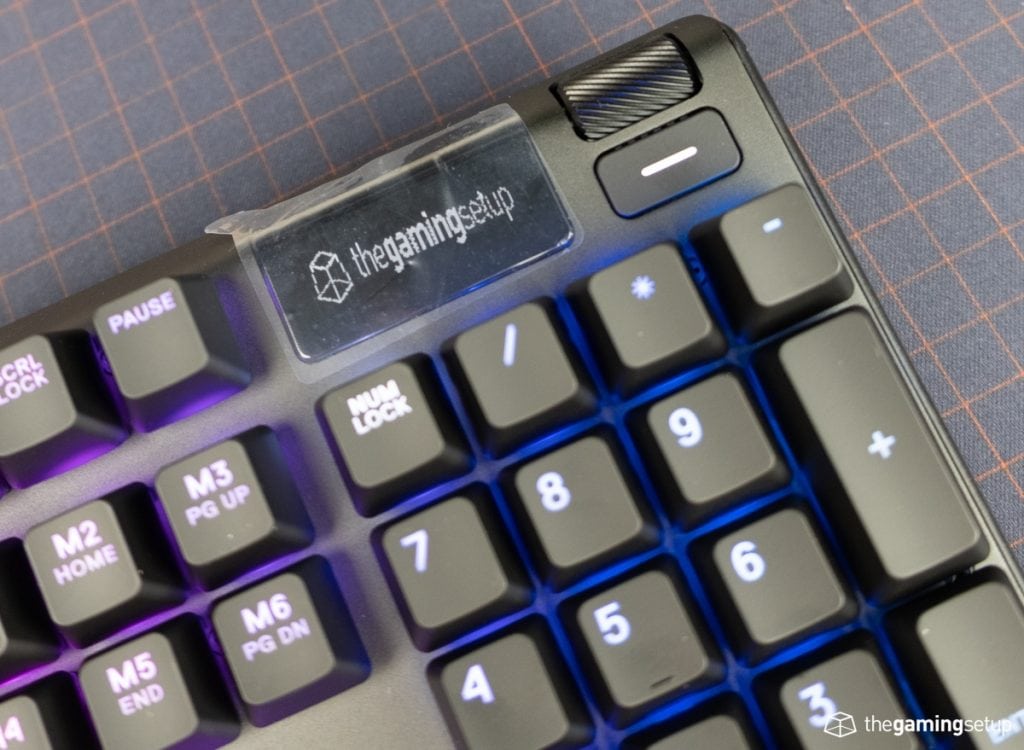 Steelseries Apex Pro
Size: Full or TKL | Connectivity: Wireless | Switches: OmniPoint 2.0 | Keycaps: PBT | Wrist Rest: Yes
The Steelseries Apex Pro line (Full, TKL & Mini) are a great second option to the Wooting 60HE. The value proposition is the same: highly adjustable switches that allow to adjust your keys actuation point from 0.2mm to 3.8mm.
While the Apex Pro doesn't have quite as good key feel as the Wooting and doesn't yet have the Rapid Trigger functionality, though that seems to be coming soon.
The Apex Pro does have a really nice OLED screen on the top right of the keyboard that can be used to display a little animation or even some helpful PC stats.
If you find the Wooting60HE a little pricy, the Apex Pro is a little more affordable with a couple of features like a media wheel and OLED screen to boot.
Read our full Steelseries Apex Pro Review
Best typing experience in a gaming keyboard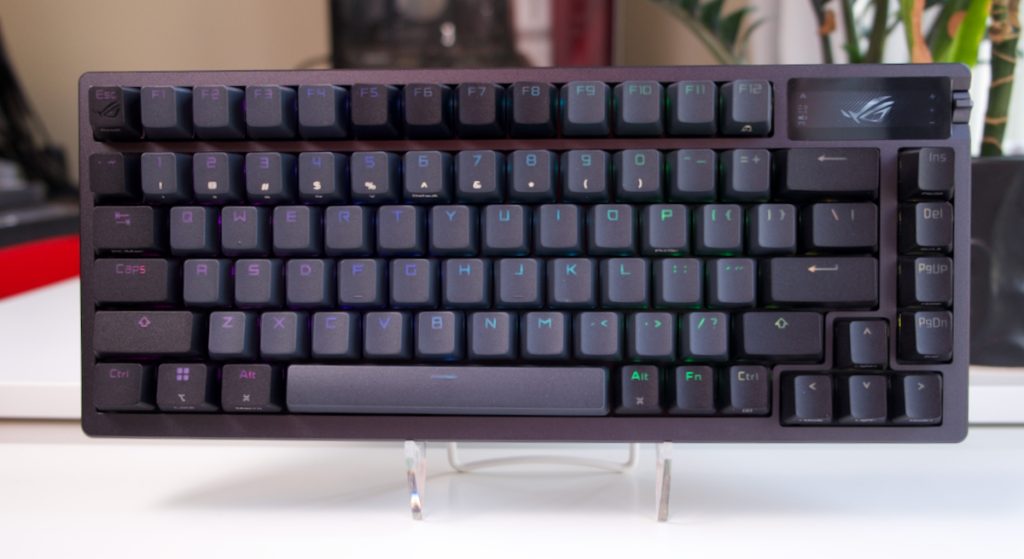 ASUS ROG Azoth
Size: 65% | Connectivity: Wireless | Switches: ROG NX | Keycaps: PBT | Wrist Rest: No
The ASUS ROG Azoth feels fantastic to type on, it's the gaming keyboard that most feels like a custom. ASUS definitely went all out with layers of foam and the gasket mount, and the result is fantastic.
The Azoth has good low latency wireless and an obviously responsive wired mode. The keyboard also packs in an OLED in the top right alongside dedicated media keys. The 65% form factor is superb for gaming.
The software for the Azoth leaves a little bit to be desired, I wish it had a dedicated layer function. The Azoth is not as speed focused as our top two picks, meaning it's less bleeding edge on speed for gaming. At its price, you're definitely paying for the premium key feel.
Read the full ASUS ROG Azoth review
Best RGB in a gaming keyboard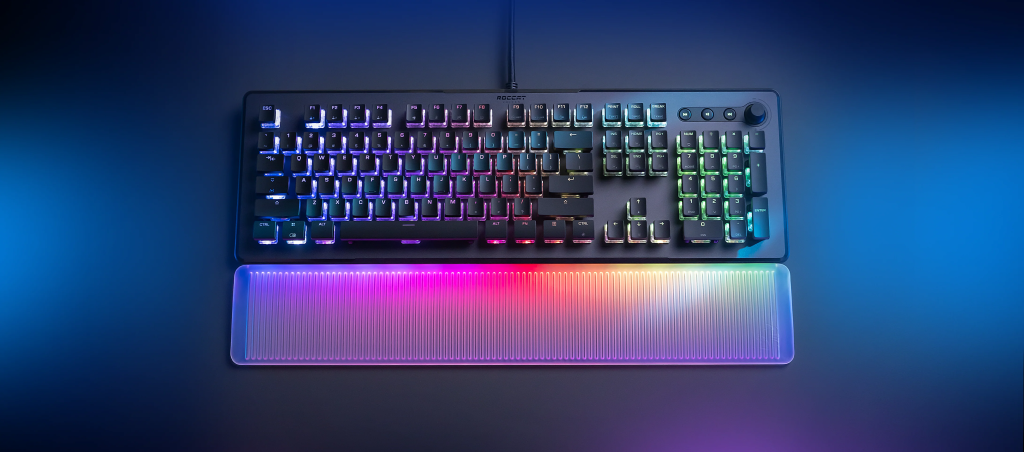 Roccat Vulcan II Max & Mini
Size: Full or 65% | Connectivity: Wired | Switches: Titan II Optical | Keycaps: PBT | Wrist Rest: Yes
For those who place more emphasis on aesthetics, the Roccat Vulcan II is a killer RGB keyboard with a shine through acrylic wrist rest and low profile keycaps to let the RGB spill over the top plate.
It helps that the Vulcan II Max is a solid keyboard itself, with great latency and responsive actuation optical switches. There are also some neat software features like 24 sceond layer multi function keys to activate secondary functions.
This keyboard isn't as solid as some others on this list, so you're trading off some build quality for RGB at this price.
Best low profile gaming keyboard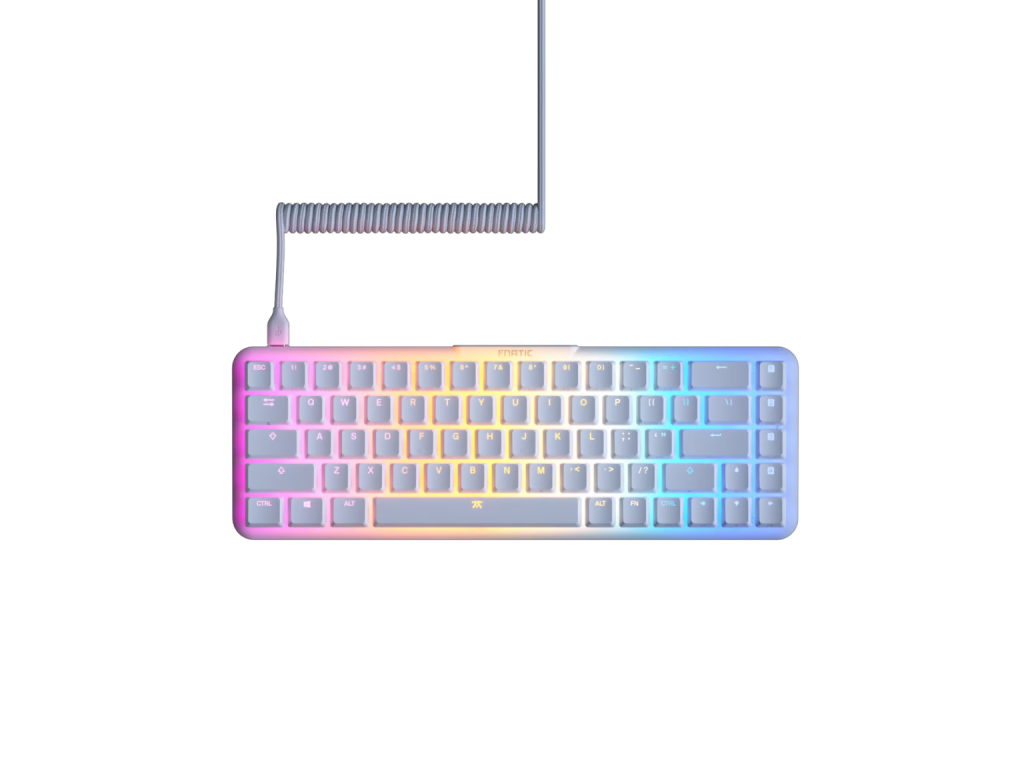 Fnatic Streak65LP
Size: 65% | Connectivity: Wired | Switches: FNATIC Speed | Keycaps: PBT | Wrist Rest: No
The Streak65LP is a hyper-focused low profile gaming keyboard with a compact 65% design. The optical switches are fast and actuate quickly. With a sounds dampening and solid build quality. There isn't much else to say here, it's just a solid low profile gaming experience, as long as you are fine with wired.
Wireless pick: Logitech Lightspeed G915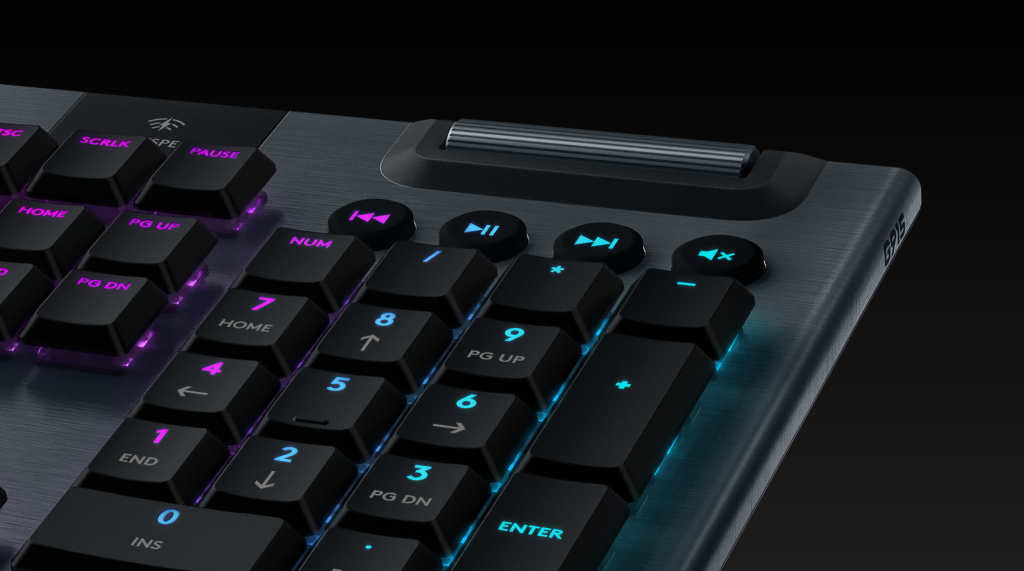 Size: Full or TKL | Connectivity: Wireless | Switches: GL Switches | Keycaps: ABS | Wrist Rest: No
The Logitech G915 is now one of the older models on this list, but it is still the best low profile wireless gaming keyboard option since you can get this board for less than MSRP now.
Logitech's wireless tech is only rivalled by Razer, the G915 is one of the most responsive wireless gaming keyboards out, LIGHTSPEED is the real deal. The battery life has also proven to be amazing.
The G915 also features macro keys on the left hand side that are fully customizable for those that are interested in that.
It would be nice to see a revision of this keyboard with optical switches and some higher quality keycaps but those are the only gripes I can find with this keyboard.
See our best low profile keyboard picks.
Best gaming keyboard with macro keys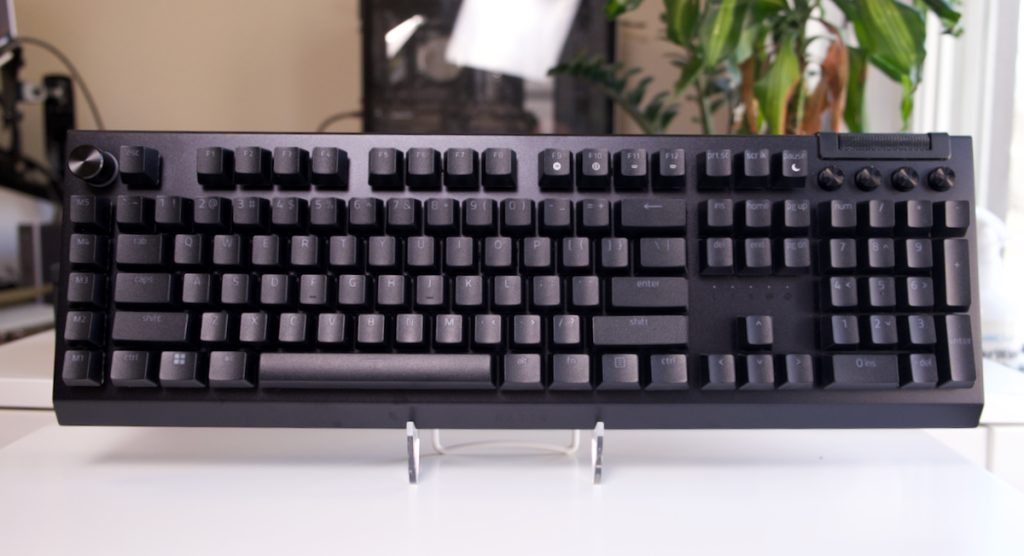 Razer BlackWidow V4 Pro
Size: Full | Connectivity: Wired | Switches: Razer Optical | Keycaps: PBT | Wrist Rest: Yes
If you want more buttons then the BlackWidow V4 Pro is here to provide. With a second dial and 5 dedicated macro keys, the BlackWidow V4 Pro is our best macro keyboard.
While this keyboard isn't the best sounding or feeling, it does deliver a huge amount of customization and ways fine-tune your play style. The 8K polling rate means the BlackWidow V4 Pro will keep up with almost any keyboard in a reaction race.
For this price, it would be nice if this keyboard sounded better or used higher quality keycaps, it's what keeping this keyboard from ranking higher.
Read our full Razer BlackWidow V4 Pro review
Best mid-range gaming keyboard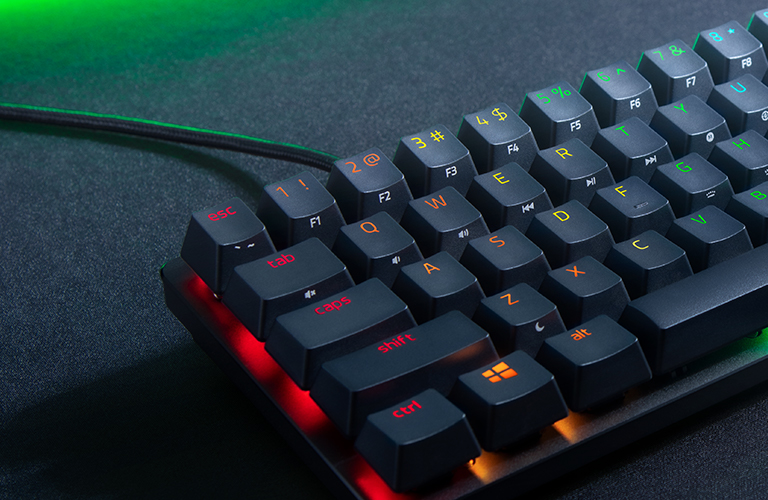 Razer Huntsman Mini
Size: 60% | Connectivity: Wired | Switches: Razer Optical | Keycaps: ABS | Wrist Rest: No
The Razer Huntsman Mini delivers a great gaming experience with a compact form factor and optical switches at a mid range price.
Response times for this wired keyboard are great the 60% form factor leaves a lot of room for mouse movement which makes it awesome for FPS gamers.
While there aren't a ton of keys here, what are here can be customized with Synapse.
See our best Razer keyboard picks
Best cheap gaming keyboard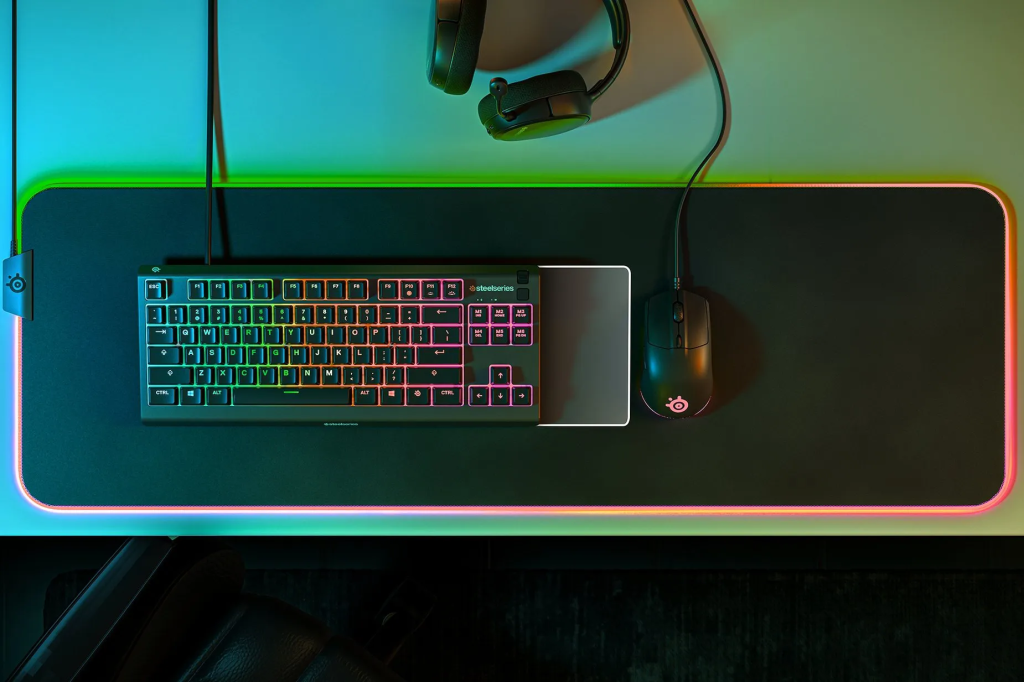 Steelseries Apex 3
The Steelseries Apex 3 is a great membrane switch keyboard for gamers on a budget. You'll get all the niceties like good RGB, customizable macros to program per key and even a media wheel.
But to save some money, you'll be giving up some latency and the mechanical key switch feel the other keyboards on this list have.
Regardless, this is a good option for gamers who don't want to break the bank. I spent most of my teens on membrane keyboards and I'm no worse for wear!
Size: Full | Connectivity: Wired | Switches: Whisper-Quiet Switches | Keycaps: ABS | Wrist Rest: Yes