The Razer BlackWidow V4 Pro is the latest iteration of Razer's iconic mechanical keyboard line up. While the core typing experience and materials haven't changed, Razer has added a ton of macro keys, 8000 Hz polling rate and a SECOND knob.
While all these new features are great, does it justify the $230 asking price? Not really, while the extra keys are nice, there's not enough improvement or new features to justify the top-end asking price compared to other macro rich keyboards.
Read on to learn more.
Pros
High polling rates = super low latency
Lots of macro keys and customization
Great RGB
Cons
Not a great size for FPS
Loud keyboard
ABS keycaps will wear
Tech Specs
Razer BlackWidow v4 Pro
Length: 46.4 cm / 18.25 inches
Width: 15.2 cm / 6 inches
Height: 4.39 cm / 1.72 inches
Case: Aluminum top plate, plastic case
Weight: 1,559.22 g grams
Keys: 68 keys + 2 media wheels + 4 media keys + 5 macro keys + 3 side macro keys
Connectivity: USB-C to A cable, 6ft, detachable
Polling rate: Up to 8000 Hz
Keys & switches
Switch options: Razer Green or Yellow
Keycap material: ABS
Keycap legends: Double shot
Keycap profile: OEM
Media keys: Yes
Backlight: Full RGB (North facing)
Software: Razer Synapse 3
Design & Dimensions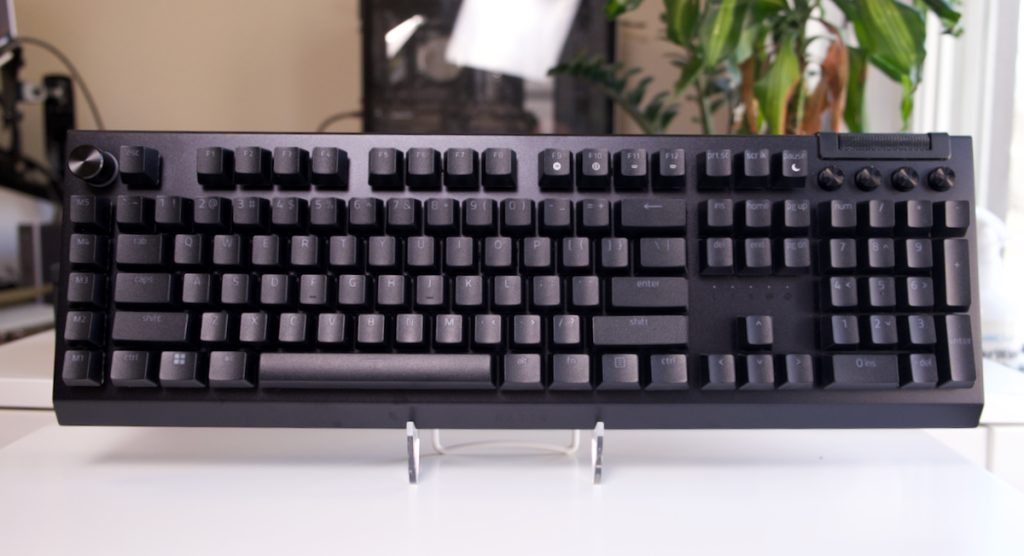 The Razer BlackWidow V4 Pro is a full size keyboard with an extra column added to the left side, making it quite large. The keyboard measures 46 cm x 15.2 cm making it one of the larger gaming keyboards out there.
While playing with the BlackWidow V4 Pro, I definitely felt a little more cramped for mouse space while playing FPS, so this might not be the keyboard for you if you're a shooter gamer.
That extra length allows this keyboard to house a ton of extra keys, 5 regular macro keys, a command wheel and 3 side macro buttons. While I don't play a ton of MMOs, this keyboard seems like it's designed for that gaming use case with its abundant macro keys.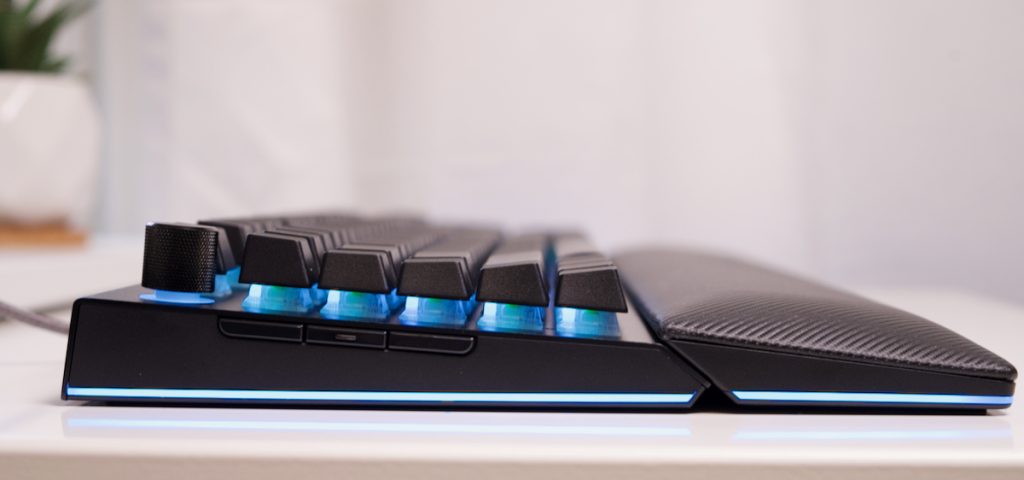 The side macro buttons feel bad, they have very little travel and only have a slight tactile response. Think mouse side buttons but worse. Still, the extra buttons are nice to have, these side buttons are completely remappable just like any other key.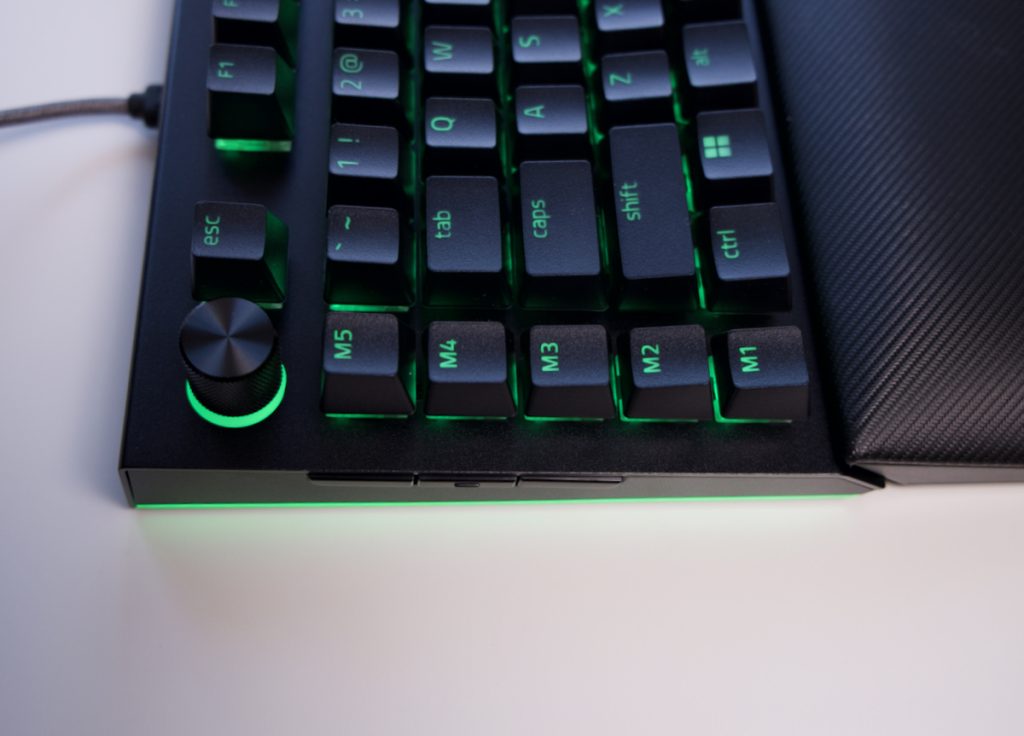 The command dial and macro keys are located in a column. The command dial can detect clockwise and counterclockwise commands, while pushing down switches dial modes. The dial changes RGB colour to indicate what mode it's in.
All the dedicated macro keys are easy accessible when resting on the WASD keys.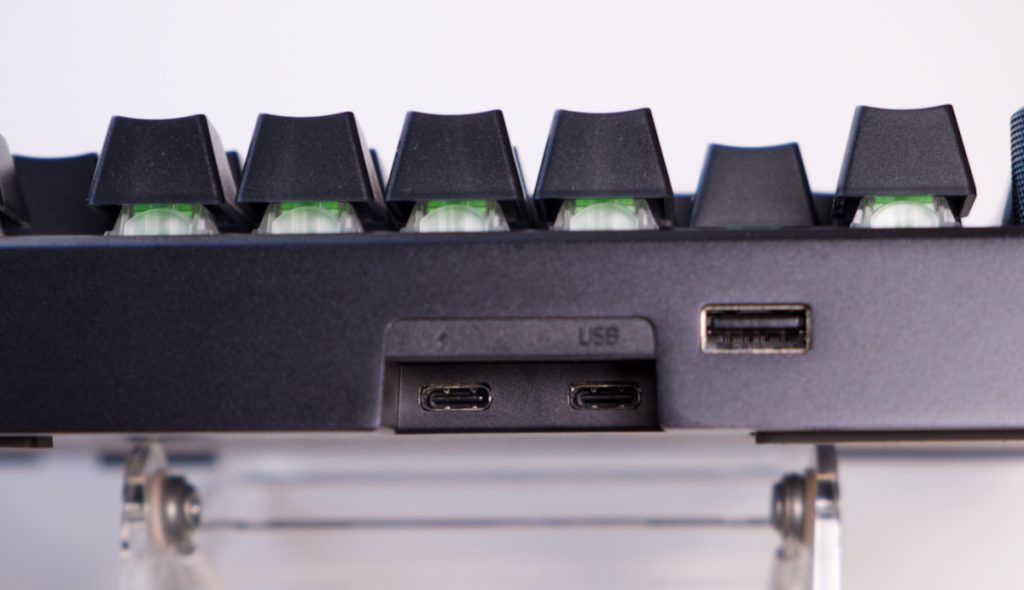 The top of the keyboard houses 3 USB ports, 2 C's and 1 A. The BlackWidow only needs one USB-C to A cable in the power port to operate. To enable the pass through USB-A port, the second included USB cable needs to be plugged in.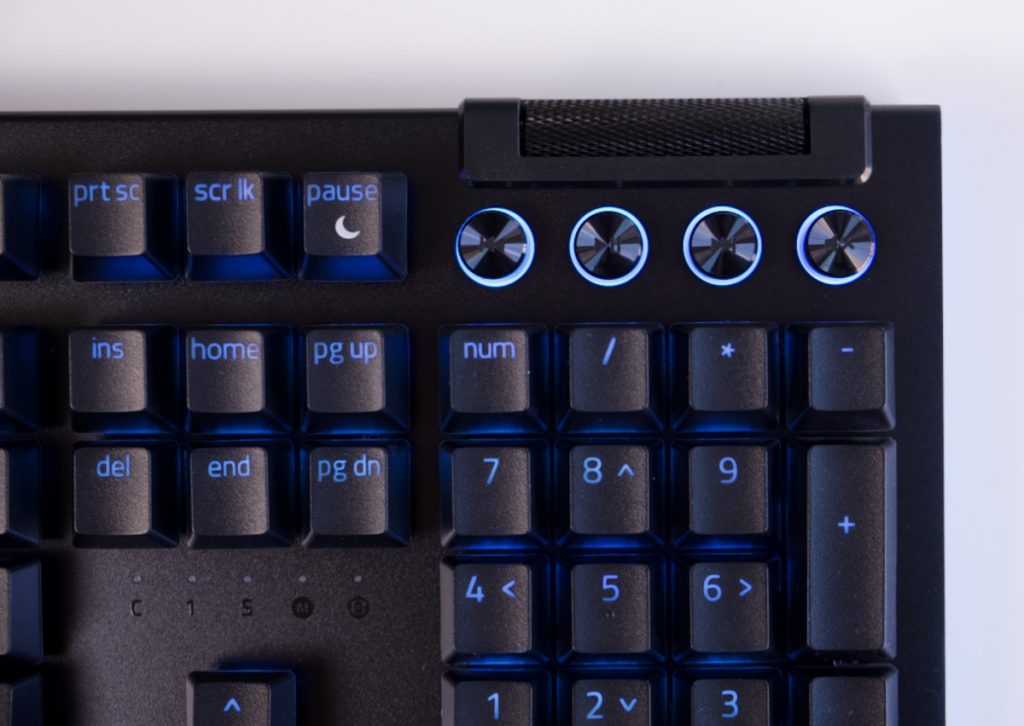 The top right of the keyboard features the traditional media wheel and media keys. The media wheel has a knurled texture with tactile steps. The media keys are reasonably tactile but have a bit of wobble.
I found that the media key labels and the status LED labels are hard to see, it would've been nice for those to be RGB lit as well to complete the look.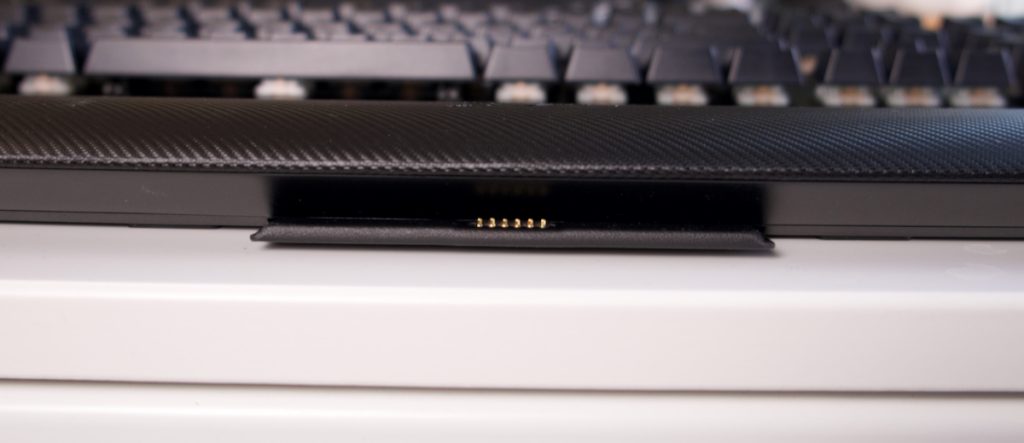 The wrist rest attaches magnetically to the bottom of the keyboard, with pins to power the RGB in the rest. I found the pins are little bit finicky, but once it's seated it stays well connected. The wrist rest is made of a fake leather material and is quite comfortable while gaming and typing.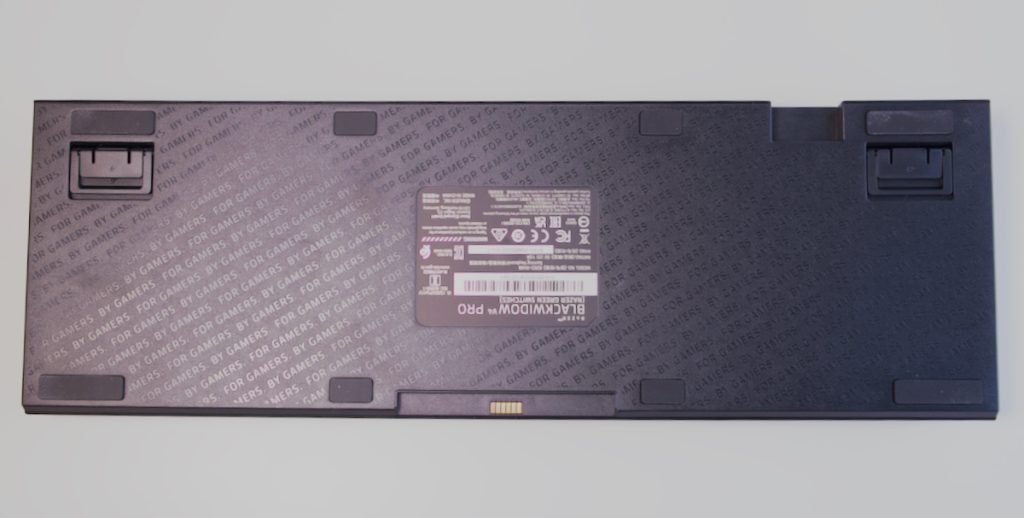 Nothing has really changed on the underside of the keyboard, the standard Razer 2 stage feet are there and did a good job of holding up the keyboard during more intense gaming.
Inside the keyboard, there are layers of sound dampening foam to help reduce the echoey noise that Razer keyboards have been known for, for quite some time.
Typing Sound Test
This is a loud keyboard, especially with the clicky switches as shown in my video above.
The clicky switches produce a sound similar to Cherry MX Blues, with a distinct chatter at the point of actuation.
The stabilizers add a bunch of noise on bottom out and on reset, both of which are amplified by the case of the keyboard.
It does sound a bit less hollow than the BlackWidow V3, aided by the extra foam added into the board, but be warned, this is a loud one.
Switches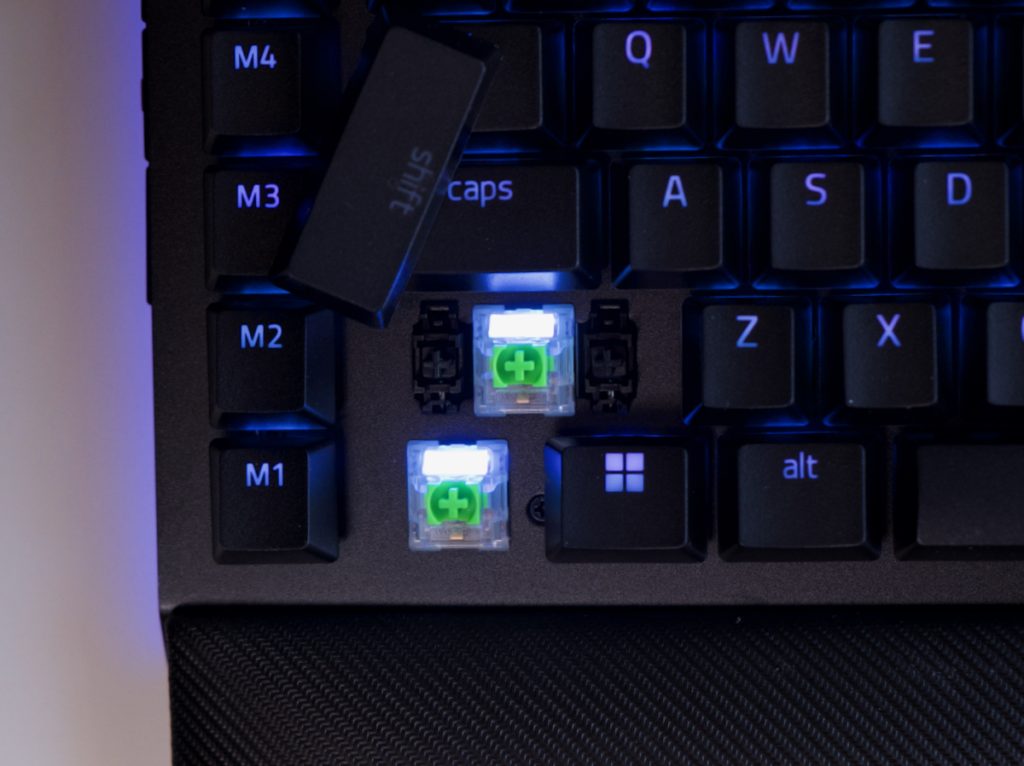 The BlackWidow V4 Pro comes with an option of either clicky green or linear yellow switches, both are mechanical and rated for 100M actuations.
My unit came with the clicky greens. Clicky greens have a 4 mm total travel distance, with a 1.9mm actuation point and a total force of 50g.
The yellow switches are a faster gaming option, with 3.5 mm total travel distance, a 1.2 mm actuation point and 45 g force. These switches are faster and better suited FPS gaming.
The green clicky switches have a modest tactile bump that comes in 2 stages. They're okay, somewhere in the middle of the range for switch quality. There's a bit of scratchiness in the switch on the downstroke that I wish wasn't there.
Stabilizers
The BlackWidow v4 Pro now has pre-lubed cherry switches out of the box.
Razer keyboards has had noisy and rattley stabilizers for a while, and this keyboard is no exception even with the lube job.
Even with clickies, the stabilizers are adding a significant amount of noise on bottom out in my experience.
ABS Keycaps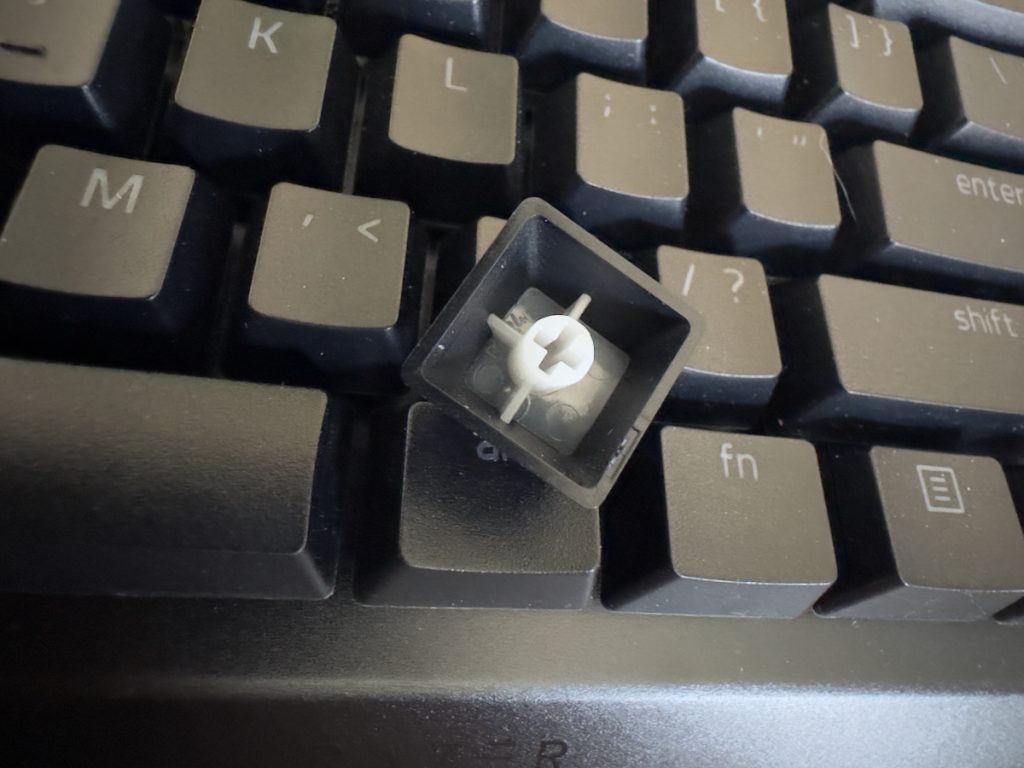 ABS keycaps on a keyboard at this price is disappointing. At some point Razer was including PBT caps for their keyboards, but it seems like ABS has come back.
The keycaps are double shot to let the RGB shine through. The legends are clear here, no zero chances of fading or rubbing off.
RGB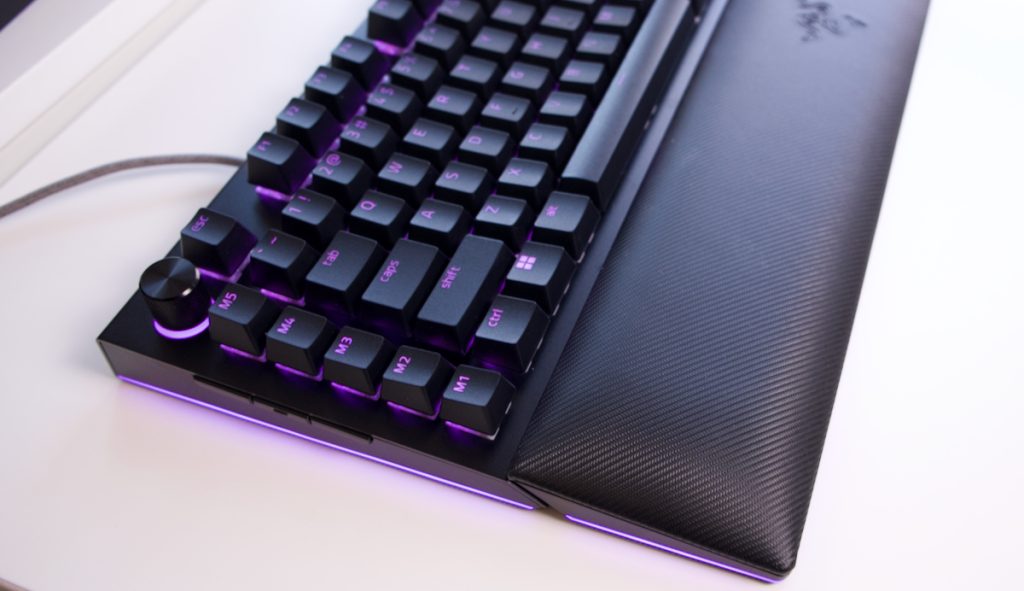 There's a ton of RGB on the BlackWidow V4 Pro.
The switches are north facing, fully illuminating the doubleshot ABS keycaps. There's a gentle diffuse spill on to the alu black plate, creating a nice soft glow.
There are RGB strips along the left and right sides of the keyboard that extend onto the wrist rest. Viewing from above, this keyboard generates a really pleasant underglow effect.
If you're looking for some really great RGB, this keyboard has it.
Razer's standard RGB modes:
Ambient awareness
Audio meter
Breathing
Fire
Reactive
Ripple
Spectrum cycling
Starlight
Static
Wave
Wheel
Build Quality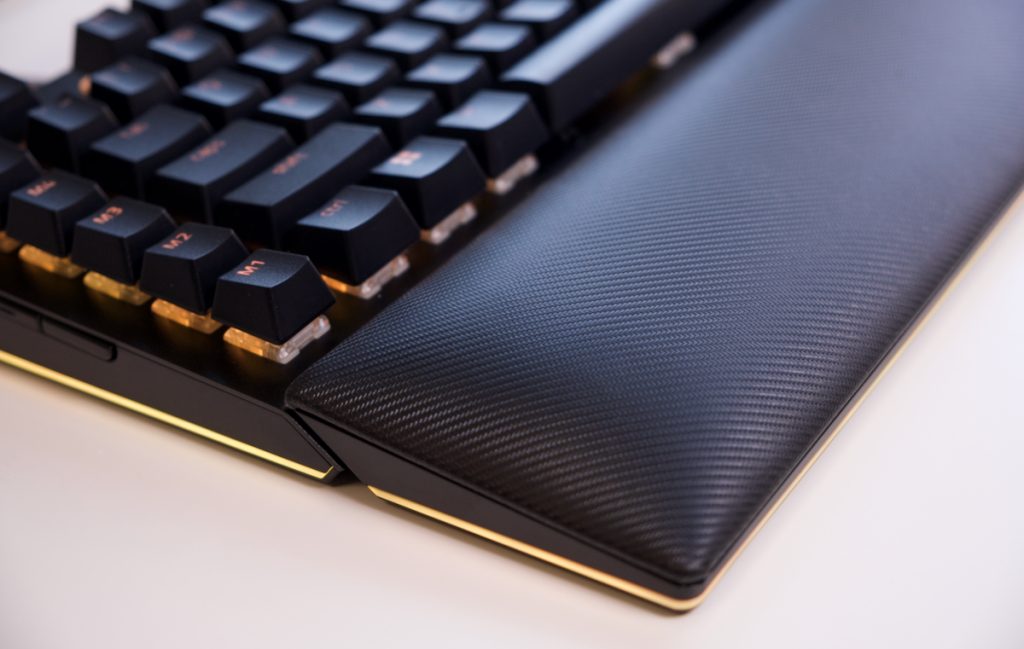 The Razer BlackWidow V4 Pro is well-built overall. The aluminum top adds a lot of rigidity to the overall case, there's not a lot of flex or rattling on the keyboard overall.
The keyboard wrist rest is plush and the fake leather feels premium. The mechanical switches inside the keyboard are durable and are rated for 100M actuations.
This keyboard feels built to last, as it should for its asking price.
Software
The major upgrade to this keyboard software wise is a 8000 Hz polling rate option, allowing the BlackWidow V4 Pro to be just that slight edge faster in game. This would be great for shooting games, but the full size holds it back.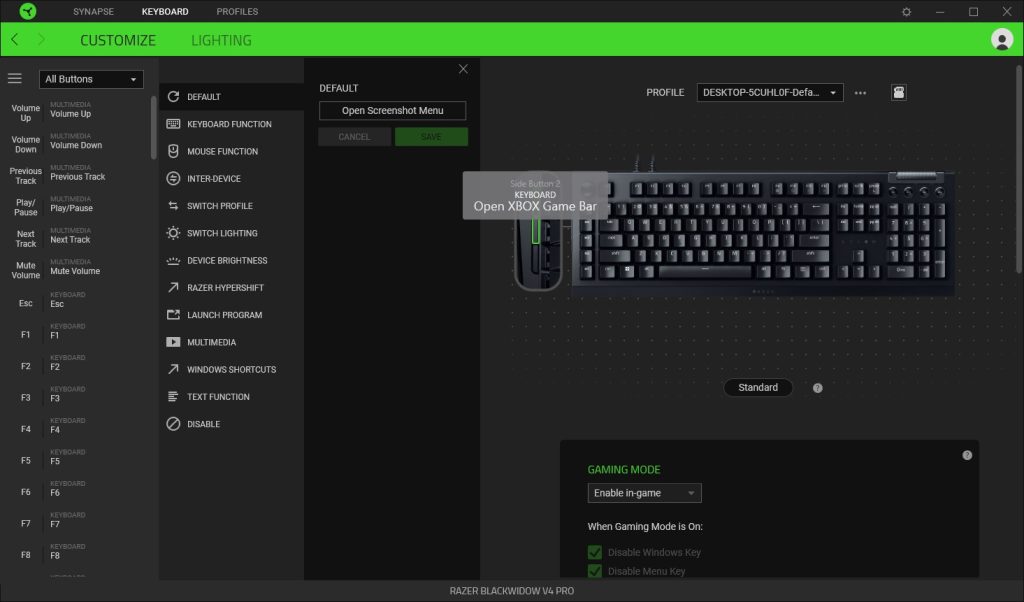 The BlackWidow v4 Pro uses Razer Synapse 3. All the standard features are here, remapping keys, recording macros, RGB lighting for all the BlackWidow's zones and up to 5 onboard configs.
You can remap all of the BlackWidow v4 Pro's keys with the exception of the command dial. Even the side buttons are remapping to everything that Synapse has access to.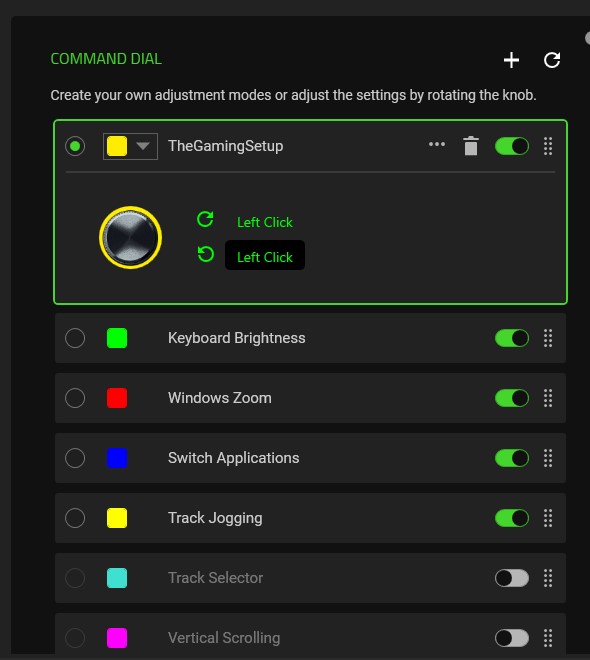 The command dial has its own section in Synapse. There are 8 default functions with a clockwise and counterclockwise mapping.
Keyboard brightness
Zoom
Switching apps
Switching browser tabs
Track jogging
Track selector
Horizontal scroll
Vertical scroll
To switch between these modes, you just press down on the dial and the RGB indicates which mode you're on.
You can also create custom modes with its own colour. You can bind macros for in-game commands to a clockwise and counterclockwise. You can create custom hotkeys for cutting and pasting, or photoshop hotkeys.
I haven't found too many great in-game uses for the command dial, maybe the best one so far is to track jog to a specific part of a song to get hyper focused. Macro recordings might also be useful, but this keyboard has 5 dedicated keys right there for that.
Razer hypershift is also available for this keyboard, adding a bunch more keys accessed under a layer, kind of like how the Anne Pro 2 and all keyboards with VIA/QMK operate, I still wish the hypershift key was accessible via caps lock as an option.
What's in the box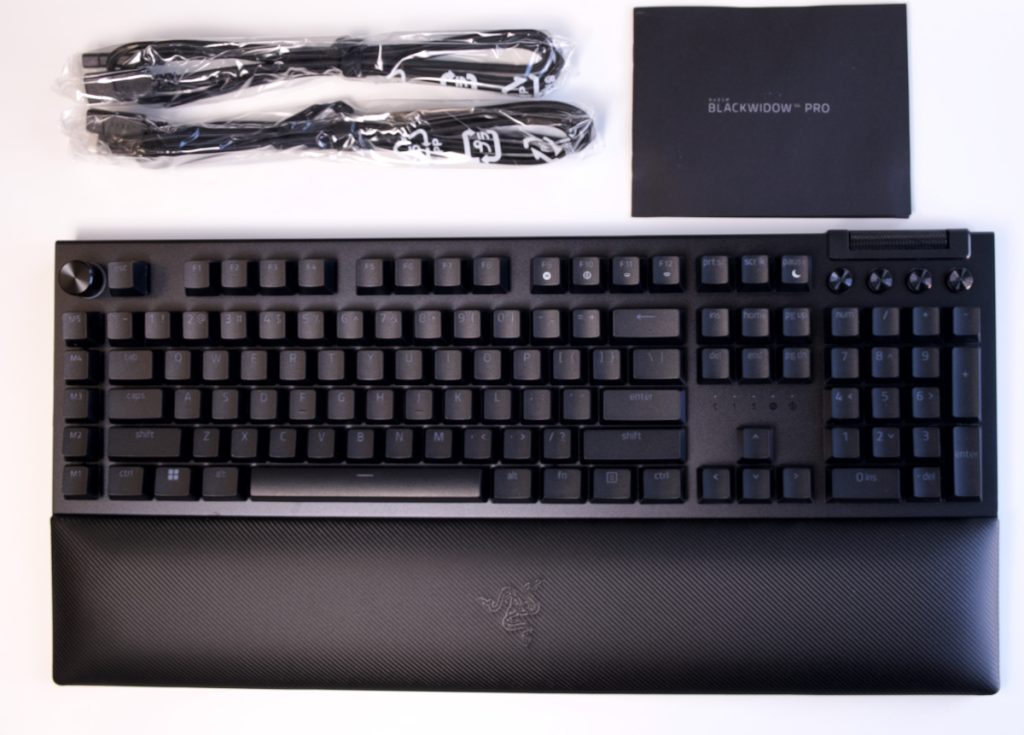 The Razer BlackWidow v4 Pro includes the standard razer accessories
Manual and stickers
2x USB-C to A cable
Magnetic wrist wrest
Model differences
The BlackWidow V4 Pro is the latest in the BlackWidow line. The V4 Pro adds dedicated media keys, 5 new macro keys, a command idal, a more plush wrist rest and more RGB compared to the BlackWidow V3.
The V4 Pro also has an 8000 Hz polling rate, making it a much more responsive keyboard, which might be important in high paced twitchy games.
Verdict
From a core experience standpoint, the Razer BlackWidow V4 Pro doesn't feel too much different from the V3, the switches and materials are largely the same.
What the V4 Pro does bring is way more buttons to customize your gaming with. At the full size dimensions, I wouldn't recommend this keyboard for FPS gamers.
This keyboard is definitely more suited for MMO, RTS and MOBA gamers that make use of a lot of hotkeys.
However, at $230 for a wired keyboard, you should also consider the Logitech G915, which is at a similar top end price but includes wireless and a low profile option. The Corsair K55 and other similar keyboards offer macro keys at half the price.