The Razer Blackwidow V3 Mini Hyperspeed is another step in the right direction for Razer's keyboard department. Adding a much needed 65% keyboard to their lineup will giving it great wireless functionality is a win for gamers looking for more compact or wireless choices.
The keyboard does 65% well and features low-latency wireless, something that I hope becomes more common amongst all keyboards, it's a great quality of life boost.
You can expect a pretty standard Razer typing experience. Good software, decent switches, with some really loud acoustics and wobbly stabilizers.
Pros
Latency free wireless
Multiple connectivity options
Double shot ABS caps
Great battery life
Cons
Wobbly stabilizers
Loud acoustically
Battery life is a lot lower with max RGB
What's in the box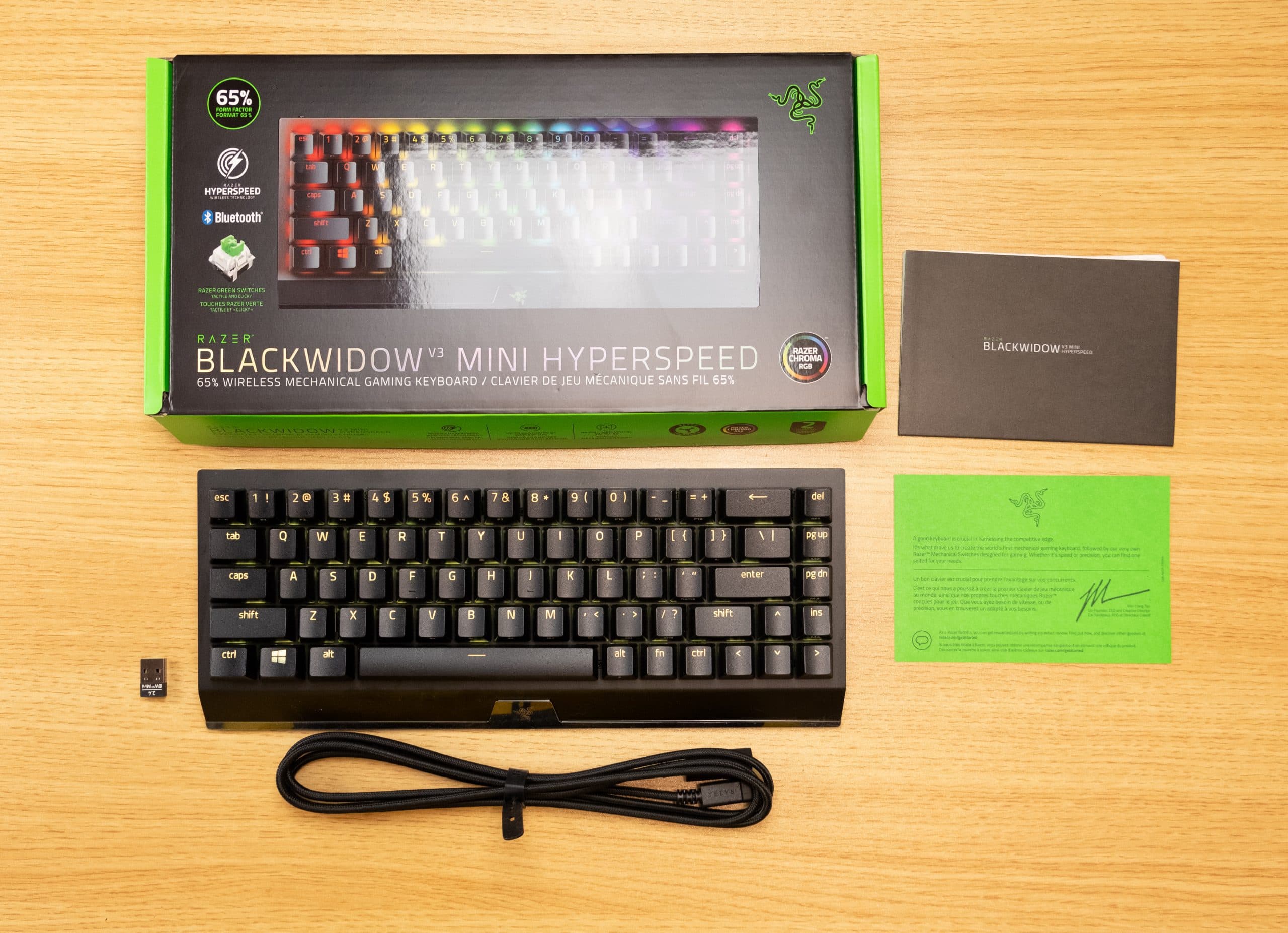 Razer Blackwidow V3 Mini Hyperspeed includes just the essentials:
Detachable USB-C braided cable
USB-A wireless dongle
Manual
Promotional cards
65% Design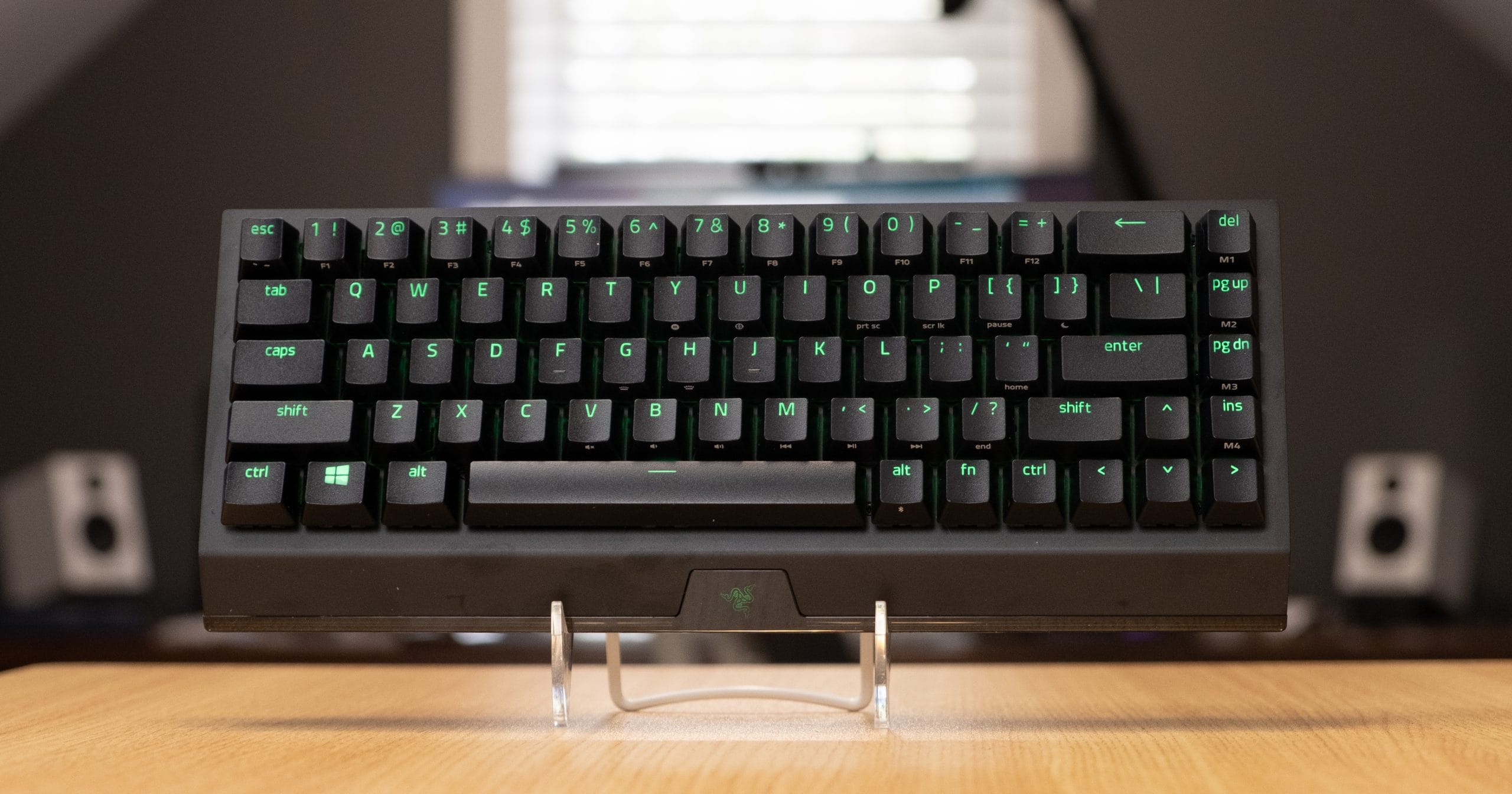 Ever since Razer went 60% with the Huntsman Mini, people have been clamouring for a 65% form factor. The Razer Blackwidow V3 Mini Hyperspeed is here to answer that call and I'm happy to report that they pulled off the 65% design well.
65% keyboards are great, it has a great balance of compact size and key accessibility that I find suits gamers quite well. Razer has shaved off the numpad and navigation cluster, squeezing in the arrow keys to produce a keyboard that measures 31.8 cm wide, leaving a lot more room for your mouse to roam around.
The case design is your typical Razer aesthetic, low profile and made of plastic with a Razer logo on the chin. The keyboard design does a good job of showing off the RGB of the keyboard.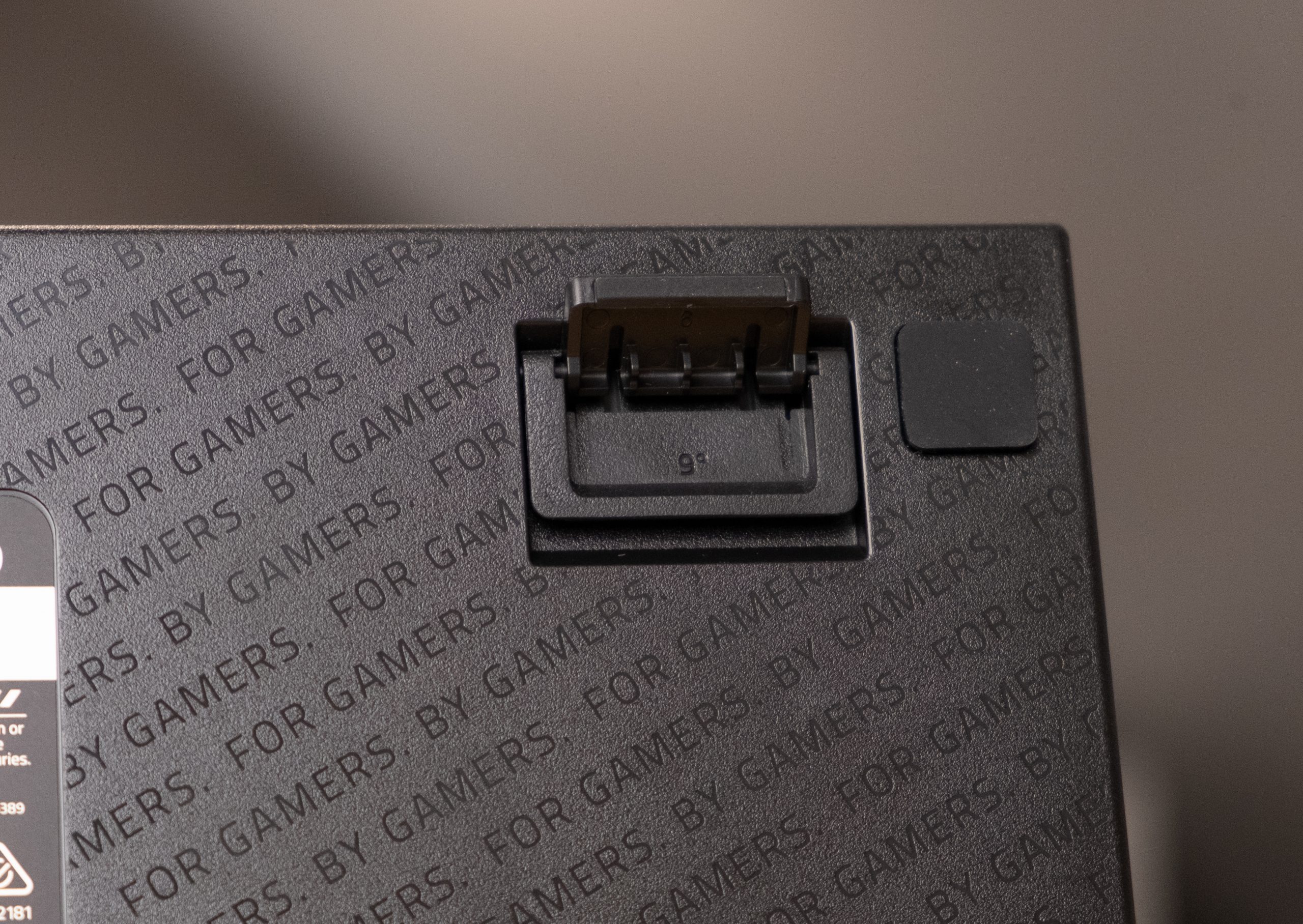 Nothing has really changed on the back of the keyboard, 4 rubber pads and 2 flip up feet hold the keyboard up. The keyboard is stable at either the 7 degree or 9 degree angle.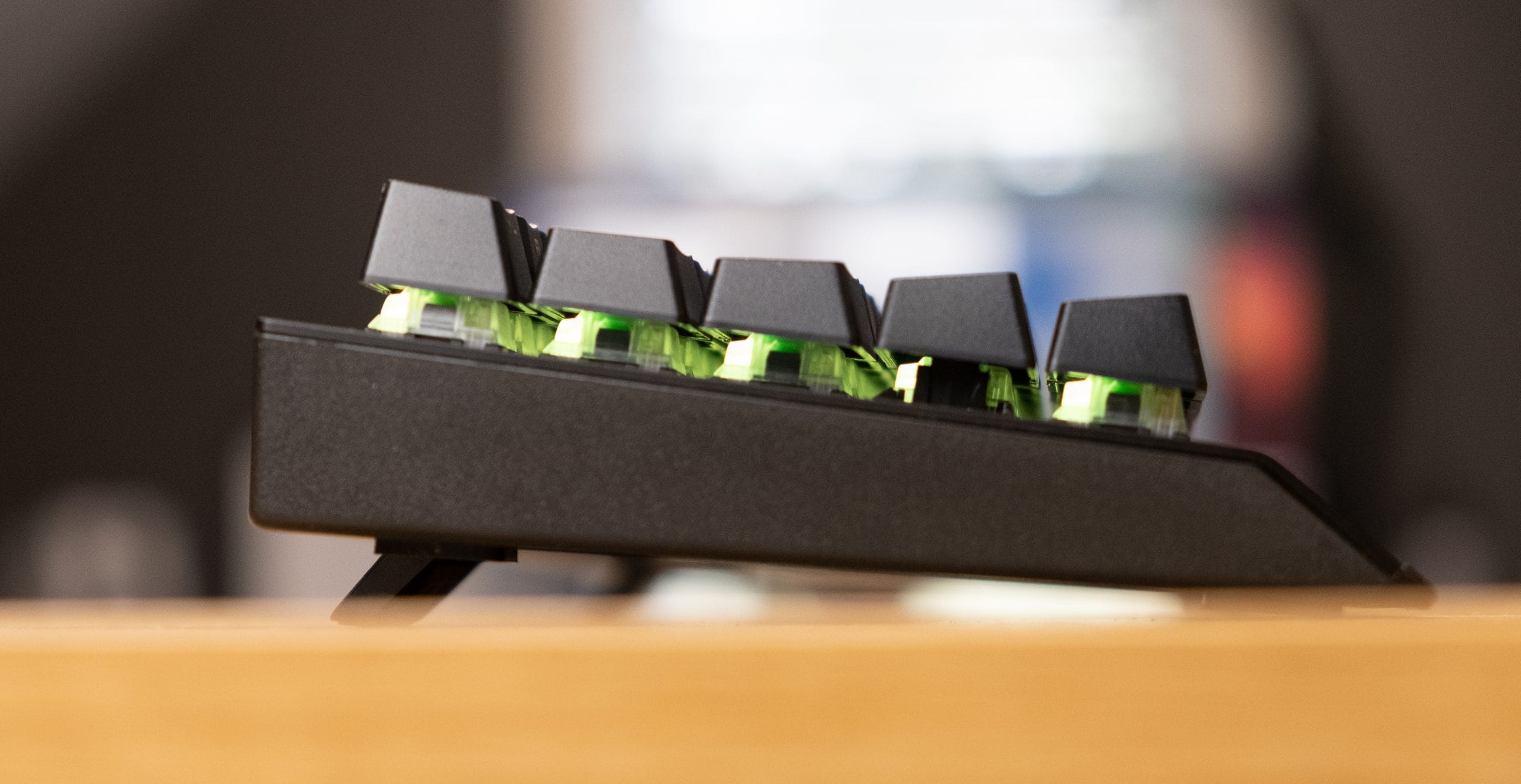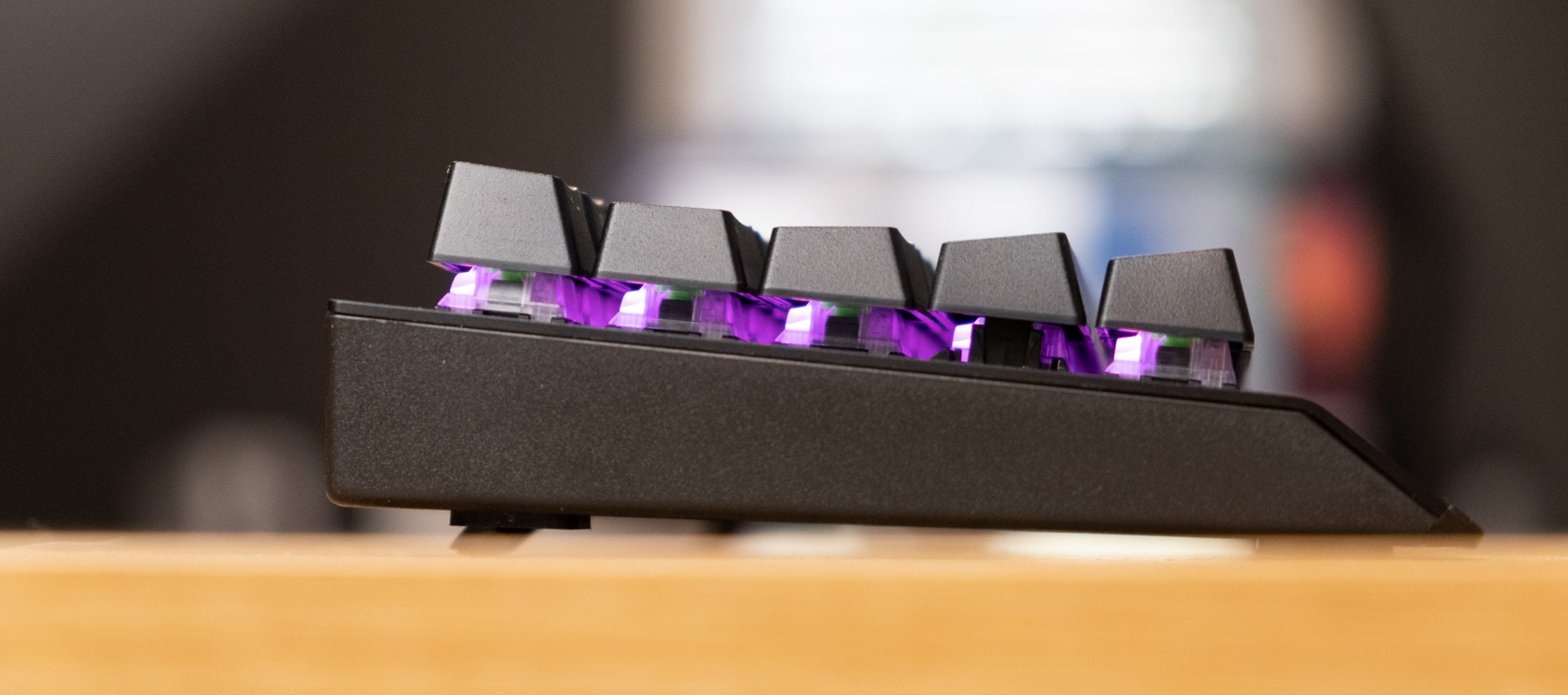 On the top of the keyboard you'll find the USB-C port on the left side, alongside a toggle switch to flip between wired, 2.4 Ghz and Bluetooth mode.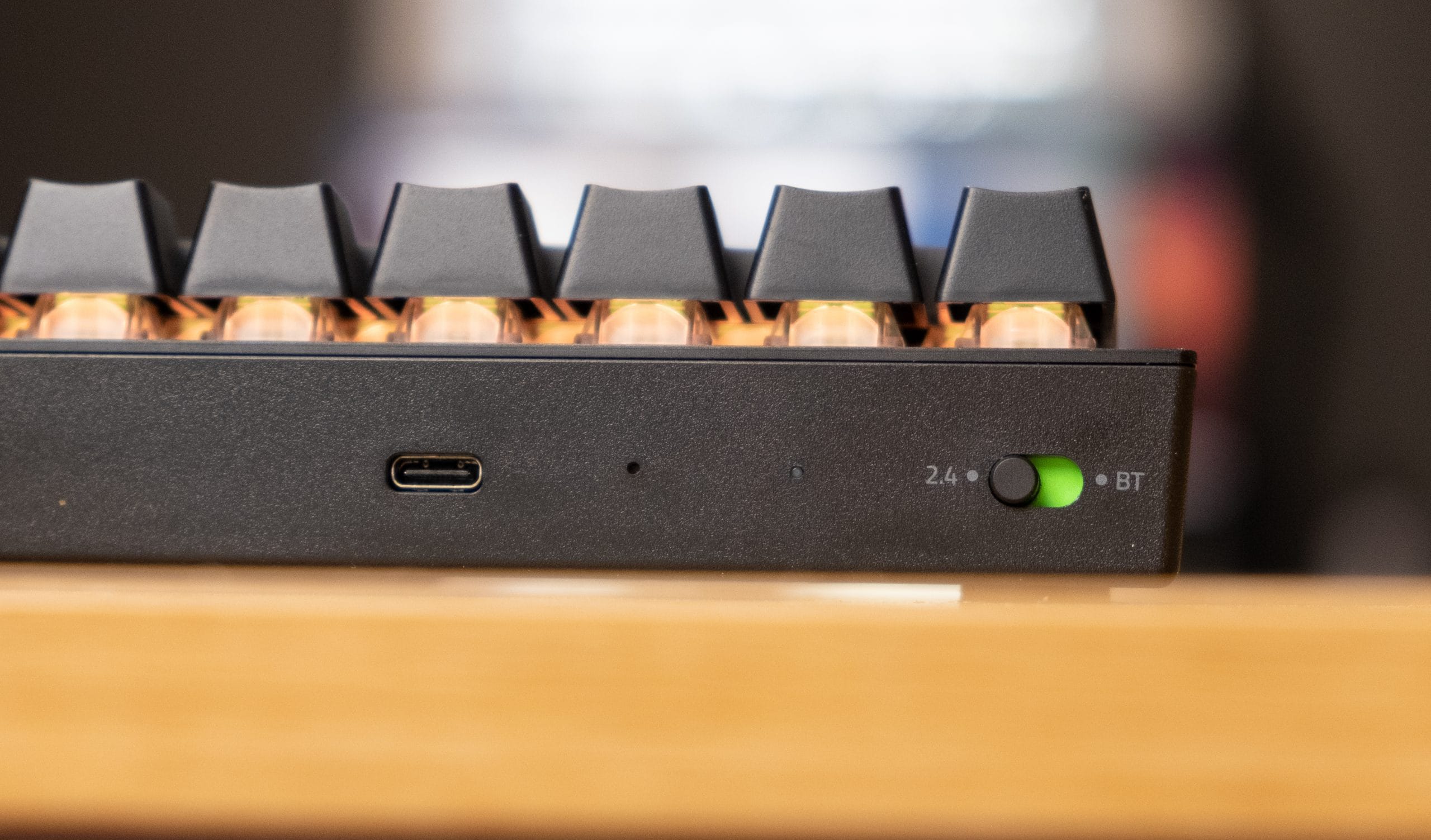 Fantastic Wireless Connectivity & OK Battery Life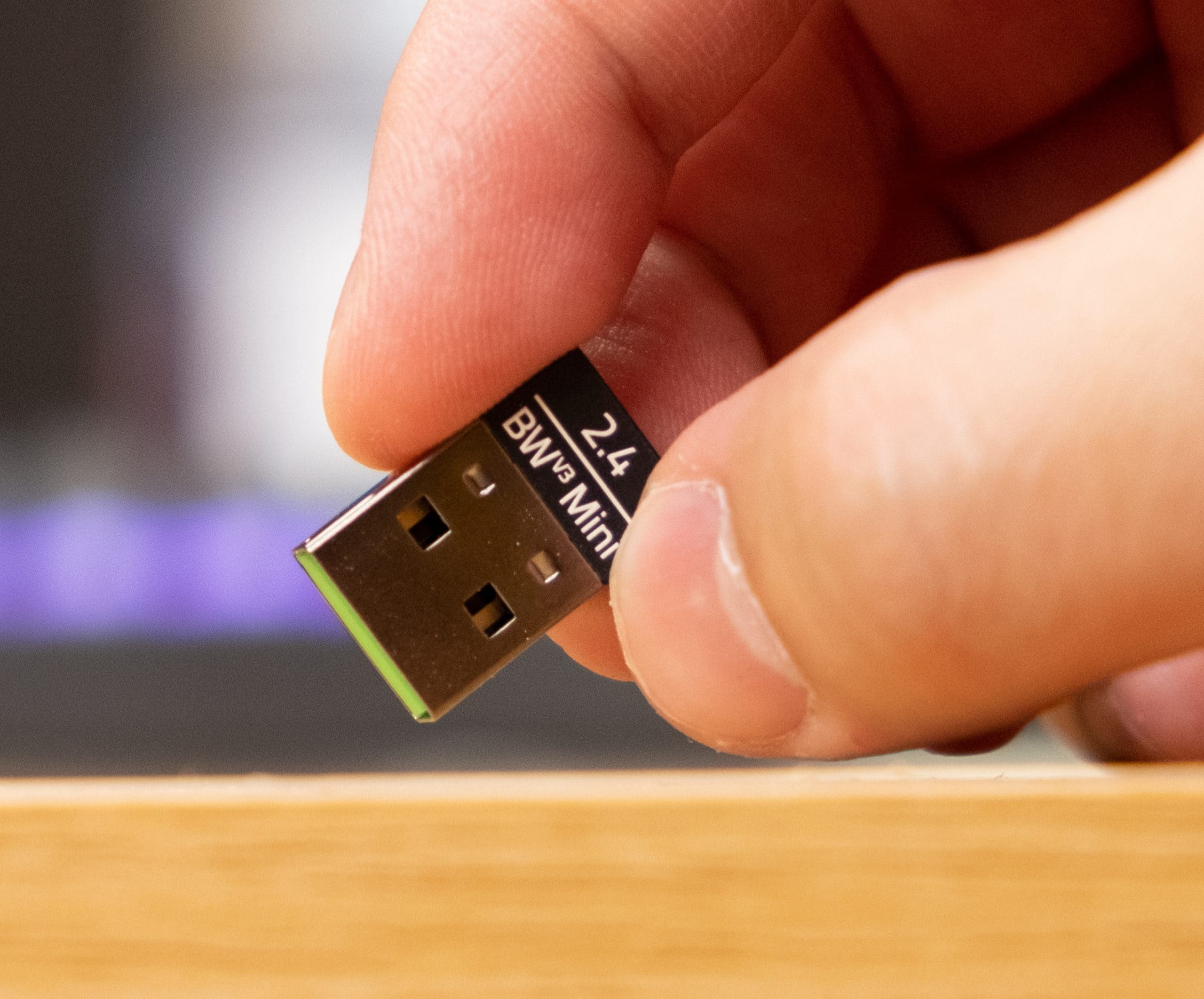 It's great seeing wireless keyboards become competitively viable like wireless gaming mice have. The Razer Blackwidow V3 Mini Hyperspeed has 3 connectivity options:
USB-C to USB-A wired connection
Bluetooth
2.4 Ghz wireless dongle
The wireless dongle is the standout connectivity option. With the dongle the connection is low-latency with very minimal input lag. You could easily play all competitive titles without noticing a difference between 2.4 Ghz and wired mode.
Bluetooth connectivity just gives the BlackWidow more flexibility, you can connect up to three devices with Bluetooth, hold ALT+Fn+1 until the LED starts blinking to enter pairing mode.
The Razer Blackwidow V3 Mini Hyperspeed is rated for 200 hours of battery life (RGB off) with a 5 hour recharge time via USB. So far, I haven't drained the battery below 50% in this review, it looks like the battery life claim is legit.
With RGB on the battery life shrinks significantly, it's looking like under 20 hours. If you're looking for marathon battery life, I'd recommend setting low RGB brightness, if not off.
Rattley Stabilizers
The 65% BlackWidow has two choices for switches, the clicky Razer Green or the linear Razer Yellow.
Razer Green

Type: Clicky
Bottom Out Travel: 4.0mm
Actuation Point:  1.9mm
Actuation Force: 50gf

Razer Yellow

Type: Linear
Bottom Out Travel: 3.5mm
Actuation Point: 1.2mm
Actuation Force: 45gf
As always, you can refer to our switch chart for full comparisons.
I reviewed this keyboard with the Razer Greens, as with all the other Razer keyboards I've reviewed so far, the Greens are quite loud. The Green switches are nicely tactile, they deliver the crispy, clicky experience that is promised.
Razer Yellows are a lot faster in comparison to the Razer Greens with significantly lower actuation and bottom out points. The Yellow switch is going to be better for faster button presses but might prove quite annoying to type with, it'll require some time getting used to.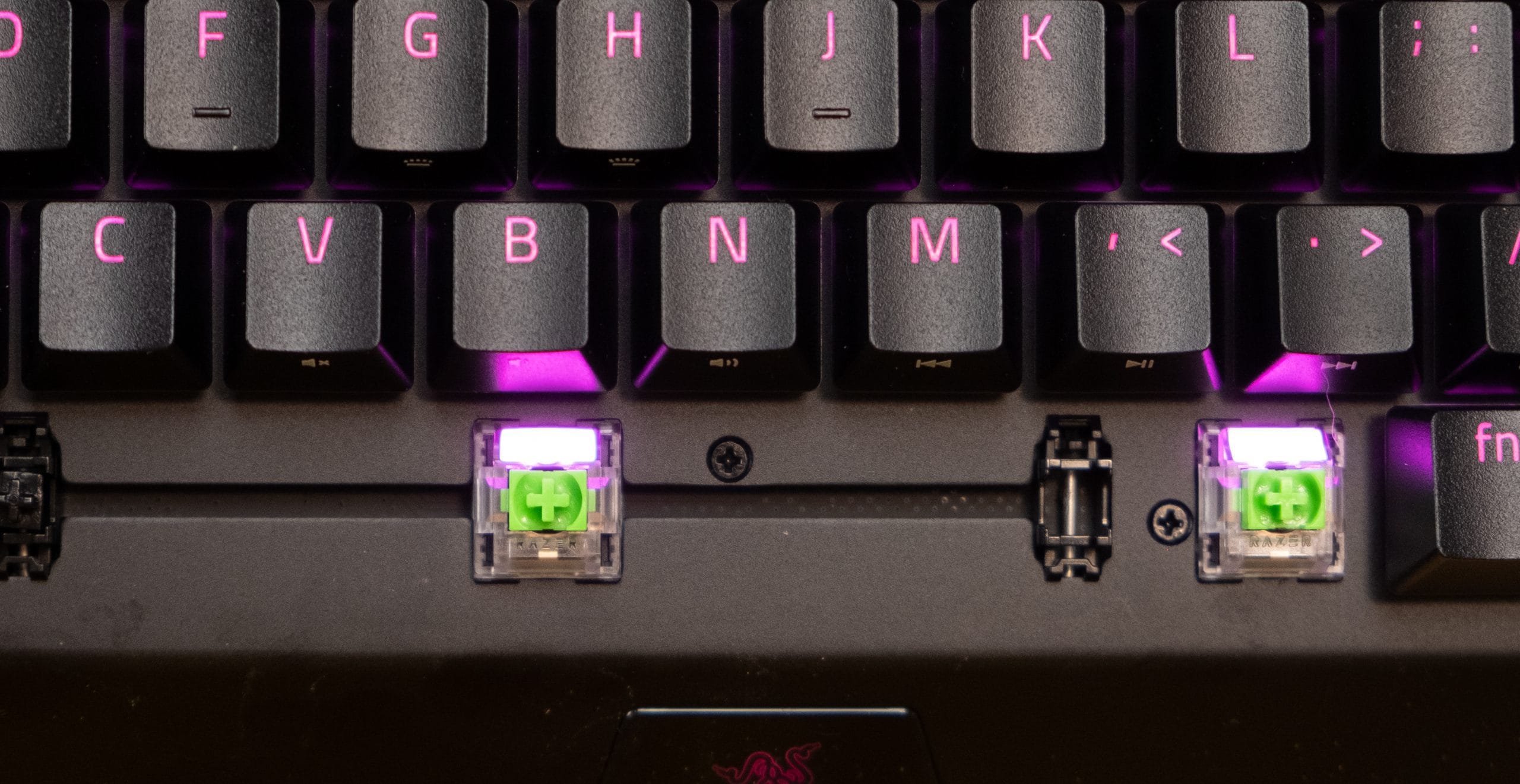 I don't have the best opinion of Razer stabilizers and the Blackwidow V3 Mini Hyperspeed does little to change that opinion. In the typing test video, you'll see that my spacebar is quite wobbly. The rattle of the spacebar and shift keys are quite significant. Don't get this keyboard if you're looking for the absolute best typing experience.
ABS Doubleshot Keycaps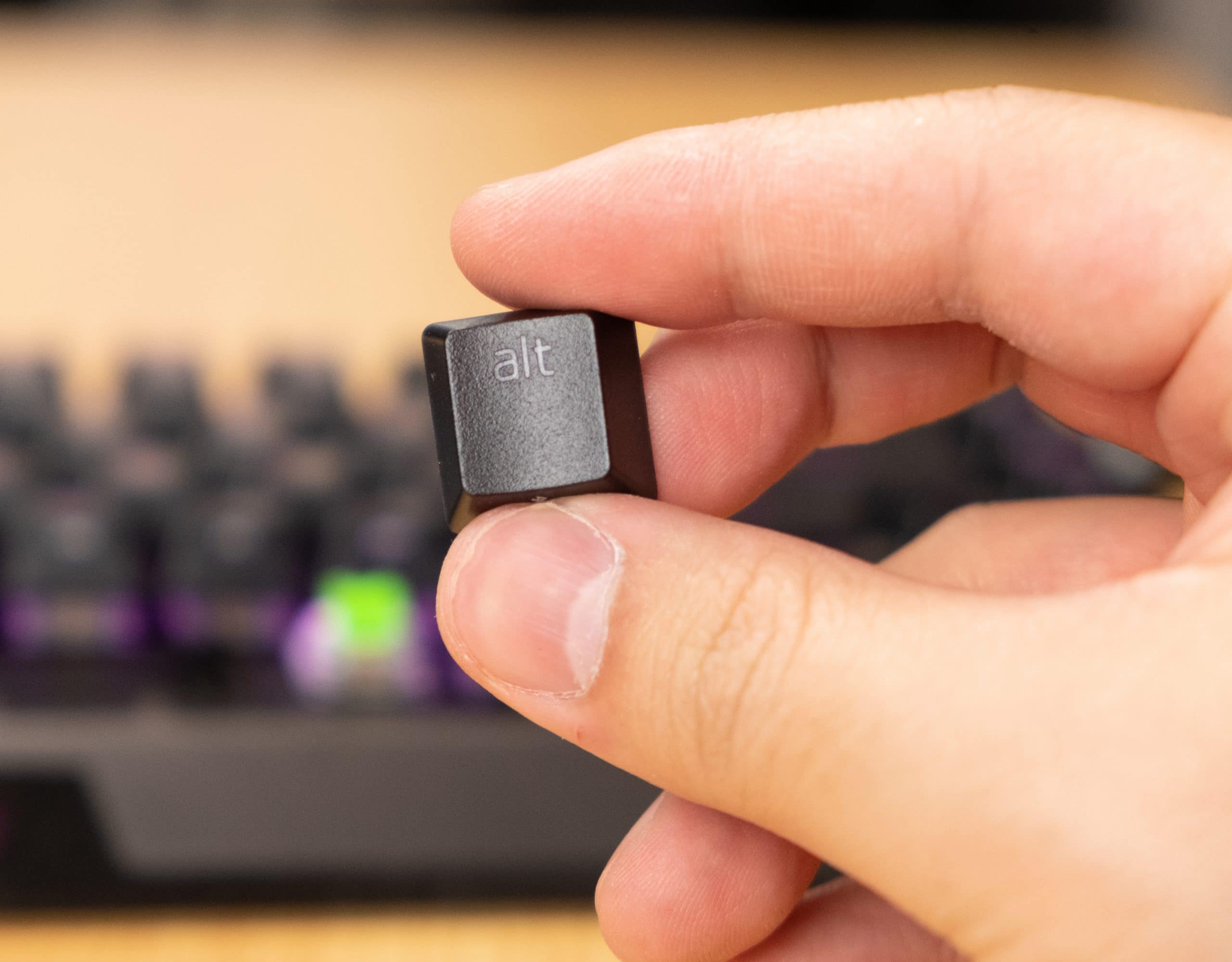 The ABS keycaps on the BlackWidow V3 Mini are solid. The double-shot labels will not fade and allow an even amount of RGB backlight to shine through. The ABS keycaps feel good and looks to have a decent thickness. Nothing surprising here, the keycaps have the standard Razer font on them and have side print to indicate layer functions.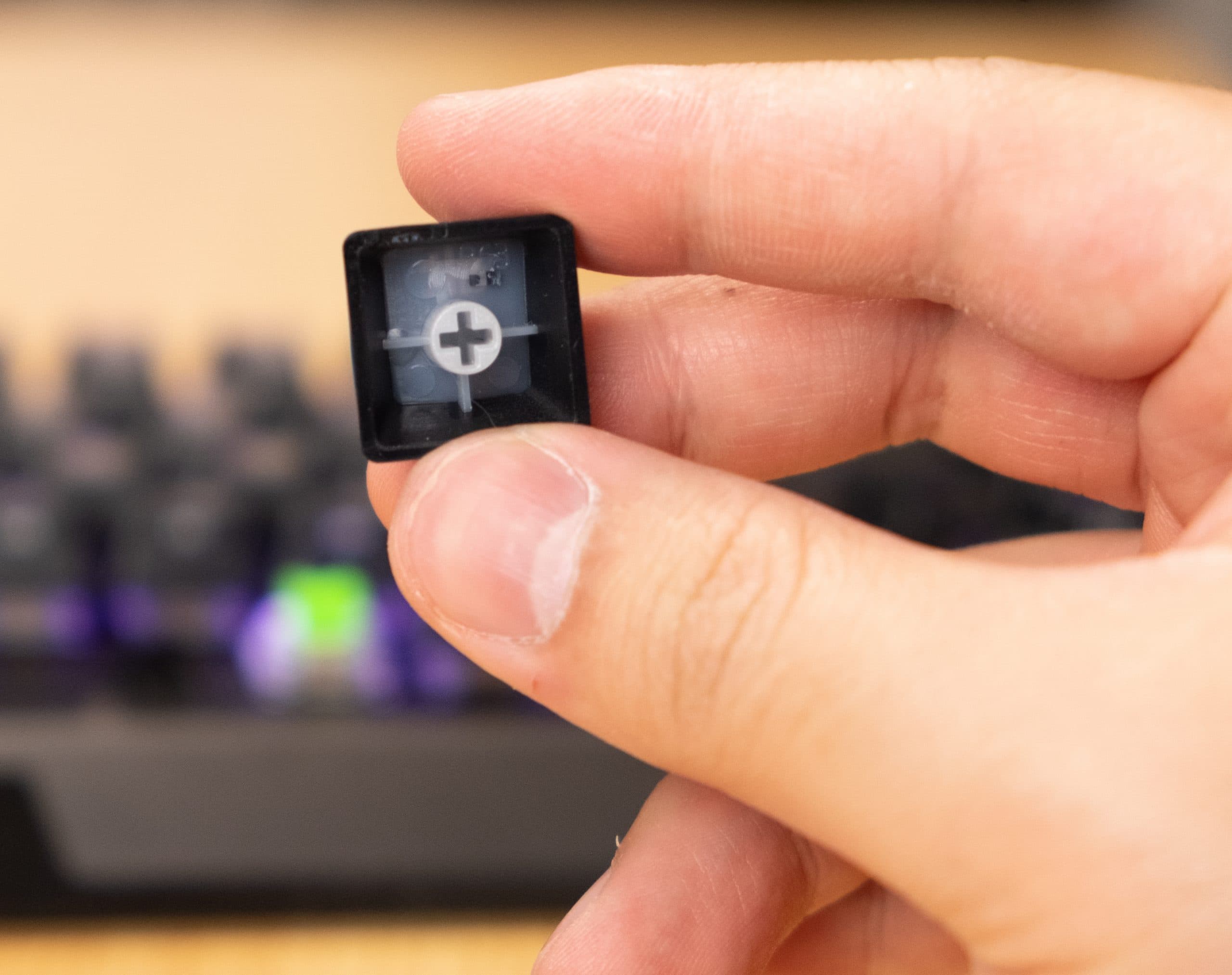 Build Quality
Despite having a battery in it, the Razer Blackwidow V3 Mini Hyperspeed is still quite light at 724 grams. The keyboard could benefit from being a little less hollow to give it a little more heft and reduce the echoey noisiness of the keyboard.
Outside of the light weight though, the keyboard is built well with little in the way of flex.
Razer Chroma Backlighting
All the standard RGB lighting options you would expect from Razer are here.
Ambient Awareness
Audio Meter
Breathing
Fire
Reactive
Ripple
Spectrum Cycling
Starlight
Static
Wave
Wheel
As always, you can install Chroma Studio to produce and download more custom RGB lighting modes.
Razer Synapse 3.0 Software
The Synapse 3 software (found here) does its job well. You can expect all the usual functionality from the software, the ability to remap keys, update macros, and polling rates. The Razer Blackwidow V3 Mini Hyperspeed supports up to 5 onboard profiles, so it's ready to switch up configurations based on the game easily.
Warranty & Reliability
Razer has a standard 2-year warranty for their keyboards.
Read Razer's warranty policy here: https://www.razer.com/warranty
Tech Specs
Razer Blackwidow V3 Mini Hyperspeed
Length: 31.877 cm / 12.55 inches
Width: 13.055 cm / 5.14 inches
Height: 4.1 cm / 1.61 inches
Case: Low profile, Plastic Case
Weight:  724 grams
Keys: 65 keys
Connectivity: 2m detachable USB Type-C, 2.4 Ghz, Bluetooth
Keys & switches
Switch options: Razer Green or Razer Yellow
Keycap material: ABS
Keycap legends: Doubleshot
Keycap profile: OEM Profile
Media keys: Through Fn layer
Backlight: Full RGB
Software: Razer Synapse 3.0
Conclusion
Razer is steadily adding solid keyboards to their lineup. The Razer Blackwidow V3 Mini Hyperspeed is a welcome addition to both the 65% and wireless category of keyboards.
For most gamers, this is the Razer keyboard I would recommend getting, 65% is just a fantastic form factor if you don't need that navigation cluster, and the lag free wireless and great battery life are just excellent quality of life improvements.
Not everything is perfect, I wish Razer would overhaul their stabilizers and potentially case design to catch up with all their fantastic tech, them keys be loud!