Ah 60% keyboards, this tiny form factor is fantastic for gaming.
Its small size with leaves more room for gaming mice to move on your desk, which is especially important if you use low sensitivity for FPS games.
The best 60% gaming keyboard is also our best overall gaming keyboard, the Ducky One 2 Mini/Mecha Mini combines the small form factor with great switch options and an exceptionally solid typing experience.
The 60% size is a little more niche, there are only a handful of keyboards that I feel are suitable for recommendation, our top 6 60% keyboards covers most use cases and preferences someone might have.
60% layouts are made viable by moving some core keys like the arrow keys and function keys behind a function layer. If you are already familiar and know you want a 60% scope out our reccommendations. If you're not sure, here's our take on whether a 60% is right for you.
Also check out our best 65% keyboard picks.
---
1. Ducky One 2 Mini and Mecha Mini
The best 60% keyboard overall
Our pick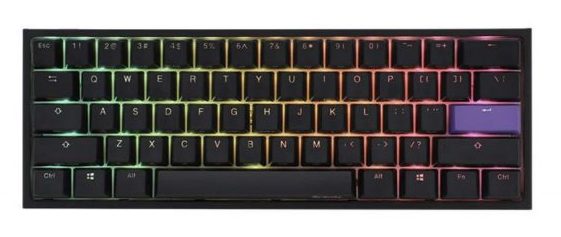 Pros
Solid build quality
Programmable without software, with multiple layers
PBT keycaps
Clean, gorgeous design
Some of the best out of the box stabilizers
Extras: coloured keycaps, themed spacebar and wire keycap puller
Cons
Pricey
No keymapping functionality via software
The Ducky One 2 Mini is the 60 percent mechanical keyboard that brought the format to the forefront.
The first thing to know about Ducky boards is that they're bringing it with the typing experience, really solid PCB and plates, fantastic stabilizers and a solid weight make the Ducky stand out amongst most other mainstream keyboards. The Mecha Mini takes this even further, replacing the plastic case of the OG mini with a metal case adding extra sturdiness and heft.
Attention to quality extends into their keycaps, full PBT doubleshot keycaps means you won't get a shiny mess, with its standard bottom row you can use whatever keycaps set you want. The Ducky One 2 Mini and Mecha Mini also come with a detachable USB-C port and cable.
If you're looking for a heavily customized key layout you might want to look elsewhere, while the Ducky does support onboard programming, you have to do it through the keyboard itself, it's a little limiting and cumbersome.
2. Anne Pro 2
The wireless 60%
Pros
Fantastic software customization
Good stabs
Great switch options
Doubleshot PBT keycaps
Wireless connection option
Cons
Forgets backlight settings on power down in wireless mode
Weird one-sided USB-C cable
Wireless connectivity can be unreliable
RGB is dim and inconsistent
A Reddit favourite. The Anne Pro 2 is a solid 60% keyboard that offers a wireless option in case you want to rid yourself of messy cables on your desk. Unfortunately, the wireless mode isn't input lag free like it is on gaming controllers,  so I would avoid playing competitive games with it in wireless mode, luckily, the wired mode is lag free.
Connectivity aside, the Anne Pro 2 has solid build quality, good stabilizers and a generally good typing experience. The value is off the charts for the Anne Pro 2 at its price point.
The software for the Anne Pro 2 is far better than my expectation, allowing for deep key mapping and layers on the Anne Pro 2, making the 60% layout even more functional for your preferences.
3. Razer Huntsman Mini
Razer's 60% is a hit
Baby Huntsman
The 60% of the popular Huntsman series brings all the same qualities to the smaller form factor.
See Price on Amazon
Pros
Good software customization options with Synapse
Attractive design
PBT keycaps with side printed legends for second layer
Cons
Loud hollow sound, even louder with clicky switches
Light weight
Can't completely customize second layer
Razer's 60% keyboard lands in at #3 on our best 60% list. For a similar price to the Ducky, the Huntsman Mini offers software customization, PBT keycaps and a superb linear switch option.
I don't think the Huntsman outranks the Ducky One 2 Mini in typing/gaming experience, but it offers a very competitive alternative with good customization options via fully fledged software.
While the keyboard is a little loud and light, the optical linear switches are fast and smooth, it's a strong 60% gaming experience.
4. Glorious GMMK Compact
The best hotswappable 60%
Value Hotswap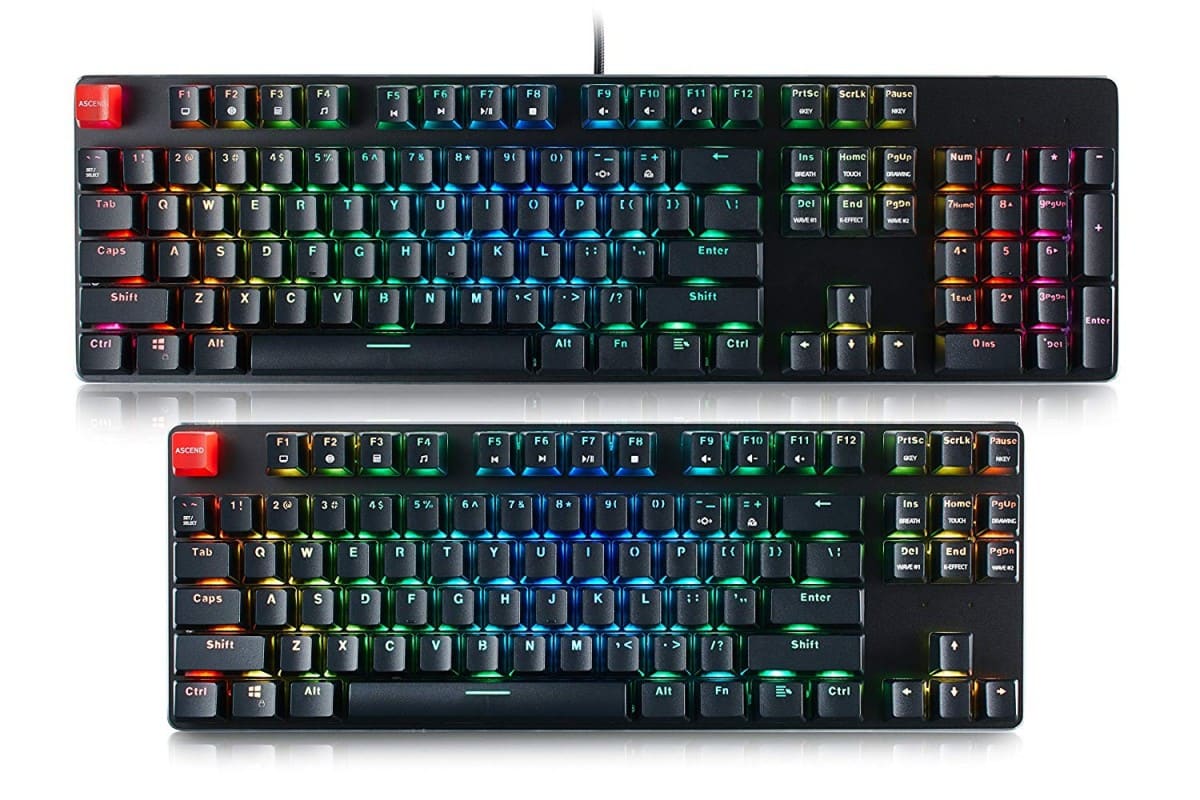 Pros
Hotswap switches, replace switches without soldering
Lots of RGB options
PBT keycaps
Great price considering all the features
Cons
Light with bad feet cause keyboard to slide
Loud hollow case
Can't remap function keys
Why we like the Glorious GMMK Compact
Glorious is definitely on the ball when it comes to 60% keyboards. Glorious brings a hot-swap option to the mix, perfect for any gamer looking to test out some switches on a single board.
Hotswap aside, the keyboard is serviceable, it has an average build quality, the stabs tend to rattle and the case itself is quite echoey. I mean this keyboard for gamers that highly value the ability to swap switches over pure feel.
5. Vortexgear Pok3r
A classic with great build quality
Pros
Metal case
Well thought out default secondary layer
PBT keycaps
Good onboard macro and company features
Great RGB modes
Cons
Micro-USB connector
Only one height option
Pricey considering its features in 2021.
The Pok3r is a rock solid 60% keyboard that does all the fundamentals really well, solid stabilizers, super sturdy case and an overall great typing experience. It comes as a close second to the Ducky keyboards in terms of key feel and performance and I wouldn't question anyone who prefers a Pok3r over the Ducky. Personally, I give Ducky the edge in terms of overall keyboard feel.
Like the Ducky keyboards, the Pok3r also is only programmable via the keyboard, no software, this can make making a lot of changes to your keyboard a bit of hassle. The Pok3r
6. Royal Kludge RK61
A super affordable, wireless 60%
The RK61 is our super budget pick coming at under $50 USD. For this price, you get a wireless mechanical keyboard with multiple switch options in a 60% form factor. While this keyboard won't blow any minds, it's pretty incredible value for a budget gamer looking for a 60% keyboard.
The RK61 even offers bluetooth connectivity with multiple devices for extra flexibility. The keyboard itself is mediocre, the keyboard is built well enough, the feel of the switches and stabilizers is only okay, but you can't ask much at this price point.
---
What is a 60 % keyboard?


A 60% keyboard does away with all function keys, arrow keys and numpad, leaving a much smaller footprint horizontally and vertically.
The keys that are not present physically on the 60% layout are usually accessible through a function layer. For example, most 60% keyboards have the F1 key under fn+1.
Check out our post on keyboard sizes to see how 60% keyboards compare.
The Pros and Cons of a 60% keyboard
Benefits of a 60% keyboard
The big benefit of 60% keyboards is its diminutive width, leaving more room for the mouse and generally creating a better ergonomic posture for gaming. Because of its narrower width, gamers are more easily able to position their keyboard in the most comfortable position for them.
60% keyboards are also great for people with limited desk space and are great for packing into a bag for travel.
I also think 60% keyboards look really good with its more symmetrical layout design.
Drawbacks of a 60% keyboard
Keys that are not immediately available on the surface can cause some decline in productivity, it'll take some while to get used to not having function or arrow keys right there if you use them heavily.
This is the main drawbacks, no dedicated arrow keys, if you're a heavy numpad user, or play games that use the F keys or arrow cluster heavily, it might be a very tough transition to hit those binds through a layer.
Fewer total keys means fewer options for key mapping as well.
How we tested
Like any of our other tests, we played a crap load of video games. 60% keyboards are especially suited for FPS games, giving much more room for the mouse to move. We played Valorant, Apex and Modern Warfare the most, for good measure, we played Dota 2 as a more keyboard intensive game.
On top of performance we're looking for ergonomics while playing, key feel and durability if we happened to hammer on the keys a little more than usual.
In addition to play testing, we did a ton of research, scouring reviews both professional and on social media to get a general sense of how people felt about their keyboards. Any keyboards that had major quality issues were out of the running.
What we're looking for in 60% boards
We look for the same things we look for in the computer keyboard:
Switches and feel
Build quality
Size and design
Keycaps
Features
Based on the above factors, price and availability, we made our recommendations based on what we think most gamers are going to like.
We've picked keyboards that are widely available, it doesn't help if we choose keyboards from limited run group buys or drops. As new 60% contenders come out, we'll give them the good ol' review and consider them for the best list.