Ah 60% keyboards, this tiny form factor is fantastic for gaming. Its small size with leaves more room for gaming mice to move on your desk, which is especially important if you use low DPI for FPS games.
The best 60% gaming keyboard is also our best overall gaming keyboard, the Ducky One 2 Mini/Mecha Mini combines the small form factor with great switch options and an exceptionally solid typing experience.
Our pick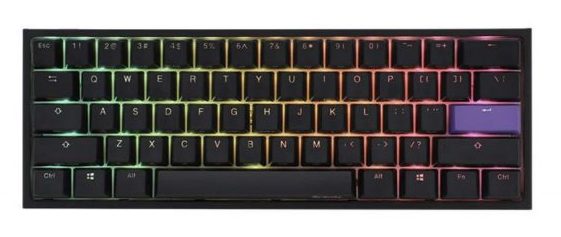 The Mecha and Mini Ducky keyboards just bring a level of quality straight out of the box that's unrivaled for their price point of around 100 bucks.
Ducky's just feel great. The stabilizers are lubed and are definitely the smoothest stabilizers I've seen out of the box from a pre-built manufacturer. Even the plastic case on the mini feels rock solid with a good weight and sturdiness that overall add to the solid feeling nature of Ducky boards.
Baby Huntsman
The 60% of the popular Huntsman series brings all the same qualities to the smaller form factor.
See Price on Amazon
Need a bit more of a custom key map layout? The Razer Synapse is probably the best non QMK/Via 60% software experience on the market, allowing you to add additional fn keys and customize the secondary layer to an extent.
It also doesn't hurt that the Huntsman Mini has PBT keycaps, a solid linear optical switch option and good stabilizers with a USB-C detachable cable.
Really good value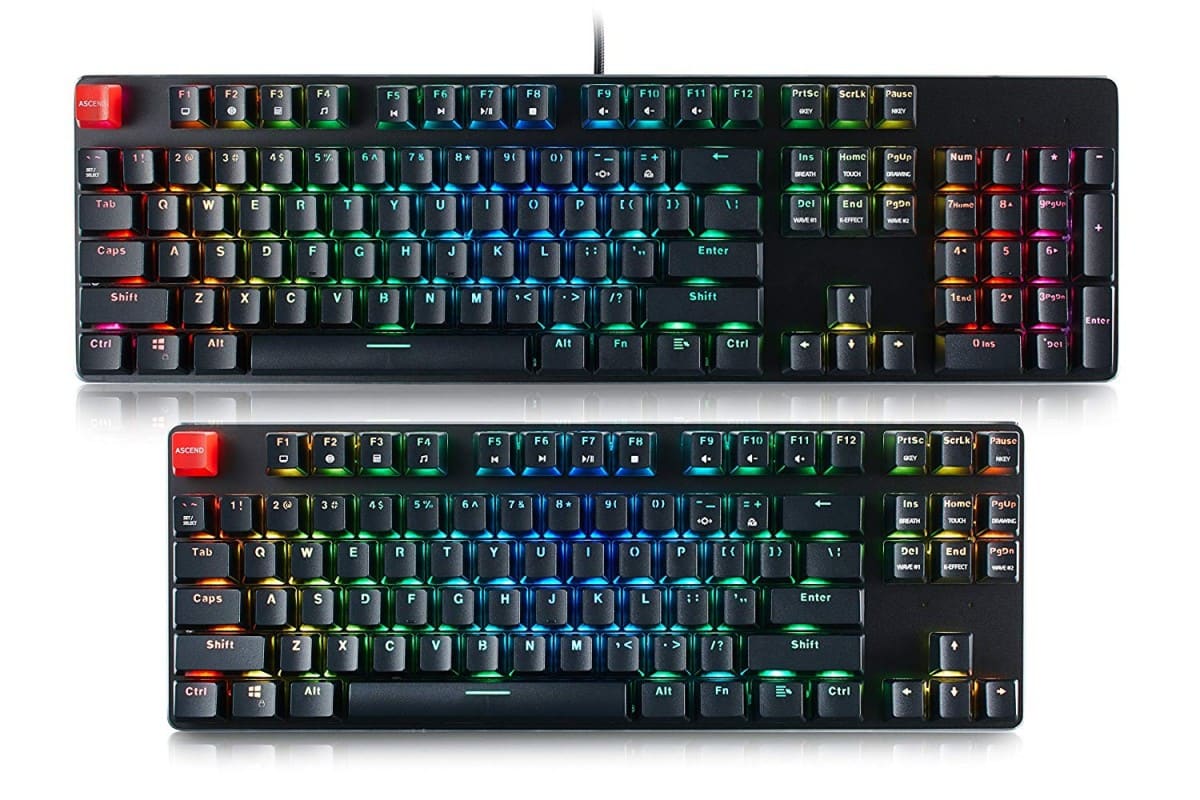 The GMMK is a great budget option with the ability to test multiple switches. It's not the best feeling keyboard we've ever gamed on, it doesn't have the quality of a Ducky, but at its price, it's a great deal and offers a lot of what you want without breaking the bank.
How we tested
Like any of our other tests, we played a crap load of video games. 60% keyboards are especially suited for FPS games, giving much more room for the mouse to move. We played Valorant, Apex and Modern Warfare the most, for good measure, we played Dota 2 as a more keyboard intensive game.
On top of performance we're looking for ergonomics while playing, key feel and durability if we happened to hammer on the keys a little more than usual.
In addition to play testing, we did a ton of research, scouring reviews both professional and on social media to get a general sense of how people felt about their keyboards. Any keyboards that had major quality issues were out of the running.
What we're looking for in 60% boards
We look for the same things we look for in any good keyboard:
Switches and feel
Build quality
Size and design
Keycaps
Features
Based on the above factors, price and availability, we made our recommendations based on what we think most gamers are going to like.
We've picked keyboards that are widely available, it doesn't help if we choose keyboards from limited run group buys or drops. As new 60% contenders come out, we'll give them the good ol' review and consider them for the best list.
1. Ducky One Mini and Mecha Mini
The best 60% keyboard overall
Our pick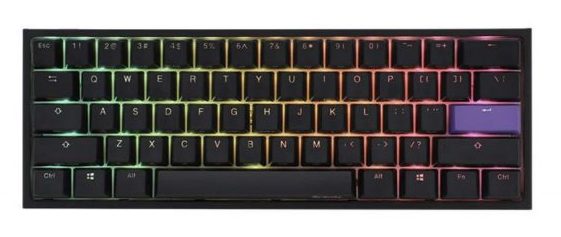 Pros
Cherry style stabilizers with little rattle
Amazing build quality
High quality doubleshot PBT keycaps
Removable USB type-C cable
Attractive design
Cons
Lack of software customization
On board programming is a little limited
Why we like the Ducky One 2 Mini and Mecha Mini
The Ducky One 2 Mini is the 60% keyboard that brought the format to the forefront.
The first thing to know about Ducky boards is that they're bringing it with the typing experience, really solid PCB and plates, fantastic stabilizers and a solid weight make the Ducky stand out amongst most other mainstream keyboards. The Mecha Mini takes this even further, replacing the plastic case of the OG mini with a metal case adding extra sturdiness and heft.
Attention to quality extends into their keycaps, full PBT doubleshot keycaps means you won't get a shiny mess, with its standard bottom row you can use whatever keycaps set you want. The Ducky One 2 Mini and Mecha Mini also come with a detachable USB-C port and cable.
If you're looking for a heavily customized key layout you might want to look elsewhere, while the Ducky does support onboard programming, you have to do it through the keyboard itself, it's a little limiting and cumbersome.
2. Razer Huntsman Mini
Razer's 60% is a hit
Baby Huntsman
The 60% of the popular Huntsman series brings all the same qualities to the smaller form factor.
See Price on Amazon
Pros
Good software customization
PBT keycaps
Smooth linear option
Cons
Loud keyboard
Very light
Second layer not completely customizable
Why we like the Razer Huntsman Mini
Razer's newest 60% keyboard lands in at #2 on our best 60% list. For a similar price to the Ducky, the Huntsman Mini offers software customization, PBT keycaps and a superb linear switch option.
I don't think the Huntsman outranks the Ducky One 2 Mini in typing/gaming experience, but it offers a very competitive alternative with good customization options via fully fledged software.
While the keyboard is a little loud and light, the Linear switches are fast and smooth, it's a strong 60% gaming experience.
3. Glorious GMMK Compact
The best hotswappable 60%
Value Hotswap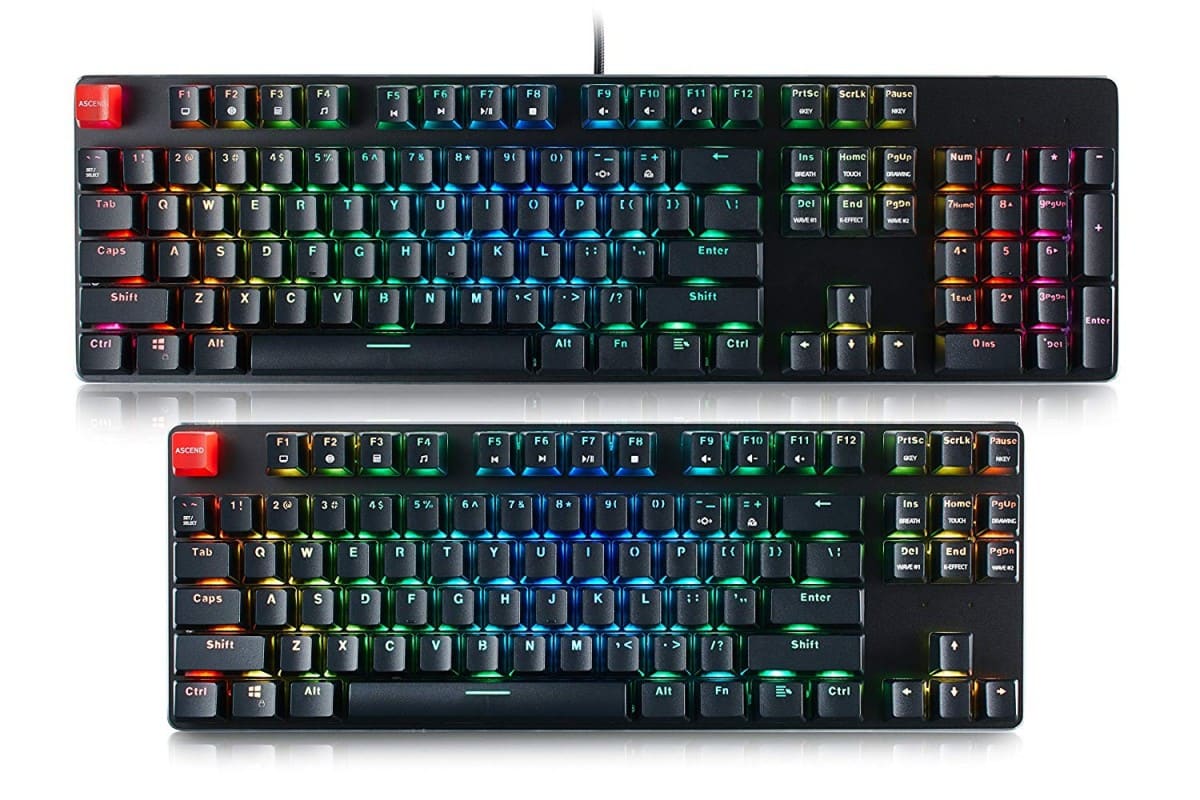 Pros
Modular switches
Standard bottom row
Good quality keycaps
Good RGB backlighting
Great price
Cons
Rattly stabilizers
Function keys cannot be remapped
Loud echoey case
Why we like the Glorious GMMK Compact
Glorious is definitely on the ball when it comes to 60% keyboards. Glorious brings a hot-swap option to the mix, perfect for any gamer looking to test out some switches on a single board.
Hotswap aside, the keyboard is serviceable, it has an average build quality, the stabs tend to rattle and the case itself is quite echoey. I mean this keyboard for gamers that highly value the ability to swap switches over pure feel.
4. Anne Pro 2
The wireless 60%
Pros
Solid build quality
Bluetooth connectivity
Good switch options
Good software, highly programmable
Good battery life
Double-shot PBT keycaps
Cons
Quality control concerns
Stabilizers can be over lubed, but better than unlubed
Weak RGB
The Anne Pro 2 is a solid 60% keyboard that offers a wireless option in case you want to rid yourself of messy cables on your desk. Unfortunately, the wireless mode isn't input lag free like it is on gaming controllers,  so I would avoid playing competitive games with it in wireless mode, luckily,  the wired mode is lag free.
Connectivity aside, the Anne Pro 2 has solid build quality, okay stabilizers and a generally good typing experience.
The Anne Pro 2 offers a wireless mechnical keyboard an affordable price. If you like the flexibility of having a wireless keyboard but still care about having a decent mech experience while saving money, this ones for you.
5. Vortexgear Pok3r
A classic with great build quality
Pros
Attractive keycap design
PBT key caps
Aluminum case
Good solid weight
Great typing experience
DIP switches for extra flexibility
Cons
Onboard programming only
Still a USB Micro port
The Pok3r is a rock solid 60% keyboard that does all the fundamentals really well, solid stabilizers, super sturdy case and an overall great typing experience. It comes as a close second to the Ducky keyboards in terms of key feel and performance and I wouldn't question anyone who prefers a Pok3r over the Ducky. Personally, I give Ducky the edge in terms of overall keyboard feel.
Like the Ducky keyboards, the Pok3r also is only programmable via the keyboard, no software, this can make making a lot of changes to your keyboard a bit of hassle. The Pok3r
6. Royal Kludge RK61
A super affordable, wireless 60%
Pros
Bluetooth at budget prices
Multi-device connectivity
Doubleshot keycaps
Super cheap
Cons
Quality control concerns
Some flex in the case
No programming layers at all
The RK61 is our super budget pick coming at under $50 USD. For this price, you get a wireless mechanical keyboard with multiple switch options in a 60% form factor. While this keyboard won't blow any minds, it's pretty incredible value for a budget gamer looking for a 60% keyboard.
The RK61 even offers bluetooth connectivity with multiple devices for extra flexibility. The keyboard itself is mediocre, the keyboard is built well enough, the feel of the switches and stabilizers is only okay, but you can't ask much at this price point.
Changelog
July 26, 2020: Added Razer Huntsman Mini
July 15th, 2020: Published