The Steelseries Apex Pro packs in a ton of new fancy technology like customizable actuation switches and oled display screens, while those features are neat, the board lacks in some solid fundamentals to really make the keyboard worth it.
The build quality of the Apex Pro is average, the key caps are low quality, and I just don't like the wrist rest material used. The keyboard doesn't come with many extras aside from the wrist rest, no extra key caps or puller, it really does feel like the cost of goods budget was spent on the OLED screen and Omnipoint switches.
That being said, the actuation customization can be useful, the Omnipoint switches are smooth and feel great and the Apex Pro is one of the few keyboards with a display. If you really like the idea of the fancy features of the Apex Pro, it's still a very competent gaming keyboard with two size options at full size and tenkeyless (TKL).
Pros
Standard bottom row
Two size options: full and TKL
Dedicated volume wheel
Smooth linear switches
Customizable actuation switches
Good software
USB pass through
Cons
Pricey
OLED screen on that useful
Average build quality
Cheap, thin printed ABS caps
Really thick USB undetachable cable
Weak feet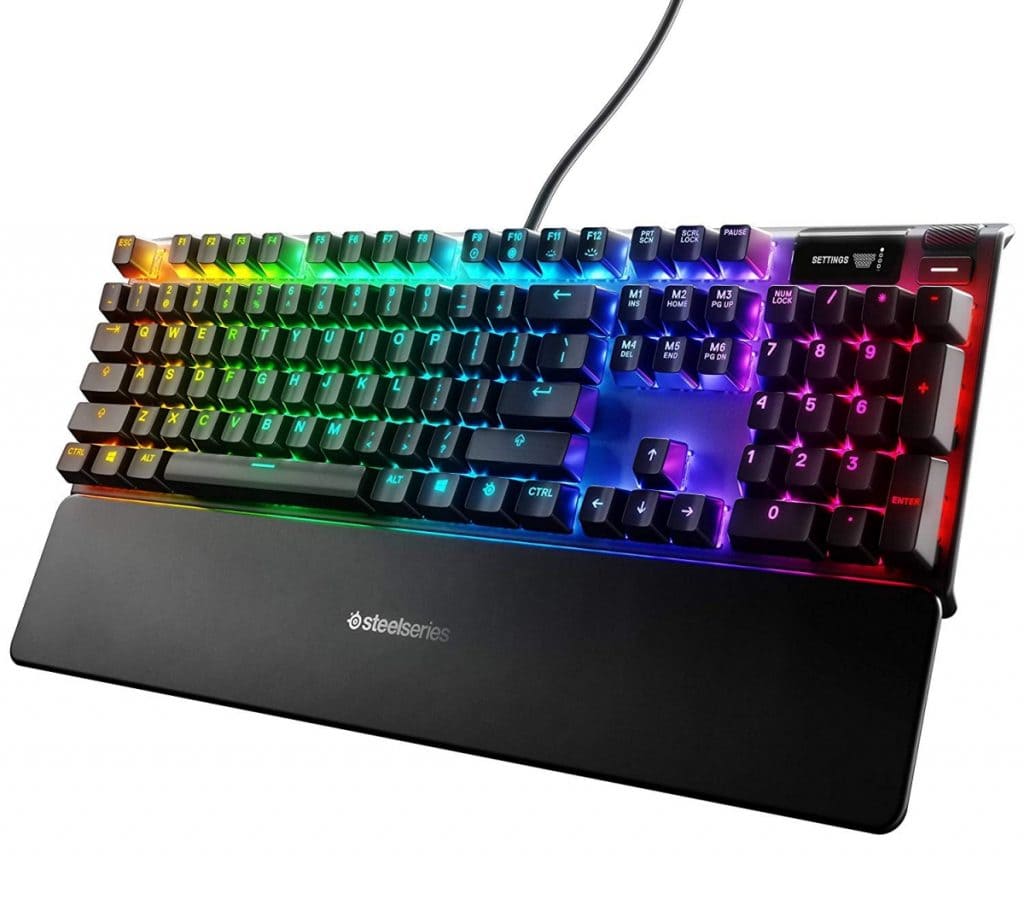 The Steelseries Apex Pro packs customizable switches and OLED in an okay overall package.
See Price on Amazon
Tech Specs
Steelseries Apex Pro
Width: 43.67 cm
Length: 13.9 cm
Height: 4.0 cm
Case color: Plastic
Weight: 2.14 lbs
Keys: 104
Cable Length: 1.4m, rubber, non detachable
Keys & switches
Switch options: Omnipoint switches (Hall Effect)
Keycap material: ABS
Keycap legends: Laser etched painted
Keycap profile: OEM
Media keys: Dedicated play/pause button, mappable function keys
Backlight: Full RGB
Software: Steelseries Engine
Connectivity: USB, 1 USB 3.0 pass through
Build Quality & Design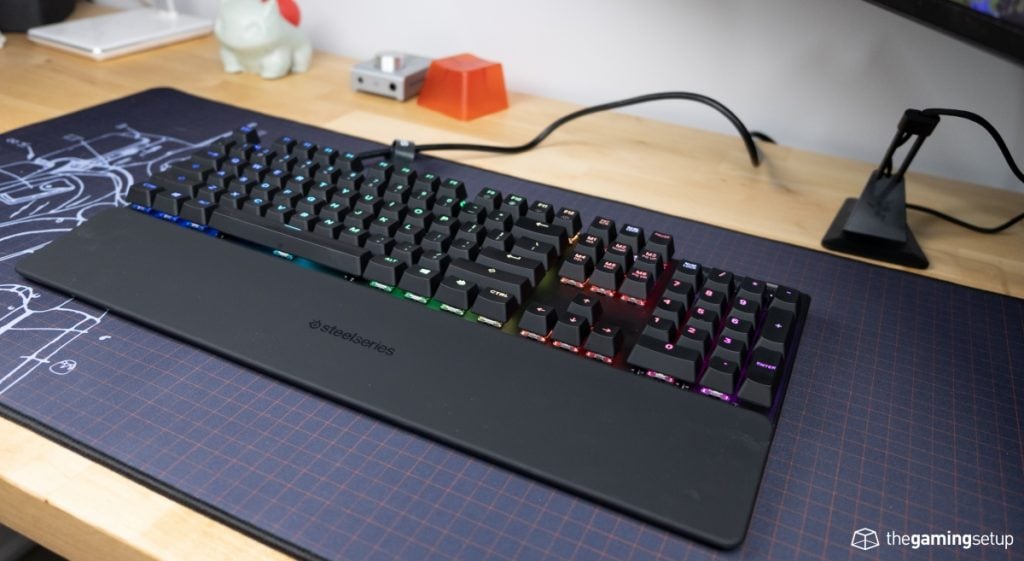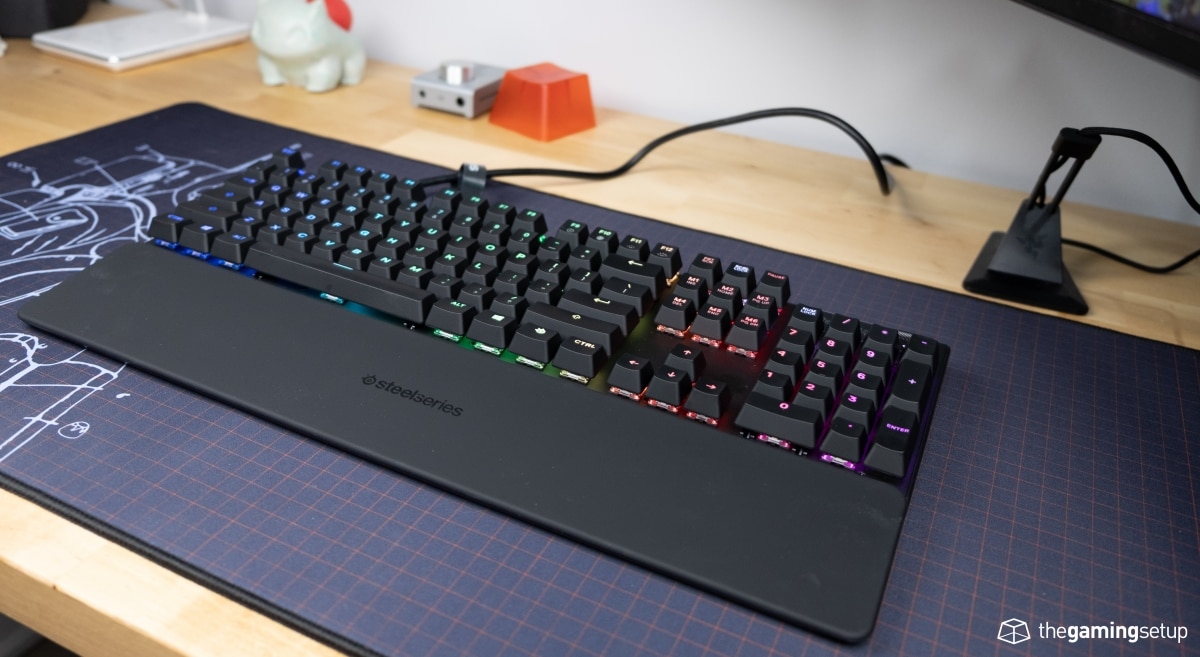 The Steelseries Apex Pro has a fairly standard design with a low profile aluminum case and per key RGB. Overall, an attractive looking keyboard with no obvious unique qualities to its design with minimal branding. The Apex Pro comes in full size and TKL options, with a standard bottom row and one colour/material choice, all black. For gaming, I'd suggest going with the TKL size to give more room for your mouse to roam.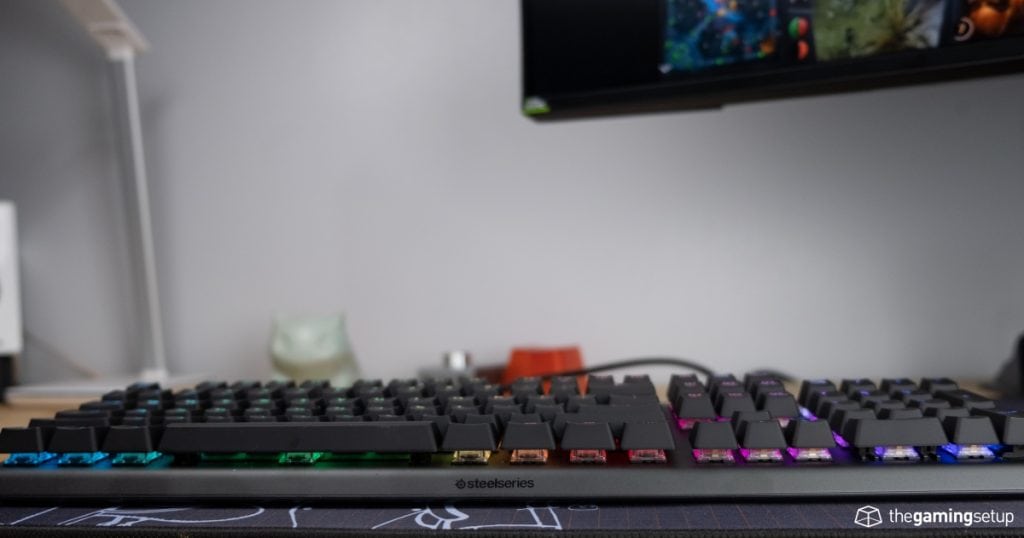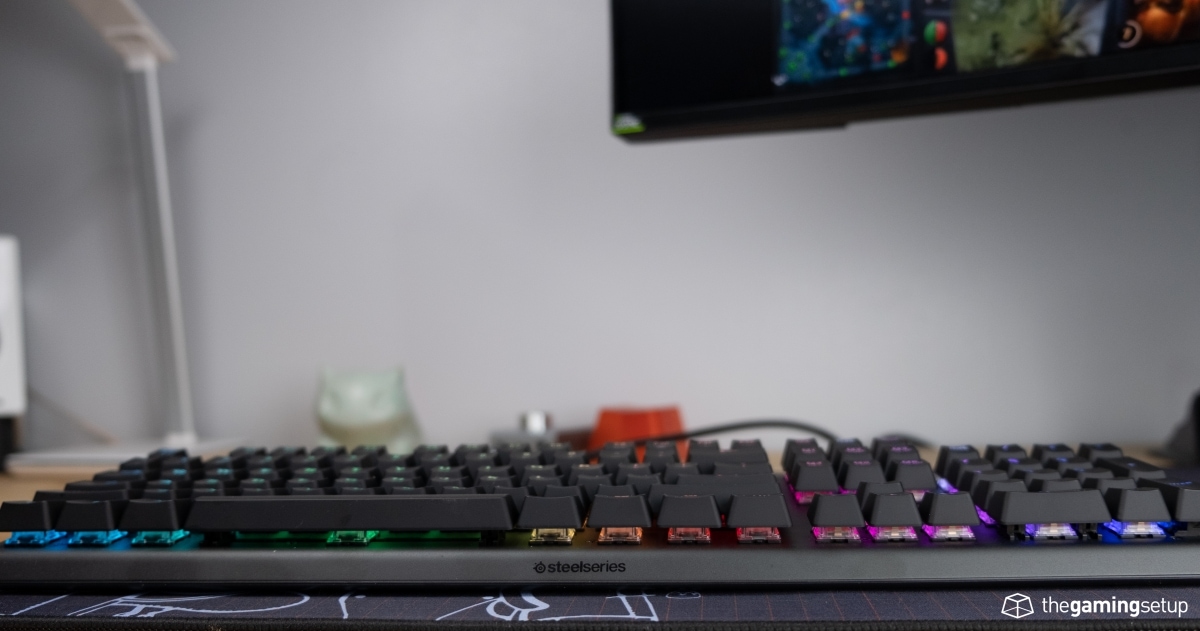 The case and backplate in the Apex Pro come in on the thinner side, the keyboard is an average weight with a moderate amount of flex when twisted. On the front lip of the keyboard case there's a small steelseries logo, but you looking at the front you can see how thin the case is overall.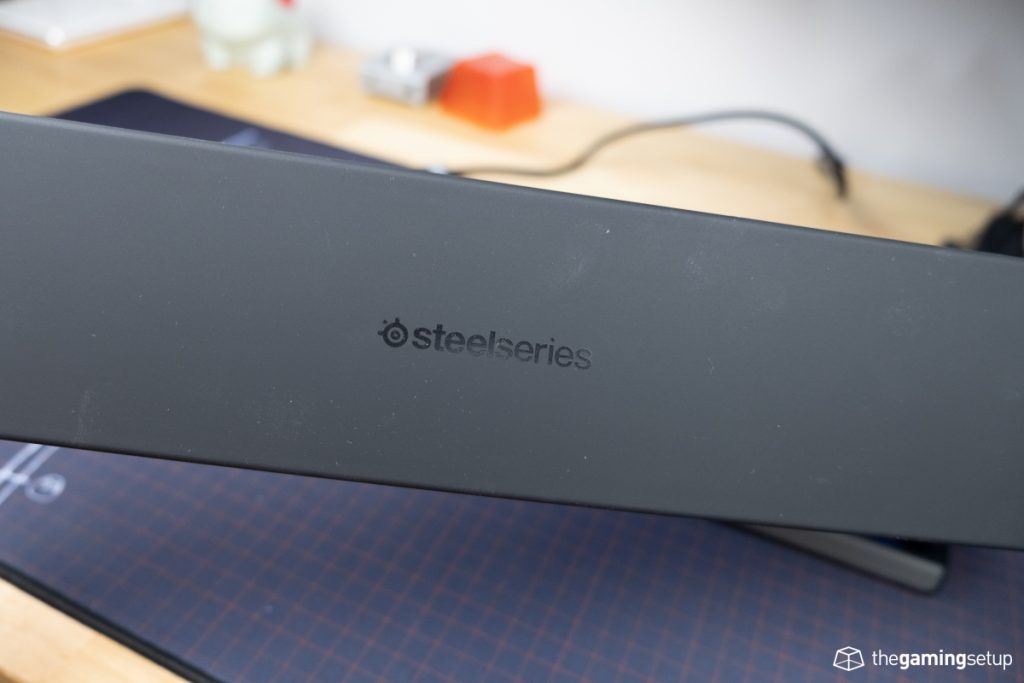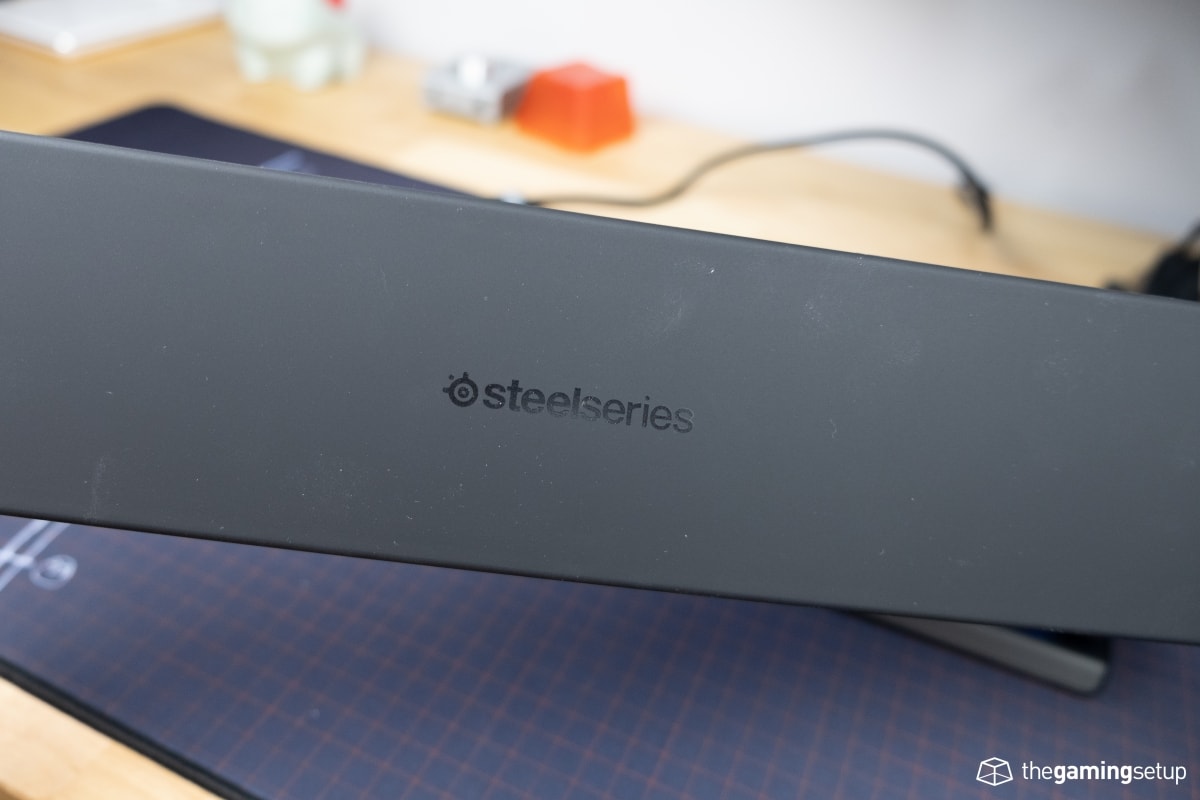 In most cases the magnet wrist rest will cover up the front lip logo, with the wrist rest sporting its own subtle logo. The wrist rest is made from a soft touch rubber that I personally don't like, would much rather see a pleather material, the soft rubber looks to be a finger print magnet and for a clammy hand like mine, is much too grippy for a wrist rest.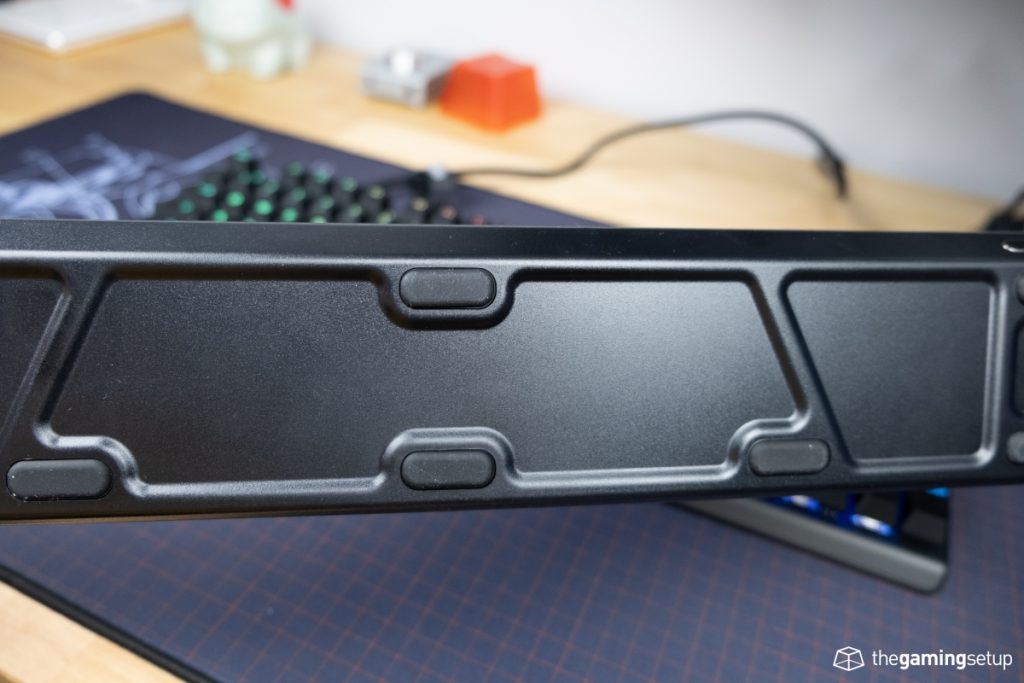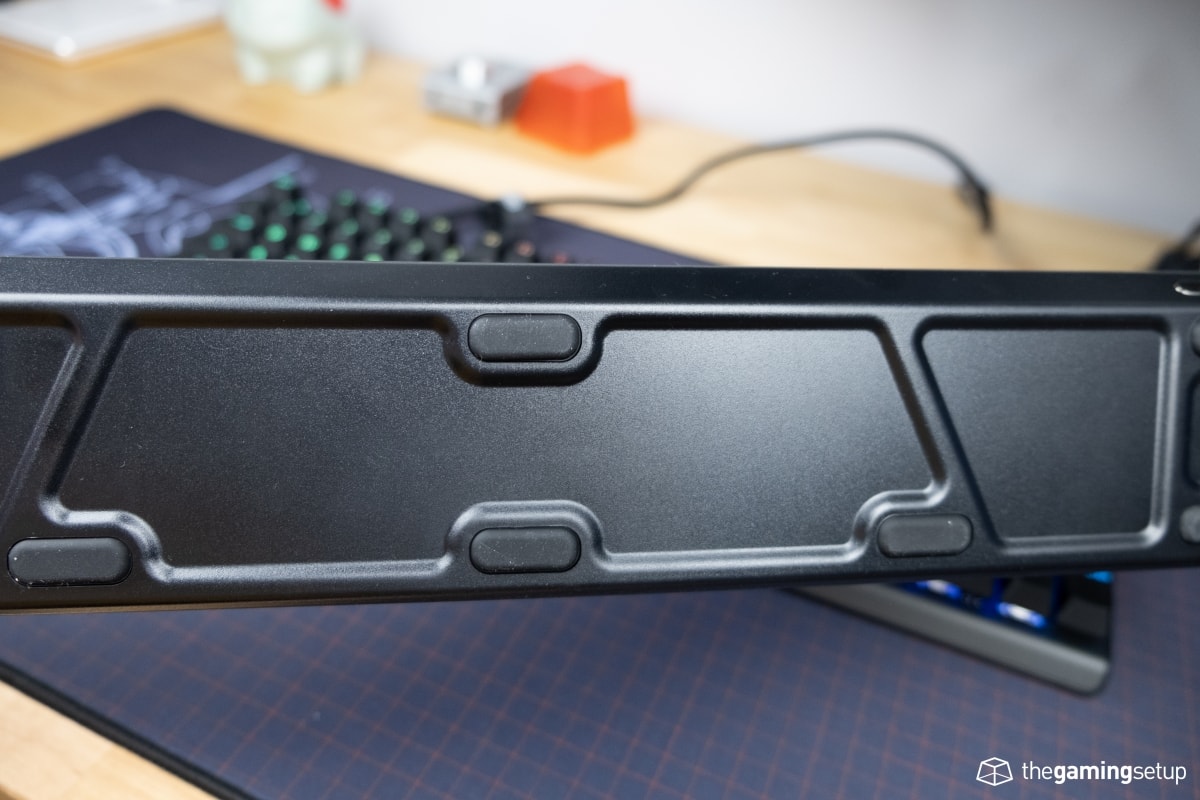 On the underside, you'll find that the rest has a a large amount of rubber feet to add stability.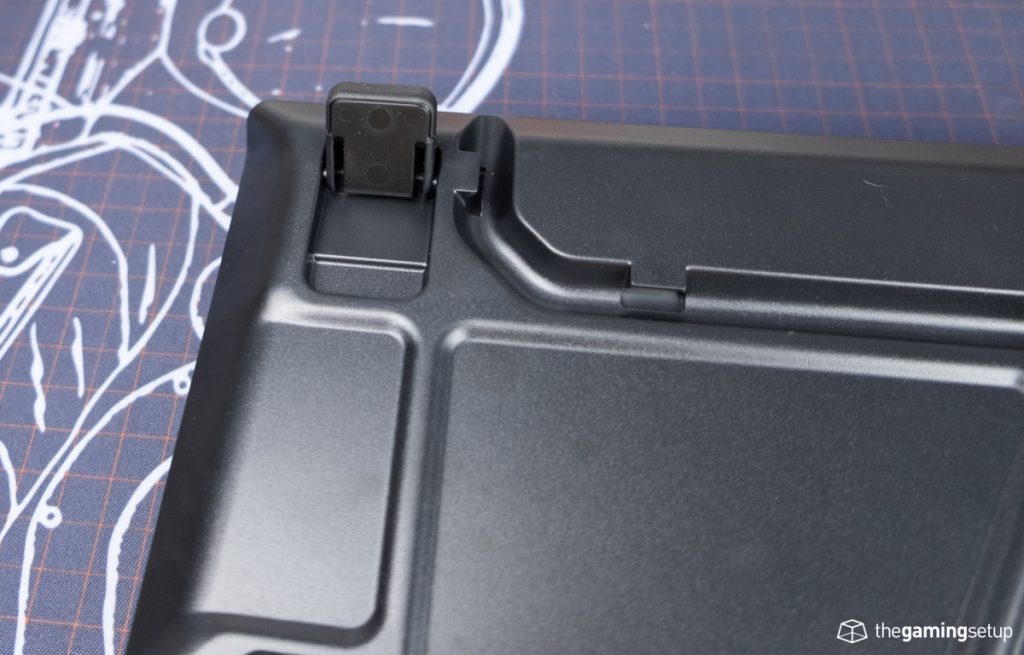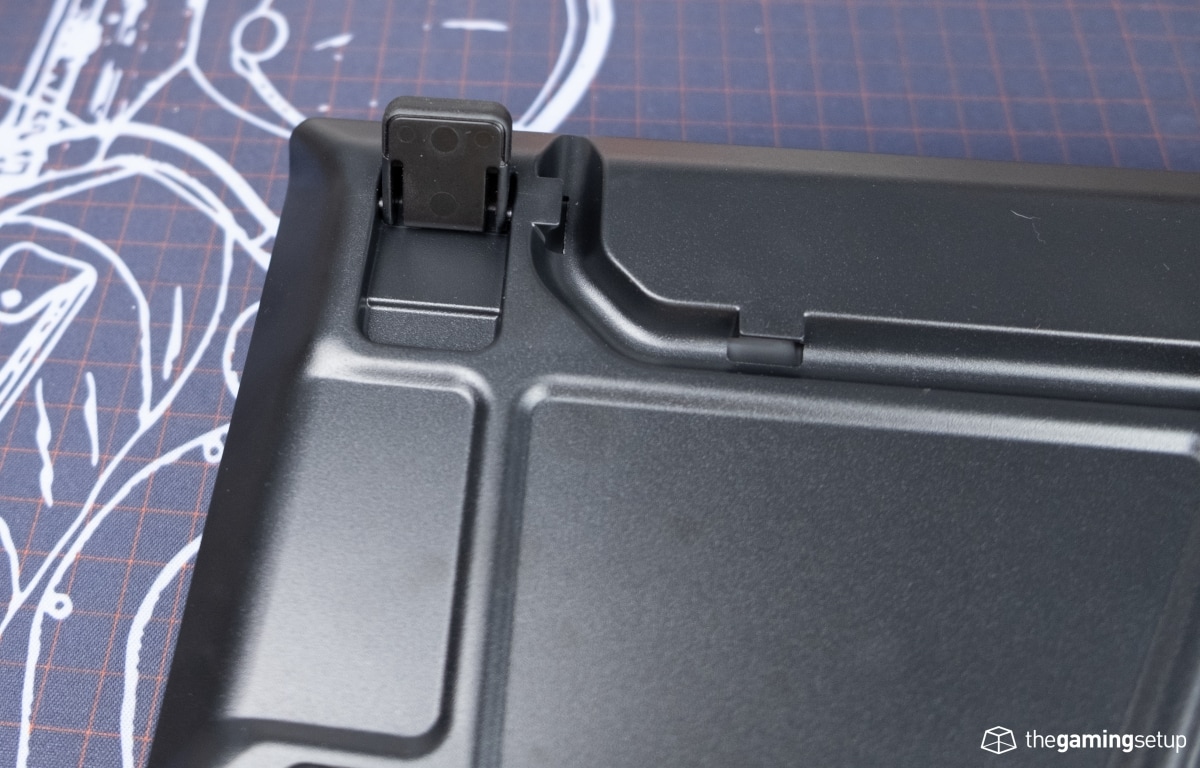 The underside of the keyboard actually has fewer rubber feet than the wrist rest does. The flip up feet are coated with a slightly grippy rubber material but it's not as grippy as the standard rubber feet. This is actually a problem, when pushed the keyboard does slide up and can push the feet closed. The net effect of the weak feet is an unstable keyboard when used with pressure.


The feet are single stage so you have the option of feet up or down, generally, I'd advise to use the keyboard with the feet down to reduce the amount of flex your wrist undergoes to type.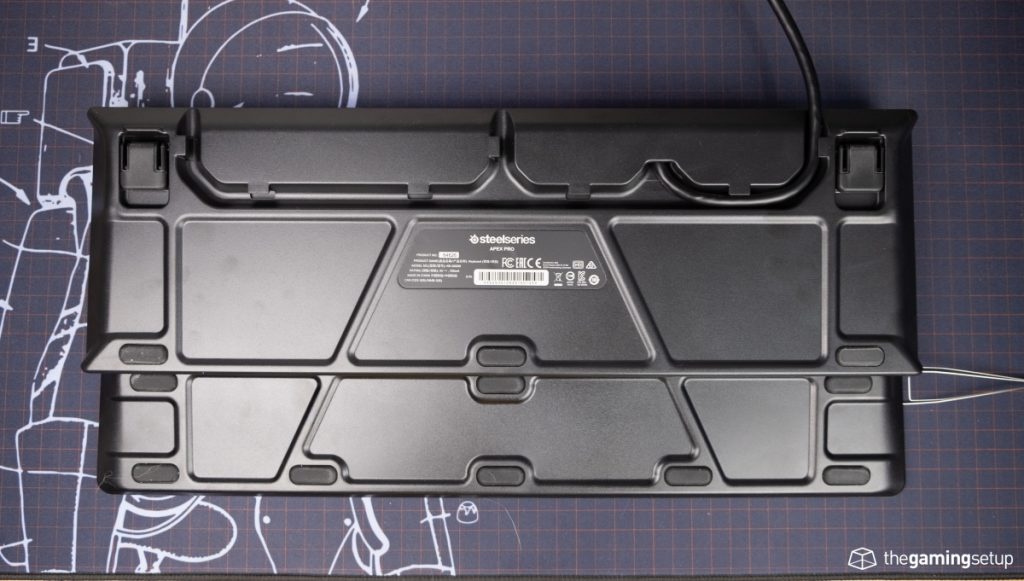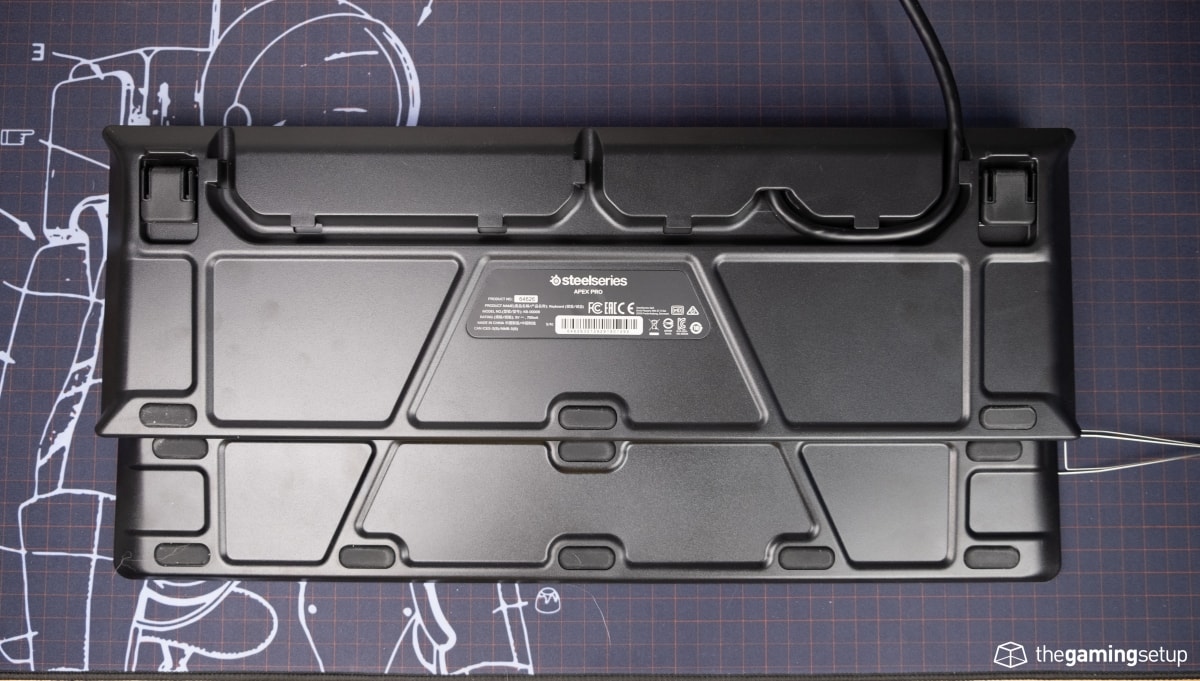 You'll also find 3 cable routing channels for the Apex Pro's thick usb cable, the cable itself is non-removeable and really thick due to the USB type-A pass through.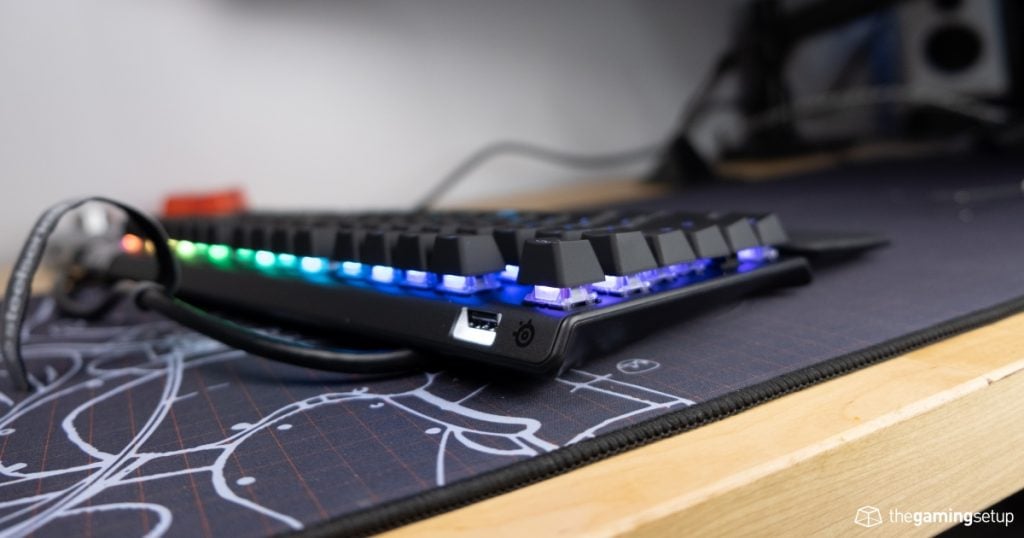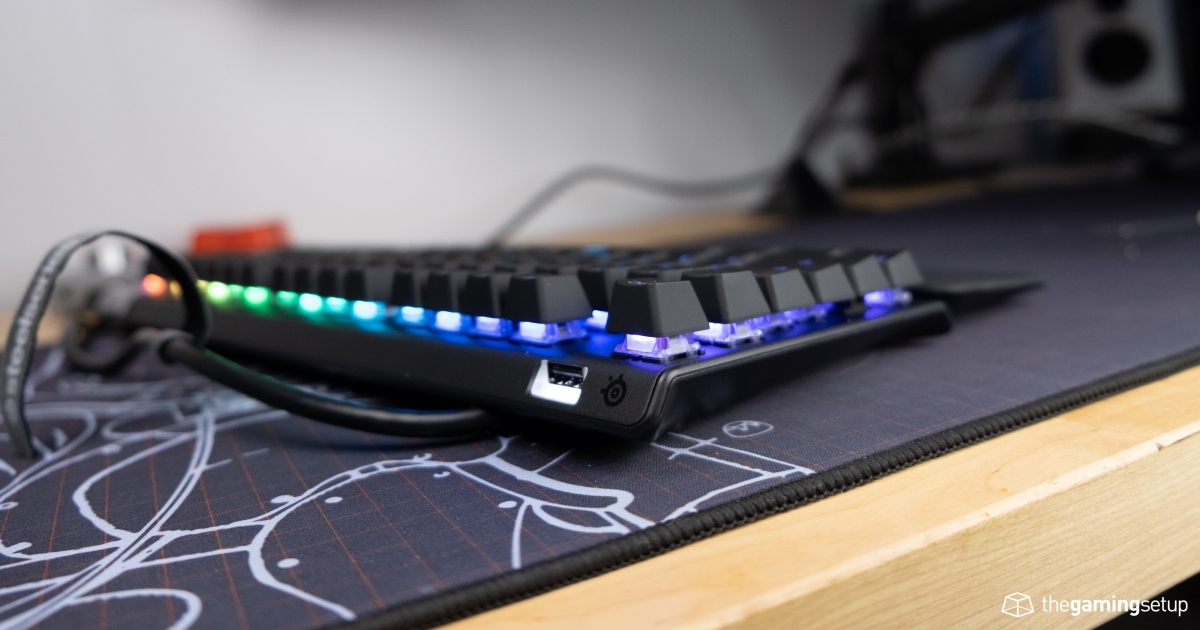 The pass through has a neat white illumination, in case you forget where your pass through port is.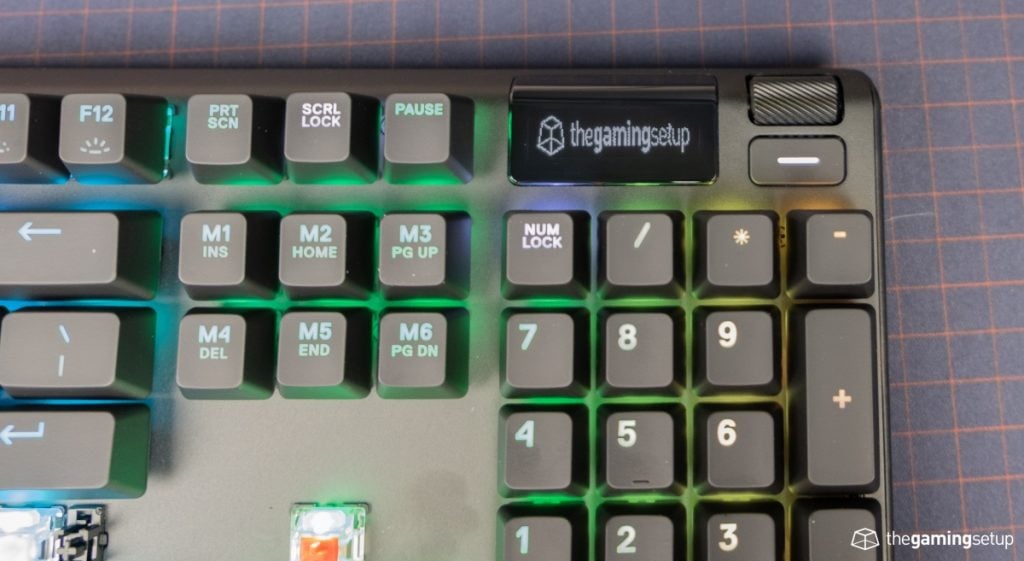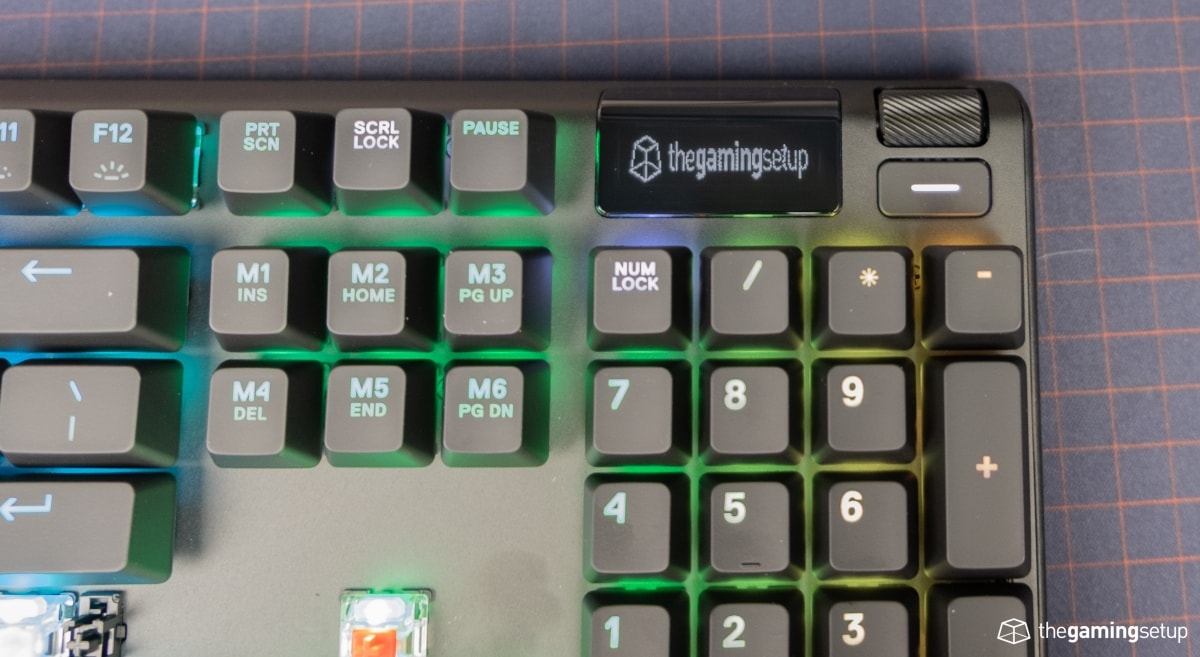 On the top right of the keyboard, you'll find a marquee feature of the keyboard, an OLED display with a media volume wheel and button. The design of the oled and media buttons is quite tasteful, the scroll wheel is made of metal and has a nice diagonal curved pattern that acts as texture. The steps of the volume wheel are distinct with the click being tactile enough, it's not a world changer but its a very solid implementation.
The button acts as a play/pause button as well as a configure button on the keyboard, a long press will open up a menu on the OLED screen where you can select the birghtness of the backlight, the actuation depth, amongst other features.
The OLED screen is black and white only, you can set up your own custom graphic to display and/or have compatible games display stats or notifications in the screen itself. The concept of having notifications on your keyboard never really made sense to me, you're not going to want to look at your keyboard away from your monitor to get critical information in-game.
Lighting on the Apex Pro is fairly standard with per key RGB on each key with no other lighting features on the keyboard.
Switches
This is the most important section of this review, the Apex Pro features what they call Omnipoint switches which are actually renamed Hall Effect switches. I suspect that a lot of the other shortcomings that the Apex Pro is likely a result from spending the budget on implementing the Hall Effect switches and adjustable actuation, was it worth it?
In my opinion, not really, while it is cool to adjust actuation to your preference on a per key basis, once you get it locked in I don't see very many occasions where you would want to switch it. It's likely a better option to get a keyboard with hot swappable switches and arrange switches as you see fit. The shallowest actuation available on these switches is 0.4 mm with the deepest actuation at 3.6 mm.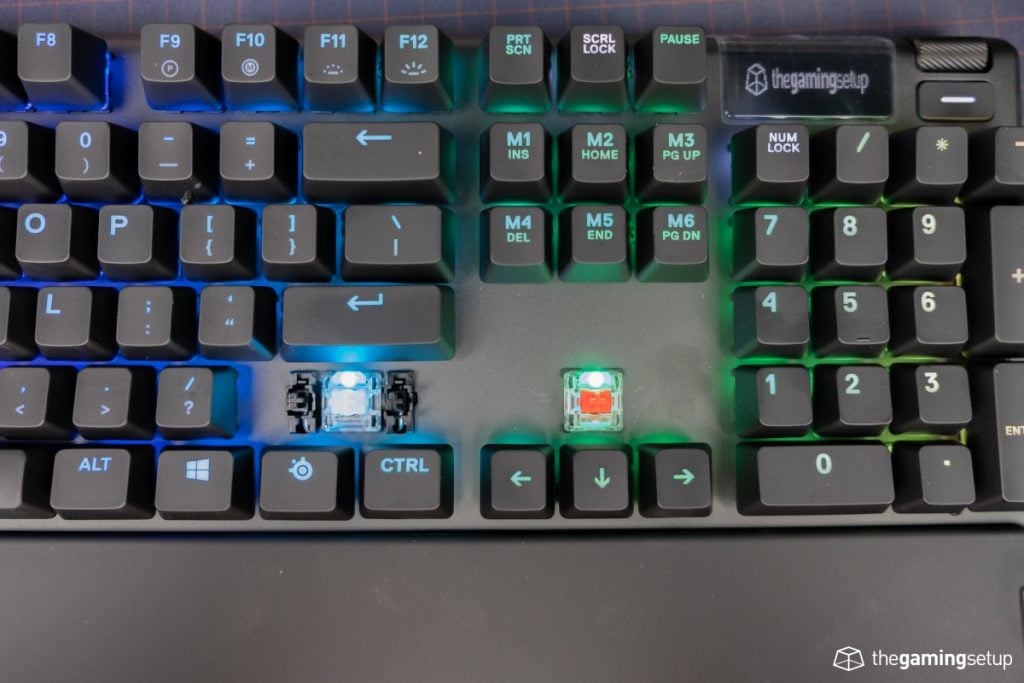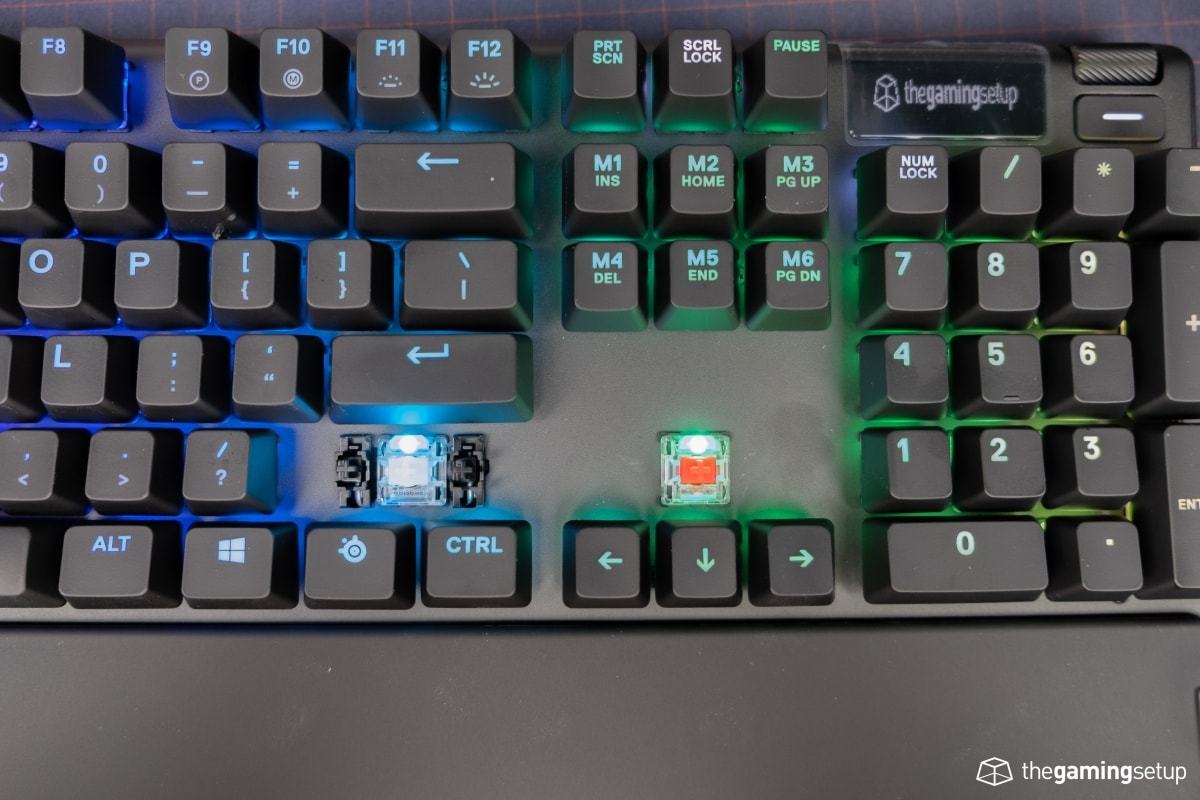 The switches themselves are great, they're linear and super smooth, the weight to bottom out is 45 grams, its similar to a Cherry MX Red switch, but much smoother. If you routinely bottom out while typing or gaming, it's important to note that the bottom out on these Omnipoint switches have a little soft resistance when compared to the flat feedback of a red switch. The Apex Pro actually only has adjustable Omnipoint switches on the primary 61 key cluster, anything past the right control key is actually Cherry MX Red. If you can think of a case where you're going to routinely adjust the actuation point of your switches then the Apex is for you.
The stabilizer feels pretty good, not much rattling or pinging when hammering on the space or shift keys, in general the switch implementation is good with minimal chatter anywhere. The overall sound of the board smooth and quiet, a good option if you want a quiet-ish mechanical.
Keycaps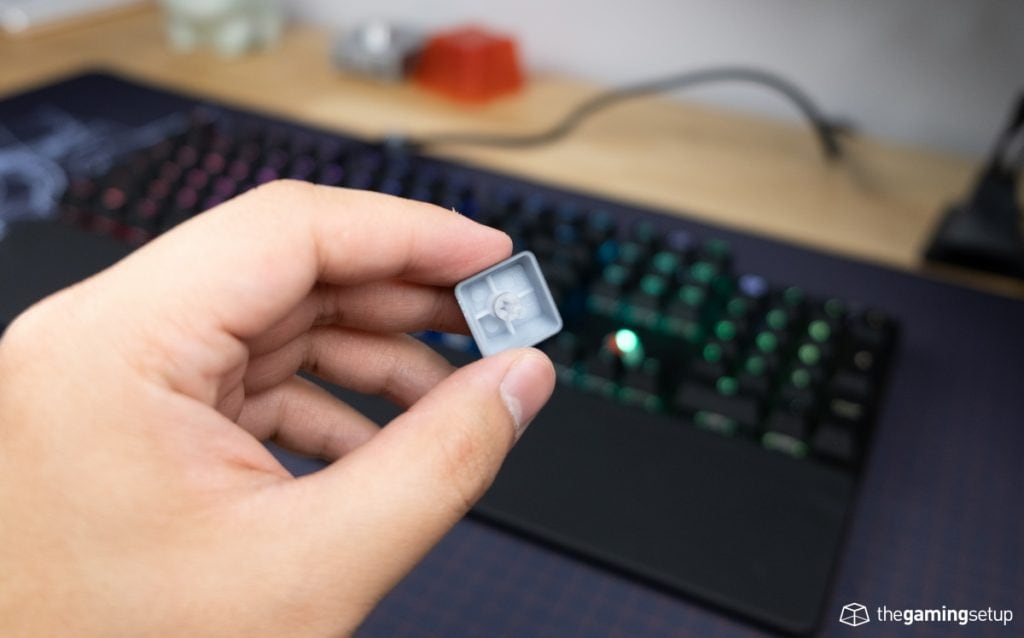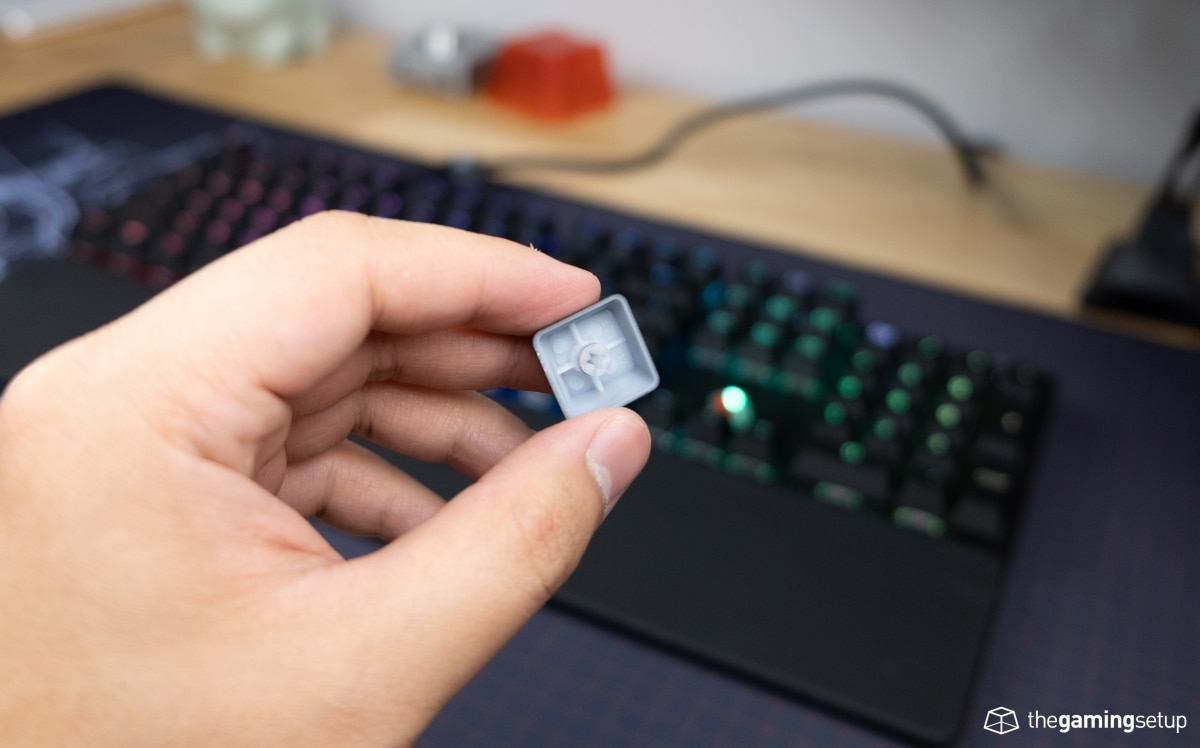 The Apex Pro follows the disappointing trend of big brand keyboards including painted ABS caps. Nothing really more to say, the keycaps on the Apex Pro are very par for the course, they're average ABS thickness, with laser-etched legends on a painted cap. Eventually these key caps will start to develop a shine and feel different.
Fortunately, the bottom row of the Apex Pro is standard, so you can choose to replace the keycaps with whatever custom set you wish.
The Apex Pro does not come with special WASD keycaps or a keycap puller.
Features & Software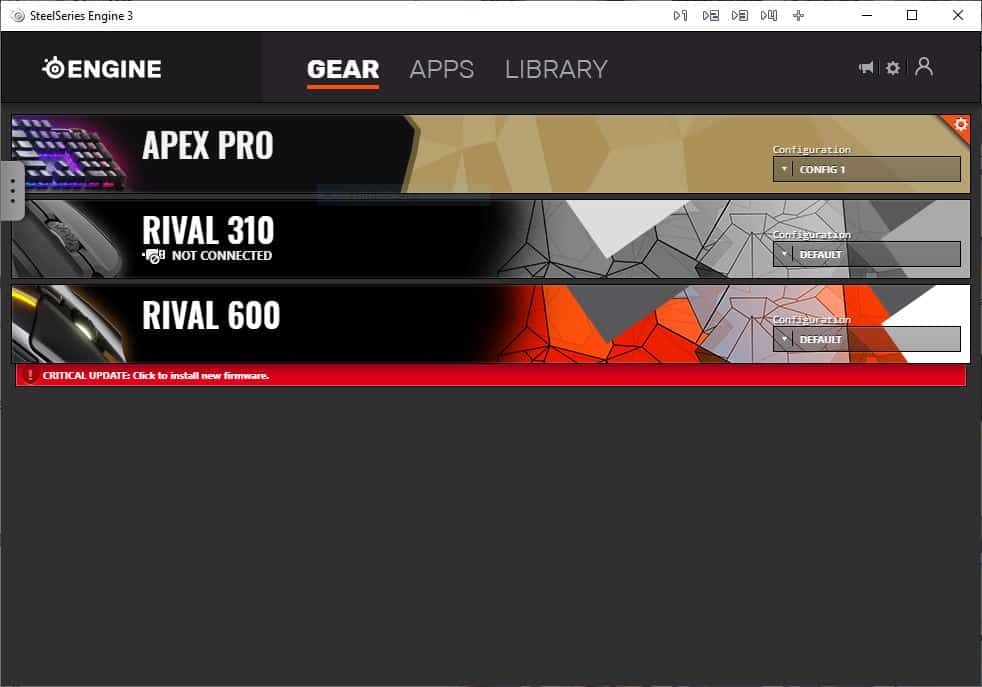 The Apex Pro uses Steelseries Engine, you can download Steelseries Engine here: https://steelseries.com/engine
The software is good, allowing you to make several customizations with an intuitive UI, you can store up to 5 profiles on the Apex Pro.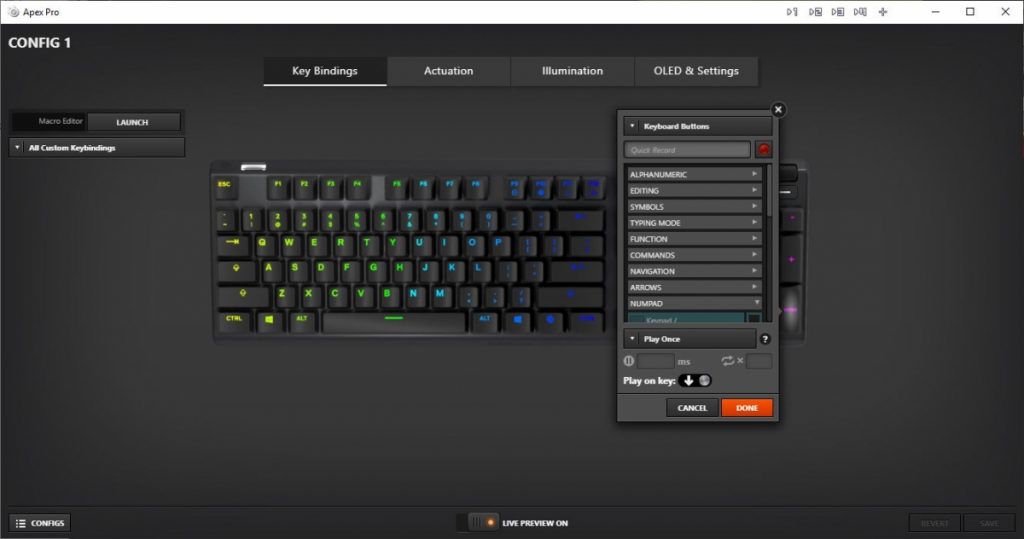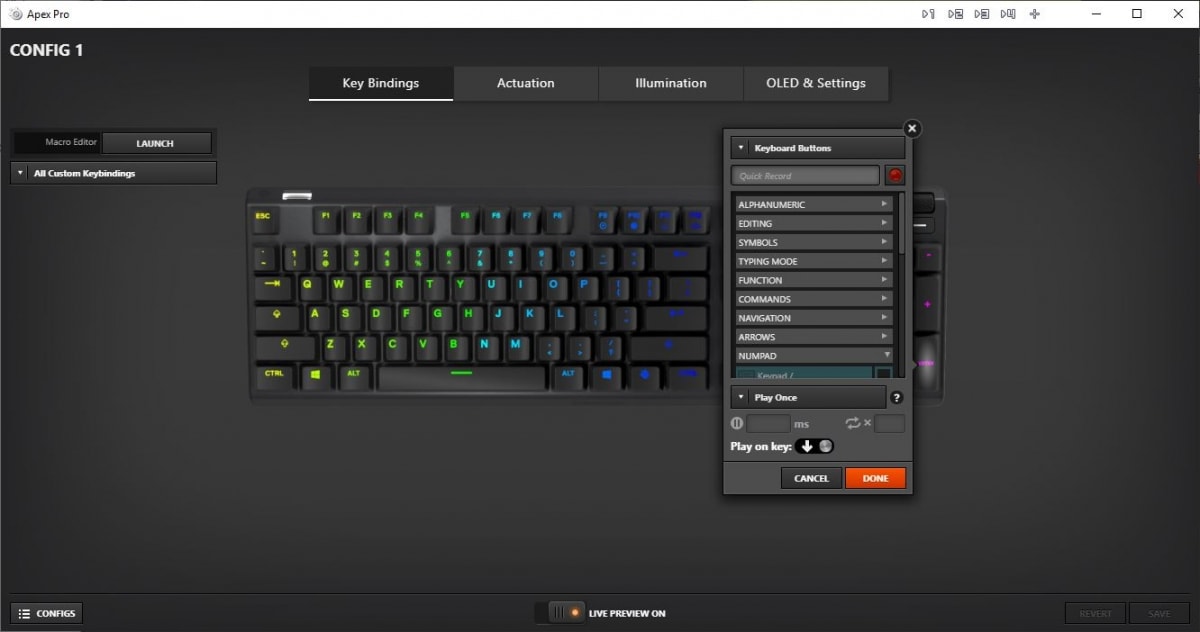 Steelseries Engine allows you to do some pretty standard key bindings. There isn't any layer functionality here, you can remap any key to any other key or a macro recording.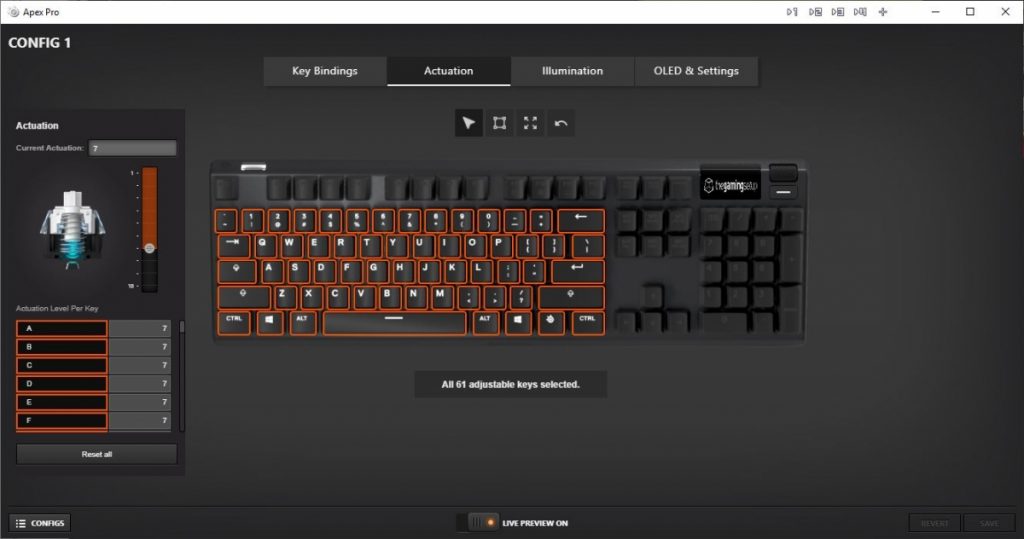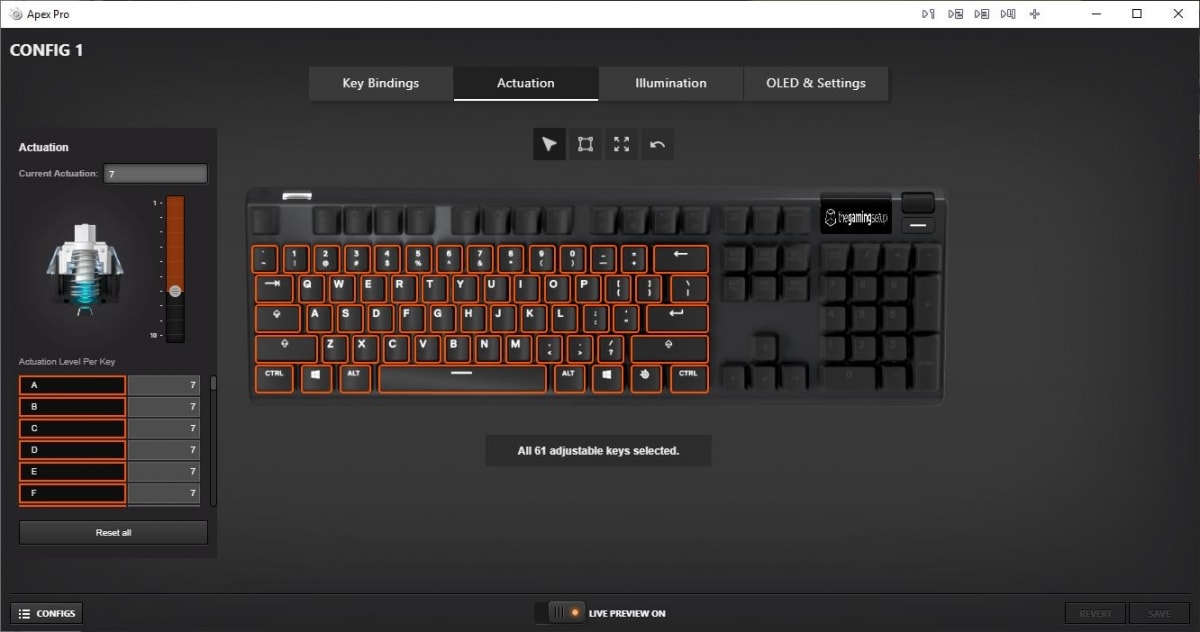 As mentioned, you can set the actuation on the primary cluster of keys, I find it really strange that the actuation is on a 1-10 scale instead of using actual distance measurements to have a comparison point, the range on the Omnipoint switches are as low as 0.4 mm to 3.6 mm, for comparison, the most common actuation point is 2 mm.
Assuming a setting of 10 is 3.6 mm and 1 is 0.4 mm, here is my guess what the numbers represent in terms if actuation distance.
0 setting: 0.4 mm
1 setting: 0.7 mm
2 setting: 1.0 mm
3 setting: 1.3 mm
4 setting: 1.6 mm
5 setting: 1.9 mm
6 setting: 2.2 mm
7 setting: 2.5 mm
8 setting: 2.8 mm
9 setting: 3.2 mm
10 setting: 3.6 mm
These estimation are not scientific at all, unfortunately you'll just have to go with a number and see how it feels to you.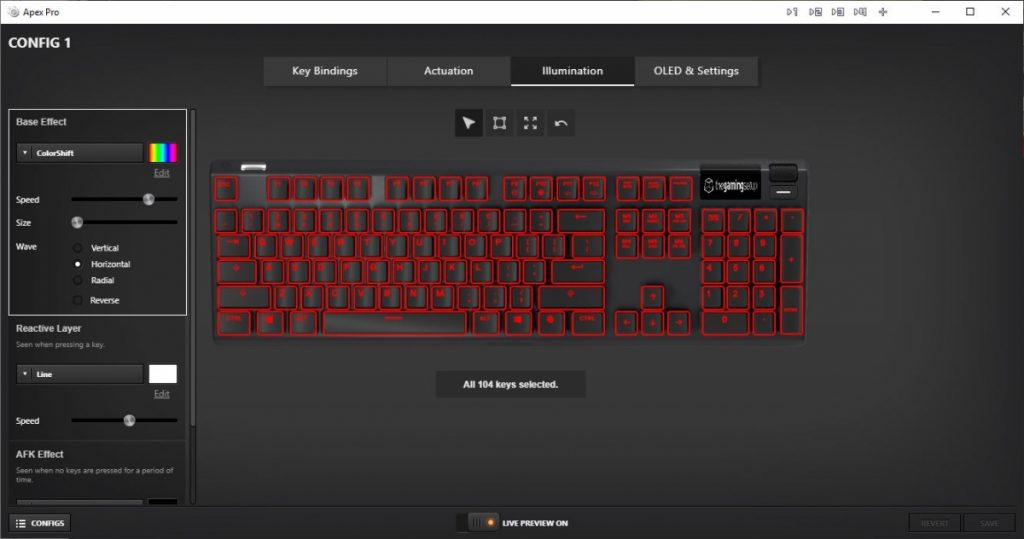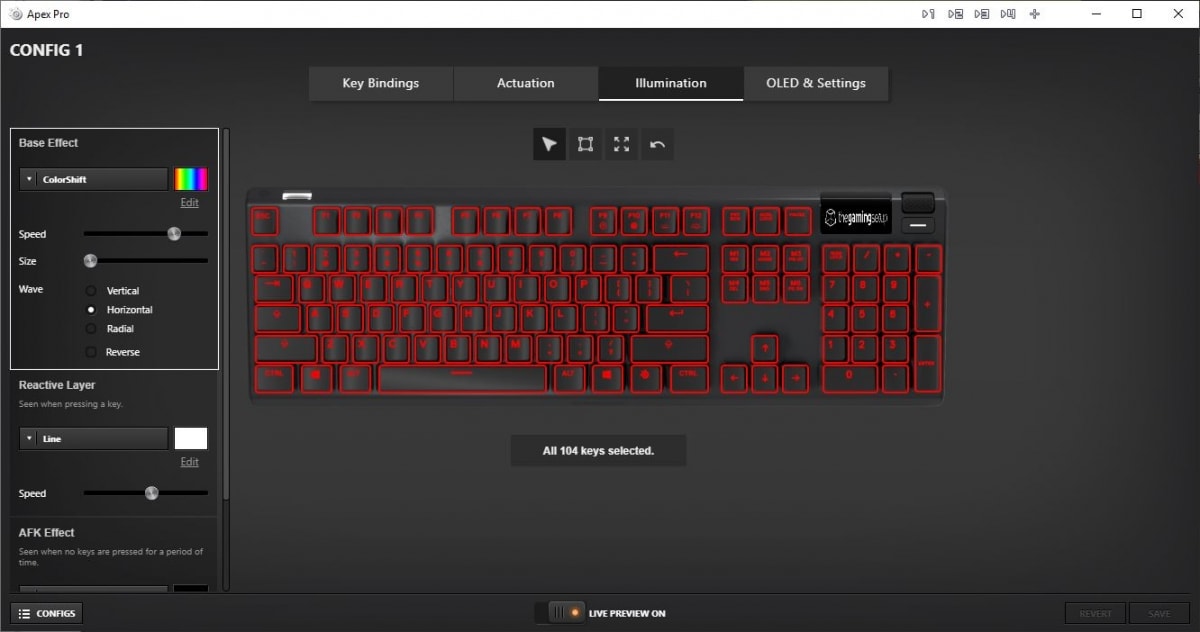 Lighting settings are easy and intuitive to set up in Steelseries Engine. Here are two main settings for the Apex Pro
Base Effect
Single color
Colorshift
Gradient
Breate
Reactive Layer
You can adjust both effects' speed and size.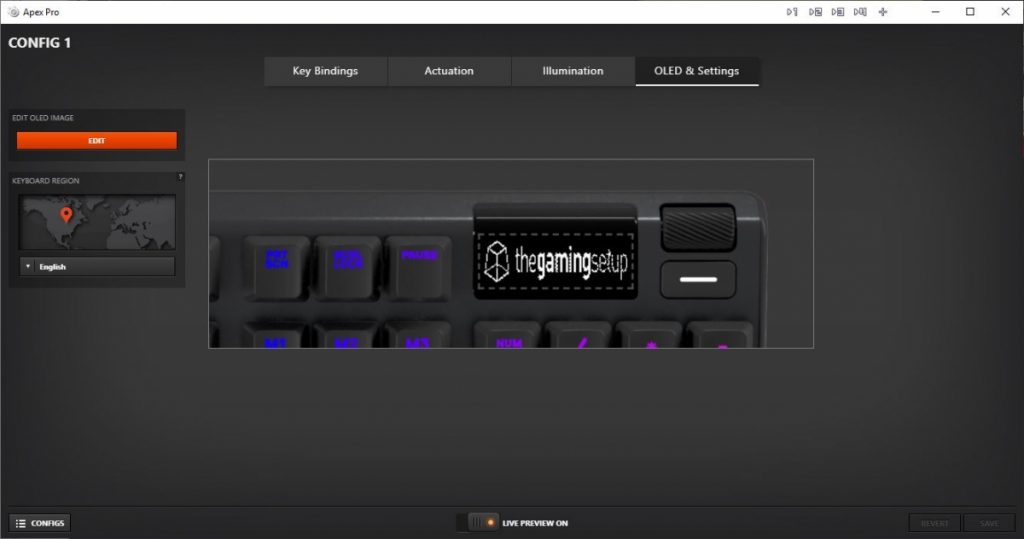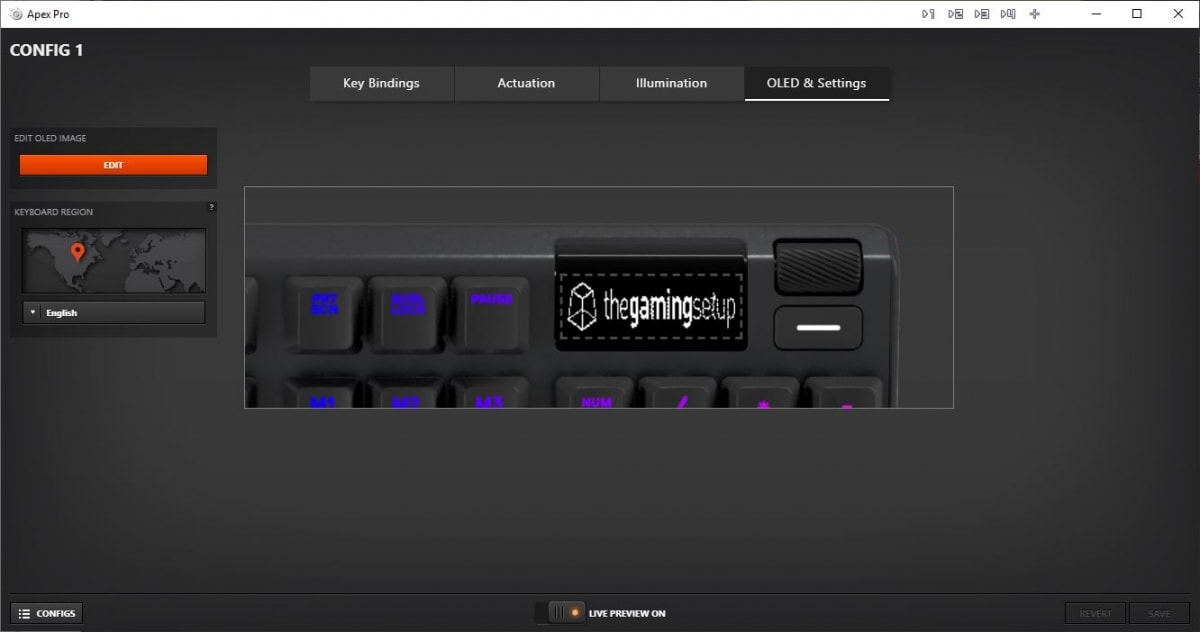 Lastly, you can upload gifs or jpgs into Steelseries Engine to display a graphic on the OLED. Any gifs that are used will play in 10 FPS, neat!
Warranty and Reliability
Steelsereies keyboards have a 1 year warranty in North America and a 2 year warranty in EU.
Read more about their warranty here: https://support.steelseries.com/hc/en-us/articles/221391568-What-does-my-warranty-cover-and-how-long-does-it-last-
Value & Conclusion
The flagship keyboard from Steelseries is a keyboard that packs a ton of new tech that does lack a little bit in the fundamentals of what I think makes a good keyboard. In comparison with other big brand flagships, the Razer Hunstman offers optical switches with a much better build quality at the same price, although it does lack the actuation customization.
If you really like the idea of customization actuation distance on the fly or have a really neat use for a keyboard display, then the Apex Pro is one of the few keyboards that have that combo of functionality.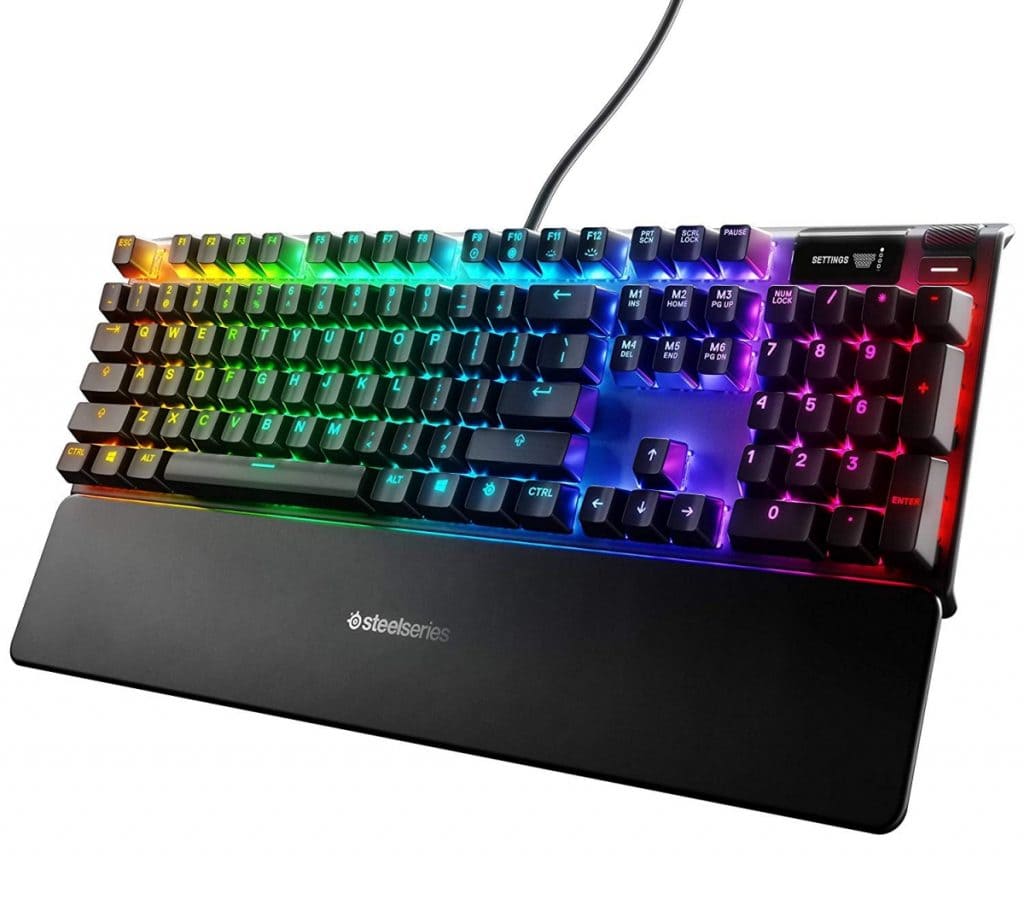 The Steelseries Apex Pro packs customizable switches and OLED in an okay overall package.
See Price on Amazon