Review unit provided by Epomaker
There seems to be a large bevy of budget 60% keyboards out there with budget pricing with slight differences between them. The Epomaker AK61 is an update on the popular SK61, the AK61 features hotswap sockets for Gateron Optical switches, wireless connectivity and a unique key cap profile.
And while some differentiation is nice, it doesn't mean it's good. The AK61 does some things well but cheaper boards like the Royal Kludge offer a better overall package for a lower price.
Unique 60%
A neat 60% keyboard that ultimately should only be for people certain they want Gateron Optical switches and XDA keycaps.
See Price on Amazon
Pros
Unique switch options
PBT dye sub key caps
Bluetooth 5.0 option and USB-C Connectivity
Hotswappable with Gateron Opticals
Cons
Caps are not shine through
Really loud keyboard, rattley echoey
Poor stabilizers
What's in the box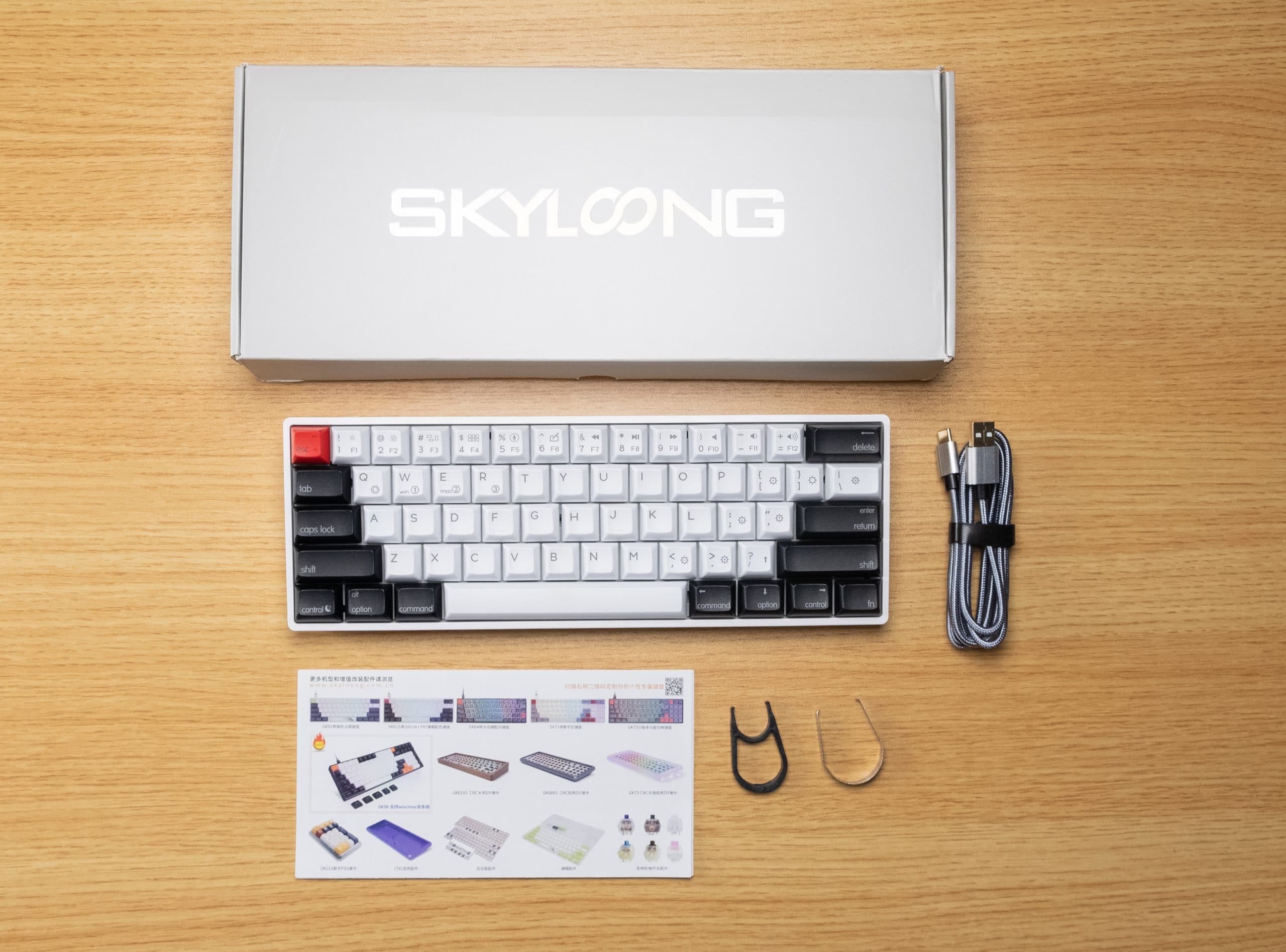 The Epomaker AK61 comes with a standard set of goodies in the box:
Plastic keycap pulled: not the best inclusion, these style of cap pullers can scratch your keycaps
Metal switch puller: the AK61 is hotswappable with Gateron Optical switches, this allows you to easily remove the existing switches
Braided USB-C cable: A high quality USB-C cable with metal braiding
Manual: A pretty streamlined manual
Windows keycaps: The mac caps are on this keyboard by default
Switches & Stabilizers: Mixed Bag
I got the Epomaker AK61 with Gateron Optical Blue switches and boy is it LOUD. The case of the keyboard is pretty hollow and produces quite the echo.
The AK61 is a hot swappable keyboard with compability to Gateron Optical switches only. The Gateron Optical switch colours coincide with the standard Cherry colours:
Reds are linear
Blues are clicky
Browns are tactile
Blacks are a stiffer linear
Gateron Optical switches rely on a beam of light rather than a metal leaf to actuate. Because of the laser beam actuation, theoretically the optical switches could have a better response time and because there's no metal leaf, there's less friction in linear switches. This is the same concept of switch found in the Razer Huntsman line of keyboards.
Optical switches in reality behave similarly to standard switches, they're generally cheaper than standard switches but have less compatibility with standard keyboards. I like Gateron optical switches, and I would recommend them as long as you know you like one of their switches as choice is limited.
As always, you can refer to our switch chart for full comparisons.
The Gateron Optical Blues in the AK61 deliver in the clicky department, they don't feel too different from standard blue switches.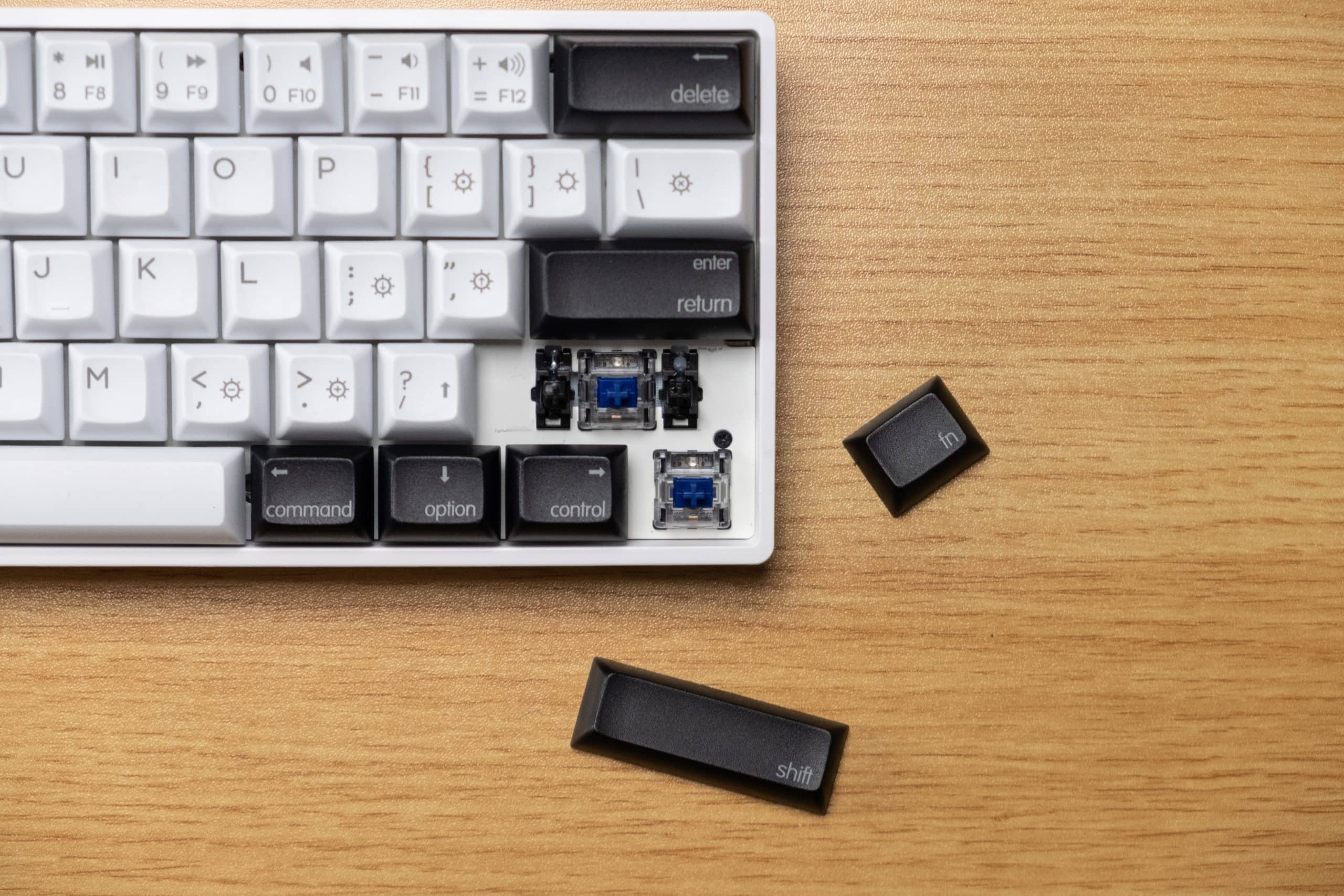 The stabilizers on the AK61 leave a lot to be desired, the stabilizers show a decent amount of wobble and general looseness and that results in chattery keys.
All of this noise is made worse by the echoey case, definitely a top contender for some foam inside the case.
PBT and Dye Sublimated Keycaps with a Unique Profile
which is
The keycaps on the AK61 are made of PBT plastic with dye-sublimated legends, the caps will resist shiny wear and the legends should be pretty durable against rubbing off.
The profile of the keycaps are unique, instead of a standard OEM or Cherry profile, the AK61 caps have a GK profile, which is basically an XDA profile. The XDA keycap shape is quite different from a standard OEM and Cherry, it's a lot flatter and curved/sculpted. Typing into an XDA keyboard is definitely an adjustment, I felt like I was mistyping because the surface area of every key is just so much bigger than what I'm used to. Drop has an excellent detail on XDA keycaps.
60% Design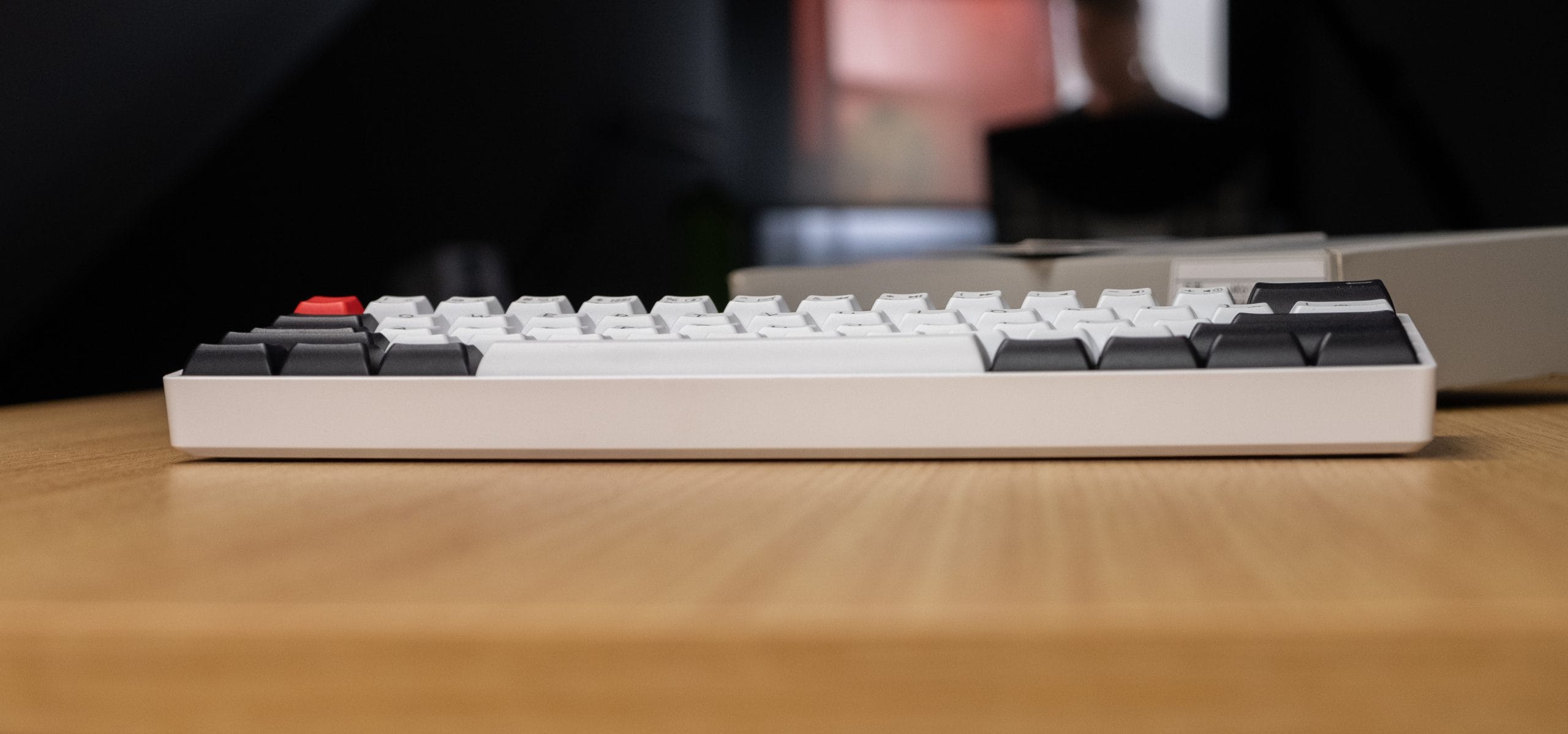 The Epomaker AK61 has a simple 60% design, meaning it has no F keys, arrow keys or numpad. The 60% layout is great for gamers who want to keep a small foot print and optimize space for their mouse.
There's no specific flourish or design element that makes the AK61 unique, it's just a competent by the numbers case. There are no colour variations for the AK61, it comes in one colour, white with the black and white keyaps.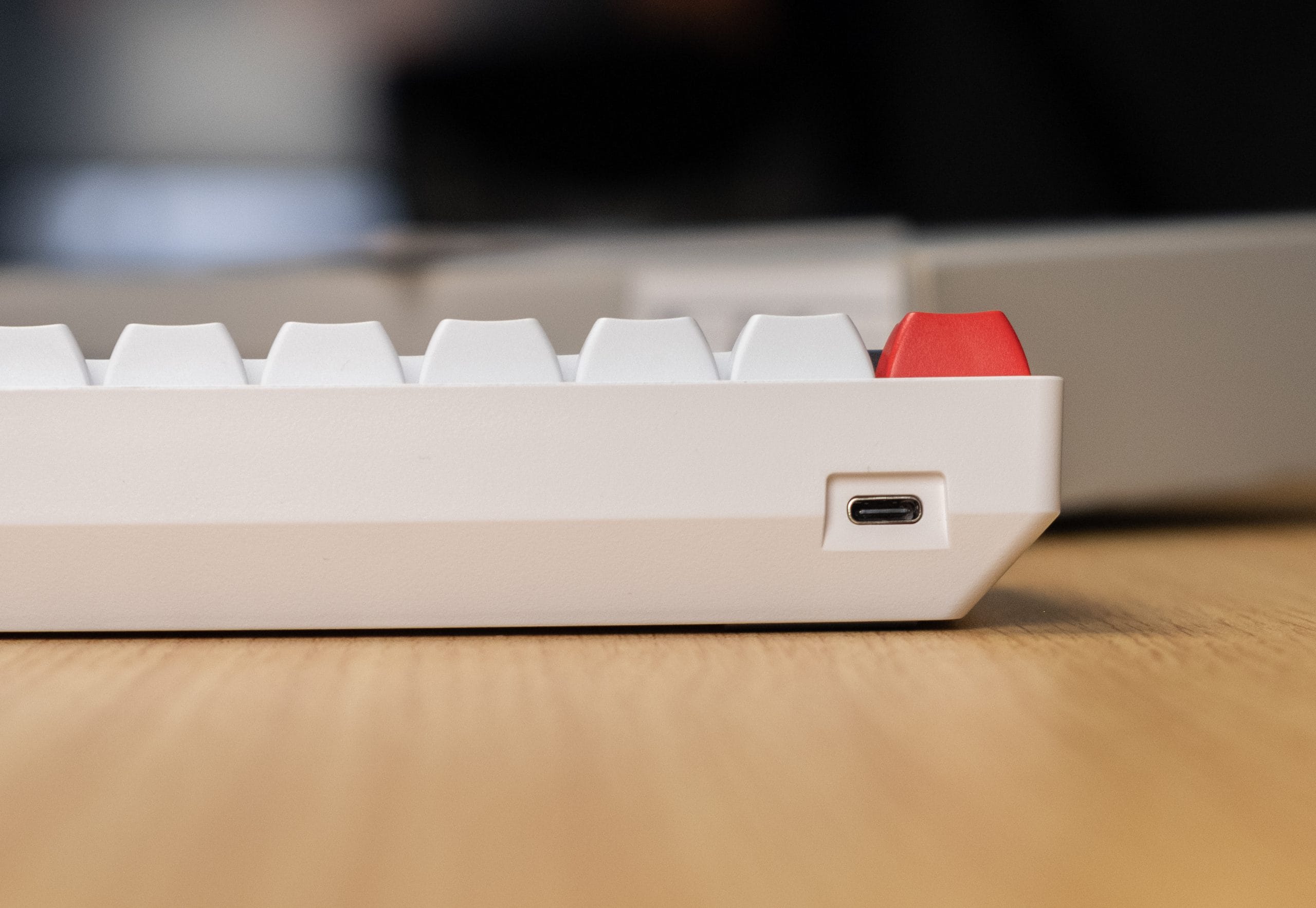 The top of the keyboard features an easy to access USB-C port on the left-hand side. Compatibility should be perfect with any USB-C cable of your choice.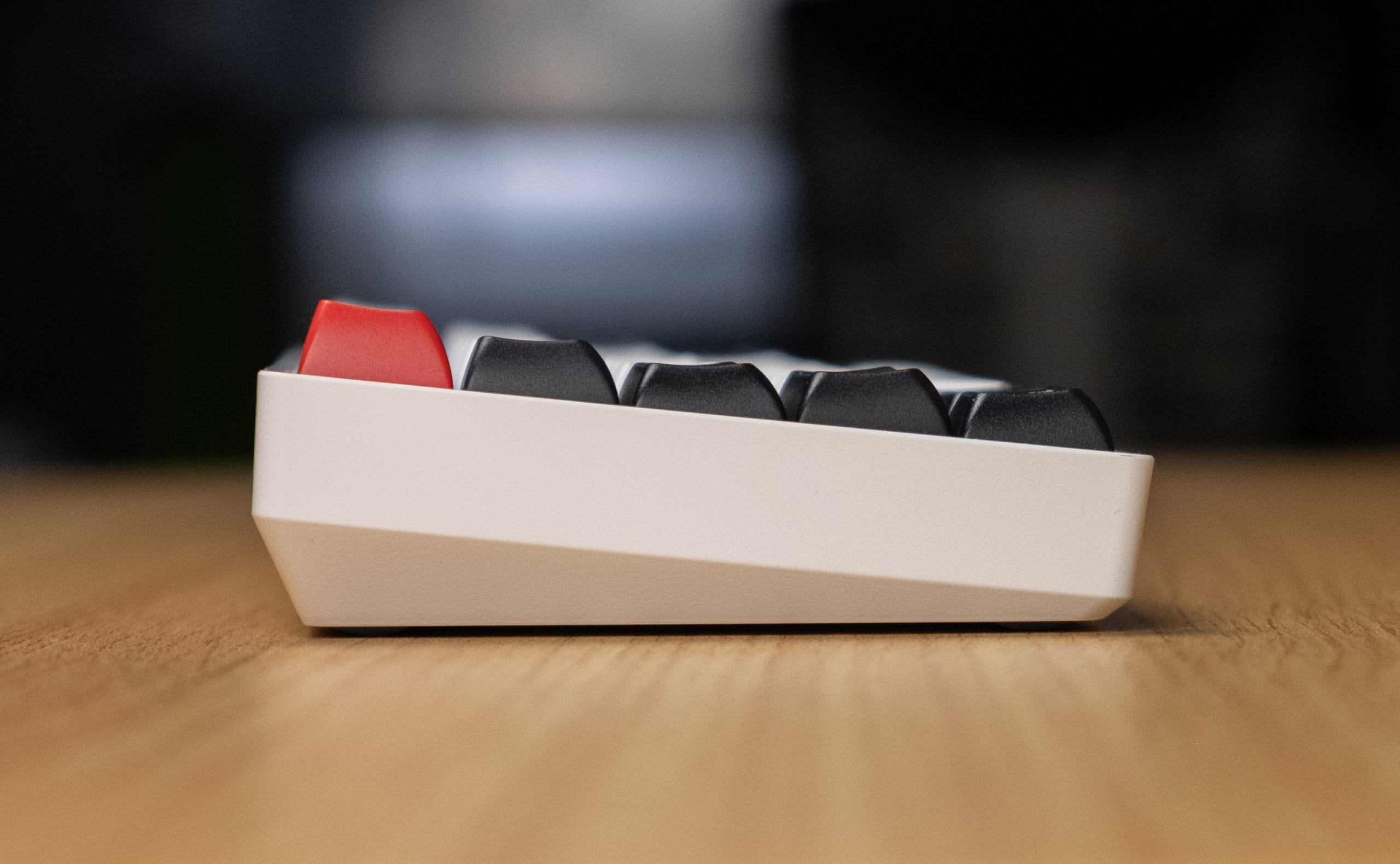 The Epomaker AK61 has a simple bevel on the side of the case to raise the keyboard to a standard typing angle.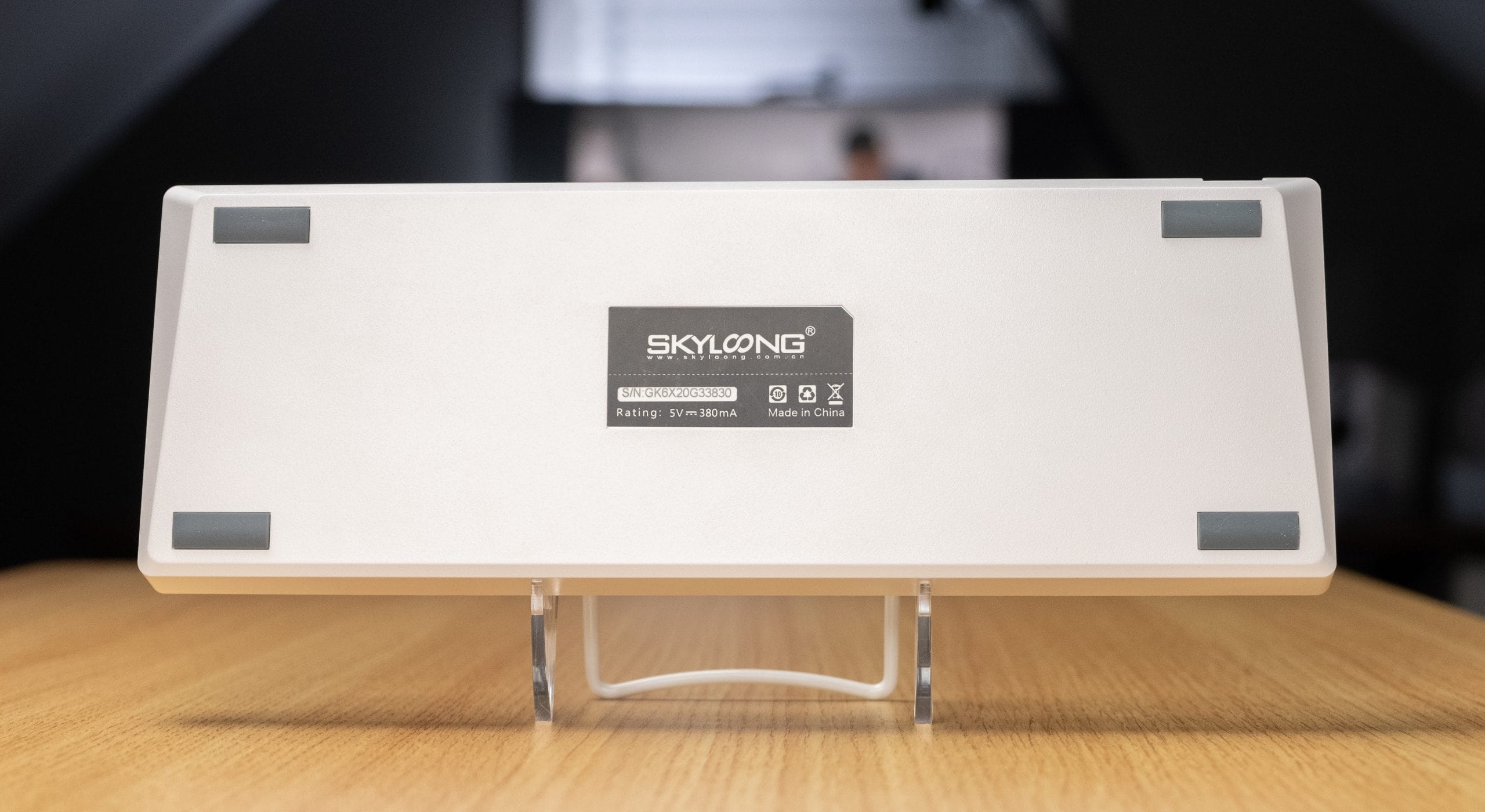 4 rubber feet corner the back of the case, no adjustable height settings here.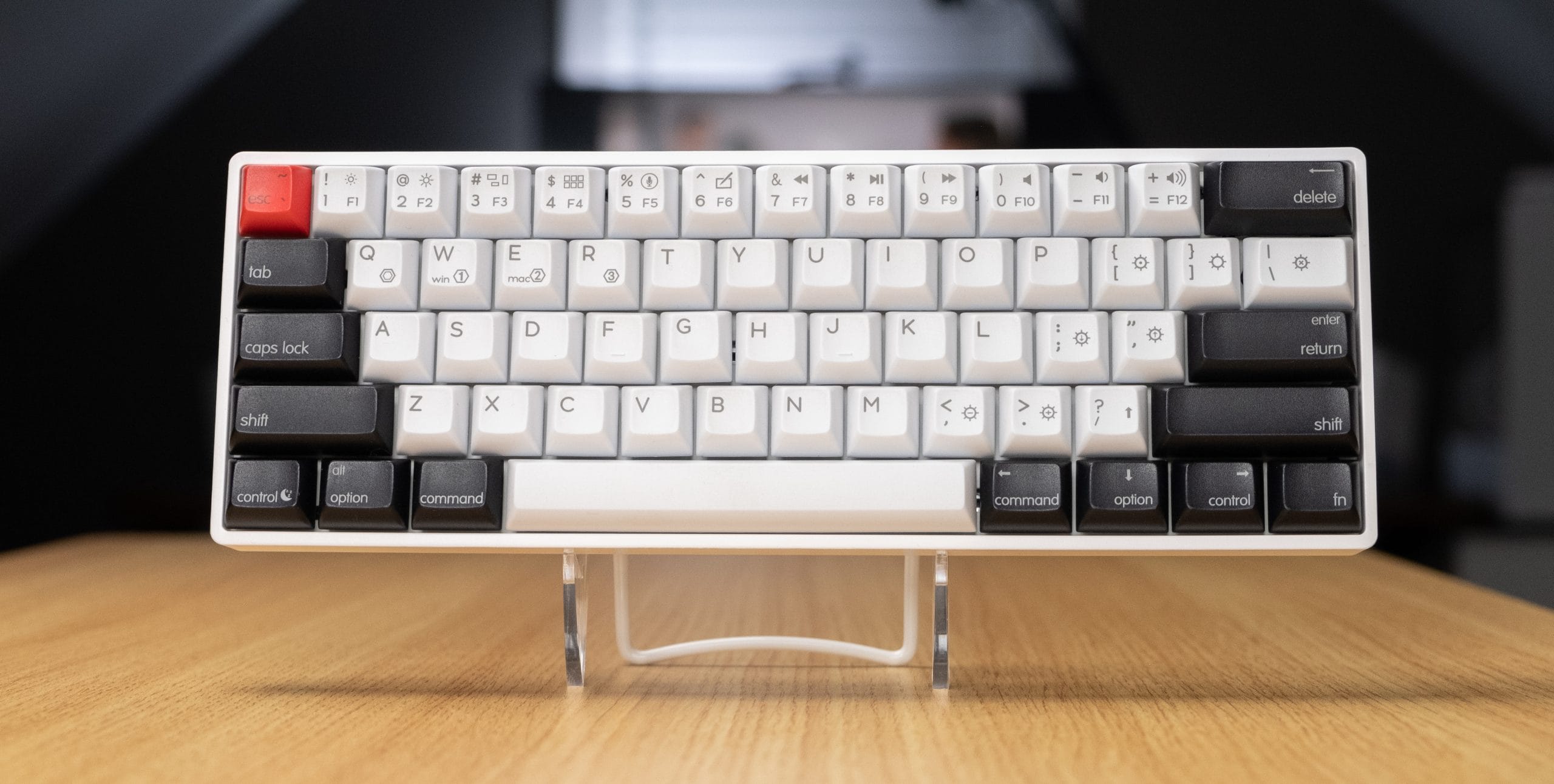 Good Build quality
Despite the keyboard being an all plastic construction and only weighing 768 grams, the keyboard feels solid. There's minimal creaking and flexing when I treat it badly.
The stabilizers are another story though, they're not installed firmly and I would be worried about these stabilizers getting even more rattley over time, after market lubing definitely recommended.
Versions of the AK61
There are two versions of the AK61.
AK61
The AK61 is the standard wired USB-C version of the keyboard
AK61S
The AK61S has wireless Bluetooth 5.1 capability as well as wired USB-C.
Both versions have the same access to switch types.
Epomaker Ak61 Software and Documentation
There are a couple of onboard functions for the AK61:
FN+E toggles the keyboard between Windows and MACmapping, this moves the command or windows key to the proper spot on the keyboard
Press FN+R, R white light will turn on, and then you are in onboard layer-3 to customize your keyboard; press FN+R again to back to normal keyboard
Press FN+W, W white light will turn on, and then you are in onboard layer-1 to customize your keyboard; press FN+W again to back to normal keyboard
Warranty & Reliability
If you get the keyboard from EpoMaker the Akko 30 comes with a 12 month warranty, as per the manual.
Tech Specs
Epomaker AK61
Length: 29.2 cm / 11.50 inches
Width: 10.4 cm / 4.09 inches
Height: 4.5 cm / 1.77 inches
Case: High profile, Plastic Case
Weight: 768 grams
Keys: 60 keys
Cable: 2m detachable USB Type-C
Keys & switches
Switch options: Gateron Optical Black, Gateron Optical Blue, Gateron Optical Brown, Gateron Optical Green, Gateron Optical Red, Gateron Optical Yellow
Keycap material: PBT
Keycap legends: Dye Sublimated
Keycap profile: GK1 Profile
Media keys: Under function layer
Backlight: Full RGB
Software: No
Conclusion
The Epomaker AK61 has a great form factor and good switch options going for it at a very reasonable budget prices. At $65 USD for the wired and $75 for the wireless, it costs more than the Royal Kludge, for me, the price difference for the optical switches is not justified.
Get this keyboard if you're looking for a budget 60% and you definitely know you want optical Gateron switches and you know you like the XDA profile.