The Logitech G303 Shroud Edition is a collaboration with popular gaming streamer Shroud, and it's back with some cool updates. So, let's dive in and see if this unique diamond-shaped mouse is worth your hard-earned cash.
The Logitech G303 Shroud Edition costs $129 and offers a lot of the top-end tech. Let's find out if it can beat the Logitech G Pro X Superlight as the next best wireless mouse.
Pros
Improved primary buttons
Large PTFE mouse feet
Excellent build quality
Fantastic sensor with low latency
USB-C charging
Cons
Experimental shape, not suited for palm grippers
Slightly slippery texture
Awkward side button accessibility
Dimensions
Length: 11.7 cm / 4.61 inches
Width: 7.0 cm / 2.76 inches
Height: 4.0 cm / 1.574 inches
Weight: 75 grams
Shape: Ambidextrous
Buttons: 5 + DPI
Specs
Sensor: 25K Hero Sensor
Buttons: 20M Omron
Polling Rates (Hz): 125/250/500/1000 Hz
DPI: 50-26,000
Software: G Hub
RGB: No
Cable: USB-C to USB-A Braided
Battery Life: 145 hours
Shape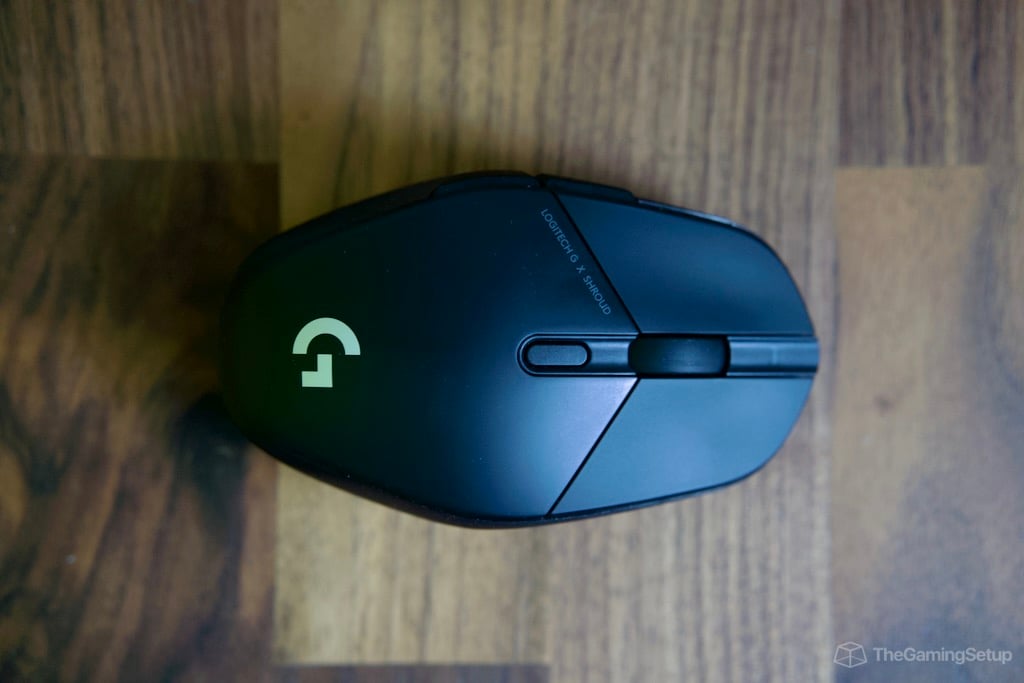 This is basically the entire review.
The G303 has a unique diamond-like shape, which people either love or hate. It's actually quite hard to compare this mouse with other mice since it feels so different.
The shape has been tweaked from the OG G303, with a longer length, wider base, and higher hump compared to the old version.
The G303 is a pure claw grip mouse through and through. The mouse has a prominent rear bump, making it ideal for filling in your palm while claw gripping.
The middle and front of the mouse slope downwards aggressively, allowing for an ideal claw grip for your fingers. I felt like the mouse was locked in place when clawing.
The sides of the mouse are also love or hate, it has some aggressive angles that might not prove comfortable if you have a smaller hand.
If you're a hardcore claw gripper, this is a mouse to consider, but for palm and fingertip, move on.
Design & Materials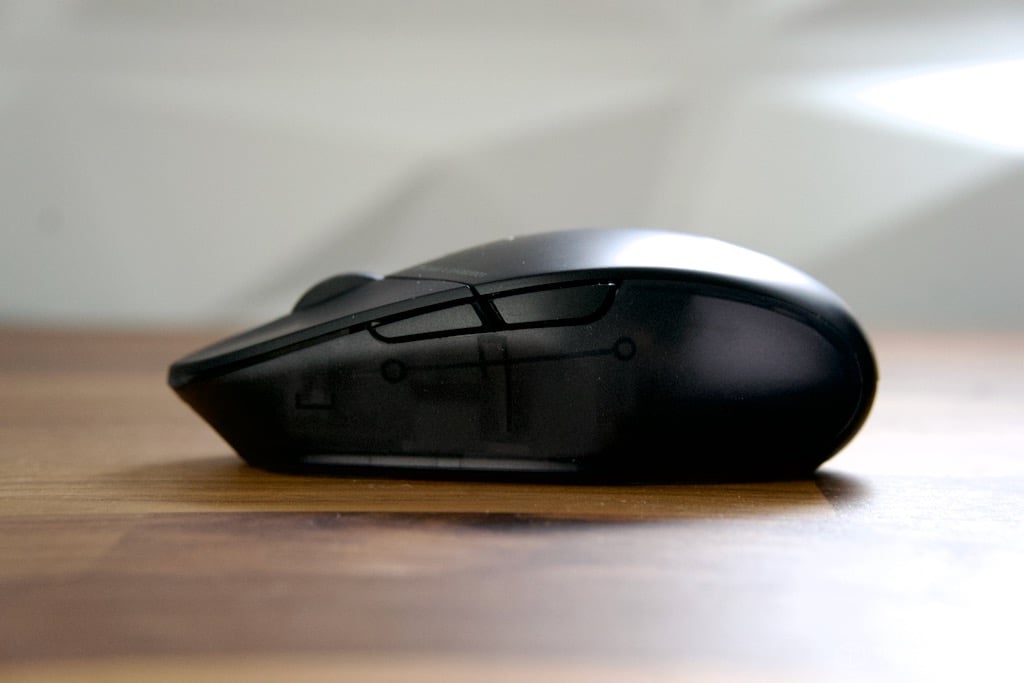 The G303 Shroud Edition is an upgraded version of the G303 Daedalus Apex. It's got a similar design, but with some 2022-worthy updates.
The most noticeable change is the weight reduction – the new G303 weighs only 75g, while the old version weighed 113g. It's wireless and more durable, too.
The outer shell is made of a matte coated plastic, like other Logitech mice. It's smooth and durable, but it can attract fingerprints and feel slippery if your hands are dry.
The G303 is completely wireless and uses Logitech's flawless Hero 25K sensor. It charges via USB-C, replacing the much hated micro-USB port.
Another new addition to the G303 is the dongle compartment near the back of the mouse. It features a magnetic drawer that slides in and out quite easily by just using your fingernail and the compartment snaps back in place flush with the mouse.
Build Quality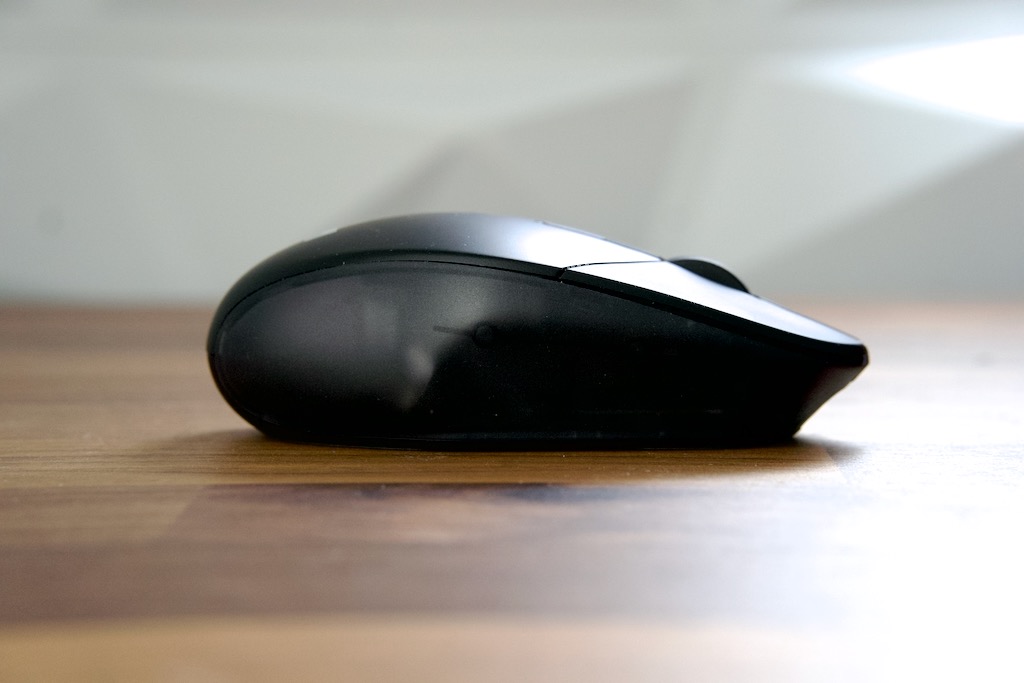 The overall build quality of the G303 Shroud Edition is top-notch. There's no flex or rattling, and the buttons have minimal pre-travel and no double-click issues.
Wireless Performance
The G303 uses Logitech's Hero 25K sensor, a top-end sensor which offers low latency and no lag or jitters.
The battery life is fantastic – 145 hours of constant usage. That's more than double the G Pro X Superlight's 70-hour battery life!
Buttons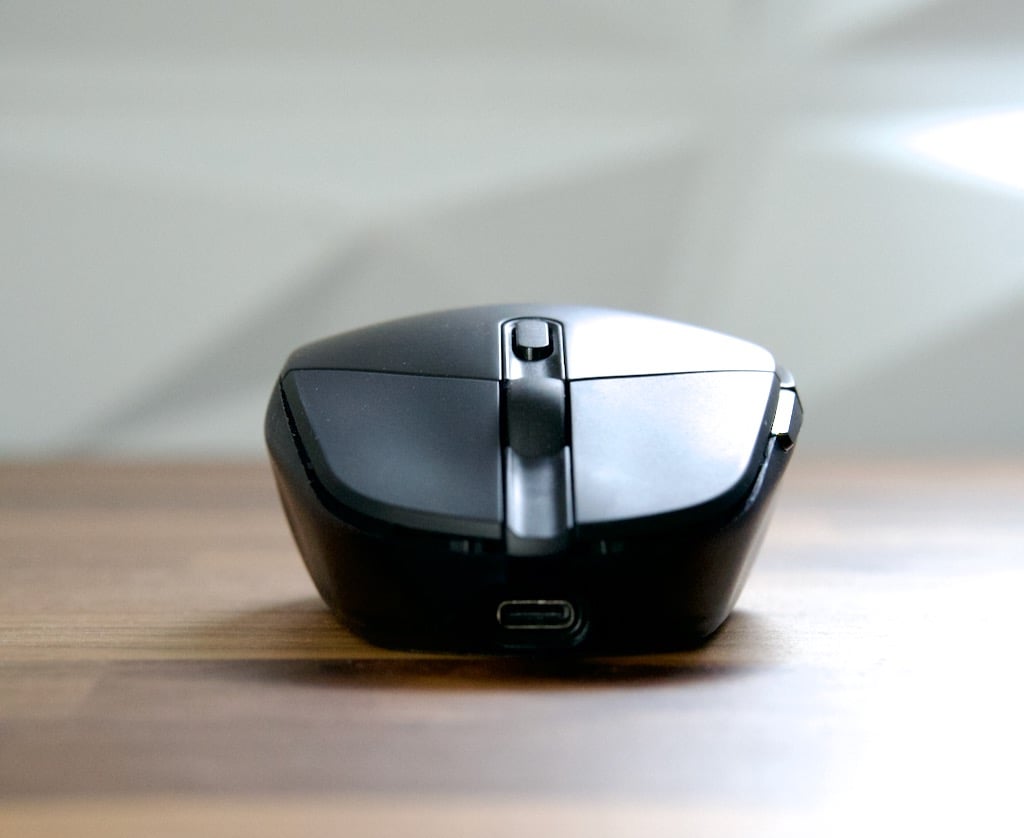 The G303 uses the same Omron 20M switches as the G Pro X Superlight on the main mouse clicks. These feel light to actuate and have a crispy feeling to them that is great while gaming.
The side buttons are tactile and quick, but the top side button is difficult to reach and uncomfortable to press while using the G303.
Mouse Wheel
The mouse wheel is wrapped in a smooth rubber that is slightly grippy and easy to use. Scrolling with the wheel feels slightly heavier than other mice and sounds a bit loud.
Each step of the scroll wheel has defined, tactile steps to it that feel good and perform well. The middle mouse click is satisfying and easy to click, with very little wobble and a well-built construction.
Mouse Feet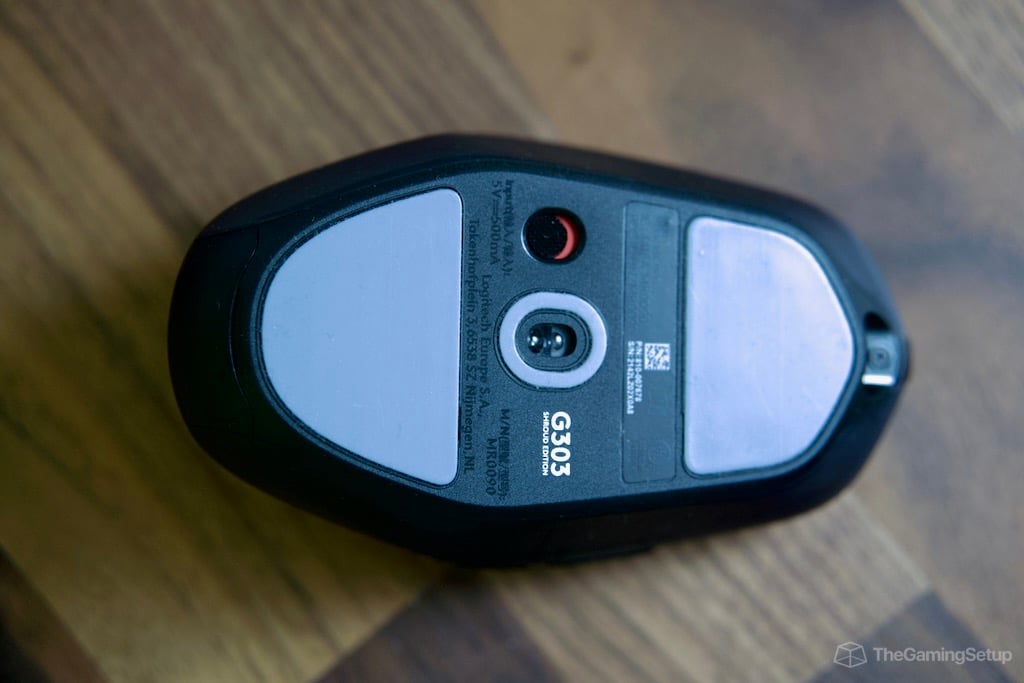 The G303 mouse feet are made of virgin grade PTFE pads. They produce no scratchiness on the mouse pad and provide a very smooth glide. There are 3 individual feet; 2 large pads on each end of the mouse and 1 around the sensor.
What's in the Box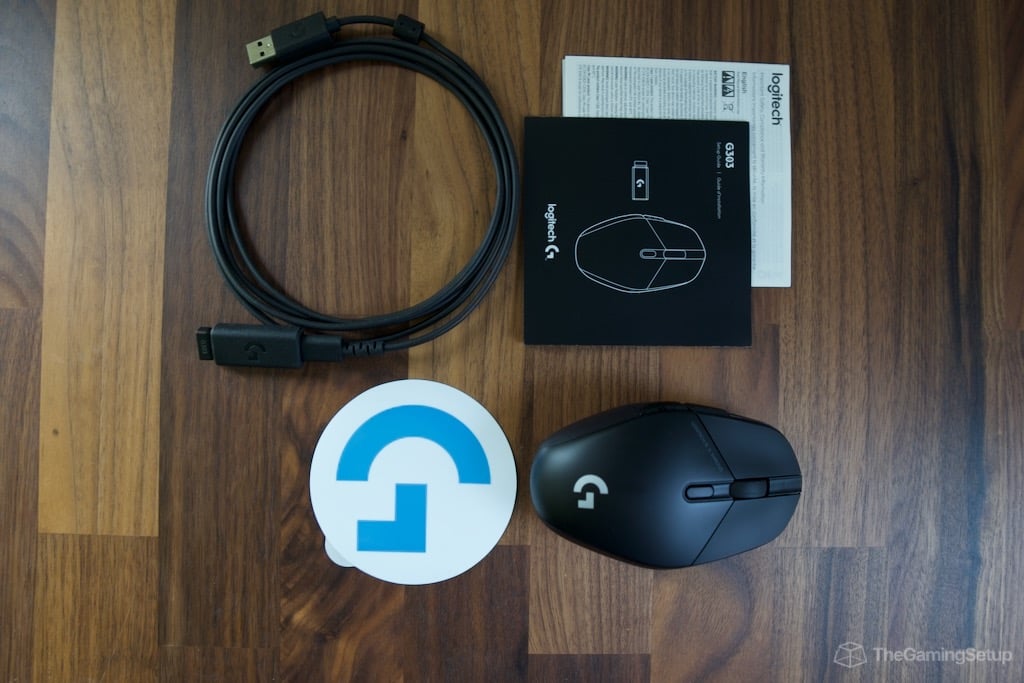 Unboxing the Shroud mouse is like opening any other Logitech mouse. Inside, you'll find:
USB receiver extender
USB dongle
USB-C to A cable
Documentation
Logitech sticker
Software
The G303 Shroud Edition uses Logitech's G Hub for customization and setting updates.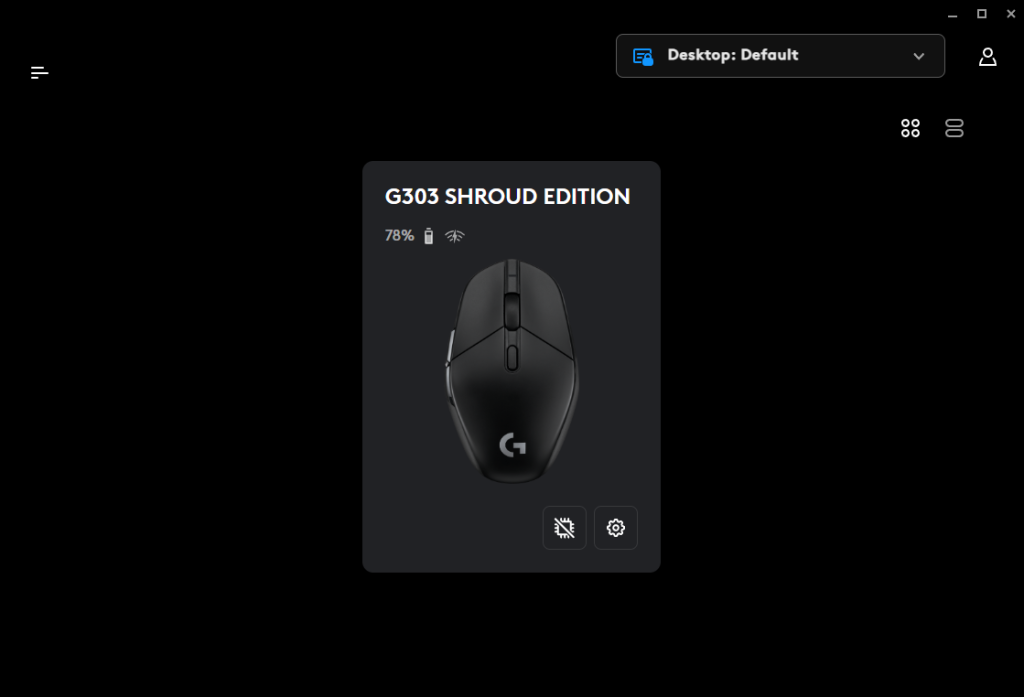 Logitech's G Hub is quite user friendly. Upon connecting your device, the software will automatically detect it and show a screen with your product. Once clicking your device, you are met with a menu that allows you to change your DPI settings. DPI ranges from 100 to 25,600 and you can set up to 5 DPI levels that can be adjusted in increments of 50.
Polling rate settings have 4 levels; 125Hz, 250Hz, 500Hz, and 1000Hz. For optimal settings, your mouse should be set to 1000Hz polling rate to ensure faster inputs to your computer.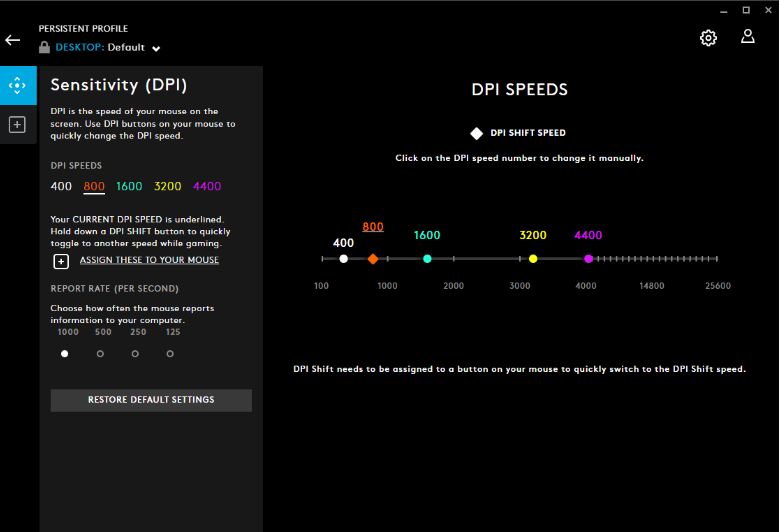 The next section is assignments. This lets you assign various buttons and macros on your mouse that fit your needs.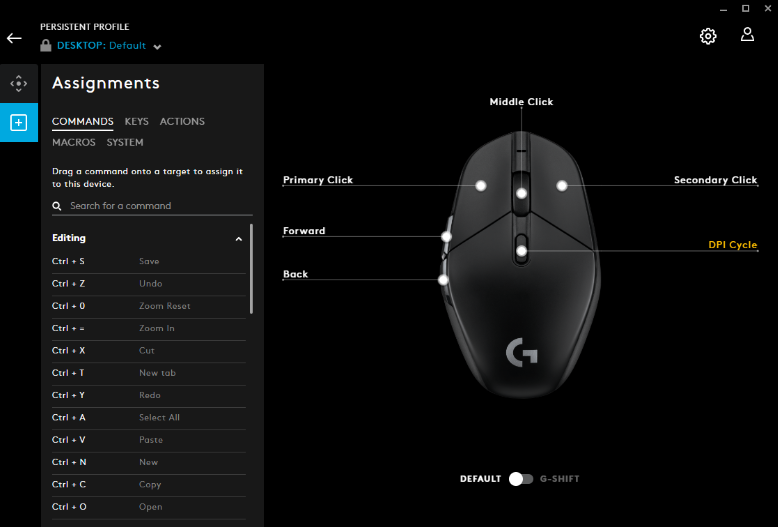 If you click on the gear button on the top right, you will be met with the mouse's on-board memory mode. In total, there are 5 different profiles that can be set on the G303 which allows you to use the mouse without the G Hub software.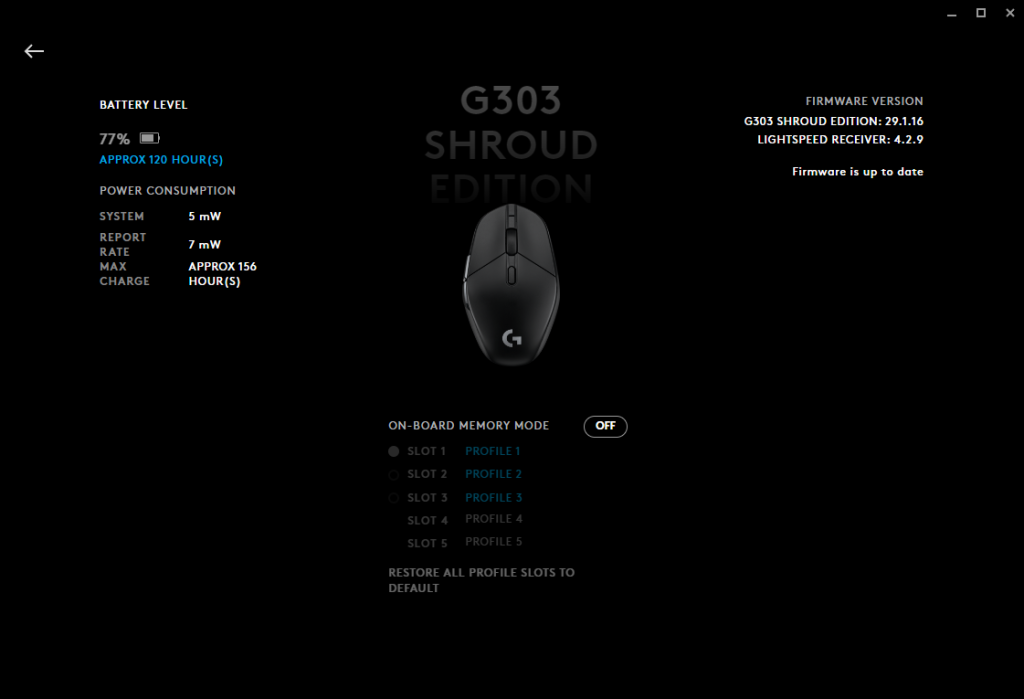 Warranty
Logitech covers the G303 with a 2 year warranty. From personal experience, Logitech's warranty policy is good. They offer replacements for defects such as double clicking and switch breakdowns.
Verdict
The G303 Shroud Edition offers a unique gaming experience, but it might not be for everyone.
While it's one of Logitech's top wireless gaming mice tech wise, but it is very obviously going after a niche of gamer.
The G303's shape is amazing for claw grippers and Shroud fans, but it's not as versatile as other mice. There are a lot of great alternatives for claw grippers, like the G Pro X Superlight and Viper Ultimate V2.
So, if you're not a claw grip gamer or a hardcore Shroud fan, you might want to look elsewhere, if you are however, I'd recommend you check it out and see if this mouse is the right fit.