The Royal Kludge RK61 is an ultra budget wireless mechanical keyboard that punches way above its price point, if you get a good batch.
At $45 USD the feature list is impressive, multi-device Bluetooth wireless, 3 switch options, decent stabilizers and double shot ABS keycaps with a USB-C connector in wired mode.
What you trade off in dollars for this keyboard is uncertainty, there's no defined warranty and many people seem to have trouble with batteries and RK61's just not working after a while.
If you're feeling lucky and get a good RK61 with no issues, it'll feel like an insane steal, if you're not a gambling person, shell out the extra money for something like the Anne Pro if you need wireless.
Pros
Multi-device connectivity
Better than expected stabilizers
3 main switch options
Doubleshot ABS keycaps
Centered USB-C port
Cons
No secondary layer programming
Reported reliability issues
Ugly legends
Single colour backlit versions don't have software
Wireless Connectivity and Battery Life
The Royal Kludge RK61 allows you to connect to three devices at a time via Bluetooth. To connect to a device, hold FN and one of QWE, each letter corresponds to one device pairing. The RK61 is in pairing mode once the key backlight is flashing.
Switching device profiles is easy, just press FN + Q/W/E one time, the keyboard will blink showing it has switched profiles.
The reported battery life of 10 hours is accurate, so far I've gotten about that amount of active use time out of it.
When the Kludge is not in use, the keyboard goes into a sleep mode after 10 minutes; it takes a couple of key presses to wake. There have been a couple of times where waking the keyboard caused some connectivity issues, but that seems to have gone away.
Input latency is okay, I don't think you would want to be doing any serious competitive gaming in wireless mode.
Design & Size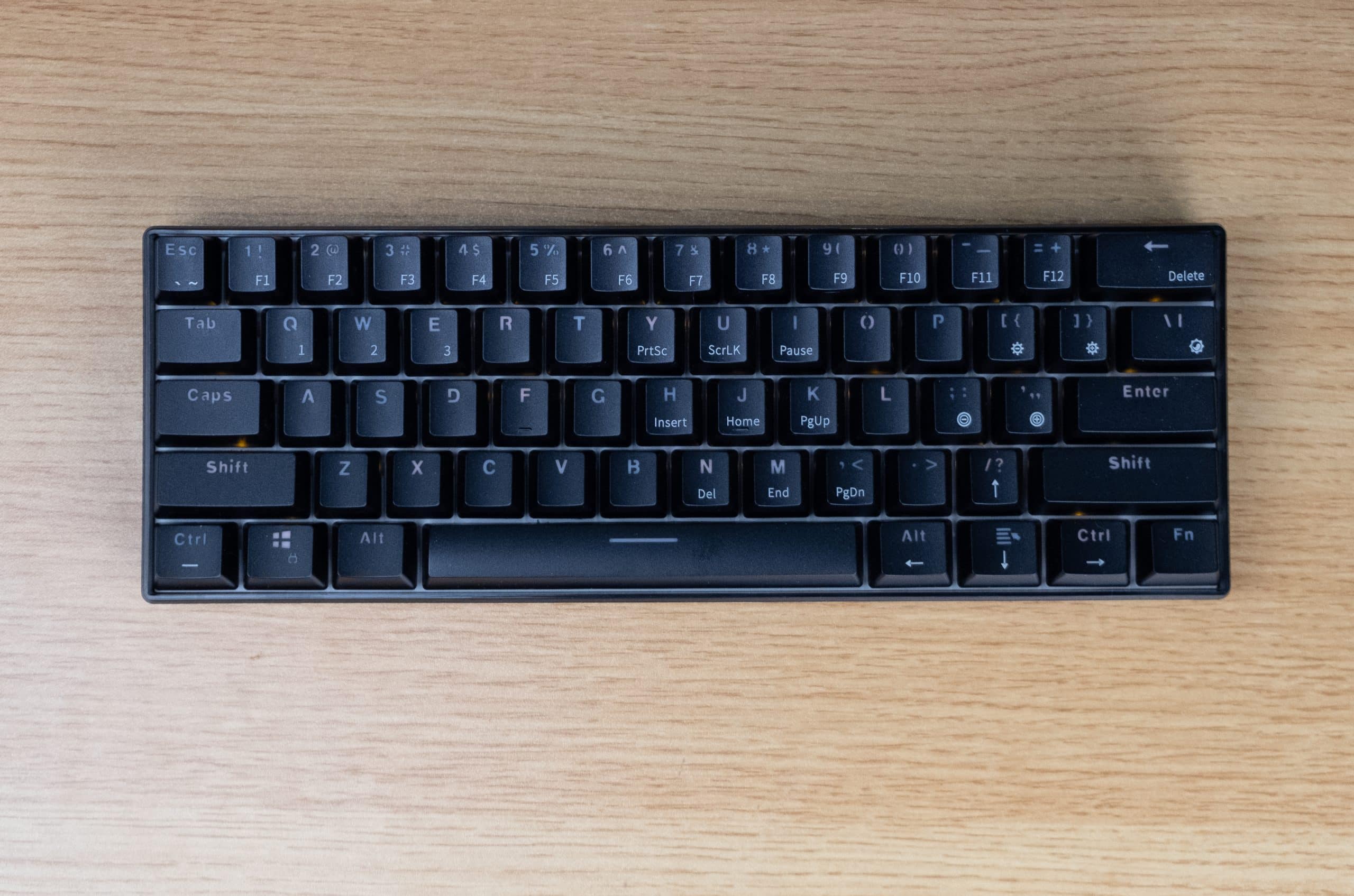 The RK61 has an interesting arrow cluster implementation, the Alt, /, Menu, and Right Control act as the arrow cluster by default. If you want to access those keys you can do so via the fn layer or toggle between regular keys and arrow keys with a press of fn+enter. At first, this took a bit of getting used to, but after I found it pretty convenient to have "dedicated" arrow keys on a 60% keyboard like this.
The case design of the RK61 is basic, made of ABS plastic in a high-profile design. The plastic white plate does a good job reflecting the RGB glow of the switches, but exactly generate the best sounding keyboard. On bottom out, the keyboard sounds hollow with red switches.
The RK61 comes in a black or white design.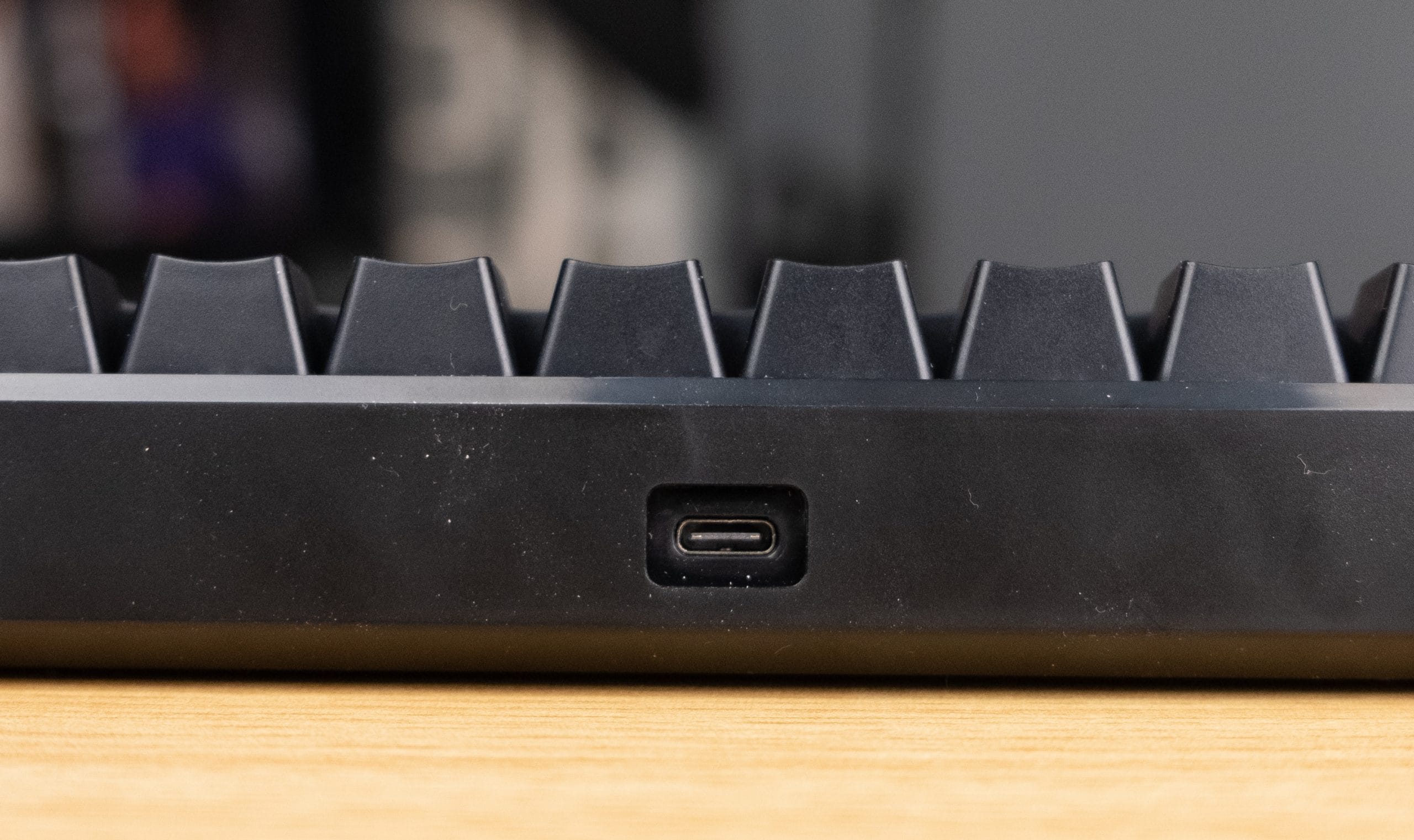 The RK61 has a centered USB-C port, which is pretty damn nice for a budget board, some bigger mainstream brands haven't yet gotten to USB-C, let alone putting in the port in the middle of the board.
The USB-C cable included with the Rk61 is a standard rubber cable.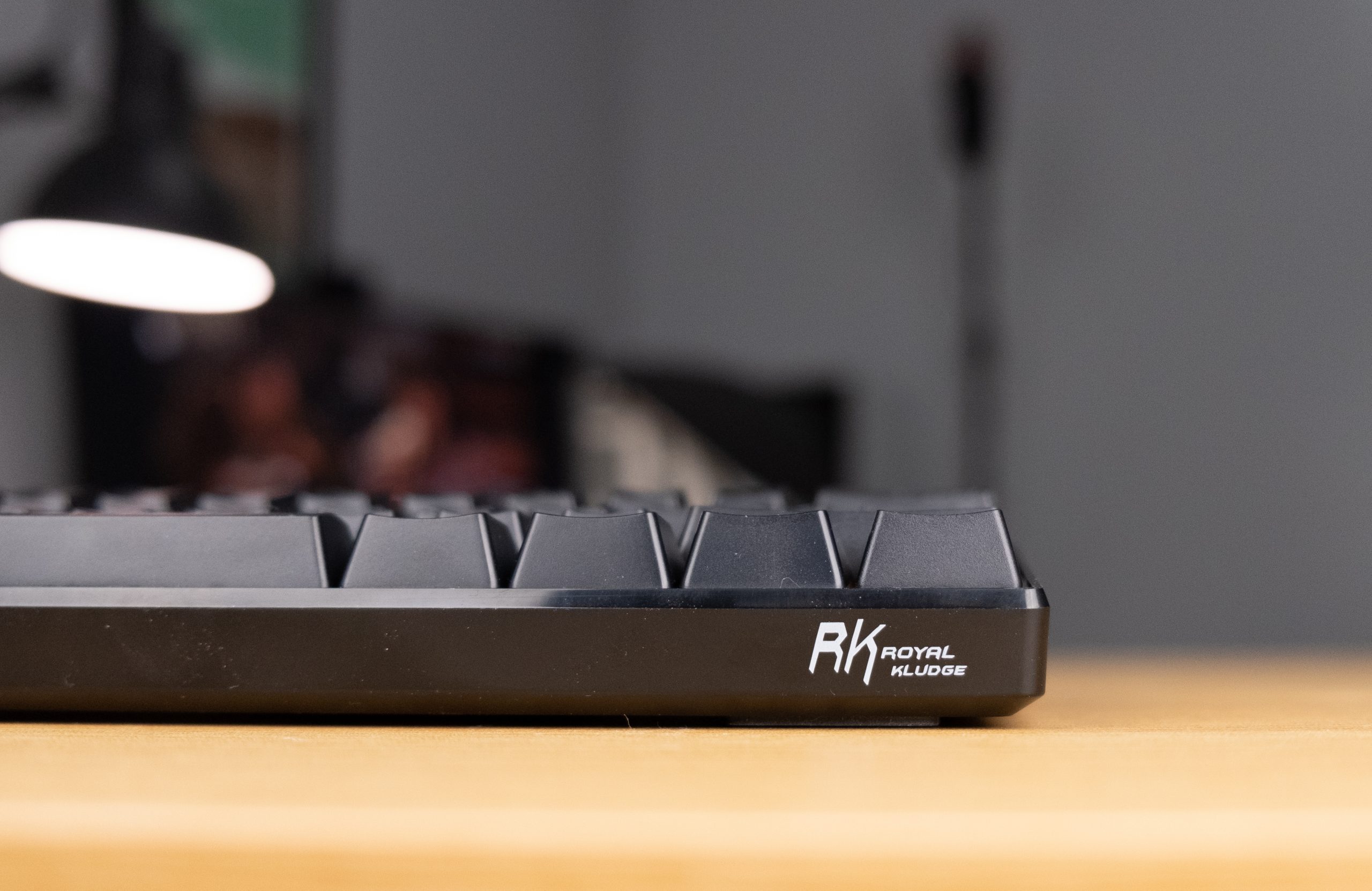 The right front lip of the keyboard features some branding with the Royal Kludge logo.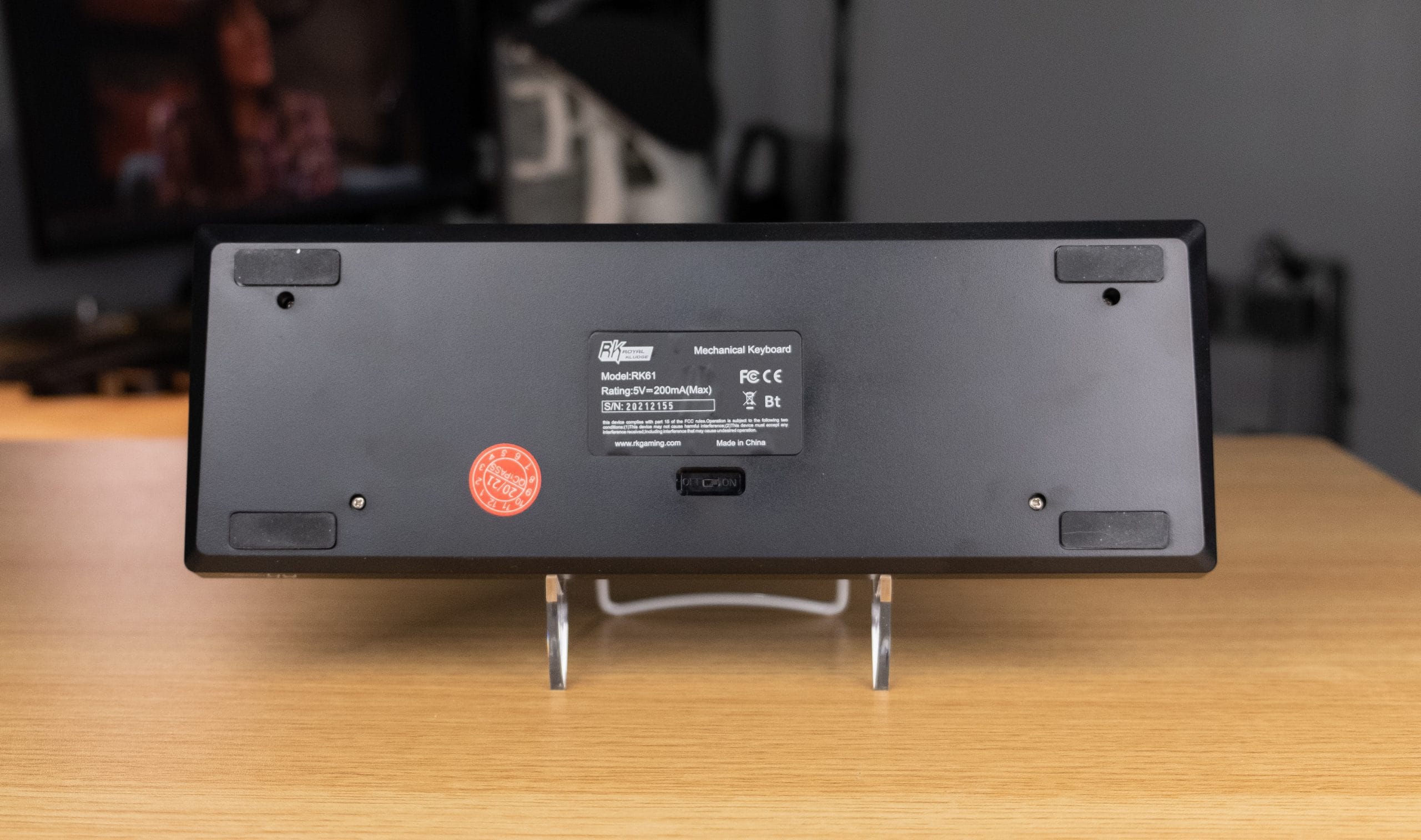 The back of the keyboard is more minimal design with nothing really to note.
The feet are non adjustable, the rubber pads provide a good grip, the angle of the keyboard is comfortable to use for my typing style.
Switches & Stabilizers
The Royal Kludge RK61 comes with 3 main switch options:
RK Red | Linear
RK Blue | Clicky
RK Brown | Tactile
The RK switches seem to be manufactured by Outemu or Kailh, they perform similarly to the standard Cherry counterparts. The RK Reds that I got with the RK61 are pretty smooth all the way through, they're not Vintage Black or Tealios smooth, there's a little chalkiness to them on a slow press.
When pressing firmly down and releasing, you definitely hear a bit of the spring crunch/ping noise, the Red switches in particular would benefit a lot from lubing.
The switches have a little wobble in the plate, not an enormous concern and not something that affected my typing experience but something to note for sure.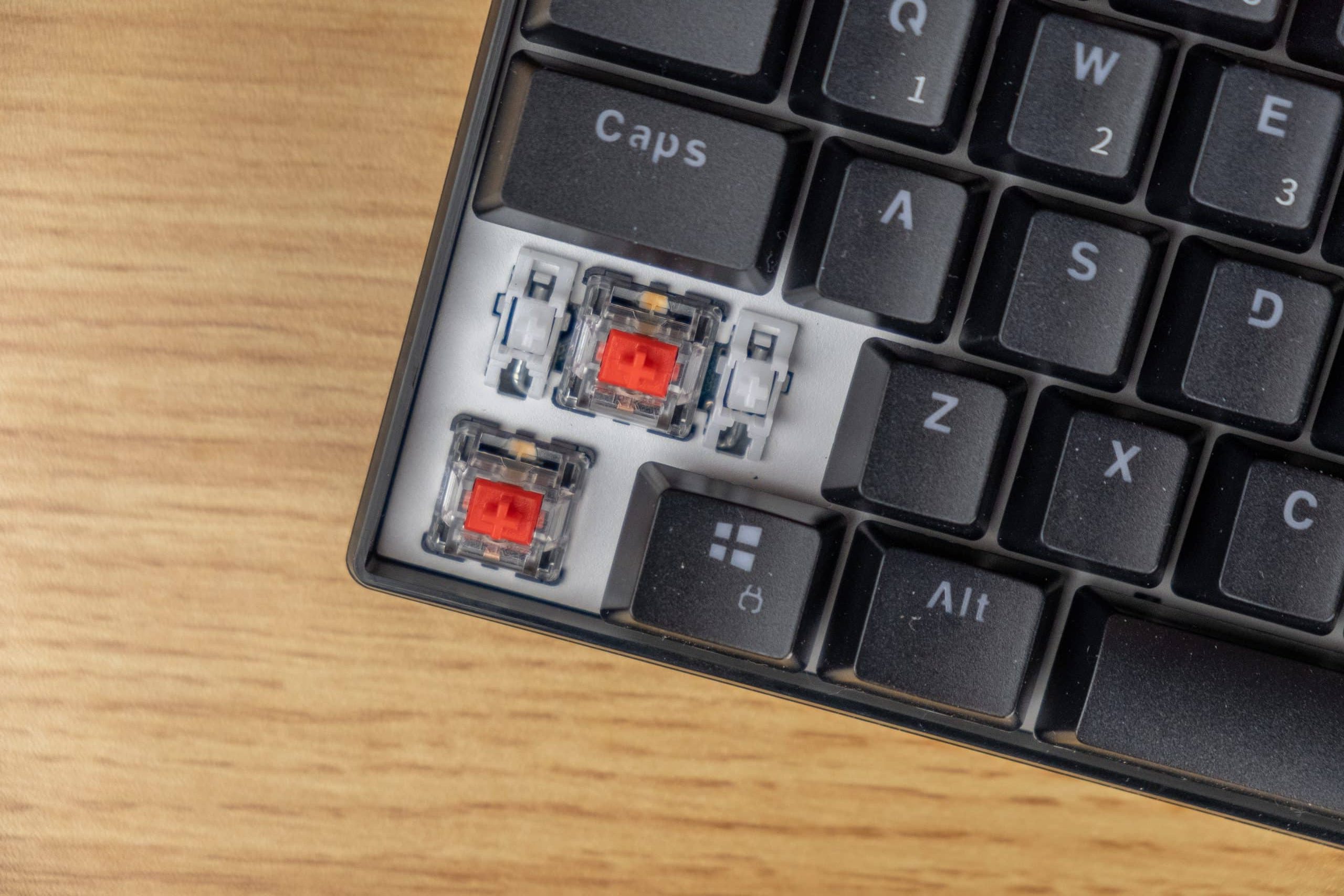 The stabilizers on the RK61 are surprisingly smooth for a budget keyboard. I was expecting a rattley mess, but the stabs on this board are surprisingly well done. I've read reports that some people have problems with the stabilizers, my likely guess is that there's some inconsistency in manufacturing or assembling the stabs.
Keycaps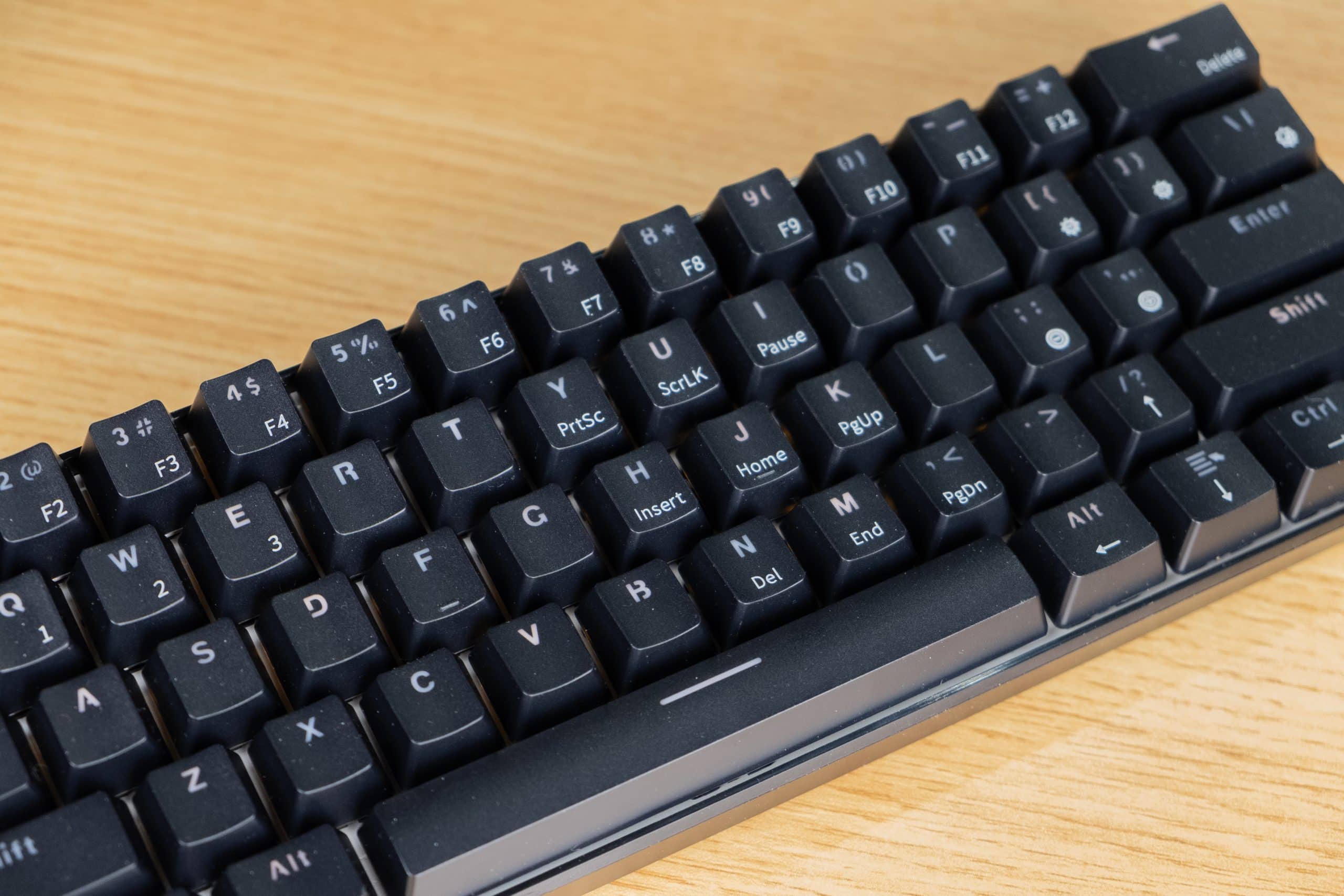 A delightful surprise! The RK61 comes with doubleshot ABS keycaps, the legends on these caps will never fade or chip over time. Double shot is not something I was expecting from a keyboard with this price tag.
The legends on the caps are not great, there are a lot of gaps in the lettering, the sub-legends are printed on so those will fade even if your primary shine-through legends won't. Overall, it's not the most attractive keycap set.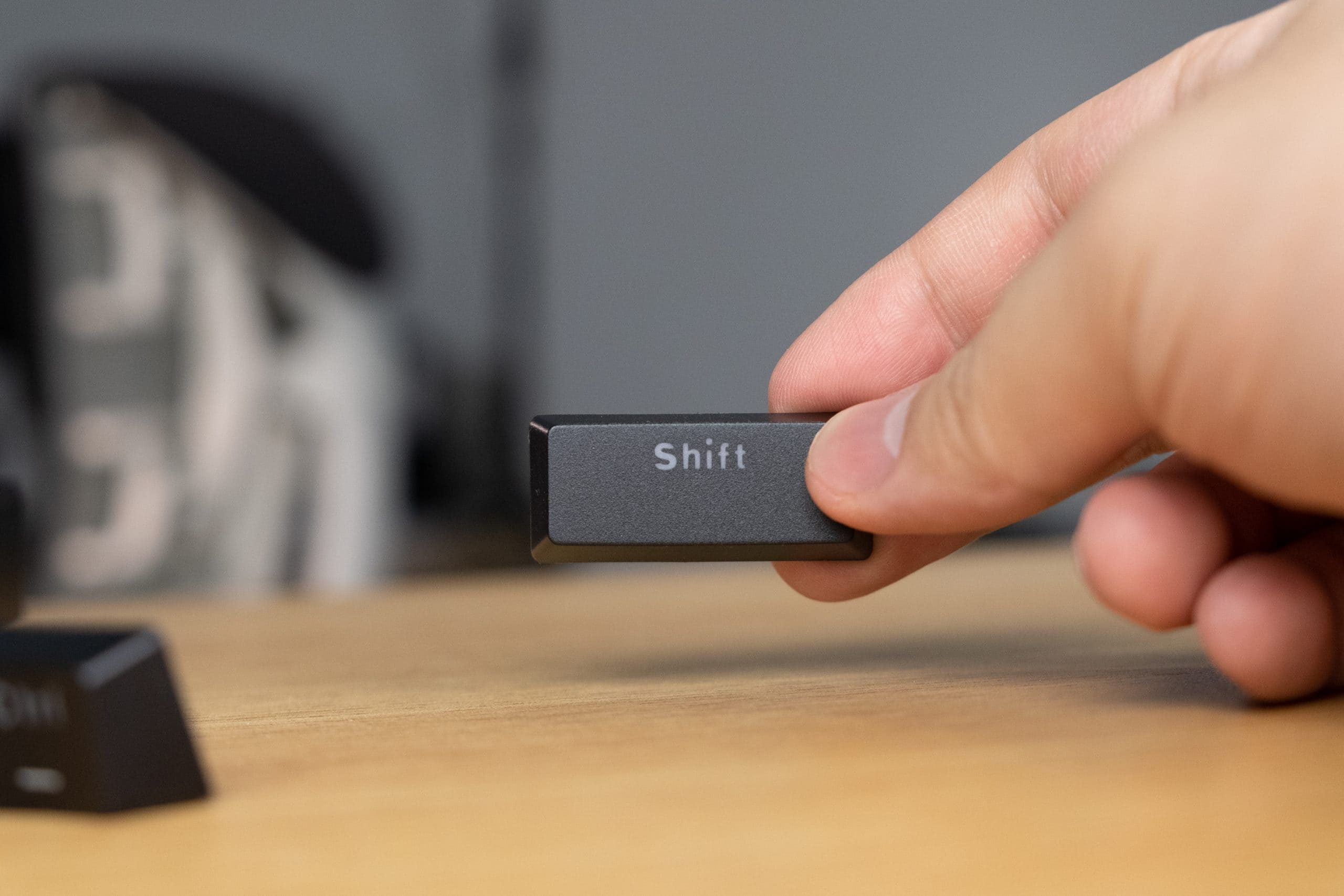 The caps have a nice grainy texture to them, locating keys and avoiding slippage have not been an issue. So far, shine or wearing away of the texture has not occurred in my play testing.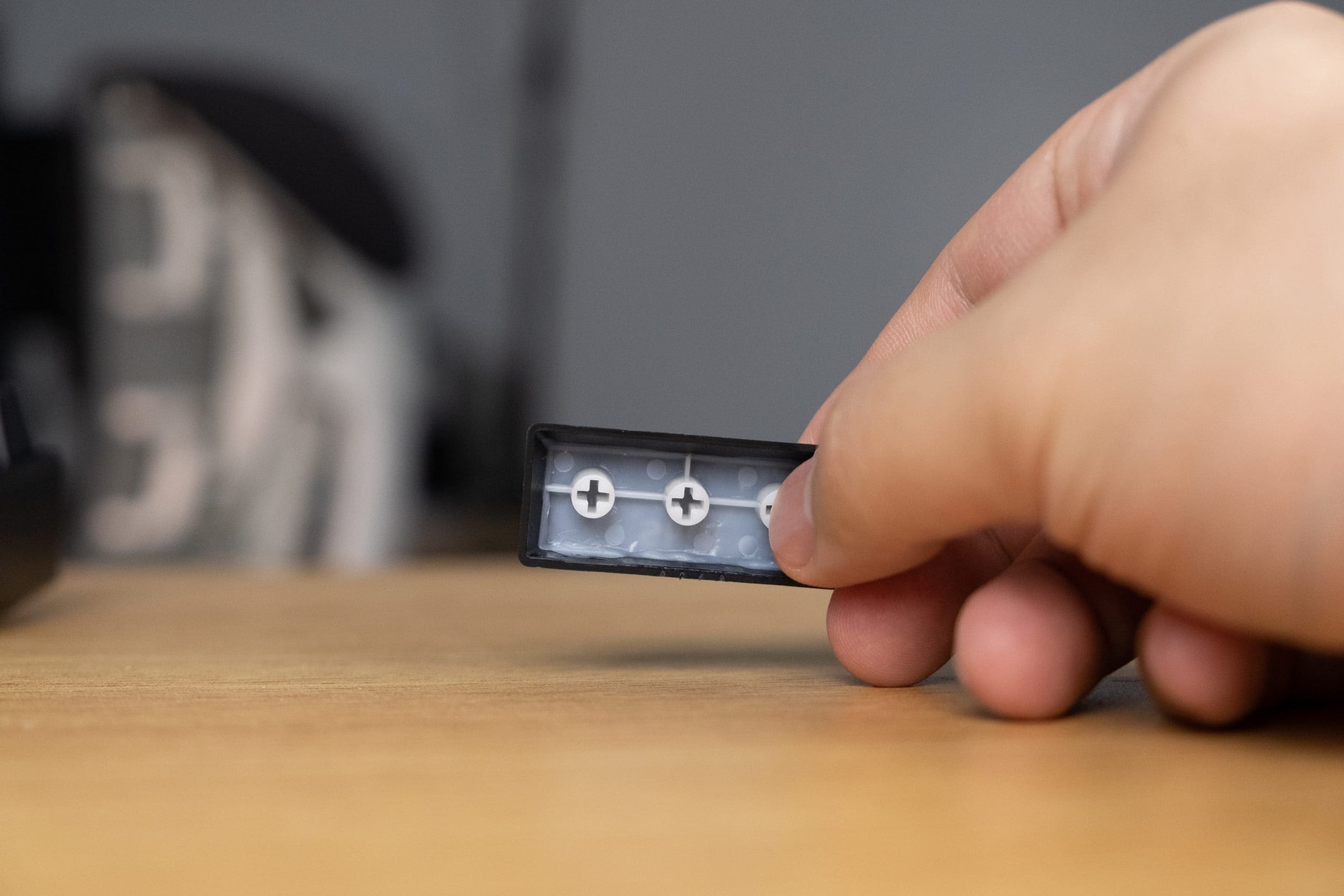 The back of the cap shows the doubleshot manufacturing.
Build quality
The keyboard is an average weight at 561 grams, a lot of that weight is made up of the internal battery of the keyboard.
The build quality of the RK61 is good, especially considering price, it's not as tanky as the Redragon but I have no concerns with throwing this keyboard in a bag and travelling with it.
I did not experience any flexing or creaking when treating the keyboard poorly.
Unboxing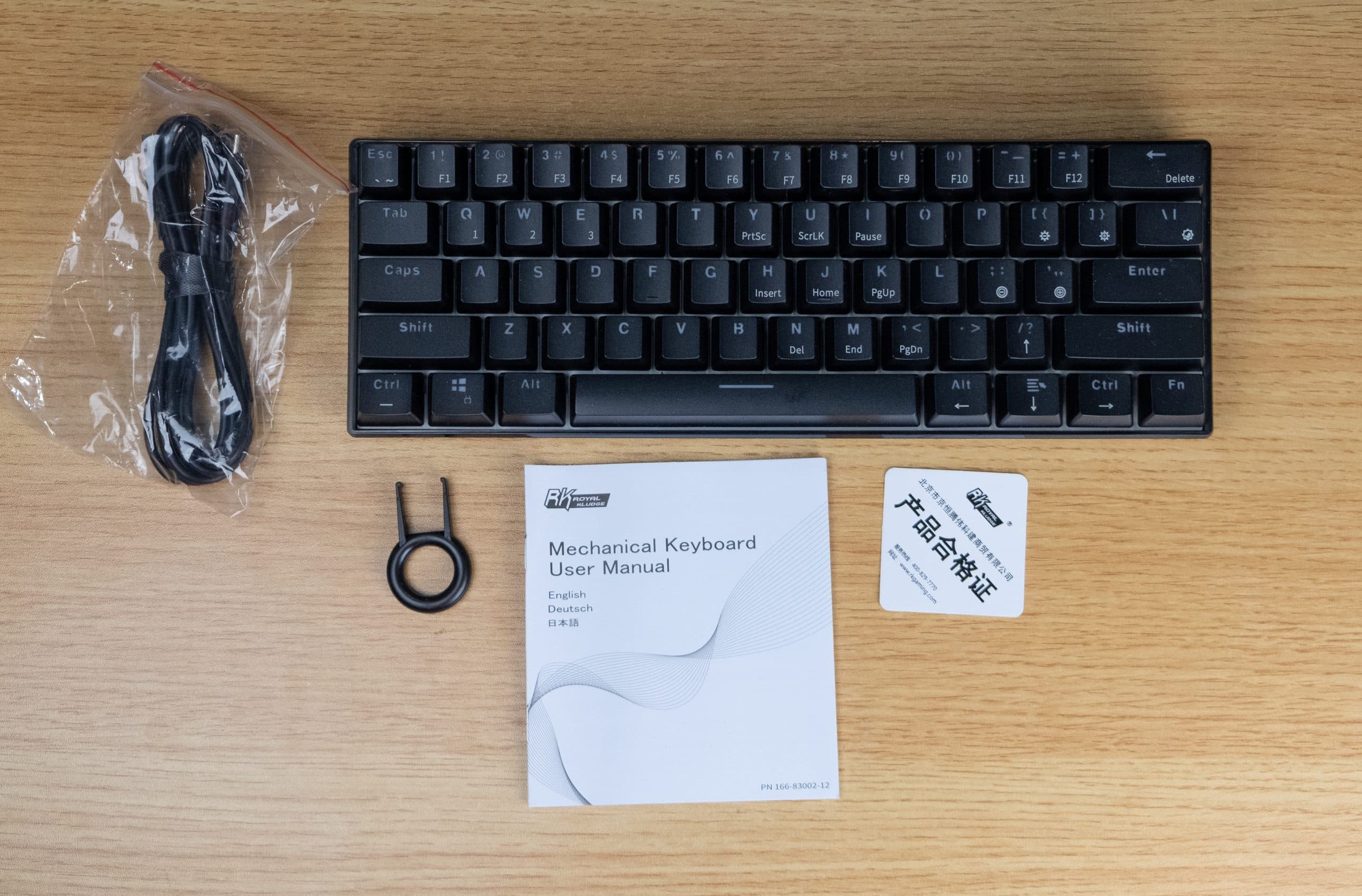 The Royal Kludge comes with the USB-C to USB-A cable, a non-wire keycap remover, a manual and a plastic card.
Not much to speak about in terms of contents, but I don't fault the RK61 for that considering its price point.
The plastic keycap remover has the potential to scratch keycaps so use with care or get a wire keycap remover.
Backlighting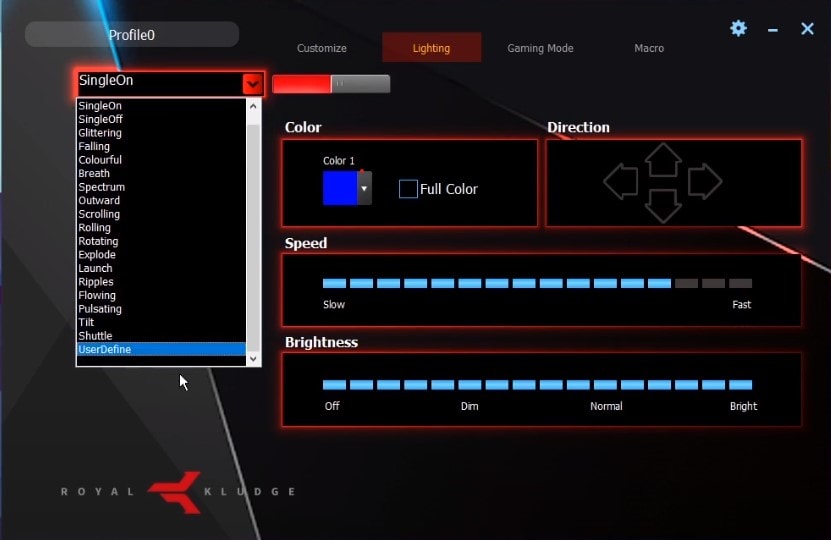 There are multiple versions of the RK61, below is the list of the backlight modes for the RGB model.
SingleOn
SingleOff
Glittering
Falling
Colourful
Breath
Spectrum
Outward
Scrolling
Rolling
Rotating
Explode
Launch
Ripples
Flowing
Pulsating
Tilt
Shuttle
UserDefine
Software & Settings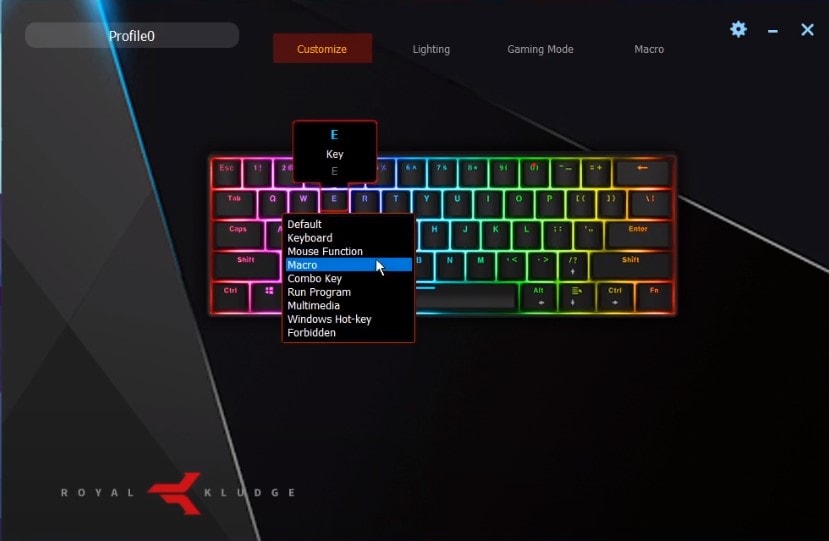 You can download the RK61 software here, this software only works with the RGB model of the keyboard, trust me, I tried.
The software is pretty standard, the main tab lets you customize your keys on the top layer only.
You can remap a key to the following functions:
Other key strokes
Mouse presses
Macro recording
Combo key
Launch a program
Multimedia keys
Hot keys or disabled
There are a couple of very important onboard keyboard settings on the keyboard to note, as per the manual:
Arrow keys
By default, On the bottom right of the board, the alt, /, menu and right control keys act as an arrow cluster, you can alternate the default keys behaviour by pressing fn+enter.
Windows locking
Fn+win key will disable the windows key, just press it again
Windows Mode
Fn + A will put the keyboard into Windows mode
Mac Mode
Fn + S puts the keyboard into Mac Mode
Warranty & Reliability
The RK61 has a 2 year warranty if bought on the official website.
The lack of warranty might be problematic, there seem to be a good amount of reports of bad batteries or the keyboard PCB acting up, but you kind of get what you pay for here.
Tech Specs
Royal Kludge RK61
Length: 29.2 cm / 11.496 inches
Width: 10.2cm / 4.02 inches
Height: 3.09 cm / 1.21 inches
Case: High profile, ABS plastic
Weight: 561 grams
Keys: 60 keys
Cable Length: Rubber, detachable USB Type-C
Keys & switches
Switch options: RK Reds, RK Blue or RK Brown
Keycap material: ABS
Keycap legends: Double shot
Keycap profile: OEM Profile
Media keys: No
Backlight: Single colour backlight or RGB
Software: Yes, RK61 software for RGB version only
Conclusion
There's a lot to like about the RK61 for a budget compact keyboard, for something that can be had for $45 USD it packs a lot of features.
Wireless works surprisingly well in my experience, and while it isn't great for competitive gaming it's a nice convenient factor to have.
The switches and key feel are definitely batting above their price point, the Red RK switches feel good to type on, while the stabilized keys are surprisingly decent.
Even the key caps are double shot ABS plastic, a definite step up from bottom of the barrel keycaps.
Not everything is perfect, I highly value a programmable second layer when we have such compact layouts, not having things the way you want them on a 60% board can prove very limiting.
The single biggest issue with the board seems to be quality control and consistency, my board so far has been excellent but I can't ignore the amount of threads complaining about issues.
At this price point, if you're on a limited budget and are looking for a wireless mechanical, you should go for it and hope for a good luck on issues.