65% is my favourite keyboard form factor, it sits between a TKL and 60% keyboard in size, keeping the arrow cluster but doing away with the F keys and a column of keys on the right side of the keyboard.


65% combines a lot of the functionality available on a TKL and the space savings of a 60%, it's the best of both worlds.
65% is home to a lot of unique keyboards that are filling a niche that is growing in popularity. A great 65% keyboard for gaming is going to feel great to type and game on, no questions asked, no rattling, no creaking, no wobbliness at all. It will offer a lot of great switch options and will allow for customization that lets gamers game how they wish.
The absolute best 65% keyboard for most gamers is the Durgod Hades 68, I feel it's very underrated, with its recent move to PBT keycaps, I find it hard to spot a significant flaw in this keyboard.
1. Durgod Hades 68
The best 65% keyboard overall
The best overall 65%
A rock solid mechanical keyboard with great switch options, and infinite customization
See Price on Amazon
Pros
Hefty
USB-C port
Lots of switch options
Powerful customization software
Per-key RGB lighting
Doubleshot PBT cherry profile keycaps
Cons
Pricier
Slightly harder to find replacement caps due to keycap sizes
Why the Durgod Hades 68 is the best 65% keyboard for gaming
The Hades 68 simply gets everything right.
The Durgod Hades 68 is a solid all-metal cased 65% keyboard with high quality, pre-lubed stabilizers and an extensive amount of switch options. This is not a hotswap board, but you can choose between a selection of Cherry, Gateron and Kailh switches.
The Hades 68 has full per-key RGB with several light modes, the keycaps have been recently upgraded to double shot PBT key caps, eliminating the major con of the previous iteration of the keyboard. A final cherry on top, the keycaps are Cherry profile, the shape of the keys are more sculpted than the regular OEM.
The software is the biggest advantage of this keyboard, the Hades 68 is highly customizable, every single key is re-mappable with support for up to 4 layers of keys. This customization is the key thing missing from a lot of the keyboards lower down on the list, the ability to remap keys to the finest detail and I'm glad Durgod is here to push that forward.
In a price range of $120 to $150, you get a lot for a small price premium over our #2 option. An aluminum case, more switch options, fully customizable software and cherry profile PBT caps.
The gap between this keyboard and the rest is significant.
2. Ducky One 2 SF
Super smooth 65%
The best 65% for a mid-budget
Pros
Smooth stabilizers out of the box
Good build quality
Quality doubleshot PBT keycaps
Removable USB type-C cable
White plate, really nice RGB
Cons
On board programming is a little limited
Ducky just has the right mix of performance, price and customization that is just perfectly suited for gamers.
The Ducky One 2 SF has a lot to like, PBT keycaps, smooth stabilizers, good switch options and probably the best-looking RGB of any keyboard with its white backplate.
While the case is plastic, the weight and sturdiness of the keyboard don't suffer, this is a well-built board.
Ducky packs in a couple of appreciated extras like extra WASD keycaps and a wire cap puller, for its price point of around $110 USD, it provides quite a good value, especially compared to the traditional name brand keyboards.
The only shortcoming for the Ducky keyboards is the lack of software customization, having a customizable second and third layer for a compact keyboard is something I've come to use a lot on custom boards. For now, you have to use onboard programming to get close to what you want.
3. Leopold FC660M
The best feeling 65% keyboard out of the box
Best absolute typing experience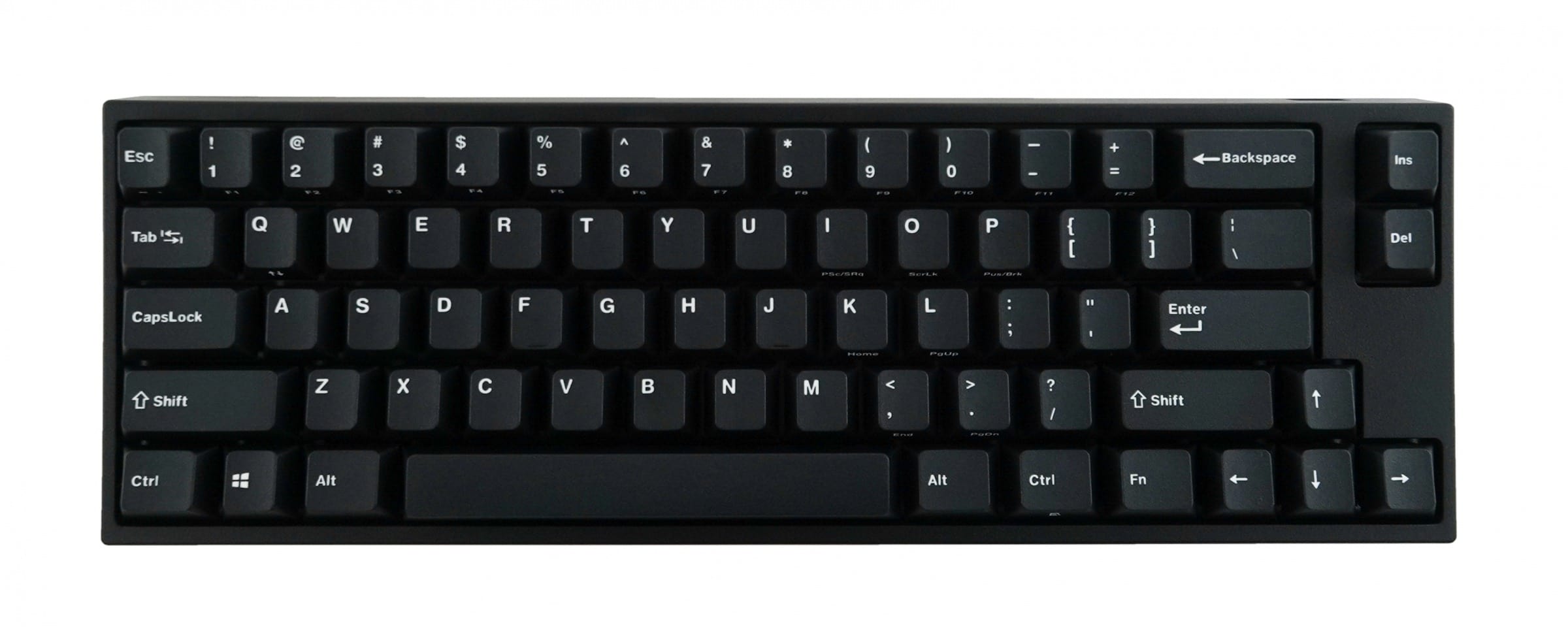 Pros
Best out of the box typing experience
Rock solid build quality
Factory lubed stabilizers
Best sounding keyboard out of the box
Doubleshot PBT caps
Cons
No customization options
Mini USB port
No backlighting or RGB!
Short shift key can make replacement caps harder to find
The best out of the box typing experience
Leopold's hold the reputation for having the best build quality and typing experience out of the box and the FC660M is no exception. As good as the Ducky is, the Leopold has it beat with dampening material inside the case for acoustics, better stabilizers and a sturdy plastic case all for roughly the same price.
Typing and gaming on the keyboard is a dream, it just feels solid. The FC660M has good Cherry MX options: Black, Blue, Brown, Red and Silent Reds.
What holds the Leopold back from being the absolute best keyboard is the lack of customization. The FC660M comes as it is, no software, no remapping, you have dip switches on the back of the board to allow for a few modifier key changes, but other than that you get what you get. Our recommendations try to act as a general guide for most people, and a highly customizable board will be better for most people.
If you don't need customization or RGB lights, then you should pick up the FC660M over the Ducky One 2 SF, as well-built as the Ducky is, the Leopold is a notch above it and you can feel it.
4. Magicforce 68
A great budget 65%
Budget 65%

Pros
Affordable pricing
Multiple switch options
Attractive case design
Standard bottom row
Good build quality
Cons
ABS caps
Mediocre keycap font
No customization
Rattley and loud
Unlike our above two picks, the Magicforce 68 isn't the best at key feel and acoustics, but at $40 for its cheapest option, you're getting a great value 65% board.
The Magicforce 68 has an array of price points with multiple switch options, Cherry, Gateron and Outemu all come with Blue, Brown and Red variants. The design is clean, it's a plastic case with a thin top metal plate. The keys on the Magicforce 68 are standard sizes, so even though the caps are thin ABS, they're easy enough to replace.
At $40 you're getting a very competent keyboard with a great layout and functionality.
But at $40, there are shortcomings, the most major one being the acoustics of the keyboard, it this is a loud af keyboard. The stabilizers are rattley, and the thin, light case makes for an echoey bottom out.
If you don't mind the loudness of the case and can live with mediocre stabilized keys, its a great 65% for people on a budget.
5. Drop Alt
The give me everything 65%
Pros
Hot swap switches
QMK firmware support
Unique switch options
Good quality keycap options
Doubleshot PBT caps
Dual USB-C ports
Lots of RGB with per key and case strip
Cons
Expensive
Rattly stabilizers
Could be heavier considering the price
The Drop Alt tries to give you everything you could ever want in a 65% keyboard, and it mostly succeeds.
If you have the budget and are looking for a no-compromise keyboard without having to go into custom keyboards, then the Alt is for you. This keyboard features hot swap switches, PBT doubleshot caps, software customization, two USB-C ports and lots of nice looking RGB.
Dual USB-C ports allow you to connect your cable to the left or the right depending on your preference, this is something most keyboards don't have and it's an appreciated nice touch. The magnetic feet are also unique, with a design that lets you set the incline or decline of the keyboard to fit your ergonomic needs.
This keyboard is the most customizable board on this list. The Alt also has QMK support, which allows you to remap any key with multiple layers, if you like tinkering with your layout and having everything exactly the way you want it, the Alt can facilitate that.
You can get the Alt with some standard Cherry Browns or Blues or you can go a little more niche, the Alt come with Halo True, Halo Clear, Kaihua Box White and Kaihua Speed Silver options. Or go barebones and put in your own switches, hot swap gives you the ability to change switches or simply try new switches without having to buy a new board.
The keyboard is well built, the aluminum case is sturdy and rigid, the RGB looks fantastic, the RGB strip inside the case is smooth and well diffused, while the per-switch RGB is bright.
The stabilizers could be better considering the Alt's price at around $200 USD, out of the box they are a little rattly, the low profile case is also a little hollow, generating some echo on bottom outs.
If you're looking for the experience of a custom keyboard without the headaches of group buys and waiting, the Alt is a great choice and ready to go.
6. Keychron K6
The best wireless 65%
Pros
Attractive design
Hotswap option
Aluminum case option
RGB or Backlit RGB option
Pre-lubed stabilizers
Multi-device wireless connectivity with good battery life
USB-C Port
Cons
The case might be too tall for some
Slippery ABS caps
No remapping ability
Light case
The Keychron K6 provides very good value with a ton of options to suit your needs. The K6 can come in 3 case options: Plastic with white backlight, plastic with RGB and aluminum with RGB.
On top of case options, you can also choose your switch implementation: Red, Blue or Brown Gateron or LK optical switches or hot-swap sockets to use your own switches.
All versions of the keyboard have wireless connectivity with up to 3 devices. Wireless connectivity is solid and stable, there is a hint of input lag so any type of competitive gaming should still be done in wired mode.
Keychron is a close second to the Alt in terms of customization. I'd recommend getting both premium options, the aluminum case and the hot-swap, they're only $10 more respectively.
The typing experience with my included Gateron Browns has been solid, the stabilizers feel surprisingly good at a sub-$100 price point.
There are a few shortcomings at this price point, the key caps are ABS but they're also very slippery, they lack the painted on texture that a lot of ABS caps have. I also have issues typing comfortably on the keyboard because of the height of the front-lip of the keyboard, the keys sit really high, a wrist-rest is recommended.
Lastly, there isn't any way to customize key mapping, leaving it a significant notch below the Alt in that respect.
If you're looking for a wireless 65% keyboard, the Keychron K6 is your best bet, you can use any switch with it, with 3 devices, it's a great keyboard as long as you don't need the absolute key mapping customization.
7. Varmilo VA68M
The tanky 65%
A pricier, more sturdy Leopold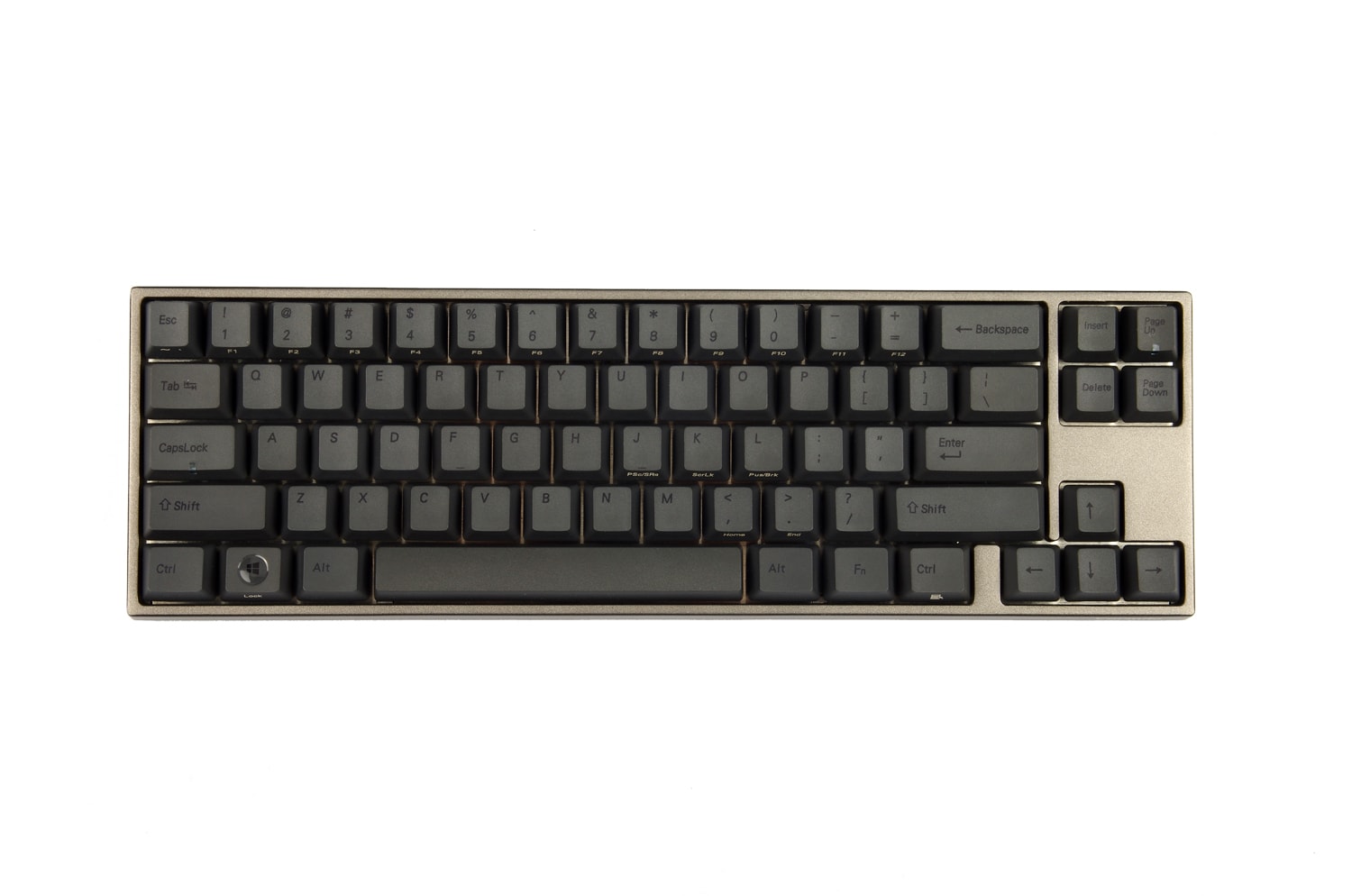 Pros
Aluminum high profile case
PBT dye sub key caps
High quality build
Standard key sizes for replacement
Pre-lubed stabilizers
Cons
No remapping
A little pricey
Mini-USB por
The Varmilo VA86M shares a lot of likenesses with our #3 keyboard the Leopold FC660M, the layout is almost exactly the same except the VA68M adds page up and page down keys to the set of keys above the arrow cluster.
The price difference between the two keyboards is about $70. The Varmilo at $175 USD is undoubtedly an upgrade over the Leopold FC660M, the case is all aluminum, so its sturdiness and heft are better on the VA68M. You also get backlighting on the Varmilo, and standard key sizes. The VA68M is an easier keyboard to make your own with your keycaps and lighting.
The $70 price difference doesn't justify the upgrades, while the aluminum is nice on the VA68M, the Leopold is plenty solid and the ability to customize key caps slightly easier doesn't make up for the price difference.
All that aside, it's really nice to have the option of a metal case 65% keyboard with rock solid stabs and a fantastic typing experience.
How we tested
First off, I just played a bunch of games. I played games of different genres that require different performance out of a keyboard, I'm looking for things like how does WASD, shift and space feel for shooters or how do hot keys feel in a game like DOTA2. I'm not an OSU player or anything like that though, so bare that in mind.
On top of performance I'm looking for ergonomics while playing, key feel and durability if I hammered on the keys a little more than usual. I want to see if keycaps get shiny or slippery quickly around the WASD area. I'm keeping in mind how loud the keyboards during intense moments.
On top of performance, I'm looking for features I think are valuable for gaming, such as NKRO, key mapping and lighting options for games.
Besides play testing, I scoured the internet for any overwhelming complaints with any of the keyboards and preferences and opinions that differed from my own.
What we're looking for
I look for the same things we look for in any good keyboard:
Based on the above factors, price and availability, we made our recommendations based on what we think most gamers will appreciate.
We've picked keyboards that are widely available, limited run keyboards might be nice but it doesn't help if we recommend unavailable keyboards.
As new 65% keyboards come out, we'll give them the good ol' review and consider them for the best list.
Changelog
August 18th, 2020: Published