Not so long ago Keychron was a fledgling keyboard maker that debuted on Kickstarter with the K1. Today, Keychron has a roster of keyboards that offer lots of flexibility and functionality for pretty affordable prices, with each iteration they seem to get better.
The K6 is the first keyboard from Keychron that is suitable for gaming because of its compact 65% size.
The Keychron K6 is an attractive package, featuring multi-device connectivity over Bluetooth, hot swap capability and long battery life for significantly less than mainstream boards.
This keyboard is ideal for someone looking to use one keyboard with multiple devices, the Bluetooth 5.1 chip is solid and connectivity is quick and easy. It's also great for someone looking to try out a bunch of different switches, the K6 is one of the more affordable and functional hotswap keyboards out right now.
The Keychron K6 arrives on the scene with great compatibility and functionality for a budget price.
See Price on Amazon
Pros
Attractive and clean design
Multi-device connectivity
Long battery life
Hotswap switches
Pre-lubed stabilizers
Great price
Extras: keycaps, switch puller, keycap puller
Cons
Really tall case and typing height
Slippery cheap ABS caps
Switch puller is anemic
Very light
No software yet for remapping
Unboxing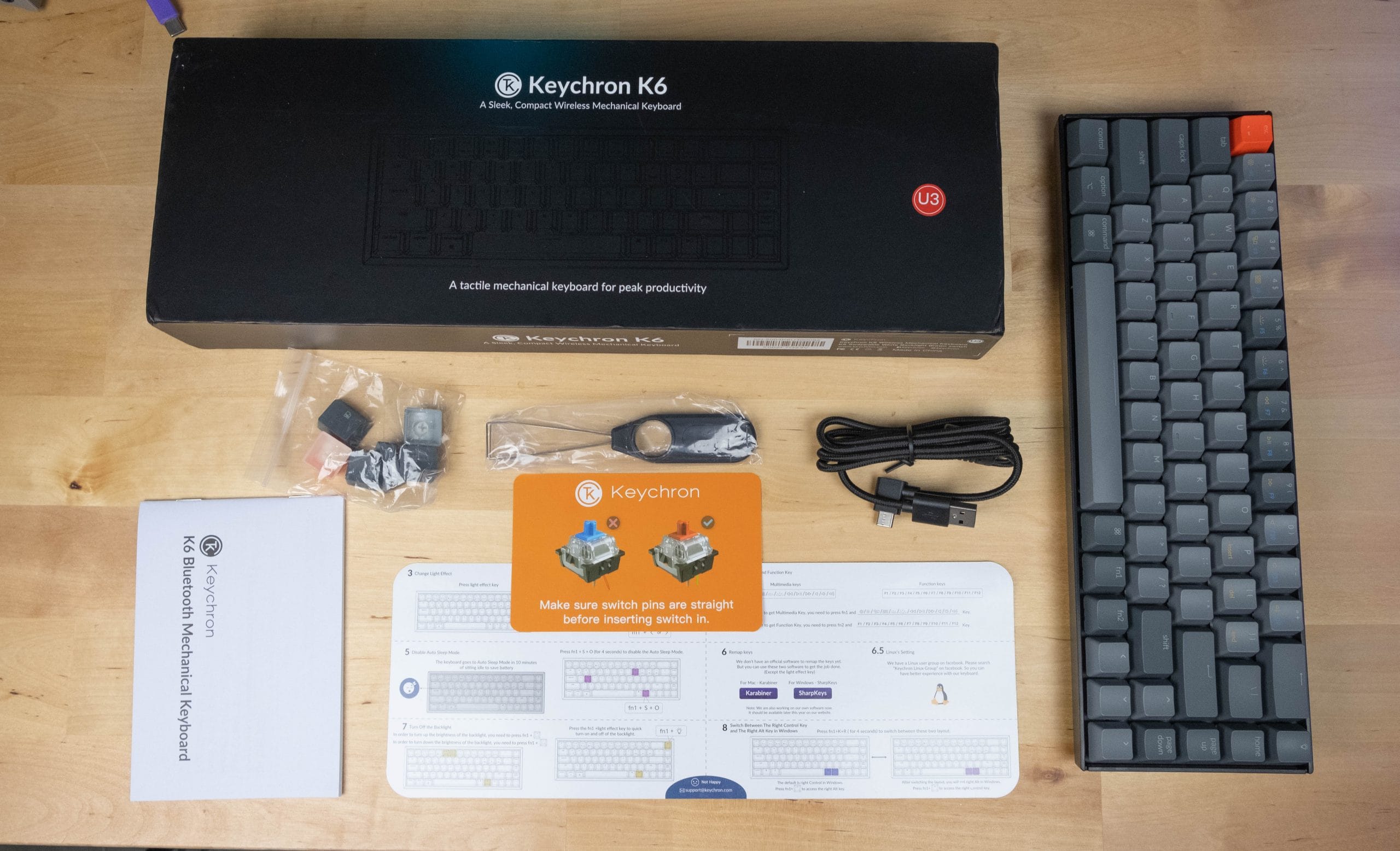 On top of the manuals and paper, you get a handful of nice little extras with the K6, including some extra keycaps, a switch puller, keycap puller and a braided USB Type-C cable.
Case Design & Size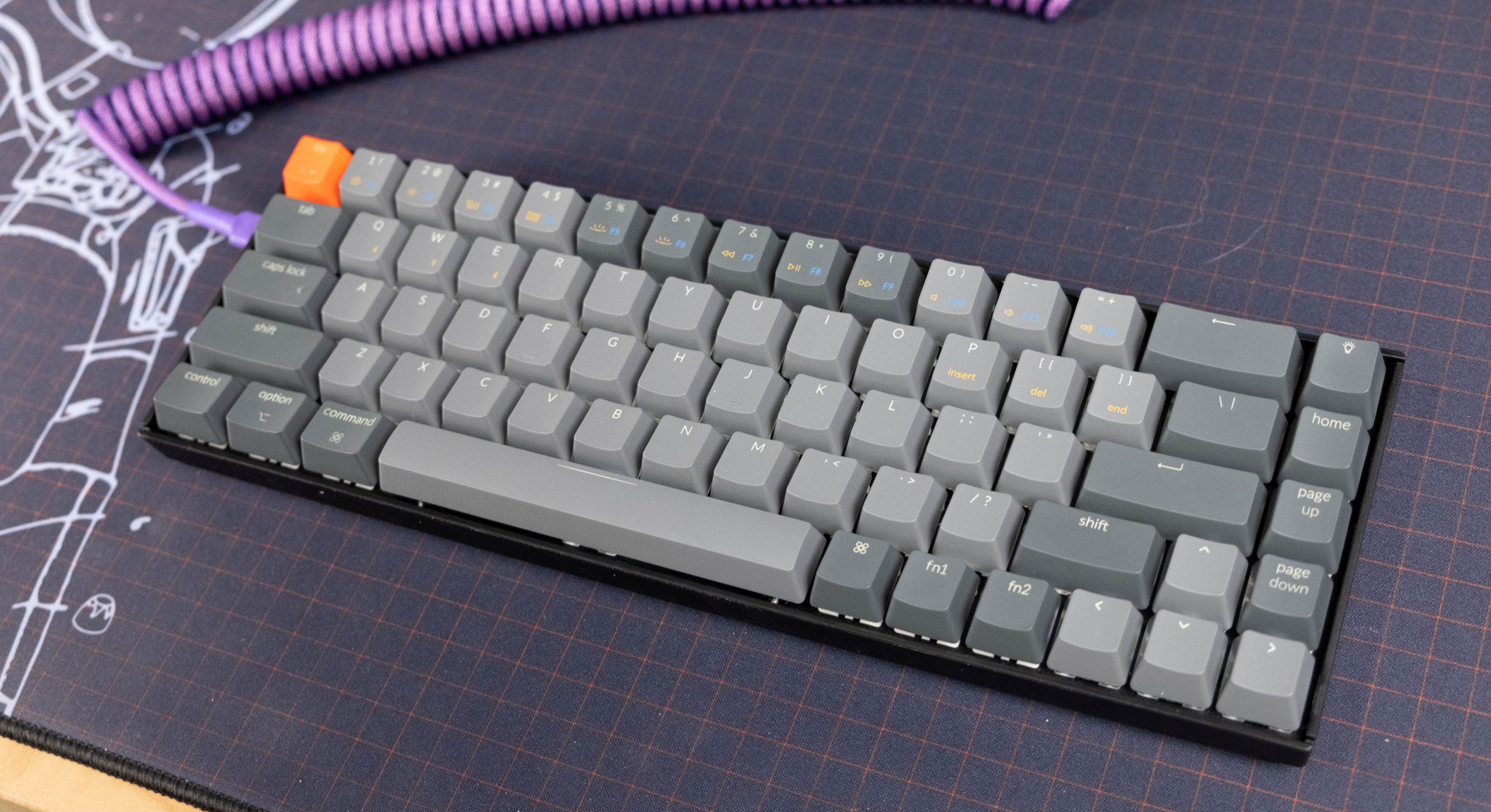 The Keychron K6 sports a high-profile ABS case with the option to get aluminum bezels on top. It's actually kind of rare to find a budget keyboard with a high-profile case so kudos for Keychron for providing an option.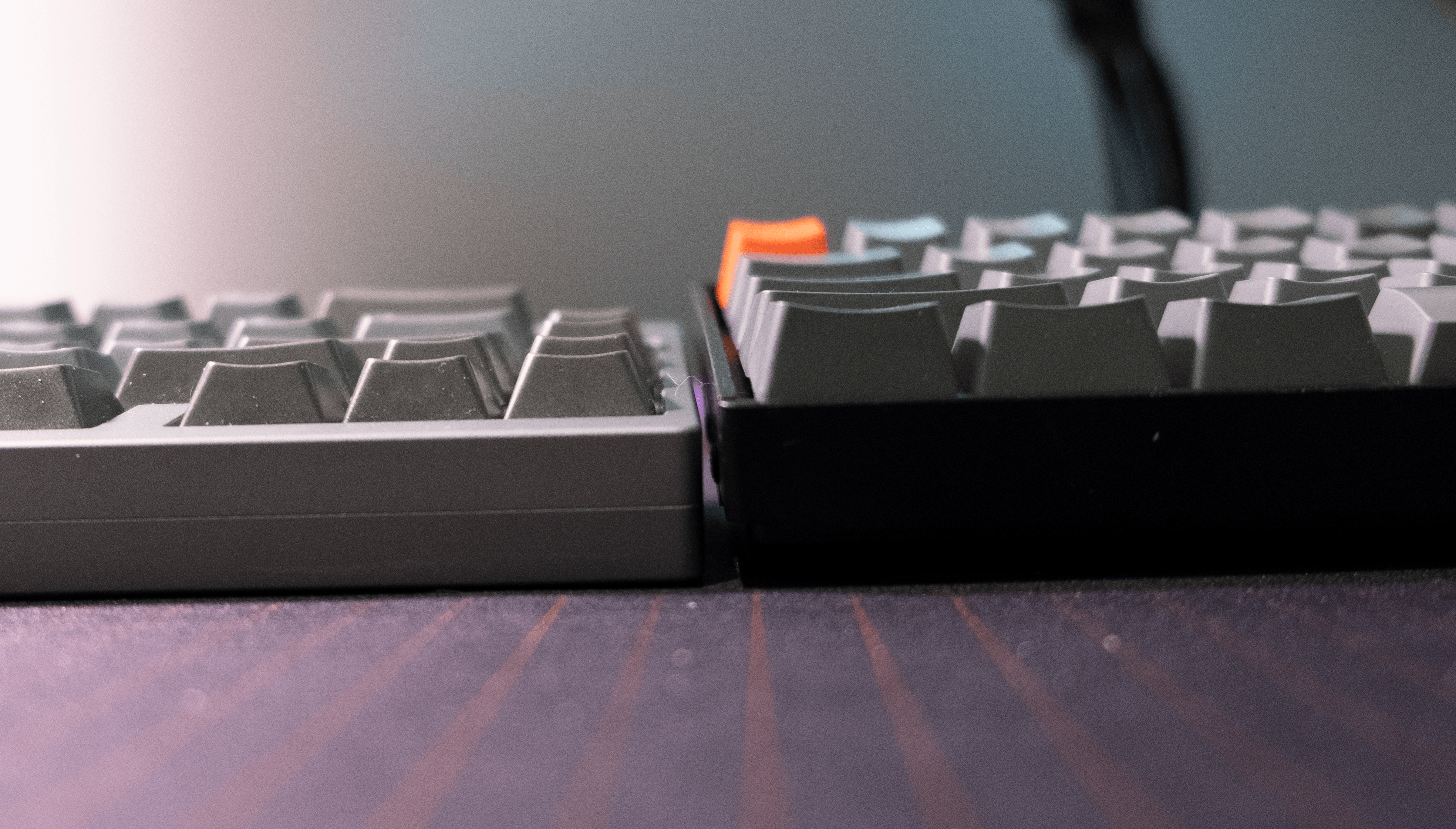 The MAJOR knock on this case design is just how tall the keyboard is, at 4 cm height this is one of the tallest keyboards around. Everyone's ergonomics are different, but to comfortably use the K6 you will likely need a wrist rest or to lift your hands in the air.
The keyboard itself is pretty light, the two stage feet do a satisfactory job in preventing the K6 from slipping and sliding all over the place.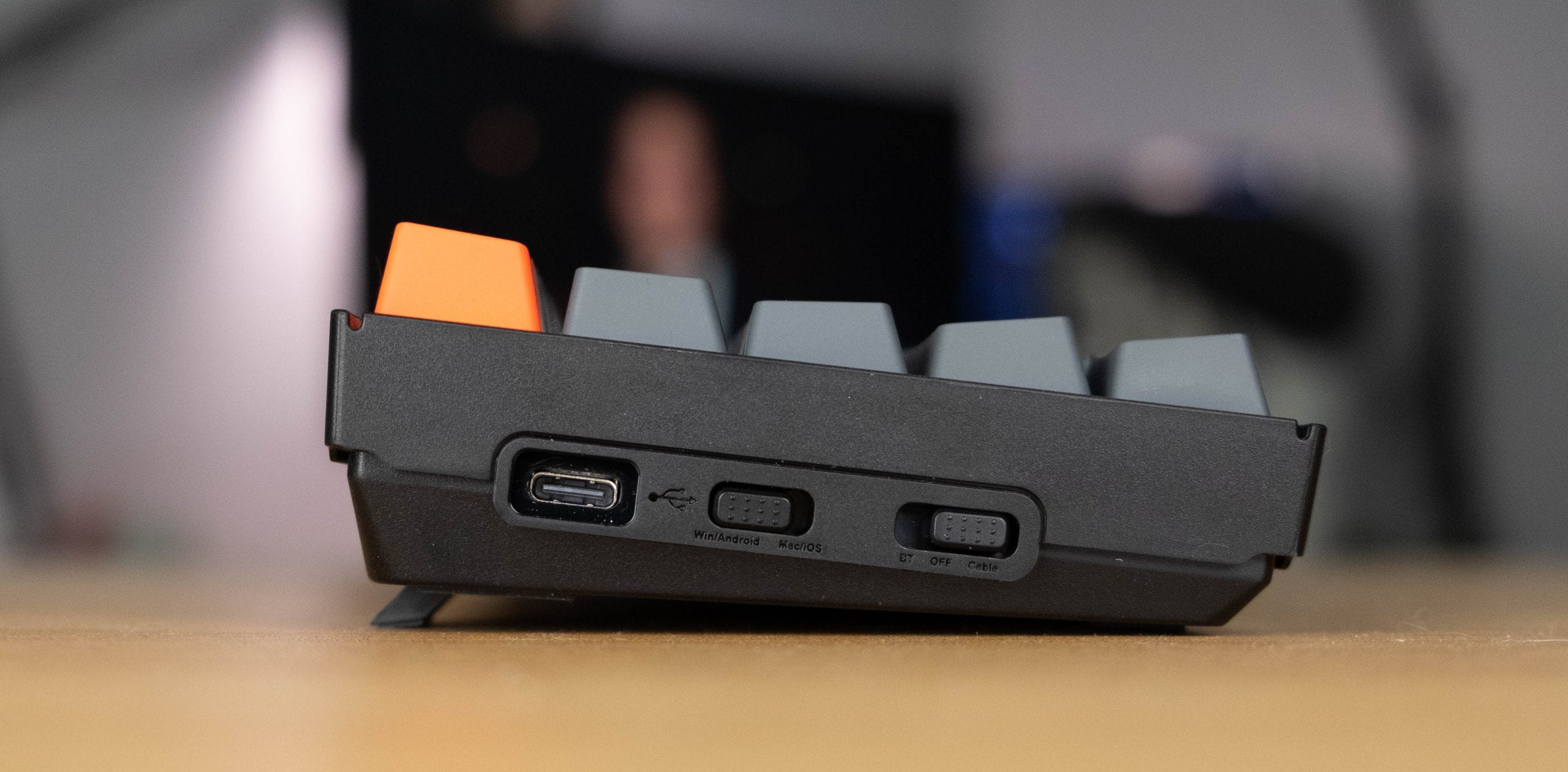 On the left side, you'll find all the connectivity options that the K6 offers. I'm thrilled to see a USB Type-C on the keyboard, the packaged right angle USB cable plugs in securely with no issue. It looks a little weird to have a cable coming out of the side of the keyboard but it's not a huge issue.
Right next to the USB port is a little LED indicator, this indicator flashes red when the keyboard is low on battery, it also acts as the charging indicator when the cable is plugged in.
The K6 can operate in both Windows and macOS mode, all this toggle really does is change the key mapping windows key and command key to fall in line with how the OS expects it to be.
Last but not least, you can toggle wireless or cabled mode with the K6, or just turn it off for travelling.
Switches & Stabilizers
The K6 comes with several switch options which is something I always give points for. The keyboard can come with the Red, Blue, or Brown Gateron or LK Optical switches. The typing test above is with Gateron Browns.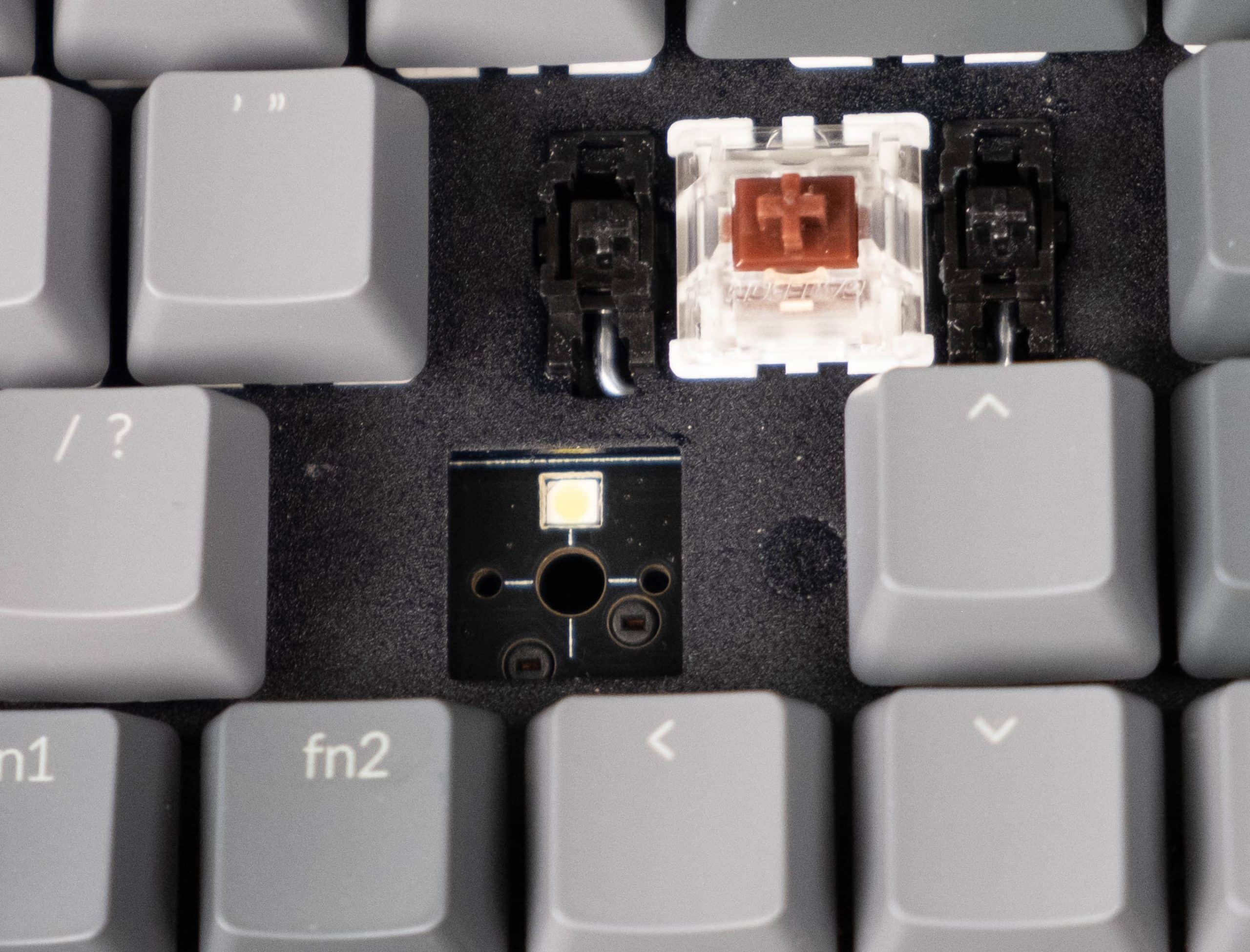 While I wouldn't say that the stabilizers are flawless, they come pre-lubed out of the factory and the stabilizers are actually somewhat smooth and sound satisfying. They're not ducky level stabilizers, but they're definitely not a rattle-fest that you'd see on a ton of other mainstream keyboards.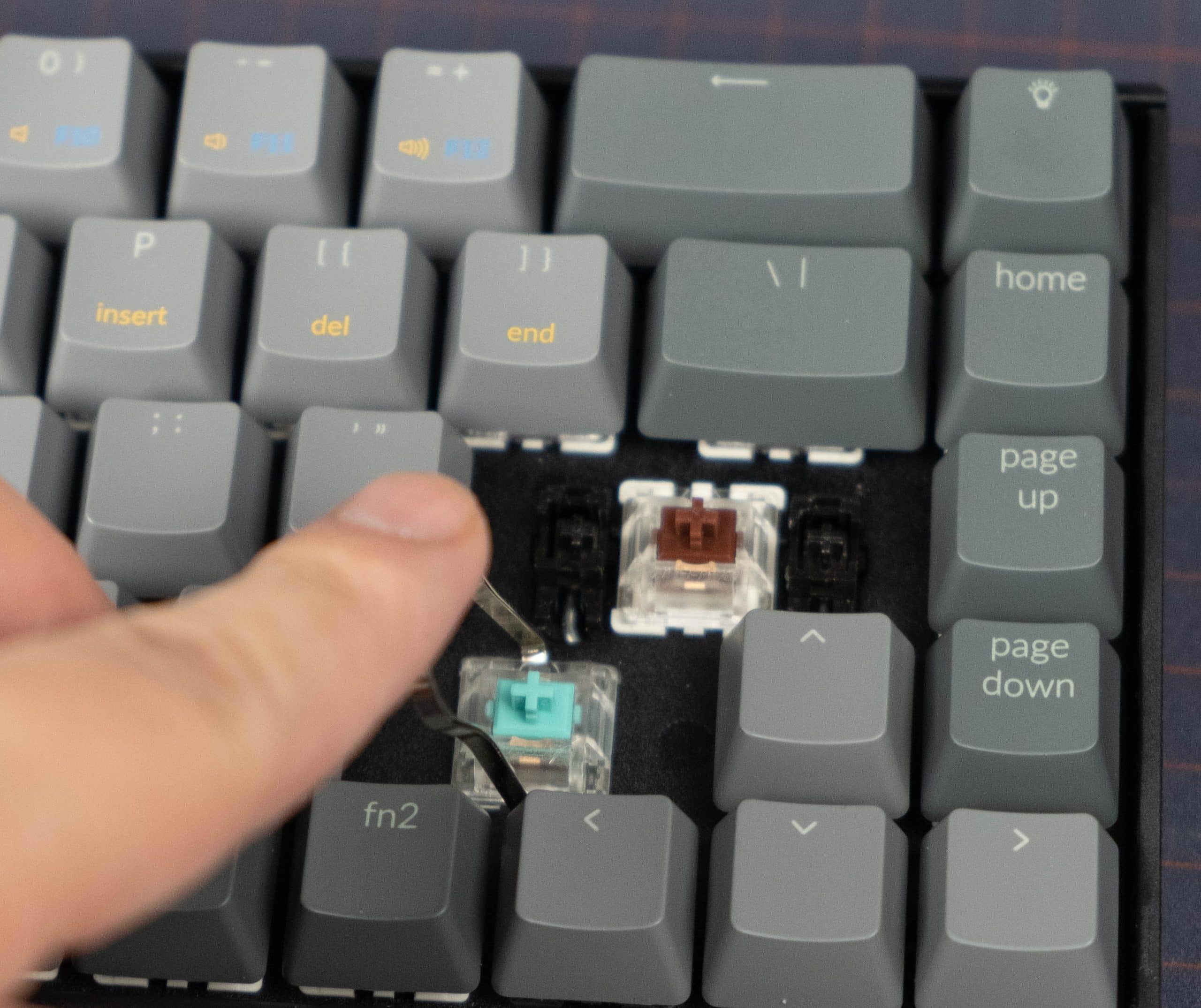 The K6 has a hot-swappable version that I would highly recommend if you're looking to try out a bunch of different switches, the 5-pin switch socket is compatible with pretty much all popular PCB mount switches. All the switches I had on hand installed easily without any issue, the insert was solid with no wiggle.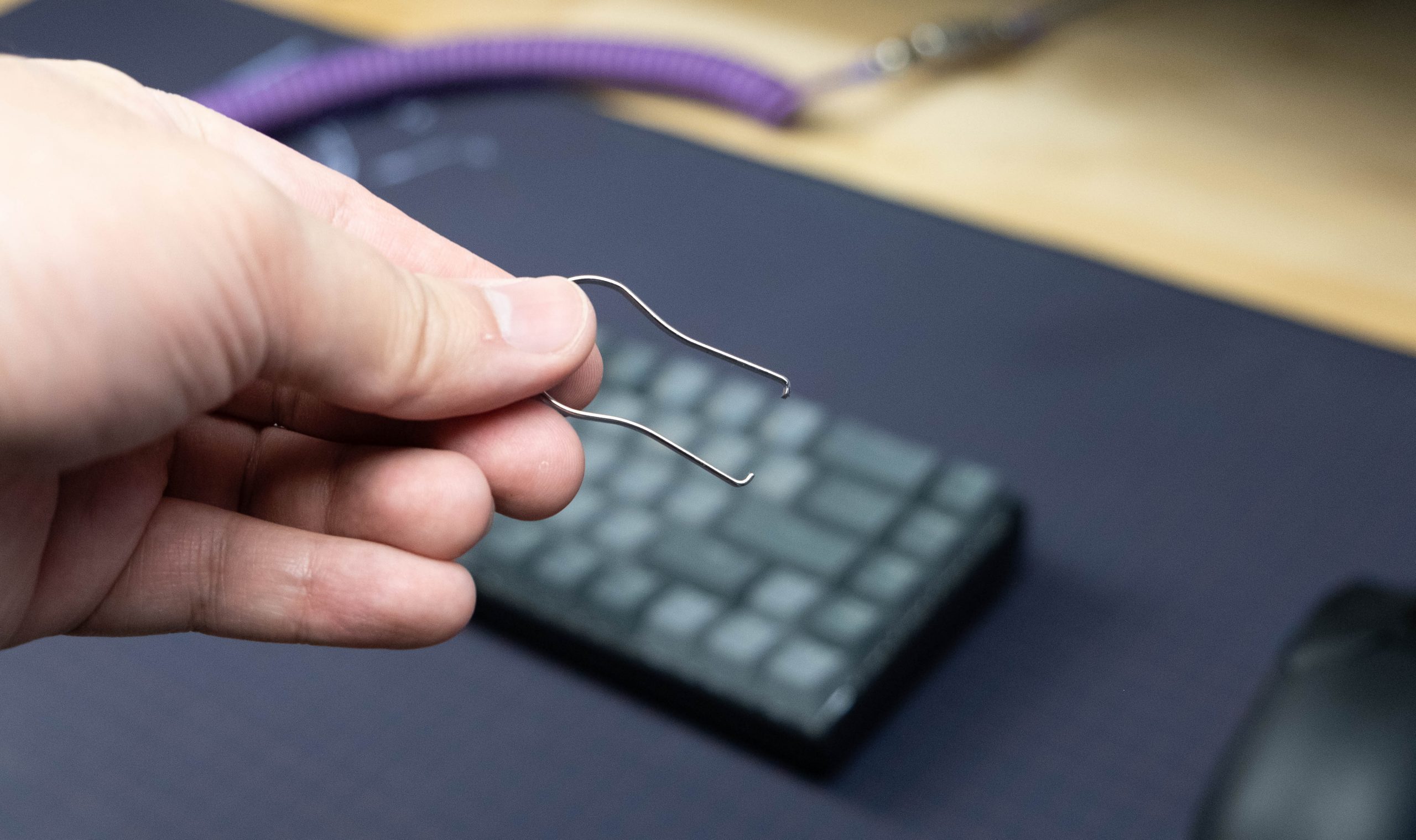 The switch puller is a little anemic, it's thin and inflexible and it actually makes removing switches harder than it needs to be, just a little more heft and width would've made this barebones switch puller better.
Keycaps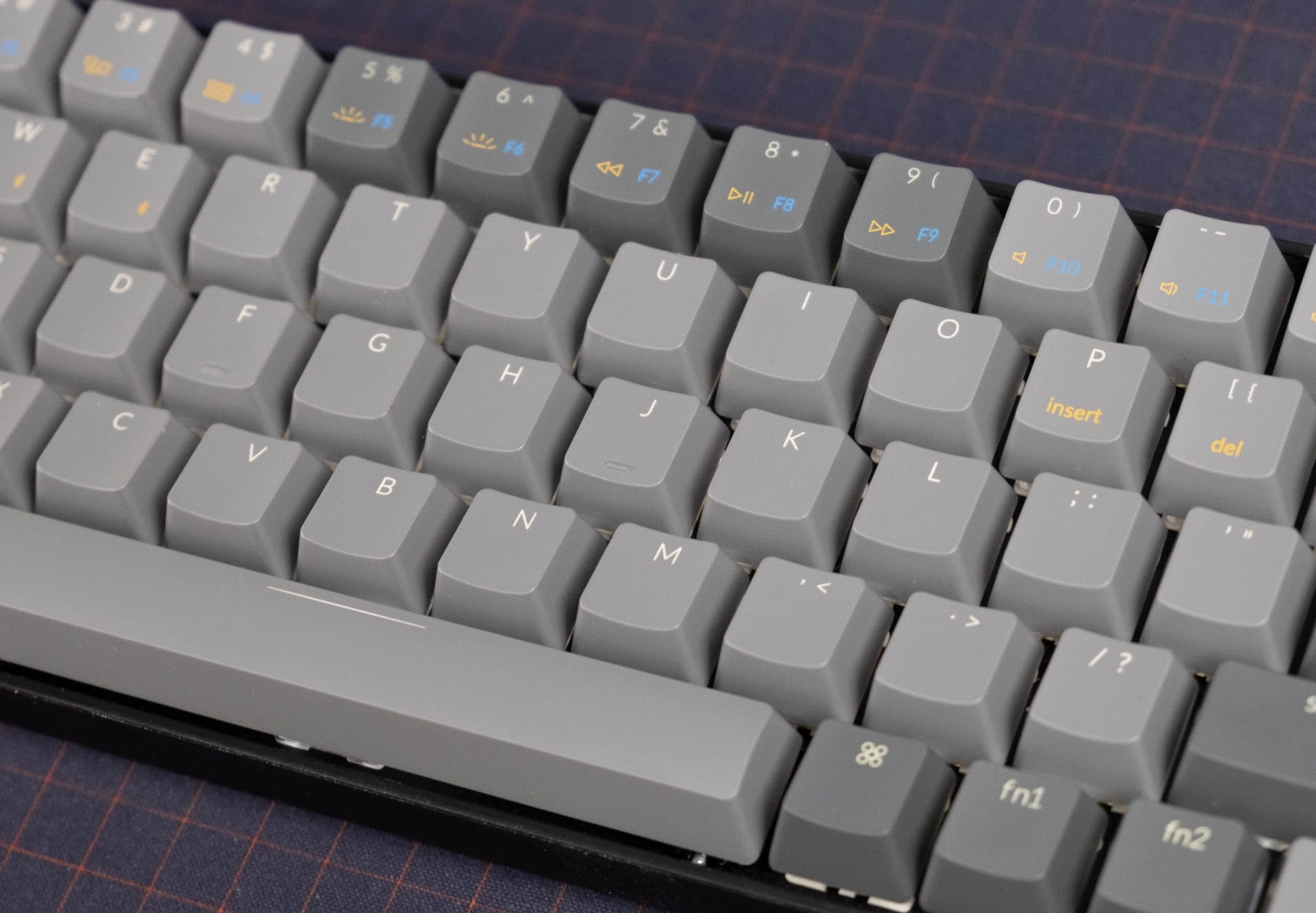 The keycaps included with the Keychron K6 are made of the typical thin ABS plastic, which isn't surprising considering its price point.
What is surprising though is how slick the keycaps are out of the box, there's basically no texture to the caps at all, I shudder to think what these caps will feel like after they take on the typical ABS shine. Aftermarket keycaps are highly recommended for the K6.
The ABS caps are painted with a laser-etching made out for the main legends for shine-through, the sub-legends are painted on with a secondary colour. I suspect after some use these keycap legends will degrade quite a bit.
The font and colour choice of the keycaps is superb, I love the Dolch-y look of the caps, the font is really pleasing and clean with easy to read sub legends. The modifier keys use a mix of icons and word labels.
Wireless
The K6 is using a Bluetooth 5.1 chip. The reported wireless connectivity problems of previous Keychron boards isn't present here. I haven't had any drops or weird input interactions on wireless at all.
Input lag is minimal on K6 via wireless, though I can sort of feel a little bit of difference compared to wired, it's recommended to use the keyboard in wired mode if every millisecond is important to you.
The Keyboard can connect with up to three devices simultaneously, these pairings are mapped to the QWE keys on the keyboard.
How to pair the Keychron K6
To pair, press fn1 + (q,w,e) for 4 seconds until that key is flashing, then pair the Keychron K6 like any Bluetooth device.
How to switch devices
Single tapping fn1 + (q,w,e) will switch quickly between devices. You will see the key flash to acknowledge the device switch.
Battery life
The Keychron K6 sports a 4000mAh battery rated to last roughly 70 hours. The keyboard is set to auto shut off after 10 minutes to preserve battery life, hitting any key on the keyboard will wake it within a second or so. The battery on the keyboard fully charges in 3 hours via USB Type-C.
Build quality
The keyboard is light, coming in at 530 grams for the plastic case and 664 grams it weighs quite a bit less than the GMMK TKL I have on hand. The weight is great for travel but not good if you're looking for a heavy keyboard.
There is some flex on the keyboard when twisted, but no creaking of any plastic.
The lightness and the flex does give the impression that this keyboard is less of a tank than other budget boards that have more rigid build quality.
Otherwise, the fit and finish are well done, I'm not seeing any rough edges or out of place moving parts.
Backlighting
The K6 comes in two backlighting flavours, white and full RGB. All K6's have a dedicated backlight button to cycle through modes. The documentation doesn't name its 18 modes, so I will name them:
Wave
Reactive Ripple
Reactive Line
Reactive Angled Line
Solid
Breathing
Rolling Wave
Waterfall
Radial
Switchboard
Fan from middle
Pinwheels
Stripe
Middle out
Reactive single fade
On the RGB version of the keyboard, you can press fn + left/right to cycle between colours.
The placement of the on the PCB and the keycaps make for a mediocre backlight experience. A lot of the shine-through seems to come from reflecting off of the outside of the keycap rather than through the cap itself, there are some caps like page up and page down that are only partially lit by the LED.
Extra Features
The K6 has some onboard functionality.
First and foremost, the PC/Mac toggle remaps Control, Command and ALT to its respective OS.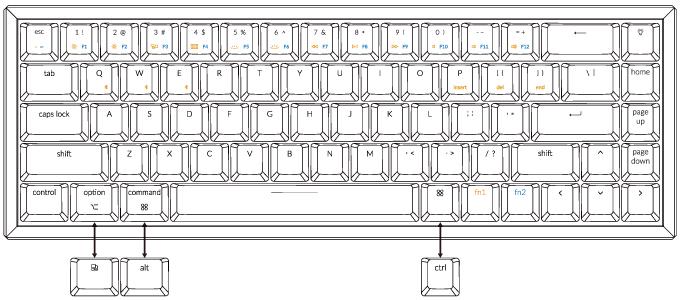 You can also set the key to the right of the spacebar to be Alt or Control, press fn1+K+R to toggle between those two, you can still access the secondary key by pressing fn1+ctrl/alt.
Warranty & Reliability
The standard warranty period for Keychron keyboards is 12 months.
According to their warranty page: https://www.keychron.com/pages/warranty
There have been several reports connectivity issues both wired and wireless where keys either get stuck or become unresponsive. I have not come across this issue on the K6 wired or wireless to Windows, Mac and iOS.
You can turn off the auto shut off by pressing fn1+S+O for 4 seconds.
To lock the lighting effect press fn1 + L + lighting button
To factory reset press fn1 + J + Z for 4 seconds
Software & Settings
Keychrons currently don't have software, they recommend Karabiner for Mac and Sharpkeys for Windows to do key remapping.
Tech Specs
Keychron K6
Length: 31.3 cm (Plastic case) | 31.7 cm (Aluminum case)
Width: 10.4 cm (Plastic case) | 10.7 cm (Aluminum case) |
Height: 3.7 cm (with caps)
Case: High profile case
Weight: 530 grams (Plastic case) | 664 grams (Aluminum case)
Keys: 68 keys
Cable Length: Braided, detachable USB Type-C
Keys & switches
Switch options: Gateron Red, Brown and Blue or LK Mechanicals
Keycap material: ABS
Keycap legends: Laser Etched
Keycap profile: OEM Profile
Media keys: Yes through fn layer
Backlight: White or Full RGB
Software: None yet
Polling rate: 1000 hz
Conclusion
The Keychron K6 is a really easy keyboard to recommend because it is so versatile, if you're looking for a keyboard that can connect multiple devices and offer a good typing experience with multiple kinds of switches then your choices are pretty slim.
For gaming, this is a solid budget option that affords you some flexibility in moving away from your desk to game. The switches and stabs are very good for this price range so you can expect a solid gaming experience coming out of this keyboard.
The big if on this keyboard is if you mind how tall the keyboard is, it's truly its greatest drawback, if you have or get the wrist rest this factor becomes less important.
Overall, this keyboard is a very solid offering, it's one of the better wireless keyboard options you can get right now up there with the Anne Pro.
The Keychron K6 arrives on the scene with great versatility and functionality for a budget price.
See Price on Amazon