April 2nd update: The GMMK Compact and TKL are now different from the unit I reviewed in this article, they've added a bit more heft to the keyboard which is one of my largest cons with this keyboard. I've yet to get the newer version but when I do I'll update with a new review.
Much respect to Glorious PC Gaming Race, they get what people want.
The GMMK is super customizable and should be a first consider if you don't know exactly what you want. The modular switch design allows gamers to modify their keyboard switch without soldering. The standard bottom row allow gamers to use whatever keycap set they want.
For a price of around $100 USD this keyboard is a great value, but there are a few parts where corners were cut to achieve this feature set and price point. The keyboard has some mediocre feet and a light weight that makes the keyboard a bit slipperier on a smooth surface, you might want to use this keyboard on a desk pad.
I think I'll be hard pressed to find a keyboard solution as customizable as this one with any of the big brands. If you want to experiment with your keyboard setup the GMMK is definitely the keyboard for you.
Pros
Modular switches, replace switches without soldering
Standard bottom row, use any keycap set you want
Minimal design, small footprint
Good RGB backlight with a ton of modes
Good quality keycaps
Tenkeyless and full size options
Detachable micro usb connector
Nice touches with included custom keycap, switch remover and keycap remover
Lots of value for an average price
Cons
Too light with mediocre feet, causes some sliding
Loud echoey case
Function keys cannot be remapped
Hotswap is in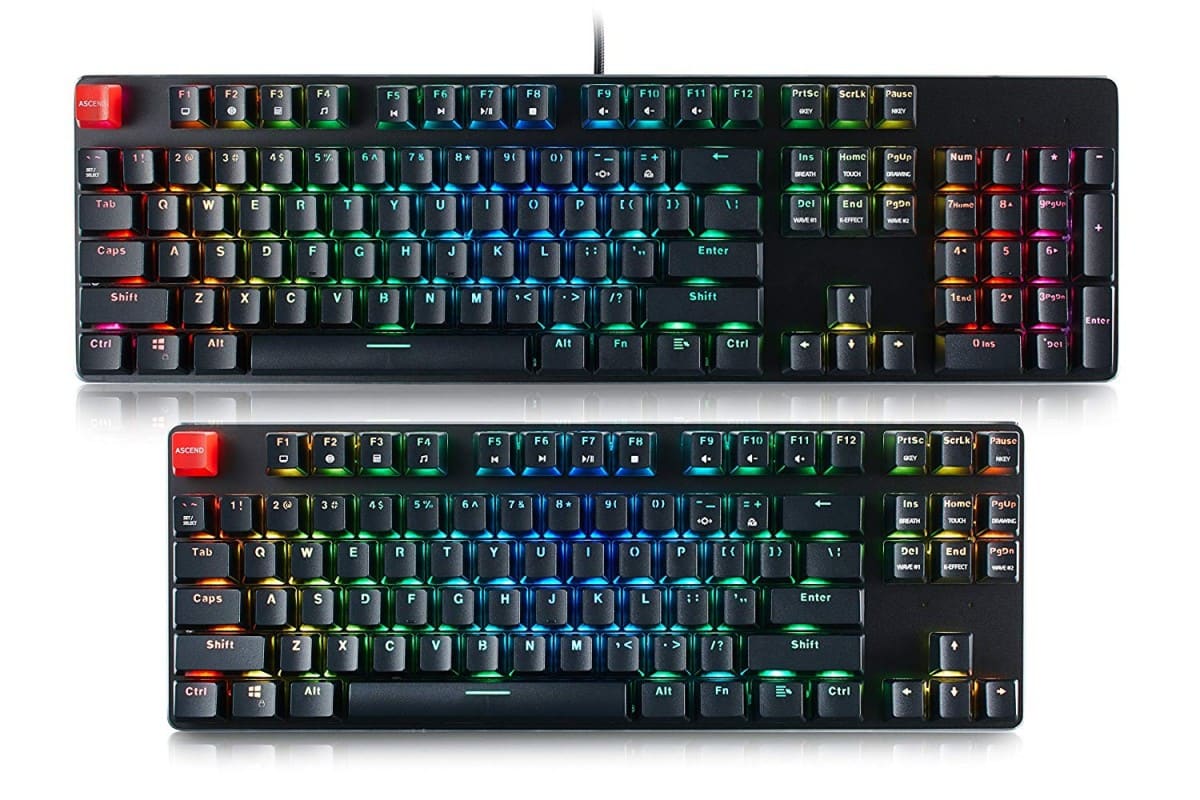 Tech Specs
Case dimensions
Length: 35.5 cm (TKL) / 44.0 cm (Full)
Width: 12.9 cm (TKL) / 12.9 (Full)
Height: 3.59 cm (TKL) / 35.9 (Full)
Case color: Black
Keys: 87 (TKL) / 101 (Full)
Cable Length: 1.8 metres, detachable
Keys & switches
Switch options: Kailh and Gateron options
Polling rate: 1000 Hz
Keycap material: ABS
Keycap legends: Double shot
Keycap profile: OEM
Media keys: 12 media keys via function
Backlight: 16.8m RGB
Connection: USB 2.0 to PC, micro USB to keyboard
Size & Design
The Glorious GMMK has a highly customizable and minimal design, no branding or badging on any surface of the keyboard.
The keyboard comes in two main configurations, full 104-key size or the smaller tenkeyless (TKL) size both feature standard key row sizes and don't have much of a frame outside of the keys themselves. It's a design aesthetic I prefer, keeping the main footprint of the keyboard low.
Official sizes for the GMMK:
Tenkeyless

Length: 335 mm
Width: 129 mm
Height: 35.9 mm

Full size

Length: 440 mm
Width: 129 mm
Height: 35.9 mm
The most unique feature of the GMMK is that if you buy it from their official store, you can customize the keyboard in several different ways. Here are all your options:
The advantage here is obviously you build a keyboard suited to you, you can also buy them pre-built off of Amazon or their official store.
The GMMK I'm reviewing is a TKL with Aura keycaps and Kailh Box Red switches.
Holding off on all the customization for later, the design of the keyboard features some pretty standard feet, a removable USB cord and minimal caps lock and scroll lock LEDs, no non-standard buttons, no dedicated media keys.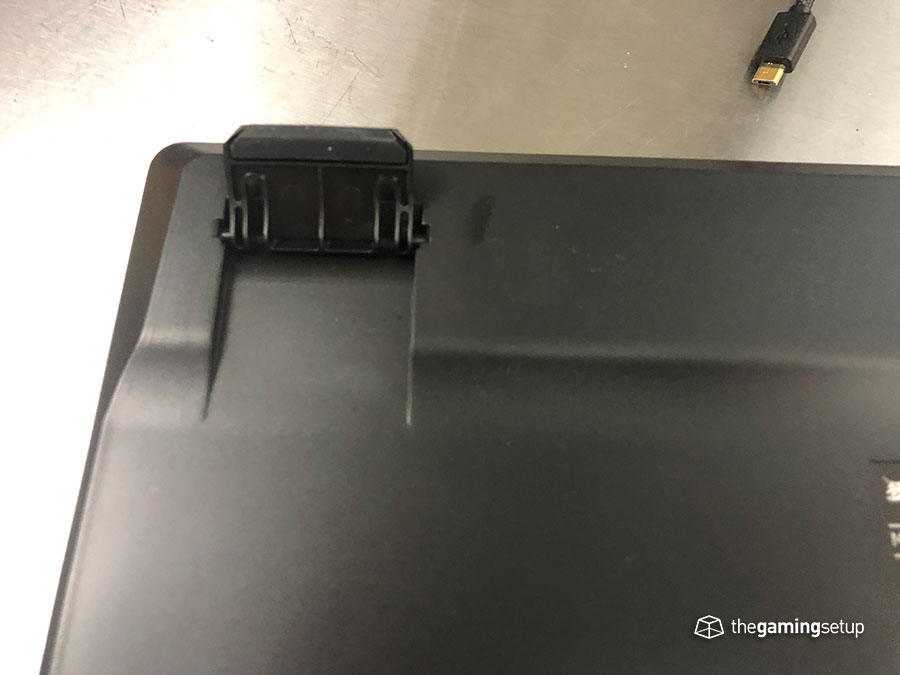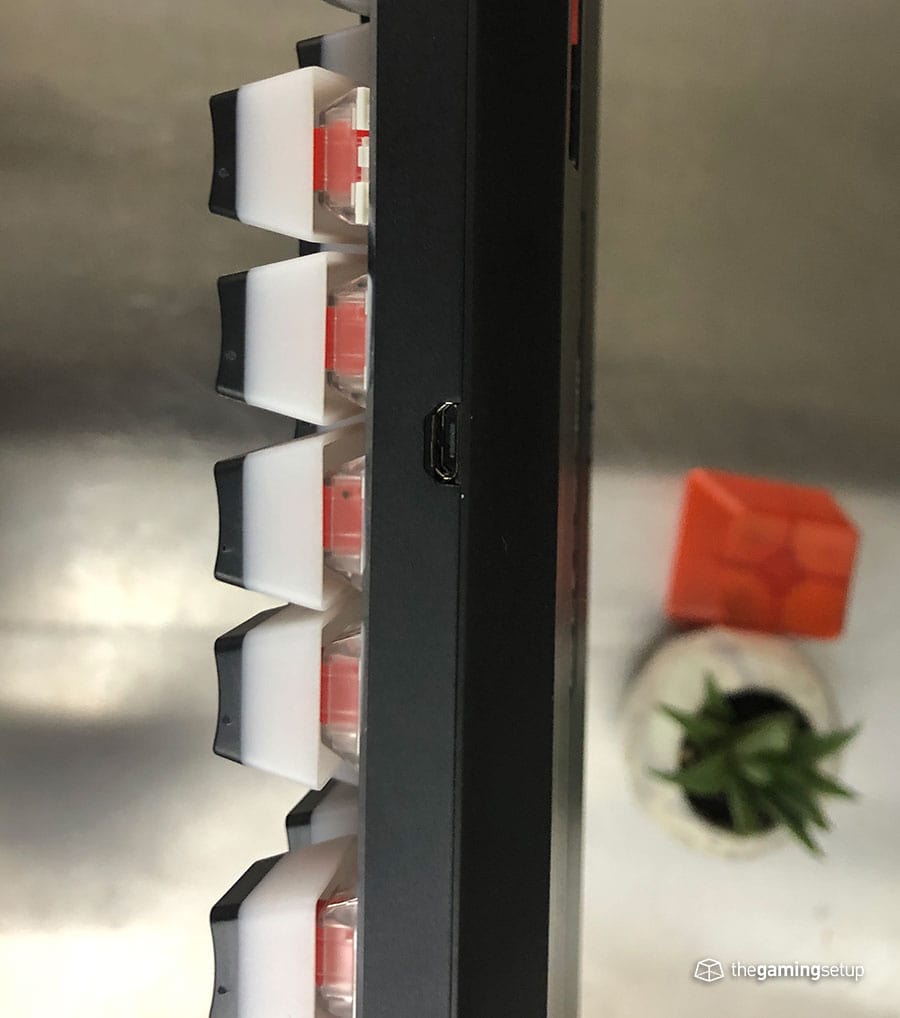 The GMMK does have function keys for media and other shortcuts, but the aura keycaps I got didn't have any indication of where the functions keys are, so a little bit of a learning curve there. Looks like the standard set of keycaps have alternative function labelled keycaps included.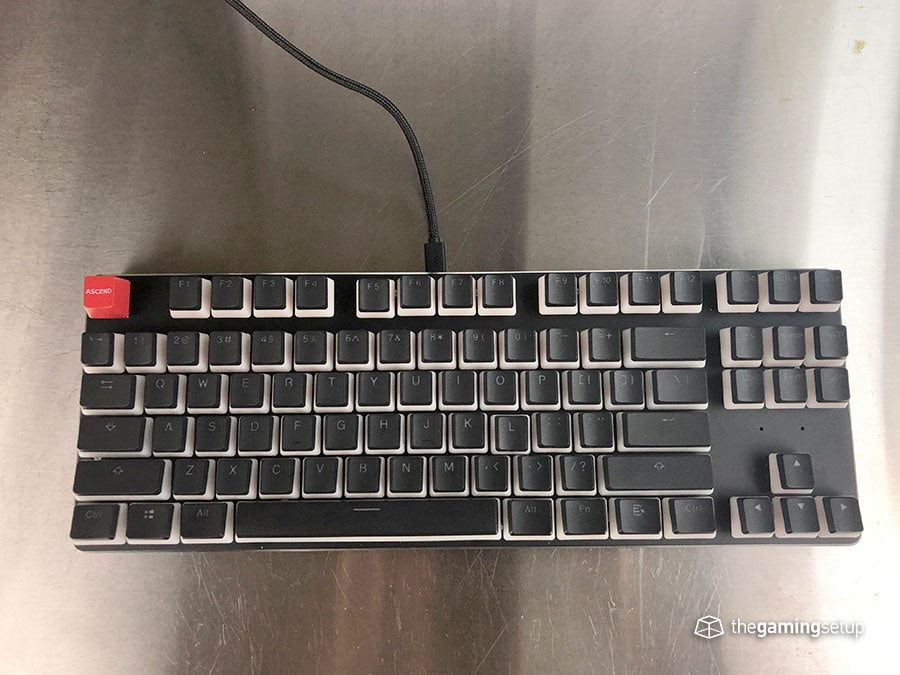 The font of the keycaps is okay, some of the letters like Q and R have a horrendous style that I do not like. On the up-side it's not too gamery and the icons are tasteful.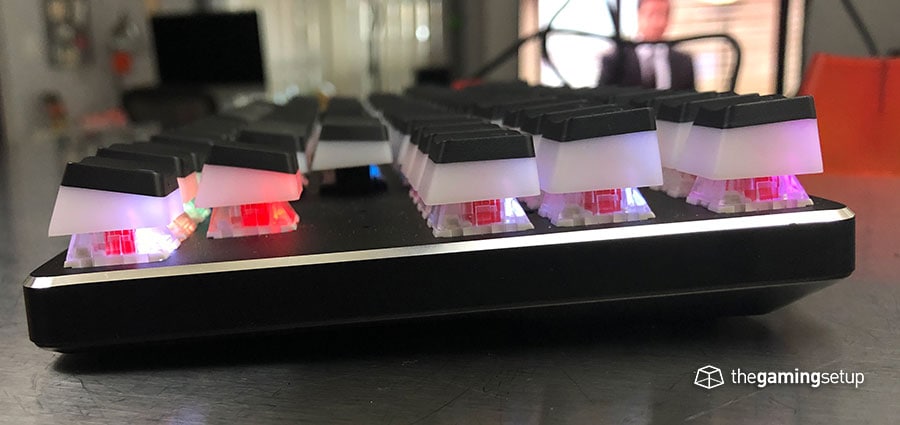 The case of the keyboard is low profile, which is a cool aesthetic and allows for easier cleaning of your board. The case of the keyboard is plastic with the base being made out of a black brushed aluminum.
The edges of the case have a steel (I think) chamfered edge. There are a lot of subtle design choices that add a tiny bit of flair while keeping the keyboard as a whole minimal feeling.
The entire keyboard is quite light, I found the keyboard moving around quite a bit, the feet don't have enough grip to prevent that. Personally, I prefer a heavier keyboard to have it rooted in place when typing or gaming.
Switches
Here's how our Kailh Box Red switches sounded in the Glorious GMMK and compared to the Logitech Romer-G tactiles switches found in the Logitech G Pro Keyboard.
This is my favourite mainstream keyboard for switches, the keyboard allows you to plug and play any switch without soldering but they also pre-include a bunch of switch options when purchasing.
Here are all the switch options you have when playing from the official store:
Kailh

Box Black
Box Brown
Box Red
Box White
Speed Bronze
Speed Copper
Speed Silver
Pro Purple

Gateron

Black
Blue
Brown
Clear
Green
Red
You can also get a pre-built GMMK off of Amazon with Gateron Reds, Browns or Blues.
If you have a specific switch you prefer you can actually buy them and install them yourself, as long as they're compatible. This is actually a very valuable way to test different switch types in an actual keyboard, no other mainstream keyboard allows you to do this, you can get modular keyboards from more enthusiast keyboards.
Here's how quick it is to get the switches changed, all tools are included with GMMK, though I will caution that the packed in keycap remover that the GMMK comes with can scratch your keycaps, a wire keycap remover is a little safer.
You can use any switch that is plate mounted, 3-pin and SMD LED compatible, luckily the large majority of switches are compatible.
Once installed, the switches are solid, they're placed in solidly with actual less wobble than the Romer-G. The sound of the switches are as expected, no creaks or weird pinging against a metal backplate. The sound of the keyboard is a little loud though, the switches kind of echo in the housing.
Keycaps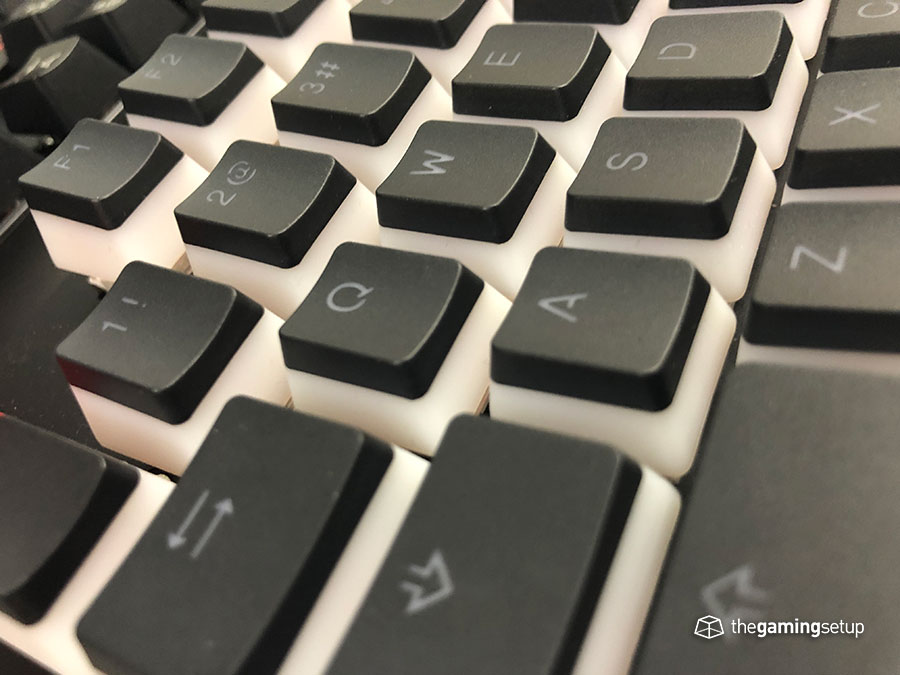 The GMMK is is a standard row keyboard which means its going to be compatible with the majority of custom keycaps, if you buy the GMMK from the official site you don't have to buy their included keycaps.
The higher priced Aura keycaps from glorious are double shot keycaps topped with PBT. Very nice quality and feel, the lower half of the keycap is transparent which allows for that really cool "pudding" style glow. Thickness of the keycaps are okay, I don't think you'll have much issue with durability with the Aura keycaps.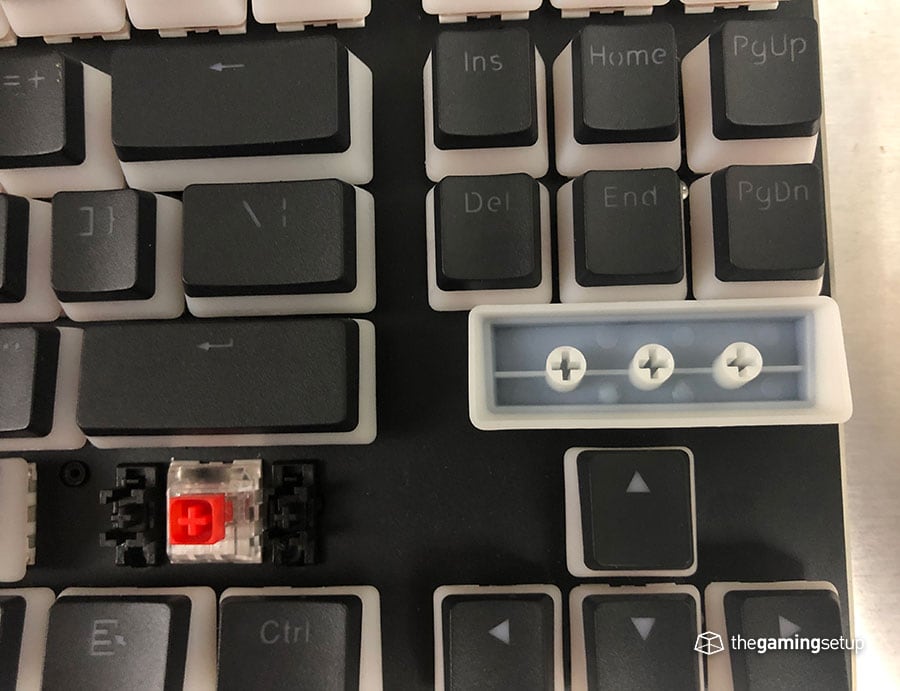 Combining the Aura keycaps with some pretty good RGB modes, you get a very pretty keyboard: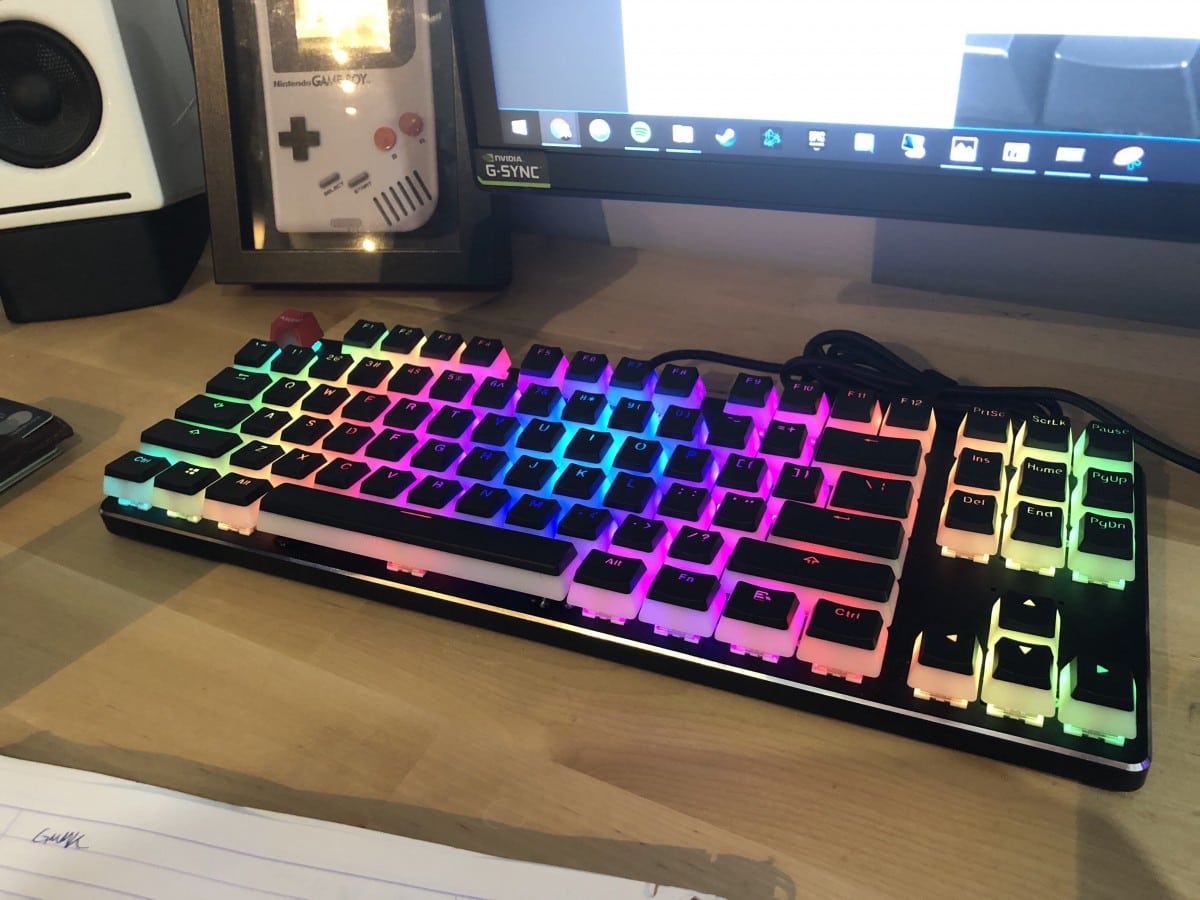 Here are all the RGB modes found on the GMMK
Wave #1
Wave #2
Spiraling Wave
Acid Mode
Breathing
Normally on
Ripple graff
Pass without trace
Fast run without trace
Matrix 3
Matrix 2
Rainbow
Heartbeat Sensor
Digital Times
Kamehameha
Ping Pong
Glorious Mode
Surmount
Custom
The standard black and white keycaps feature the same font as the Aura keycaps, but are made of double shot ABS plastic instead of PBT. With extended use these keycaps will get a little shinier.
Every keycap set comes with a cheeky master race keycap as well as a standard esc keycap.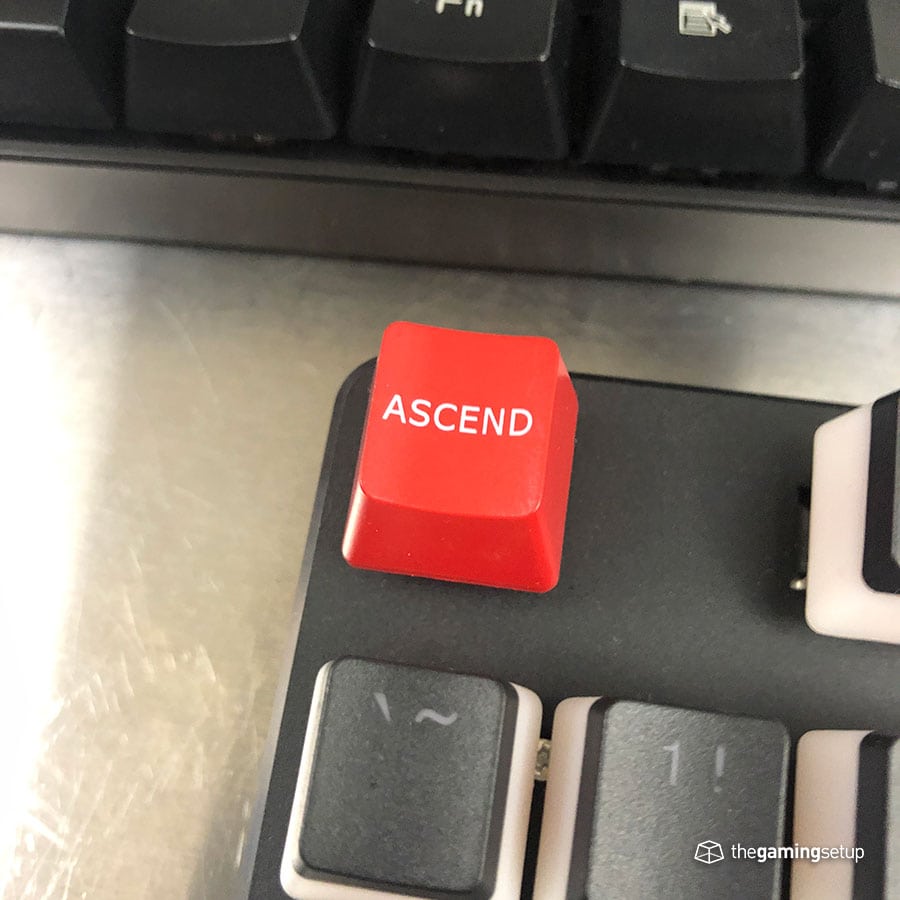 Overall a very good keycap offering from the GMMK with the option to use whatever Cherry Stem keycap set you want.
Build Quality
As mentioned previously, this keyboard is pretty light, I suspect there's not much actually inside the case of the keyboard and the case itself is made of a lighter plastic.
I do wish the GMMK was a little heavier and reinforced to have a more solid feeling keyboard. It feels good, but it definitely doesn't feel as good as a tankier metal keyboard like my daily driver.
The keyboard does flex a little bit when twisted, but not a shocking amount. No creaking detected on the keyboard.
The cable is a high quality braided cable that will not anytime soon wear down.
The sockets and stabilizers in the keyboard itself look solid, no reason for concern of switching switches often.
Other Features & Software
We've covered most of the major features in other sections of the review, the GMMK has some really unique features:
Modular switches
Standard bottom row
Aura keycaps
Really nice RGB with several modes
Here are some of the more standard features that every gaming keyboard has now.
100% Anti-Ghosting
N-Key Rollover
Polling Rate: 1000 Hz
Standard feet
The GMMK also includes a keycap puller on the back, a nice little touch.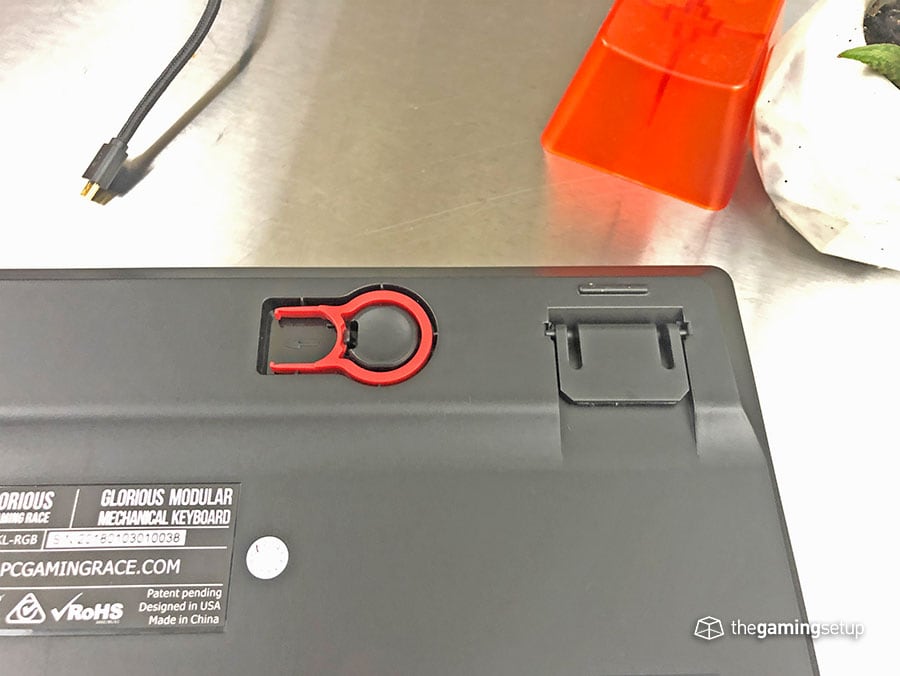 The software on the GMMK is a little lacking, you have to download your software based on the serial number.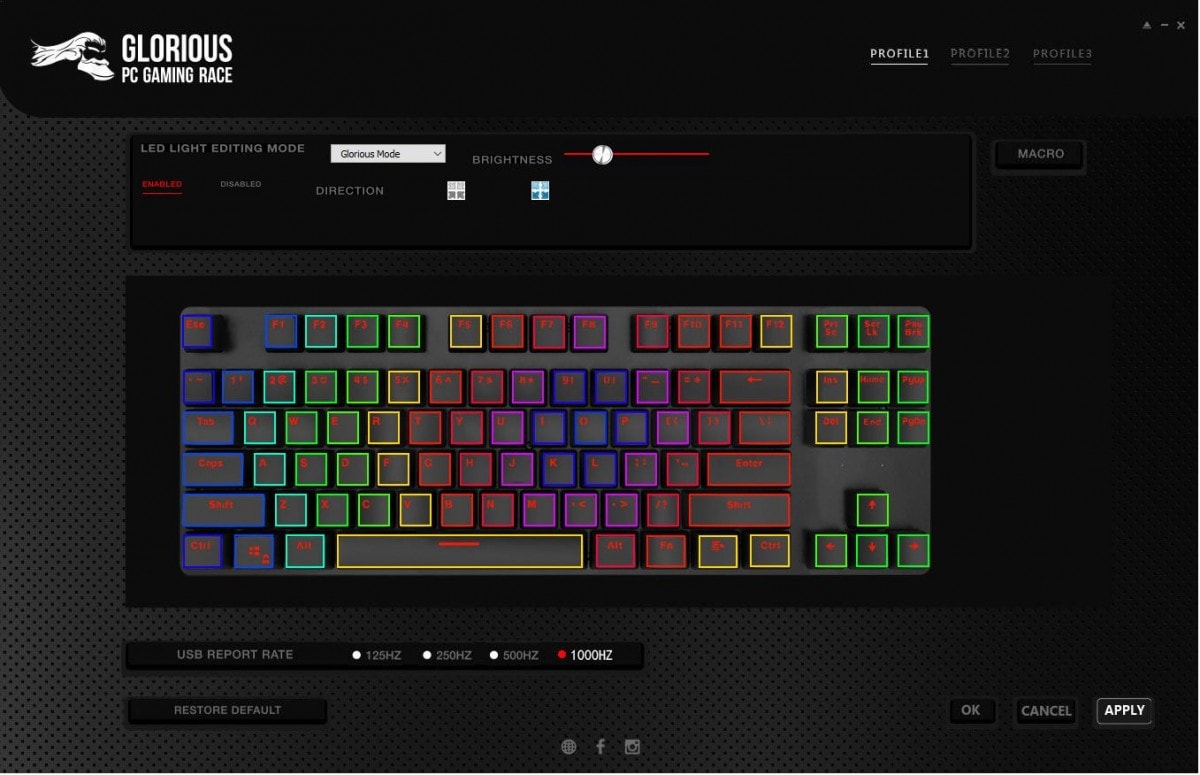 The software allows you to do a few things;
Pick your LED mode as well as customize your own backlight patterns
Record Macros
Set profiles
Set USB report rate
That's it, you can use this keyboard without installing the software.
Warranty and Reliability
The GMMK manual shows that the warranty on the keyboard is 1 year.
Warranty does not cover damages as the result of changing keycaps or switches
That kind of warranty policy is disappointing, changing keycaps and switches is an advertised feature of this keyboard.
That being said, I would find it hard to imagine anyone damaging their keyboard if they replace switches and keycaps in a standard way.
Final Words
The Glorious GMMK is probably the best starting mechanical keyboard you can get. The ability to customize your switches and keycaps without any hassle lets you figure out what you actually prefer.
For the price, roughly $100 USD for a full set up, its a great value compared to some of the bigger brands.
The GMMK is really well designed with customization as its key focus and unique value in a crowded keyboard space. It has great RGB and good keycaps.
Where the GMMK lacks is in the overall build quality, you can see where they cut corners to keep a great price, the feet and the weight of the keyboard do hinder the experience slightly when using the keyboard.
Hotswap is in