Introduction
Many mainstream mice these days come equipped with quality PTFE mouse feet. They offer consistent, smooth glides and are suitable for the majority of individuals. However, some individuals want even more glide and turn towards players in the aftermarket mouse feet scene. Many popular third-party mouse feet include Tiger, Hyperglides, Lethal Gaming Gear, and CorePad skates.
A new player emerged in the market using a different material for their mouse feet. Introducing Pulsar's lineup of glass mouse skates; the Superglide. Using glass as a material, Pulsar was aiming to create the smoothest mouse feet on the market. After testing and playthrough, I can conclude that these are the fastest mouse feet I have ever used.
Pros
Delivers on speed
Good fit with a wide range of popular mice
Great for flick heavy FPS games
Durable
Cons
Not a good fit for hyper precise FPS
More sensitive to a dirty mouse pad
Specs and Compatibility
The Superglide mouse feet are made out of aluminosilicate glass that offer greater glide and durability compared to the rest of the competition. As most mouse skates go for simple designs, Superglides present a very unique aesthetic that feels personalized towards your mouse. In terms of design, glide, and durability, Superglides seem very impressive.
Pulsar has developed a variety of Superglide skates for multiple mice. As of now, Pulsar has catered towards the majority of mainstream mice on the market, see the full list here.
Unboxing and Packaging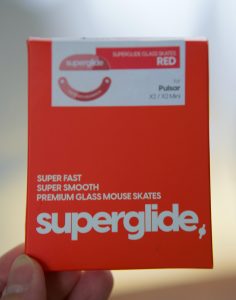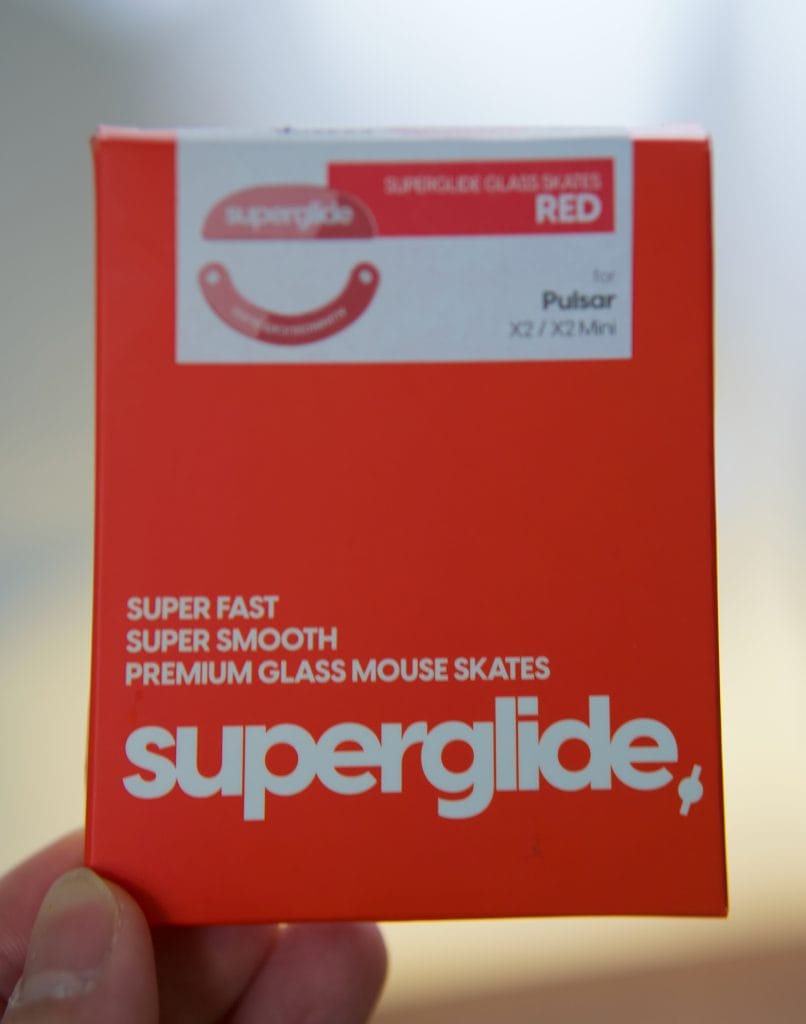 Superglides come in a small, compact box that is protected by a plastic covering. In the box you get:
1 pair of Superglide skates
Installation guide/documentation
Sticker
Pulsar did a good job of packaging the Superglides. They feel premium and were presented well with the package.
Price
The Superglides are more expensive compared to other aftermarket skates. Each box comes in at $24.95 for one pair of Superglide skates.
Installation
The installation didn't differ from any other set of aftermarket mouse feet. Tear off the old, clean the leftover residue, and stick on the new Superglides. There is no plastic sheet that you have to tear off the Superglide, just install the feet and you are good to go.
Fit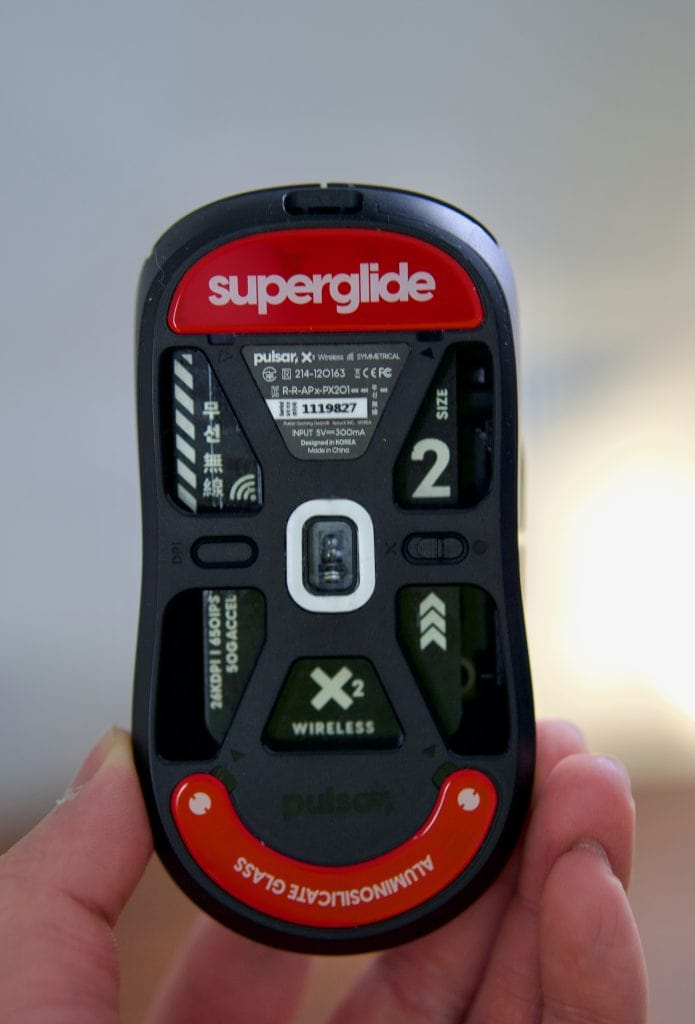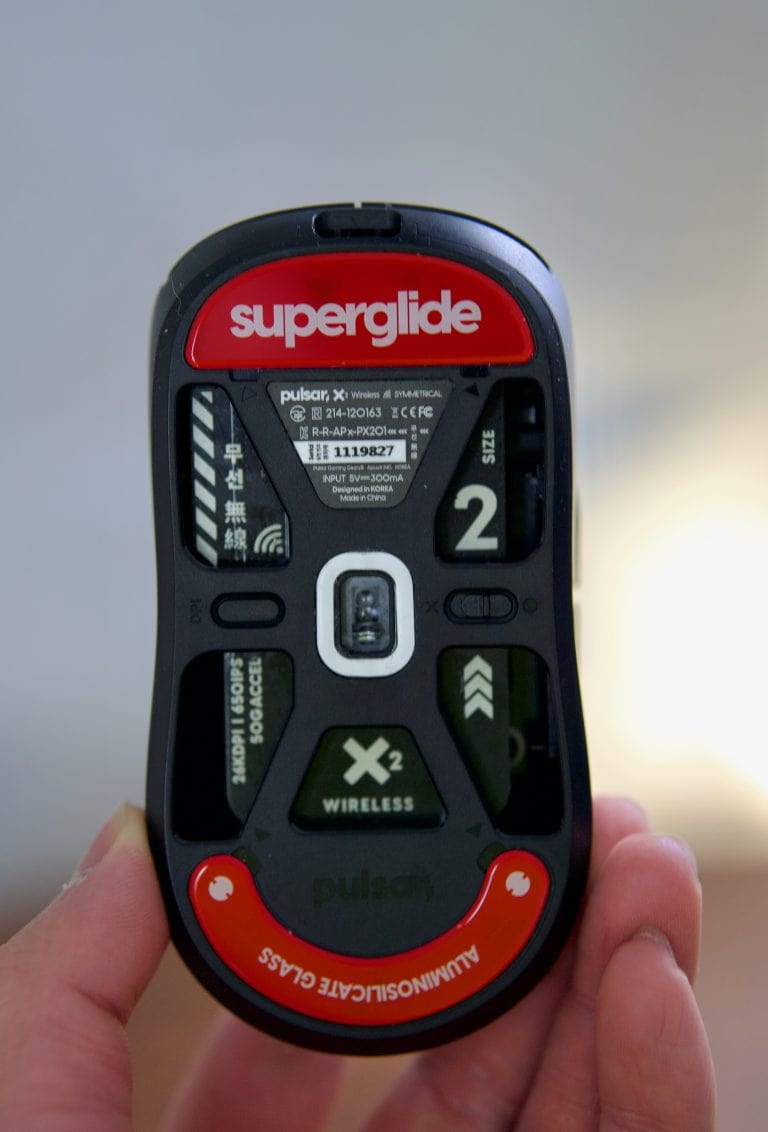 The Superglide fits the Pulsar X2 perfectly with little to no gaps in the slots. There have been some complaints before about other models not fitting their mouse perfectly but that is being worked on.
Thickness
The Superglide skates come in at 0.8mm and this is their only size. There were no issues of having uneven mouse feet.
Glide
Pulsar did not lie, the Superglides are extremely quick. The glass makes it so there is very little friction with your mousepad. In comparison to Tiger, Hyperglides, and CorePad, the Superglides feel the fastest and smoothest. To move the mouse requires very little force and makes the mouse feel lighter than it actually is.
The Superglides have a break in period. Right out the box the skates were at peak glide and were honestly quite hard to control while gaming. After a week of consistent use and aggressive swipes on the mousepad, they got easier to control but are still very quick.
One concern of the Superglide is their performance when faced with a slightly dirty mousepad. Areas where your arm and mouse are will be slightly more beat up due to factors like sweat and dirt build up. When coming across this area, there is a noticeable decrease in glide with the Superglides compared to less dirty segments of your mouse pad. This created inconsistencies with the overall glide and smoothness. Luckily, this effect can be lessened by cleaning your mousepad more often and I found that this made the Superglide feel more consistent. Unfortunately, the Superglide falls short with this issue compared to other aftermarket skates as previous PTFE mouse feet did not have this problem.
When casually using these mouse skates, just browsing the web proved to be frustrating at first. As I actuated a click, the mouse cursor would move slightly since the friction is so low. Sometimes I had to click multiple times to actually do what I wanted. After the break in period, this issue arises less and less.
Durability
Being made out of glass, it is expected that the glass skates will last longer compared to plastic skates. Upon initial inspection, the Superglides feel more well built and are less susceptible to wear and tear.
Compatibility List
The Pulsar Superglide mouse skates are available for the following mouse models:
Xlite Wireless
Pulsar V2/V2 Mini
Logitech G502X
Razer Basilisk V3 Pro
Vaxee XE
Steelseries Aerox 3/Aerox 9
Xtrfy MZ1 Wireless
Razer Viper Ultimate
G-Wolves Hati-S Wireless
Logitech G703/G603/G403
Logitech G303 Shroud Edition
Logitech Pro Wireless
Razer Orochi V2
Razer DeathAdder V2 Pro/V2 X HyperSpeed
Glorious Model O/Model O-
Roccat Kone Pro/Pro Air
SteelSeries Prime Mini Wired/Wireless
Zowie EC series
Zowie FK/ZA/S Series
Endgame Gears XM1 RGB/XM1r
Vaxee Zygen NP-O1/Outset AX
Xtrfy M4 Wireless
Logitech G502 Lightspeed Wireless
Glorious Model D
Logitech G304/G305
Logitech G900/G903
Razer Basilisk Ultimate
Razer Viper 8K/Viper
Razer Viper Mini
Conclusion and Recommendations
These skates are amazing for FPS games that rely heavily on tracking targets or anything that is situated in a fast-paced environment. For more controlled aiming games such as Valorant or CS:GO, it will take some time to adjust to the speeds of the Superglide. However, I felt that my flicks and turnarounds were faster once I got used to the increased speed of the glass skates. If you feel like your stock PTFE feet are slow and you generally enjoy a much lower friction feeling, the Superglides from Pulsar can be an excellent choice.