The Pulsar X2 series is Pulsar's newest lightweight gaming mouse.
Upon looking at the details of the mouse, the X2 offers many promising features that translate well to in-game performance. With the Pulsar X2 being lightweight, having a comfortable egg like shape, flawless sensor, and set at only $100, it is a contender for one the best mice released in 2022.
In my eyes, the Pulsar X2 can be thought of as a mouse combination between the G Pro X Superlight and Endgame Gear XM1, giving us a strong competitor to both.
Pros
PTFE mouse feet
Excellent build quality
Fantastic sensor with Motion Sync
USB-C charging
Good looking design
More affordable at $100
Cons
Main buttons feel very different
Slightly slippery texture
Quality control concerns with battery and buttons
What's in the Box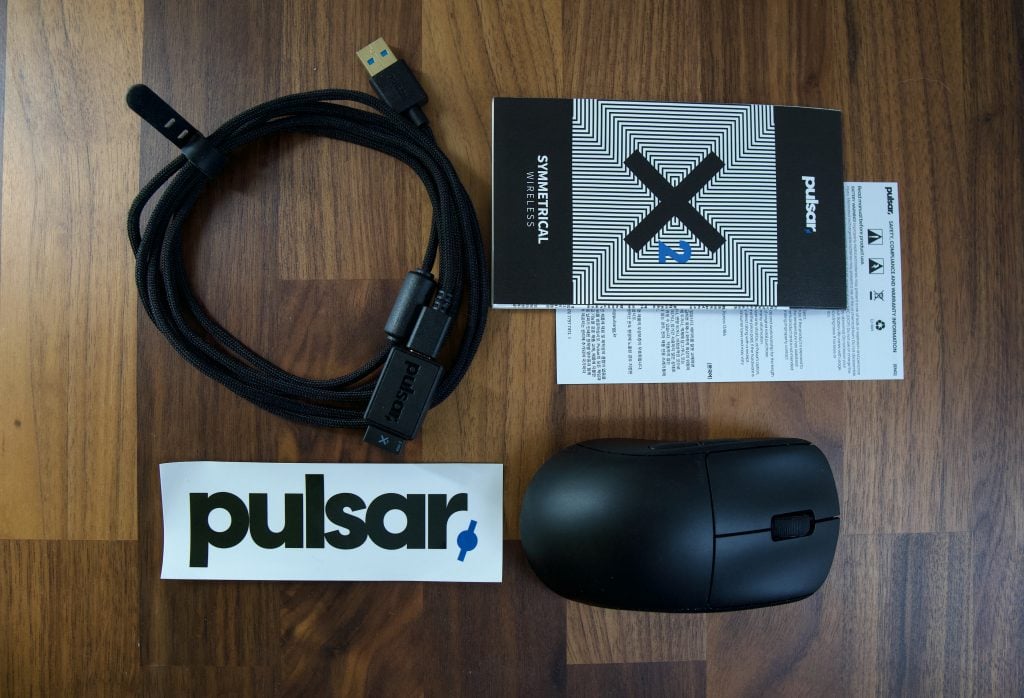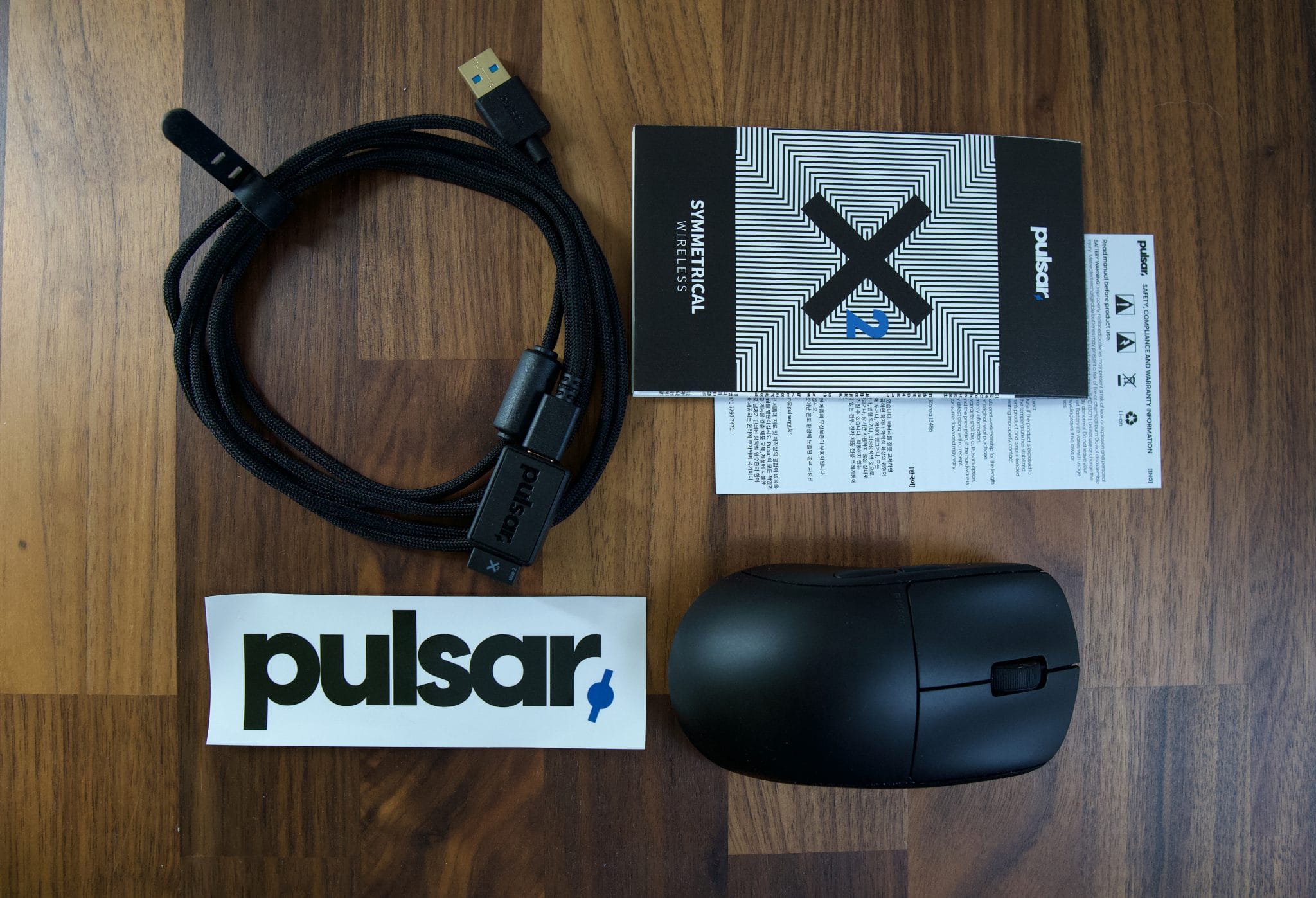 The unboxing of the Pulsar X2 was quite standard and similar to many other openings. Inside the box you'll find:
USB receiver extender
USB dongle
USB-C to A cable
Documentation
Pulsar sticker
Shape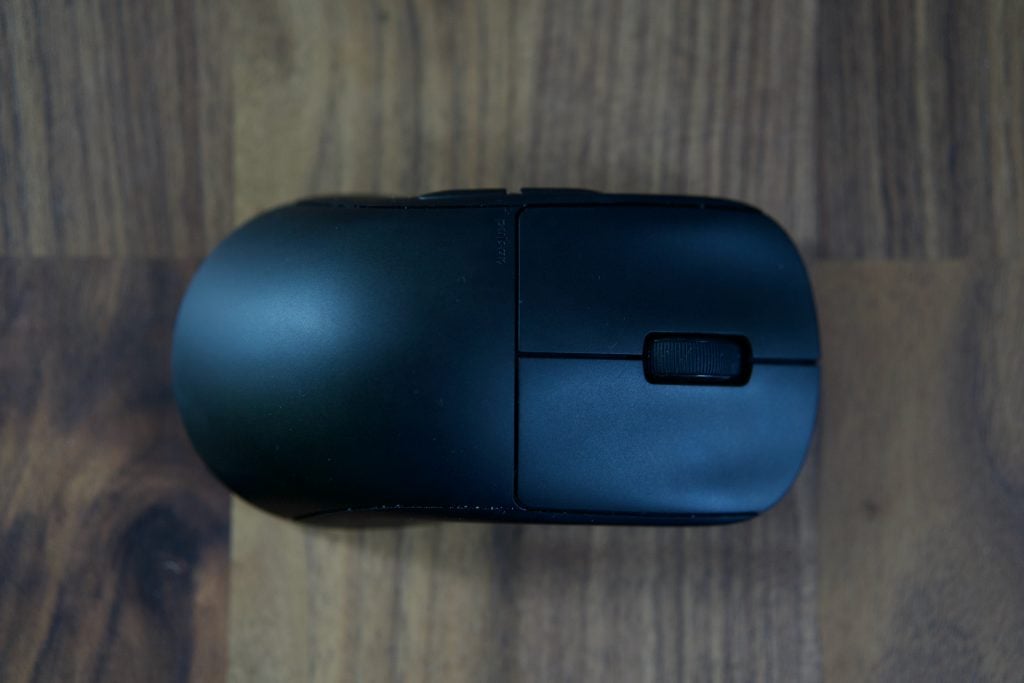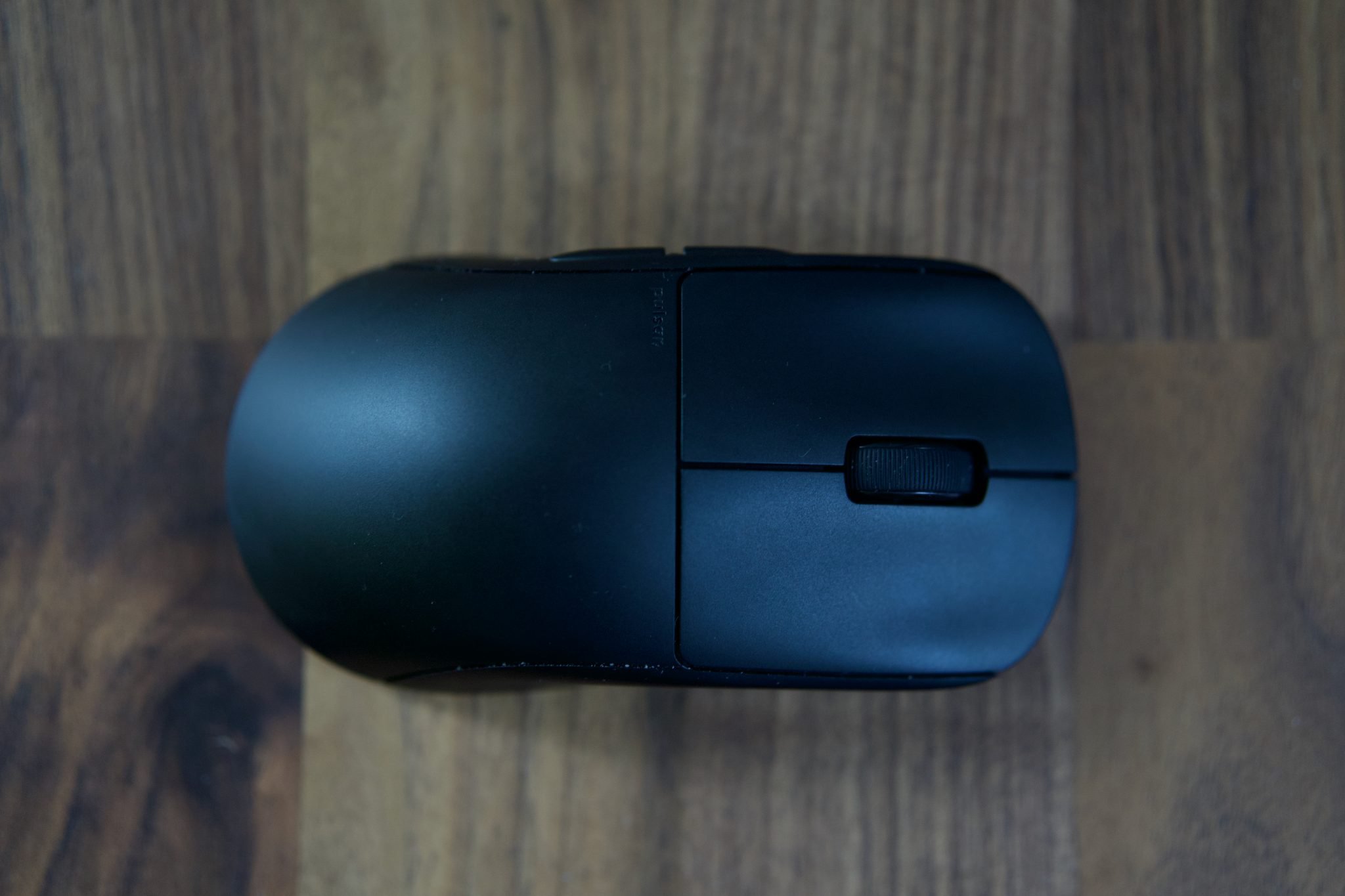 The X2 can be thought of as a hybrid mouse between the G Pro X Superlight and Endgame Gear XM1. The hump of the X2 is more pronounced towards the backside, taking on more of an XM1 approach.
The sides on the X2 are relatively straight, taking on the shape of the G Pro X Superlight. As we move to the front, the Pulsar angles downwards, making the main mouse buttons closer to the ground. Additionally, the main mouse buttons have slight grooves which for better comfortability and stability while using the mouse.
With the shape of this mouse, the ideal grip would be claw and fingertip since the hump is situated further back to fill out the back of your hand.
Palm grippers may find it slightly uncomfortable to hold due to these factors since they usually prefer humps toward the middle of the mouse. Fingertip grippers may have a better experience with the X2 mini as actuating the main mouse buttons could feel easier.
During testing, claw grip with the X2 feels very comfortable. I take on more of a relaxed claw grip and switching to the X2 took very little time to adapt to.
Design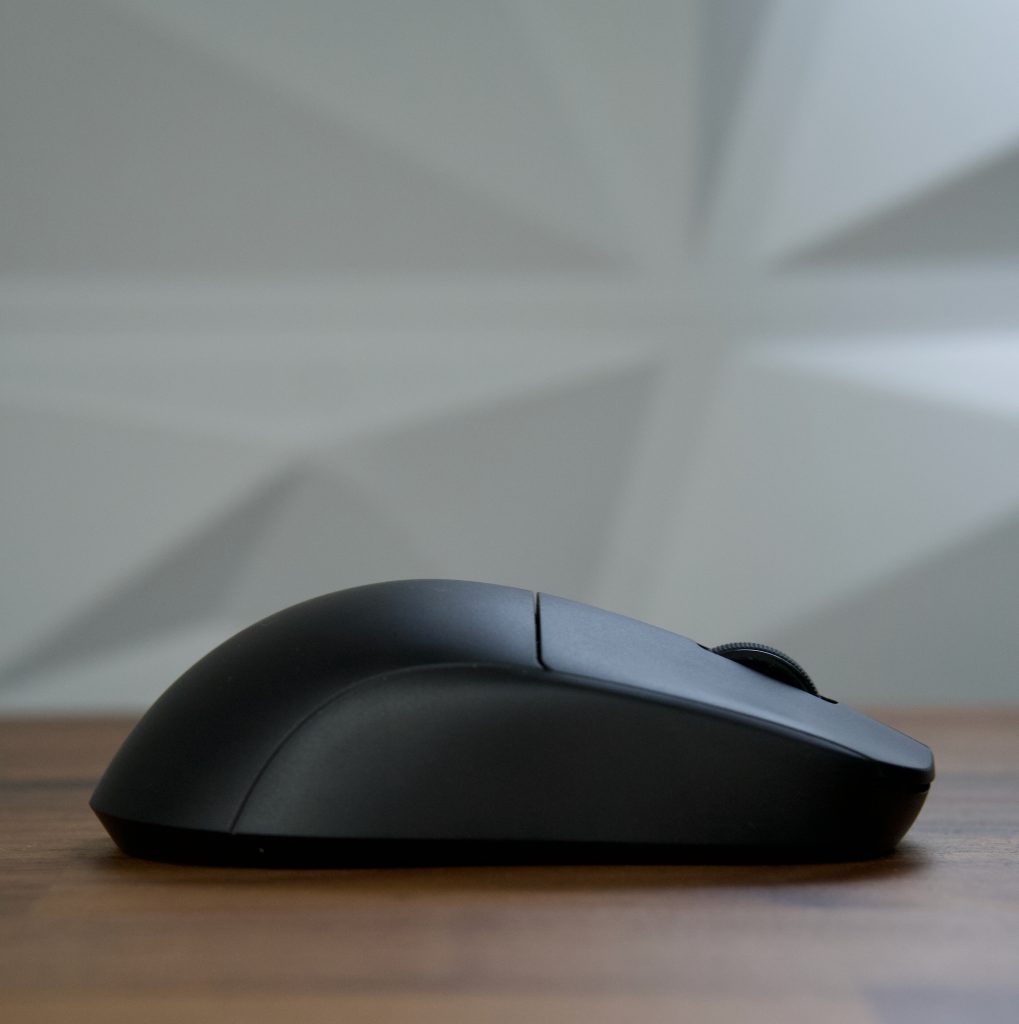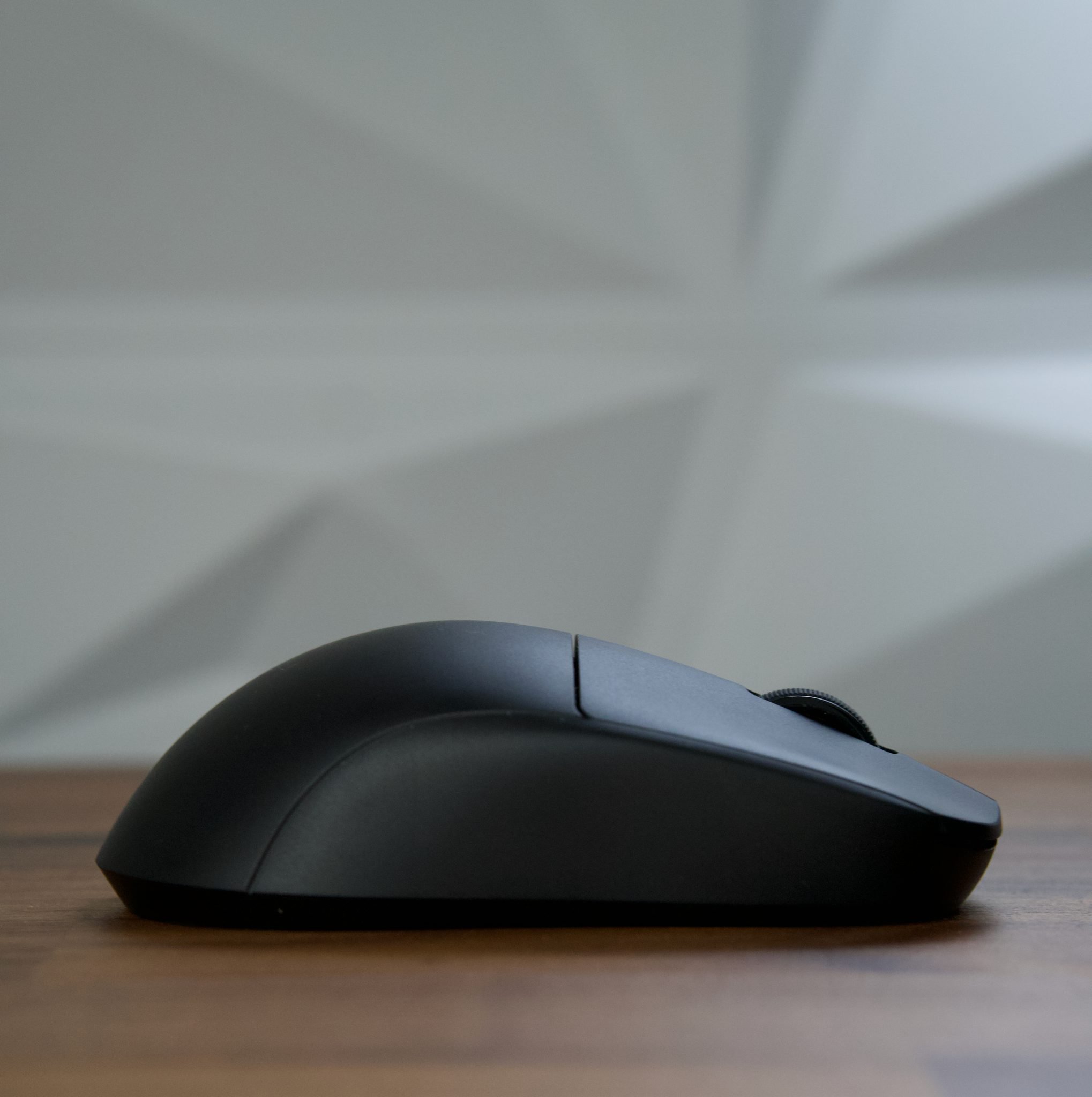 With the X2 and X2 Mini coming in at 55g and 52g respectively, it makes the Pulsar mice some of the lightest wireless gaming mice out currently. Moreover, both of these iterations are lighter than amazing mice like the Razer Viper V2 Pro and Logitech G Pro X Superlight.
In order to reach this weight, the Pulsar X2 lineup has no RGB, excluding a small indicator on the side that tells you your DPI profile, low battery, and charging. The X2 series also features a battery life of up to 70 hours which is average to below average compared to the competition like Logitech and Razer, however, which is likely done to decrease the overall weight.
The exterior of the Pulsar X2 is constructed with a matte coated plastic that feels awfully similar to Logitech's plastic. The only difference is that the Pulsar may feel slightly more grainy and rougher but still remains on the smoother side. During testing, the plastic can be a little slippery at first if your hands are very dry. If you tend to develop a slight sweat in the palm after a bit of gaming then grip is not an issue at all. Pulsar sells side and mouse button grips on their website if you are having a hard time handling the mouse. Unfortunately these are not included with the mouse and this would have been great to see.
The X2 comes in black, white, red and some limited edition colorways.
The Pulsar X2 packs PixArt's latest flagship PAW3395 sensor that performs flawlessly. Another great component is that the X2 utilizes usb-c charging which is greatly appreciated in 2022. The usb-c charging cable is thick and braided and is quite noticeable when it is plugged in. The dongle that houses the usb receiver is rectangular with Pulsar's logo on top and a textured, rubbery grip on the underside.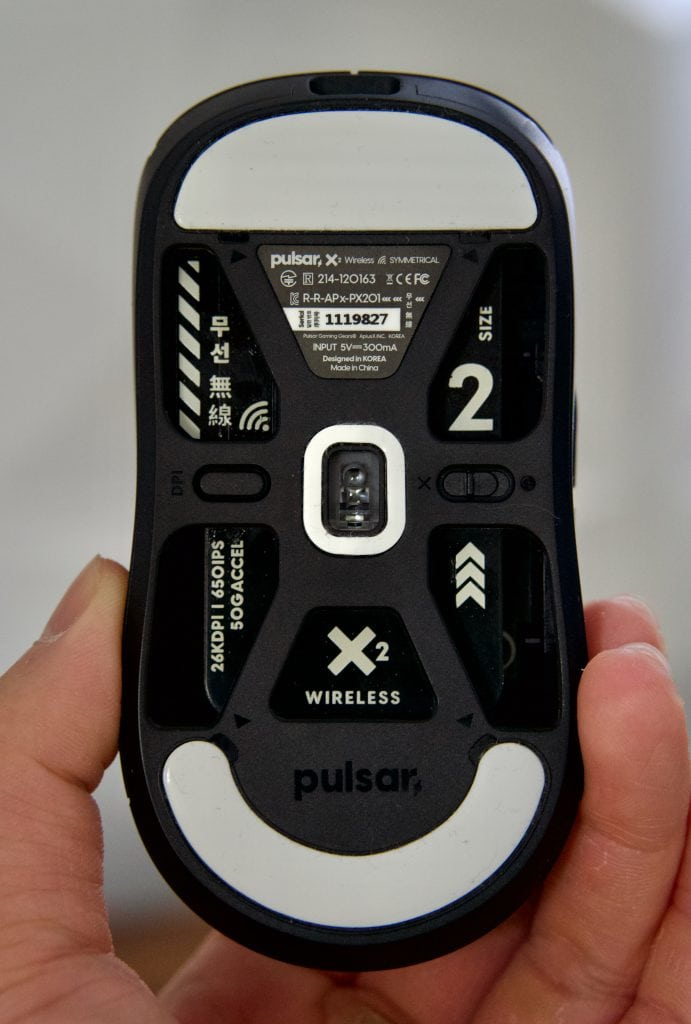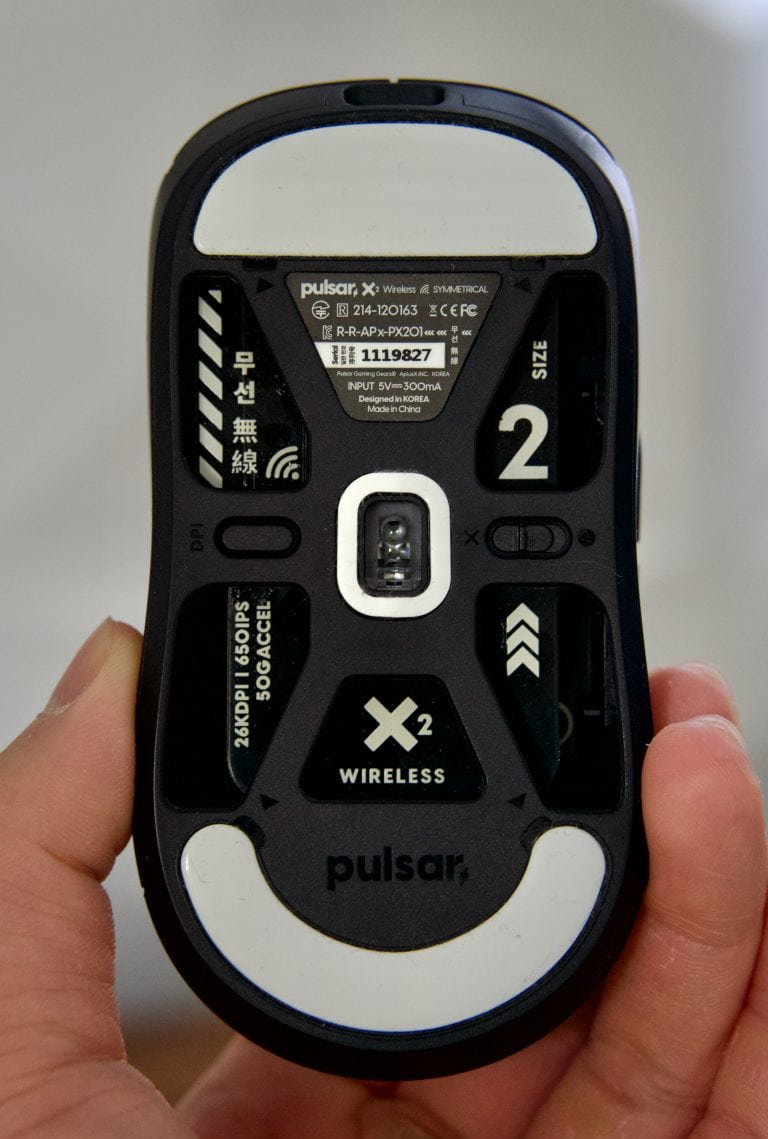 The underside of the mouse is very unique. Pulsar made cutouts that exposed the X2's artwork on the PCB. It mixes in a very modern and futuristic appearance that has never been seen before on a mouse. Also on the underside you will find a button to toggle between DPI settings and the power switch.
Build Quality
The build quality of the Pulsar X2 is really good. There is zero flex when pressing hard on the sides or top and there is no rattling. For the buttons, there is little pre-travel on both the main buttons and side buttons. The mouse buttons are firmly set as there is very little wobble upon actuation and resting. Through testing, there has been no signs of double clicking or switch failure.
Buttons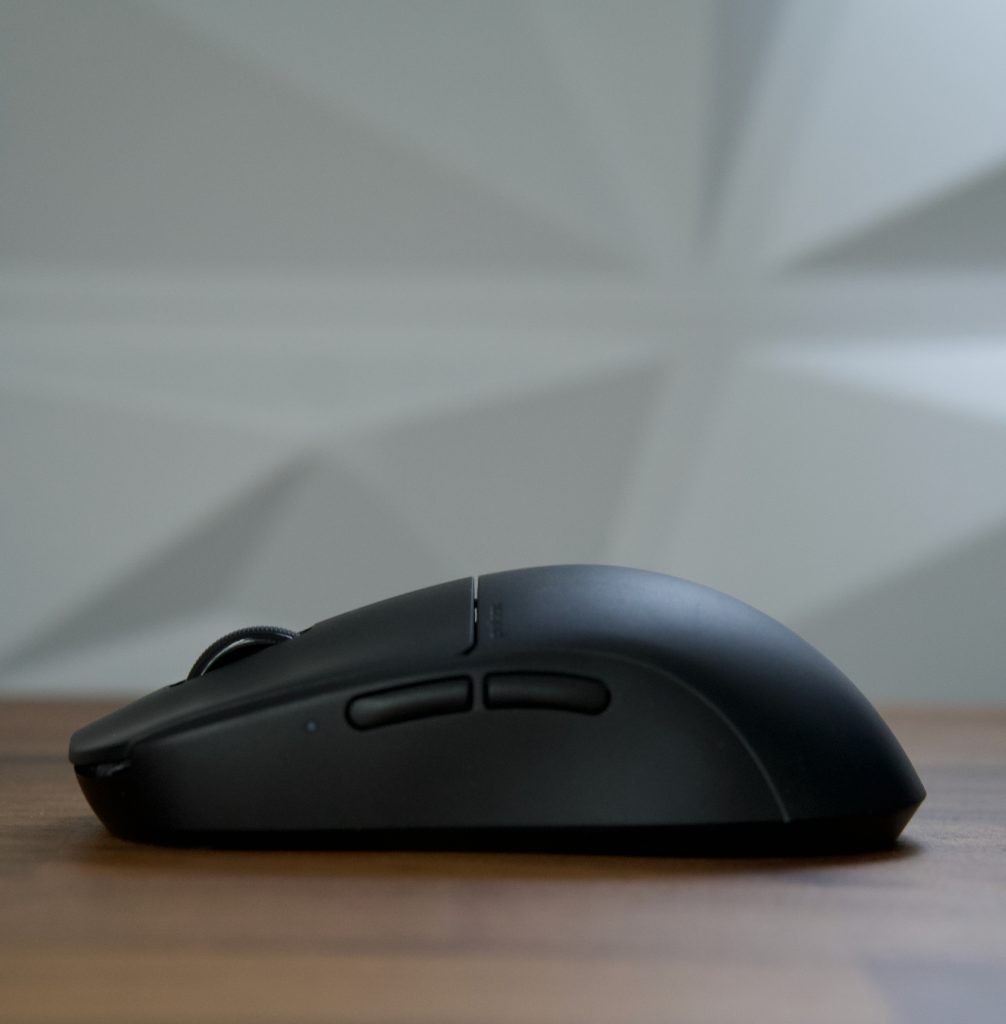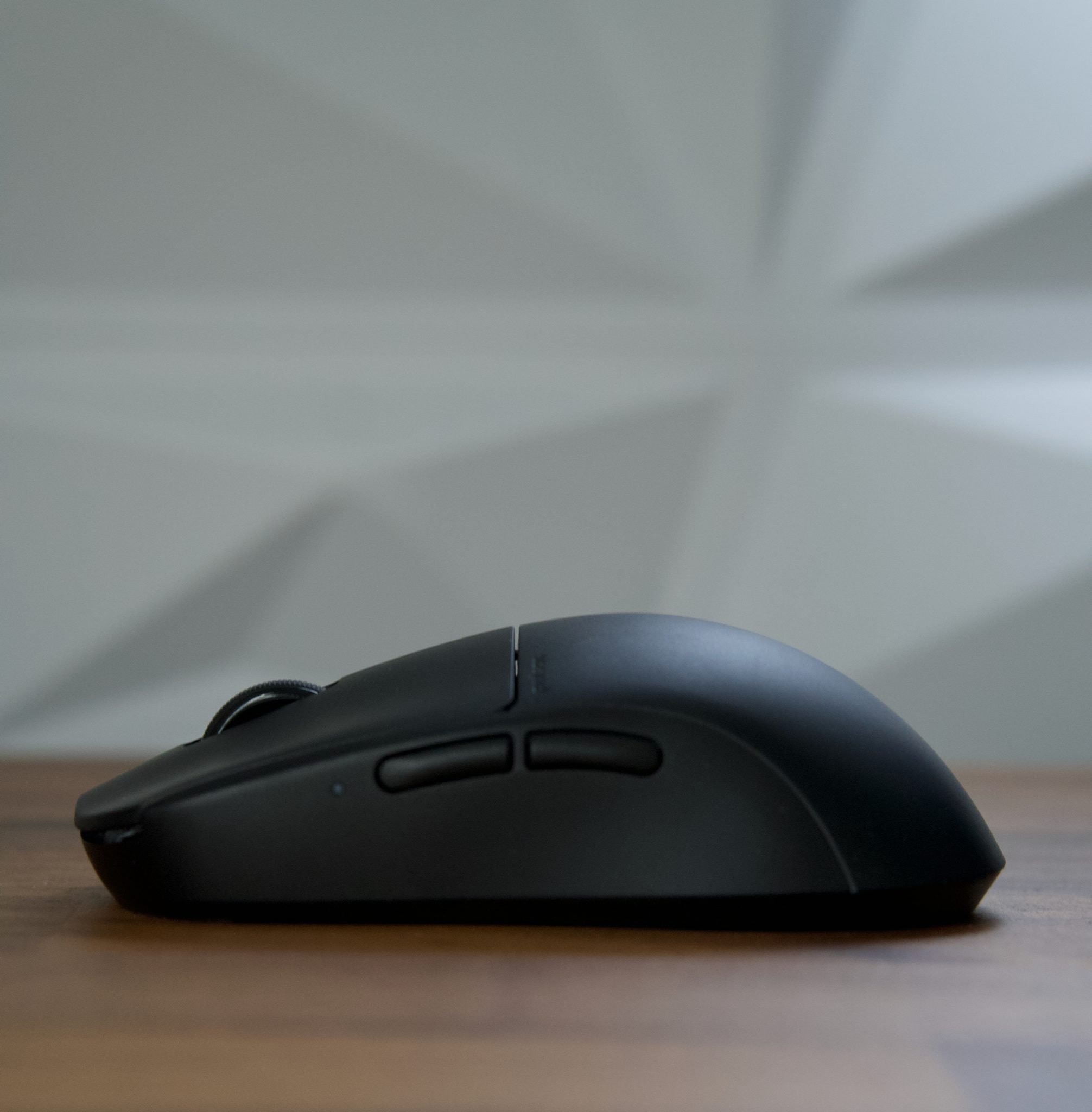 The buttons on the X2 feature Kailh GM 8.0 switches. These are also used on other mice including the XM1r, Xtrfy MZ1, and the Finalmouse TenZ Edition.
Although these feel crispy, they feel a bit harder to press compared to Omron 20M, which is a switch more commonly used on Logitech mice. One major complaint about the X2 is that the left and right clicks feel drastically different. The left click feels more natural, being tactile and responsive but the right click feels poppy and awkward to actuate.
On the other hand, the side buttons feel great. They give a satisfying click and do not feel mushy at all. In comparison to the G Pro Superlight, the X2 takes the cake for side button feel. These side buttons are easily accessible and I had no trouble reaching both of them during play.
Mouse Wheel
The mouse wheel is covered in a textured rubber that is grippy and easy to rotate. With the TTC Gold Encoder, the mouse wheel has well defined steps and feels good to use. Scrolling with the wheel sounds louder than other mice especially when done at a faster speed.
The middle mouse click is good. It feels sharp and is easy to actuate. Upon pressing it, there is no wobble from side to side of the mouse wheel and feels very durable.
Wireless Performance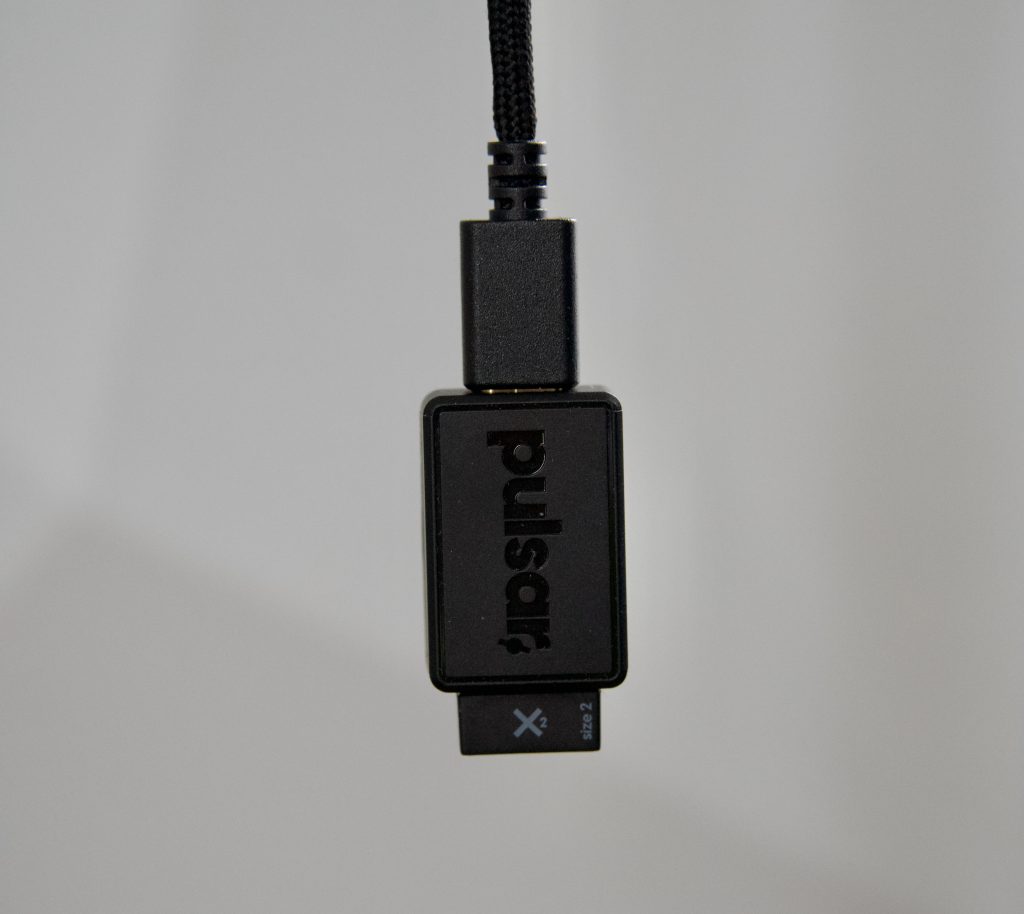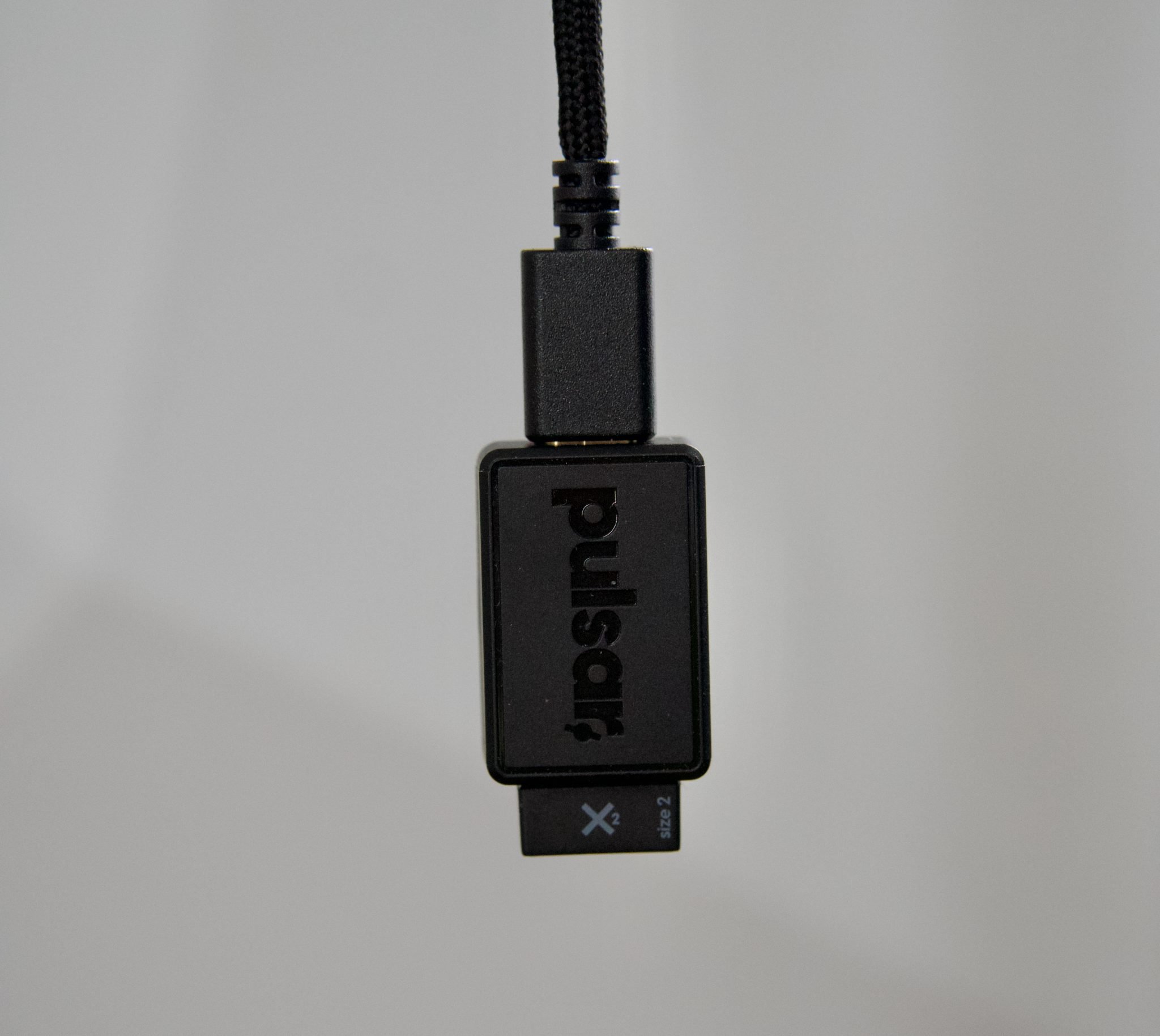 Pulsar's X2 series features a PixArt PAW3395 sensor. After doing multiple tests such as pixel tracking, spin outs, and stuttering, we found no issues from the sensor.
It performs very well when gaming and also offers a feature called "Motion Sync". This synchronizes polling events and sensor data to create more consistent updates from your mouse to PC. In brief, it makes mouse movements more accurate to your actual motions and will produce less sporadic data. In testing it does seem to produce a smoother response with no penalty in delay, though this might be a placebo in my case.
In case your PC is further away from you, Pulsar includes a rectangular USB dongle receiver extender to close the distance. In terms of battery life, the X2 can be used consistently for up to 70 hours; on par with the G Pro X Superlight.
There are reports of issues with battery life, or at least battery life reporting inaccuracy. I ran into this issue, the battery life indicated 90% and instantly dropped to 5%. A full drain fixed the reporting issue and I was getting the promised 70 hour battery life thereafter.
Mouse Feet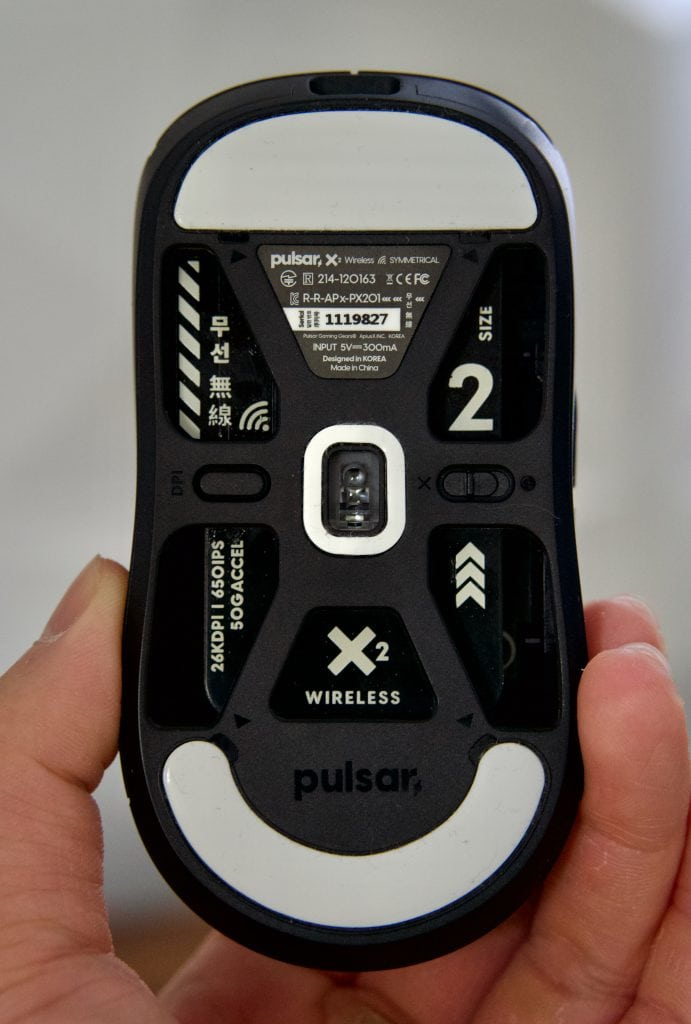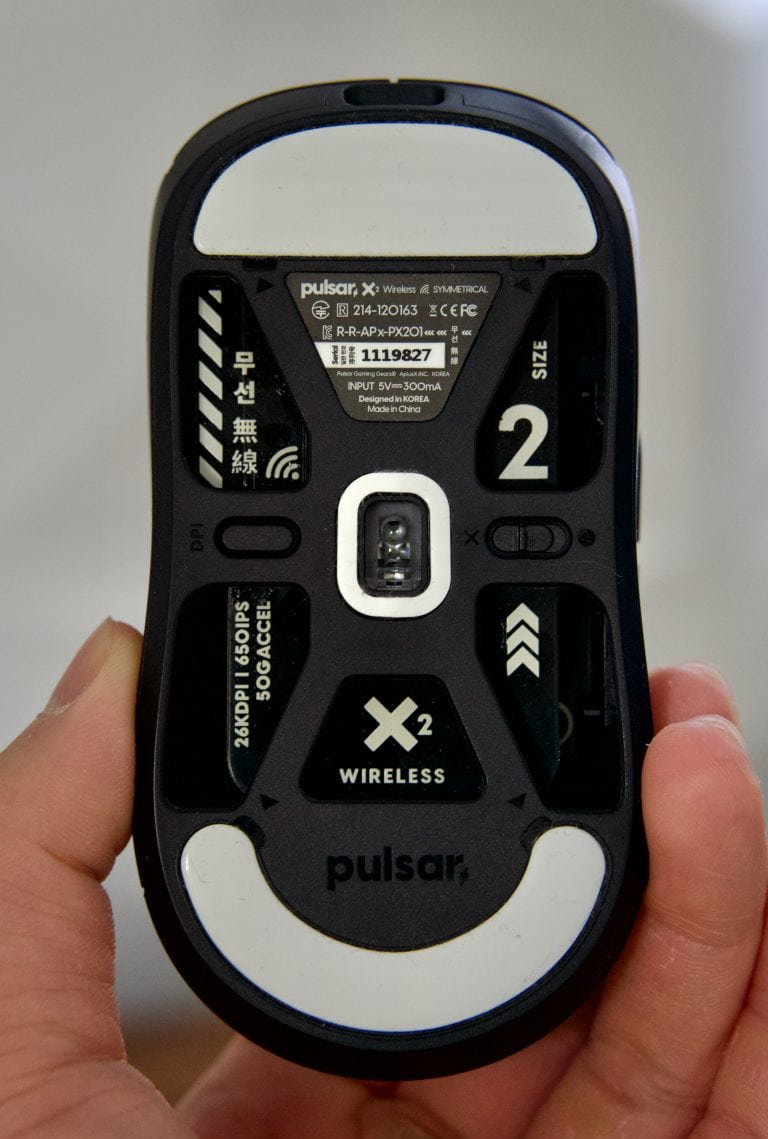 The X2 mouse feet are made of virgin grade PTFE pads that look thicker and feel smoother than Logitech. There is no scratchiness and they have a smooth glide. On the X2, there are 3 individual pads; 2 pads on the ends of the mouse and 1 surrounding the sensor. For stock feet, these are quite impressive and see no need to purchase aftermarket skates.
Software
You can get Pulsar's software here.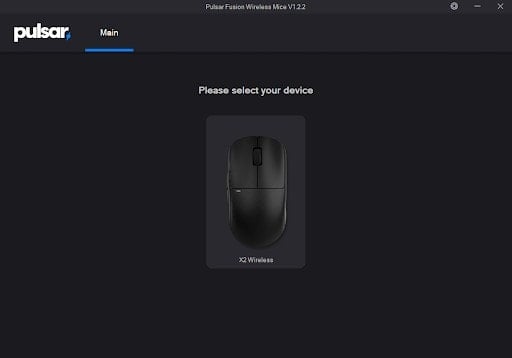 Pulsar Fusion is Pulsar's wireless mouse software used for profile customizations and updates.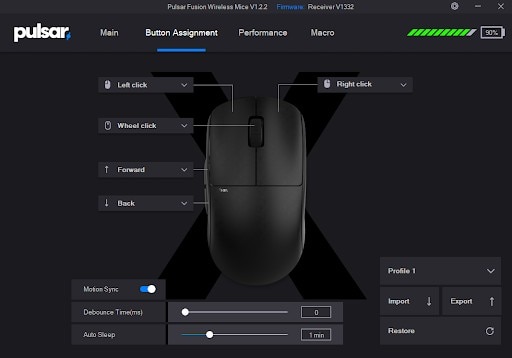 The software is quite straightforward as you are met with this screen when plugging in your X2 mouse. Pulsar Fusion will automatically detect your device. When clicking your device, you will be moved to a menu under "Button Assignment" where you can customize your mouse buttons.
Pulsar allows you to set up to 4 different profiles. You are able to set various debounce times, auto sleep times, and to enable or disable Motion Sync. Up in the top right corner, you will see your battery life.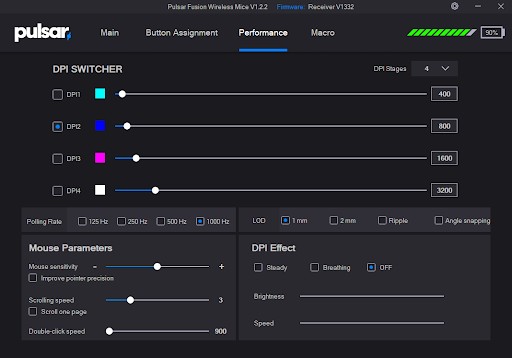 In the "Performance" tab we are able to change the different DPI stages. The DPI ranges from 50 to 26,000 which can be adjusted in increments of 50. If you only want one DPI stage, you are able to change the number of profiles from 1-4 or just choose which profile you want indicated with the blue dot.
Next, there are 4 levels of polling rates; 125Hz, 250Hz, 500Hz, and 1000Hz. Of course we want to set this to 1000Hz to utilize faster inputs. At the LOD section we are met with distances between 1mm – 2mm and have options to turn on ripple and angle snapping. We suggest leaving ripple and angle snapping off for competitive gameplay.
Under the LOD menu is the DPI effect. On the side of the Pulsar X2 is a small LED dot that indicates which DPI setting you are on. You can leave this LED on at a steady state, breathing, or just turned off. To preserve battery life we have this turned off. You are able to adjust both brightness and speed of the LED if you have it turned on. Regardless of leaving the LED on or off, there will still be an indication that your DPI has changed when pressing the DPI button located beneath the mouse.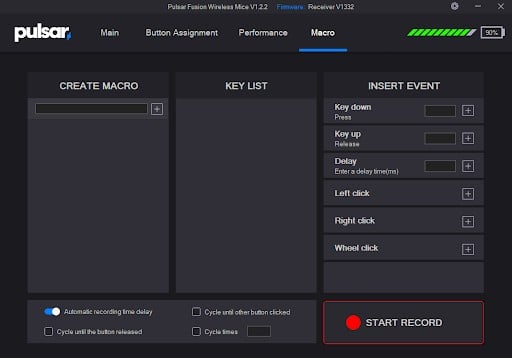 Lastly, we have the "Macro" tab. Here you can record macros and assign your macros to certain buttons to perform your actions.
Warranty
Pulsar covers the X2 with a 2 year warranty. Based on Pulsar's website. They will offer repairs and replacement parts but will not send out a brand new product for you.
Conclusion
The Pulsar X2 is overall a great mouse. It beats out the G Pro X Superlight in many categories including shape, side buttons, mouse feet, appearance, weight, and price. The only factor the G Pro X Superlight has the upper hand in is the main mouse buttons as they use Omron 20M instead of Kailh GM 8.0 switches, the buttons on the Superlight are superior, another case of paying a premium to get fewer compromises.
For $100, the X2 offers amazing build quality, top of the line sensor, and very comfortable grips for both claw and fingertip. Weighing at only 55g for the regular X2 and 52g for the mini, they are top contenders in the wireless gaming mice market. I believe that there is not enough love given to this mouse and it should be a much more popular option. If you are currently on the lookout for a lightweight gaming mouse but do not want to break the bank, I can recommend the Pulsar X2 series, as long as they iron out some of the quality control wrinkles.
Tech Specs
Pulsar X2
Dimensions (X2)
Length: 12.0 cm / 4.72 inches
Width: 6.3 cm / 2.48 inches
Height: 3.8 cm / 1.5 inches
Weight: 56 grams
Shape: Symmetrical
Buttons: 5 + DPI
Dimensions (X2 Mini)
Length: 11.6 cm/ 4.56 inches
Width: 6.1 cm / 2.4 inches
Height: 3.7 cm / 1.45 inches
Weight: 52 grams
Specs
Sensor: PAW3395
Buttons: Kailh GM 8.0 Switch
Polling Rates (Hz): 1000hz
DPI: 100-26,000
Software: Pulsar Fusion
RGB: None
Cable: USB-C to USB-A Braided