The ASUS ROG Azoth brings a lot of what custom keyboard builders covet in a mainstream $250 package. Did ASUS nail the custom keyboard experience?
Almost, the hardware is nearly there, with few shortcomings, the poron and silicon foam alongside pre-lubed switches and stabs make for an amazing typing experience.
But the software needs a lot of work.
Pros
Great typing feel
Foam layers produce a great sound
Lots of switch mod extras
Great wireless and battery life
Cons
The software is really bad
North facing LEDs at this price
Tech Specs
ASUS ROG Azoth
Length: 32.6 cm / 12.83 inches
Width: 13.6 cm / 5.35 inches
Height: 4.0 cm / 1.574 inches
Case: Metal top,plastic base
Weight:1186 grams
Keys: 81 keysl
Connectivity: USB-C to A braided cable included, 2.4 Ghz and BT
Keys & switches
Switch options: ROG NX Red, Blue, Brown
Keycap material: PBT
Keycap legends: Double shot
Keycap profile: OEM
Media keys: Yes through Knob
Backlight: Full RGB (North facing)
Software: Armoury Crate
Design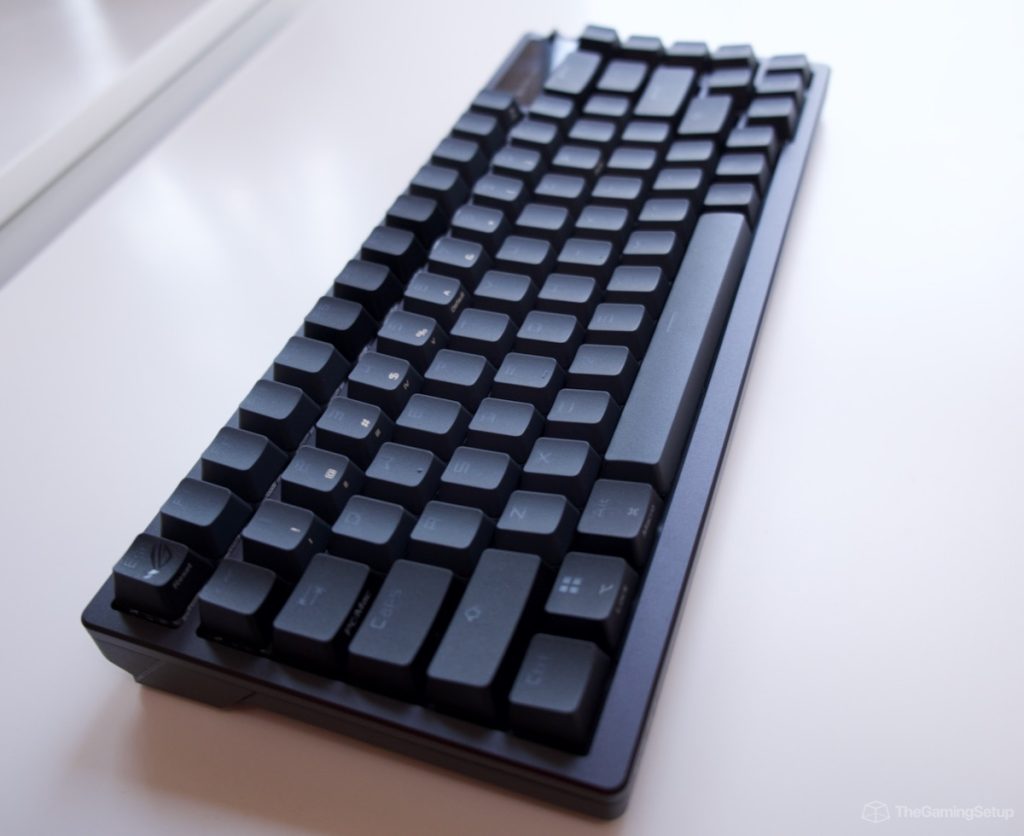 The ASUS ROG Azoth is a 75% keyboard with an OLED screen and a media knob. The compact design allows for more space for your mouse and is something I recommend for low sensitivity FPS gamers that need more space.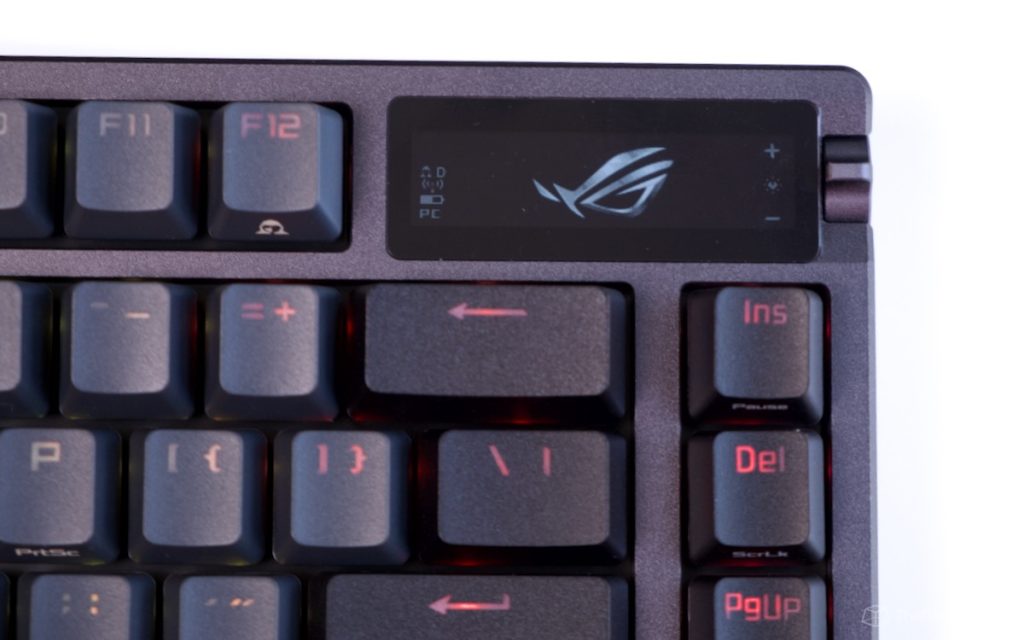 Starting with the most unique feature, the Azoth sports an OLED screen in the top right of the keyboard along with a media knob/switch thing. OLED screens on keyboards isn't new, the Steelseries Apex Pro has had one for years now. I've always found them to have limited uses and the Azoth is no different.
The OLED screen is mainly used in combination with the knob to adjust volume, backlight brightness see the battery level or system stats. You can also upload custom images and gifs, like so:/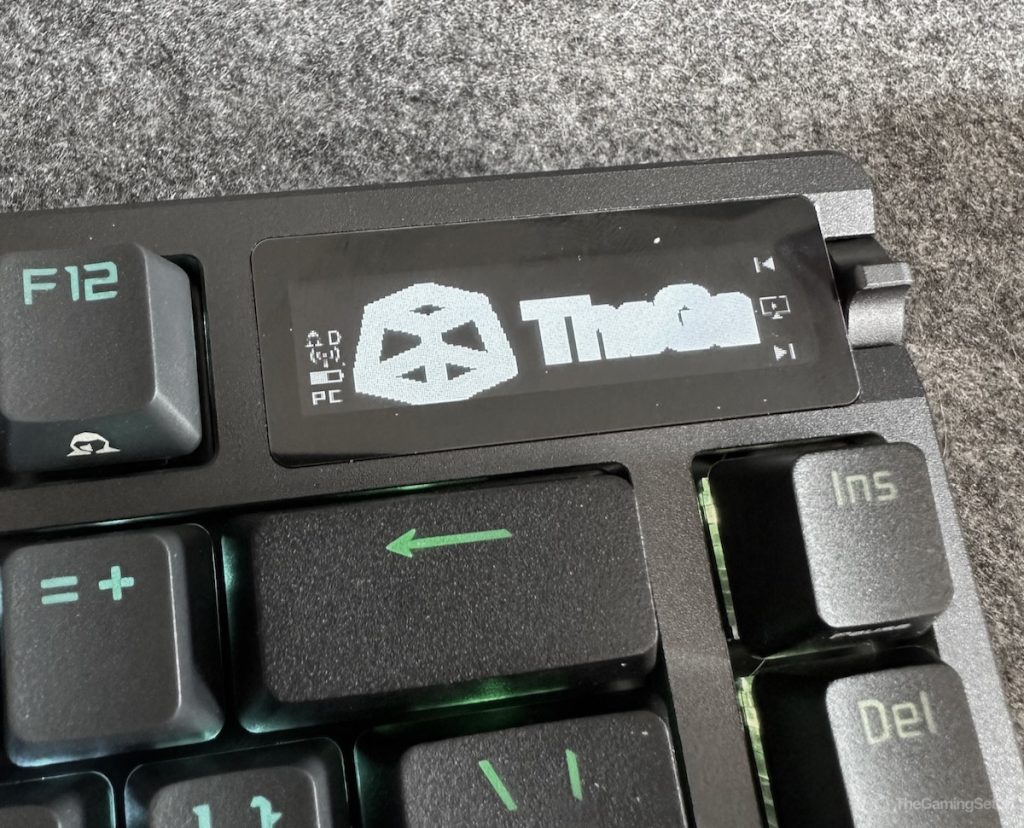 The found the knob kind of annoying to use when controlling volume.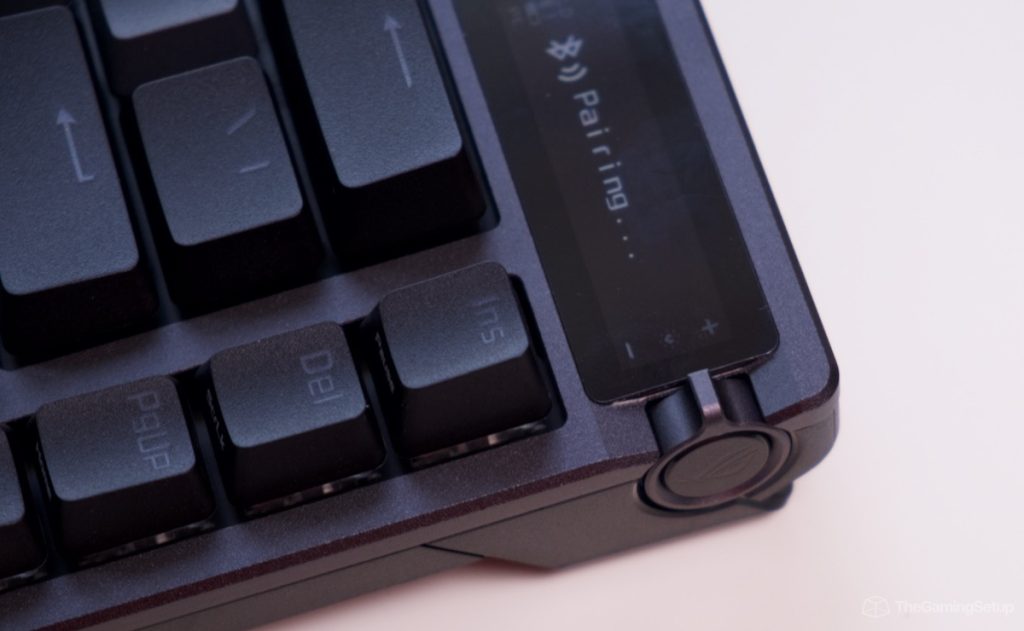 The overall travel of the knob is low, so you can easily flick up or down for quick adjustments, but the tension to press down on the knob is also quite light, so I found myself pressing down on the knob, muting my PC more often than I'd like. I'm sure with some muscle memory this wouldn't be a huge issue.
On the right side of the knob, you'll find a button to toggle through all the modes for the OLED/Knob functionality, this works fine.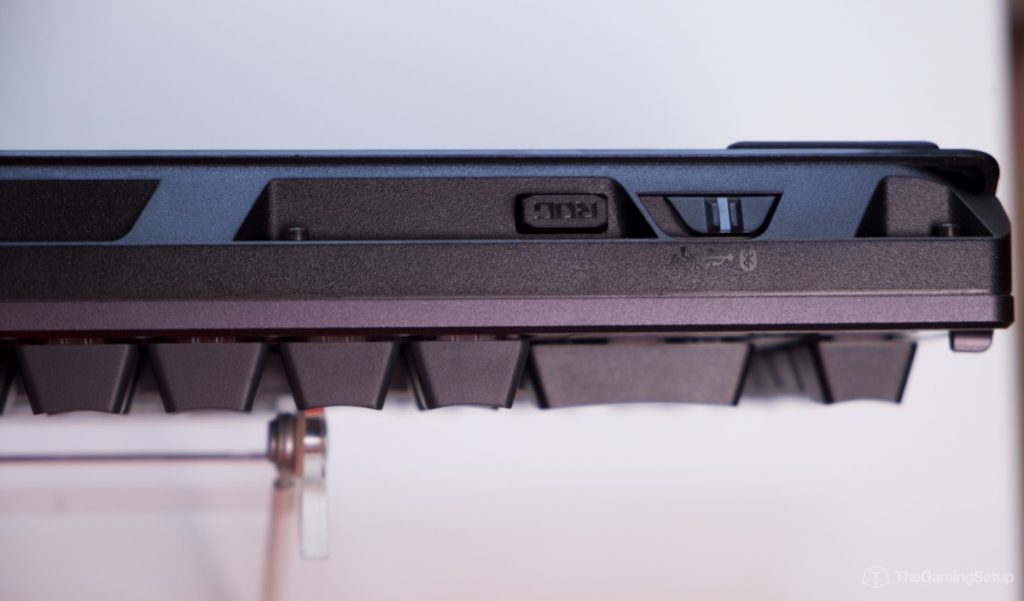 Coming around to the top of the keyboard you'll find a dip switch for wired, Bluetooth and 2.4 Ghz mode, as well as a magnetic dongle holder for the 2.4 Ghz dongle, I nice little touch.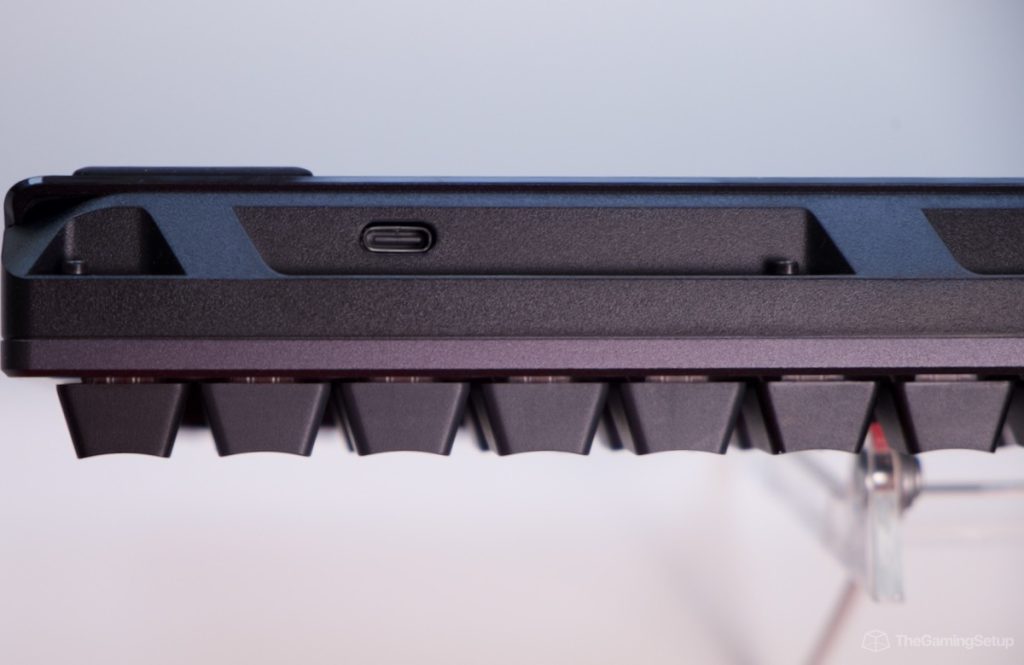 On the top left there's a USB-C port. I like that the port isn't recessed so you can use any USB-C cable without issue.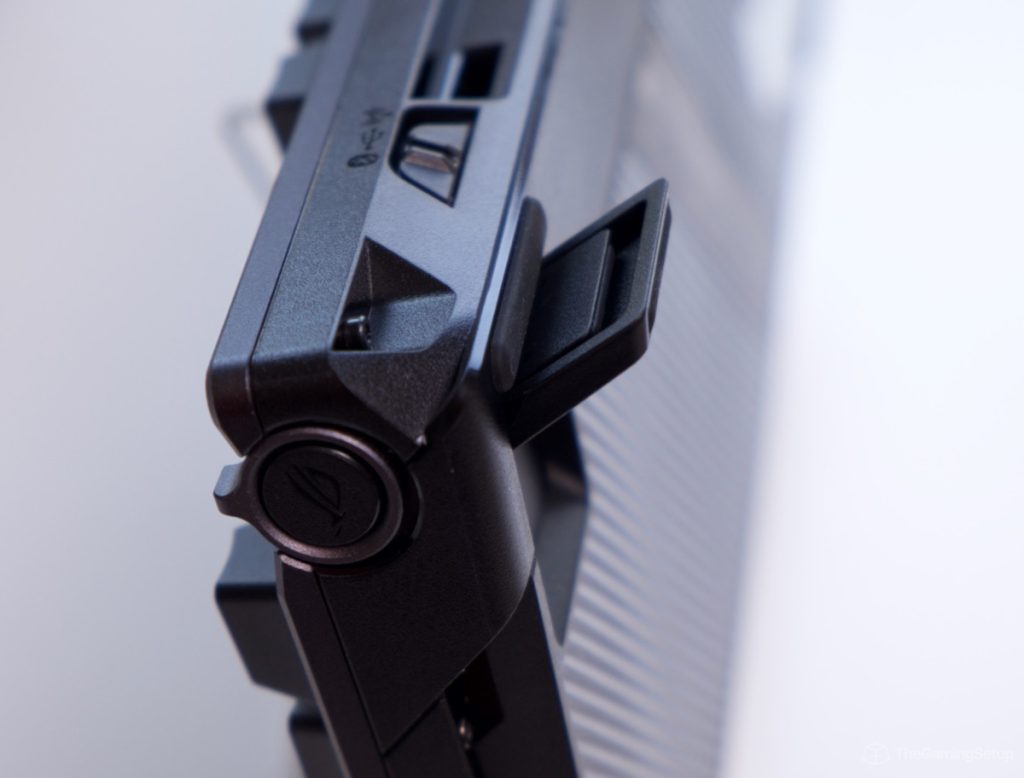 Rounding out to the back, the only thing of note are the feet, which feel sturdy and do a good job holding the keyboard up. The 4 rubber pads on the back of the keyboard hold the keyboard in place well.
Wireless Performance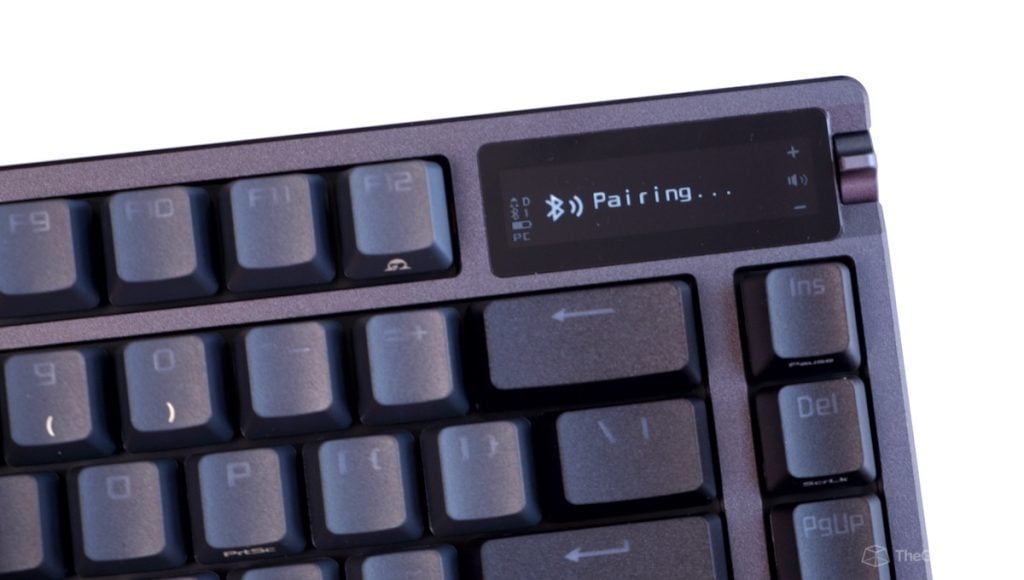 The ASUS ROG Azoth is a top tier wireless experience. The keyboard allows 3 connection profiles via BlueTooth and 1 connection with a 2.4 Ghz dongle. This is one of the fastest keyboards on the market connecting wirelessly.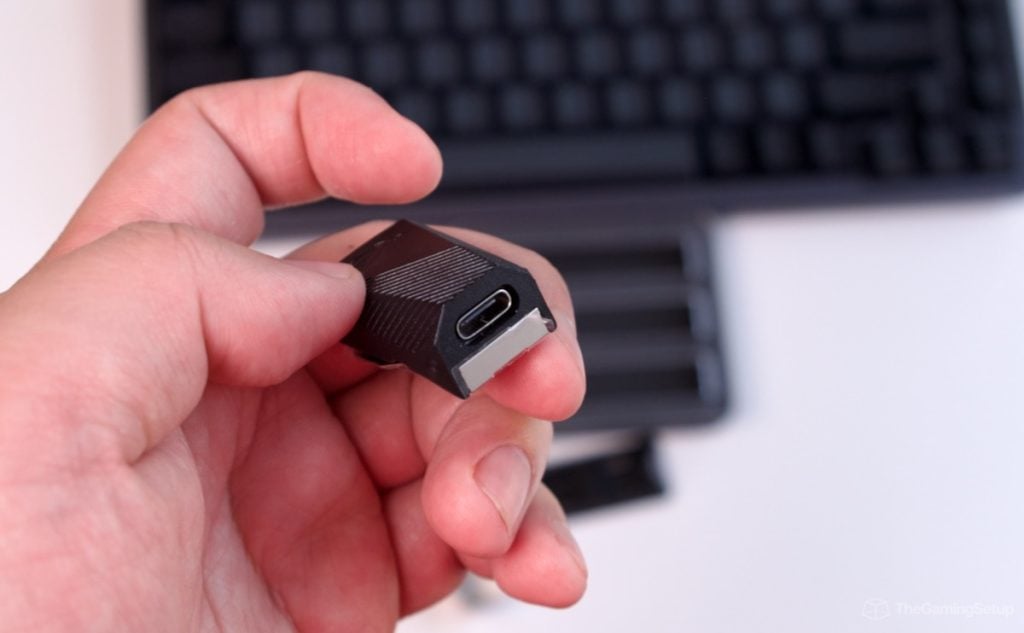 The battery life is stated to be 2000 hours, but I found that to be quite a bit less with OLED and backlight running. It's definitely no slouch on the battery life front.
Typing Experience
This keyboard sounds amazing, it feels like a premium custom. The ASUS ROG Azoth is using a gasket mounted PCB with multiple layers of silicon and poron to really fill in the back of the plastic case.
The keys bottom out with a little bit of flex and bounce and produce a very satisfying typing experience.
The foam does an amazing job filling out the case, resulting in a satisfying and smooth thock sound across the entire board.
All the stabilized keys are well lubed and mounted, no rattling or chattering.
The linear ROG NX Red switches themselves are all factory lubed, the action is smooth and scratch free.
This is a great typing experience, ASUS did a standout job.
Switches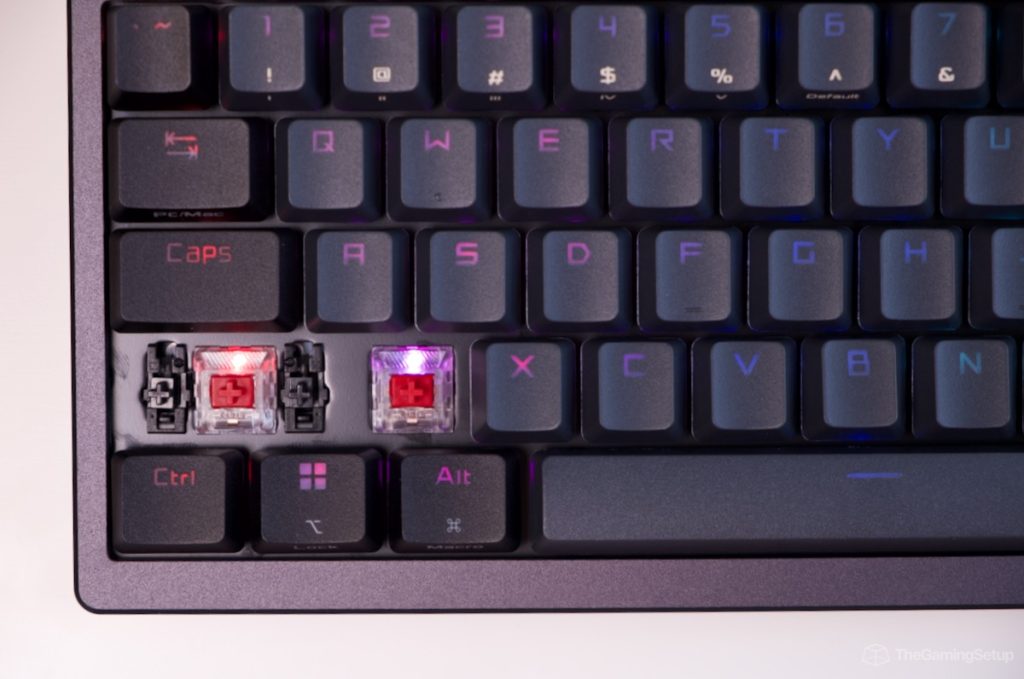 The ASUS ROG Azoth has 3 switch options out of the box:
Asus ROG NX Red : 1.8 mm actuation | 40 g actuation force | 55 g total force
Asus ROG NX Brown : 2.0 mm actuation | 58 g actuation force | 33% Click Ratio
Asus ROG NX Blue : 2.3 mm actuation | 65 g actuation force | 16% Click Ratio
My Azoth has the red switches. The switch does its job well for gaming purposes, it's smooth and fast. There's a little stem wobble, but nothing major.
The RX switches use a clear housing with the ASUS eye logo on them. The clear housing diffuses the north facing RGB a bit and produces a nice even backlighting of the PBT keycaps. Custom keyboard enthusiasts will let you know that south facing LEDs are preferred for maximum keycap compatibility, I'm okay with it.
All the ROG NX switches are 3-pin switches.
The keyboard is hotswap and will accept any 3-pin or 5-pin switch without issue in case you don't like any of the NX switches.
Stabilizers
The stabilizers are well mounted with no play. The stabs are factory lubed and the result are great sounding spacebars and shift keys. Even nicer, the stabs have a dampening pad underneath for even better sound.
These stabilizer can be replaced with other screw in stabs in case you don't like what, which I think is a complete first for main stream boards.
I think mainstream boards are going to copy this and start squeezing customs.
Switch Extra Tools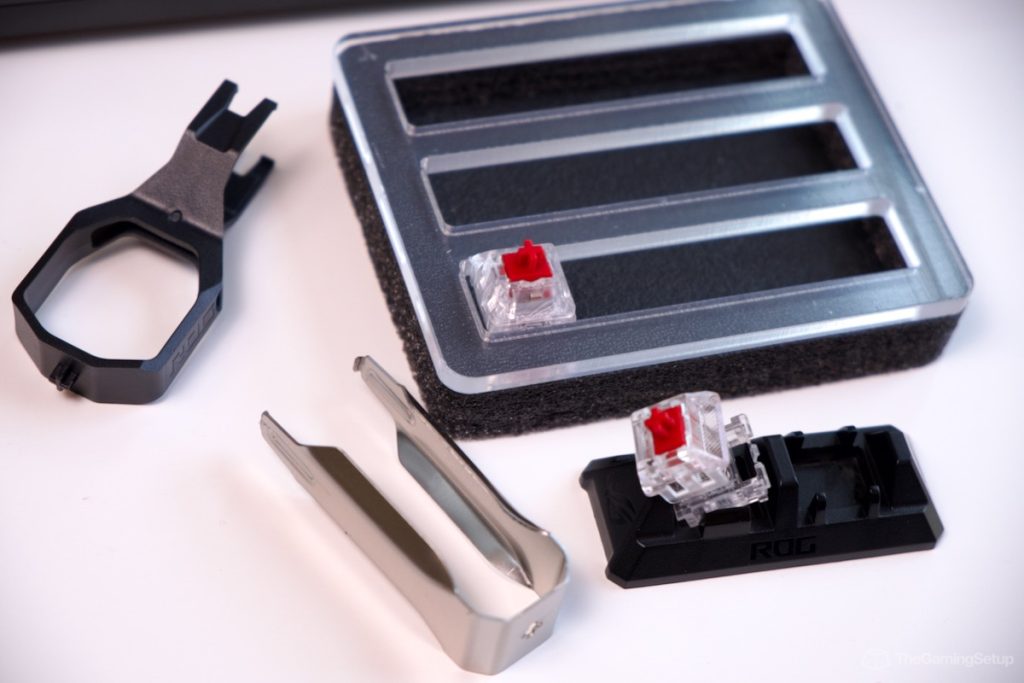 ASUS is really trying to win over the custom keyboard crowd, the Azoth includes a keycap puller, switch puller, lube station and switch opener.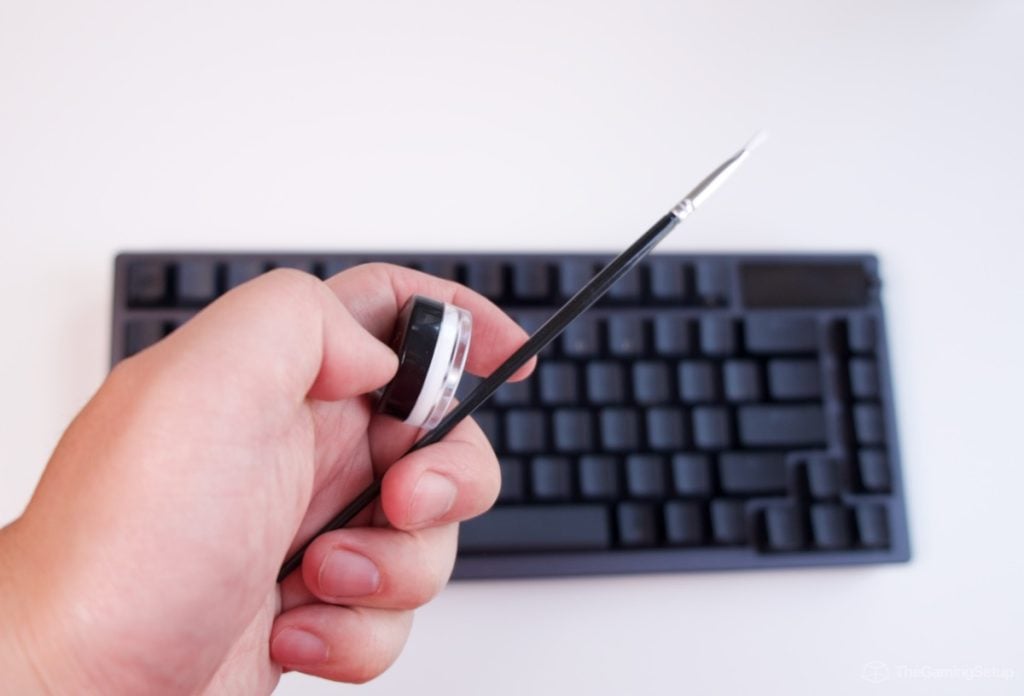 Once you have your switches open, they've even thrown in some lube and a brush to mod your switches as you see fit. It's a nice touch and I haven't seen any keyboard company throw in this many switch tools.
Keycaps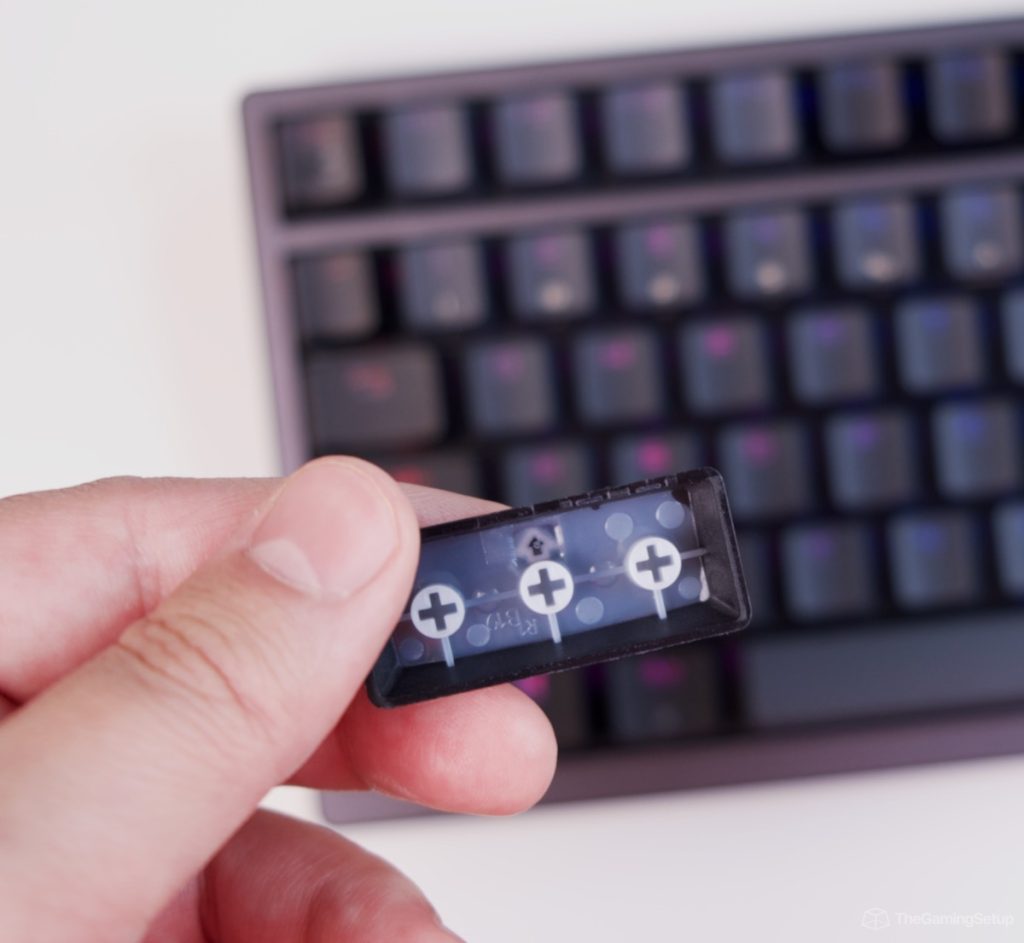 The ROG Azoth uses double shot PBT keycaps in an OEM profile. The caps are average in thickness.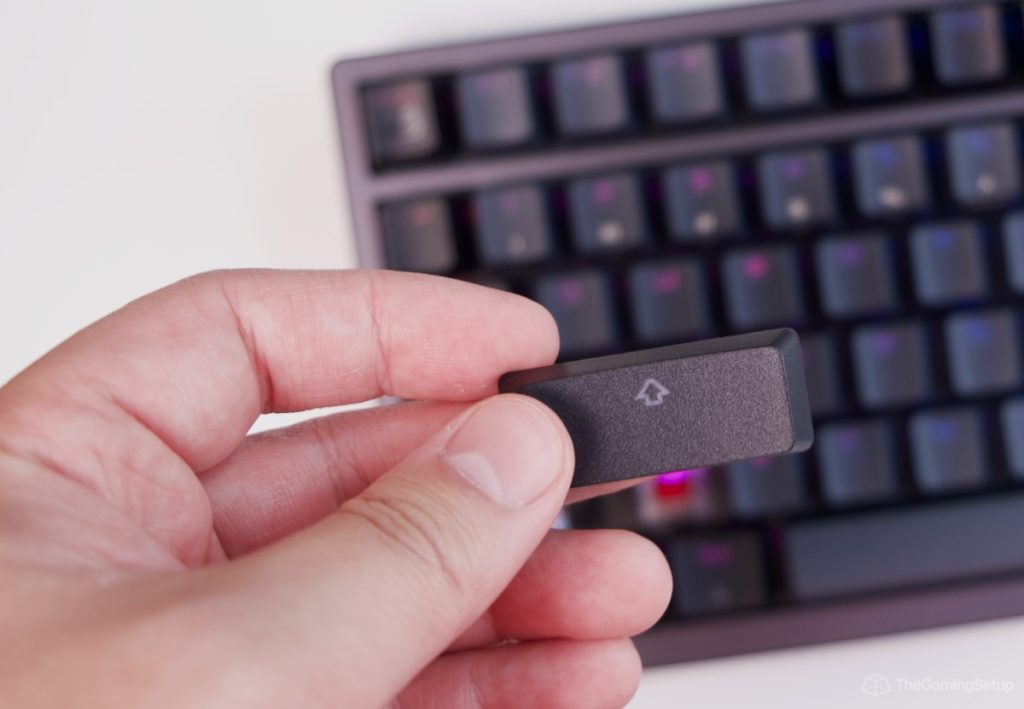 The legend is clean and gamer'y and shine through evenly. The sandy texture feels good to use.
Generally solid keycaps with no gripes for me.
Build Quality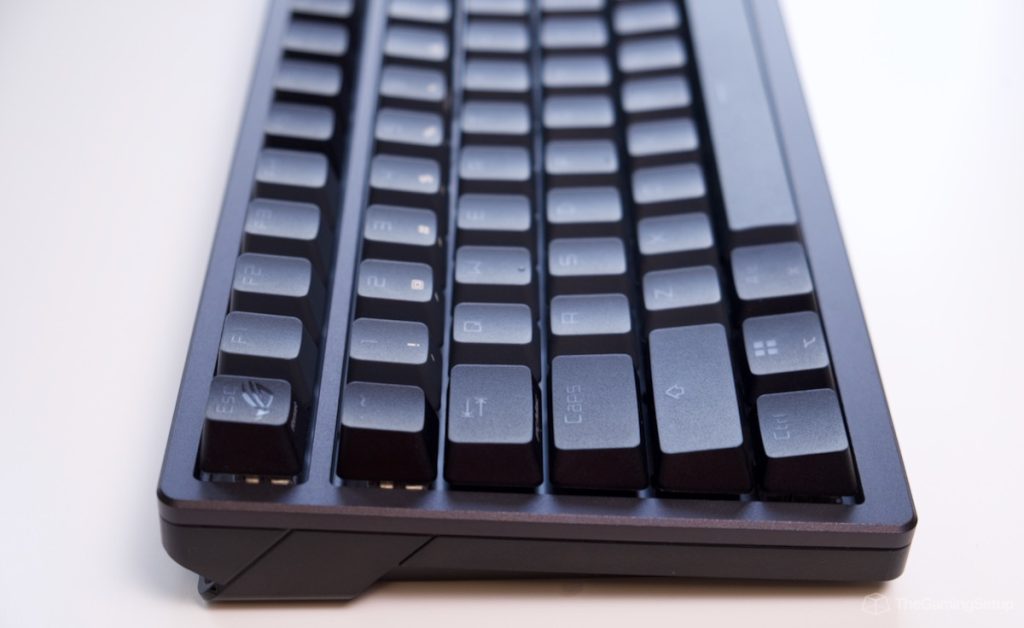 The keyboard feels well built with the metal top plate adding a lot of strength and rigidity to the overall case.
The keyboard has a natural flex due to the mounting system, but otherwise the keyboard is firm and built like a tank.
The feet feel good and don't slide around when typing.
Software
The ASUS ROG Azoth is powered, or rather, hampered by Armoury Create. The companion software feels heavy to use, with interface's taking a couple of seconds to update per click. Luckily, there are onboard profiles for the keyboard, so this might be a set it and forget it situation. I wouldn't recommend running Armoury Crate in your tray at all times.
Software is this keyboards' achilles heel. If the Azoth allowed for VIA as a sideload firmware this keyboard would be a very hard recommend, but the Armoury Crate is pretty disasterous.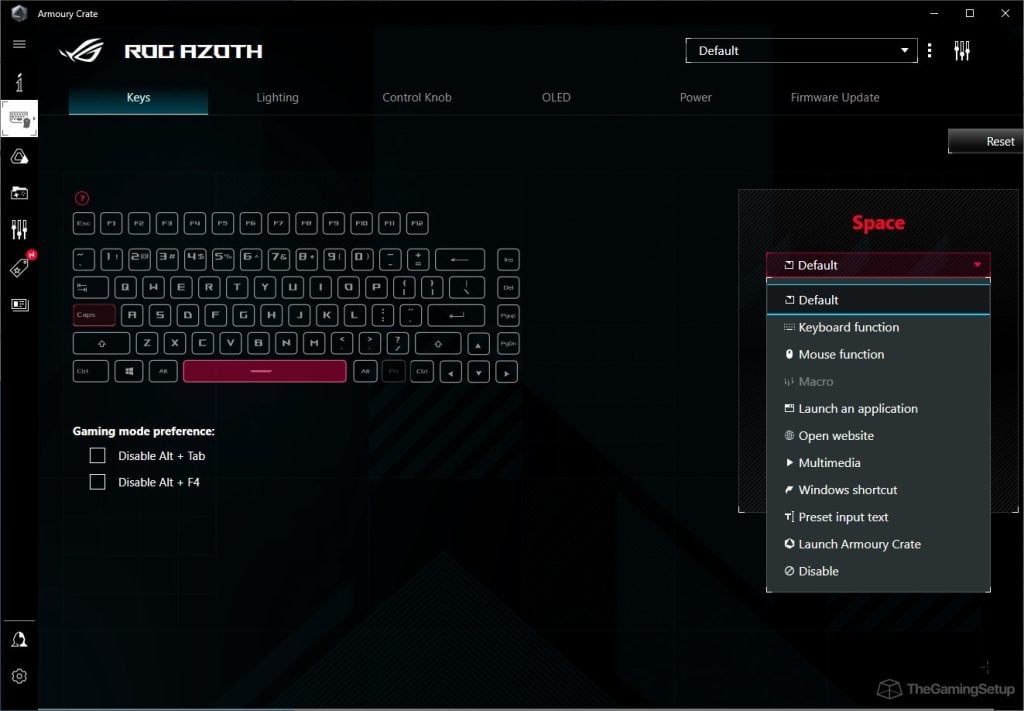 I was sad to find that there was no layer functionality on the ROG Azoth. On top of not having any layer, the software is painfully slow remapping keys. You can't remap function mappings, so beware of that, you can't completely customize the keyboard layout, if this is something you really value, you'll unfortunately have to move on.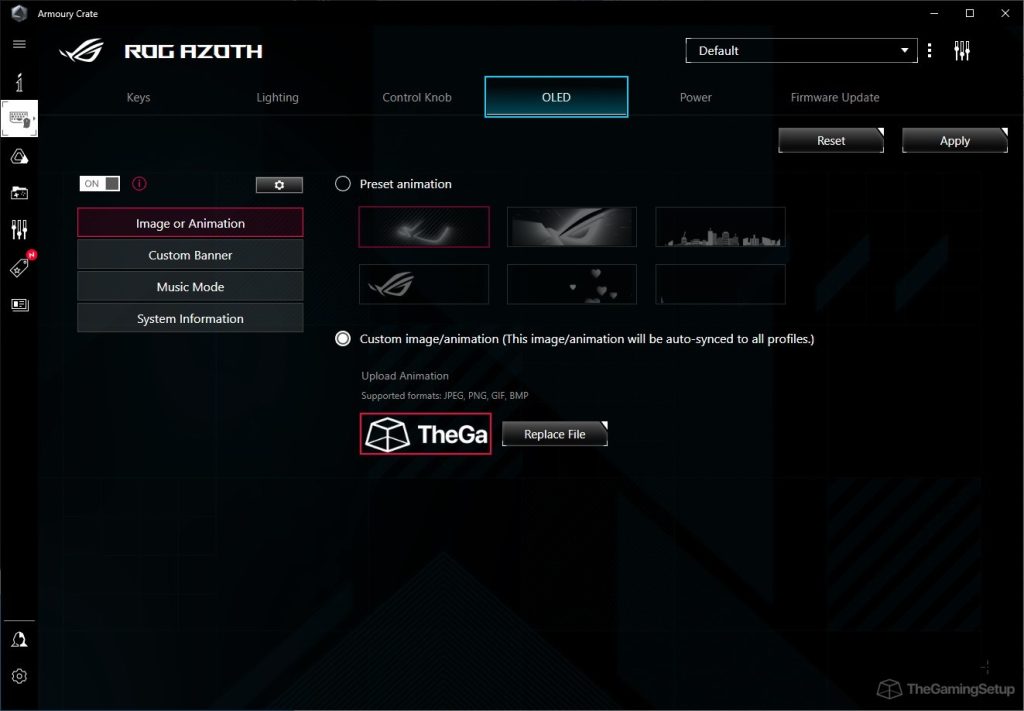 In Armoury Crate, you can also choose what panels and animations to display on the monochrome OLED screen.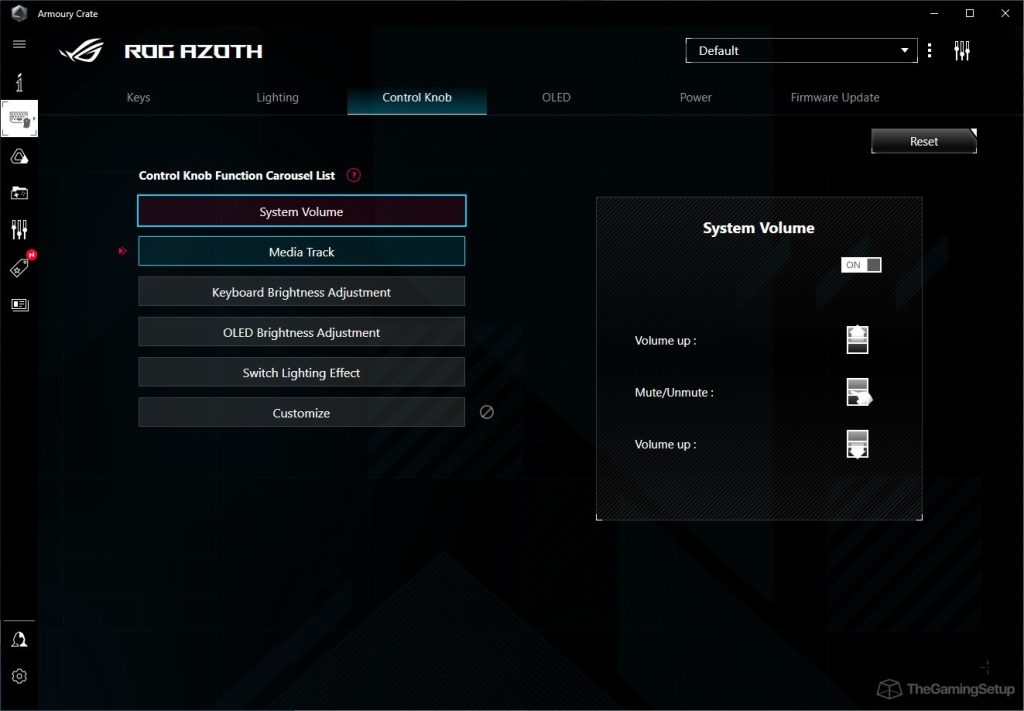 You can also choose what panels the knob should cycle through to. It's kind of annoying to have to control volume and media tracks on separate panels and then cycle through all the way around if you have other items in your list.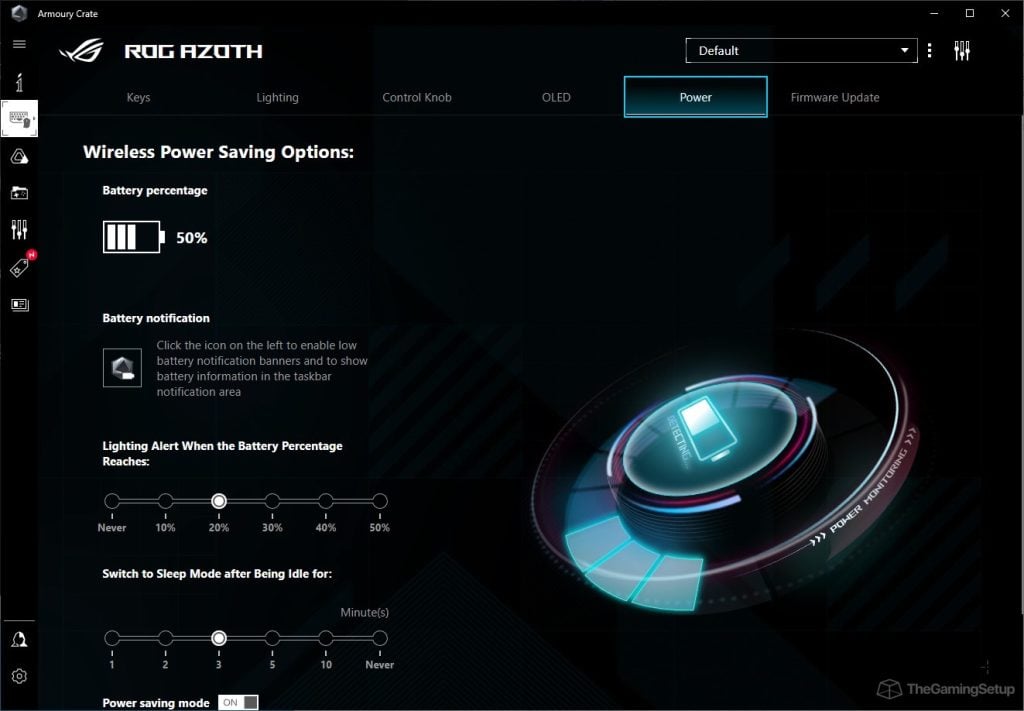 In the software, you can set power configurations to maximize your keyboards battery life.
What's in the Box?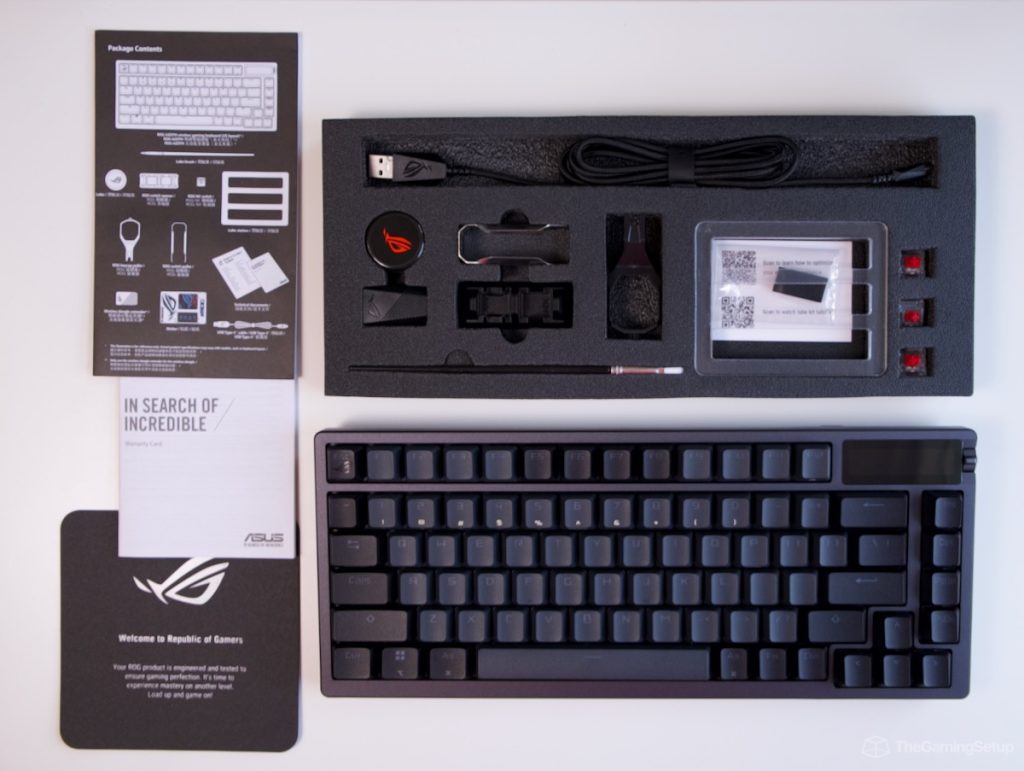 ASUS packs a lot of goodies along with the ROG Azoth:
1 x ROG Azoth
1 x ROG switch opener
1 x ROG keycap puller
1 x ROG switch puller
1 x lube station
1 x lube brush
1 x lube
3 x ROG NX Switch
8 x Stabilizer mat
1 x USB dongle
1 x USB extender
1 x USB cable
1 x ROG sticker
1 x quick start guide
1 x warranty booklet
Warranty
ASUS has a 1 year warranty on the ROG Azoth.
Verdict
Mainstream brands are definitely getting closer, I have hope that there will be more keyboards that are widely available and marketed with premium features like gasket mounts and lube kits.
The ASUS ROG Azoth is a great keyboard hampered by mostly software. If this keyboard supported VIA firmware and had full customization, I'd recommend this keyboard a lot more.
The OLED screen I think is hit or miss for people. For me, I don't think I want to look down at the keyboard for much, I'd love to see this keyboard with the same foam and form factor in a cheaper n-OLED version.
The core gaming and typing experience with linear switches is excellent. If you don't care about tinkering with keymaps, and actuations and want a top notch key feel and sound experience, the Azoth is a keyboard to consider.