The Razer DeathStalker V2 Pro rounds out Razer's line up in the wireless low profile mechanical gaming mechanical keyboard segment.
The DeathStalker line up is in direct competition with Logitech's G915. The two major gaming peripherals company are fighting over a niche segment of gamers, did Razer do enough to take the crown the G915?
Even with a few years of technological advances since the G915's release, I don't think the Razer DeathStalker V2 Pro TKL is a huge upgrade over the G915. Razer's keyboard does have optical switches and a USB-C port, but has worse battery life. Meanwhile the Logitech G915 offers a pretty similar experience, but at likely less than MSRP due to discounting because of its age.
At $220 USD, you have to be sure you want to that low latency wireless low profile gaming experience, otherwise, there are a ton of other options out there.
Pros
Great low latency wireless
Good build quality
RGB is nice and pleasant
Good software customization
Cons
Price is quite high
Key feel is a bit mushy and wobbly
Still ABS keycaps
What's in the box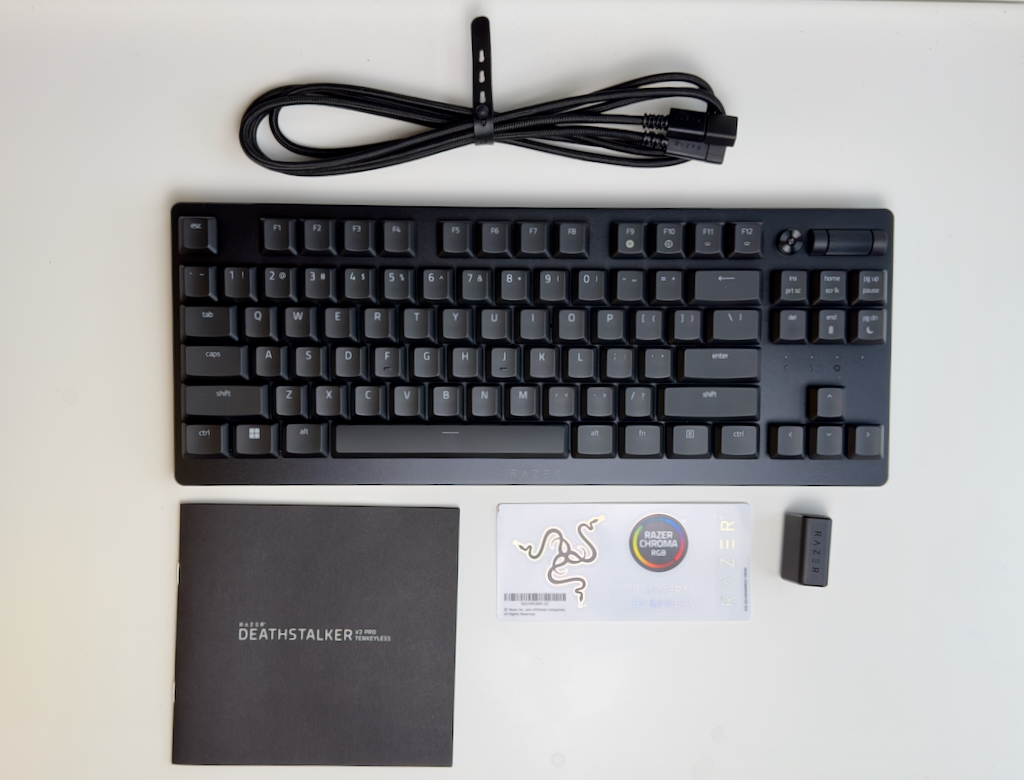 The Razer DeathStalker V2 Pro Tenkeyless comes with a streamlined offering:
Manual
Stickers
USB-C to USB-A dongle extender
Braided USB-C to USB-A cable
The actual USB-A wireless dongle is housed inside the keyboard itself.
Design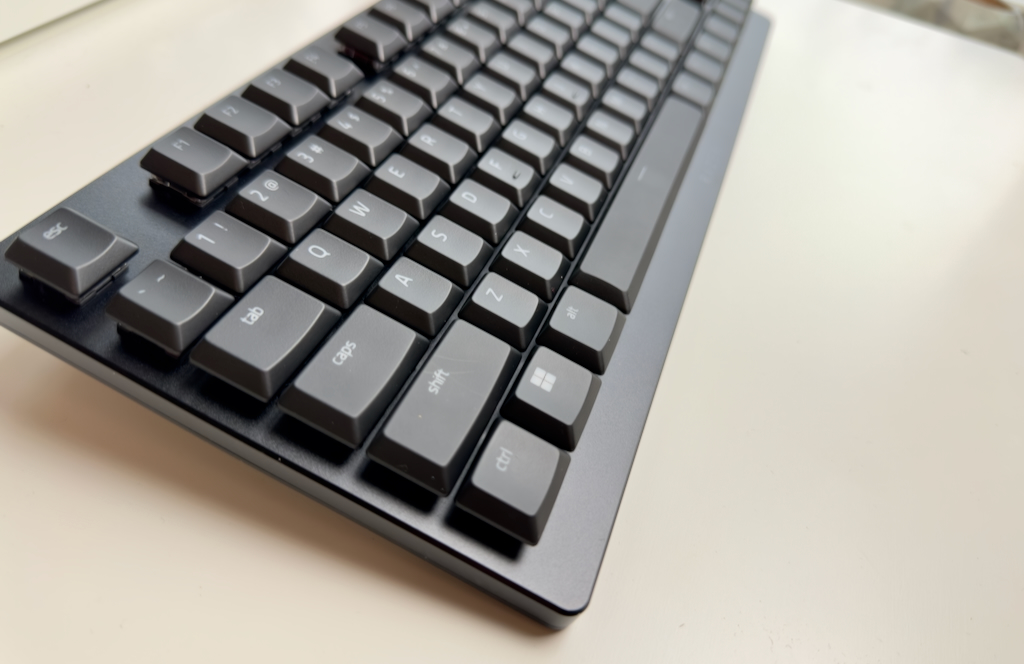 The Razer DeathStalker V2 Pro TKL draws immediate comparisons to the Logitech G915 LIGHTSPEED Wireless, from the low profile keys to the similar design in volume scroll wheels.
There are obvious Razer keyboard design trademarks here. The top case is made of a dark aluminum chassis, with the bottom half made of plastic. The overall result is a pretty rigid keyboard despite its thin build.
The thinness of the keyboard is quite nice if you don't want to use a wrist rest. There are some ergonomic benefits of not having to bend your wrist back to use the keyboard.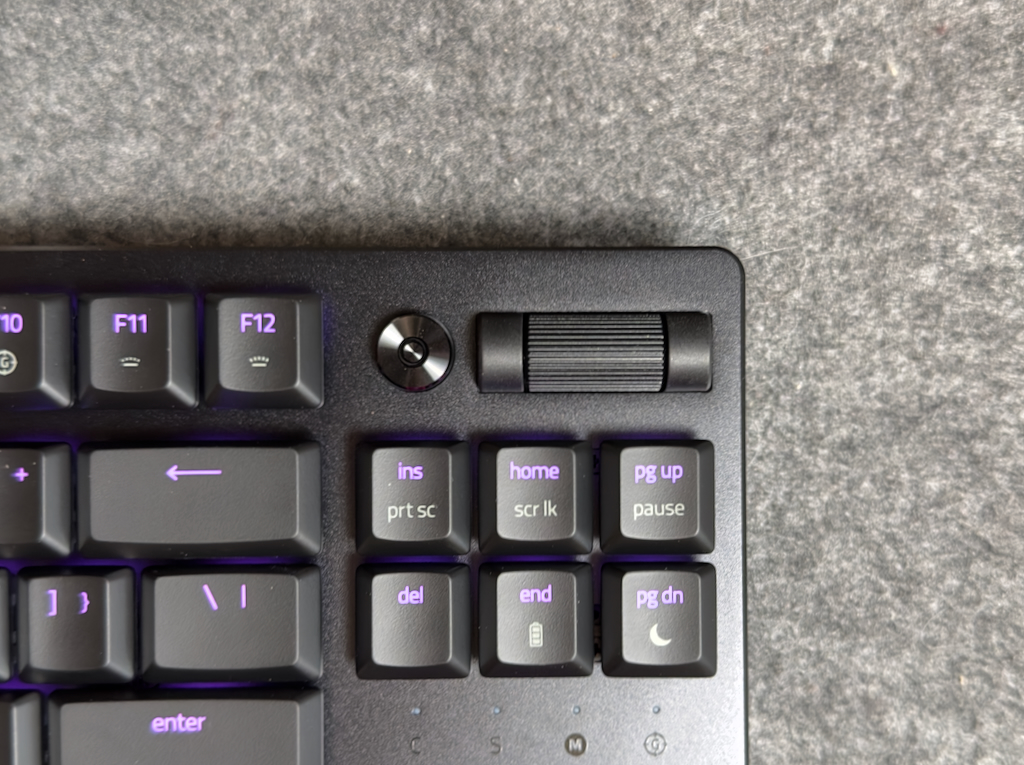 The media cluster in the top right is useful and functional, the volume scroll is easy to use and intuitive, with a tactile press down to mute. The button to the left of the scroll wheel behaves like how airpods do, press once to play/pause, twice to skip forward, three times to skip back. This media button set up keeps the overall footprint of the keyboard low, I quite like it.
Underneath the 6 grid cluster, you'll find the status LEDs indicators.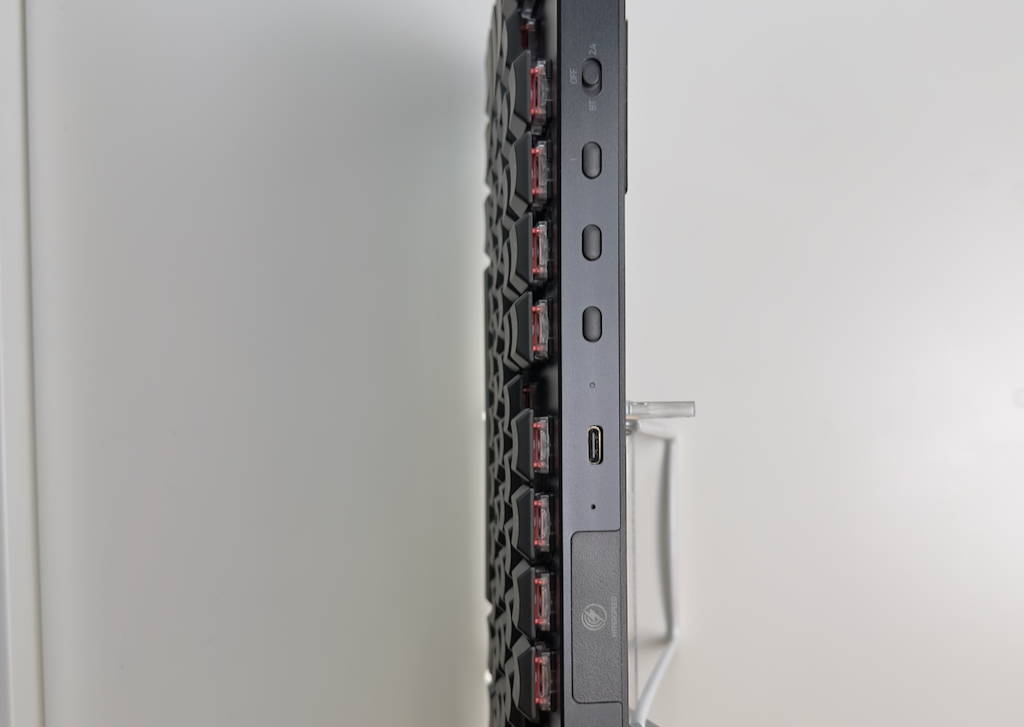 Heading over to the top of the keyboard, you'll find 3 profile buttons to quick switch between bluetooth devices. The USB-C input for the keyboard off center right next to the 3 profile buttons, but since you'll be using this wireless, this spot is fine for a charging port.
Next to the profile buttons is a dip switch allowing you to flip between 2.4 Ghz, off, and Bluetooth mode.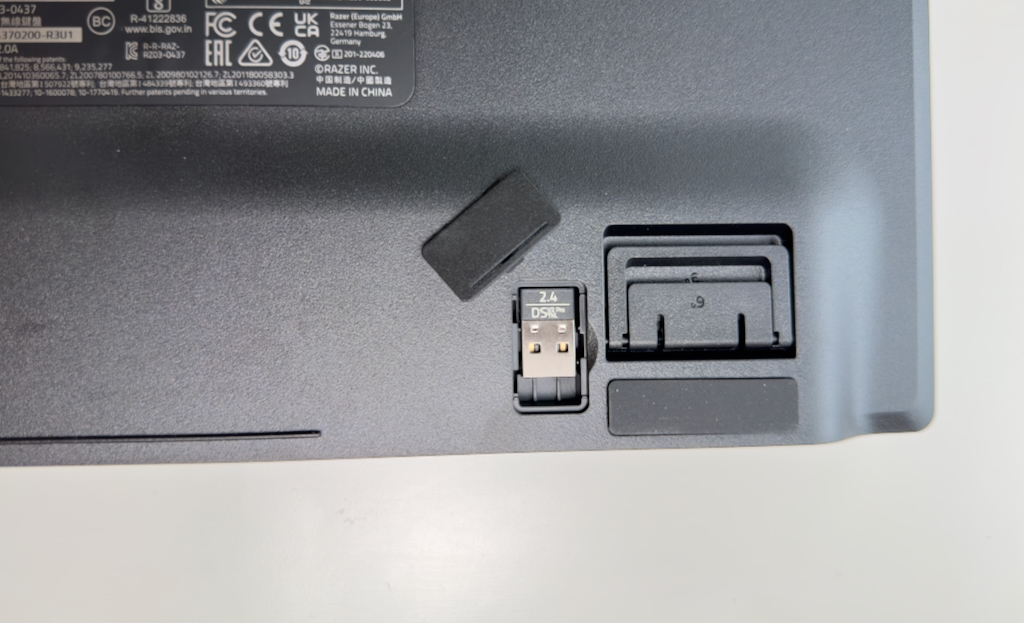 On the back, you'll find a welcome spot to store the USB dongle on the go.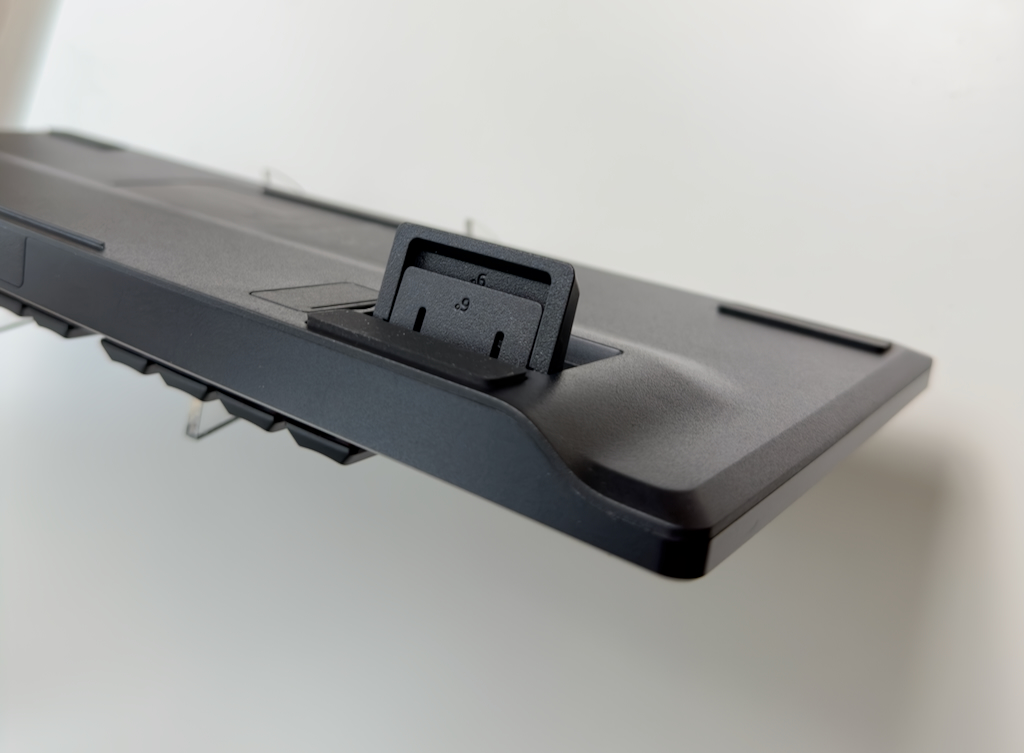 The keyboard feet are pretty standard, they do the trick, being study enough to withstand some mashing. The feet are able to be set at 6 degrees or 9 degrees, with 3 degrees being the flattest option.
There are 4 large rubber feet cornering the back of the DeathStalker V2 PRO Tenkeyless, providing enough stopping power to prevent the keyboard from slipping.
The DeathStalker V2 Pro Tenkeyless comes in black or white, with the white only being available in linear.
The entire keyboard weighs in at just 744g.
Proprietary ABS Keycaps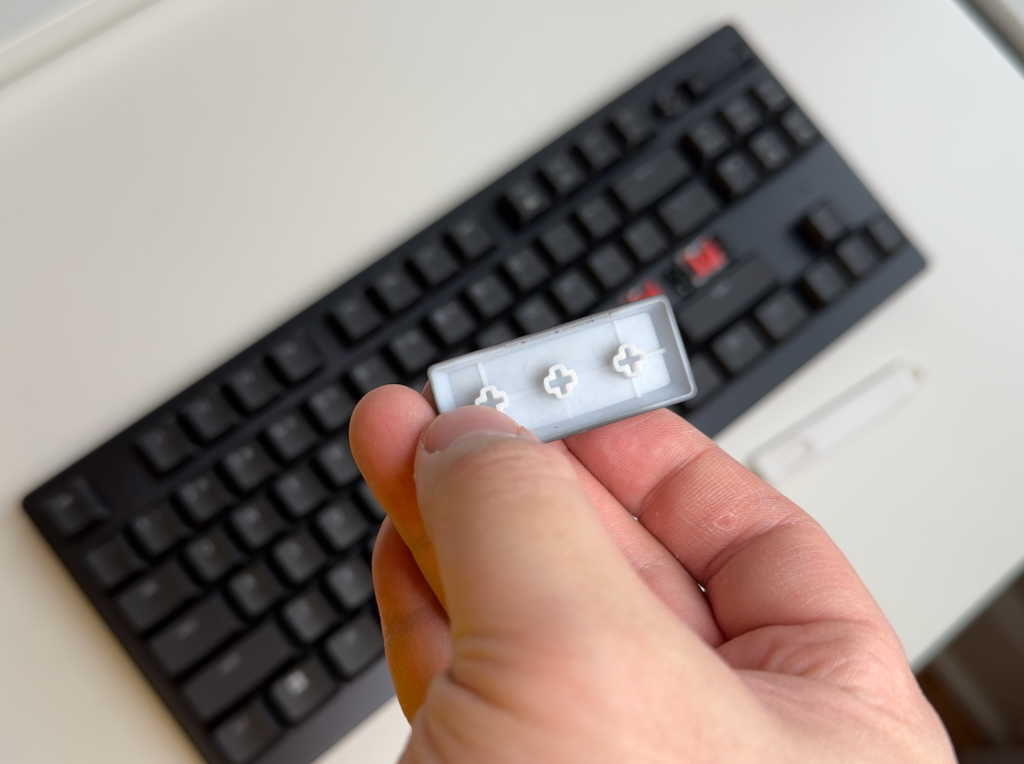 At this price point packing in laser etched shine-through ABS plastic keycaps is a bit of a dissapointment. Razer does claim that this is some kind of special "Hyperguard coating". On initial feel, the keys feel like standard ABS plastic to me, but time will tell if any ABS shine wears in.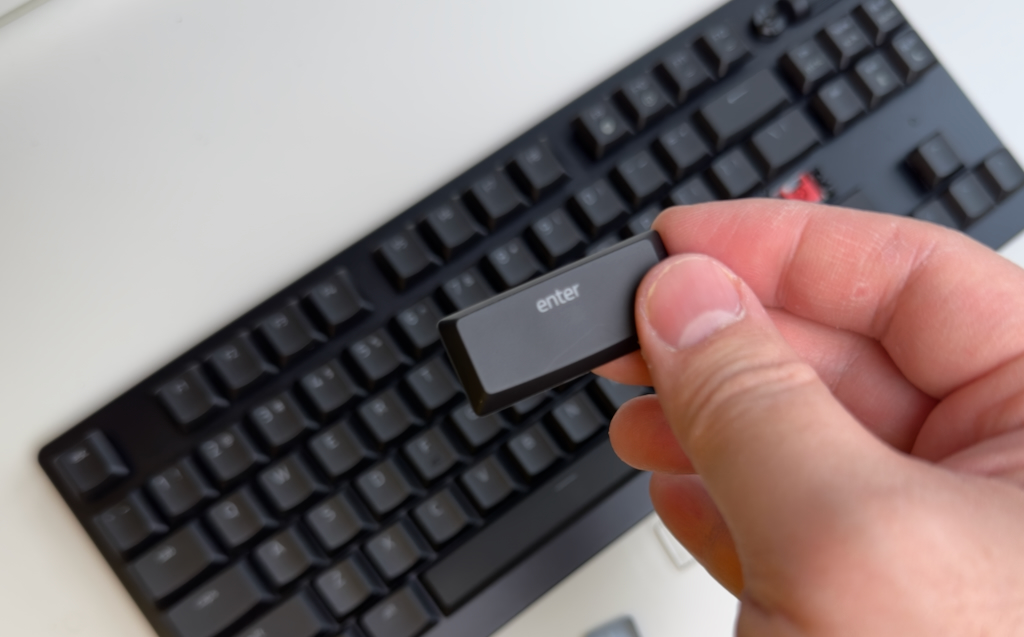 The keys aren't entirely flat, there's a bit of a curve in them for comfort, similar to a Cherry or OEM profile.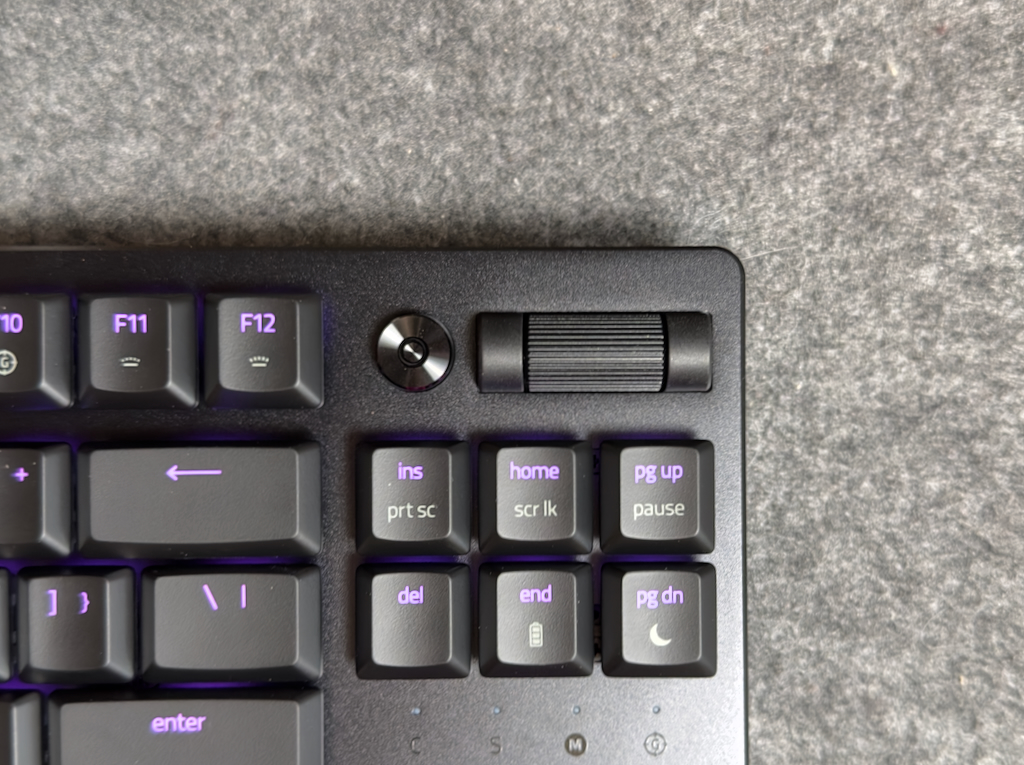 The keys are pleasantly lit from the north facing LEDs underneath. RGB is smooth and consistent across the keyboard.
Optical low profile switches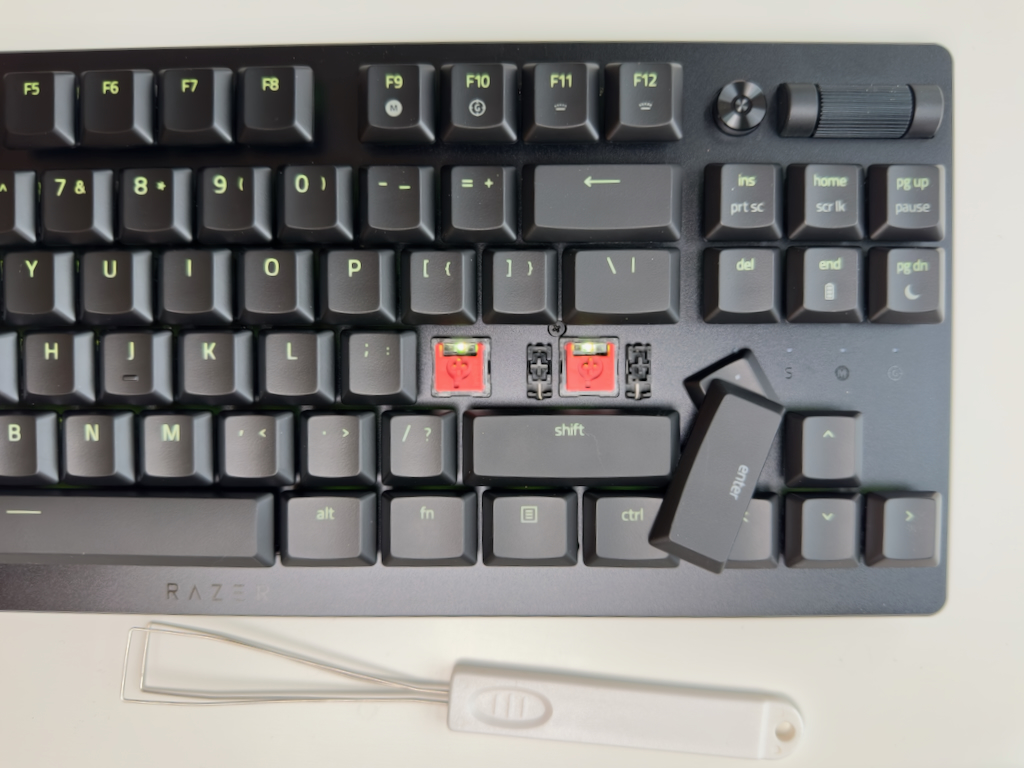 The Razer DeathStalker V2 Pro comes with the choice of either red linear or purple clicky low profile switches. Both switches are optical, they're rated for 70m actuations and should last quite a while in terms of durability.
Both switches are crazy fast, the linear switch has an actuation point of 1.2mm with a actuation weight of 45g. The linears feature a bottom dampener that mutes noise, but also makes it feel a little squishy.
The optical clickies, are a little bit slower with 1.5mm actuation and a weight of 50g.
For max speed FPS gaming, I would go with the low-profile linears, you want as much responsiveness for movement as possible. For other games like MOBAs, having some tactile feedback might be nice in the clicky's.
Unfortunately there's a good amount of wobble on all keys, possibly because of the shorter stems and overall shorter switch, there isn't just as much material to lock keys in place.
Stabilizers
I don't think the Razer stabilizers do a good job of minimizing chatter and rattle. Even with linears, the DeathStalker V2 Pro is a noisy affair. If you're looking to minimize noise, then go with linear.
Typing experience
This keyboard doesn't really deliver the best typing experience. The short travel and low actuation weight causes me to make a lot of typing mistakes, but that's my experience coming from being a tactile main.
For people that are used to light linears, the DeathStalker V2 Pro provides a competent typing experience, though the rattle, wobble and overall squishiness in linears leave something to be desired.
Low Latency Wireless Experience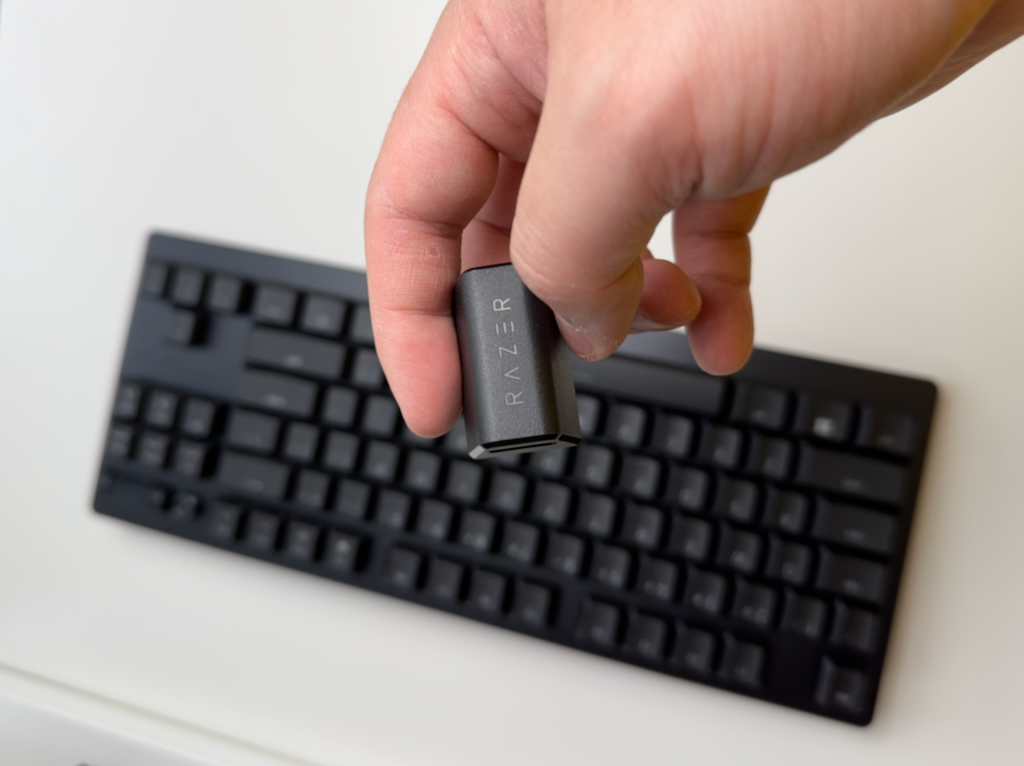 Wireless latency was great using the Razer DeathStalker V2 Pro over 2.4 Ghz. The keyboard felt fast and I didn't notice any huge difference between 2.4 Ghz and wired.
The keyboard polls at 1000 Hz over 2.4 Ghz and is rated for 40 hours of continuous use at 50% rgb brightness, which I found to be accurate. Compared to its main rival though, the Logitech G915 TKL, this is about half the total battery life found in that much older keyboard.
The Bluetooth 5.0 connection is stable, it definitely felt slower than the 2.4 Ghz connection, but the convenience of being to connect to 3+ devices wirelessly over bluetooth is really nice.
Razer Synapse 3 Software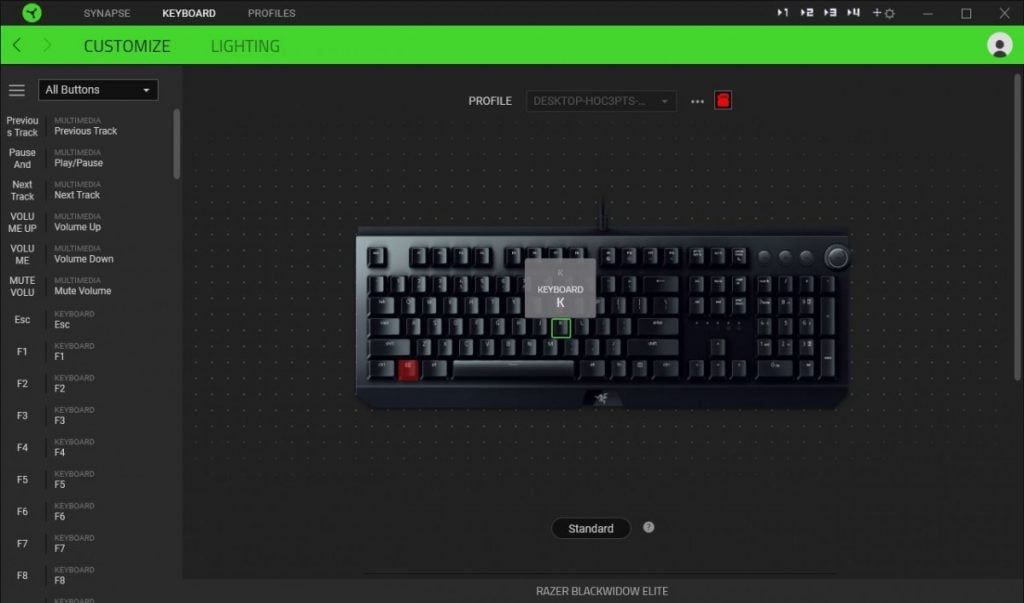 Per usual, you can program this Razer keyboard with the famous/infamous Razer Synapse 3 software. All the standard features are present, you can reassign keys, record macros, set up custom RGB lighting, save up to 6 configuration profiles onboard.
There are a couple of neat new-ish features to point out on the DeathStalker V2 Pro.
Holding the bluetooth profile buttons for 5s will turn on pairing mode for that profile, clicking once will switch between profiles.
Fn + F9 will enable on-the-fly macro recording, press the key combo to record, type the keys you want to record, then press again to stop recording. Then press the key where you want to map the macro.
Fn + F10 will turn on gaming mode, which disables alt+tab and alt+f4, as well as the windows key.
You can cycle RGB modes by pressing Fn + ctrl and a number on the number row.
Here are all the standard RGB modes:
Ambient awareness
Audio meter
Breathing
Fire
Reactive
Ripple
Spectrum cycling
Starlight
Static
Wave
Wheel
Warranty and Reliability
Razer backs their keyboard with a 2 year warranty.
Tech Specs
Razer DeathStalker V2 Pro Tenkeyless
Length: 35.77 cm / 14.07 inches
Width: 13.90 cm / 5.58 inches
Height: 2.60 cm / 1.02 inches
Case: Aluminum top, plastic bottom
Weight: 744 grams
Keys: 67 keys
Connectivity: USB-C cable, 6ft, detachable, with type-A adapter
Keys & switches
Switch options: Optical Red Linear or Optical Purple Clicky
Keycap material: Coated ABS Plastic
Keycap legends: Laser-etched
Keycap profile: Flat
Media keys: Yes
Backlight: Full RGB (South facing)
Software: Razer Synapse 3
Conclusion
Razer decided that the niche of low profile wireless gaming keyboards was large enough to not let Logitech monopolize the space. And the Razer DeathStalker V2 Pro TKL does feel like it's a bit of a me too product.
While the MSRPs are similar the Logitech G915's can likely be found at a much lower price point now due to its age. If you're in the market for one of these two keyboards, consider whether you care about paying a higher price in the DeathStalker V2 Pro for USB-C charging, optical switches and better feet.
If you're not already in the market for a low profile wireless gaming keyboard, then I'd say you're still probably better off looking elsewhere. The price points for these keyboards are pretty high for what they are and unless you really value low profile keyboards, look elsewhere.