The Steam Deck is a great handheld, the ergonomics are comfy and the customizability of the controls are on point.
But, we can all agree that the Steam Deck is a bit of a chunky handheld. Its weight can get to you after long hours of gaming, so being able to dock it, hook it up to a monitor, and just use a controller does wonders for its portability and ergonomics.
A good controller for PC gaming is going to be a good controller for the Steam Deck as well, but there are a couple of extra features like Gyro and Touchpad that you might want to replicate on a controlelr.
Here are some of the best controllers you can pair with the Steam Deck.
---
The Best Controller for Steam Deck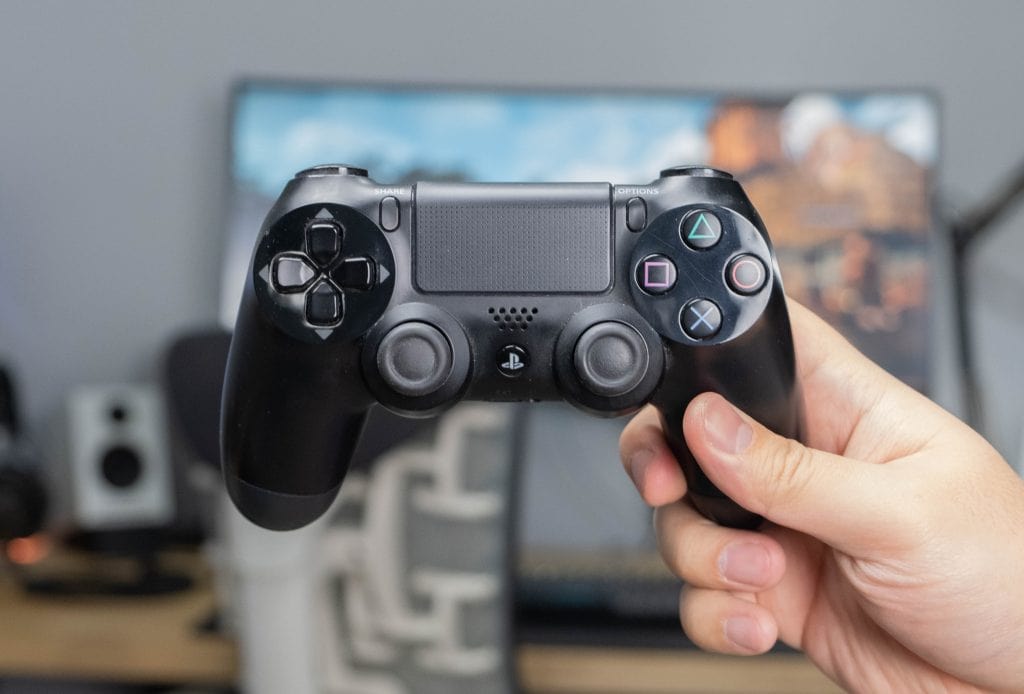 The DS4 enables all the functionality of the Steam Deck including gyro and touchpad controls.
For FPS Fans
The Xbox controller has taller sticks and the same button layout as the Steam Deck, making a really good controller for FPS gamers who don't need the more niche features of Gyro.
An upgraded Dual Shock 4
You can think of the DualSense as a larger DualShock 4, with adaptive triggers that work with Sony games on the Steam Deck, cool!
1. PS4 DualShock 4 Controller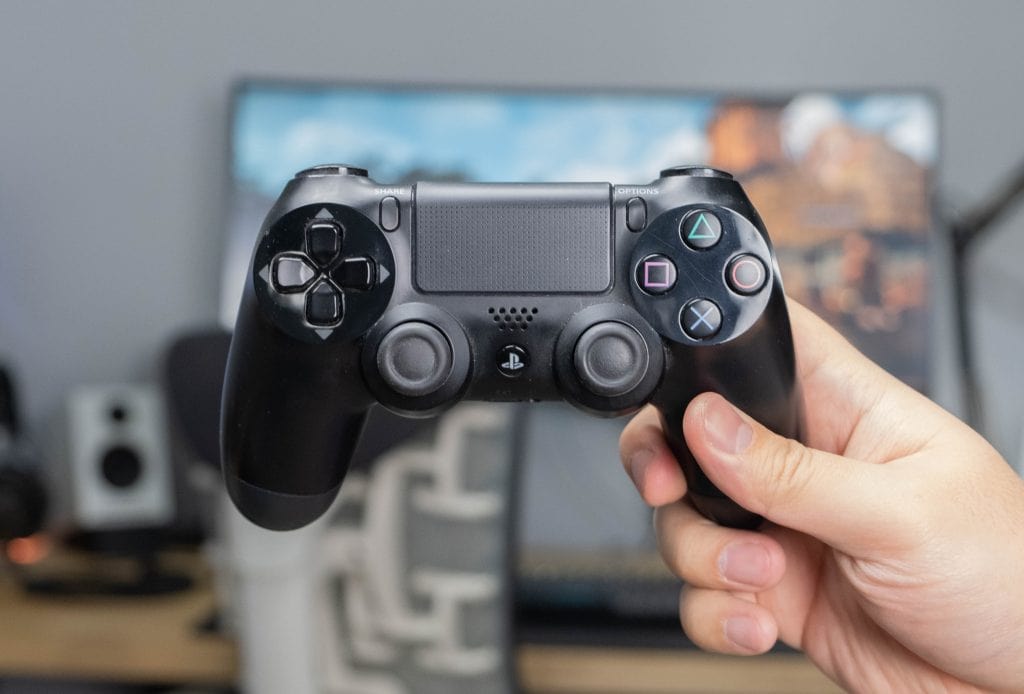 It's got a comfortable shape that fits hands of all shapes and sizes, the buttons and joysticks feel well-built, and it has a bunch of unique features like the touchpad and gyroscope. Its size can feel a bit too small, especially if you have larger hands; but it's nothing that you can't get used to over time.
You can play Deck verified games containing native controller support seamlessly with the DualShock 4. But even the games that aren't verified can be easily navigated using the controller's touchpad, which doubles as a mouse. No other controller offers this much versatility on the Steam Deck.
One of the disadvantages of the DualShock 4 is its battery life. On a good day, you can get around 6 to 8 hours, but realistically, you're looking at a 4-hour battery.
PlayStation original games like Horizon Zero Dawn or Uncharted have native DualShock 4 support on the Deck. This means that you can play these games the way the developers intended without jumping through hoops.
2. Xbox Series X|S & One Controller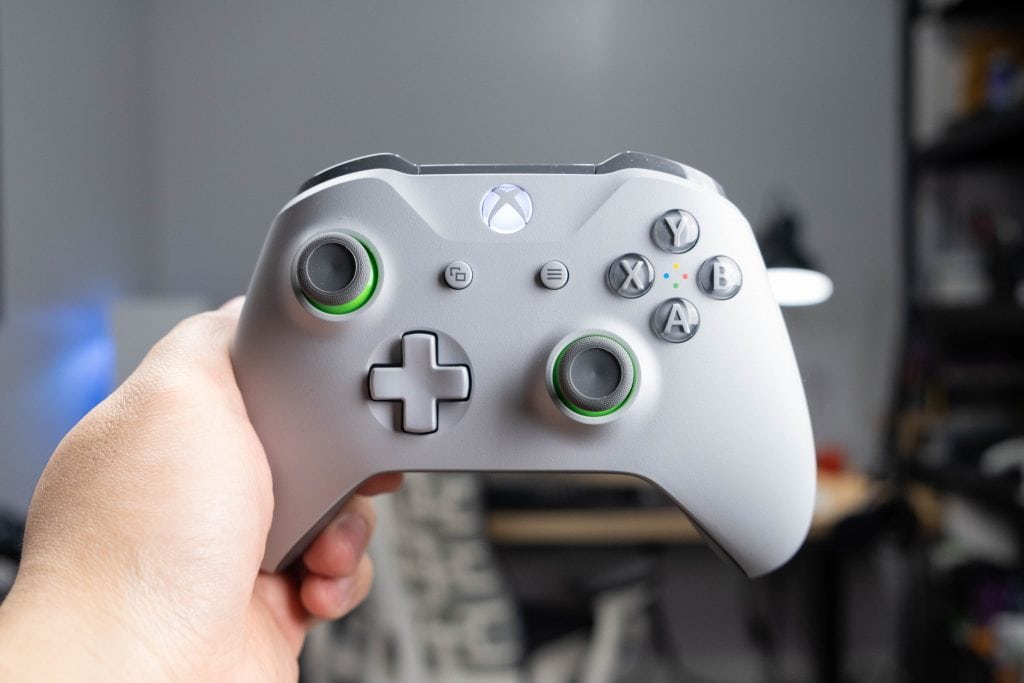 The Xbox controller's tried and true design and feel in the hand are loved by many gamers. It may not have the PlayStation 4 controller's fancy gyro, but some prefer the Xbox controller. Mainly because of the stick placement and height, which makes aiming in shooters much more accurate.
The Xbox controller's snug fit in the hand makes it much more comfortable to hold for longer periods of time.
Probably the biggest advantage the Xbox Series X|S has over its rival from Sony is the long battery life. The Xbox controller's swappable and rechargeable battery runs circles around the DualShock 4's with over 30 hours of use from a single charge!
If you use your Steam Deck in Windows mode, especially if you play a lot of emulated games, the Xbox controller is much more suited for your needs. It is natively supported by Windows and connects seamlessly via Bluetooth or USB. Keep in mind that the Bluetooth connection on Xbox controllers can be a bit iffy, so I recommend connecting it via USB or a dongle.
Plus, the button layout of the Xbox controller matches the Steam Deck, so everything feels much more aligned.
The Xbox controller is missing gyro and touchpad controls though, so if you want those features and conveniences, look elsewhere.
The Xbox Series X|S controller is a great fit for your Steam Deck, especially if you play a lot of shooters.
3. PS5 DualSense Controller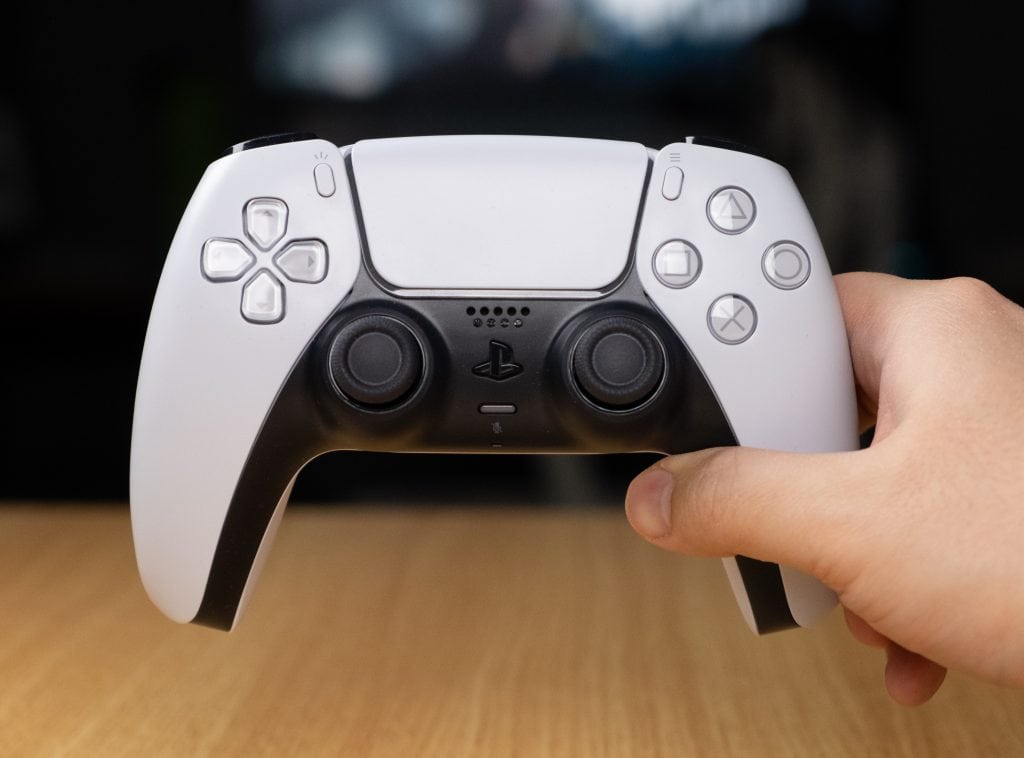 The Sony DualSense controller is an improvement in nearly every way over the DualShock 4, with an updated, more ergonomic design, and a few next-gen features to boot at a much higher cost.
The increased surface area and the curved, angular build make the DualSense closer to the size of an Xbox controller, which means it feels great to hold.
Pair that with its excellent rumble and haptics, you got yourself a much more immersive gaming experience.
If you play a lot of Sony's first-party titles on the Steam Deck, you can utilize DualSense's unique features. Playing games like Spider-Man with the DualSense controller's adaptive triggers and haptic feedback is definitely worth a try.
The one big drawback of the DualSense is its abysmal battery life. Its 1560 mAh battery is quite an upgrade from the DualShock 4's 1000, but pair that with a whole host of next-gen features, and you got yourself a controller with subpar battery life.
If your gaming sessions on the Steam Deck last longer than 4 hours, you might have to connect the DualSense via USB unless you want interruptions.
If you can live with lesser battery life, however, the DualSense controller is great on the Steam Deck. Its redesigned touchpad is much bigger than the DualShock 4's, so you get even more mouse real estate on the Steam Deck!
If you want to game on a genuinely next-gen feeling controller and are willing to pay for it, the DualSense is the right way to go.
4. 8BitDo Pro Controller 2
Retro gamers rejoice! The 8BitDo Pro Controller 2 is a godsend for those who want to play retro titles on their Steam Deck.
The 8Bitdo Pro Controller 2 is clearly inspired by the SNES controller. The d-pad, concave buttons and colour way really make you feel like you're back in the 90s.
Except 8Bitdo has all the modern wireless tech, with amazing build quality, it's perfect for retro gaming on the Steam Deck.
The 8BitDo Pro Controller 2's battery life is amazing, especially compared to Sony's controller offerings, amounting to 3-4x the total battery life on a single charge.
One of the main selling points of the 8BitDo Pro Controller 2 is its comprehensive customizability. Using the Ultimate Software program on PC (or the Steam Deck's Windows mode), you can remap any button to your liking. This makes the controller super versatile for any retro game you throw at it.
If you bought a Steam Deck to replay old Nintendo titles, the 8BitDo Pro Controller 2 is a must-have.
5. 8BitDo Ultimate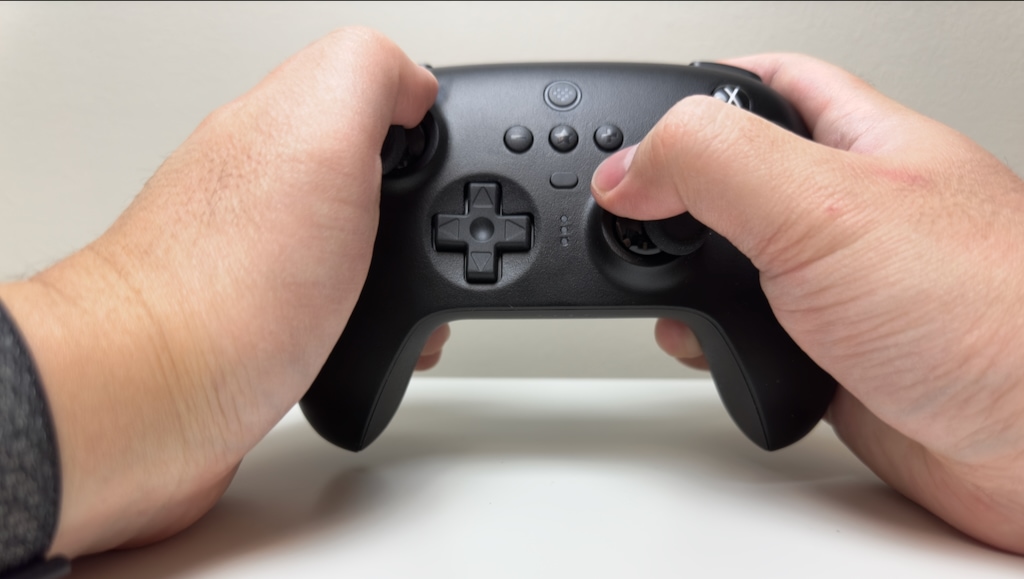 The 8BitDo Ultimate controller looks and feels like a roided-out Switch Pro controller. While 8BitDo released the Ultimate controller mainly for Nintendo Switch users, it's a surprisingly robust pairing with the Steam Deck.
The 8BitDo Ultimate controller has a very premium build quality with matching ergonomics. What's more, it also features Hall effect joysticks and comes with a cool charging stand, and offers Bluetooth and 2.4GHz wireless connectivity. Plus, it has a pair of back paddles which you can customize to your heart's content along with the rest of the controller using the Ultimate Software.
The 8BitDo Controller also has full compatibility with the Steam API, meaning you can easily load up a "Nintendo" preset to play your favorite titles. The 8BitDo also has a Switch Pro mode, which allows you to emulate a Nintendo Switch controller.
If you play a lot of Nintendo titles on your Steam Deck, getting the 8BitDo Ultimate controller will be a worthwhile upgrade.
6. KingKong 2 Pro Controller
At first glance, the GuliKit KingKong Pro 2 controller looks strikingly like an Xbox Series controller. But it's much more than that.
The KingKing Pro 2 features Hall effect sticks, which immediately place it on the upper echelon of all controllers. Hall effect sensors are a technology that virtually eliminates stick drift from controllers. This means that GuliKit controllers will likely have amazing longevity.
The Hall effect sensors in the KingKong Pro 2 controller also prevent it from having any dead zones, which makes it super accurate for first-person shooters.
Plus, it also features a continuous shooting mode, which lets you map a button press for an extended period of time. This feature makes playing roguelike games and Minecraft much less tedious.
Like the Xbox controller, the KingKong 2 Pro does lack gyro and touchpad functionality.
While the on-paper specs of the KingKong look great, we're going to put it this in a lower position until it's a proven brand.
7. Sony DualSense Edge Controller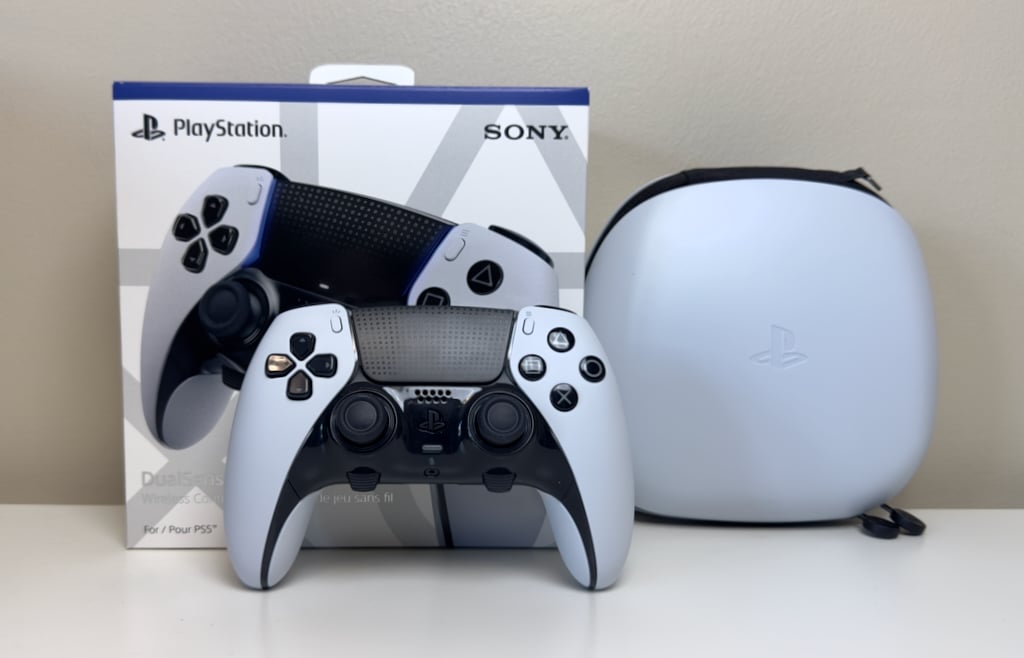 Finally, we have the all-new DualSense Edge controller for the PlayStation 5. At $200, Sony is marketing this as a premium, enthusiast-grade pro controller, and just like its cousins, the DualSense Edge works marvelously with the Steam Deck.
Design-wise, the DualSense Edge doesn't look all that different from the regular DualSense controller. It features a new glossy finish on top, retains the shape of the DualSense, and adds a set of back buttons as well as a pair of function buttons below the joysticks.
You can map the function and back buttons on the Edge for the Steam Deck.
The DualSense edge doesn't have hall effect sticks but does have easily replaceable joystick modules.
Unfortunately, like the DualSense controller, the DualSense Edge has lackluster battery life. adding all those extra buttons to essentially the same footprint meant the Edge has a much smaller battery at 1050 mAh.
But aside from all that, the DualSense Edge improves on an already excellent controller.. If you got $200 burning a hole in your pocket, there are worse ways to spend your money.