With strong build quality and customizability all packed into a well loved keyboard design, The Ducky One 3 series outperforms their competition by a wide margin.
The One 3 improves on its predecessor in every way while bringing new and exciting features, which is a testament to Ducky's commitment to delivering a high-end mechanical keyboard without high-end prices.
Aside from a few missing features, Ducky manages to deliver a keyboard that is quite suitable to a wide-range of gamers.
The fact that Ducky brings a very enthusiast-level experience to an affordable pre-built keyboard makes the One 3 a great entry point for anyone looking into mechanical keyboards.
The Ducky One 3 line-up consists of the Ducky One 3 mini (60%), Full Size, and SF (65%). Our review unit was a Ducky One 3 SF with Cherry clear switches.
Pros
Vibrant colour options
PBT keycaps
Great acoustics and key feel
Hotswappable
Lots of accessories
Cons
Lack of software customization
What's in the box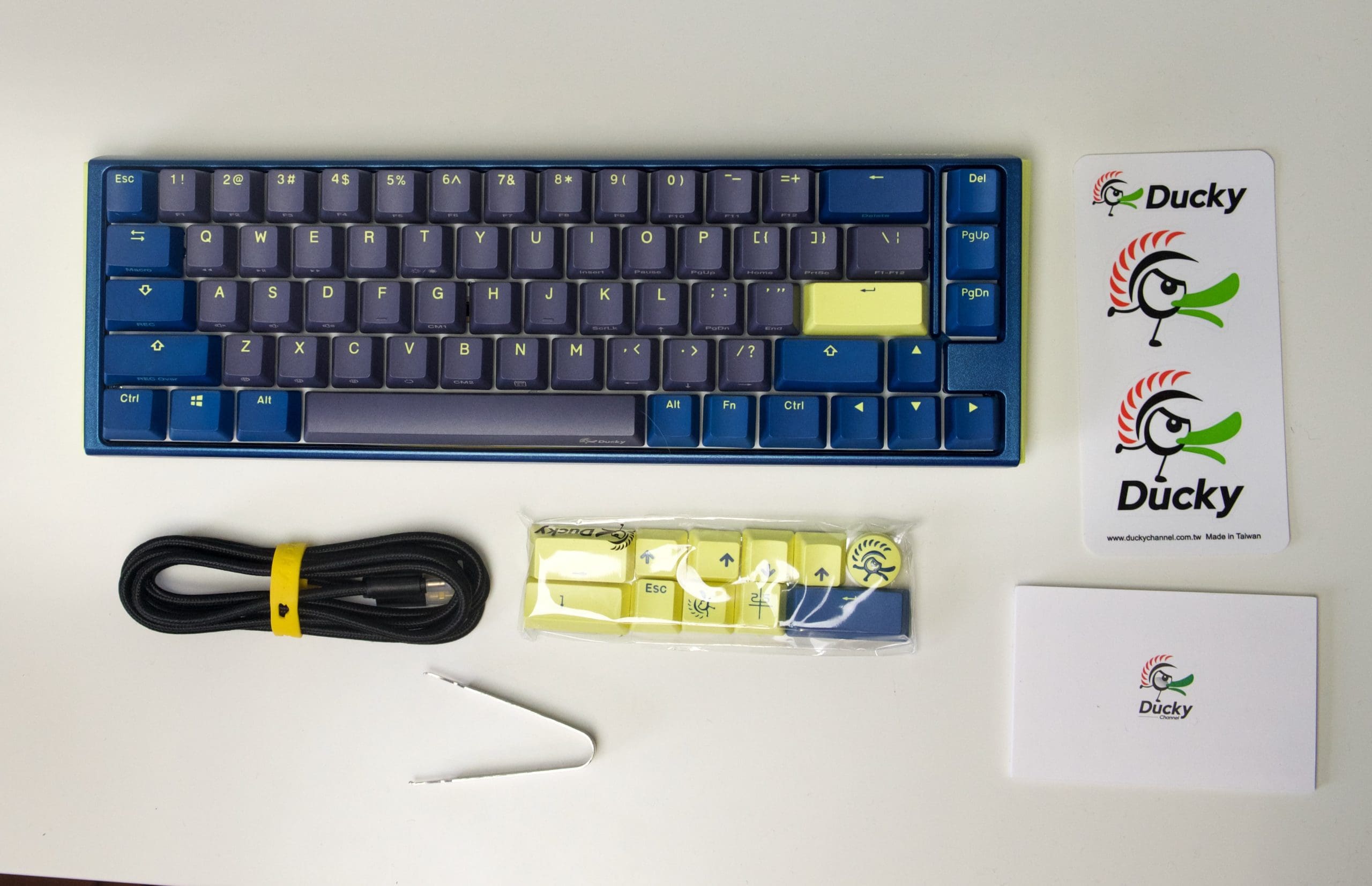 Inside the box, the Ducky One 3 comes with a few extra goods:
Switch puller
Wire keycap puller
User Manual
Stickers
Alternate PBT keycaps with 1 round keycap
USB Type C cable
Hot-swappable Switches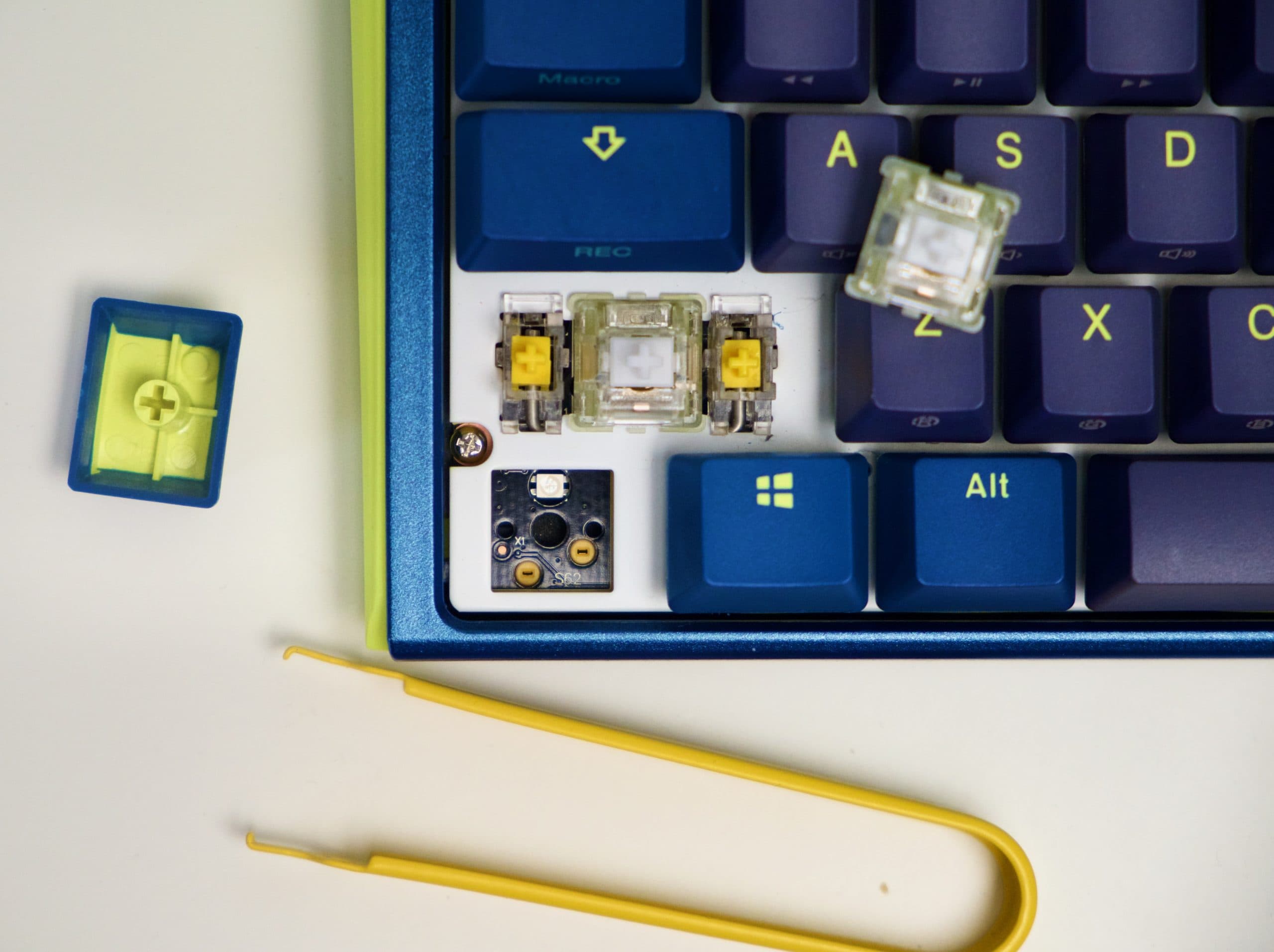 One of the big changes with the Ducky One 3 is that all switches are now hot-swappable! This is a welcome feature I'm glad to see, this opens up a lot of switch options to the mainstream.
You can get the Ducky One 3 in most, if not all the standard Cherry switch options:
Red
Blue
Brown
Black
Clear
Silver
Silent Red
Of course, you're free to use whatever switch you want after the fact—that's the beauty of hot-swap!
The switches can be easily removed from the chassis without any hassle, but there is a little play when the switch is re-seated into the PCB. However, this isn't too noticeable unless you go looking for it.
Ducky Stabilizers
The reputation that Ducky's industry-standard stabilizers have is second to none. The story is no different here.
The Ducky One 3 comes with fantastic stabs that are pre-lubed (really well, might I add), and has very minimal clatter or rattle. You'll rarely have to lube these bad boys out of the box, which is not something you can usually say about stabilizers in pre-built keyboards.
Great Acoustics
Our Ducky One 3 SF was an absolute joy to listen to. The amazing ducky stabilizers work their magic and stay super quiet at all times—even when you're hammering away on the space bar like a lunatic. The built-in EVA foam pad at the base of the chassis does wonders to the acoustics and brings the whole keyboard together with a rich, fuller sound profile.
The Cherry clear switches on our model sounded okay, but the Ducky One 3 would definitely benefit from having a thoccier switch type (this is where the hot-swap comes in clutch).
All in all, the One 3 sounds really good for a pre-built board with a plastic shell—no sudden creaks or rattles when typing, and it definitely does not sound hollow.
Colorful PBT Keycaps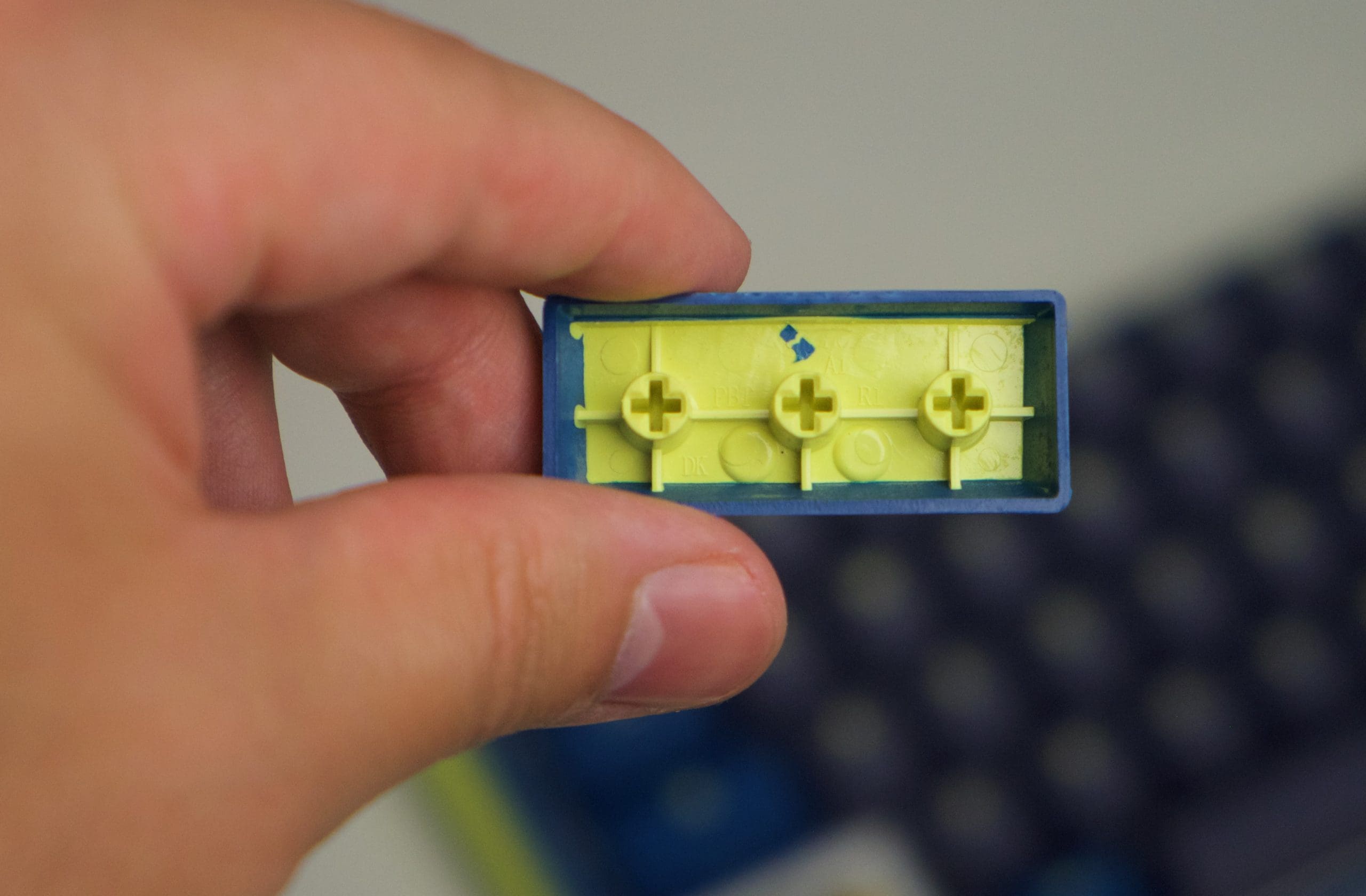 The Ducky One 3 comes with double-shot PBT keycaps that are thick and well made. The keycaps look amazing, the colors are vibrant, and the solid construction makes sure the legend lasts virtually forever with no shine or stains. The keycaps all use Cherry profile stems, so they can fit onto all Cherry switches and clones.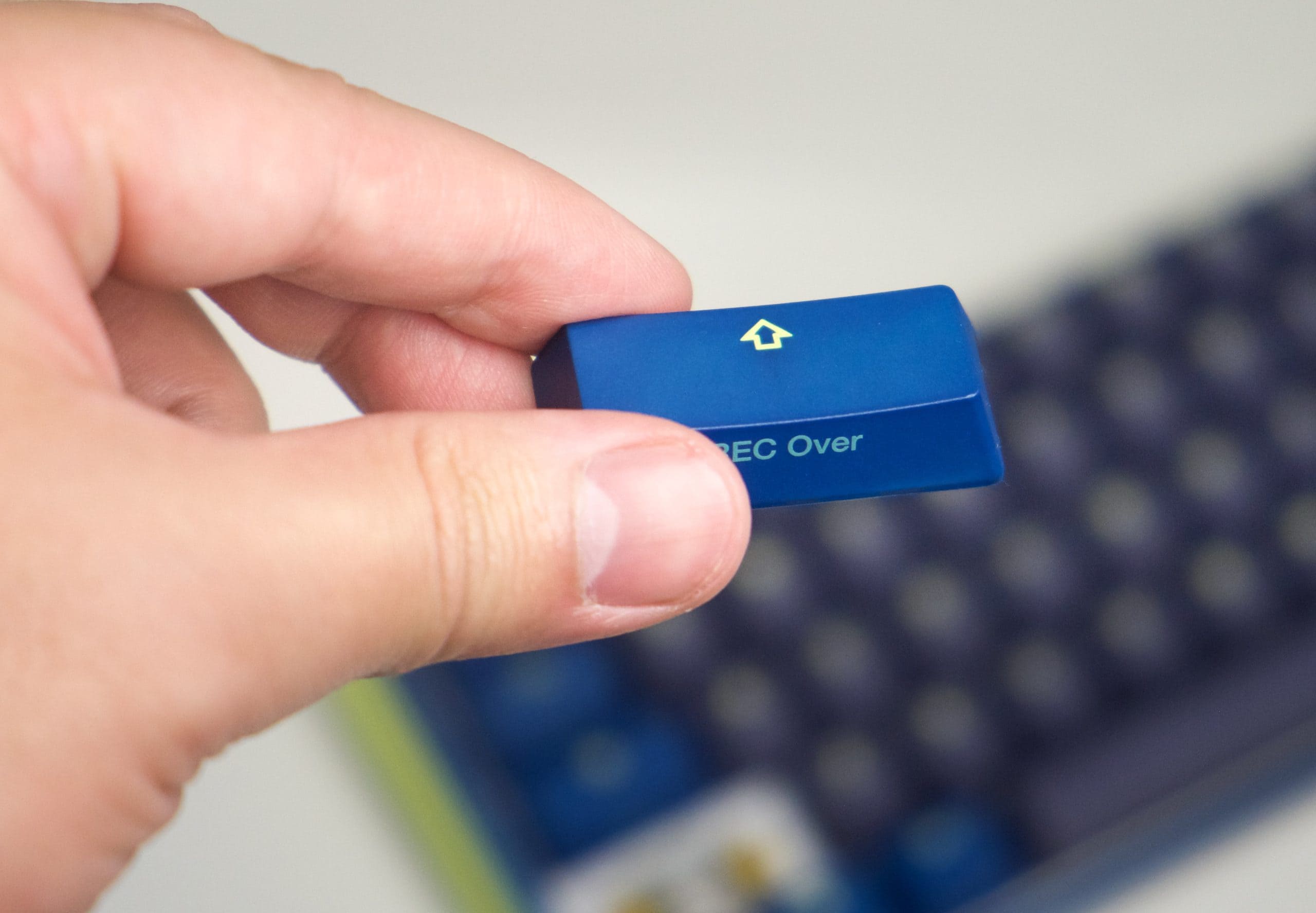 The print on the legend is clear and doesn't use an obnoxious-looking font. The keycaps have a side printed legend that indicates all the secondary functions available.
There's not much to say here—Ducky has always nailed their keycaps, and the story is the same with the Ducky One 3.
Build Quality
The all-plastic build of the Ducky One 3 may sound sub-par on paper, but in practice, it really well built. Ducky has used high-quality plastic to construct the chassis, and it definitely holds up.
There is a little flex when you really go at it, which is to be expected—but it's nothing major. There aren't any weird creaks that you would usually find on some cheaper keyboards here. Overall, the build quality of the Ducky One 3 is solid, with nothing to worry about when it comes to longevity.
Design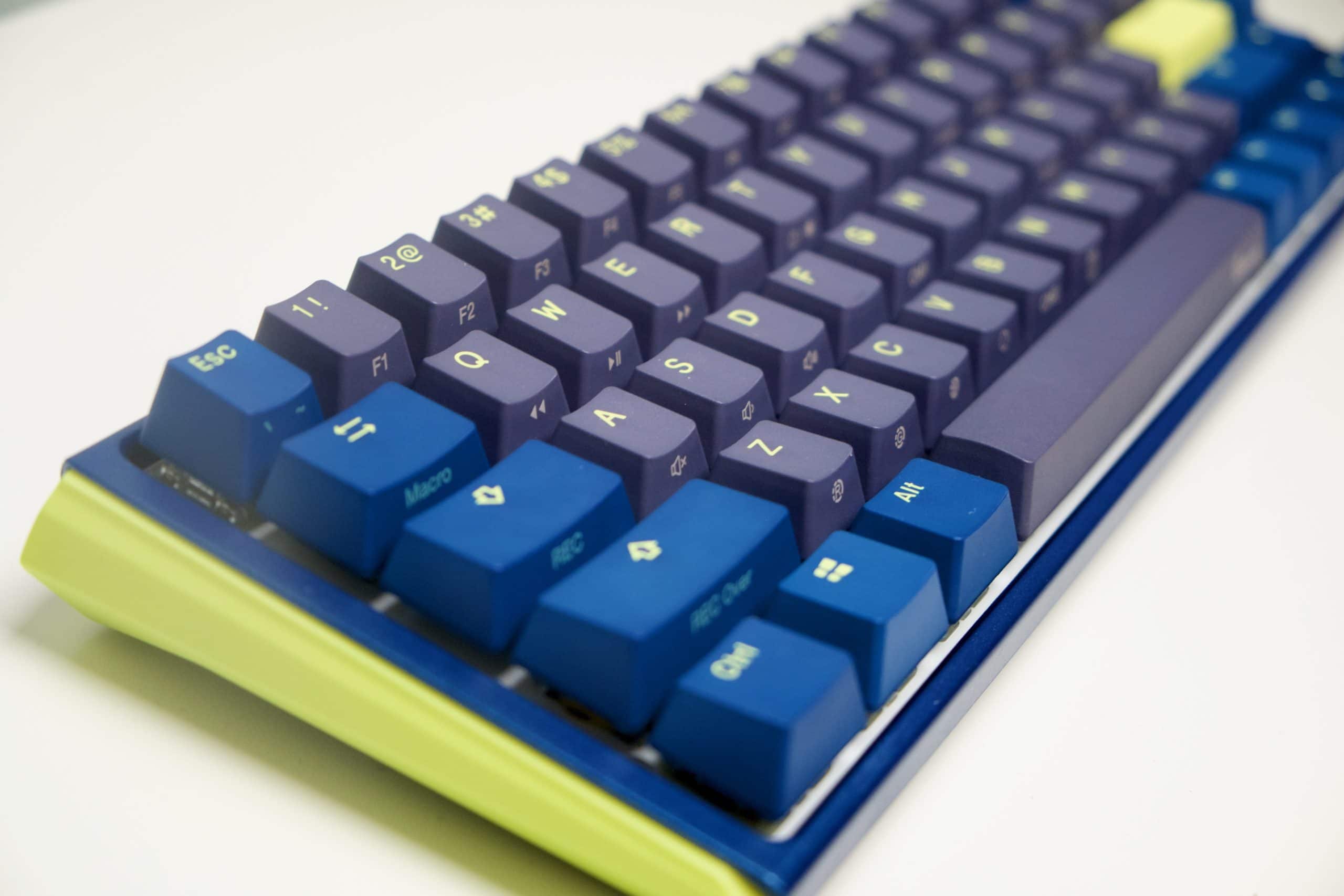 Case
The all-plastic outer casing of the Ducky One 3 is pretty well designed. Being a mid-profile case allows the RGB lighting to really shine through the white backplate. When you look to the sides of the keyboard, the colored accents add a nice touch to the whole chassis.
In terms of branding, the only visible logo is found on the top right lip of the keyboard; this is well out of the way so it doesn't stand out like a sore thumb.
A minor gripe I have with the outer casing of the Ducky One 3 is that the USB-C port is offset to the left side of the keyboard. I'd prefer if it was in the middle since it allows for more flexibility with cable management.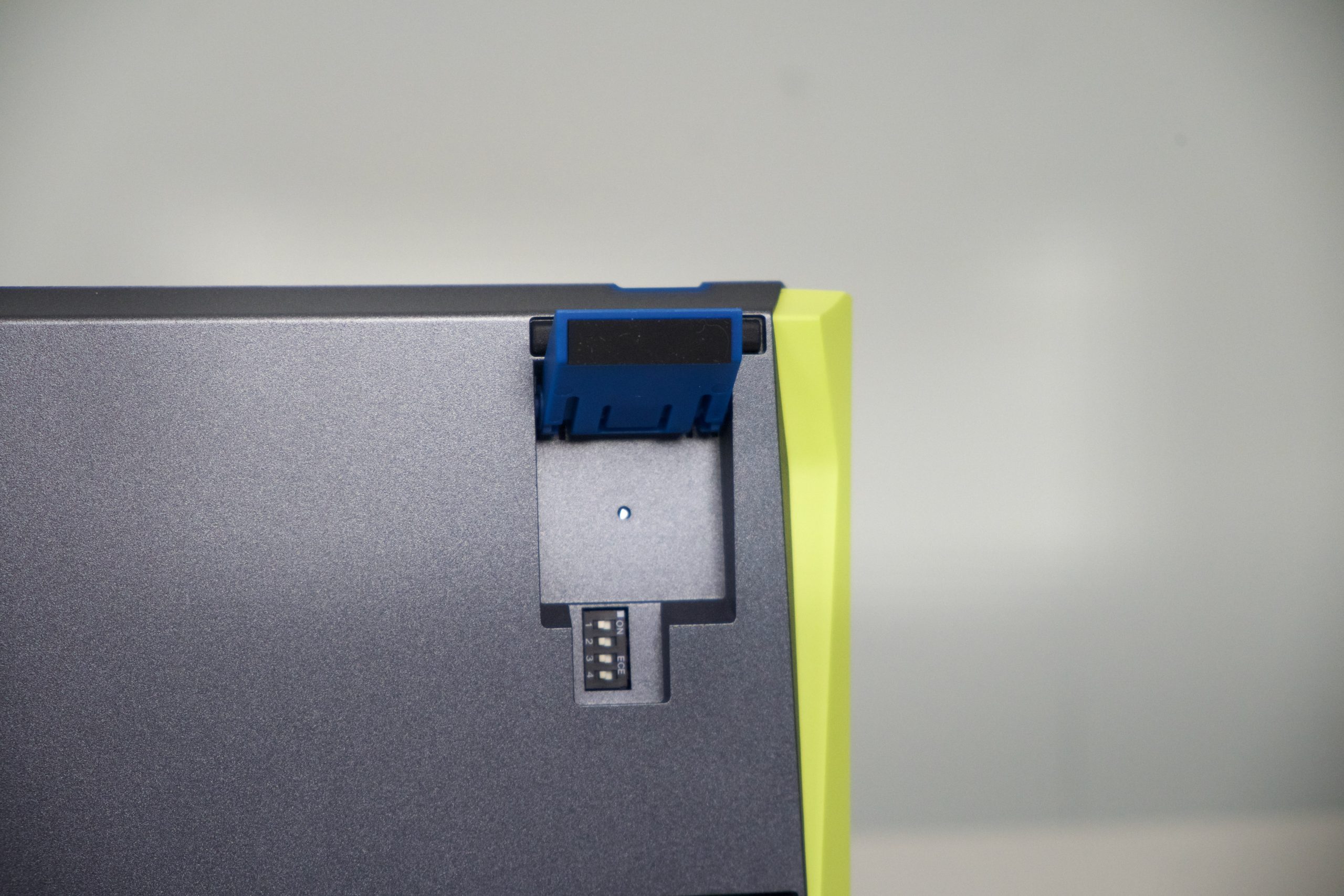 Underneath, theres a pair of plastic feet with 3 different height settings.
RGB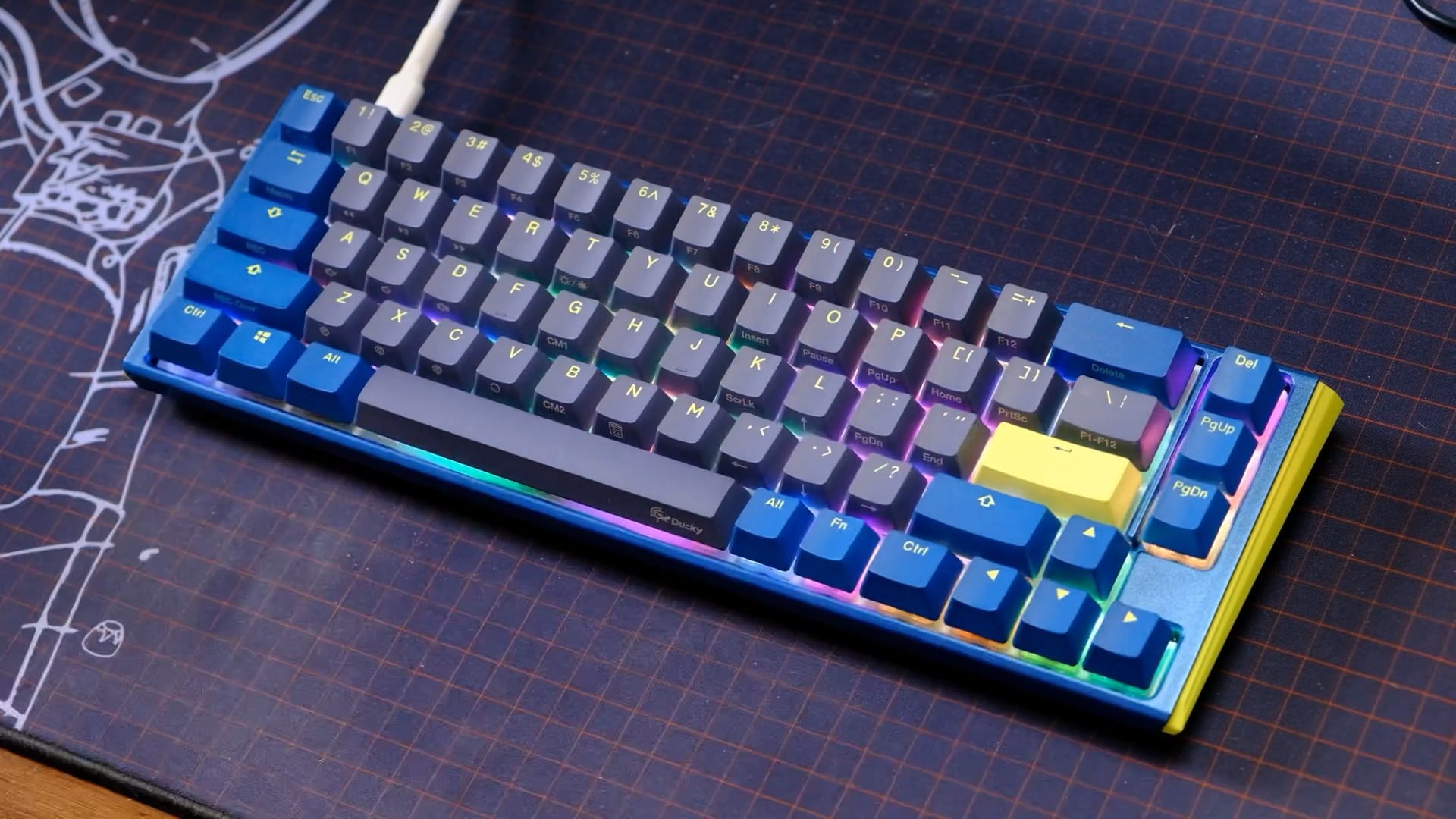 The RGB lighting on the Ducky One 3 is bright, full, and shines amazingly off of the white metal backplate. None of the LEDs are obstructed, and the light shines around the keys, setting a beautiful ambiance on the keyboard.
There are a number of different RGB modes available on the Ducky One 3:
Wave
Alpha
Tetris
Colour Cycle
Rain Drop
Circle Ripple
Random Reactive
Aurora
Reactive
100% Full Backlit
Backlight Off
Size Options
The Ducky One 3 comes in three different form factors; Full Size, SF (65%), and Mini (60%).
The Mini and SF variants are great for gamers who want the most mouse space as they can possibly get, and the full size is a great choice for productivity freaks who want the number pad and all the other extra keys.
Colour Options
The Ducky One 3 currently has 4 main colorways:
Daybreak
Fuji
Yellow
Matcha
I'm especially fond of the Daybreak colorway, the darker blue hues used on the keyboard makes a pretty cool and sleek look for the Ducky One 3.
Ducky Software
This is where Ducky falls short when it comes to customizability compared to some of its competitors. They do not have dedicated software to control RGB, macros, and other keyboard-specific settings.
Instead, Ducky has opted to rely on the keyboard itself for all customization settings. This means that your options are pretty limited.
But that's not to say there aren't some cool features available, the entire secondary function row has many neat features including media controls and macro assignments.
Ducky has included some DIP switches to give the One 3 an added layer of functionality.

You can have up to 6 different profiles on the Ducky One 3. To switch between the profiles, you have to press Fn+ 1,2,3,4,5, or 6.
Additionally, you can even program some macros to the Fn layer, but this would be so much easier with a dedicated software. As it is, you'll have to keep referring to the user manual to perform the many keypresses needed to even start recording a single macro.
Speaking of manuals, the included user manual that comes with the Ducky One 3 is very sparse in details. A much better manual can be found over at manuals plus. It's a great source for customization options, and it really makes the whole process slightly more painless.
Warranty and Reliability
Ducky offers 1 year of warranty from the date of purchase, which can be redeemed through official vendors.
Tech Specs
Ducky One 3 SF
Length: 33.5 cm / 13.19 inches
Width: 11 cm / 4.33 inches
Height: 4 cm / 1.57 inches
Case: ABS Plastic with metal switch plate
Weight: 627 grams
Keys: 67 keys
Connectivity:Detachable USB-C to USB-A cable
Keys & switches
Switch options: Cherry MX mechanical switches
Keycap material: PBT
Keycap legends: Double-shot printing
Keycap profile: Cherry
Media keys: Through Fn keys
Backlight: Full RGB
Software: No dedicated software
Conclusion
The Ducky One 3 is an excellent choice for anyone who wants to get themselves a solid mechanical keyboard that optimizes towards key feel.
At the time of this writing, the Ducky One 3 Full Size comes in at $160, the Mini at $120, and our SF version came in at $130. Compared to other mainstream options, the Ducky One 3 series is will priced considering its keyfeel and hotswap functionality.
For a sub $200 mechanical keyboard, the Ducky One 3 is a remarkable piece of hardware. Great build quality, hot-swappable key switches, and amazing stabilizers usually don't all come bundled together at that low of a price.
The Ducky One 3 can be recommended to anyone across the board, regardless of whether you're a novice, or an enthusiast looking to add a colorful new mechanical keeb to their collection.