The Roccat Vulcan II Max is a sight to behold.
Does this premium keyboard have anything else to justify its $200+ price tag?
Pros
Looks amazing with RGB and wrist rest on

AIMO lighting is the best lighting mode I've seen

Optical switches

Good build quality
Cons
Bad typing experience and sound

Cheap ABS keycaps

Expensive
Verdict
Landing in at $230, you'll find many other good keyboards in this range.
For around $200, you can snag the Asus ROG Azoth, which is smaller, performs and types better. And it even boasts an OLED screen up top, even if it's in a 75% form factor.
Or you can go with Razer's BlackWidow V4 75%, which doesn't cut any corners in either the build quality or the software department. SteelSeries Apex Pro is another good option at this price. 
People who should consider buying the Vulcan Max II Pro are RGB lovers. The lighting on this keyboard is in a class of its own. Even the wrist rest is transparent with RGB diffusing through it for a more vivid look.
You might want to look at other options if you rely on your keyboard for long periods of typing. The typing experience is pretty underwhelming, and the slippery ABS keycaps only add further insult to injury. The larger keys suffer from poor stabilization, leading to wobbly keys, and the sound profile of the keys is echoey. This isn't what you'd expect from a $230 keyboard.
Model Variations
The keyboard comes in either black or white color. This will change the color of the plastic base, the aluminum top, the keycaps, and even the cable.
If you aren't a fan of large keyboards with wrist rests, even when they look as good as they do on the Vulcan II Max, you can go with the smaller Vulcan II Mini. This is a 65% version of the same keyboard, except for the wrist rest and the media wheel. It also comes in white and black colors
Form Factor & Size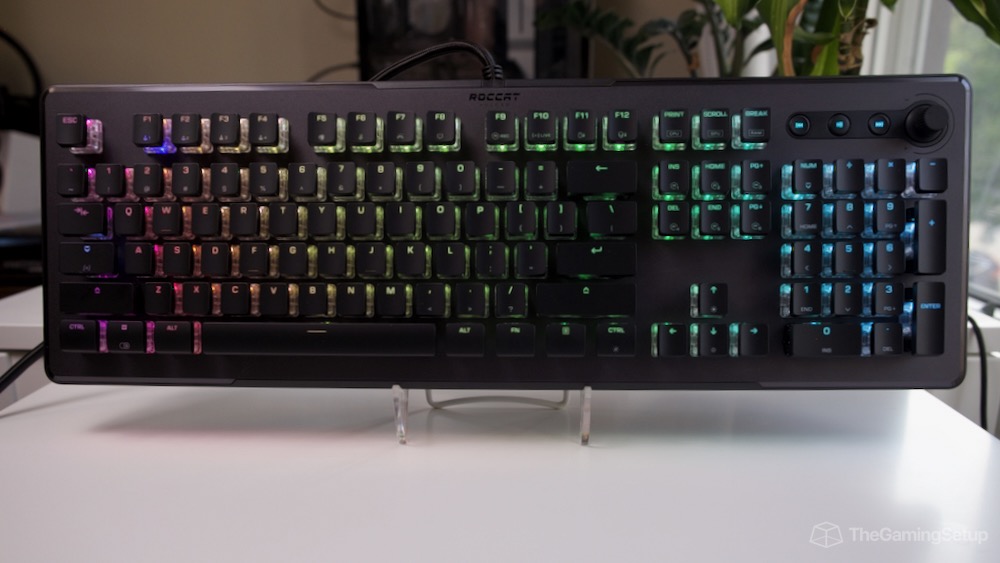 Dimensions: 463mm/18.2 in (L) x 236mm/9.3 in (W) x 34mm 1.3 in (H) | Weight: 678 g / 1.4 lbs | Keys: 104 + Media Wheel + Media Buttons
The Vulcan II Max is a full-sized keyboard with all the keys and a few extras. On the top right, there are 3 media keys; the pause/play, next, and previous buttons, along with a handy media wheel for volume control.
The body of the keyboard is thin and low, but I found the key height high. This made the keyboard really tall in use, making the wrist rest a necessity.
Design & Materials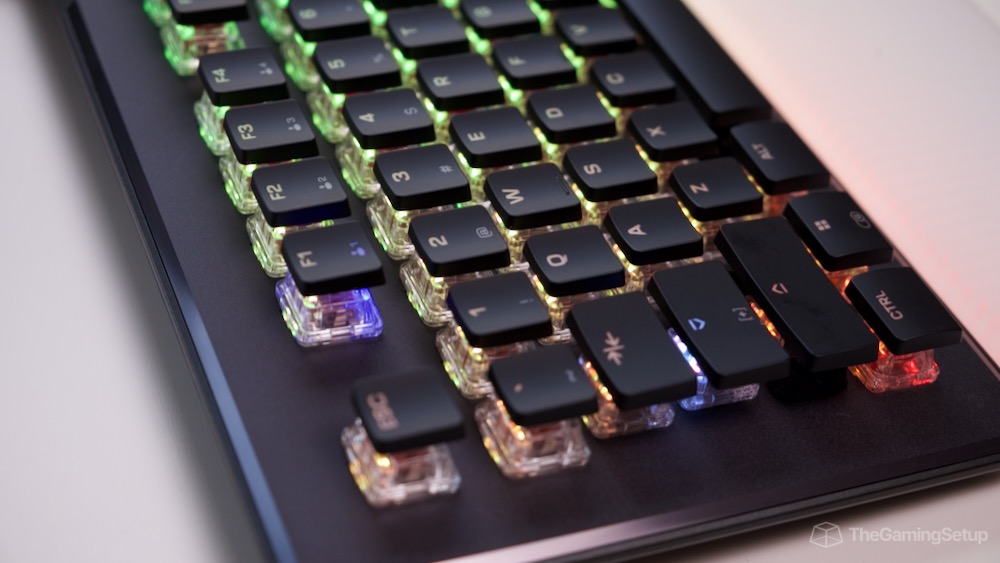 Case: ABS Plastic | Plate: Aluminum | Foam: No | Keycaps: ABS double shot
At a glance, the keyboard design is pretty straightforward. Where it shines, literally, is the translucent wrist wrest which helps add a miniature light show to your desk. The high keys with low-profile keycaps add a lot of height to the keyboard, which, from a visual point of view, looks distinct.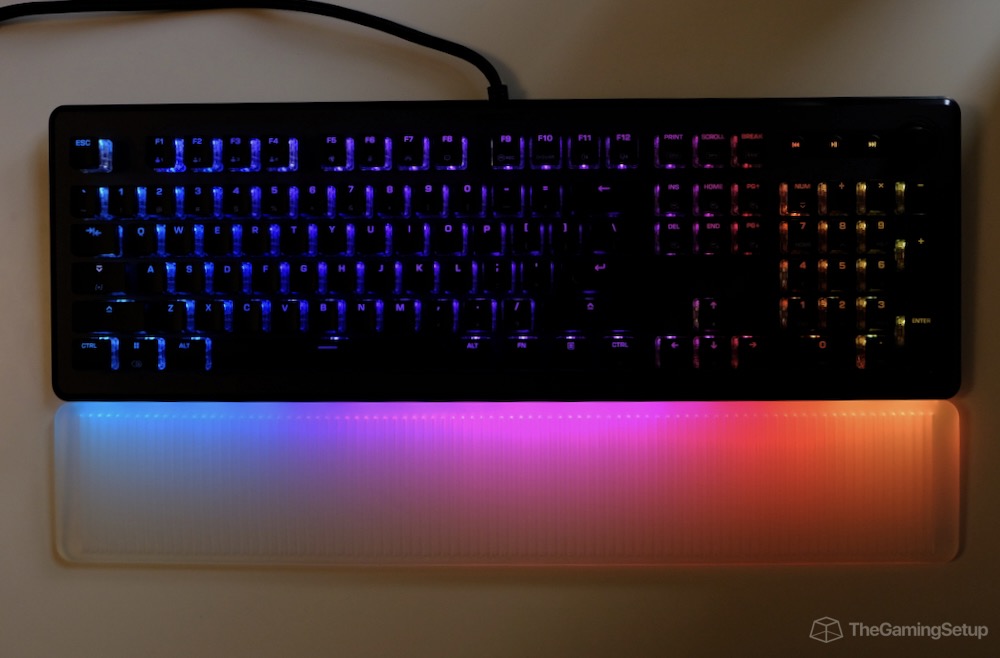 All this RGB flair is powered by a thick, braided cable that comes out of the middle section at the top of the keyboard. The cable ends in 2 USB A ports, which are needed to keep the power-hungry keyboard up and running.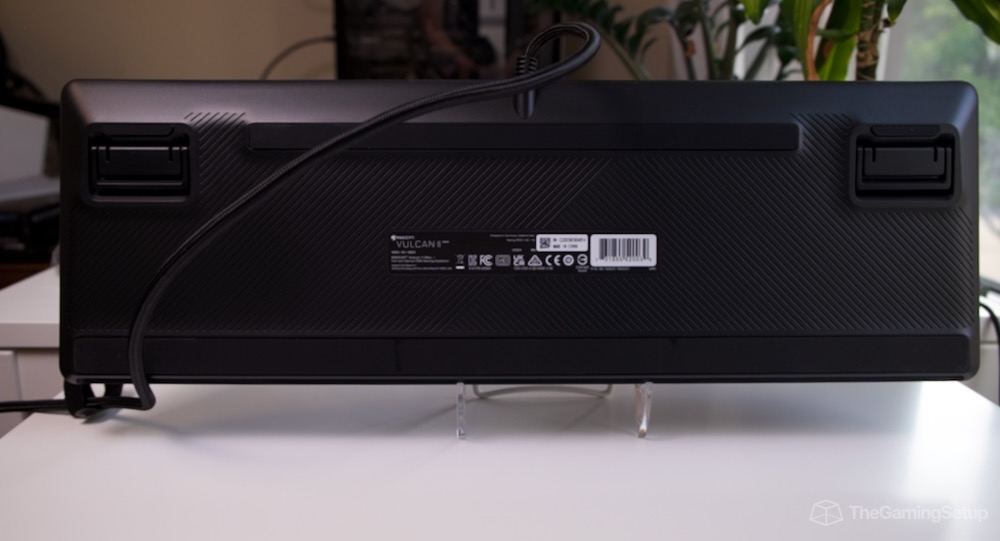 Build Quality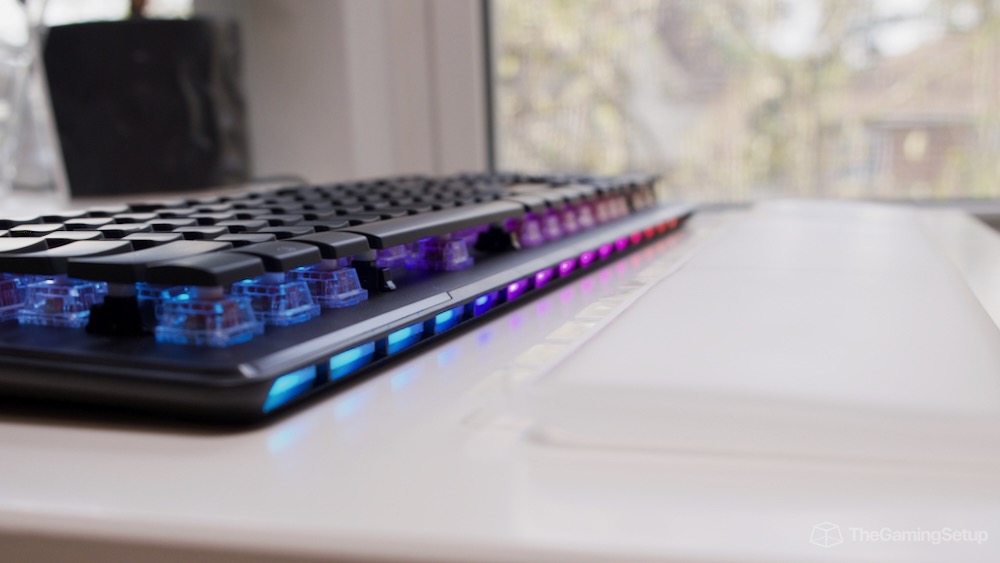 The keyboard has decent build quality. With a plastic base and aluminum on top, there is a slight flex when the keyboard is twisted, but nothing too bad.
During normal use, I didn't experience any sort of flex, even when pressing down hard.
RGB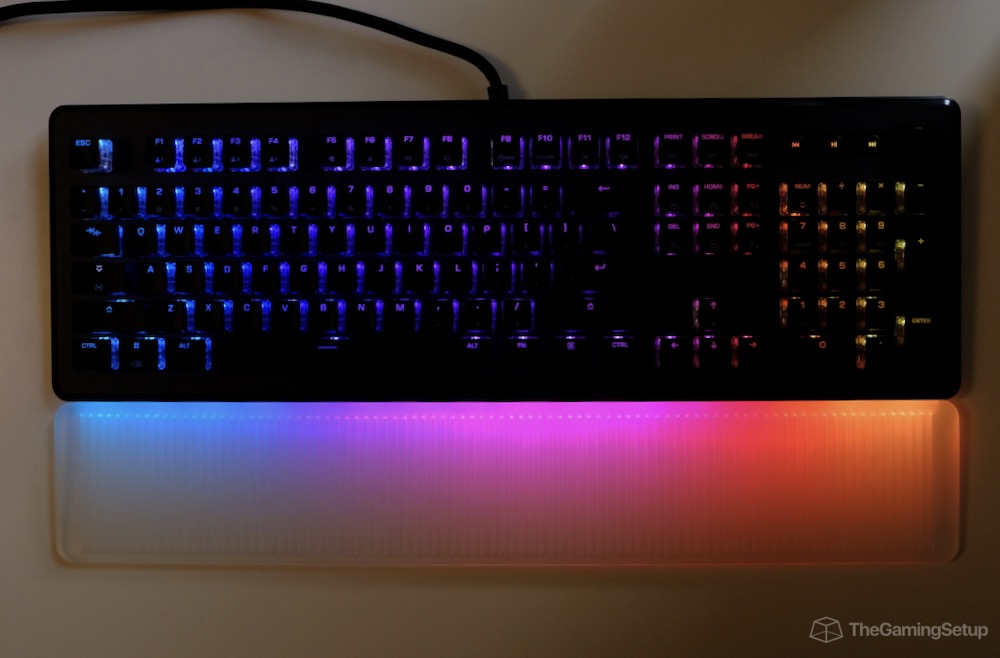 LED: Dual North-facing | Per-Key lighting: Yes | Effects: Yes
RGB is where the majority of the R&D for this keyboard went, and it shows. There are various different lighting modes and with the dual, north-facing RGB, the clear switches and the keycaps are fully lit. This is further bolstered when RGB diffuses through the clear wrist rest for a breathtaking look.
The AIMO lighting in this keyboard, which is a unique lighting mode that dynamically responds to your every keystroke. This is the best lighting mode I've ever seen. AIMO works best if you have more than one Roccat peripheral that you can sync up for synchronized, responsive lighting.
Typing Experience
The typing experience is pretty lack luster.

The ABS keycaps are slippery and small, and while they're spaced well apart, the keys are very wobbly. The wobble is even more prominent on the larger keys, especially the space bar, which sounds different depending on where you press it. 

If you don't plan to hit the leaderboards on online typing tests and just want to play games with a bit of RGB glamour, then the typing experience and the rattly sound profile of keystrokes can be somewhat ignored. This is compensated by the use of optical switches, which are perfect for a gaming keyboard like this.
Media wheel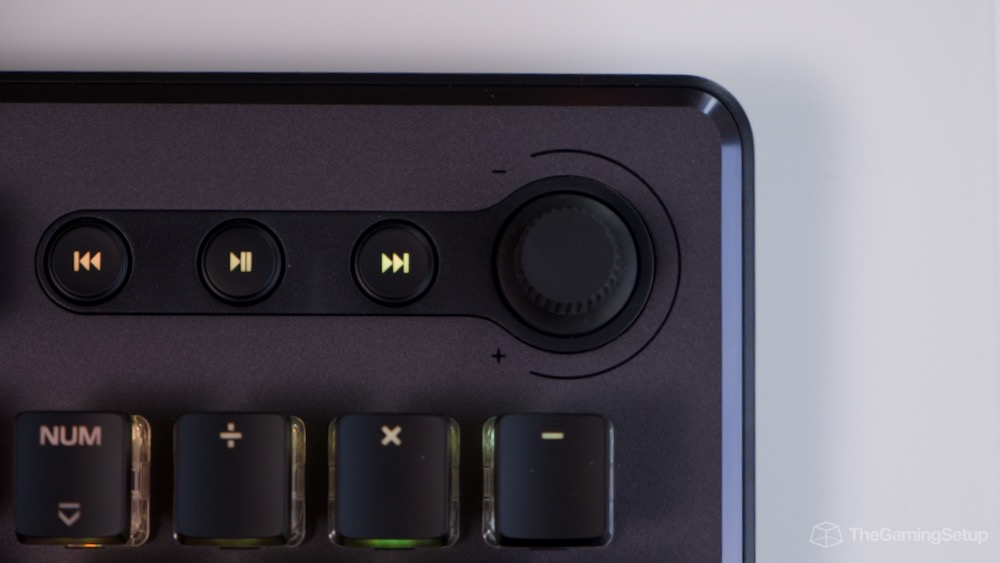 The plastic media wheel is a welcome inclusion. It's not as high-quality as the KiiBoom Phantom 81, which is a lot cheaper than the Vulcan II Max and still has a metal media wheel, but it does what it's supposed to.
There isn't any noticeable wobble and the wheel rotates in distinct steps for better control. The wheel button has a satisfying click when pressed.
Wrist Rest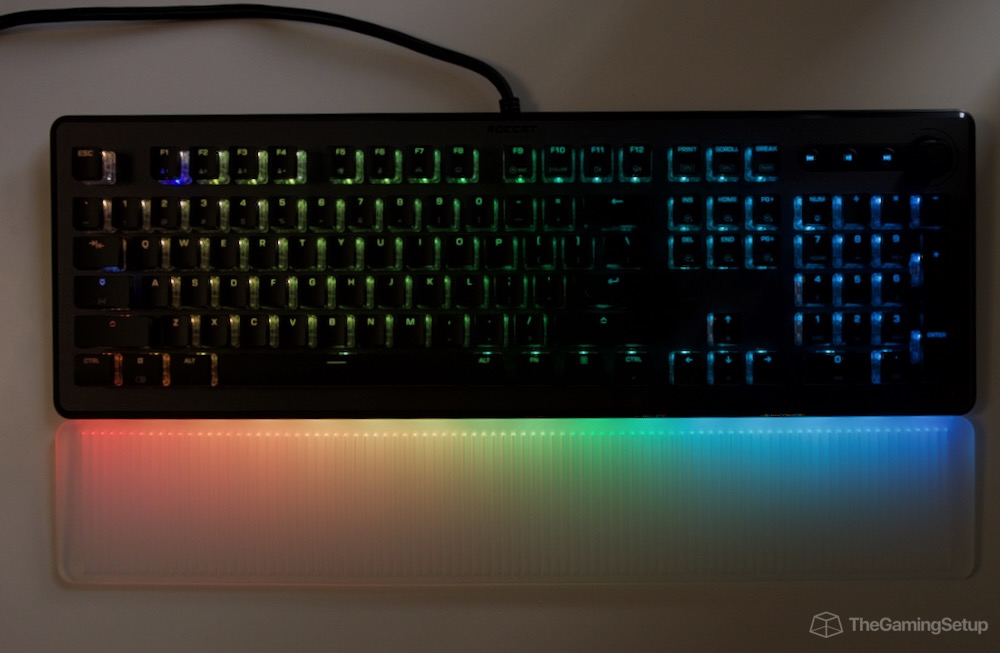 The included, detachable wrist rest is made of dense silicon. It's translucent and when attached to the keyboard, the lights shooting from the lower end of the keyboard diffuses through the wrist rest for a phantasmagoria of RGB. It's a great effect.
The wrist rest isn't cushioned or anything, so don't expect the comfort levels that come with Razer BlackWidow V4 Pro. It's more like a hard wrist rest but with slight flex when you press on it.
Typing Noise
Even with the Red linear switches on my unit, the keyboard was very loud, and the noise it made was echoey.
The worst offender has to be the spacebar key. Not only is it extremely wobbly, but the sound it makes isn't consistent on every keypress and changes depending on where you press it.
Switches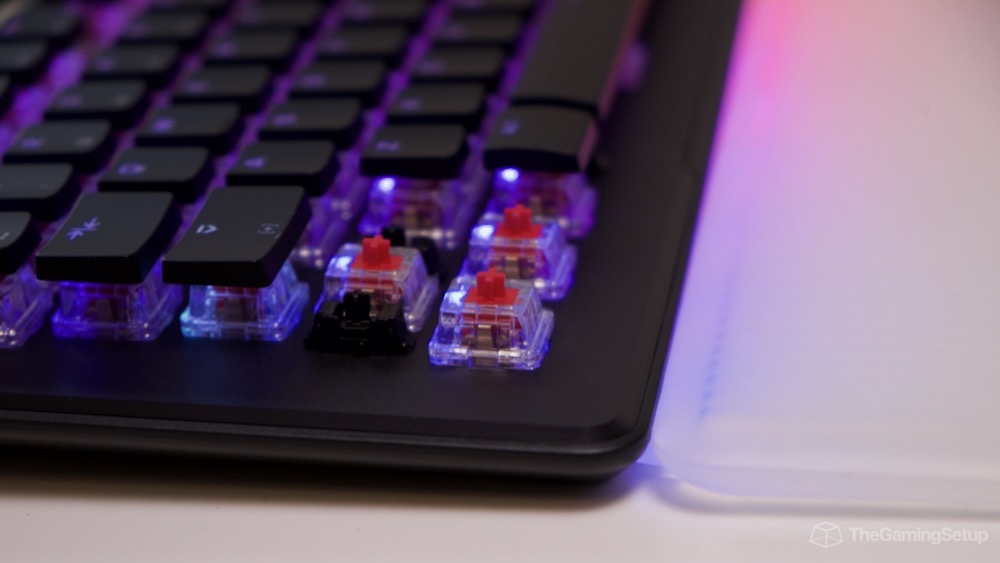 Switch Options: Titan II Optical Switches (Red or Brown) | | Factory Lubed: No | Actuation Force: 45g | Travel Distance: 3.6mm | Actuation Point: 1.8mm (Brown) 1.4mm (Red)
Roccat has used the Titan II Optical switches in the Vulcan II Max, and you have the option to pick between linear Reds or tactical Browns. Red switches are similar to the regular Chery MX switches but have a shorter actuation point of 1.4mm. The Brown switches are pretty standard.
Because these are optical switches, they are lightning-fast. This is a selling point for anyone who wants to buy the Vulcan II Max primarily for gaming. The switches are also rated for a 100 million keypresses so you don't have to worry about them dying on you.
Stabilizers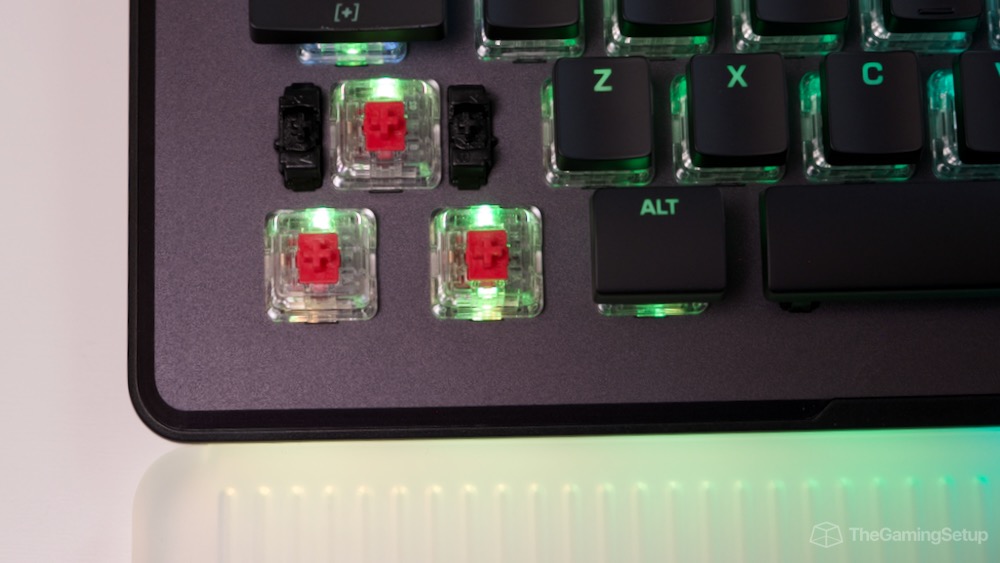 The stabilizers in the Vulcan II Max are mounted well on the keyboard, but they don't do as good of a job as they should. In the larger keys, there is some degree of rattling when pressing them.
Keycaps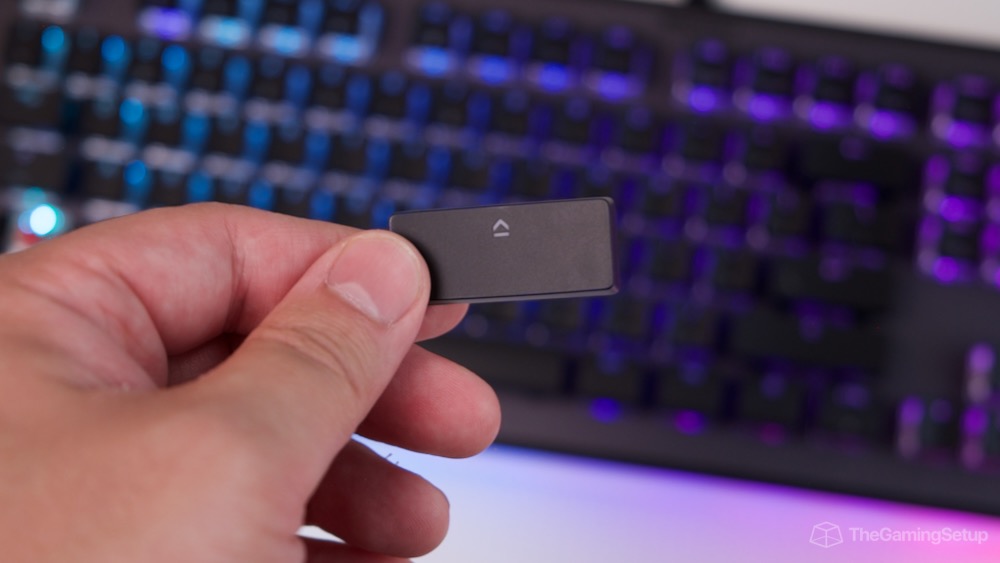 The keycaps are made of the cheaper ABS plastic which is slippery and will get even more slippirier after use, which at this price point is unacceptable. These are low-profile keycaps, which might explain why they're wobbly. 
At least the legend on the keycaps is double shot so it won't fade anytime soon and allows the RGB to shine through nicely.
Performance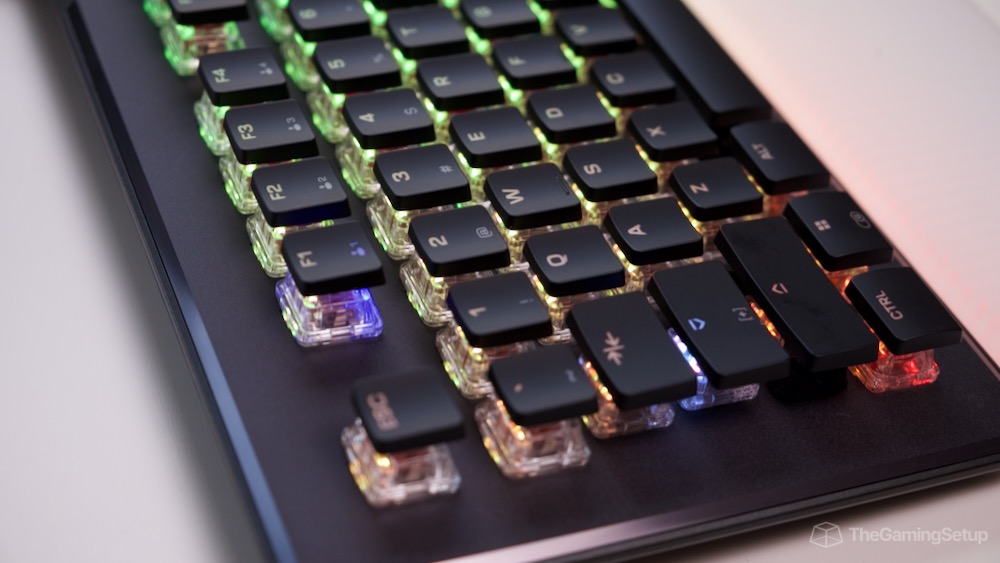 The performance of the keyboard is pretty good. Because it's a wired gaming keyboard, it has a 1000Hz polling rate, and has very low latency.
Software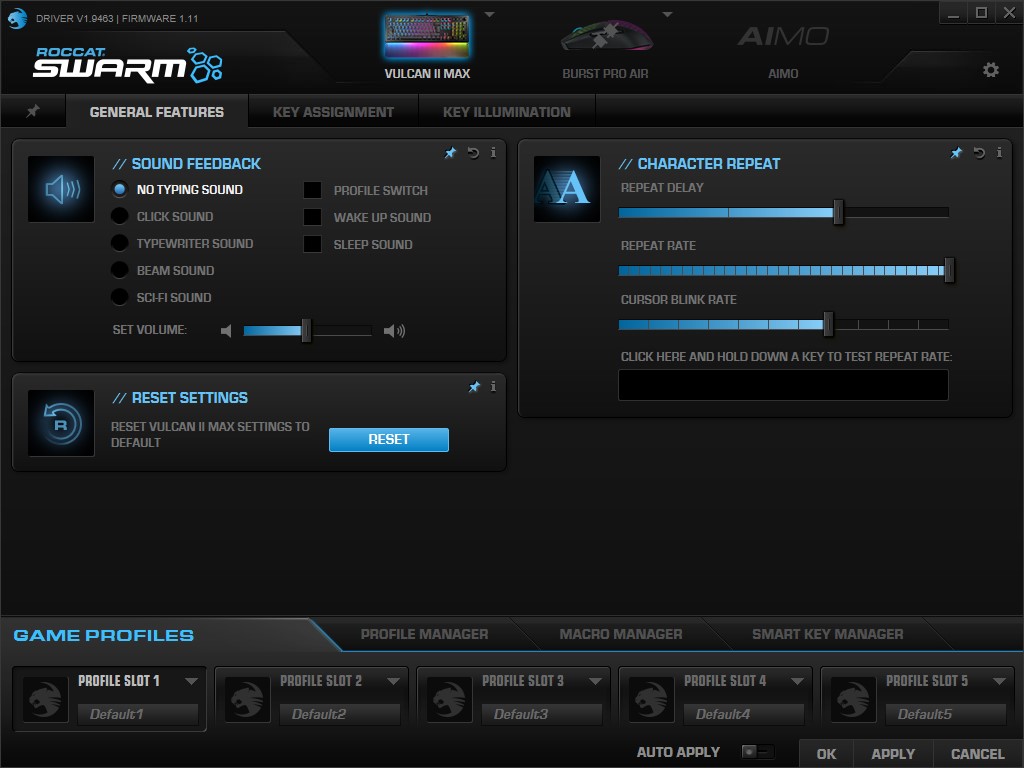 The Vulcan Max II uses Roccat Swarm software. It's a decent software that does what it's supposed to but does it quite slowly.
One of my main problems with the software was how resource-hungry it was. Another issue is how frequently it updates, which can be annoying at times.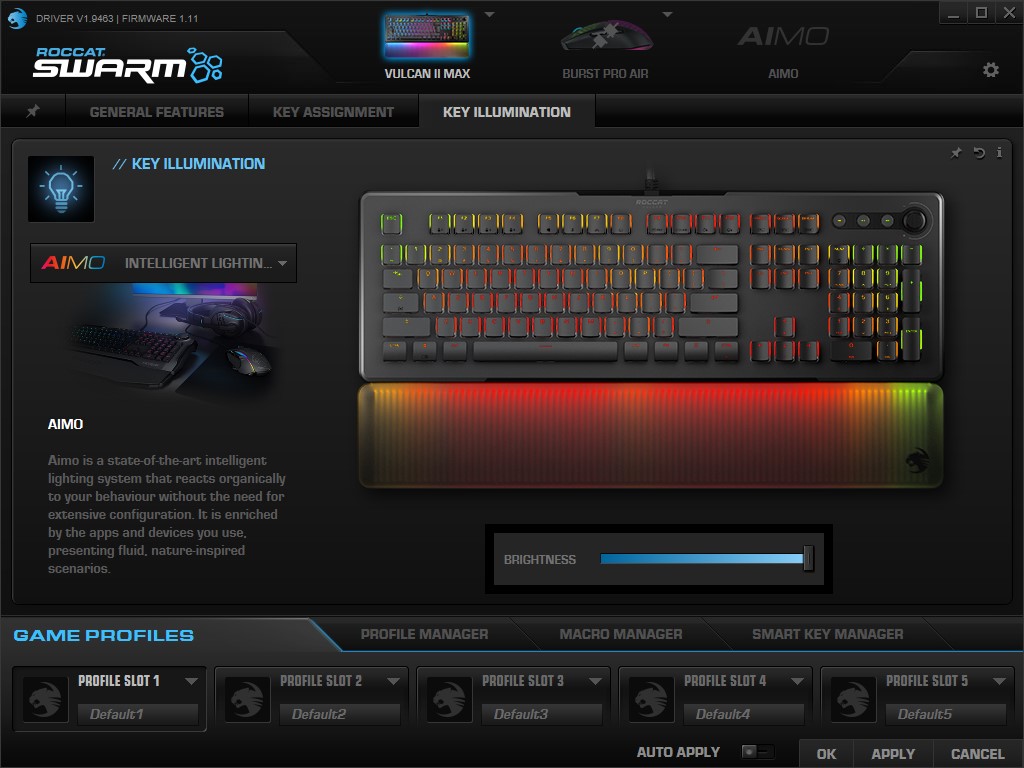 Issues aside, this is where you can customize your Vulcan II Max. Roccat Swarm allows you to set custom profiles, each of which will store your macros, RGB lighting modes, and your preferred secondary shift functions. You'll also find the option to turn on AIMO lighting from this application.
What's in the Box?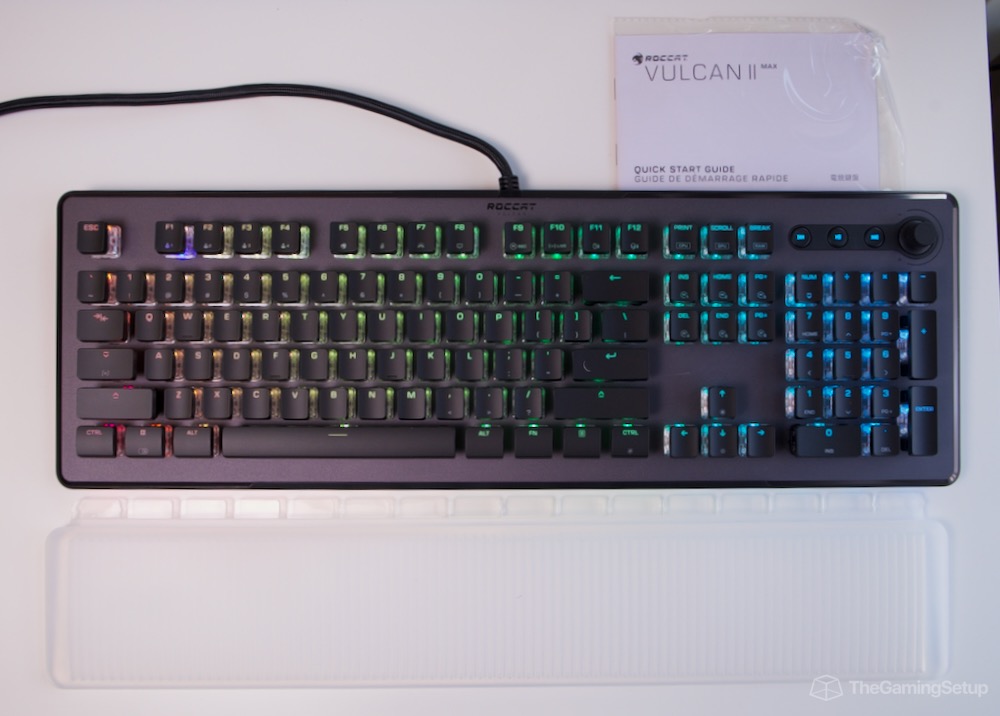 Roccat took a leaf out of Apple's book and included just the bare minimum stuff with the Vulcan II Max:
Vulcan II Max Gaming Keyboard
Detachable Palm Rest
Quick-Start Guide