Wireless mice in 2018 are nothing to sneeze at, Logitech, Steelseries and other players have been able to make mice that are completely input lag free and have batteries don't add a ton of weight to the mouse. Use our picks as a starting off point if you're looking for a wireless gaming mouse, obviously, no mouse is perfect for anyone so please be sure to give these mice a try to see if it suits you. If you don't absolutely have to have wireless please go and check out our best overall gaming mouse top 5.
The best wireless gaming mouse

Best small wireless mouse

Best ergonomic wireless mouse

A good heavyweight option

Productivity + Gaming

Logitech G Pro Wireless

Logitech G305

Logitech G703

Steelseries Rival 650

Logitech G903

Check Price
Check Price
Check Price
Check Price
Check Price

Straight Up

The Logitech G Pro Wireless is good at everything with unrivalled battery life. The size and shape also suits a large population of gamers.
Great safe shape, made for small to medium hands, has great battery life and great performance, an overall amazing mouse.
The best large ergonomic wireless gaming mouse, great performance, only okay battery life.
This is a solid choice for righties who prefer ergonomic and heavy mice.
A passable gaming mouse with a ton of buttons, really good at being a productivity mouse and gaming mouse in one.

Pros

Flawless HERO 16K sensor, light, up to 60hr battery life, great safe ambidextrous shape and removable side buttons on both sides for lefties. Has a place to store the USB dongle for travelling gamers.
Super light, safe ambidextrous shape, flawless HERO sensor, the best buttons in the market, 250 hour battery life with a AA and the wireless is lag free. Storage for the USB dongle on the mouse!
Really good shape for righties with medium to large hands, flawless PMW 3366 sensor, capable of wireless charging.
Same great Rival 600 shape, good buttons, really nice RGB, dual sensor for lift off and tracking and a very fast recharge time.
11 programmable buttons, ambidextrous shape and removable side buttons make it great for lefties. Still has a flawless sensor for gaming, has options for wireless charging.

Cons

Features cost money and the G Pro Wireless is very expensive.

There have been some reports of the primary buttons rubbing into each other but seems like those issues  have died down.

Nothing major, the size is very safe so it might be the most comfortable mouse with crazy grooves.

Doesn't come with an internal rechargeable battery, so if you don't like dealing with AA then move past this one.

A little heavier than the wired version coming at 107 grams, battery life is about average at 30 hours RGB off.

No place to store the USB hub.

Really heavy, if you prefer lighter mice this isn't for you.

Average battery life in comparison to our top picks, you can't take advantage of the great RGB without draining battery faster.

No place to store the USB hub.

Really awkward long shape, larger hands might like it but it's still not going to be the most comfortable for anyone.

Weighing in at 110 grams  it's one of the heavier wireless gaming mice around. There also isn't a space to store the USB hub.
How we picked
We played hundreds of hours with over a dozen different gaming mice over a variety of popular online games where performance matters for competitive play:
Overwatch
Fortnite
Dota 2
Starcraft 2
Call of Duty: Black Ops 4
Wireless mice have additional considerations on top of the standard set of things that you need to look for in gaming mice.
Battery life and charging speed
Having a mouse die in the middle of a match is annoying, our best wireless mouse is going to have the battery life to last at least a few prolonged gaming sessions before dying out. If the mouse does run out of battery the best wireless mice should recharge quickly or have a way to charge while playing so gamers don't get interrupted.
Response time
Wireless mice have long had the reputation of introducing more latency than a wired mouse, well in 2019, that is no longer the case. The best gaming mice have no additional input lag when compared to wired mice. Any mouse that introduced input lag is automatically out of consideration for this list.
Weight
Batteries do add a certain amount of weight to a wireless mouse that wired mice don't have to contend with. Any wireless gaming mouse that can manage to be lightweight with a battery is a huge deal.
USB dongle storage
Not as huge a deal, here at TheGamingSetup we review a ton of mice, having a spot to store the USB dongle when not in use or when travelling is a nice touch that I appreciate.
The best 5 wireless gaming mice you can get right now in 2019
1. Logitech G Pro Wireless (read review)
The best overall wireless gaming mouse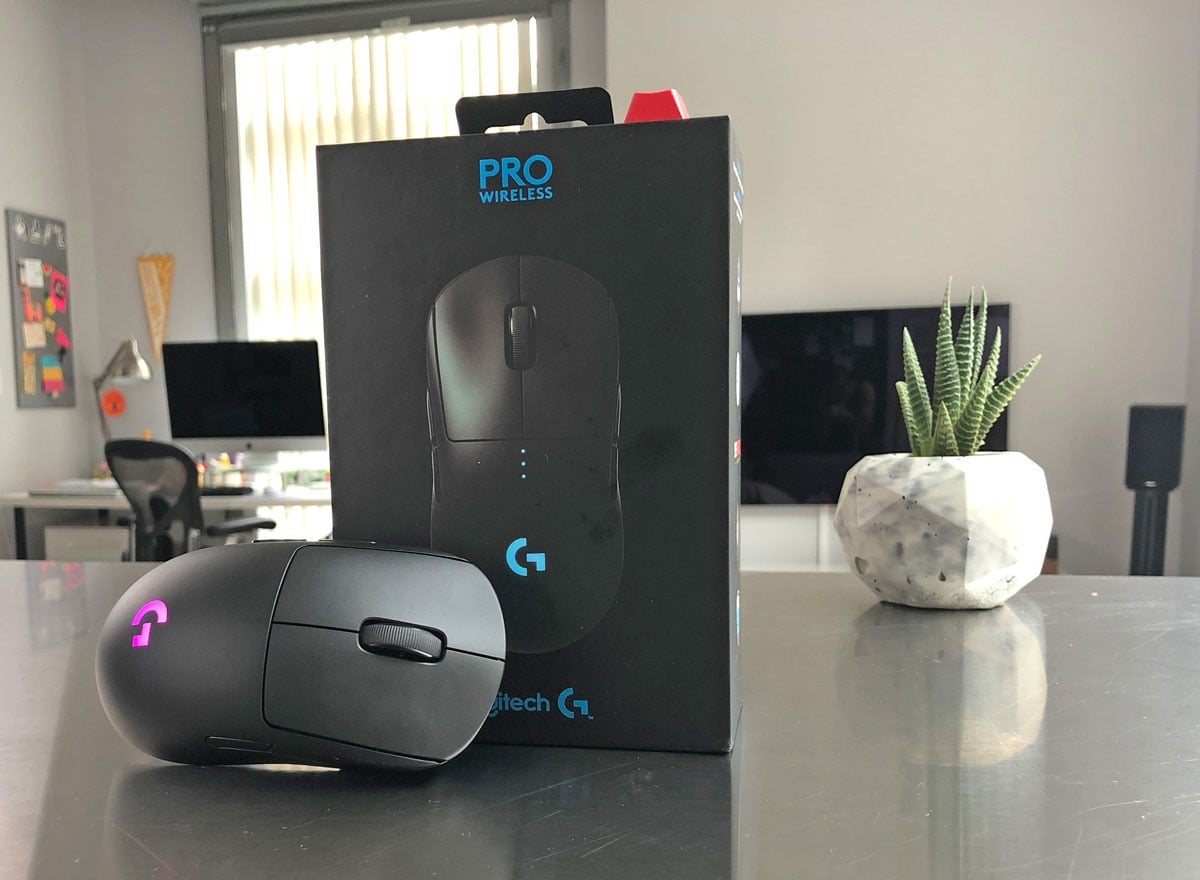 Why the G Pro Wireless is our best mouse pick
This mouse just has it all on top of having some really stand out features, we can easily recommend this mouse to anyone with average-ish hands lefty or righty with confidence.
What really sets the Logitech G Pro wireless apart is its ridiculous battery life at 60 hours with RGB off and its feathery 80 grams of weight, in a wireless mouse!
The HERO sensor of course is lagless and flawless with tracking.
The G Pro Wireless is one of the most expensive mice around, but if you're looking specifically for a wireless mouse you're looking at the high end of pricing for mice anyway, why not get the best one.
The gap between the G Pro Wireless and most other wireless mice is significant, it's that good.
Mouse specs
| | |
| --- | --- |
| Sensor | HERO 16k (flawless) |
| Dimensions | 12.5cm/6.35cm/4cm (LWH) |
| Weight | 80 grams |
| RGB | Yes |
| Buttons | up to 7 programmable |
| Battery life | up to 60 hours |
An amazing small wireless gaming mouse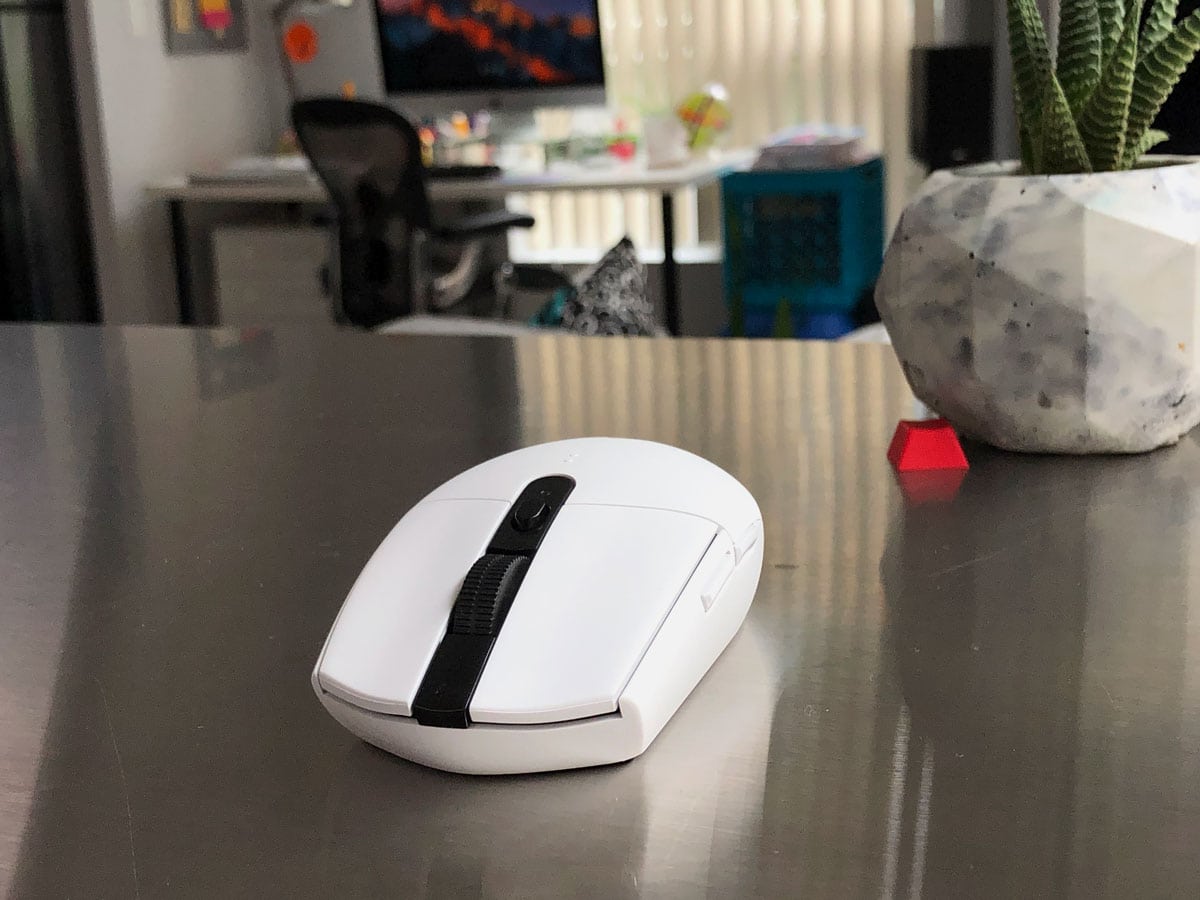 Logitech hits it out of the park again with its HERO sensor, the G305 operates on a single AA battery and boasts a 250 hour battery life for that one AA, ridiculous.
The G305 has the best buttons I've experienced on any gaming mouse. The shape is safe, made for medium/small hands, its ambidextrous shape does the job well. The HERO sensor of course is lagless and has no tracking issues.
The Logitech G305 doesn't really have a major con or flaw, it's just a straight performer at a great price. If you like smaller mice and want a wireless gaming mouse, this is the one, as long as you don't mind replacing AA batteries every two-hundred-and-fifty hours.
Specs
| | |
| --- | --- |
| Sensor | HERO (flawless) |
| Dimensions | 11.6cm/6.2cm/3.8cm (LWH) |
| Weight | 75grams, 99 grams (wireless) |
| RGB | Yes |
| Buttons | 6 programmable |
| Battery | AA included, 250 hours |
Best wireless mouse with a great shape for larger hands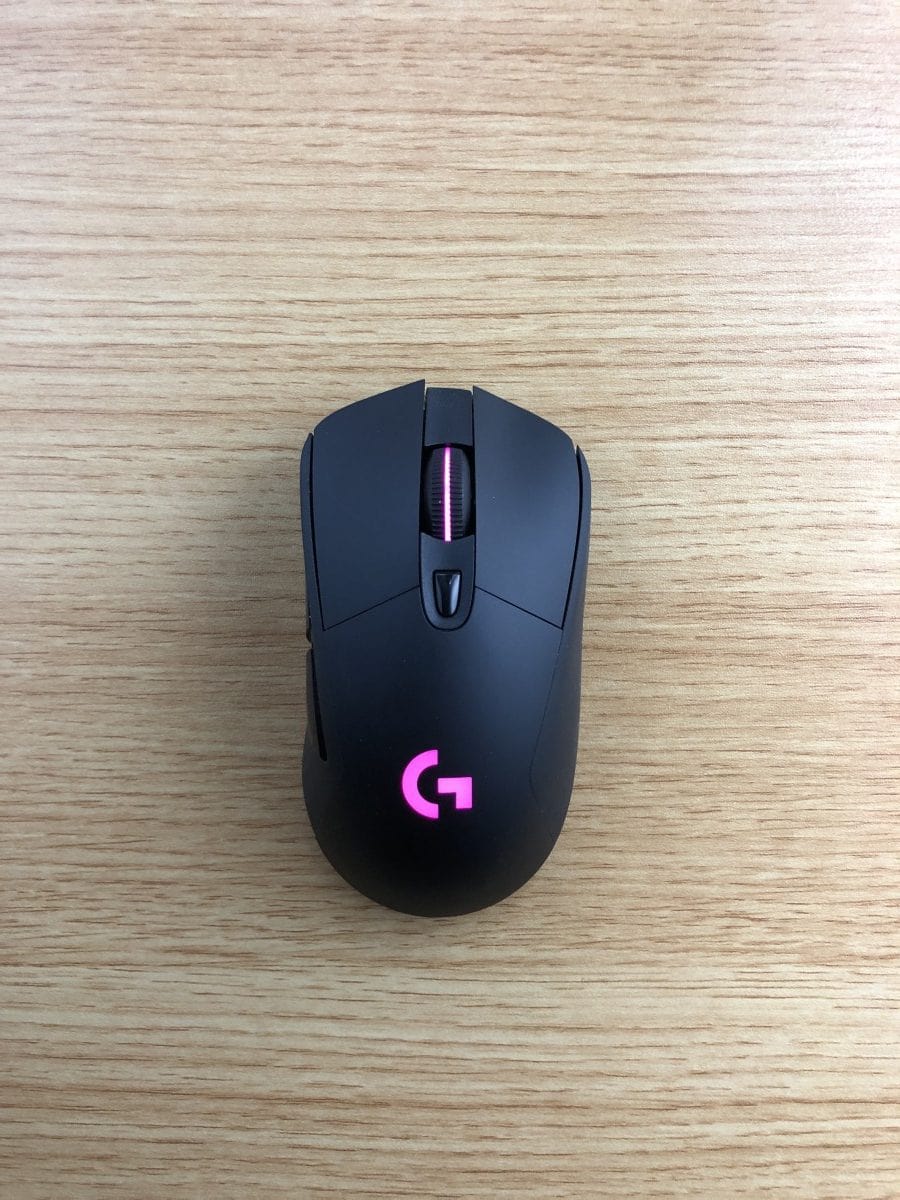 Why we ranked the G703 #3
The G703 is simply the best ergonomic wireless gaming mouse available right now. Combining a great shape for righties with good battery life and great response time, this is a very capable mouse.
Great buttons and some cool features like wireless Powerplay charging are really nice to have features. For its size, 107 grams is a respectable weight.
We like the G305 more for its niche due to its amazing battery life and a place to store the USB dongle, if you like larger mice and are right-handed, you should definitely consider the wireless G703.
Specs
| | |
| --- | --- |
| Sensor | Pixart PMW3366 (flawless) |
| Dimensions | 12.4m/6.8cm/4.3cm (LWH) |
| Weight | 107.2 grams, additional 10 gram weight |
| RGB | Yes |
| Buttons | 6 programmable |
| Battery life | Rechargeable, up 30 hours battery life with RGB off |
4. Steelseries Rival 650
The best heavyweight wireless gaming mouse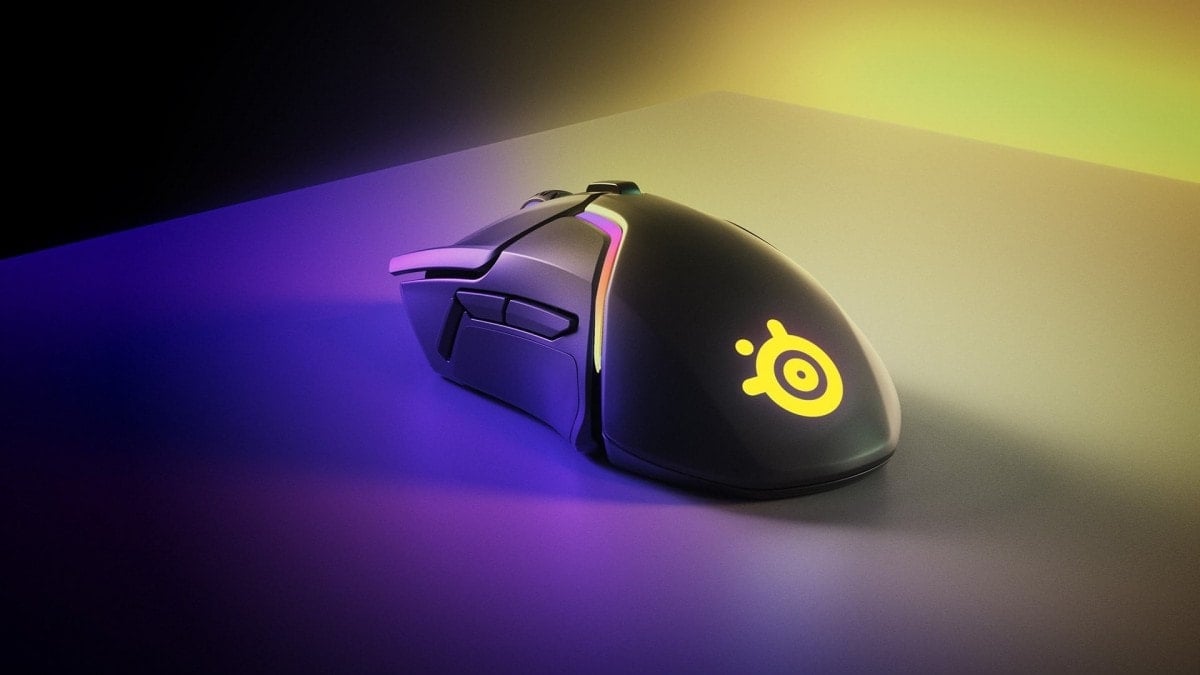 Why we picked the Rival 650 fourth
The Rival 600 is a great mouse and the Rival 650 is no different, but in its transition to a wireless version the 650 added on 25 grams of weight going from 96 grams on the Rival 600 to 121 grams on the Rival 650.
That extra heft makes the 650 a niche pick for people who exclusively like heavier mice. Weight aside, the mouse is solid, great shape, buttons, dual sensor for both tracking and lift off and good RGB.
The Rival 650 has average battery life at 24 hours, but features quick charging, 15 minutes of charging will yield 3 hours of play time, not bad.
Get this mouse if for whatever reason you don't like the G703 shape and don't mind a hefty mouse.
Specs
| | |
| --- | --- |
| Sensor | TrueMove3+ Dual Sensor System |
| Dimensions | 13.1cm/6.2cm/4.3cm (LWH) |
| Weight | 121 grams |
| RGB | Yes |
| Buttons | 7 programmable |
| Battery life | 24 hours, quick charge |
An all around good wireless mouse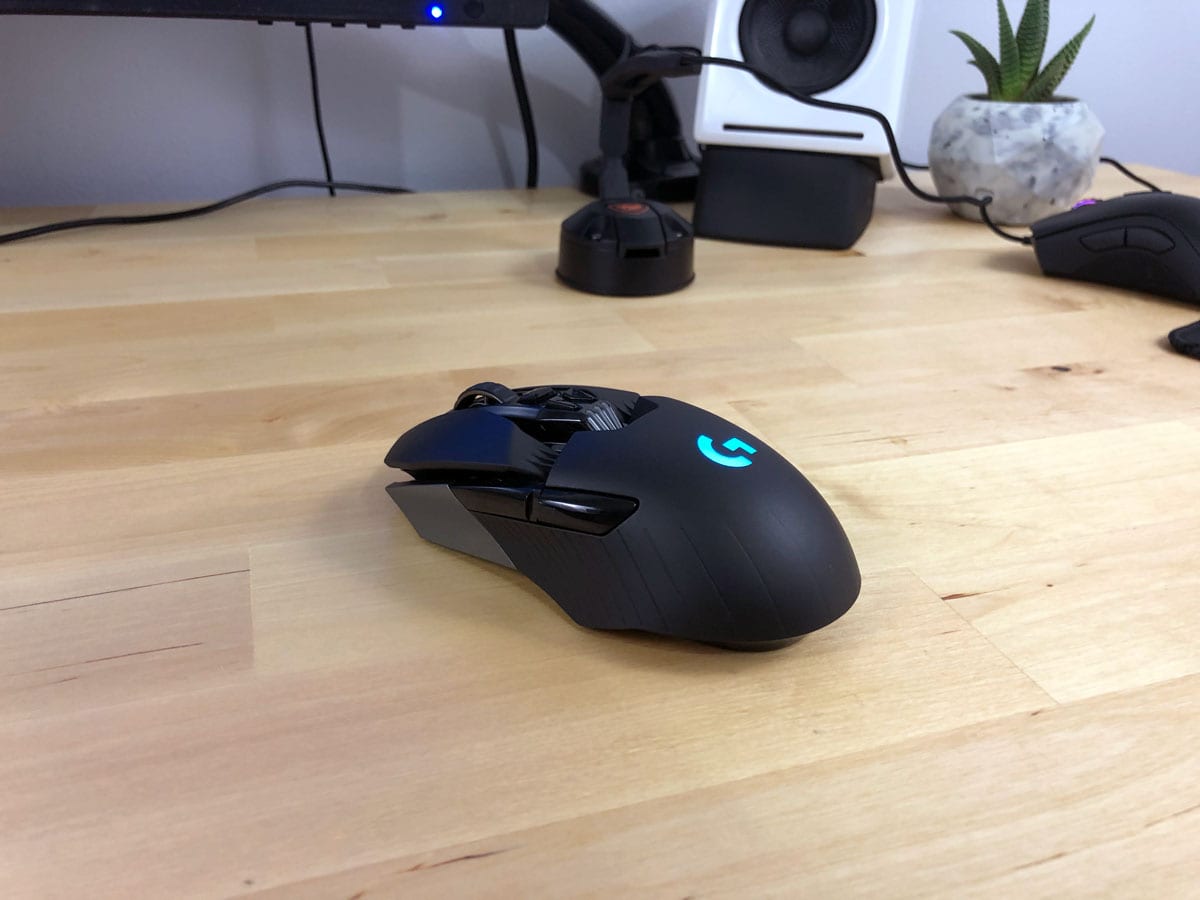 The G903 is a serviceable gaming mouse, it has good buttons, a flawless sensor and at 110 grams it should work for most people. Its elongated shape make it an awkward fit for some gamers and makes it not as comfortable as the mice we have above it.
The G903 is on this list due to its versatility, it has 11 programmable buttons and swappable side buttons to accommodate for  productivity and lefties.
If work is as important to you as gaming, this might be the mouse for you. If it's just for gaming then there are other mice to consider, especially considering the G903's price point.
Specs
| | |
| --- | --- |
| Sensor | Pixart PMW 3366 (flawless) |
| Dimensions | 13.03cm/6.65cm/4.04cm (LWH) |
| Weight | 110 grams |
| RGB | Yes |
| Buttons | 11 programmable |
| Battery Life | 24 hours |
Honourable mentions
Most of the top wireless gaming mice are here, anything released before 2018 wasn't really worth a look at, the wireless tech back then introduced input lag.
This mouse came out really close to the writing of this review and we haven't had a chance to consider it in the top 5, this mouse very easily break into it. Great shape that a lot of people seem to like, 50 hour battery life with a flawless sensor.