With the launch of their next-gen console, Sony announced that the PlayStation 5 would have a completely revolutionized 3D audio solution that would change video game audio forever. Sony's no stranger to developing new audio technologies. Their 360 Reality Audio is an immersive surround sound format used in their TVs and headphones. So, it makes sense why their 3D audio solution for the PS5 would drum up a lot of hype.
For the uninitiated, these words probably mean very little; in which case you should probably keep reading to find out why 3D audio is the next big thing.
What the heck is 3D audio?
3D audio or spatial audio is specialized audio technology that is used to allow listeners to pinpoint both the direction and distance of a sound. There are some differences between 3D and spatial audio, but you don't really need to concern yourself with these technicalities. For the purposes of this article, 3D audio and spatial audio are the same.
While 3D audio is being used more and more in various forms of media, the area it mostly stands to gain is with video games. This is probably why Sony has invested in developing their brand-new 3D audio engine for the PS5.
What's the Tempest Engine?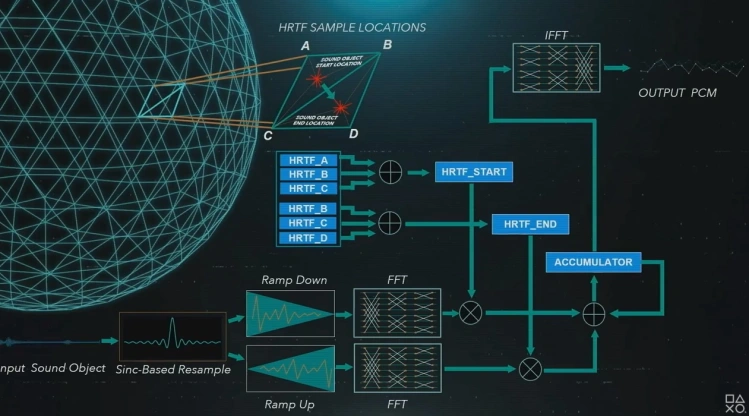 Almost every other hardware manufacturer that dabbles in 3D audio uses a licensed audio technology like Dolby Atmos. But Sony has taken it upon themselves to build their own proprietary audio engine called Tempest.
The Tempest Engine is made in collaboration with AMD and is essentially a standalone chip that is inside of the PS5 that handles all things 3D audio.
Just like how a graphics card can generate 3D models of video game worlds, the Tempest engine can do the same with audio. Sony and AMD have essentially created a GPU for audio– in the broadest sense of the term.
The Tempest Engine has enough processing power to handle loads of sounds originating from various points within a 3D world. Sony has even gone as far as to say that you can even feel the position of a single raindrop that hits the ground!
The biggest advantage of having a dedicated audio engine built right into the PS5 is that you won't have to rely on audio technologies inside TVs or soundbars to produce good quality game audio.
According to the PlayStation 5's technical director Mark Cerny, the real challenge in developing the Tempest Engine (and by extension, 3D audio) was ensuring that it sounded great on all ear shapes and sizes.
Cerny and co. set out to develop a method to measure various shapes and sizes of ears and how they react to different types of audio. The Head Related Transfer Function or HRTF is a process within the Tempest Engine that was purpose-built for this exact reason.
There's a lot of technical stuff as to how they made this work, but I will keep it pretty simple in this article.
Sony fixed many microphones inside of people's ears and exposed them to sounds from a setup of 22 individual speakers while rotating the person. With the data that they received from the microphone, Sony was able to accurately measure how sound works in a multitude of different ear types. According to Cerny, this meant that they were able to render audio at an unparalleled quality.
Is 3D audio worth it?
While the Tempest Engine and everything it brings to the table is certainly very impressive in a technical sense, how does it actually sound and feel? Is it worth it to shell out for new hardware to get 3D audio?It depends.
If you have a high-end PS5 compatible TV, or a solid pair of headphones– great! You'll most certainly be able to hear the difference that 3D audio in the PlayStation 5 makes to your gaming experience. Ditto if you have a high-end speaker system with 5.1 capabilities or greater. 3D audio definitely adds a lot to the immersiveness when working properly.
If you have a mid-range TV with mediocre 20W speakers that just "get the job done", you'll be far less likely to be impressed with 3D audio.
Which headphones and headsets can run 3D audio?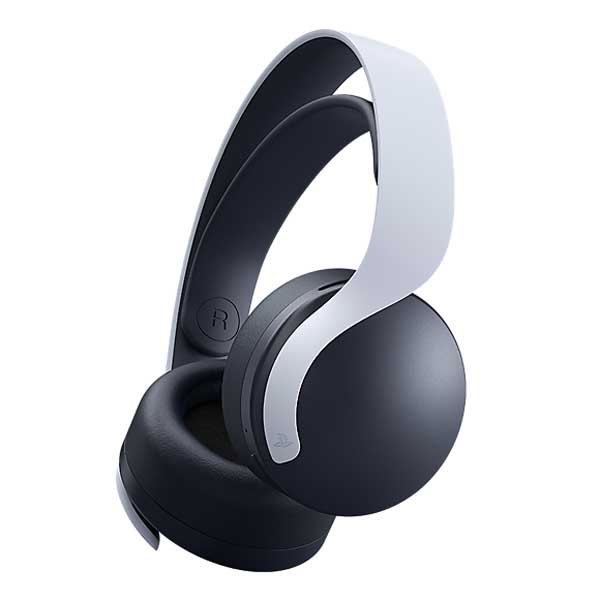 3D audio over headphones or headsets is usually much more straightforward than when listening through speakers. But, you should keep in mind that your experience will depend on which pair of headphones you own.
Best Headphones for PS5 3D audio
1. Your own stereo headphones
That's right, the first (and perhaps even the best) option to experience 3D audio on the PS5 is the pair of stereo headphones that are currently sitting on your desk. PS5 3D audio supports any set of stereo headphones.
You can easily plug in your pair of headphones into the DualSense controller, and turn on 3D audio to immediately experience a new level of spatial audio! This is hands down the cheapest way to experience 3D audio, especially if you're a curious cat who wants to see what the big fuss is before committing to a much more expensive gaming headset.
2. Sony Pulse 3D Wireless Headset
If you were to make a bet on which headset would work best with Tempest 3D audio, Sony's dedicated headset for the PlayStation 5 is probably it.
Sony's $100 headset is not just the best way to experience 3D audio, but also one of the cheapest. The moment you put on the Pulse 3D headset and jump into a supported game, you understand why Mark Cerny emphasized how much of a technical undertaking Tempest 3D audio was.
See Price on Amazon
3. SteelSeries Arctis 7P Wireless
If for some reason you were eyeing something more well-rounded, the SteelSeries Arctis 7P is easily the best third-party headset for the PS5.
With over 20 years in the gaming peripheral industry, SteelSeries knows a few things about making the perfect gaming headset. At $150, it isn't outrageously priced either. Especially considering the fact that you're getting an amazingly well-built wireless headset that supports the PlayStation 5's 3D audio.
See Price on Amazon
4. Astro Gaming A50 Wireless
The Astro Gaming A50 is a very unique headset that just might be what you're looking for. At $300, it's not at all a budget headset. But what you get for the price is a great sounding and comfortable headset that can be used on both PlayStation and PC.
See Price on Amazon
5. Razer Kaira Pro
Razer's offering for PlayStation users is truly a sight to behold. The Kaira Pro headset brings many features to the table– some that aren't even found in their competitors.
The build quality is excellent, with a sleek white, black and blue aesthetic that matches the PS5. The biggest selling point of the Kiara Pro is in its haptics. Razer has fine-tuned the haptic feedback to feel truly great regardless of the game. Pair this with Tempest 3D audio and you've got yourself one of the most immersive gaming experiences money can buy. At $200, you're certainly getting a lot for your money.
See Price on Amazon
Is 3D audio over speakers any good?
Sony added 3D audio for speakers post launch in the summer of 2021 and is second in terms of priority for 3D audio behind headsets.
As of April 2022, 3D audio for speakers is not as good as the headset 3d audio. Speaker 3d audio sounds a thinner and not as accurate compared to the headset experience. Most people trying out speaker 3d audio seem to report similar issues, with most of them turning it off in favour of regular audio.
What games support 3D audio?
The good news is that a lot of the most popular AAA titles are already optimized for full 3D audio support. Better yet, every new title coming to the PS5 will most likely have 3D audio support (PlayStation exclusives all support 3D audio right out of the box). Some games make use of 3D audio better than others. Here's a list of all the titles that currently support Tempest 3D audio.
Assassin's Creed: Valhalla
Astro's Playroom
Call of Duty: Black Ops Cold War
Crash Bandicoot 4: It's About Time
DIRT 5
Deathloop
Demon's Souls
Destruction: AllStars
Devil May Cry 5 Special Edition
Final Fantasy XIV (PS5 patch required)
Gran Turismo 7
Horizon: Forbidden West
Immortals Fenix Rising
Marvel's Avengers
Marvel's Spider-Man Remastered
Marvel's Spider-Man: Miles Morales
Nioh 2 Remastered
Nioh Remastered
No Man's Sky
Oddworld: Soulstorm
Ratchet & Clank: Rift Apart
Resident Evil: Village
Returnal
Sackboy: A Big Adventure
Spider-Man: Miles Morales
Spider-Man: Remastered
The Pathless
Tony Hawk's Pro Skater 1+2
For a brand new spatial audio engine that was built from the ground up, that's one healthy list! And keep in mind that this will only continue to grow as more and more games are added under the PS5's banner.
How to turn on 3D audio on the PS5
Turning on the 3D audio feature on your PlayStation 5 is straightforward. To turn on 3D audio for your TV:
Go to the Settings page > Sound > Audio Output > TV.
From there, enable 3D Audio for TV Speakers.
To begin the process of measuring your room's acoustics, select Measure Room Acoustics for 3D Audio. This will begin recording sounds from your DualSense controller.
Once your console is done measuring acoustics, select Apply Measurement Results for 3D Audio.
To turn on 3D audio for your headphones:
Go to the settings page > Sound > Audio Output > Headphones.
From there, select Enable 3D Audio for Headphones
If you wish to adjust your audio profile, select Adjust 3D Audio Profile.
Tempest 3D audio is here, and Sony has undoubtedly raised the bar for immersive audio. So if you're one of the lucky few to actually own a PS5, your journey into truly immersive spatial audio is right at your fingertips!