The past couple of years has seen an emphasis on the weight of gaming mice, and lucky for us, manufacturers have responded to that interest by releasing a bevy of lightweight mice. But with mouse is the absolute lightest? Does having the lightest mouse matter? Does a couple of grams make a difference? Read on.
What's the lightest gaming mouse?
The lightest gaming mouse available right now is the Finalmouse Ultralight 2, at Luckily, our handy dandy mouse size table can already sort by weight, if you want to look up the weight of any mouse, head over to that post.
1. Finalmouse Starlight-12 Small (42 g)
Pros
The lightest mouse ever
Strong magnesium shell
Low latency wireless
Great battery life
The Starlight-12 meets the hype that Finalmouse throws out.
Finalmouse has combined the lightest mouse ever with great wireless, add on good build quality, great battery and solid shape, the Starlight-12 is a top-tier mouse for sure.
2. Finalmouse Starlight-12 Medium (47 g)
The medium size of the Starlight-12 is still only 47 gram and wireless with great battery life.
3. Finalmouse Ultralight 2 (48 g)
Pros
Best braided cable
Improved build quality in scroll wheel
Great buttons
Great shape for small hands
Good build quality, no flex on shell
4 year warranty
Cons
Expensive and hard to find
Infinity skin is ugly
Only 500 hz sensor
Finalmouse should be heavily credited for contributing to the holey, ultralight craze. The Ultralight 2 is the latest mouse from the enigmatic mouse brand and caters to gamers that prefer small mice, it's fitting that Finalmouse has the lightest gaming mouse on the market.
This is a great mouse, it has a fantastic shape with a soft touch plastic that's nice texturally and strong structurally. The cable is the best cable I've experienced out of the box. All buttons and scroll wheel feel fantastic.
All the positives of the mouse come at a significant cost, while the UL2 is one of the best mice I've used, I'm not sure if the price justifies it, it's also very hard to find. The mouse itself has a sensor that only runs at 500 hz.
4. G-Wolves Skoll Mini (50 g)
Pros
Proven ergo shape, shrunken down
Solid build quality, minimal flex and creak
Great paracord-esque cable
Nice box and extras
Cons
Buttons are only okay
Mediocre stock feet
The Skoll Mini iterates on the OG Skoll, taking the proven ergo EC shape and shrinking it, filling a underserved niche in small ergo mice.
The cable, sensor and build quality are all there and offer a fantastic value given the Skoll Mini's budget pricing.
The budget pricing does have to show somewhere and the buttons and stock feet leave something to be desired on the Skoll Mini.
5. CoolerMaster MM710 (53 g)
Pros
A good shape for all 3 major grips, but especially for palm
Sturdy build and design
Flexible cable
2 year warranty
Cons
Main button can wobble for case
Middle scroll wheel can wobble
Feet are scratchy out of the box
CoolerMaster's entry into the ultralight space is a big win. The MM71o came in with a good original shape in the sea of shape clones.
For anyone looking for a palm grip ultralight, the MM710 should be a consideration given its round shape. The mouse is built solidly, with a great cable and materials, for the price it's incredible value.
There are some concerns with quality control of the shell and gaps, the buttons and scroll wheel have shown some wobble.
6. Xtrfy MZ1 (56 g)
Pros
Unique shape
Great for fingertip grip
Well built
Flexible cable
Cons
Wired option only
Limited customization
Only good for certain grip types
Zy's debut mouse looks to be a solid mouse, the MZ1 from Xtrfy is a unique shape, with a hump at the back of the mouse and a slope down towards the front. The Mz1 is a small mouse designed for fingertip grip first and claw second second.
The mouse is well built with great components, low click-latency and a flawless sensor. This is likely a mouse you should try first if you can, but if you're a fingertip gamer this mouse might just be perfect for you.
7. Finalmouse Ninja Air58 (58 g)
Proven performer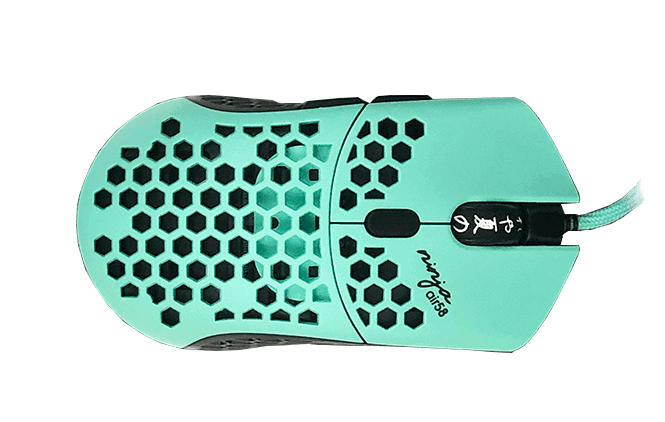 Pros
Fanstically light and flexible cable
Great ambidextrous shape
Buttons feel great
3 year warranty
Unique colour options
Cons
Only 500 Hz polling rate
QC issues on previous Finalmouse product
Expensive and hard to find
The Air58 is Finalmouse's regular size ultralight mouse, featuring an ambidextrous shape similar to the FK series.
The strengths and weaknesses of the Air58 are similar to the Ultralight 2. The mouse is great, buttons, scroll wheel, shape, feet and cables are all top-notch.
There are some quality control concerns with Finalmice, some people have had scroll wheels break or have creaky weak points in the shell. The sensor also only runs at 500 hz.
8. Glorious Model O- (59 g)
Pros
Great shape for small hands
Lots of surface and colour options
Great primary buttons and scroll wheel
Cons
Some reports of main button wobbling
Overly soft cable might not be durable in the long run
Lots of branding
Glorious improves on their original Model O with improved build quality and shrunken down shape made for claw and fingertip grips.
The Model O- has a shape ambidextrous shape similar to a lot of ultralight mice. The shell is sturdy and the buttons are satisfying to use. Glorious offers a matte and glossy option in black or white to cater to as many players as possible.
The Model O- has a lot of branding on it, with the Glorious branding appearing in 3 locations on the mouse.
9. G-Wolves Hati (60 g)

An incredible value; proven shape and ultra lightweight made for people who love the G Pro Wireless shape. See Price on Amazon
Pros
Great proven ambidextrous shape
Tons of extra parts and accessories
Great cable
Reasonably priced
Cons
Button wobble on both primary buttons
Scroll wheel can shift
Tactility on buttons only okay
No official warranty policy that I could find
The G-Wolves Hati is the ambidextrous sibling of the Skoll.
The Hati utilizes a familiar and safe ambidextrous shape; the mouse is well-suited for finger tip and claw grips.
10. Razer Viper Mini (61 g)
Pros
Durable optical buttons
Enhanced side button feel
Solid all around cable
Great shape for fingertip and claw grip
Cons
High-ish LOD
No more left-handed side buttons
Too flat for palm grip
The lightest mouse from Razer, the Viper Mini, is a mouse that doesn't rely on the honeycomb pattern to achieve its lightweight.
The Viper Mini does a good job of shrinking down the OG Viper shape, making it a great ambidextrous mouse for claw and finger tip grips. The Viper Mini sheds its grippy skin from the bigger Viper,
The Viper Mini has a budget price without many budget drawbacks, the only concern with the Viper Mini is a slightly higher than normal lift off distance, something that I don't personally notice in regular use.
11. Glorious Model D- (61 g)

Pros
Amazing soft cable
Solid scroll wheel
Great out of the box feet
Cons
Buttons are sub par
Shell can be pressed quite a bit and creaks
Lots of glorious branding
You can expect the same great things from Glorious, solid build quality, multiple material and colour options and an overall solid offering.
12. Razer DeathAdder Mini (62 g)
Pros
Great classic ergo shape
Removable grip tape is a nice touch
Cons
Sensor downgrade from the OG DeathAdder
The Razer DeathAdder Mini brings the much loved ergonomic shape to a smaller handed audience as the OG is a fairly large mouse.
There's a lot to like about this mouse. For roughly $50 USD you get a solid shape, no holes, lightweight, with good buttons and cable. Razer has included some optional stick-on grips as a finishing touch.
The DA Mini packs a PMW3359 which is a downgrade from the 3360, the LOD is higher than flawless mice but I didn't have any issues with tracking just like the Viper Mini.
13. Logitech G Pro X Superlight Wireless (63 g)
Pros
Safe shape
Improved buttons
Best in class wireless
Cons
Expensive
Side buttons are mediocre
Logitech's lightest mouse yet, the G Pro X Superlight Wireless is the complete package for a complete package price. If you're looking for the fewest compromises while optimising for lightest weight, this is your mouse, you just have to pay a premium for it.
14. G-Wolves Skoll (66 g)

An incredible value; proven shape and ultra lightweight made for palm grippers. See Price on Amazon
Pros
Comfortable ergo shape
Good looking RGB
Tons of extra stuff and accessories
Software gets the job done
Cons
Average buttons at best
No official warranty policy that I could find
Last but not least, the G-Wolves Skoll clocks in at 66 grams and is a good option for gamers looking for a large and light ergonomic mouse.
The shape is proven, it looks and feels like an EC shape with the honeycombing to reduce weight.
Buttons are mediocre on this mouse, the single top shell seems to reduce tactility, the mouse produces a slightly hollowed click.
Does a lightweight mouse matter for gaming?
Mouse weight is still up to personal preference, but many people prefer a lighter mouse.
A light mouse takes less effort to move around, in combination with a low DPI, flicking across the mouse pad will be easier with a light mouse. With a light mouse you get the advantages of low sensitivity aiming without having to put a lot more work in moving the mouse more frequently. Over longer gaming sessions, a light gaming mouse is also likely less fatiguing.
In the end though, mouse accuracy is down to muscle memory with your mouse and sensitivity, whether you have a weightless mouse or a bowling ball, if you're used to it and good with it, all the power to you.
Lightest wireless gaming mouse
The lightest wireless gaming mouse is the Razer Viper Ultimate at 74 grams. Wireless mice are heavier than wired mouse because of the need to have a battery to power wireless connectivity.
What about heavy mice?
Heavy mice are still great! I started off gaming with heavy mice exclusively. One advantage a heavy mouse might have over light mice is the increased weight can improve control and micro-movements, which might be important in some games. As mentioned above, it doesn't matter if your mouse is heavy or light as long as you have the muscle memory built up, but if you're starting from scratch, a lighter mouse is recommended.