What is DPI?
DPI stands for dots per inch or in gaming terms, pixels per inch. DPI determines how far a cursor moves per inch of mouse movement.
400 DPI = 1 inch mouse movement, moves the cursor 400 pixels.
The lower the DPI, the less sensitive your mouse.
Best DPI setting
A mouse with super high DPI is not better.
There is no distinct optimal DPI setting, pick the DPI setting that you're most accustomed to. Generally, whatever you're playing at now is going to be your best setting, you've built up muscle memory at this setting whether you know it or not.
You do want to avoid playing at too high of a DPI, anything past 12000 is likely excessive, but more importantly, some sensors at this DPI accelerate and emulate the dots per inch, causing inconsistencies, it's not a true raw DPI.
If you're trying to improve, making small steps down in DPI is a good practice, lower sensitivities give you more granular control over your mouse and allow you to fine tune your aiming, as long as you have the room on your desk to move your mouse around.
Sensitivity
In addition to DPI, there are sensitivity settings that act as a multiplier to your mouses' DPI. The first, is Windows native mouse sensitivity setting, this setting should always be set to the 6th notch.
Any higher than 6/11 and you run the risk of skipping pixels on your mouse movements. A lot of games do have a raw input setting that ignores the Windows sensitivity setting, but you might as well set this to be safe.
And make sure Enhance pointer precision is off, this introduces prediction and acceleration from Windows.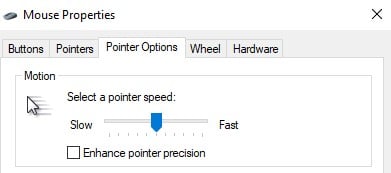 Every game has their own sensitivity setting as well, and their scales are often quite different. A mouse sensitivity calculator is a great way to translate settings from one game you're familiar with to another.
EDPI or effective DPI (DPI x sensitivity)
This is really your true sensitivity. This combines your DPI setting in conjunction with your in-game mouse sensitivity. You can boil down eDPI has a multiplication of these two numbers. You can have a really low DPI but a really high in-game sensitivity to combine for an average eDPI.
Examples:
400 DPI x 2 in-game sensitivity = 800 eDPI
800 DPI x 1 in-game sensitivity = 800 eDPI
Because of how sensitivity works, eDPI is a per game comparable metric, the universal comparison metric is how much distance it takes to make a full 360 in an FPS, measure in Centimetres or Inches.
Notable pro and streamer DPI and sensitivity settings
You'll see that most pros have a DPI between 400-800 where all gaming mice are going to track perfectly.
Tfue
400 DPI
30% Sensitivity (Fortnite)
1,236 eDPI
Shroud
450 DPI
2.4 Sensitivity (CS:GO)
1,080 eDPI
Ninja
800 DPI
0.077 X Sensitivity (Fortnite)
0.079 Y Sensitivity (Fortnite)
62.4 eDPI
Cloak
400 DPI
0.11 X Sensitivity (Fortnite)
0.11 Y Sensitivity (Fortnite)
44 eDPI
Taimou
800 DPI
5 Sensitivity (Overwatch)
4,000 eDPI
Bugha
400 DPI
0.13 X Sensitivity (Fortnite)
0.13 Y Sensitivity (Fortnite)
52 eDPI
s1mple
400 DPI
3.09 Sensitivity (CS:GO)
1,236 eDPI
ZywOo
400 DPI
2.0 Sensitivity (CS:GO)
800 eDPI
How to change your DPI
All gaming mice have two standard ways to change their DPI. Either through software like Logitech G Hub or Synapse or through a dedicated DPI button with pre-determined steps.
Take a look at our mouse reviews to see how a specific mouse changes DPI.
What are polling rates?
Polling rates in gaming mice refer to how often a mouse reports back to the computer its tracking. For example, 1000 Hz means that the mouse is reporting 1000 times every second.
You basically want to set this to the highest polling rate the mouse can go with one caveat, if you want to save battery life setting a lower polling rate will give you that.
How to aim better
Now that we all understand that there's no "best" DPI, here's how to get better at aiming at a high level.
Make sure you have a mouse that fits your hand and a good sensor. Check out our best mouse post if you need a new one, otherwise the one you're used to is best.
Take note of your current DPI and sensitivity settings, this is where your muscle memory is built up
Decide whether you want to be a low sens or higher sens gamer, either can work, but generally most people aim better with lower sensitivities, you can look at the pros sens to have an end goal
Depending on where you're starting off from, you have to make small steps down to your end DPI goal, do not make big leaps of eDPI, it'll be discouraging and you'll be way worse than you previously were.
Good luck and have fun!