Review unit provided by Epomaker
The Akko Sakura Jelly 3087 has some of the best looking RGB I've seen from an out of the box keyboard, with really great modes and amazingly smooth and diffuse lighting throughout. If you're looking for the absolute best RGB, then the Jelly might stand alone in that department.
Unfortunately, it looks like Akko had to make some shortcuts in some very key keyboard areas to make it happen for $99 USD.
75% wireless
A rock solid mechanical keyboard with great switch options, and infinite customization
See Price on Amazon
Pros
Amazing RGB, maybe the best
PBT dye sub key caps
USB-C
Gateron Yellow as an option
Cons
Very bad stabilizers
Case has significant flex and creak
Stick on feet can be a little wobbly
What's in the box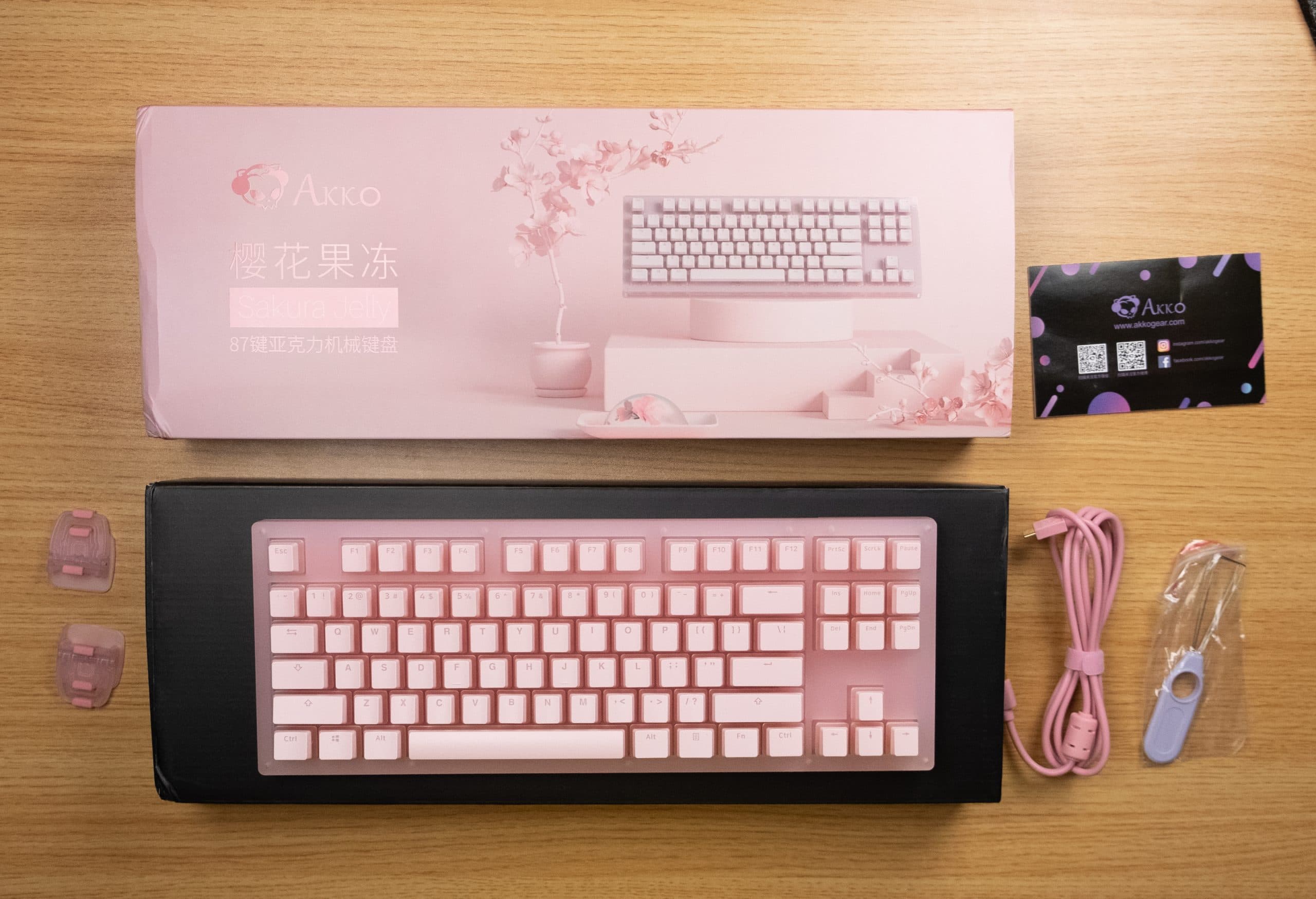 The Sakura Jelly comes with what you would expect, plus one oddity.
Wire keycap puller: If you want to swap out the Jelly caps
USB-C cable: A pink braided USB-C to USB-A cable, the USB-C is a bit chunkier than average.
Sticky keyboard feet, the Jelly doesn't have feet as part of the case, instead, you're given the option to stick feet on with 3m foam tape if you want a different typing angle.
Manual: It's completely in chinese.
Rattley Switches & Stabilizers
The Akko Sakura Jelly has three uncommon switch options, all from Gateron:
Gateron Pink

Type: Linear
Bottom Out Travel: 4.0mm
Actuation Point: 2.0mm
Actuation Force: 45gf

Gateron Yellow

Type: Linear
Bottom Out Travel: 4.0mm
Actuation Point: 2.0mm
Actuation Force: 55gf

Gateron Orange:

Type: Tactile
Bottom Out Travel: 4.0mm
Actuation Point: 2.0mm
Actuation Force: 55gf
As always, you can refer to our switch chart for full comparisons.
The Gateron Yellows are likely the best switch option for this board, they're known to be quite smooth and I find the 55 gram actuation force the sweet spot for in terms of linear. I went with the Gateron Pinks to keep with the theme, they're lighter in stiffness compared to yellows but to me, they also feel quite a bit wobblier, the stem in the switch moves quite a bit in all directions.
The hollow plastic case in combination with the wobbly switch produces a rattley typing sound that I'm not fond of.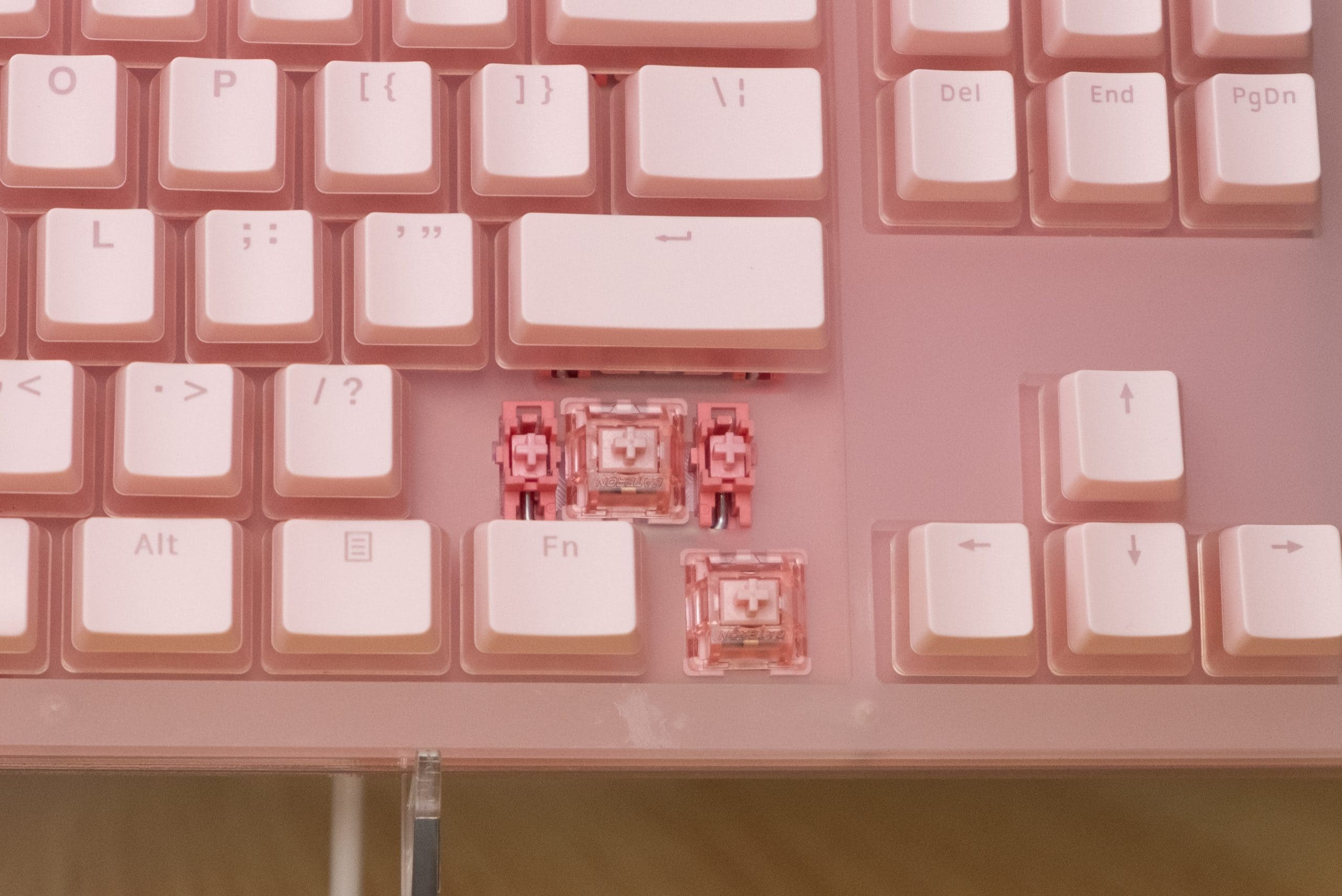 Stabilizers help your larger keys stay consistent and even on top of your switch, it helps your keycap from rattling and shaking.
The stabilizers on the Akko Sakura Jelly are bone dry, there's no visible sight of lube in my inspection of the board and the sound it produces corroborates it. On top of missing lube, the stabilizers are quite wobbly in the case with a lot of movement in all directions. The hollow plastic case just makes this rattle problem worse, these stabs are quite lacking.
Pretty shine through caps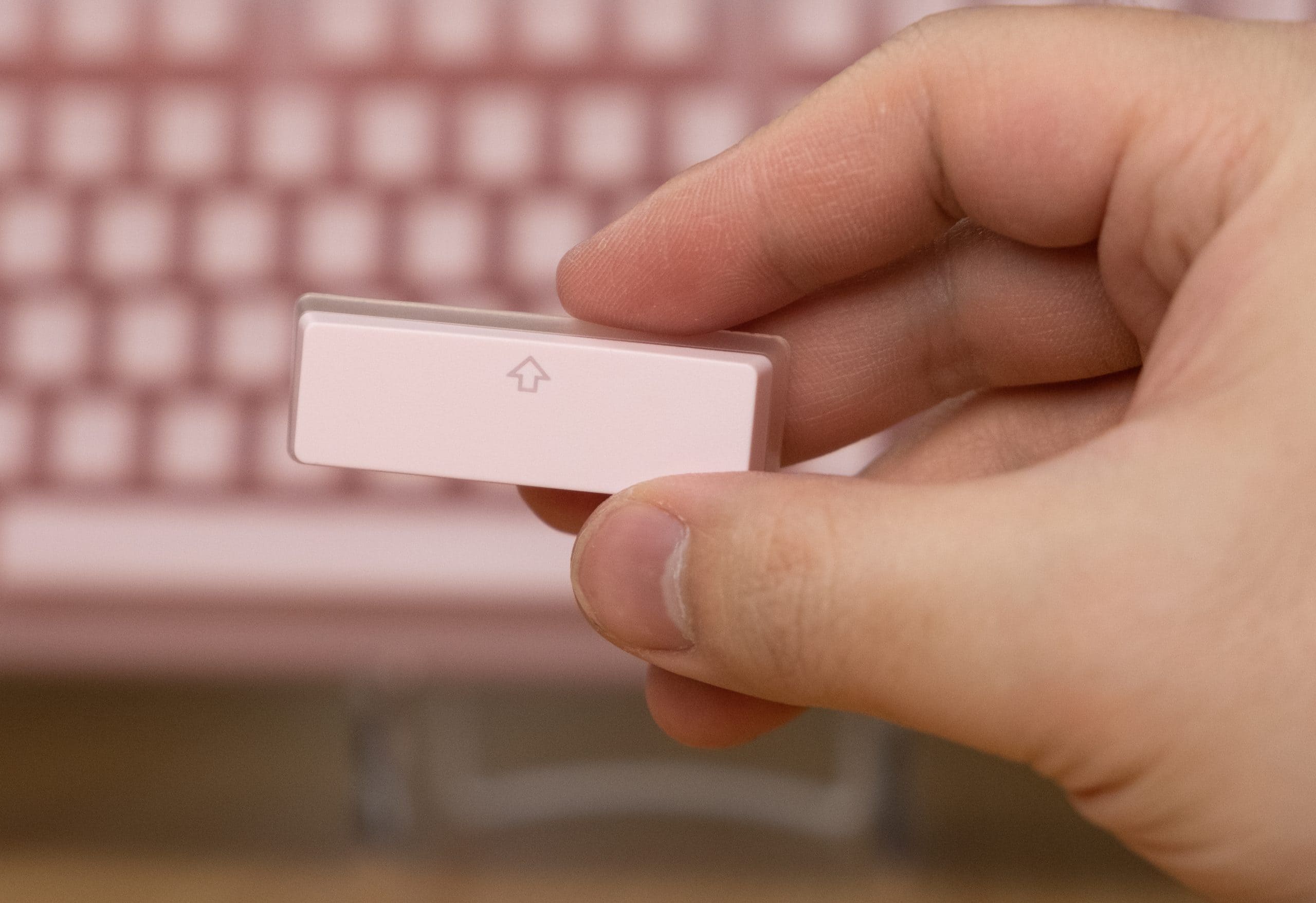 The main attraction, the key caps on the Akko Sakura Jelly are pudding style keycaps, with a painted top and shine through bottom halves. The keycap plastic is PBT with etch painted tops. This keycap design allows diffused light to shine through the sides of the keycap, creating quite an attractive look and extending the RGB from the case itself into the caps.
The keycaps should be pretty durable, though the etched legends might wear over time.
The pudding keycaps are made with a standard OEM profile.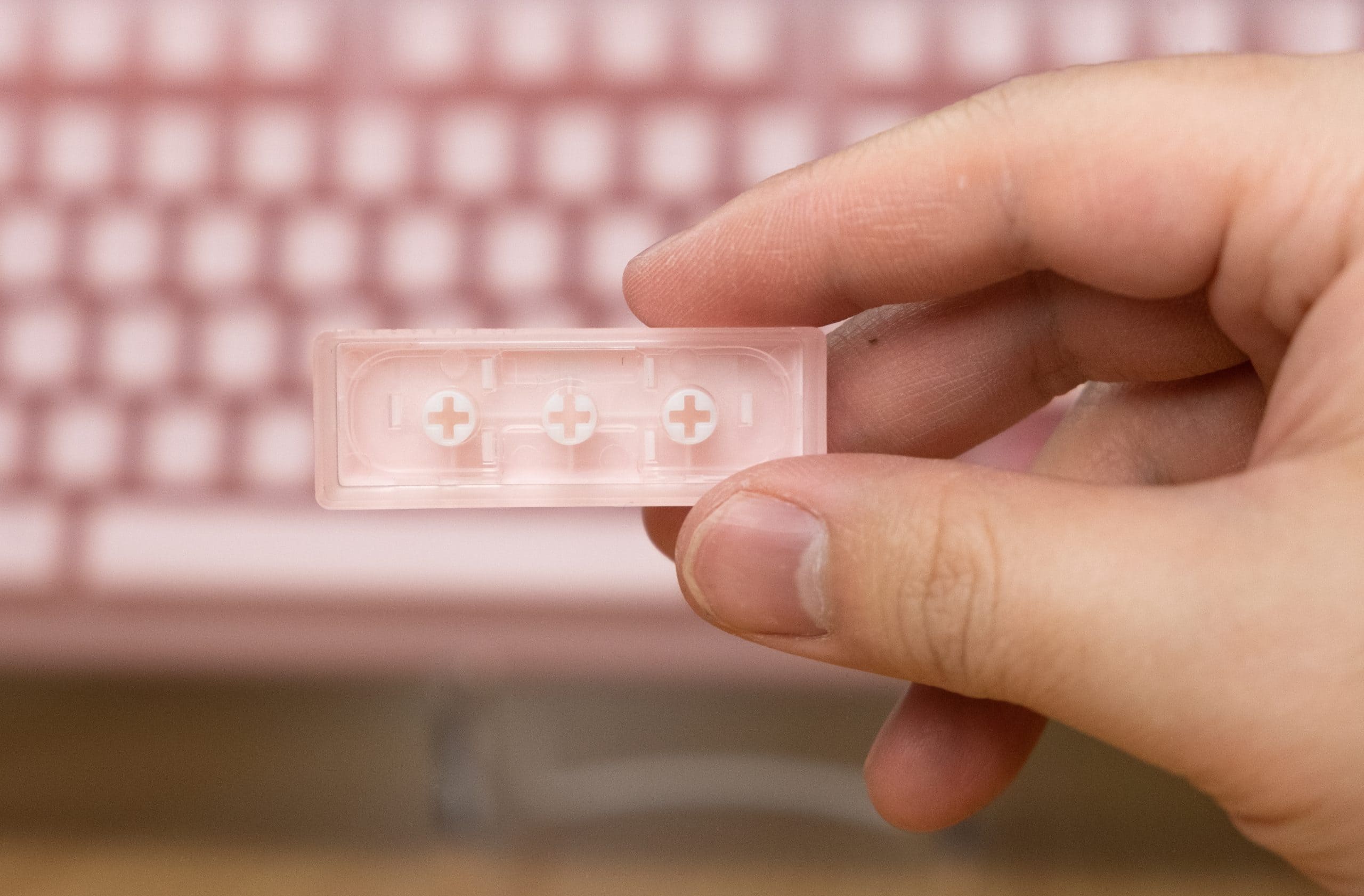 Aesthetic design over everything

The Akko Sakura Jelly is a medium profile keyboard with an acrylic shine through case.
In the video above you can see just how much RGB this keyboards lets shine through, it's quite the intense effect and it looks great.
The RGB strip around the case blends the RGB quite well, and the cloudy top of the case produces a diffuse RGB effect.
The per key RGB led faces north and properly light the legend and the transparent pudding caps fully.
The keyboard has a standard TKL and relies on per key RGB for lock indicators.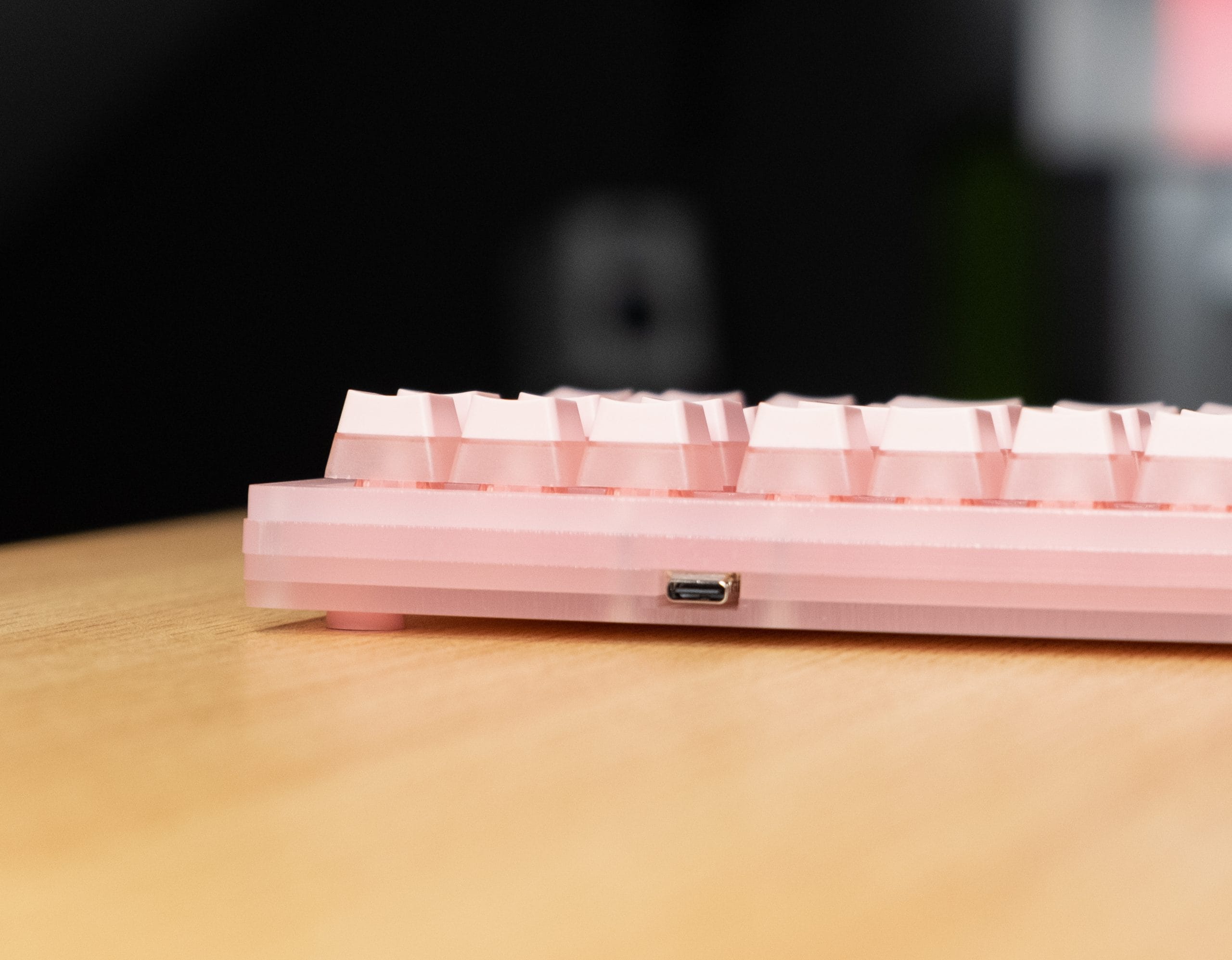 The top of the keyboard features an easy to access USB-C port on the right-hand side, I personally would prefer the cable on the left or center just to avoid any mouse cable mishaps.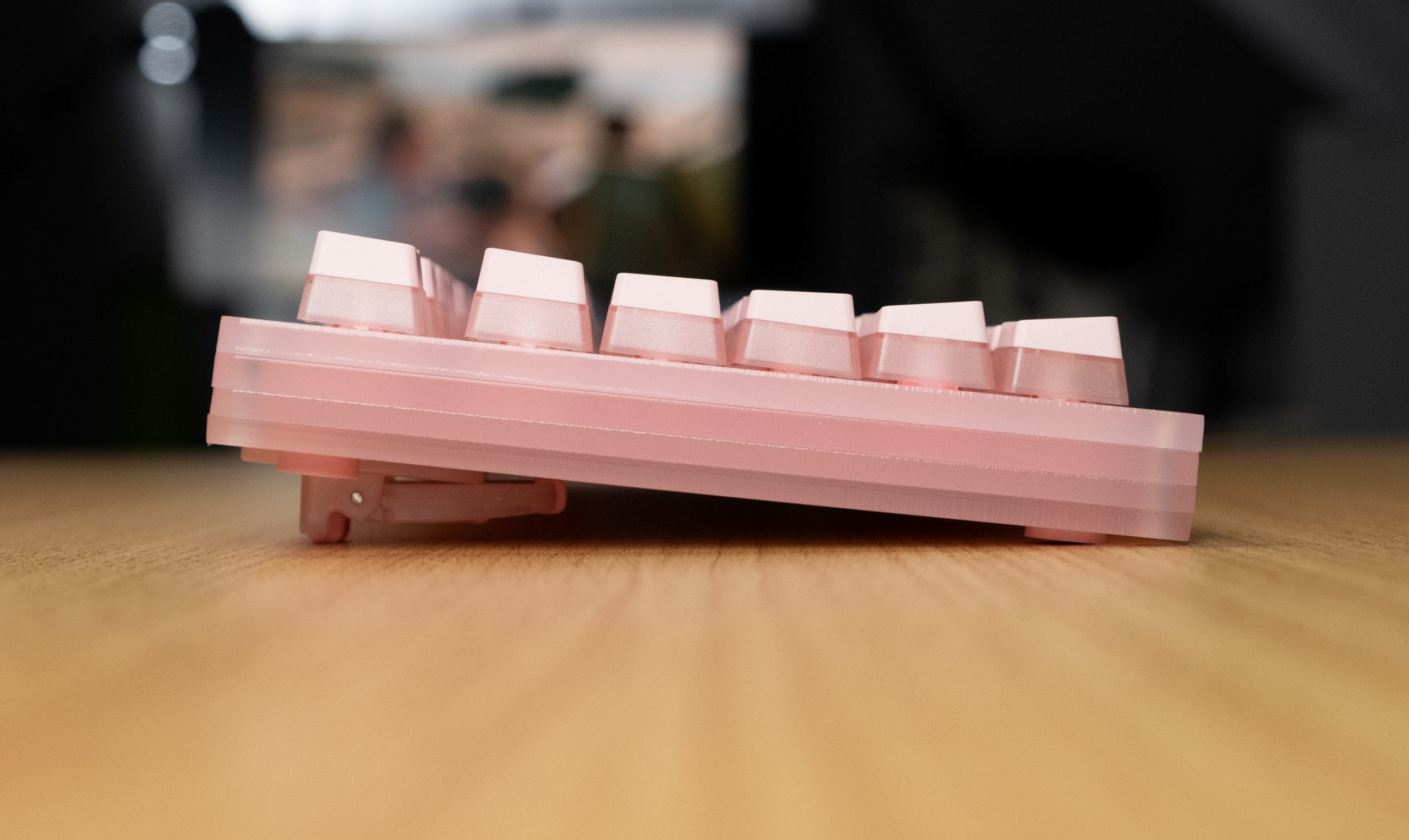 Interestingly, the feet are not built into the case of the Akko Sakura Jelly, they're stick-on. If you opt out of sticking on the feet, the keyboard rests flat on 4 rubber dots, if you attach the feet, you can no longer lay the keyboard completely flat.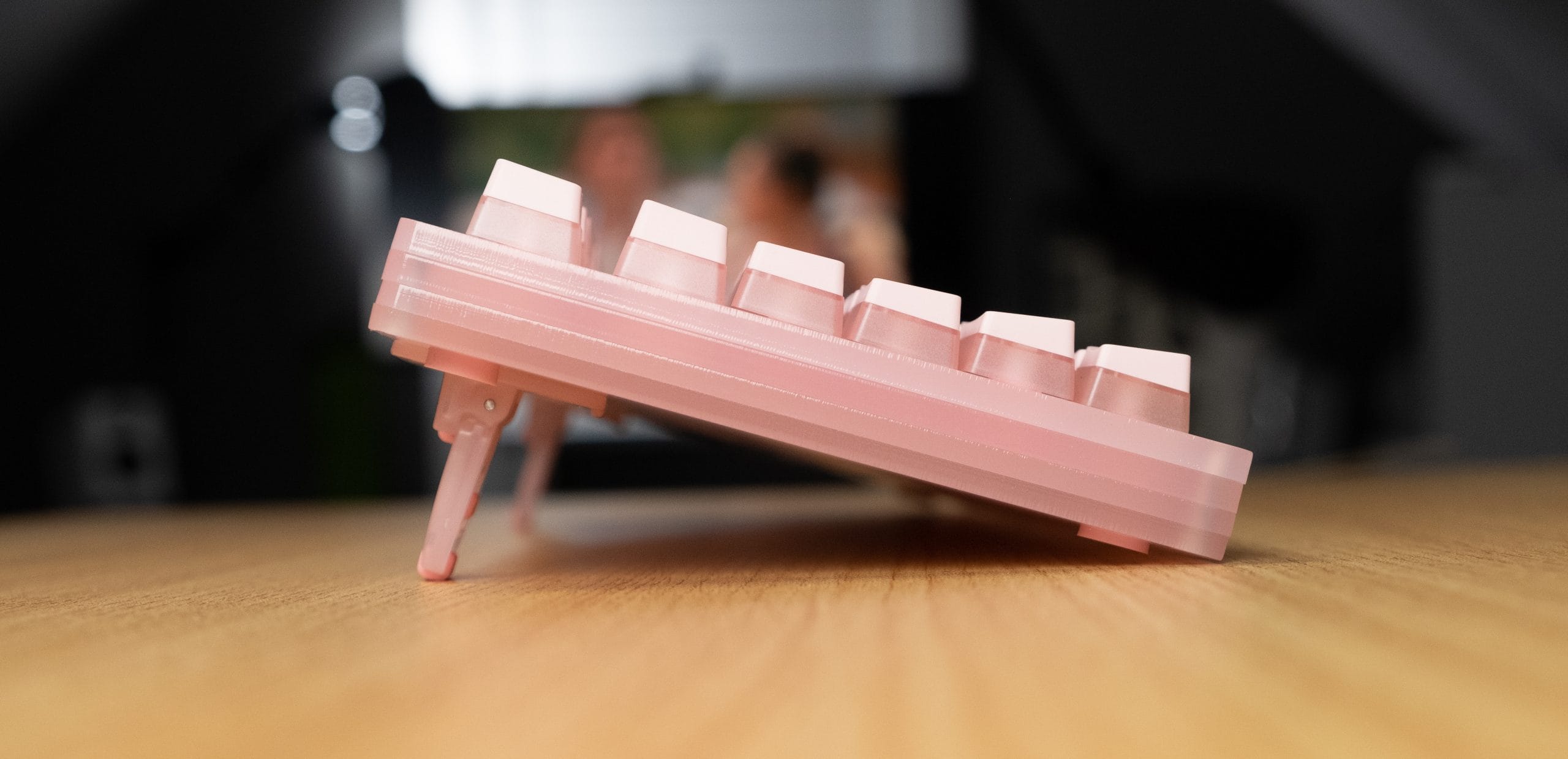 The highest angle is quite sharp, with the medium setting being more of a standard angle.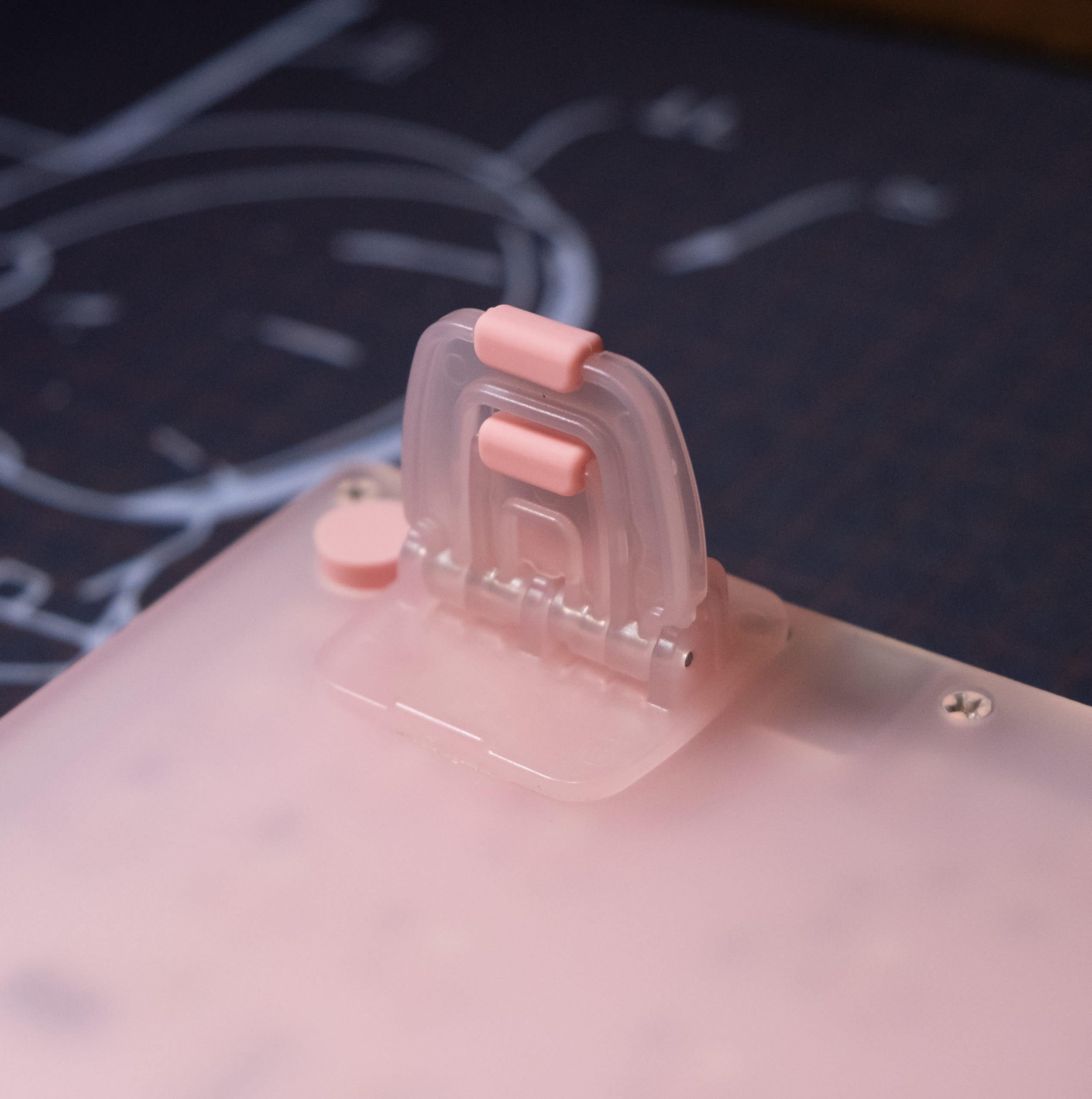 The feet are a little wobbly and can buckle if the keyboard is pushed a little bit. I'm glad that Akko included an option for feet in case people don't want a completely flat keyboard but I'm not sure why they couldn't put the feet into the case, maybe it's because of the acrylic material?
Softer Build quality
The acrylic case is quite a bit softer than standard ABS, the Akko Sakura Jelly has quite a bit of flex, so if you're a heavy type be wary of that on bottom out, the soft case also produces a squeaking noise when twisted, but that won't show up in normal use. At 730 grams, the keyboard is not going to win any "built like a tank awards", but I'm not concerned with the case causing any problems.
What's more concerning is the quality of the stabilizers, I feel like a hasty keycap removal could take the stabilizer right out.
Akko Sakura Jelly Software and Documentation
I have not been able to find any documentation on the Akko Sakura Jelly, I'm making a best guess that the manual for the Akko 3087 applies to this keyboard as well.
There is no software to install with the keyboard, everything works onboard.
Here are the FN functions that I've been able to confirm:
FN + > to cycle RGB colour
FN + < to change RGB direction
FN + Del to toggle between 3 slow wave RGB modes
FN + End to toggle between 3 starlight RGB modes
FN + PgDn to toggle between 3 cascade RGB modes
FN + Insert to toggle between 3 breathe RGB modes
FN + Home to toggle between 3 reactive RGB modes
FN + PgUp to toggle between 3 animated RGB modes
FN + up arrow or down arrow to change brightness
FN + M to mute
FN + F6 to play/pause
FN + F7 to go previous track
FN + F8 to go next track
FN + Win to lock windows key
FN + Del to cycle backlight modes
FN + up or down to brighten and dim backlight
Here's how to set up macros as per the manual:
1. Akko Macro V1.0 is hardware-based and works without software-driven.
2. The following keys cannot be programmed: "Esc", "Fn", "Left Win" and "Right Win".
3. Press and hold Fn + Win for 3 seconds to switch to the Macro mode. When the keyboard is re-connected or the
system is restarted, the Macro mode will be exited. You need to switch to the Macro mode again to use
programmed keys.
4. Akko Macro V1.0 does not support simultaneous trigger, that is, pressing "AB" at the same time will trigger the
two keys in the order of A followed by B.
5. Akko Macro V1.0 does not support customized interval time, that is, the trigger interval between key A and key
B cannot be defined and will follow the system's default trigger time.
Warranty & Reliability
If you get the keyboard from EpoMaker the Akko Sakura Jelly 3087 comes with a 12 month warranty, as per the manual.
Tech Specs
Akko 3084 Silence
Length: 35.9 cm / 14.1 inches
Width: 14 cm / 5.51 inches
Height: 4.1 cm / 1.61 inches
Case: High profile, Plastic Case
Weight: 730 grams
Keys: 87 keys
Cable: 2m detachable USB Type-
Keys & switches
Switch options: Gateron Pink, Orange & Yellow
Keycap material: PBT with pudding shine through
Keycap legends: Dye Sublimated
Keycap profile: OEM Profile
Media keys: No
Backlight: Full RGB
Software: Akko Macro 1.0
Conclusion
The Akko Sakura Jelly 3087 is a great looking keyboard, and if that's all you're after then this is for you. For $99 USD, the keyboard is an okay value for its aesthetic, but it falls a decent amount short on the typing experience and build quality. Considering what you can get at this price point, like the Durgod Taurus or Ducky One 2 TKL, you have to really care about the look to go for the Sakura Jelly.