Valve has entered the hardware space that Nintendo basically invented: the convertible handheld.
But which system has the edge? It's time to pit these two beloved systems against each other. Valve Steam Deck vs Nintendo Switch.
What's better for you will depend on what games you want to play, where you're playing and how you want to play.
Portable PC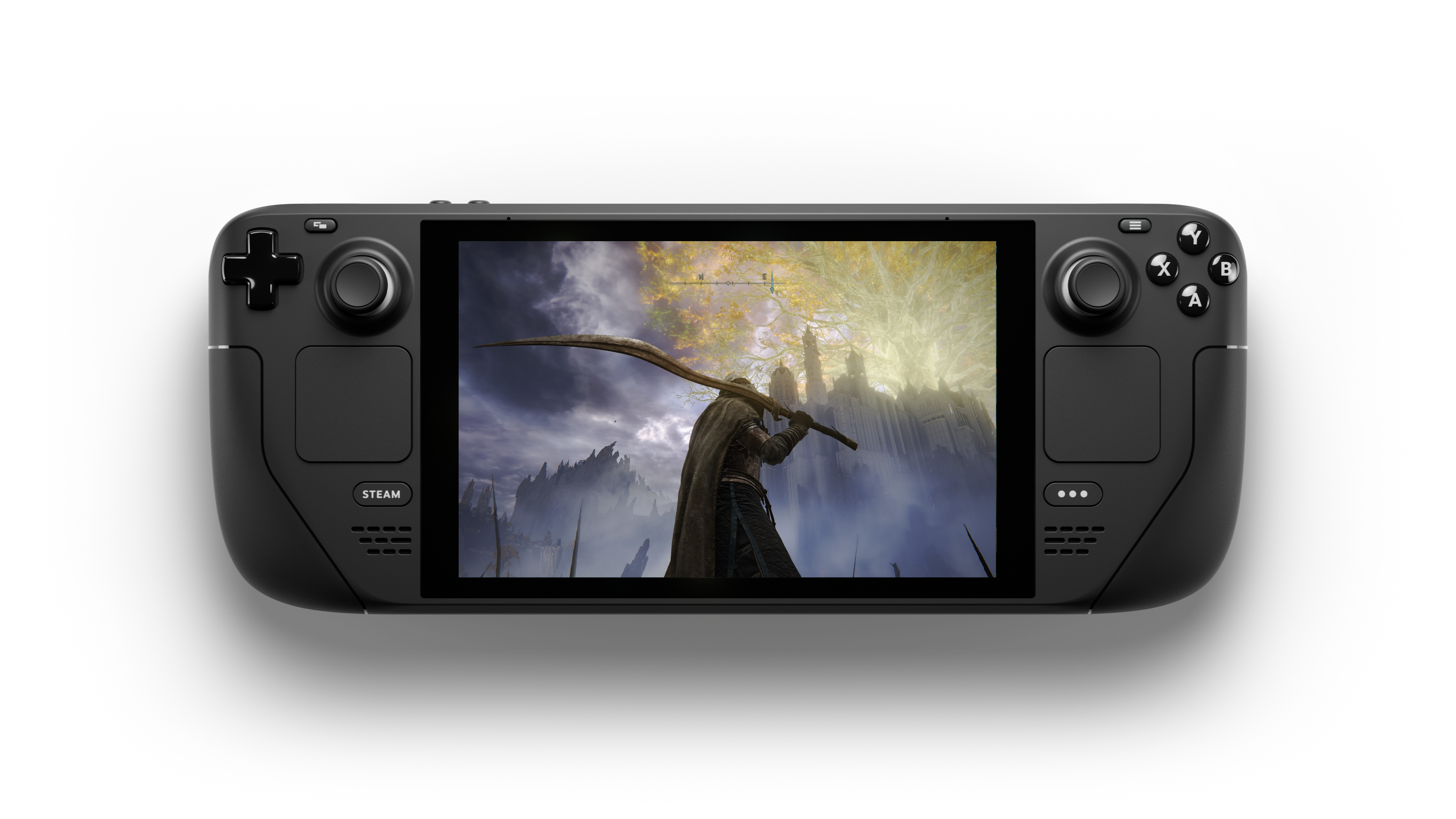 Valve's Steam Deck brings PC gaming to portable with the ability to play a huge backlog of PC games.
The Best of Nintendo
The Switch OLED is the best way to play Nintendo games on the go or docked.
Price: The Nintendo Switch is cheaper
Both Valve's Steam Deck and Nintendo's Switch have multiple SKUs at different price points.
The Steam Deck has 64GB ($399 USD), 256GB ($529), and 512GB ($649) models. See more detail about Steam Deck models.
The Nintendo Switch has the Switch Lite ($200 USD), Switch ($300), and Switch OLED ($349).
Both hand helds scale up in functionality as you go up in price. For the Steam Deck, you're getting faster and larger storage, with the highest end model coming with an anti-reflective coating.
The Switch SKUs differ quite a bit, the Switch Lite doesn't have the ability to use removable joy cons or dock to a TV or monitor, making it a pure portable.
The original Switch is the original convertible handheld, while the OLED Switch adds a larger OLED screen and a better kick stand.
The Switch has more affordable price points, and includes a dock in that pricing for the Switch and Switch OLED.
Games: It depends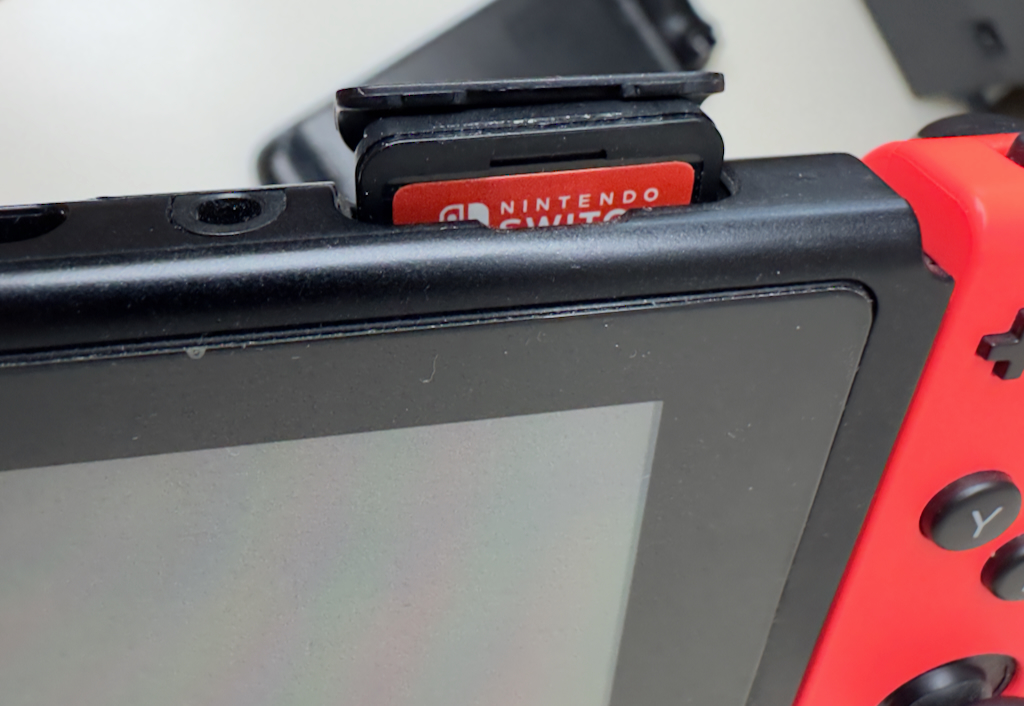 Both systems offer a lot of great games. It's hard to say which is better, as it largely depends on which games you prefer.
Nintendo's exclusive games offer some of the best gaming experiences around. Games like Smash Bros. Ultimate, Zelda: Breath of the Wild, and Super Mario Odyssey are must-plays, not to mention other exclusives like Pokémon and Splatoon. However, these games tend to be more expensive, usually costing $60 and rarely going on sale.
The Steam Deck offers access to an enormous back catalog of PC games on Steam. While not all PC Steam games work perfectly on the Steam Deck, the number of compatible games is growing rapidly, with most new PC releases optimized for the Steam Deck. You can find the latest verified Steam Deck games here. The Steam Deck also has access to a ton of emulation options that we will not cover in this post :D, but it does add a lot of library potential to the Steam Deck.
If a game is available on both platforms, it's usually much cheaper on Steam and the performance is likely to be better on the Steam Deck.
It's a tough call. If you don't care about Nintendo exclusives, then the Steam Deck is the better choice, as games will be cheaper and play better. If you do care about Nintendo exclusives, then the Switch is the way to go.
Steam Deck vs Nintendo Switch Specs
Steam Deck
Nintendo Switch
Price
64GB ($399 USD), 256GB ($529), and 512GB ($649)
Switch Lite ($200 USD), Switch ($300), and Switch OLED ($349)

Processor
Zen 2 4c/8t, 2.4-3.5GHz (up to 448 GFlops FP32)
ARM 4 Cortex-A57 cores @ 1.02 GHz
RAM
16 GB LPDDR5 on-board RAM (5500 MT/s quad 32-bit channels)
4 GB LPDDR4 @ 1331/1600 MHz
GPU
8 RDNA 2 CUs, 1.0-1.6GHz (up to 1.6 TFlops FP32)
256 Maxwell-based CUDA cores
Storage
64 GB eMMC (PCIe Gen 2 x1)
256 GB NVMe SSD (PCIe Gen 3 x4 or PCIe Gen 3 x2) 512 GB high-speed NVMe SSD (PCIe Gen 3 x4 or PCIe Gen 3 x2)

32 GB or 64 GB eMMC
Storage Expansion
microSD card expansion (microSD/HC/XC)
SSD upgradable
microSD/HC/XC
Screen
7 inch IPS, 60Hz, 1280x800px
7 inch OLED, 60 hz, 1280 x 720px
Size Dimensions
29.8cm x 11.7cm x 4.9cm
17.6cm x 10.2cm x 1.4cm
Weight
669 grams
319 grams
External TV or Monitor
Requires usb-c dongle or dock
Included dock, HDMI 2.0
Wireless Connectivity
Bluetooth 5.0
WiFi AC
Bluetooth 4.1
WiFi 5
Battery Life
2 to 8 hours
4.5 – 9 hours

Buy from Steam

Buy from Amazon
Performance: Steam Deck is beefier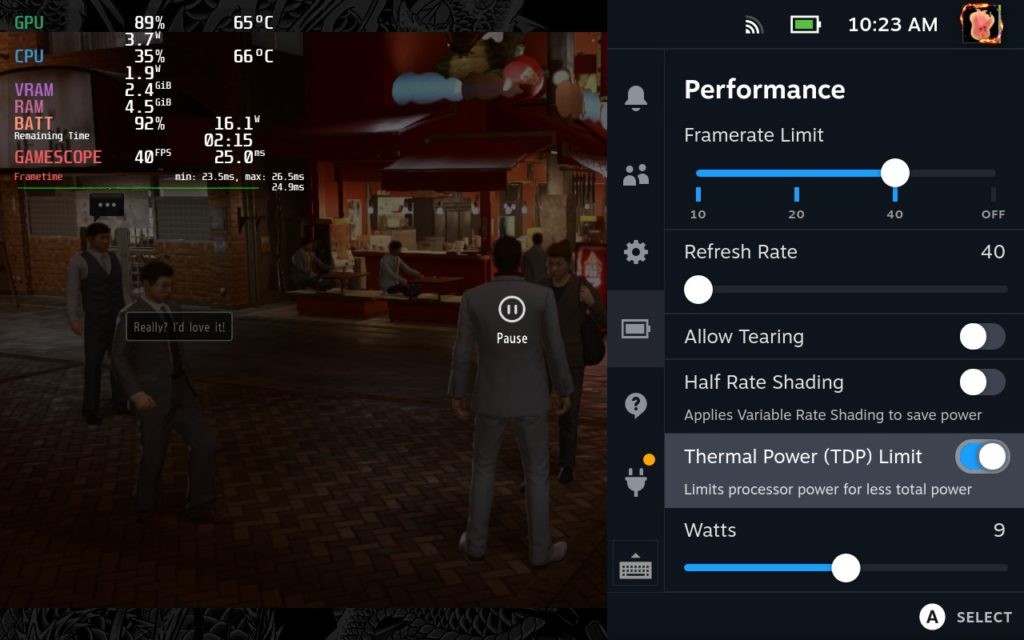 The Steam Deck is a more expensive and modern piece of hardware, sporting an AMD Zen 2 CPU chip and an 8 CU RDNA 2 GPU.
The Steam Deck is going to easily outperform the Switch on the same games. The Deck's performance at approximately 1.6 TFlops is about the same as a base PS4 performance.
For most games in portable mode, you'll get a stable 40 FPS minimum with medium or higher quality settings, with some games even hitting a locked 60 FPS. Resolutions will vary depending on your docked screen.
Almost all multiplatform games on the Switch will perform worse, likely stepping into a lower resolution and a 30 FPS frame rate.
Games that are designed with the Switch hardware limitations still play great, Mario Odyssey and Super Smash Bros. Ultimate are both examples of games that run at 720p handheld and 900p docked at a rock-solid 60 FPS.
If you play a lot of multiplatform games, the Steam Deck is an easy performance winner.
Display: Nintendo OLED reigns supreme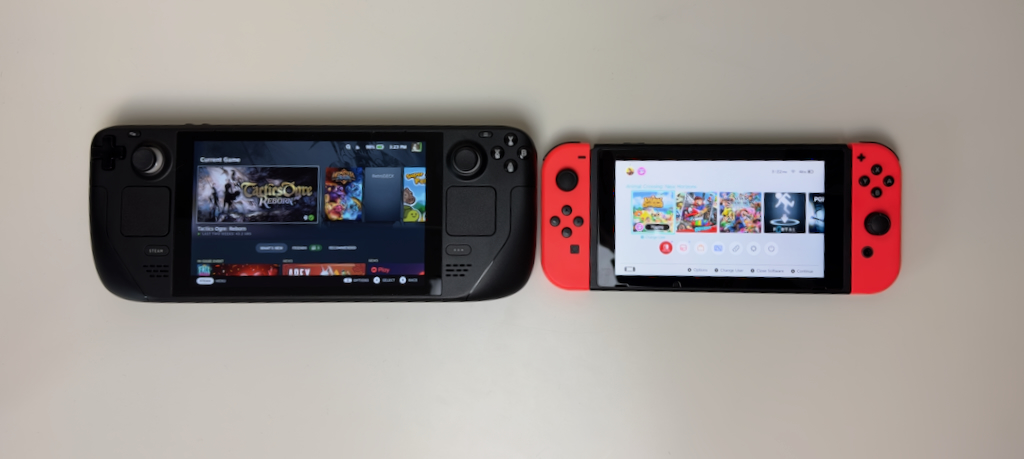 The Switch OLED has the best display between these two systems.
The 7 inch screen has the best contrast, viewing angles and motion between the two handhelds, and runs at 720P at up to 60Hz.
The Steam Deck's 7 inch display runs at 800P resolution, up to 60Hz. The display panel tech is IPS with a max brightness of 400 nits.
While the display is still obviously good, it doesn't measure up to the vibrancy of the Switch OLED panel.
The Switch Lite is sporting a 5.5 inch IPS display and the OG Switch has a 6.2 inch IPS display.
Ergonomics & Controls – Steam Deck ftw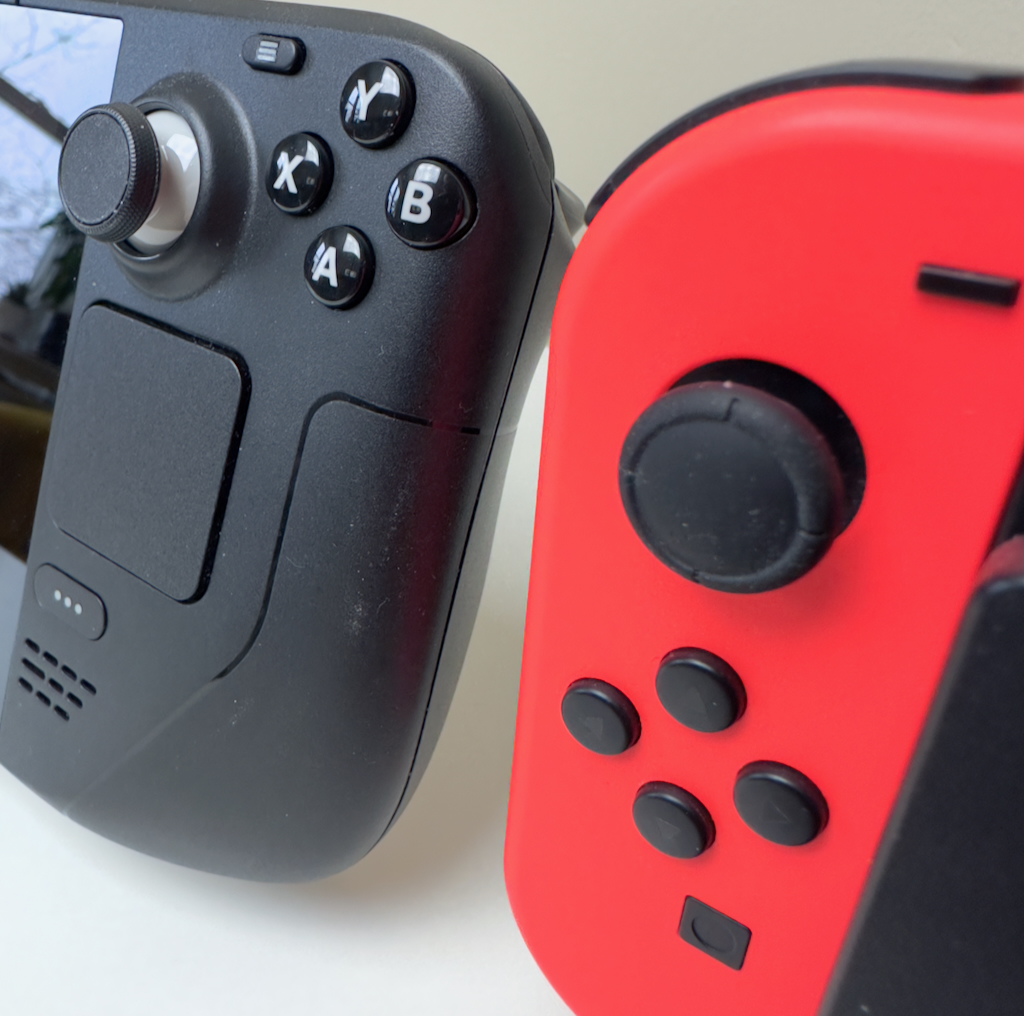 The Steam Deck makes good use of its larger size with a proper grips, a full d-pad and taller thumbsticks. On top of that, you get two track pads for mouse controls and 4 back buttons that can be assigned to whatever you want.
The Steam Deck controls feel great and I don't really feel like I'm playing on a stripped down control system.
The Nintendo Switch joy con system is quite handy, you can take the joycons off of the rails and use them split up. The joy cons are a bit lackluster though, the sticks are short and prone to developing drift, and the d-pad are all separate buttons.
Size, Design & Portability: The Switch is easier to carry around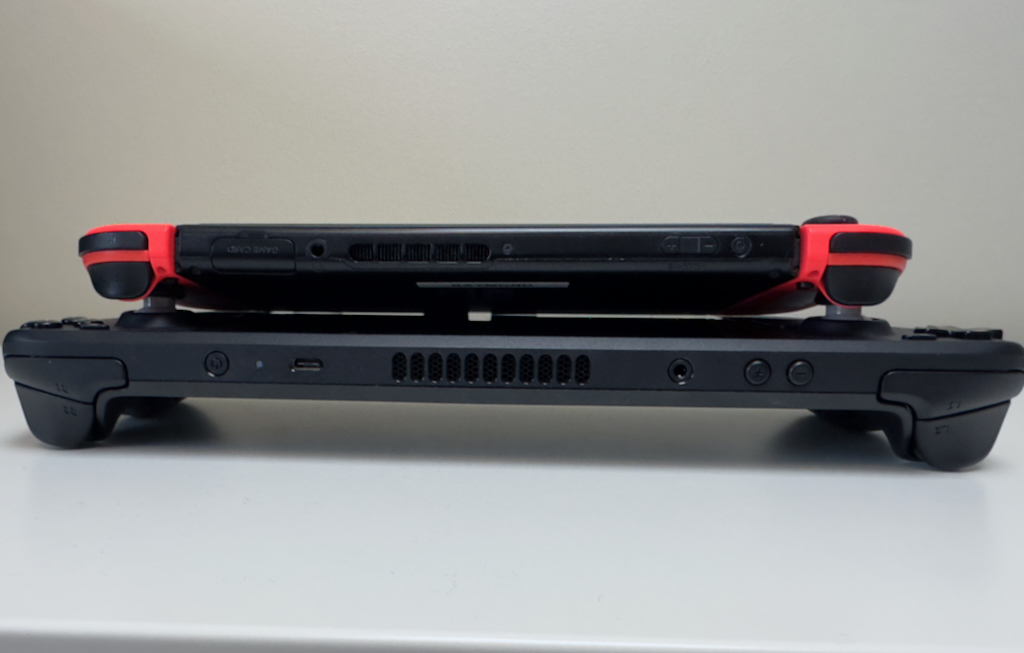 The Nintendo Switch is more portable, lighter, and smaller, measuring 9.4 inches wide and 0.55 inches thick. Its kickstand is useful for playing on a table with Joy-Cons or other controllers.
The Steam Deck is much larger, at 11 inches wide and 1.92 inches thick. It also weighs significantly more than the Switch, at 669 grams compared to 399 grams.
Battery life: The Switch has a better battery life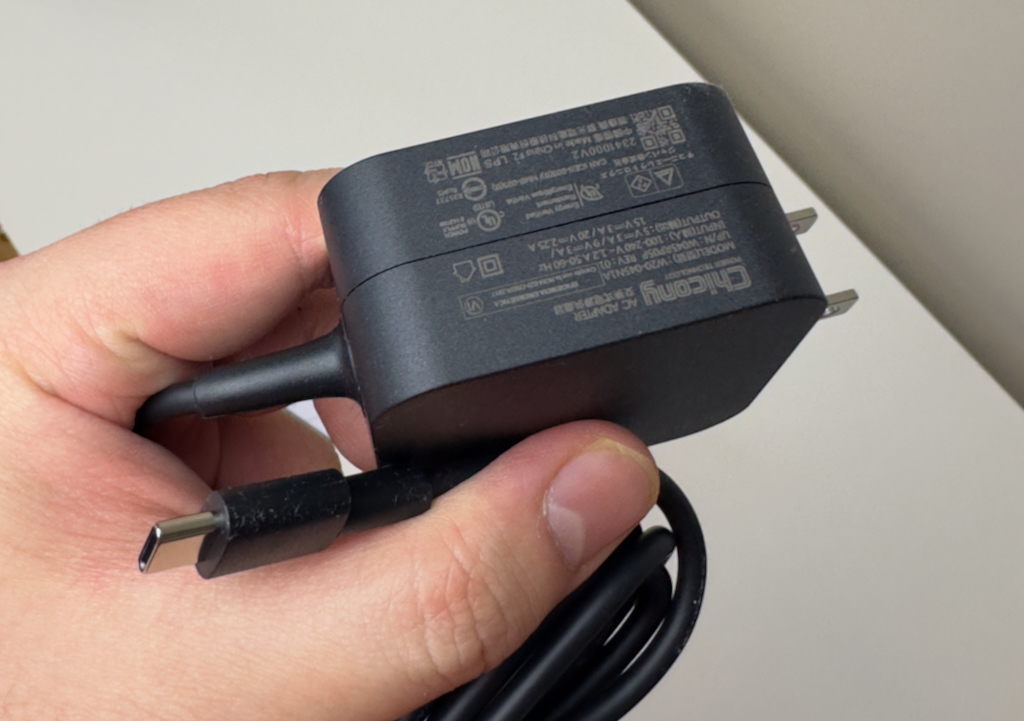 The Switch has at least double the battery life of the Steam Deck.
You can expect to get 4.5 to 9 hours out of the Switch, depending on the game, the more demanding the lower the battery life. You should expect around 5.5 hours for most games.
The Steam Deck will likely see anywhere between 2-8 hours depending on the game, with the average range being closer to 2-3 hours for demanding 3D games.
The Switch will take roughly 3 hours to recharge drawing around 18W. The Steam Deck wll recharge quicker, drawing 45W and fully charging between 2 and 3 hours.
Docking & Connectivity: Included Dock with the Switch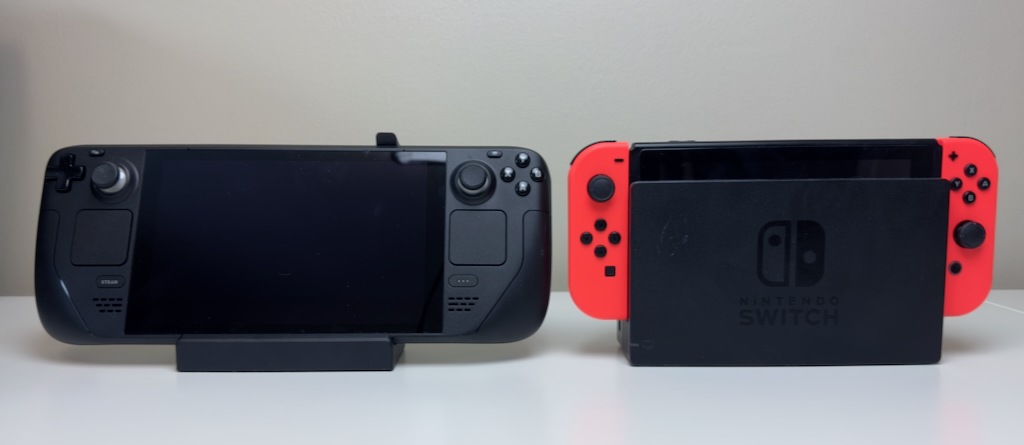 The Nintendo Switch comes packed in with a dock that has outputs for HDMI, power and USB-A ports. The Switch can display up to 1080p/60Hz to an external monitor.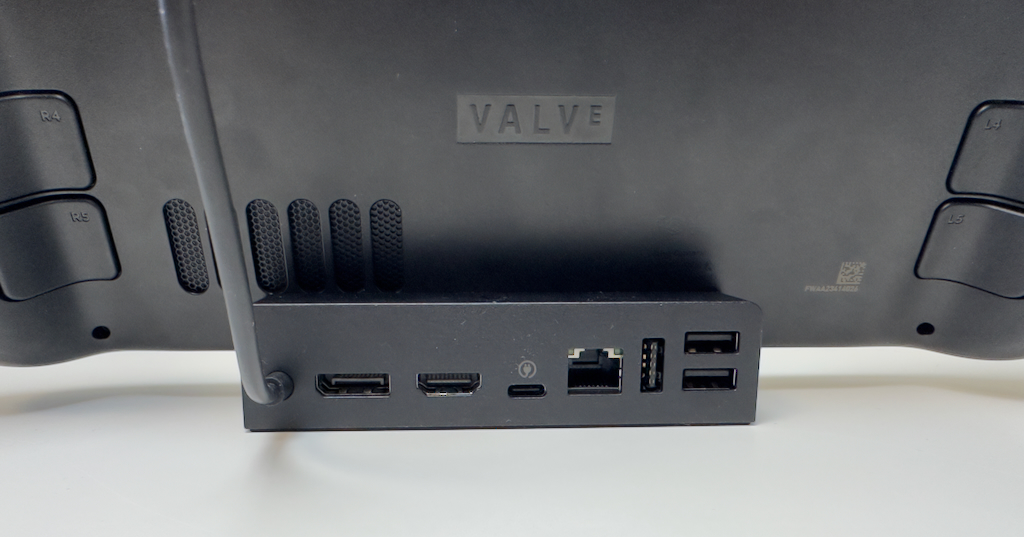 You have to buy either a dongle or the official dock ($89) to connect your Steam Deck to an external monitor. The official dock let's the Steam Deck output up to 4k/60hz or 1440p/120hz, though most games will not be able to run at that resolution and framerate.
Multiplayer: The Switch is better with friends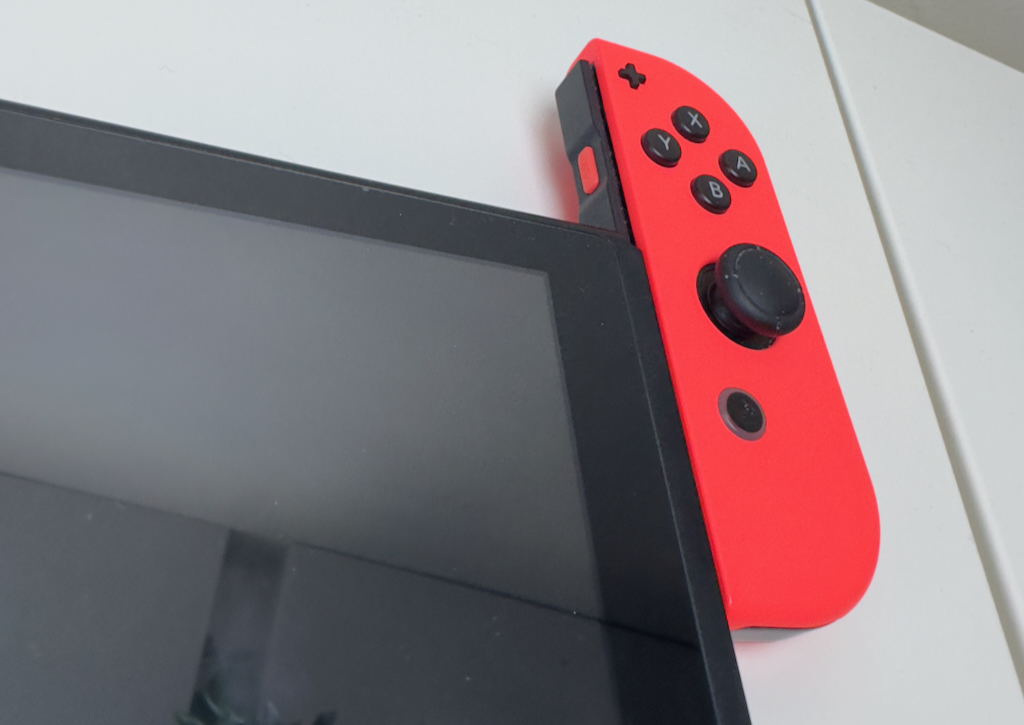 The Nintendo Switch is currently the better system for multiplayer.
Its dock makes external displays more accessible, and its kickstand and Joy-Cons make it easy to play multiplayer games on the go.
Furthermore, some of Nintendo's best multiplayer games, such as Mario Kart, Smash Bros., and Mario Party, are not available on the Steam Deck.
Nintendo requires a $20 annual subscription to enable online multiplayer, while Steam Deck multiplayer is free and serviced on Steam.
However, some PC multiplayer games do not currently work on the Steam Deck due to anti-cheat software not being compatible with Steam OS.
Ecosystem and Accessories: Draw
Both handhelds have a healthy ecosystem of controllers, cases, skins, chargers and docks.
The Nintendo Switch has been around for longer and therefore has a larger backlog of accessories.
The Steam Deck has burst onto the scene and has already generated a lot of third party accessory interest, you won't find any shortage accessories.
Steam Deck vs. Switch Recommendation
I'm sorry but it obviously depends.
The Nintendo Switch has mass appeal and some killer exclusives that most gamers will want to play. It's the cheaper handheld with a better battery life and better screen if you go for the OLED model. Just watch out for the pricy games.
The Steam Deck is a PC gamers mobile dream, playing games like The Witcher, Skyrim, Spiderman PS4, The Last of US and a bevy of other PC games on the go is amazing. If you don't care about Nintendo exclusives, and really like the sounds of playing most PC games on the go, then the Steam Deck is what you should get.