PC gaming is going portable, and Valve is once again at the head of this movement with its Steam Deck.
If you're planning to jump in on the action, there is no better time than now. But which Steam Deck model is the right one to start your journey with?
Let's take a look at all three Steam Deck models and the factors you should take into account before settling on one.
Which Steam Deck Should You Get?
If you aren't comfortable with tinkering with the internals of your Steam deck, then the 256GB or 512GB models are the right pick. You'll get faster loading speeds and can pick between these two depending on the number and size of the games you plan to install on the system.
People who are comfortable with opening the Steam Deck to increase its storage will get the most value from the 64GB model. You can swap out the 64GB eMMC for a larger NVMe of up to 2TB at a far cheaper price than what's Valve asking for.
In terms of best value for money, you should go with the 256GB model. If you run out of storage, you can always upgrade the internal NVMe or simply add a MicroSD card.
The 512GB version's anti-glare screen is only worth it if you plan to play outdoors, and the skins that come with this are just not worth the extra money.
Comparing Steam Deck Models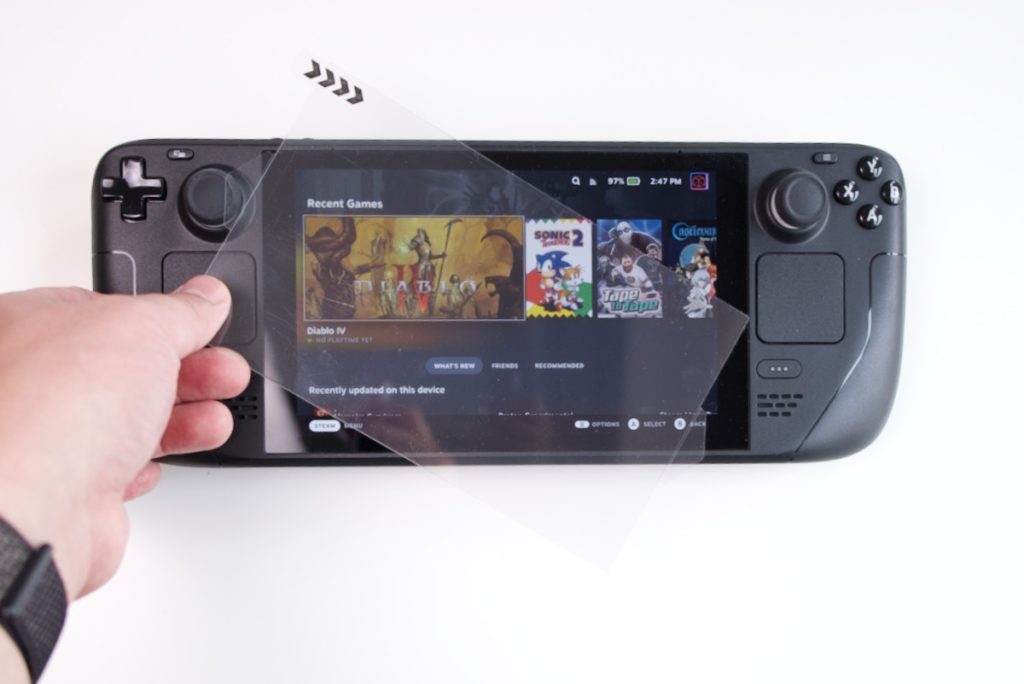 Valve's Steam Deck comes in three base models. The primary differences between their hardware are the amount and type of storage installed and the anti-glare coating on the top-tier model.
Let's take a look at the technical hardware specifications of all three models.
| | | | |
| --- | --- | --- | --- |
| | Steam Deck 64GB | Steam Deck 256GB | Steam Deck 512GB |
| Chipset | AMD Aerith APU | AMD Aerith APU | AMD Aerith APU |
| CPU | Zen 2 Architecture4 core 8 threads2.4-3.5GHz | Zen 2 Architecture4 core 8 threads2.4-3.5GHz | Zen 2 Architecture4 core 8 threads2.4-3.5GHz |
| GPU | RDNA 21.0-1.6GHz1.6 TFlops FP32 | RDNA 21.0-1.6GHz1.6 TFlops FP32 | RDNA 21.0-1.6GHz1.6 TFlops FP32 |
| RAM | 16GB LPDDR5 | 16GB LPDDR5 | 16GB LPDDR5 |
| Storage | 64GB eMMC + expandable microSD storage | 256GB NVMe SSD + expandable microSD storage | 512GB NVMe SSD + expandable microSD storage |
| Display | 1280 x 800, 60Hz7 inchesIPS LCD touchscreen | 1280 x 800, 60Hz7 inchesIPS LCD touchscreen | 1280 x 800, 60Hz7 inchesIPS LCD touchscreenAnti-glare coating |
| Charging | 45W charging via USB-C | 45W charging via USB-C | 45W charging via USB-C |
| Battery | 40Whr 2-8 hours of gameplay | 40Whr 2-8 hours of gameplay | 40Whr 2-8 hours of gameplay |
| Weight and Dimensions | 298mm x 117mm x 49mm660 grams | 298mm x 117mm x 49mm660 grams | 298mm x 117mm x 49mm660 grams |
| OS | SteamOS 3.0 | SteamOS 3.0 | SteamOS 3.0 |
| Price | $399 | $529 | $649 |
The differences between the three models don't end here. All three models come with carrying cases, but the 512GB has an exclusive carrying case as well as other digital goodies which we'll discuss later on.
eMMC vs NVMe: Difference Between Both Storage Technologies
Unlike the 256GB and 512GB variants of the Steam Deck, which use an NVMe, the 64GB model uses a slower eMMC. This can present slower boot and game install speeds.
eMMC is an older storage technology often reserved for Chromebooks and budget laptops. Because of their smaller power draw, these are limited to a maximum data transfer speed of 400-500MB/s. Fortunately, the 64GB eMMC in the cheaper model of the Steam Deck is removable, so you can replace it with a faster NVMe whenever you want.
NVMe, on the other hand, is a much newer technology currently in use inside modern gaming PCs and the PS5 and XBox Series consoles. With the Gen 3 PCIe used in the Steam Deck, a compatible NVMe SSD can hit a maximum transfer speed of 4750MB/s, which blows the eMMC out of the park in terms of performance.
How Does the Storage Type Affect Your Steam Deck?
The operating system of your Steam Deck is stored on the storage device. Every time you boot your Steam Deck, the OS has to be transferred into the RAM. For eMMC storage devices, the slower transfer speeds translate into an approximately 25% slower boot-up speed compared to its NVMe brethren.
This also leads to game launch speeds and loadings speed being slower on the eMMC drive and about 12.5% faster on the NVMe.
The end difference in speed results in a roughly 5-10 second difference in load times depending on the game.
Another thing to note is that the 512GB variant of the Steam Deck has faster than the 256GB model. This is because of how SSDs scale, with the larger ones having more bandwidth for data transfer.
Can You Increase Storage on Steam Deck?
Valve has made it very easy to upgrade the storage on your Steam Deck.
There are two ways to upgrade storage.
MicroSD Card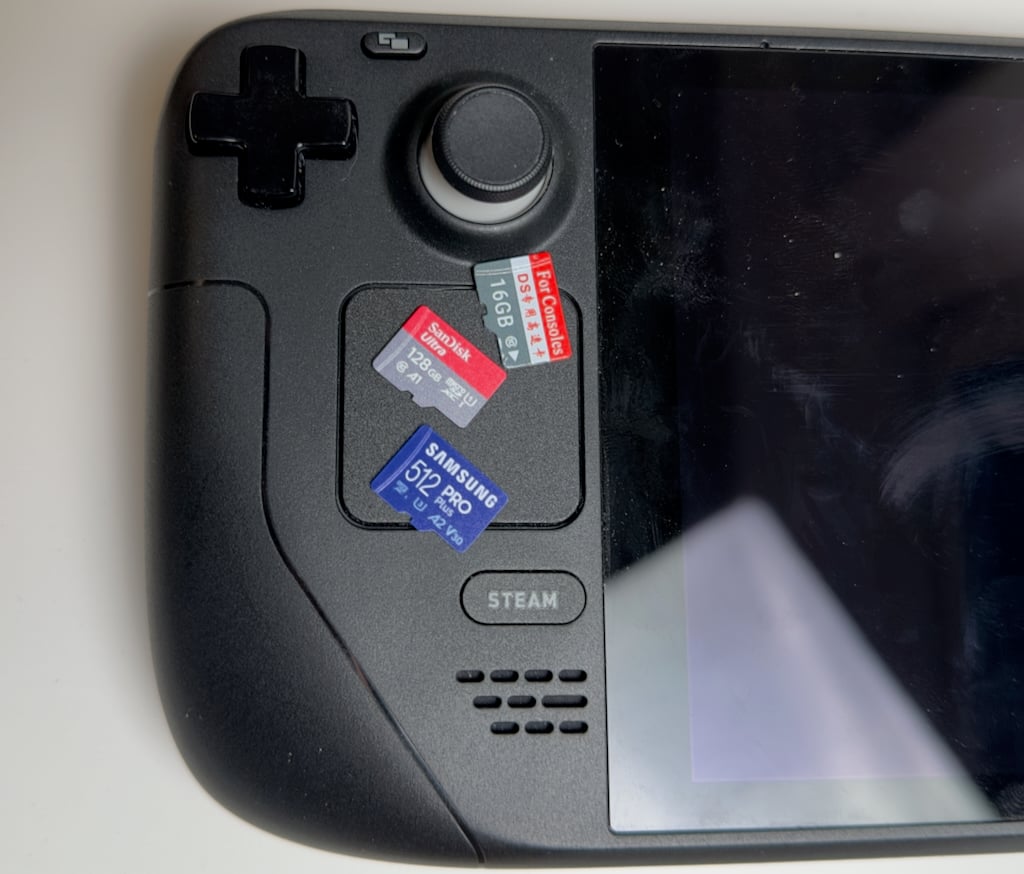 The simplest and most straightforward method to expand the storage on your Steam Deck is to pop a microSD card into it with a maximum capacity of 2TB. Make sure you purchase the right SD card for Steam Deck with high transfer speeds.
NVMe SSD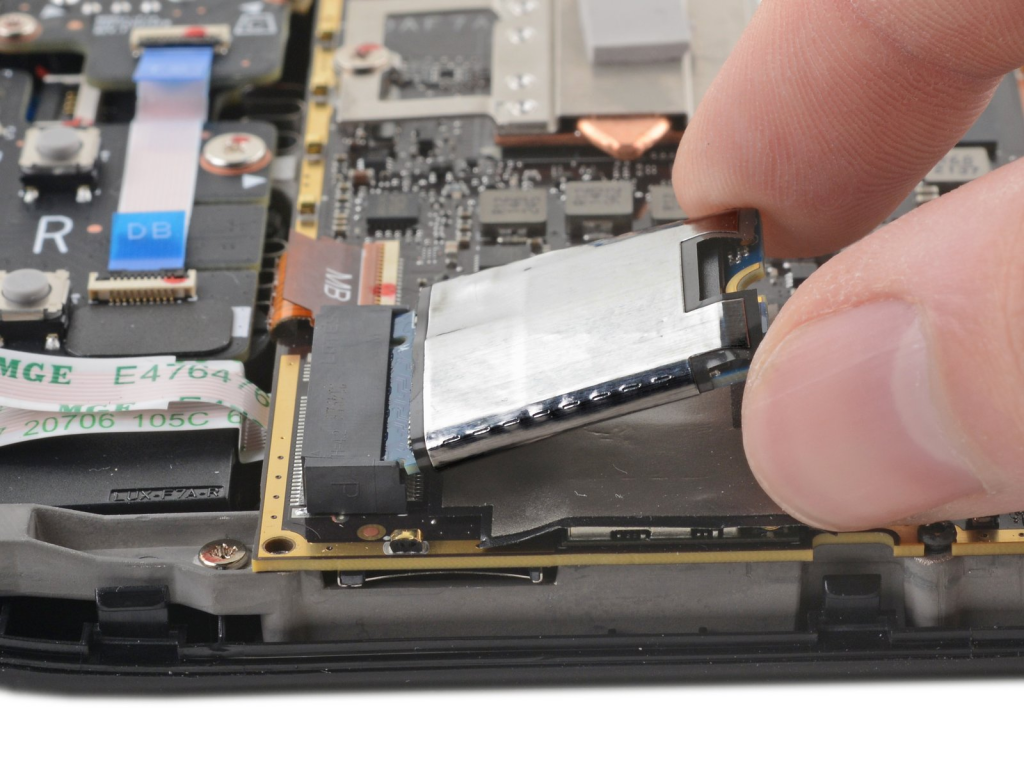 Replacing the internal storage of the Steam Deck with a larger SSD isn't advised by Valve. Despite that, the process isn't too difficult, and the end results are far better than simply adding a microSD card.
You can refer to this video if you want to replace the SSD inside your Steam Deck.
Factors to Consider Before Buying a Steam Deck
Before you make up your mind on a particular model of Steam Deck, you have to consider the following perks that come with the premium models, which are about more than just storage.
Extra Storage Space
The deciding factor between the three Steam Deck models is storage. Despite all of the models supporting expandable storage through microSD cards, the best way to play your games is through internal storage.
Most AA games of today easily cross the 50GB mark, and some open-world titles exceed even 100GB, with Red Dead Redemption 2 hitting close to 150 GB. Don't even get me started on the storage-hoggin Call of Duty Warzone. This single title along with its necessary updates can make the 256GB Steam Deck sweat bullets. Hence the 64GB Steam Deck won't cut it if you want to play AAA games.
Indie titles and smaller games that don't have huge 3D open worlds will take up much less space, and you can even manage to fit multiple such games on even the 64GB Steam Deck.
Anti-Glare Screen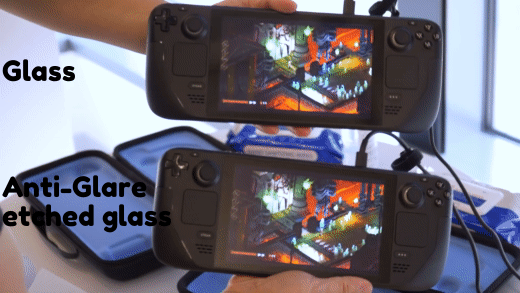 Source: /u/MiChAeLoKGB
The anti-glare coating on the 512GB model isn't a game changer and might not be enough to justify the price, but it's a nice addition. While its screen isn't as good as Nintendo Switch's Oled screen, the anti-glare coating makes it so that the Steam Deck is almost playable in bright sunlight or in outdoor conditions by reducing the reflection from the screen.
You can even get a similar anti-glare coating on a 64GB or 256GB Steam Deck by simply applying an anti-glare protector to the screen. This will give you similar performance in sunlight as the anti-glare screen of the 512GB model will provide.
Carrying Case
As we discussed, all three models of the Steam Deck come with a carrying case. The 64GB and 256GB models have a standard carrying case, and the 512GB variant has an exclusive carrying case with slight changes.
Standard Carrying Case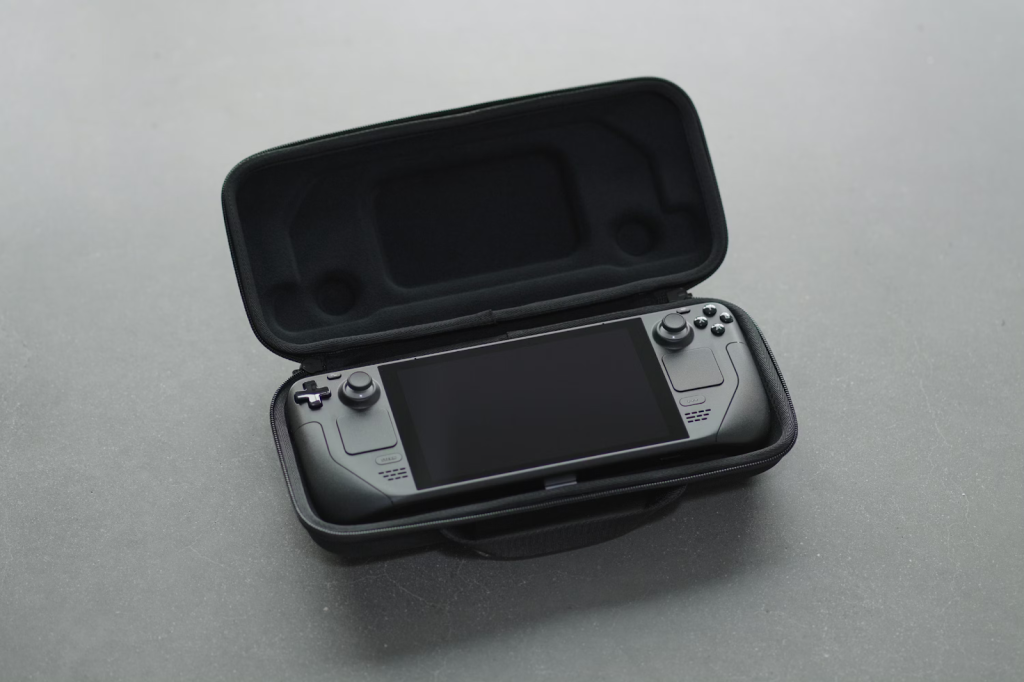 The standard case is made with excellent quality. It zips open to reveal the padded interior where your steam deck can snugly fit. There is a carrying handle on top and it has a storage pocket with an elastic retaining band on its back. The front of the case sports a simple grey Steam Deck logo.
Exclusive Carrying Case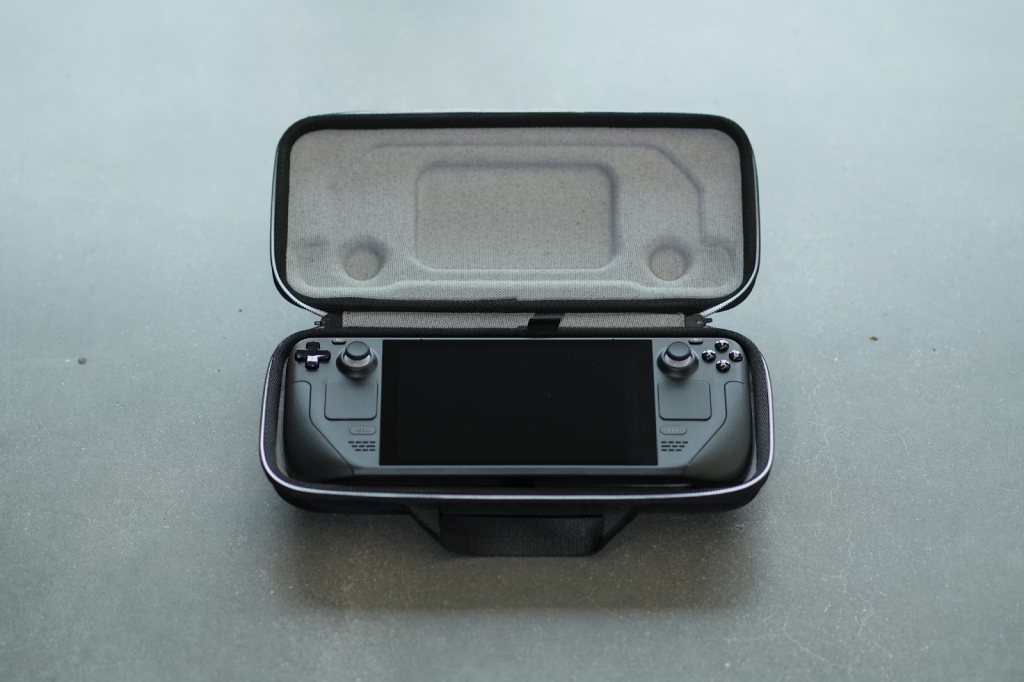 The exclusive case is identical to the standard case save for a few differences. At a glance, you'll notice that the logo on the front is colored instead of grey. This is a personal preference and some people might just prefer the grey logo.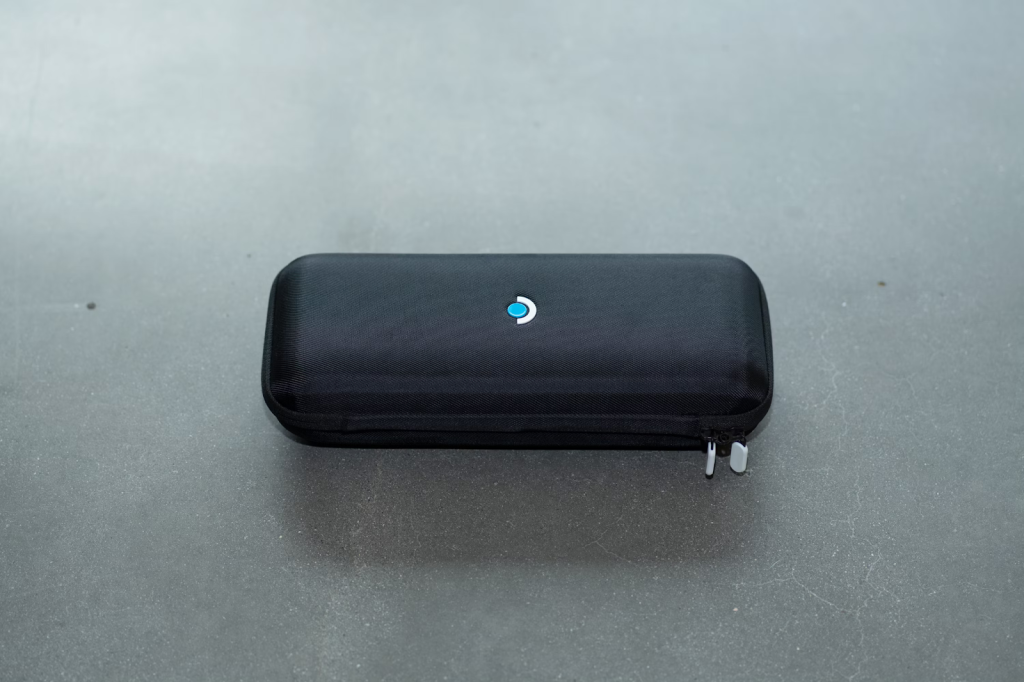 With the exclusive case, you'll also get a separate drawstring pouch for the power cord and a microfiber cloth. The interior fabric of the case is of a lighter shade and so are the zippers.
In essence, the exclusive carrying case is not too different from the standard one. While the power cord pouch and the microfiber cloth are welcome additions, you shouldn't buy the more expensive model based on this.
Exclusive Digital Items
If you purchase either the 256GB or 512GB Steam Deck, you'll be able to redeem the Exclusive Profile Bundle. This contains unique stuff that you can apply to your profile, including a profile background, Theme, Icon, and a mini-theme.
The theme and icon sport a live wallpaper with the Steam Deck logo in neon lights.
Apart from this, users with the 512GB model also get excess to an exclusive custom on-screen keyboard design called "DEX-85." This skin makes the keyboard on Steam Deck look like a mechanical keyboard.
While these exclusive skins and themes do uplift the look of your Steam Deck, you shouldn't base your decision around these.