First person shooters are arguably the genre that sparked interest in gaming focused mice in the first place, mouse movements are key to so much of the genre's gameplay, from aiming, looking, firing and movement, a good FPS mouse can make a huge difference in your gameplay. A good FPS mouse ignores the extra frills and makes sure the fundamentals are rock solid, no extra buttons, no weights and shapes that suit multiple types of
mouse grips
. The mouse should have tactile buttons that don't actuate easily, revealing your location by accident, they should feel satisfying when you're clicking heads. Good FP mice should have a flawless sensor, so pixel tracking is accurate and consistent every time. The best FPS mice promote freedom of movement, they are going to have great cables with minimal drag, or better yet, they should be wireless if possible and light, so that long
low DPI
flicks aren't fatiguing on the player.
1. Razer Viper Ultimate
The Best FPS Mouse
Pros
Lagless wireless
Long 70 hour battery life
Light at 74 grams with no holes
Dock with wireless charging
Buttons on both sides of ambidextrous shape, good for lefties
2 year warranty
Cons
Expensive
Recessed side buttons can be a little difficult to hit
Some pre-travel on primary buttons
Our former
best overall gaming mouse
is also the best fps gaming mouse, the Viper Ultimate has everything you would want for an FPS gamer. The safe shape of the Viper Ultimate is perfectly suited for claw and finger-tip grips. The mouse has a flawless sensor, great buttons and a long battery life. What takes the Viper Ultimate over the top is its flawless sensor and lightweight. You can't really get better than a light mouse with lagless wireless, true freedom of movement. The Viper Ultimate is on the expensive side however, if you're on a budget, the Model O is similar in shape, or just the vanilla
Razer Viper
  or
Viper Mini
are good options.
Read our review
2. Logitech G Pro Wireless & Superlight
For FPS gamers looking for a bit more palm support
Pros
60 hour battery life
Flawless sensor
80 grams without holes
Swappable side buttons
Wireless charging capability with charge mat
Great shape for palm
Cons
Expensive
Some durability concerns with buttons double clicking
The Logitech G Pro Wireless is another complete package mouse, its lightweight, it has a flawless wireless sensor and its tactile buttons make it a great FPS mouse. For those that don't like the shape of the Razer Viper, the GPW has all the virtues of that mouse, with a rounder, taller shape that might fit gamers that prefer a little more palm support. Logitech's swappable side buttons mean this is a great fit for left-handed players, the mouse has a flawless sensor with no input latency and a 6o hour battery life, it's a complete package that should make most gamers happy, its specs are just slightly short of the Vipers', making it the second best fps mouse. Like the Viper, it's not a cheap mouse, those looking for a little more palm support can look to the CoolerMaster MM710 for a more affordable option. The new Superlight version takes the mouse to the next level with an even lighter weight, an even longer battery, and a higher price point. It still falls short of the Viper Ultimate for not having usb-c and a dock solution.
Read our GPW Review
3. CoolerMaster MM710
Great value fps gaming mouse
Pros
Unique shape, great for all grips but especially for palm
Sturdy build and design
Flexible cable
2 year warranty
Affordable
Cons
Main button and middle scroll wheel can wobble
Feet are scratchy out of the box
The MM710 packs an excellent shape for all grips, it's a no-frills, performance focused mouse that provides a great FPS experience. For palm grip FPS players, the MM710 is a great option because of its taller height and round shape. The MM710 is still plenty viable for claw and finger-tip gamers. The mouse is well built, with a PBT shell, a light weight and of course, has a flawless sensor. The MM710 is our first budget choice because of its shape versatility, and for just doing the fundamentals properly. There are some concerns with quality control of the shell and gaps, the buttons and scroll wheel have shown some wobble. For its price, it's still incredible value and certainly a top performing mouse for FPS games.
Read our review
4. Glorious Model O/O-
Ultralight and affordable fps mouse
Pros
Great shape for claw grips and size options for smaller hands
Lots of surface and colour options
Great primary buttons and scroll wheel
Improved cable
Cons
Main button can wobble
Lots of branding
Shell flexes and creaks a good amount
The Glorious Model O and O- has a shape that's immediately familiar and well proven for FPS, for tip and  claw gamers. The Model O is affordable, its shape is comfortable, the cable is great, and it glides well on a light frame. The Model O is a lean, focused mouse that's great for FPS. The buttons hold it back a little bit, they're not the best feeling mouse clicks for FPS, it lacks the tactile, crispy click that you'd want for an FPS mouse. If you're a little bit of a ragier FPS gamer, you might want to pick a sturdier mouse, the Model O does have a decent amount of flex on the shell.
Read our review
5. Endgame Gear XM1
A great shape for fps gaming
Pros
Original ambidextrous shape works really well for claw grip
Buttons are rock solid and sturdy
70 grams with no holes
Good glide on feet
Cons
Cable is stiff and rubber, good candidate for paracording
Coating runs warm in my experience
The Endgame XM1 has great clicks and a unique low profile shape that is an absolute joy to use. Every shot feels great with this mouse. The shape is ideal for claw grip gamers. The XM1 has a flawless sensor and a lightweight in a strong shell with great build quality. The mouse is affordable and is a great option for gamers looking for value. The only shortcoming I can find on the XM1 is the rubber cable, it's a far cry from the wireless beasts at the top of our list, I can feel the cable a bit more when compared to the braided cables of other mice on this list.
Read our review
6. Zowie S1/S2
One of the most comfortable for fps gaming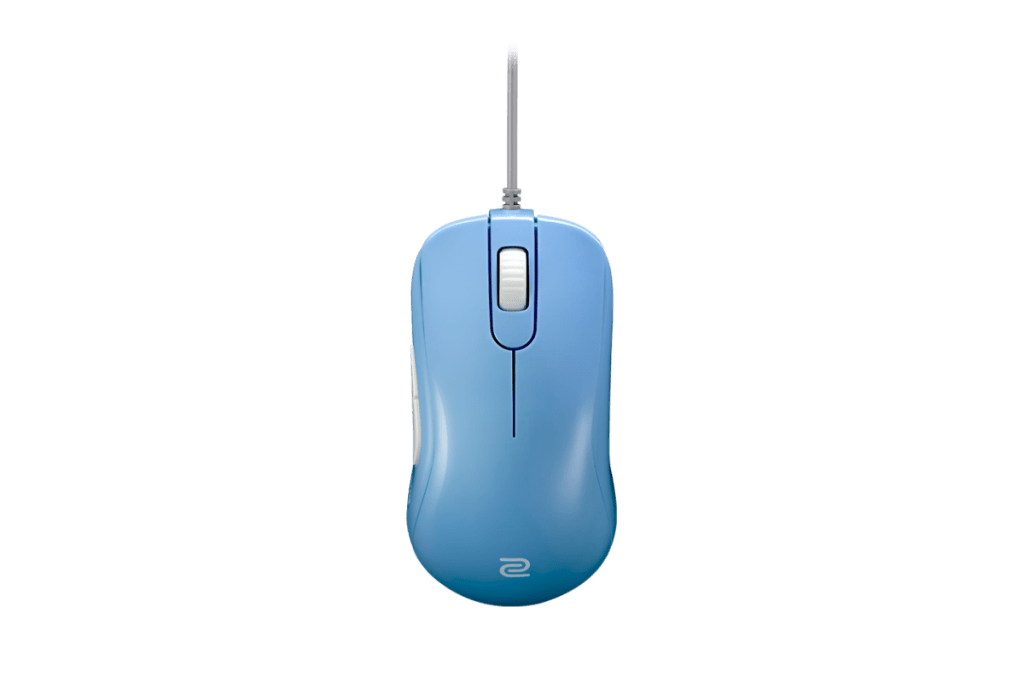 A great less narrow ambidextrous shape and less stiff buttons (finally!) make the S1 and S2 some of the best ambidextrous mice around.
See Price on Amazon
Pros
Three colour options, two size options
Great safe shape, well balanced
Flexible rubber cable at an angle, introduces very little drag
Option of glossy or matte coating options
Cons
Noisy scroll wheel
Above average in weight for this category
The Zowie S series is known for its comfortable shape that's compatible with most grips. Its curvature and size can accommodate palm, claw and finger-tip grips well, fitting in the hand like a glove. The S1 and S2 pack a flawless sensor with a flexible rubber cable that surprisingly doesn't introduce as much drag as you would think. The mouse has multiple colour and coating options as well. The S series mice are a little heavier than a lot of the other mice you would find on this list, it's not heavy by any means but its freedom of movement can't compare to the top-tier mice on this list.
7. Glorious Model D- (61 g)
The best ergonomic fps mouse

Pros
Proven ergo shape
Lightweight
Great soft cable
2 colour and coating options
Cons
Buttons are mediocre
Shell is a little soft, flexes and creaks
The Glorious Model D- is a great FPS mouse choice for gamers that prefer an ergonomic mouse. It's diminutive size makes the Model D- still suitable for a claw grip while being absolutely great for palm grippers. The Model D- is one of the lightest ergonomic mice out, with a great cable and a flawless sensor making the Model D- absolutely fly in game. The mouse has lacklustre clicks, it's not the most tactile experience with the Model D-, so look elsewhere if you value tactility. If you're prone to squeezing heavily or reacting poorly to getting sniped, then you might want to look for something a little sturdier than the Model D-. Its shell is a little flexible and creaky.