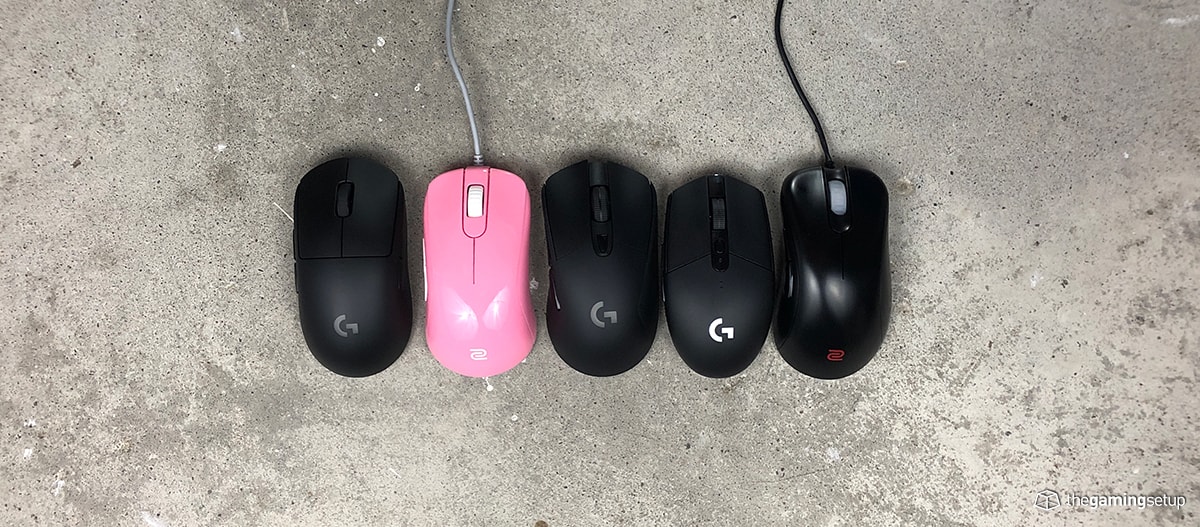 We've updated our list for 2019 and our list is dominated by Logitech and Zowie mice. We think the top 5 we have picked here are near universal picks for any set of preferences, but of course there are some key absences from this list and every gamer is different with different preferences, a mouse that's not in the top 5 could be the best mouse for you.
After nearly a year of play testing all the dozens of mice that have come on and off my desk, think the best gaming mouse overall is the Logitech G Pro Wireless. The mouse stands alone, it is by far the lightest wireless gaming mouse around while still having the best rechargeable battery life, it's completely unrivaled. The shape is solid, suitable for medium hands for all grips. The clicks on the mouse are great, and even the side buttons can be modified to be on either side. The only knocks on this mouse is that the surface is a little slippery and the price, but I think it well justifies its premium pricing.
The Model O and the Zowie S Series round out the top 3, the S series is the most comfortable ambidextrous shape I've ever used, and the Model O represents the best value in a gaming mouse out today.
Use our picks as a starting point, no mouse is perfect for everyone, you should definitely pick a mouse and try it to see if it suits you, check out our individual mouse reviews and our other best mice posts if you have a specific preference.
The 5 Best Gaming Mice Overall
The best overall:


insanely light & wireless with great battery life

Best value on the market

The best ambidextrous shape

Best large wireless gaming mouse

Best small wireless ambidextrous mouse

Logitech G Pro Wireless

Glorious Model O

Zowie S Series

Logitech G703

Logitech G305

Check Price on Amazon
Check Price from Glorious
Check Price on BenQ Direct
Check Price on Amazon
Check Price on Amazon
The Logitech G Pro Wireless has a ton of standout features: crazy good battery life, super light for wireless, removable side buttons and a great shape make it our best mouse pick
The Glorious Model O combines a FK 1 like size and shape with a super light weight, amazing cable and great buttons, it's an unprecedented value.
The best ambidextrous shape available on the market, super comfortable with improved clicks and a lightweight.
The G703 is good at everything with a great shape that limits it to larger hands.
The best clicks on any mouse, amazing value for the price with an awesome battery life.
More detail
More detail
More detail
More detail
More detail
Honourable mentions
Some of these mice were under heavy consideration for a top 5 spot but just fell short compared to what we ended up picking. 
The Zowie EC has the best ergonomic shape that's compatible with the most hand sizes and grip preferences.
The Finalmouse would probably be in the top 5 if this were widely available, there's no point in us recommending a mouse that no one can get. The Air58 Ninja also seems to not have fixed the scroll wheel issue that plagues the other Finalmice.
Previously on our top 5 list, the Rival 600 has been plagued by the side grip rubber coming off due to some bad glue, our copy of the Rival 600 had this issue and made our hands sticky during gameplay.
One of our favourite shapes, good buttons, outdated internals, we can feel a little difference using this mouse, if this mouse got updated with a flawless sensor it could very well unseat one the top 5.
A great mouse, the shape is a little particular so I don't think its fitting to be in an overall recommendation spot. read review
Great shape, good wireless battery life, it just falls short of beating out the G703 due to../reviews/razer-mamba-wireless some really mushy and light clicks.
A classic mouse with a ton of great features, it has a great sensor, a lot of people love the shape, but it's really heavy and has a thick cord which hold it back from being a top tier mouse for us.
If you're looking for an MMO mouse we'd recommend the Hex, but it's too niche for us to recommend overall usage. Stay tuned for more genre specific reviews.
Previously on our top 5, it has a ton of features, this mouse has been replaced by the G Pro Wireless for wireless and ambidextrous shape, the G903 is very pricey and the shape is kind of awkward for a lot of gamers, great for a multipurpose mouse though!
Version history
June 23: the EC series has dropped out of the top 5, Model O has made it to #2