The Razer BlackWidow V4 75% is a mechanical keyboard rounding out Razer's BlackWidow v4 lineup. This keyboard completely revamps the internals of Razer keyboards, adding foam, gasket mounting and tape mods to the PCB, all out of the factory. 8000 Hz polling rate and pre-lubed stabilizers are also carried through to this keyboard from the full size BlackWidow V4. Are all these changes impactful? Let's find out.
Pros
Almost custom level typing experience and sound
Outstanding lubed stabilizers
Hot swappable switch
8000Hz polling for great low latency
Great form factor
Cons
Still using ABS caps
Higher end pricing
Verdict
This is my favourite Razer keyboard ever. The Razer BlackWidow V4 75% balances between gaming performance and typing experience very well. It has extremely low latency with 8000 Hz polling and reasonably fast tactile switches. The typing experience is only rivalled by one other main stream keyboard and all the foam and internals make this one of the best sounding gaming keyboards out right now.
You should buy this keyboard if you're tired of hollow or harsh sounding keyboards, but still want good performance. The BlackWidow V4 75% is not the absolute fastest keyboard on the planet, but I don't think you'll be able to blame it for being too slow. At $190, this keyboard is offering near custom level typing and quality while still being a great gaming keyboard.
Keyboard Comparisons
ROG Azoth
The ROG Azoth is the main competitor for the Razer BlackWidow V4 75%. I think the core typing and sound experience are close between these two. The Azoth is $50 more expensive than the BlackWidow, and for that you get wireless connectivity, an OLED screen and some more options for key switches. The BlackWidow is a better pure gaming keyboard just for its higher wired 8000 Hz polling rate, but the Azoth gives you more optionality and features for its higher price.
Other Razer BlackWidow
Unless you need a lot of macro keys or need that full size keyboard feel, I think this is Razer's best pure gaming keyboard. The difference of sound and typing quality is quite large between the 75% and other models.
Steelseries Apex Pro TKL
The Steelseries Apex Pro TKL is probably the closest comparison to this keyboard. The Apex Pro TKL beats the V4 75% in terms of switch speed, the adjustable actuation is something that can make a difference in game, but the BlackWidow V4 75% is better for typing by a wide margin. The Apex Pro also has a OLED screen and PBT keycaps for around the same price.
Model Variations
The Razer BlackWidow V4 75% comes in either black or white colours with one switch option, the Gen 3 Orange Tactiles.
Form Factor & Size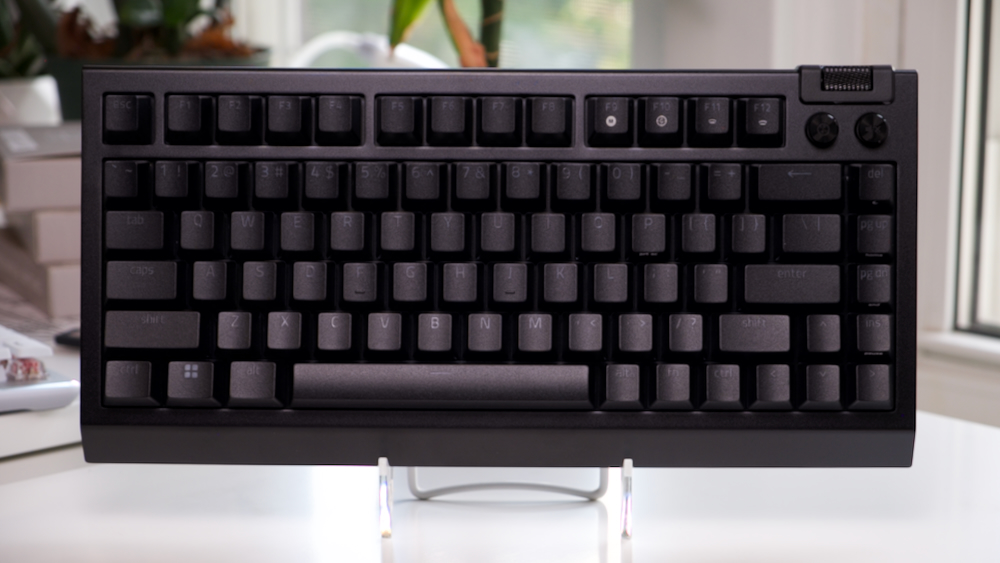 Layout: 75% | Length: 320mm/12.6 in | Width: 236mm/9.3 in | Height: 33mm/1.3 in | Weight: 840 g / 1.85 lbs | Keys: 75 keys + Media
The 75% form factor is a great one for gaming, it's basically a 65% with a dedicated F row, which might be handy for some macro heavy games. The overall width is the same as a 65%, it left ample room for my mouse to move in shooting games.
Design & Materials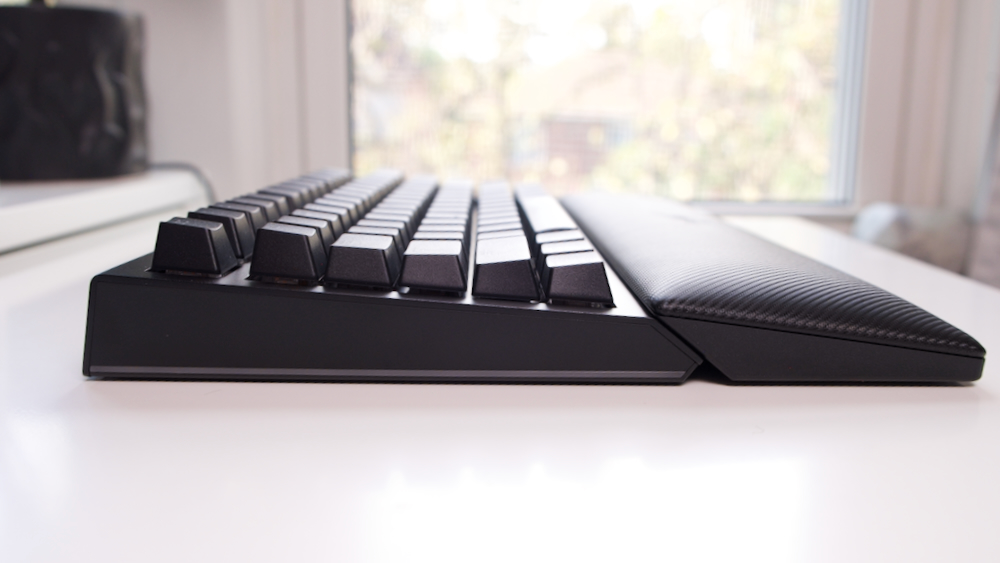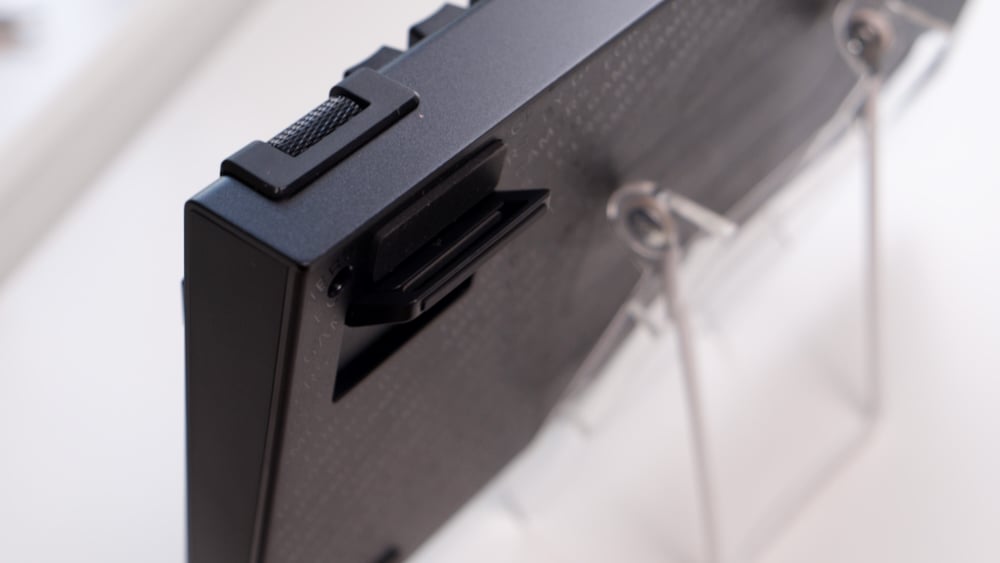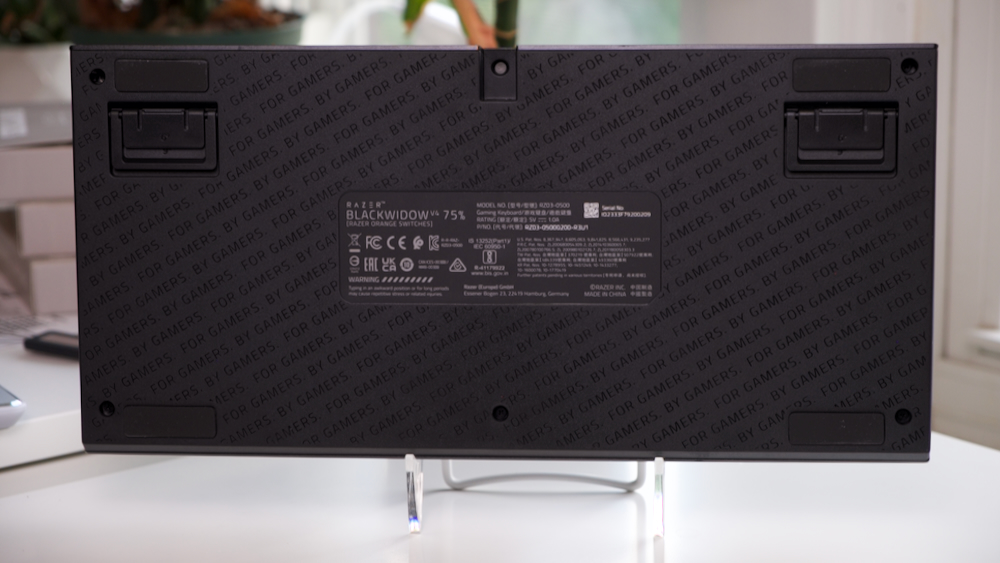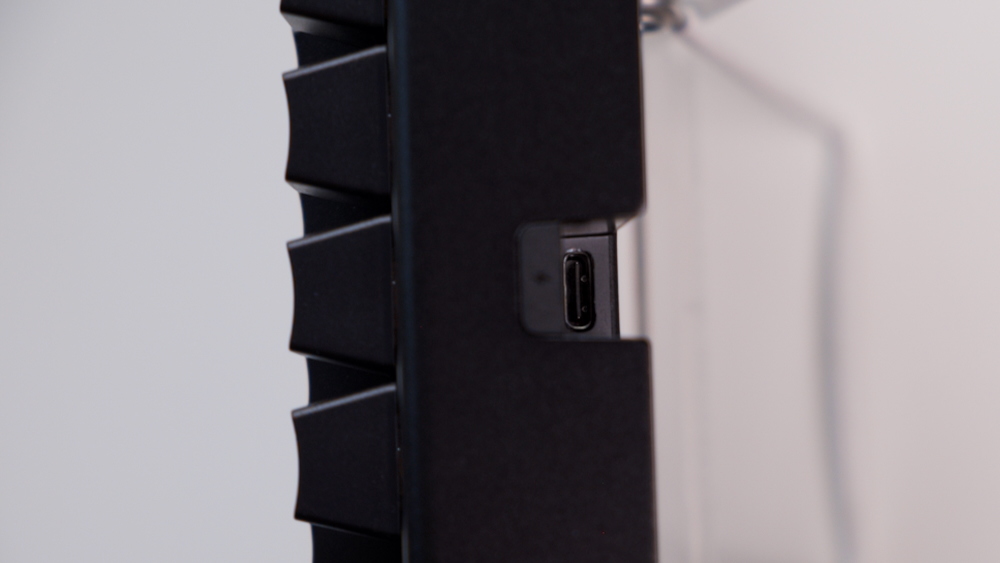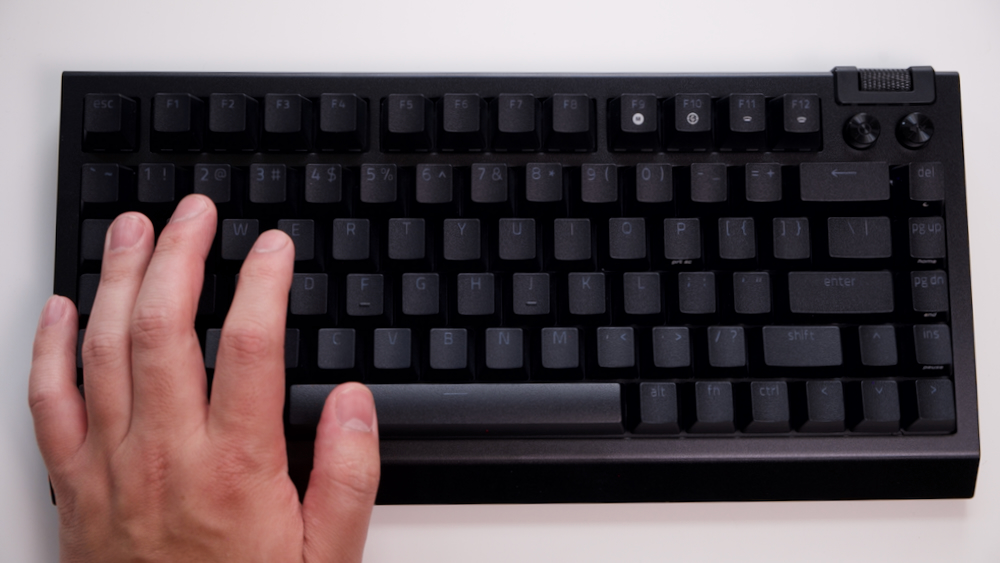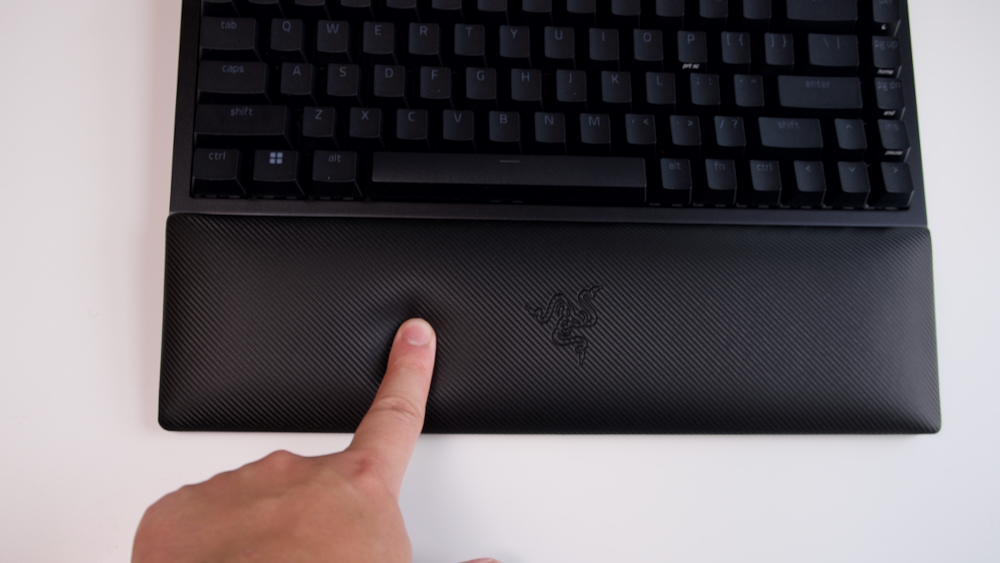 Case: ABS Plastic | Plate: Aluminum | Foam: Yes
The design language and external materials of this keyboard is very similar to the rest of the BlackWidow line. There's really nothing for me to note here on the outside, its what I've been seeing from Razer for a good amount of years now and I'm not really complaining because there's nothing wrong with it. The materials are solid and the keyboard looks quite good overall.
Internally there are alot of extras that aren't present in other Razer keyboards, mainly foams, gaskets and tape to help dampen some of the ridiculous noise that most Razer keyboards produce.
Build Quality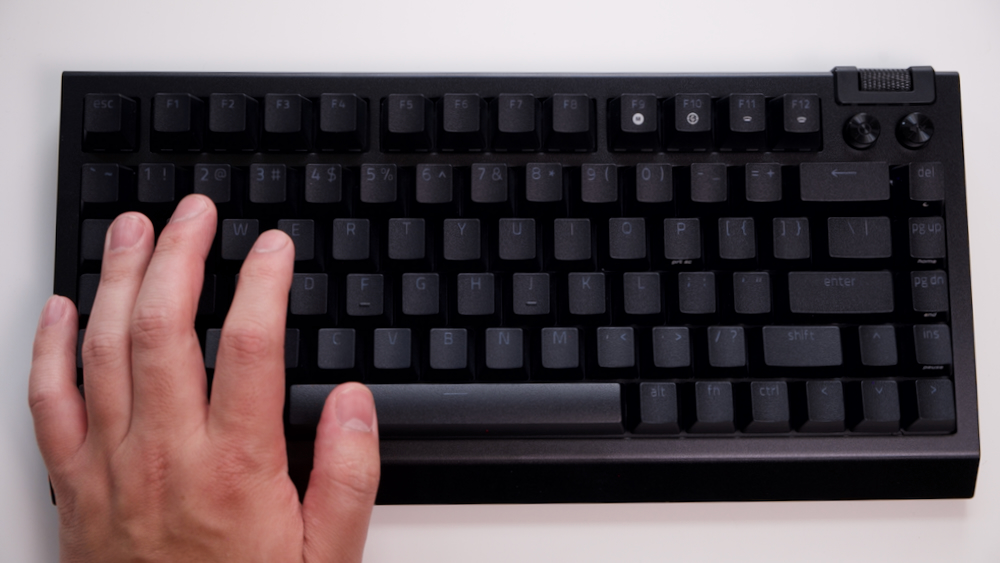 I have no worries about the build quality. While it's not the the tankiest of keyboards, the case is aluminimum top case and plastic bottom flexes a slight amount when twisted but not anything devastating. The top aluminum itself is rock-solid and doesn't move a tall when pressed.
RGB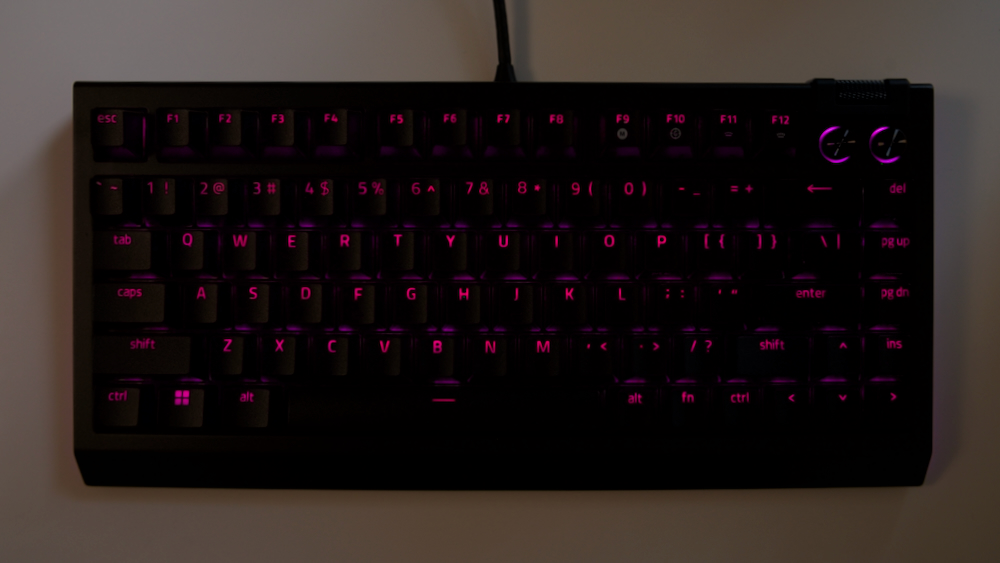 LED Direction: North-facing | Per-Key lighting: Yes | Effects: Yes
The RGB is solid as usual from Razer. The lighting is even and diffuse per-key with a little spill over onto the plate. There are two underglow strips on the right and left of the keyboard as well. As always, RGB can be customized using Synapse and Chrome Studio.
Media wheel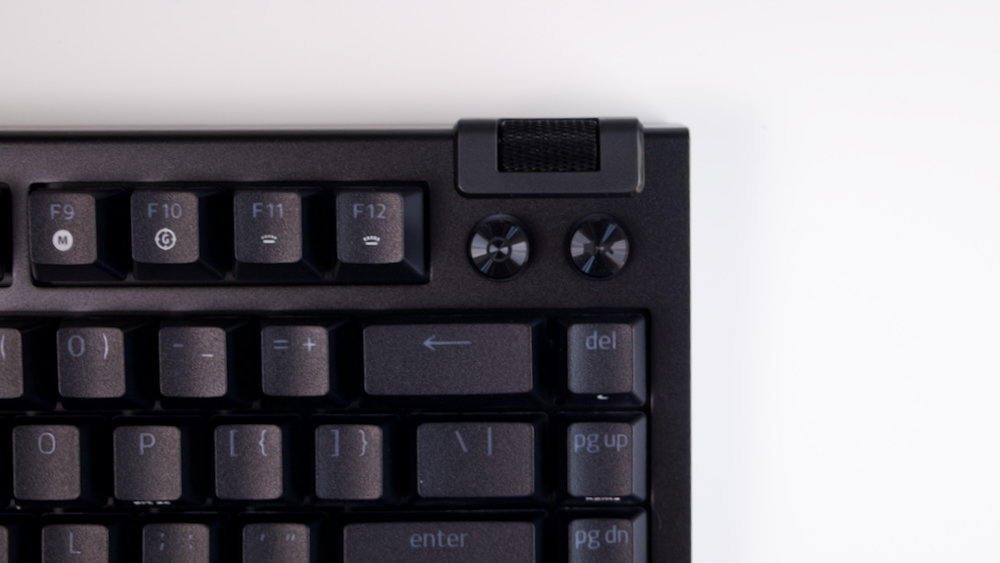 The BlackWidow V4 75% comes with a shorter version of the wheel seen on the BlackWidow V4 Pro and I really like this overall implementation. The metal media wheel is knurled for easy grip and the weight of the wheel is tuned just right so its easy to use with one finger, but not easy enough to accidentally roll with a light touch.
There are also two media buttons with labels that are quite hard to see, too bad there aren't any backlit labels here. There's a dedicated mute button which is self explanatory, the other button is a multi-purpose button that behaves like how iOS media controls work, one tap to play/pause, two taps to skip ahead, three taps to go to previous track.
Wrist Rest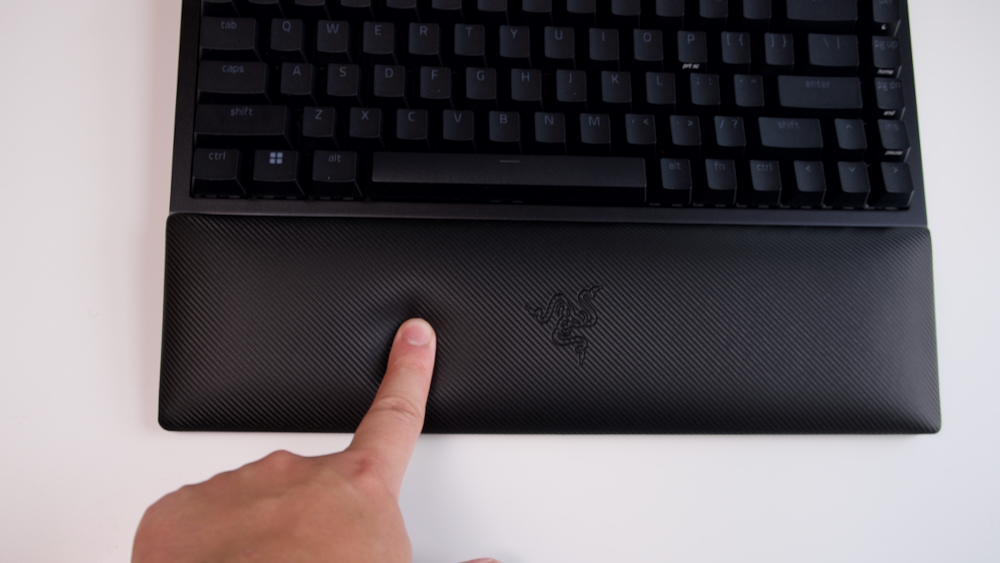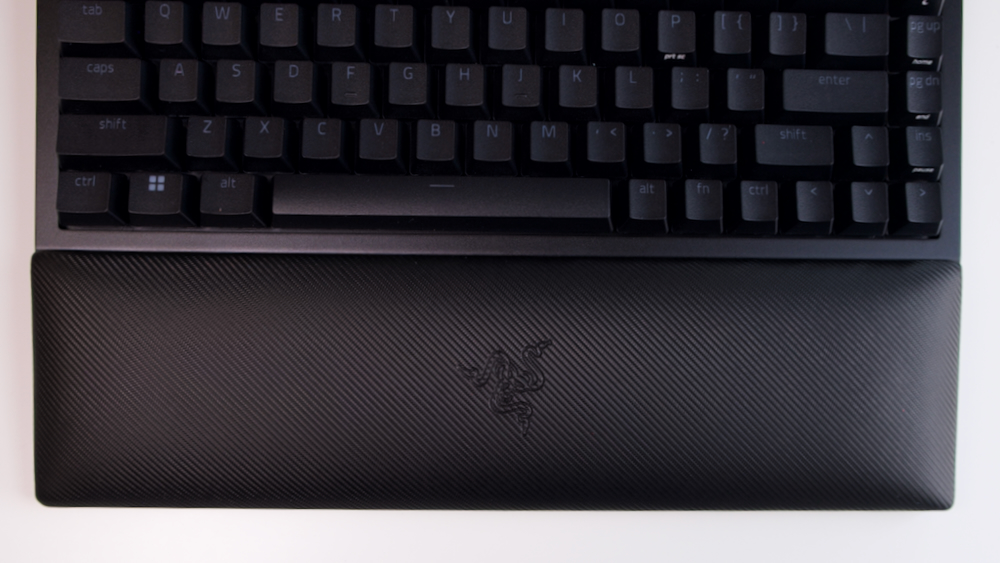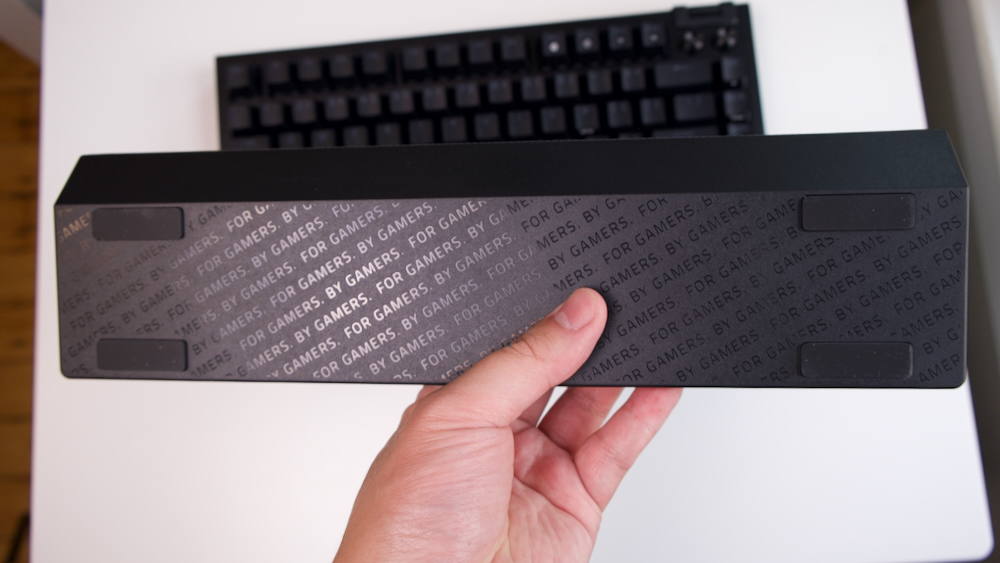 Nothing new for me to report on the wrist rest, this the standard Razer implementation. The wrist rest magnetically attaches to the bottom of the keyboard, with a plush pleather material lining the top. The angle is comfortable for me and the security of the attachment is there.
Typing Experience
Being a tactile keyboard user I felt right at home on the BlackWidow V4 75. The tactile switches great with good physical feedback while not being fatiguing at all while gaming. The gasket mounted plate provides the right amont of flex for me, not too soft but not too hard.
Typing Noise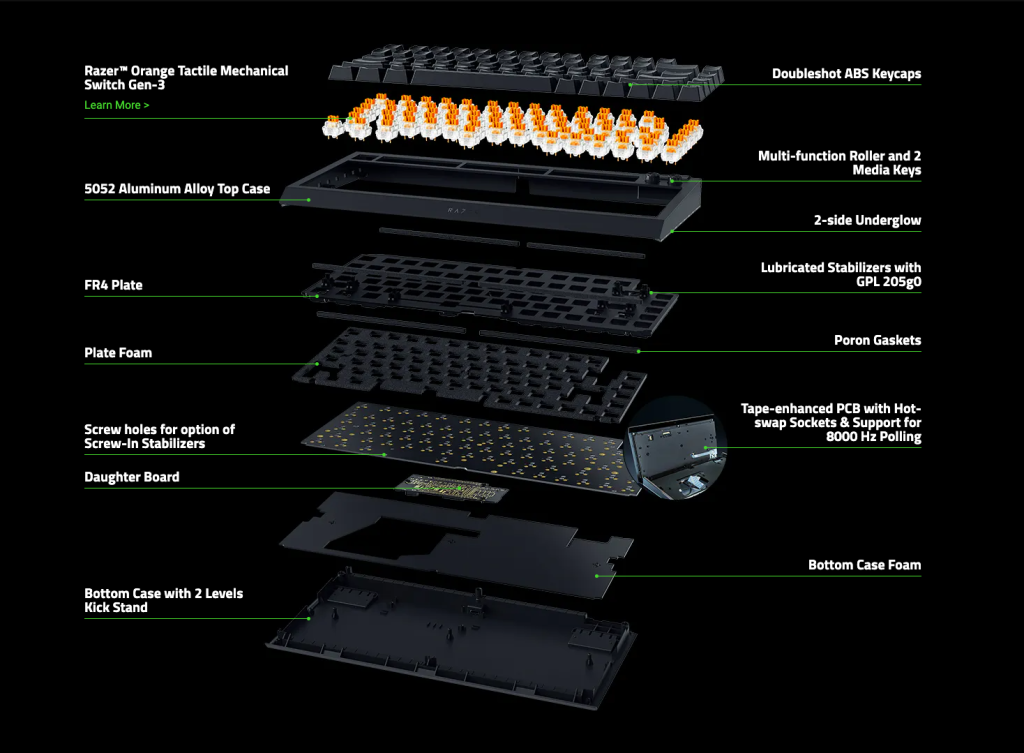 I think this is the quietest keyboard Razer has ever made. The foam, gasket and tape do an amazing job of producing a much more satisfying sound than their previous efforts. It's not exactly the sound profile a full fat custom keyboard just yet, I think the general lack of mass and the bottom out noise falls a little bit short of calling it a custom tier sound profile, but still fantastic for a mainstream board.
Switches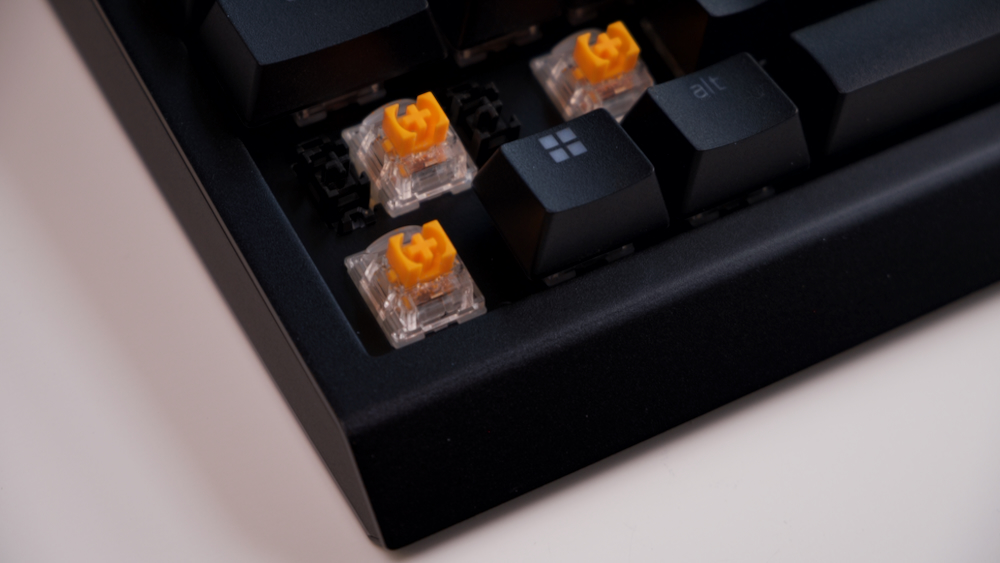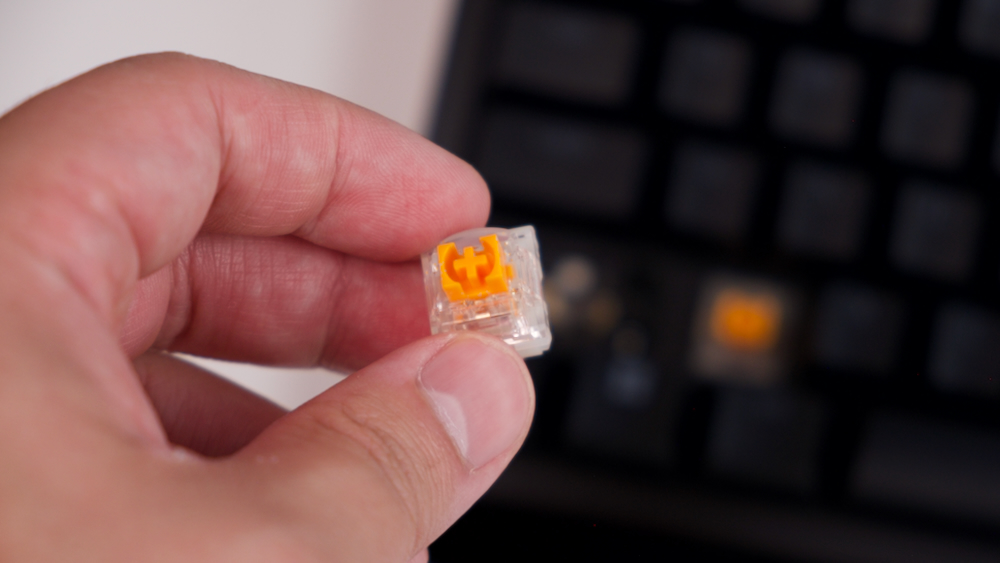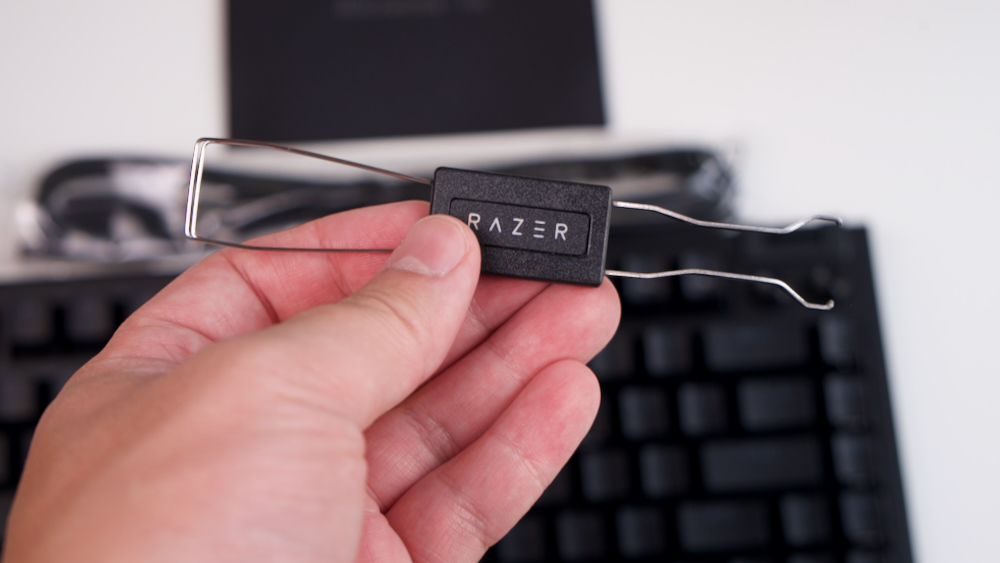 Switch Options: Orange Tactile Mechanical Switch Gen‑3 | Hotswap: Yes | Factory Lubed: Yes | Actuation Force: 50g | Travel Distance: 3.5 mm | Actuation Point: 2 mm
I can actually feel a tactile bump on the included Razer Gen 3 tactile switches. These switches are a definite tactile improvement over the run of the mill Cherry Browns, but they're not as crispy as something like a Zealios or Boba U4T.
I found the 50g actuation force was a good middle of the road weight to satisfy typing needs but didn't feel too heavy for twitchy gaming. If you want something linear or faster with this keyboard, no problem, the V4 75% supports 3-pin and 5-pin switches.
Stabilizers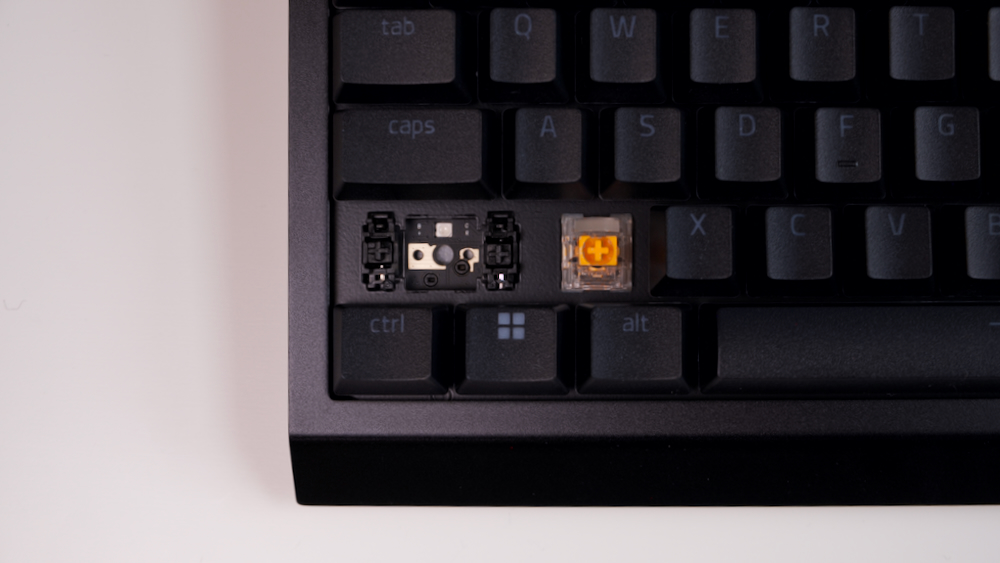 Lubed: Yes | Mount: Screw
The screw mount and factory lube job on this keyboard is great. The stabilized keys on the BlackWidow V4 75% feel amazing for both typing and in game. I'm not hearing any rattling or pinging when in use and the wobble is very minimal. This is the best stabilizer set up of any Razer keyboard and is basically better than most mainstream boards.
Keycaps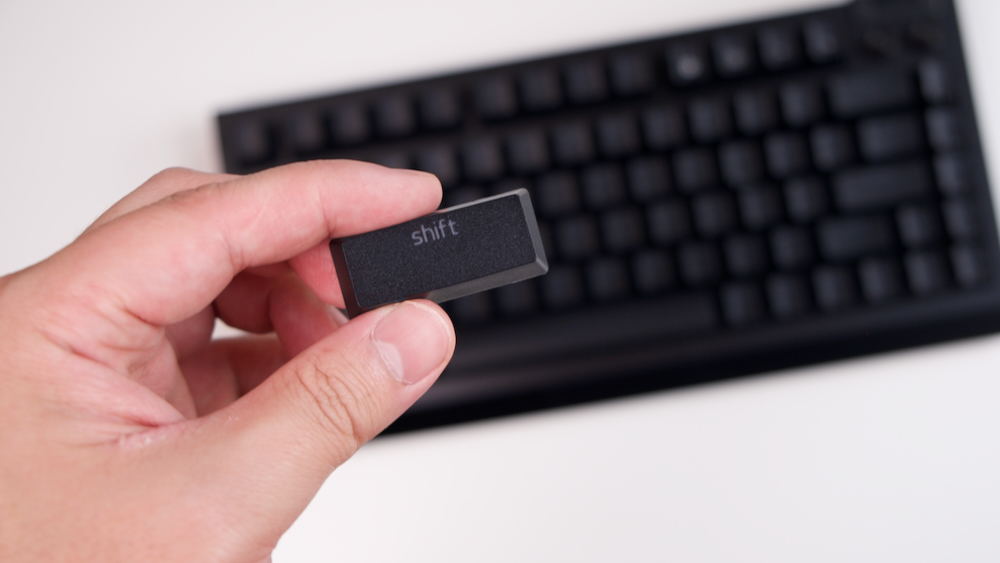 Material: ABS | Profile: OEM | Legends: Double shot
The keycaps haven't changed much from the BlackWidow V4 Pro, they're a textured ABS with double-shot legends. There are printed side labels that clearly display secondary functions.
I don't mind these keycaps, but knowing how heavily used gaming keyboards are, the WASD and spacebar are almost definitely going to develop a shine. I wonder why Razer has flip flopped between PBT and ABS keycaps for their keyboards.
Performance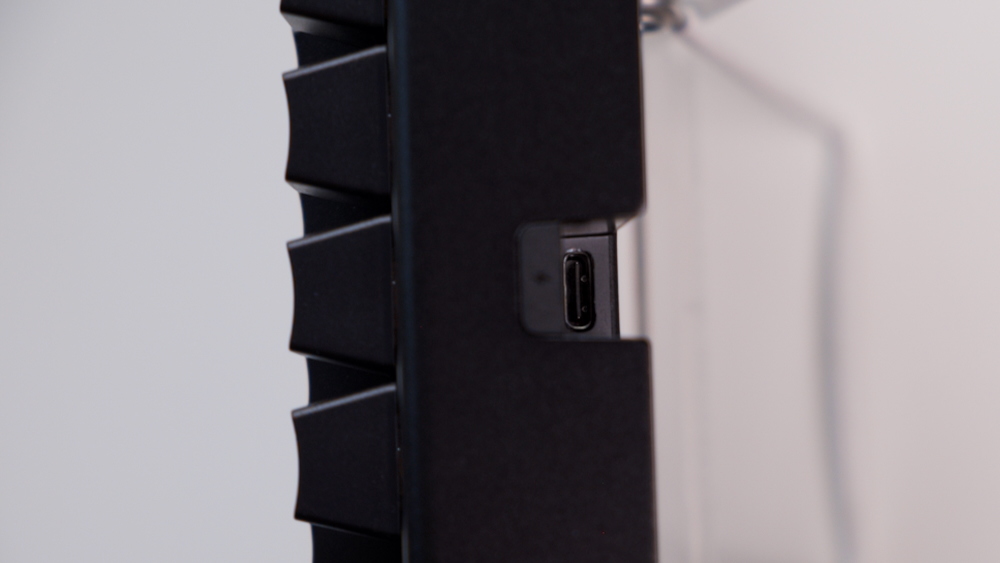 Connectivity: Wired | Polling Rate: 8000Hz | N-Key Rollover: Yes
Performance is absolutely top tier with the keyboards wired 8000Hz connection. Latency was non-existent in my play sessions, since it's wired, there are no battery concerns, crank the polling rate up to the max 8000 Hz.
Software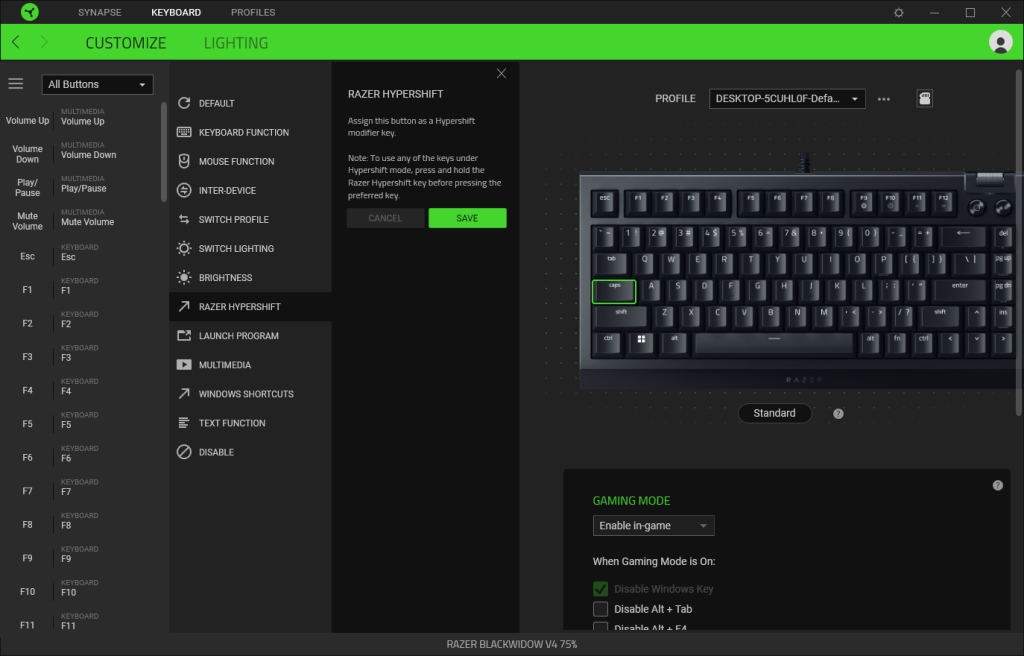 The software experience is the same as any other Razer product using Synapse. I can easily remap keys and set up my lighting as I see fit.
Every time I use Synapse I appreciate Hypershift and its ability to effectively add a flexible second layer with a modifier key.
What's in the Box?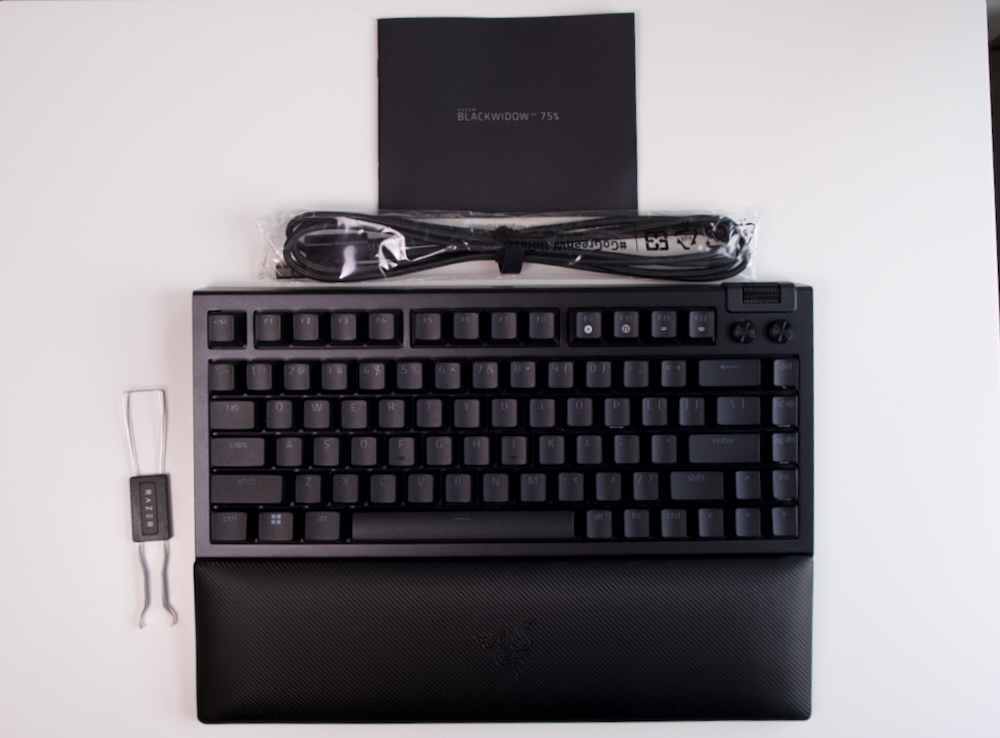 Razer doesn't usually include a bunch of extras, the V4 75% is no exception, in the box you'll find:
The keyboard
Magnetic wrist rest
Detachable USB-C cable
Wire switch and keycap puller