Review unit provided by ROCCAT. They did not preview or edit the review before publishing.
The ROCCAT Burst Air Pro is the German company's wireless symmetrical light mouse. This mouse was more expensive on release, making the recommendation for it difficult. in 2023, At around $70 on Amazon you're getting a very solid mouse with lots of good RGB, great buttons and good customization. But that might not be enough.
Pros
Unique shape, great for claw
Great buttons and scroll wheel
Strong build quality
Top notch mouse feet
Attractive unique design
Cons
Heavy compared to other mice
Middling latency
Sensor issues with consistency
No wireless extender
Verdict
I wish the ROCCAT Burst Pro Air was lighter and had better performance because this shape could be great for a lot of claw gamers. I think this mouse would be a hit with a lighter weight and better performance.
Which is a shame because the rest of the mouse is rock solid, great buttons and a good amount of customization.
Even with the inconsistencies, I could see some people just loving the shape enough to override this mouse's shortcomings.
Models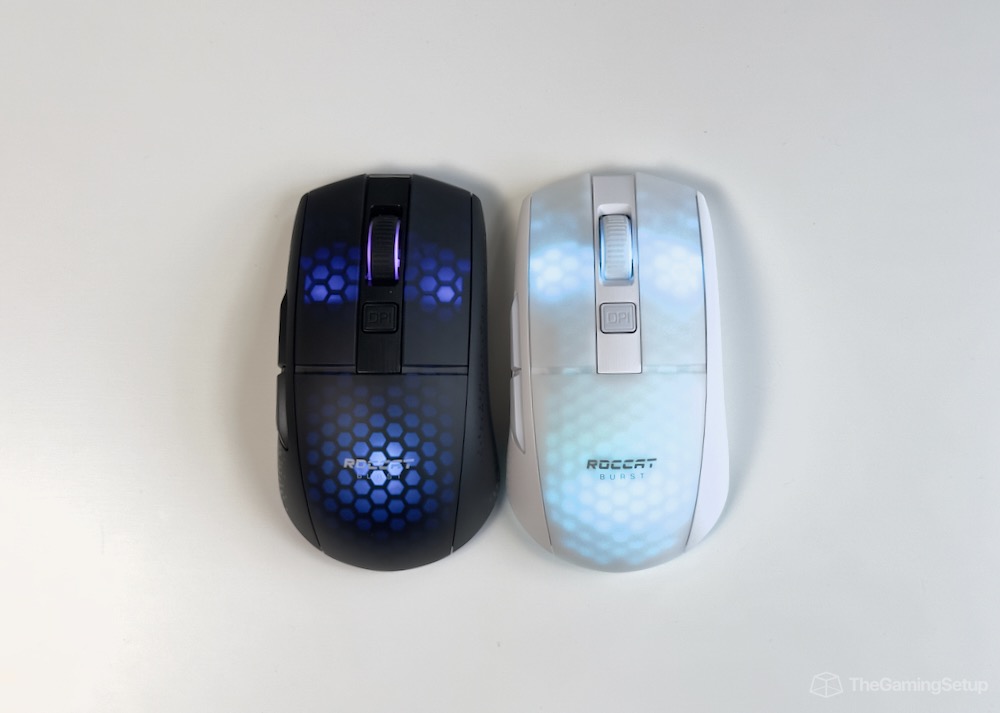 The ROCCAT comes in white or black. There's also a wired version of the mouse with the exact same shape called the Burst Pro.
Shape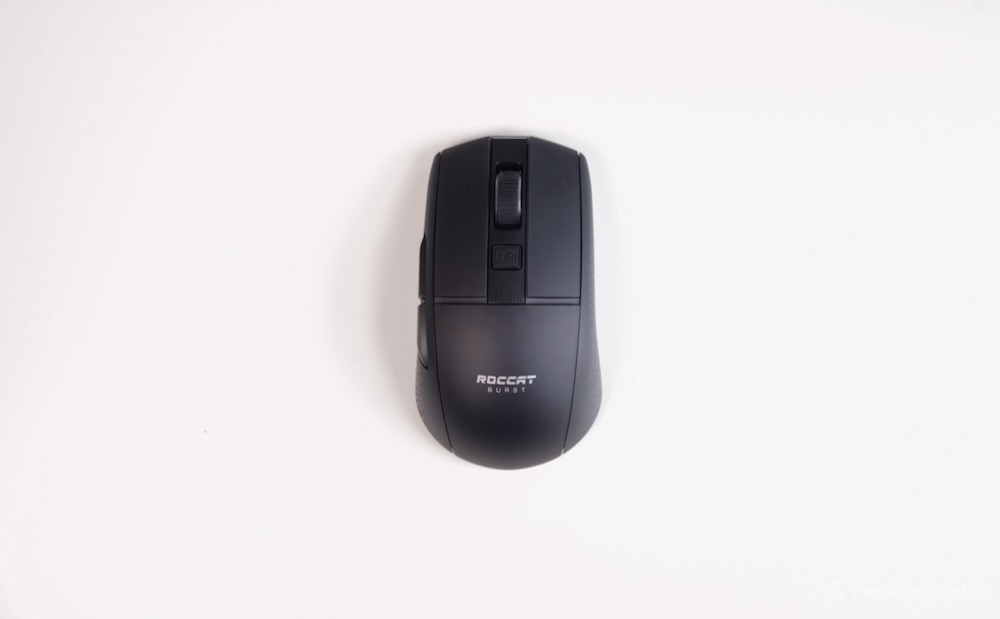 Length: 120mm/4.72 inches | Height: 38mm/1.49 inches | Width: 58mm/2.28 inches | Mouse size: Medium
The ROCCAT Burst Pro Air has a unique ambidextrous shape that isn't common in other mice. There are two things that stand out to me .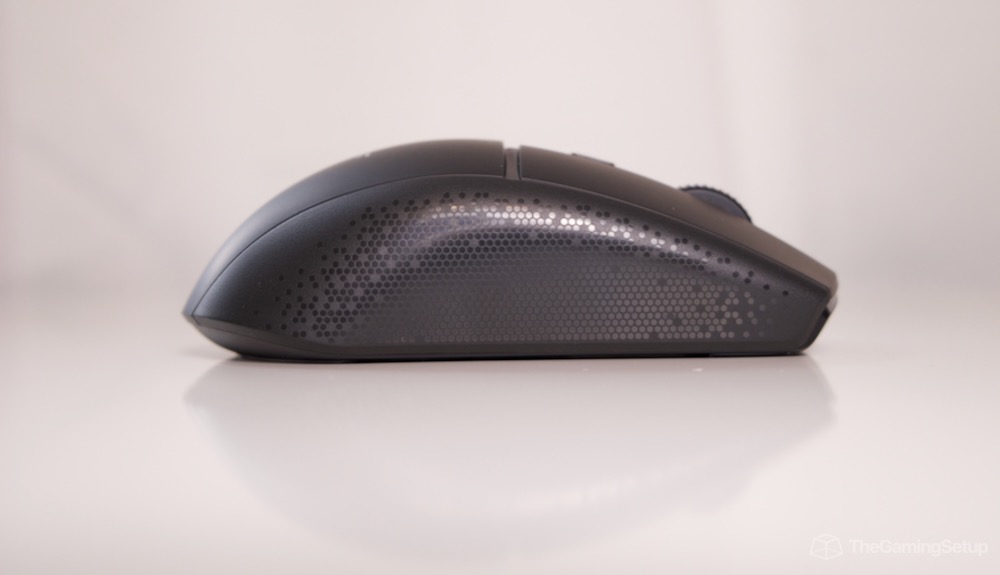 The position of the hump is further to back where the mouse also widens out creating a lot of surface area for your palm to rest. The back hump and the slope make it quite good for claw grip, while still being decent for palm grip as well.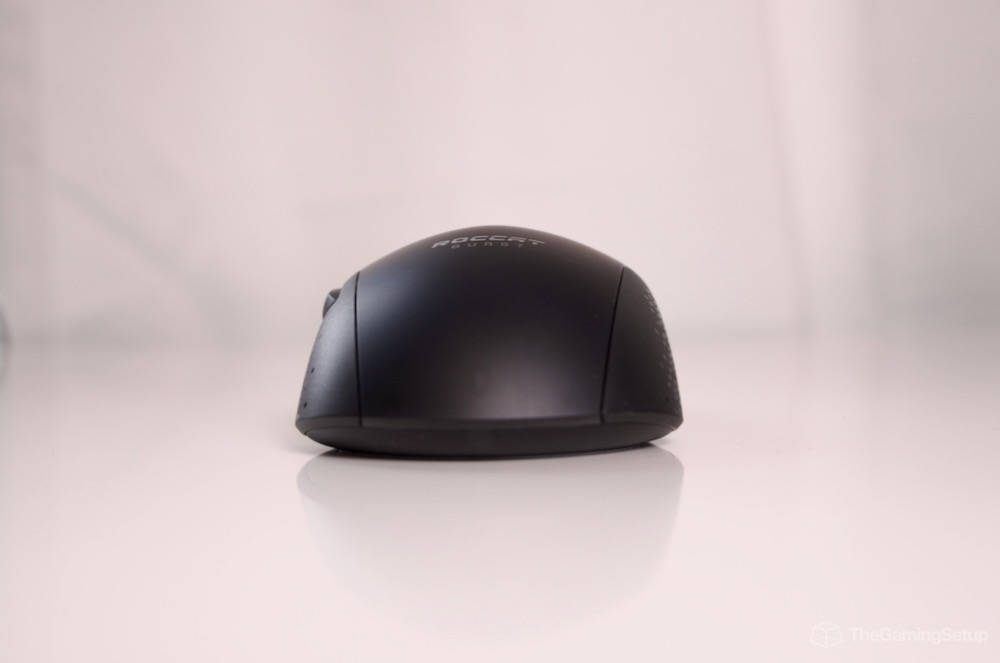 The sides of the mouse are quite flat, I know a portion of gamers dislike the emphasis on the comfort grooves of other mice, so this might be a welcome shape for them.
My 18cm length and 9.5cm width hands pretty immediately comfortable with this mouse shape and size. It's similar in overall size to the Lamzu Atlantis, slightly shorter in length compared to the Viper V2 Pro and shorter in height compared to the Logitech G Pro Superlight.
Comparisons
At $60-$70 the ROCCAT Burst Pro Air is competing with the lower budget mice, there's not too many comparisons I'd make to this mouse.
At $10-$20 more, the Pulsar X2 is a similar shape, but it is much lighter and offers better wireless performance. The sidewalls are similarly flat, but the mouse is a bit smaller in comparison and less obviously claw oriented with more lean towards a finger tip grip.
This mouse is a reasonable alternative to the G Pro X Superlight for flat side wall mouse enjoyers, as long as you're a claw grip. The Superlight is likely going to be better for palm grip in most cases.
Compared to the Razer Viper V2 Pro, the Burst Pro Air is more tuned for claw grip.
Weight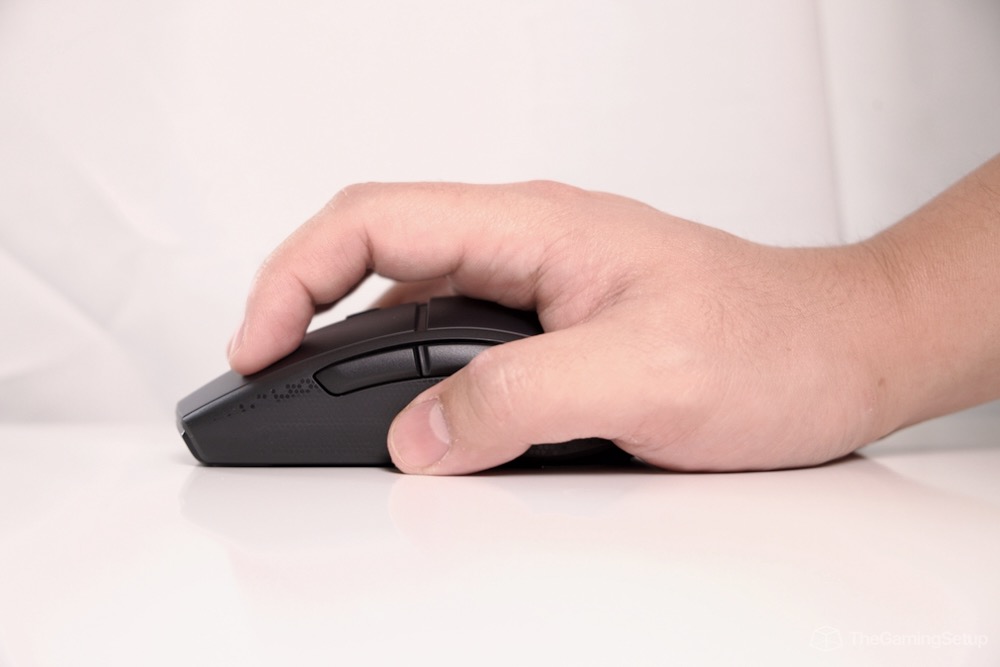 Weight: 81g without cable
The ROCCAT Burst Pro Air is definitely not considered a light mouse by 2023 standards. The weight feels balanced throughout the mouse. I can definitely feel the difference going from a true ultra light mouse to this one.
Design & Materials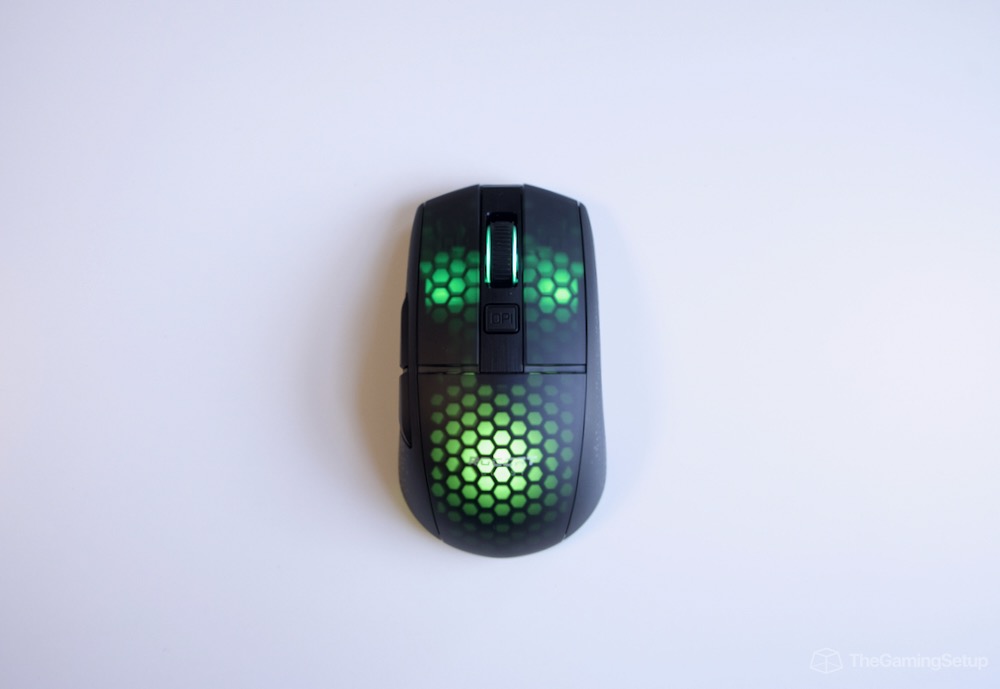 Colors: Black or White | Additional Grips: None | Holes: No
The ROCCAT Burst Pro Air has a unique two layer design, on the top there's a clear matte plastic soft on top of a honey comb structure. The shell diffuses the RGB through the honey comb producing a soft even RGB shine through. This effect looks great on the white version of the mouse.
There are 4 distinct RGB zones on the mouse that can be individually set, the RGB between the mice are consistent.
You'll find a dedicated DPI button underneath the scroll wheel along the middle "brushed metal" plastic strip.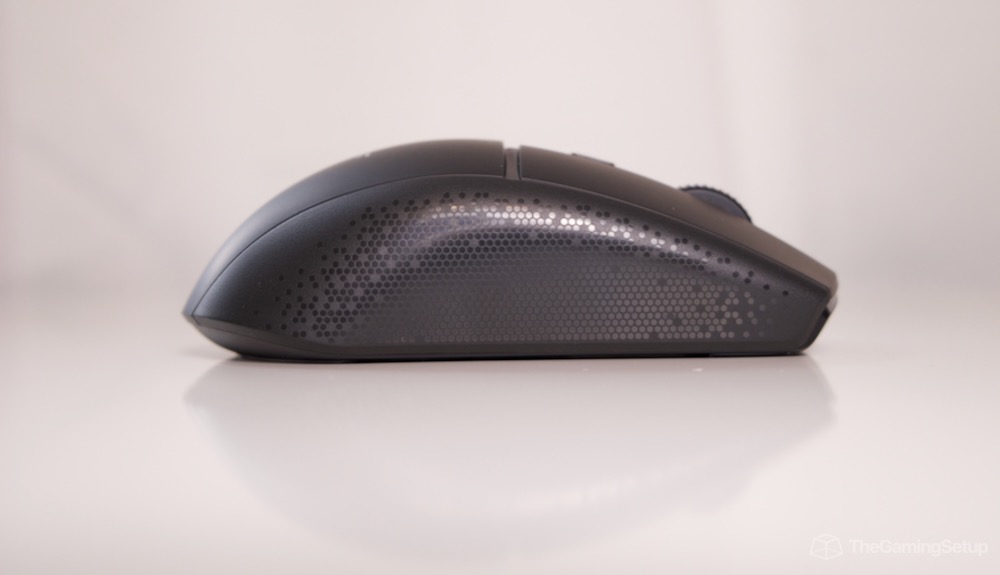 The sides of the mice have a textured hexagon plastic, offering some grip, I didn't have any trouble holding onto the mouse in play sessions.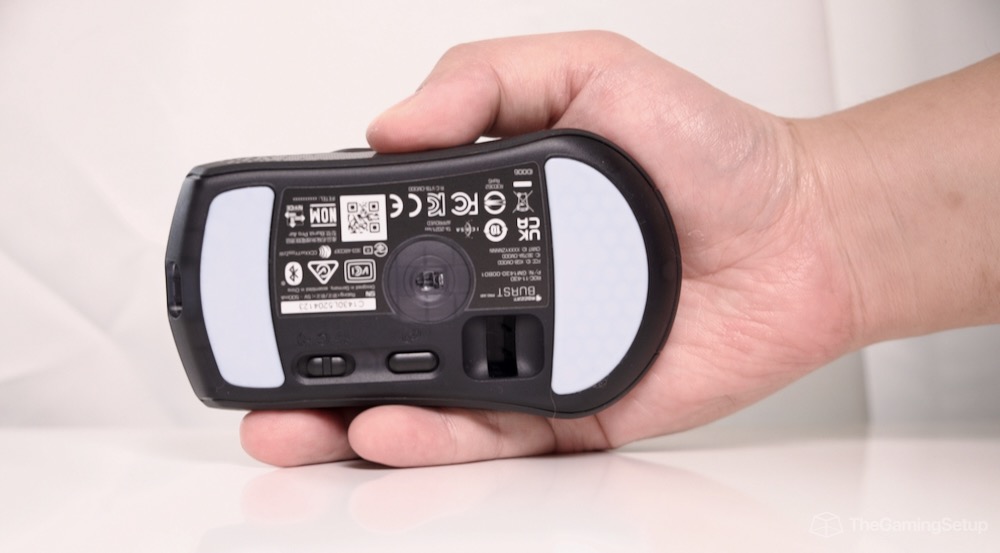 On the underside of the mouse there's a dip switch to toggle between 2.4 GHZ, off and bluetooth. There's also a dedicated profile button and housing for the wireless dongle.
Build quality
This mouse feels rock solid. There are no perceivable flexes or creaks when pressed. All the buttons are solid in place with no side to side play. There's a very very slight rattle when shook, but it doesn't like anything to worry about to me.
Buttons
Buttons: 5 + 2 | Side Buttons: 2 | DPI Button: Yes | Switches: Titan Switch Optical | Click Rating: 100M
The primary buttons feel well built, no side to side wobble despite being separated from the shell. In both copies of the Burst Pro Air, the buttons are consistent between left and right buttons, with minimal pre-travel and post-travel.
The primary optical switches on the Burst Pro Air feel a little muddier compared to top tier mice. I'm not exactly sure what it is, but the actuation feels a little short and hollow, making the click noise less substantial than say a Lamzu Atlantis or even a Razer Viper V2 Pro.
Button weight feels middle of the pack and should feel good for both FPS and MOBAs.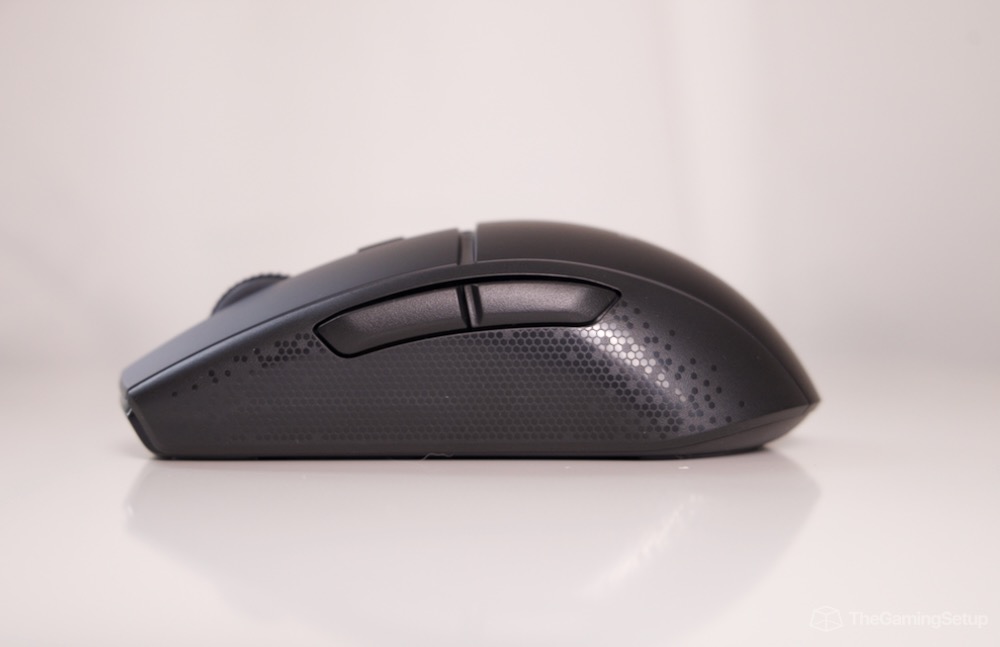 The side buttons are excellent with snappy tactility and minimal post and pre travel. The side buttons are large and feel even throughout. The back button does sound a little different compared to the forward.
Click latency
The ROCCAT Burst Pro Air has good click latency in wired and 2.4 GHz mode. It's not the top of the pack, but it's not slow enough to greatly affect performance. It's usable in FPS for sure, but if you're looking for top end wireless click latency, this isn't the mouse get.
Mouse wheel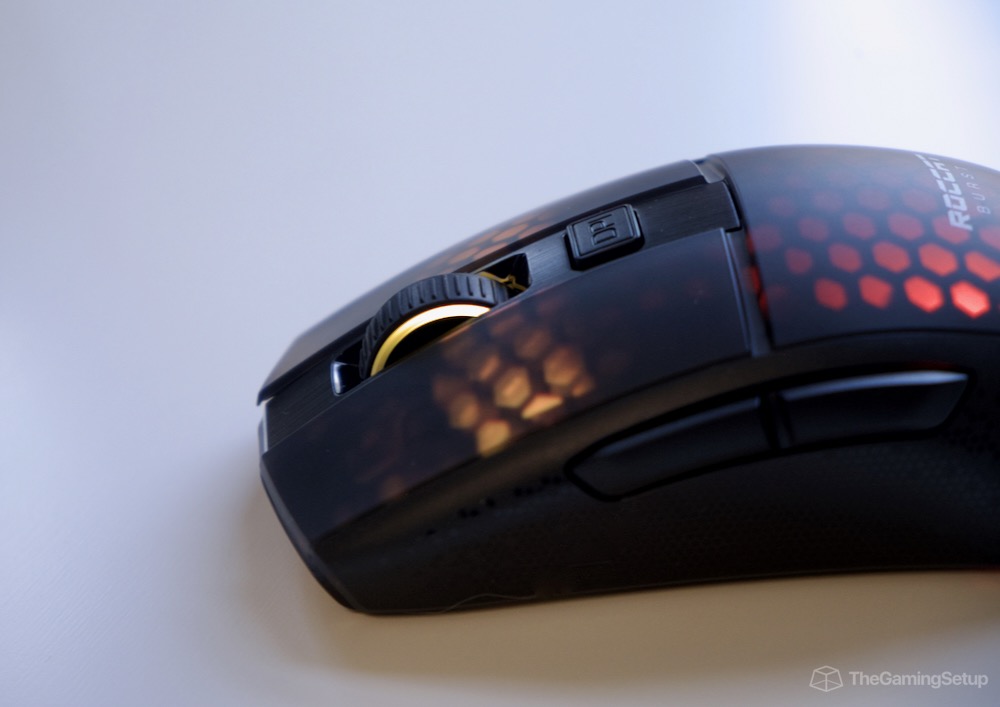 Wheel Steps: 24 | Encoder: ALPS
The mouse feels fantastic with well defined tactile steps. There's no side wobble at all. The wheel is coated in rubber with lines for grip.
Tactility on the button press is awesome with a crisp click. This mouse wheel is fantastic.
Mouse Feet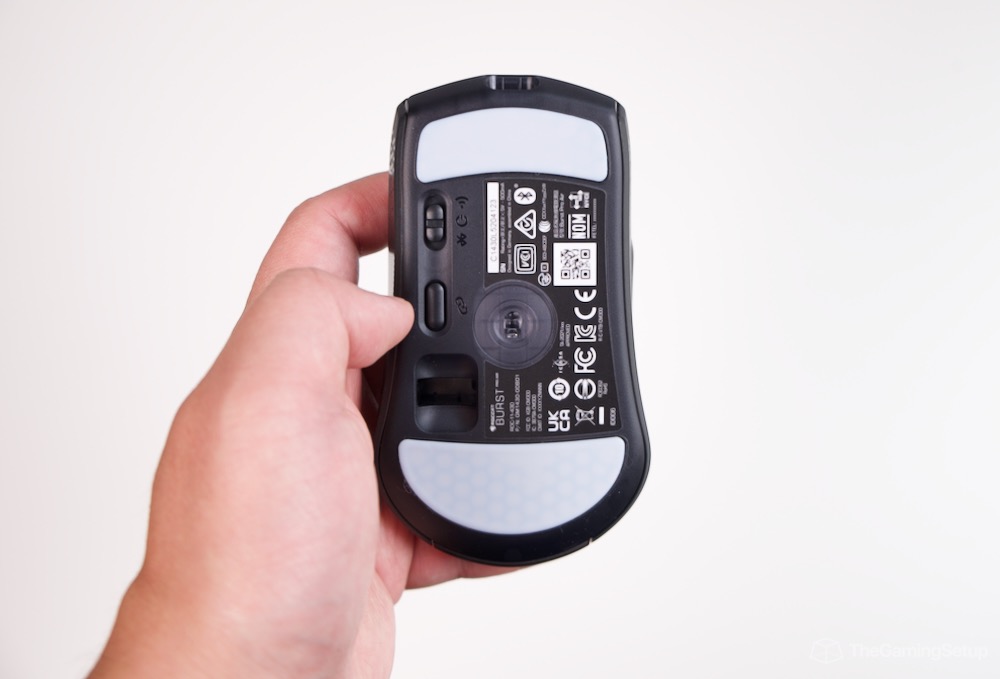 Material: Virgin PTFE | Replacement Feet: None
The ROCCAT Burst Air Pro features two large feet with a chamfered edge. The glide is excellent as you'd expect from PTFE feet.
Performance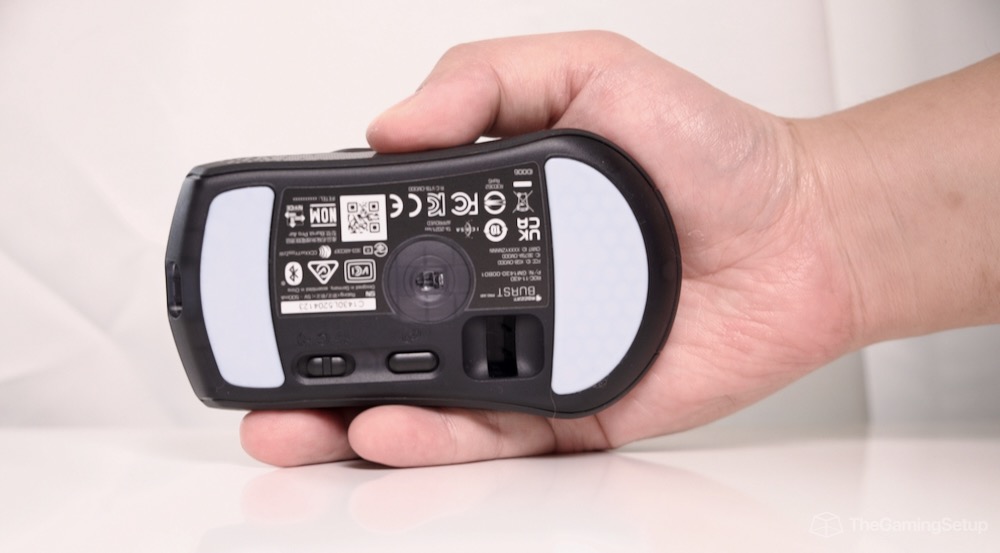 Sensor: Owl-Eye | DPI Range: 50-19,000 | Polling Rate: 1000 Hz
The Owl-Eye sensor packed in the Burst Pro Air is based off the Pixart PAW3370 which should mean this sensor is largely flawless, but there's some bad news.
First the good, the sensor doesn't show much smoothing or angle snapping at regular DPI. I wasn't able to produce any perceivable spin outs. or any of that sort. But in game play I did feel like the mouse was a little bit slower than top tier mice.
It looks like the implementation of the sensor is flawed somehow, there's major polling rate inconsistency causing spiky responsiveness.
The DPI ratings aren't inconsistent in this mouse, the actual DPI and set DPI deviate a decent amount lower so you have to set your DPI higher to achieve your intended DPI. For example, setting to 850 DPI to get true 800 DPI.
Wireless Experience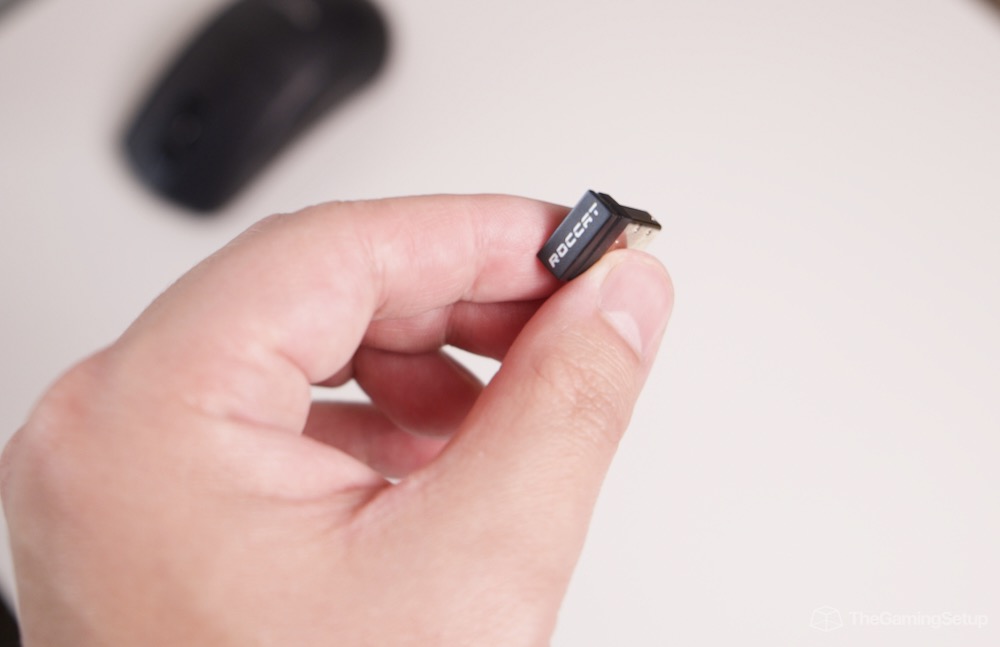 Battery life: 100 hours | Connectivity: 2.4 Ghz & BT | Dongle Storage: Yes | Extender: No
Wireless experience has been solid for me in my play time with the ROCCAT Burst Air Pro. 2.4 GHZ feels stable though it would've been nice to have a mouse extender included to ensure all set ups are accommodated.
The stated 100 hours is a little ambitious and may have been rated for Bluetooth with lights off, in 2.4 GHZ mode with RGB on, the battery life was definitely shorter than 100 hours.
The mouse will auto turn off after 90 seconds, turning off RGB as well. Another appreciated touch is the RGB acts a battery indicator when the mouse needs a top up.
Cable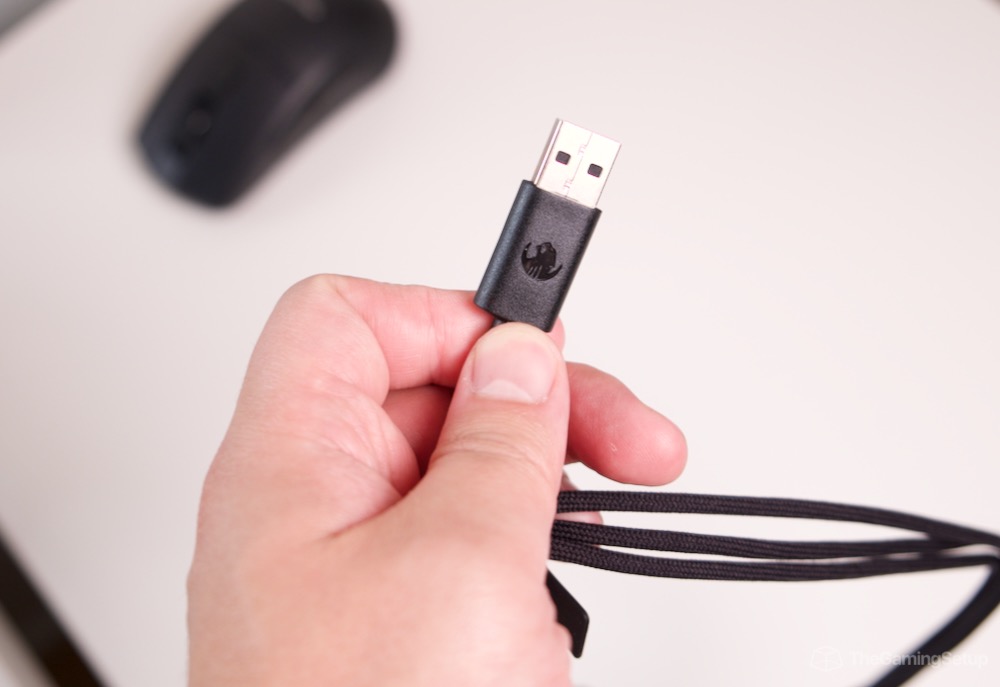 Length: 1.8m | Type: Braided Paracord | Connectors: USB-C to USB-A
The cable is soft and flexible. It's not the lightest wired cable out there but it'll do the trick if you need to charge while gaming. The port at the front of the mouse is fairly open so if this cable fails, a replacement cable should not be hard to find.
Software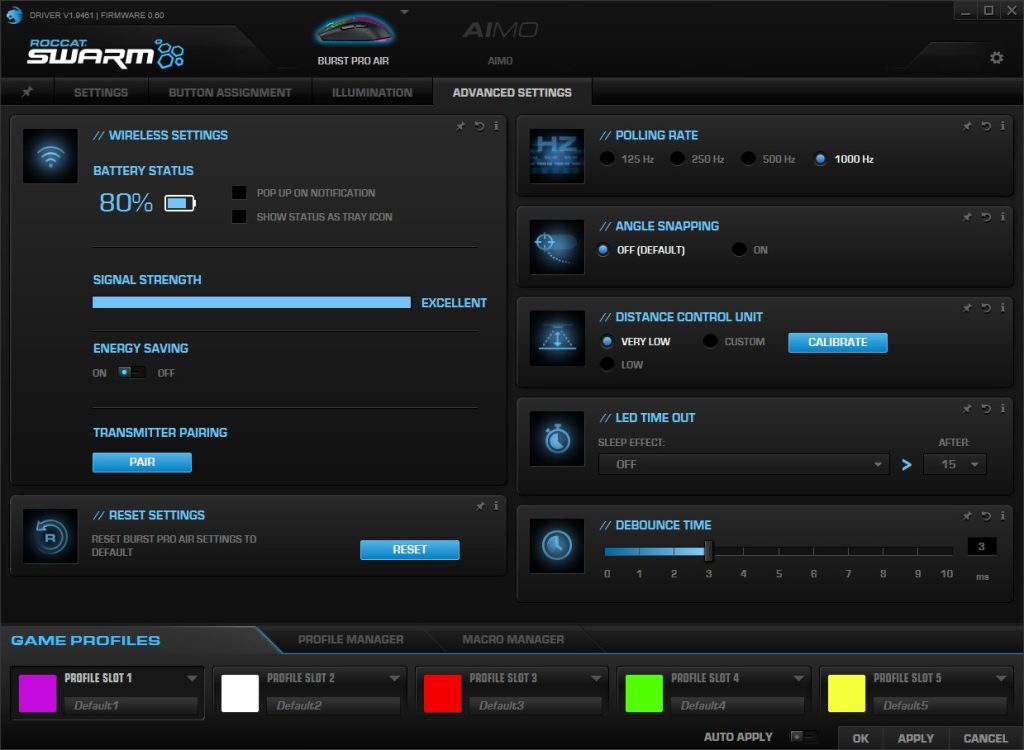 Profiles: Yes | Onboard: Yes | RGB Zones: 4 | DPI Adjust: Yes | Polling Rate Adjust:Yes | LOD Adjust: Yes | Account Required: No
The Burst Pro Air uses ROCCAT Swarm, which does an average job of setting up the mouse. All the options you would expect are available in Swarm. You can set up DPI stages, adjust LOD settings, debounce and have them all saved onboard so you don't constantly have to have the software running.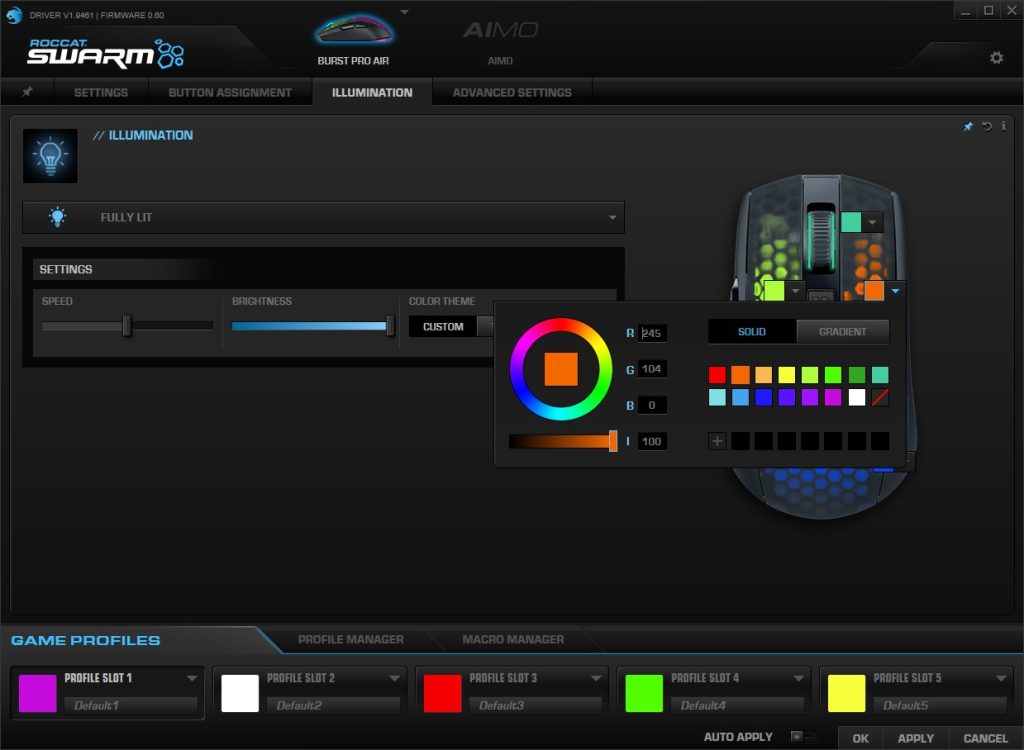 There are 4 individual RGB zones to set up, scroll wheel, two primary buttons and the main hump.
The Swarm software is stable enough, with decent responsiveness, it could be a little lighter on its feet but its not the worstI've experienced.
What's in the box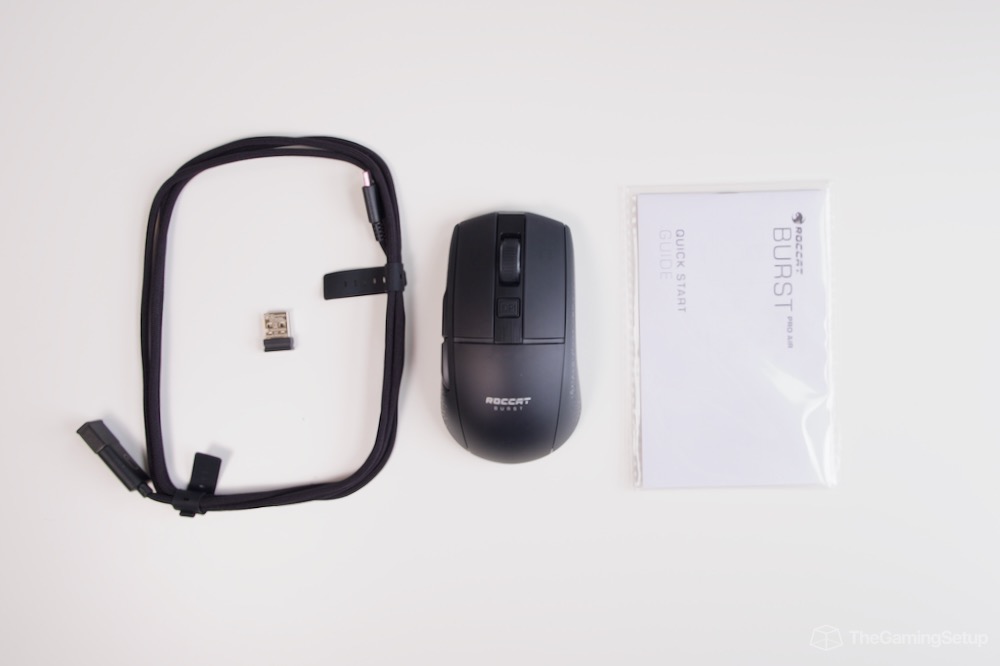 Just the basics are included with this mouse.
ROCCAT Burst Pro Air
Phantom Flex™ Charging Cable
Quick-Start guide