Not all mice are going for the ultra lightweight, minimalist design for FPS gaming. Logitech's G604 caters towards the other side of gaming; MMO's and MOBA's.
It features an unconventional shape similar to the old G602, G502, and MX Master lineup with the side thumb rest. With this said, the shape feels perfect for MMO's, MOBA's, office work, or just regular everyday use.
The improvements to weight, customizability, and overall performance from the previous G602 are definitely noticeable and gives a better experience while gaming.
Pros
Great sensor
Lots of customization with the extra buttons
Infinite scroll wheel
Sturdy/durable while being very comfortable to hold
Light, crispy clicks
Cons
Pretty bulky, not good for small hands
Has no wired capabilities
Heavy and can be fatiguing after hours of use
Weight shift in the back due to the battery
Lots of post-travel on main buttons
Verdict
The G604 is an amazing mouse for MMO's and MOBA's where the extra buttons really help with assigning different actions in game. I found it very comfortable in the hand and it's built to last.
On the downside, the mouse is heavier and larger which makes it a deal breaker for FPS gamers and people with smaller hands. The mouse feet and button tensioning could also use some work.
But, with this coming in at sub $100, it's a solid option for those on a budget and play a variety of games outside of FPS and feel like a standard mouse doesn't give enough buttons.
Dimensions
Length: 13.0 cm / 5.1 inches
Width: 8.0 cm / 3.1 inches
Height: 4.5 cm / 1.8 inches
Weight: 135 grams
Shape: Ergonomic
Buttons: 15
Specs
Sensor: Logitech Hero 16K Optical Sensor
Buttons: Omron D2FC-F-7N
Polling Rates (Hz): 1000 Hz
DPI: 100-16,000
Software: Logitech GHub
Shape, Size & Weight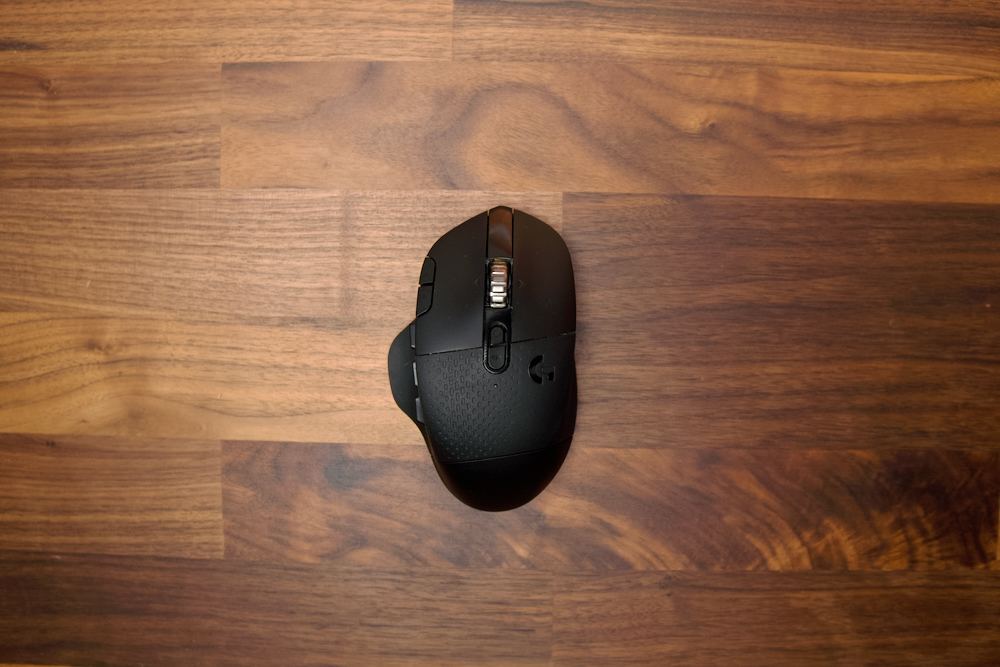 The shape of the G604 is similar to three other Logitech mice; the G602, G502, and the MX master lineup. The main similarity is the extended thumb rest that shoots out on the left side which makes the G604 a very comfortable mouse to hold in hand.
What helps even more is that the main mouse buttons and both sides of the G604 have slight comfort grooves. This makes the mouse feel natural in the hand and it helps with gripping it securely.
Close to the back of mouse, there is a hump that nicely fills out your palm. Palm or claw gripping feels the most natural to me on the G604 but not so much when it comes to fingertip grip.
The G604 sits on the larger side. It's long and has a wider front but tapers slightly near the rear making it an anti-fingertip grip mouse as reaching the main and side buttons is almost impossible.
Because of these dimensions, people with smaller hands will have a harder time using this comfortably. Baby hands beware.
At 137 grams, this mouse is definitely not winning any lightest mouse awards, but for the games it was designed for, the G604's weight works great.
Design & Materials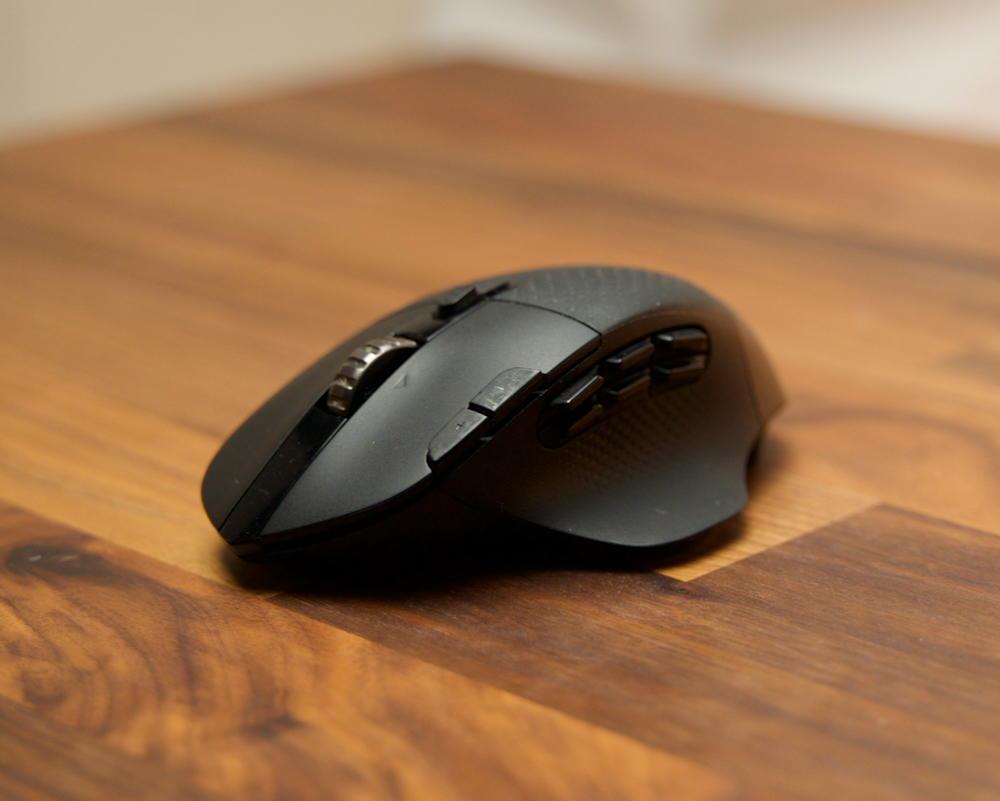 Majority of the mouse is built out of a smooth plastic material. You will find this on the main buttons and rear of the mouse when holding the G604. For grip, there is a texturized rubber that cuts in the middle and spills over both right and left sides of the mouse. I thought this was a great implementation by Logitech and it really does feel more stable in the hand with it.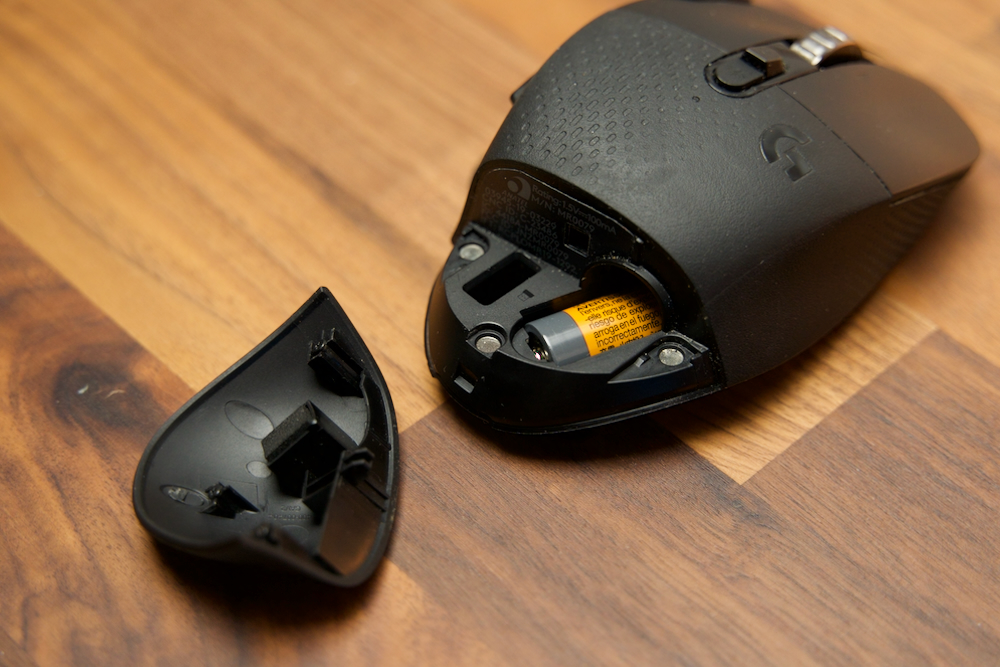 The G604 can't be charged via wired connection like other mice. Instead, it takes a single AA battery to power it and is rated for 240 hours of use or 5 months via Bluetooth mode which is insane. Of course, this comes with the some additional weight and makes the mouse slightly rear heavy.
At the back of the mouse, there is a magnetic shell that covers the compartment for the AA battery and USB receiver holder. The back plate is easy to remove and has little wiggle so it won't distract you when actually using the mouse.
Mouse Feet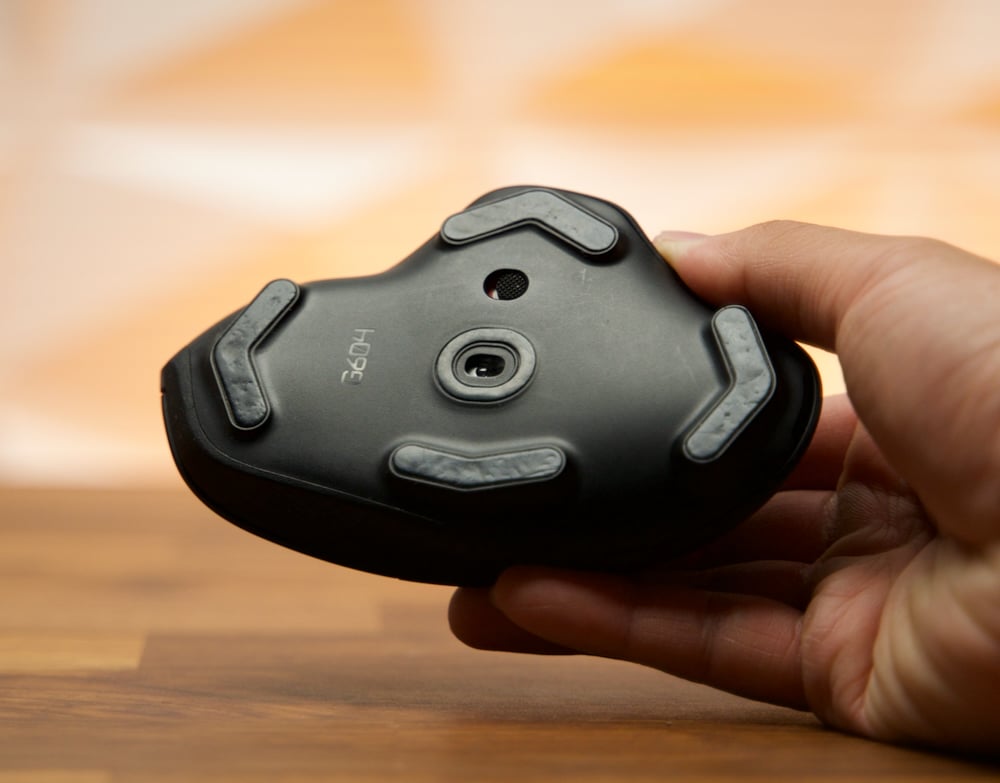 The G604 mouse feet were disappointing. They don't feel very smooth to me out of the box and have a bit of scratch to them while I was playing. Paired with the weight of the mouse itself, it makes it harder to move around your pad.
They are produced out of PTFE like many, but just don't give the same glide as other mice such as the Superlight or Razer's Viper Ultimate.
If you are someone who enjoys a smooth glide, we suggest purchasing replacement feet. Although this isn't necessary, I think it would greatly improve your experience with the G604.
Buttons & Scroll Wheel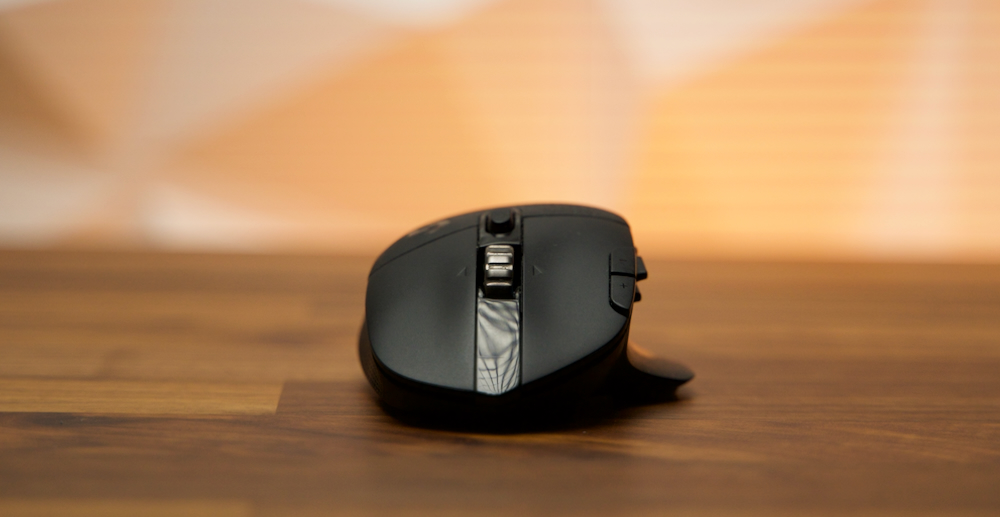 There are a total of 15 reprogrammable buttons on the G604 giving you complete control over which button performs which action in game. You will find 6 of these located on the left side of the mouse and each feel easy to access and press.
On the side of the main mouse button, you will find two more programmable buttons which are defaulted to DPI increase or decrease. Again, these can be remapped to whatever you really want if you don't find yourself changing DPI's constantly.
On the very top of the mouse behind the scroll wheel, there are two more buttons. The thicker one unlocks or locks the scroll wheel for infinite scroll capabilities and the one behind that is the Bluetooth/receiver switch. These are the only two buttons that can't be reprogrammed.
The G604 uses Omron D2FC-F-7N (G) switches which are rated for a total of 20 million clicks. To give you some perspective, they feel similar to the popular Omron 20M which is used in the Superlight. One difference I observed is that they are slightly lighter than the 20M.
The clicks feel light and crisp. It's great for consistent spamming in games that need it like League of Legends and DOTA. Not only are they light, but they give good feedback as well.
When testing the main mouse buttons, I found they have little pre-travel but a lot of post travel. Although the actual click feels crisp, the added post travel makes it feel a bit mushier. Every other button on the mouse has this issue with post travel too except the 6 side buttons.
The placement of the side buttons feel perfect. I can easily access them using my thumb and none of them feel too far to reach for.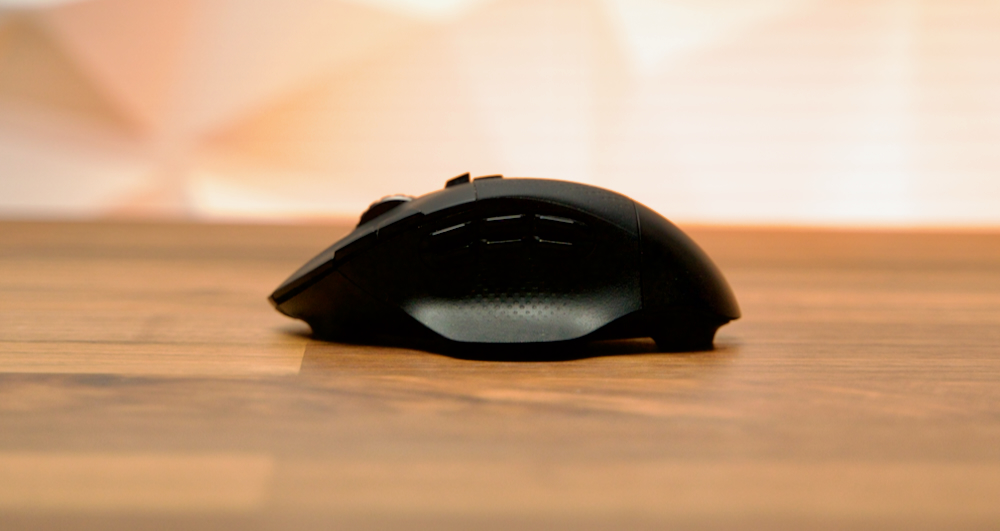 The side buttons also feel very tactile and need more of a push to actuate compared to the other buttons. But, this isn't a bad thing since you don't want to accidently push any of the neighboring buttons by pushing the one you want. During my gaming sessions, I ran into no issue of fat fingering the side buttons.
Build quality
Logitech always provides a solid foundation for its mice and the G604 is no exception. The G604 feels very durable with little flex or creaks when I pressed on the top and sides.
There is slight rattle but that's because of the mouse wheel and its ability to shift/click to the right and left for more programmable actions. It needs some breathing room to move side to side so the fit is not super secure.
Other than that, the G604 doesn't feel cheap and the extra weight on this mouse really reinforces the shell and build quality.
Wireless Performance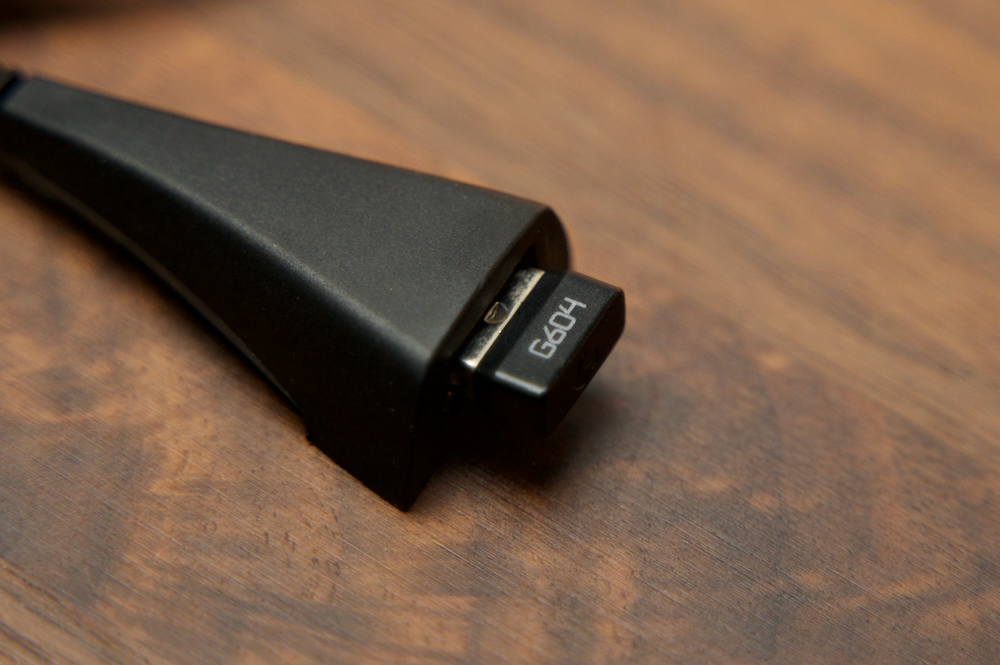 The G604 uses Logitech's Hero 16K sensor.
Wireless connection is rated for 240 hours of constant use when linked to the receiver and over 5 months of use over Bluetooth. The only downside is the AA battery that's required to power this mouse but you'd only have to replace it once every blue moon.
After testing the sensor, it performed great with pixel tracking, spin outs, or any type of stuttering. Inputs also felt sharp and responsive due to the low latency of Logitech's gaming mice and Hero sensor.
Software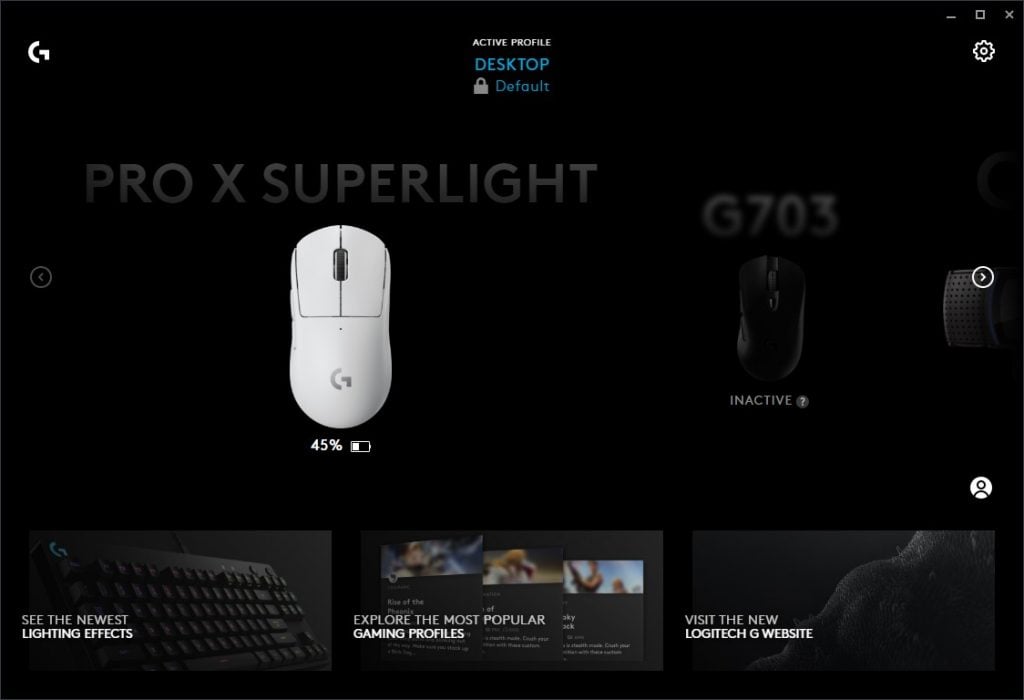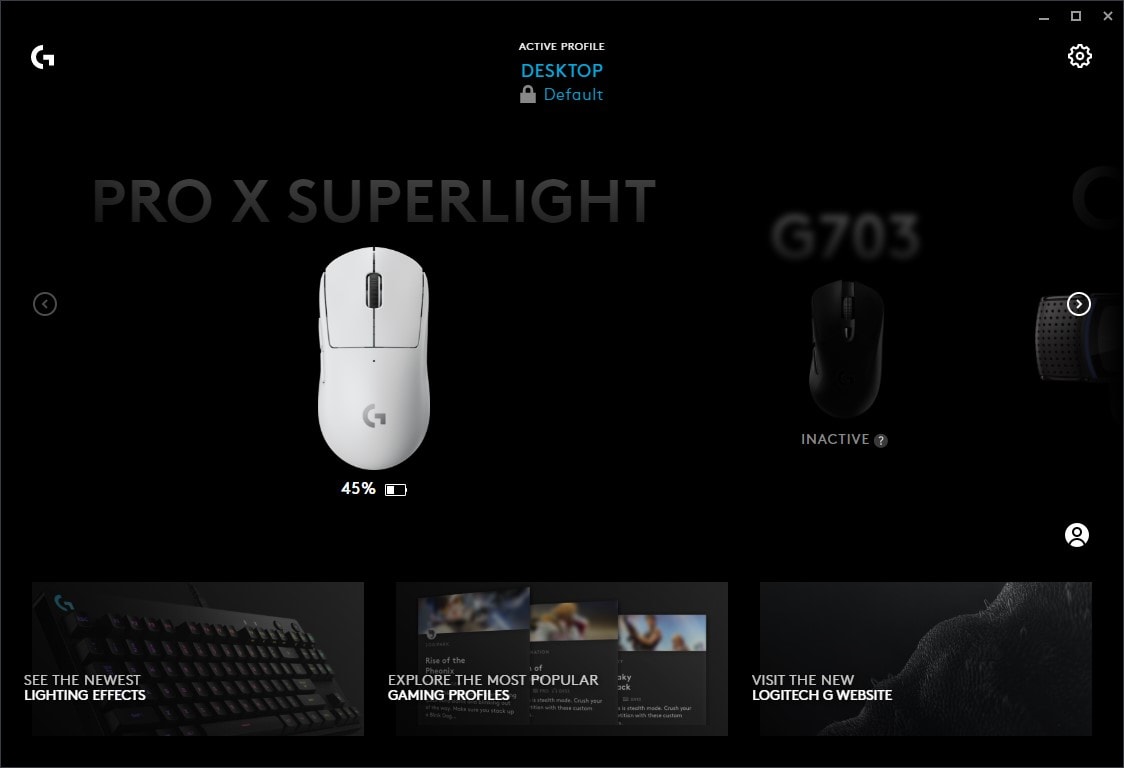 Like other Logitech gaming mice, the G604 uses Logitech's G Hub. On our website, you can find an in-depth guide on Logitech G Hub on how to install and use the software.
With G Hub, you are able to set different DPI's from 100-25,600 in increments of 50, polling rates of 125Hz, 250Hz, 500Hz and 1,000Hz, button remapping, and macro creations.
What's in the box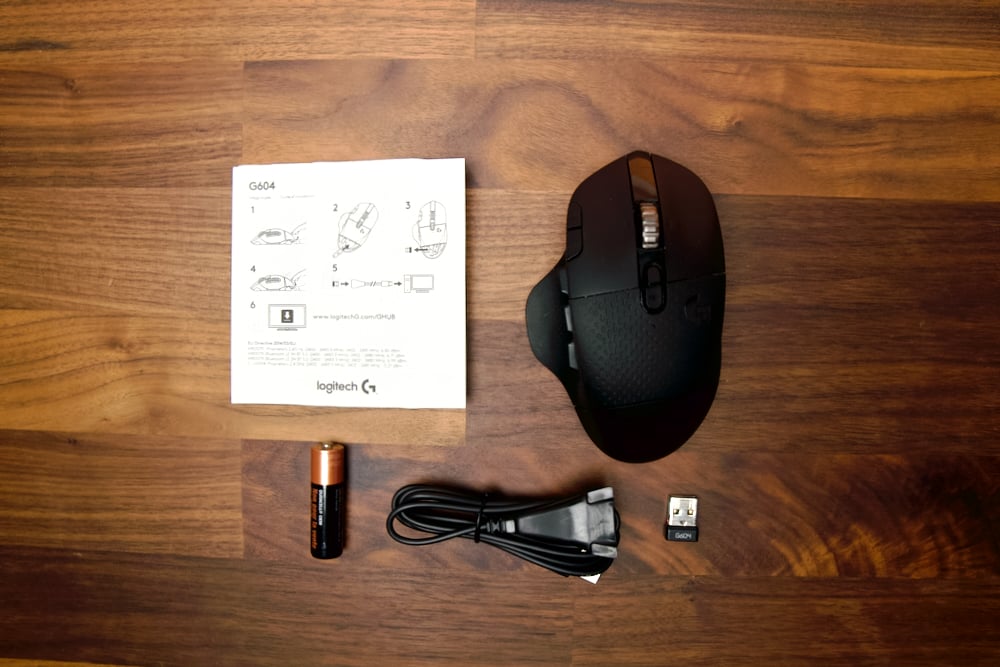 Inside the G604 box you can find:
Logitech G604
USB receiver
USB receiver cable
1x AA battery
Documentation/manuals