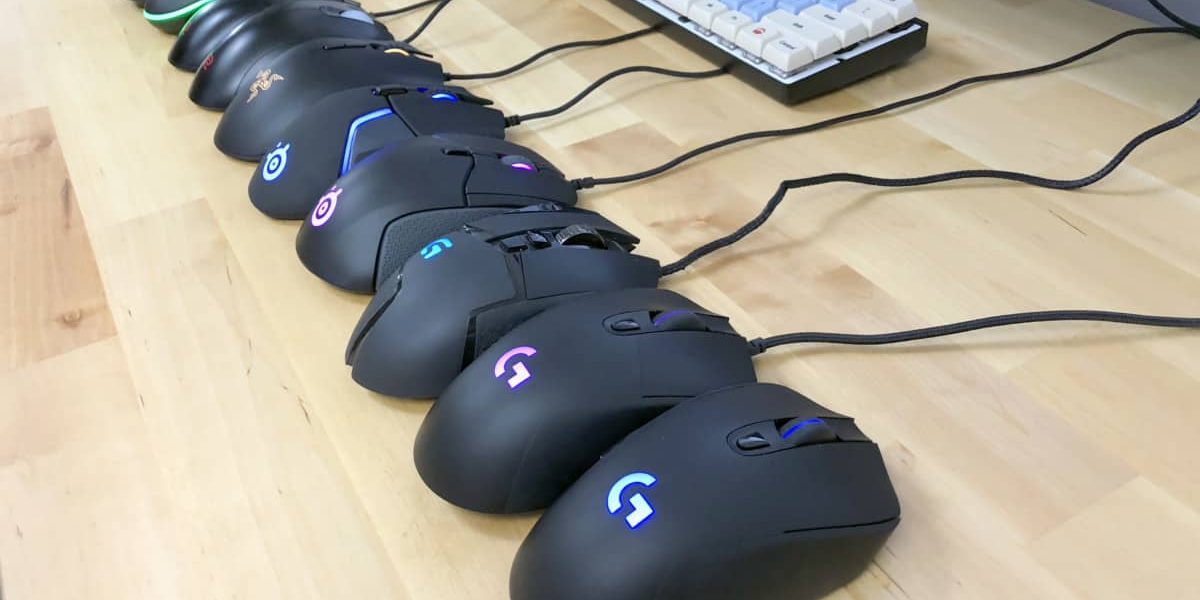 You don't have to spend a bunch of to get top performance out of a gaming mouse.
A lot of mice pack a lot of technology and features into their mice for a price premium. While the Logitech G Pro Wireless and Finalmouse Air58 have some great tech, they command a super high price. Luckily that costly high-end tech isn't absolutely necessary for great performance. These are the 5 best cheap gaming mice that you can get for under $50. Our favourite is the Logitech G203, super cheap at $25 but packs a great sensor and has an absolutely great shape.
| | The best budget gaming mouse  | Full featured cheap gaming mouse | Another ambidextrous option | No frills ergo | Ambi option 3 |
| --- | --- | --- | --- | --- | --- |
| | Logitech G203 | Logitech G502 Proteus Spectrum | Nixeus Revel | Coolermaster MM530 | Rival 110 |
| | Check Price | Check Price | Check Price | Check Price | Check Price |
| Straight Up | This is your default choice, same great shape as the G305, great MERCURY sensor and a flexible rubber cable. A lot of professional gamers prefer a neutral shape and the G203 has it all for $25. | The G502 Proteus spectrum is a classic gaming mouse with a ton of buttons and features for under $50. If you don't mind a heavy mouse, this is a top choice for a budget ergonomic mouse for medium/large hands. | A good option if you don't like the G203 shape, Nixeus is building really nice safe mice that don't need software for a good price. | A safer, no-frills ergonomic shape compared to the G502. Known for having a PBT shell, this mouse has what you need for performance and not much else. Made for medium/large hands. | Another small/medium ambidextrous option of you don't like the G203. The Rival 110 is a solid mouse, the build quality is slightly worse than the G203, but choosing one over the other falls solely on shape preference. |
| Pros | Great shape, great MERCURY sensor, with good tracking. Flexible rubber cable. Light with good build quality and a durable surface. | Flawless PMW3360 sensor, a familiar shape loved by millions of gamers. Infinite scroll, dedicated DPI buttons, sniper buttons, solid primary buttons. Weight system if you like that kind of thing. | Super safe shape with a flawless PMW 3360 sensor. Matte and glossy surface options.  Lightweight with a flexible rubber cord. | Comfortable ergonomic shape, durable PBT plastic shell. Rubber side grips. Really good accompanying software for RGB and reprogramming buttons if necessary. Again the flawless PMW 3360 sensor is present. Decent weight at around 100 grams. | Flawless Truemove 1 sensor from Steelseries. Safe shape with rubberized grooves. Soft rubber cord. |
| Cons | Buttons are a little softer than the G305 and slightly less durable, not as crisp. Lift off distance is a little higher than the G305. | It's a heavy mouse with a thick cable so cable drag is definitely something you should be wary of. | Only okay clicks, with some reports of clicks getting stuck. The G203 has better clicks for sure. Small mouse feet, poor glide on mouse pads. | It's not the most comfortable mouse out there, but of course that is personal preference. Nothing really stands out on this mouse, it doesn't have huge cons or pros. | Side buttons are thin with a little rattle and are slightly soft. The middle click and primary buttons are a little spongy and mushy. Generally people prefer the shape of the G203. |
How we picked
We've been playing a bunch of a games with these budget mice to get a really good feel for all these mice.
Overwatch
Fortnite
Dota 2
Starcraft 2
Call of Duty: Black Ops 4
When picking a budget mouse you have to give up on some features, here's what we think you should prioritize in a budget gaming mouse.
Shape
Build quality
Sensor
Buttons
Cord
Reliability
Features & Software
No surprise here but comfort is the most important thing to look for when finding your budget gaming mouse. Surprisingly, there are a lot of good budget mice with great sensors on them, so you don't have to settle for a mouse that has acceleration or loses tracking if you're on a budget.
Most budget mice don't seem to have the most elite of buttons but most of them have serviceable ones. Wireless, amazing RGB or super light mice are out of the range for under $50, and frankly, that's not so bad, you don't need any of those to have a great performing mouse. Be sure to check out our what to look for in gaming mice if you aren't sure what to look for.
Honourable mentions
The mice you should consider if you could add another $10 to your budget, these mice are just above $50
A fantastic ergo shape for medium to large hands. This is one of our favourite ergonomic mice and we would recommend it over the budget options if you can afford it due to its comfort and lighter weight. The G403 is identical in shape to the G703 and G603, only difference is it lacks wireless and the ability to charge through powerplay. Only downside of this mouse is a thick braided cable that can introduce some drag. You can find this mouse for even under $50 on sale regularly.
This mouse has the exact same shape as the G203 with better buttons and fantastic lagless wireless. The cost of those improvements? Double the price at around $50 bucks. I'd argue that those improvements are worth it compared to the G203, but chose the G203 as our budget pick due to the sheer value at $25.
A medium sized and comfortable ergonomic mouse by Steelseries, this mouse is just over $50 but features a flawless sensor, really nice RGB lighting and some premium materials with rubber grips and a super soft cord. The buttons and feel of this mouse fantastic.
A much loved mouse shape, I'd be remiss to exclude it on a budget list, the Zowie FK series costs roughly $60. It has a good but not perfect sensor, stiffer primary buttons and a loud as heck scroll  wheel, but the shape is really really nice.