Since our last update to this post, a slew of amazing, affordable gaming mouse have been released and really took over the best value space.
A lot of these mice are right at $50, but they're such great mice that they have to be on this list. They're not the overall best gaming mouse, but they're a hell of a lot better of a value.
The absolute best mouse you can get is actually $40, the Razer Viper Mini delivers an amazing budget mouse that is very close, if not better than the top tier mice because of its smaller size and shape. It's hard to even find a fault with the Viper Mini, the lift off distance is a little high but that might be it. If you're looking for a good claw or finger tip grip mouse, if you don't care about wireless that much, and if you're looking to save some cash, this is it.
As always, no one single mouse is for everyone, here's a list of the best budget mice you can get.
1. Razer Viper Mini
Pros
Solid cable
Great clicks, no wobble
PTFE mouse feet
Razer continues its dominance in mice. The Viper Mini in the budget class has better build quality, materials and buttons than every other mice. The shape is great for smaller hands, it feels great for claw and finger tippers. The cable feels soft and the feet are smooth.
The only drawback of this mouse is the slightly higher LOD from the cheaper sensor Razer has included, but it's not a big enough deal to be noticed in normal game play. Viper Mini Ultimate when.
2. Glorious Model O & O-
Pros
Just 67 grams for the Model O, 58 for the O-
Great buttons
2 year warranty
Safe and solid ambidextrous shape
Multiple colour options
Very good RGB, especially in white
Cons
Slight creak and button wobbling concerns
Cable might be a little too soft, the packaging kinks the cable
Lots of Glorious branding
The Model O and O- is a rock solid mouse, great shape, light weight and great buttons all for less than $50 USD. In 2019, Glorious came out with the Model O and shifted what gamers should expect from a sub $50 mouse. The Model O- quickly followed the Model O and added even more value for smaller grips.
The Model O just gets a lot of things right, it has a great low profile shape for claw and finger tip grips, it has good to great buttons and it's still one of the lighter mice around. I'm not exactly sure what Glorious cut to get this mouse to a low price point, but I don't really feel like I'm missing anything when I game with the Model O or O-.
3. Cooler Master MM710 (read review)
Pros
A svelte 53 gram weight
A great shape for palm grip
2 year warranty
Great sturdy build quality
Flexible cable
Cons
Slight primary button wobbling
Middle scroll wobble
Initially scratchy feet
Cooler Master joined the ultra light mouse war with a killer, super affordable gaming mouse. The MM710 has a unique shape, it has a higher bump in the back which fills in the palm and subsequently fills a much needed niche in the ultra light space for palm grip users. The shape is still quite good for claw grips and finger tip grips but I think it falls short to the Model O in terms of fit for those two grips.
Outside of shape, the MM710 offers a sturdy shell with good buttons. Quality control seems to be a bit of a concern, my copy of the MM710 has slight button wobbling and my scroll wheel can be moved off-center, but this doesn't really impact gsaming performance, these two shortcomings place it firmly behind the Model O's pole position, but it's still a damn good deal.
4. DeathAdder V2
Pros
Classic ergo shape
Great flexible cable
Very comfortable for a lot of grips
Cons
Larger than the average mouse.
Great Shape
The DeathAdder V2 is a performance beast with a great shape that's absolutely perfect for FPS games, low click latency, great sensor and a drastically improved cable over the OG DeathAdder.
The ergo shape is favoured by many gamers, but the larger size of the mouse might make it too big for some gamers.
This is the best budget ergo shaped mouse on the market.
5. Glorious Model D
Pros
Great ergo shape
Sturdy shell
Obviously light
Soft yet protective cable
Multiple coating and colour options
Great glide on the feet
Cons
Buttons are average, there's wobbling on the primary buttons
Scroll wheel inconsistencies
Lots of Glorious branding
Great Shape
The Glorious Model D is the best budget mouse option when looking for an ergonomic mouse. For under 50 bucks you're getting a mouse with a flawless sensor, ultralight weight, great feet and shape.
Glorious has included options for both matte and glossy options to accommodate for dry and sticky handed gamers.
The downsides of the Glorious prevent this mouse from being higher, with the mouse buttons being the main issue, if Glorious could tighten up the wobble and tactility on the Model D, it could easily move up
6. Logitech G203
Really cheap, really good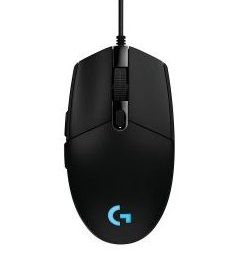 Logitech G203
Just an insane value from Logitech, sub $30 price for great performance. Decent buttons, good shape, soft cable and a solid sensor.
See Price
Pros
Extremely good price
Great shape for small/medium claw grip, good for palm
Flawless Mercury sensor
Flexible rubber cable
Durable matte plastic coating
RGB for this price
Cons
Buttons are little light
Not as tactile as premium mice
Lift off distance a little higher than some of the higher end sensors
Why we picked the G203
Great Shape
The G203 has the exact same shape as the G305 and the Logitech G Pro but costs nearly half as much. The shape is ideal for medium to small hands that fingertip or claw grip while being okay for palm grip.
The shell is made of a pretty standard matte black plastic that's seen on a lot of the Logitech mice, nothing too spectacular or unusual there. The G203 actually has a better cable than the G305, its softer rubber cable drags and interferes a lot less than the Logitech G Pro cable.
Flawless Sensor
The G203's Mercury sensor is a great sensor, flawless with no acceleration or jittering, with a 1000 Hz polling rate and a DPI range of 200 to 8000.
Where it falls behind the G305 and G Pro mice is with the buttons, they just don't feel as good as its older siblings, but they're still plenty serviceable, especially at a ~$26 price range.
You even get one-zone RGB at this price range, what a value!
7. Logitech G502 Proteus Spectrum/Hero SE
Best large budget mouse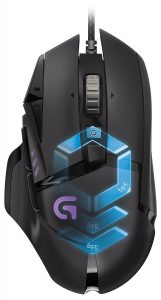 Logitech G502 Proteus Spectrum
The G502 is still truckin' along with its great shape, flawless sensor and good buttons. This is a great value mouse as long as you don't mind the weight.
See Price
Pros
Classic ergonomic shape
Flawless PMW3360 sensor
Great buttons
Infinite scroll wheel
A total of 11 buttons for customizing your gameplay
Sniper button
Cons
Heavy mouse
Thick cable that will drag on movement
Why we picked the G502
This mouse doesn't really need any introduction, it's the most popular gaming mouse on the planet. The newer HERO version of the G502 and its not exactly under $50. The G502 Proteus Spectrum, however, can be had for approximately $50 USD and it offers an insane value for that price.
Large comfortable shape
The G502 is a large ergonomic mouse with a very wide base and is one of the heavier gaming mice around. It's meant for gamers with larger lands, best suited for palm grip but works well with claw grip as well. At 121 grams, you need to know whether you prefer big tanky mice before getting the G502, if you do like these kinds of mice than the G502 is an insane value.
Top line sensor
The G502 packs a flawless sensor in the Pixart PMW3360, no jittering, no acceleration and no mouse smoothing. You're getting the high-end mouse tracking experience for half of what the high end mice cost.
Tons of extra features
This mouse has some premium feeling buttons, they'd rival any top-end gaming mouse released today. The G502 has a bunch of extra buttons as well, totaling 11 buttons that you can customize with Logitech Gaming Software. The extra buttons make the G502 an especially good mouse for games with a ton of commands.
Built like a tank
Materials are also great on this mouse, the sides have a rubber grip that make picking up the mouse a little bit easier considering its heft. The coating is a matte black plastic. I've owned a G502 for what must be near a decade now, and all parts of the mouse still work perfectly.
Moves like a tank
The G502 is a big hefty mouse, it's a bit more cumbersome to move around, and that is made worse by its thick and stiff cable. It's the largest detractor to getting this mouse, I'm a believe in light mice making for better aim. So as long you understand the weight your getting into, the G502 is a huge value for gamers.
8. Nixeus Revel
Solid ambidextrous shape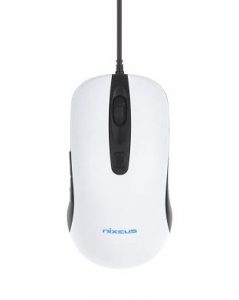 Nixeus Revel
A super solid shape with a flawless sensor is a very good value proposition, get the Nixeus Revel if you don't mind gambling on a bit of QA concerns from a smaller company.
See Price
Pros
Flawless PMW 3360 sensor
Both matte and glossy surface options
Light
Flexible rubber cable
Good safe shape
Cons
Mushy clicks
Some QA concerns
Poor glide on mouse feet
Why we like the Nixeus Revel
Familiar shape
Anyone coming from a Steelseries Sensei will find this super safe shape familiar. This mouse will suit a small to medium hand size, better suited towards claw and fingertip over palm but it should work with any grip type.
Flawless sensor
Any mouse that uses a PMW3360 at these price points is a really good thing. With this sensor you'll never have issues tracking with acceleration, jitter, or have it spin out.
Light on its feet
Coming in at just 85 grams, the Revel is a light muse that moves quickly with its soft rubber cable. The combination of its shape and weight might makes this mouse likely more comfortable for small/medium hands over the G203.
There are a few detractors for the Revel, the mouse buttons are on the lighter side, not as satisfying or responsive to use as the two Logitech mice ahead of it on this list.
There have been some concerns with quality assurance, but Nixeus seems to be good on backing up their mice with a warranty.
Honourable mentions
The mice you should consider if you could add another $10 to your budget, these mice are just above $50
A fantastic ergo shape for medium to large hands. This is one of our favourite ergonomic mice and we would recommend it over the budget options if you can afford it due to its comfort and lighter weight. The G403 is identical in shape to the G703 and G603, only difference is it lacks wireless and the ability to charge through powerplay. Only downside of this mouse is a thick braided cable that can introduce some drag. You can find this mouse for even under $50 on sale regularly. Read our review
This mouse has the exact same shape as the G203 with better buttons and fantastic lagless wireless. The cost of those improvements? Double the price at around $50 bucks. I'd argue that those improvements are worth it compared to the G203, but chose the G203 as our budget pick due to the sheer value at $25. Read our review
A medium sized and comfortable ergonomic mouse by Steelseries, this mouse is just over $50 but features a flawless sensor, really nice RGB lighting and some premium materials with rubber grips and a super soft cord. The buttons and feel of this mouse fantastic. Read our review
A much loved mouse shape, I'd be remiss to exclude it on a budget list, the Zowie FK series costs roughly $60. It has a good but not perfect sensor, stiffer primary buttons and a loud as heck scroll wheel, but the shape is really really nice. Read our review
How we picked
Gameplay
We've been playing a bunch of a games with these budget mice to get a really good feel.
Overwatch
Fortnite
Dota 2
Starcraft 2
Apex Legends
Factors
While playing we figured out a priority list, what you could sacrifice in a gaming mouse versus what was absolutely essential, our priority list is as follows:
Shape & Design
Sensor & Performance
Build Quality & Materials
Buttons & Scroll Wheel
Warranty & Reliability
Features & Software
Testing & Research
Outside of playing, we tested specific aspects of the mouse's sensors looking for jitter, acceleration or smoothing. We made notes on any durability concerns we had in our playtesting as well as researched on gaming communities to see if a large portion of gamers had issues with durability.
Shape & Design
Before anything, you want to like using your budget gaming mouse, just because its a cheaper mouse does not mean it needs to be uncomfortable to use. I would consider this a non-negotiable when looking for a mouse on a budget, there's no reason to sacrifice a good shape.
Luckily, there are a variety of options in both ambidextrous and ergonomic shapes in the budget range to suit all types of grips and hand sizes.
Sensor & Performance
Just because you're frugal doesn't mean you don't want to AWP someone in the head across the map. You want a sensor that is acceleration, prediction and jitter free. Some of the budget mice we've recommended don't have the top-end sensors but all of them have a sensor that has close to raw input at acceptable DPI ranges.
At this price range you might have to put up with a bit of spinning out on some mice, but for the most part, all of the recommended mice have great tracking.
Shape and sensor are essentials, with these two in place, your aiming and tracking is taken care of, everything past this point is a nice to have.
Build Quality & Materials
Luckily, most of the mice on this list are well built using pretty standard materials and thicknesses. While they're not all on the lightest mice ever list, they're at a serviceable weight with good build quality, meaning little flexing or unnecessary rattling going on.
Buttons & Scroll Wheel
The buttons is where we start seeing the major differences between the high-end and budget mice, most of the mice on our recommendations list don't have the absolute crispiest and responsive of clicks. The Logitech G502 stands out in this category as a mouse that has really solid clicky buttons.
Warranty & Reliability
Some mice like the Logitech G502 have stood the test of time and are backed by a great Logitech warranty. Other budget mice might have some suspect quality control and reliability, but luckily all the manufacturers back their budget mice with reasonable warranties.
Features & Software
You'll notice most the mice on this list don't have extravagant RGB, they don't have wireless and most of them don't even have pairing software. The Rival 110 and the G502 both have software to customize macros and RGB if that's what you're interested in, but don't expect much at this price point. These kinds of features are not essential for a good performing gaming mouse anyway.
Be sure to check out our what to look for in gaming mouse if you aren't sure what any of these terms mean