The Xtrfy M4 Wireless is the wireless version of their ergonomic M4 mouse. It shows many promising features such as nice RGB, crispy clicks, and great wireless performance all at a relatively low price of $90. Xtrfy is known for offering some unique shapes and good build quality and the M4 Wireless seems to carry on the rep.
Pros
Great build quality
Swappable shell for more shape compatibility
Great sensor and click performance
Strong RGB lighting
Cons
A little on the heavier side
Software customization tedious
Verdict
The Xtrfy M4 Wireless is a very solid option for people looking for a more budget friendly ergonomic mouse. Even at the price of $90, it still offers some of the high-end quality and customization that more expensive mice like the the Deathadder V3 Pro and Zowie EC2-CW have.
It offers some great build quality with no flex, and good wireless performance.
Minor gripes about the mouse is that some of the customization is tedious and could have been implemented better. Secondly, the weight could have been reduced further by taking away some of the RGB aspects to make it more competitive with other mice that weigh less.
There are some issues with the buttons on my copy but nothing show stopping considering the asking price. This mouse is a good ergo option for the price. If you're replacing a Model D or G703 and don't want to spend top dollar, take a look.
Shape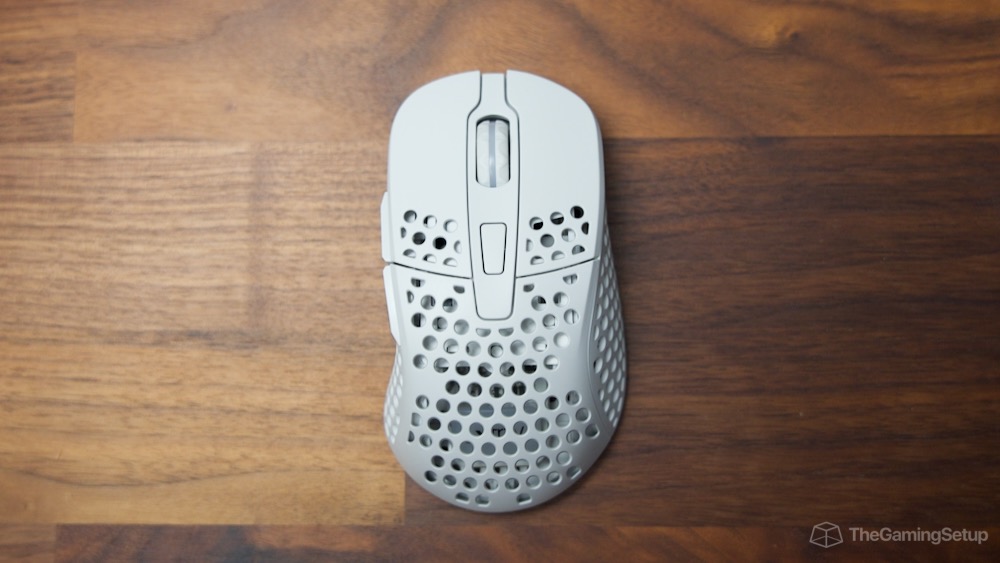 Type: Ergonomic | Length: 120mm/4.72 inches | Height: 39mm/1.49 inches | Width: 68mm/2.67 inches | Mouse size: Med/Large
The M4 Wireless is a traditional ergo shape. On the left, you'll find a large comfort groove for your thumb to rest and on the right, the side bulges out a bit. This creates a very natural feel when gripping the mouse.
It shares a similar shape to the Glorious Model D- and Zowie EC2-CW but just slightly shorter and flatter than both. Safe to say, if you're comfortable with either of these mice then the M4 will also feel really good in hand.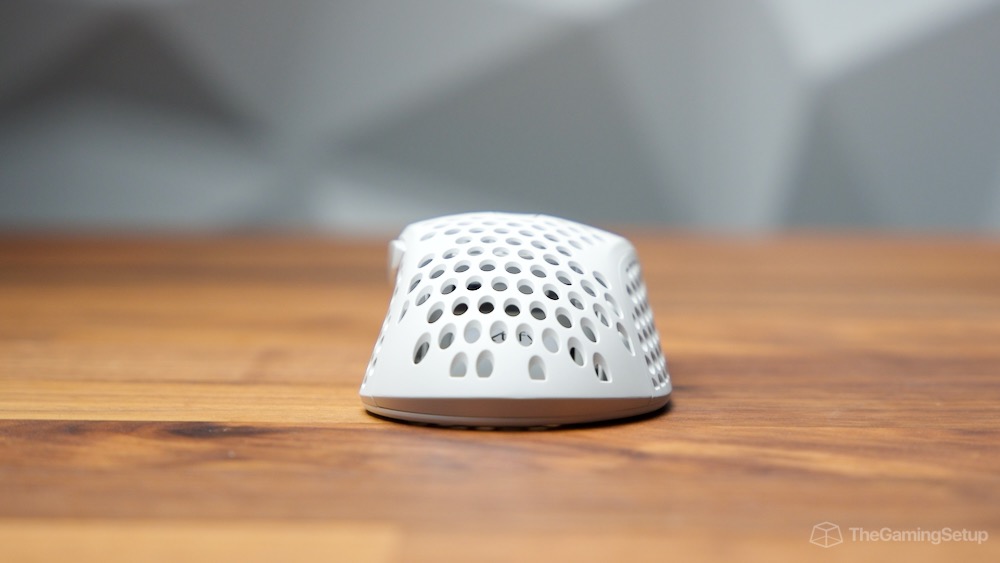 The M4 is for people with medium-large sized hands. Careful if you have smaller hands as this won't feel very comfy to hold.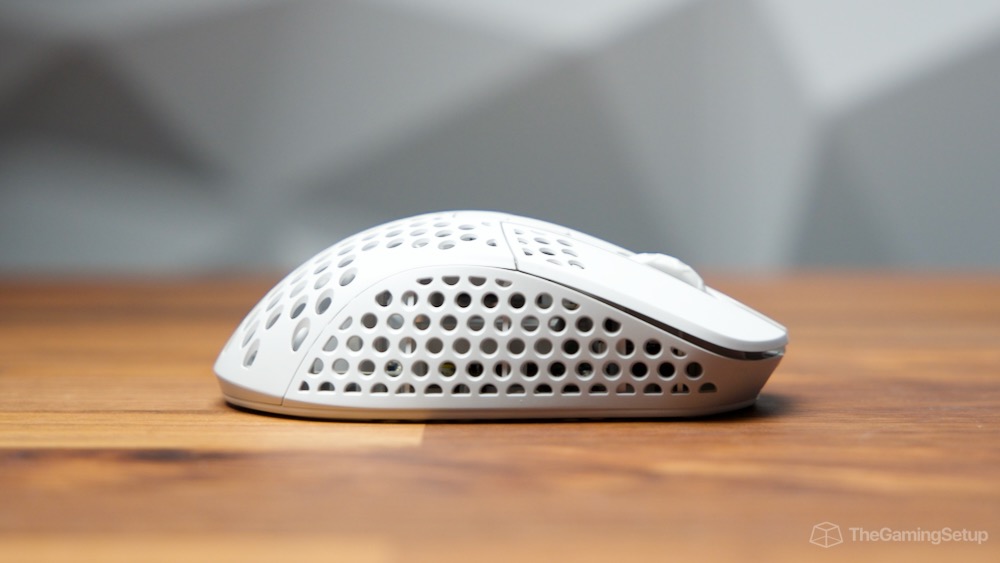 Near the front of the mouse, you'll notice that the main mouse buttons are flat and don't have any comfort grooves. This is pretty similar to what the Superlight main buttons are shaped like. As we move to the rear, it widens out more for a better base to rest your palm on.
It's an unfavourable shape for fingertip grip since it sits on the larger side and reaching all the mouse buttons feels impossible. Palm and claw grip will be your best bet with this mouse as it fills the palm out really nicely. Using both these grips felt very secure and locked in.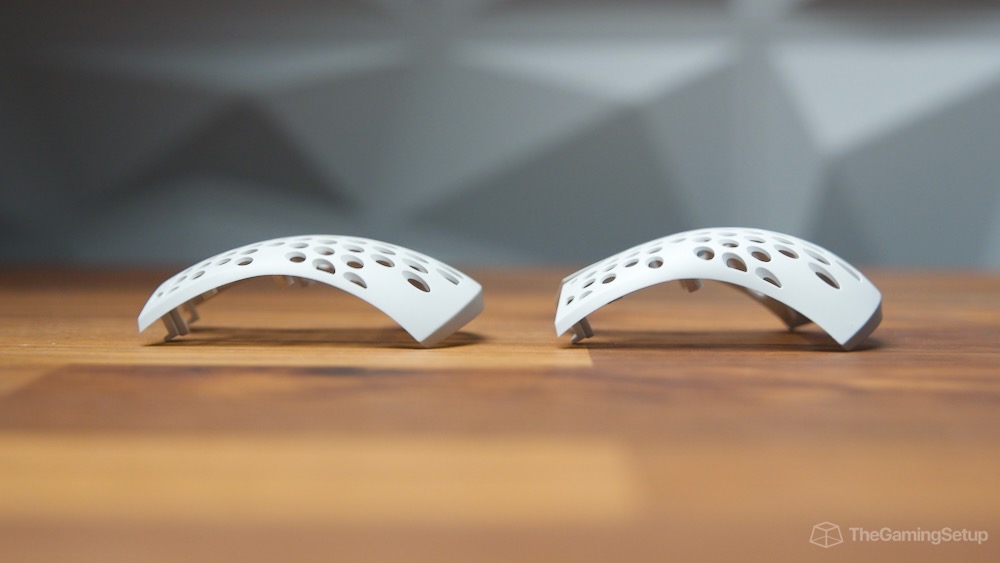 If you prefer a more rounded backside, the M4 offers a swappable rear shell that gives it a larger hump. When testing both, I preferred the rounded shell.
Comparisons
At around $90, the Xtrfy M4 Wireless isn't considered a "budget" option but still isn't at a premium price point. There are a couple comparable mice to the M4.
Starting off, the Glorious Model D- shares a similar shape and weight. The Model D- has a bit more flare outwards at the top of the mouse and is flatter at the back. The Model D- is considered a relatively cheaper option at $70-$80, just a bit cheaper than the M4 but significantly lower quality in build and performance.
Similar situation with the Zowie EC2-CW where it's a bit longer and has a flatter rear hump. It weighs a few grams heavier and costs $60 more at a hefty $150 price point. Since the M4 has a larger hump at the rear, it makes it a better option for palm grippers.
When compared to one of the best ergo mice out right now, the Deathadder V3 Pro, the M4 is definitely smaller in almost all areas. The hump is less pronounced in the M4 making it a more comfortable claw grip option.
Weight
Weight: 71g without cable
The M4 wireless is by no means a light mouse. 71g isn't bad but with today's standards it is on the heavier side. When gaming with the mouse, you definitely feel the added grams.
Overall, the weight is nicely balanced and feels good to use.
Design & Materials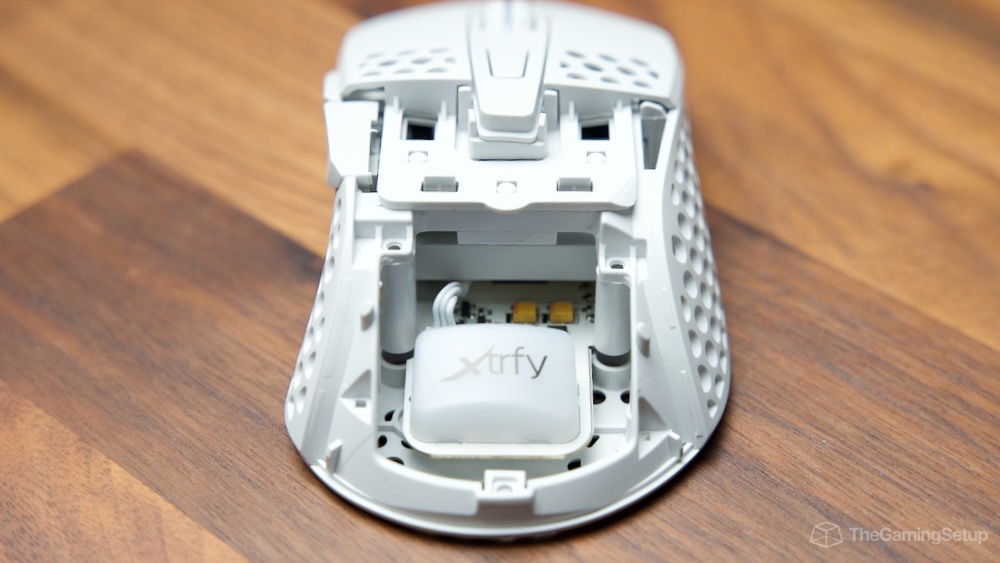 Colors: Black or White | Additional Grips: None | Holes: Yes
The M4's shell is a honeycomb shell to shave off extra weight. I wasn't bothered by any of the cutouts while gaming and it felt like the side holes gave some extra grip to the M4.
The shell is made of a smooth matte plastic but doesn't feel like it has any coating on it. This made the M4 feel cheaper in hand and not like the premium mice.
Near the rear, you will also find 3 other screw holes used to replace the back shell. I wish the back shell used magnets instead since replacing it is pretty annoying.
There is RGB near the rear and front of the mouse. With the white version, it looks amazing and could light up a dark room with the added cutouts.
Lastly, on the underside you will find two screws; one near the top and one right below the PR button. These screws allow you to change the weight distribution in the M4. In our experience with testing this, we don't really feel a significant difference anywhere.
Build quality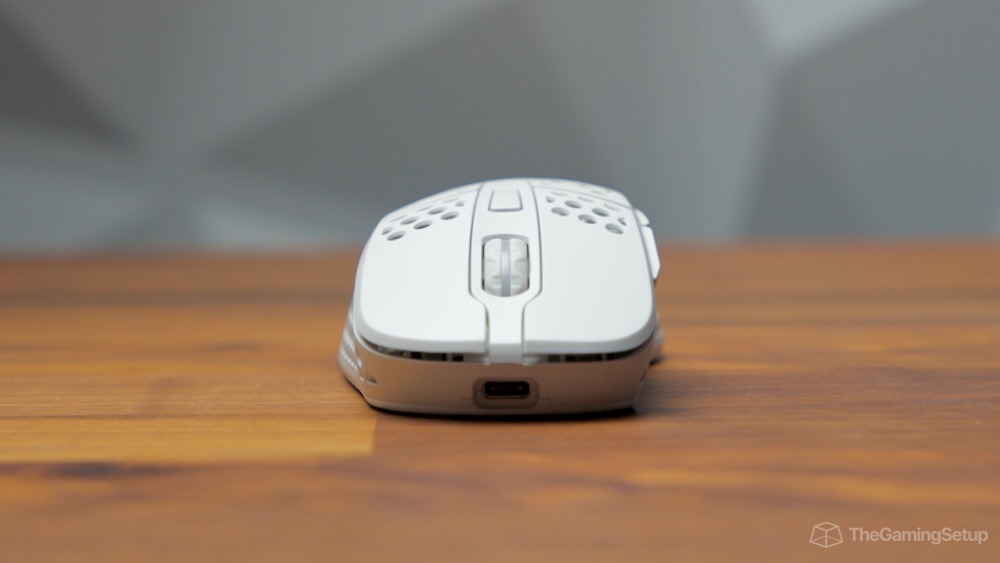 The Xtrfy M4 Wireless is built well.
I squeezed as hard as I could on both the sides and top of the mouse and had no flex or creaks. But, when shaking aggressively, there is a subtle rattle.
Main mouse buttons have slight side to side wobble and don't feel super secure. The side buttons on the other hand are solid in place.This isn't an issue when using the mouse normally and I don't think it's a big concern.
Buttons
Buttons: 5 + 1 | Side Buttons: 2 | DPI Button: Yes | Switches: Kailh GM 8.0 | Click Rating: 80M
The main buttons on the M4 feel crispy and have a pretty light implementation for Kailh GM 8.0 switches. Unfortunately, they have some major flaws.
Despite the mouse having crispy clicks, the main buttons have a lot of pre travel. Mixed with the slight side to side wobble, it can actually be distracting while I play FPS and spam click.
The same situation happens with the side buttons. They feel crisp and tactile, but have a good amount of pre travel. In addition to this, the post travel is a bit extreme too.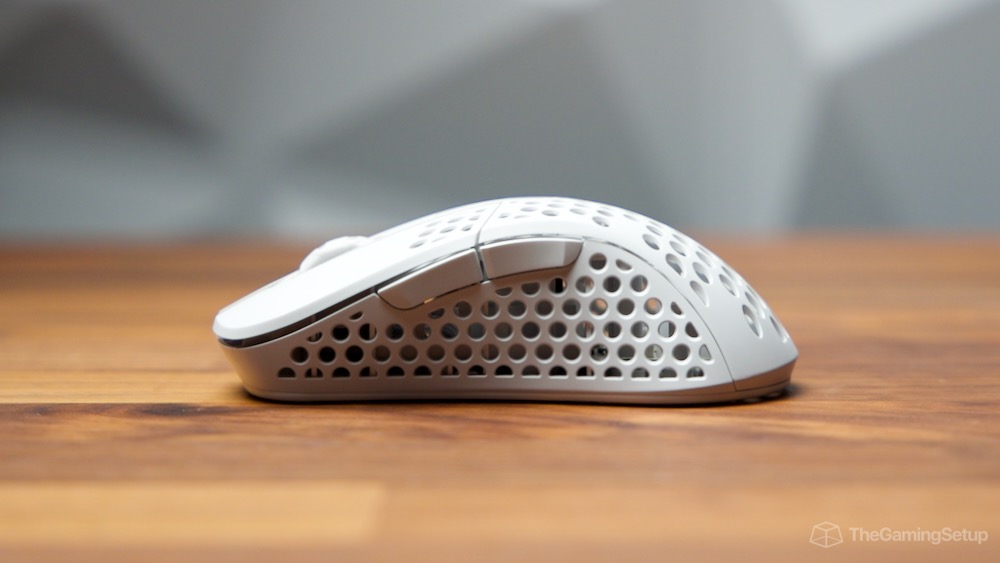 Another important factor is the placement of the side buttons. I feel like the side buttons are placed too high and have a greater slant than other mice. It feels unnatural and you have to adjust your grip to press them.
Click latency
The click latency performance of the M4 Wireless via the 2.4 GHz mode is solid. It's comparable with some of the more premium mice, but just a tier below.
Mouse wheel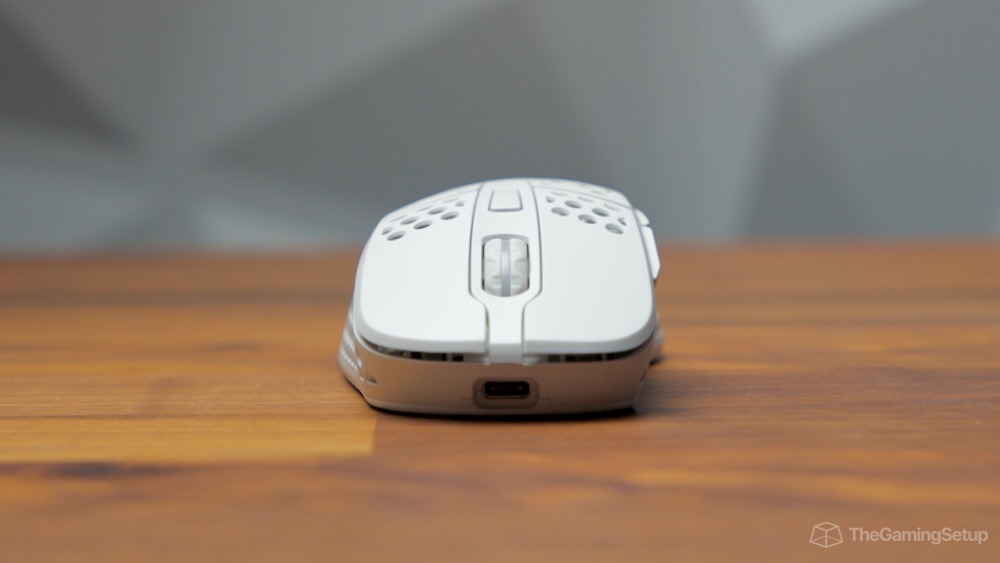 Encoder: F-Switch
The mouse wheel feels amazing. It's not too light and not too heavy, giving you good tension when scrolling. Each step is well-defined, tactile, and responsive.
Around the wheel is a rubber coating that has a nice texturized pattern that helps with grip. Down the middle there is shine through plastic for that gamer RGB to shine through.
Middle mouse button has a fantastic, tactile click.
Mouse Feet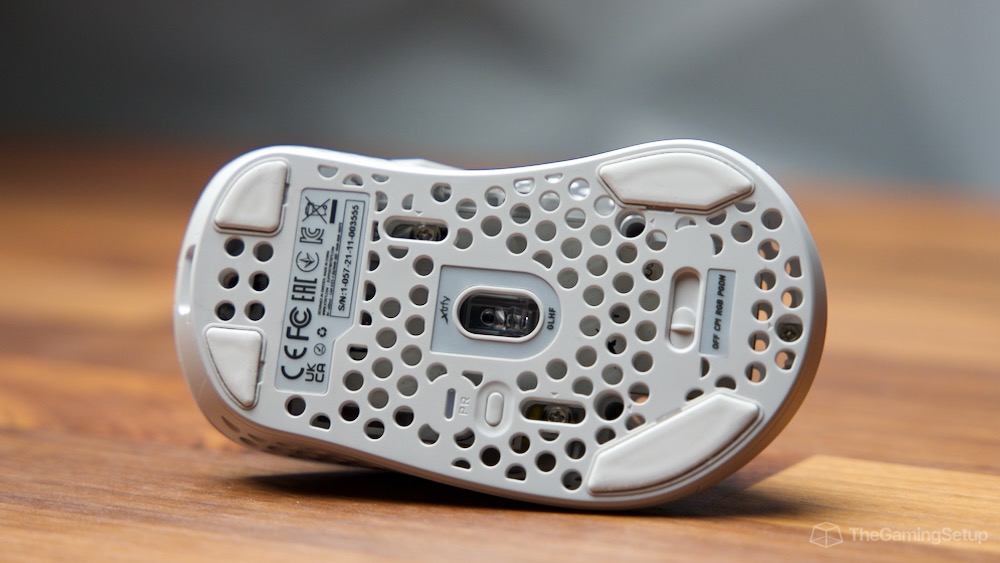 Material: Virgin PTFE | Replacement Feet: Yes
The M4 Wireless has four feet, one in each corner. The two at the top are smaller than the two at the rear. These pads make the M4 glide effortlessly and they give you an extra pair in case the first pair start to slow down.
Performance
Sensor: Pixart 3370 | DPI Range: 400-19000 | Polling Rate: 125hz, 500hz, 1000hz
The performance of the Pixart 3370 optical sensor is flawless in the M4. There were no signs of snapping or smoothing during testing. Trying to get this thing to spin out was impossible and no types of stuttering occurred when using the M4.
Wireless Experience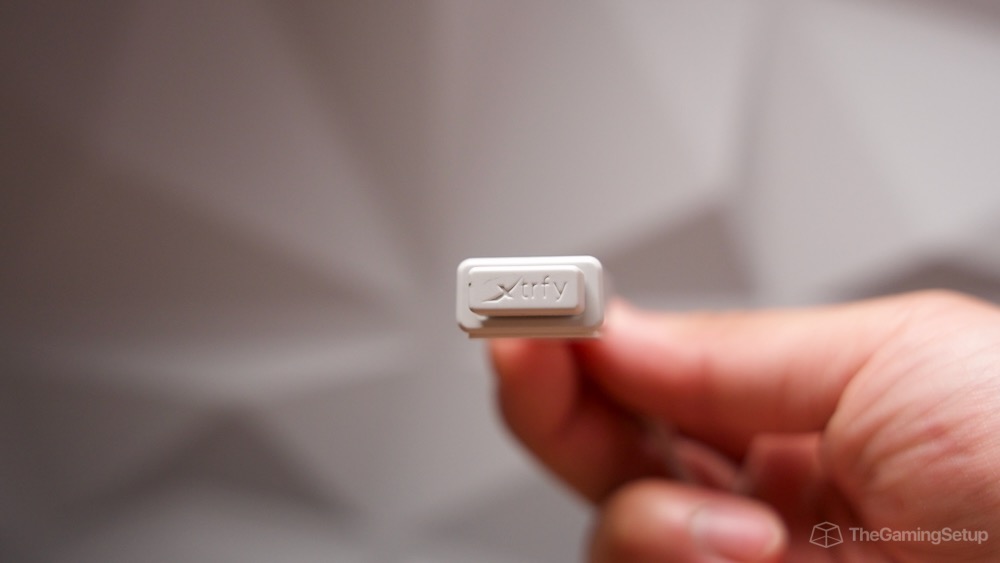 Battery life: 75 hours | Connectivity: 2.4 GHz | Dongle Storage: No | Extender: Yes
The wireless experience has been great during testing with the M4. While using the wireless 2.4GHz, everything felt very stable and well connected.
Listed on the box, the battery of the M4 lasts up to 75 hours. I felt this was shorter when using it but that may be from the excessive RGB that was left on. You'll definitely get closer to the rated battery life with RGB turned off.
Cable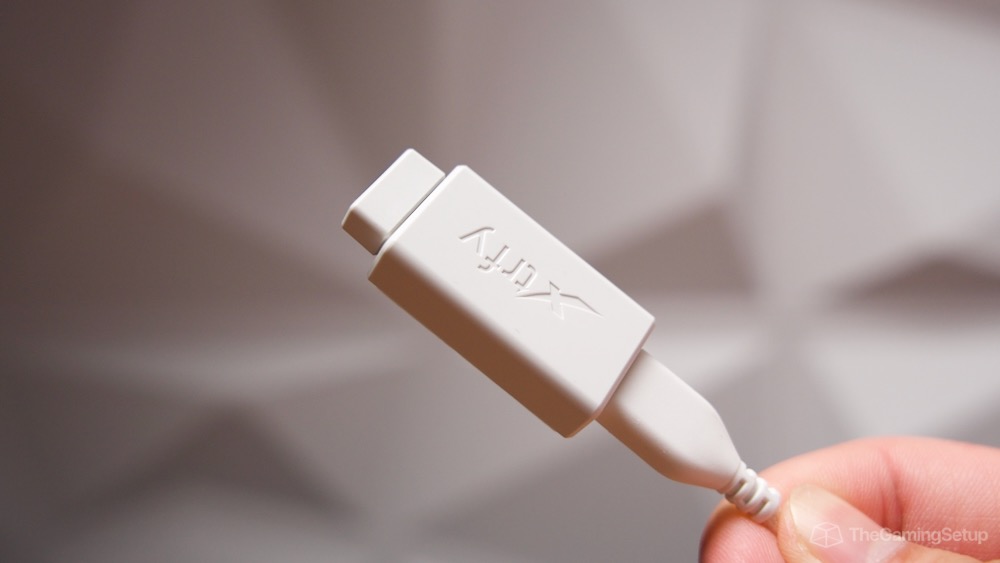 Length: 1.8m | Type: Xtrfy EZcord Pro" (its a braided paracord)| Connectors: USB-C to USB-A
The Xtrfy Ezcord Pro is their way of labelling their cables. It's a soft braided cable that has little drag when pulled across other fabrics like another mousepad. When using the M4 in wired mode, you can barely notice that it's connected.
Software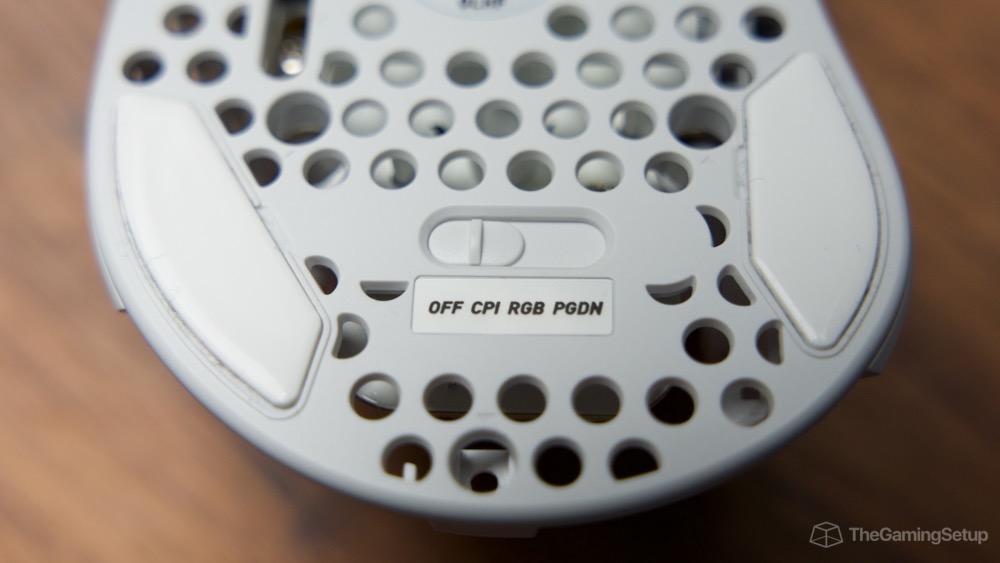 Profiles: N/A | Onboard: Yes | RGB Zones: 4 | DPI Adjust: Yes | Polling Rate Adjust: Yes | LOD Adjust: Yes | Account Required: No
Does the Xtrfy M4 Wireless have software
No, the M4 Wireless doesn't have software. All the settings can be changed on the mouse. There have been firmware updates for this mouse. You can find them on the Xtrfy site.
If you're looking for dedicated software for the M4 then you're out of luck since all the customization is made on the mouse.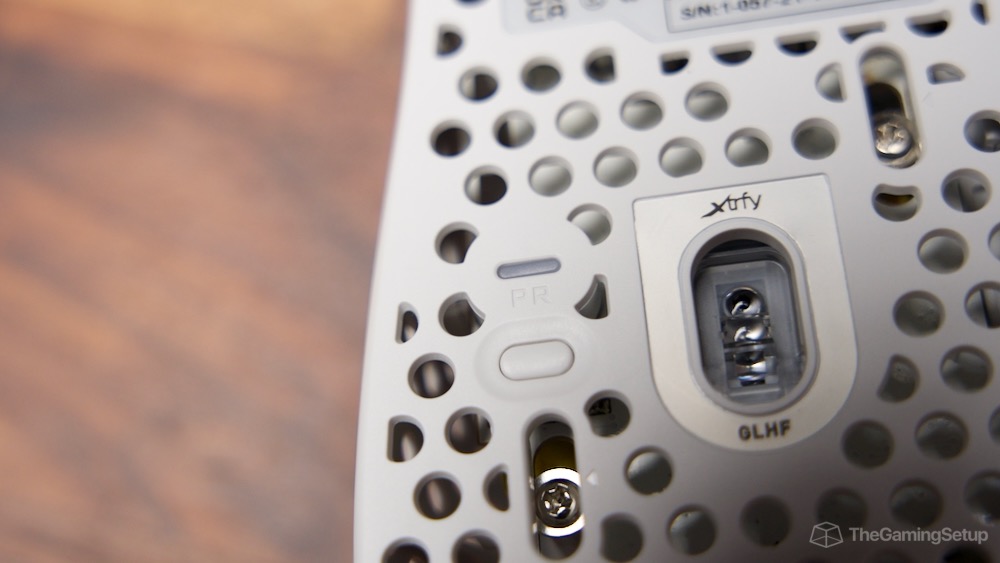 On the underside, you'll find a button labelled "PR" for polling rate changes. Right above it is an LED indicator which is how you'll know which polling rate is selected.
Red – 125Hz
Blue – 500Hz
Green – 1000Hz (best option)
What's also on the underside is a switch with 4 modes; off (self explanatory), CPI, RGB, and PGDN. I was also very confused at first but let's explain.
CPI Mode
When switched to CPI mode, you are able to change the sensitivity by pressing the button behind the mouse wheel. Again, each option has its own colour. The following options are:
Red – 400
Yellow – 800
Orange – 1200
Blue – 1600
Purple – 3200
Baby blue – 4000
Green – 7200
White – 19000
RGB Mode
When switched to RGB mode, you can cycle through different effects using the same button for CPI changes. The effects you can swap between are rainbow, static colour breathing, static colour, colour cycle, breathing colour cycle, and a glitch effect.
Here's where it gets a bit complicated. There are a set of combinations you can press to customize the RGB. These are the combinations and what they do:
Cycle through colours: Top button hold + right click
Change brightness: Top button hold + side buttons
Change speed of the RGB effects: Top button hold + left click
Turn off RGB: Top button hold + mouse wheel button hold for 3 seconds
PGDN Mode
PGDN mode will let you change the lift-off distance and debonce settings. Again, this is all set with some mouse button combinations that we list below.
Change lift-off distance: hold both side buttons and both main buttons for 3 seconds
Change debounce: hold both side buttons and mouse wheel button for 5 seconds

Red – 2ms
Blue – 4ms
Green – 8ms
Purple – 12ms
Say you accidently change something and you don't know what you changed, the M4 also has a factory reset combination:
Factory reset: hold both side buttons and right click for 5 seconds
Battery Indicators
Since there's no software, you will have to check the battery life using some more combinations.
Check battery status: hold both side buttons + left click for 3 seconds

Red – 0-25% battery remaining
Orange – 26-50% battery remaining
Yellow – 51-75% battery remaining
Green – 76-100% battery remaining
If the battery gets low enough to below 25%, the mouse will automatically start blinking red. During charging, it glows orange and when the charging is done it will go back to the RGB mode you have selected earlier.
What's in the box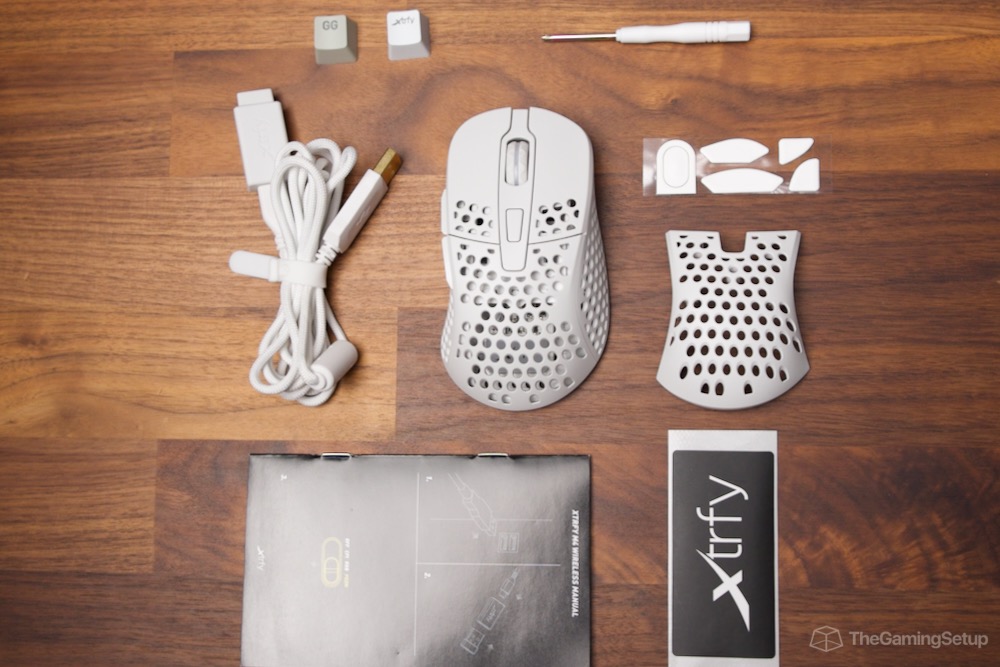 There's a decent amount of things to keep track of in this box:
Xtrfy m4 wireless
USB receiver extender
USB dongle
USB-C to A cable
Screwdriver
Secondary back shell
Custom keycaps
Extra pair of mouse skates
Sticker
Documentation