What are Topre Switches?
Topre switches are mechanical key switches that work differently from most others. They are electrostatic capacitive non-contact switches that use a rubber dome for feedback.
Topre switches have a unique tactile bump and sound, which makes them an acquired taste. Fans of Topre switches love them for this.
If you want a switch that feels smoother than your Cherry MX Browns, Topre switches are worth checking out.
Typing on Topre switches is a unique experience. Some users say it feels like a combination of a mechanical and membrane keyboard, but in a good way.
Topre vs Cherry
Topre switches are often compared to Cherry MX switches because they're both smooth and satisfying to type on. However, Topre switches are softer and a lot quieter than Cherry MX switches, with a tactile feel that is incomparable to any other switch out there.
On the other hand, Cherry MX switches offer a pretty compelling argument against Topre switches. They're a lot cheaper, more durable, and offer a ton of versatility when it comes to the range of actuation and switch feel.
But don't count Topre switches out for gaming just yet. Some Topre switches have the ability to set different actuation points, and the return is often faster than a mechanical keyboard.
While I can't say they're universally the best for everyone, Topre keyboards offer a compelling option.
Onto our reccos!
---
1. Topre Realforce R2 RGB TKL
The Best All-Around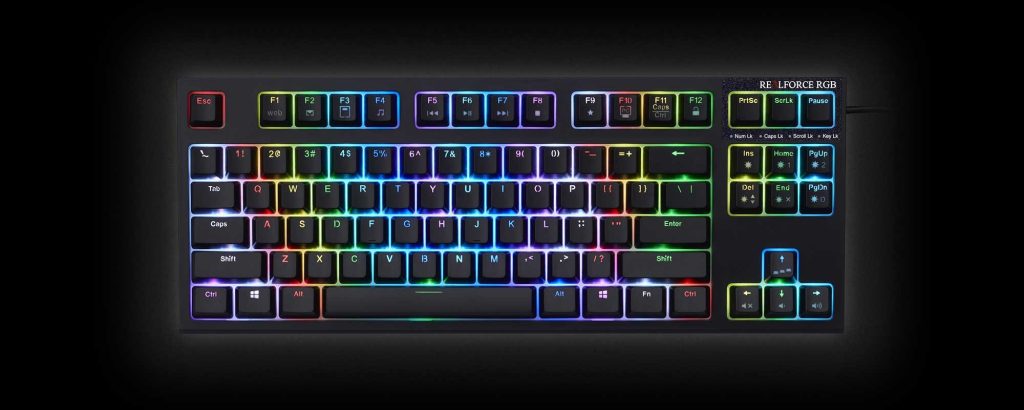 The Topre Realforce RGB TKL is a no nonsense keyboard. It's got a sleek build that screams "pro workstation", until you turn on the RGB.
With a super bright Tenkeyless layout, this keyboard will fit right in with any setup. The keyboard is pretty bare, except for the teeny-tiny Realforce logo up in the top right corner.
The RGB is fully backlit and can be customized using the Topre software. Thankfully, Topre's lighting software is top-notch. It's super comprehensive, with a ton of customization options to make your keyboard feel unique.
But, if you don't want to mess around with the app's laundry list of customization options, the Realforce RGB TKL has keyboard shortcuts for lighting customization too—although with less flexibility.
One of the coolest features of this keyboard is its ability to change the actuation point for each individual key. You've got three options: 1.5mm, 2.2mm, and 3mm. This adds another (very welcome) layer of personalization that could even up your eSports game. A lower actuation point makes for a faster key press, while a higher level will give you more accuracy and granularity.
The Topre Realforce RGB TKL uses double-shot keycaps that feel extra durable. Combine that with the silky smooth Topre switches, and you're in for an amazing typing experience.
But, it all comes down to the price. Topre switches are expensive. Really expensive. The Realforce RGB TKL retails at $300 and that's the big if when it comes to Topre keyboards.
The price might be justified if you're a die-hard Topre fan or even a mechanical keyboard enthusiast in general. But, for the average Joe who just wants a straightforward mechanical keyboard that's comfy to type and game on, I'd say check out other options.
2. Happy Hacking Keyboard
The Special One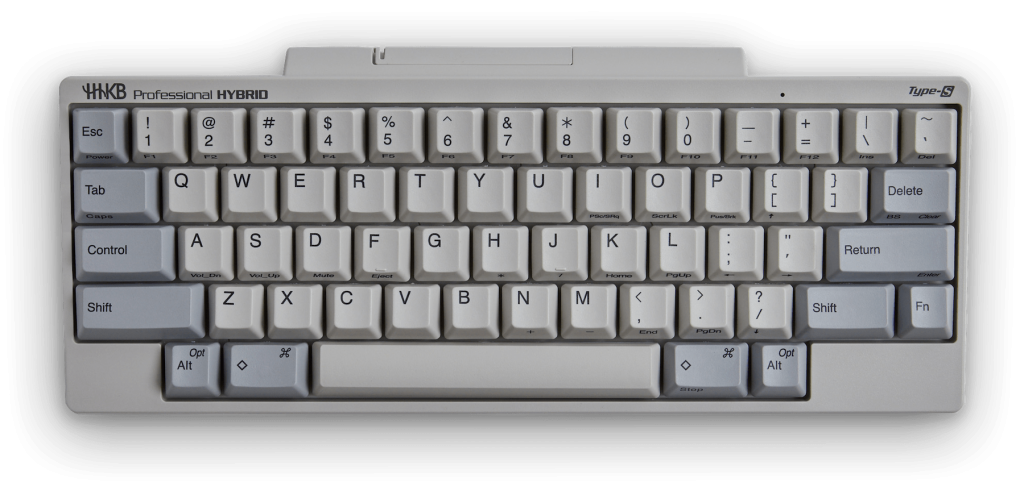 The Happy Hacking Keyboard (or HHKB as it's commonly abbreviated) might as well be the poster child for Topre switches. It's a keyboard that's made for a highly niche audience: those who want an expensive, compact, and buttery smooth typing experience. At an eye-watering $385, the HHKB achieves all of that and more.
The HHKB has one of the most compact key layouts out there. With only 60 keys, it's primarily aimed at professionals who want to optimize their workspace as much as possible. You will have to use the FN key combinations to access the function row, arrow keys, and basically any of the other non-letter keys. There isn't even a dedicated Caps Lock.
With all that said, however, those who have taken the time to get used to typing on the HHKB tend to swear by it. The Topre switches are pleasant to type on, and the build quality of the keyboard is solid, so there isn't any annoying clatter.
One of HHKB's biggest drawbacks though is that it lacks backlit keys. If you're someone who prefers working in the dark often, this might be a deal breaker for you.
Apart from that, however, the HHKB is surprisingly robust. It offers both Windows and MacOS options and even has multi-device support for up to four devices. Switching between multiple devices is very easy, and this is a great option for those who want to clear the keyboard clutter in their home. Additionally, you can also connect the HHKB via USB-C (although a cable is not included in the box).
The best feature that the HHKB offers is its mapping utility. If you don't like the default key layout, you can easily create your own custom key set. Your presets can be saved and loaded when needed.
For gamers, missing the corner keys might be a deal breaker for you.
The Happy Hacking Keyboard is a great compact keyboard. But the $385 price tag puts a high barrier of entry for most people save for the true Topre enthusiasts.
3. Leopold FC660C
Sleek and solid

So, you want a keyboard that looks sleek and feels solid? Look no further than the Leopold FC660C. Not only does it look good, but it also performs well with its Topre capacitive switches.
Leopold has made some bold design choices with the FC660C. The matte black chassis and keys give it a sleek look, but the legend on the keys is hard to read. You'll need to be fluent in key positioning or make lots of errors before you get used to it.
The keyboard is heavy and well-built, with rubber grips on the bottom to keep it firmly in place on your desk. It's a 65% board, so it's pretty compact, but it's still easier to get used to than the HHKB. Plus, the barely visible legend blends in easily in both Windows and Mac modes.
Compared to our top pick, this layout is a little more niche and is missing some of the nice conveniences that the Leopold has.
The FC660C is pretty tall for a keyboard, and it doesn't come with a wrist rest. I highly recommend getting one if you don't want a strained wrist.
One of the coolest features of the Leopold FC660C is that it supports aftermarket control boards. If you're not happy with the stock board's performance, you can switch to a fully open-source key mapping solution without any hassle.
At $250, the Leopold FC660C is cheaper than the other keyboards on this list, but it's still not cheap enough for me to recommend it to everyone.
4. Leopold FC980C
Retro solid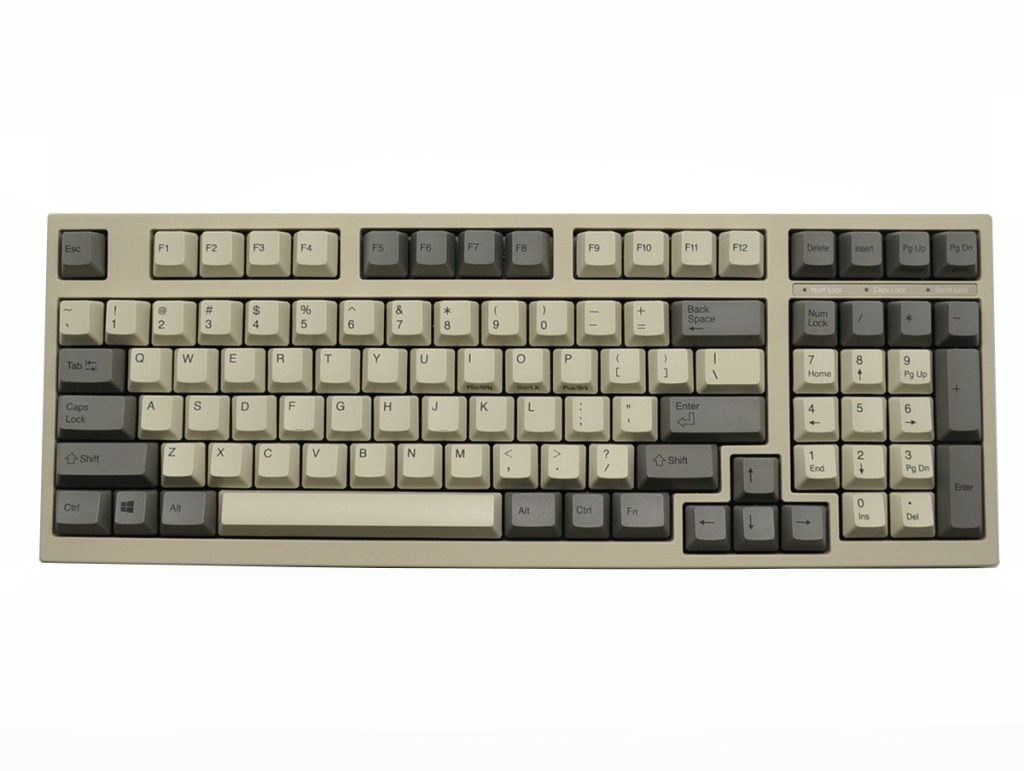 The Leopold FC980C is a great keyboard that offers a retro feel. It has a 98-key layout, which is similar to a full-size keyboard but with fewer keys and an offset arrow key cluster. The Topre switches are paired with high-quality single-shot PBT keycaps to provide a fantastic typing experience.
The keyboard's build quality is excellent. It has a substantial weight, and while its dual-tone retro-stained white plastic finish may not be everyone's cup of tea, it works well in Leopold's favor.
Overall, the Leopold FC980C is an excellent keyboard for typing. With its solid build, well-crafted keycaps, and smooth Topre switches, you can't go wrong. However, the $260 price tag may be a bit steep for some.
5. Cooler Master Novatouch TKL
The brand name Topre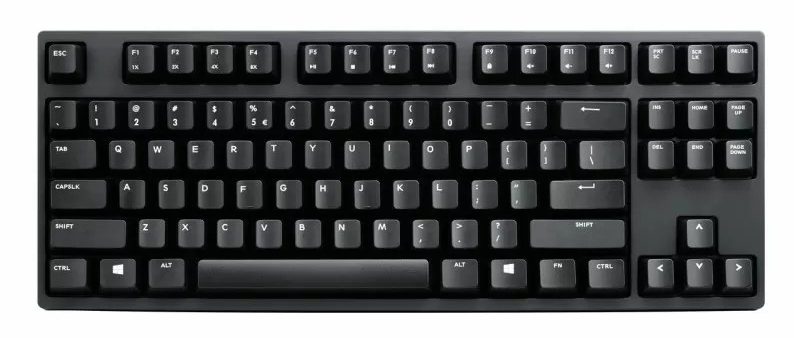 This is the first mainstream brand keyboard on our list that uses Topre switches. In fact, the Cooler Master NovaTouch TKL predates all the other keyboards on this list!
The NovaTouch TKL follows the same design conventions of Topre keyboards; with a muted look, no backlighting, and a sturdy, professional-looking build. Moreover, Cooler Master even went the extra mile to offer keycap versatility by making the NovaTouch TKL compatible with Cherry MX keycaps.
At $200, the Cooler Master NovaTouch TKL isn't outlandishly priced. In fact, its build quality and feel in the hand is right up there with its competitors in the same price point.
6. Epomaker Niz Plum Atom 68
Good clone at more affordable price
The Epomaker Niz Plum Atom 68 is a 65% keyboard that uses Topre clones in order to hit its budget price point.
The Niz Plum Atom 68 is surprisingly decent at mimicking a premium Topre keyboard. It has a rigid build quality thanks to a thick plastic chassis, feet with two different height levels, and a USB C cable. The legend is laser-etched, however, which isn't quite on par with dye sublimation. But it makes up for it by using high-quality PBT keycaps.
Probably the biggest drawback of the Epomaker Niz Plum Atom 68 is its stabilizers. The hook-in stabs are more of a hindrance than a help, as they make removing keycaps a lot more trouble than it should be.
The Epomaker Niz Plum Atom 68 retails at around $180. Paying that much for a budget keyboard that uses clone switches should be laughable, but in the context of just how expensive Topre keyboards are—I'd say that it's pretty well-priced.
What do Topre Switches Sound and Feel Like?
The biggest selling point of Topre switches is how they feel to type on.
They offer a soft, but firm tactile feel that is super quiet—so you wouldn't have to worry about typing in a library or an office space.
The best way I can describe Topre switches is that they feel like typing on wet clay tablets. Make of that what you will.
Can you Lube Topre Switches?
Just like any other mechanical key switch, you can lube Topre switches. In fact, I even recommend it.
Lubing your Topres can greatly enhance their smoothness and minimize unwanted friction. Keeping your switches well-lubed is integral to their longevity, but make sure you use the right lubricant for the job.
I recommend using silicone lubricants for Topre switches. Tribosys 3204 and Krytox GPL 205 are both excellent choices.
Be sure to use only a small amount though, as over-lubing your switches yield equally bad results as not lubing them!
Are Topre Switches Good for Gaming?
When you think of gaming-focused key switches, Topres aren't usually anyone's first choice. But that does not mean they're terrible for gaming.
In fact, some might even prefer the smooth and unique tactile experience over a traditional Cherry MX Red.
The unique feel of Topre switches and their fast return time can make them great for gaming.
Players can easily tell when a key has been pressed, which can give them a tactical advantage in fast-paced games, especially shooters.
It all boils down to personal preference. There's a whole host of factors that goes into which switch works for you. The actuation force, travel distance, and tactile feedback all wildly differ between Topre switches and its competitors.
If you prefer no-nonsense, fast-paced, and super tactile switches for gaming: stick with something linear like Cherry MX Reds.
If you're looking for something with a much more unique feel without trading off a lot of latency, maybe it's worth giving Topre switches a try.