Custom mechanical keyboards feel, look, and function better than most gaming keyboards that we can snag off the retail shelves.
However, building a custom keyboard is accompanied by many different steps and parts that some individuals get confused about.
One step in particular is "filming" your keyboard switches. This process alone can make a drastic change to the way your keyboard feels and sounds. With this overview of switch films, you will go from beginner to expert on what switch films do, how to determine what switch needs filming, and how to install switch films.
Why switch films?
A switch film is a helpful tool utilized during custom keyboard construction that aids in multiple areas such as reducing stem wobble by making the overall switch tighter. What this really means is that there is a tighter fit between the upper and bottom housing the switch, creating a more rigid, stable, and better sounding switch.
How do I know if I need to film?
Every type of keyboard switch has a variability in the amount of wobble it comes with at stock level. Some are tighter or looser than others and sometimes it is hard to determine whether or not filming would be beneficial.
There are two types of switch wobble.
Switch stem wobble is when there is shifting of the stem inside a switch's upper housing. However, this type of wobble is not of concern and is perfectly normal for every switch.
On the other hand, upper housing wobble is an issue and is not normal for a switch to have. A switch film can be applied to fix this issue as it creates a tighter space between the upper and bottom housing, reducing overall wobble.
If your switch does not demonstrate any significant wobble of the upper housing then filming is not necessary.
Are filmed switches better?
In short, yes, filmed switches are more likely better off than unfilmed switches. However, the degree of wobble in a switch will determine the effectiveness of a switch film. As the degree of wobble is lower in a switch, you will see smaller returns of using a switch film. With higher wobble switches, you will likely see significant improvements in stability, sound, and performance.
Tools needed to film a switch
Switch opener
We recommend using a switch opener to make opening up a switch easier and to reduce the risk of damaging the housing using alternative methods. Either plastic or aluminum versions will do the job just fine.
Switch films
Switch films can be made out of different materials, usually a type of plastic or rubber. It is suggested to have at least 1 film per switch as it is always good to have extra on hand in case some are defective. We will cover which switch films are the best options down below.
Tweezers
Handling the switch films with your fingers can be a bit tricky. Grabbing a pair of tweezers can make the process a lot easier when placing the films on the switch.
How to film a switch in 5 steps
Step 1: Open your switch using the switch opener. By placing the switch inside the socket and applying slight downward force, the switch should pop open.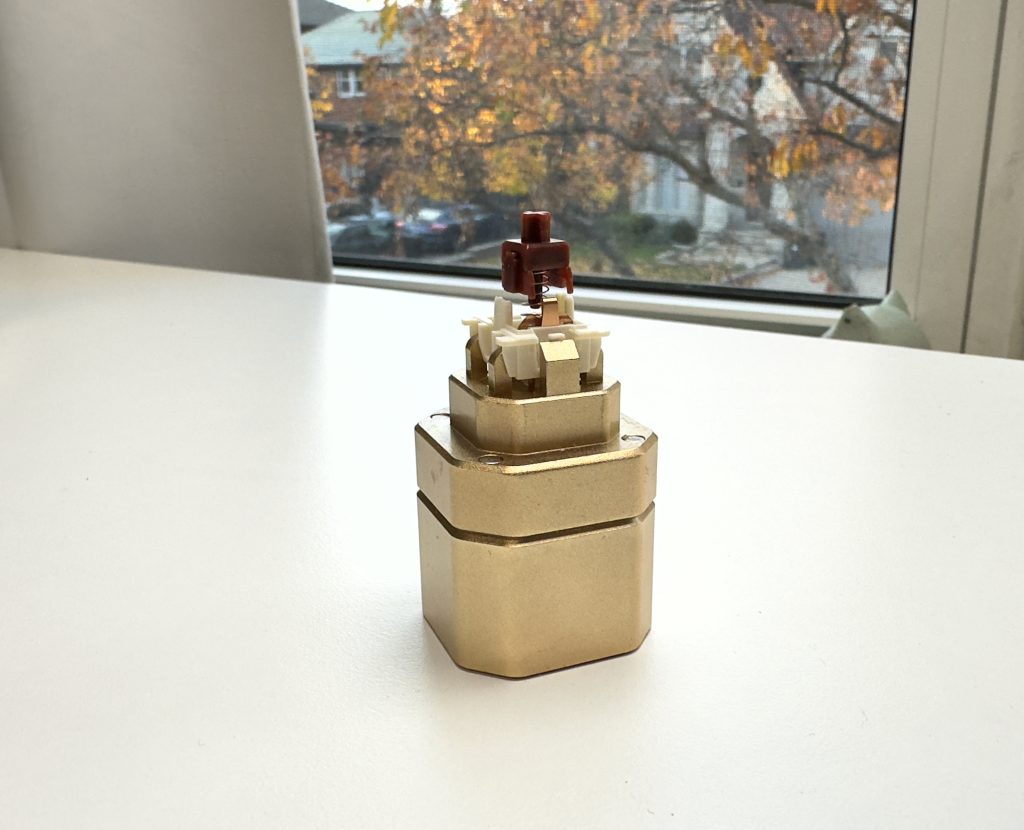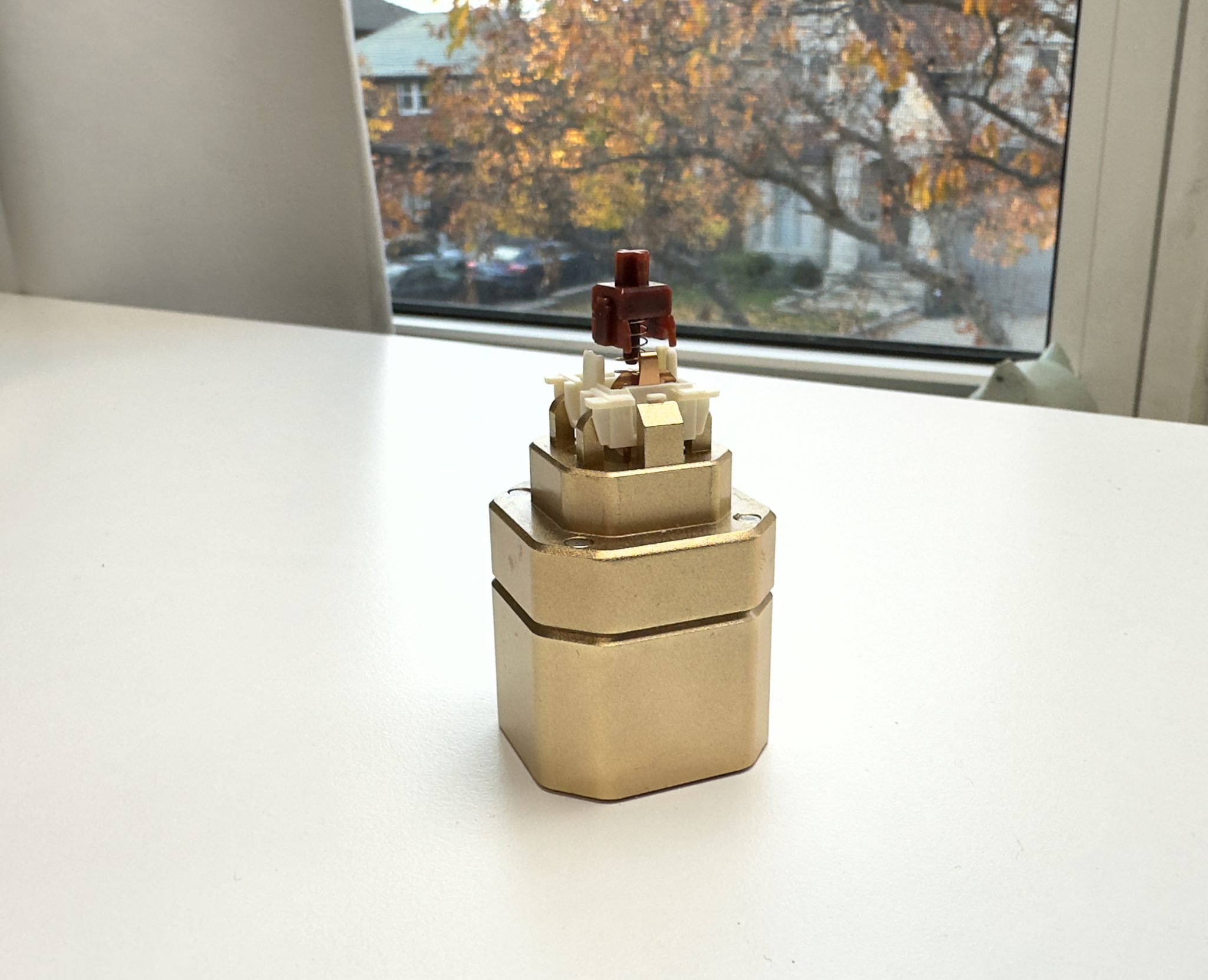 Step 2: Remove the upper housing from the switch, leaving everything else intact.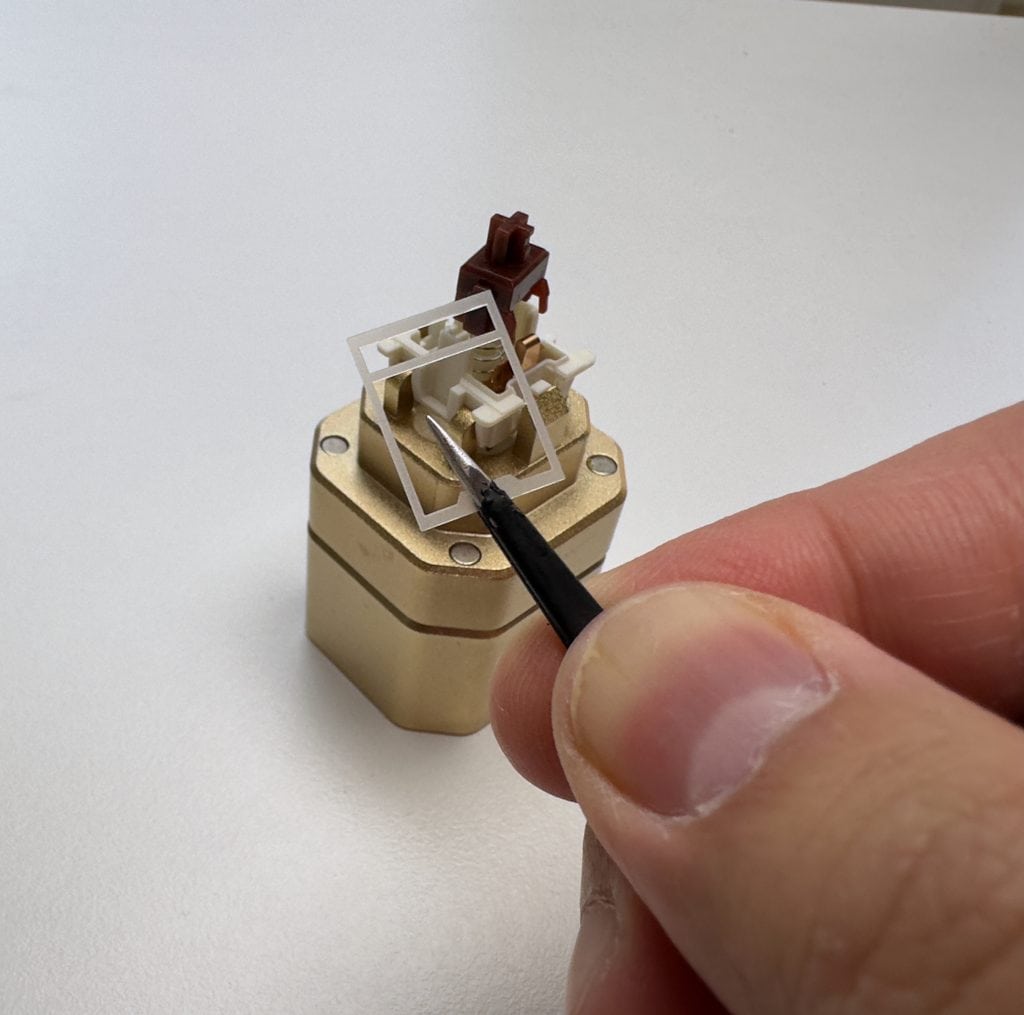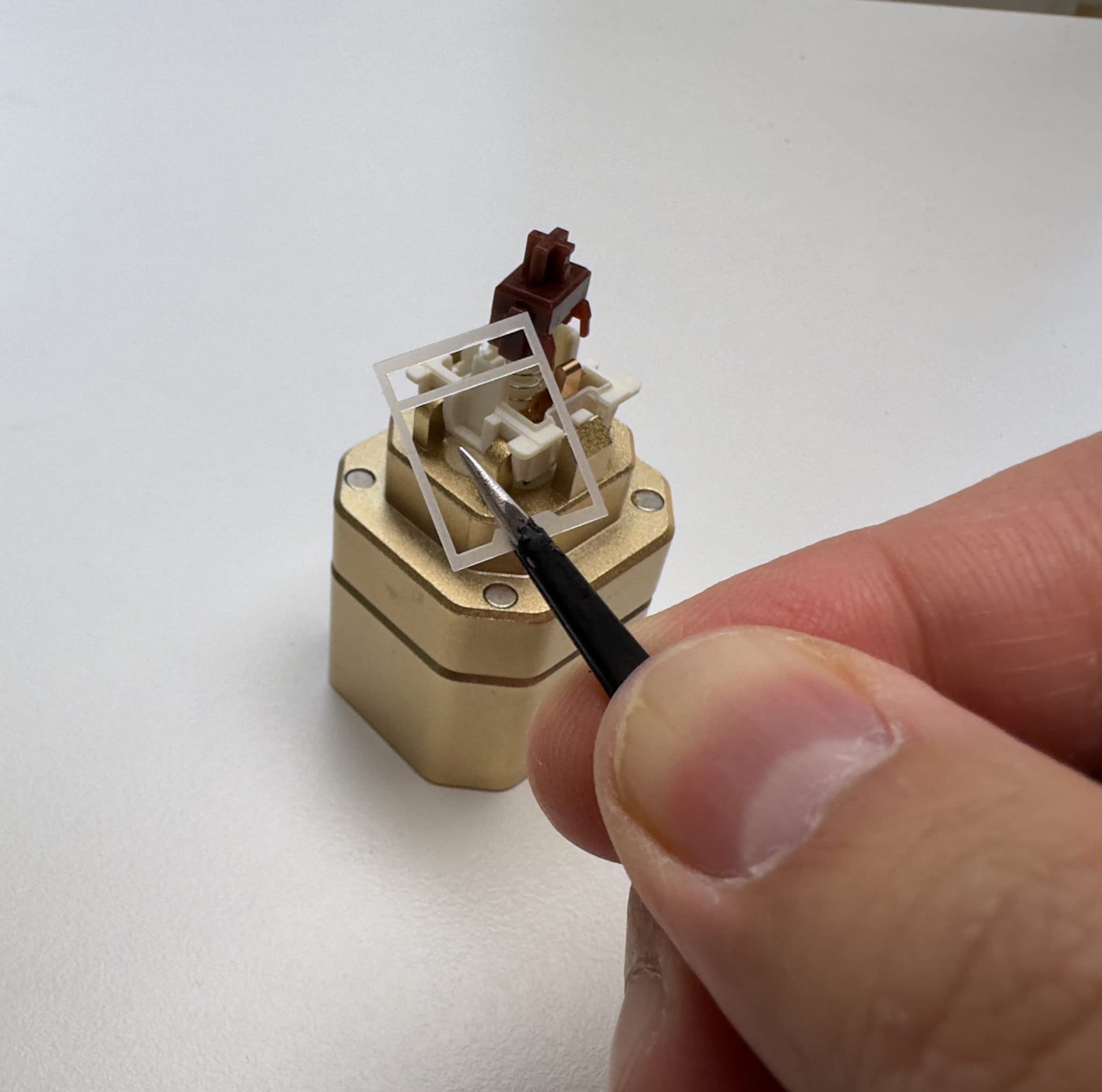 Step 3: Grab a switch film using your tweezers and align the film along the surface of the bottom housing.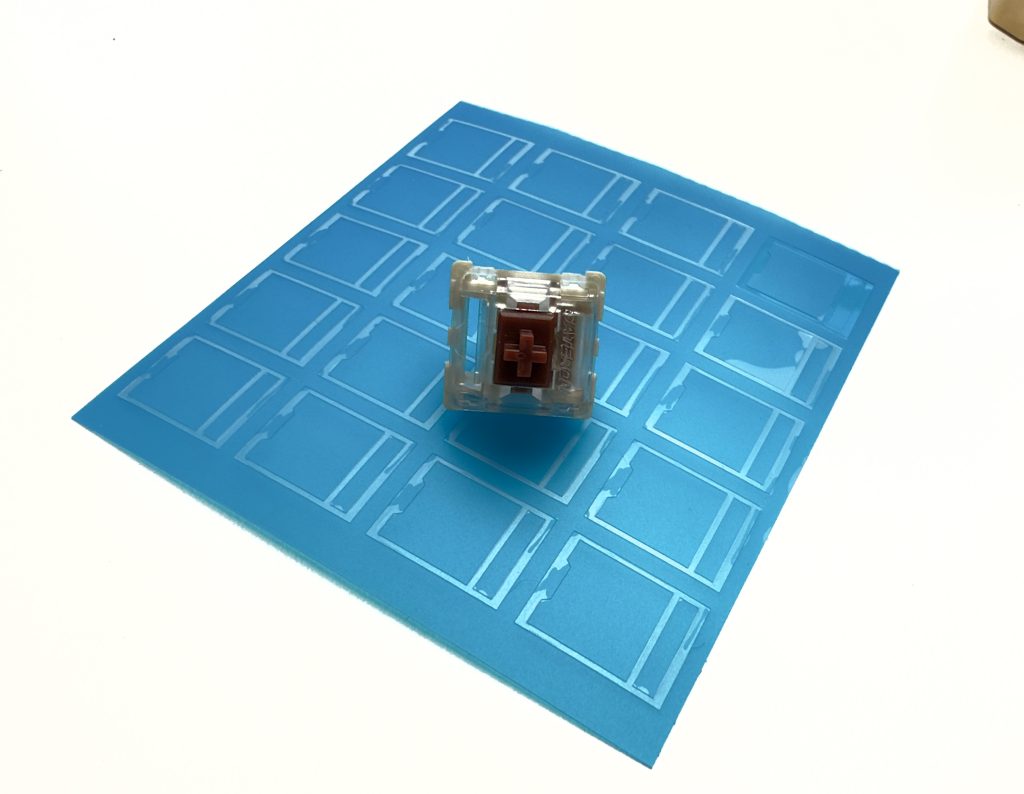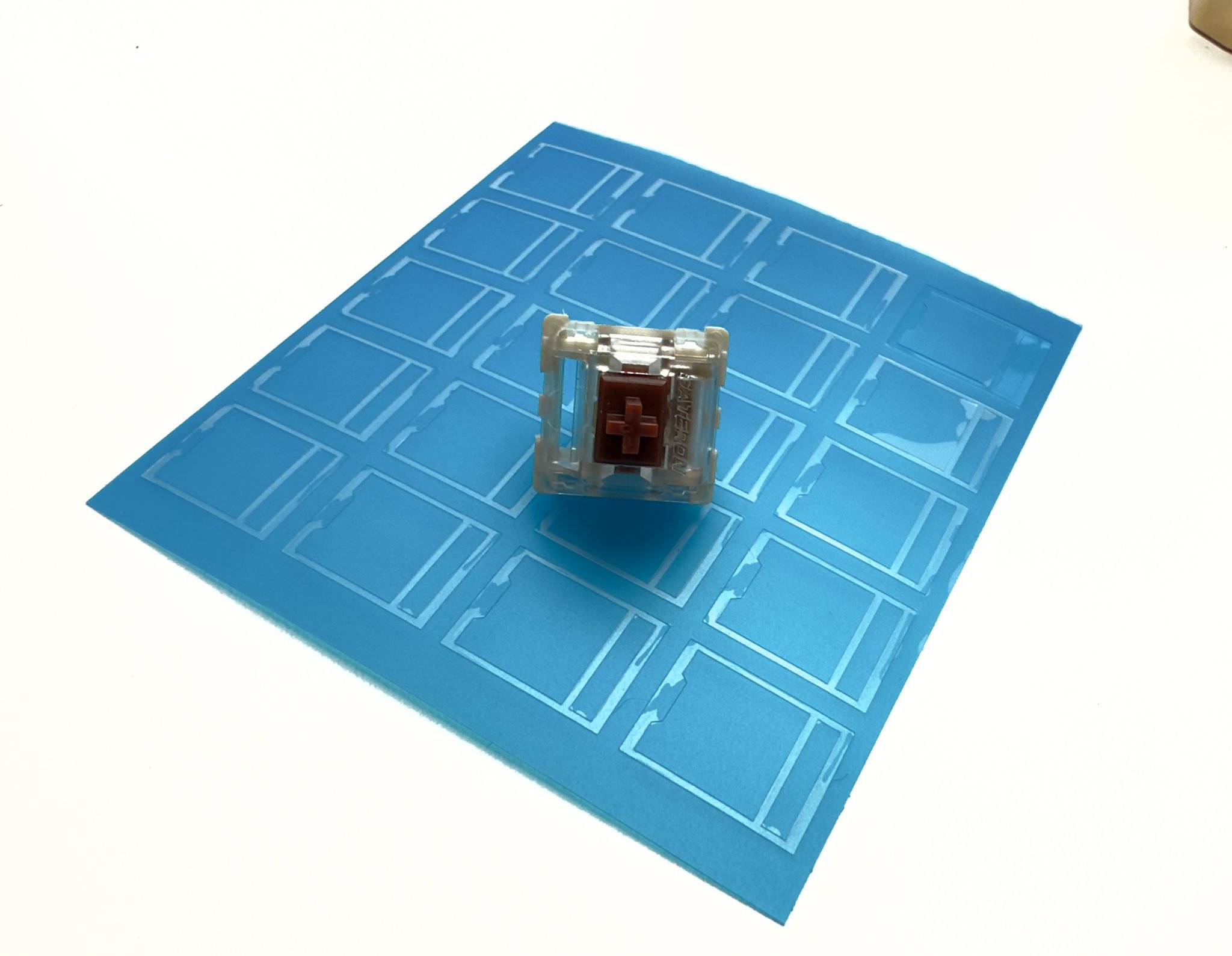 Step 4: Reassemble the switch by placing the upper housing back on top of the lower housing.
Step 5: Install your switch into your keyboard like normal.
Which switch films are the best?
TX Films are made of polycarbonate and come in two sizes; 0.125mm and 0.15mm. Each package comes with 110 films, costing $5.50 per pack. These films come in a variety of colour options including yellow, green, orange, clear, black, white, red, blue, purple, aqua, and pink. TX films are a great choice for anyone looking to film their switches.
Kebo films are also made of polycarbonate but only feature a single size of 0.125mm. Each package comes with 100 films at approximately $6.00 per pack. For Kebo films, they come in colours of white, black, and clear.
Thicc films are thicker than most films out there. They are made out of PLA plastic and measure approximately at 0.22mm thickness. For $8.00 you will get 110 films per package. Keep in mind, due to the thickness of these films, they will not fit every switch so make sure to double check the compatibility prior to purchasing.
The last switch film we would recommend are the Deskeys switch films. They are made of a rubber-like material instead of plastic and are 0.3mm thick. Each pack contains 120 films at $7.00. Since it is made out of rubber, the films are able to compress and form around the housing. Many individuals have claimed that these films make their switches sound and perform the best, however, this all comes down to personal preference at the end of the day.
Where to buy switch films?
These days there are many reliable retailers available that provide these switch films. ApexKeyboards, The Kebo store,  OmegaKeys, and AlphaKeys are all good places to purchase the above 4 switch films.