Glorious has brought custom keyboard features into a mass market world with the GMMK Pro.
Rocking a rotary wheel, gasket mount PCB, full aluminum case, screw-in stabilizers, and 3 different plate options, the GMMK Pro is delivering on its initial promise to make high-end custom keyboards more accessible without the insane price tags and group buy waiting games.
Outside of some slightly janky software, if you were looking for a custom keyboard experience, the GMMK Pro nails most of it.
For everyone with gaming keyboards, the difference in price isn't going to make you a better gamer, you would be better off spending the difference on a great gaming mouse, rather than plunking all the money into a keyboard.
For those with the budget, I would recommend taking a look into the GMMK Pro with a price of $170, it's awesome.
Pros
Low vibration gasket mount
Rock solid case and build quality
Good screw-in stabilizers
Pleasing RGB windows
Rotary wheel is very functional
Cons
Expensive
Software could use some polish
What's in the box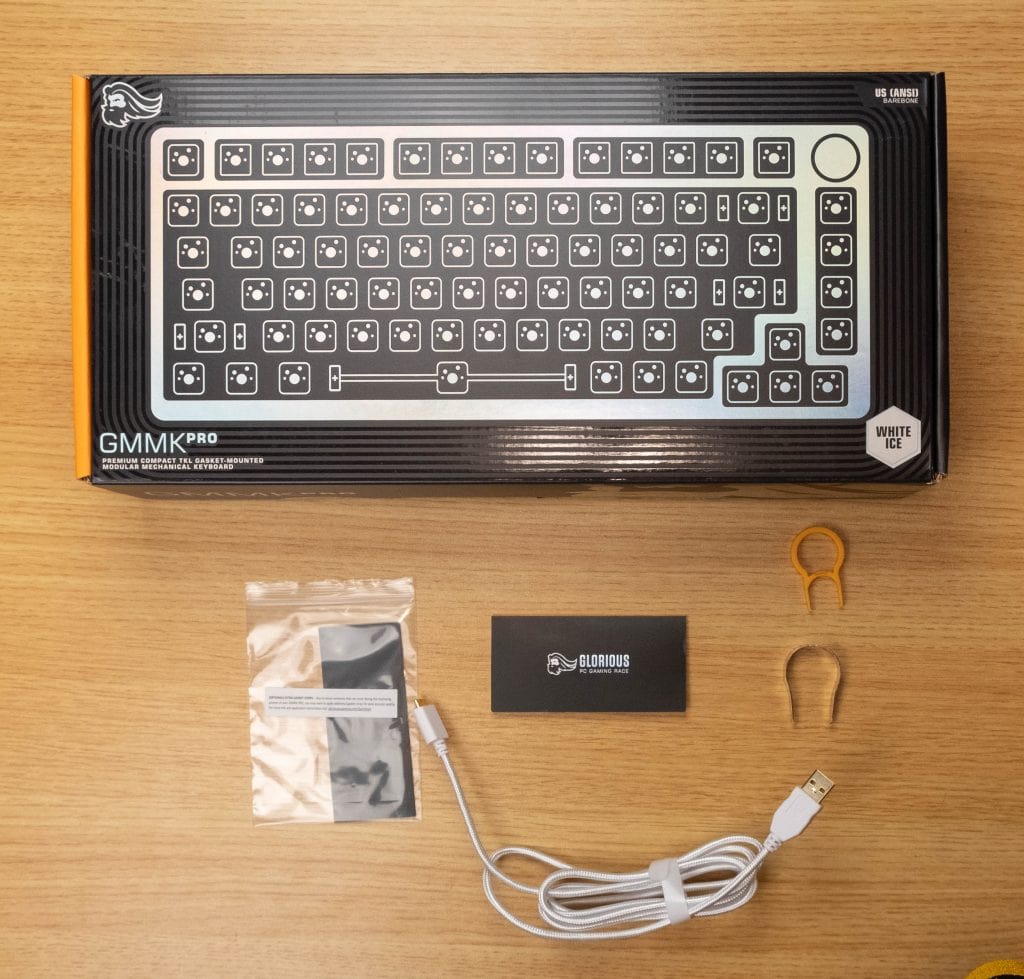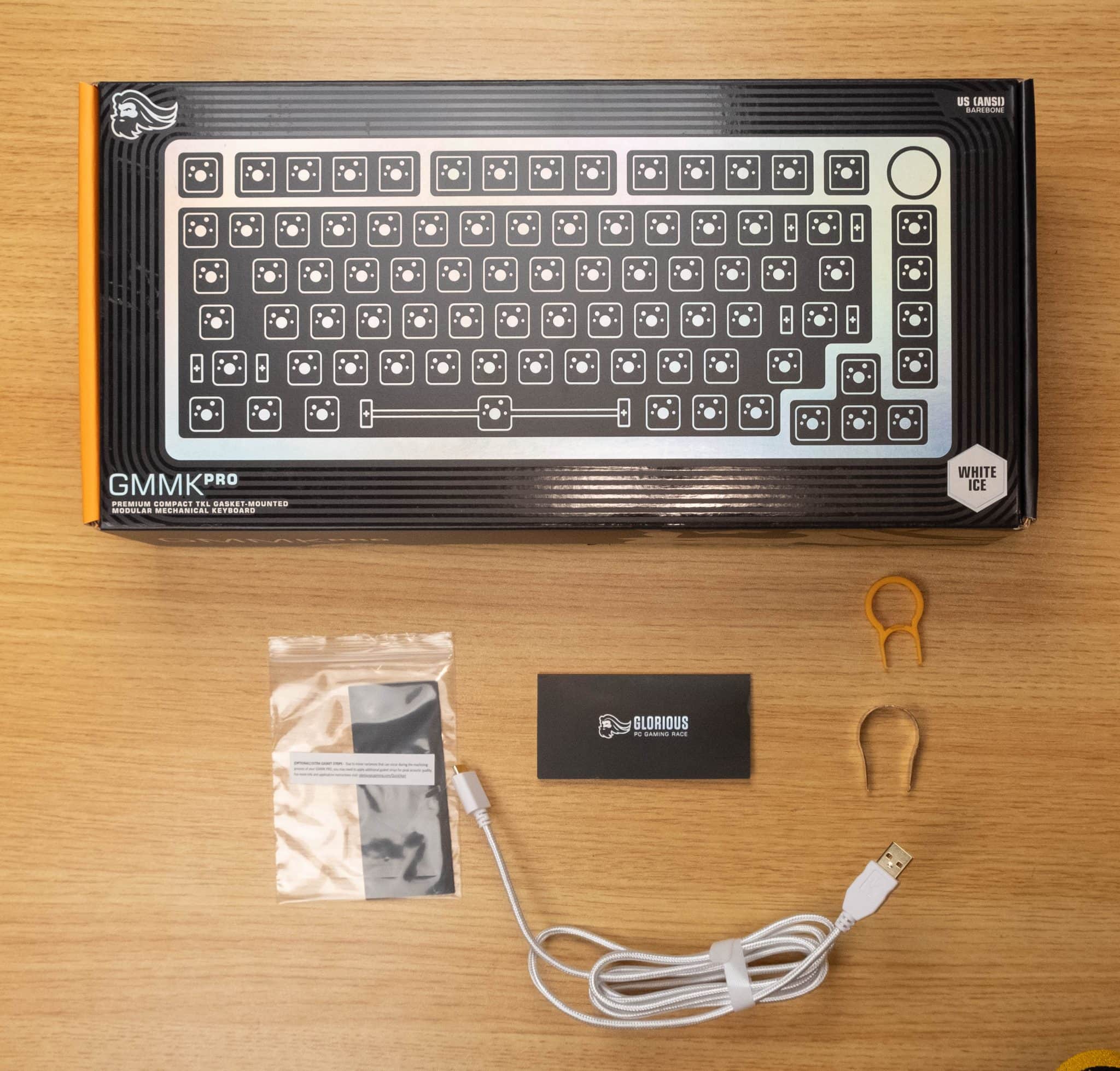 The GMMK Pro comes with a barebones set of accessories:
Plastic keycap puller
Short switch puller
USB-C to USB-A cable
Manual
Extra Gaskets
Great 75% design with a rotary wheel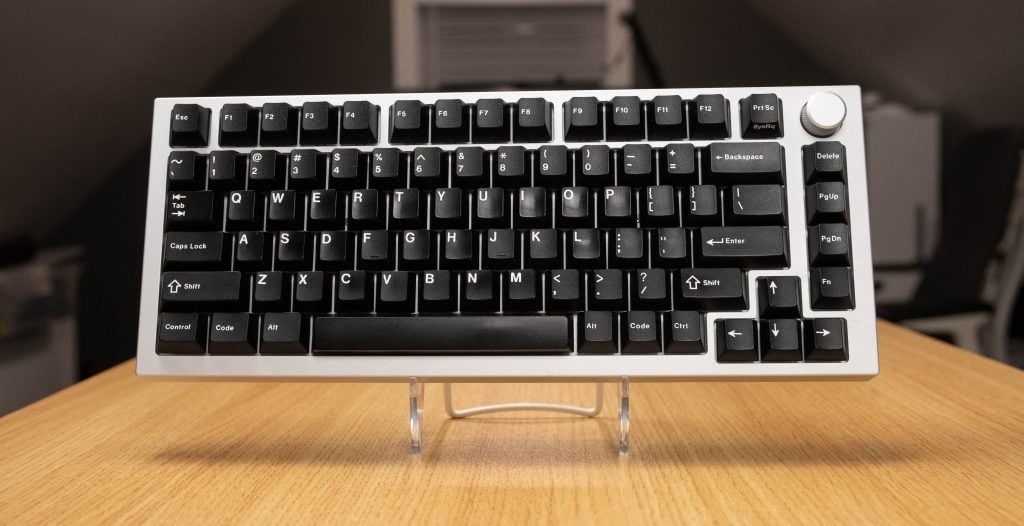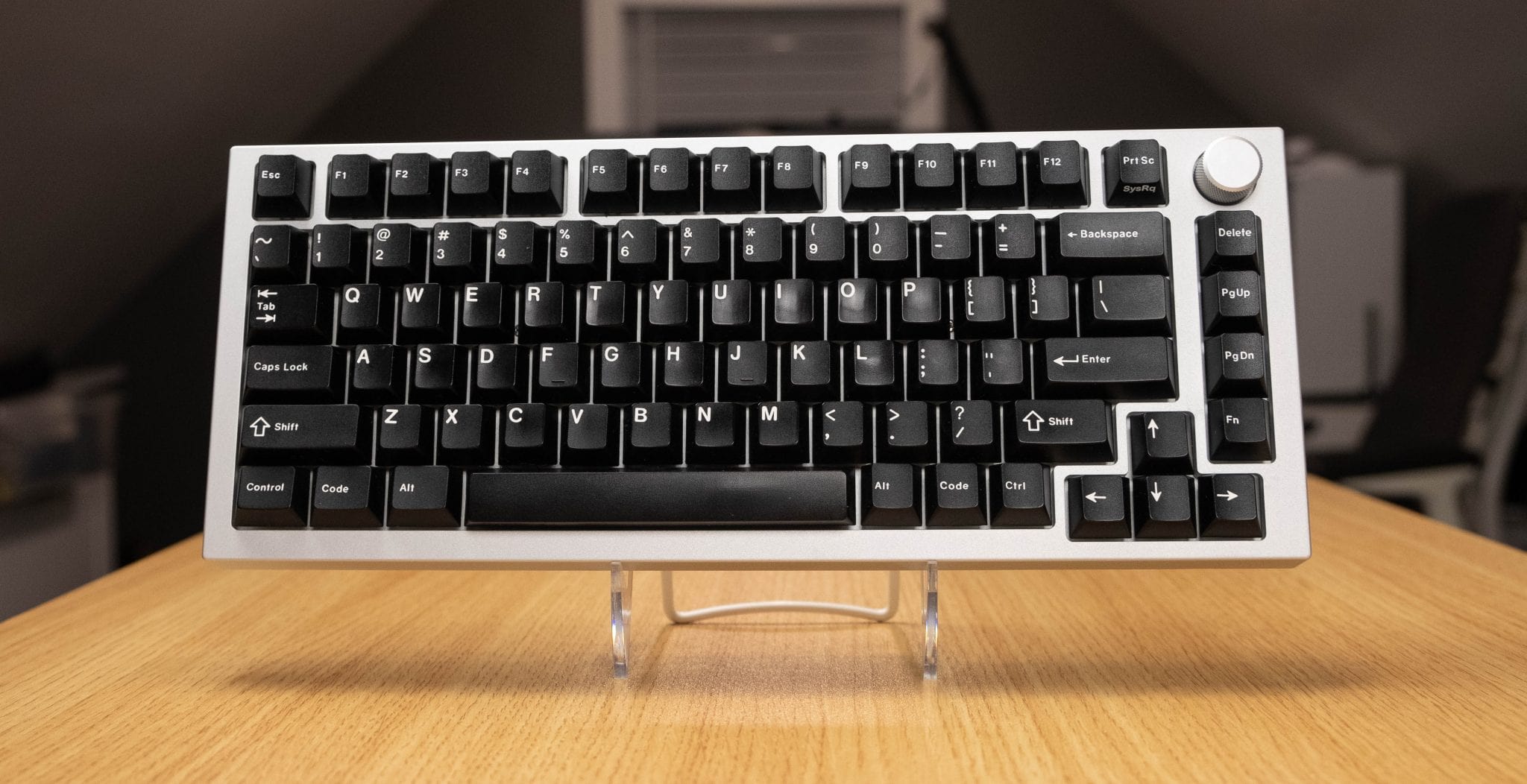 The GMMK Pro sports 75% design, a rarity in the non-custom keyboard world. If the GMMK Pro is basically bringing a ton of custom keyboard features to the mass market, the rotary wheel, swappable base plates, gasket mounting and the 75% design.
75% keyboards cut off the numpad and the navigation cluster and squish them in closer to the main keys. See our keyboard size reference guide for more information.
The keyboard measurements are as follows:
Length: 33.2 cm / 13.07 inches
Width: 13.5 cm / 5.31 inches
Height: 3.2 cm / 1.26 inches
The high-profile case is constructed of aluminum with the heft to match. This keyboard feels premium. The case has a soft touch finish to it and is resistant to fingerprints.
You can get the GMMK Pro in either White Ice (which is more of a silver) and Black Slate.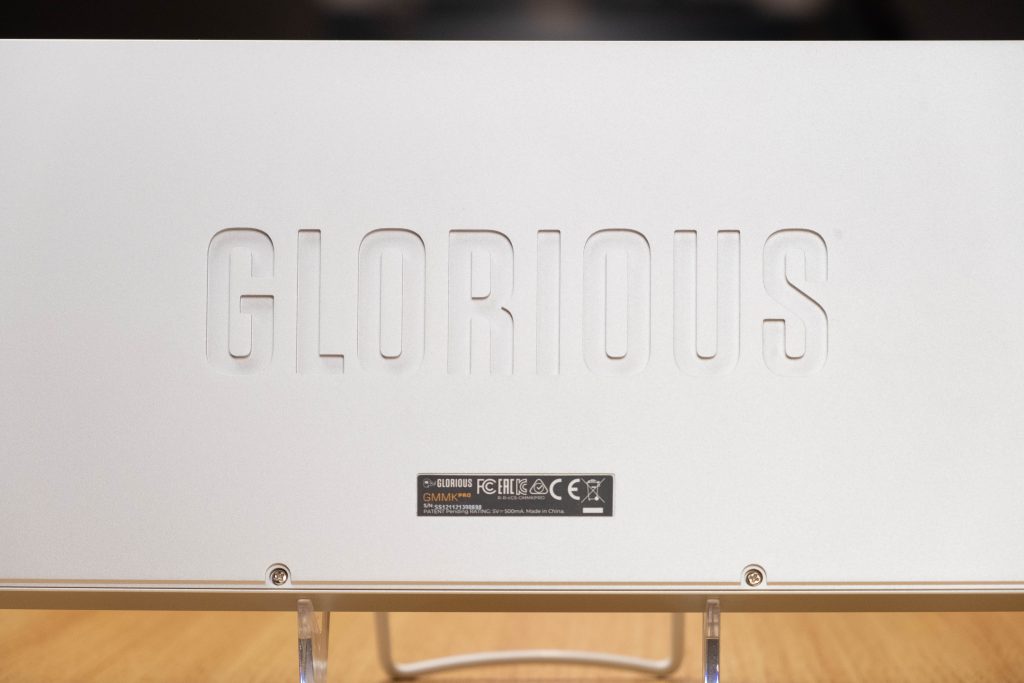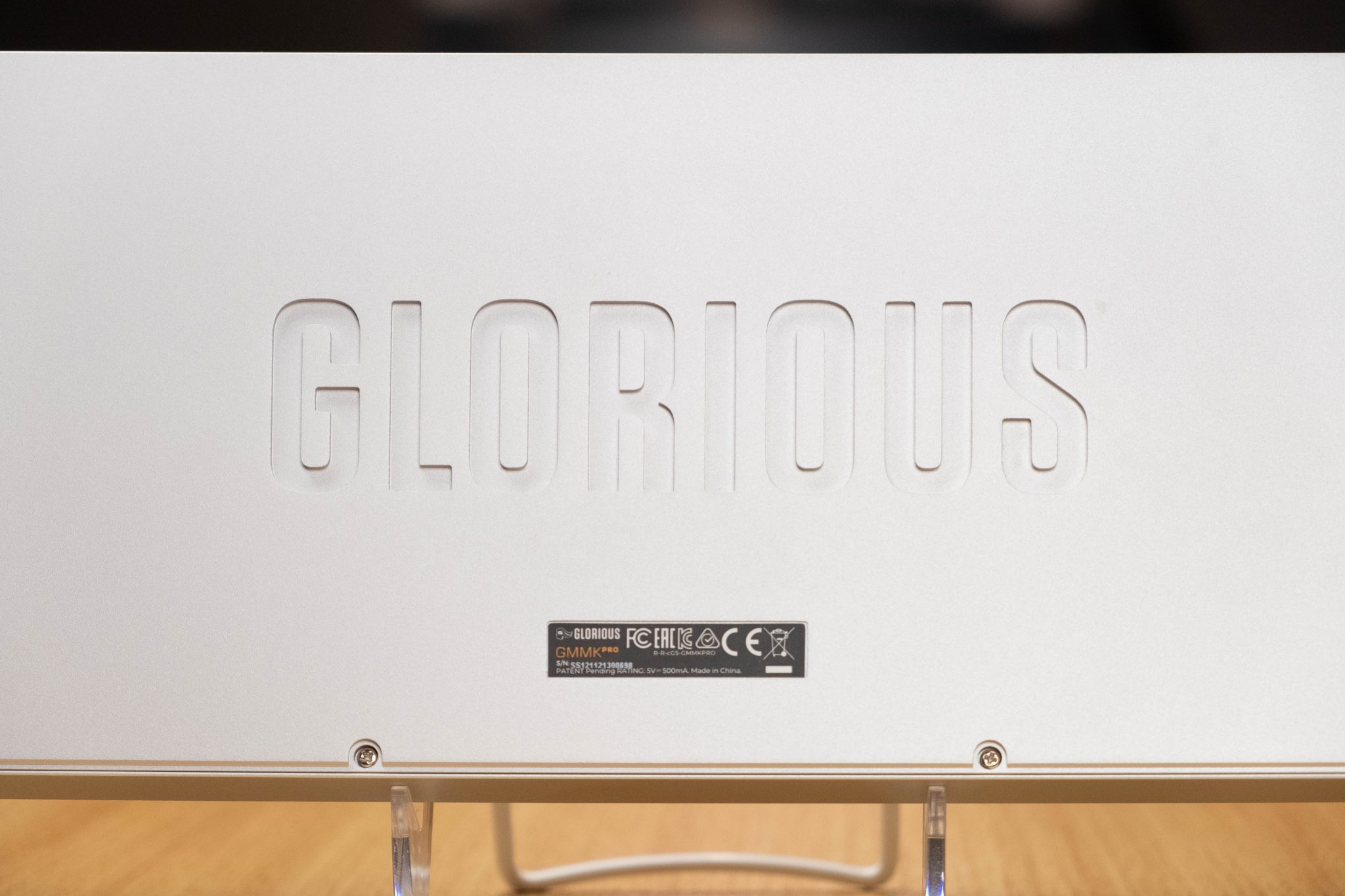 A large GLORIOUS cut out is located on the back of the keyboard, looks great!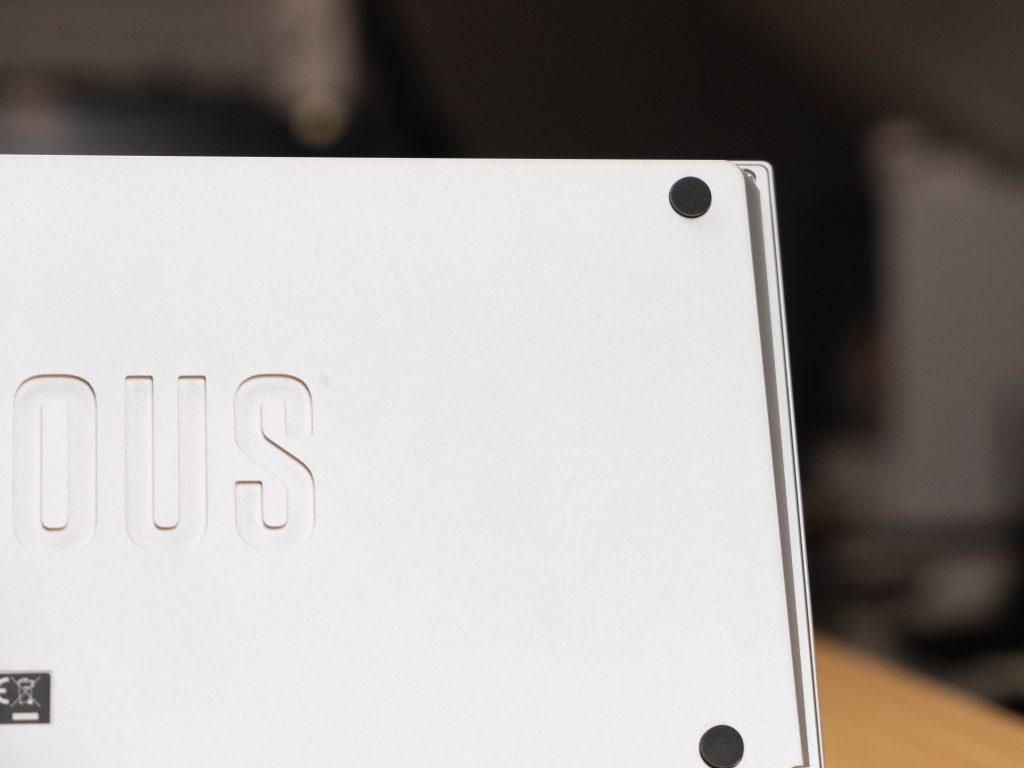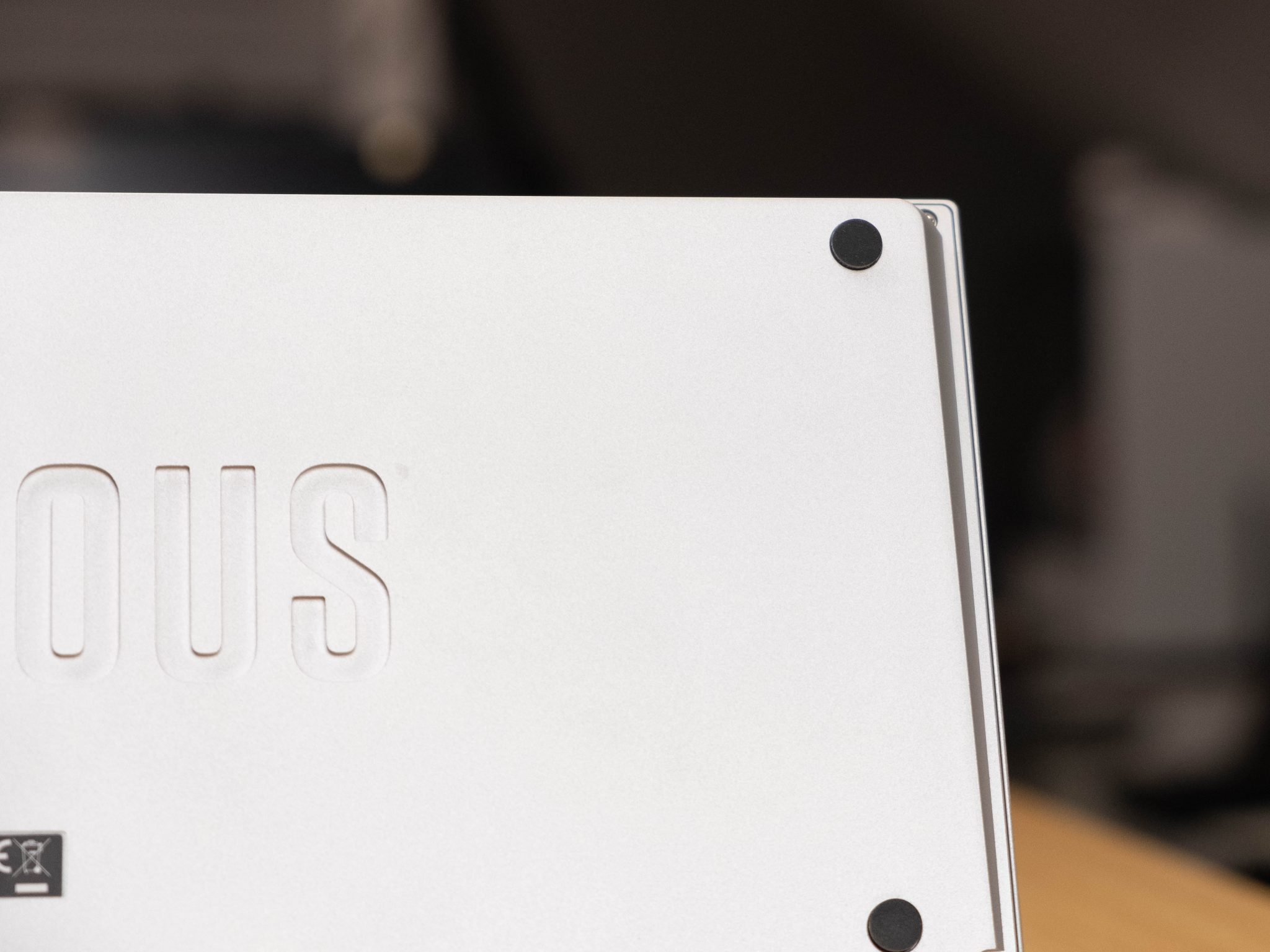 The back of the keyboard features 4 small rubber disc feet. Elaborate feet aren't needed, the keyboards weight itself is enough to keep the keyboard in place. The GMMK Pro has a default typing angle of 6 degrees, which is suitable for most people.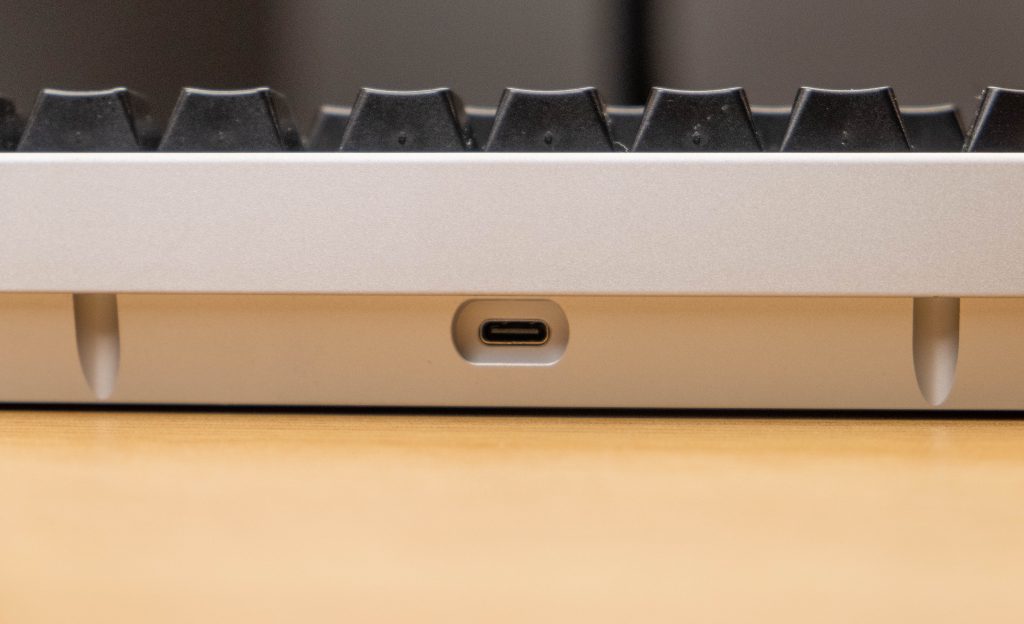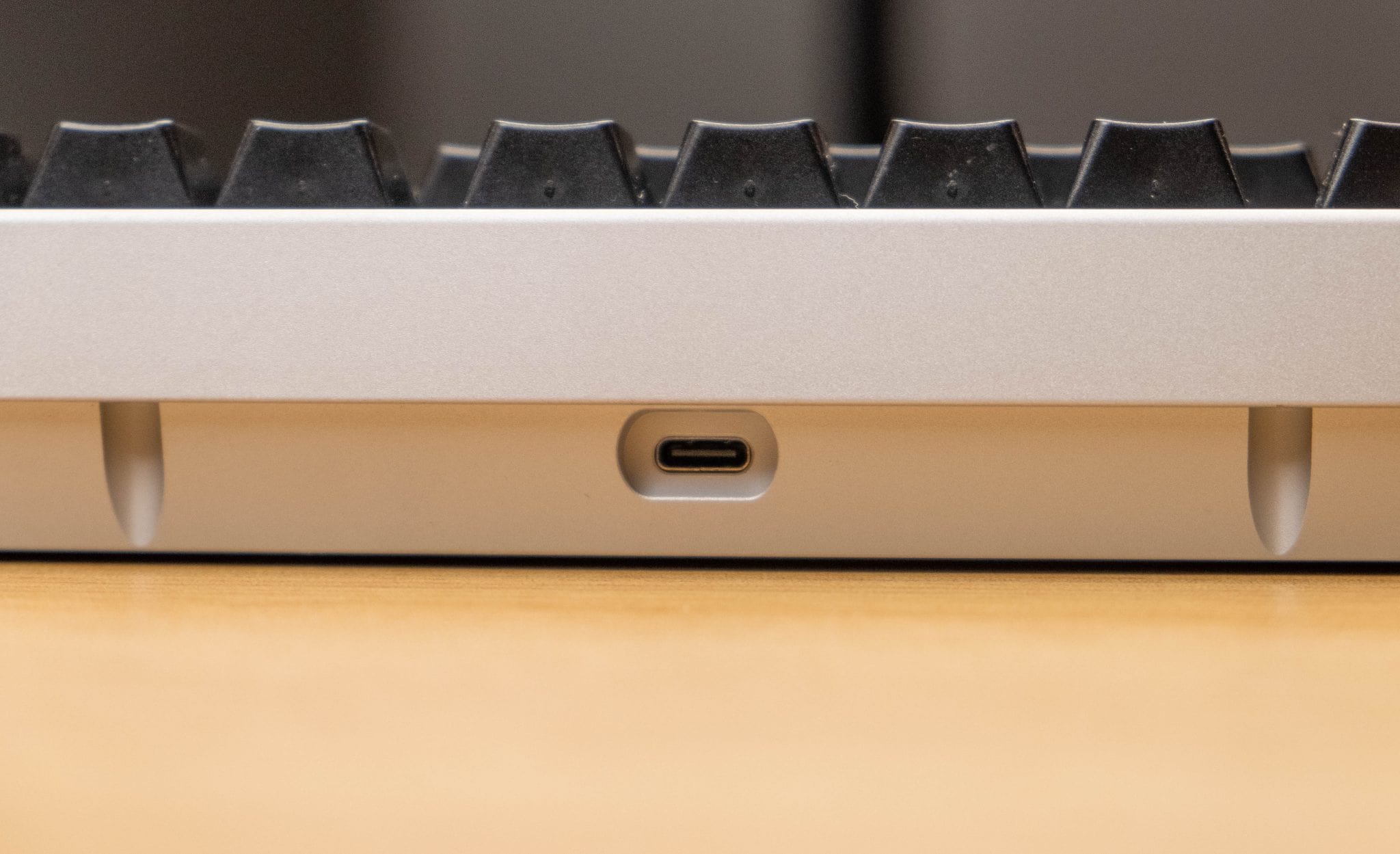 The USB-C port is located in the middle of the top of the keyboard, the port does have a little bit of a recess in it, so chunkier USB-C cables might not fit, but most should plug in no problem.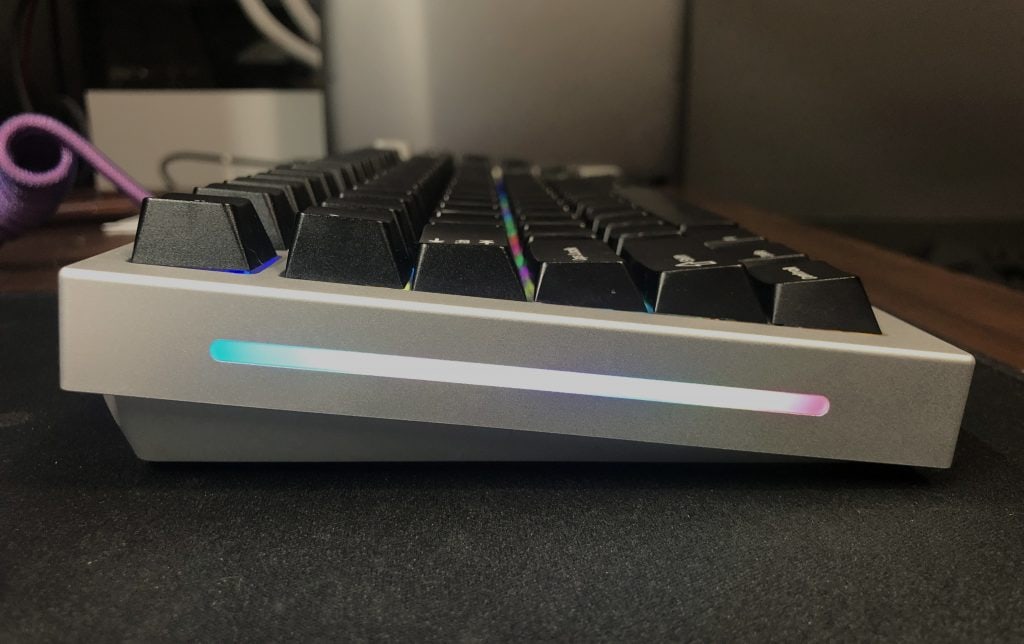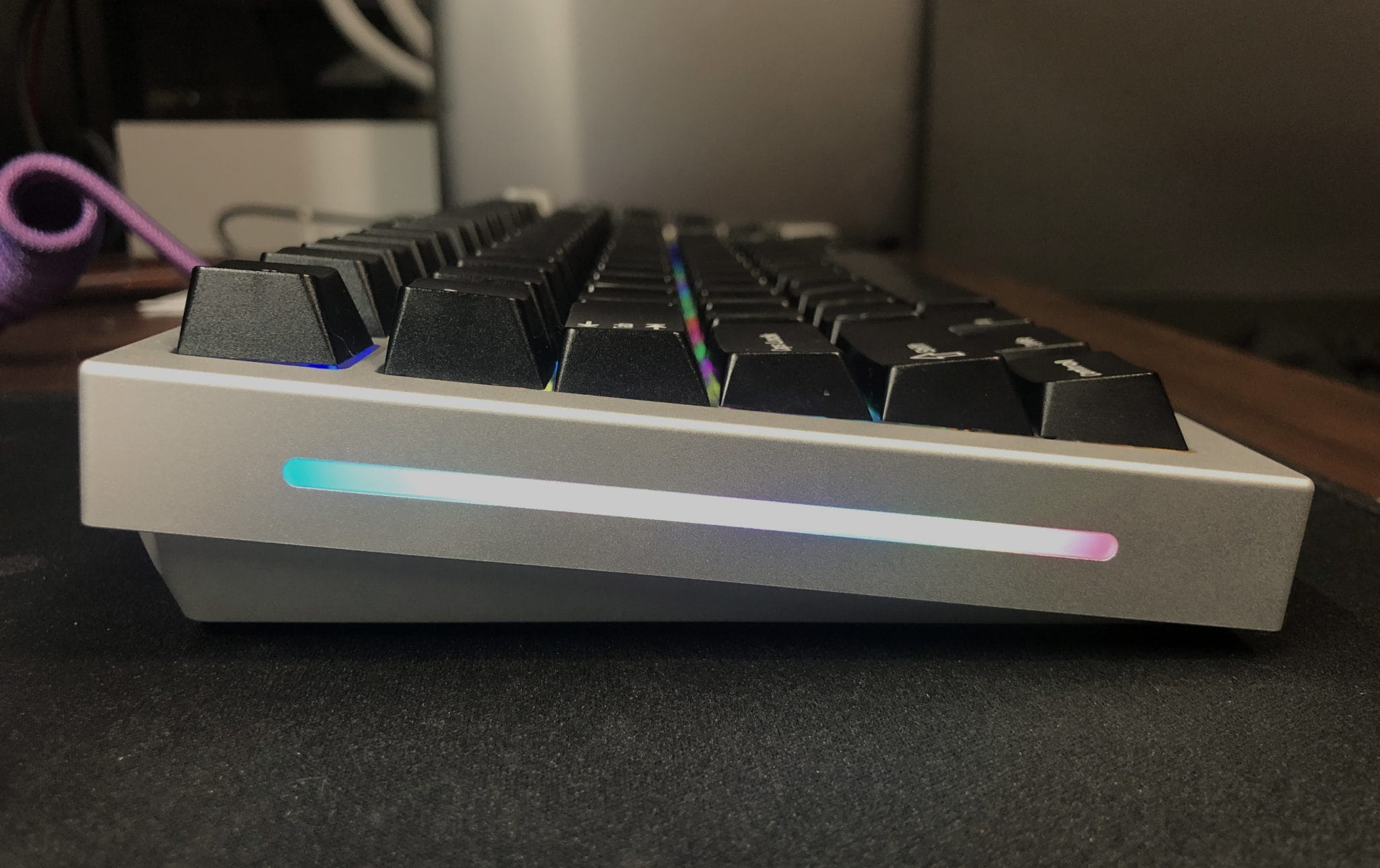 The left and right side of the keyboard features a frosted RGB strip which extends the RGB effect set on the keyboard. The effect is smooth and doesn't bleed light onto your desk, it's a really satisfying effect.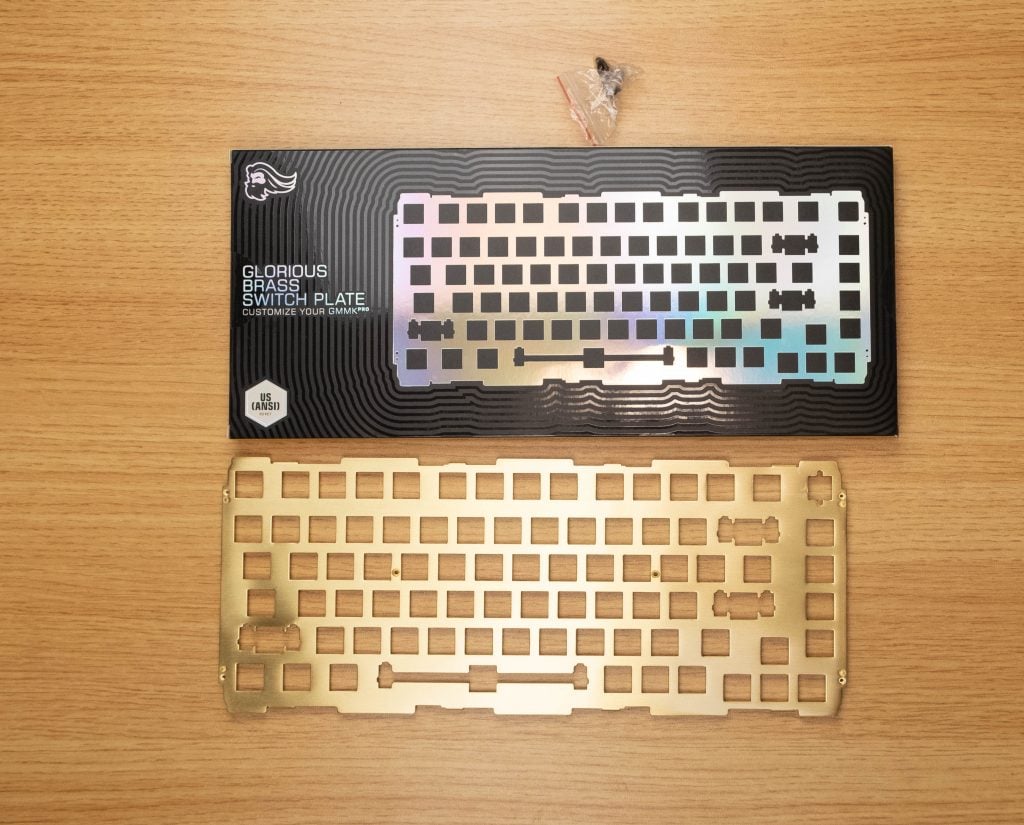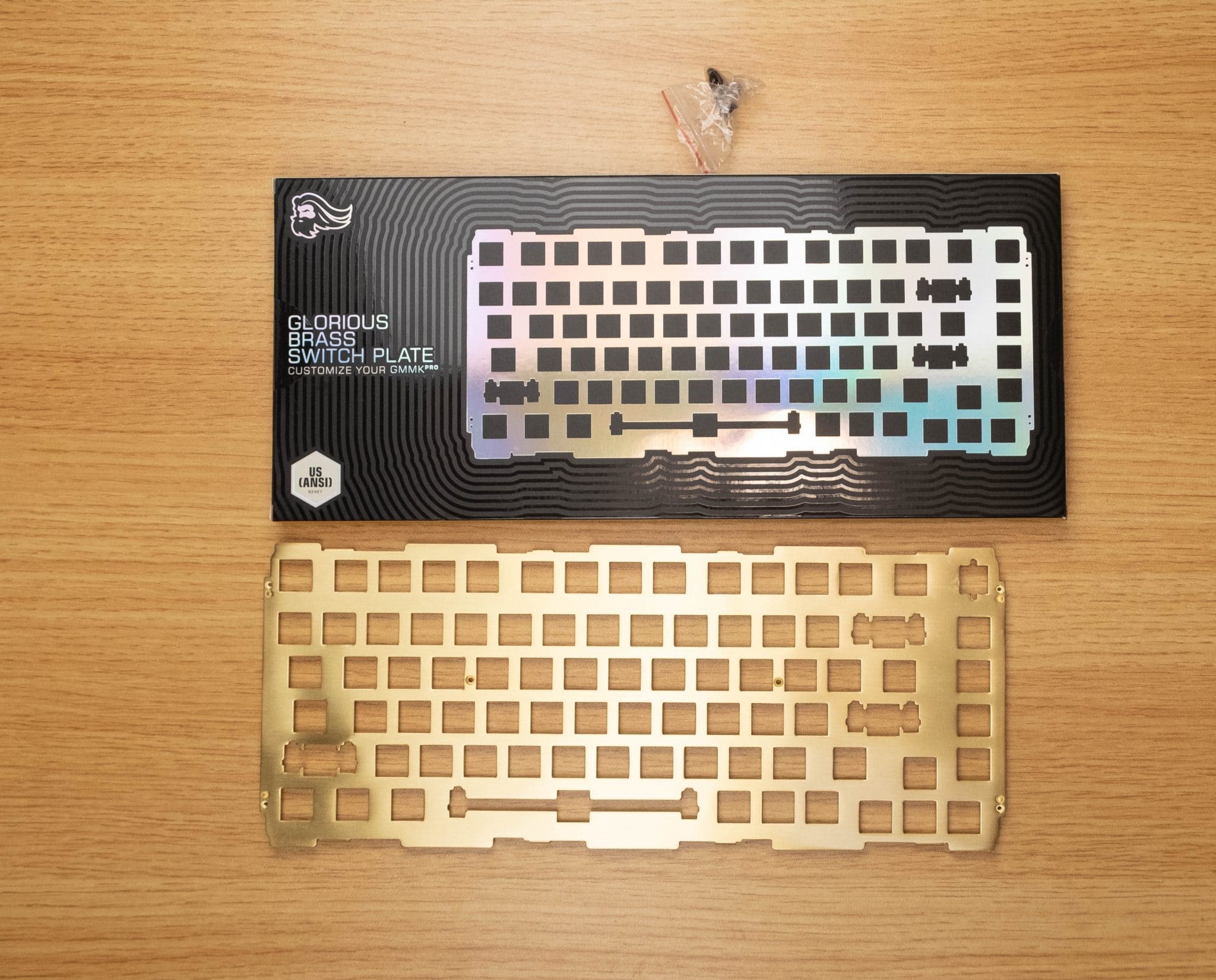 On checkout Glorious offers the option to add a different plate material, giving the GMMK Pro even more customization. The extra plate comes separate and the keyboard will need to be taken apart to swap plates.
Different keyboard plates have different properties, the Brass plate is a little sturdier, giving firmer bottom out feedback. The polycarbonate plate has a little more flex and give, producing a softer thoccier sound.
The keyboards PCB is held inside the case within a rubber gasket, reducing vibrations and echo in the keyboard.
The Rotary Wheel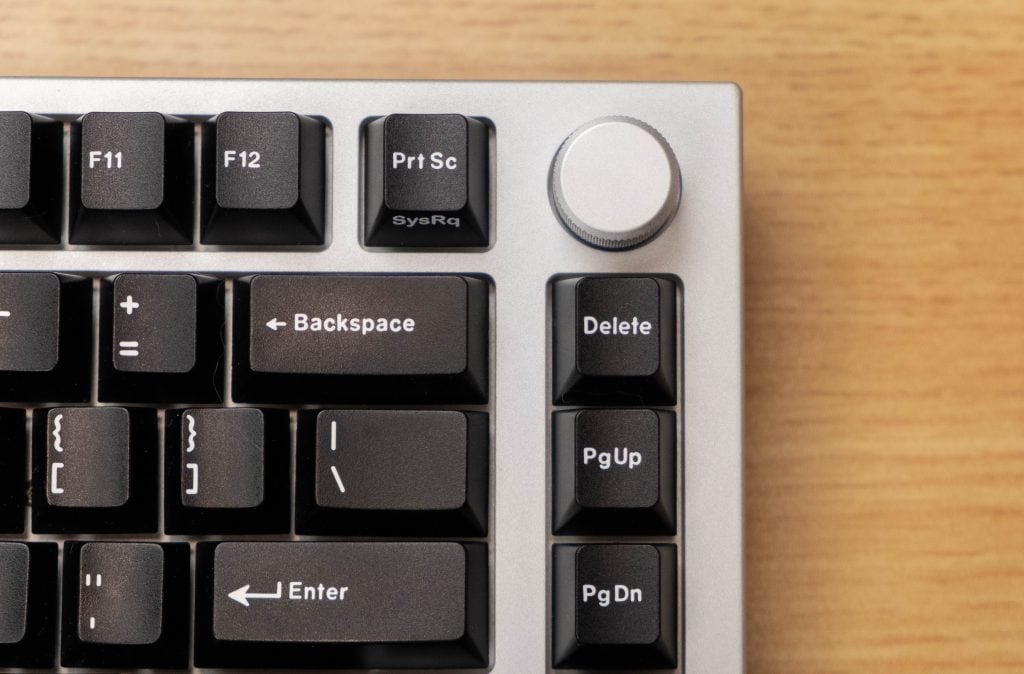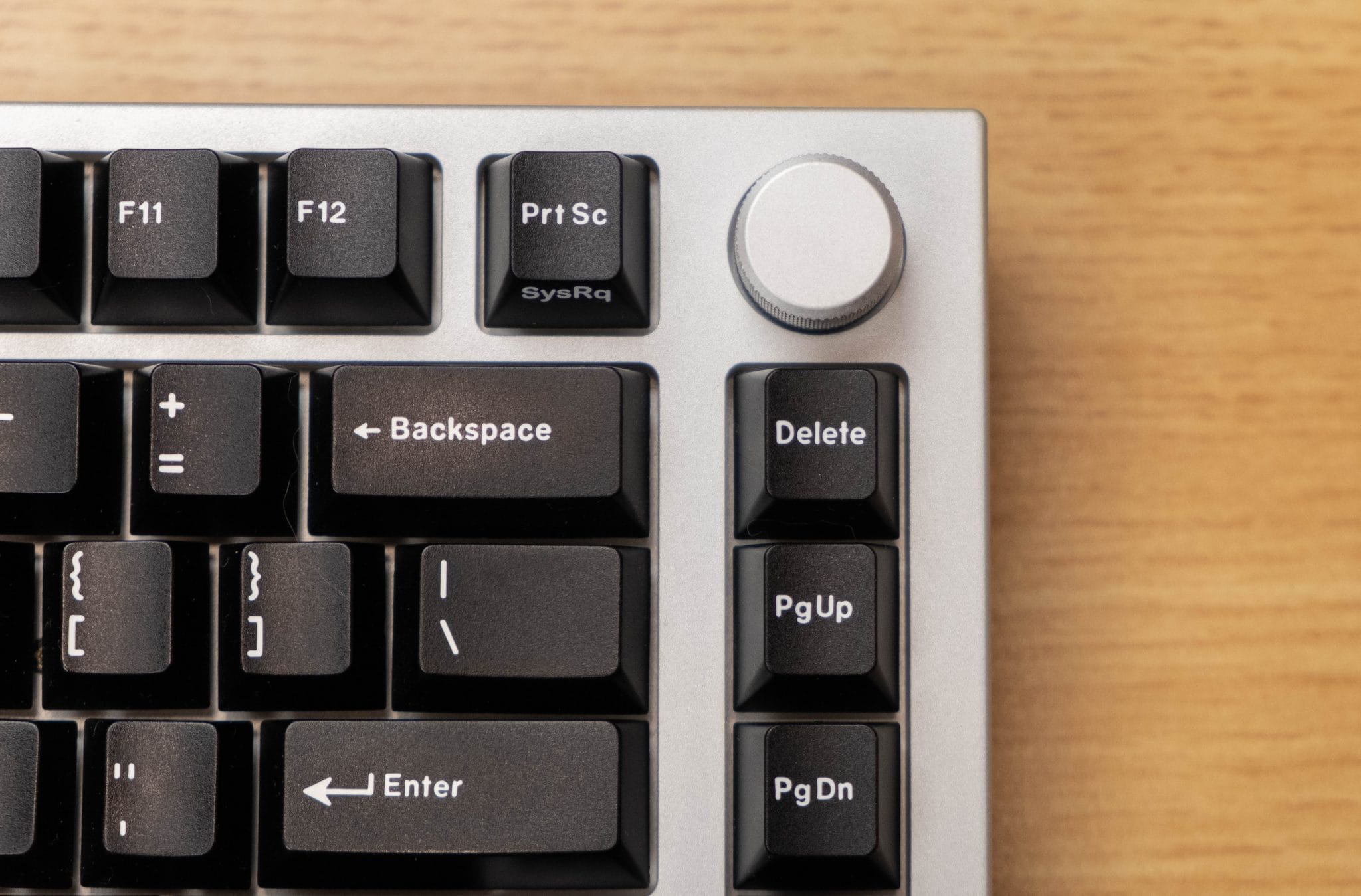 The wheel found in the top right corner of the keyboard works well, the wheel has defined steps, turn right for volume up, left for volume down and press for mute.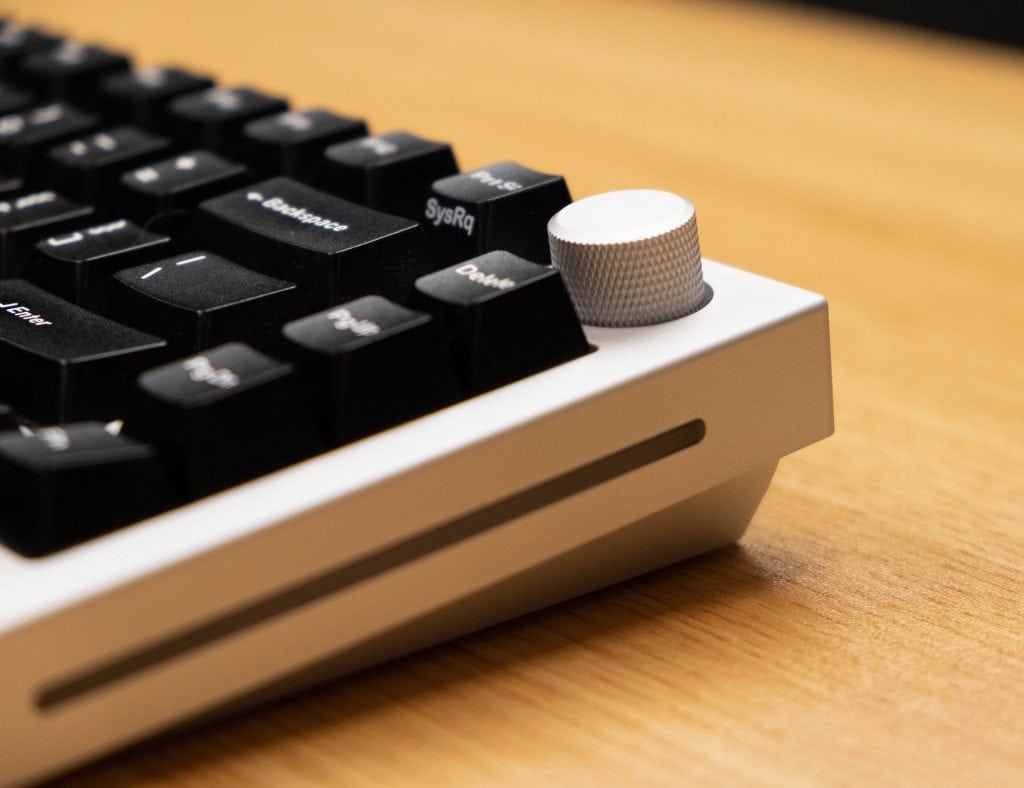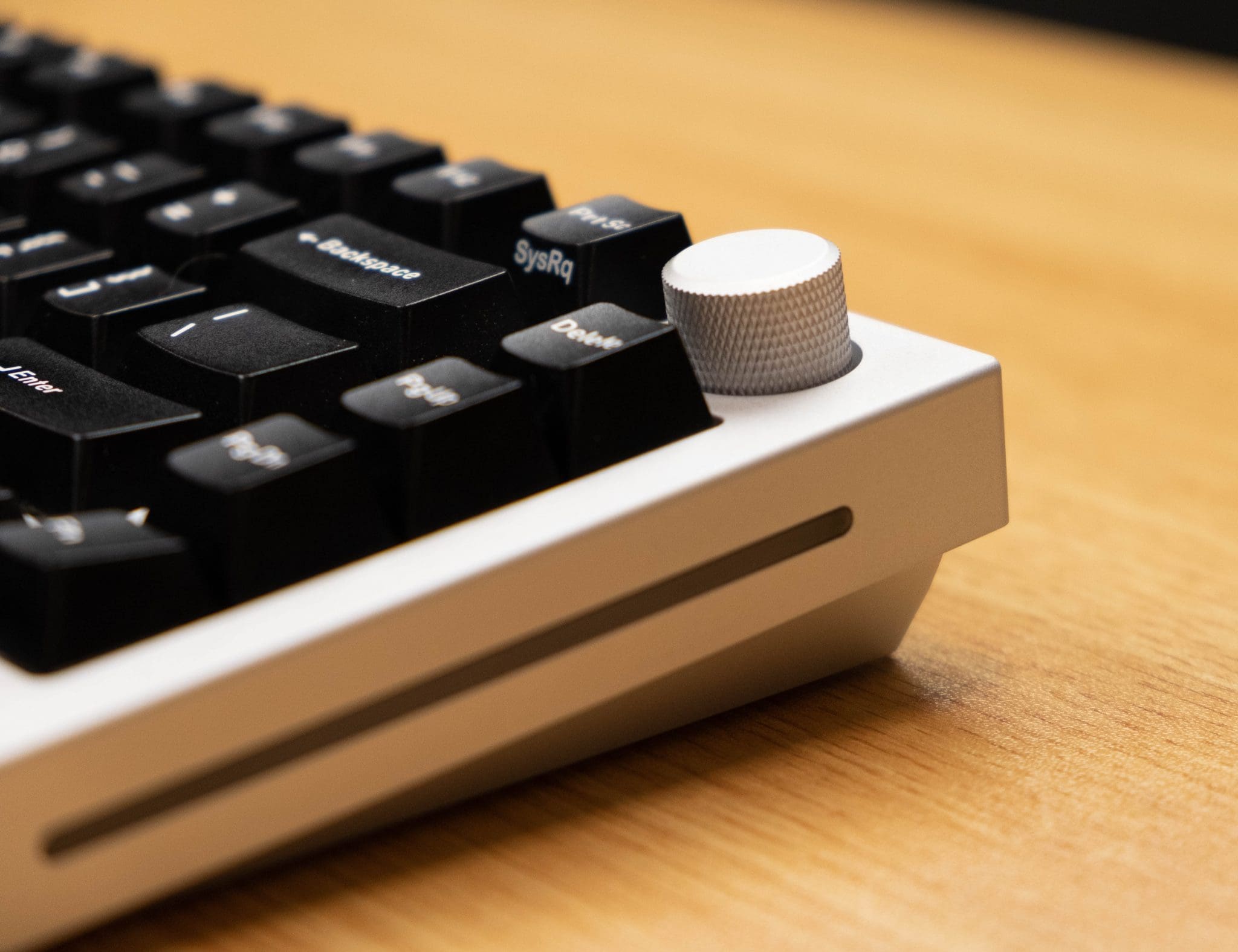 The wheel itself has a textured pattern for easy gripping. I do wish the wheel was a little less wobbly, it moves around a bit when turned.
GOAT Stabilizers
The GMMK Pro does not come with switches by default, you can pick any standard switch to hotswap into the keyboard, when inserted, the fit is secure with no noticeable wobble.
Glorious sells an array of switches, I would go with Glorious Pandas for tactiles and Gateron Black or Red for linears. You don't have to buy switches from Glorious, refer to our switch chart to see what else is out there.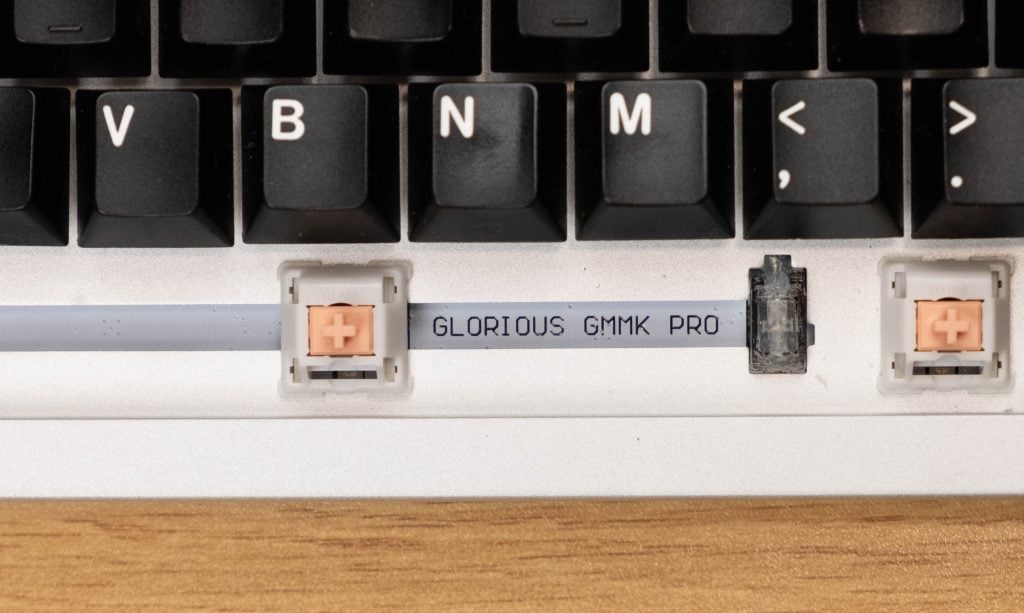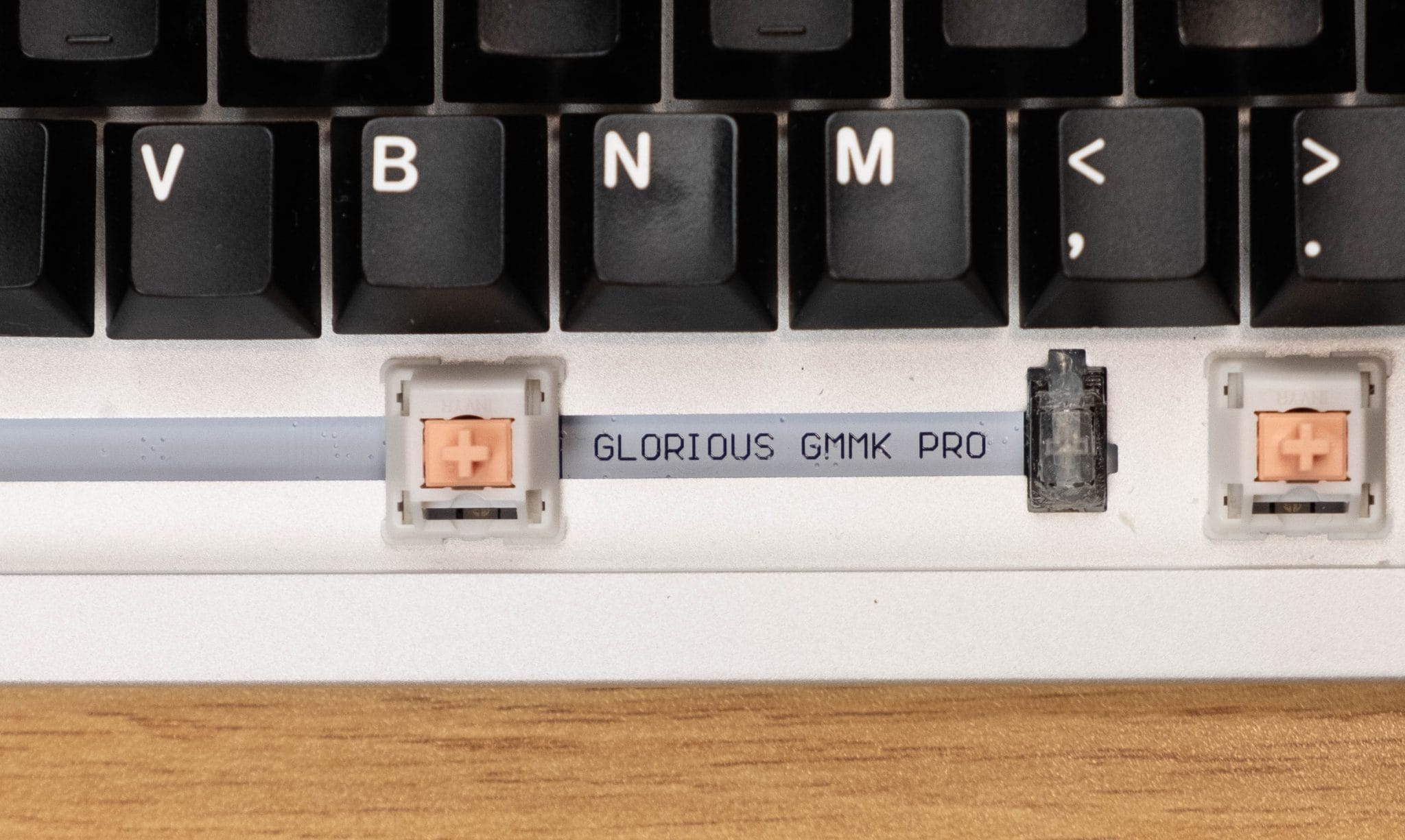 The screw-in GOAT stabilizers found on the GMMK Pro are pretty good. They come pre-lubed and pre-clipped out of the box and they're noticeably better than any mainstream stabilizers, but not as rock solid as a DIY Zeal or Cherry Stab.
Other reviewers have noted quite a significant amount of rattle on their spacebar, I have not had that experience.
Keycap compatibility
Because this is a barebones package, you'll have to find your own keycaps for this keyboard. Any ePBT or GMK set will work with this keyboard. Glorious also sells their own sets of keycaps for the GMMK Pro.
The keys you need to watch out for are:
1.75u right shift key
1u alt key
1u windows key
1u ctrl key
1u fn key
If you set as these keys, you should be good to go with the GMMK Pro.
Build Quality
The GMMK Pro keyboard is dense, clocking in 1,496.85 grams. The case is rock solid, there's no chance that this case is flexing and I have not felt or heard any rattle coming from the keyboard.
The hot swap sockets look well built and should support swapping switches with no issues. The USB-C port fits well and doesn't look like it will cause any problems.
Glorious Core Software
The Glorious Core Software powers customization on the GMMK Pro, you can download the software here.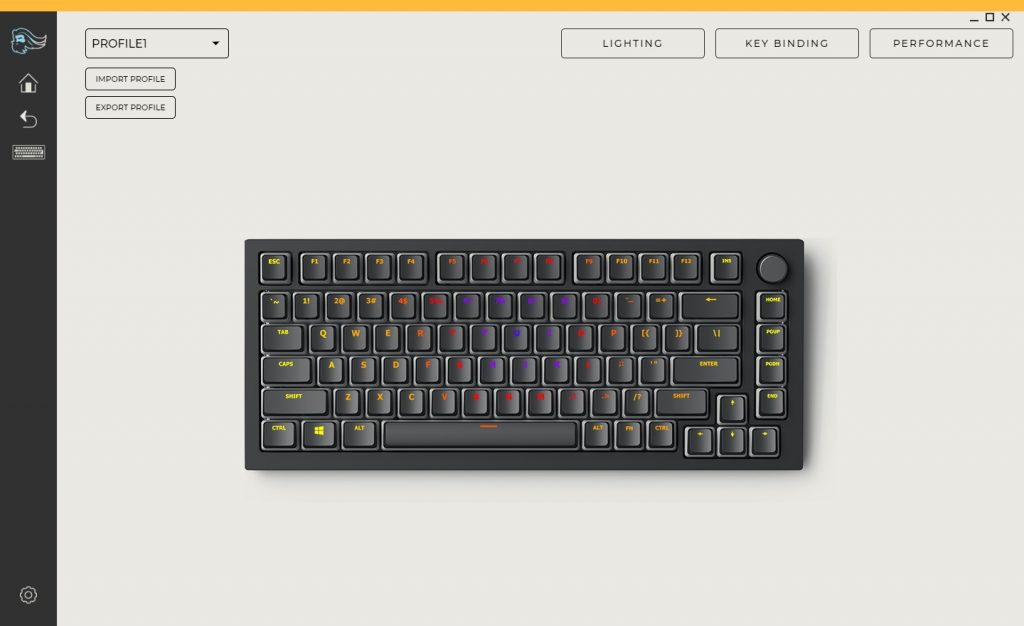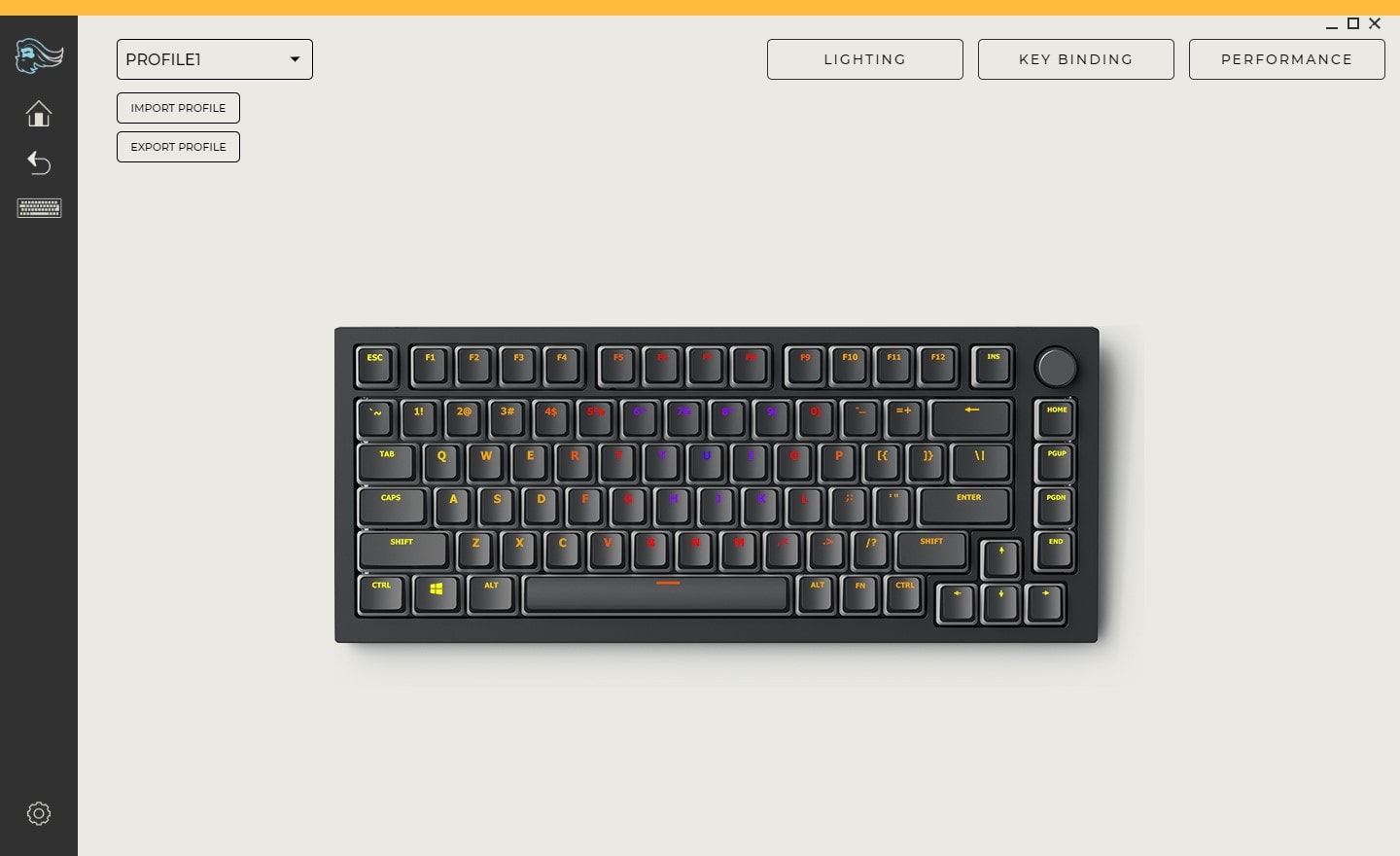 The homepage of Glorious Core allows you to import, export and select saved profiles, you can save up to 3.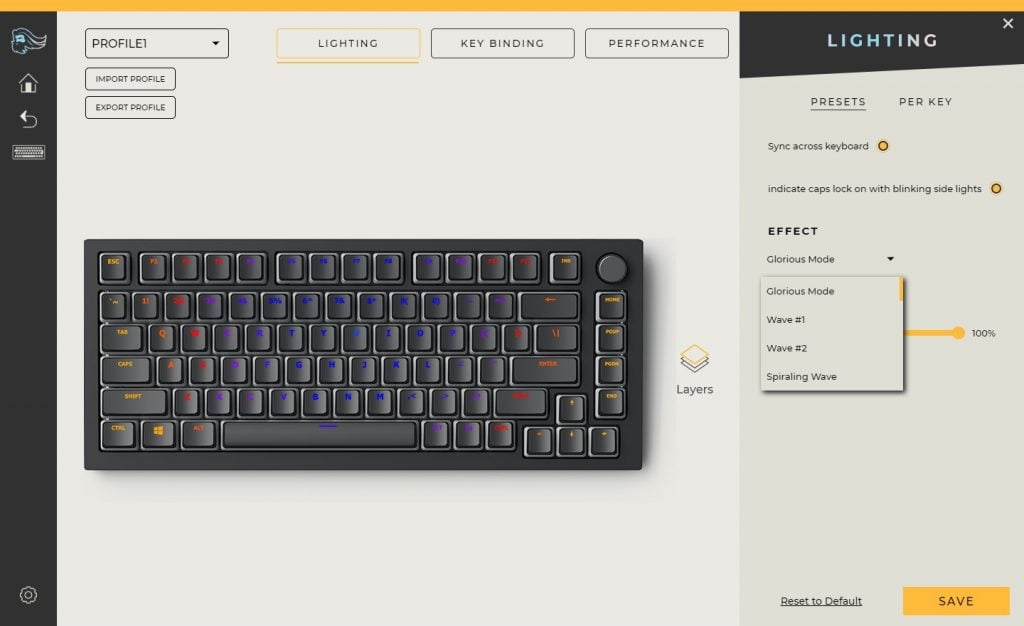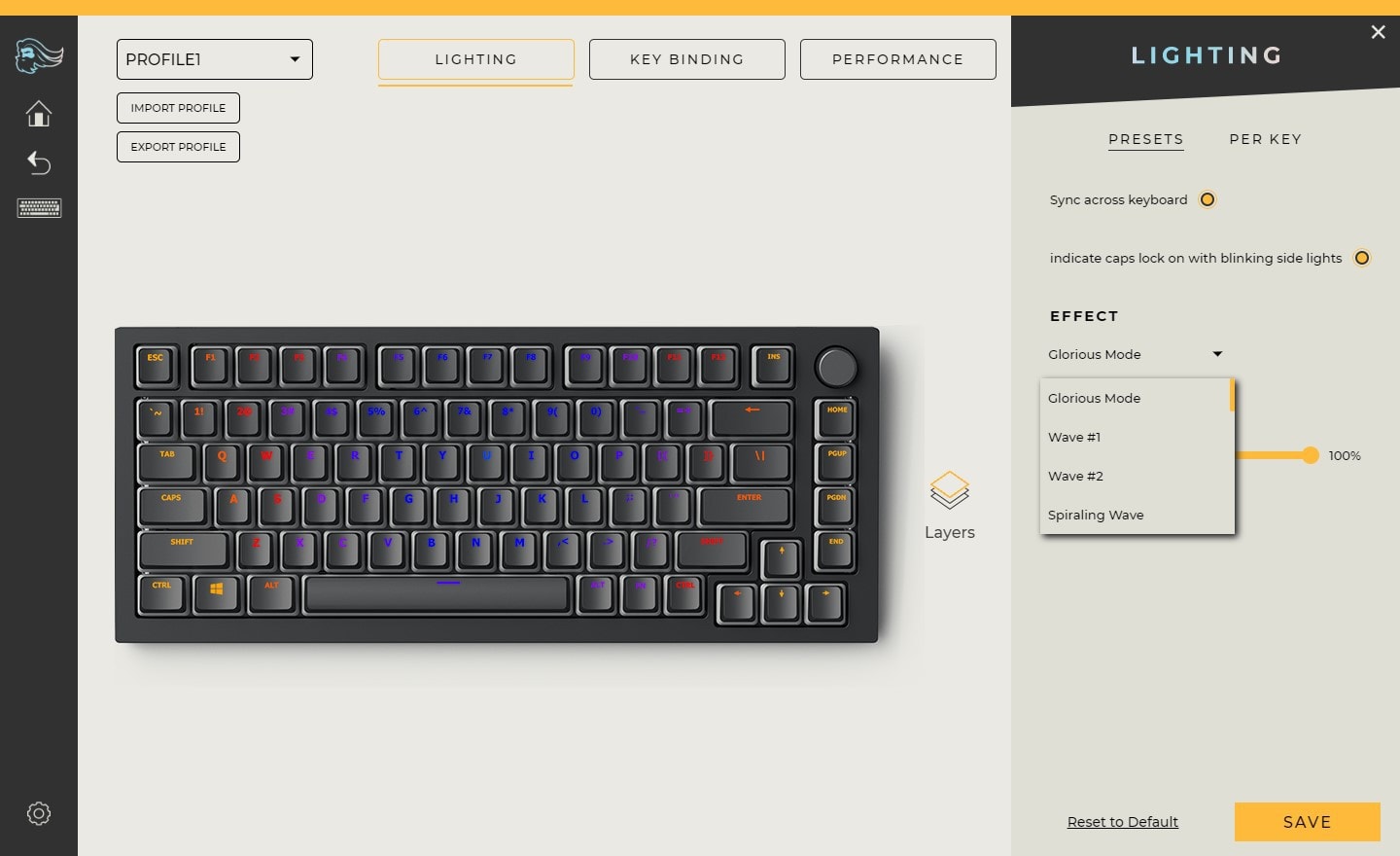 The lighting tab lets you select the RGB mode, there are several presets for the GMMK Pro:
Glorious Mode
Wave #1
Wave #2
Spiraling Wave
Acid Mode
Ripple Graff
Pass Without Trace
Fast Run Without Trace
Matrix 2
Matrix 3
Rainbow
Heartbeat Sensor
Digit Times
Kamehameha
Ping Pong
Surmount
LED OFF
You can also set per key lighting if you so choose.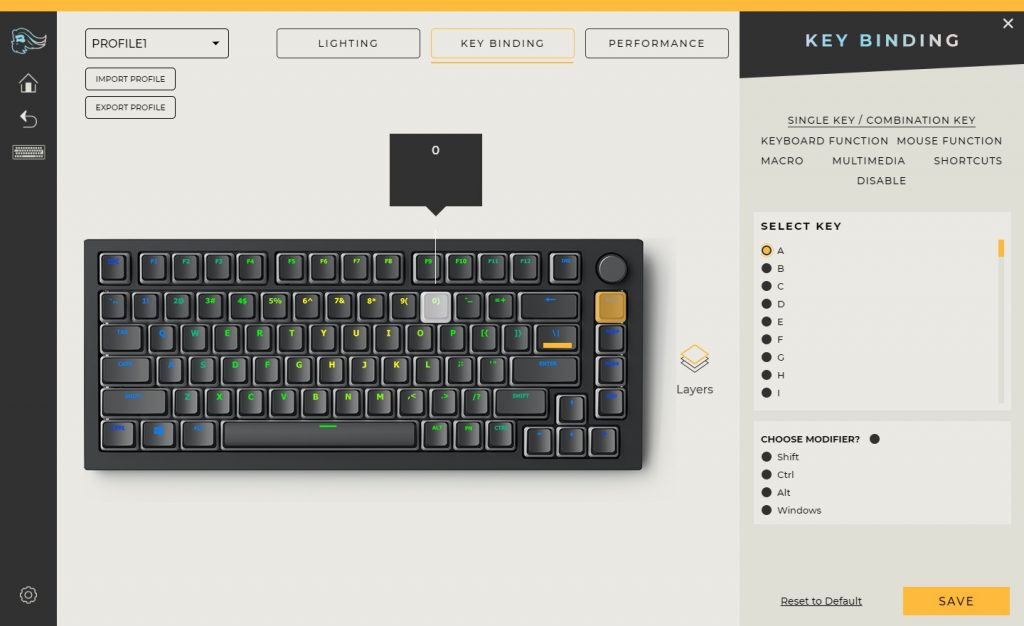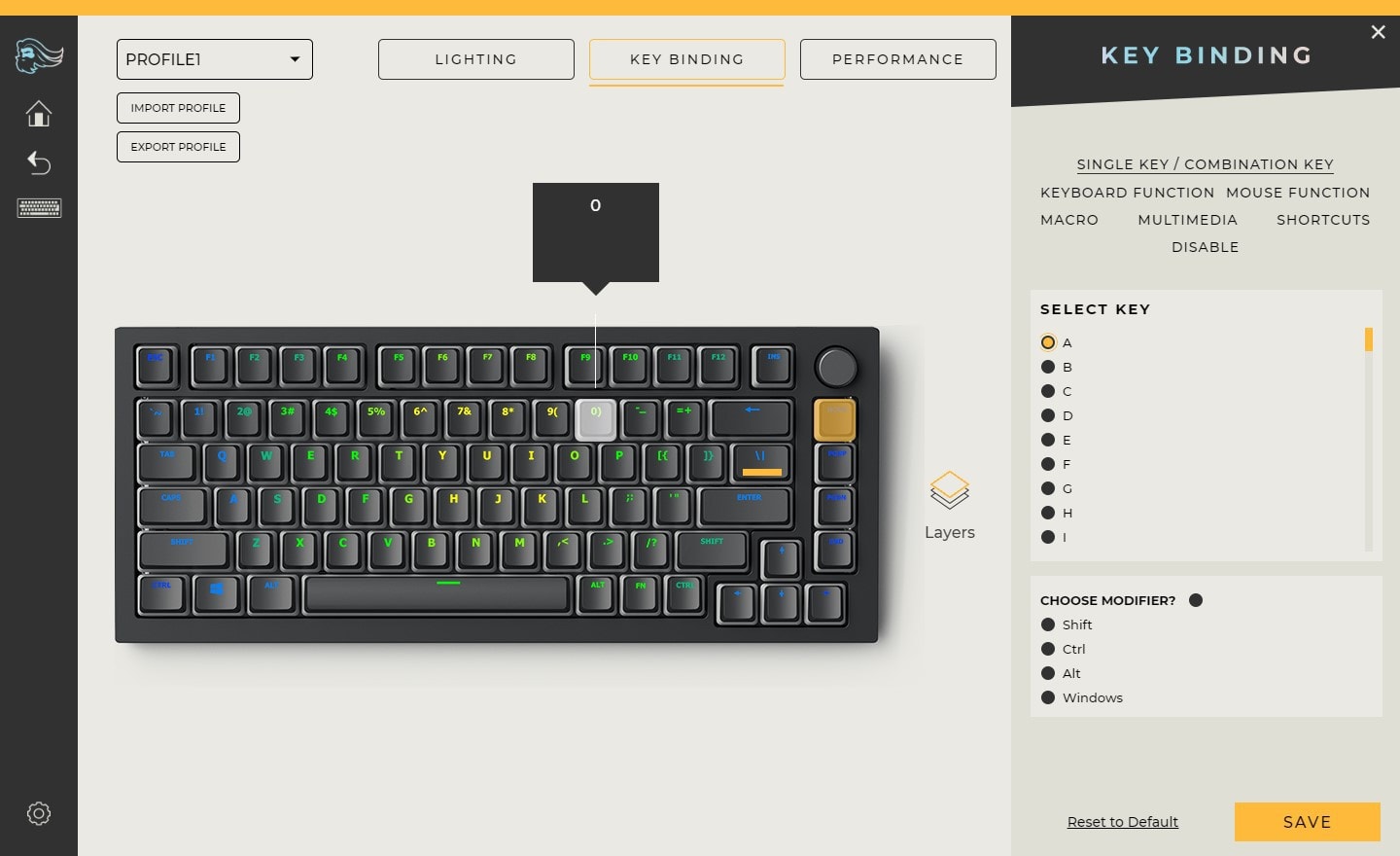 Key binding is pretty basic on Glorious Core.
Select a key to open up the options you can then set:
Single key/combination key
Keyboard function
Mouse function
Macro
Multimedia
Shortcuts
Disable
The GMMK Pro also supports QMK, which allows for powerful customizations including multiple layers and macros. Glorious has a guide to install QMK on the GMMK Pro here. The support isn't all the way there yet, RGB and the wheel aren't customizable in QMK.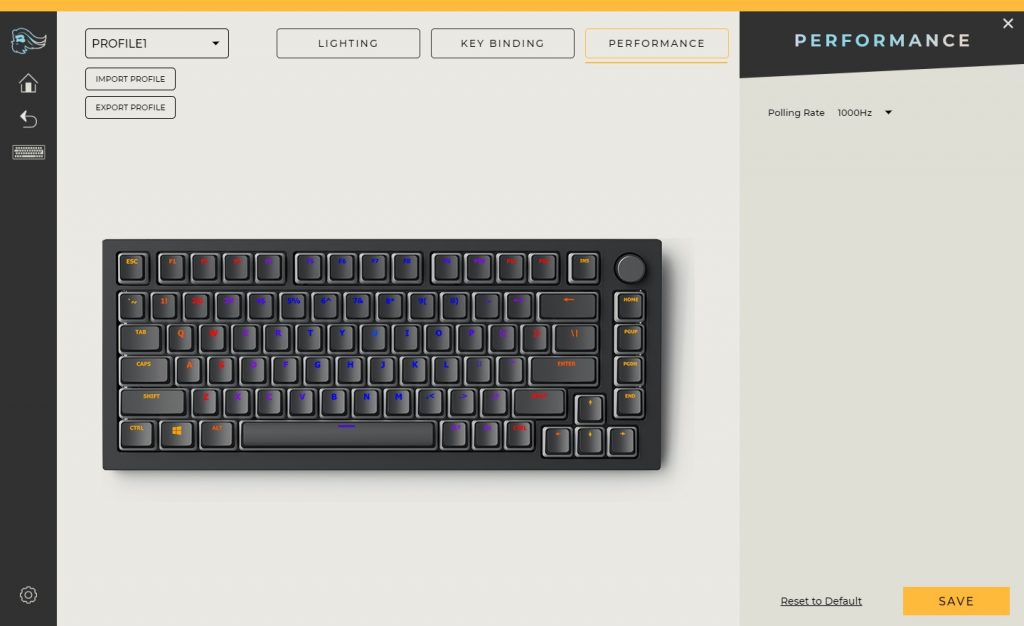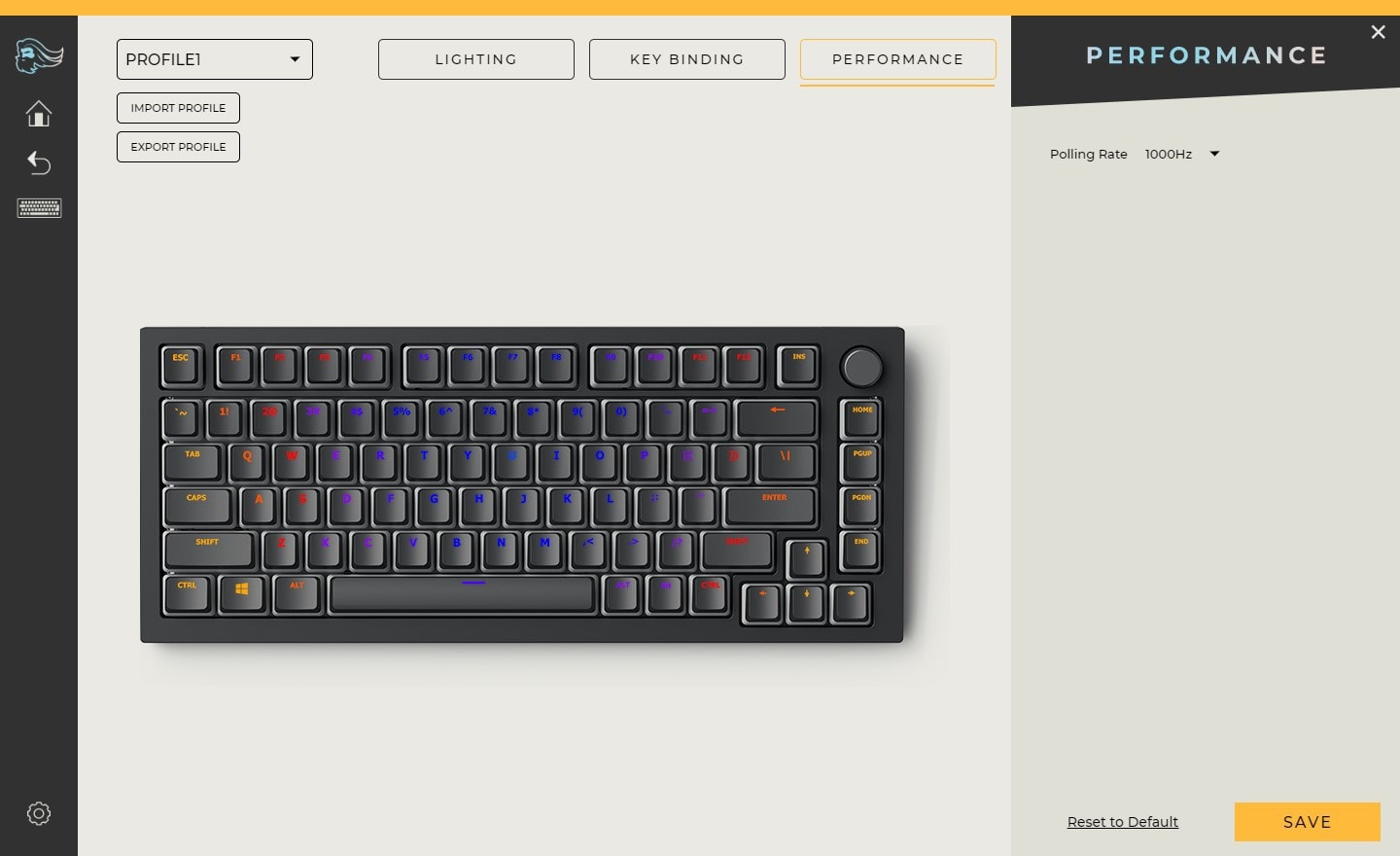 The performance tab lets you choose polling rate, there's no reason to choose anything here but 1000Hz.
The Glorious Core software is functional, but I think it falls short of delivering a premium experience considering the asking price. I'd really like to see QMK and VIA support fleshed out to really add a lot of customization power. Glorious Core should also enable the ability to program layers, it would really make this keyboard outstanding.
Warranty & Reliability
The GMMK Pro has a 2 year warranty: https://www.pcgamingrace.com/pages/product-guides?guide=GMMK_PRO#Warranty
Tech Specs
GMMK Pro Keyboard
Length: 33.2 cm / 13.07 inches
Width: 13.5 cm / 5.31 inches
Height: 3.2 cm / 1.26 inches
Case: Aluminum
Weight:  1,496.85 grams
Keys: 83 keys
Connectivity: USB-C 2.0 cable, 6 feet detachable
Keys & switches
Switch options: Not included
Keycap material: Not included
Keycap legends: N/A
Keycap profile: N/A
Media keys: Through Fn layer
Backlight: Full RGB
Software: Glorious Core
Conclusion
The GMMK Pro is definitely on the high end when it comes to readily available, mass-produced keyboards. Actually, it's setting itself up as a new high-end for those types of keyboard.
This keyboard is a great blessing for anyone who was eyeballing custom keyboards, but couldn't bare the price tag, or the wait. I feel like it could also be a curse, a gate way drug into the illicit world of custom, group buy keyboards.
The GMMK Pro is an excellent keyboard, it better be for the >250 USD price it requires to complete the board. The stabilizers are great, the rotary wheel is useful, and the keyboard itself is built solid. The only shortcoming I can really see for this board is the basic software suite the accompanies the board.
This keyboard is obviously not for everyone, at this kind of price point you reach some diminishing returns, you're not likely going to game any better on the GMMK Pro than you would on a Huntsman Elite for example.