Review unit provided by Epomaker
Akko is a brand name that I was familiar with through their collaborations with Ducky, so I was very pleased to get to try Akko's own 3084 board. From what I can see, the Akko 3084 focuses a lot of its attention on design and looks, the Akko 3084 Silent comes with two sets of coloured keycaps to replace some of the mods.
On top of that, the Akko 3084 comes in 3 other colour ways to really help you achieve your aesthetic.
The keyboard fundamentals are only okay on this keyboard, the stabilizers are quite rattley, and the functions of the keyboard aren't printed anywhere on the PBT keycaps.
The wireless works great, and the unique Gateron switches are decent, if you're looking for aesthetic in a 75% keyboard with wireless connectivity, this one just might be for you. For everyone else that doesn't really put that much weight into looks, the Keychron K2 adds hot swappable functionality, with better stabs for a lower price.
75% wireless
A rock solid mechanical keyboard with great switch options, and infinite customization
See Price on Amazon
Pros
Unique switch options
PBT dye sub key caps
Bluetooth 5.0 and USB-C Connectivity
Cons
Bad stabilizers
No side legends for function keys
Inconvenient power switch
What's in the box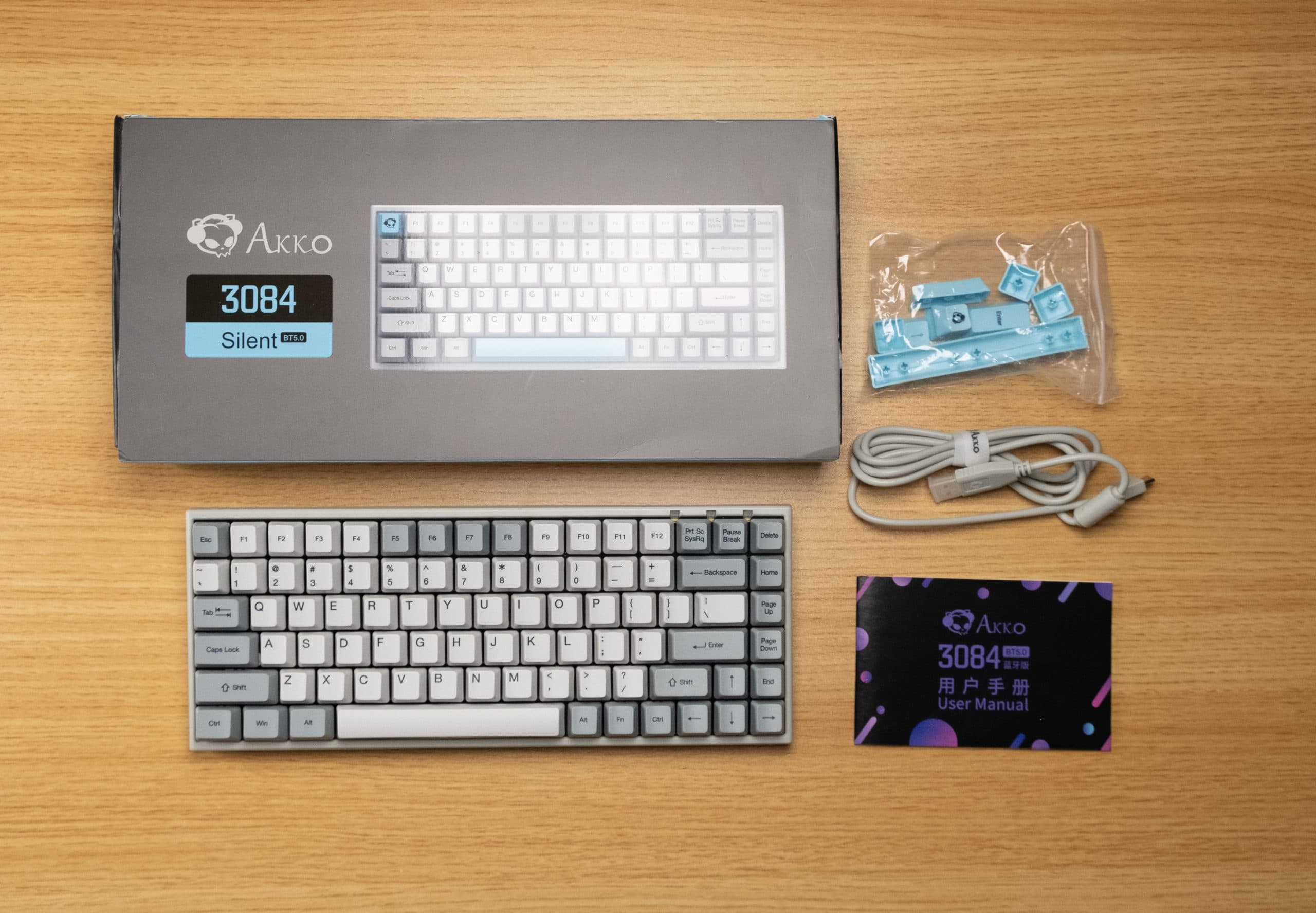 Akko packs a good amount of extras in with the 3084:
Extra purple keycaps: PBT dye sublimated caps with 6u space bar, arrow keys, insert key, enter key, vertical enter key and a logo key.
Extra blue keycaps: PBT dye sublimated caps with 6u space bar, arrow keys, insert key, enter key, vertical enter key and a logo key.
Wire keycap puller
USB-C cable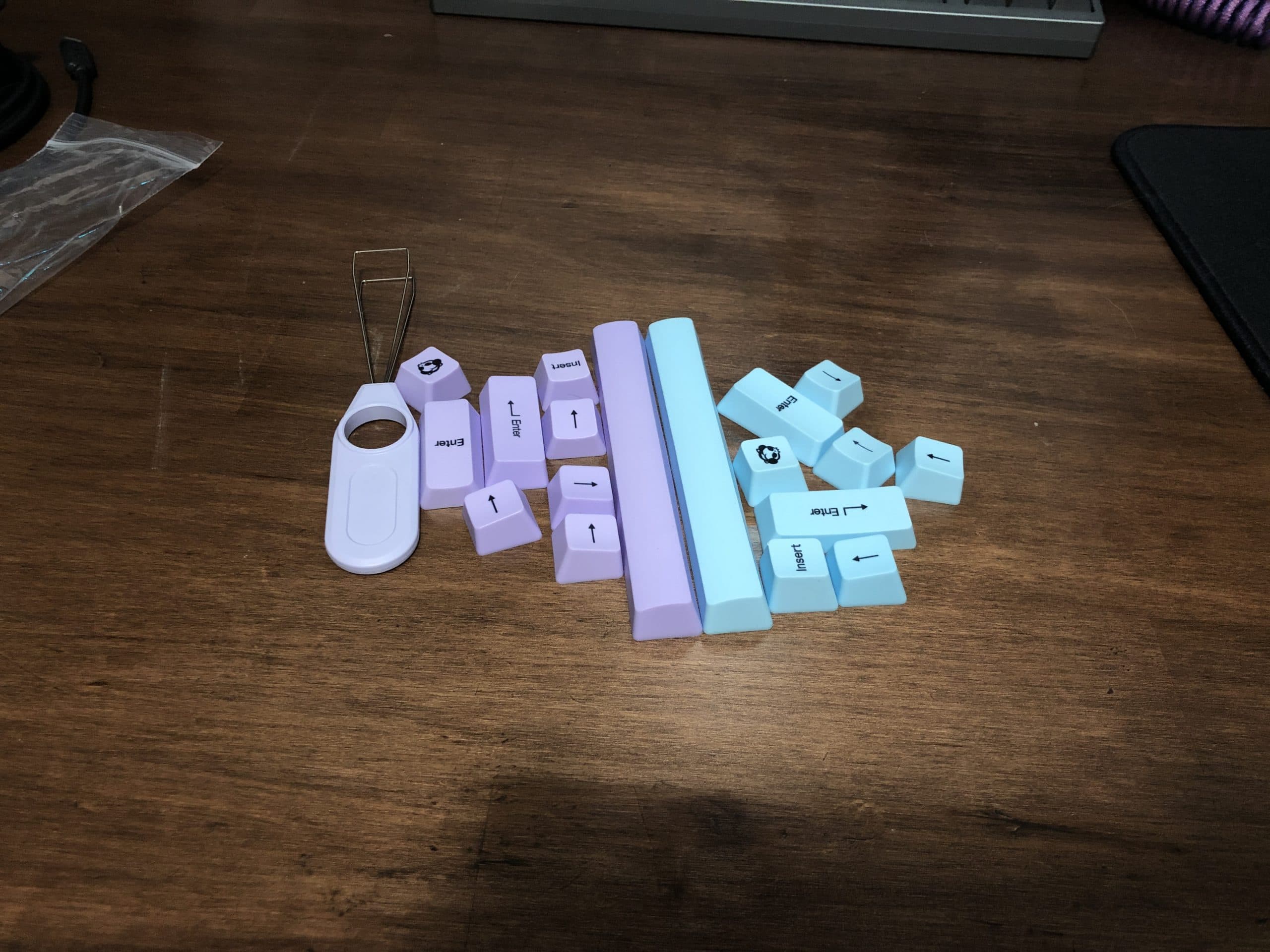 Switches & Stabilizers: Mixed Bag
The Akko 3084 has three uncommon switch options, all from Gateron:
Gateron Pink: a linear switch with a 65 gram actuation point, think of them as a heavier Cherry Black
Gateron Green: a clicky switch with a 65 gram actuation point, a stiffer blue
Gateron Orange: a tactile switch with 55 gram actuation point, a stiffer Cherry Brown
As always, you can refer to our switch chart for full comparisons.
The Gateron pinks that I got with the Akko 3084 are decent, they're of average smoothness with consistent travel. They're not as smooth as Gateron Yellows, Ink Blacks or Tealios, a clear notch below.
For people not used to the weight of the switch, the Gateron Pink might prove to be a little fatiguing for longer gaming sessions, I didn't have an issue.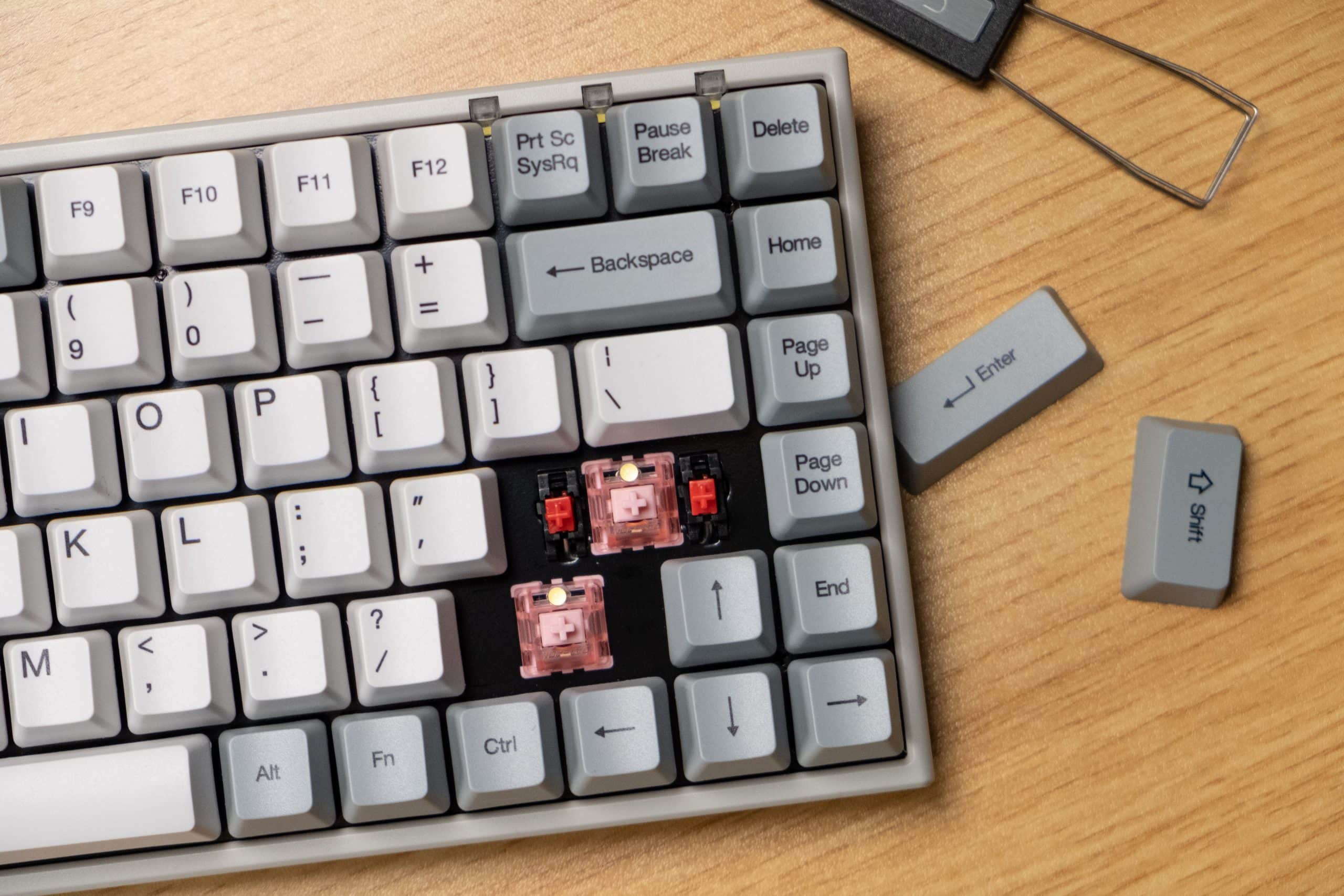 Stabilizers help your larger keys stay consistent and even on top of your switch, it helps your keycap from rattling and shaking.
The factory lubed stabilizers on the Akko 3084 Silent are definitely lacking, they're quite loose and rattley. They're also a decent amount inconsistent from key to key. Unfortunately, when I lazily pulled the space bar key cap, I also pulled out the center column of the stabilizer itself.
PBT and Dye Sublimated Keycaps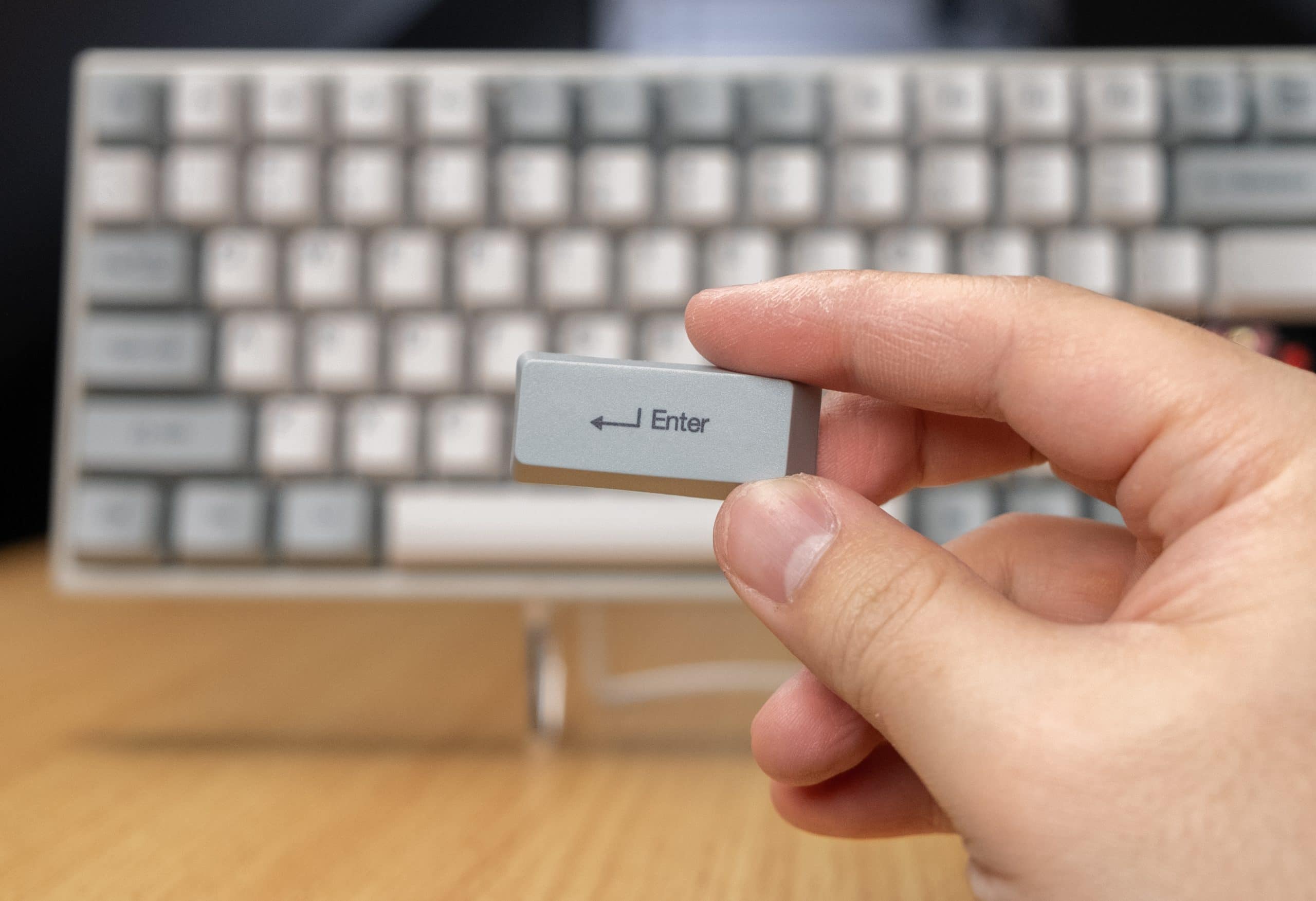 The keycaps on the 3084 are solid, but nothing special, PBT, OEM and dye-subliminated. I prefer PBT keycaps for their resistance against shining and general durability. The key caps are average thickness on the underside.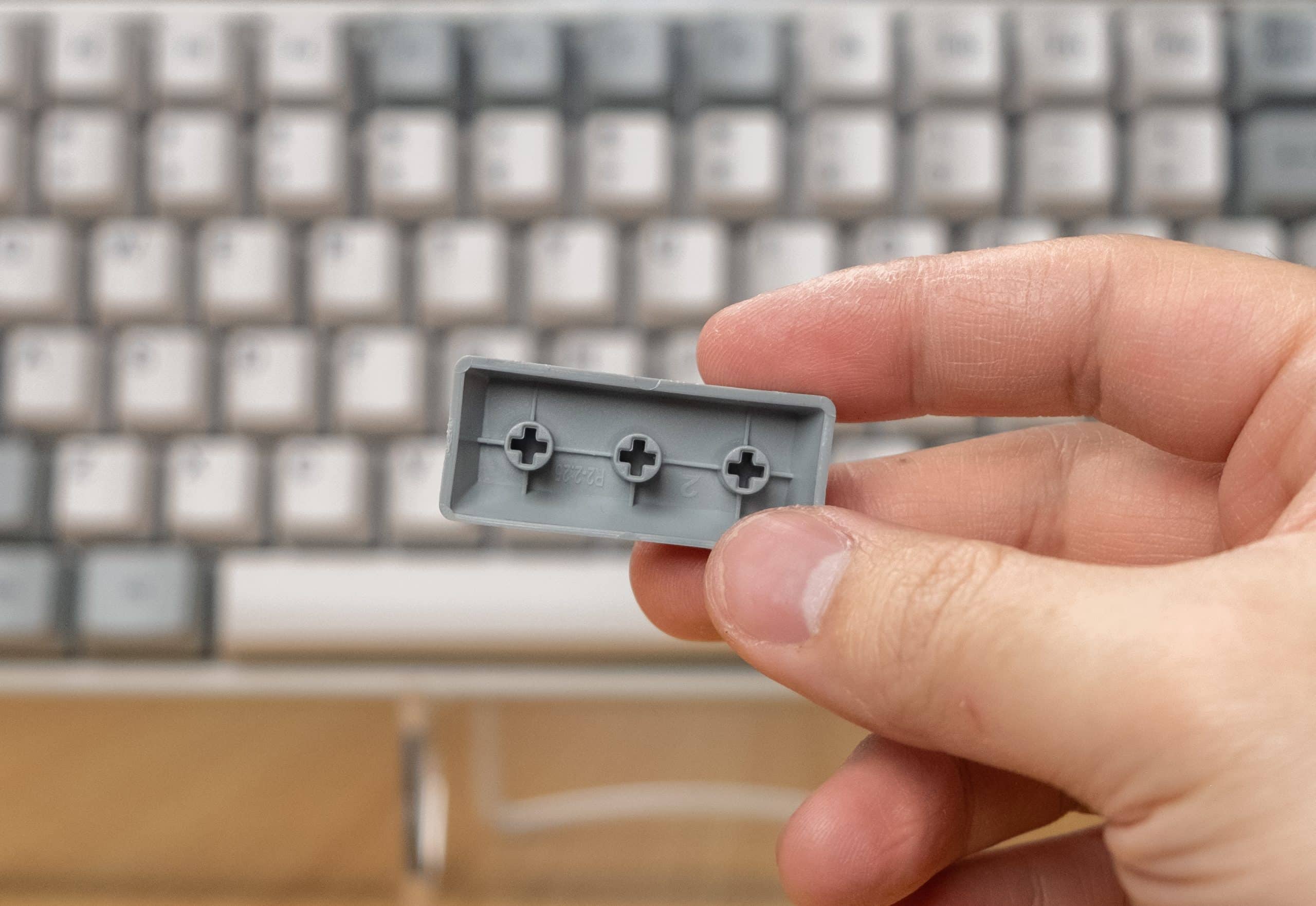 The Silent in the 3084 Silent name is regarding the colour way of the keycaps, the off-white and gray colour combination. The Akko 3084 comes in a couple of other colour combinations.
9009: Pastel Green and Red
World Tour Tokyo: Pink
Ocean Star: Blue
One thing that is completely missing from the keycaps is the function labels, they're not side printed like on a lot of other keyboards so you'll have to rely on memory to know which function combos do what.
Bluetooth 5.0 Wireless
The Akko 3084 Silent also sports a BT 5.0 wireless chip. The connection I've had so far with the Akko is solid without many issues.
You can game with the keyboard in wireless mode, but there is an amount of input lag in Bluetooth mode, so I wouldn't recommend it for competitive gaming.
Battery life is really good with backlight off, up to 90 hours on the 1800 mAh battery, but that life goes down to 12 with backlight on, I would definitely recommend turning off backlight.
Streamlined design choices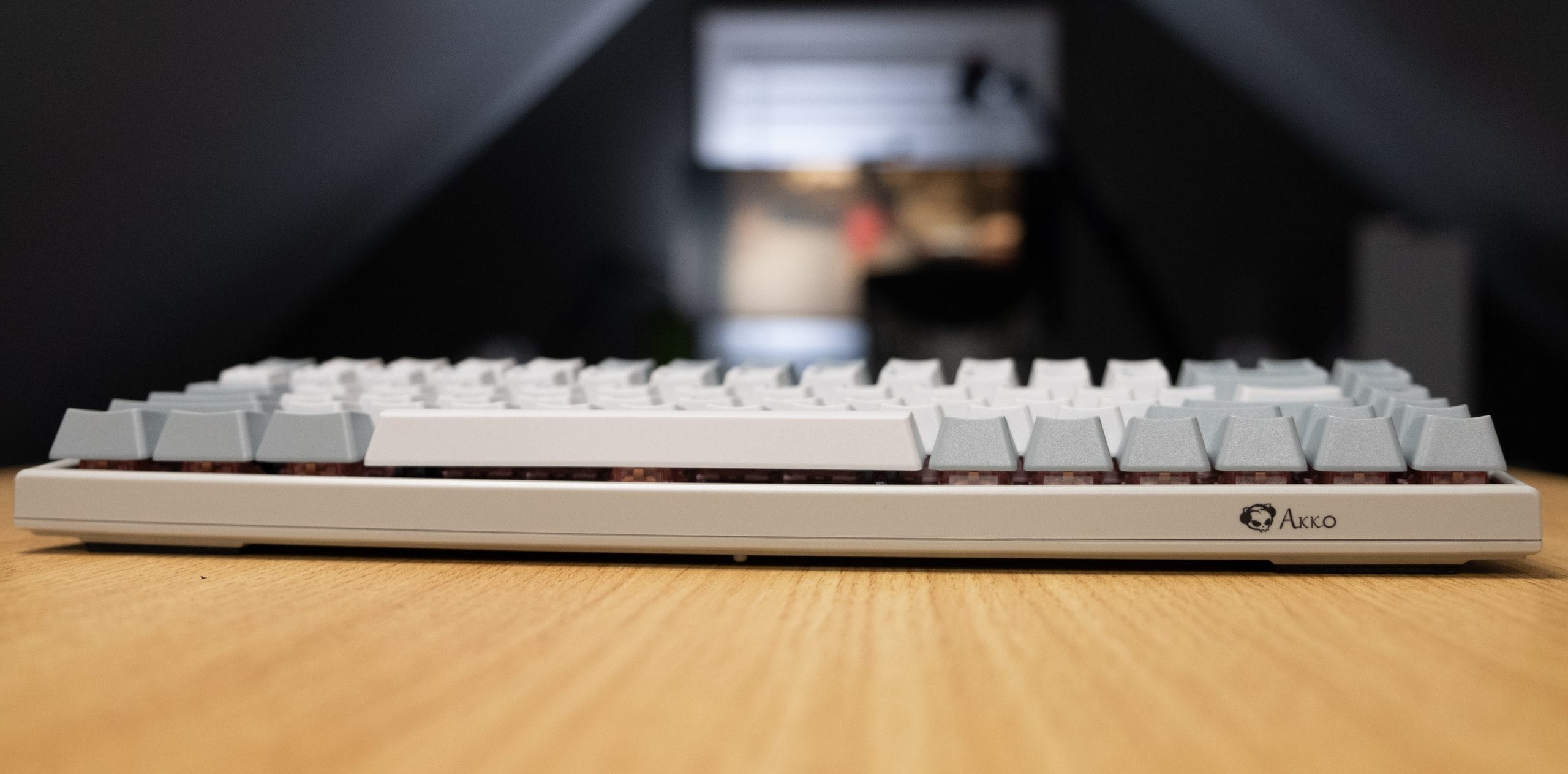 The Akko 3084 is a medium profile keyboard with an ABS plastic case.
The Akko looks like it was intentionally designed to be as compact as possible on the desk. The 75% keyboard layout is great for people who want to save two columns worth of width from a TKL, but don't want to give up on the function keys with a 65%.
On the front lip of the case you'll find the Akko logo as the only branding on the keyboard.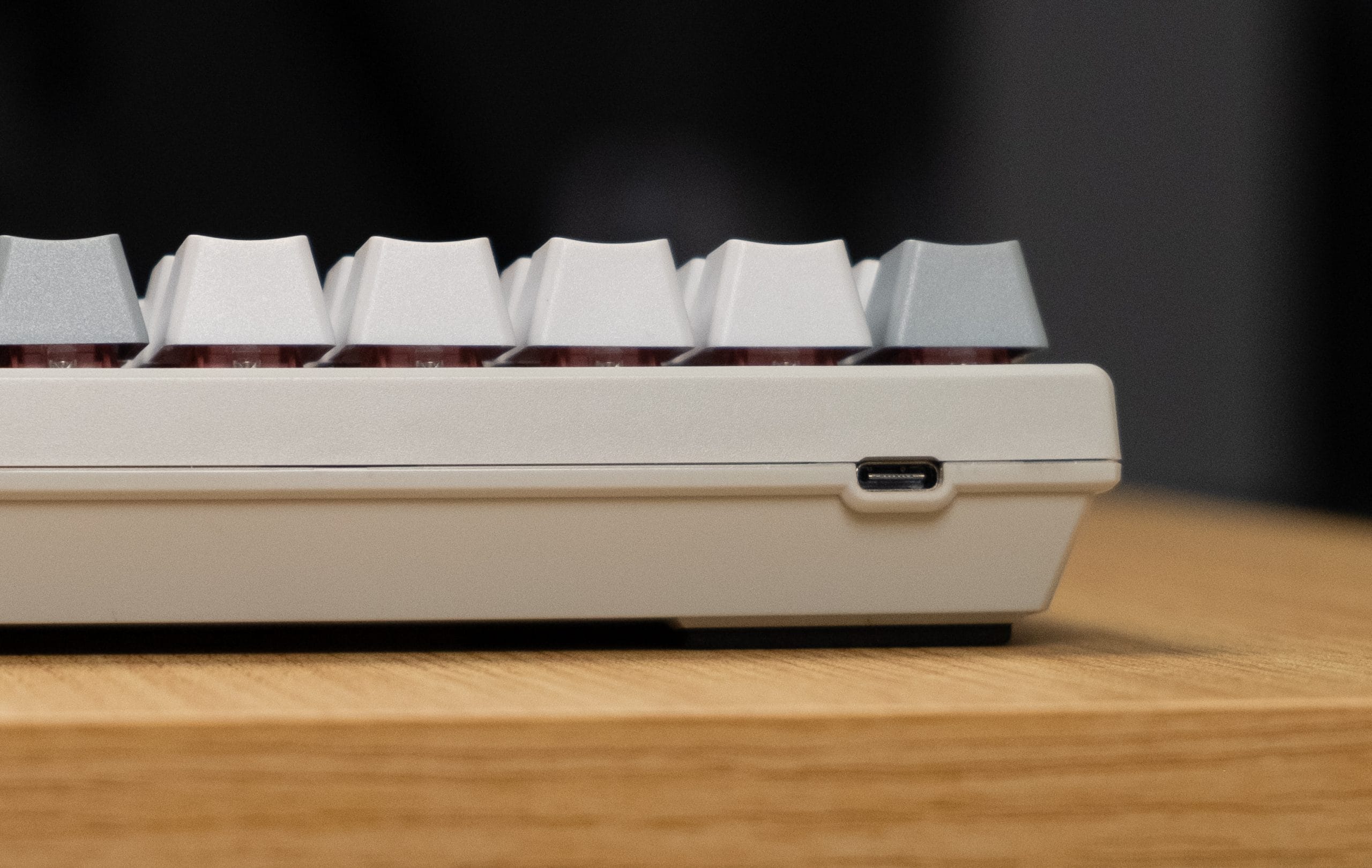 The top of the keyboard features an easy to access USB-C port on the left-hand side.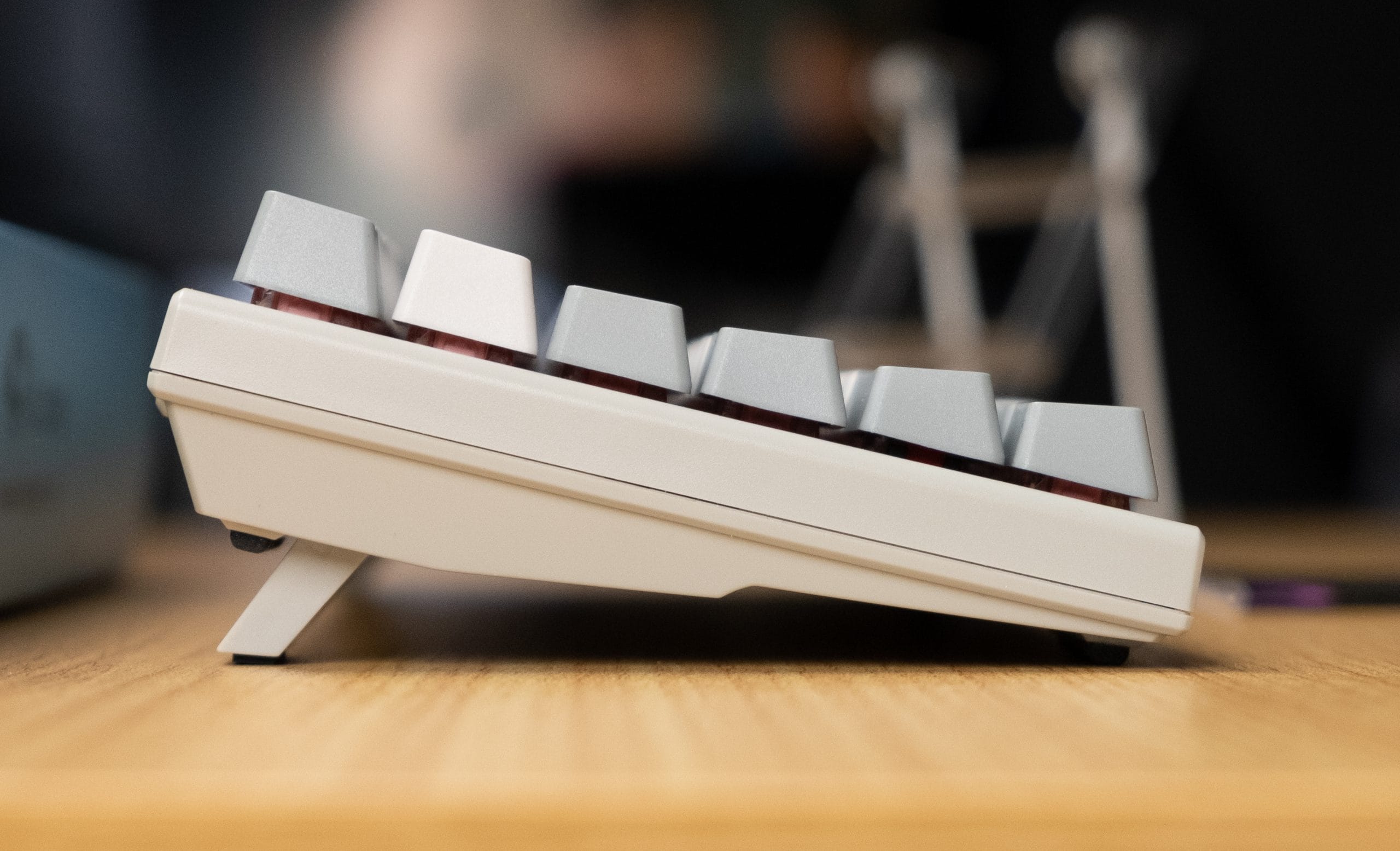 The Akko 3084 supports 3 angles for typing, the feet on the back of the case are sturdy, with rubber tips to prevent the keyboard from sliding around.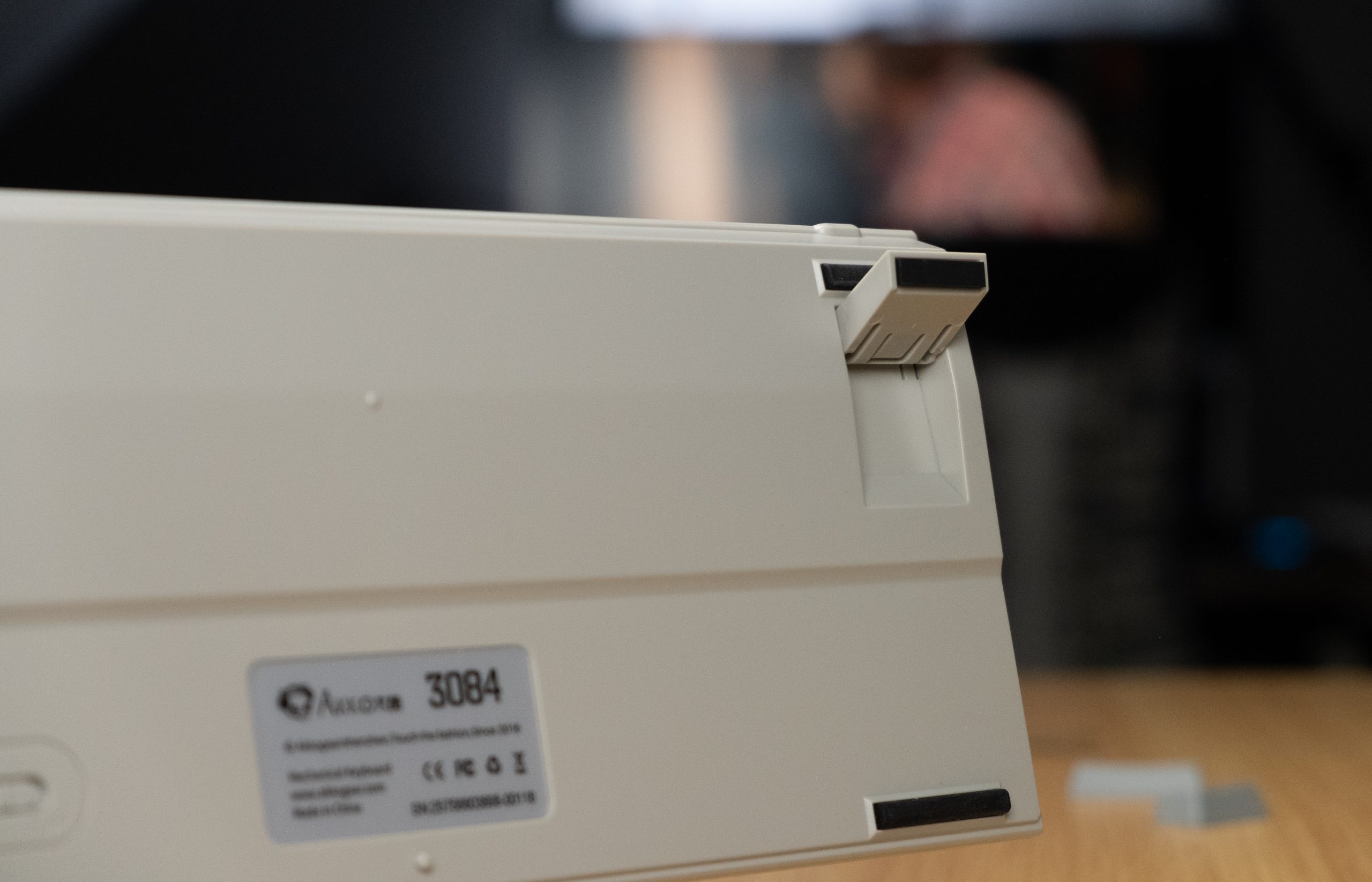 The colour of the case is a cream colour reminiscent of old computer plastic from the 80s, I dig the look! The other variations of the Akko have different case colours as well, pink for the Tokyo Tour version and white for the 9009.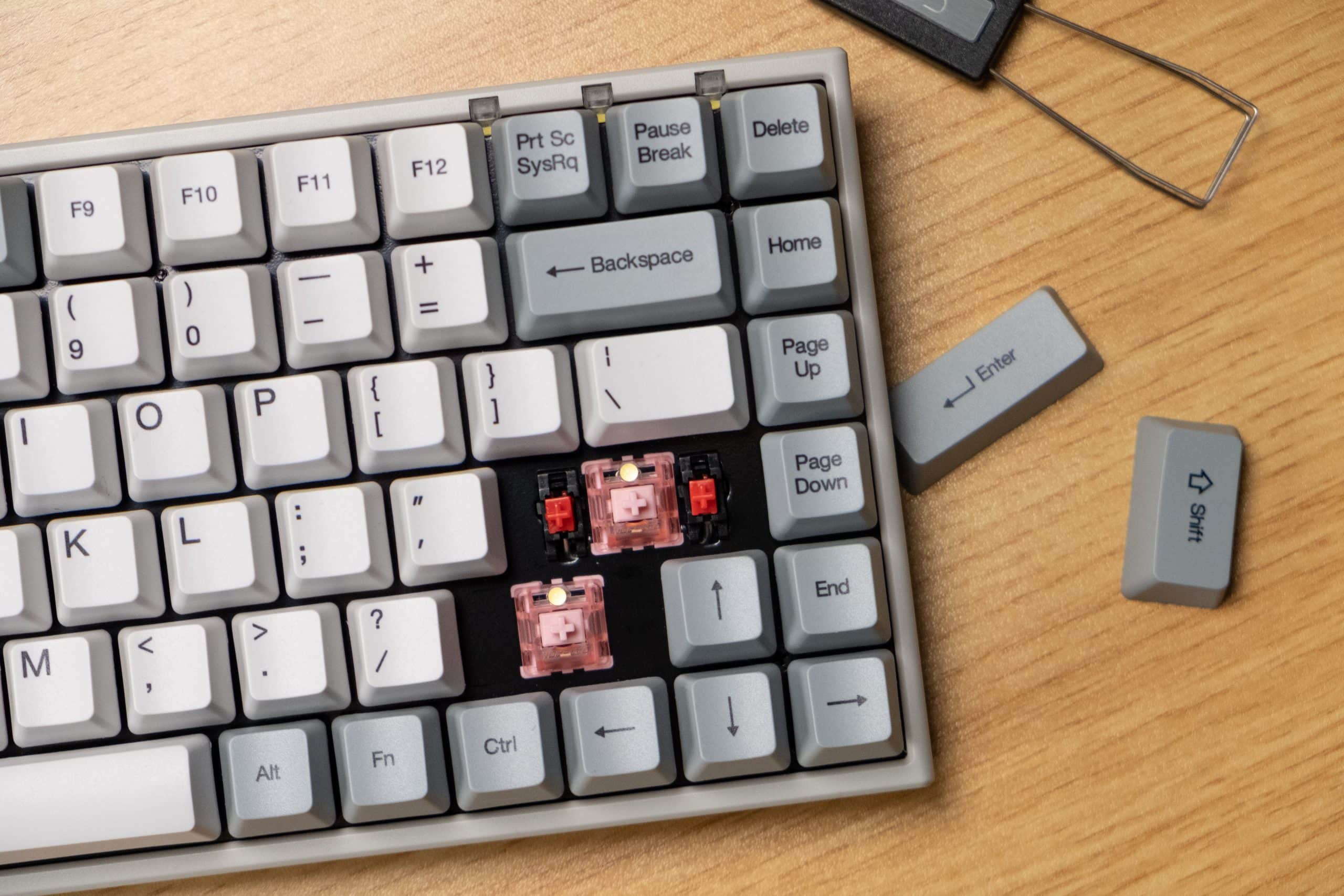 The status LEDs are tucked neatly into the top right edge of the case frame, I like that they're not taking up precious real estate but if you rely on these LEDs, do note that the keycaps might block your view of them.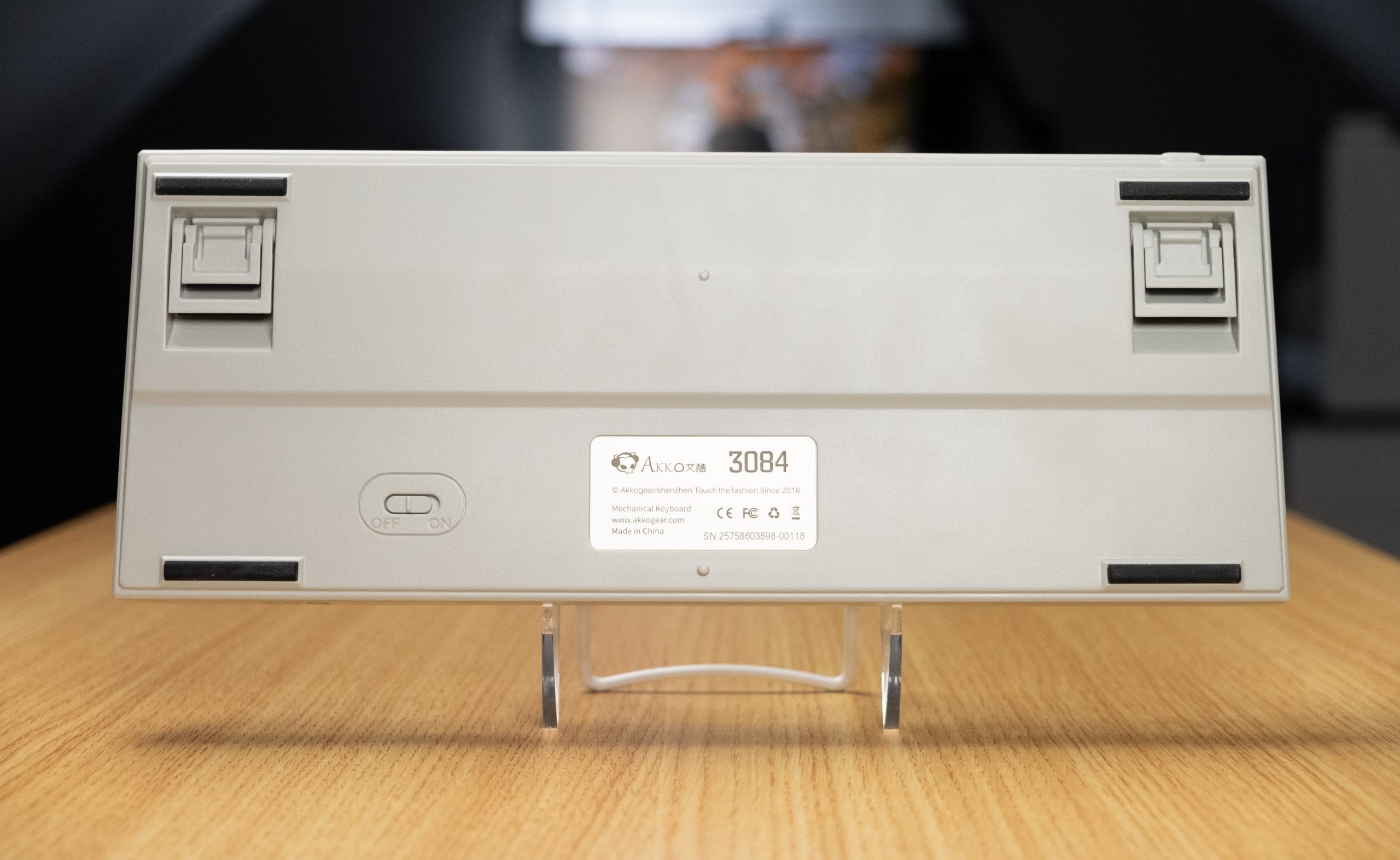 The back of the keyboard features a flip switch to turn on your keyboard if you're using it in wireless Bluetooth mode, kind of an inconvenient place if you ask me.
Build quality
Very minimal flex and no creaking at all coming out of the Akko 3084, the keyboard is as solidly built as a plastic keyboard could be weighing in at 790 grams.
There's a minor amount of deck flex occuring, but nothing that would be concerning.
Akko 3084 Software and Documentation
The Akko 3084 doesn't have or require extra software to function.
It's kind of difficult to find the Akko manual, for some reason the Epomaker site doesn't have it included. I've attached it here: Akko 3084 Manual.
The Akko 3084 Silent has a handful of function shortcuts that aren't labelled on the keyboard. Here are some of the most important ones.
To enter bluetooth pairing mode press FN + TAB.
FN + E/R/T lets you select from the 3 connection profiles.
There's a power switch on the back of the keyboard to conserve battery life, but the Akko 3084 will turn sleep after 10 minutes.
FN + ~ resets the keyboard and its bluetooth pairings.
FN + < or > to increase and decrease the volume
FN + M to mute
FN + F6 to play/pause
FN + F7 to go previous track
FN + F8 to go next track
FN + Win to lock windows key
FN + Del to cycle backlight modes
FN + up or down to brighten and dim backligh
Warranty & Reliability
If you get the keyboard from EpoMaker the Akko 30 comes with a 12 month warranty, as per the manual.
Tech Specs
Akko 3084 Silence
Length: 31.5 cm / 12.4inches
Width: 12.7 cm / 5.12 inches
Height: 4.2 cm / 1.38 inches
Case: High profile, Plastic Case
Weight:  760 grams
Keys: 84 keys
Cable: 2m detachable USB Type-C
RGB: No, white backlight
Keys & switches
Switch options: Gateron Pink, Orange & Green
Keycap material: PBT
Keycap legends: Dye Sublimated
Keycap profile: OEM Profile
Media keys: No
Backlight: White RGB
Software: No
Conclusion
The Akko 3084 has a unique set of features and designs, 75% keyboards are quite rare and even fewer of them are wireless. The keyboard, in particular the silent variation, has some unique switch options that are hard to come by and the extras provided allow you to put together quite a looker of a keyboard.
But, it's hard to over look some of the flaws of the 3084, the lack of side printed caps to indicate functions and the wobbly stabilizers.
Unfortunately, the Keychron K2 also packs the same combination of 75%, wireless and it adds on the ability to hotswap as well, making it a clear winner in that direct comparison.