Wireless mice have are often taking center stage in gaming tech, thanks to the rapid advancements in wireless. But it's important not to overlook the humble wired mice, which can deliver just as good of a gaming experience.
The common downside with wired mice is feeling tethered to the cable.
But brands have become increasingly aware of cable stiffness, making wired mice feel almost as free as their wireless counterparts.
Wired mice are more affordable as well, and there's no recharging of a battery to contend with.
I've used a lot of mice over the last few years, and some great gaming sessions have been had with wired mice. Here are my top picks for wired mice in 2023.
Endgame Gear XM1r
Best overall wired mouse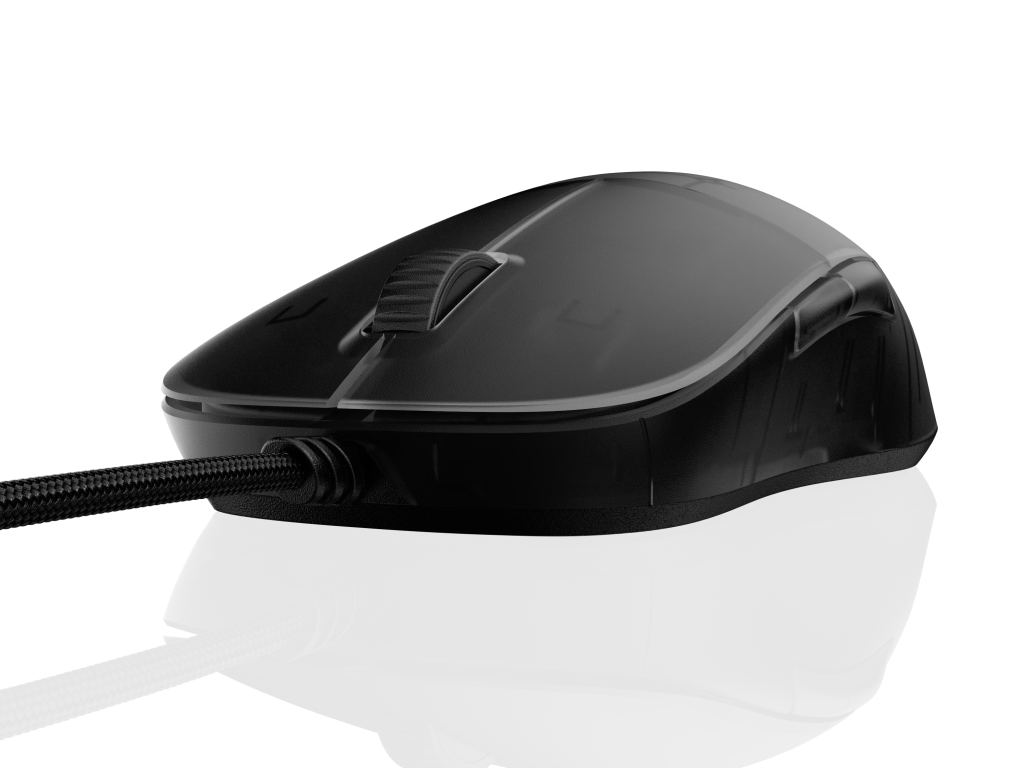 Weight: 70 grams | Sensor: PAW3370 | Buttons: 5 | Cable: Soft braided
The Endgame Gear XM1r is a symmetrical, lightweight mouse, built to take on FPS games.
The XM1r isn't the lightest mouse at 70g, but the XM1r is built like a tank with super high build quality. I experienced zero rattle or flex.
Endgame uses a braided cable on the XM1r that produces little drag and stiffness during use. When grabbing the cord and bending it toward the XM1r, the mouse itself doesn't move at all on a mousepad. My experience with the stock cable has been great, you won't need to paracord mod it.
The XM1r flares slightly at the rear giving you a wider base to fill out your hand. It's possible to utilize every grip on this mouse but the most comfortable would be palm and claw. For fingertip users, it is good to note that the XM1r mouse buttons are still easy to use from a further back position.
The XM1r uses a PixArt PAW3370 sensor that performs flawlessly. Inputs feel sharp and responsive that reflect in game. The main mouse buttons use Kailh GM 8.0 switches which feel crisp and aren't too heavy.
On the underside, you will find smooth PTFE pads that have no scratchiness and give a consistent glide.
The main downside of the XM1r is its versatility. Although it checks all the boxes for an FPS mouse, people may not feel the same for MMO's due to just having the regular two side buttons.
Overall, the XM1r is a very well-rounded mouse that has very little weaknesses making it a great wired mouse.
Razer Viper Mini Wired
Best small wired mouse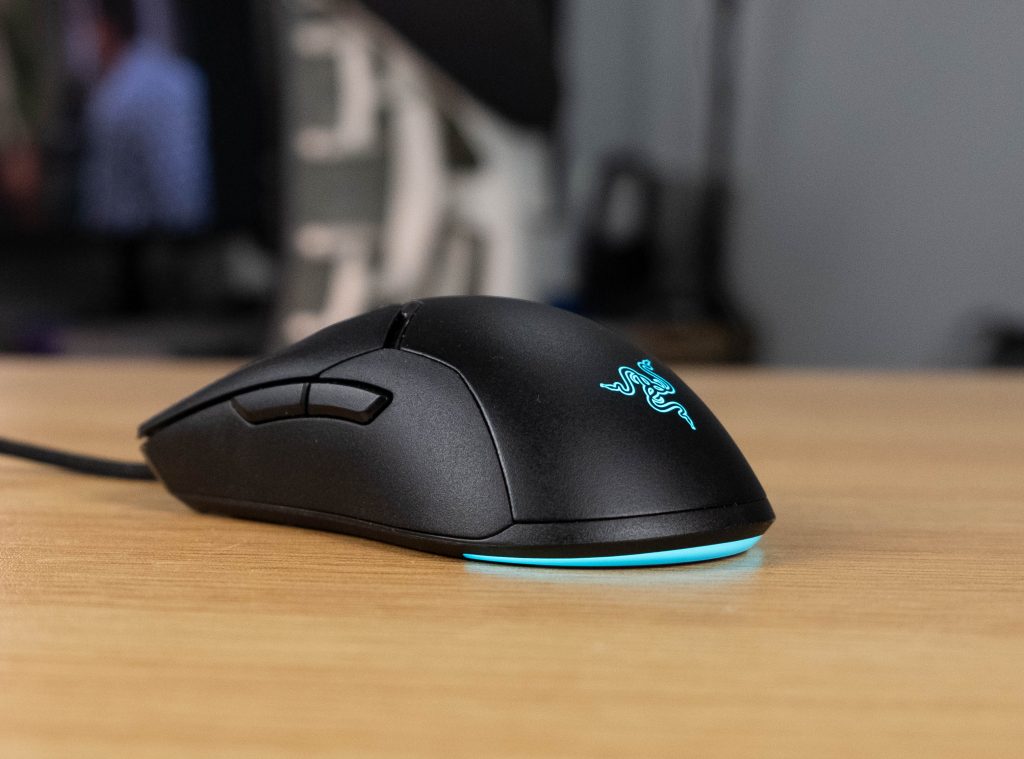 Weight: 61 grams | Sensor: PMW-3359 | Buttons: 5 | Cable: Soft braided
The Razer Viper Mini is a smaller version of the popular Razer Viper. This is the best option for a smaller sized wired mouse for a few reasons.
With the backside of the Mini being flatter, it makes this mouse difficult to palm grip as the hand isn't filled out. On the other hand, the Mini is excellent for both claw and fingertip grip.
Razer's Speed Flex cable is braided, flexible and soft. Although it's less soft compared to a paracord, it still does a good job of producing little drag on the mousepad. With a bungee, it feels almost wireless.
Razer optical switches have always had very low latency times. The Viper Mini is no exception as the click latency is extremely low and felt amazing in game. Paired with the PMW-3359 sensor, the Mini performed flawlessly for me showing no signs of stuttering, acceleration, or angle-snapping in testing.
Both the main and side buttons have a good tactility to them and feel responsive. Paired with the low latency, performance is top-tier on this mouse.
One downside of this mouse is that it has a higher than normal LOD. I didn't really notice a difference, but it depends on how you aim so be cautious of this.
On the old wireless Viper Ultimate, there were both right and left side buttons. On the Mini, they decided to remove the buttons on the right side. RIP left-handed users.
Read our full Viper Mini review
CoolerMaster MM720
Best budget wired mouse
Weight: 49 grams | Sensor: PixArt 3389 | Buttons: 5 | Cable: Soft braided
The CoolerMaster MM720 has made the list for being very lightweight and a great budget option. The MM720 weighs 49g and hovers around a $20-$25 price point. It still comes packed with features you will find on more premium mice.
The most interesting thing about this is the shape. On the right side of the mouse, you'll see that there is a large comfort groove to place your ring and pinky finger. Surprisingly, it works quite well with helping you get a solid grip on it.
The MM720 is shorter and has a large bump on the back giving an egg-like shape. Because of this, the MM720 targets claw and palm grippers as fingertip would be severely uncomfortable with the high profile rear and extended side, it definitely was for me.
Performance on the MM720 is great as well with the PixArt 3389 sensor, smooth PTFE feet, and a flexible braided cable. I didn't notice any skips or stuttering on the MM720 which is expected of the 3389.
For a budget mouse, build quality exceeded expectations. There wasn't any rattles when shaking the mouse violently but there were creaks and flexing in the shell. Although this isn't a deal breaker, the overall build quality could use some work.
Razer DeathAdder V3 Wired
Best wired ergo mouse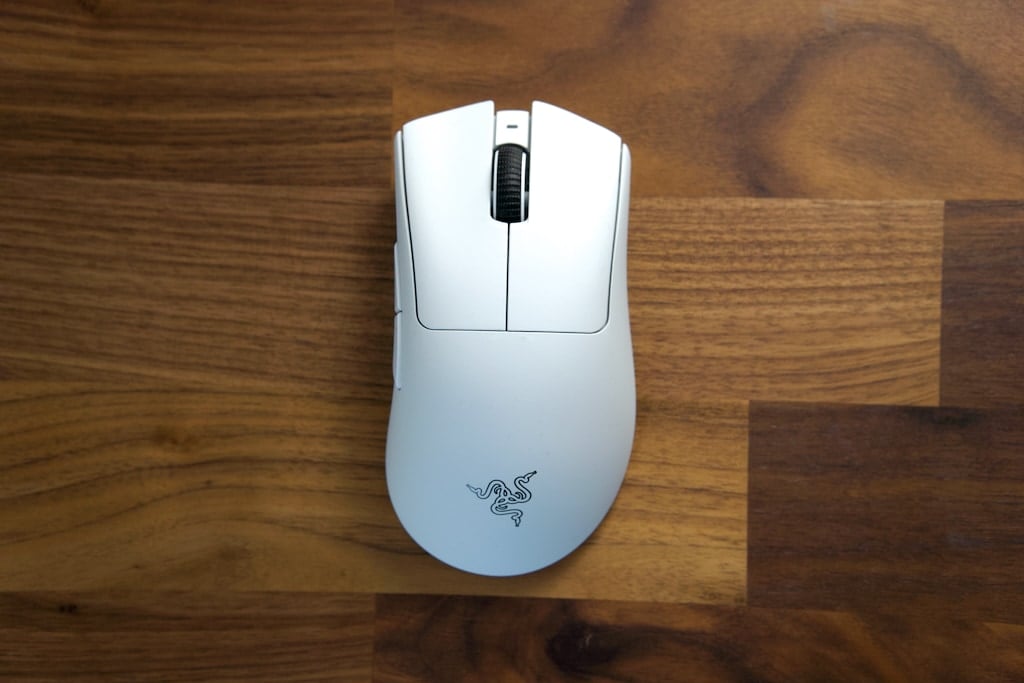 Weight: 59 grams | Sensor: Razer Focus Pro 8K | Buttons: 8 | Cable: Speedflex woven
The DeathAdder V3 wired is basically the V3 Pro plugged in at less than half the price. It still features the Focus Pro 30K Optical (best Razer sensor to date), Gen-3 optical switches, and weighs less at 59g.
The wired V3 features HyperPolling at 8000Hz whereas the average mouse sits at 1000Hz. This won't necessarily mean you'll play better but it's nice to know you're getting quicker inputs and top tier tech.
The performance on the V3 Wired is flawless. Everything felt smooth and I did not suffer from any pixel skipping, stutters, or spin outs from hard flicks.
On the underside you will find PTFE mouse feet that give a smooth and consistent glide. While the cable is thicker to compensate for the 8000Hz polling rate, it still felt light and flexible but definitely noticeable.
The one downside of the V3 wired is that it sits on the larger side so small hand people beware. Palm and claw grip are the most popular grips as fingertip grip would be pretty hard unless you have massive hands.
Razer's V3 Wired is definitely one of the best ergo mice you can get with all the latest tech.
Razer Basilisk V3
Great wired MMO mouse
Weight: 101 grams | Sensor: Razer Focus+ 26K | Buttons: 11 | Cable: Razer Speed Flex
The Razer Basilisk V3 is one of Razer's more recent additions to their mice lineup. It's basically just the Basilisk Ultimate with a permanent wire but they did add some good changes.
The Basilisk was picked for its versatility in both FPS, MOBA and MMO games since it has 11 programmable buttons that are easily accessible. Paired with the 5 on-board memory profiles, the customizability is almost endless on this mouse and switching is seamless from game to game.
The shape of the Basilisk is very comfortable. It is an ergonomic mouse with a dedicated thumb rest and puts all the buttons in an optimal position to press. This mouse is quite large so the preferred grips will be claw and palm, leaving fingertip users behind.
Razer uses their Optical Gen-2 switches in the Basilisk which is one generation behind the current Gen-3's. However, there hasn't been any noticeable performance issues with the Gen-2's and honestly feel just as good. They feel crisp, tactile, and have just the right tension that it's neither fatiguing or too easy to actuate.
On the underside you'll find the Razer Focus+ optical sensor and smooth PTFE feet. Performance from both of these are excellent and have not encountered any skipping, stuttering, or spinouts.
If you're a fan or RGB then this mouse definitely won't disappoint. There is RGB lighting circling the whole perimeter of the mouse, adding a very nice underglow that shines on whatever surface you're using.
All this RGB and additional buttons come at a cost though. The Basilisk weighs in at a whopping 101g which might feel like a rock in some people's hands. Many mice on the market that are advertised as lightweight range from 50g-70g.
If you like heavy mice for gaming and play a combination of MOBA and MMO, I'd definitely recommend the Razer Basilisk V3.
Zowie EC Series
An amazing shape for FPS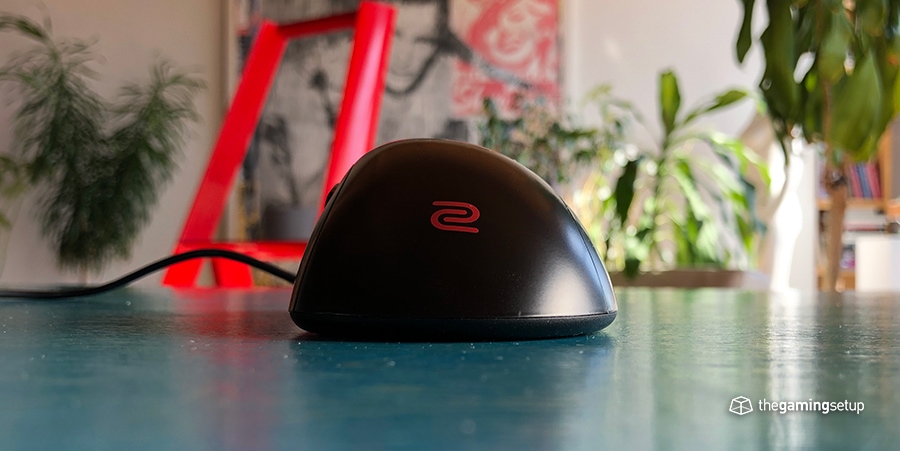 Weight: 90 grams (M) | Sensor: PMW-3360 | Buttons: 5 | Cable: Soft rubber
The legendary Zowie EC series mice have made the list for their reputation of being some of the best wired gaming mice on the market. This is mainly due to their revolutionary shape and how it changed the ergo gaming mouse space.
Although they are old mice, they are still very viable in today's wired market. With the PixArt PMW3360 sensor there are limitations to customizability of DPI as the only options are 400, 800, 1600, and 3200. But let's be honest, who really goes higher than 3200?
The build quality is amazing as it's rock solid with no rattles or flex. This does come at a cost with the EC1 being 97g, the EC2 being 90g, and EC3-C at 70g. Luckily, the updated EC1-C and EC2-C weigh 80g and 73g respectively but these are still considered heavy-ish.
The EC series has a diverse range of sizes with the EC1 being the largest, EC2 being medium, and the EC3 being the smallest of the bunch. These are great options for people with medium hands or are looking for smaller sized ergo mice.
All the EC series mice before the EC-C versions come with rubber cords. These were great cords that stayed out of your way while gaming and didn't produce much drag. With the EC-C lineup, Zowie has added a paracord which feels better than the rubber ones. I don't think replacing the Zowie stock paracord is worth it as it's already excellent.
The coating on these mice do not mix well with sweaty hands. It produces lots of fingerprints and grease build up but this won't be a problem if you have dryer hands.
If you're looking for a very well balanced wired ergo mouse that passes the test of time, the Zowie EC series lineup can be the answer.
Wired vs. Wireless
There has been a long battle between wired and wireless mice.
The main benefits of using a wired mouse is that you will get lower latencies with direct connection, they're wallet friendly, and they don't carry extra weight with an internal battery.
However, you lose the freedom you get with wireless mice as there is nothing attached to them unless its charging. Wireless mice technology is also under constant development of new sensors and different technology in attempts to close the slight latency gap.
These days, competitive gamers are moving towards a completely wireless scene. This is because the latency difference is so close that people don't notice it and eliminates one of the main advantages of a wired mouse.
So, which one is better for you, wired or wireless? It all really depends.
If you have the budget to cut the wire then do it. Not having a wired connection feels amazing and you probably won't go back to using a wired mouse.
On the other hand, if your budget is tight you can get just as good of a mouse for cheaper going down the wired route. Once you get used to a wired mouse, it's not going to hold you back from fragging.