Review unit provided by Pwnage
The Pwnage StormBreaker is a medium-sized ultra light magnesium ergonomic mouse. It sort of sits in a category of its own being the only super high end metal ergo mouse on the market at the moment. For its top tier asking price, the StormBreaker is packing all top end components with a unique feature in its adjustable sensor.
---
Verdict
This Pwnage StormBreaker is an excellent mouse and competes very well at the top end price level it sits. If you're in the market for an ultralight ergo mouse and have the budget this mouse should be a consideration for sure. I found the StormBreaker amazing to use with its EC ergo shape, rock solid buttons and top tier performance.
If you don't like holes though, you should probably move on, the cut outs for the Pwnage StormBreaker as aggressive and they're more obvious in hand compared to a traditional hex hole pattern. The Pulsar Xlite V2 Wireless is a very good low budget alternative and the Razer DeathAdder V3 Pro is an option if you're looking for something without holes.
Pros
Just 51 grams
Good build quality
Top tier performance
EC like ergo shape
Cons
Aggressive hole pattern
Side buttons might be too stiff for some
---
Design & Materials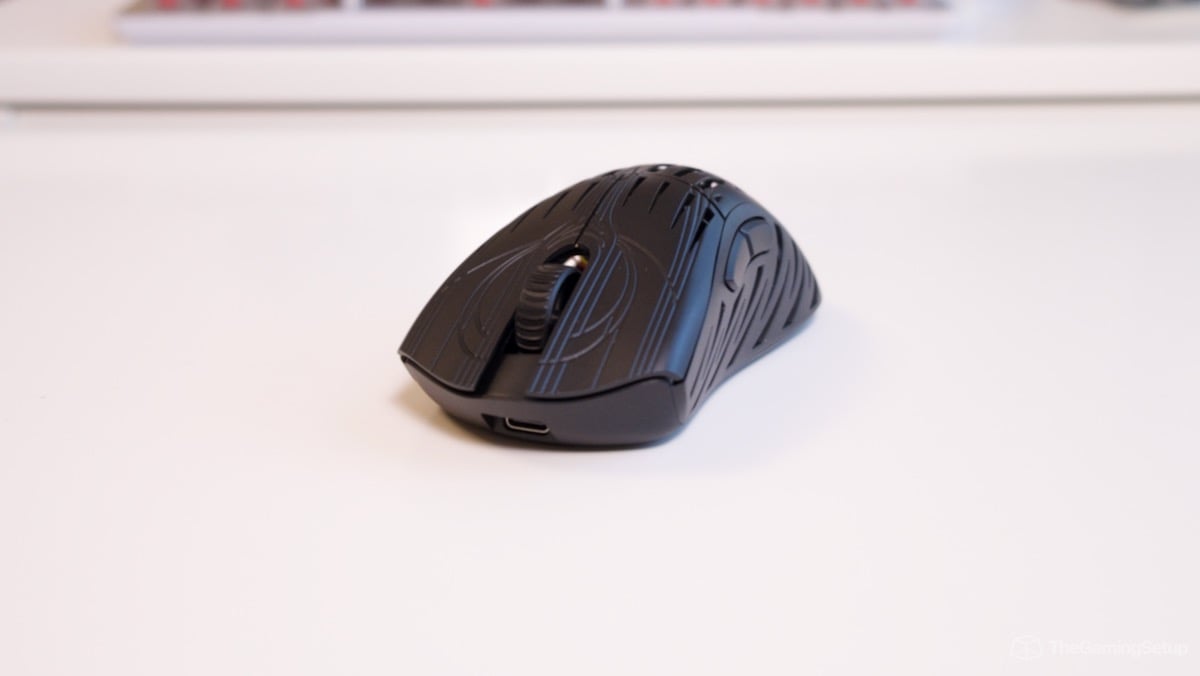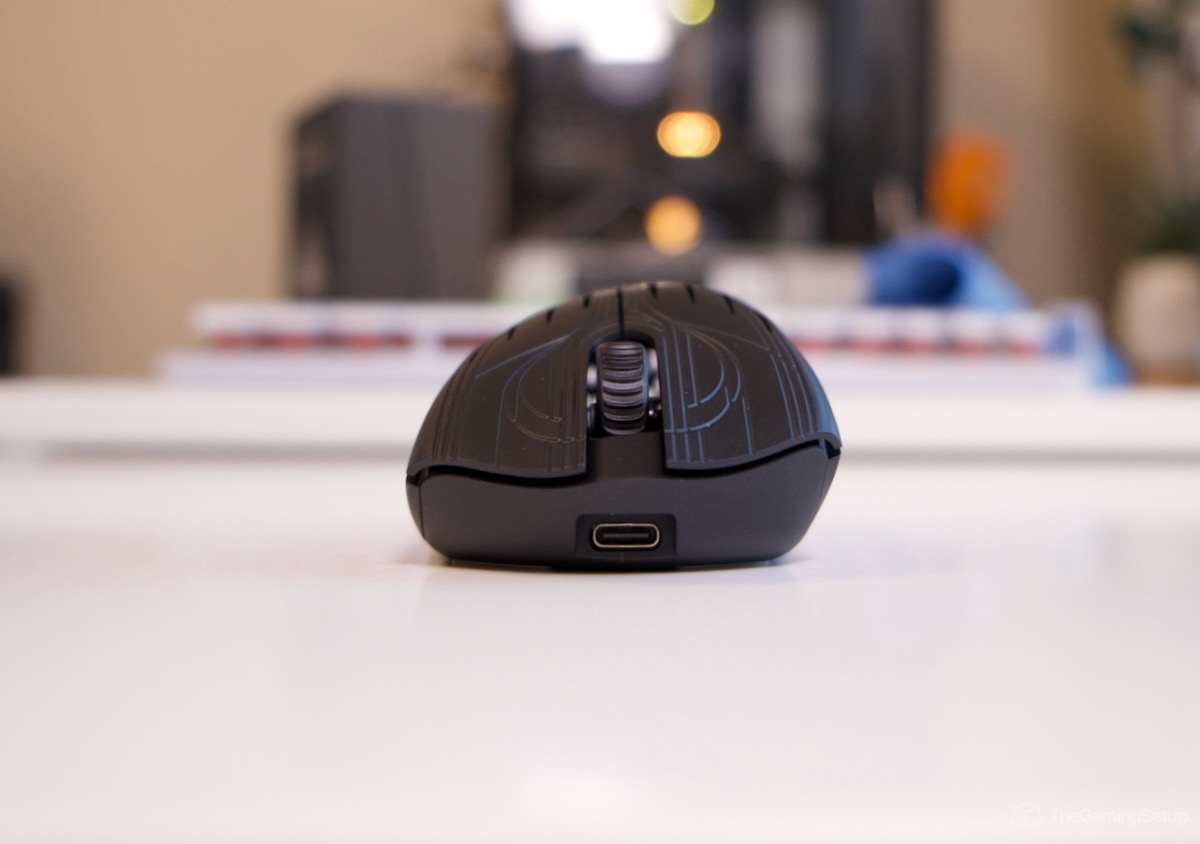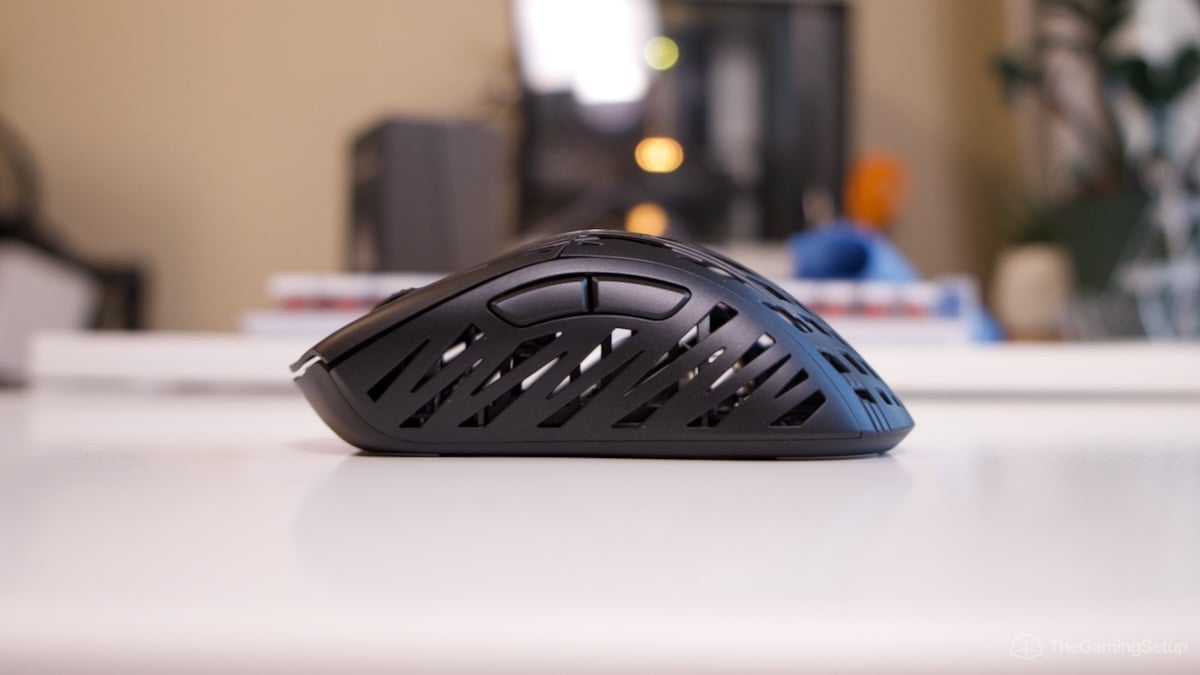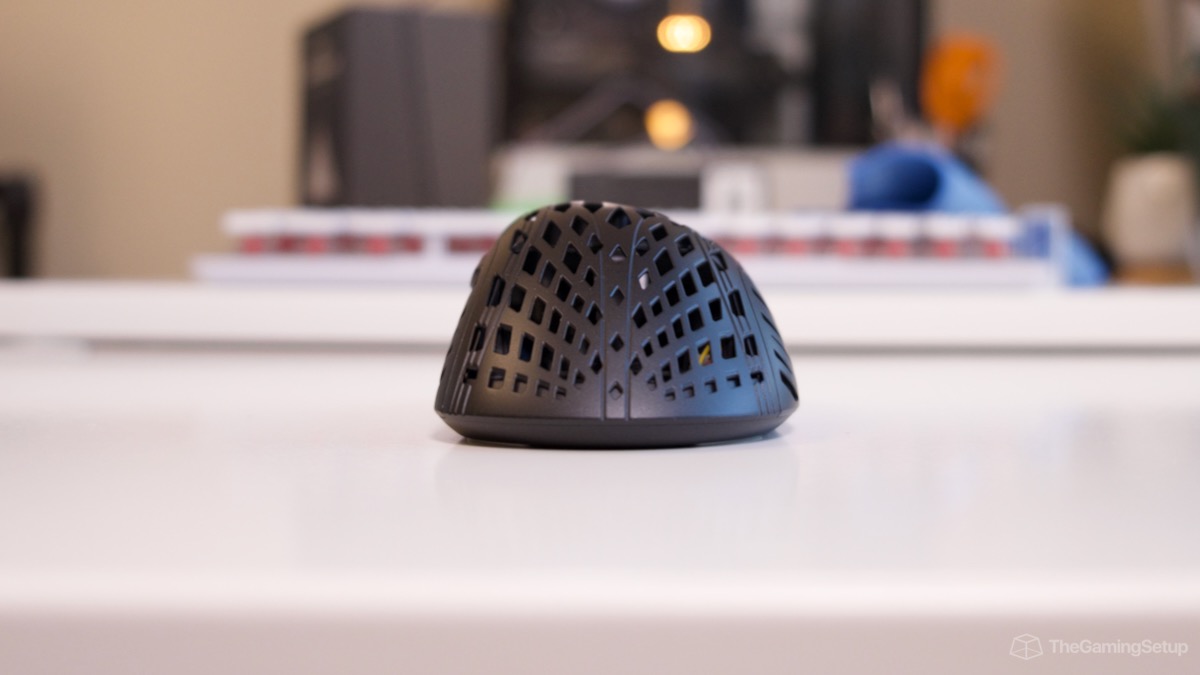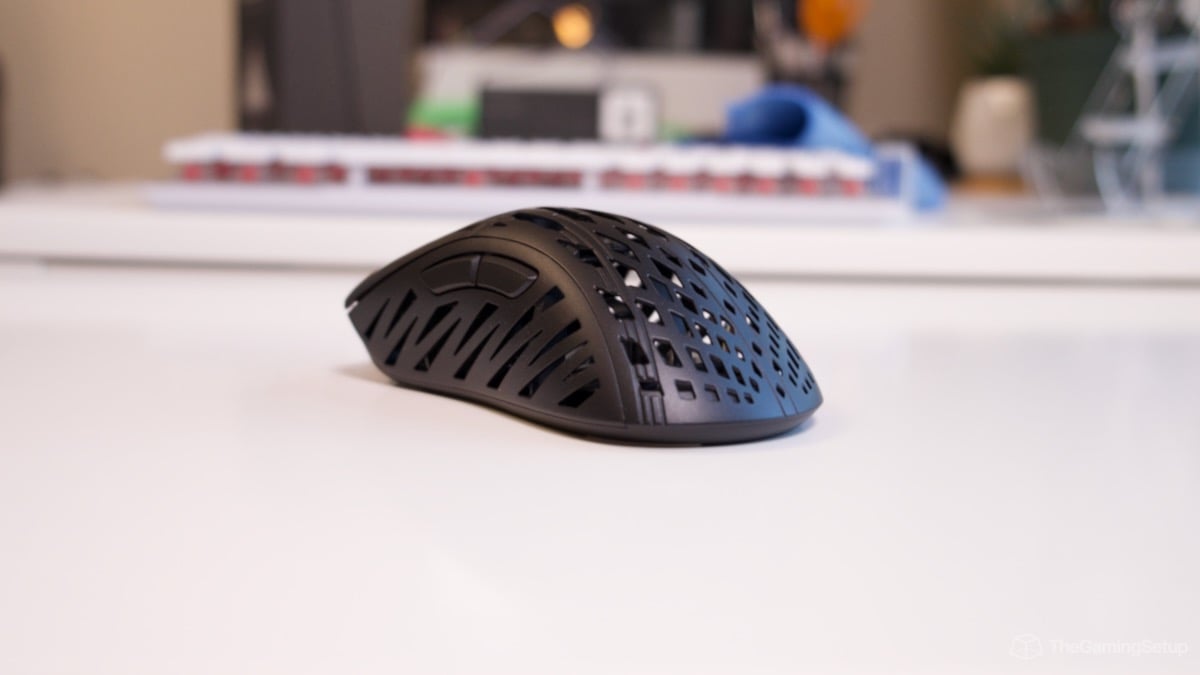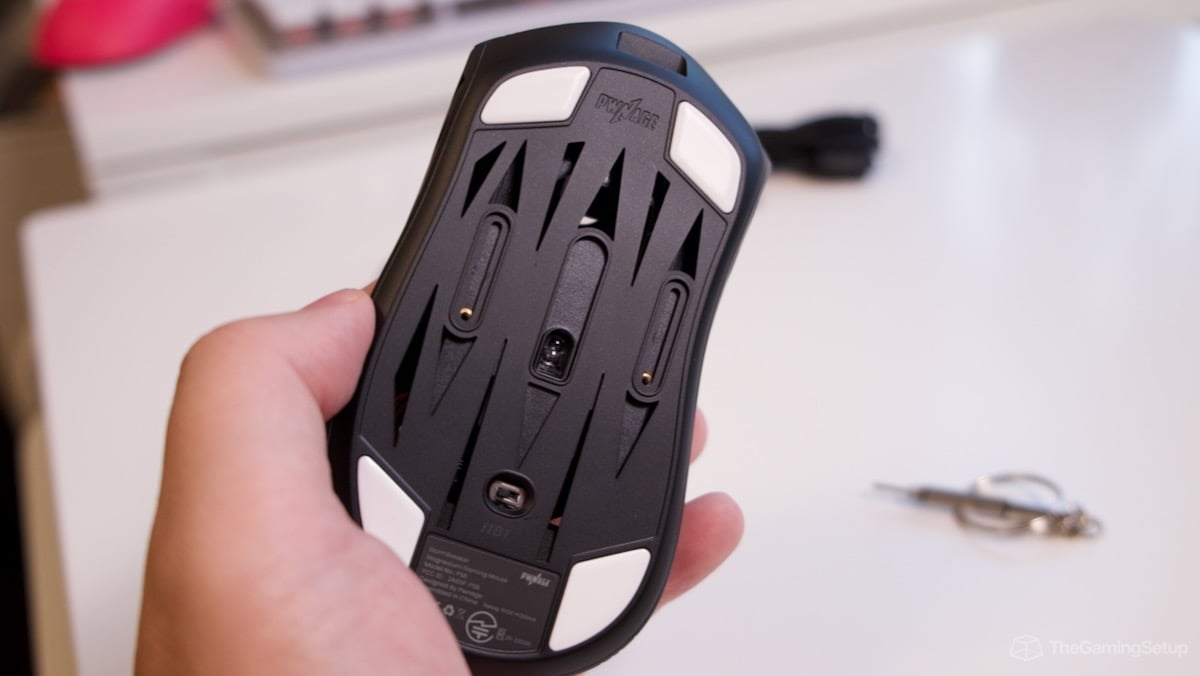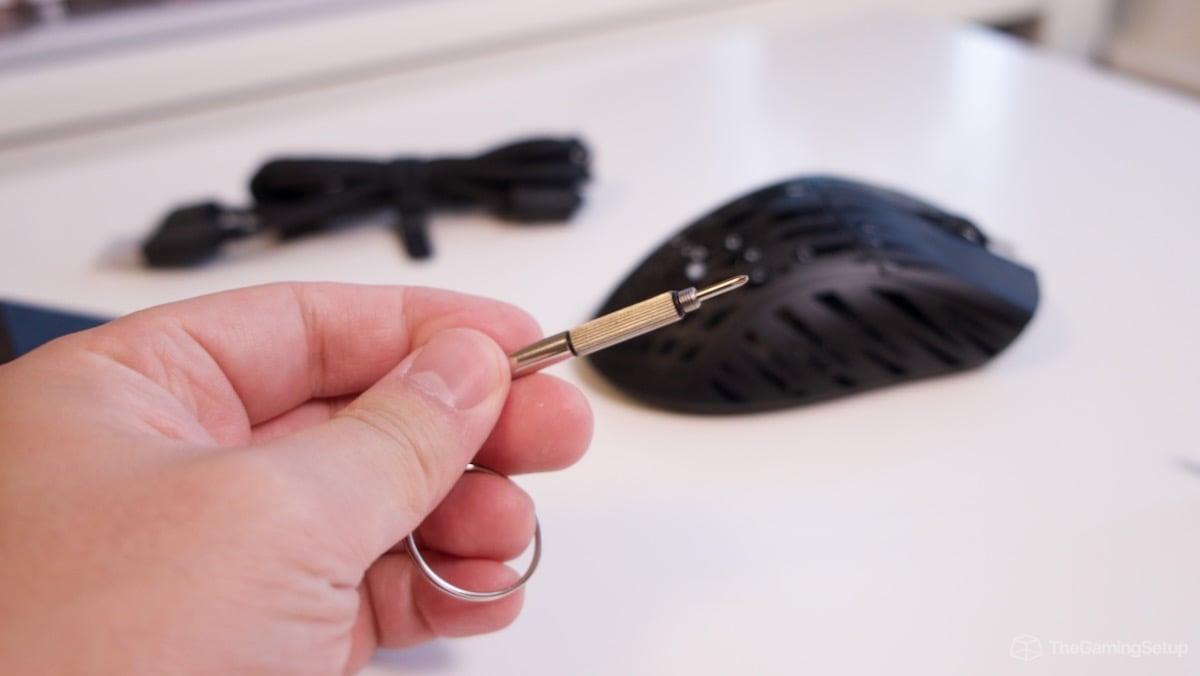 Colors: 7 Options | Additional Grips: Yes | Holes: Yes
The StormBreaker shell is made out of a magnesium alloy that has been coated in a matte material. You can get the mouse in 2 main colors and 5 limited editions. Magnesium provides a lot of strength without needing a lot of material or weight. I've found that the metal mouse is really great at keeping my sweaty hand cool as an added benefit. I'm also a fan of the matte coating, the StormBreaker is easy to grip for me, but additional grips are included for anyone that needs a little more tack.
The hole structure on this mouse is aggressive, I didn't find it very distracting but I can see how some might find the holes a bit too much to deal with if they hold their mouse tightly. The engravings go all throughout the top even into the buttons, so that also might prove a little distracting texturally. Luckily the grips can also help with the hole discomfort if needed.
The mouse has a slightly recessed USB-C port that should accommodate most cables and the underside of the mouse features a little dip switch to power on and off and the adjustable sensor position. More on that later.
Weight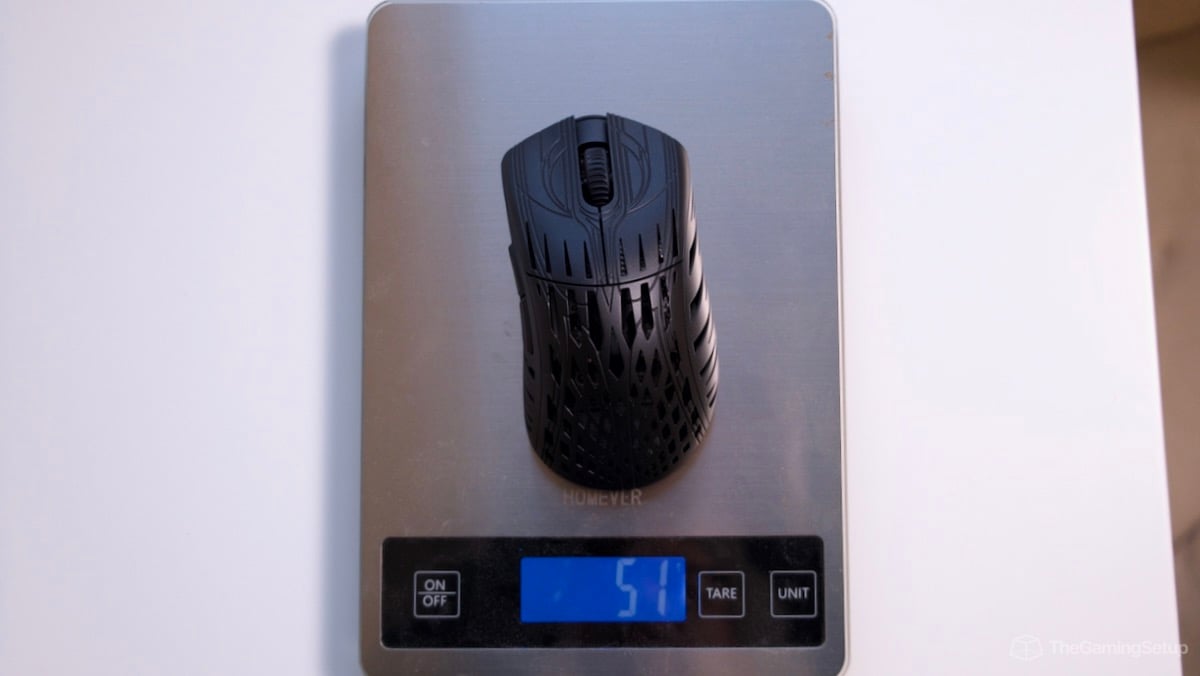 Weight: 51g without cable
This is the lightest ergo mouse on the market. The StormBreaker comes in at a svelte 51g making it one of the lightest mice around but just a bit heavier but much larger than the Razer Viper Mini SE at 49g and the small Starlight at 42 grams.
Shape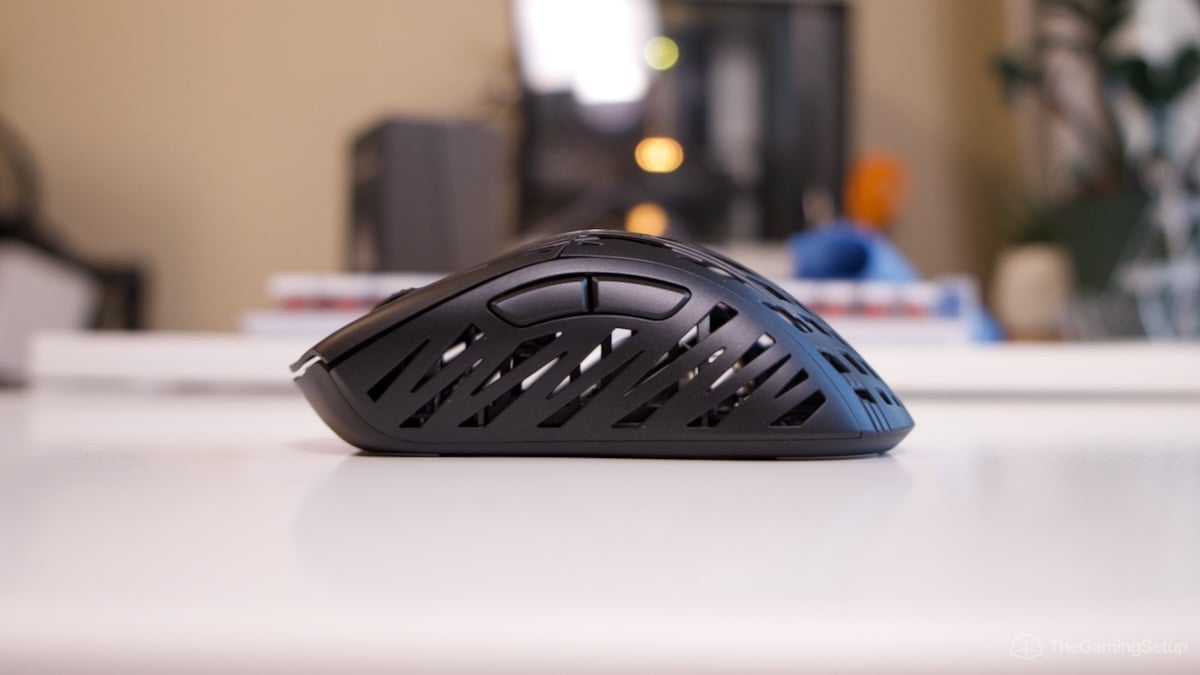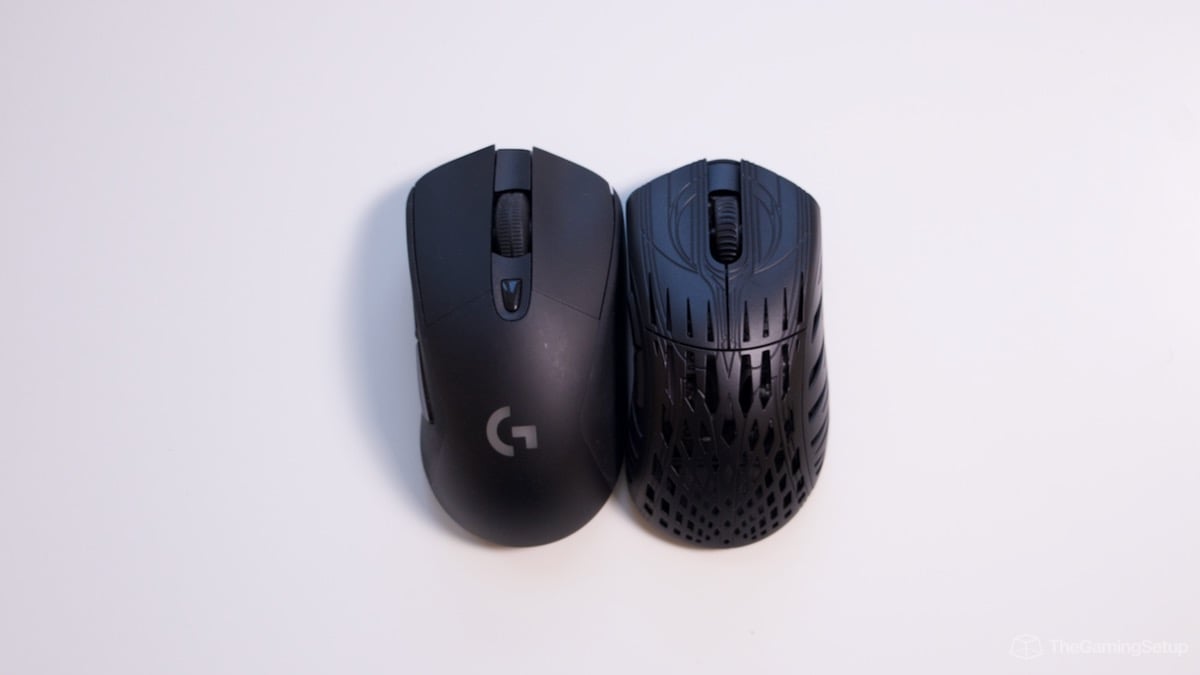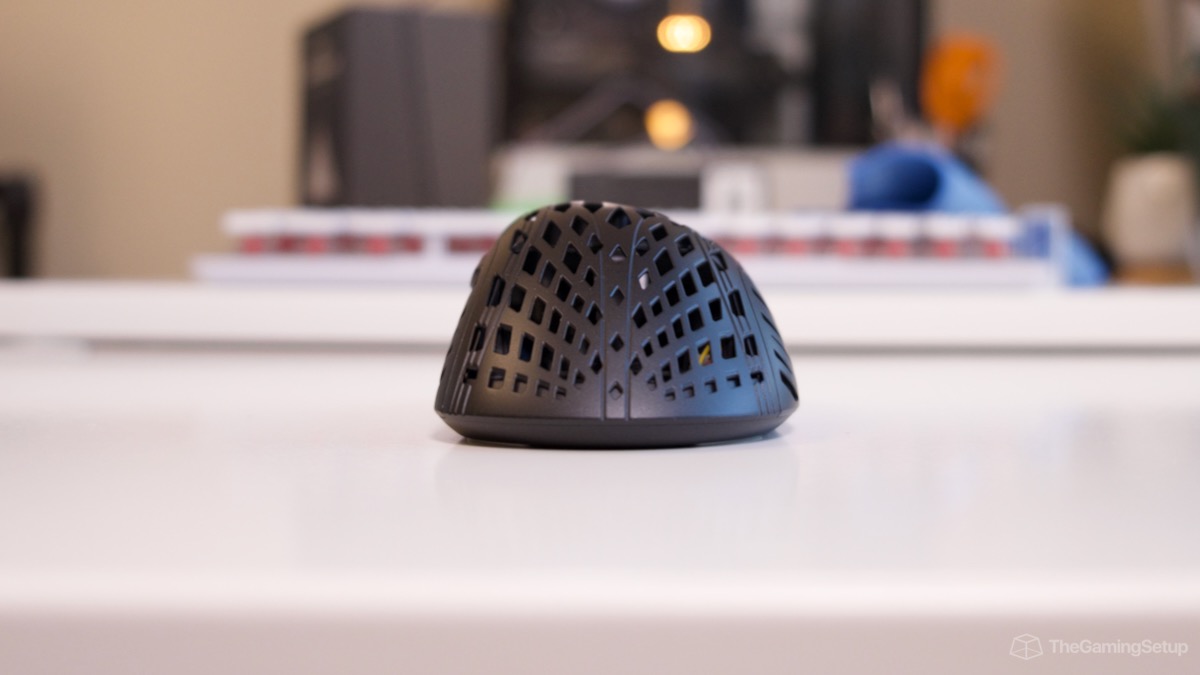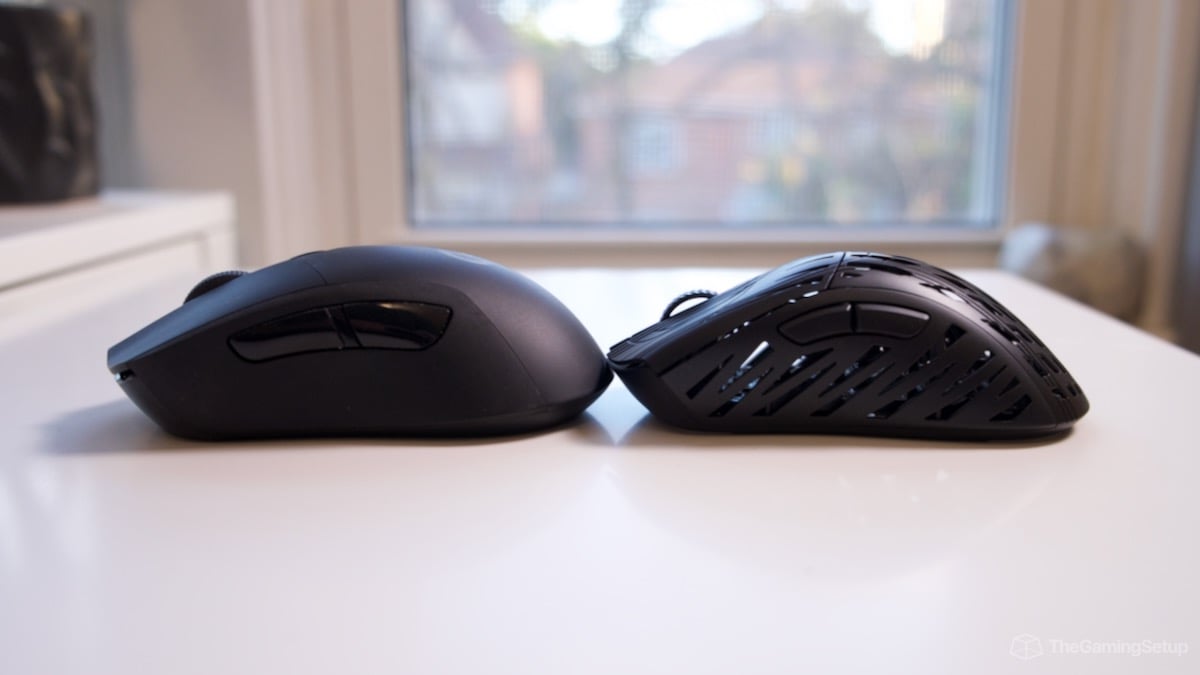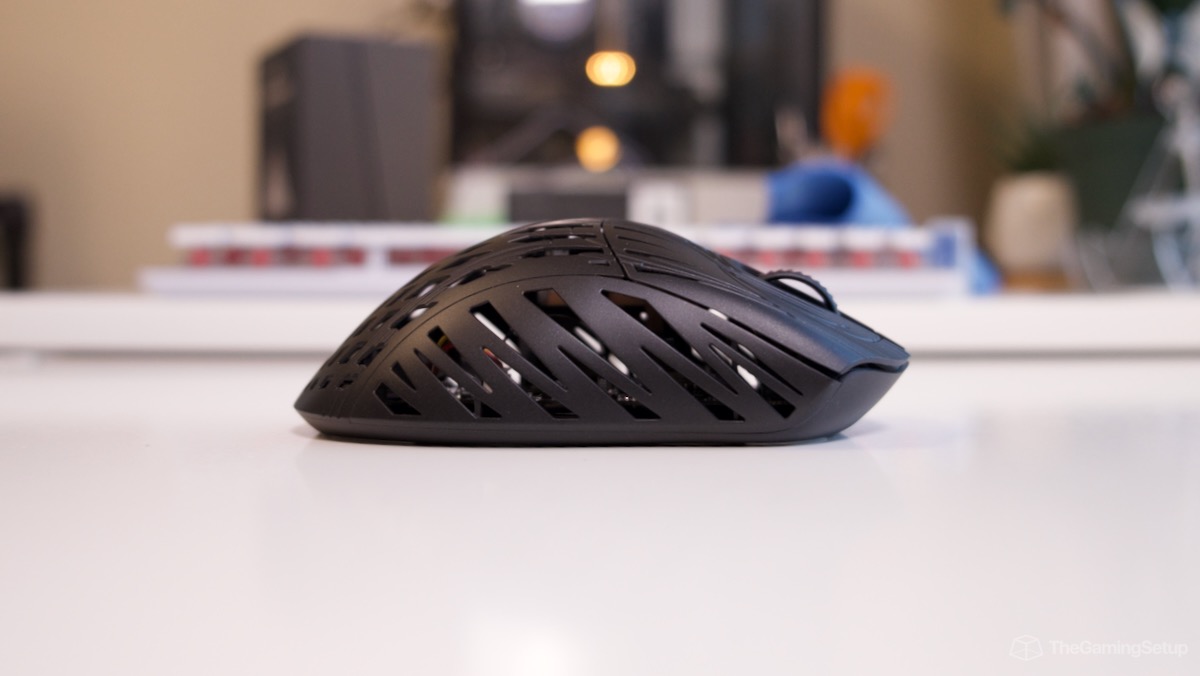 Type: Ergonomic | Length: 122mm/4.8 inches | Width: 64mm / 2.52 inches | Height: 42mm/1.65 inches | Mouse size: Med
The StormBreaker is a medium sized ergonomic mouse that has a shape that resembles the Zowie EC2 or Pulsar Xlite, which is quite a popular shape and should be great for a lot of palm and claw grips. Compared to the EC2 the StormBreaker has a slightly more aggressive slope towards the front of the mouse but I don't think anyone would notice a huge difference.
This mouse is quite a bit smaller than the larger popular ergos like the DeathAdder V3 Pro and Logitech G703. I find it quite comfortable for my medium sized and had very little trouble adapting to it.
Comparisons
I think this mouse has to be compared to mice that uses magnesium and mice that have a similar shape.
Both the Finalmouse Starlight and Razer Viper SE popularized the usage of magnesium, I think Pwnage has done a great job matching the fit and quality of these more established brands so the choice has to come down to shape. Luckily, that choice is simple, if you like ergo mice go with the StormBreaker.
Compared to the Pulsar Xlite V2 Wireless and Zowie EC2, the StormBreaker is significantly more expensive. The Xlite V2 drives a pretty great bargain at just $80 bucks. If you find either of the Xlite too small or large, the StormBreaker is a true medium size in between. Other than that, you have to really want to save a few grams of weight, or you prefer a hole and metal combo for a colder gaming mouse to avoid sweat.
Buttons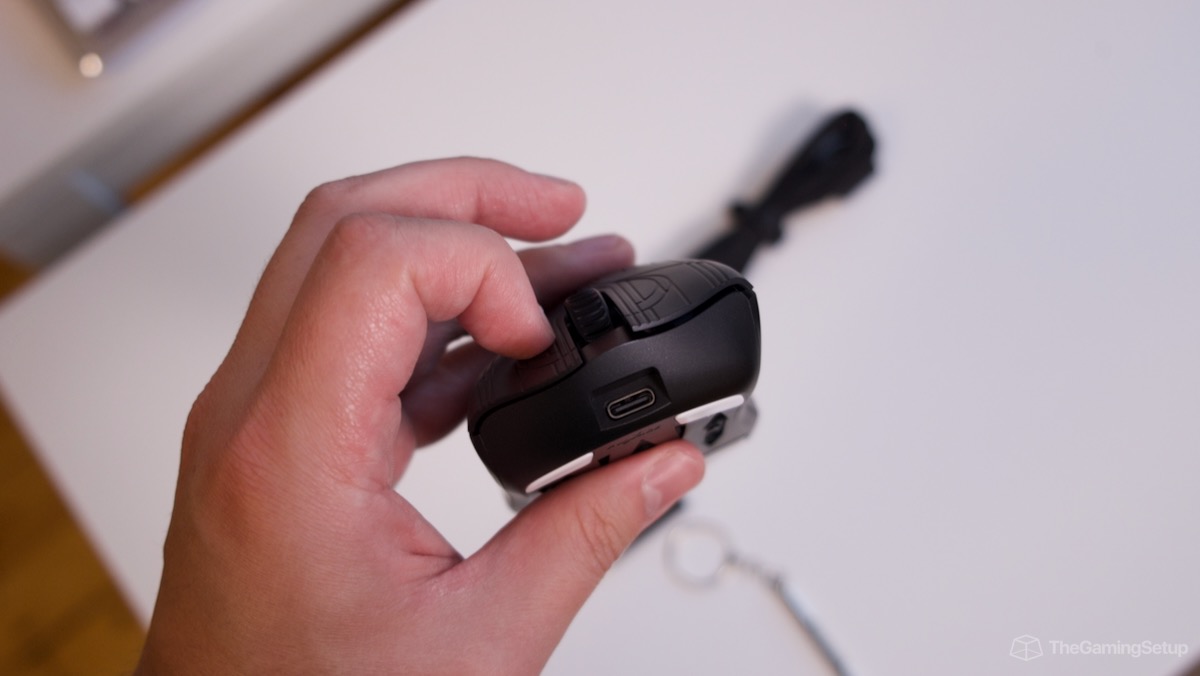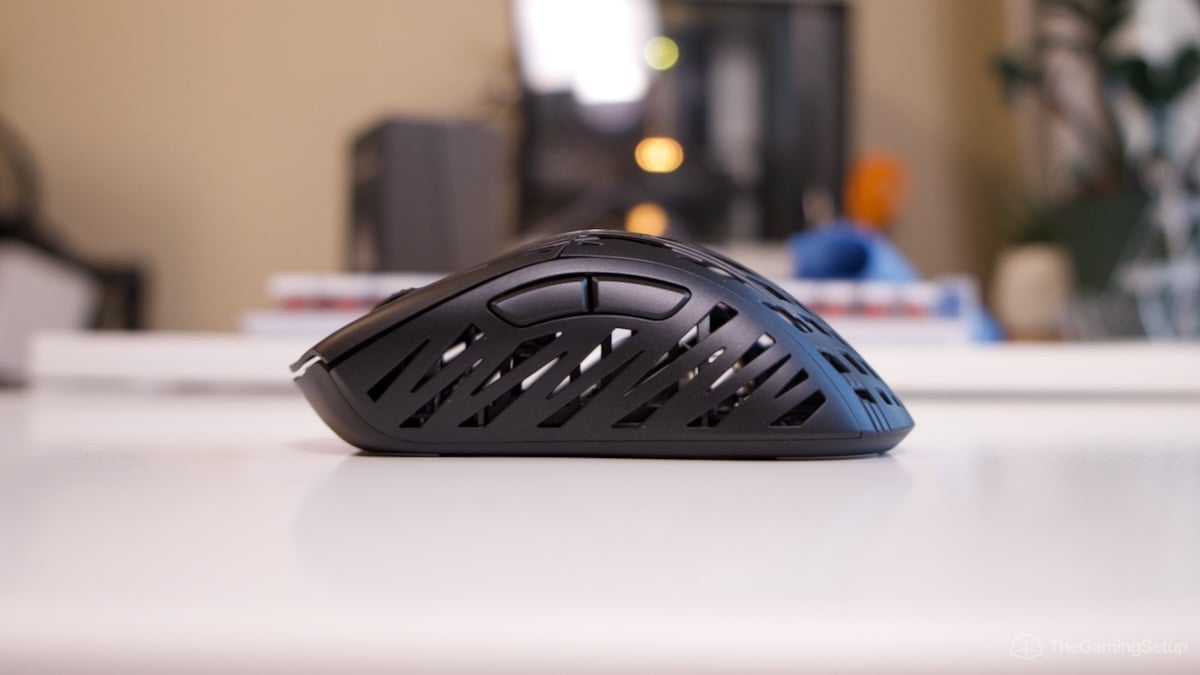 Buttons: 5 | Side Buttons: 2 | DPI Button: No | Switches: Omron | Rating: 20M Clicks
The StormBreaker uses 20M rated sorted Omrons which is a common switch found in a lot of other gaming mouse. The buttons feel about medium weight to me, similar to the GPX1, the weight makes it a good all rounder mouse for FPS and clickier games like MOBA.
The button implementation is great, there's no wobble and there's virtually no pre-travel and minimal post-travel. Both buttons feel the same as well. There is no DPI button on the mouse, you need to use a combination of buttons on the mouse to switch DPI, which I don't find to be too burdensome, more on that in the software section.
Side Buttons
The side buttons on the Pwnage StormBreaker feel good, there's minimal pre and post travel here again and the location works well for my claw/palm hybrid grip. Some folks find the side buttons a little heavy compared to other mice and I can confirm that. If you use side buttons a lot for spam clicking, this might not be the mouse for you.
Click latency
I found click latency to be excellent. The latency is very low and will not be to blame for any poor performance.
Mouse wheel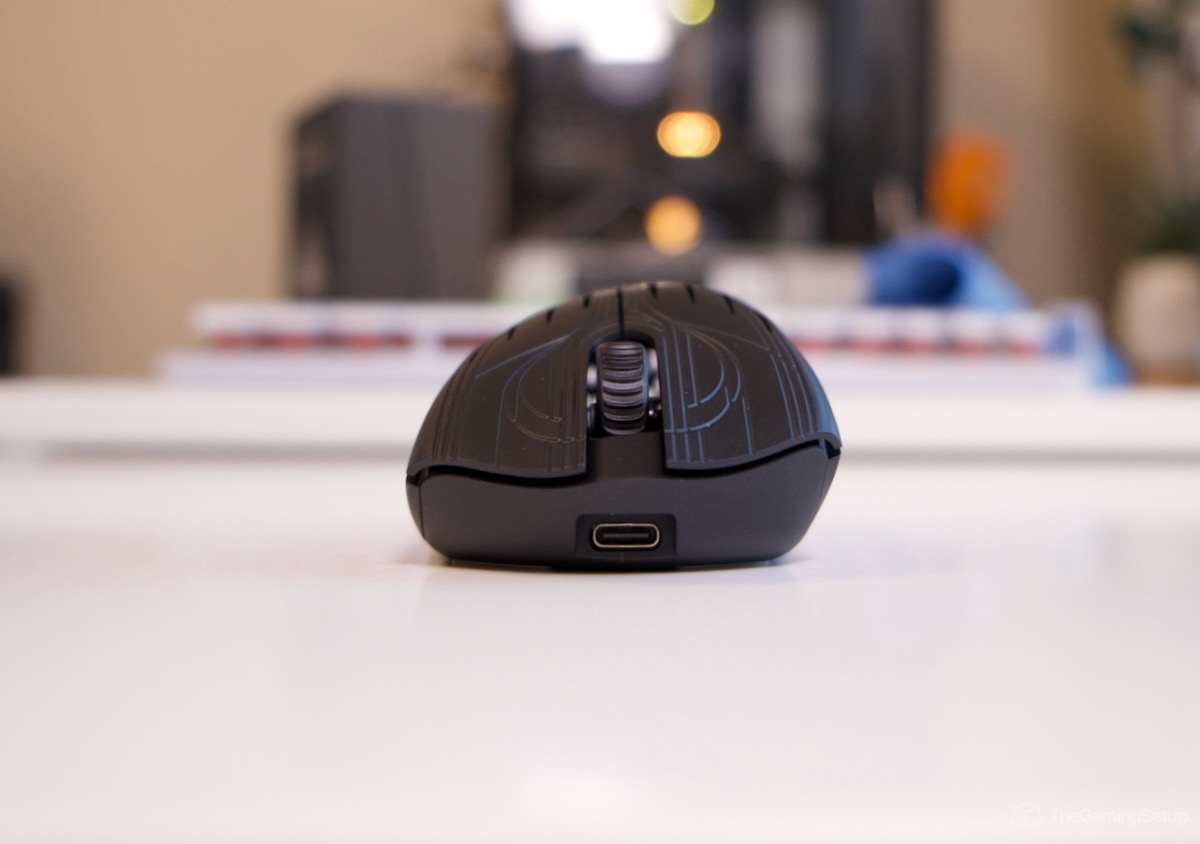 The mouse wheel is a plastic material with raised edges for grip. I found the mouse wheel easy to use, the tension is a little higher than average but the steps are tactile and well defined. The mouse wheel was a little bit off center on my copy, sitting more to the right than dead centre. There's some left and right play on the mouse wheel but nothing concerning. The middle click feels most like the Razer Viper V2 Pros to me, with good pronounced tactility.
Sensor & Performance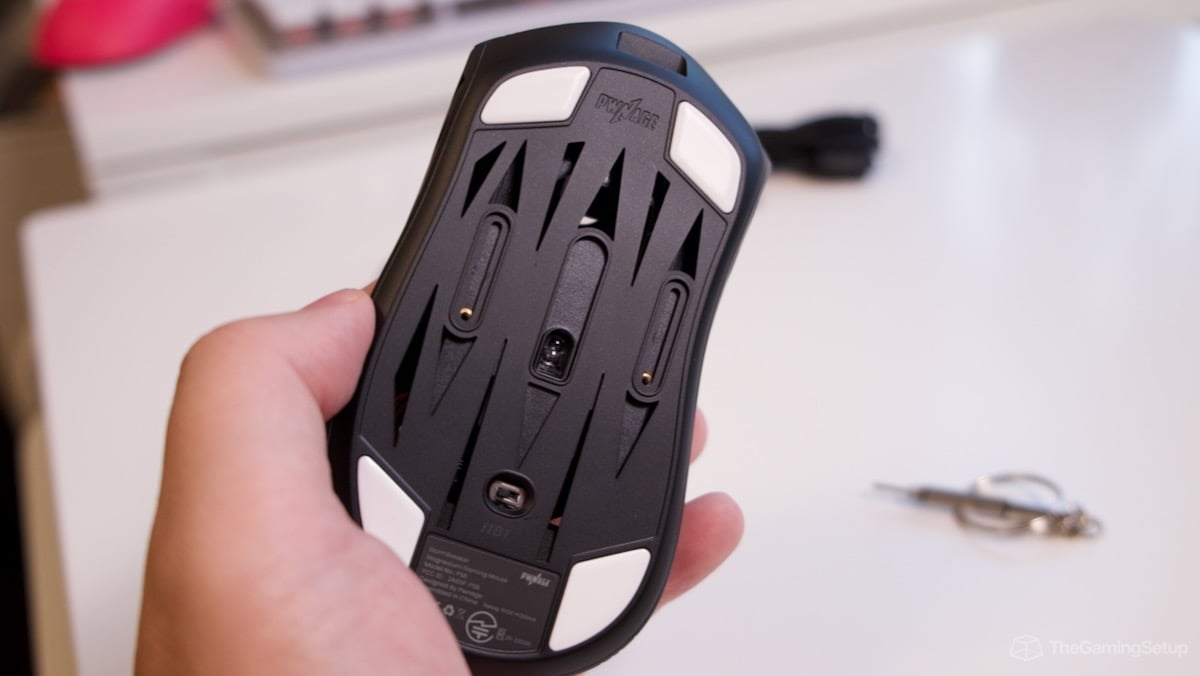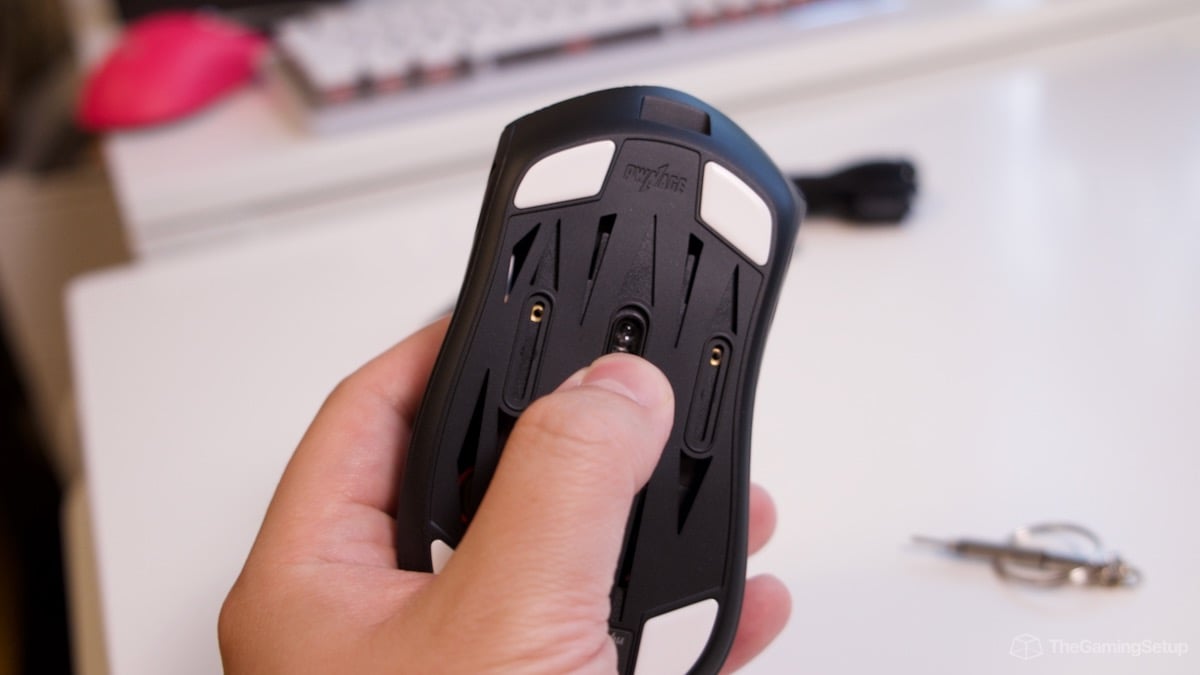 Sensor: PAW 3395 | DPI Range: 50-26,000 | Polling Rate: 125hz, 500hz, 1000hz, 2000 hz | Motion Sync: Yes | Adjust LOD: Yes
The Pwnage StormBreaker is a top tier performance mouse. The 3395 sensor implementation is top notch, very little in the way of DPI/CPI deviation with no judder or prediction. The 2000 Hz polling rate is rock solid and in my testing sensor latency is very low.
The StormBreaker has an adjustable sensor position which is quite unique and useful. You can move the sensor forward in the mouse to that your mouse is more sensitive to wrist and finger movement, or further back to accommodate more of a stiff arm style. I hope this feature becomes more common, it allows for a lot more style flexibility.
Wireless & Battery Life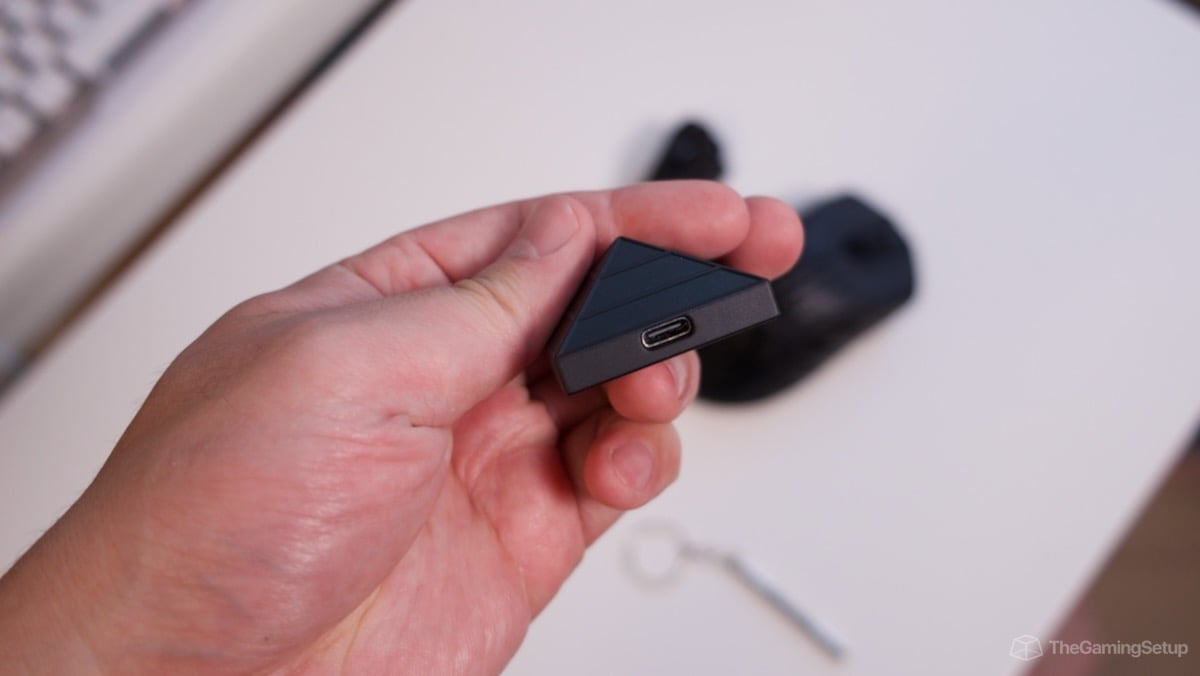 Battery life: 60 hours | Connectivity: 2.4 GHz | Dongle Storage: No | Extender: Yes
The Pwnage StormBreaker lasted around the rated battery life of 60 hours for me in regular gameplay. The pyramid shaped dongle and the plastic bottom of the mouse kept the connection solid, I didn't experience any hiccups. Overall latency feels like it's the same as wired, the 2K Hz wireless feels indistinguishable from wired.
Software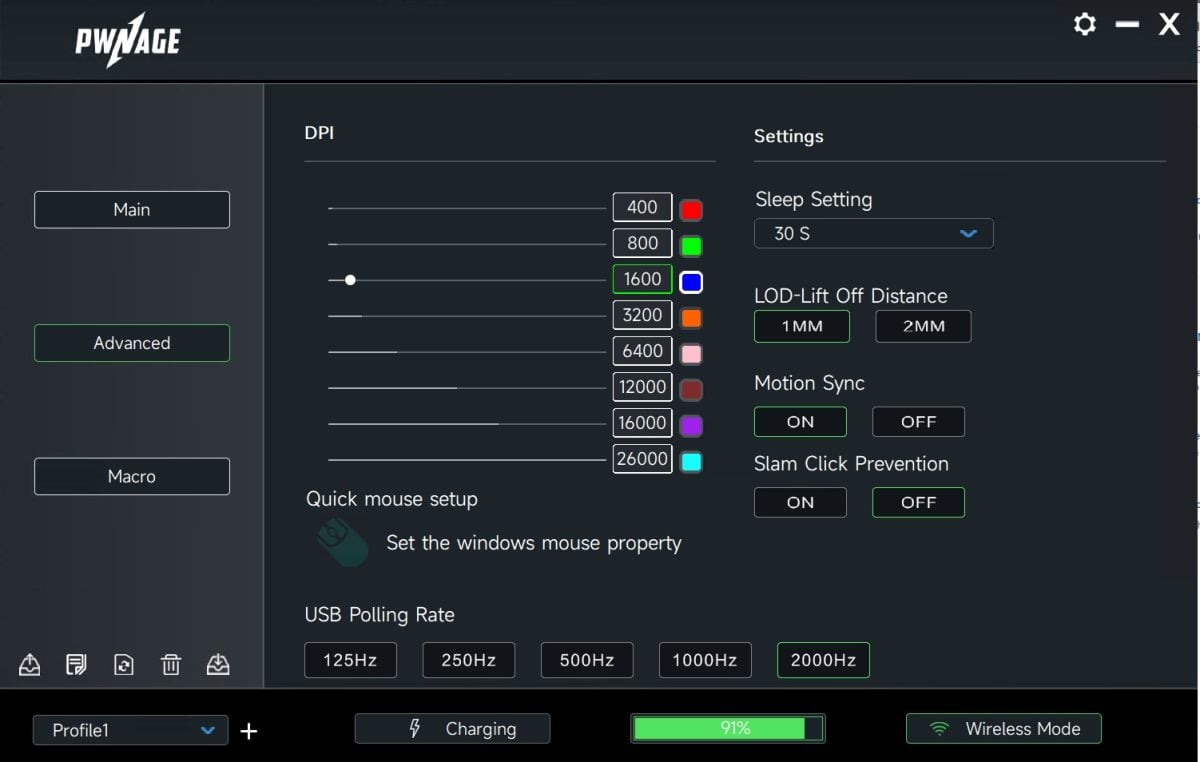 The Pwnage software is pretty basic, it gets the job done and is responsive without eating up memory. You can use the mouse without needing the software running which is great news.
The Pwnage StormBreaker can switch DPI, LOD and polling rate on the mouse without software with combo press and holds.
Cycle DPI: Hold (3s) Back, Middle Click and Right Click
Cycle Polling: Hold (3s) Left Click, Middle Click and Right Click
Cycle LOD: Hold (3s) Forward Click, Middle Click and Left Click
The internal LED will flash indicating the cycle.
Build quality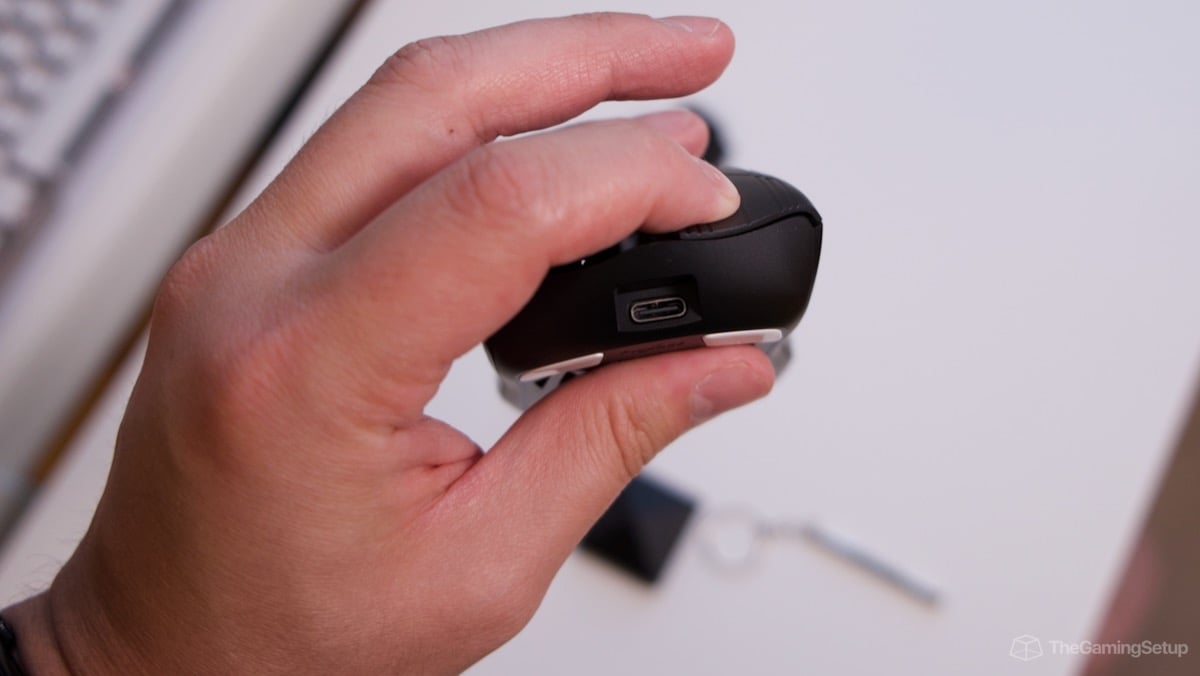 The Pwnage StormBreaker feels well built considering how thin and light it feels. There is some flex in the top shell and some initial creaking in my copy but everything felt in place when the mouse settled in. The bottom of the mouse is made of plastic to allow for better wireless connectivity. If you're a kung fu grip or know you're a bit heavy handed, I'd say to be a bit careful with this mouse.
Mouse Feet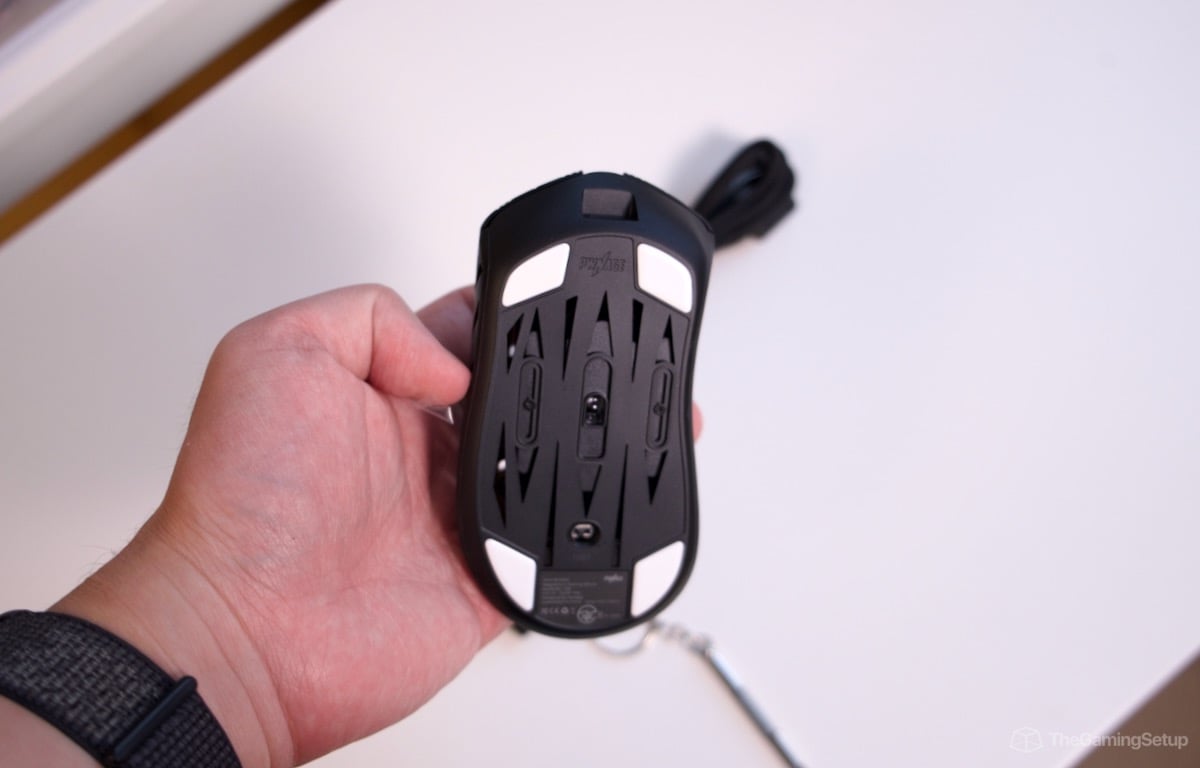 Material: Virgin PTFE | Replacement Feet: Yes
The 100% PTFE feet are excellent straight out of the box, they're smooth with no hard edges to snag on. Pwnage includes an extra pair in the box and has options for red or clear glass skates for an extra $20.
What's in the box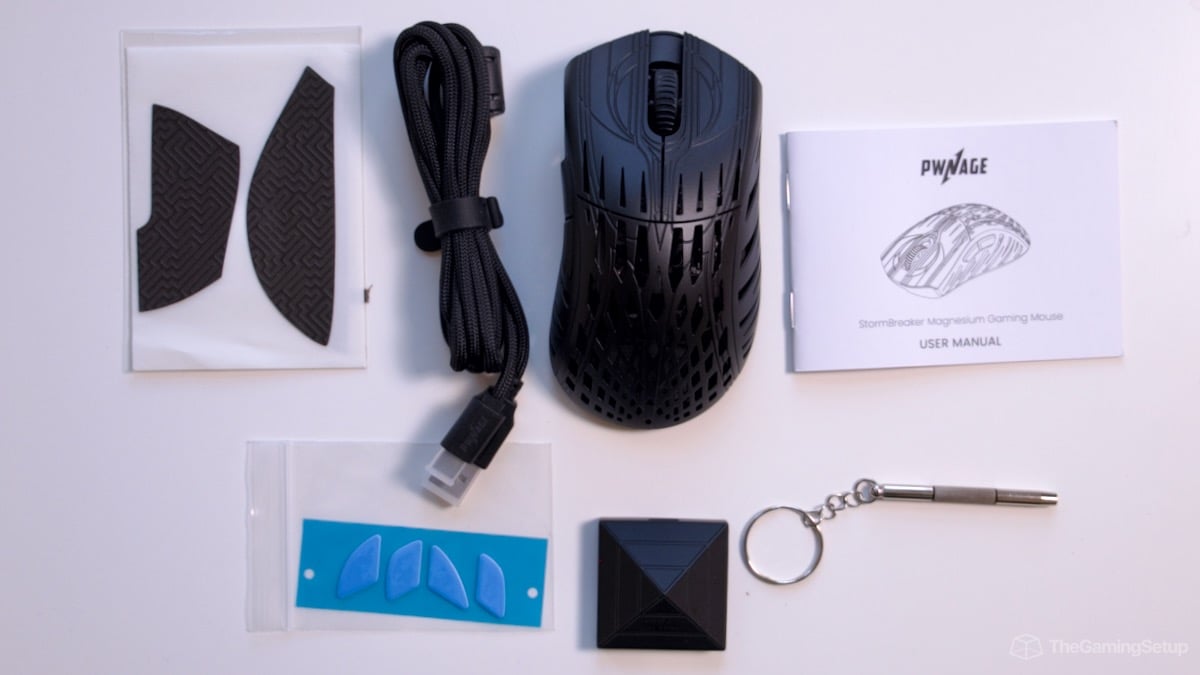 Nothing too surprising in the box with the StormBreaker
USB-A to USB-C
USB Pyramid Hub
Grip tape
Extra PTFE feet
Mini screw driver keychain
Manual