The Zowie Divina S series is the newest mouse to come out from the folks at Benq, and it's definitely a winning shape.
The mouse is a new great safe shape that is suitable for a lot gamers, a slightly higher bump, a shorter length, and a wider width in comparison the Zowie FK series.
The Zowie S2 comes in two colour choices, baby blue and pink, and two sizes.
The combination of shape, feel and price makes the S series poised to be a best mouse contender if you're considering a no-frills ambidextrous mouse.
Pros
Two size and colour options
Great safe shape, well balanced
Improved softness on buttons compared to stiff FK buttons
Flexible rubber cord, introduces very little drag
No software required, plug and play
Lightweight, as low as 82 grams
Flawless PMW3360 sensor
Cons
Glossy coating introduces a bit of a sweat and dirt problem
Noisy scroll wheel
No traditional black or white colours, yet
Availability is limited currently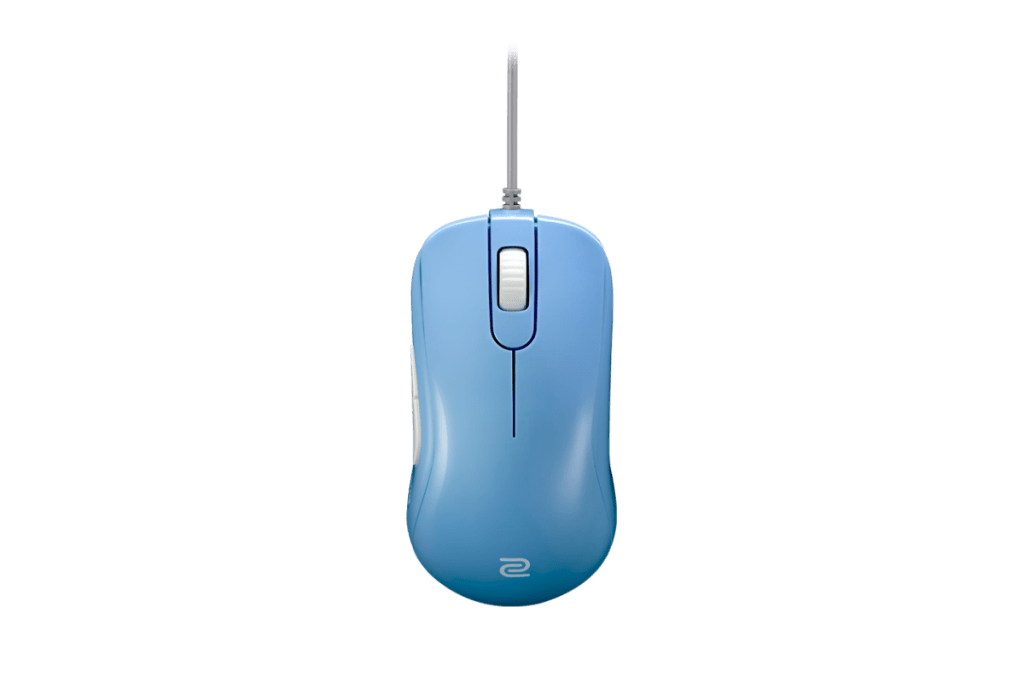 Zowie Divina S1 and S2
A great less narrow ambidextrous shape and less stiff buttons (finally!) make the S1 and S2 some of the best ambidextrous mice around.
Tech Specs
Dimensions
S1
Length: 12.6 cm
Width: 6.1 cm
Height: 3.9 cm
Weight: 87 grams
Shape: Ambidextrous
Cable Length: 2 metres
S2
Length: 12.2 cm
Width: 5.9 cm
Height: 3.8 cm
Weight: 82 grams
Shape: Ambidextrous
Cable Length: 2 metres
Tech
Sensor: Pixart PMW3360
Buttons: Huano
Polling Rates (Hz): 125/500/1000
DPI: 400/800/1600/3200
Buttons: 5 + DPI switcher
Software: None
Connectivity: Wired
Build & Shape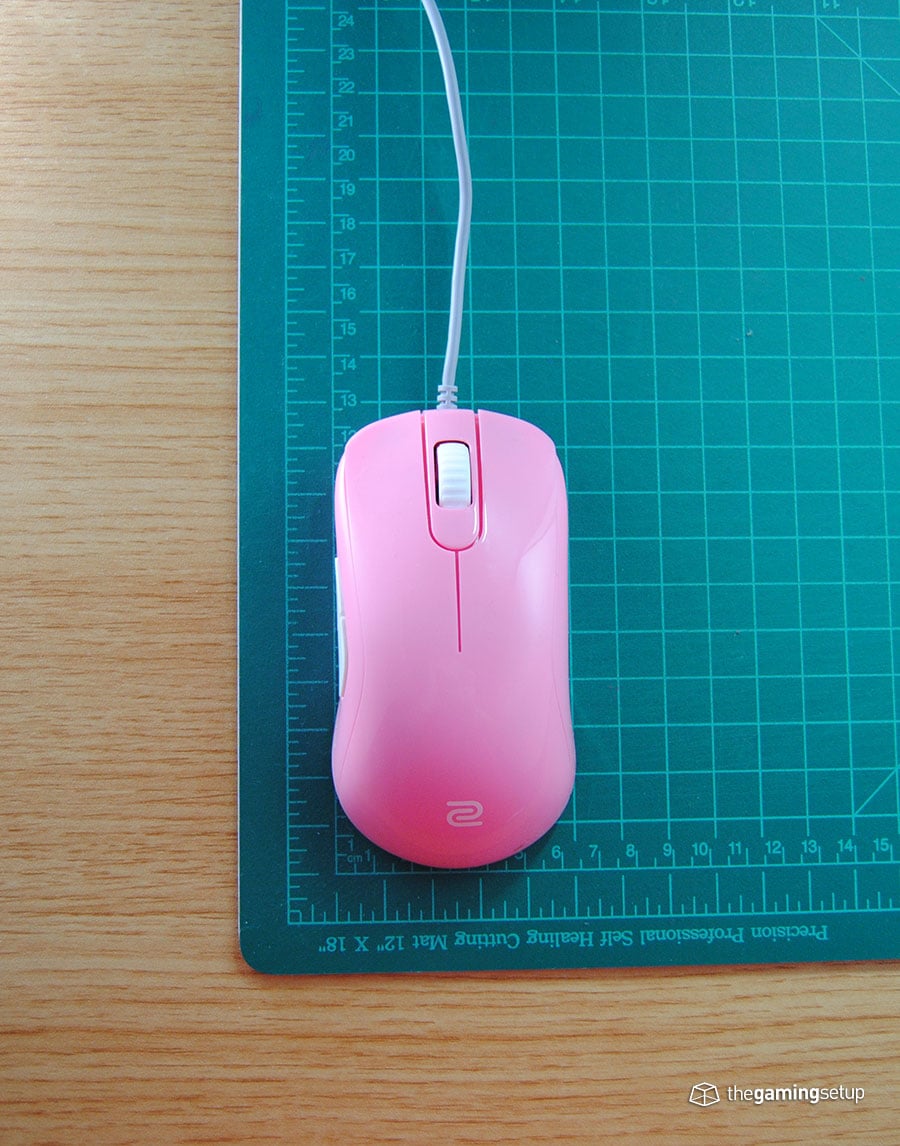 Looks like Zowie has another winning shape on their hands.
The S1 & S2 Divina is an ambidextrous mouse that is suited for medium sized hands or large hands with two models:
| | | |
| --- | --- | --- |
|   | S1 | S2 |
| Width | 6.1cm | 5.9cm |
| Height | 3.9cm | 3.8cm |
| Length | 12.6cm | 12.2cm |
| Weight | 87g | 82g |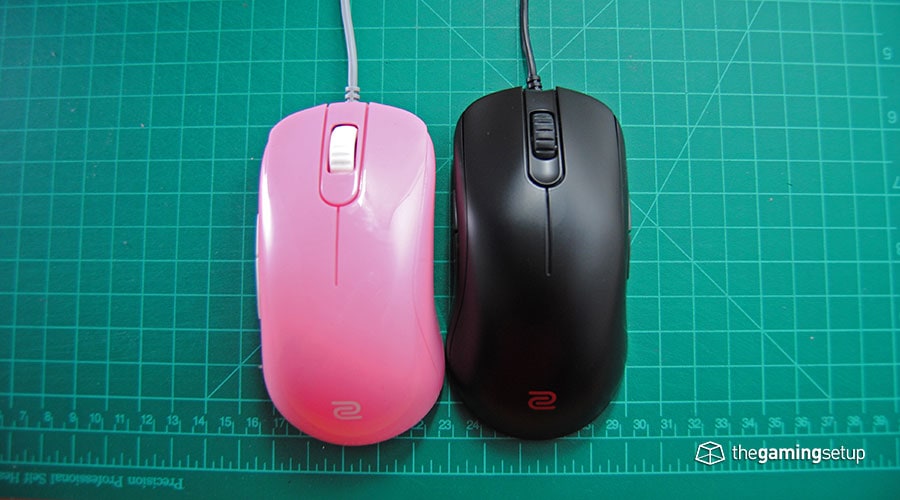 The most apt comparison I can make for this mouse is that its a wider, slighty taller and shorter in length when compared Zowie FK series. The hump and slope towards the front of the mouse are slightly toned down from the FK series. What all this nets out to is a slightly larger mouse for people who found the FK shapes a little too narrow for their hands.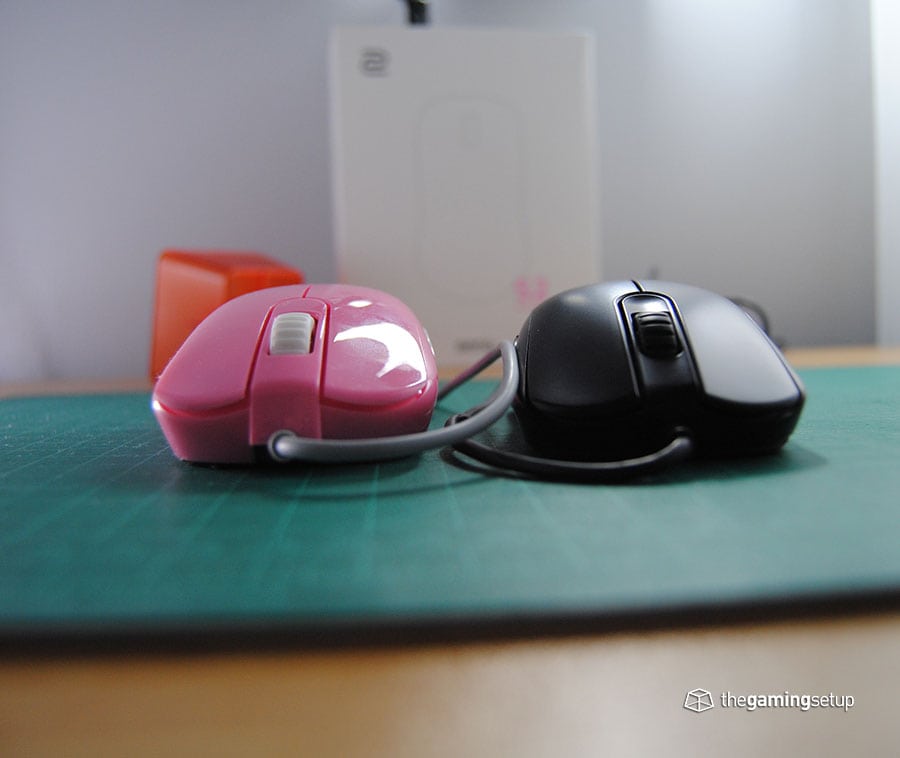 The buttons and sides have slight grooves for grip and comfort, this is a very safe shape that should work for most grips provided the proper hand size, it feels great in both palm and claw grip.
The S Divina line is definitely one of the more comfortable ambidextrous mice I've used.
Build quality of the mouse seems okay, the S1 weights 87 grams while the S2 comes in at 82 grams.
The sides of the mouse have a slight give when squeezed, but not to a concerning level. No rattles, or creaks when pressing or shaking the mouse, very solidly put together.
Perhaps the most unique thing about the mouse is its glossy plastic coating . This is going to come up to a bit of a personal choice, but I'm not personally a fan of the glossy coating, I find my hands tend to clam up a little bit more compared to a matte finish like the one found on the G305 for example.
Right now the S2 is available in pink and blue colours, no word if there are going to be black and white variants soon. 
I've also been finding some build up on the glossy exterior that doesn't seem to happen on a slicker matte surface, but maybe my hands are just little too cruddy for the Divina line, I've been having to clean the mouse very regularly.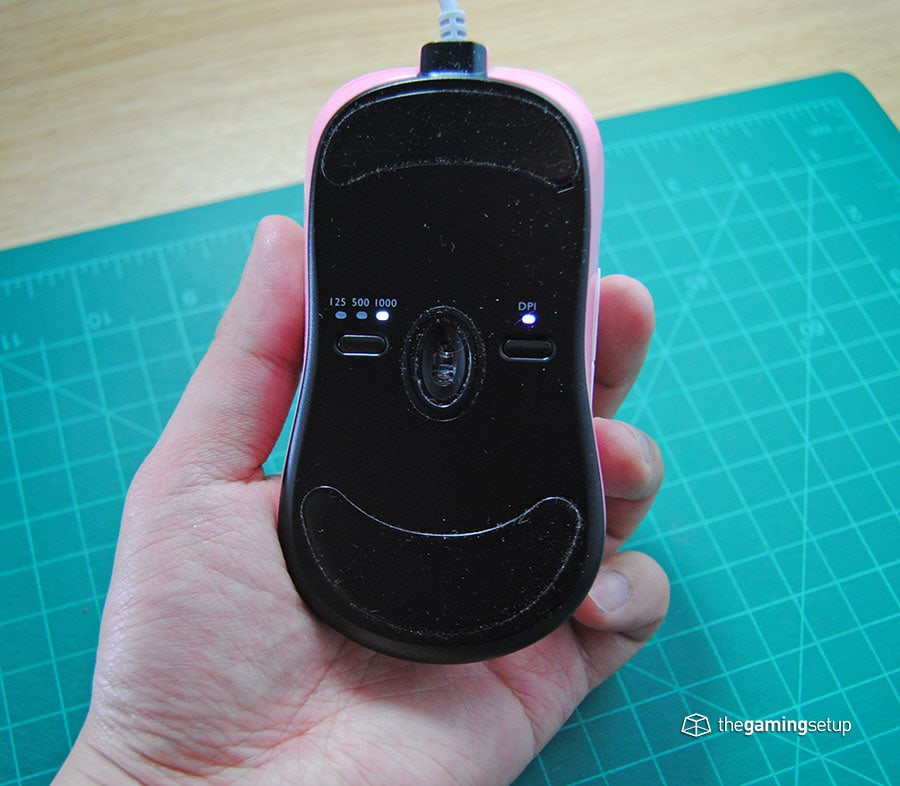 The bottom of the mouse features two large feet, 1 in the front and 1 at the back which is pretty much exactly the same as the FK series. I haven't found much issue with the feet, the mouse glides as expected and is comparable to a bunch of other mice we've tested.
Buttons & Scroll Wheel
The buttons on the Zowie S2 are the best you're going to find on a Zowie mouse. Zowie has made the clicks lighter with more bounce compared to the FK and EC series.
The S series should have no issues with any types of games, these buttons are going to perform very well for FPS, MOBAs and any other game you want to throw at it.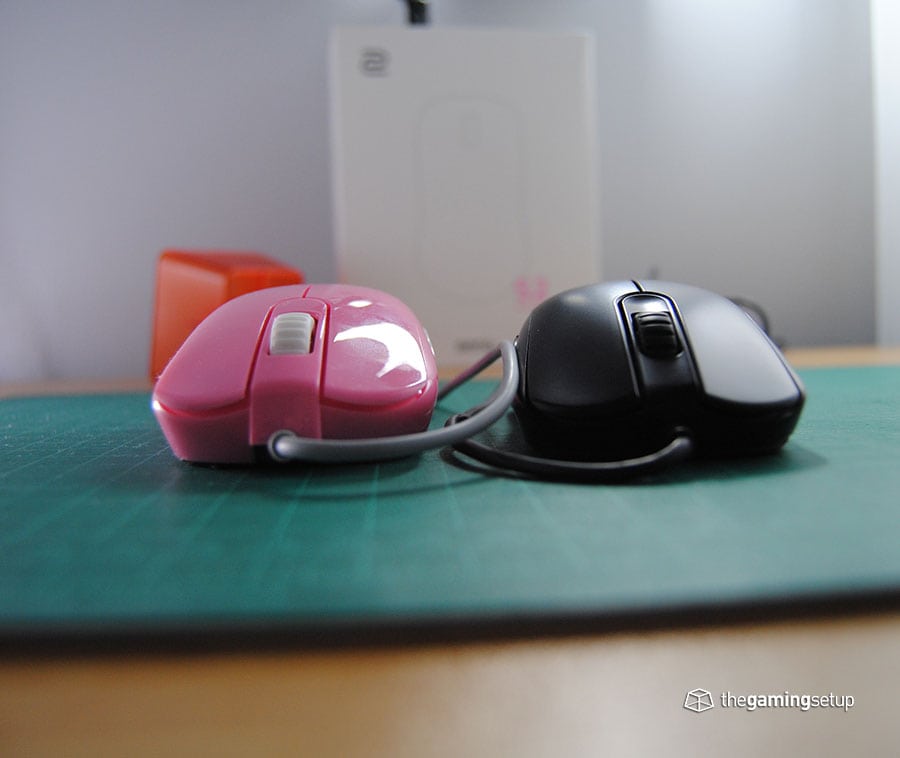 While the S2 buttons are great buttons, the G305 still holds the title for the best over mouse buttons.
The S series, like all Zowie mice, are focused on the fundamentals, they feature the core 5 buttons:
Primary left and right click
Middle click
Side buttons (left-side only)
The middle click button feels solidly built, has good tension and travel. The Zowie S series might be a good mouse for Apex Legends giving the necessity to ping in that game.
The scroll wheel itself on the S2 and all Zowie mice is still my least favourite of the mice I've reviewed, huge chunky and steps and just annoyingly loud.
Sensor & Performance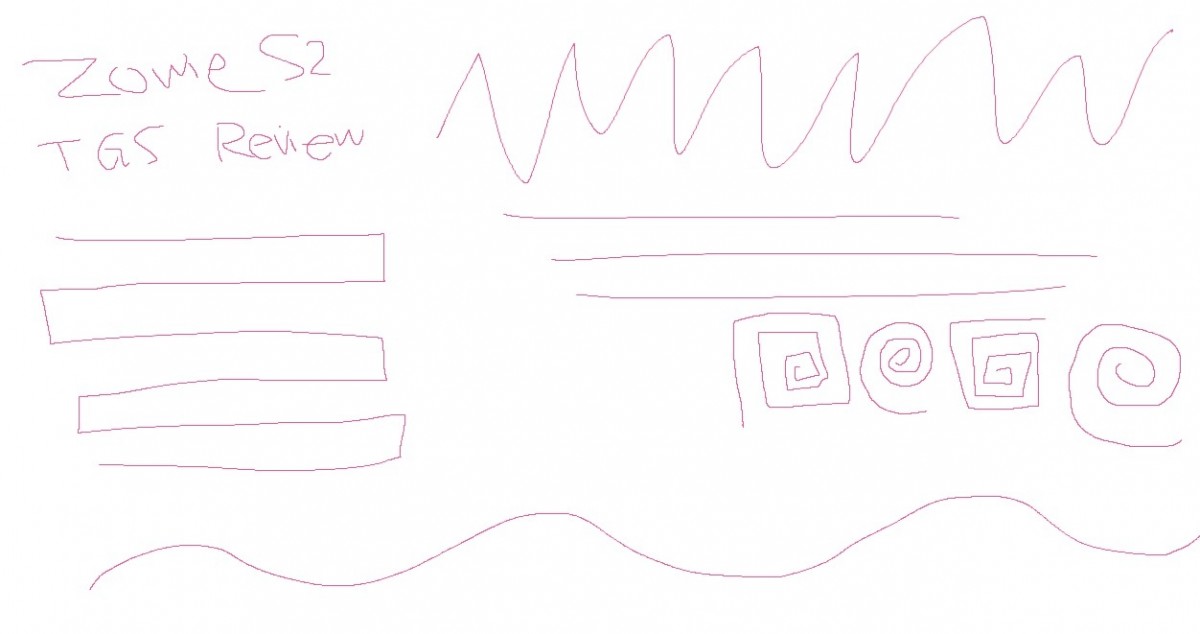 The Pixart PMW 3360 sensor performs as you would expect, smooth consistent tracking with no acceleration or prediction with a low lift off distance.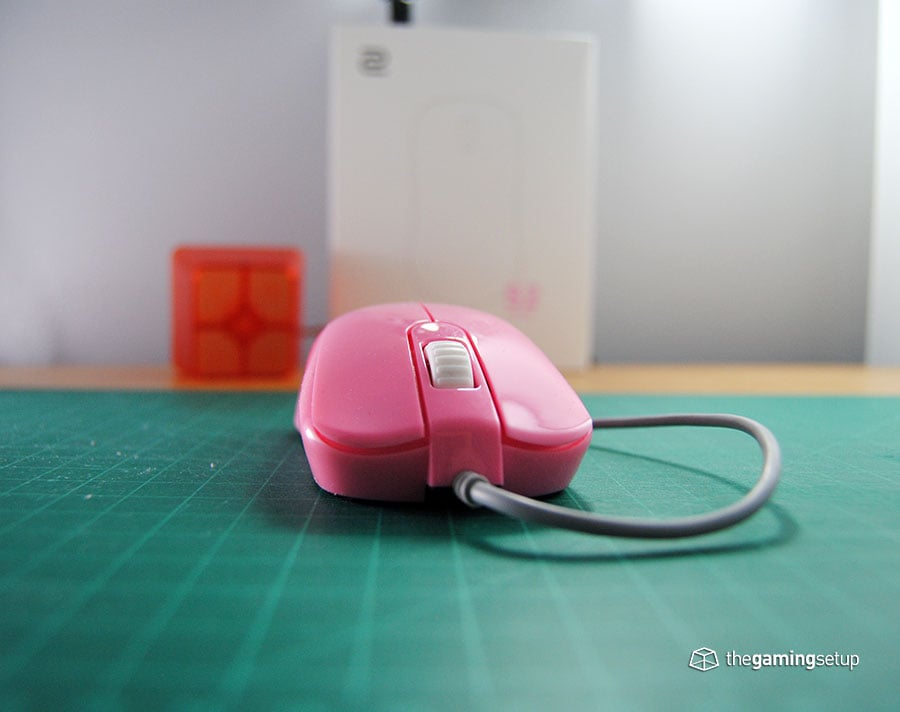 The cable on the mouse is a soft rubber and has a really unique design, it's slightly angled up coming out of the mouse so that the cable doesn't drag very much against your surface. Combine the cable with a relatively low weight in the 80 gram range and a comfortable shape and you have a good mouse for performance in the Zowie S mice.
Features & Software
Like with all other Zowie mice, no software, there are two buttons on the bottom of the mouse that let you set DPI and polling rate.
DPI options:
Polling Rate options:
Warranty & Reliability
Zowie doesn't specifically display length of warranty. They promise that the mouse should be free form defects under normal use. Here's the language:
BenQ Corp. ("BenQ") warrants the BenQ ZOWIE Product, you have purchased from BenQ or from a BenQ Authorized Reseller to be free from defects in materials or workmanship under normal use.

This Limited Warranty is only valid in the country where originally purchased. This warranty extends only to you, the original Purchaser. It is not transferable to anyone who subsequently purchases, leases or otherwise obtains the BenQ ZOWIE Product from you. It excludes expendable parts. For any Limited Warranty claim, a valid Proof of Purchase is required. During the warranty period, BenQ will repair or replace defective hardware with factory refurbished parts and products. All exchanged parts and BenQ ZOWIE Product replaced under this warranty will become the property of BenQ.
source: https://zowie.benq.com/en/support/warranty/gear.html
Final Words
This is a contender for a top mouse spot if you don't mind the glossy coating and the loud scroll wheel.
Zowie has a winning shape here and they've paired it with a battle-tested sensor, improved on their buttons and have put all of it in a fairly affordable (for gaming products) package.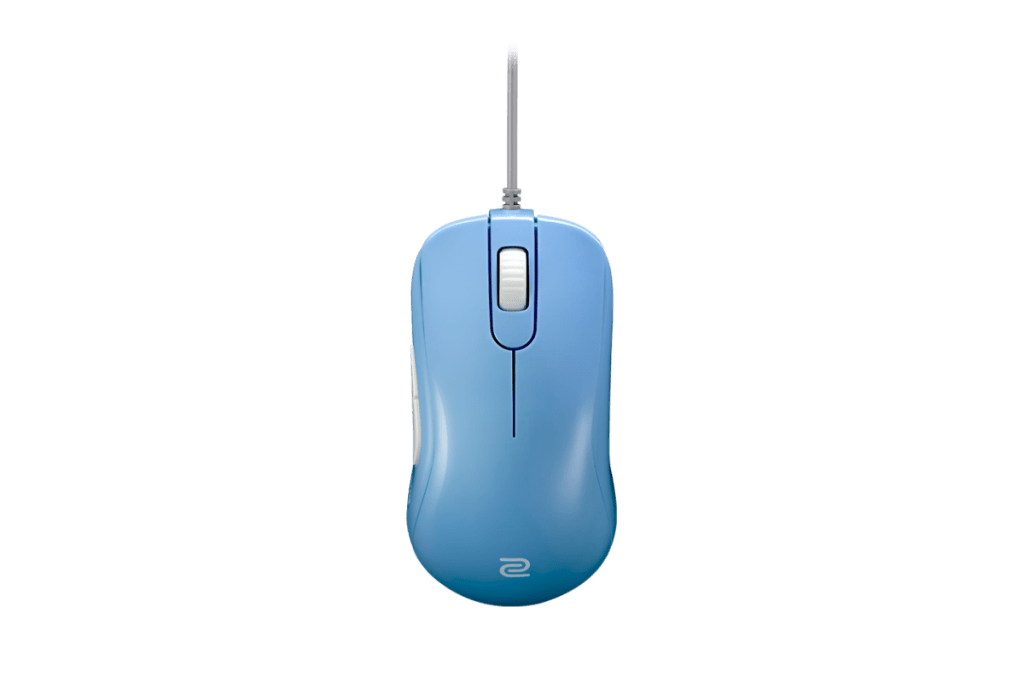 Zowie S1 and S2 Divina
A great less narrow ambidextrous shape and less stiff buttons (finally!) make the S1 and S2 some of the best ambidextrous mice around.