Review unit provided by Epomaker
I'm happy to see more electro-capacitive switch keyboards available and even happier to see that the NiZ Plum X87 EC delivers a strong overall package that EC fans will definitely appreciate.
For people who haven't yet appreciated the rubber dome experience, I'd suggest to keep this keyboard in mind as an alternative to your main mechanical options, make sure you try an electro-capacitive keyboard before taking the plunge.
Great feeling EC switches
A rock solid mechanical keyboard with great switch options, and infinite customization
See Price on Amazon
Pros
Electro-capacitive switches feel great
High quality double shot PBT keycaps
Some of the best stabs out of the box
3-level adjustable actuation point
Quiet and smooth sounding
Cons
Feet are a little weak
Build quality is only average
Unboxing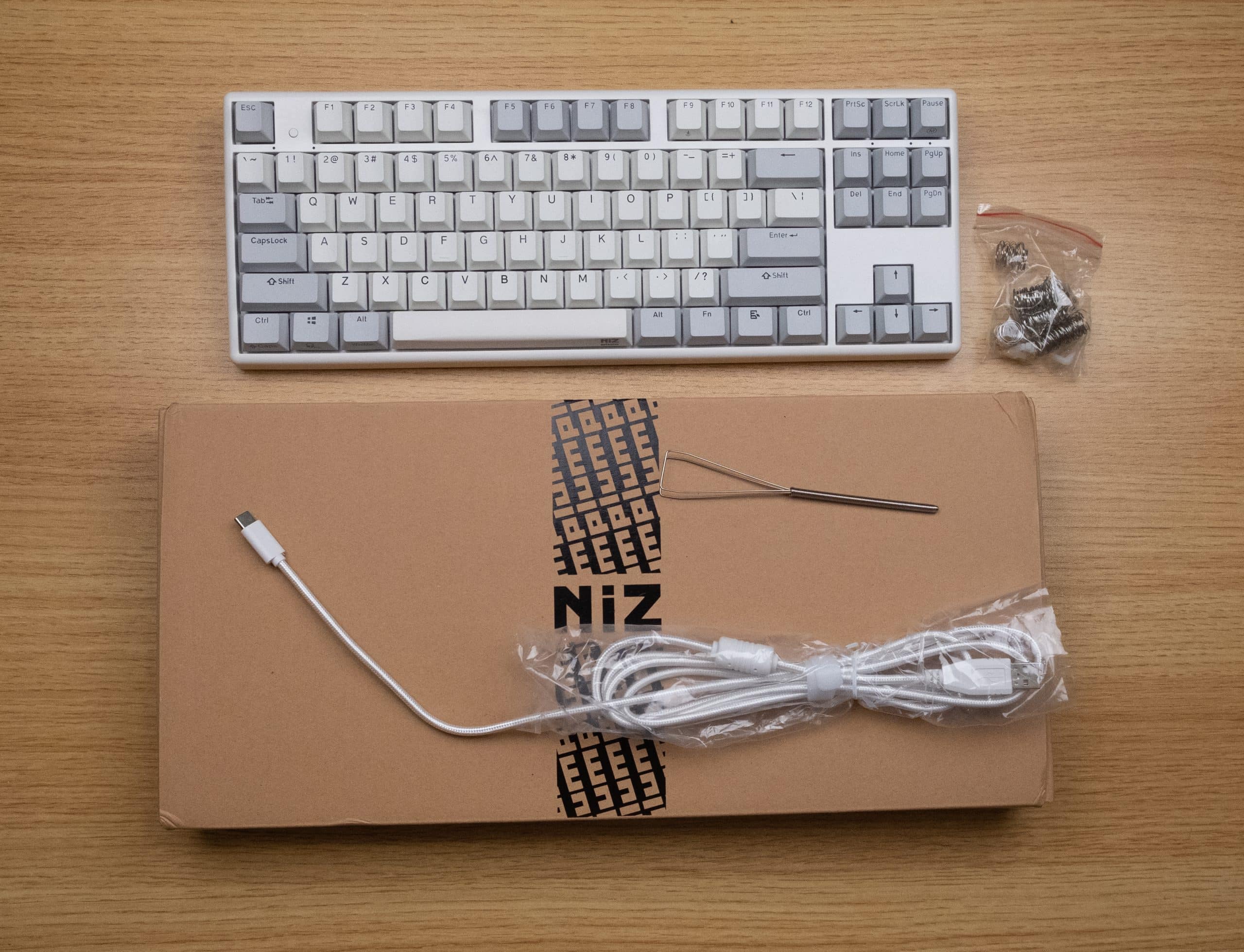 The NiZ Plum X87 comes with a USB-C cable, a wire keycap puller, supplementary 10 gram springs and extra sliders.
Switches & Stabilizers
The NiZ Plum x87 EC features 35 gram electro-capacitive switches. For those not familiar, EC switches are *gasp* rubber dome switches, but really good rubber dome switches. While the switches are not as purely crispy as pure mechanical tactiles, the EC switches in the Plum offer a pleasant tactile experience with a satisfying thock on bottom out, they have a similar sensation to silent switches with a softer bottom out, but not to that extent.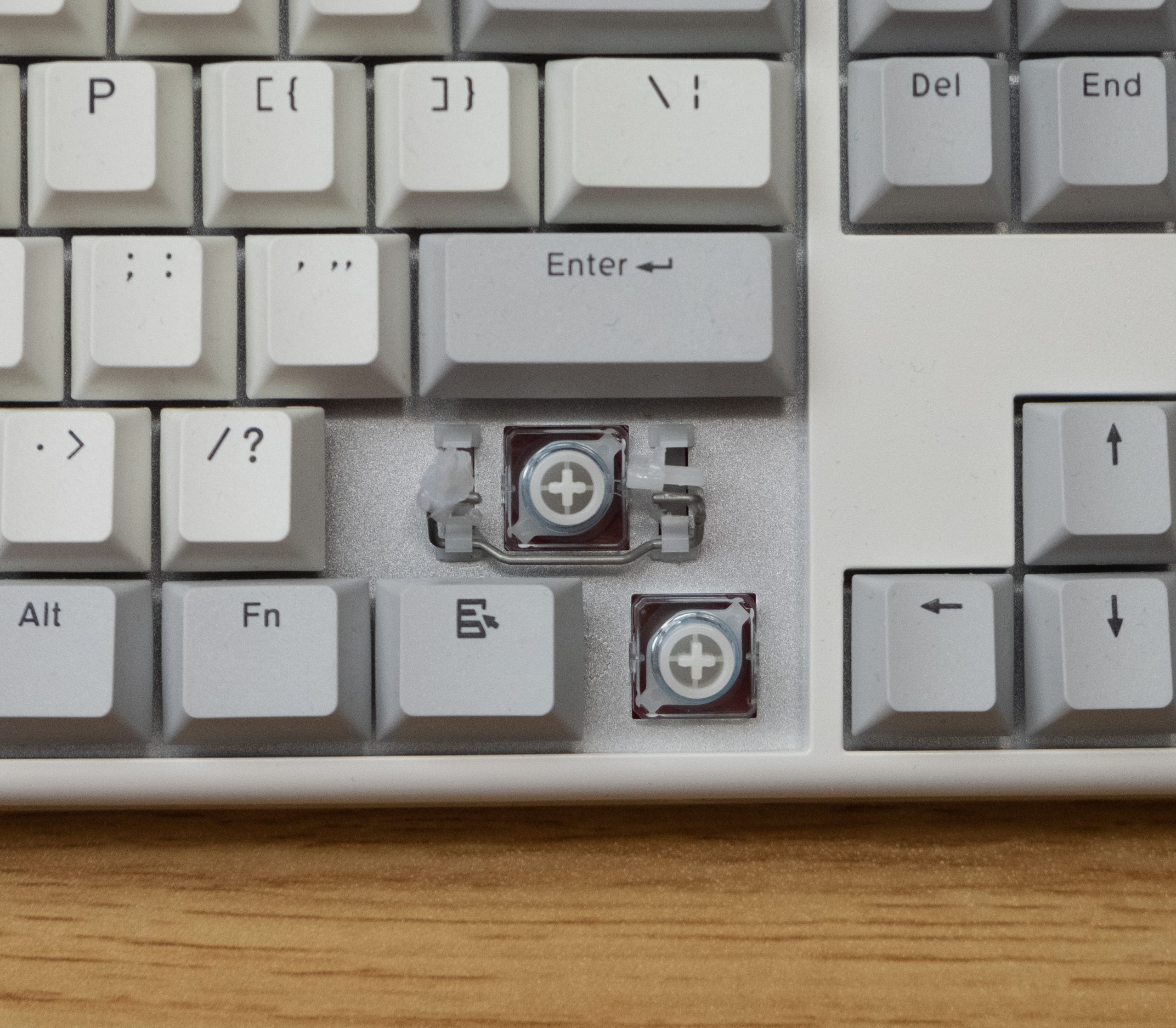 The stabilized keys use something that's reminiscent of a costar wire stabilizer. They're some of the absolute out of the box stabs I've experienced and come pre-lubed, but they are a giant pain in the butt to swap key caps with.
By pressing Fn+F9 on the keyboard, you can swap between three levels of actuation points, allowing you to quickly swap to a more responsive gaming mode and a deeper typing mode. A very nice feature.
The typing and gaming experience on the NiZ Plum X87 EC is excellent, it's a light, responsive switch that holds up in gaming, it's definitely not for everyone however, this isn't a switch I would recommend to someone coming from a plain old rubber dome keyboard. If you think you like the sounds of a lightly tactile, and a quieter and softer typing experience, then give EC switches a shot.
Keycaps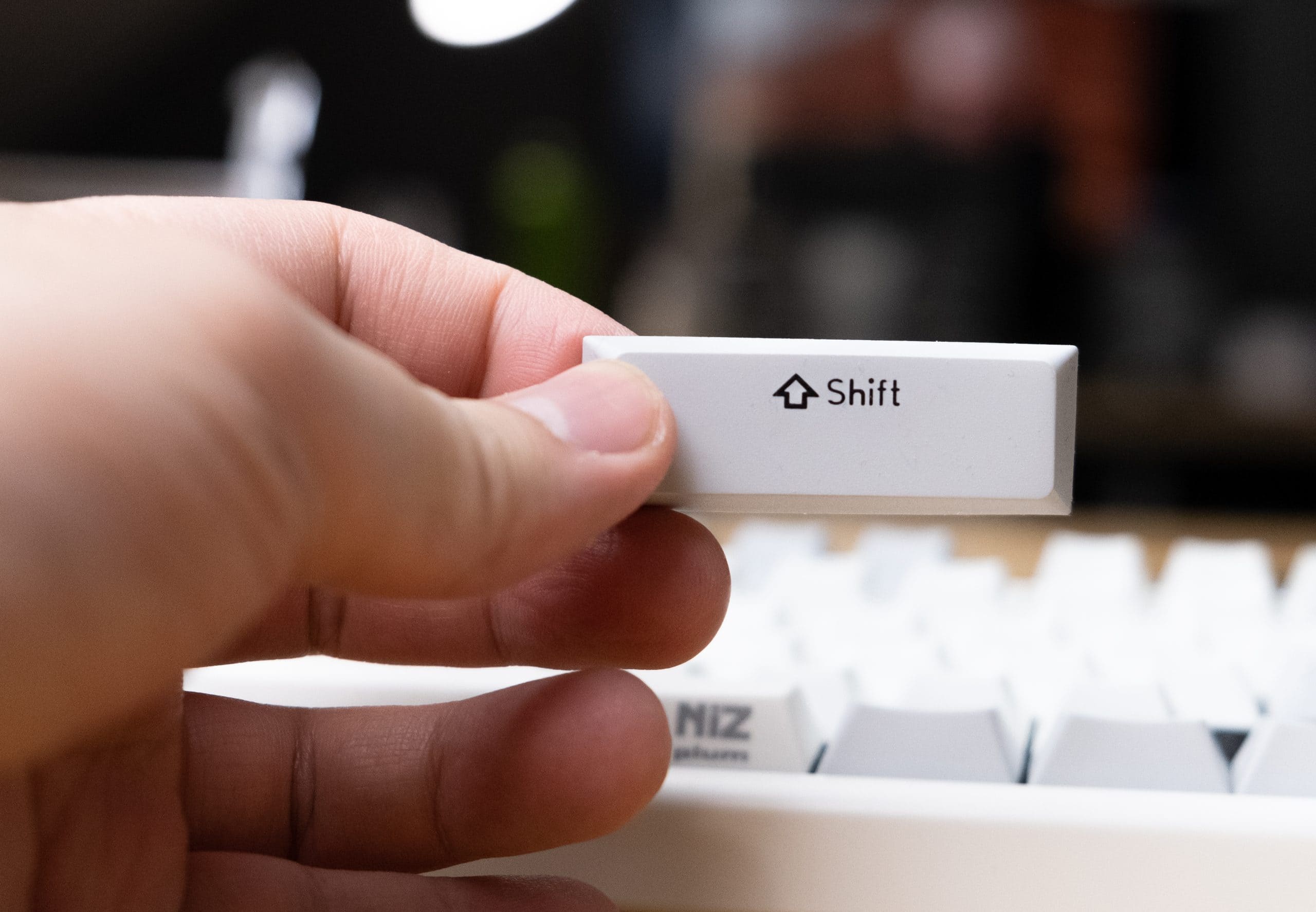 These are really well made keycaps, the NiZ Plum comes with PBT doubleshot keycaps in an OEM profile. The legends are clean and easily legible, with the caps having a softly textured top.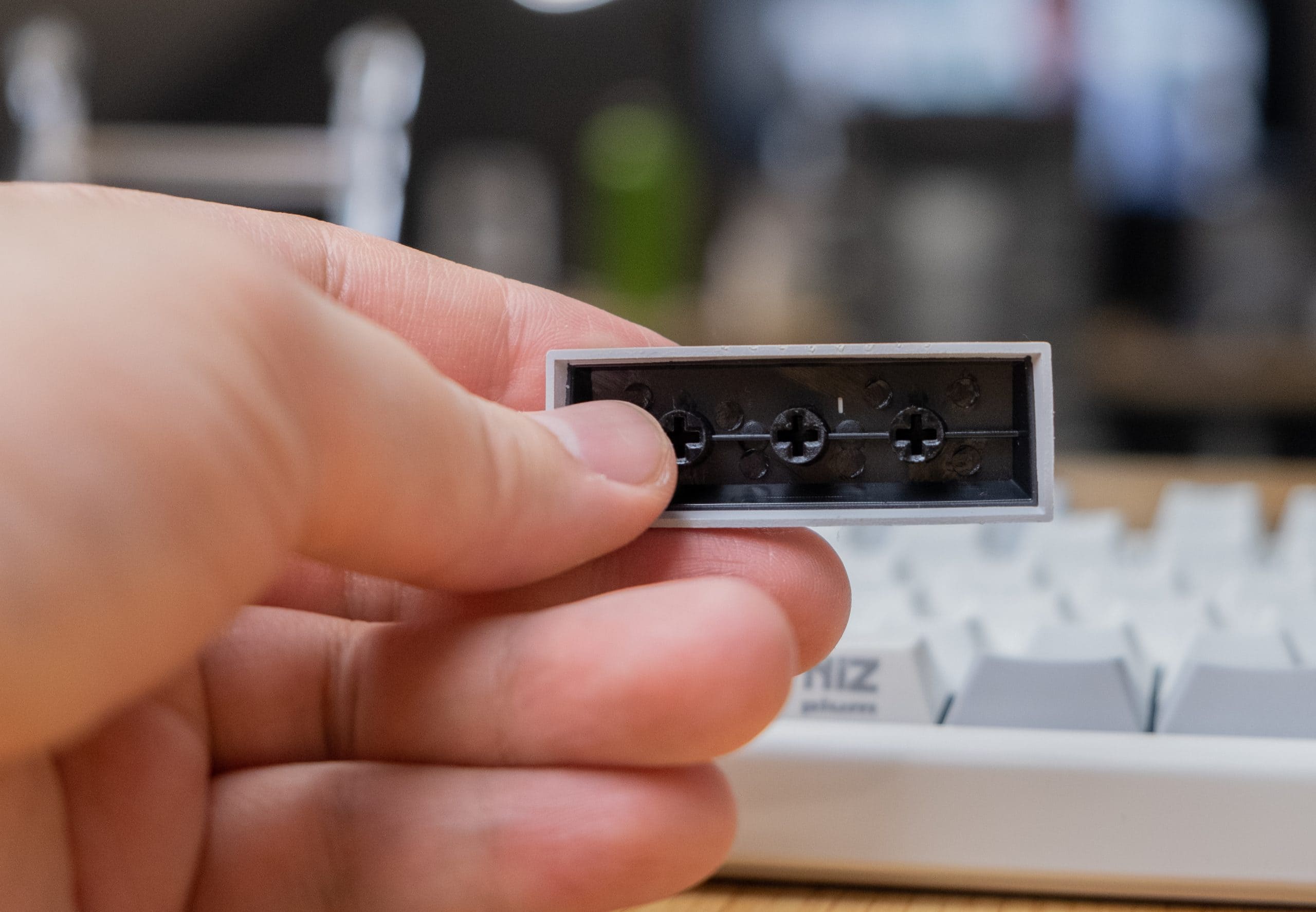 The cap is about 1.4 mm thick, average.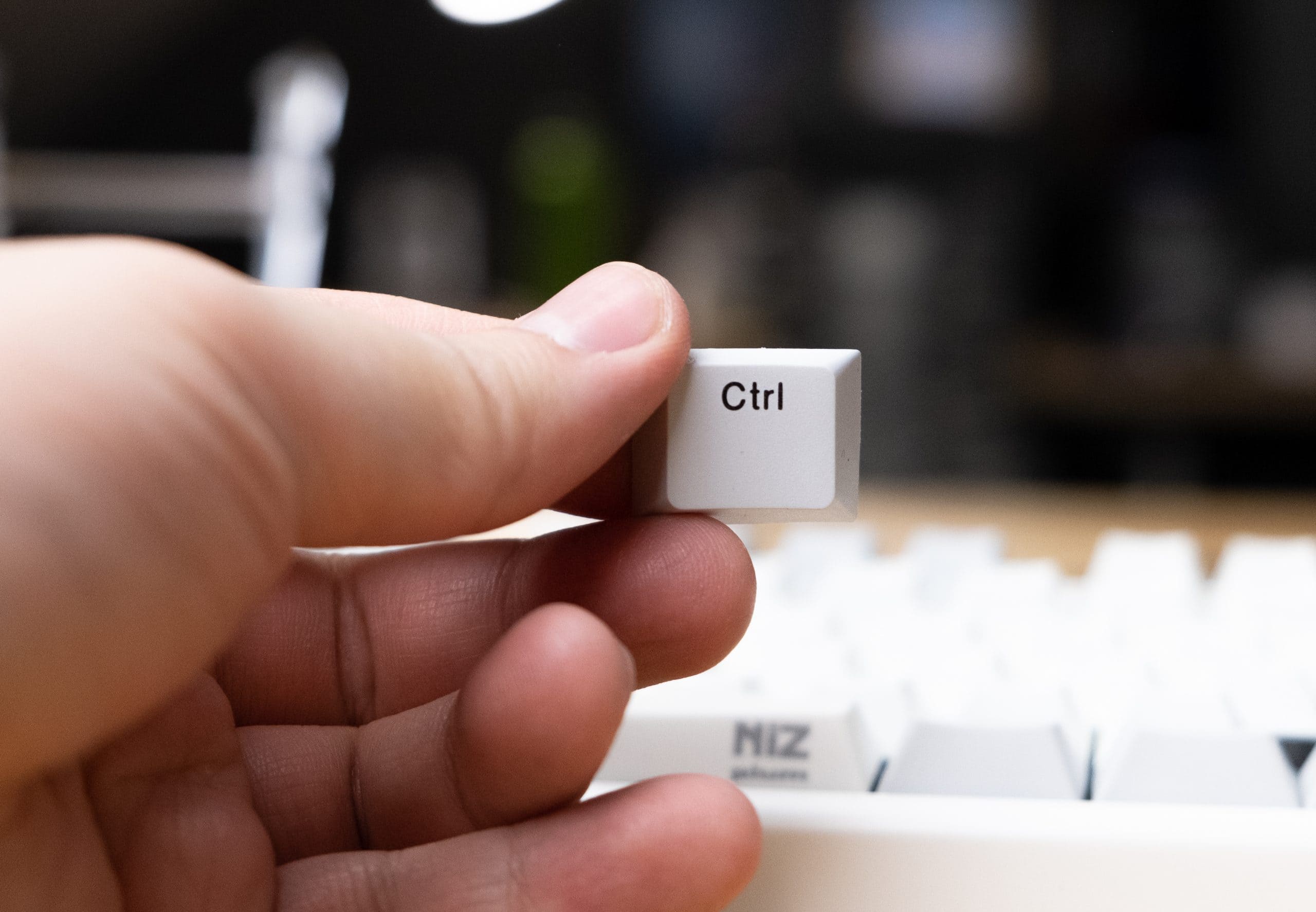 The legends on the keycaps are clean, really attractive sans-serif font with icon/text labels on shift and tab keys.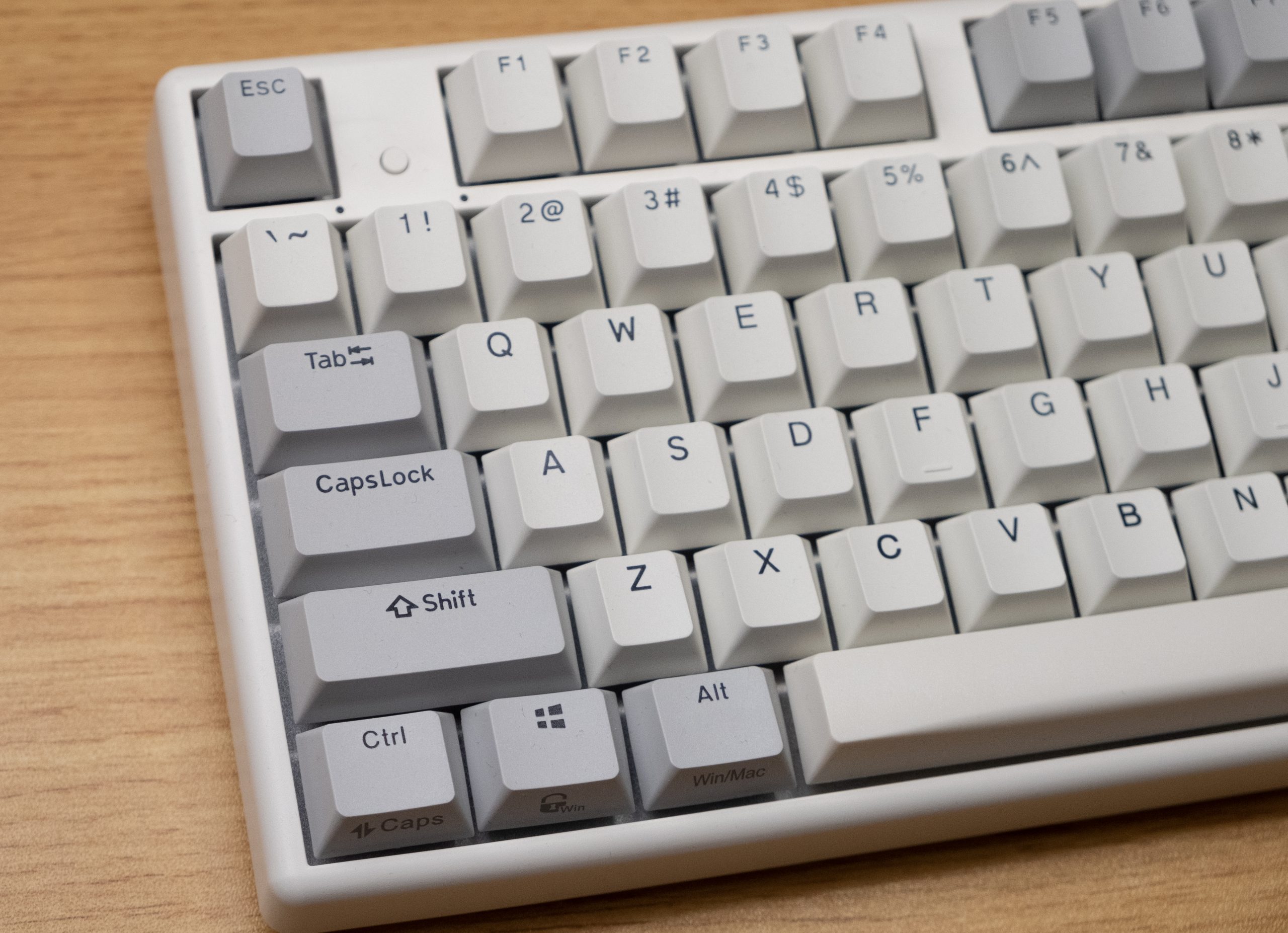 The side printed labels are pad-printed, they're clear and easy to read at a glance.
Design & Size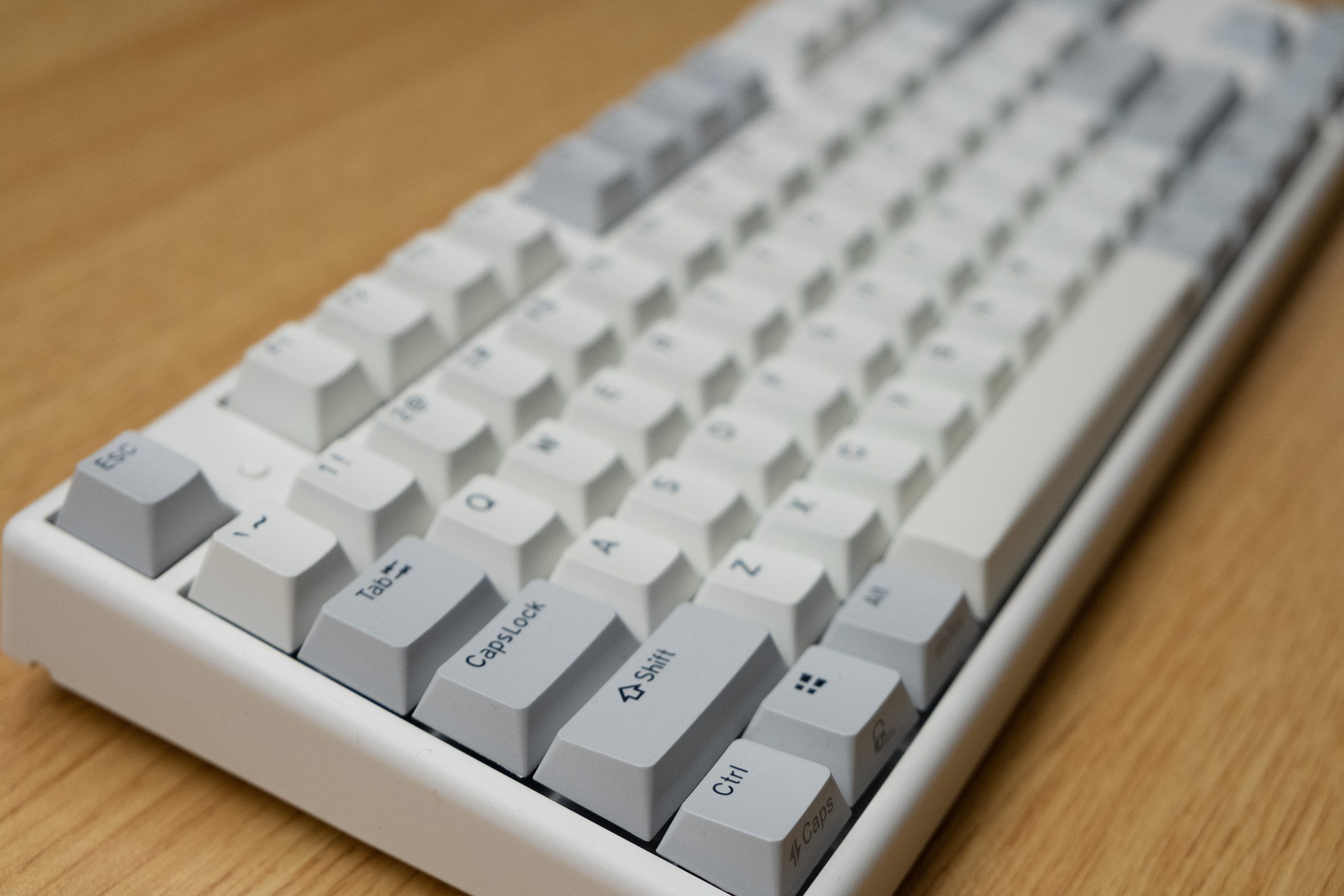 The NiZ Plum X87 EC is a minimal affair, clean lines and a clean cream white colour define the keyboard. The keycaps sport a cream and grey motif that gives it a more unique look than just plainly white. Overall, I quite like the design of the keyboard, it would easily fit into any office environment, both by looks and sound.
There are 3 functional versions of the NiZ Plum X87:
EC(S) – the model we're reviewing, base model
EC(BLE) – includes wireless bluetooth
EC (BLE/RGB) – includes bluetooth and RGB backlighting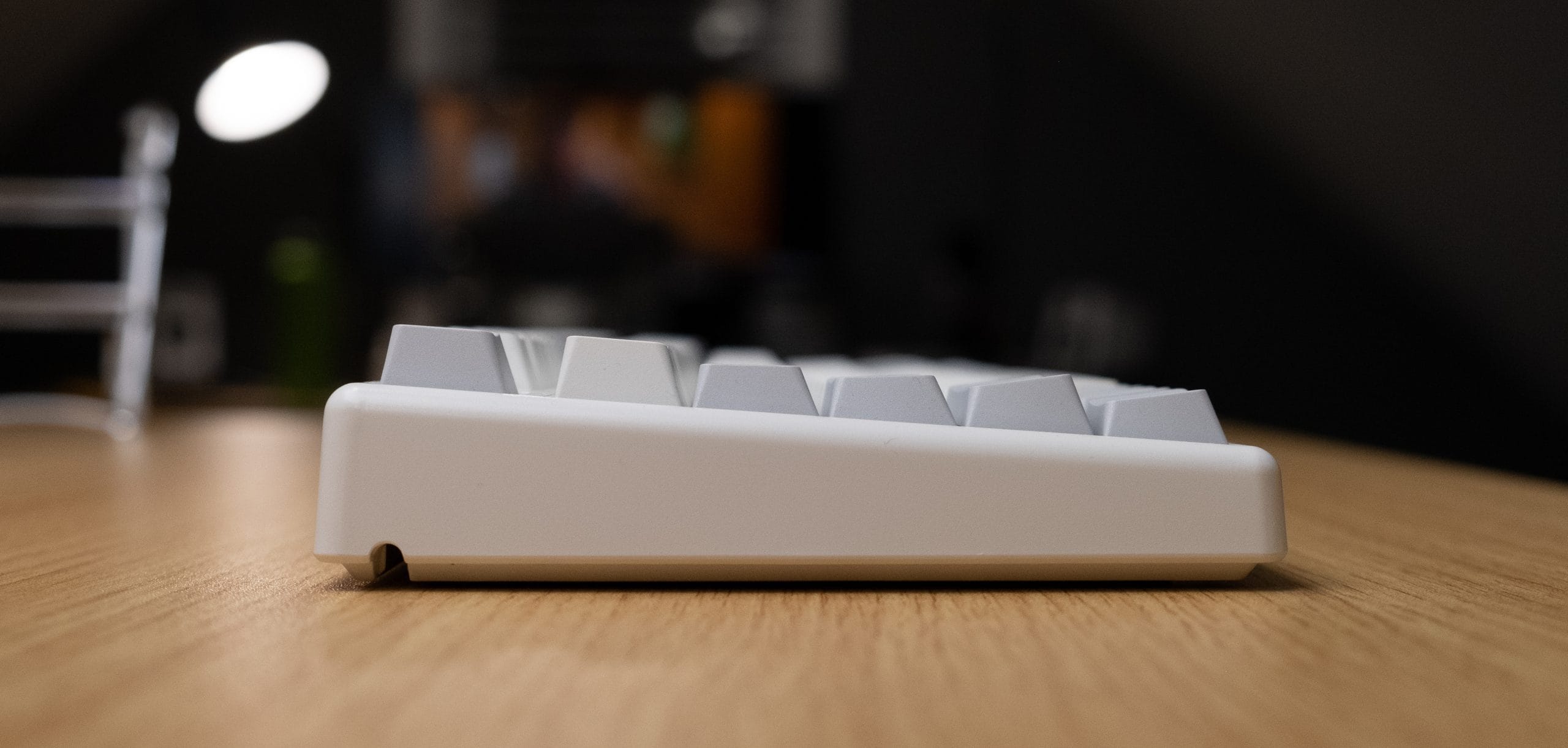 The case is two piece plastic, with the full weight of the case coming in at 790 grams. It is by no means a hefty board considering its size, with a lot of room inside the keyboard case, it could benefit acoustically by adding some foam inside the case.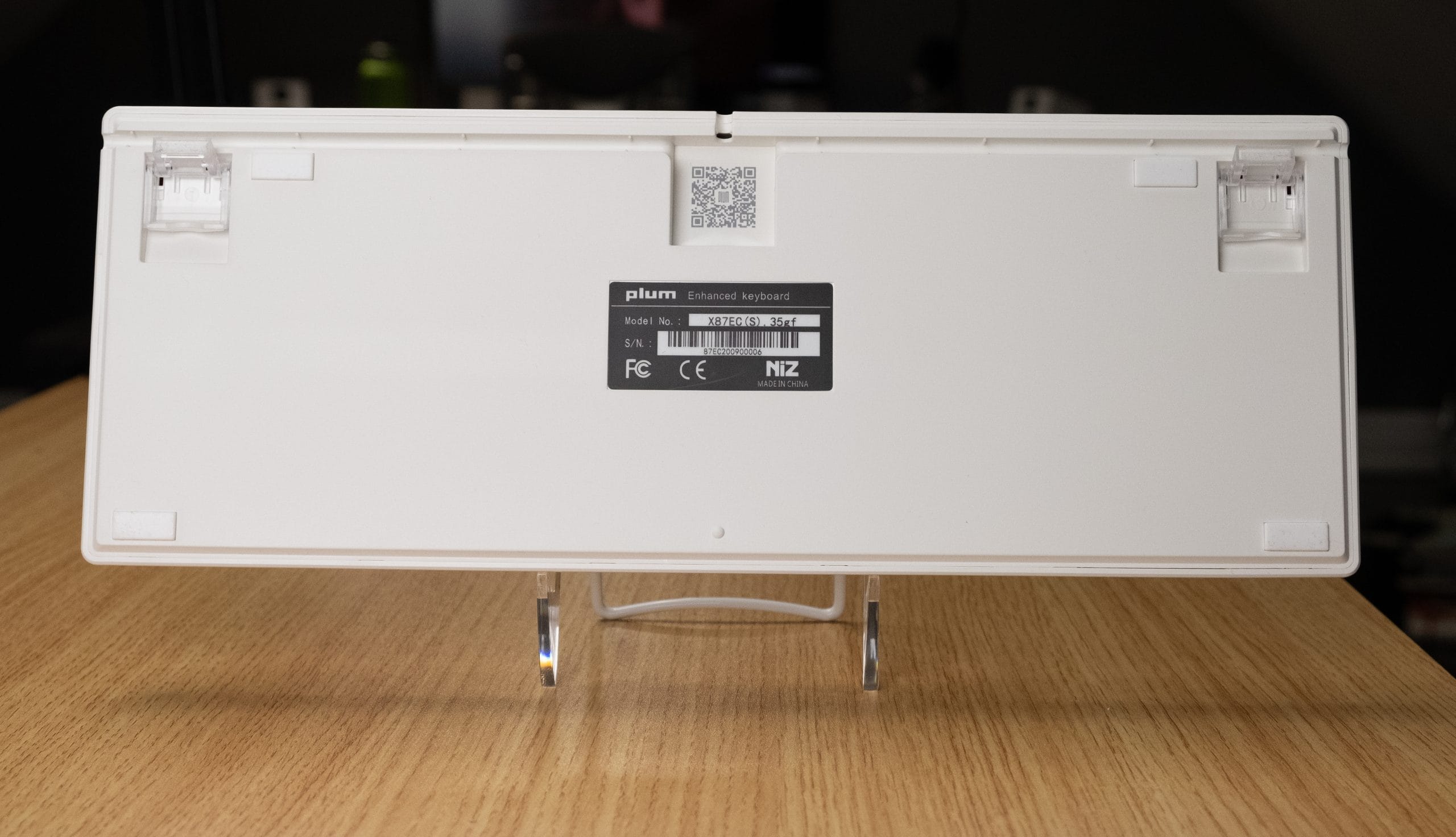 On the back of the case you'll find 4 rubber feet for flat keyboard usage, two levels of flip up feet, and a cable channel for the included detachable USB-C Cable.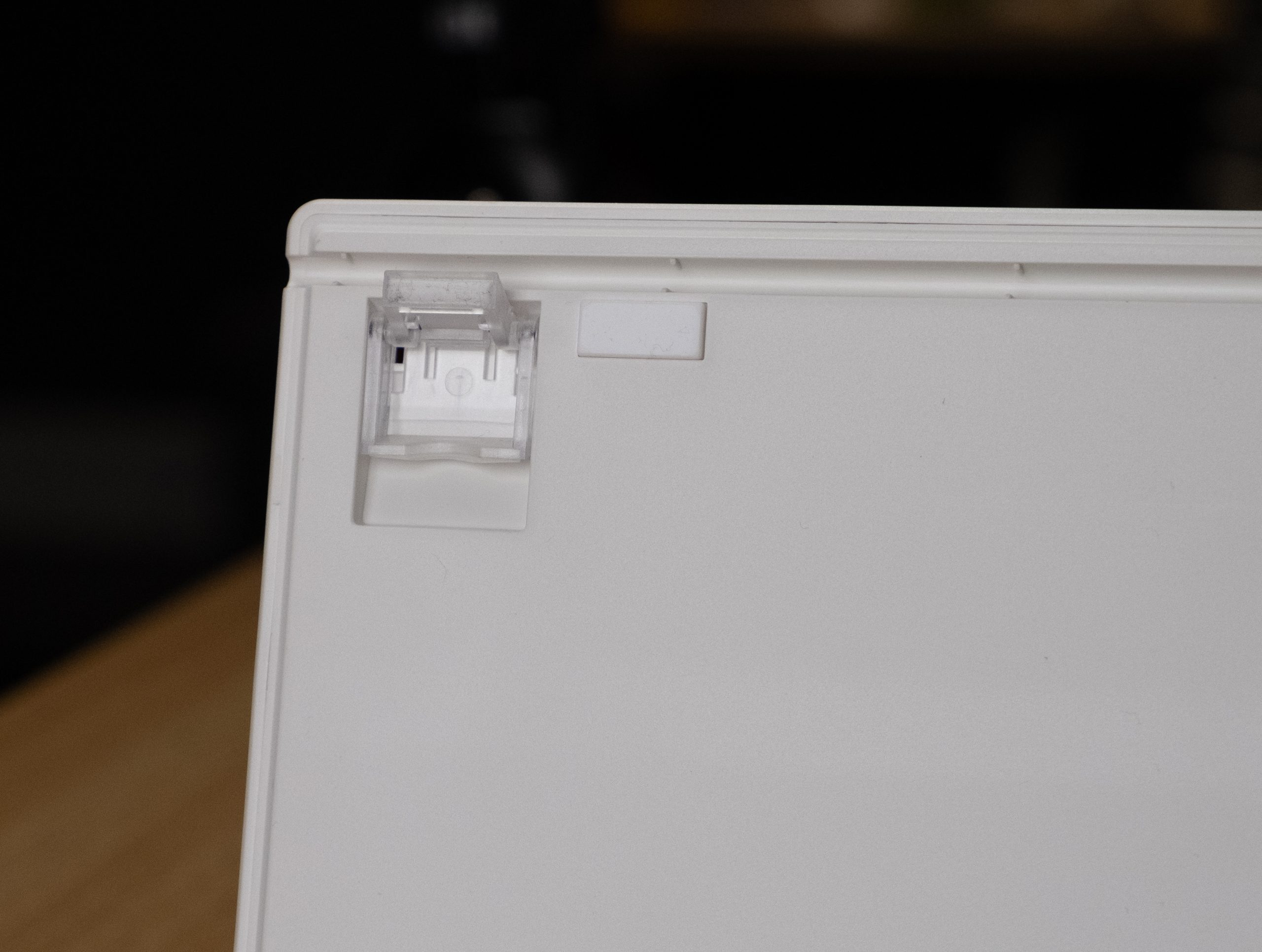 The flip up feel sturdy but in usage, my keyboard wobbles a bit when pushing the keyboard forward, meaning that the feet are folding with light pressure.
Build quality
The build quality is average, which is a little disappointing considering the keyboards price point. The keyboard does have some deck flex, which adds to the bounciness of the typing experience. When picked up and twisted, I was able to flex the keyboard quite a bit and produce creaking in multiple areas. I have no concerns about durability of the NiZ Plum X87, but a tank it is not.
It's looking like you'll have to sacrifice some build quality to get electro-capacitive switches.
Software & Settings
Documentation and software details are quite scarce for the NiZ Plum X87 EC, I had some trouble locating proper english documentation and software, something to be aware of if you plan on customizing your keyboard.
I was able to find a Google Drive with accompanying documentation and software, but it would be much appreciated if NiZ could provide official links on their website.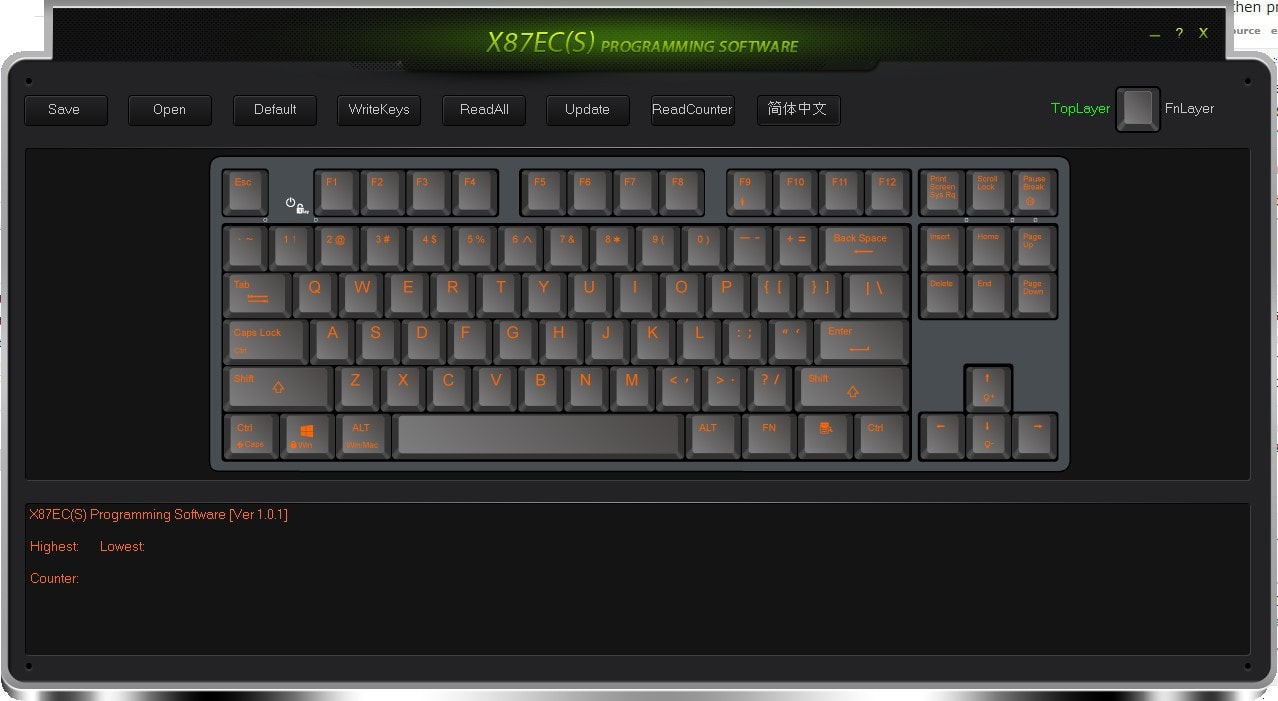 The software for the X87EC is pretty barebones but it allows you to adjust all the important settings in a keyboard.
Remapping top layer and function layer

Macro
Mouse function
Multimedia
Keyboard functions

Record macros
Import/Export settings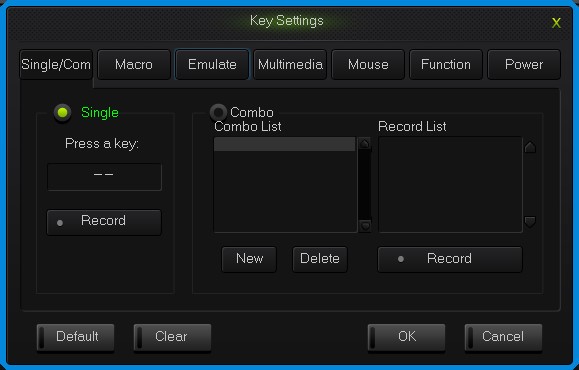 The key mapping, while a little clunky, works as expected. You can't re-map any of the top layer to another key, but you can remap any function layer key.
There are also a handful of keyboard function key combinations to be aware of, you can set the actuation point of the keyboard from low/medium/high by pressing Fn + F9. The indicator lights on the top right of the keyboard will flash 1/2/3 times to indicate the level you've chosen respectively.
Holding Fn+Left Alt will switch the keyboard between Windows and Mac mapping, moving the OS key to left alt position left of the space bar.
Holding Fn + Windows key will turn on game mode and disable the windows key.
Holding the Fn + LCtril key will swap left control with the caps lock key to enable the happy hacker style layout.
On bluetooth models, pressing Fn + Insert will switch between wired mode and bluetooth mode, with Fn + (Home/Del/End) switching between 3 different device connections.
Warranty & Reliability
If you get the keyboard from EpoMaker the NiZ Plum X87 comes with a 12 month warranty.
Tech Specs
Niz Plum X87 EC
Length: 36 cm / 14.1732 inches
Width: 13 cm / 5.11811 inches
Height: 3.5 cm / 1.37795 inches
Case: High profile, Plastic Case
Weight:  790 grams
Keys: 87 keys
Cable: 2m detachable USB Type-C
RGB: Yes, full
Keys & switches
Switch options: 35g and 45g electro-capacitive
Keycap material: PBT
Keycap legends: Double shot
Keycap profile: OEM Profile
Media keys: In FN layer, re-programmable
Backlight: Full RGB on RGB model
Software: Yes?
Conclusion
Make no mistake, the NiZ Plum X87 EC offers a great typing and gaming experience, for people looking to try out EC switches. For anyone who doesn't or can't yet appreciate the premium rubber dome experience, they're going to be better off shelling this kind of money for a mechanical switch keyboard with better overall build quality and software support.
For people looking for a more affordable Topre option, you're in luck, the NiZ Plum X87 is a very competent EC keyboard, at a significantly more affordable price than Happy Hacker boards.
Great feeling EC switches
A rock solid mechanical keyboard with great switch options, and infinite customization
See Price on Amazon