Review copy provided by CIDOO, they did not see the review before publishing
It seems like these Chinese keyboards are consistently getting better at matching custom keyboards feature for feature. The CIDOO V65 Pro seemingly checks a lot of those custom boxes: poron foam, gasket mount, south facing LEDs, and VIA software support.
There are a few shortcomings, but they're definitely not deal breakers.
Pros
Gasket mount
Poron foam layer
VIA support
Full aluminum case
South facing LEDs
Pre lubed switches are smooth
Cons
Some stabilizer rattle
Only one switch option
Lack of ergonomic options
No 2.4 Ghz wireless option
Verdict
At around $130, this keyboard sits at a little higher of price compared to some other Chinese keyboards, but it really blows a lot of mainstream keyboards out of the water for value.
At this point, you should only consider mainstream brands if you're looking for lowest possible gaming latency and/or want to stick to an ecosystem.
At under $100 keyboards from Epomaker that don't support VIA, so you have to make the call whether that extra $30 bucks is worth it to spring for the CIDOO V65 Pro. For me, it is, I heavily use multiple layers for productivity and gaming.
Overall, the V65 Pro sounds and feels great, the only shortcoming I can really find is the lack of angle adjustment, wrist rest and the stabilizers aren't absolutely perfect and that's. plenty acceptable at this price range. Otherwise, this is a competent gaming keyboard with its linear switches, but an even better overall keyboard with its high customization potential.
Model Variations
The main variations for the V65 Pro are the colour and the barebones or assembled.
Assembled

Colour: Retro Grey
Colour: Moon White

Barebones

Colour: Pink
Colour: Blue
Colour: Green
The barebones option does not come with switches or keycaps and is $10 cheaper than the assembled.
Form Factor & Size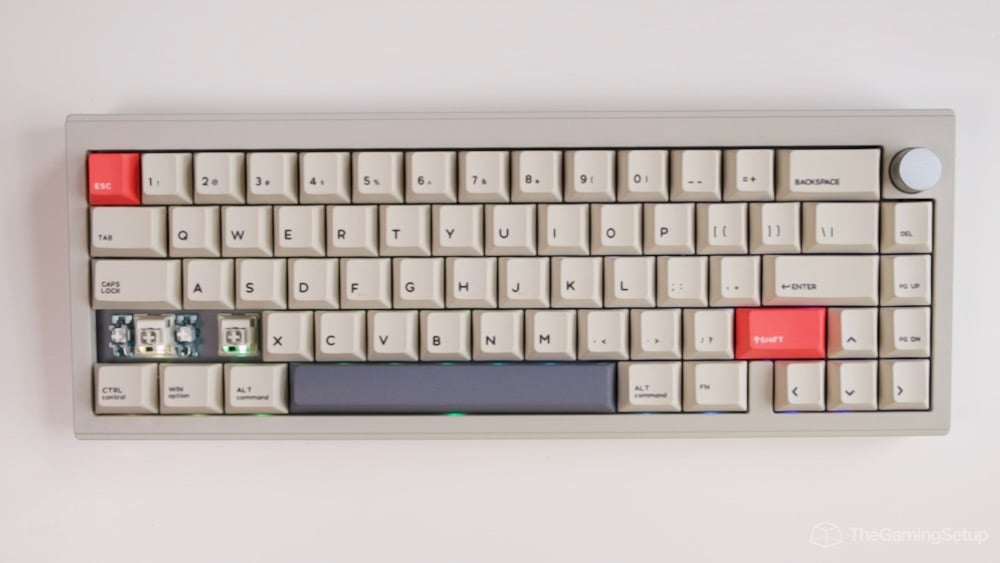 Dimensions: 320mm/12.598 in (L) x 119mm/4.65 in (W) x 45mm 1.772 in (H) | Weight: 1320 g / 2.91 lbs | Keys: 66 + Media Wheel
The Cidoo V65 Pro has a standard 65% keyboard layout with a rotary media encoder. I love this layout for saving space while preserving some functionality with arrow keys and an extra column.
Since this keyboard supports VIA, I did not feel limited at all by its keyboard layout.
If you are a heavy numpad user though, you should pass on this keyboard.
The V65 is a moderately heavy keyboard for the size, an indicator of good build quality and materials.
Design & Materials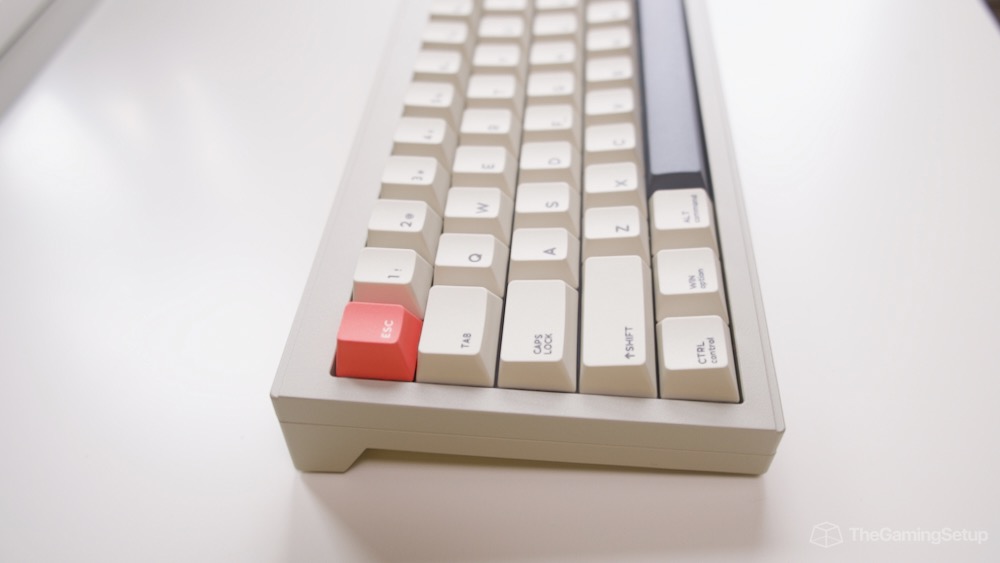 Case: CNC Aluminum | Plate: Polycarbonate | Foam: Yes,Poron | Keycaps: Dye-Sub PBT
All the materials chosen for the V65 Pro reflect quality. The aluminum and PBT feel great in hand.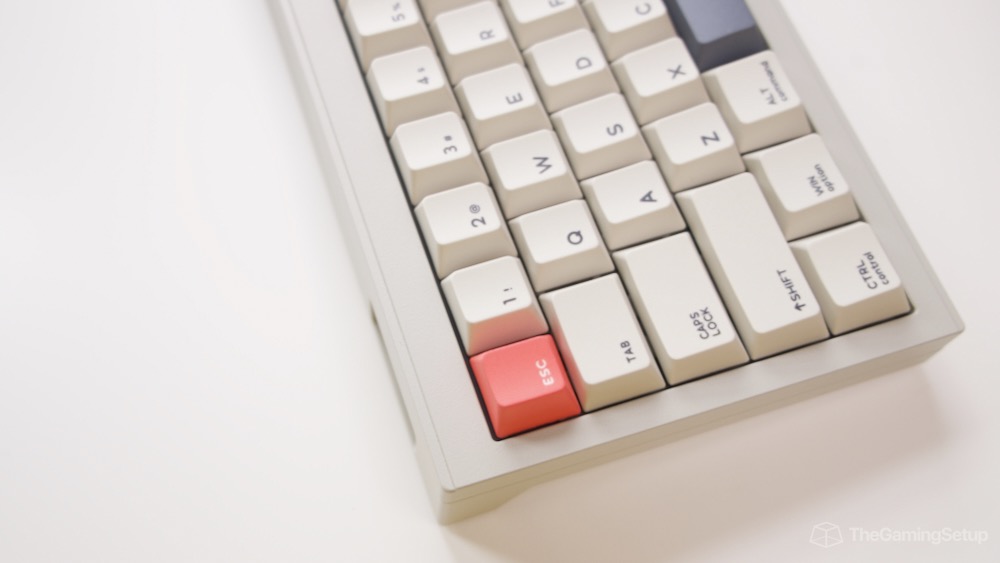 The keyboard has a creamy retro aesthetic that I'm a fan of as an middle aged millennial. The legends are sharp with an attractive font. There are a few accent keys, though I think if they were a little more pastel it would fit the overall look better.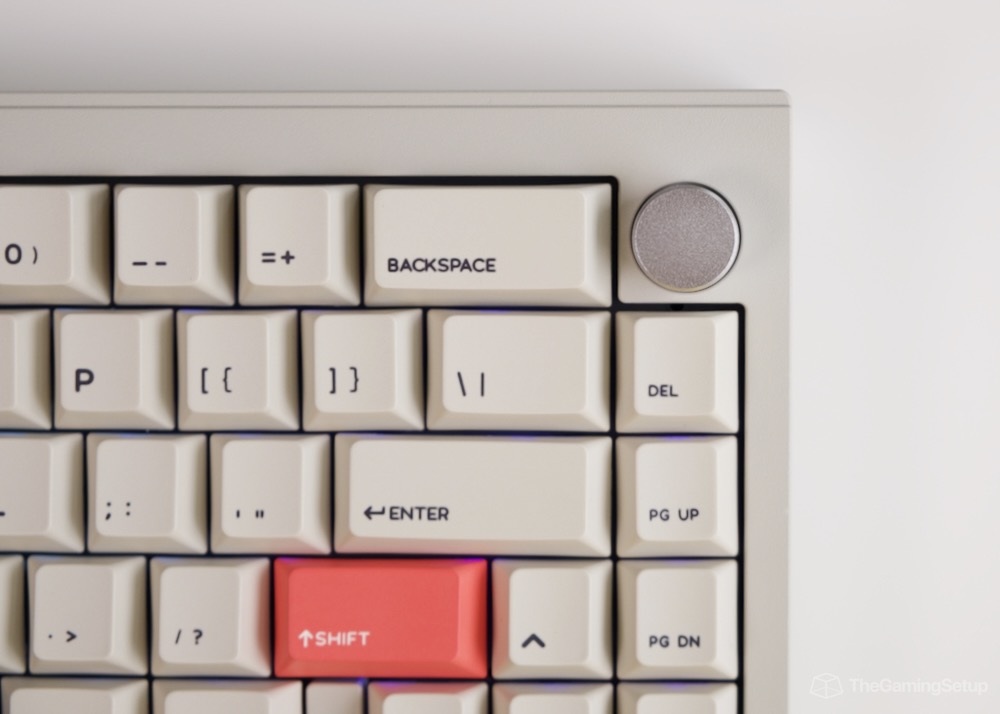 On the top right of the keyboard, there's a ever more universal rotary knob that defaults to volume up/down and mute on press. The knob is made of metal and feel solid with tactile steps. I couldn't really use the knob with one finger, the lack of grip on the knob and the tension made it so I had to pinch the knob to turn, maybe something to look at for V3.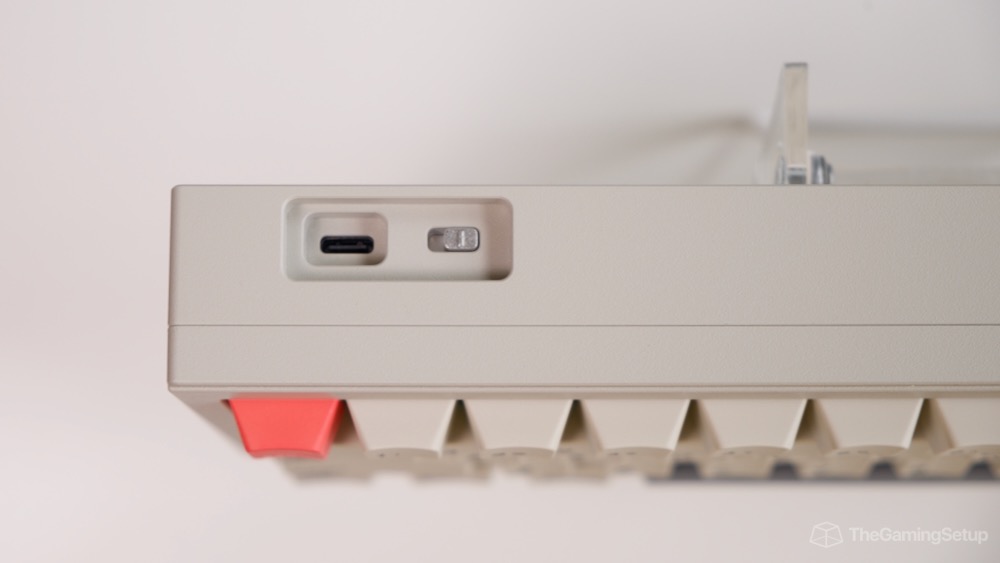 The entire keyboard design is minimal, the top of the keyboard features a USB-C port and a dip switch to turn on the keyboard for wireless connectivity.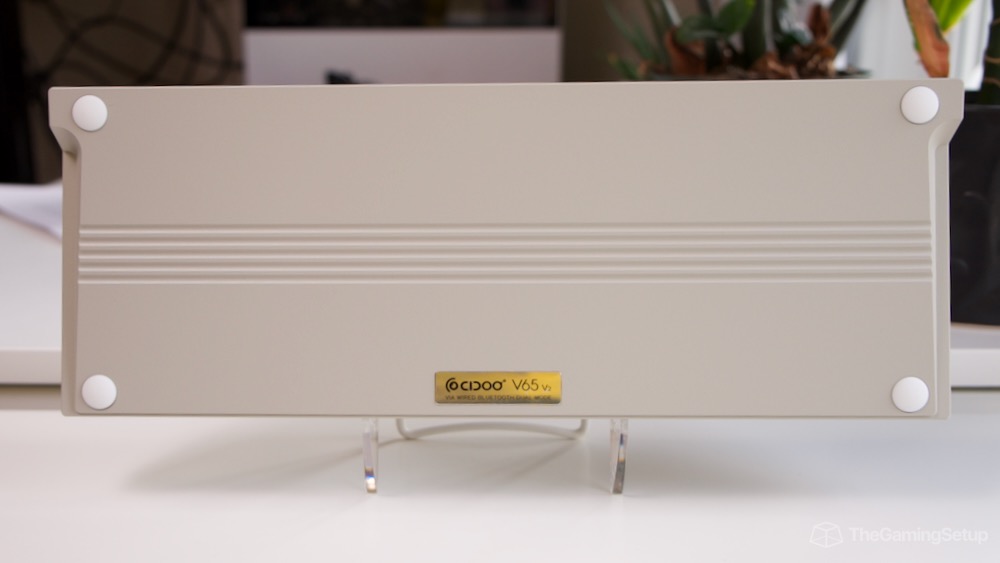 The back of the keyboard is just 4 rubber dot feet that do a good job of holding the keyboard in place. No adjustments here but the default angle will be good for a majority of people. The front lip of the keyboard is quite tall, so be wary if you have ergonomic requirements, this keyboard is definitely a wrist rest candidate.
Build Quality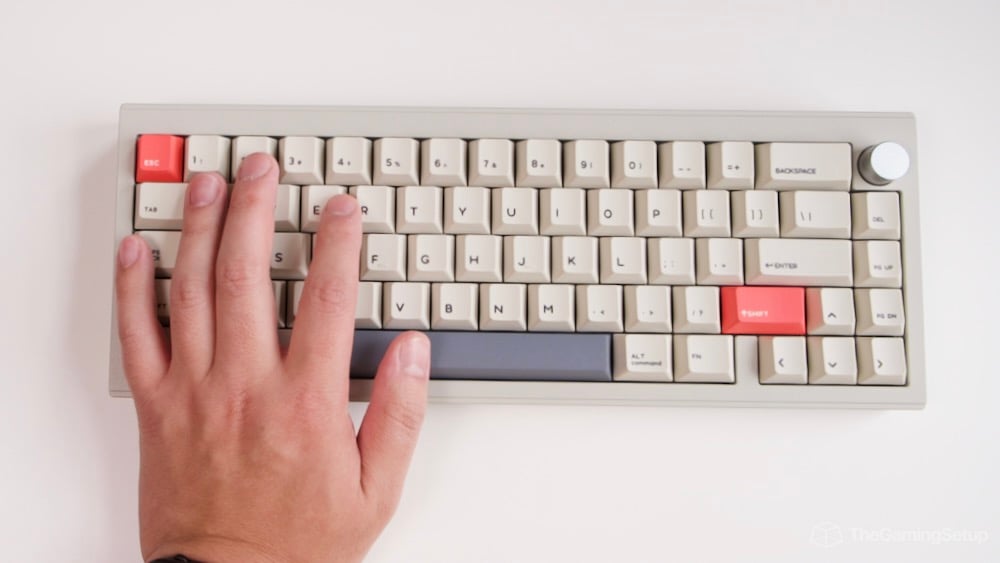 The Cidoo V65 Pro has top notch build quality. The entire keyboard is aluminum, the frame has no chance of flexing at all.
There's little wobbling on any keys or the rotary knob.
RGB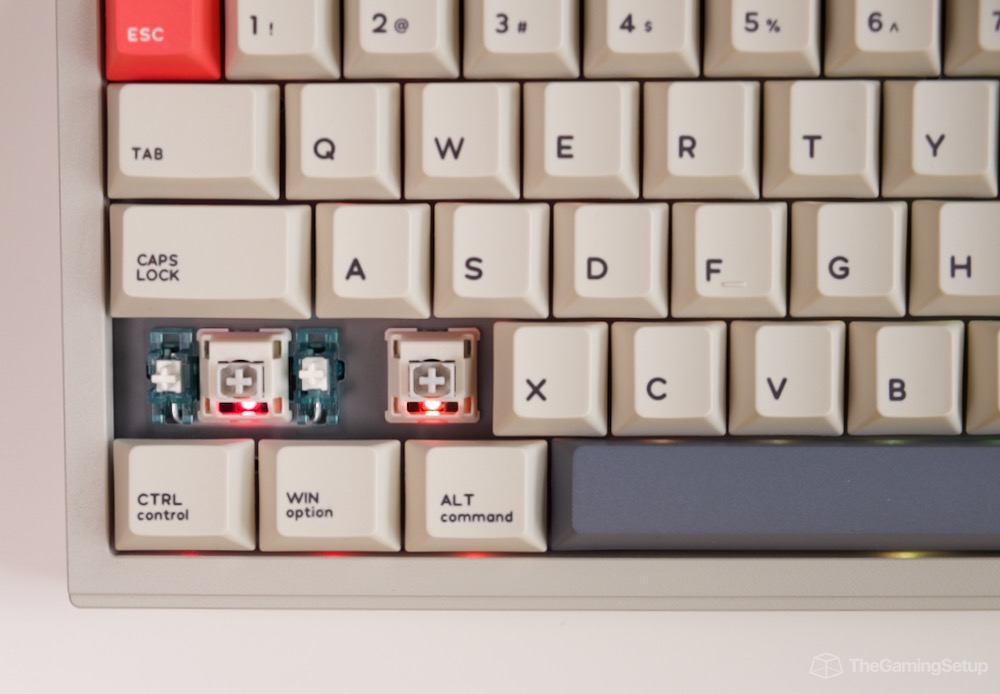 LED: South facing | Per-Key lighting: Yes | Effects: | Yes
The CIDOO V65 V2 has south facing LEDs meaning it will be fully compatible with Cherry profile keycaps if you so choose to switch them out.
The keycaps themselves are not shine through, but the south facing LEDs mean that you get beamed with RGB goodness at a regular sitting angle.
RGB is evenly lit and bounces off the plate well. CIDOO even includes RGB diffusers as option. The diffusers just slot into the LED window in the switch, neat!
Typing Experience
Switch: Quark Matte Linear | Hotswap: Yes (3 & 5 Pin) | Stabilizers: Plate-mounted
This keyboard feels really great to type on, the gasket mount system is designed well and the keyboard produces a soft thock on bottom out.
Bottoming out has a soft bouncy feel to, the PC plate flexes quite a bit to give my fingers some relief.
The stabilizers add a little noise pollution that's more obvious due to how gentle sounding the rest of the keyboard is.
It would be nice for the V65 Pro to have a few more out of the box switch options, luckily, the keyboard is hot swap compatible with both 3-pin and 5-pin switches, so getting a different typing experience will be easy.
Typing Noise
This keyboard is quiet with a foamed cased, gasket mount and linear switches. The spacebar does make a little rattling noise but otherwise I don't think this is too disruptive of a keyboard sound wise.
Switches
Switch options: Quark Matte Linear | Type: Mechanical | Factory Lubed: Yes | Actuation Force: 47g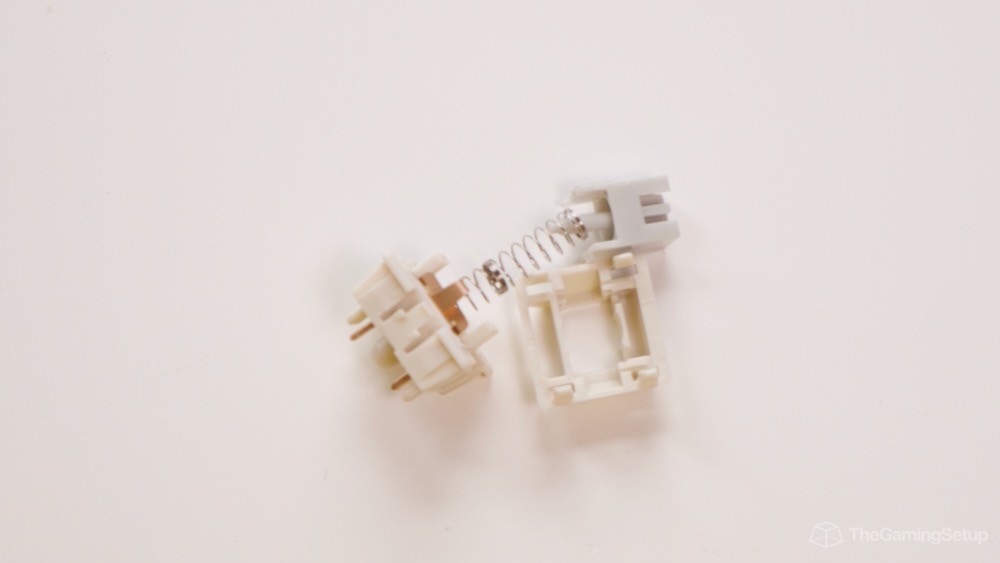 The Quark Matte Linear switches are factory lubed out of the box, and the job is well done. The switches are butter smooth out of the box without any gumminess. The only data point I could find on the Quark switches was that they're around 47g actuation, which is plenty light and fast for gaming. The actuation point feels like the standard 2mm depth.
Comparing to other linear switches, these feel like a smoother Cherry MX Red.
Stabilizers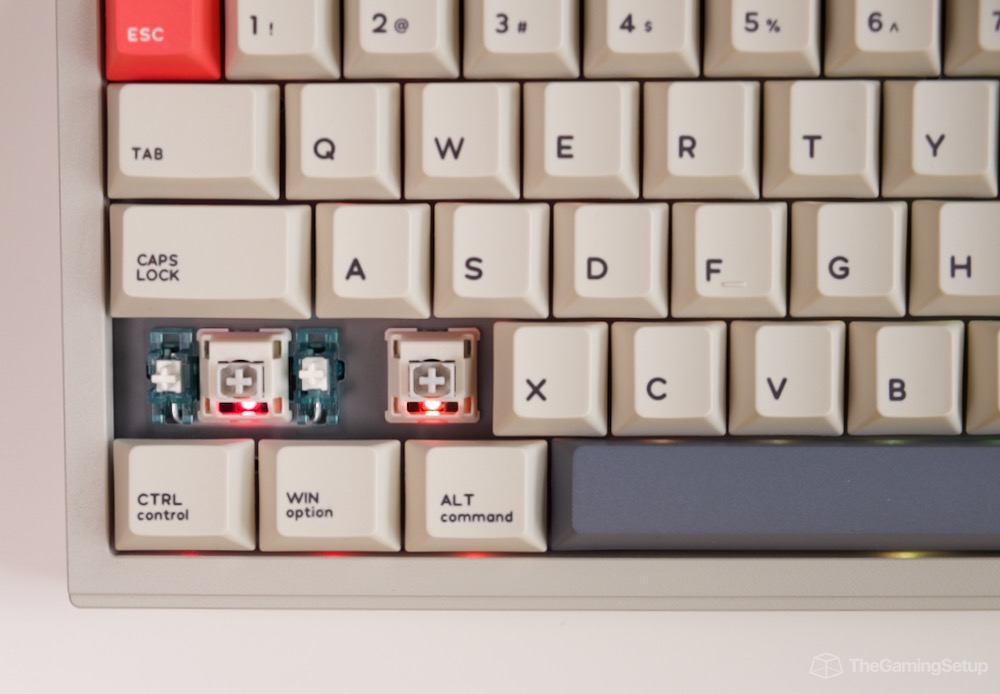 The plate mount stabilizers in the CIDOO V65 V2 are good, but not great. There's a little bit of inconsistency between all the stabilized keys and a distinct rattle on my spacebar and enter key. The stabilizers would benefit from a tape mode and/or a bit more lube.
Keycaps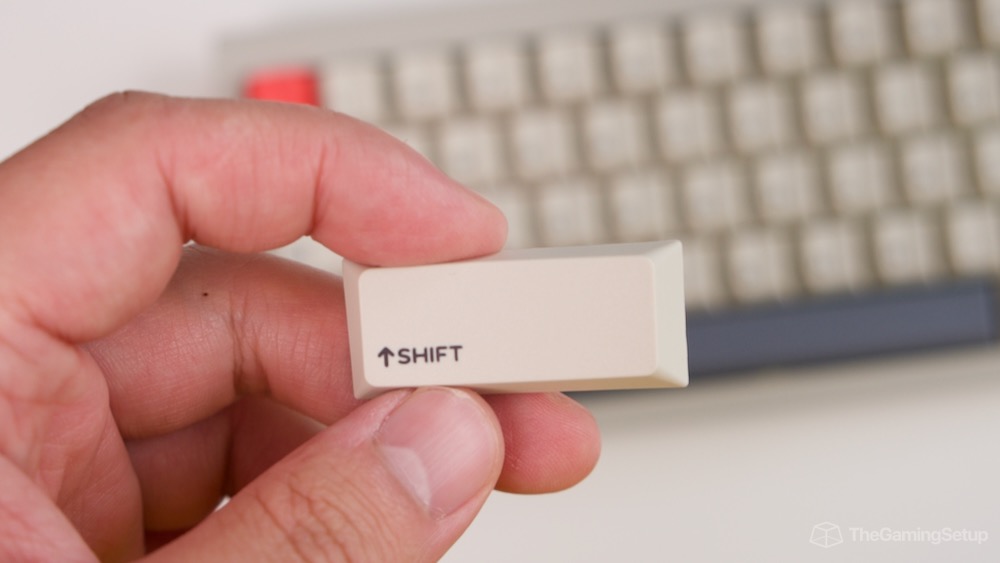 The keycaps are dye-sublimated PBT with black legends on the cream keys and white legends on the accent keys. There's a slight texture on the tops of the keys that feels nice to the touch. I would not expect these keys to shine or fade any time soon.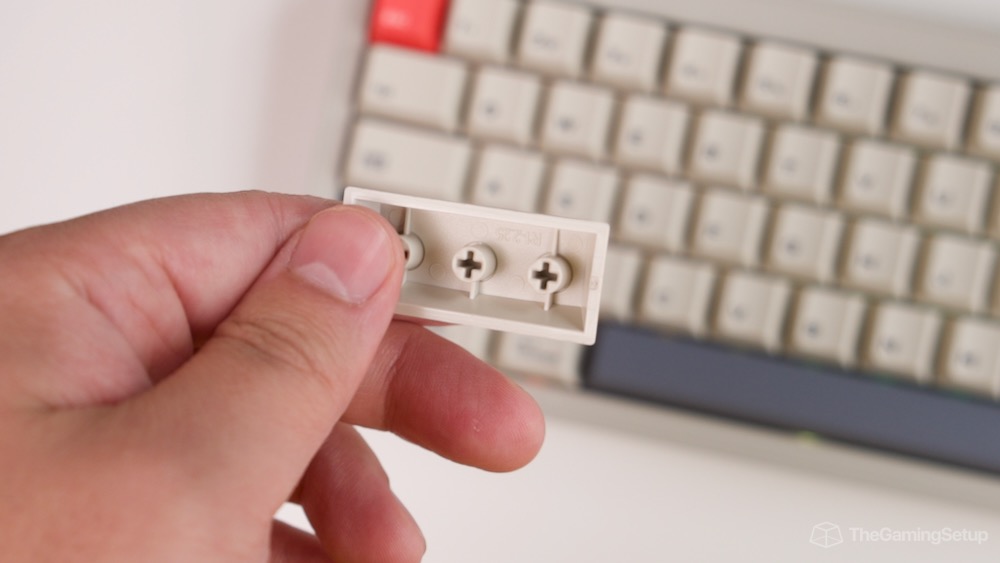 The PBT looks to be of pretty standard thickness, all the keys feel consistent and well produced.
Wireless Experience
Connectivity: Bluetooth | Devices: 3 | Battery Capacity: 3000 mAh
The CIDOO V65 Pro allows you to connect up to 3 devices via BlueTooth, which is now a pretty standard feature.
The 3000 mAh provides solid battery life over Bluetooth, the keyboard hasn't needed a recharge in the week I've been using this keyboard for this review.
Latency over Bluetooth is acceptable for typing but I definitely felt it when gaming, so stick to wired mode for gaming. It would be amazing to have a 2.4 Ghz dongle for lower latency wireless gaming, maybe next time.
Software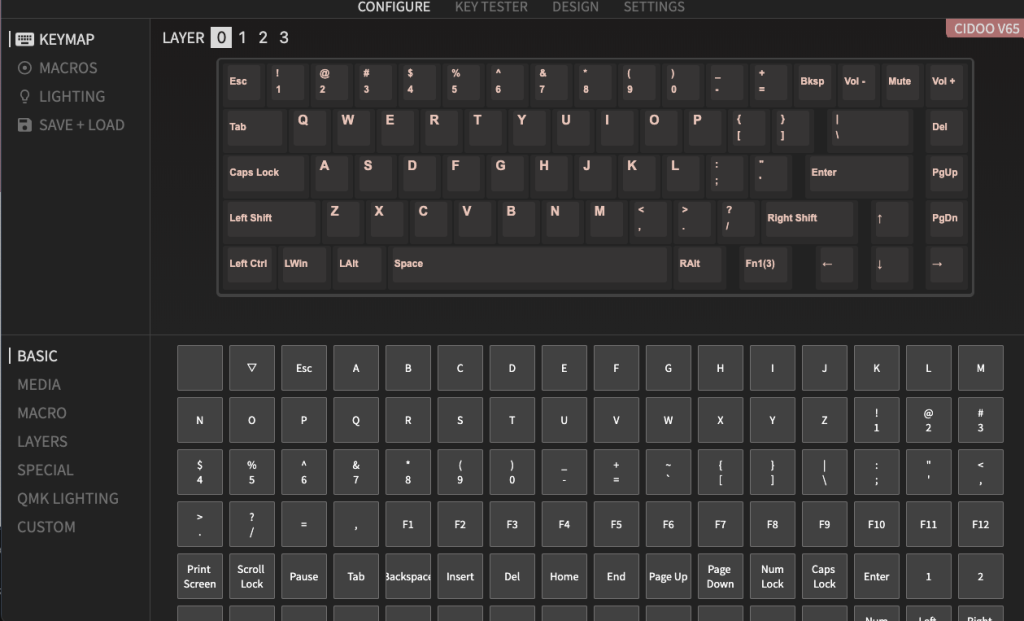 My dreams are coming true, more and more keyboards are supporting VIA software. The CIDOO V65 Pro supports with a quick load of a json file into VIA. Be sure to press FN+space to enter USB wired mode to enable VIA, VIA doesn't work over Bluetooth.
VIA has a bit of a learning curve over mainstream software, but once you get used to it, the amount of customization blows most software out of the water.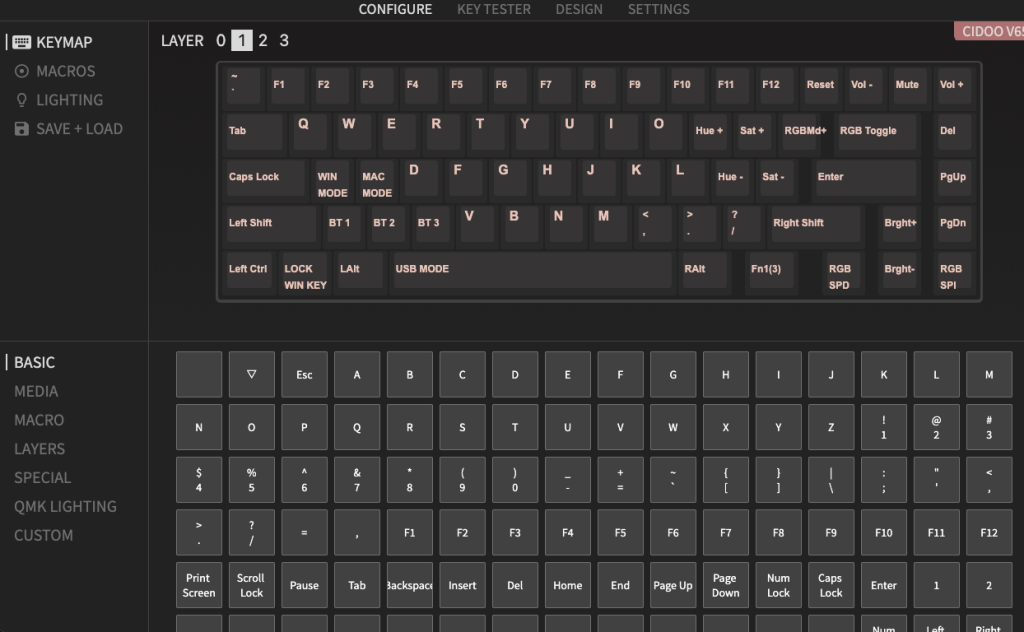 With VIA, you can remap the entirety of the second layer however you see fit, as well as add on a third and fourth layer if you see a need for it.

Lighting modes can also be chosen on VIA.
VIA also has a browser version at usevia.app that allows you to config your keyboard without installing software, just like the Wooting 60HE.
What's in the Box?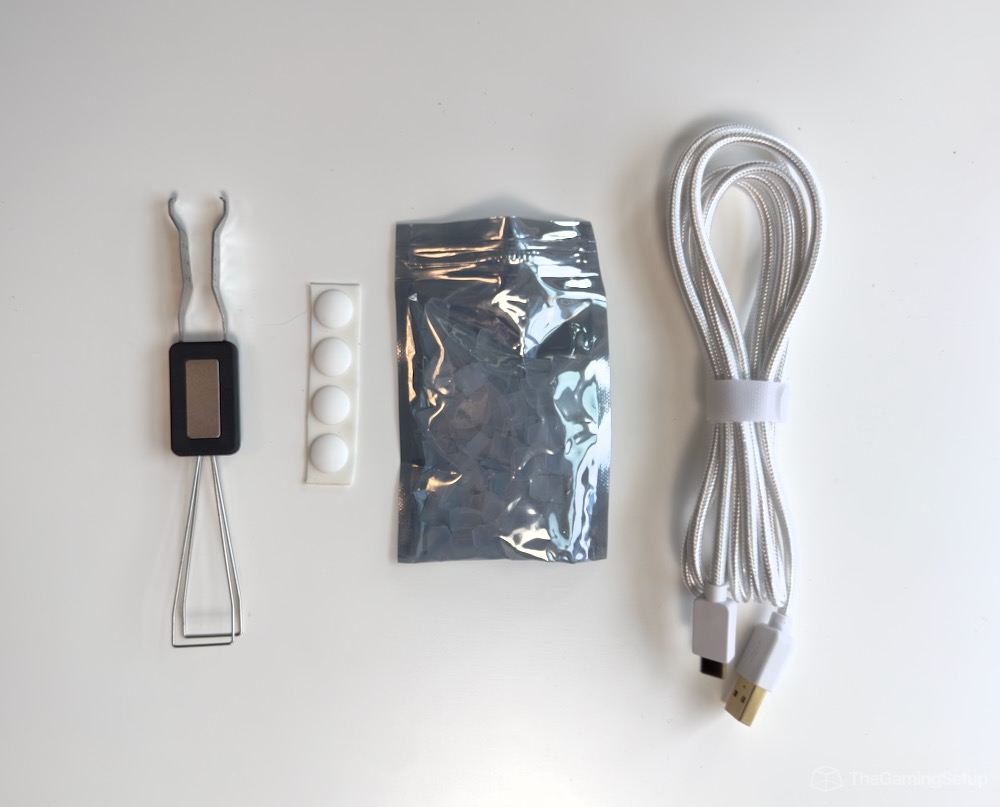 The CIDOO V65 Pro comes with the following out of the box:
Keycap and switch puller combo
Replacement rubber feet
Pack of RGB diffusers
Braided USB-C to USB-A cable
Warranty
I was not able to find any warranty information from CIDOO.