Durgod has quietly built an incredible lineup of keyboards that offer great quality and value for the price. The Hades 68 might be their very best offering and is, in my opinion, the best 65% keyboard you can get right now.
The Durgod Hades 68 hits it out of the park on the fundamentals. Great switch options, including rare options like Gateron Yellow and Kailh Box Jades, fantastic lubed switches, PBT doubleshot Cherry profile keycaps and superb keymapping functionality make the Hades 68 unrivalled at its price point from a typing and gaming point of view.
It is our pick for best 65% keyboard, knocking the Ducky One 2 SF off the top spot by adding software customization while matching it from a typing experience standpoint.
The best overall 65%
A rock solid mechanical keyboard with great switch options, and infinite customization
See Price on Amazon
Pros
Solidly built with a good weight
USB-C port
Great switch options including Gateron Yellow and Kailh Box switches
Multi layer per-key mapping
Per-key RGB lighting
Doubleshot PBT Cherry profile keycaps
Cons
On the higher end of pricing
Recessed USB-C port incompatible with some cables
Slightly harder to find replacement caps due to keycap sizes
Unboxing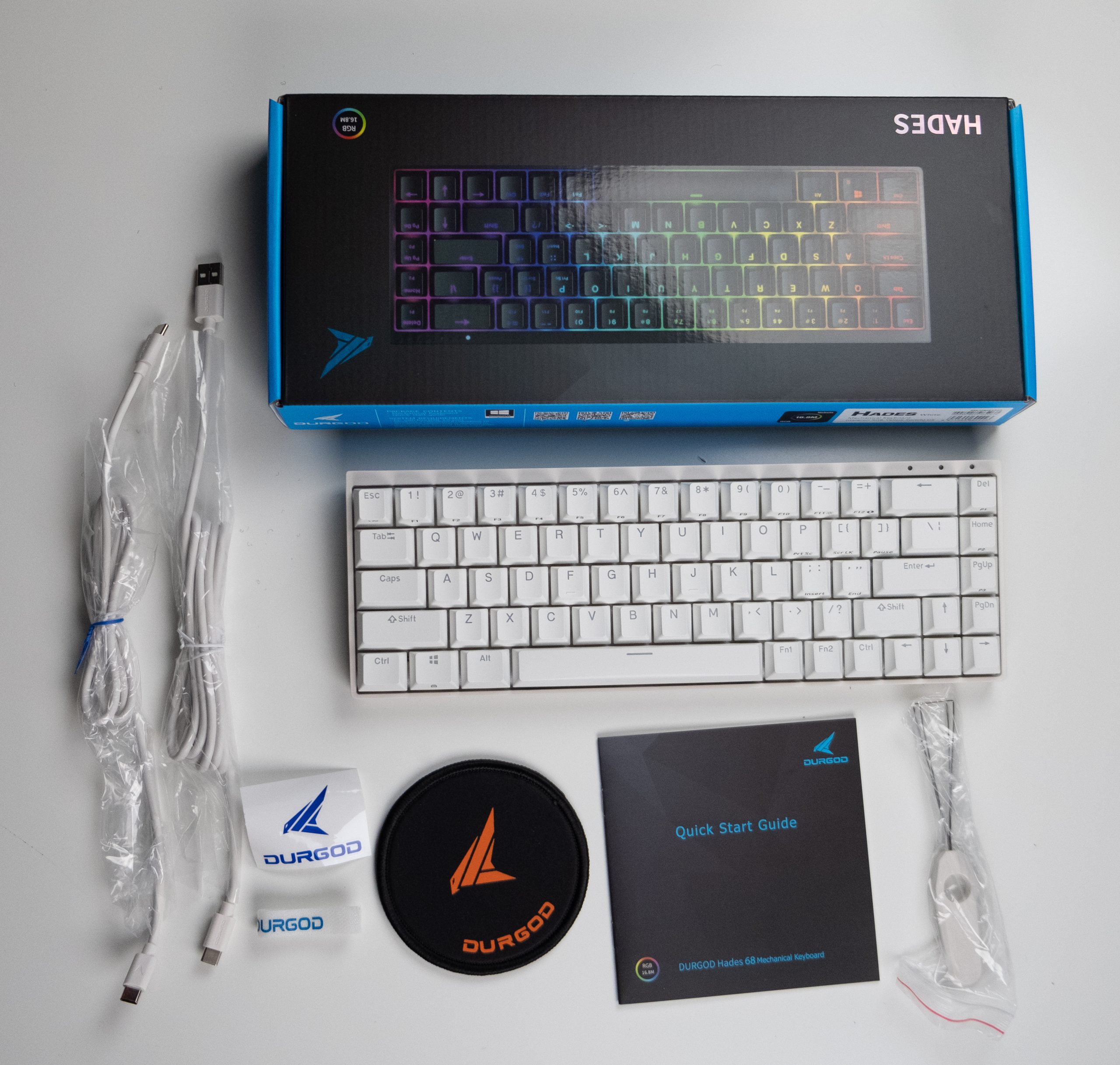 Durgod doesn't skimp on the extras, with a fabric coaster, two USB-C cables (A to C and C to C), some Durgod stickers and a nice wire key cap puller.
Switches & Stabilizers
The sheer switch selection of the Durgod Hades 68 set its quite far apart from other mainstream keyboards. The Hades 68 can come with the following switches:
Cherry: Black, Blue, Brown, Red, Speed Silver, Silent Red
Kailh Box: Box Jade, Box red
Gateron: Black, Blue, Silent Brown, Red, Yellow
Gateron Yellows are a standout switch, they're super smooth with a great weight, I would highly recommend the Gat Yellows if you're a linear fan.
The switches on my Hades 68 had a slight wobble, but nothing too drastic.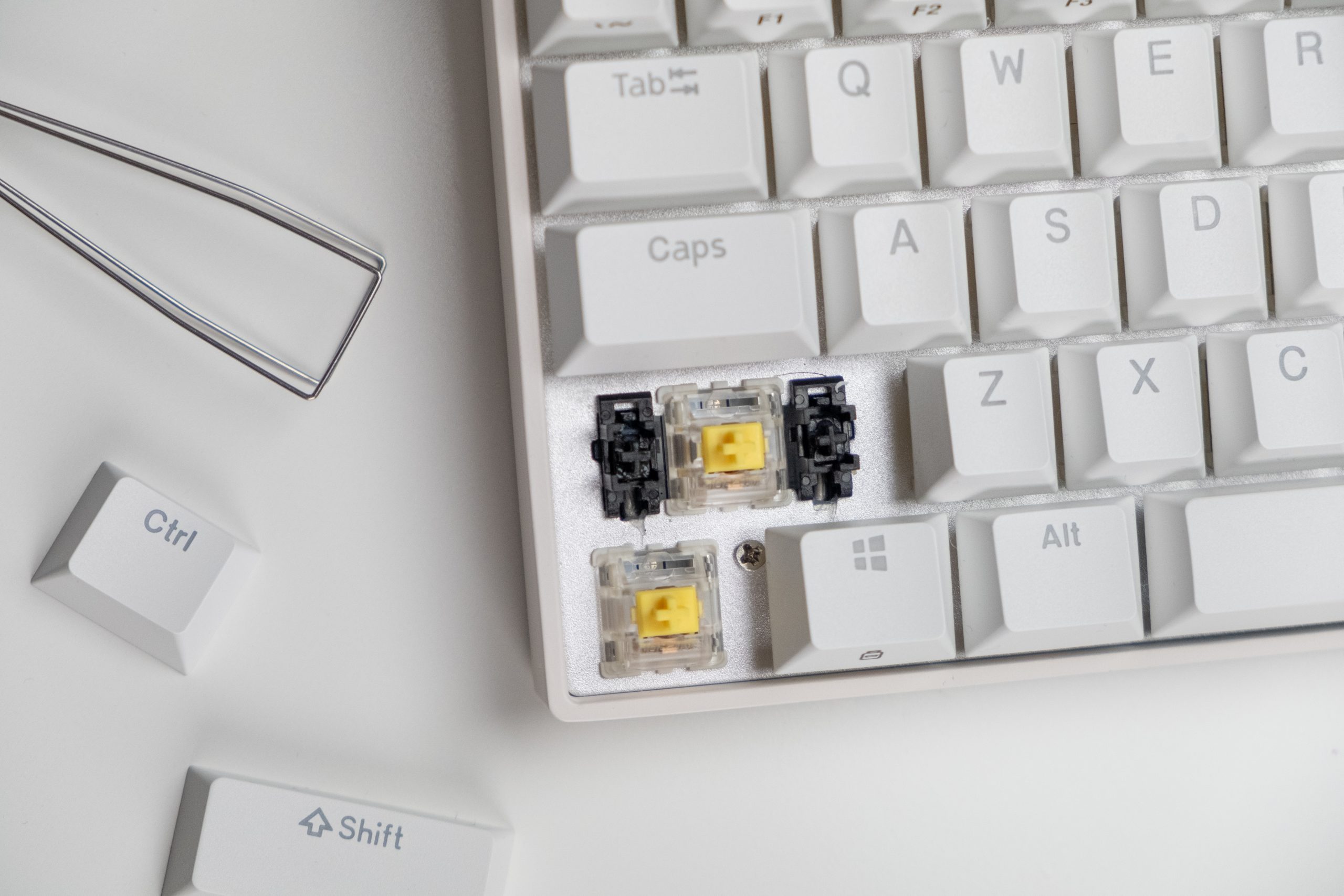 The pre-lubed stabilizers are some of the best I've experienced out of the box. In combination with the linear Gateron Yellow, the stabilizers sound and feel great.
Keycaps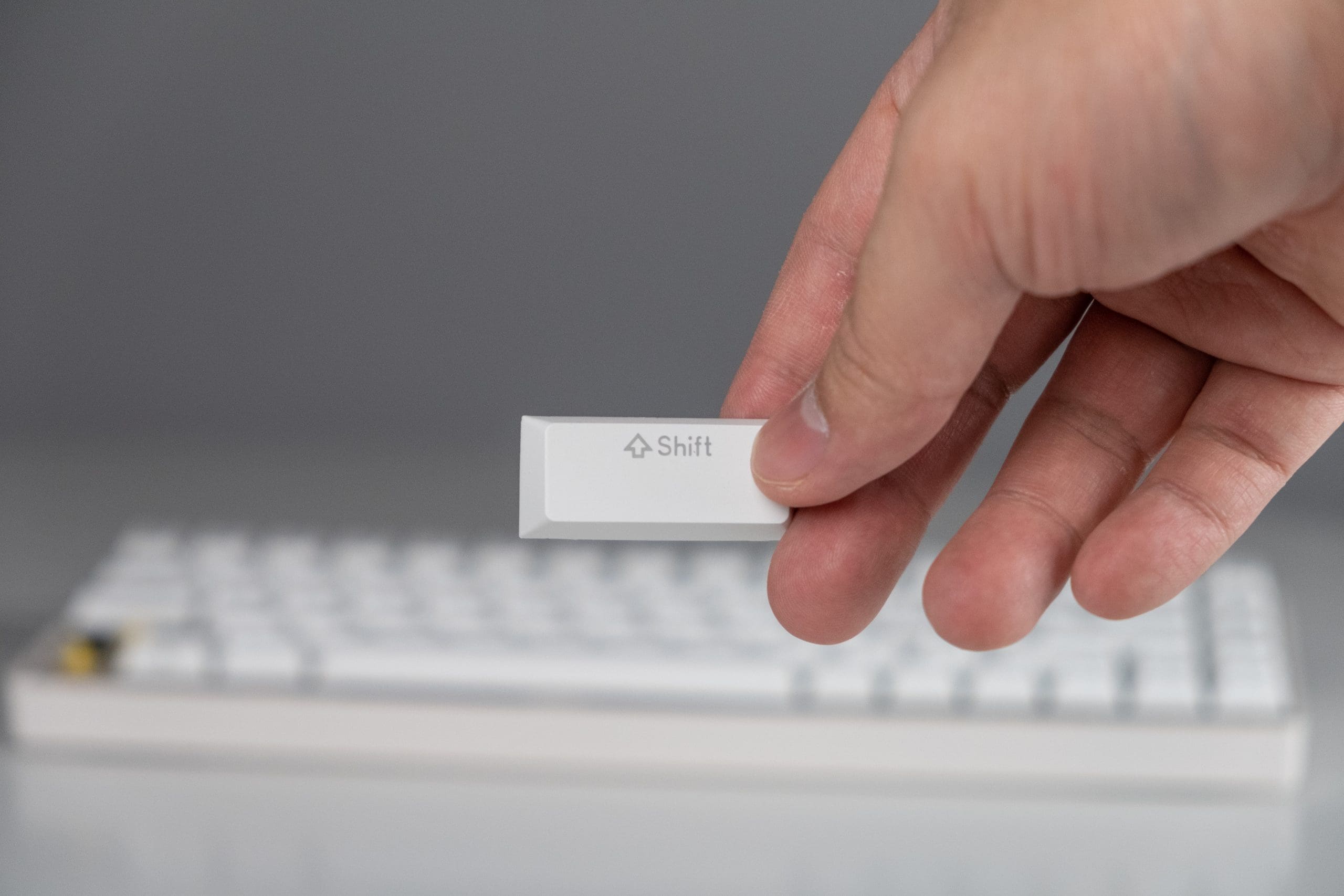 The Hades 68 have probably the best keycaps out of the box of any mass made keyboard. The keycaps are double shot PBT, in a cherry profile. We talk about keycap profiles in the Everything you need to know about keyboards post, Cherry profile caps sit sculpted caps that sit a little lower than OEM with a smaller face, they're my favourite profile.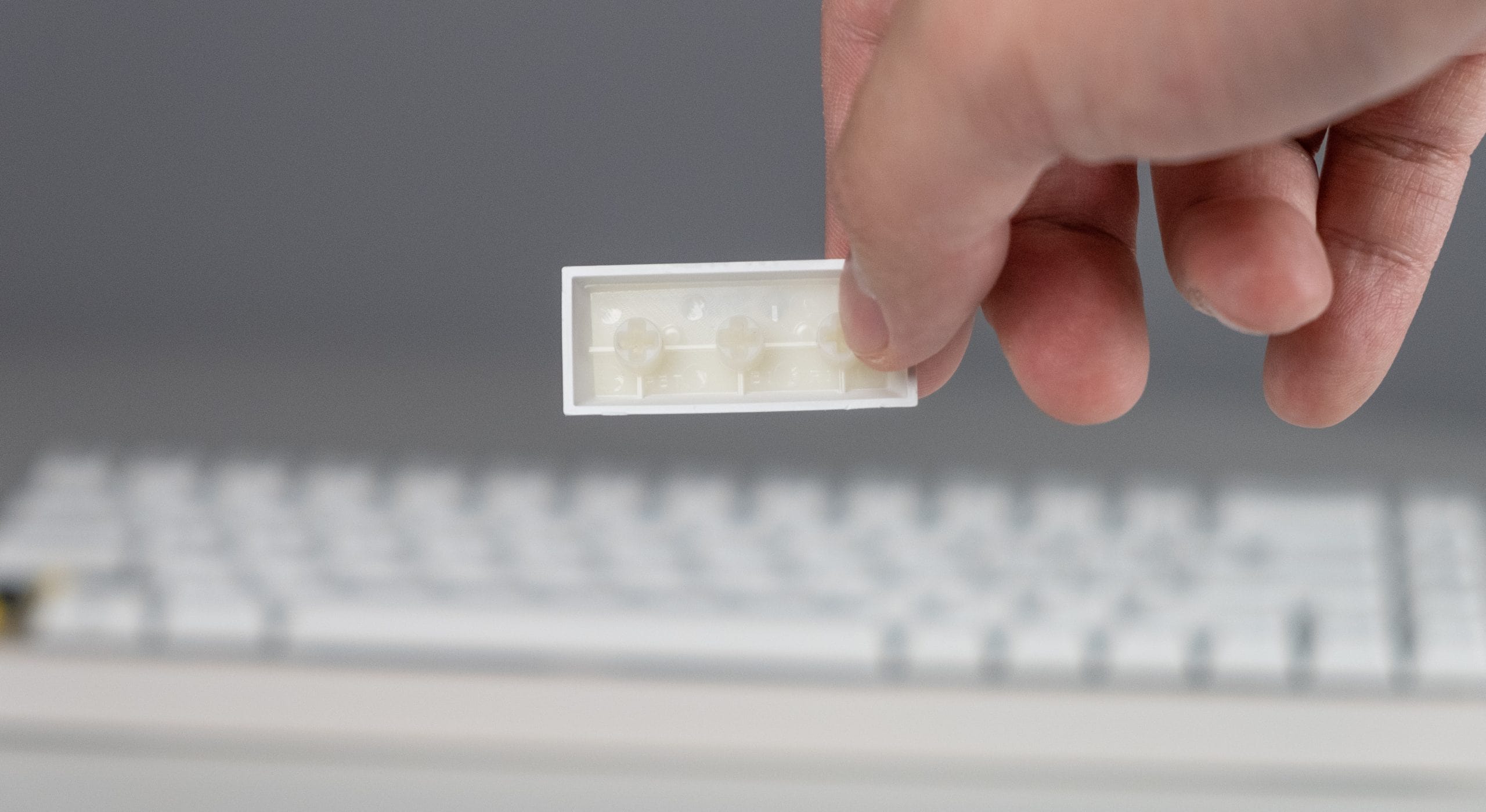 The cap is about 1.4 mm thick, average. The double shot plastic allows for even and clean RGB to shine through the cap, without compromising on wear and tear of the label.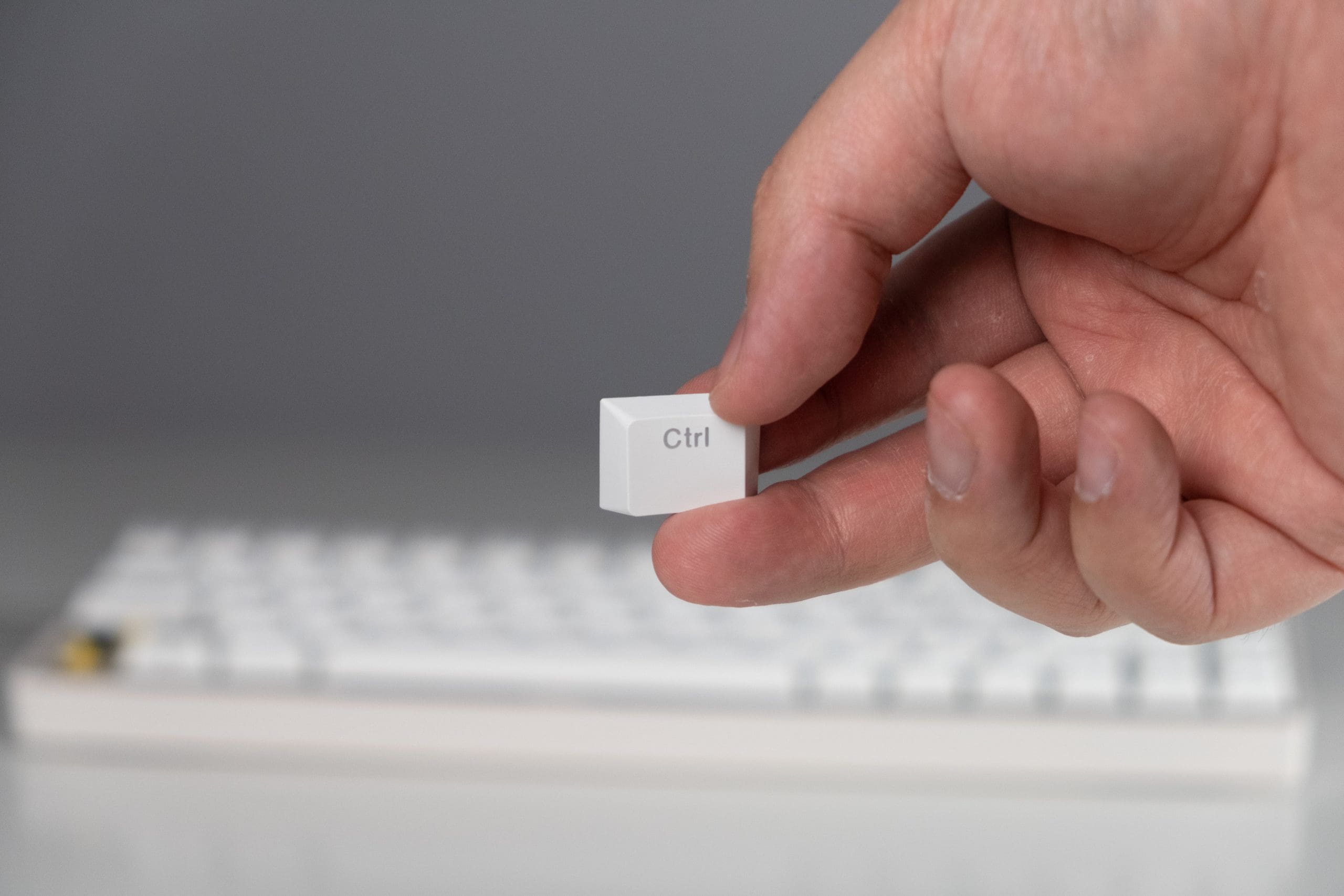 The legends on the keycaps are clean, really attractive sans-serif font with icon/text labels on shift and tab keys.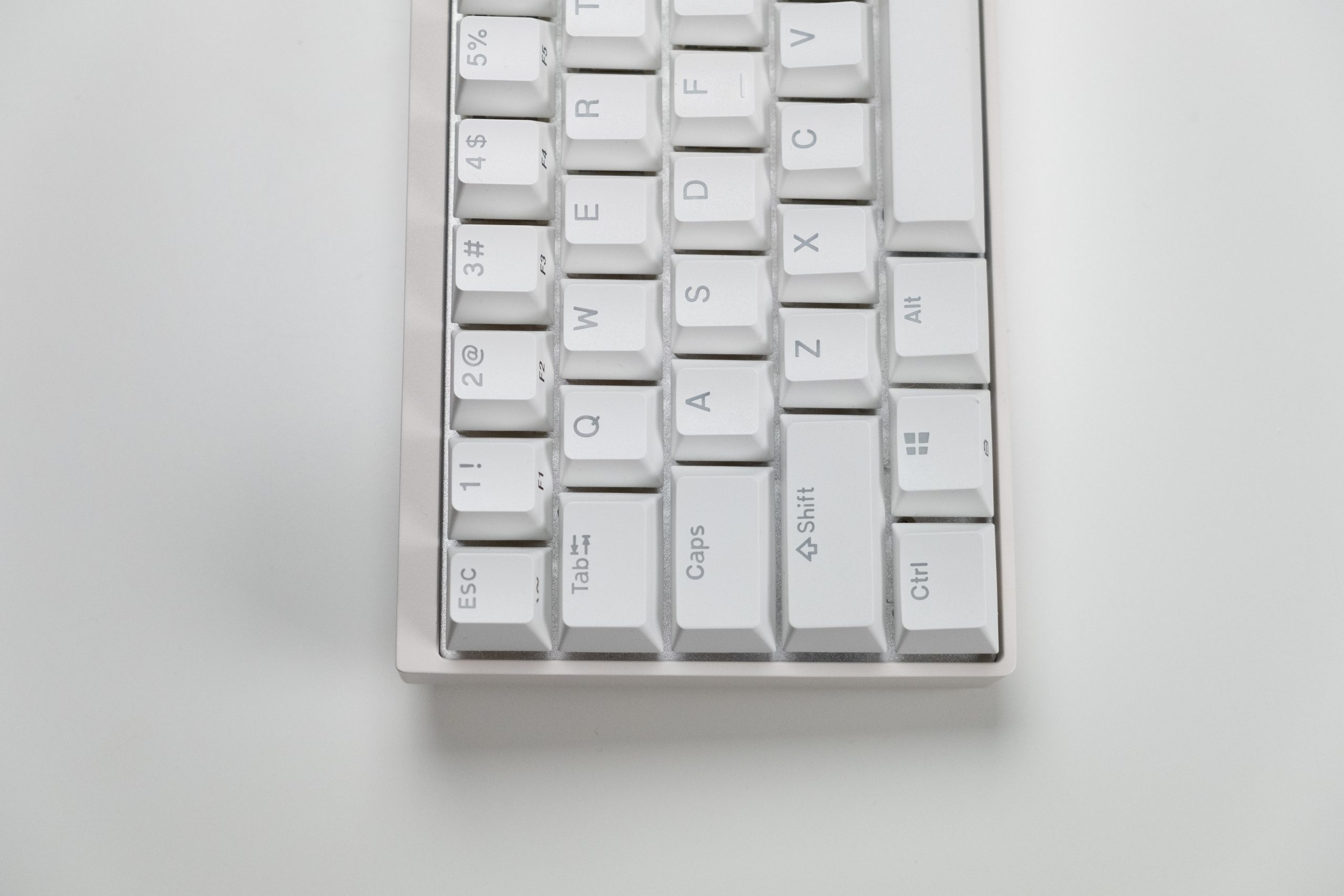 The side printed labels are pad-printed, they're clear and easy to read at a glance.
Design & Size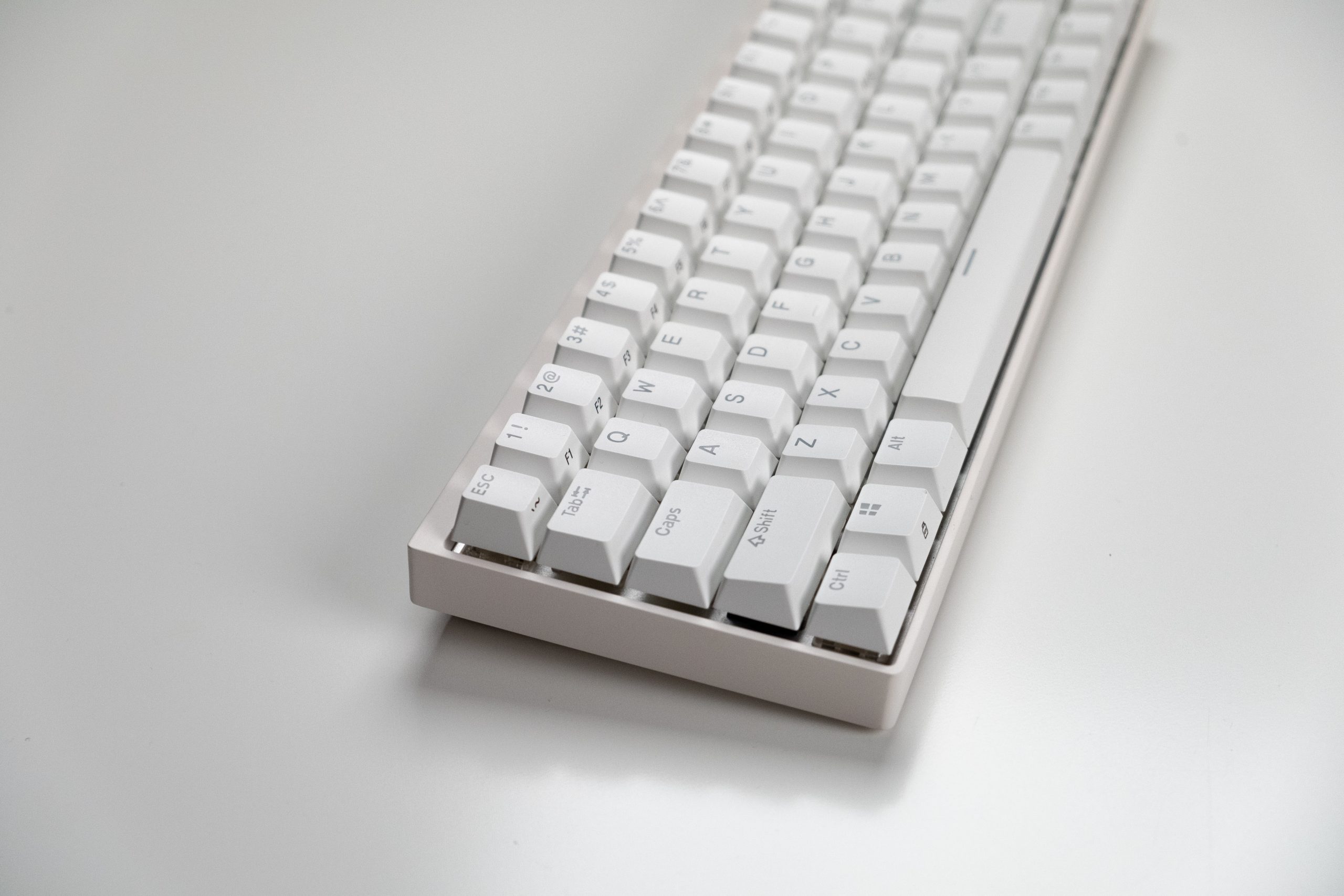 Clean is the one word I would use to describe the Durgod Hades 68, especially in white. The Durgod Hades 68 case features straight lines and clean surfaces on the sides. The colour of the white case has a little warm cream in the tone compared to the stark white PBT caps. The only other option for the Hades 68 is a traditional black case with black keycaps, I prefer how vibrant and clean the white version looks.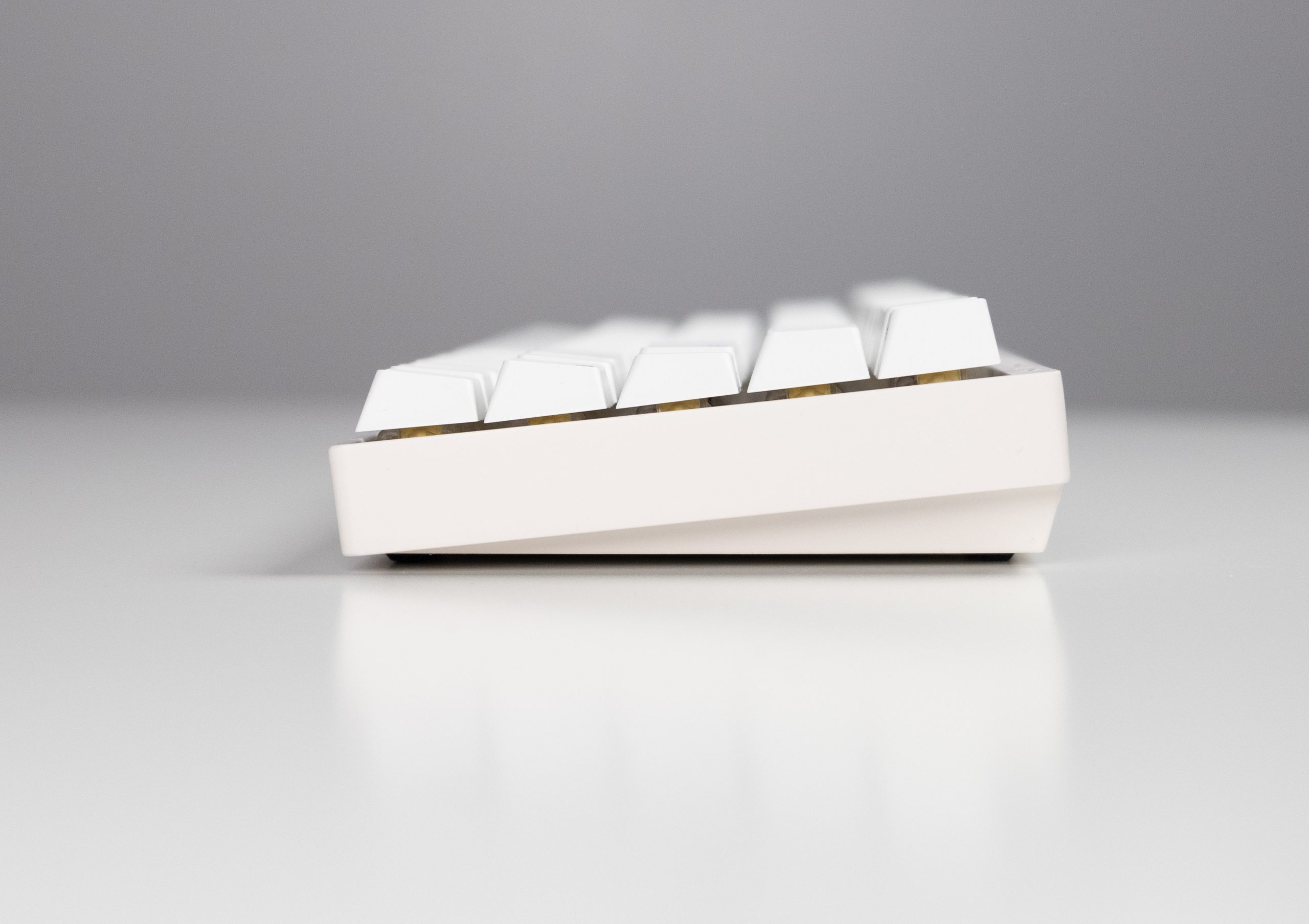 The case is streamlined single piece, with no height adjustments on the feet, it's a high profile case is made of aluminum.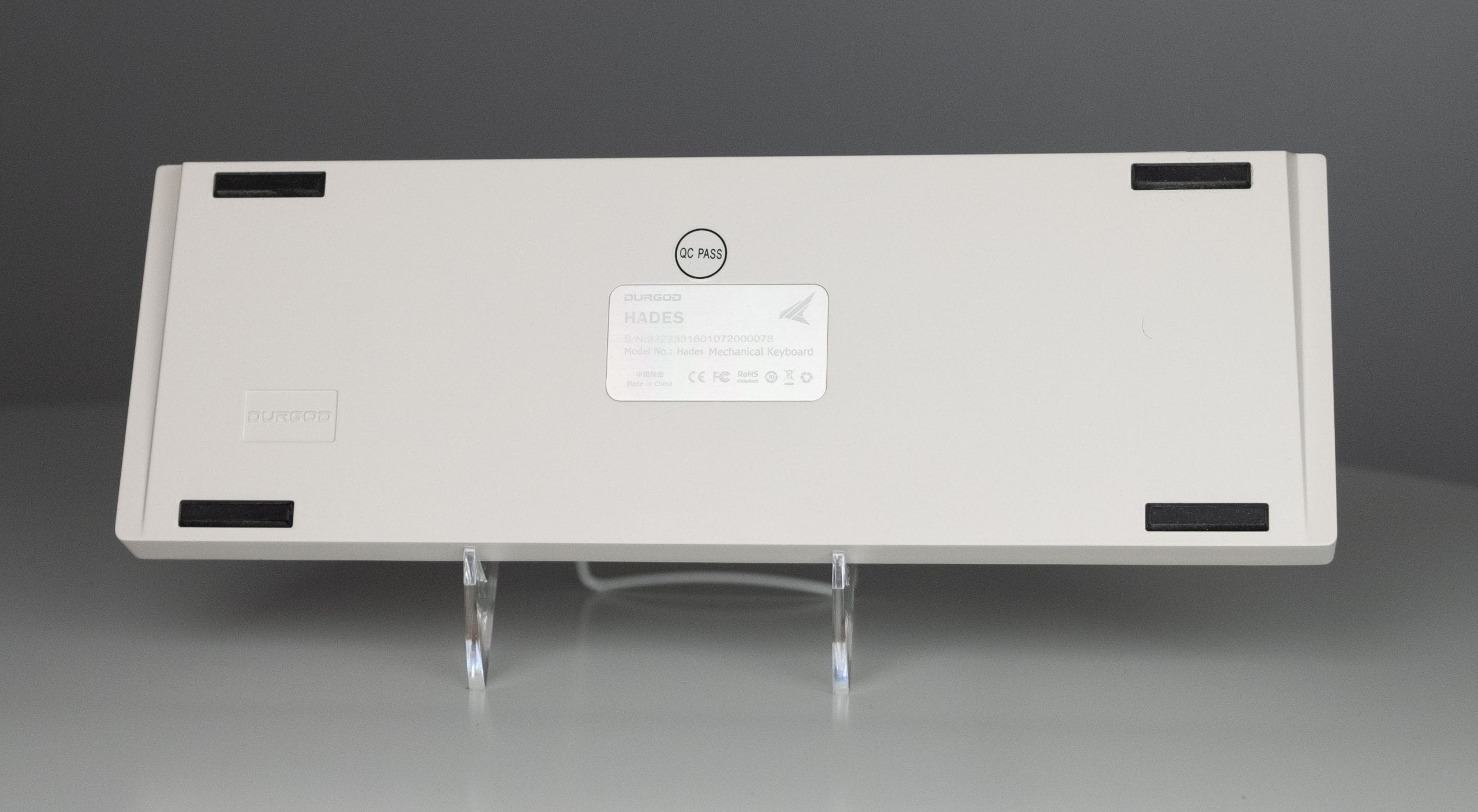 On the back of the case, you'll find 4 rubber strip feet, and a steel plate with Hades branding. The default angle of the keyboard is plenty comfortable, I did not miss the adjustable feet. The cases weight and rubber feet did a good job of keeping the keyboard in place.

The top of the keyboard is equally nondescript, just a USB-C port on the top left-side of the keyboard.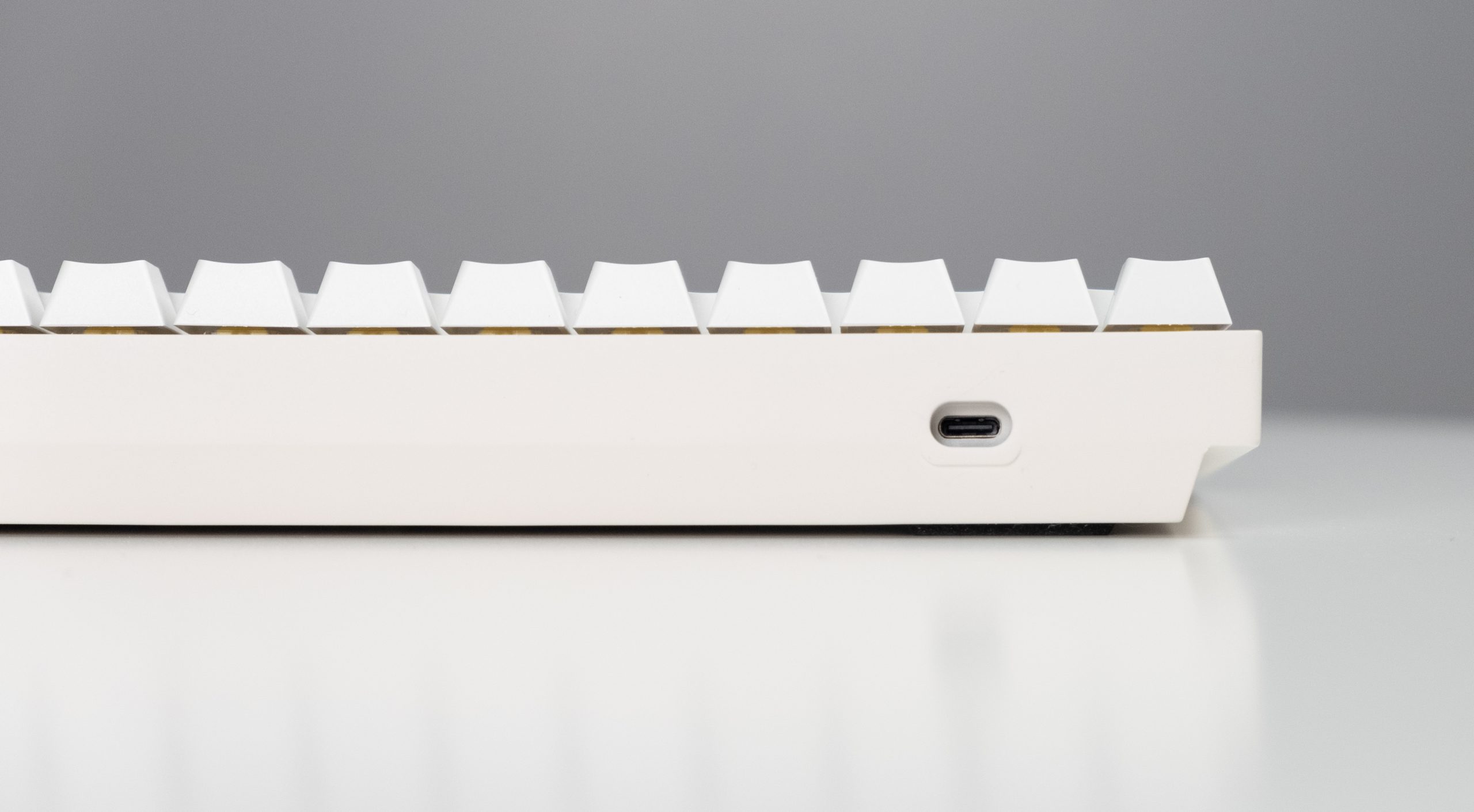 The USB-C port is rather recessed, it might have issues with third party cables, some of my own cables worked fine, but USB-C cables with a larger
The port itself is built well with minimal wobble, I'm not too concerned about the port degrading over time, but some users have double-side taped the port for a more secure fit.
Build quality
At 808 grams, with full aluminum construction, the Hades 68 is rock-solid. No flex or creaking to be seen anywhere, the keyboard is very well-built.
The keyboard is satisfyingly hefty as well, it feels firm on the table when typing.
Backlighting
Backlighting is smooth and vibrant on the white Durgod Hades. There aren't a lot of modes but the modes the keyboard does have are high quality and visually satisfying.
Software & Settings
The Hera Compiler is incredibly powerful in setting up custom keycaps, it's right up there in flexibility with QMK and ObinsKit, it's really great.
You can download the Hera Compiler for the Hades 68 here: https://hk-gaming.com/pages/download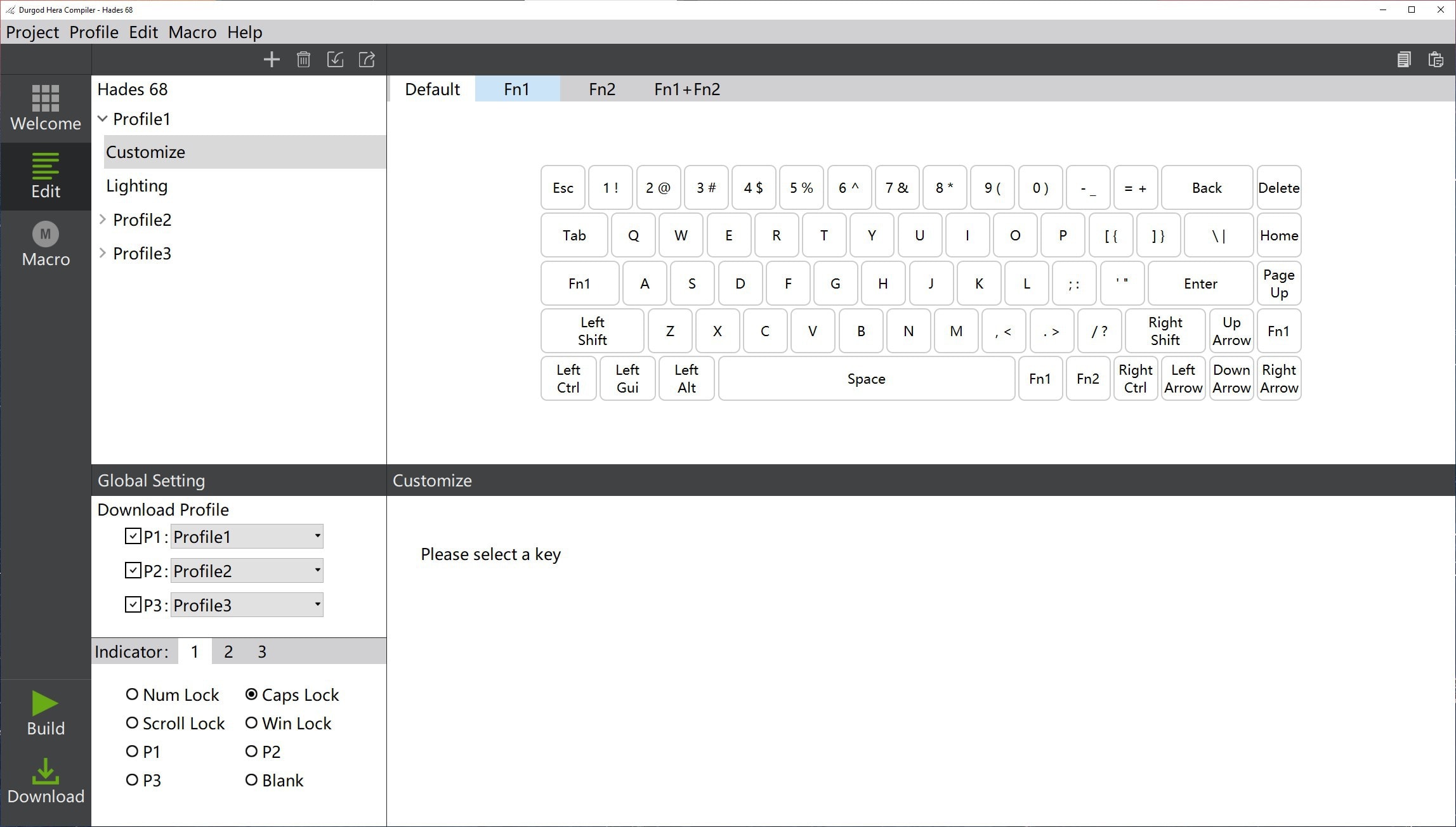 Along the top you'll find 4 tabs, default, fn1, fn2, fn1+fn2, each one of these tabs represent a programmable layer that can be remapped to essentially any other key.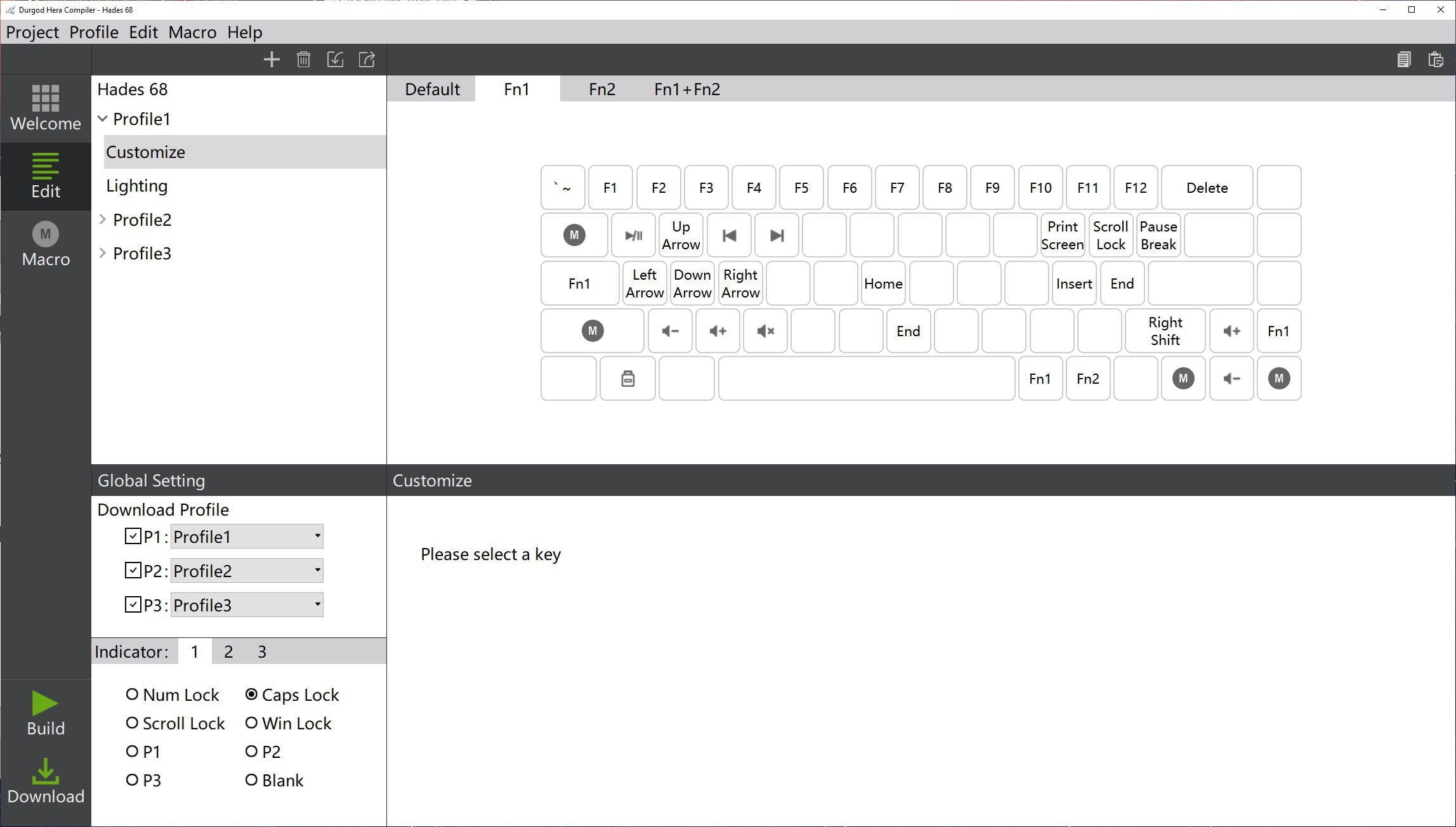 Here's my preferred fn1 setup, I use caps lock as an FN1 key, all my commonly used key presses are easily accessible with my left hand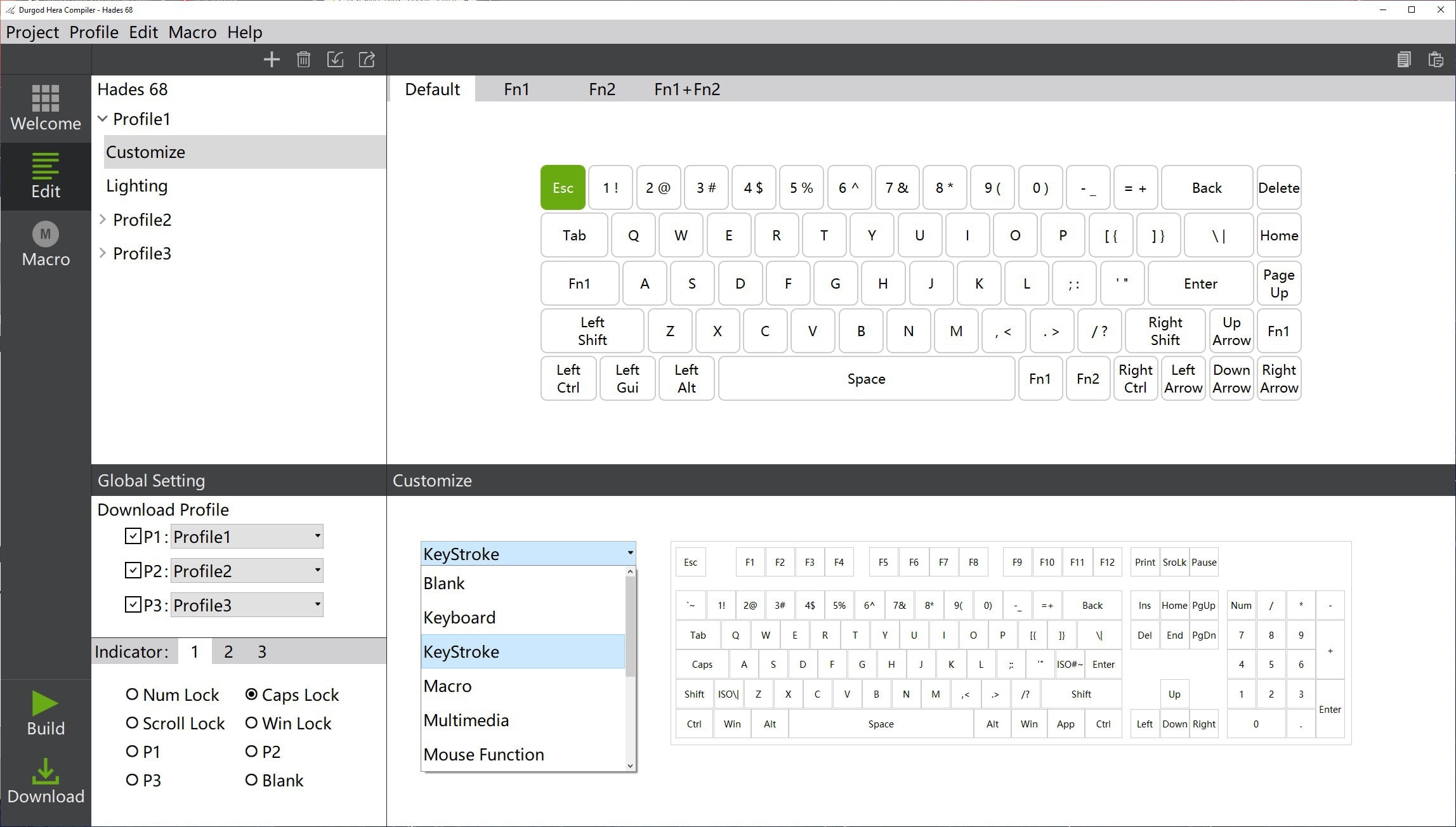 You can remap keys to be blank, a keystroke, pre-recorded macro, multimedia keys, multimedia functions and much more.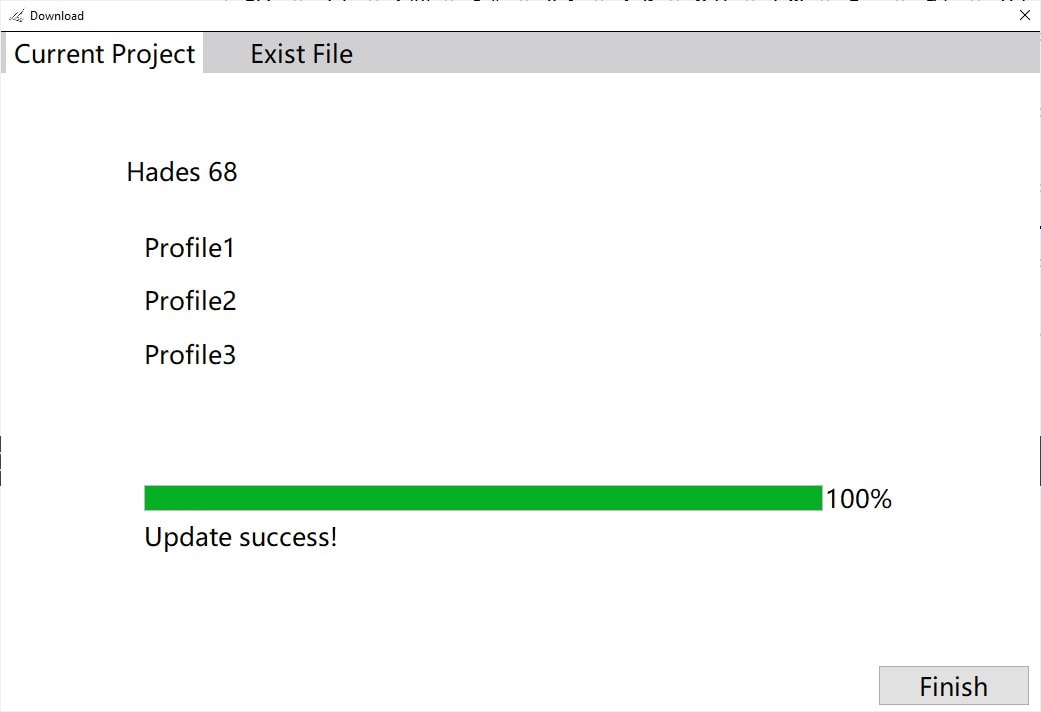 Once you have a keymapping you like, you just press download to set the keymapping on the keyboard.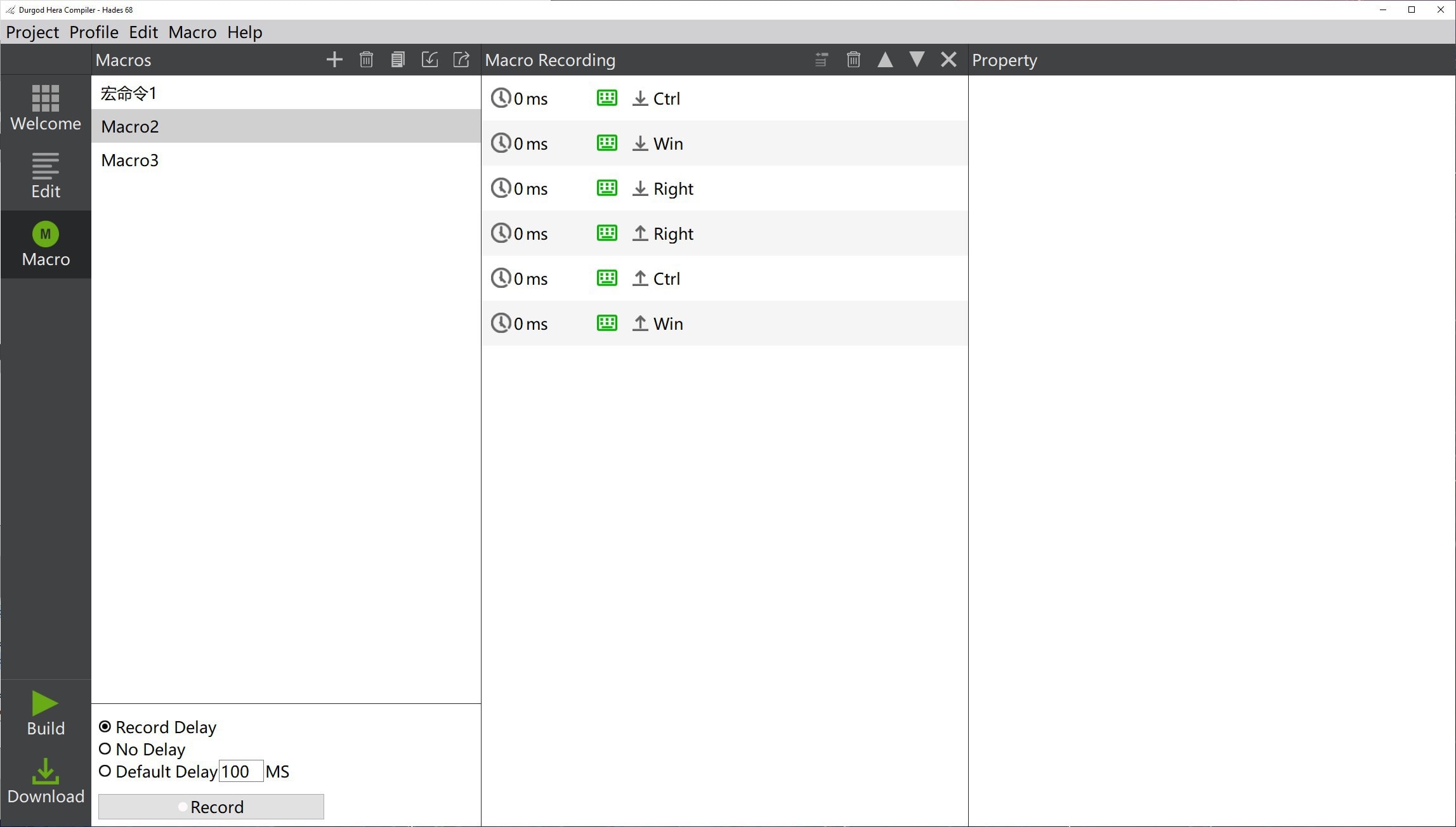 The macro editor is straight forward, hit the record button to start logging key presses, afterwards, you can edit the order and key press delays, save it, and give it a name.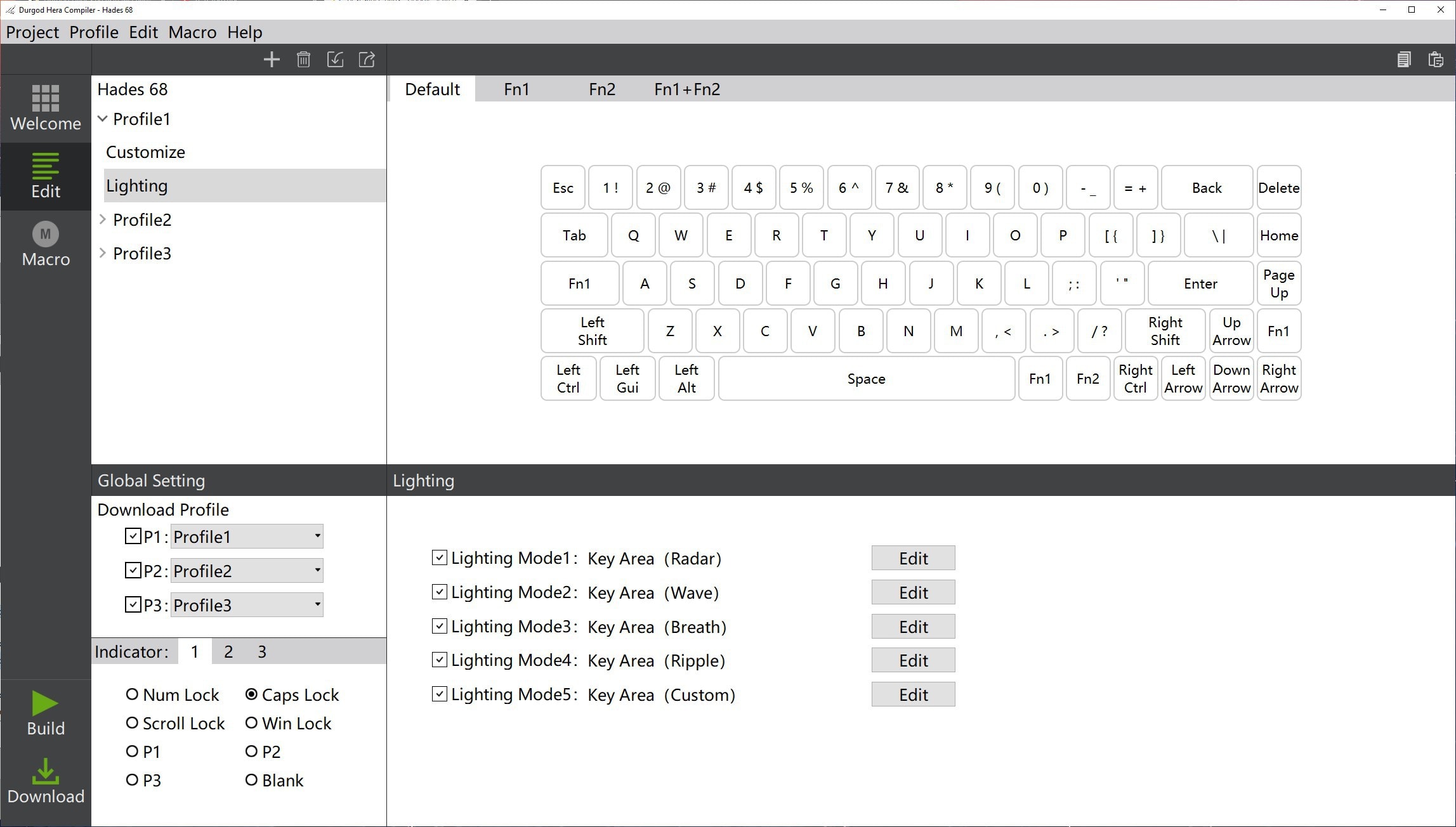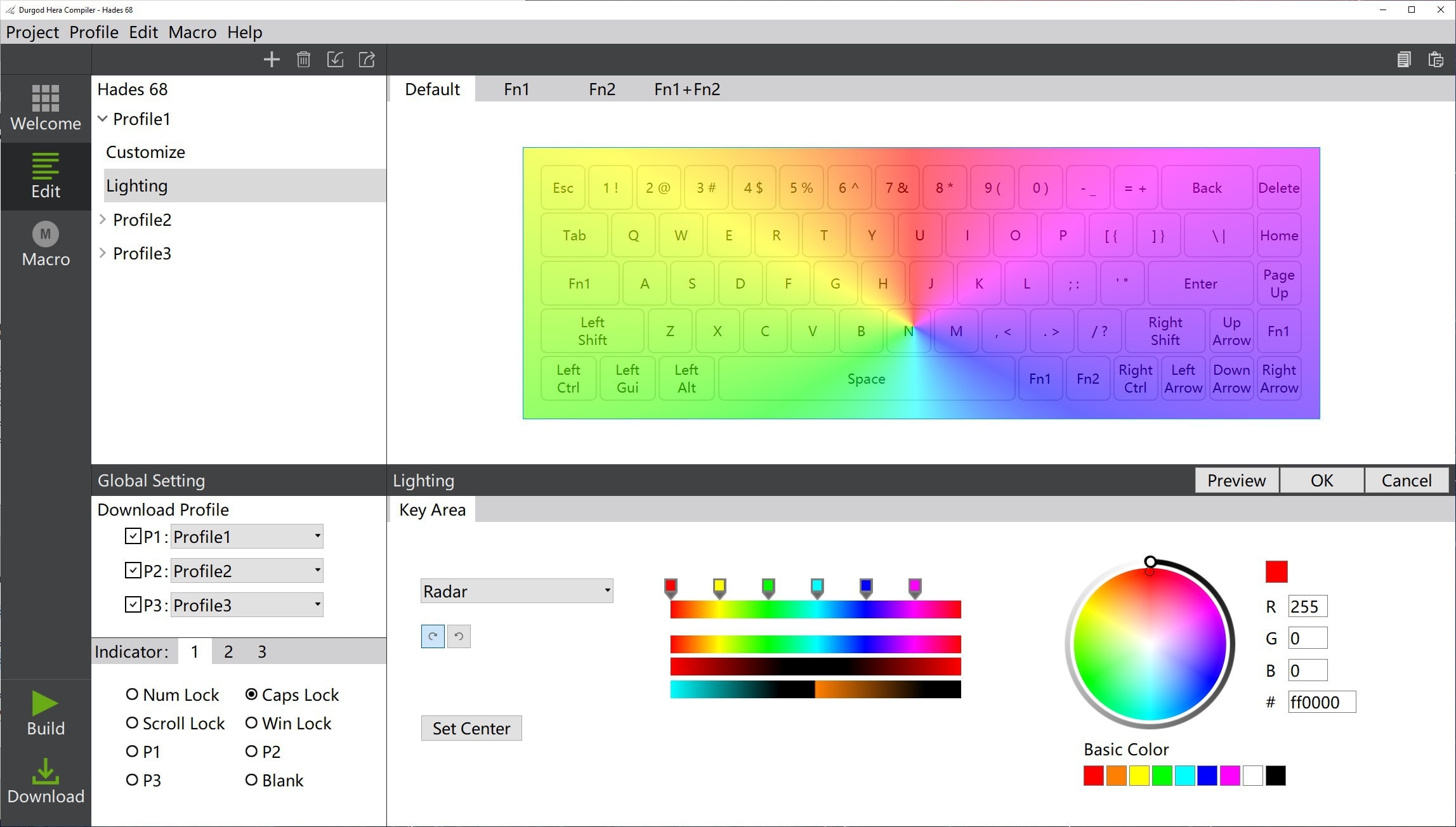 There are 5 key RGB modes:
Radar
Wave
Breath
Ripple
Custom
You can edit the particular gradient of each RGB mode and direction.
Warranty & Reliability
There's no official word of warranty that I can find online.
Tech Specs
Durgod Hades 68
Length: 31 cm / 12.2047 inches
Width: 10.6 cm / 4.173228 inches
Height: 2.8 cm / 1.10236 inches
Case: High profile, Aluminum case
Weight:  808 grams
Keys: 60 keys
Cable: 2m detachable USB Type-C
Keys & switches
Switch options: Gateron, Kailh Box and Cherry Options
Keycap material: PBT
Keycap legends: Double shot
Keycap profile: Cherry Profile
Media keys: In FN layer, reprogrammable
Backlight: Full RGB
Software: Durgod Hera Compiler
Conclusion
The Durgod Hades is the best 65% keyboard you can get right now. The keyboard is simply a dream to game and type on, it has great switch options, fantastic stabilizers, a solid build quality, and super customizable software, not to mention a ton of nice extras.
You should heavily consider this keyboard if you're in the market for anything smaller than TKL size, the Hades 68 can cover most bases pretty well, with a few exceptions. If you know you dislike Cherry profile keycaps, look elswhere. This keyboard doesn't have hot swap or wireless so you're out of luck if that's part of your requirement list.
Durgod has created the best 65% keyboard with its latest updates to its software and PBT keycaps.